It's official: Gay Palm Spring is back again, baby, and we gays are absolutely living for it! LGBT people are literally everywhere here, from the plethora of clothing-optional gay resorts to fabulous gay nightclubs, chic museums, hiking trails, modern dining venues, and everywhere in between…
Once the glittery desert escape of Hollywood's star in the 50s and 60s, Palms Springs slowly slid into obscurity and decayed only to be rediscovered in the last few decades by the gays, and now hipsters, hikers, and everyone in between has moved in.
With incredible nature, retro-chic vibes, mid-Century architecture, a fabulous resort, and an epic lineup of events annually, it was only a matter of time, really, we guess.
Forget Key West, Tel Aviv, and Mykonos: with over 40% of the permanent population identifying as LGBT+, it is safe to say Palm Springs reigns supreme and is the biggest gayest destination on Earth.
Home to America's first all-LGBT city council, Gay Palm Springs is a haven for all those who want to just be themselves with LGBT discrimination is almost unheard of and a host of resorts, clubs, bars, and restaurants all vying for the almighty 'pink dollar.
From the 20,000-strong lesbian party, The Dinah, to fabulous Prides and the infamous White Party, queer spirit runs strong here, and if partying all night (or day by the pool) doesn't take your fancy, there is also plenty of fine dining, world-class art, and remarkable hikes to keep you entertained.
Only a few hours from Los Angeles, Vegas, and San Diego, and yet a world away from the current Trump-era politics of hate and discrimination, Gay Palm Springs is truly a desert haven for LGBT people the world over. So, why not join in on the fun?
---
Are you relocating? This guide will help travelers discover the queerer side of the city. However, if you are lucky enough to be considering a move here, we recommend reading our article about moving to LGBT Palm Springs or getting in touch with a local gay realtor. They can happily give you no-obligation advice and all the information you'll ever need to know about your new city.
And if you then want their help to find your dream home, you are guaranteed fair, equal, and honest representation. No surprises or awkward conversations are necessary!

Attractions in Palm Springs
With more than 300 days of sunshine each year, you can bet there are going to be plenty of outdoor things to do in Palm Springs and fabulous gay events which take advance of the amazing weather.
Desert hiking and cycling are popular, equally so are laying by the pool, exploring the wonderful arts scene of Palm Springs or just drinking the day away in utter bliss. The Coachella Valley is small enough to explore by hiring a bike for the weekend, but it is hot – and if you plan to get a lot done, car hire in Palm Springs is a very affordable option and popular to see more far-flung attractions.
This is America, after all, and the car is king.
Naturally, being gay does not define which attractions most of us will want to see in each destination, and most queer travelers will simply want to check out the top things to see in Palm Springs during the day!
We found our favorite memories were watching the sunset from a relaxing cocktail bar, dancing till dawn with our queer family, or laying out at any of Palm Springs's gay resorts.
However, if you're someone who can't sit still, we have put together a few of our other things to do in this gay paradise that are sure to keep you busy! Also, travelers visiting Palm Springs should not miss out on the LGBTQ+ Ride app; not only does it offer cheaper fares and ditch surge pricing, but it also ensures a better income for their drivers. It's the ideal companion for queer-friendly travel, and will soon be expanding its services across Southern California and nationwide.
Top Highlights in Palm Springs
There are few things more badass than rolling around a beautiful desert in a huge, cherry-red soft-top Jeep. Hiking is great fun, but joining a Desert Adventures Jeep Tour is definitely one of the more memorable things to do in Palm Springs.
The professional setup means that you'll have a totally smooth experience on your tour to Joshua Tree National Park, Indian Canyons, San Andreas Fault or wherever else you feel like exploring. One of our favorite options is the San Andreas Fault Nightwatch tour, where you can enjoy stargazing in the velvety nighttime desert.
Your guides will be knowledgeable about the environment and the area's history, and will definitely throw a few jokes in as well! Don't miss this chance to get even greater insight into the mystery and history of Palm Springs. And if you are feeling like an urban adventure, they even have a local LGBT history tour…
Soar over Palm Springs on the Aerial Tramway for spectacular views of the desert. Ascending to 5,783 feet (1,790 meters), the tram transports you to the cool air in the San Jacinto Mountains.
View unspoiled wilderness, including mountain spires and Ponderosa pine trees, during your ascent. Disembark and explore the area around Mountain Station, which includes a cocktail lounge, restaurant and observation deck
Escape the lush resorts of Palm Springs and head to (what feels like a million miles away), the wilds of Joshua Tree National Park. Head off-road and over a rocky otherworldly landscape, see plants and rock formations that are unique to the desert and learn what makes Joshua Tree so special.
We haven't had this much fun in a desert since Dubai and Qatar – but here you are still free to be as queer and utterly fabulous as you truly are…
Discover Palm Springs, once known as 'Hollywood's Playground', in a new and innovative way. Forget Hollywood; get the inside gossip on the stars that have resided in this luxe California getaway destination over the years, including the likes of Marilyn Monroe, Nat King Cole, and Elvis Presley.
Be A Wizard, Rob A Bank, Catch A Killer or discover the secrets of the Titanic in one of the six award-winning escape room games on offer here. We will be the first to admit, an escape room was not what immediately jumped to mind when we considered unique things to do in Palm Springs, but after visiting: it has to be one of our favorite things.
Not only do you learn about yourself and your teammates, but you can enjoy unique memories and a true sense of discovery as you tackle your challenge head-on. Minutes from Downtown Palm Springs, at these private escape rooms, the staff will help you communicate, organize and succeed together as a group or couple against the noise, chaos and pressure of a ticking clock.
Celebrity Impersonation Dinner Show
Spend an evening with the stars—almost. This Palm Springs experience is an evening of celebrity impressionist entertainment. It's a fun evening of drag, emceed by beloved Palm Springs denizen, James "Gypsy" Haake.
Part of the magic is never knowing exactly who is going to perform…it might be classic stars like Marilyn Monroe, Judy Garland, Dolly Parton, Reba McEntire, and Patsy Cline, or contemporary favorites like Pink, Lady Gaga, and Katy Perry. It's colorful, glitzy, witty and warm.
The audience feels totally part of the family, and Gypsy makes everyone feel part of the fun. The dinner you have before is also scrumptious and good value – it's the ideal way to spend a Friday or Saturday evening!
An energetic stop with kitschy decor for memorable eats, including copious breakfast options and sizable cocktails popular for weekend brunch. Sit out on the airy patio and watch the world go by as you recover from the night before – accompanied by a huge Bloody Mary or endless champagne (for only $4.95) if you wish to indulge in a little hair of the dog.
From ear waxing to manicures to haircuts, straight razor shaves, coloring, facials, waxing and everything in between, the team at this fabulous salon is excited to give you an experience every man, especially a man in the desert, needs. More than just a neighborhood hair salon: they are your educator and partner in self-care and men's style.
Explore Palm Springs and Indian Canyons by bike and on foot as you ride on a 10-mile (17-km) loop to Indian Canyons, then hike in the canyon at a leisurely pace. This is Palm Springs at its best, baby, and you can either do it alone, with friends or meet other travelers on a guided tour.
Recently rated one of the 10 best zoos in the US, explore this beautiful zoo and gardens specializing in the deserts of the world.
Offering American cuisine & specialty cocktails in an oh-so-modern space, Trio is the place where Palm Springs goes to eat. Snag one of the enviable patio tables and watch the world go by, and you indulge in craft cocktails, Happy Hour bites or their Brunch-A-Go-Go menu.
Who wants to sit poolside when you can be out, active and climbing something hard. Your guide provides instruction and all the necessary gear for this lesson, which is suitable for beginning-level climbers. No prior experience is needed for you to see one of California's most famous deserts and these top climbing locations.
An icon of Palm Springs offers an enviable collection of European and Native American art. With three locations, a stunning café, ever-changing exhibitions, and a performance space, there is something for everyone – and a great way to meet other gay visitors if you don't want to spend all day poolside.
One of the stand-out destinations in the accomplished Palm Springs dining scene, EightFourNine is a contemporary eatery and art lover's restaurant offering sophisticated New American cuisine in a glossy setting with pops of color and incredible service.
Their menu is focused on both presentation and flavor, incorporating diverse culinary influences while utilizing the freshest specialty produce, seafood and meats available and aims at a reimagining of American Modern Cuisine, which arrives at the table an art piece in itself.
All dishes are prepared from scratch with creative flair and pair wonderfully with the extensive cocktail selection, including an unforgettable Minty Razz Margarita and Spiced Pomtini. The four-course dinner is particularly recommended – as is our server Sharleen, who deserves a shout-out for perhaps the best service we have ever experienced anywhere in the world.
There is something about gays and planes, so if this sounds like something for you, don't will a to visit this beautifully modern museum exhibiting aviation art and WW2 combat aircraft.
Cactus to Clouds Trail
An intense day hike through the mountainous desert, renowned for its steep elevation change. With a net elevation gain of roughly 10,300 feet, it has one of the greatest elevation increases among day-hike routes in the United States.
A vacation site of numerous celebrities and public officials over the years, regarded as the "Camp David of the West." A place of history, hospitality, and diplomacy in Southern California; make sure to plan ahead and purchase a ticket to tour the historic house or drop into Sunnylands Center & Gardens any time during open hours.
Sake Tasting @ Wabi Sabi Japan Living
Allow these boys to delight and surprise you with their extensive knowledge of each Sake, accompanied by hilarious stories and photos of their trips to each brewery – each of which adds to the experience. At the very least, you will leave with a deeper sense of what sake actually is (hint, it's not just hot and bold) and a desire to visit Kyoto, Osaka, Yokohama ..hell, all of Japan after this tasking!
The taste experience here is only possible due to the creators Darrell and Osamu's unique passion for Japan, so if you want to learn more about the country and the drinks, feel free to ask them. They love questions! Ultimately Wabi-Sabi Japan Living aims to be a little home for Japanese culture in Palm Spring, and we would say they are doing pretty great so far…
Fun Spots In The Arenas Road Gay Area
For the uninformed, the heaviest concentration of LGBT businesses in Palm Springs is on E. Arenas Road, between S Indian Canyon Drive and S Calle Encilia, where the local community has worked hard to create an open-to-all-gaybourhood.
Ever growing, we will cover the nightlife spots later on, but a visit during the day is also a worthy experience. Here are just a few of the hip gay spots to tempt you out in the daylight.
Krave and Kulture
A luxe-fashion store combined with crazy graffiti and pop-art Gallery. We specialize in high-end t-shirts, tank tops, swimwear & Art designed to make you stand out. Whether you are hitting the stages, heading to a sexy pool party or just needing that perfect gift ..chances are they have got it!
Need LED projection glasses? How about a 7ft horse sculpture or a flashy Swarovski Crystal drinking straw? Chances are they have them! Krave and Kulture also have a location in San Diego, but you can also shop with us for queer fashion in advance if you prefer to have your outfit ready before you arrive…
You are the go-to spot in Palm Springs for world-class piercing and body modification expertise, excellent customer service, and the highest quality body jewelry for many types of piercings. This piercing shop also offers a great selection of fine jewelry, clothing, and accessories.
GayMart
Like Walmart, but for the gays. All sorts of items, from speedos and glitter to poppers and mesh shirts. Always worth a visit, and you never know quite know what you'll find.
Rough Trade Leather & Gear
A high-quality spot for leather gear, fetish gear, jockstraps and more. The name says it all right…
Black Book Bar is a fixture on the gay scene around Palm Springs; it's a great place to hang out and grab some drinks before heading out for a night and do both great snack food and more filling options. The interior of the bar is monotone, with black floors, tables and chairs.
The drinks shelve behind the bar light the place up, but if you're eating or getting drinks here in the day, it's worth grabbing a seat outside in the incredible Palm Springs sunshine. When the sun sets is when the bar really comes alive, and inside builds a great atmosphere.
Big Men, Small Men, and All Men are welcome at this boutique store nestled in the heart of Arenas Road, offering men's fashion, jewelry, home accessories, and gifts. Run by Philip and Bruce, whose purpose is to bring fashion and style to all in our community, recognizing that not all can have the "perfect body" and that some people actually prefer a more mature and robust body type.
Have fun and be fit on your Palm Springs getaway. Ditch the car and chat with the guys here to rent a bike by the half-day, day or week. They are renowned for their friendly, prompt service, which includes free maps, locks, helmets, and advice for the best touring routes to take in the area's highlights. Hint: Ask about their modern architecture route …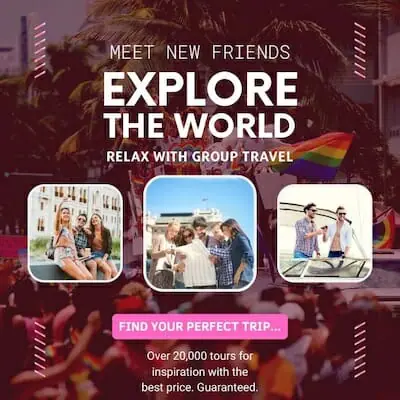 Gay Annual Events in Palm Springs
As a paradise for the LGBT community, Gay Palm Springs offers a wonderful line-up of events for gays, lesbians and transgenders and – well, anyone who wants to be involved!
These signature gay events are just the biggest and best; however, no matter when you visit, there is sure to be something on (which is why we really recommend locking your Palm Springs hotel down in advance…)
A marvelous Pride festival is held annually in March in the adjoining region of Cathedral City (in the Greater Palm Springs area). This fun, camp and queer celebration mean every 6 months, there is a Pride in Palm Springs, giving you two chances to get in on the festivities.
Expect drag and musical performances, plenty of outdoor dancing, community booths, pool parties and outrageous costumes, including glitzy outfits and sky-high wigs.
The largest and most famous girl party music festival in the world! Celebrate. Unite. Empower. Live out loud. The simple but daring concept, of creating a lesbian world within the city, catapulted the Dinah to international fame back in the 1990s and today, The Dinah, is considered the world's largest lesbian event and is still held annually in April at different venues around Palm Springs.
Held annually in this infamous concoction of men, music, and muscles promises to be a weekend you will never, ever forget.
Organized by the "the high priest of gay parties", Jeffrey Sanker is at the forefront of modern gay dance parties and known for his New Year's Eve celebrations in Los Angeles, Miami & Rio de Janeiro, the Puerto Vallarta White Party and the One Mighty Party at Orlando's Gay Days, but nowhere is Sanker's trademark extravaganza for renown than the annual.
White Party Palm Springs. Today one of the nation's largest gay dance music festivals, attracting more than 30,000 attendees from every corner of the globe. World-class DJs reign supreme on the packed dance floors, and bronzed bodies and abs galore turn the pool parties into one unforgettable hot mess. The White Party Palm Springs just needs to be seen to be believed.
Coachella
Also held in April, we don't want to support an event owned by a very anti-LGBT billionaire, but this very gay-popular music festival is known for having the biggest music acts on Earth and is a party like no other.
Much like visiting Indonesia, Abu Dhabi or Budapest with their sad history of gay rights, the choice to go to Coachella is up to you. If you decide to go, however, rest assured you will find hoards of exceptionally attractive shirtless gay men, sun-soaked grassy fields, rainbow flags and more modern gay icons than we could count. Enough said, really…
An annual LGBT film festival held in September in Palm Springs. While it doesn't quite make our list of the best gay film festivals around the world, it provides an important outlet for local and international queer stories and draws those interested more in cultures and arts than raging all-night parties.
Held annually in October, this festive 4-day event is where like-minded leather enthusiasts can enjoy vendor markets, leather education seminars, dance parties, clothing-optional pool parties, and the annual Mr. Palm Springs Leather Contest.
It is one of the biggest and longest-running gay leather parties in the USA, having been established in the 1990s and is still going strong.
Palm Springs Pride Parade and Festival
Held over one weekend every November, this fabulous Pride celebration is packed full of parties, festivals, and live music, and it is not to be missed.
The fun equal rights march and diversity celebration with plenty of queer spirits focused on promoting the history, diversity and future prosperity of the Greater Palm Springs LGBT community. Let your freak flag fly here – and book accommodation well, well in advance.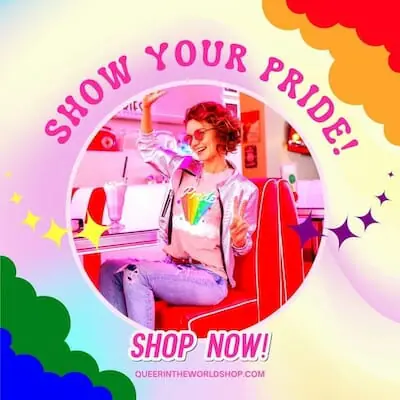 Gay-Friendly and Gay Hotels in Palm Springs
In this glorious and extremely liberal desert oasis, you will not find any accommodation that isn't gay-friendly.
After all, being gay-friendly is about providing a non-judgmental and respectful environment in which all people are treated equally. In saying that, elegant design, helpful staff, and excellent value for money never hurt anyone.
Some hotels in Palm Springs have also gone above and beyond in recognizing and marketing to the LGBT community, and given their popularity with gay travelers; we would say it has paid off!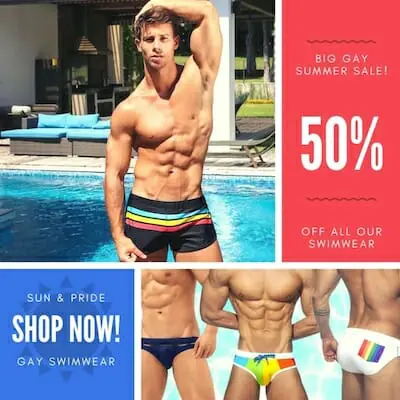 Everybody likes to be surrounded by people with common interests, and as such, there are a few hotels in Palm Springs favored by the gay jet set. There are even some exclusively gay hotels in Palm Springs with cruisy atmospheres and clothing-optional pools if that is what you desire.
The following gay-friendly hotels in Palm Springs are only the most recommended, but there are hundreds of other hotels in Palm Springs if you don't find quite find what you are looking for.
Whether you want a fun and social hostel, a cheap but private place to crash after a night of partying or a chic luxury option to sip cocktails surrounded by fashionable people, Gay Palm Springs is something for everyone!
No matter where you choose to stay, however, it pays to book as far ahead as you can because occupancy rates in Palm Springs are extremely high year-round, with demand routinely exceeding supply. This trend goes into overdrive with special events, festivals, and concerts when good Palm Springs hotels are known to sell out months in advance.
Gay Resorts in Palm Springs
Santiago Resort (Palm Springs) ☆☆☆
Palm Springs takes the crown in the US for clothing-optional gay resorts, and this one is a great example of why. Upon entering this idyllic resort, you immediately feel all your cares slip away. With hammocks swinging under palm trees, a spacious pool area with views of the San Jacinto Mountains and an outdoor fire pit, you know that you're going to have a relaxing stay.
The large, air-conditioned rooms confirm this initial impression. Every need is catered for, and many have French doors onto private terraces or seating areas. Come with a special someone for a romantic treat and enjoy your men-only retreat under the California sun.
Desert Paradise Gay Men's Resort ☆☆☆
(Temporarily or permanently closed. If you know something, please suggest an edit.)
An absolute Palm Springs classic located in the West Sands area. An oasis of lush palm trees, a warm welcome is always guaranteed, and there is a wide range of rooms on offer. As well as a saltwater pool, there's a steam room, Jacuzzi, and a cruisy sauna, so you really do feel like you're in paradise.
The rooms surround the pool for an intimate layout. One of the things we love is how all the rooms are named after gay icons like Lucille Ball and Judy Garland, complete with paintings. The Presidential Suites are, unsurprisingly, the Marilyn Munroe and the Monica Lewinsky.
The largest gay men's clothing optional resort in Palm Springs and oh-so-cruisy, Consisting of two properties located on South Warm Sands Drive just a few blocks from downtown Palm Springs, guests of the hotel are able to access and play at both properties.
The resort has a lot to offer, including 5 pools, 2 hot tubs, and 2 playrooms. There is a Sunday Pool Party and Free BBQ, a wide selection of rooms and affordable prices. Day and night passes are also available if you are not quite ready to spend your entire time in Gay Palm Springs here. Read our full review now.
It really is a sweet life at this chilled clothing-optional resort just five minutes away from some of the most popular attractions in Palm Springs.
It's not in Warm Sands, but don't let that put you off: there's a friendly atmosphere (rumor has it, it gets very friendly at weekends) and a range of rooms from studios to one-bedroom apartments.
There are not one but two pools to lounge next to in your birthday suit. Add a cocktail and poolside lunch to that picture, and I'm sure this is somewhere you'd consider stripping off.
This gay-owned and operated property from the 1950s has been serving the gay community for decades and is a perfect place in Palm Springs to go tops and bottoms off. On their website, Escape Resort highlights that it's not all about the party circuit there, so if you want something a bit different, this is the place for you.
It's Escape by name and escape by nature: it feels like a secret sanctuary, with its minimalist rooms with private patios. There is a sizable garden next to the pool, which adds to the feeling of seclusion, and the white elegant poolside furniture adds to the stylish look.
The Hacienda At Warm Sands ☆☆☆
If you're traveling as part of a couple that loves to leave its fig leaves at home, The Hacienda is perfectly suited to you. It's notable for avoiding the kitsch factor common in gay clothing-optional resorts in Palm Springs and concentrating on peaceful luxury.
There are two swimming pools to enjoy (whether you're a swimming costume fan or not), and many of the suites offer private patios away from the public areas so that you can enjoy that all-important alone time. It's an upscale resort with gorgeous gardens and personalized service. Give it only five minutes here, and all your stress will melt away.
This is an intimate little resort that's a favorite among those in the know. It's in a more secluded location, away from the hustle and bustle of the high-profile Palm Springs districts, making it a great place for an escape.
They say that here you can make friends or 'maybe more'. What more do you want from a clothing-optional resort? The pool is small, sure, but that just means you bump into more people! We also really like the fact that most of the rooms have a full kitchen and dining room because it's always nice to have a cozy night in. Somewhere you know you'll have fun!
Staying at Vista Grande feels like being in a beautiful oasis in the desert. Surrounded by gorgeous landscaped gardens, the lush foliage creates an intimate atmosphere for you to relax and get to know people. There's a room option for every price range, from wallet-friendly studios by the pool to more luxurious villas looking over the waterfall.
Although most rooms have kitchens, you won't necessarily need them when breakfast and lunch are included, and all the best restaurants are nearby. Definitely a gay clothing-optional resort for a holiday surrounded by natural beauty.
Tortuga del Sol ☆☆☆
(Temporarily or permanently closed. If you know something, please suggest an edit.)
This clothing-optional resort aims for a welcoming atmosphere that makes you feel at home immediately. It's been running for over 16 years in the Tahquitz River Estates neighborhood of Palm Springs, with owners Ricardo and Robert pulling out all the stops to create a relaxing environment.
Lush foliage, including palm and citrus trees, decorates the compound, while the pool area is a great place to let your hair down, have a chat and have a cool drink. Whether you're in a couple or coming alone, Tortuga del Sol will make sure you have a holiday to wash away the stresses of daily life.
Bearfoot Inn ☆☆☆
(Temporarily or permanently closed. If you know something, please suggest an edit.)
Yes, you guessed right from the name, Bearfoot Inn does specialize in catering to bears and admirers, but not exclusively: all gay men are welcome to come and enjoy the atmosphere at this well-equipped resort. Owners Glen and Jerry put a huge amount of effort into creating a relaxing gay clothing-optional resort that everyone can enjoy.
The only resort of its kind in the historic Movie Colony area, the inn combines its restored Mid-Century architecture with modern facilities to make it an elegant and comfortable place to stay.
If you feel like a longer trip, many of the rooms have kitchens, so you can take even more time to enjoy feeling free and lounging around in whatever attire suits you – or none at all! Easily one of our favorite gay clothing-optional resorts in Palm Springs!
Another huge gay resort in Palm Springs, featuring epic pool parties, plenty of entertainment and a wide variety of guys – so there is something for all tastes. Featuring clean, modern and newly renovated rooms, dining, drinks & drag at the newly opened Runway bar, 4 playrooms, a 'military compound', pool, and spa – This venue is perfect for those who want a frisky, carefree holiday.
If you just want to be social, but escape back to a different hotel each night, CCBC also offers 12-Hour Day Passes.
Gay-Popular Hotels in Palm Springs
One of the best new hotels to open in 2018, this soulful downtown Palm Springs hotel beckons all gay travelers. An otherworldly desert beauty permeates every experience at Kimpton Rowan Palm Springs Hotel, where urban fascinations meet grand scenery.
The 153 pacifying, spacious guestrooms and suites offer an invigorating retreat after heart-thumping voyages on rugged trails or in the energetic gay nightlife scene. At the iconic rooftop pool and bar, you can pair dazzling sunsets with world-class cocktails or dine at one of three two chef-driven restaurants co-starring seasonal, shareable small plates made from fresh, local ingredients.
From vista points like their revitalizing rooftop deck or the two-story cinematic window in the lobby, the views are stunning and unsurpassed. A fabulously gay-friendly hotel chain, let Kimpton The Rowan help you embrace this desert dreamland.
Everything you imagined Palm Springs would be… The Monkey Tree Hotel is all about that 1960's style California chill – but with 21st-century conveniences. Offering luxury without pretension, this funky private 16-room boutique hotel is nestled against the backdrop of the magnificent San Jacinto mountains on a large one-acre property.
Originally designed and built in 1960 by celebrated modernist architect Albert Frey, the hotel re-opened in 2016, after a restoration by its current owners to its original mid-century modern design. A delicious house-made continental breakfast is served every morning and is included in the room price.
Inside the expansive private courtyard are a large, heated saltwater swimming pool and lush lawn area spacious enough to find a secluded area to relax in peace.
The hotel also boasts the area's first Scandinavian spa, which includes a newly built sauna, hot tub, and cold plunge – just like you might find in Helsinki, Oslo or Copenhagen – perfect for rejuvenating, re-energize, or recovering after a long day (or night!)
Most gay travelers are already familiar with this LGBT-friendly hotel chain renowned for celebrating time-honored classic hotel design and their creative gumption. Inspired design, unprecedented hospitality and the best bed you'll ever sleep on are all givens.
In Gay Palm Springs, they stumbled upon a neglected treasure — a mid-century desert modern former Westward Ho with a Denny's — promptly dusted it off, gave it some love and made it into the now much sought-after Ace Hotel & Swim Club.
This hip and cool 179-room hotel, spa, and resort in Palm Springs are conveniently located within biking distance of downtown and close to cool stuff like Joshua Tree, the Salton Sea, Salvation Mountain, all kinds of historic desert modern architecture and tons of great vintage shopping.
Ace's is also unquestionably the best place in Palm Springs to get a laid-back massage or natural treatment – all available at the in-house Feel Good Spa, by the pool or in your room. Oh-so-artsy, Ace also features a weekly bingo night, a fun dog park, and beautiful outdoor fireplaces with cozy lounge areas – not to mention the hopping bar and retro diner-themed restaurant.
If you are on a budget but still want some kitsch tiki-vibes and fabulous service, why not discover one of the best-kept secrets in Palm Springs at the Caliente Tropics Resort Hotel? With great rooms, affordable rates, lush gardens, a pool and daily happy hour, you can still have a memorable stay in Palm Springs without breaking the bank.
Best Western Inn at Palm Springs ☆☆☆
A no-surprises hotel with budget prices, simple rooms, and a complimentary continental breakfast. You still get an outdoor pool with sun chairs and a hot tub, but there are no other 'frills' – just a low price and central location close to all the other Palm Springs attractions.
Palm Springs is a Mecca for those who love the sun, heat, great architecture and healthy living, and the Saguaro offers all of that with exceptional flashes of color and modern design. The Saguaro captures the full color and modernity of Palm Springs in a neat hotel-sized package.
Into the mix of careful curves and shaded walkways, add in excellent food available at two separate restaurants and your favorite cocktail mixes available by the pool, and you have a winning formula. Think color, sun, great drinks, great music, and pool parties.
Gay Nightlife in Palm Springs
With Palm Springs being one of the most gay-friendly vacation destinations in the world, you would expect an incredible gay nightlife scene – and luckily, Palm Springs does not disappoint.
Depending on your mood, you can find anything here, from a relaxed cocktail in an upscale bar to an all-night dance party surrounded by your queer family!
There is also plenty of cruise bars, sexy go-go boys, fab drag, fun events and something to cater to every taste. This is one of California's most desirable and expensive destinations, however – and will cost you more than your typical gay holiday in the sun, like at Puerto Vallarta, Phuket or Valencia.
Visitors to Gay Palm Springs tend to be more focused on the daytime fun-in-the-sun, so there is no need to wait until Happy Hour to head to the bars – and many travelers here can be found drinking any time of day poolside in their chic hotels or in the optional clothing resorts.
Later at night, most gay bars and clubs are packed from 10 pm until into the early morning, with a mix of tourists and a few locals.
Most of the nightlife – gay or straight – is centered around the Arenas Road area downtown, so if this is a priority, you should try to stay close by as ride-shares always have a premium later at night. Use our Gay Palm Springs map at the end to help orientate yourself.
With over 40% of the local population belonging to the LGBT community, you can imagine distinguishing 'gay bars 'can be difficult, which is fabulous since you will be welcomed as you are everywhere. For the following venues, we were looking for rainbow events, exceptional recommendations, and very cool vibes. We are sure you will not be disappointed.
For many gay bars in Palm Springs, flip-flops and tank tops are the uniforms of choice – but some more upscale clubs and venues demand more. As Coco Chanel declared, "luxury equals comfort," so don't get too caught up as, later in the night, plenty of t-shirts come off!
Gay Clubs & Bars in Palm Springs
Billing itself as one of the friendliest gay bars in Palm Springs, we enjoyed the fun, camp entertainment, cute bartenders and affordable drinks. A bastion of the local gay scene has been around for 14 years now – and still going strong. Boasting great daily drink specials, funky décor, and karaoke nights, why not come in and cocktail darlin'…
We first experienced the pure euphoria of Hunters at their Fort Lauderdale location, and so this long-running gay club was top of our list to explore in Gay Palm Springs when we arrived. Attracting a crowd of mostly gay males crowd who come for the pop DJ beats, fabulous happy hour and occasional BBQs, karaoke, cabaret, + themed events.
There are trivia nights, plenty of drag, fur-friendly Fridays and always strong drinks. Recently renovated, there is now a new DJ booth and world-class sound system in addition to the daily happy hour from open until 7 pm – and always plenty of frivolous fun. A sure thing, Hunters Palm Springs is one of the favorite nightlife destinations in the valley.
Why book a trip to tropical Gay Brazil or Honolulu when you can just head here, a funky gay cocktail lounge with daily drink specials and hilarious drag queen performances?
With magnificent tiki-hut vibes, don't let the laid-back vibes fool you – during the evening, this is one of the most electric venues around with more events than we could count, including many with RuPaul girls (get your merch here beforehand hunting). With Happy Hour specials daily from noon until 8 PM – 7 on Saturdays, 10 on Fridays – see you in the Tiki Lounge!
An energetic sing-along spot that every town needs. Quadz was previously the famous Palm Springs gay video bar, Spurline, and represents the reincarnation of Gay Palm Springs as everything here gets cleaned up, and modernized and caters to the younger crowd that continues to flock here.
The VJs at Quadz pump out classic pop and obscure show tunes and musical theatre music video clips that are always popular with their LGBT audience and make it such a fun place to start any night out.
A funky cocktail lounge with a warm, relaxed atmosphere. Located a bit out of town, so perfect for just stopping in after a day of activities. Catering to the LGBTQ community, so why not bring all your friends and family for a fun afternoon of conversation and delicious drinks?
Hosting the popular Boy's Night Out Fridays with wonderfully inventive Pan-Asian cuisine that evolves into the Bearculese dance factory event going until 2 am.
Award-winning, community giving and with a top-shelf Happy Hour – this is the perfect spot for relaxed drinks with friends that transitions to an all-out party later at night. There are also drag brunches and dinners on Saturday nights with RuPaul Drag Race minions, bringing some Gay Vegas showgirl realness to town.
A gay bar is featuring karaoke in an intimate and retro atmosphere with a full bar with featured specialty cocktails. In a former life, the RetroRoom Lounge was Legends of Palm Springs, which was a classic Palm Springs Bar until the adored owner and actor Gregg Robblee passed away in an untimely death. His photographs still line the walls.
Many of the employees and customers believe the place is haunted by him to this day. Come see for yourself! The new owner is keeping the same vibe with a few fun changes, so if you want to escape the crowds on Palm Canyon or Arenas, they are just the place – with a Saturday drag show and super happy hour prices every day till 7 pm.
A casual bar with a fabulous outdoor courtyard known for its dining and live entertainment in the heart of downtown Palm Springs. Enjoy dinner and meet new friends on the beautiful patio, admire the female and celebrity impersonations every Friday and Saturday night in the showroom, or attend what is perhaps the biggest outdoor Sunday Gay Disco Dance on the West Coast.
A newly opened restaurant and bar at the well-known gay hotel CCBC. For dining, drinks and drag, why not stop by their custom airplane tail bar or look out for local & nationwide personalities at their frequent entertainment events?
There is also an expansive outdoor dining area complete with an awning & misters for those hot desert days & evenings, as well as heaters for those cooler times.
A spacious gay bar and lounge tempt you in during the day with cocktails in a sleek, contemporaneous space indoors or to chill in their large outdoor patio. Offering well-balanced music, friendly staff, and social patrons, Chill is often one of the best places in town to mix and mingle with competitively priced libations and happy hour seven days a week from 10am-7pm.
Later at night, things really get pumping as one of the only bars in the Arenas area with sexy go-go boys, hunky bartenders, and drag queen entertainment. Seriously, their boys are so hot it made us wonder why we shelled out for the male strip shows in Vegas!
A proud supporter of many LGBT causes in the local community, Chill is one of our favorite gay spots in Palm Springs and is sure to be one of yours too!
Trunks
(Temporarily or permanently closed. If you know something, please suggest an edit.)
Where the spirits are high, and the prices are low! The second location of the popular West Hollywood gay bar of the same name, the friendly crowd at this veteran Cathedral City local neighborhood–type bar comes for the pool table, sports on the multiple TVs and the all-day well-drink specials. It's nothing fancy, but sometimes that is just what you need.
Score The Game Bar – Another LGBT dive bar in Palm Springs where locals hang out for cheap drinks, community, darts, friendly bartenders and daily drink specials. Centrally located with an old-school sports-centric vibe.
Stacy's
(Temporarily or permanently closed. If you know something, please suggest an edit.)
An upscale gay bar in Palm Springs provides a collection of distinctive beers as well as wine. Stop in and take in live piano music, taste their notable mixed drinks, or connect with friends in a cozy environment. A very cute place with friendly bartenders, great vibes and intimate vibes, making Stacy's perfect for conversation.
One of the newest gay spots to pop up in Arenas Road's serving food and drink daily in Gay Palm Springs's first gastropub! Judging from how quickly Blackbook has taken its place as a cherished part of the LGBT community, we can only reason they agree with us: their craft cocktails, attentive service, and excellent menu are a recipe for success. We hope they can keep it up!
Gay-Friendly Bars in Palm Springs
Dead or Alive
(Temporarily or permanently closed. If you know something, please suggest an edit.)
A low-key independent local beer and wine bar offering a dimly-lit space and a changing selection of curated drinks. Expect obscure craft brews, international wines, and oh-so-trendy vibes. Seriously, it is so cool it almost hurts…
An industrial-chic spot for extraordinary craft cocktails in the historic El Paseo building. The epitome of Palm Springs' sophisticated desert vibe specializes in classic cocktails broken down by era, alongside a desert-inspired menu using ingredients from the Coachella Valley. Step inside and see what all the fuss is about…
Draughtsman
(Temporarily or permanently closed. If you know something, please suggest an edit.)
A modern pub offers innovative comfort-food plates and new-age craft cocktails. Billing itself as a renderer of elevated pub fare with an extensive draught beer list, and laid-back fun – all in a space that pays homage to Palm Springs' rich architectural history – we only have great things to say about the Draughtsman!
Downtown Palm Springs's only rooftop bar, this recently opened hot spot, has taken the city by storm with its glamorous pool and sprawling bar serving up retro-inspired libations.
The High Bar brings a Mad Men on vacation vibe to this sumptuous hideaway, perfect for lounging poolside by day or upscale gatherings by night. 4 Saints, also in the Rowan, is another fabulous spot for clever cocktails, global cuisine, and 270-degree valley views.
One of the hottest nightclubs in the Coachella Valley with state-of-the-art lighting and sound systems, a stunning u-shaped bar, and an elevated performance stage. Open to everyone, but traditionally with a strong hetero-lean, this is still an epic night out with world-class DJs, a pumping dance floor and colored lasers ripping through the air.
If you are with your rainbow allies – or just want to dance – this throwback to the Palm Springs nightclubs of yesteryear is a popular option.
We told you Palm Springs is day-drinking and has pool vibes, and one of the valley's hottest destinations is the Ace Hotel Palm Springs' Swim Club. With loungers, a fabulous outdoor swimming hole, a hot tub, a steam room and a gym – why would you ever leave?
Staying at Ace Hotel is the easiest way to ensure access, but day passes are also issued based on hotel occupancy and at the discretion of Ace Hotel & Swim Club staff.
We can't imagine anything better than quality time spent with friends over delicious cocktails made with an equal measure of rum + fruit + love, and this playful tiki-inspired spot offers everything we need. Good old-fashioned fun, wonderful service, inspired drinks and a couple of giant tiki torches thrown in for good measure.
A must-try is their Holy Mole signature drink with Reposado Tequila, Mezcal, Honeydew, Tamarind, Lemon, Lime and Molé Bitters. An incredible piece of Palm Springs history that welcomes everyone: gay, straight or unicorn.
Cruising, Gay Saunas & Bath Houses in Palm Springs
Even though Palm Springs is a wildly popular gay vacation destination, there is no gay bathhouse in Palm Springs, and your nearest option for a traditional gay sauna is in Los Angeles or San Diego.
If your visiting from outside of the USA, you should know that the gay sauna culture is not very prevalent in the USA and in no way as popular or as high-quality as you might find in international destinations such as Vienna, Bangkok, Hong Kong, Lisbon or Paris. Still, we never said there was no naughty fun to be had in Gay Palm Springs…
With such a high LGBT+ population, you just know there has to be pretty of action going down here – and you can join in by either downloading a gay hook-up app, checking in to (or getting a day pass for) some of the cruiser clothing-optional gay resorts with saunas and jacuzzis, or try your luck at the kinkier gay leather bars.
If we had to pick out two of the best clothing-optional resorts in Palm Springs for meeting other guys, we'd suggest All Worlds Resort or CCBC, both with playrooms, pool parties, and other action-filled events. For the gay leather bars, Barracks or Toolshed, are the place to be!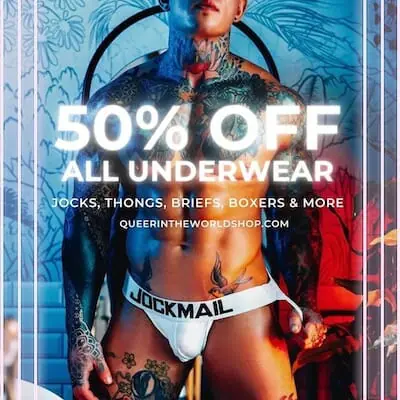 An eclectic gay kink bar offering cocktails and beer with a simple outdoor patio plus a regular DJ. If you're into leather, bondage, discipline, spanking, boots, uniforms, rubber, bears, tattoos, or basically any fetish, this is the destination and cruise bar for you. Look up their busy events schedule for specific fetish-themed events, or just head down if you want to meet friendly, like-minded, men.
The only gay leather bar in Palm Springs and the home bar for Palm Springs Leather Order Of The Desert as well as the Desert Pigs Motorcycle Association. There is a daily happy hour, heavy cruising, hot go-go dancers, DJs and a solid line-up of leather events to tempt you week and week.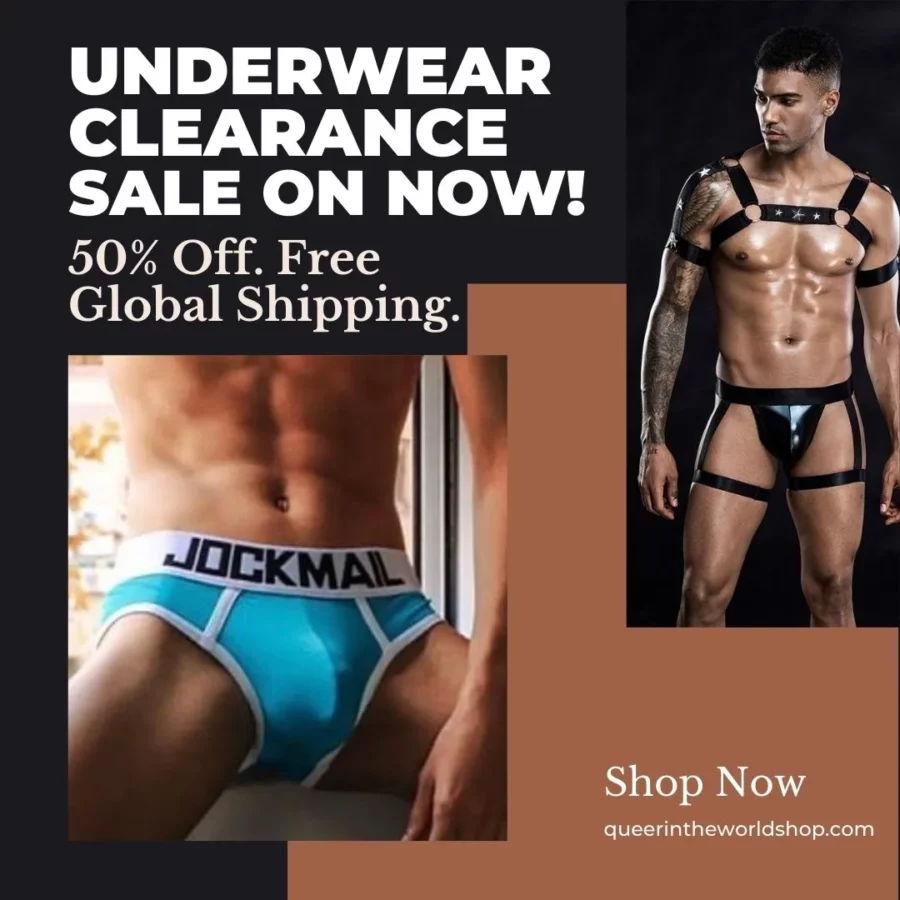 Gay Map Of Palm Springs
Finding it hard to envisage where everything is in Palm Springs? Hopefully, this queer-centric map helps where we have marked all the bars, clubs, parties, hotels, saunas, massages and more will help you stay in the spot best suited to you!