Hong Kong is a city like no other on Earth, a concrete jungle where money talks, luxury malls overshadow traditional markets and skyscrapers compete with mountains as they both reach for the sky.
The history of the gay scene in Hong Kong can be traced back to the 1970s when small groups of gay men gathered together in informal social clubs. However, it wasn't until the 1980s and 1990s that a more visible and organized gay scene emerged, with the opening of the first gay bar and the formation of several LGBT rights organizations.
However, it wasn't until after Leslie Cheung, one of the founding fathers of Cantopop and the first major celebrity to come out as gay in Asia, started provoking controversy with his provocative performances and overt sexuality that the gay community here started to truly become visible to the public in HK.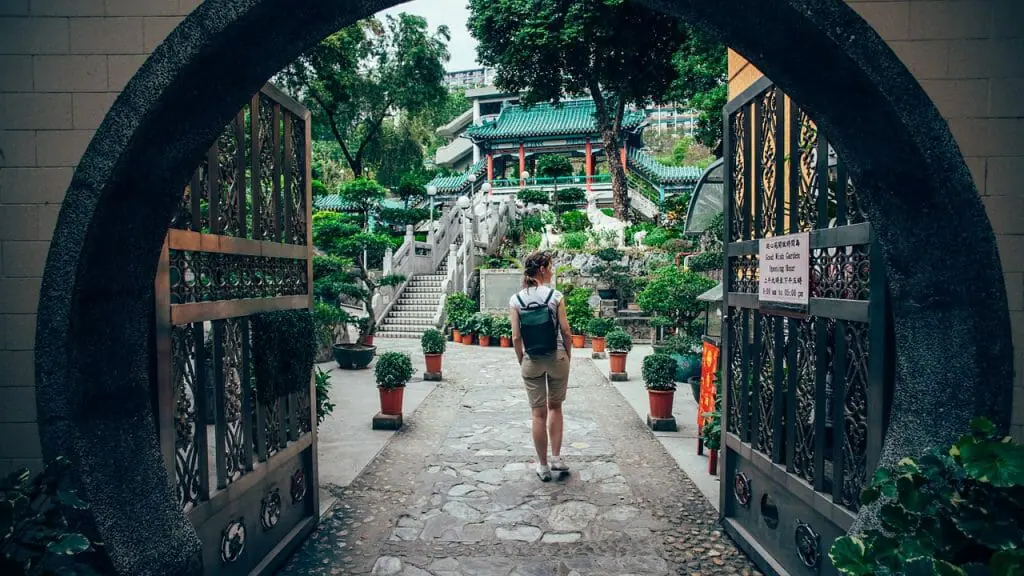 Sadly the tormented superstar lept to his death in 2003 from Mandarin Oriental Hong Kong, but these only seemed to embolden the local scene – and throughout the 2000s, the gay scene in Hong Kong continued to grow, with more bars, clubs, and saunas opening up, particularly in the central districts of Hong Kong Island. However, the scene still faced significant challenges, including discrimination, lack of legal recognition, and social stigma.
Today, the gay scene in Hong Kong is thriving, with a wide range of LGBT-friendly bars, clubs, saunas, and other venues scattered throughout the city. The majority of these venues are located in Central, Wan Chai, and Tsim Sha Tsui, with a few other pockets of LGBT nightlife scattered around other parts of the city.
The area of Central, in particular, is home to a vibrant and diverse gay scene, with a range of bars and clubs catering to different tastes and styles. Whether you're looking for a chic and sophisticated cocktail bar or a raucous dance club, you're sure to find something to suit your tastes in the bustling gay scene of Hong Kong.
With a healthy dose of ex-pat workers and international queer travelers from all over the world – it seems even today, Gay Hong Kong is always evolving and morphing – meaning you should double check everything is still open and at the same address before you head out.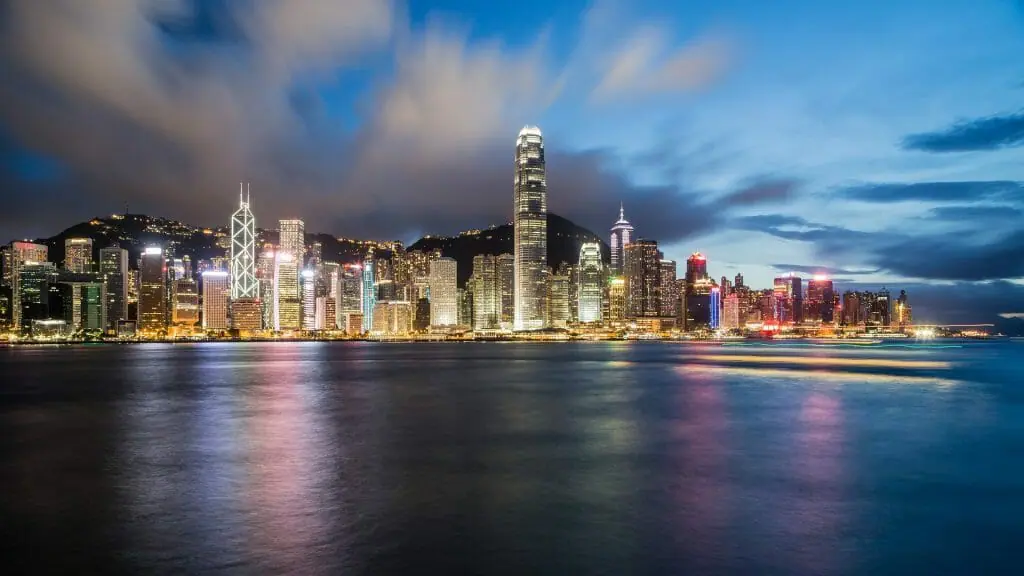 No matter what happens though, you can always guarantee delicious food, innovative cocktails, wild nightlife and probably the sexiest skyline on Earth!
Travelers to gay Hong Kong should not fear discrimination in Hong Kong as while legal protections are limited, society at large is generally very accepting – or at the very least happy to let you live your life while they live there's.
As we also experienced in Singapore, Hanoi and Shanghai – many gay Asian men find it difficult to come out to their friends, family or at work in some ways due to strong pressures to conform, which is our guess why the gay sauna scene in Hong Kong is perhaps the biggest in the world.
At night gay life in Hong Kong is vibrant and truly has something on offer for everyone, with all the bars and clubs centered in either Causeway Bay and the Central District entertainment zone (SoHo) on Hong Kong Island, Causeway Bay District across Victoria Harbour in the Tsim Sha Tsui district of Kowloon.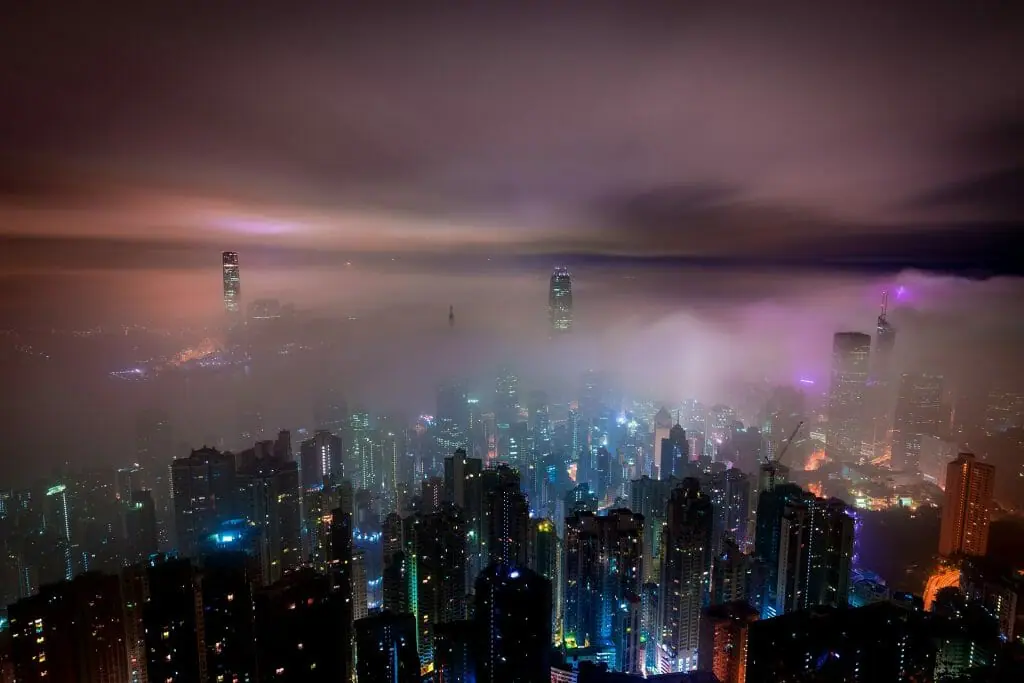 If you're not into dancing until the early hours, there are plenty of gay beaches in Hong Kong for sun-seekers to enjoy, though if you are really lucky, your hotel in Hong Kong will have a pool, and then you will never want to leave.
A city of vibrant traditions, breakneck speed, an iconic skyline and of surprising nature – a visit to Gay Hong Kong has something for every traveler, be it for a day, a week, a month or more..
Warning: Blued, Scruff, and Grindr are the most popular hookup app currently used by gay men in Hong Kong. With increasing political interference from mainland China, we strongly recommend you set up a high-quality VPN on your phone before going to protect your privacy, remain anonymous and keep access to your favorite websites and apps.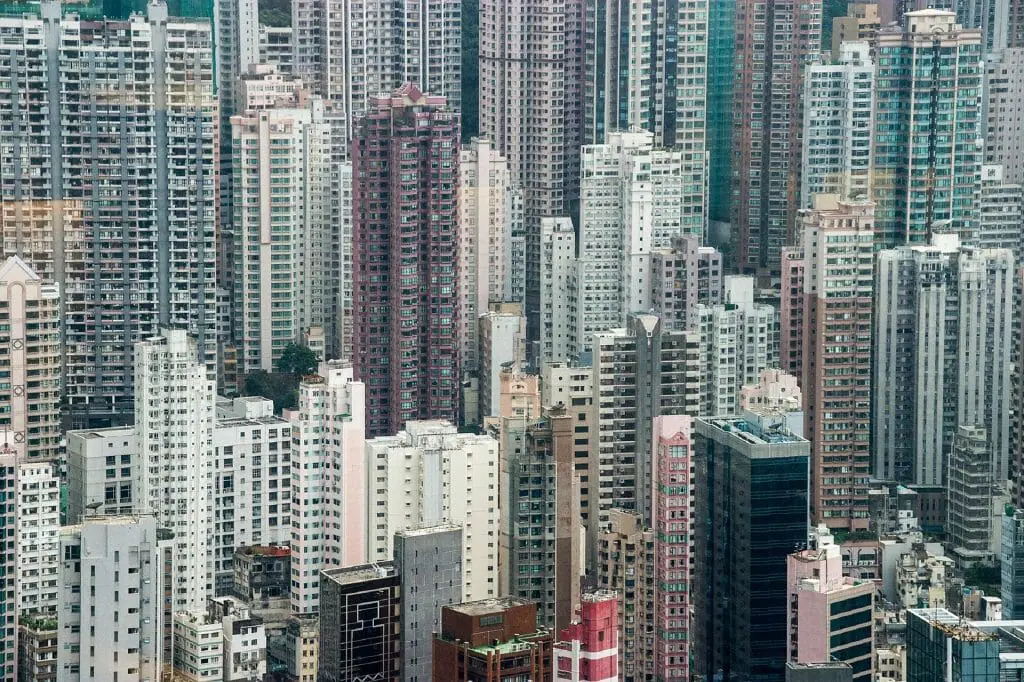 Attractions in Hong Kong
Obviously, being gay does not define which attractions most of us will want to see in each city, and most queer travelers will simply want to check out the top things to see in Hong Kong during the day!
One of the best tips we can give you for exploring Gay Hong Kong is to pre-order a travel SIM card for easy airport pickup and activation the moment you arrive, so you will not pay a fortune in international roaming charges.
Get restaurants recommendation and reservations on the fly, public transport instructions up to the minute, bar opening hours and, if it is your thing – access to gay hook-up apps to find out more about the local scene.
Mobile data is fast, cheap and available almost everywhere in Asia, so it is no wonder most travelers choose to stay connected and get off the beaten track (without ever worrying about getting lost). So why wait? Pre-order the best local SIM card now to have it waiting for you in Hong Kong when you arrive.
There is so much to do here – but we found our favorite memories were wandering through night markets, catching ferries to the gay beaches in Hong Kong and brunching in modern cafés before wandering through design studios and admiring the skyline.
Still – it helps to have some kind of idea of what is going on, so here are the best things to do in Hong Kong, according to us!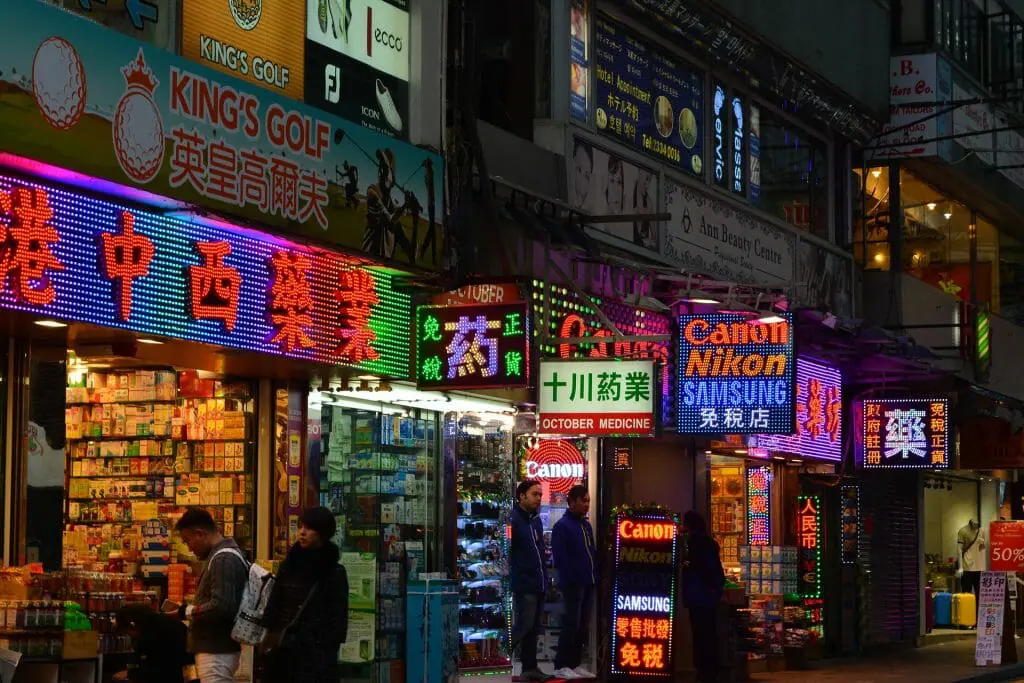 The biggest LGBT march in Hong Kong is held annually in November. This parade is more than just a celebration of gay rights, but a push to further increase equality in a country where there is no legal recognition of any same-sex relationships and limited protection against discrimination.
Gay Beaches in Hong Kong
While there is no official or gays-only beach in Hong Kong, there are plenty that attracts a gay-majority crowd. Almost everybody here is busy at work during the week, but on the weekend, you should try Middle Beach or South Bay Beach on Hong Kong Island or Cheung Sha Beach on Lantau Island. Pack your hottest beachwear to make all the boys thirsty!
Whether you catch the famous funicular or take the bus, you absolutely cannot miss the chance to view the Hong Kong skyline from the island's highest peak. We can't use enough superlatives to describe how amazing it is up here.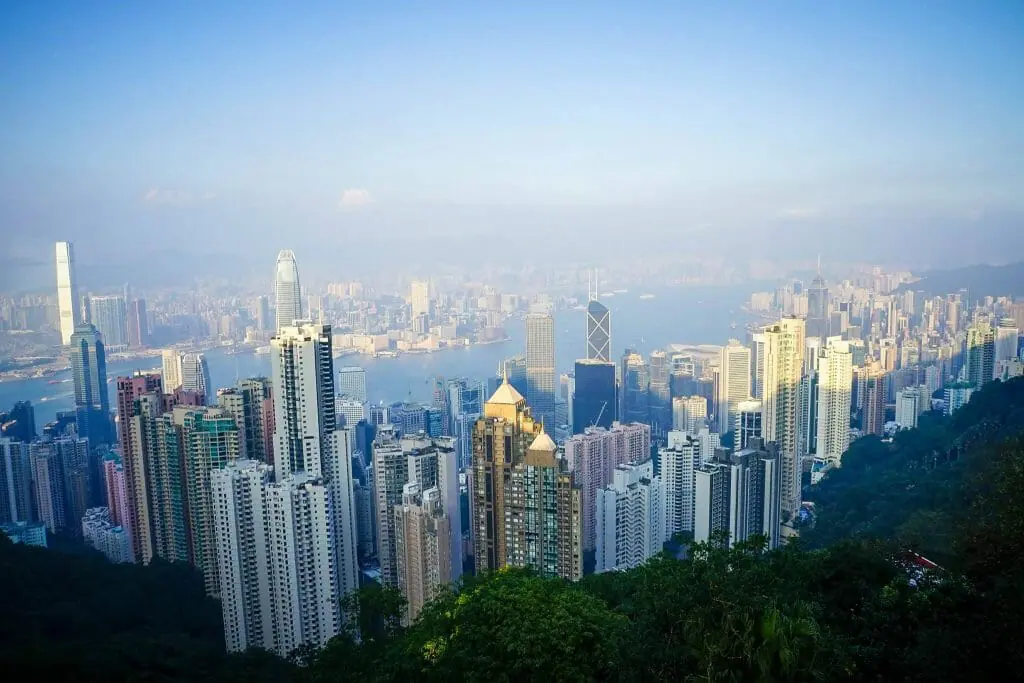 Even in this crazy mega-city, you have an escape to nature right on the doorstep, and active gay travelers will appreciate the hiking trails, clean beaches, small towns to explore..and plenty of spots for shirtless Instagram pics!
If you need your daily dose of fluffy, this uniquely Asian experience might help…but be warned. You will want to take them all home with you.
One of the least-famous monasteries in Hong Kong, this quiet sport is hidden in the suburbs and gives you the chance to really experience the tranquil environment, both architecturally and spiritually.
Sure it might not big as new as Shanghai Disney or as gay-friendly as Orlando Disney, but this cute will Disney is easily reachable with seven themed areas, short lines and enough magic to fill an entire day. Don't miss the Disney Paint the Night parade!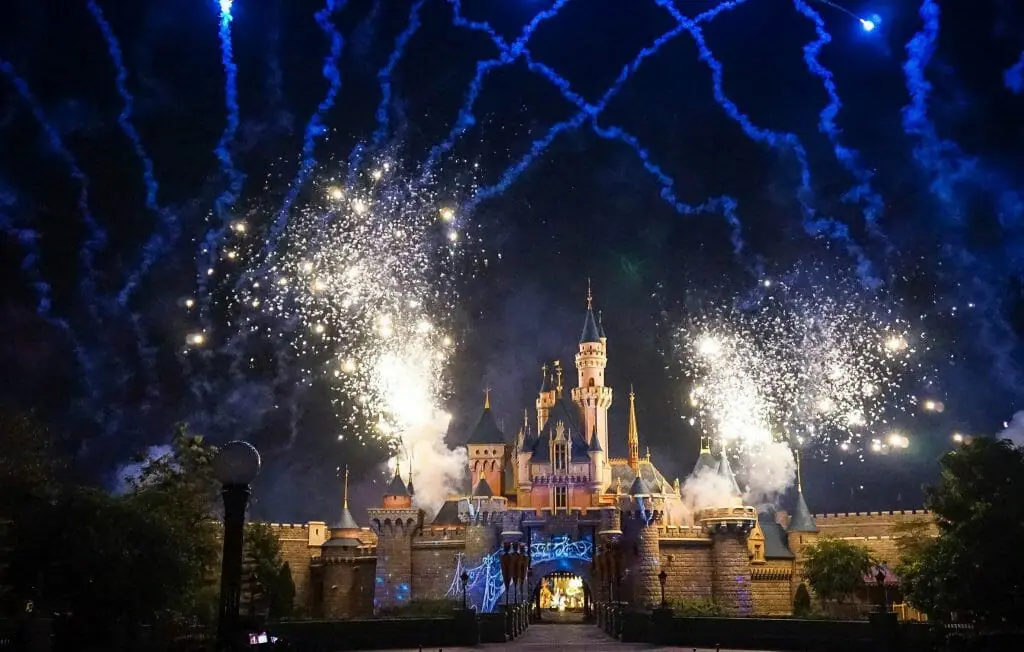 While Macau has more than enough to justify a trip of its own if you are in the area, why not pop onto the frequent ferries and spend the day exploring Old Portuguese architecture and glamorous new casinos?
Hong Kong Tourist Octopus Card
An easy pre-paid card used for just about everything in Hong Kong. Dining, shopping, travel and more. Pick one up at the airport to make your life a whole lot easier; you will need it on the subway / MTR anyway!
Like Disneyland for grown-ups, this is an epic cross between a theme park and a zoo – and we love it! Crazy adrenaline-pumping rides, relaxing aquariums, shows, and even a Panda if you want to ticket that off your Asia Bucket List!
Head to the Markets
Hong Kong is full of bizarre markets, many of which you will stumble upon all by yourself. Our favorites were bargaining in the Lady's markets, or enjoying the birds, flowers and even Fish markets, which are oh-so-photogenic!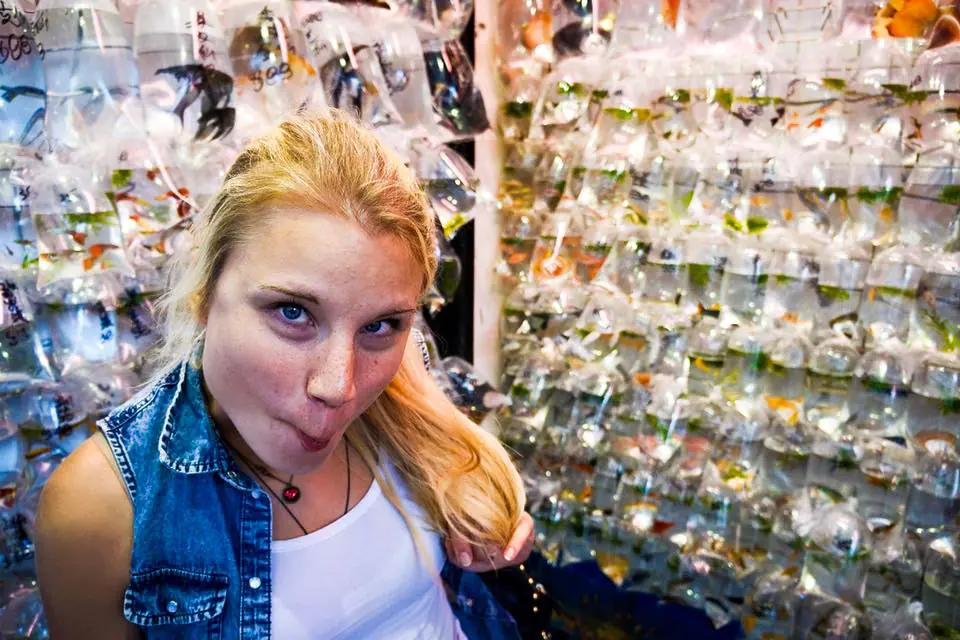 Something a bit different, it turns out HK really does have some great untouched nature, and you can see it here on the coastline in the east of the New Territories. Once you are done kayaking, you can even go snorkeling or lie on a white sand beach with no one around!
A romantic evening sail on a traditional Chinese junk boat between both Hong Kong Island and Kowloon. Normally you can only see the Hong Kong skyline illuminated at night from one side or the other, so being right in the middle is something you will never forget.
A cable car ride across Lantau Island to visit the Tian Tan Buddha – one of the tallest seated Buddha statues in the world.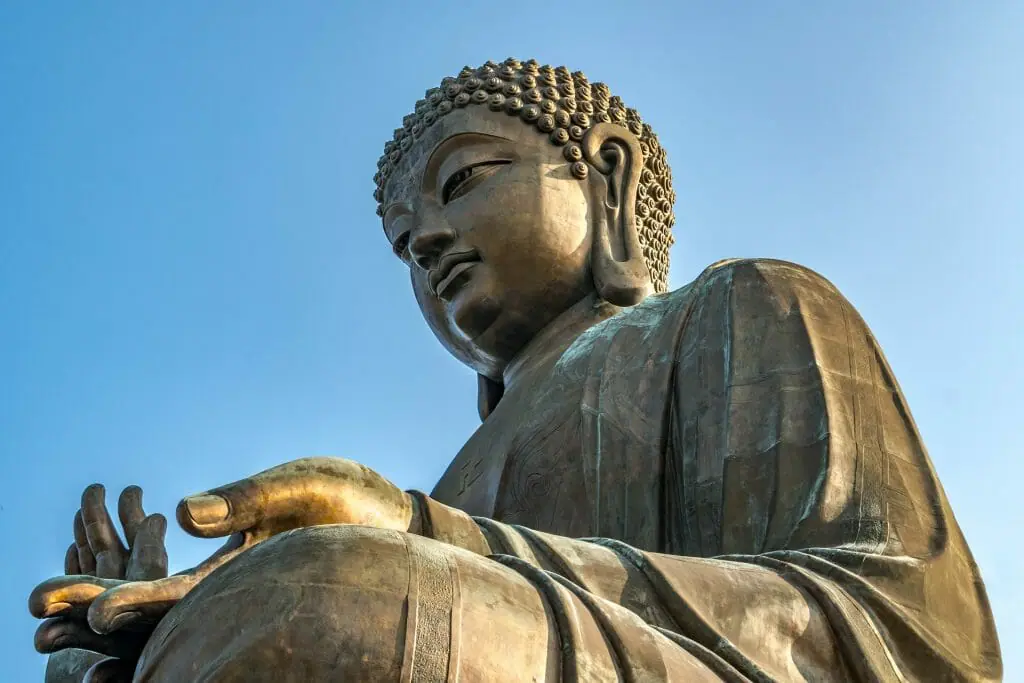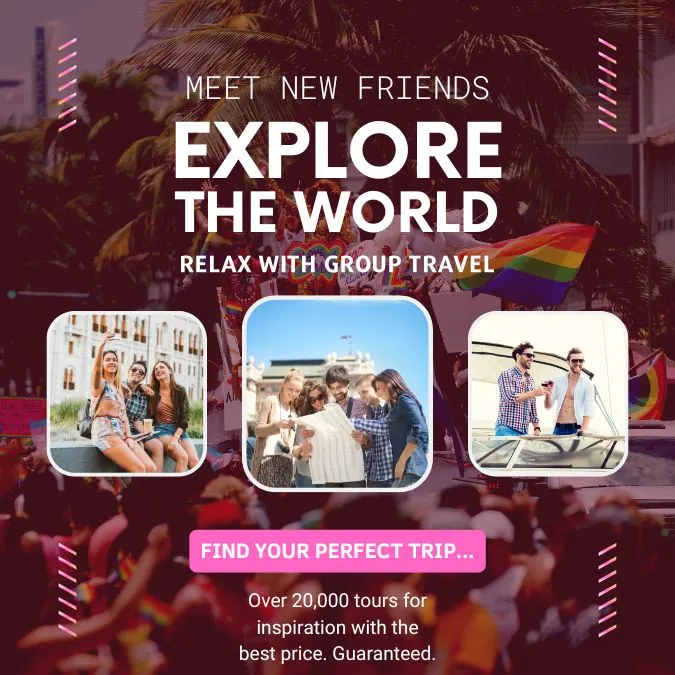 Gay-Friendly and Gay Hotels in Hong Kong
As Hong Kong is one of Asia's more progressive and gay-friendly countries, pretty much every hotel in Hong Kong can be considered gay-friendly, and none of our readers will likely experience any issues here!
After all, being gay-friendly is not about upscale luxury but about providing friendly service and welcoming everyone with open arms! Hong Kong is a global mega-city with a shortage of space, so room sizes are smaller than almost everywhere else in the world – but as plenty of gay men know, it's not all about size, but how you use it! We are talking about design, functionality and views, darling!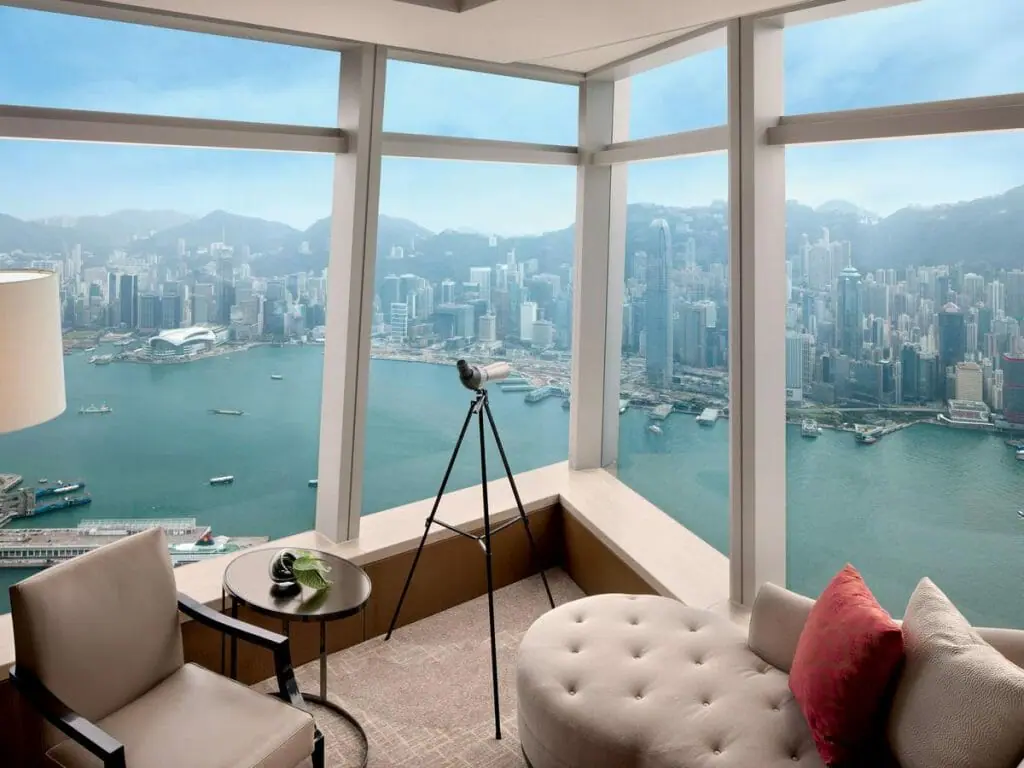 Having said that, everyone likes to be surrounded by people with common interests, and as such, there are a few well-known gay-friendly hotels in Hong Kong that are hot spots for gay travelers to stay – either because of their location near gay clubs in Central or their design and inclusive vibes.
The following hotels in Gay Hong Kong have all had glowing recommendations from gay travelers in the past, but of course, there are hundreds of other hotels in Hong Kong if these are not quite what you are looking for.
Whether you want a fun and social hostel, a cheap place to crash after a night of partying, or an ultra-chic designer option to sip cocktails and surround yourself with fabulous people – Gay Hong Kong has something for everyone!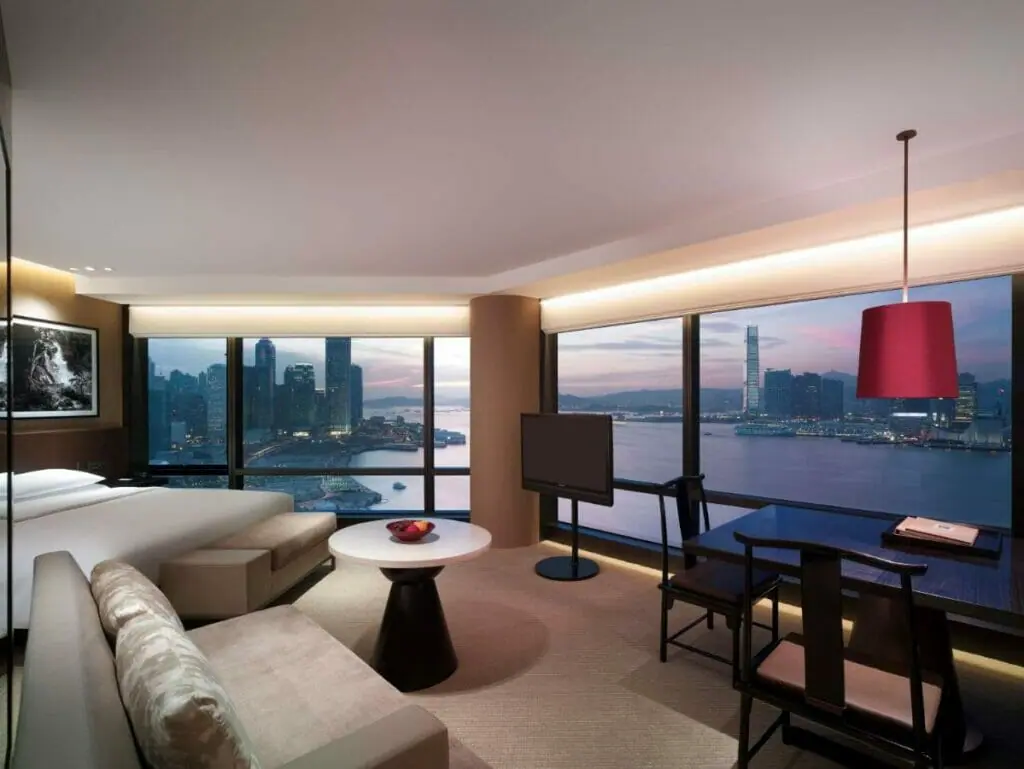 Gay-Friendly and Gay Luxury Hotels in Hong Kong
Nestled in the heart of Hong Kong's dazzling Wan Chai district, the Grand Hyatt Hong Kong is an exquisite haven for the queer traveler seeking luxury, style, and inclusivity. Upon entering the opulent lobby, one cannot help but be mesmerized by the harmonious blend of Asian design and contemporary flair, reflecting the vibrant essence of the city and the diversity of its inhabitants.
Darlings, let me tell you about the sumptuous amenities that await you at this palatial retreat. The Plateau Spa is a tranquil sanctuary, perfect for melting away the stresses of urban life. After indulging in a bespoke massage, one can lounge by the stunning 50-meter heated outdoor pool, sipping on poolside cocktails, and marveling at the breathtaking skyline views. The Grand Hyatt's dedication to creating a safe and welcoming space for its LGBT guests is evident in every thoughtful detail, from the warm and attentive staff to the effortlessly chic design that exudes an aura of understated luxury.
Now, for the pièce de résistance: the dining and hospitality options. My dears, the culinary delights at the Grand Hyatt Hong Kong are nothing short of exquisite. With a tantalizing array of award-winning restaurants and bars, you'll be spoiled for choice. Savor a decadent afternoon tea at the Tiffin Lounge or relish in the chic ambiance of One Eleven, the hotel's wine bar, as you sample boutique wines and gaze upon the sparkling harbor. And don't even get us started on The Grill, another of the hotel's exquisite dining venues, which transports guests to a Hawaiian luau with its poolside barbecue dinner surrounded by twinkling lights and palm trees.
The Grand Hyatt's commitment to celebrating diversity shines through in its hospitality, creating an unparalleled experience that leaves every guest, regardless of their orientation, feeling valued and cherished. So, my fabulous friends, treat yourself to an unforgettable stay at the Grand Hyatt Hong Kong, where luxury, style, and inclusivity come together in perfect harmony, creating a truly remarkable haven for the discerning queer traveler.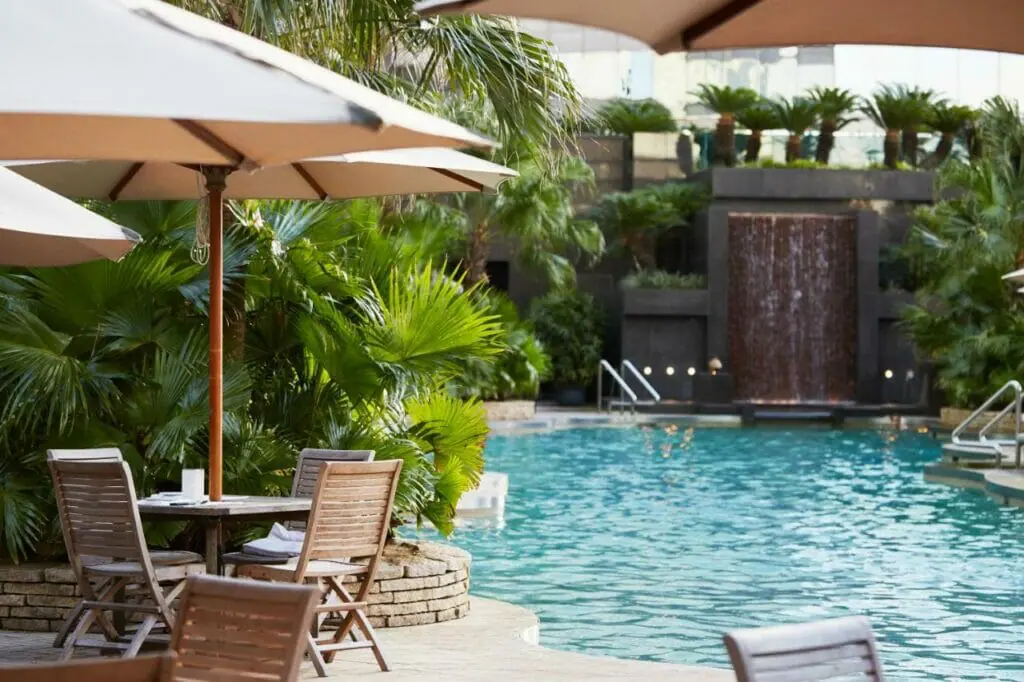 Inspired by the gritty, retro nostalgia of its Kowloon neighborhood, Jordan, Eaton HK inspires and nurtures the freedom of ideas by offering an inclusive gathering place for changemakers, creatives, and free thinkers to follow their bliss. Eaton HK is a pioneer in welcoming LGBTQ+ travelers to Hong Kong.
This is seen through their hosting of equality activists and transgender advocates for events, a robust programming schedule centered around humanitarian, creativity and community activism causes, inclusivity in hiring practices and guest service training, all the way down to little details such as storing marriage equality literature on-site and gender-neutral bathroom signs throughout the property.
Located in an emerging Hong Kong artist community, Eaton HK offers a variety of resources for the community, including a public radio station, a contemporary art gallery, a live music venue and bar, holistic healing experiences, a professional screening room, a members-only working club, sustainable food and drink options, private event spaces for meetings, conferences, weddings, and musical performances, a retail outpost, and more.
So much more than a hotel, Eaton HK is an incubator for arts and culture, a beacon for sustainability, a hub for impact initiatives, and a local connection to a global media platform. Our #1 choice for a fabulous gay stay in Hong Kong.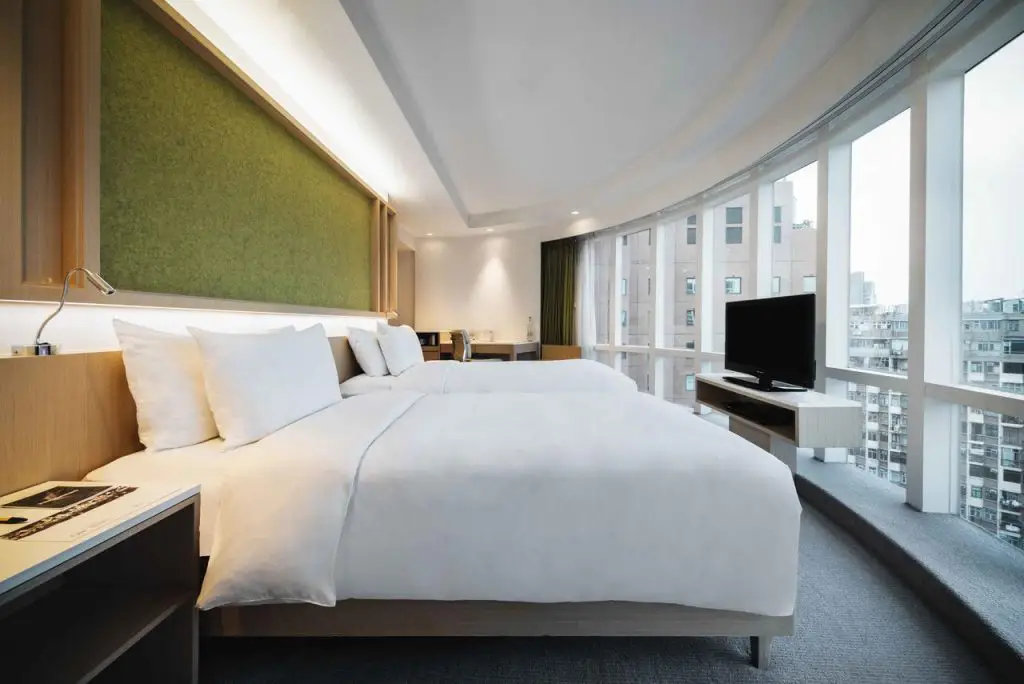 One of the world's most famous hotels – and the tallest in the world, the Ritz-Carlton offers unparallel views in which you often walk up above the clouds – modern design, a fabulous pool, and a lavish bar. There really is no stay like it in the world, and they sometimes run great promotional rates if you're lucky. Located in Kowloon, we wouldn't leave our hotel once we had checked in!
An understated residence hotel that offers a refreshing contrast to the Big 5 star chains in Hong Kong. Refined, airy suites offer living areas, limestones, bathtubs and rainfall showers – boys either skyline views or the greenery of Hong Kong's Islands mountain. Bike rentals, yoga classes, a terrace bar and a trendy cafe to boot!
Our other favorite hotel in HK, the W Hotel is extremely gay-popular and is ideally suited for lovers of funky design, skyline views, world-class service, and fun. Their lobby is a living room, the concierge 'whatever whenever' – this is luxury for a new Jetset generation that values uniqueness above all else.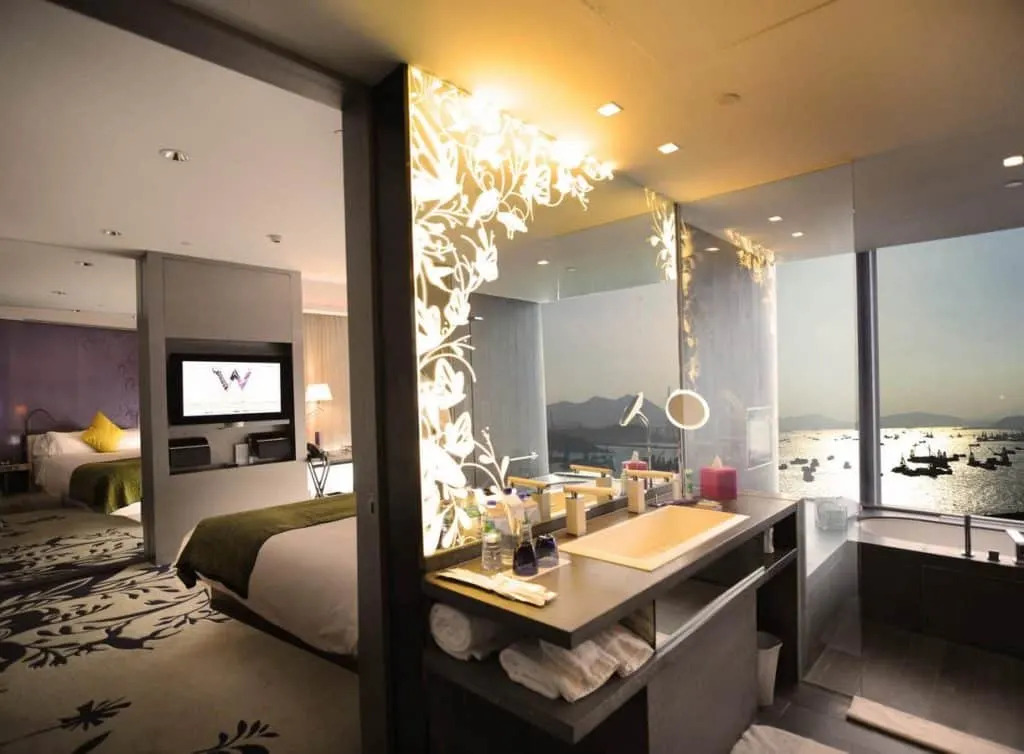 An upscale hotel in Causeway Bay with modern rooms, harbor views, one of the best rooftop bars in the world and a calm, almost natural garden space. Close to all the gay bar scenes in Hong Kong, it's a popular place to stay if you don't want to be in taxis or the subway all the time.
An oh-so-slick hotel with views over Kowloon Bay and Victoria Harbour. Its outdoor pool seemingly blends into the bay, and there really is nothing not to love here. Modern, trendy, spacious – A post-card perfect stay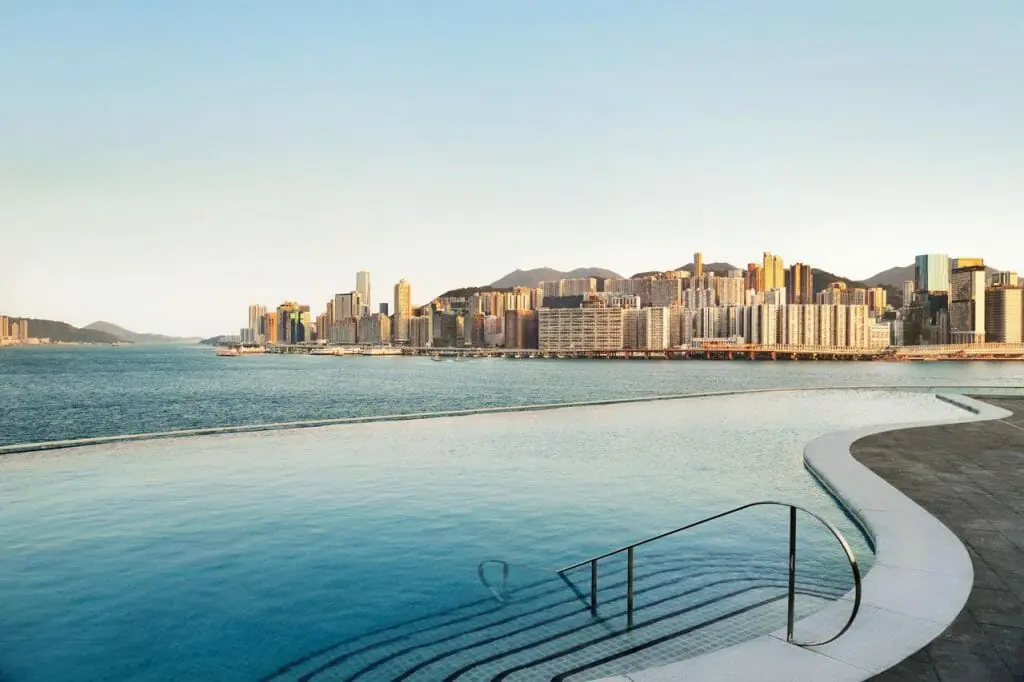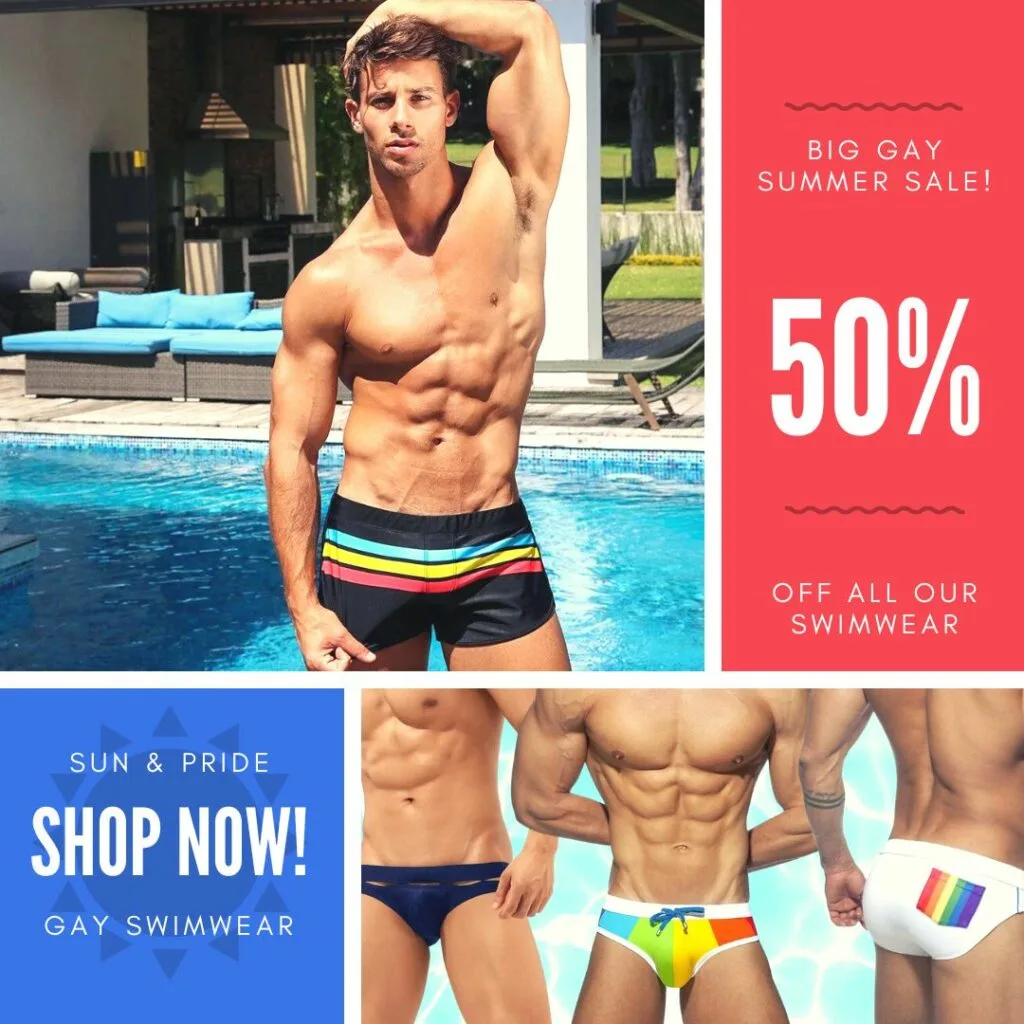 A posh hotel was newly opened in Kowloon, but the rave reviews were enough to convince us to add it in. We love the chic, white design palette and homely vibes; it is all very Scandinavian chic and offers a softer approach than the typically bold and over-the-top hotels in Hong Kong.
A sophisticated adults-only hotel with floor-to-ceiling windows and panoramic views of Wan Chai and plenty of small, thoughtful details. Sleek with vivid art, this adults-only hotel even has a glass-fronted infinity pool and one of the best designer cocktail bars in Hong Kong. Centrally located, this is a very-gay popular hotel.
Stanford Hillview Hotel Hong Kong ☆☆☆☆
A modern design hotel in Tsim Sha Tsui's famed Knutsford Terrace. Plenty of the city's top attractions are on your doorstep, delicious breakfast, the metro is 5 minutes away, and free drinks in the minibar. Oh, and the wooden design scheme in the room left us feeling right at home!
Centrally located chic hotel just hidden away from the hustle and bustle in Causeway Bay. Rough, unapologetically industrial design and rampant minimalism result in a hotel quite like no other. This hotel is nothing if not memorable, and maybe it's too hip for its own good …but we love it!

Gay-Friendly Mid-Range, Budget Hotels and Hostels in Hong Kong
Butterfly on Wellington Boutique Hotel ☆☆☆
Just an 8-minute walk from the Central MRT, everything is so close here we can't believe they have set their prices so low. 80 premium guest rooms in modern Chinese style, it's everything you could possibly want – and nothing more. But there are many cocktail bars a stone's throw away if you're having problems spending all the extra cash.
I bet this hotel won't stay around for long as it has expansive views from its room yet budget hotel prices. It's our bestselling hotel in Hong Kong, and it's easy to see why. The lowest category rooms are basically shoeboxes (like many hotels here), but if you pay a bit more to upgrade, some rooms have huge windows on three sides.
Another cheap and cheerful hotel in Tsim Sha Tsui. A ten-minute walk to the nearest MRT station, cheap rates and a decent size room for Hong Kong. Fab reviews, excellent value for money and a nice purple theme throughout.
A relaxed hotel with unassuming rooms in the Tsim Sha Tsui neighborhood. Sure the design offers far too bold colors, and you won't be snapping photos of your hotel room- but it's cheap, in a great location and well located between the airport and Hong Kong Island.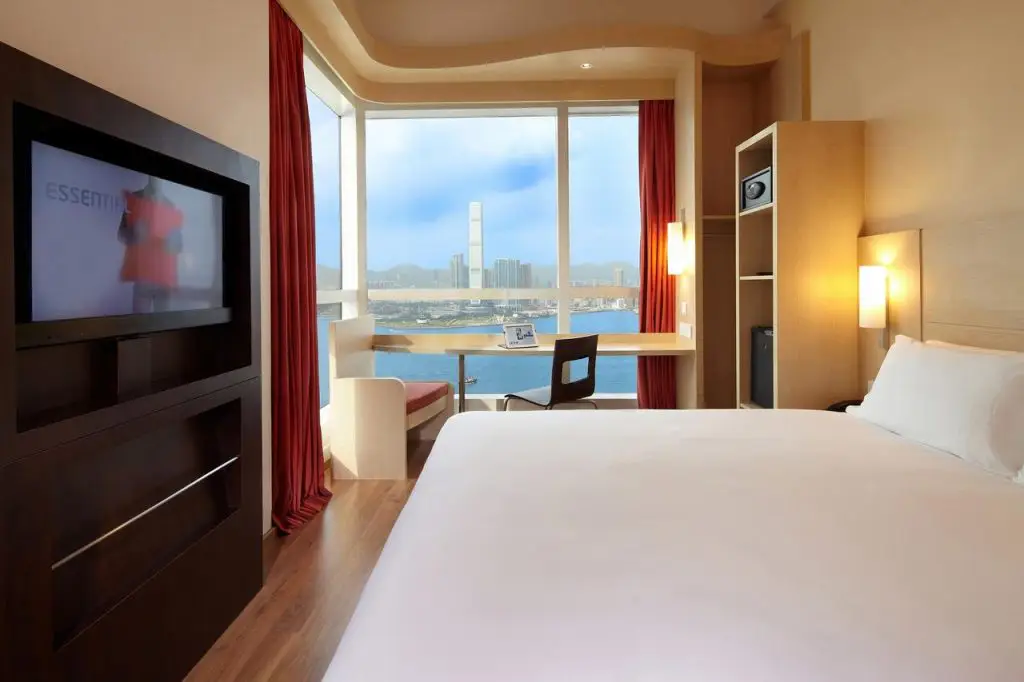 Our #1 choice for gay travelers looking for a budget Hong Kong hotel. Great quality, some of the lowest prices we have seen in Hong Kong and all the gay nightlife in HK is right on your doorstep. Ibis even has some beautiful city-view rooms and a free shuttle bus to HK airport. Is it any wonder so many gay travelers choose to stay here?
The capsule hotels are finally coming to Hong Kong, and L'étoile de Mer is the first. Fully-automated with all the amenities of a big hotel like toiletries, pajamas, ocean views and your own secure space (it's just a lot smaller). If you're only in town for a night or two, this could be a fun/different option.
Hong Kong's coolest hostel – and the only one with a large social round, hotel-grade mattresses, and funky design. Sure, you are about 30 minutes from Central and Causeway Bar, but you will be saving a ton of money, staying in an authentic neighborhood and connecting with lots of other travelers from all over the world.
If you are on a budget, traveling solo and want to make friends before heading to the party, we recommend you stay here.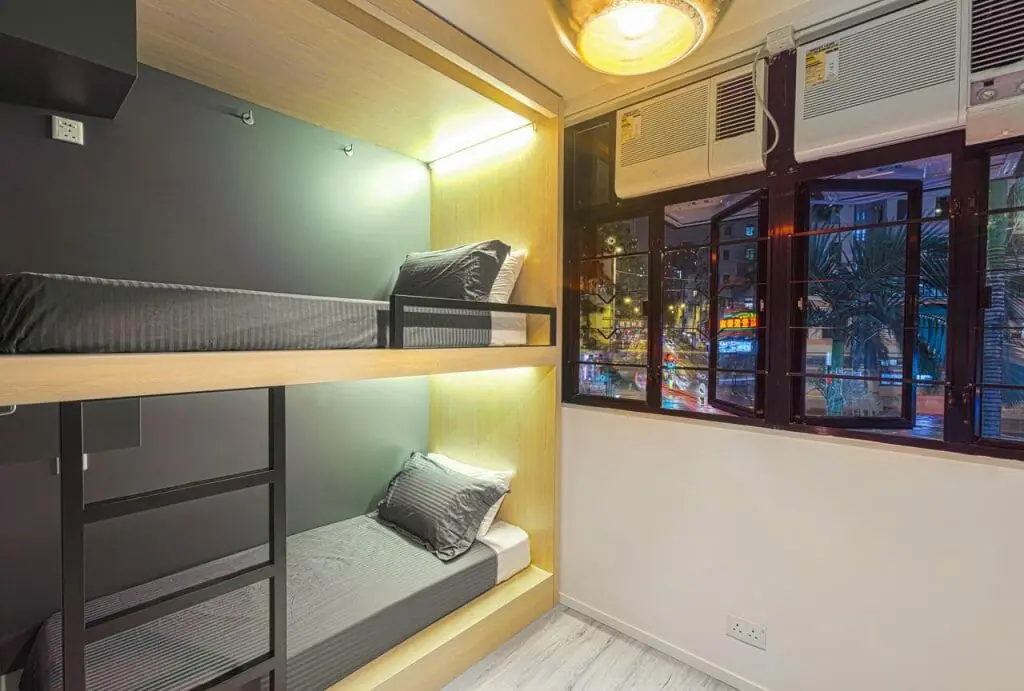 Gay Bars and Gay Clubs in Hong Kong
With Hong Kong being one of the most gay-friendly cities in Asia – far ahead of even Shanghai on the mainland – you would expect an incredible gay nightlife scene, and luckily Hong Kong does not disappoint.
Depending on your mood, you can find anything here, from a relaxed cocktail in an upscale bar to an all-night dance rave surrounded by your queer family!
The main LGBT nightlife venues in Hong Kong are found around Central Hong Kong in Causeway Bay or in Tsim Sha Tsui in Kowloon. Check out the handy Gay Hong Kong Map at the end to see their exact location – and how far they are from your gay hotel in HK.
Due to rent raises, venues open, close and move here frequently, so please check their social media before you head out.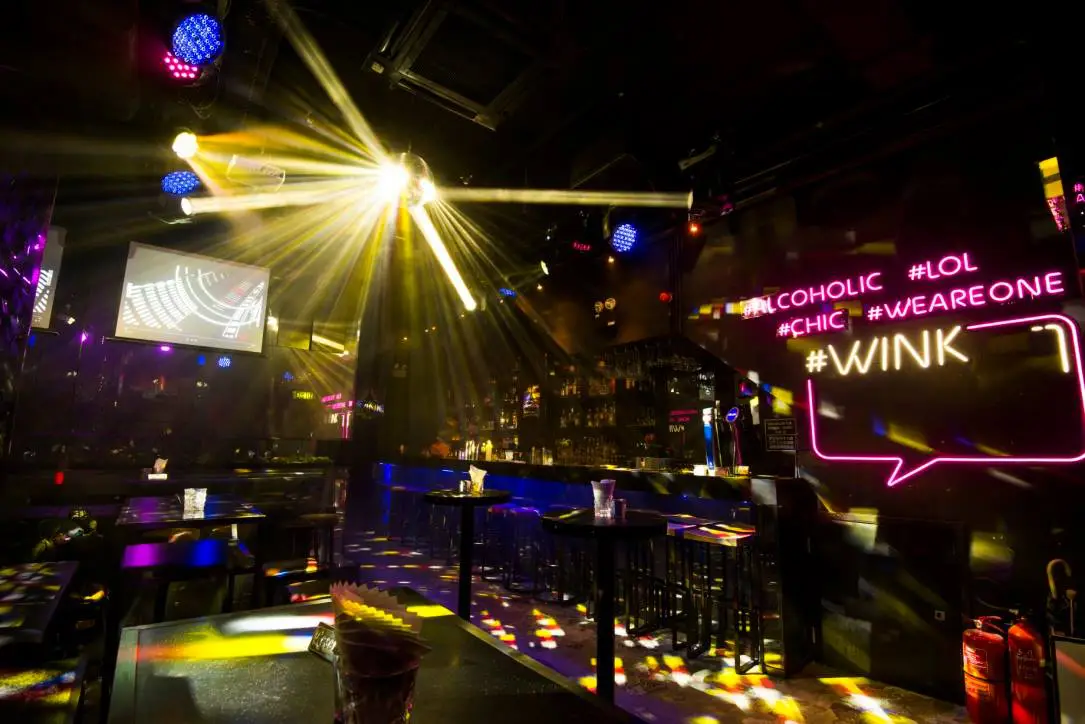 New, modern and spacious gay bar in Sheung Wan with finger food, fun events and occasional drag shows. We loved the neon 'We Are One neon lights and 2-for-1 happy hour specials.
Now located in Causeway Bay, this is the most famous lesbian bar in Hong Kong – and a marvelous place to hang out with your queer sisters in cozy surroundings. Casual music is perfect for chatting and meeting new people; they also have a fun 'make your own cocktail' package.
A fun gay bar in Kowloon popular with locals of all ages. They have karaoke, nice drink bargains, and a homely vibe. It's small, with welcoming staff and a frequent themed night.
A trendy gay bar on the 22nd floor of a building in Causeway Bay. Probably the biggest gay hot spot at the moment in Hong Kong, with a local and young crowd packed in tight every weekend. Prices are significantly lower than bars in Central, nice views from the window and attitude-free staff. If only they would get rid of those tables in the middle of the dance floor.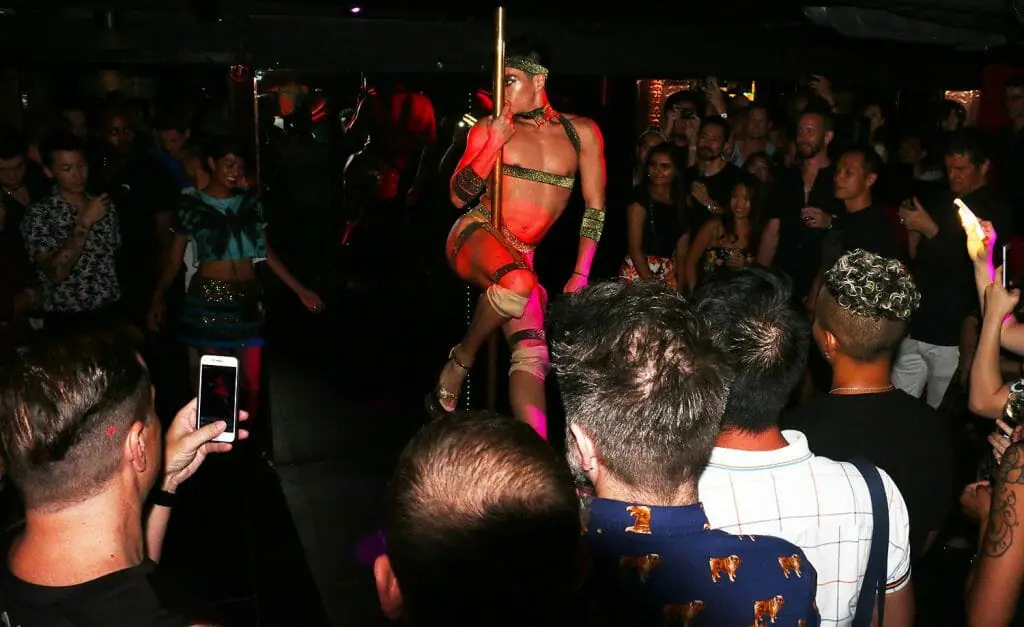 A cool, lively LGBT bar in Central Hong Kong with a nice mixed crowd, outdoor spaces and fabulous drag shows, which are among the best in Hong Kong. The free Vodka Hour and topless bartenders on Wednesday Night are sure to cure your mid-week blues.
Calling all pandas, bears, otters, cubs, and admirers – this popular gay karaoke bar in Kowloon offers cute waiters, daily happy hours with strong drinks and a hassle-free environment.
Play Club
(Temporarily or permanently closed. If you know something, please suggest an edit.)
An LGBT-friendly nightclub with good music, good people and good cocktails. With a large dance floor and world-class music system, this is a great place to party if you're more interested in dancing than hooking up – or hitting the town with your 'straight crew'.
The second lesbian bar in Hong Kong in South Tsim Sha Tsui – and more fun than virus if you're into all-night table-top dancing, themed events and beer pong.
One of the most famous gay bars in Hong Kong attracts big crowds that often spill out on the footpath at the weekends. Fabulous bar, with plenty of wild events and a kaleidoscope of lights and lasers. It might be small, but this is your quintessential gay bar in Hong Kong to meet your queer family over fun drinks like Watermelon Mojito.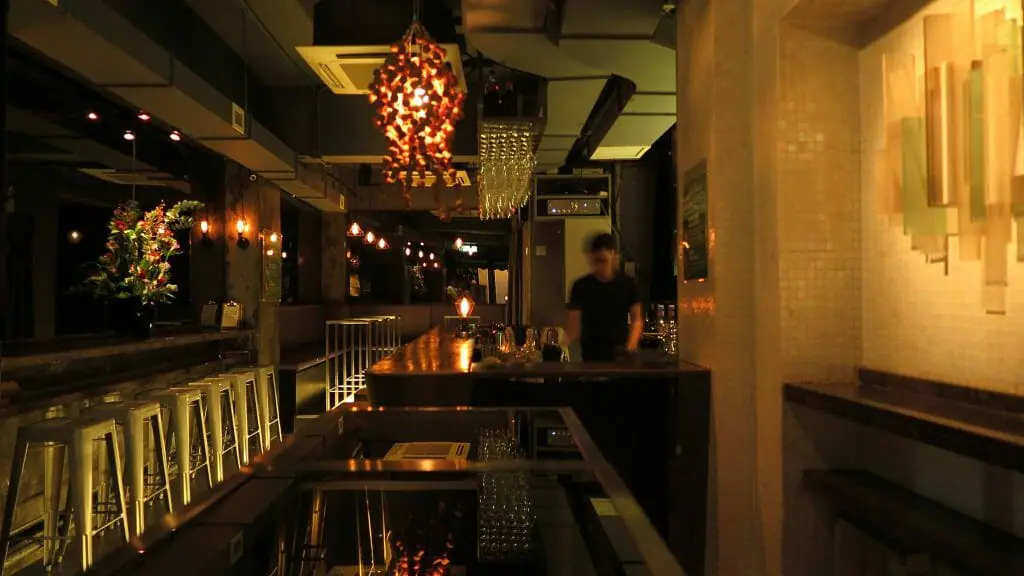 An upscale and very industrial gay bar that is perfect for an after-work drinks meet-up or to start your night in sophisticated surroundings. The long bar ensures plenty of interaction and sociability, so we found this was a great place to relax and meet new friends before heading out to the bigger gay nightlife spots.
New Wally Matt Lounge
(Temporarily or permanently closed. If you know something, please suggest an edit.)
One of the oldest gay bars in HK though it's moved a few times. Now Tsim Sha Tsui is popular for cruising and cheap drinks, but Westerners don't really come here anymore. Stop by if your area, but with such a vibrant gay scene, there are much better places to go.
A popular gay club in Hong Kong that gets crazy on the weekend, and hosts fun bingo and karaoke during the week. A mixed international and local crowd with two floors so you can dance downstairs and talk upstairs. Fun drag and other events, so check out their Facebook page ahead of time.
An unclassified bar that is very gay-popular. If you don't want to head out after dark, this is a popular place for ex-pats and young professionals to meet on weekends, especially Sunday afternoons, for drinks for people watching here to the Escalators.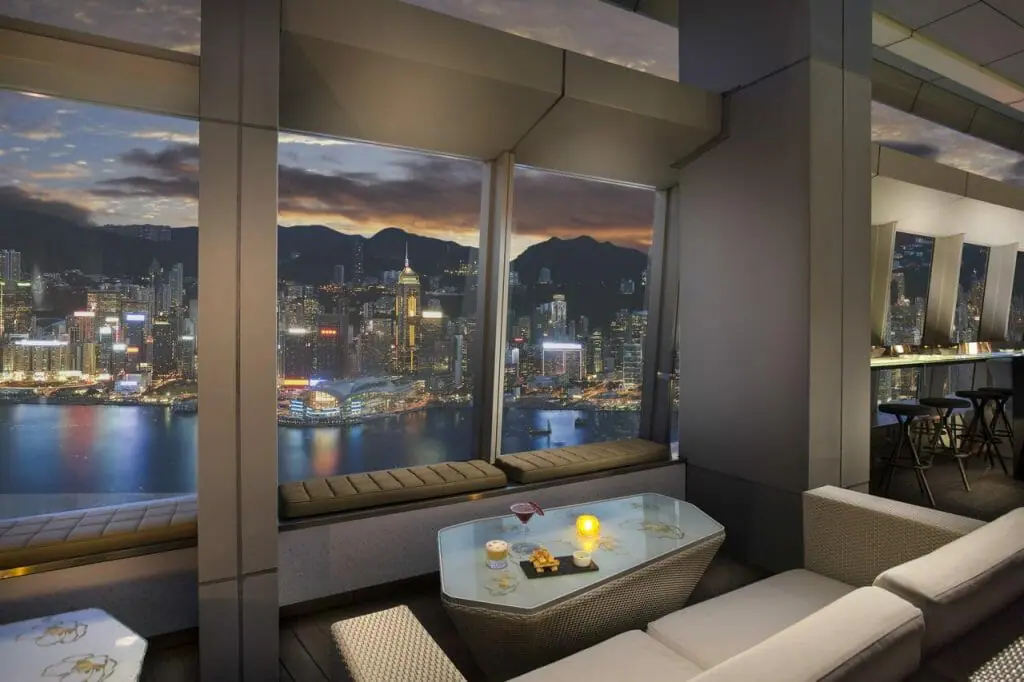 Ozone @ Ritz-Carlton Hong Kong
If you just want divine cocktails, fabulous views and luxurious surroundings, then you need to head to Ozone on the 118th floor. Perfect for a romantic sunset with an extensive wine and cocktail list – if you can't stay at this hotel, then at least pop up for a drink!
A fun brewpub with an extensive menu of craft brews, many of which were made in Hong Kong! High-Ceilings, vintage Hong Kong decor and a hipster crowd, make this a chilled place to low-key hang.
A happening outdoor sky terrace bar with unreal views and chic-futuristic vibes. The glowing blue neon, the surprisingly reasonably priced cocktails, and the relaxed vibes make this our favorite roof bar in Hong Kong…And we are not the only gays who think so!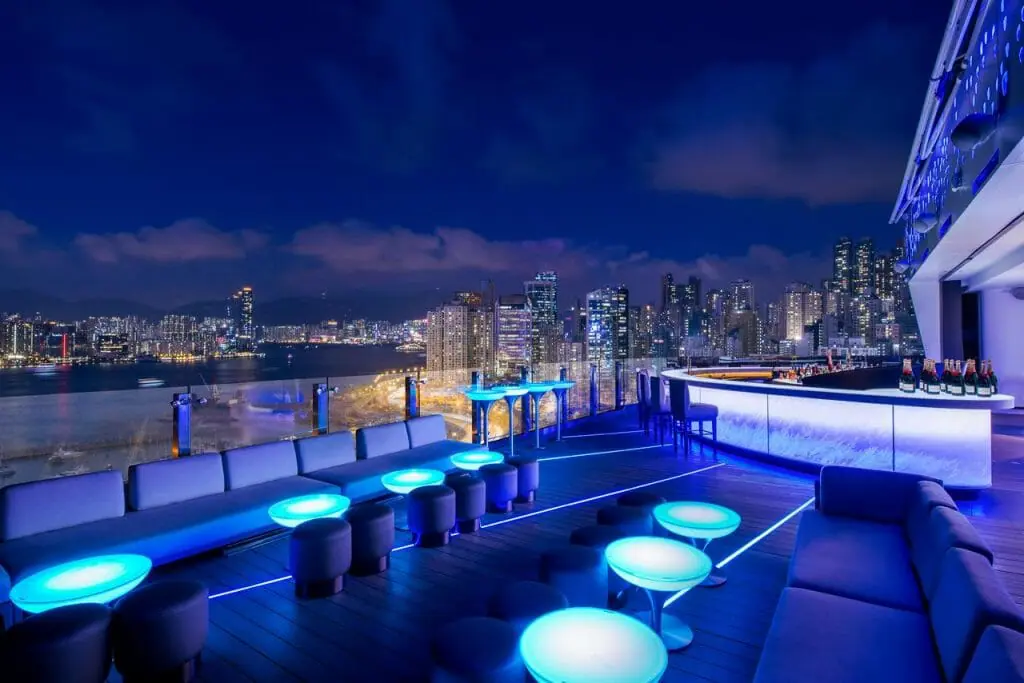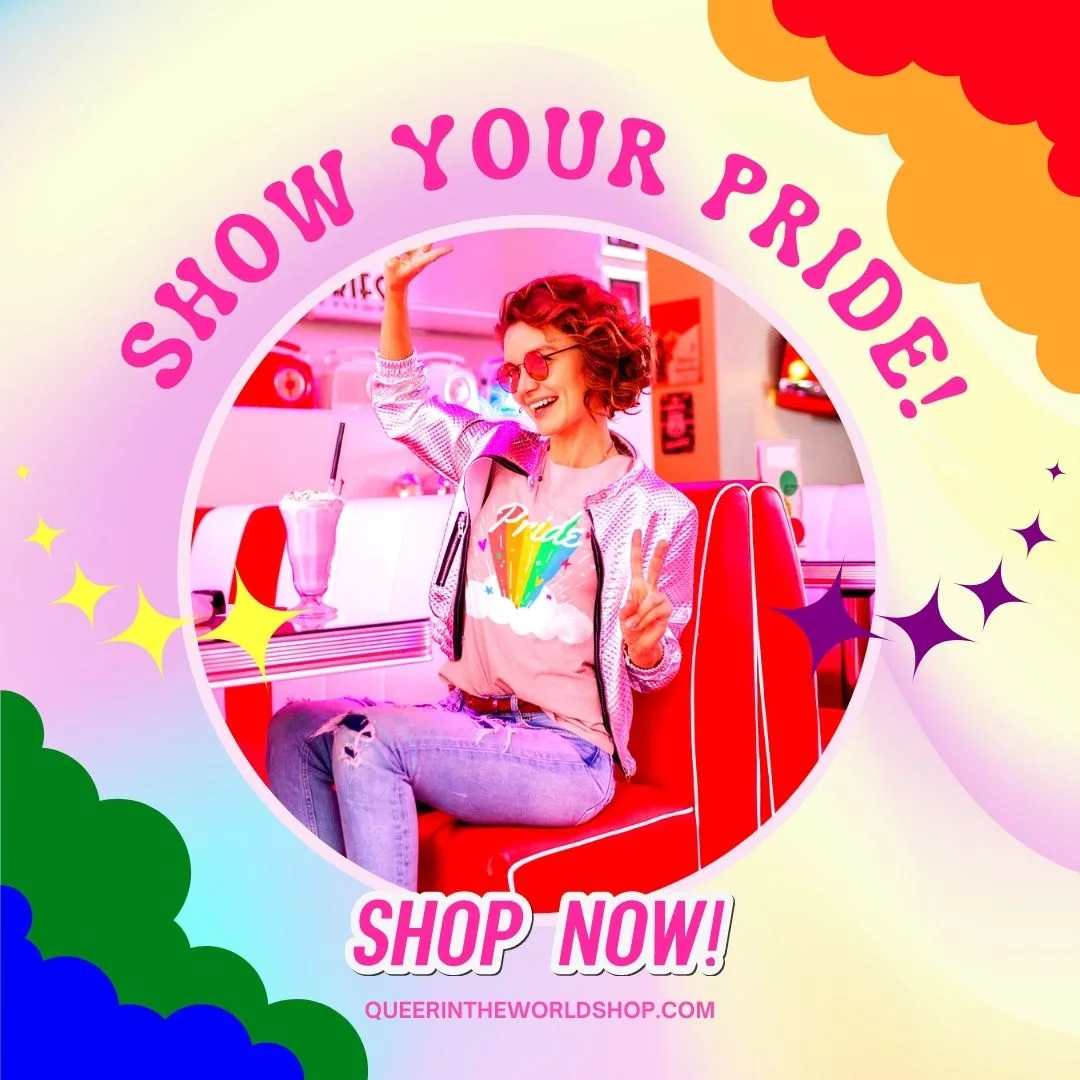 Gay Spa and Man Massage in Hong Kong
Don't care about the sights or simply want to take advantage of high-quality gay spas in Hong Kong? Then why not get a sensual male massage in HK – there are plenty of options! Here are two top recommended gay spas and male massages in Hong Kong options.

A gay spa in HK for men only offers plenty of male massage options, including body scrubs, pedicures, buck rub and hot stones.
J2 Men's Massage
(Temporarily or permanently closed. If you know something, please suggest an edit.)
A professional men's spa in Hong Kong offers messages from highly reputable male masseurs with extensive Chinese and Thai massage skills.
One of the best male massages in Hong Kong in a clean, vibrant spa. We recommend the four-hands massage, but you can also never go wrong with a body scrub and Swedish massage.
Spa and male massage in Hong Kong offers pampering and delights. They know how to match licenses with the right masseurs and even offer out-call services.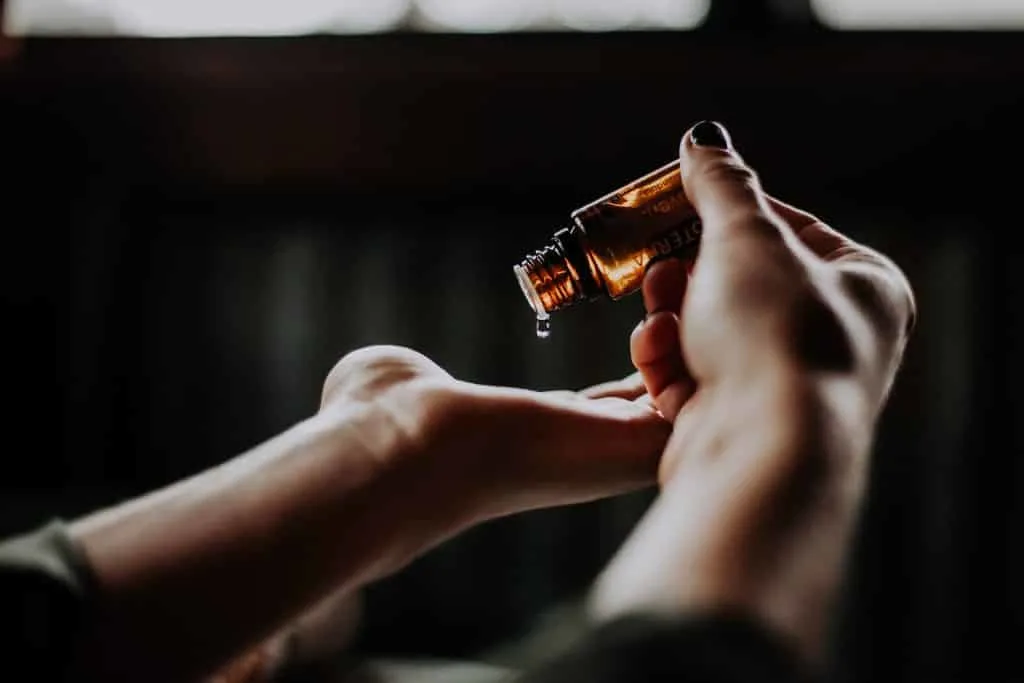 Located up in the sky on the 72nd floor of the W Hotel, this spa is a funky alternative to your normal spa experience and is going to be something you will never forget. They offer a specific program for men focusing on reviving your complex through an almost scientific concoction, and it left us feeling fabulous.
All too often, gay spas focus on simply relaxation, so we loved that here we have left feeling truly transformer and feeling great – which translated into better success later on at night!
Take some me time and give your skin some TLC in this indulgent luxury spa with inspiring views. They offer a fabulous coupe spa for gay men, which is one of the most romantic things to do – sure, it's not cheap, but aren't you worth it?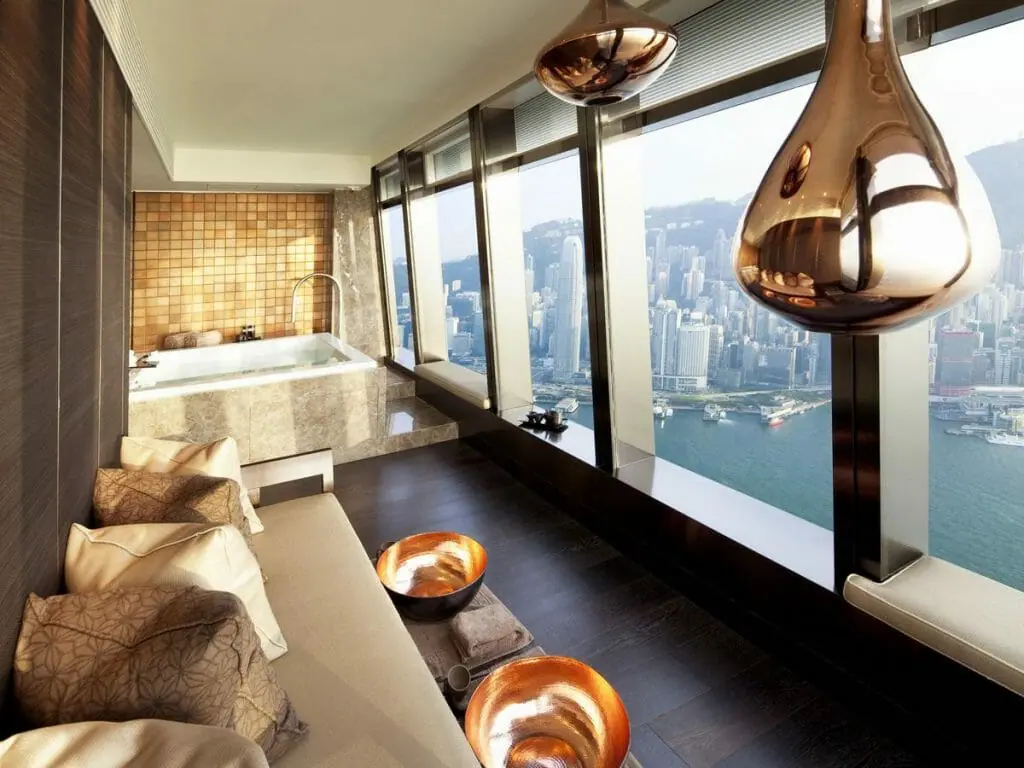 Gay Cruising & Gay Saunas

in Hong Kong
Had enough of gay cruising in Hong Kong – either in the bars or elsewhere? For those who want a bit more guaranteed action, the gay saunas in Hong Kong will not disappoint you (unlikely all those faceless accounts on Grindr or the other hook-up apps…). and are actually among the best in Asia – only rivaled by Gay Taipei and Gay Bangkok.

In such a foreign-friendly city, you should have no issues visiting any Hong Kong gay sauna but be warned that we have heard reports that older, hairy or chubbier guys are being totally ignored in some saunas.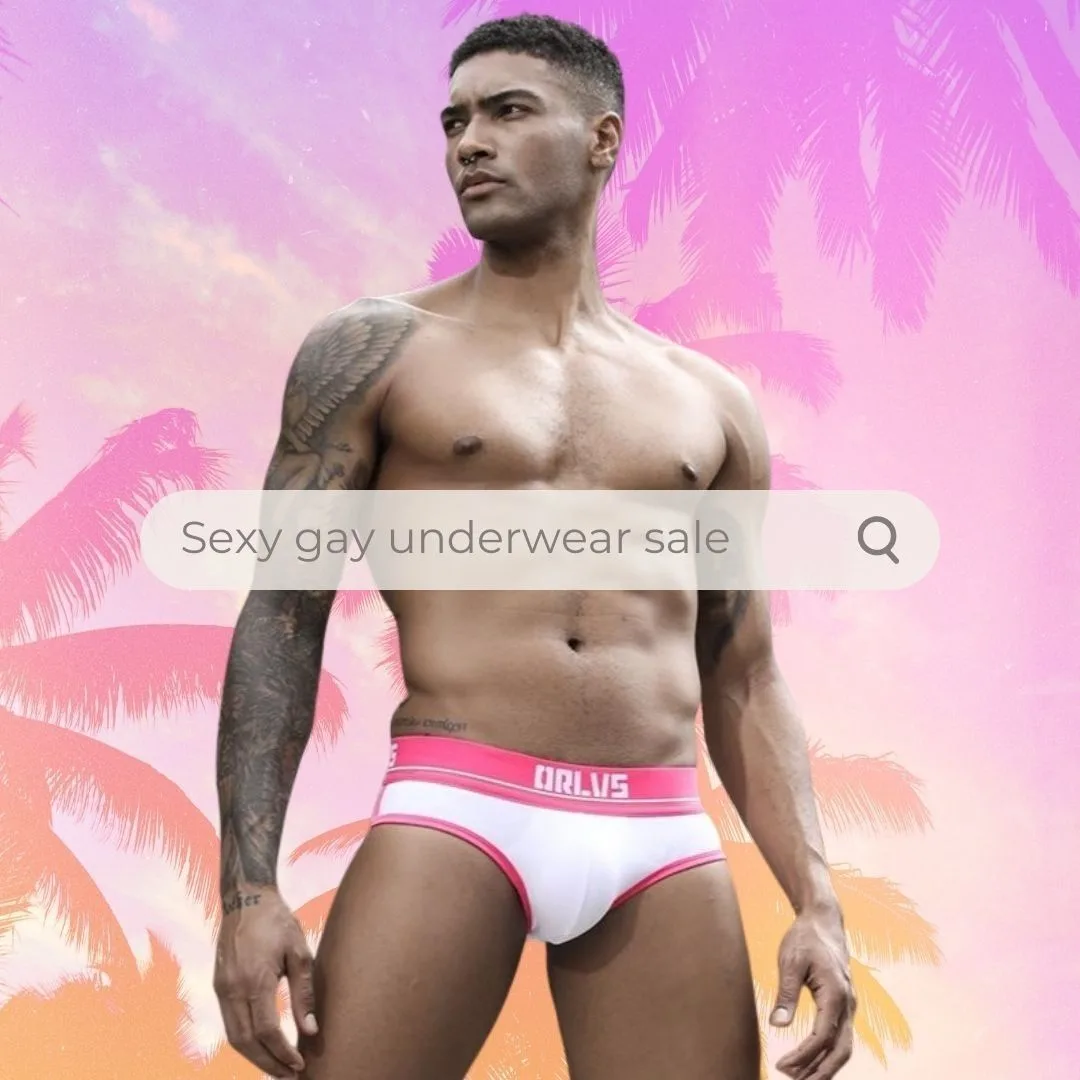 Gay Saunas

in Hong Kong
Also known as CE, this is Hong Kong's oldest gay sauna and known for the large international crowds it draws – probably due to its location and friendly staff. The busiest times are weekend afternoons or weekday evenings. Small (which is actually an advantage with shy Asian guys) and a bit run-down, but still a good time with a steam room, sauna, XXX room, jacuzzi and private cabins – plus plenty of young, hot guys.
Jungle Sauna
(Temporarily or permanently closed. If you know something, please suggest an edit.)
Previously known as Hunter, this all-night 247 sauna in Kowloon is very locally popular and a popular place to go to meet young Hong Kong guys, though they are welcoming to everyone. A fun maze / dark room, infrared and steam room, private cabin and relaxing lounge. They have indoor tanning, but honestly, who thinks premature skin aging and the risk of skin cancer are sexy anymore?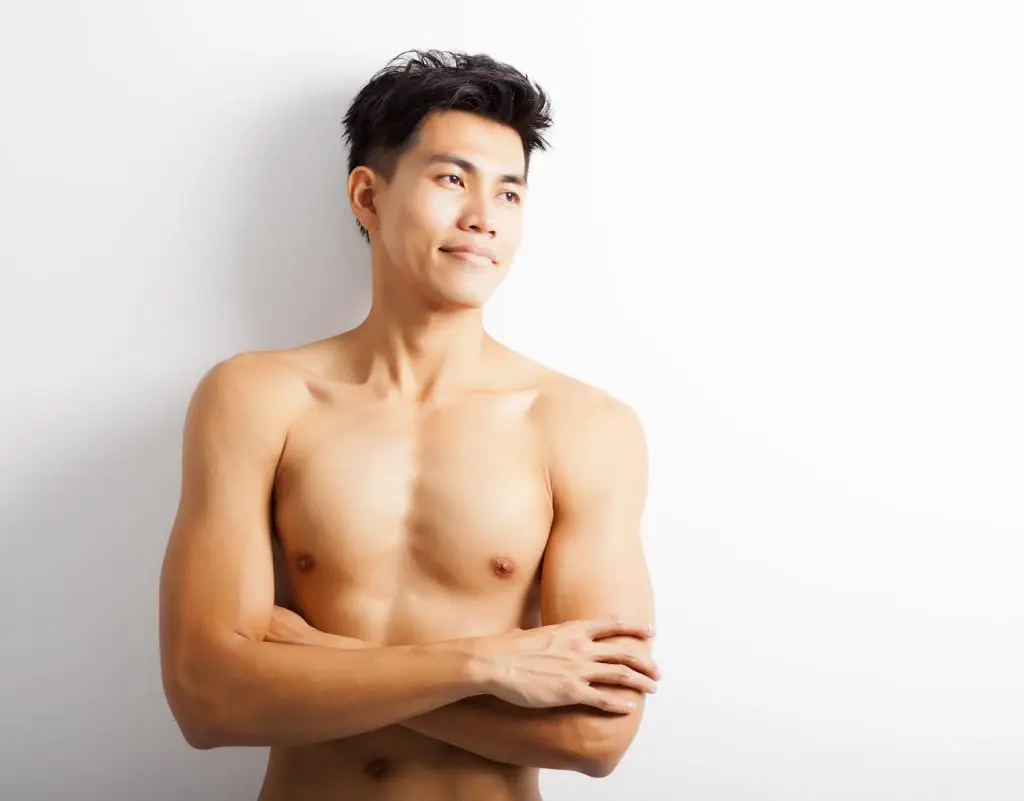 Newly renovated gay sauna in Wan Chai on Hong Kong Island. Mostly Asian guys – either locals or visiting, but cheaper prices than other saunas we visited.
About as glamorous as saunas get, with plenty of private rooms, complimentary soft drinks and snacks., a steam room and sauna, showers and a fun jacuzzi. Gateway Sauna gets our vote for the best gay sauna on Hong Kong Island.
Previously a large, modern sauna, but has since moved to an is now much smaller one with sup-par facilities, a weird receptionist and not many guests.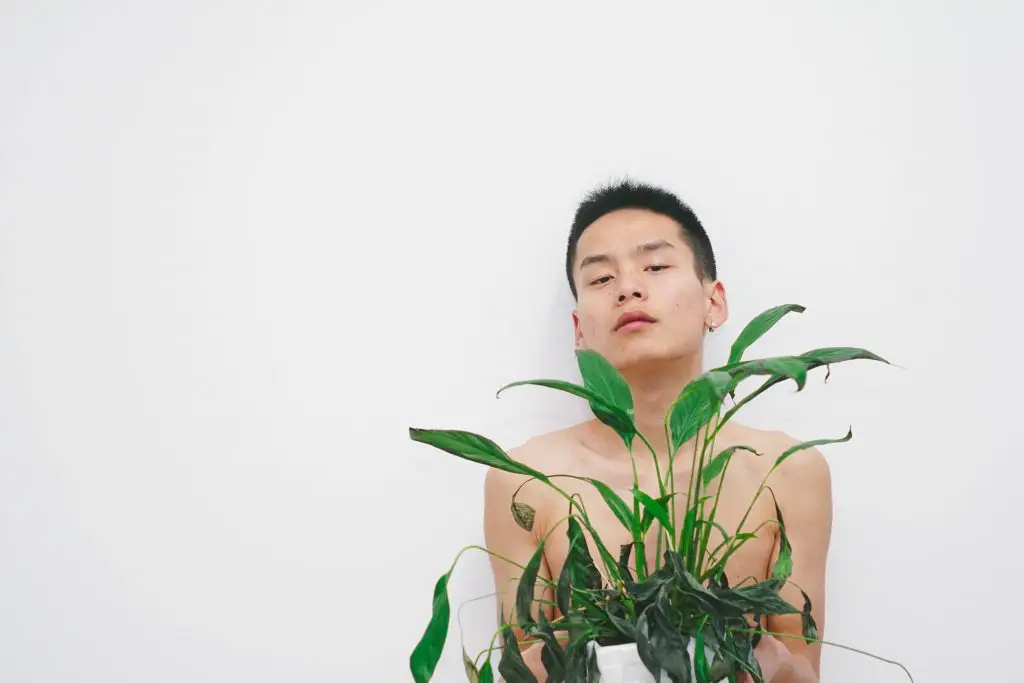 Open 24 hours a day except for Monday nights, Soda is one of Hong Kong's newest gay saunas and the biggest dark room on the island. We liked the S&M facilities, friendly welcome, steam and sauna rooms, plenty of food and drinks, and hot guys who know how to get straight down to business.
Nice gay sauna in Wan Chai with both steam and dry sauna and relaxing lounge. Naked nights on Sunday are popular with around 20-30 guys, mostly in their 20s and 30s – but Western guys might find here they are not very interested and only get a groping out of curiosity.
Big Top Sauna
(Temporarily or permanently closed. If you know something, please suggest an edit.)
A small sauna tucked away in a residential building in Mongkok. Mostly happening on Friday and Saturday nights (like most saunas here), you can find a shower area with plenty of eye candy, a small sauna, a dark room, private cabins and plenty of locals. More 'Asian for Asian' for if you're a Westerner, it's better to head to the 'international Sauna' on Hong Kong island.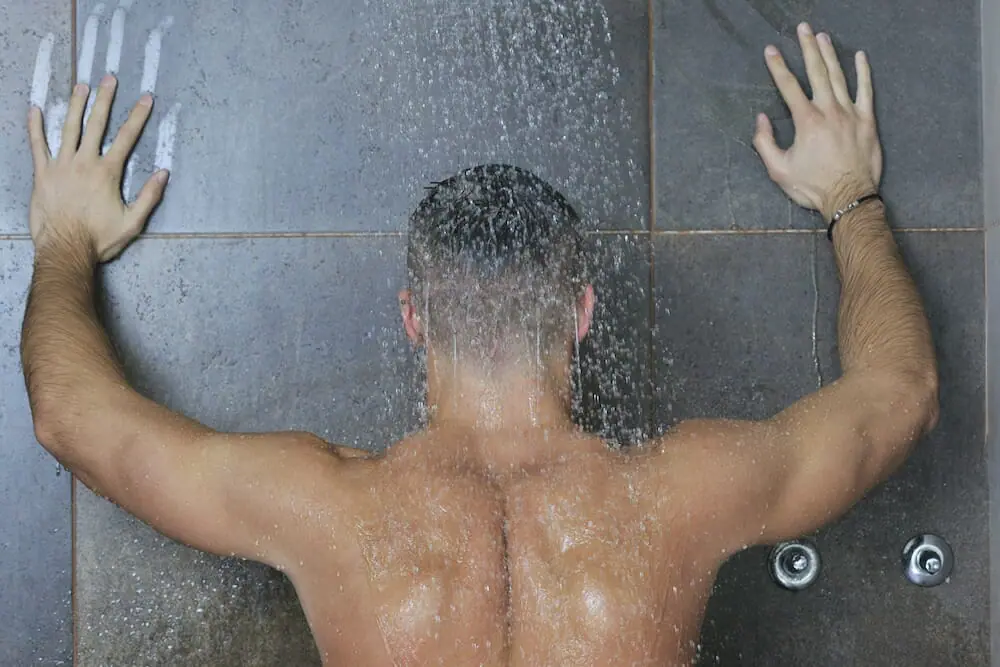 Gong Guan
(Temporarily or permanently closed. If you know something, please suggest an edit.)
Clean, modern and newly opened sauna in Hong Kong – but extremely hostile to foreigners. They try to make themselves a place for bears, mature guys or pandas but trust us; you're not going to feel welcome.
A fun 24-hour sauna in Mongkok with a jacuzzi, super dark maze, sauna, private cabins and open showers for more fun. Ultra-modern and very clean, this is our favorite sauna, not on Hong Kong Island. Walk up from MTR Mongkok station Exit-A2 (Fife Street), and look for the gate on the left of the shop " iLightings ".
One of our biggest regrets was visiting this sauna in Hong Kong. With so many great places in the Hong Kong sauna scene, this is an outstanding disappointment with rude staff, dropping older locals, facilities that were broken or not available, dirty everywhere and not even willing to give us a towel.
Maybe a management change in the future could realize its full potential.
Gay Cruising

in Hong Kong
Rainbow Bear
(Temporarily or permanently closed. If you know something, please suggest an edit.)
A gathering place in Kowloon for bears, clubs, pandas and otters to meet and show their love – with private rooms for rent, showers, a TV room and a cafe. Different themed nights like Nude, Chub or Stock – but it's not that popular, so you will probably end up waiting a long time for that perfect match.
*As of 2018, we think Rainbow Bear has closed down – please contact us to confirm either way*
A Cruise club in Kowloon where foreigners are welcome with private cabins, XXX rooms, showers and lockers. Conveniently located next to TST stations – but it's basically a sauna without the facilities. They are very sterile, simple, and weirdly enough, they have CCTV cameras installed.
Hong Kong's only Fisting & Fetish men's club, run by the same 'All Boys Club' group as Gateway Sauna. Popular with old local HK guys with all-day nude parties on Tuesday and Saturday. Plenty of facilities to fulfill all your fantasies, even if Arena is a bit small in general.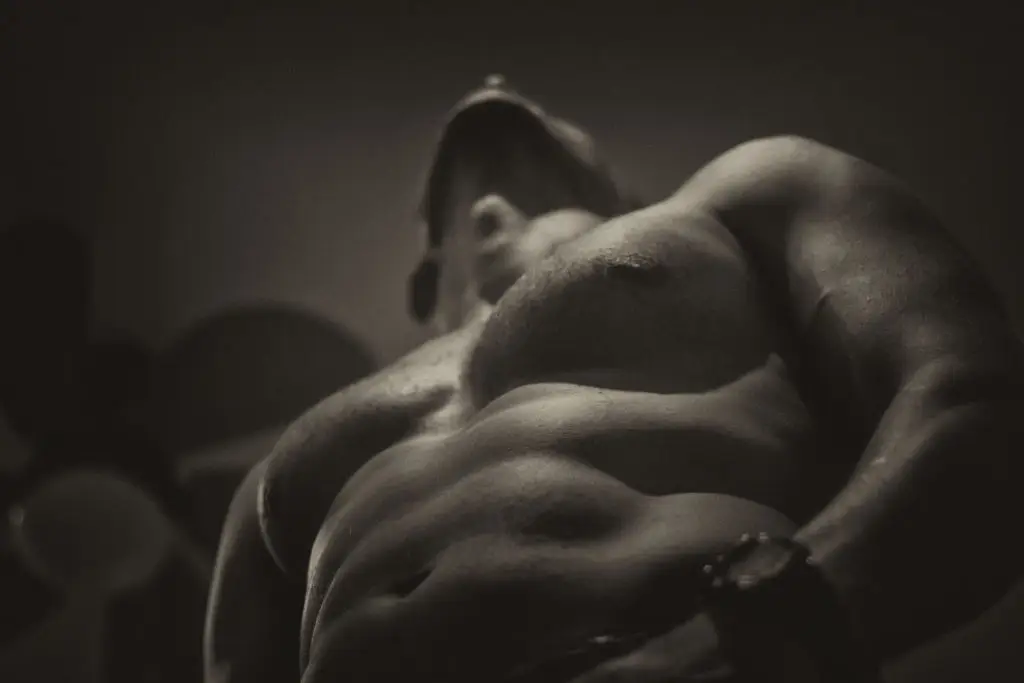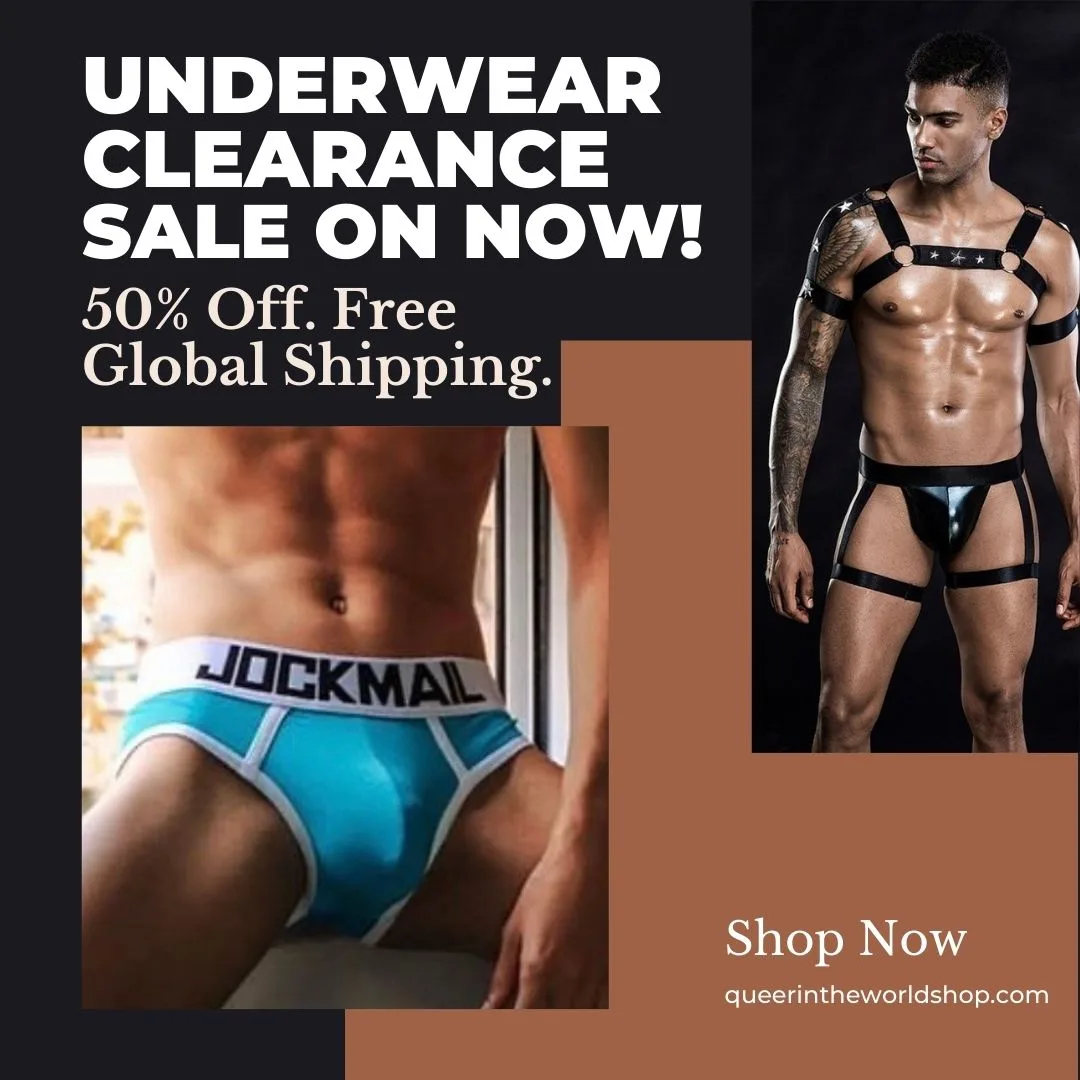 Gay Map Of Hong Kong
Finding it hard to envisage where everything is Gay Hong Kong? Hopefully, this queer-centric map helps where we have marked all the bars, clubs, parties, hotels, saunas, massages and more will help you stay in the spot best suited to you!