Bangkok – often referred to as the gayest city in Asia along with Taipei – is unsurprisingly a hugely popular travel destination for queer travelers.
An extremely tolerant society where gay, lesbian and transsexual lifestyles are largely accepted as a natural way of life, Bangkok is the epicenter of gay culture in Thailand.
Adding to the appeal of a trip to Bangkok is the incredible food, friendliness of the Thai people, ancient temples, raging nightlife, hip shopping destinations and yes – everything at a very affordable cost compared to Western destinations (though rising rapidly).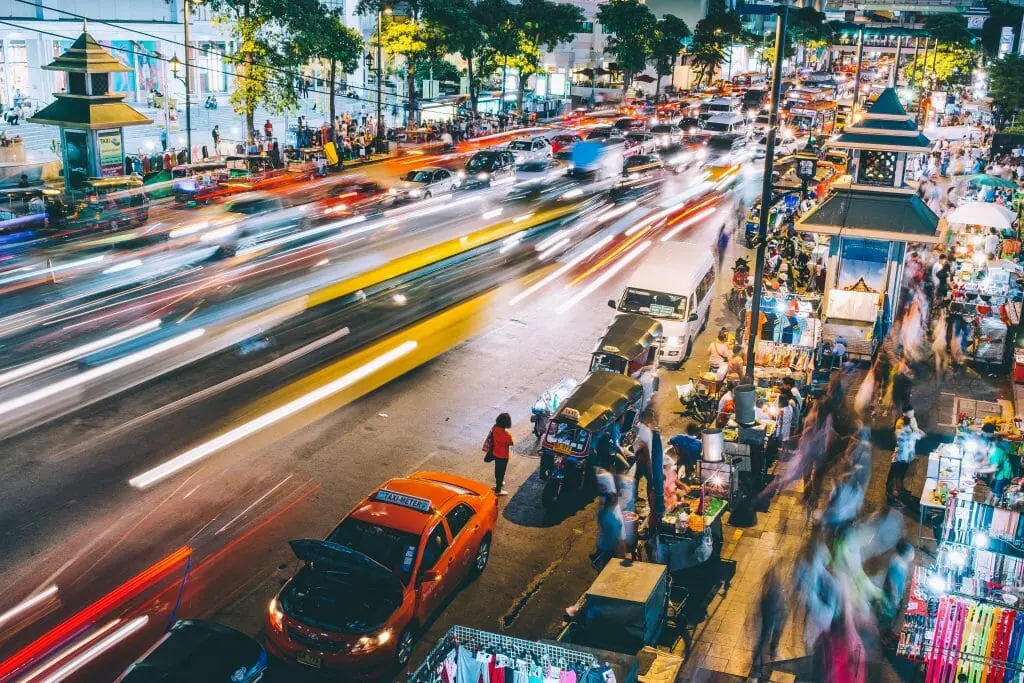 While long known as a backpacker destination, Bangkok now has some of the most affordable and luxurious properties in the world, and offers more bang for your buck than almost anywhere else on earth!
Gay Bangkok offers something for everyone, crazy nightlife, boutique shopping and luxurious hotels and spas – often all on the same block. Bangkok is one of the few places on earth where the gay nightlife scene is as crazy and wild as the straight!
Even if it's not typically your thing, you have to try at least to visit one of the countless cabarets, clubs, bars, karaoke or go-go bars if only to see how accepting Thai culture, in general, is of the LGBT community.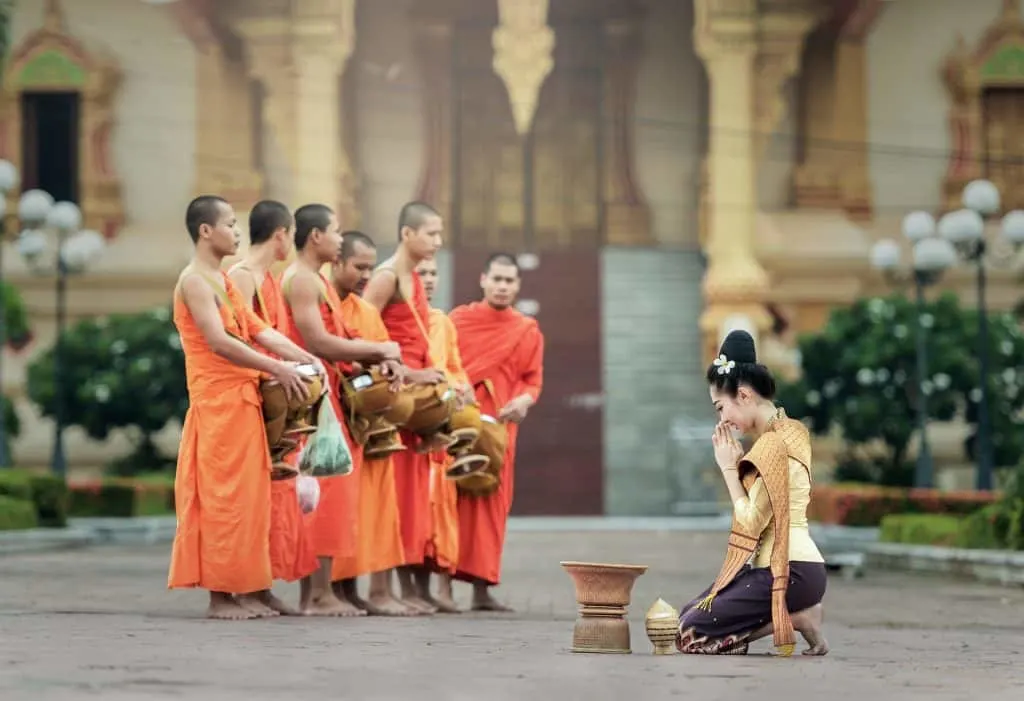 Equally tempting is the plethora of roof-top bars and dining, world-class spas, infinity pools and affordable luxury hotels – all of which nearby gay Kuala Lumpur has, just without the same LGBT acceptance! An incredible amount is packed into this city of 8 million – and every visit will unearth something new.
Whether you use Bangkok as a gateway to one of Thailand's popular beach resorts like Gay Pattaya or Gay Phuket or as a holiday destination in its own right, there is enough here to satisfy you for a week, month or even years. This probably explains why there is such a huge ex-pat community in Bangkok!
Bangkok has everything you could possibly want, and perhaps a few things you never knew you desired…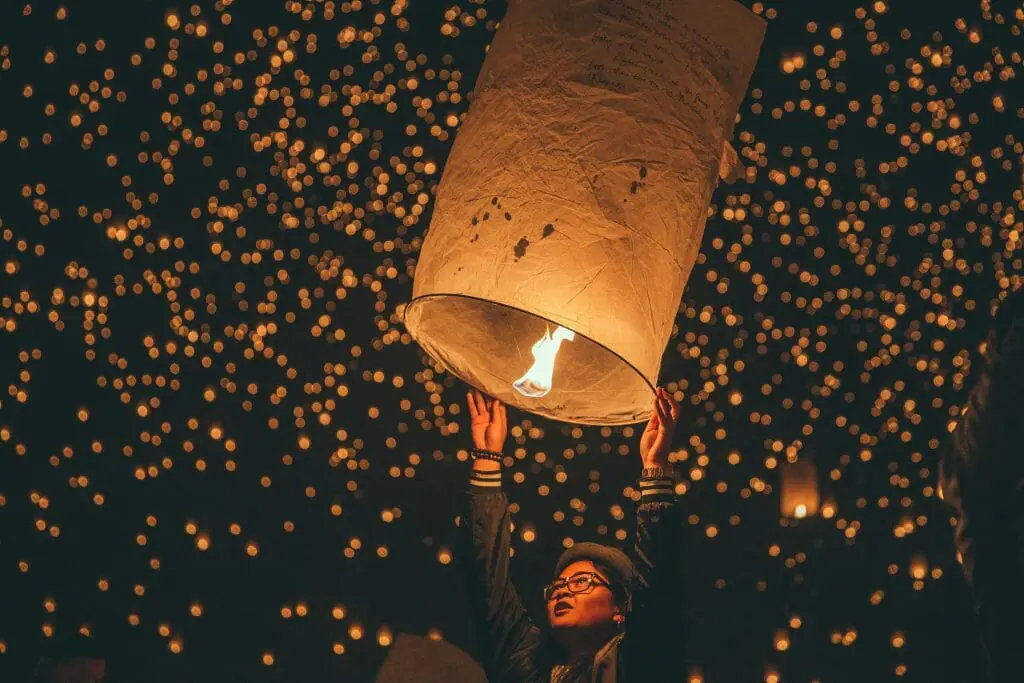 Gay-Friendly Attractions in Bangkok
Bangkok is not your traditional 'tourist city' in the way of Paris, Vienna or Sydney, where you can quickly gather together a list of must-do attractions and tick off as many as you can. It is a fast-paced, chaotic city that does not reveal its treasures easily..and the best things are only found through exploration.
One of the best tips we can give you for exploring Gay Bangkok is to pre-order a travel SIM card for easy airport pickup and activation the moment you arrive so you will not pay a fortune in international roaming charges.
Get restaurants recommendation and reservations on the fly, public transport instructions up to the minute, bar opening hours, and, if it is your thing – access to gay hookup apps to find out more about the local scene.
Mobile data is fast, cheap and available almost everywhere in Asia, so it is no wonder most travelers choose to stay connected and get off the beaten track (without ever worrying about getting lost). So why wait? Pre-order the best local SIM card now to have it waiting for you in Thailand when you arrive.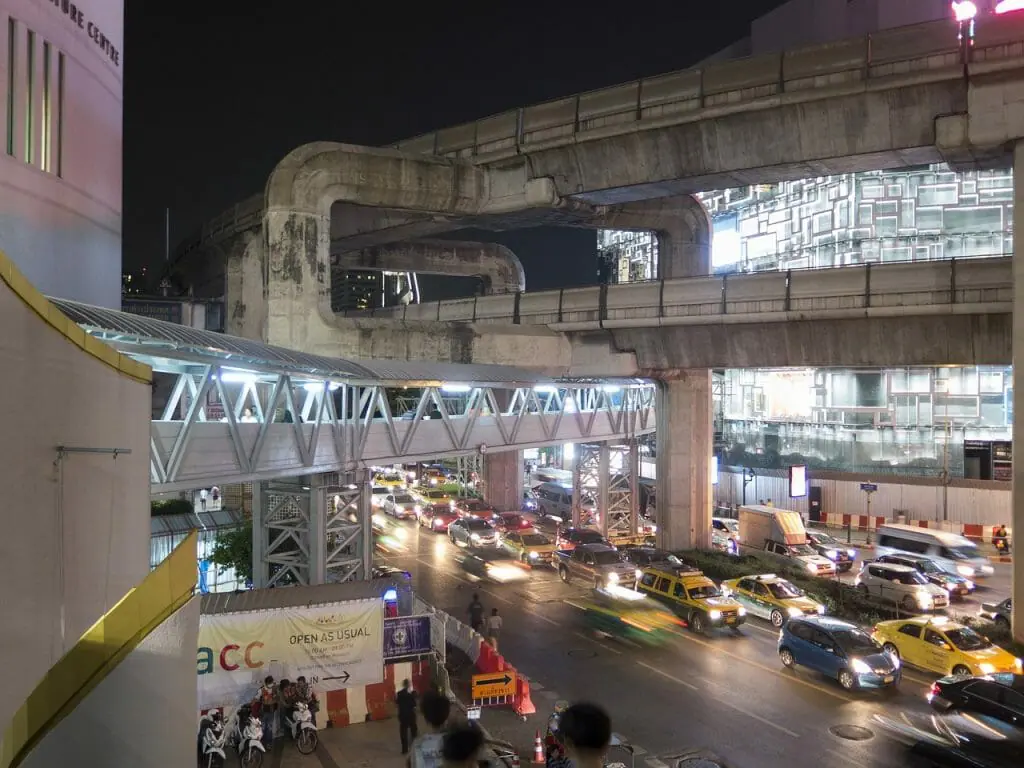 In Southeast Asia, there is often a digital gap between local suppliers and world travelers and getting around can seem difficult. Luckily, we found Bookaway, which enables travelers to find, compare and book ground transportation tickets online with outstanding user experience and a 24/7 support team that works closely with local suppliers.
If you want to simplify the travel planning process and make travel ticket booking easier – check them out before you travel.
Of course, many of the most famous things to do in Bangkok involve eating, partying, or luxury hotel stays, but there are still a few sites you should probably try to see: no matter whether you are gay, straight or unicorn! No matter what you choose to do, make sure to take your time, – wander, experience and eat!
Bangkok will slowly but surely lure you in…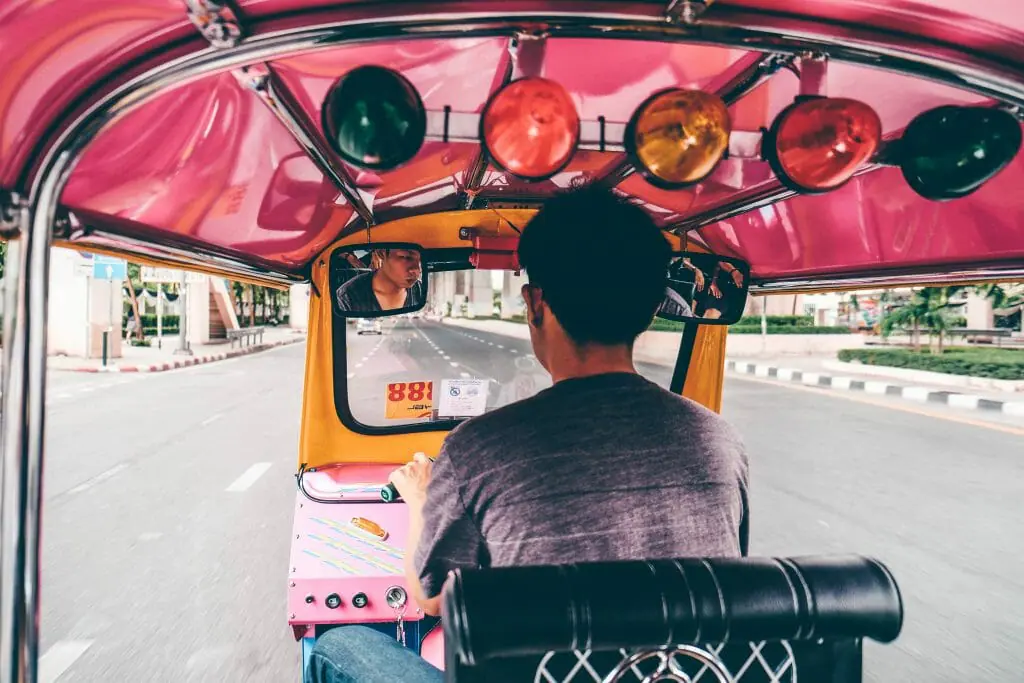 A grand complex of buildings at the heart of Bangkok that has been the official residence of the Kings of Siam since 1782. In fast-paced and hyper-modern Bangkok, it is just to escape it all and wonder through this surreal piece of history – snapping photos and paying homage to the very famous and much revered Emerald Buddha.
Take in all of Bangkok's historic landmarks, such as the Emerald Buddha Temple and Grand Palace, by night on a grand cruise ride. While you enjoy the Bangkok nightscape, there is a live band, performing hits by ABBA, Donna Summer, and the Supremes. Enjoy the Bangkok nightscape, a cool breeze and a gourmet buffet of Thai delicacies as well as international favorites.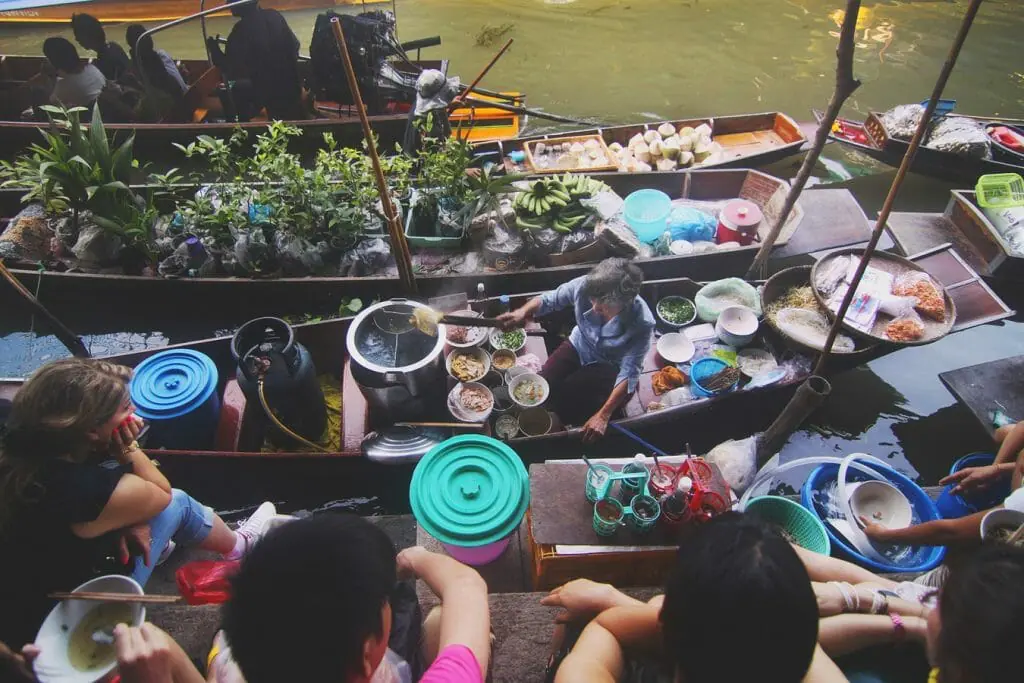 Make a pilgrimage to many of Thailand's famous markets on one immersive day trip. Watch a train pass through the middle of the bustling Maeklong Railway Market, relax with locals at the weekend market of Amphawa, then gawk at the iconic Damnoen Saduak Floating Market, the most famous market in Thailand.
Discover the rich and enchanting history of Buddhism with visits to three of the most important temples in Ayutthaya – Wat Mahathat, Wat Phra Si Sanphet and Wat Lokayasutharam. Bear witness to the former glory and grandeur of Ayutthaya with a visit to Bang Pa-In Summer Palace.
Take a ride around the mystical city of Ayutthaya on a motorboat and marvel at the ancient ruins and structures. You can explore at your own pace by hiring a bike from a local – or avoid the sweat and heat with an easy day tour from Bangkok.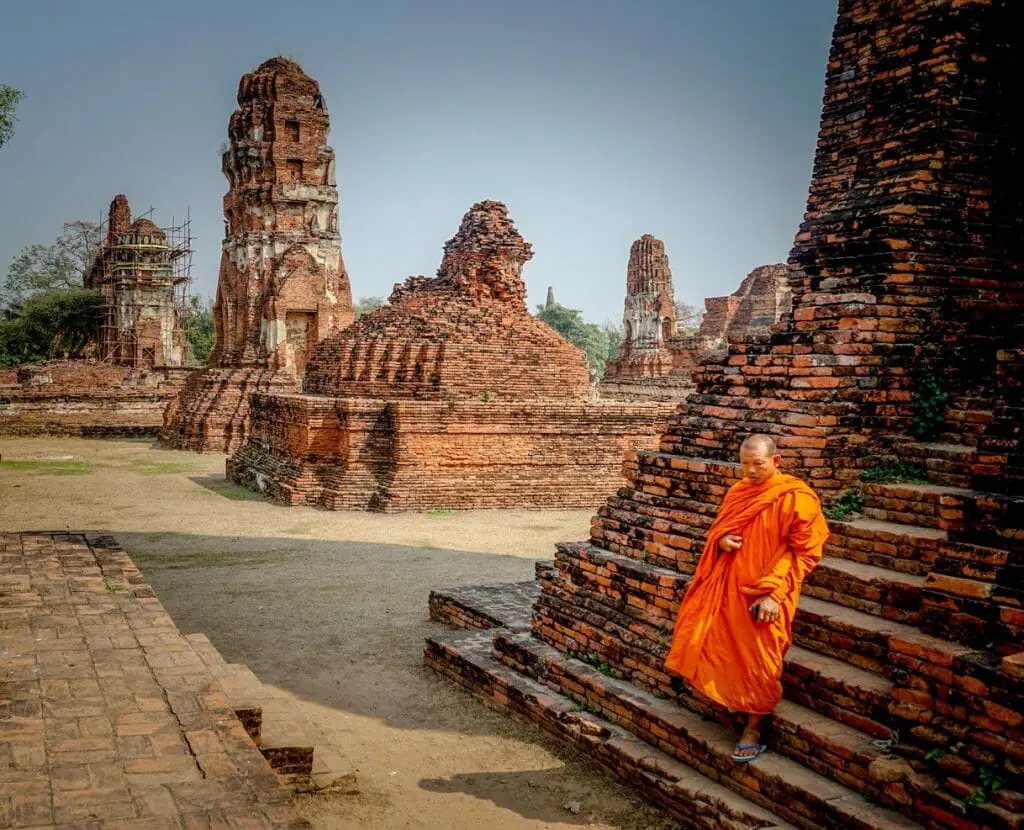 Take a break at the notorious seaside city of Pattaya and then take a boat trip to Coral Island and explore its sparkling white beaches and crystal clear waters. One day is enough to get a taste, but to really experience the vibrant and queer nightlife here; you need to spend a few days in Gay Pattaya. But be warned, it is not for everyone!
Experience an array of exciting rides, from the family-friendly Speedy Mouse to the adrenaline-pumped Haunted Mansion and Tornado! There is a lot to love here, including the Colours of the World Parade, the world of snow and ice at Snow Town, many food outlets and three separate roller coasters.
Perfect for anyone who loves theme parks – but Thailand's answer to Disneyland does not live up to the real ones in Hong Kong, Paris, Tokyo, Shanghai or Orlando.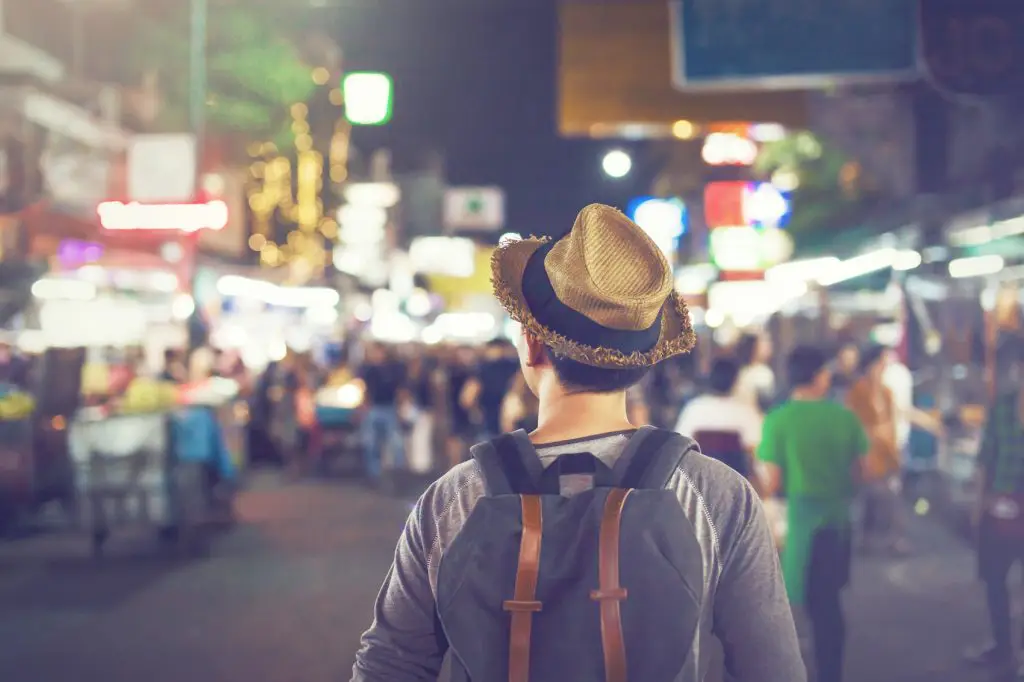 At night if you want something a little different – Bangkok again has you covered. While the Soi Twilight strip has plenty of night-times X-rated shows (and the famous merman show at Classic Boys Club), you would be better off going to Calypso Cabaret for an evening of entertainment.
A gay Bangkok institution, Calypso Cabaret offers a fully inclusive environment for beautiful drag and transgender arts to perform jaw-dropping sets and routines. This is Gay Bangkok at its finest, not a sleazy show, and which you really shouldn't leave Bangkok without seeing! You can also catch them in Gay Phuket if you run out of time!
Relieve the stress of the gay nightlife and intense heat here at one of Bangkok's most highly rated spas – and they are very gay-friendly (but where isn't here!). Let your troubles melt away with an array of So Thai Spa's much-loved treatments with top service and very professional masseuses.
Conveniently located in the heart of the city, close to all the shopping malls, so getting here is never an issue. For all-out pampering and indulgence, you should also consider the SOPA at the Sofitel – often touted as the most luxurious spa in Bangkok.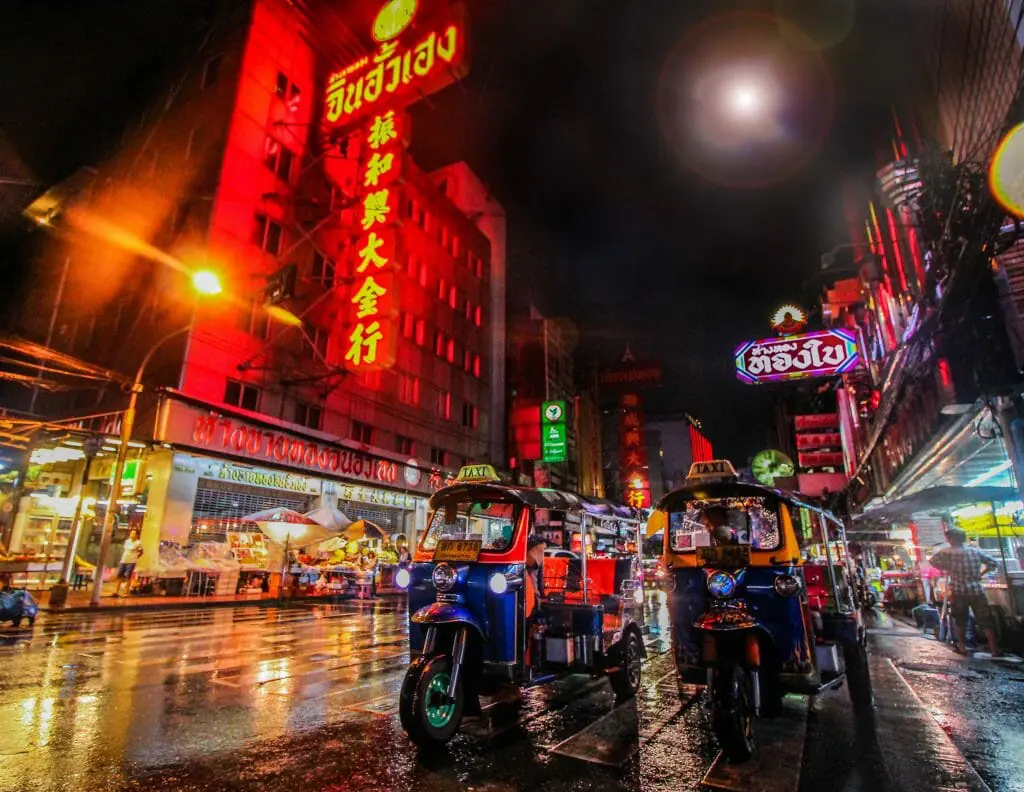 The endless alleys and stores of Bangkok's Chinatown are an attraction in their own right and make a great place to pick up wacky souvenirs and delicious street eats. It is one of the largest Chinatowns in the world, so allow plenty of time to explore.
What better way could there be to humblebrag about your fantastic holiday in Gay Thailand than learning to cook your favorite Thai dishes, and showing them off to everyone back home!
Cook authentic Thai food under the guidance of an expert local chef with clear English instructions at a professional culinary academy, and shop at a local market for fresh ingredients before your class. One of your favorite romantic things to do in Bangkok.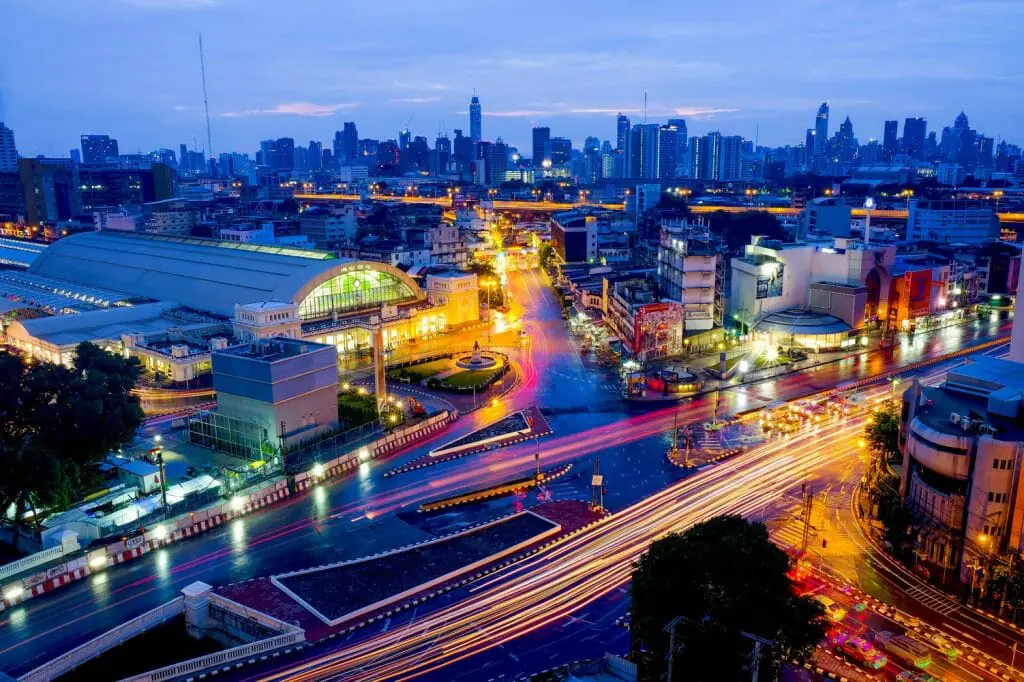 Coming to Bangkok for hijinks, mischief and crazy stories? Discover the hottest, most happening nightclubs and bars in Bangkok's liveliest districts, from Soi Cowboy and Nana Plaza to Pat Pong, while reliving The Hangover 2 storyline.
Sure, it's a very hetero night out, but we loved visiting the bars in Soi Cowboy, where the scenes from the film were shot, going to an energetic Thai boxing show and skulking into a fetish club in Pat Pong. A night out in Bangkok you won't soon forget unless you take it too far and then …well, if you saw the film you will know what comes next!
Bangkok Shopping
To see the more modern side of Bangkok life, you need to visit the Malls, the social hub of middle-class Thai, which are filled with international and local shops and are amongst the biggest in the world. Some of the best to visit are MBK (for cheap electronics), Paragon or Emporium (for designer shopping), Terminal 21 (zany design, boutique clothing, and an incredible food court), or Central World.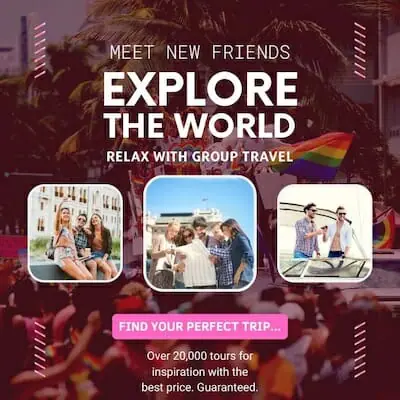 Gay-Friendly Dining in Bangkok
As previously mentioned, Bangkok has a very gay-friendly vibe, and with so many places to explore (and a booming foodie scene), there is no need to limit yourself. And then there is all the Thai street food which the Eating Thai Food blog provides an incredible overview of all the best and in-trend street food options in Bangkok now.
Below, however, are a few of the more popular places with queer travelers that you should try to visit – eat and be merry; the best way to experience Thailand is through your taste buds, after all.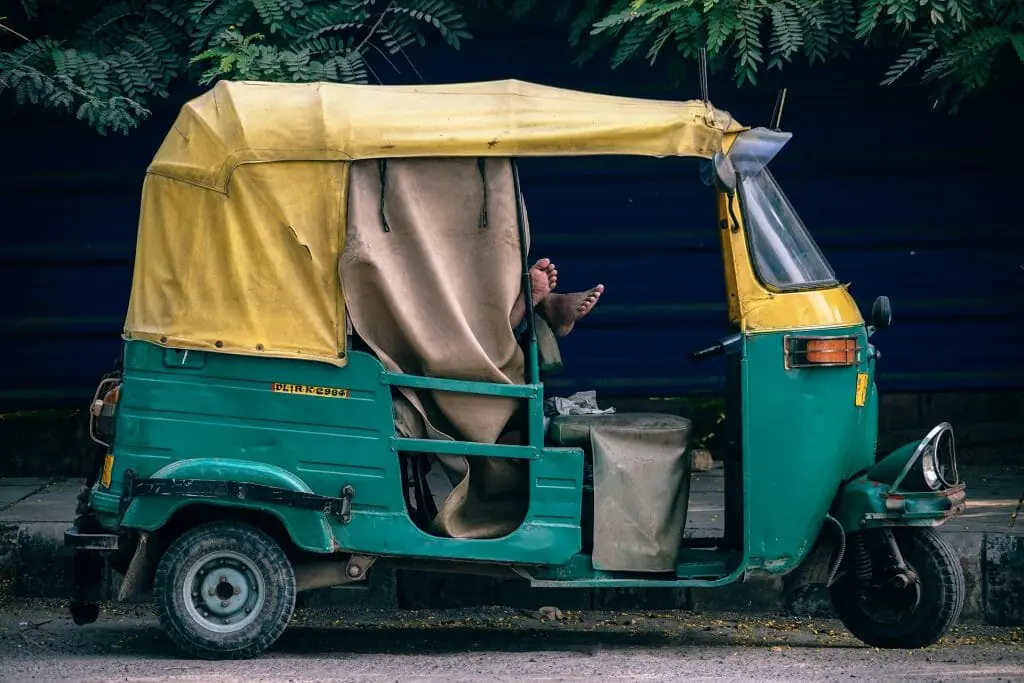 Sundays are made for brunch, and no one does it better than the Sukhothai Bangkok with its unlimited drinks, strong Bloody Marys, delicious food and live jazz. Full of hungover gays and their entourages, this is quickly becoming an institution not to be missed.
A 1920's speakeasy-themed mixed bar/restaurant at the Novotel Fenix Silom, which every Sunday trots out young shirtless beef-cakes for a gay 'Importance of Being Ernest' night. Classy yet irreverent, with plenty of jazz and Bangkok's most famous drag queen – Pangina Heels.
An al fresco dining on a sky-high roof terrace of the Bayan Tree Hotel overlooking the sparkling skyline of Bangkok. Unique, fancy and fun, you have never had a dining experience quite like this before!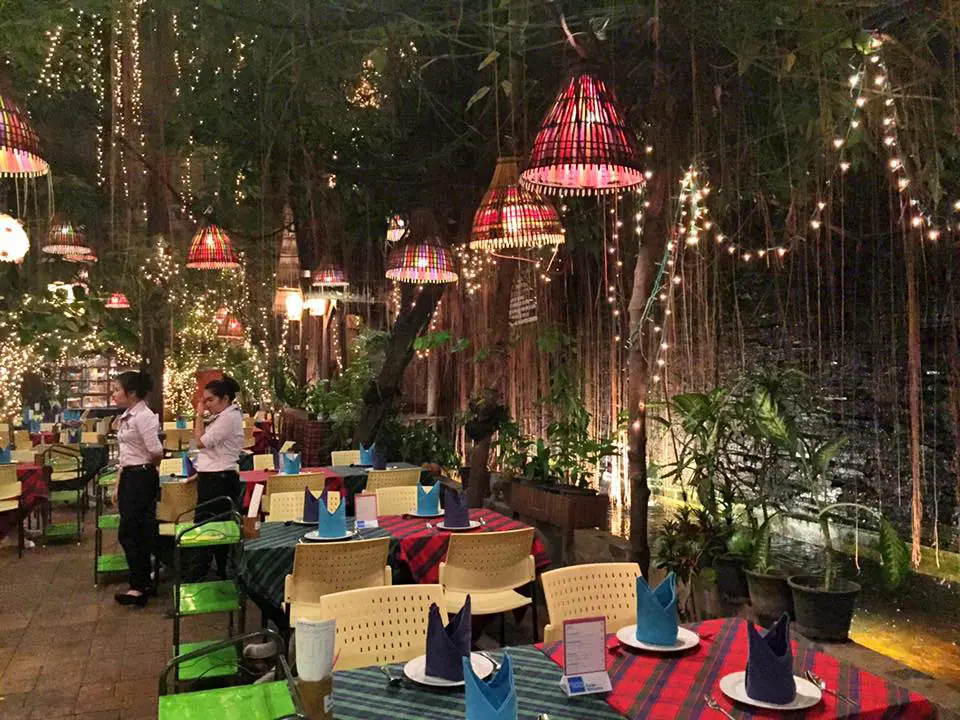 For excellent Thai food – and a message on the importance of family planning and contraception – this is the spot. The name is not a typo, and it is extremely popular, so be prepared to wait. Oh, and their motto? 'Our food won't make you pregnant.'
A gay-owned institution on Silom Soi 4. With delicious Thai and international food, chic interior design, a great selection of cocktails, and it's a location close to all the gay bars, this is a great place for a meal and pre-drinks before a big night out.
Afternoon Tea @ The Erawan Tea Room
Coming to Bangkok for refined elegance over the hedonistic nightlife? Then you need to sample the best of Thai and western cuisine at the Grand Hyatt's acclaimed tea roo. Experience a unique mix of Asian creativity and Old World Charm as you dine at "one of the world's best high teas". Erawan Tea Room is a truly unique space, and the perfect way to spend a relaxed afternoon.
Head to the 76th & 78th floor to experience an extensive buffet of seafood, Thai dishes, sushi, salads, pizza, pasta, cheese, and desserts – all with a 360-degree view of Bangkok. Arguably the best place to view the Bangkok skyline, and an amazing dining memory you will never forget.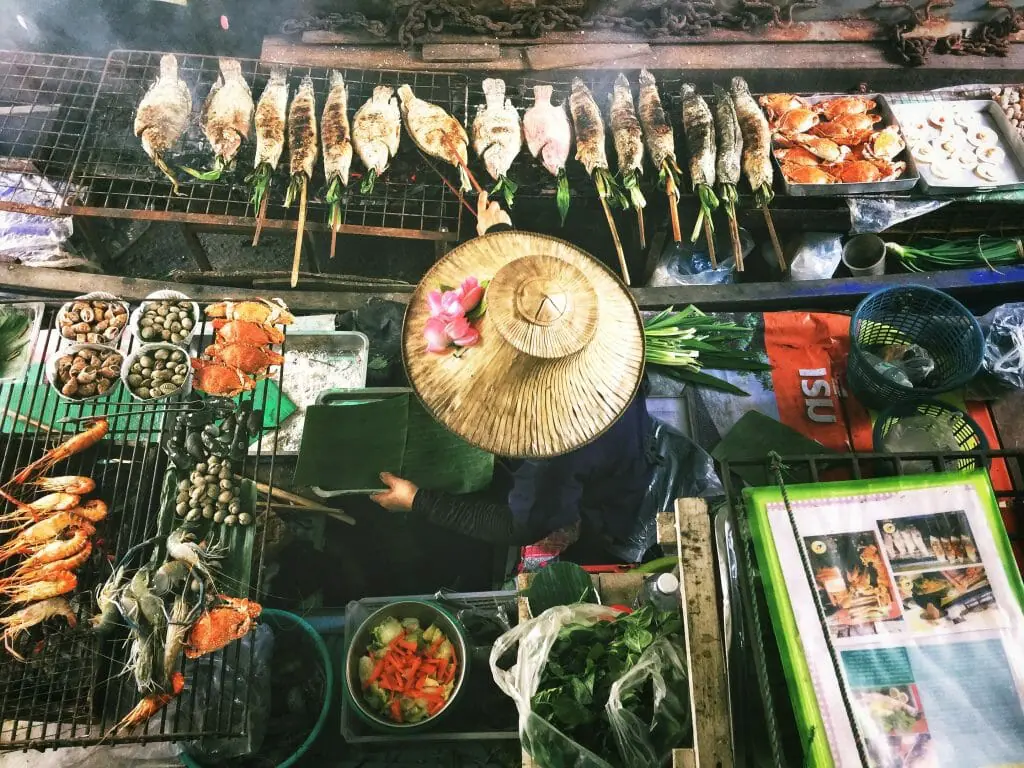 Gay Events In Bangkok
Here are a few of the biggest gay events on the Bangkok calendar each year – However, in this city, the party never stops, so whenever you choose to come, you can guarantee there will be some must-attend LGBT events going on.
Gay Bangkok just doesn't stop!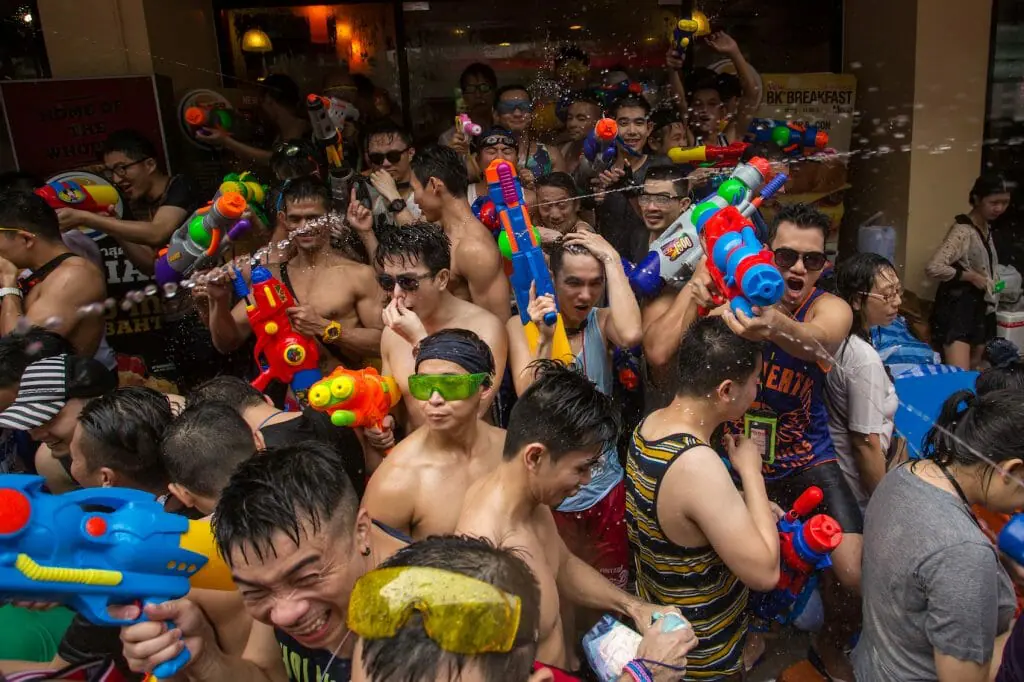 The Thai New Years' celebration lasts for three days or more in April. Expect non-stop parties, water fights in the street, plenty of fun and to get absolutely soaking wet anytime you leave your accommodation in Bangkok.
The entire city shuts down, and foreigners flock here as all-out mayhem breaks loose, and no one and nowhere is safe. The Soi 4 street hosts its own crazy water fights that go on all day and well into the night, and if that's not enough, there is the infamous gCircuit party which coincides with Songkran (below)
What better way to ring in the New Year than to surround yourself with 15000+ sexy men from all over the world in Asia's biggest gay New Year Festival! This is the first official WHITE PARTY outside North America, and this gets wild, as you might expect.
Sadly the Bangkok Gay Festival has an on-again-off-again history being first held in 1999 and then stopped more recently. It was due to take place in 2017 but was postponed out of respect for the passing of the Thai King. Check their Facebook page for the latest information, but it is typically held in November.
The world-famous organizers of the annual Songkran gay dance party in April – one of the biggest gay circuit parties in Asia. Held for three days alongside the national Songkran festival, it receives rave reviews every year thanks to the major DJ live-up, light and sound set-up and, of course, an incredible atmosphere. This is one event to plan any visit to Gay Bangkok around!
Massive LGBT POP music events are held sporadically. Different locations, themes, and timing, but one thing remains consistent – an all-out party extravaganza that is setting the standard for gay nightlife in Thailand. Expect Trash POP and plenty of it!
While lesbian nightclubs/bars in Bangkok might be sorely lacking – the GO Grrrls parties are helping to fill the void. An 'it' crowd of queer-indie fashionista's that host one-off parties that you will not want to miss. Rock, indie, electro – this all-inclusive and all-welcoming event is not to be missed.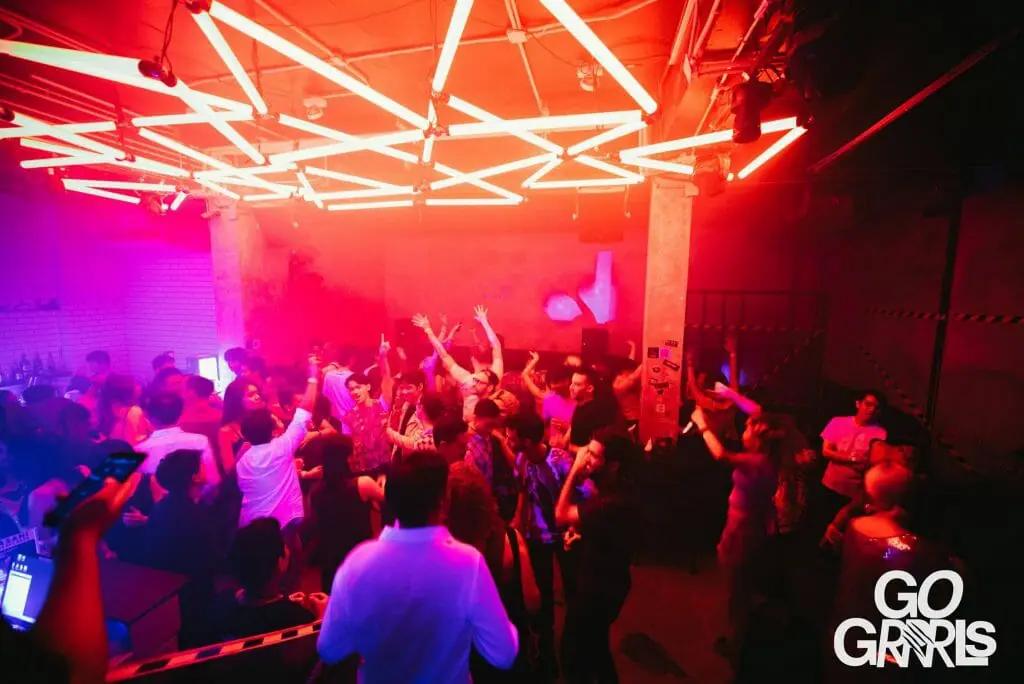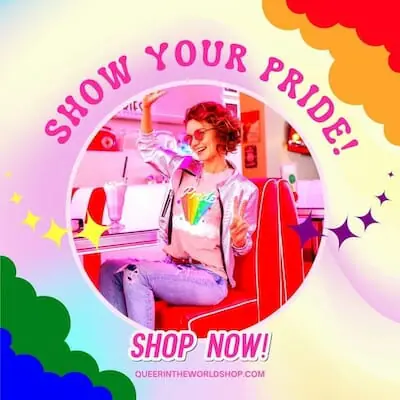 Gay-Friendly and Gay Hotels in Bangkok
As a world leader in LGBT tourism, there are hotels and hostels here catering to every type of traveler – and it would be unheard of for any hotel or guesthouse to have an issue with a gay couple checking it.
Still, everyone likes to be surrounded by like-minded people, and as such, a few hotels have cropped up as places for gay travelers to stay! Primarily clustered around the Silom and Sathorn neighborhoods – with their gay nightlife – you can get anywhere in the city cheaply and efficiently using ride-sharing apps, or the handy SkyTrain public transport system.
Of course, there are thousands of other hotels in Bangkok if you don't find quite what you are looking for. Whether you want a fun and social hostel, a cheap place to crash after a night of partying or a chic luxury option with a pool to spend the day lying by – Gay Bangkok is something for everyone!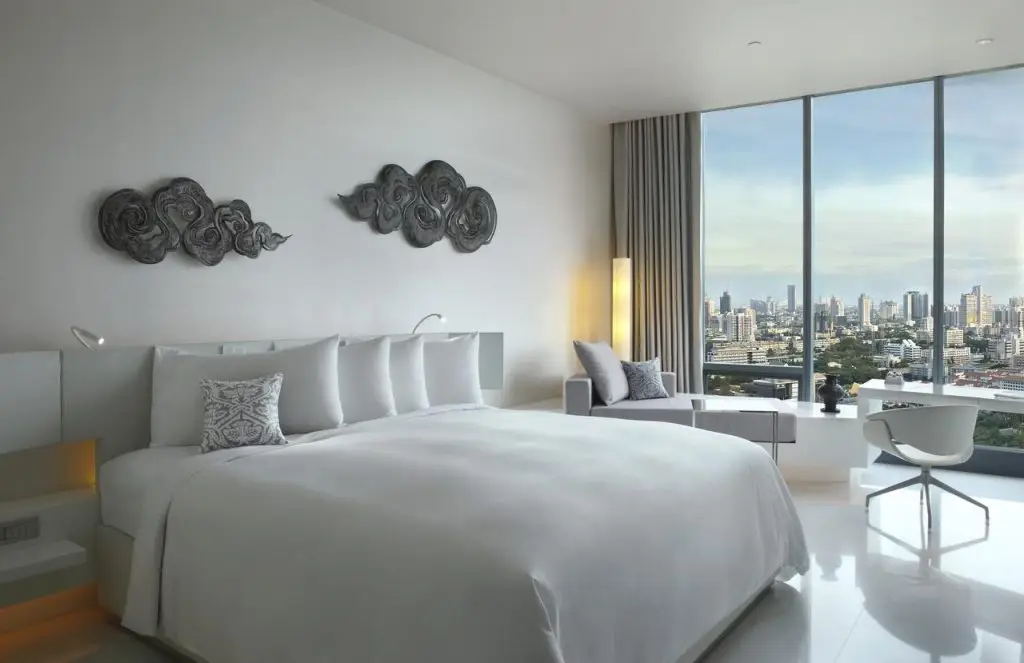 Luxury Hotels in Bangkok
An internationally renown luxury hotel that is extremely popular among gay travelers looking for a splash of luxury. Bangkok's So Sofitel hosts many gay parties throughout the year, including Sundance Asia, gCircuit, and Hi-So Rainbow – but the real drawcards are the panoramic views of Bangkok and Lumpini Park; it infinity pool (exclusive to guests) and an on-site spa.
The HI-SO Rooftop Bar is a draw card in its own right, and a must-visit even if you're not staying here!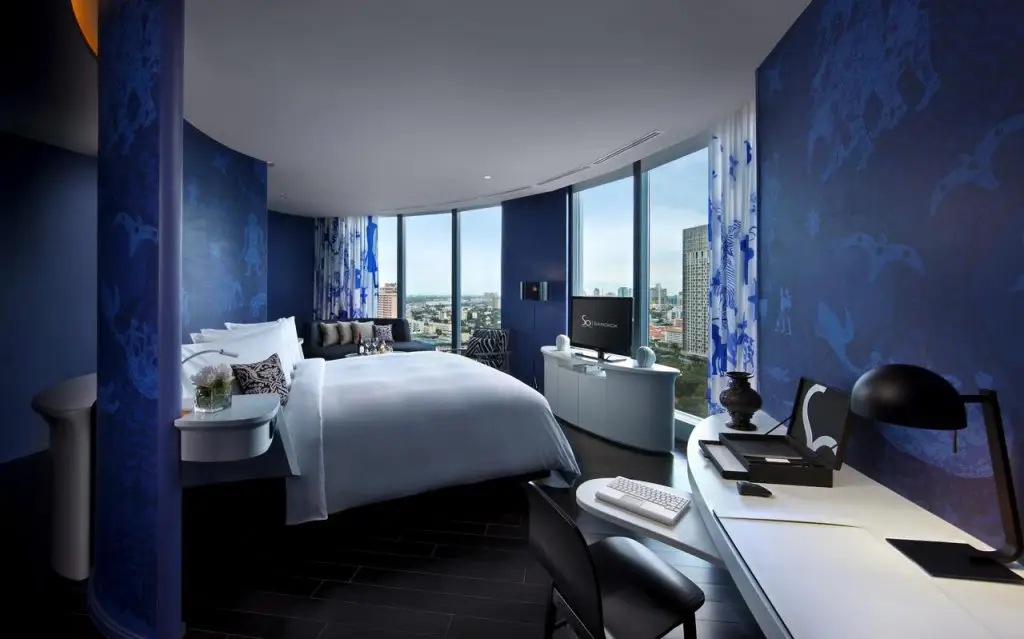 Popular with fashionistas, the international jet-set and gay travelers, the W Bangkok bills itself as a luxury urban playground in Silom. Unique interior design and fabulous vibes make any stay here instantly memorable, and there is a popular on-site bar, restaurant and outdoor pool providing options for every traveler.
Get ready to upload to Instagram; the W Bangkok is the benchmark for style and design in South-East Asia. Not to mention one of the most fabulous hotel chains in the world.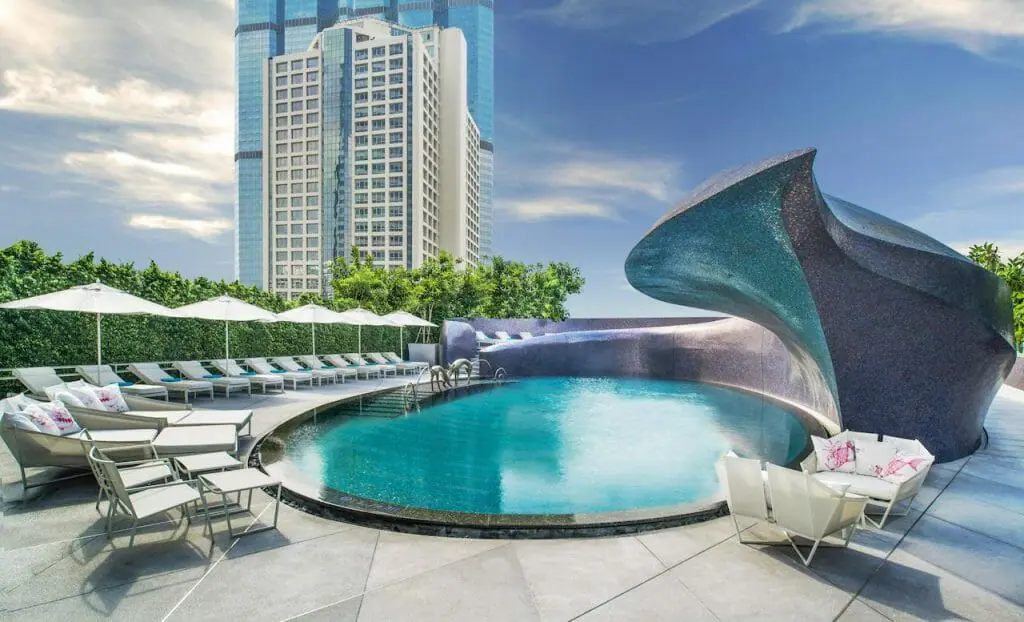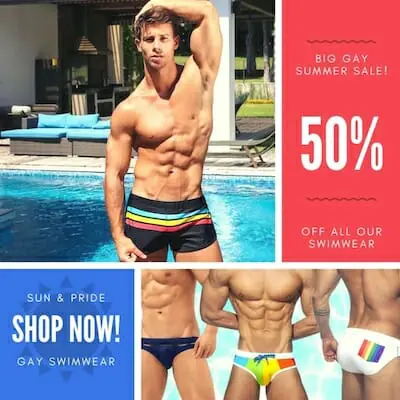 Located in central Siam with its slick 1920s nostalgia styling and rooftop pool, the Hotel Muse is quickly becoming the place for gay travelers to stay in Bangkok. With an acclaimed roof-top bar, lavishly appointed rooms and exceptional on-site restaurants all harking back to the golden age of travel and hospitality – you will never want to leave.
And who could blame you? Pack your best speedos and formal attire; this is one place to see and be seen!
A luxury hotel with incredible views of the Bangkok skyline and a huge pool to escape the Bangkok heat, the Urbana Sathorn is a popular choice for gay travelers. Their contemporary suites come with all the expected amenities, and a washing machine – and the hotel is known not to mind a group of friends joining you before or after a night out for a drink in your room in central Sathorn.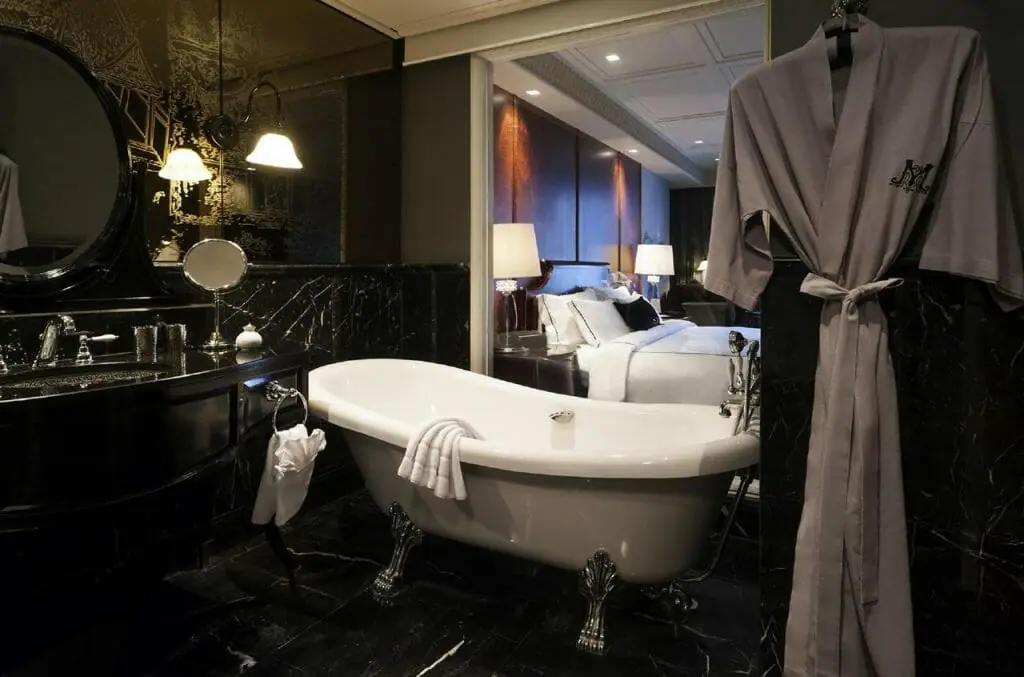 Mid-Range and Gay Hotels in Bangkok
Babylon ☆☆☆
(Temporarily or permanently closed. If you know something, please suggest an edit.)
Where to start…Babylon is an exclusively gay complex in Sathorn that is famous the world over – there is so much on offer here you may never leave. Beautiful hotel rooms, bathhouse, massage, bar, restaurant, pool, and more – Babylon is everything to everyone. Named one of 'the most beautiful saunas in the world,' expect hunky men in speedos…or less.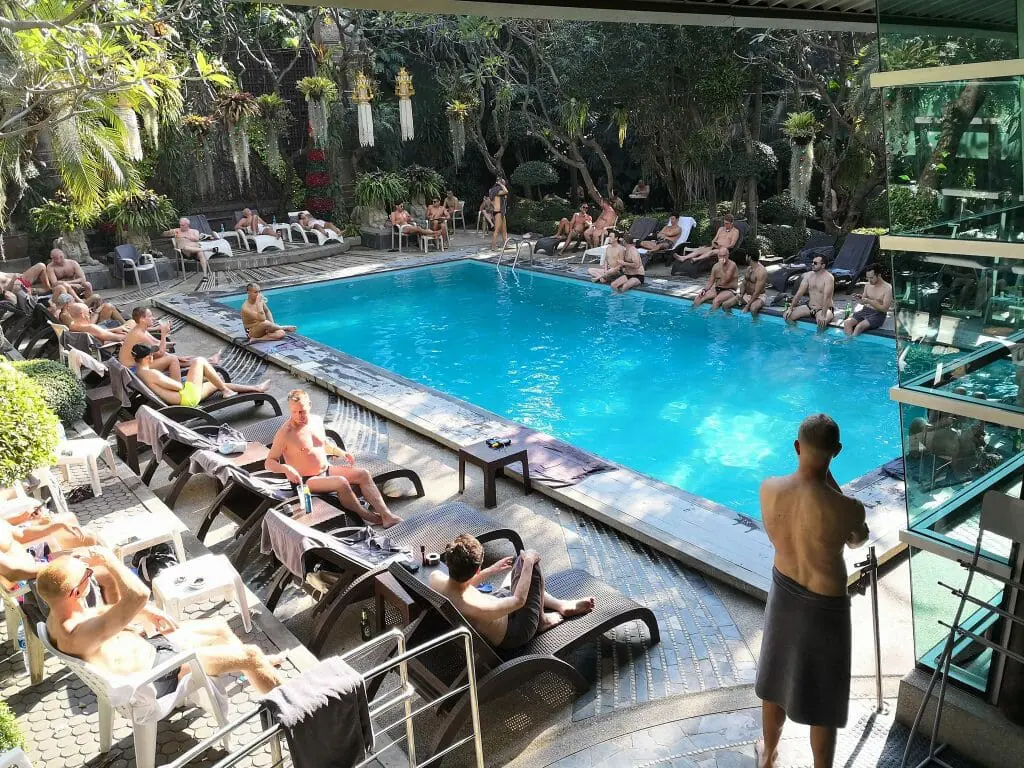 Another popular hotel with very gay-friendly service, location near steamy Silom and many queer travelers given its low prices, location, and facilities, including two swimming pools, a swim-up bar and a jacuzzi. Large rooms and suites with lounge areas and kitchens mean there is an option for everyone here.
Another popular 3-star option near Silom, which many queer travelers opt for. Clean, modern rooms with all the amenities you could want and a short walk to the bars, clubs, and Skytrain for access further around the city.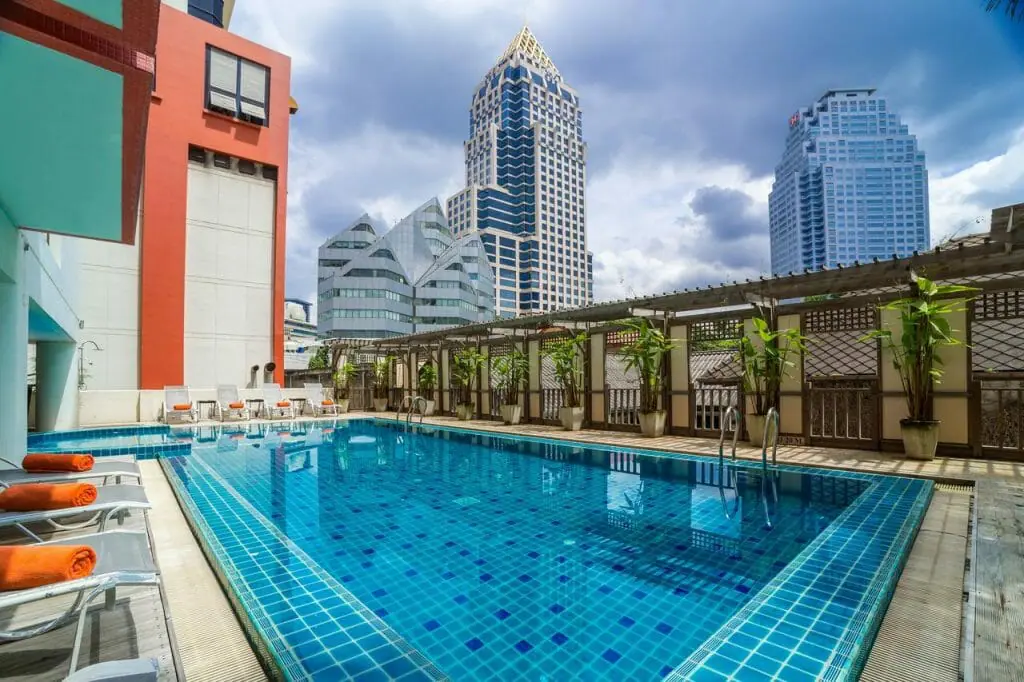 Previously the notorious GLOW hotel, a recent re-brand, and renovation have taken place here, but this hotel remains just as popular with gay travelers looking for a modern yet affordable hotel in Silom near the main gay nightlife spots. Great value for money!
Glitz Bangkok Hotel ☆☆☆
(Temporarily or permanently closed. If you know something, please suggest an edit.)
A small 14-room boutique property right next to the Patpong night markets and a 10-minute walk to Silom gay bars. Each room has a different modern design catering to the young, hip and trendy. Extremely popular with queer travelers.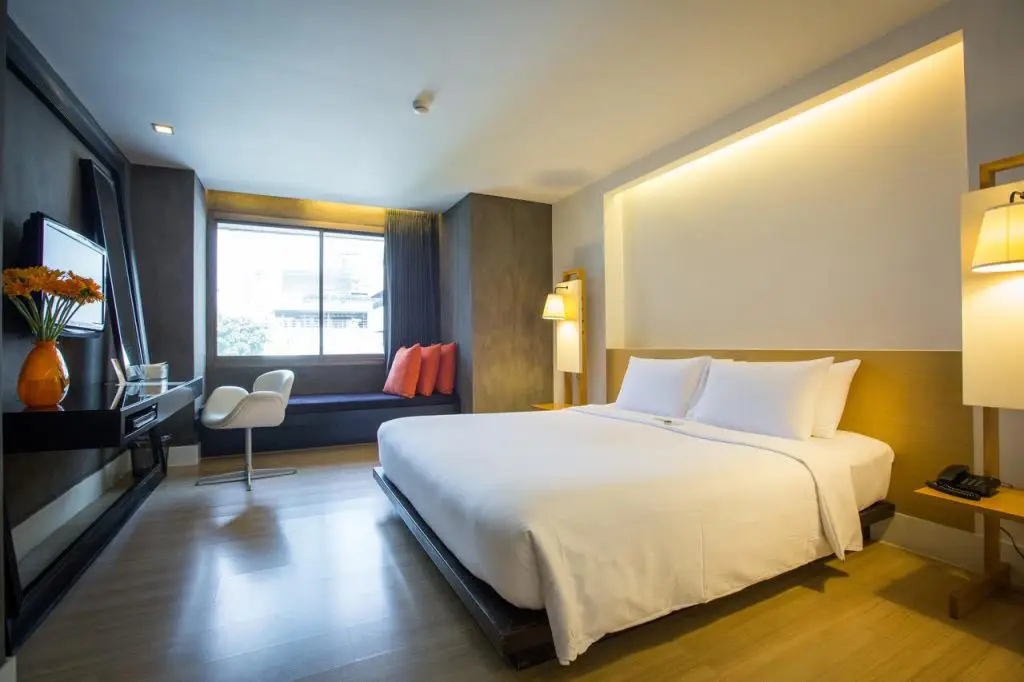 Gay-Friendly Hostels in Bangkok
A gay-popular design hotel located off the beaten track in Ari, perfect for avoiding all the tourists. There is cheap bike rental, BBQ facilities, an in-house library and free luggage storage after you leave for up to two months if you are planning a bigger trip around Gay Thailand.
Newly opened, this hyper-cool design hostel features Rain-showers, a bicycle-style café, and a chilled rooftop deck – all close enough to Khaosan Road yet far enough away to avoid all the hawkers trying to sell you tie-dye shirts. There are also individual bed partitions to unwind in privacy!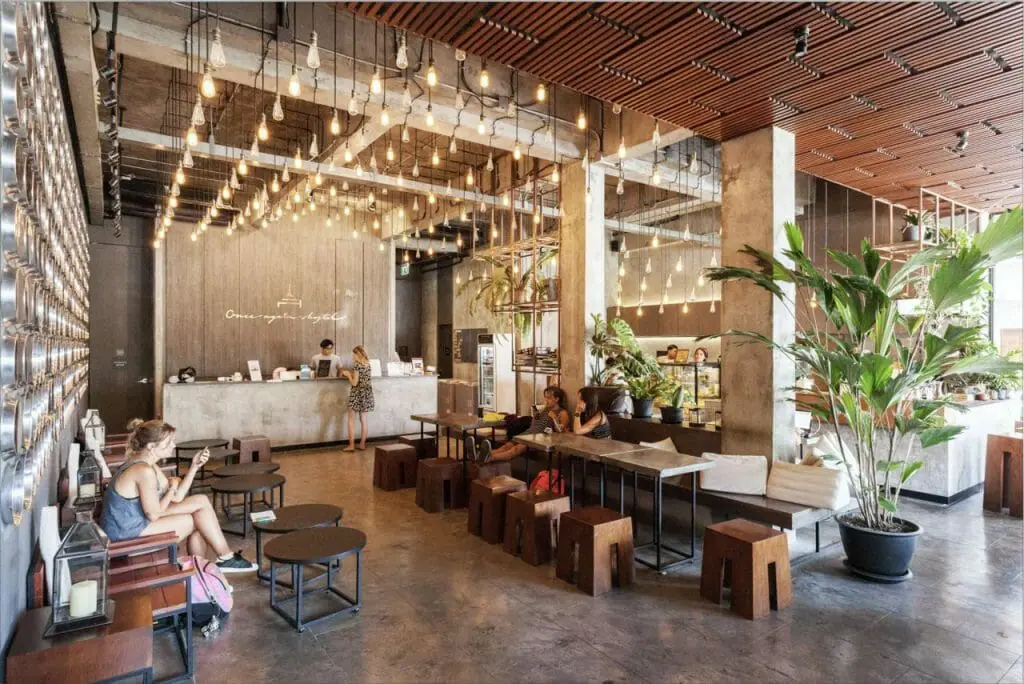 A product of passionate people who want to offer a luxury hostel, a perfect combination of an eatery and dormitory. Here style meets comforts with all room types decorated with the highest standard with plenty of cool people to meet and make plans with.
Posh Hostel ☆☆
(Temporarily or permanently closed. If you know something, please suggest an edit.)
With your dollar going so far in Thailand, why slum it – which is the concept behind Posh Hostel in Phayathai, a mix of hostel and boutique hotels. Perfect for those who want the social component of a hostel, but with a very – well, Posh – fit-out, including a hot tub on the panoramic roof-top.
Consistently voted one of the best hostels in Asia, the Posh Hostel has both dorms and private rooms, depending on your travel style.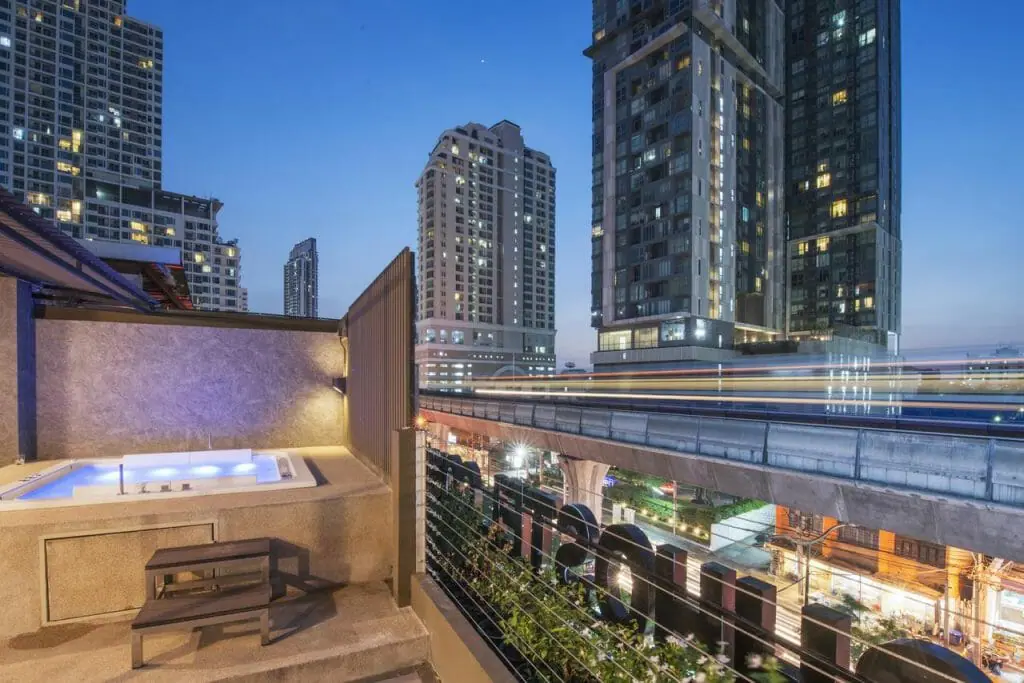 Gay Bars and Gay Clubs in Bangkok
Given Bangkok's reputation as a world-class nightlife destination, you can find gay bars and clubs all over the city – however, if you're the type who likes to bar or club hop, then the infamous Soi 2 (for clubs) and Soi 4 streets (for bars) are where you are going to want to go.
Gay foreigners flock here in droves – though you can also find plenty of either wealthy locals or those trying to find a meal ticket. There are plenty of gay shows and bars in Patpong, if you are interested in the seedier – or more adventurous – side of Bangkok…though it is not for everyone.
For cheaper drinks and a taste of local queer life, heads to bars along Saphan Kawi or in Sukhumvit. Whatever you're after, Bangkok can provide – and if the BTS or MRT public transport system can't get you there, rideshare apps are a cheap and easy way to get directions to where you need to be.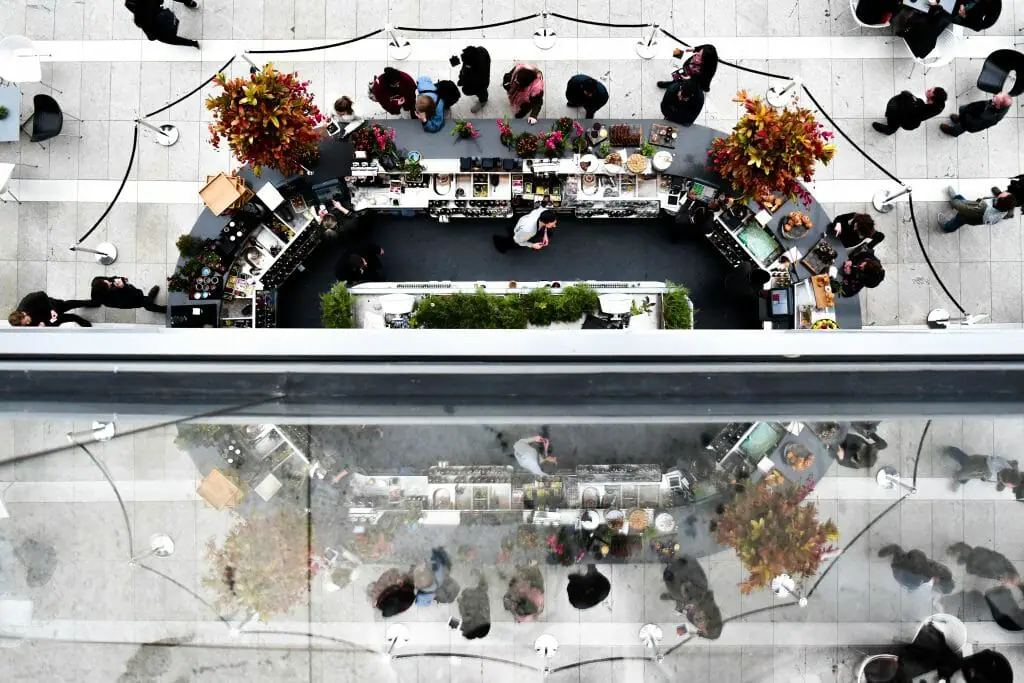 The biggest and most notorious gay club in Bangkok, if you have any interest in partying till the early hours, this is the place. A three-level club hosting nightly lip-syncs to trashy pop songs, topless male dance shows, cheap drinks and music that is guaranteed to make you get down. Put this one at the top of your list!
WooBar in the W Hotel (Silom)
A hip-upscale hotel bar currently in vogue for its luxurious free-flowing bubbles from 7.30 – 9.30 PM for the boys (Wednesday) or girls (Thursday). Enjoy the deliciously themed drinks for either event, aptly named 'Boys / Girls love Bubbles, ' and put on your best shirt. You need to dress to impress here.
An LGBT-friendly gastro-bar and party concept with a mixed jet-setter crowd and is famed for its WILD WEDNESDAY gay nights. A chic industrial vibe and is the perfect place to relax and unwind away from Silom.
Tawan Go-Go Bar (Silom)
(temporarily or permanently closed. If that's wrong, please suggest an edit.)
One of the original gay bars to open in Bangkok in the 80s, expect big Asian bears in leather in their nightly shows from 10.30 pm nightly. With hundreds of men, this is undoubtedly the biggest collection of muscles in Asia.
A more-laid back go-go bar for those who want to simply admire and enjoy their overpriced drink. An alternative to seedy Soi Twilight or Bangkok's gay 'red light district.'
Another popular three-story dance club that is muscle-packed most nights of the week. The cover charge included drinks, the DJ was great, and plenty of shirtless guys abound.
The new and improved, this institution caters more to fashionable gay Thais and offers a refreshing alternative to foreign-heavy Silom. With a live band playing both Thai and international hits, nightly shows and becoming a dance club later at night, this is a good space for a little bit of everything.
Lesla Night At Chit Chat Pub (Silom)
While the lesbian bar scene in Bangkok is somewhat lacking, Saturday nights at Chit Chat Pub are anything but! The biggest lesbian event weekly in Bangkok – with a different theme every time. Sadly the only current lesbian event in Bangkok as all bars (Zeta, E-fun, She-bar, Shela, etc.) have closed.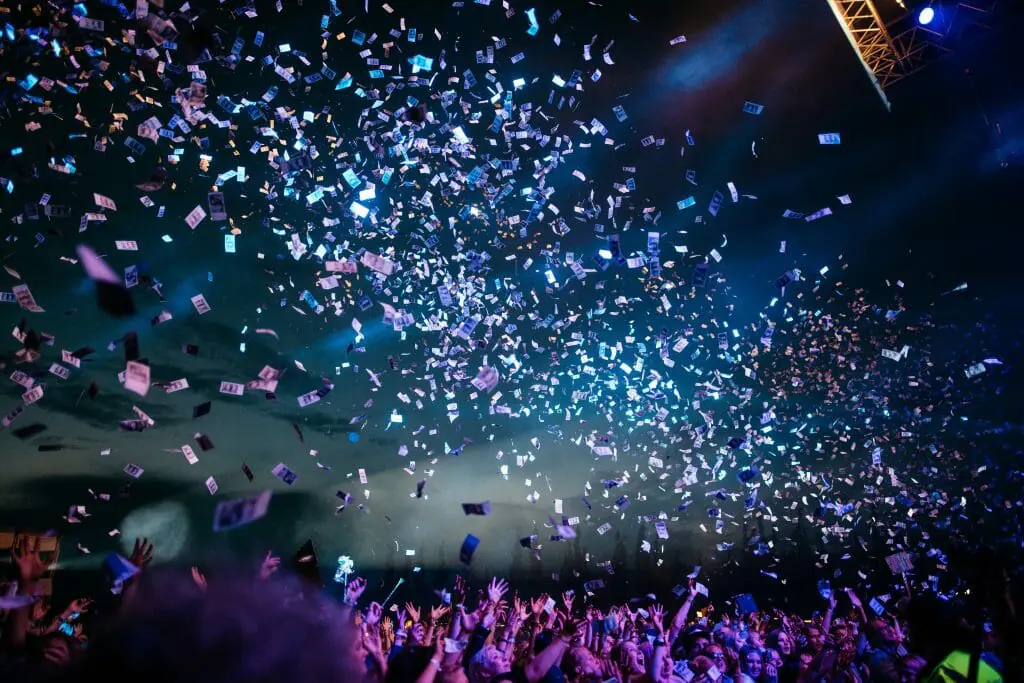 Gay Saunas in Bangkok
Unlike in many Western countries, saunas and bathhouses in Bangkok are still all the rage – with a huge choice, most of which feature saunas, steam rooms and plenty of places to get intimate. If you are shy, read our guide to a perfect first-time gay sauna experience.
Here is a selection of the biggest and most popular, with a reputation for being orientated toward foreign travelers. Prostitution is neither legal nor strictly illegal in Thailand and is, in part, tolerated and regulated. Prostitution is prevalent throughout the country, and rent boys are typical in many saunas here, but use at your own risk.
Given the police attention, it can draw, better to stay away from this entirely and stick with good old fashion 'free' sauna fun.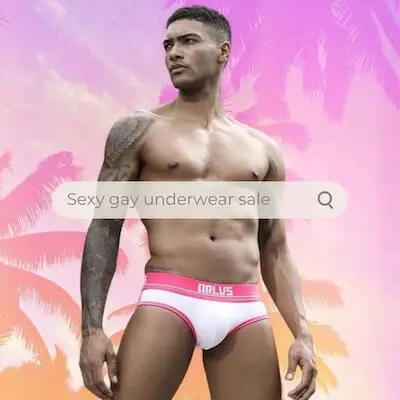 An extremely popular gay sauna with six floors and a modern fit-out, including a roof-top terrace. All the usual amenities, including a gym, sauna, steam room and darkroom – plus the weekly themed parties and special events are extremely popular and well worth planning around. – Reported closed in a police raid –
Part of the previously mentioned hotel complex, this infamous sauna has extensive amenities, including a swimming pool, jacuzzi, mazes, sun terrace and more. Surprisingly popular with monogamous gay couples also – this is relaxing, inviting space to unwind however you see fit.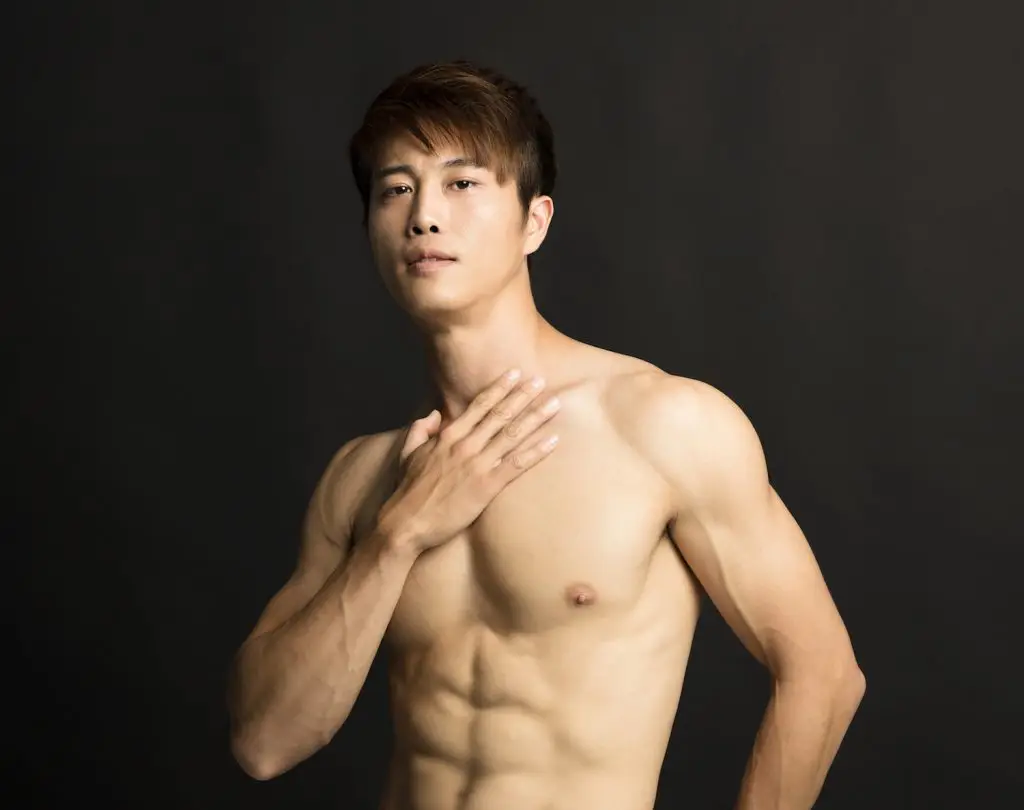 A somewhat upscale sauna catering to a mostly Thai customer base – there is even a trendy cafe and restaurant here for when you work up an appetite. A dark room, steam room, and sauna – as well as private cabins, complete the appeal. There are also popular themed evenings here, including Foam nights, so check out the Facebook page in advance.
Not technically a sauna but the first 'gay-only gym' in Bangkok. Small, with a big emphasis on personal trainers and taking your clothes off (along with regular naked workout nights). Expect a mix of locals and foreigners, big muscles and a lot of distractions. No swimming pool here, however, but they have wrestling, hot yoga, CrossFit, and boxing.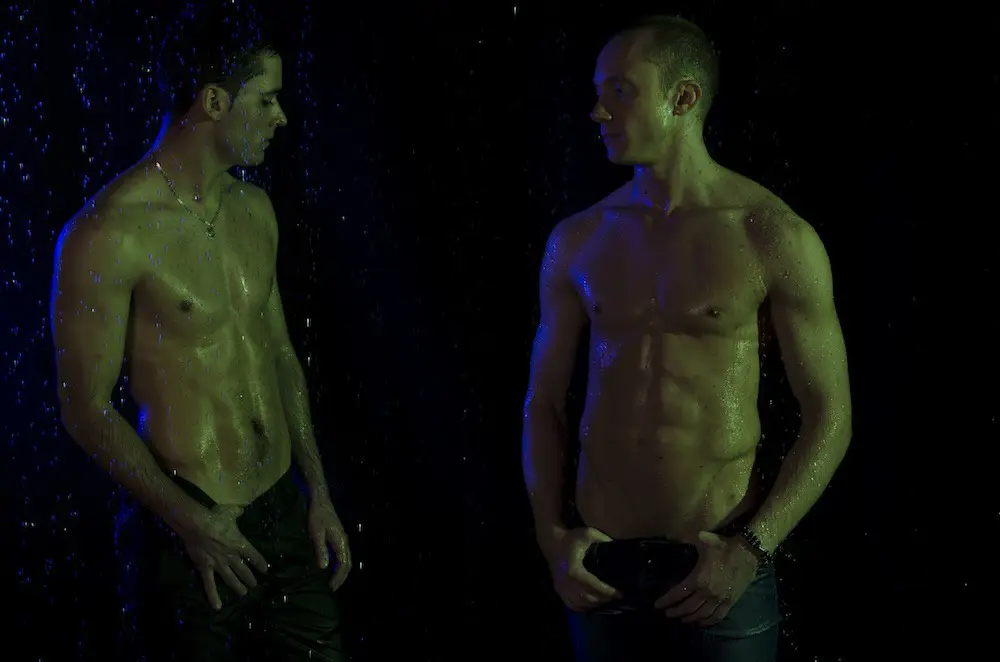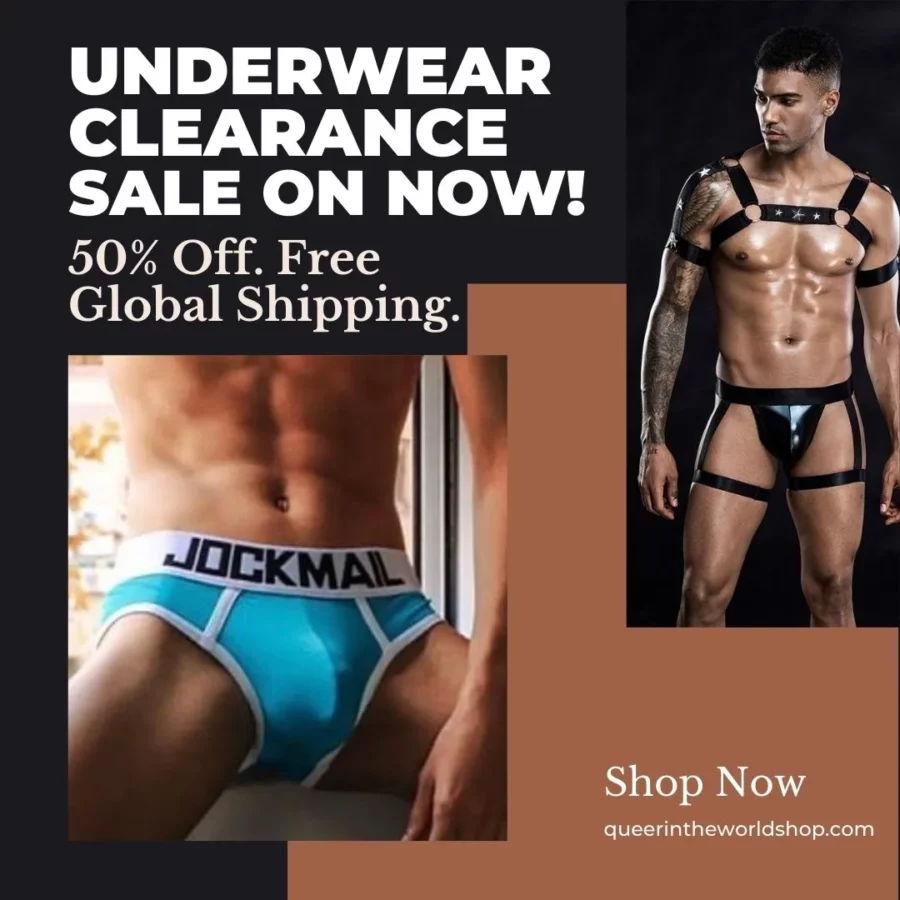 Gay Map Of Bangkok
Finding it hard to envisage where everything is Gay Bangkok? Hopefully, this queer-centric map helps where we have marked all the bars, clubs, parties, hotels, saunas, massages and more will help you stay in the spot best suited to you!