Gay Fort Lauderdale. All-Gay. ALL-THE-TIME! Enough said, right?
Not quite, but we are serious: Gay Fort Lauderdale is one of the world's most celebrated gay travel destinations, with over 100 gay-owned resorts, hotels, bars, clubs, and restaurants, and plenty of gorgeous queers all draw to the hot South Florida climate and the 23 miles of wide, sandy beach right on Fort Lauderdale's doorstep.
Gay Fort Lauderdale is not just for vacations either, and many gay people now choose to live here. We can't blame them, as Fort Lauderdale now has the highest concentration of gay couples in any major US city!
At times it can feel like the whole city is just one giant gay mecca – and with two annual Pride festivals, the Wicked Manors party and Leather Masked Ball, it arguably is! If you ask anyone in Fort Lauderdale which neighborhoods are safe for gays, they will tell you, "Honey…this whole city is gay-friendly!", and in our experience, this is entirely true!
Most gay travelers, however, do opt to stay in the Wilton Manors gaybourhood or close to the San Sebastian Gay Beach, where gays frequently outnumbered straights.
LGBT Fort Lauderdale offers plenty of quirky suburbs, a thriving gay events calendar, luxurious resorts and more gay bars and clubs than you could ever see in one visit. Added to this is the carefree and active South Florida lifestyle, and you, too, will decide Fort Lauderdale makes a fabulous gay holiday destination no matter where your interests lie!
Are you relocating? This guide will help travelers discover the queerer side of the city. However, if you are lucky enough to be considering a move here, we recommend getting in touch with a local gay realtor. They can happily give you no-obligation advice and all the information you'll ever need to know about your new city. And if you then want their help to find your dream home, you are guaranteed fair, equal, and honest representation. No surprises or awkward conversations necessary!

Attractions in Fort Lauderdale
Being gay does not define which attraction most of us will want to see in each city, and generally, gay tourists will simply want to check out the top things to see in Fort Lauderdale during the day! In all fairness, the main attractions here are the beach, the gay resorts, and the nightlife, so if you don't explore much, there is no need to feel bad. You're on vacation, after all!
Highlights of Fort Lauderdale
Learn about the history of pioneering Fort Lauderdale before it morphed into the gay Mecca it is today. The must-visit attractions are the historic 1905 New River Inn, the 1907 King-Cromartie House Museum, and the 1899 Replica Schoolhouse Museum, all conveniently located on the picturesque banks of the New River right in the heart of downtown Fort Lauderdale.
Is it just us, or are all gay obsessed with flamingos? While most gays get their fix of quintessential flamingo pool float holiday snaps on Insta, if you want more, you can get your fix at this 60-acre, not-for-profit wildlife sanctuary, aviary, and botanical garden.
Yes, why not tick off another country on a round-trip ferry aboard the 'Balearia Caribbean.' Cross the Atlantic Ocean to Freeport Harbour, and savor a day of snorkeling, dining, relaxing on white-sand beaches, or tacky souvenir shopping before returning on the same day. Too easy!
While we think it requires more than a day trip, many people choose to head for the day to the original gay holiday destination before Fort Lauderdale took off, Key West. Enjoy the views, go snorkeling and spot the famous Hemingway cats – it's a long drive, so a tour is often best, but you can also compare car hire costs to help you decide.
A popular sandy recreation area with volleyball & basketball courts, picnic tables and plenty of hot, shirtless men to gawk over.
The heart and soul of downtown Fort Lauderdale — but it also boasts enough restaurants to please any empty stomach.
Experience the unique subtropical ecosystem of the Everglades strapped safely into one of the iconic airboats. Skim across the grassy water at speeds up to 40 miles per hour while looking for alligators, fish, turtles and wading birds. All are a mere 25-minute drive from downtown Fort Lauderdale to the Sawgrass Recreation Park, in the heart of the Florida Everglades.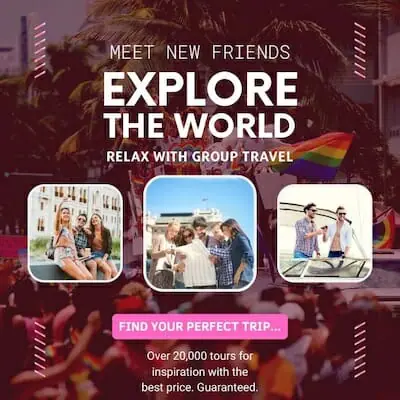 Gay Things To Do in Fort Lauderdale
The biggest gaybourhood in Fort Lauderdale (though technically its own city) and the hub of LGBT life here. There is everything from dining and nightlife to cultural institutes and gay resorts here, and if it had a beach, there would be no need to go anywhere else.
Forget Starbucks; support the local gay coffee shop in Wilton Manors with lower prices, a social atmosphere and drinks that 'taste like an orgasm in your mouth.' Not our words. Found in the gayest strip mall in the world, you cannot miss the rainbow flags.
Shoppes of Wilton Manors
The aforementioned gay strip mall. Not only are Hunters Nightclub and Georgie's Alibi here, but you can find gay-popular restaurants; Tee Jay Thai Sushi + Nick's Pizza, gay clothing at Mix Menswear + Ball Sportswear and much, much more. A fixture of the local community and an 'Only in South Florida' kind of place.
Starting out many years ago as Hamburger Mary's Fort Lauderdale, they have lost the name but still kept the same attitude, idea and fabulously eclectic mix of gays, straights, and everyone in between. An extensive menu, large portions, and fun staff make this the perfect place for a casual meal.
The most popular gay beach in Florida, this picturesque stretch of sand is found opposite the Ritz-Carlton and is perfect for seeing or being seen. Boys in tight speedos and more six-packs than we could, its get progressively more heterosexual the further north you go and quieter to the south if you just want to relax in peace.
A sprawling 5 acres campus in Gay Wilton Manors provides LGBT services for 125,000 people in the community every year, with 65 events held on average every month. Request a tour to leave for about their important work, or find an event on their website with everything from flea markets to art showings.
The world's first museum to the HIV/AIDS epidemic found a storefront in Wilton Manors. A must-visit for anyone exploring a side of LGBT history that all too many of the younger generation seem to forget.
Stonewall National Museum & Archives
The largest cultural center of its kind in the county, with over 18,000 books and 5,000 items related to LGBT history in the USA.
Gay Spa Fort Lauderdale
What to relax and be pampered for the day? Unleash the 'real' you and show the world how stunning you are; then, what you need is a spa day!
Either make use of the gay spa resorts, Cabanas Guesthouse / Grand Resort, or treat yourself at Green Jade Men's Spa, a men's spa in Wilton Manors specializing in foot massages, reflexology, men's body scrub, & more. We have also heard great things about Chi Spa, Club Men Barbershop & Spa, and Buck & Beard.
Florida's top drag queens take the step in this Vegas-style fun-and-fabulous dinner show with strong cocktails that make the cover charge all worth it! With locations in New York, San Diego and Atlanta, make sure to reserve in advance because it's not exactly a secret anymore!
Gay Annual Events in Fort Lauderdale
An annual event for chubs, chasers, bears and older and younger guys is held in February annually. Fun activities include cocktails parties, a big belly contest, a pool-side cookout and an ice cream social. If you are sick of all those skinny twinks and cut jocks and just want to relax with pretzels and your queer family, we highly recommend this unique gay event in Fort Lauderdale.
A 40-year-old annual celebration was held in February to pay tribute to the LGBT community and its unique culture. The highlight these days is a giant party on Fort Lauderdale Beach with world-renowned entertainers, different zones, plenty of beautiful boys – and girls – and a whole lot of fun.
If you haven't had your fill, you can always head to the after-parties, which ensure every gay club in Fort Lauderdale is packed to capacity.
Pride of the Americas Festival
The first-ever event of its kind will be held in Greater Fort Lauderdale in 2023, and in other cities in the future. A 10-day event that will include a parade, arts festival, beach party, + plenty of club events, along with a human rights conference focused on LGBT+ rights. We are excited to see how this new supra-Pride event turns out and are already planning to attend!
The biggest event on the Gay Wilton Manors calendar. Held annually in June, this massive street festival and parade is the most significant LGBT Pride in the Greater Fort Lauderdale area. Like Pride Fort Lauderdale, you can also expect plenty of club parties – and other cultural events too!
OUTshine: Fort Lauderdale Gay & Lesbian Film Festival
Held annually in October with major cinema venues, diverse films and plenty of local and international pieces offering a fresh perspective on LGBT experiences. From coming-of-age films to comedy, lesbian love and more – there is something for everyone!
The fabulous Halloween Street Party event of the year takes place annually on Halloween night. Almost 20,000 people are drawn in for this crazy event, completed with spooky pop music and fabulous shows and a costume contest on the main stage. In our experience, however, most boys opt for the more-is-less approach to dressing up. If you are in need of some gay Halloween outfit inspiration we have you covered…
The notorious annual dance/leather party is held annually in November. Mark the date on your calendar, as you won't want to miss the over-the-top entertainment, the sexiest guys, the epic venue, and celebrity DJs. Plus, it's all of the charities, who said indulgence and self-gratification couldn't help save the planet…
Get Your Pig On! This annual fetish event held in November evolved out of the Pig Dance at Ramrod Bar, the biggest monthly gay party held on the first Saturday of every month. This Pig Week was the original, but the trend has spread around the world in just a few short years.
For those wondering, a pig is basically a gay man who explores his limit and has embraced the gay sexual revolution to its fullest. Think seminars on role-playing, S&M, bondage, and a number of other fetishes. With two bathhouses and nine other venues, you will never be at a loss to find something or someone to do.
Gay Accommodation in Fort Lauderdale
In what is one of the US's most gay-friendly destinations, you will not find any shortage of gay hotels in Fort Lauderdale – everything from opulent gay resorts to cruisy clothing-optional male-only hotels and quaint LGBT guesthouses exists here and are far and away the most popular choices.
In saying that, you will not find any significant hotel that isn't gay-friendly here, and some hotels in Fort Lauderdale have gone above and beyond in recognizing and marketing to the LGBT community and given their popularity with gay travelers, we would say it has paid off!
We have collected together the most popular gay-friendly and gay hotels in Fort Lauderdale, but there are hundreds of other hotels in Fort Lauderdale too; if you don't find quiet, find what you are looking for.
Whether you want a cheap but private place to crash after a night of partying, a chic luxury option to sip cocktails surrounded by fashionable people or a gay clothing-optional resort, Gay Fort Lauderdale is something for everyone!
No matter where you choose to stay however it pays to book as far ahead as you can because occupancy rates in Fort Lauderdale are extremely high with demand routinely exceeding supply. This trend goes into over-drive with special events, festivals and the winter monthswhen good Fort Lauderdale hotels are known to sell out months in advance.
Gay Resorts in Fort Lauderdale
The Worthington Fort Lauderdale ☆☆☆☆
One of the most popular gay-owned clothing-optional resorts in the US, comprising Alcazar Resort, Villa Venice Resort and Worthington Guesthouse. All properties are connected with a garden, always linking the 63 rooms, two hot tubs and three clothing options pool together. An exclusively gay stay with a mix of couples, singles and all ages (over 21).
Only 500 feet from the sandy shores of the Atlantic Ocean and a 5-minute walk to Gay Sebastian Street Beach. Work out in the fitness room with a pool view, enjoy a continental breakfast poolside or indulge in the renovated rooms with crisp white linen and simple decor. Trust us when we say, you will struggle to find a reason to even step beyond the resort…
A lively gay resort with minder rooms, a luxe spa, sundeck, pool and 1960s throwbacks. One of the most popular clothing-optional gay resorts in Fort Lauderdale thanks to its free Sundown Happy Hours on the weekends and relaxing yet playful atmosphere.
Pineapple Point Guest House ☆☆☆☆
An exquisite gay hotel sprawled across six buildings and 2 acres of lush tropical grounds, this is the clothing-optional paradise you have been looking for. Stylish rooms, all the traditional resort amenities and a social evening happy hour of cheese and crackers, beer and wine – all on the house. We also liked the complimentary sunscreen lotions, because, seriously, boys: skin cancer is no joke!
An LGBT resort steps from all the entertainment in Gay Wilton Manors. There is a collection of completely renovated 1950's Florida  bungalows to choose from, fabulous outdoor showers, a steamy hot tub, a lush garden, and an optional clothing pool area with an exotic waterfall. What fun!
Lush Royale ☆☆☆
(Temporarily or permanently closed. If you know something, please suggest an edit.)
A retro-relaxed gay resort with unfussy rooms, a shady garden, a clothing-optional outdoor pool and only three blocks from the turquoise waters of Fort Lauderdale's famous beaches.
Windamar Beach Resort ☆☆☆
(Temporarily or permanently closed. If you know something, please suggest an edit.)
A recently renovated clothing-optional gay hotel in Fort Lauderdale with simple rooms, a steamy hot tub, and weekend BBQ events. A somewhat cruisy atmosphere with a fun pool, hot tub, tiki huts and private garden areas. Even if you're not staying here, you can always stop by and purchase a Windamar Beach Resort guest pass.
Gay Guesthouses / Gay Hotels in Fort Lauderdale
A fabulous gay guest house in Wilton Manors LGBT neighborhood offering a clothing-optional location for men to enjoy their spa, heated saltwater pool, aromatherapy steam room and colorful rooms. For the more active among us, Cabanas Guesthouse & Spa also has free kayak and bike hire.
This peaceful, clothing-optional all-male hotel in Fort Lauderdale offers contemporary rooms and is only 10 minutes from the gay beach at Sebastian Street. There is a simple fitness room and heated outdoor pool, plus a loyal following amongst the bear crowd.
This was once a private world for gay men to indulge in peace, with eight rooms, a pool, a hot tub and a beautiful courtyard. However, this is not the case anymore. It has been taken over by new owners and now is a mixed resort. Coral Reef Guesthouse still offers a great gay-friendly and popular experience with exceptionally high standards. However, as a gay man, this may no longer be what you are looking for.
The Big Coconut Guesthouse ☆☆☆
A cozy gay guest house in Fort Lauderdale – but around 2 miles from the beach. Low prices, a secluded clothing-optional outdoor pool, barbecue grills and a hot tub.
An infamous gay hotel in Fort Lauderdale which draws in the Leather/Levi community looking for the gay Florida hookups of their dreams. A place where men can just be men, with basic accommodation and plenty of action.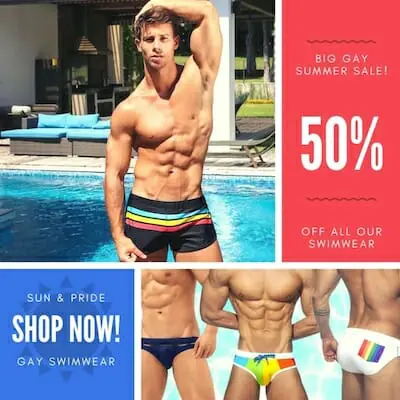 Gay Popular / Gay-Friendly Hotels Fort Lauderdale
One of our favorite hotel chains and always gay-popular. We first fell in love with W in Asia with their Hong Kong, Shanghai and Bangkok locations – and after a recent $55 million dollar renovation, we can say for sure this upscale oceanfront hotel will not disappoint.
Contemporary rooms straight from a vogue catalog shoot, water views, designer toiletries, two infinity pools, and an uber-trendy bar…And that is just the beginning. There are just so many amazing things to do here, but we also wouldn't judge you if you just wanted to spend a night tucked up in their luxurious bedding watching gay TV shows. There are no wrong choices here.
The Ritz-Carlton, Fort Lauderdale ☆☆☆☆☆
A genuinely luxurious resort offering the Ritz-Carlton trademark blend of tranquility and glamour. We loved the heated infinity pool, chic spa, ocean view rooms and having the Fort Lauderdale gay beach right on the doorstep.
The Westin Fort Lauderdale Beach Resort ☆☆☆☆
A relaxed hotel resort offering an oceanfront oasis with a serene pool deck, Heavenly Spa and multiple dining options. Gay-popular with plenty of younger couples, but it's probably due for a refurbishment and not our first choice.
The ultimate oceanfront experience with an outdoor heated pool (completed by an oceanview pool bar), unique, personalized touches and beautifully appointed suites.
An elegant art-deco-inspired hotel housed in a funky converted Caribbean-Colonial house. Elegant rooms, many of which feature original hardwoods floor and water views, and a beautiful courtyard with pool and loungers
A gay-friendly hotel in Fort Lauderdale (well, one block away) with colorful rooms with rainfall showers, a fitness center, and rental bikes + 3 heated outdoor pools (clothes on boys, you're in mixed company!). The real reason it's so gay-popular is the low prices they seem to continually have, making The Royal Palms one of the best value hotels in Ft. Lauderdale.
The cheapest bed in Fort Lauderdale, this laid-back hostel offers gay travelers an opportunity to save cash and meet other like-minded people to go out and explore the nightlife with. We are not saying it's for everyone, but there are frequently some very attractive European backpackers here…
Gay Nightlife in Fort Lauderdale, Florida
As one of the world's hottest LGBT travel getaways, you can expect the Gay Fort Lauderdale nightlife to offer something for everyone. Gay bars and clubs are scattered around different neighborhoods all over town, but the epicenter has to be Wilton Manors, Ft.
Lauderdale's gaybourhood, with a vibrant and thriving gay nightlife scene. Trust us when we tell you the bars and gay clubs in Fort Lauderdale bring all the boys to the yard. All those gorgeous, sun-kissed, fun-loving boys…
Gay Bars in Fort Lauderdale, Florida
J's Bar
(Temporarily or permanently closed. If you know something, please suggest an edit.)
One of the original gay bars in Ft. Lauderdale offering an easy-going atmosphere with a fun Happy Hour specials and events like karaoke, sick DJ beats, and poker. Everyone is welcome, but J's Bar is known as a bit of a lesbian hangout amongst locals.
Rumors Bar & Grill
(Temporarily or permanently closed. If you know something, please suggest an edit.)
A treasured neighborhood bar in Gay Wilton Manors with patrons from all over Fort Lauderdale's LGBT community. The bar food is surprisingly delicious, plenty of large clubs are nearby for later in the night, and the music isn't so loud that you can't hold a conversation. Perfect for pre-gaming or organizing one of those rare gay hook-ups where you actually want to talk first.
Whiskey Blue @ W Hotel
(Temporarily or permanently closed. If you know something, please suggest an edit.)
Close to most of the gay resorts in Fort Lauderdale, it was inevitable this upscale gay-popular hotel would attract fashionable gays who just want to see-and-be-seen. The drinks might not be cheap, but they are quality cocktails in chic surroundings with ocean views.
Known over the years as 'Simba's Lounge,' 'Little Jim's,' and 'The Bushes,' this LGBT bar has been part of gay life in Fort Lauderdale for over 30 years – in one way or another. The cheapest drinks in town with friends, loyal customers and the occasional fun event. They like to think of themselves as "The Cheers" of Fort Lauderdale – and we can't help but agree.
A gay/gay-friendly haven with an open patio, small dance floor and central location in Gay Wilton Manors. Most of the regulars come for the Happy Hour, which goes from 11 am to 9 pm, making the Pub a tempting proposition.
A small yet welcoming gay bar with very affordable drinks and is popular with mature guys staying in the nearby Holiday Parks.
Serving 'kick up your heels home country western' realness, this country gay bar offers a spacious venue for two-stepping, line dancing, and Tuesday's Barnyard Bingo!
An unfussy neighbor hangout / gay dive bar with live cabaret, bitching drag bingo and sexy bartenders. Mainly locals enjoy this institution of Fort Lauderdale gay life, but tourists are most welcome.
A Levi / uniform / leather bar in Ft. Lauderdale whose opening helped form the gay Wilton Manors area. This unapologetic heavy-duty cruise bar also offers a weekly lineup of events that always draw a crowd, including Fetish Gear Fridays, Caged Hunks on Saturday and Underwear Tuesdays.
A basic tavern / bear bar with a fun but cruisy attitude and gratifying Wednesday-night gay underwear parties.
A local bar with theme nights, pool leagues, a jukebox and all-day happy-hour specials close to everything in Gay Wilton Manors.
A Popular video / gay sports bar in Wilton Manors for bar-hopping, light bites and the festive Sunday Drag Brunch.
Naked Grape Wine Bar
(Temporarily or permanently closed. If you know something, please suggest an edit.)
A fun LGBT popular wine bar with an air of sophistication. Meet new friends, plan a date night or just relax with your wine in this hip and unique offering.
The third location for this successful bar after New York and Los Angeles offers a classic sports bar — just with a mostly gay clientele. The perfect place to head to a big sports game or to enjoy their darks and poker nights.
Gay Male Strip Club Fort Lauderdale
Now, this is what we are talking about, a gay strip club in Fort Lauderdale, and one of the most popular attractions of Gay Wilton Manors. What can we say? Who doesn't like to admire all those abs and gorgeous men, perhaps even get a lap dance..
$5 margaritas on Mondays and all-you-can-drink Thursdays only add to the appeal. Many of the guys here are also featured in Fort Lauderdale's booming gay porn industry – in case your wondering if you recognize some of the guys.
A fun bar / male strip club in Wilton Manors with no cover, plenty of hot boys and briefs galore! Bad boys, thinks, studs and magic mike dreams are all catered for (unlike the terrible Magic Mike strip show in Vegas)
Fort Lauderdale's newest gay strip clubs/bar, and so far, one of the best. A nice variety of guys but with a focus on 6'5, ex-military, muscle, and tats. But really – why not just sample them all? The strip clubs, that is … though we wouldn't say no to some more lap dances.
Gay Clubs in Fort Lauderdale
A mega gay club in Fort Lauderdale solidifies Wilton Manor's gay nightlife reputation. Two floors of crystal chandeliers, cosmopolitan sophistication, and men who just want to dance the night away.
The dance floor is always crowded thanks to a DJ who knows what he doing and a rigorous lineup of events – including the ever-popular Bubble Gum Fridays.
Hunters Nightclub Fort Lauderdale
A contemporary gay club with delightful cocktails, pool tables, DJs and plenty of dancing shirtless men in their 20s and 30s. On Sunday, visit for the Classic 54 Tea Dance, a throwback to the disco era, which is fun, fun, FUN! The third outpost from Patrick and Mark introduced us to Hunters Chicago in 1982 and Hunters Palm Springs in 1998.
Cruising Gay Bath Houses in Fort Lauderdale
Halleloo! Unlikely so many Gay USA destinations we visit … Austin, Nashville, Santa Cruz, Honolulu… there is actually a gay bath house in Fort Lauderdale. Two, in fact, plus one sex club!
While Grindr and other gay hooks up apps have led to the closure of saunas and bathhouses worldwide, we are happy to report that both Fort Lauderdale bathhouses are as busy as ever! There are also some very cruisy gay resorts in Fort Lauderdale and two gay beaches you might also want to consider.
Use our gay map of Fort Lauderdale at the end to decide what is closest to you. If cruising for gay hookups in Fort Lauderdale's gay clubs is not your style, or you just want some steamy action: these are the best cruising spots and gay bathhouses in Fort Lauderdale.
A modern and energetic gay bathhouse in Fort Lauderdale, conveniently located downtown just 2 blocks from the New Brightline Station. Relax, indulge, socialize and enjoy 24/7, 365 days a year. The Club Fort Lauderdale amenities include a full gym, dry sauna, steam room, hot tub, heated pool, video lounge, lockers, and sundeck.
The most popular spot in town – and one of the most popular bathhouses in the USA – with different events and discounts during the week. A highlight is the naked blackout event every month on the first and third Saturday at 10 pm. The Club Fort Lauderdale is part of the extensive gay bathhouse chain in the USA, with locations n Columbus, Dallas, Houston, Indianapolis, Orlando, St. Louis and Miami.
A somewhat-dated gay bath house in Fort Lauderdale popular with mature bears, leather daddies, and the occasional otter. Simple but effective with lower prices than Club Fort Lauderdale, their amenities include a hot tub, jacuzzi, showers and dry sauna.
Tuesday' Leather' night and Thursday' Bear Party' have predictably large followings. The Clubhouse II is also host to the popular CumUnion international gay sex party events in Fort Lauderdale.
A smaller community hot spot for fans of kink and simple fun. This gay sex club in Fort Lauderdale offers DJs on the weekend, slings, mazes, glory holes and the ability to bring your own alcohol. This is not a sauna/bath house and does not have all the usual amenities.
The Sebastian Street Gay Beach near the Fort Lauderdale gay resort is often very cruisy, and a great place to meet guys, or you can also try the infamous Haulover clothing-optional beach. Remember that public sex in Florida is illegal under indecent exposure laws, and puritanical inhibitions suggest taking your conquest back to a more private setting.
The Windamar Beach Resort and Inn Leather are popular clothing-optional gay resorts in Fort Lauderdale, which allow for plenty of cruising opportunities, and offer day passes if you are not staying on-site. The Worthington Fort Lauderdale, which comprises the Alcazar Resort, Villa Venice Resort, and Worthington Guesthouse, is also a good bet, but day passes are not available, so you will need to be staying on-site (or know someone who is…). The same applies to The Grand Resort and Spa All Male Spa Resort.
Trying a male massage in Fort Lauderdale is also another somewhat popular option to relieve stress and tension, just don't expect it to be like the type you might get in Kuala Lumpur, Taipei or Pattaya. There is only one exclusively gay spa in Fort Lauderdale, Green Jade Men's Spa, but you can try any of the gay resorts (we loved the Grand Resor & Spa treatments) or ask around to find the few good male massages in Wilton Manors.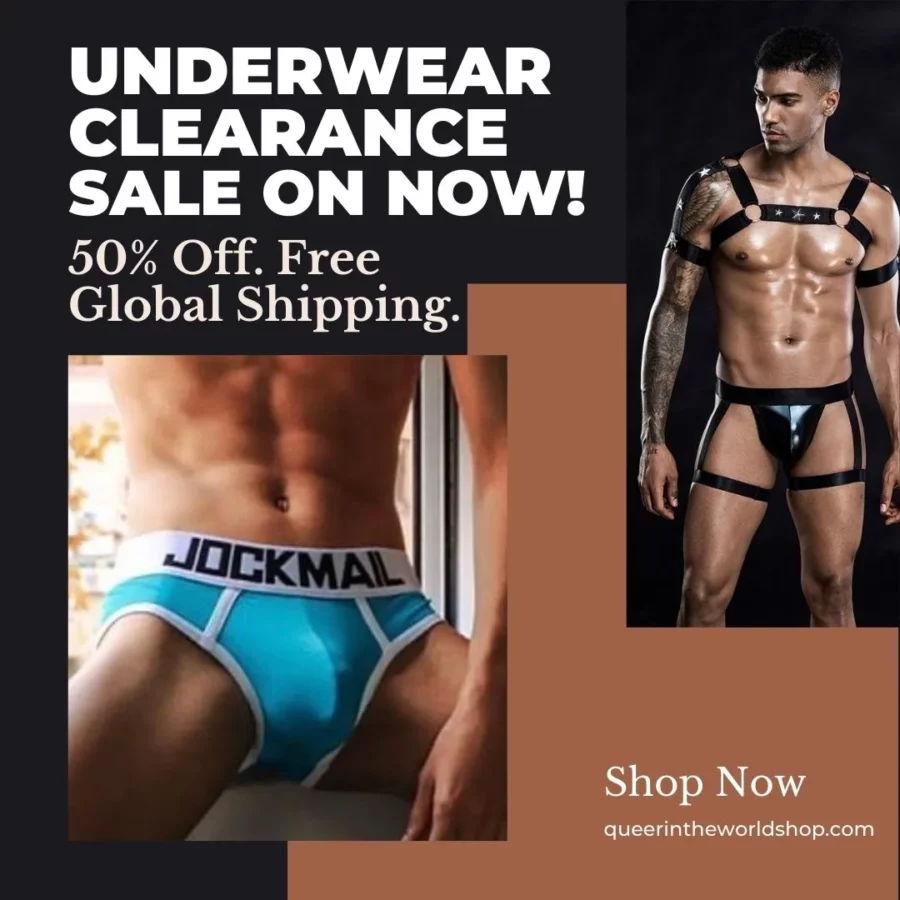 Gay Map Of Fort Lauderdale
Finding it hard to envisage where everything is in Gay Fort Lauderdale? Hopefully, this queer-centric map helps where we have marked all the bars, clubs, parties, hotels, saunas, massages and more will help you stay in the spot best suited to you!