While Fort Lauderdale to the north may have taken some of this cities shine, make no mistake: Gay Miami is still one of the world's most fabulous destinations! Hosting some of the world's biggest gay parties and offering sun, sea, sand, luxury – and a nightlife scene quite unlike anything we have experienced before, or since – Miami is a gay mecca we want to return to time and time again!

From the hot and sweaty mess that is the annual Winter Party Festival in March, to the legendary White Party in November, Miami sandwiches more gay events annually than almost anywhere in the country. Even if a blockbuster event isn't on, a visit on any week (or weekend) is guaranteed to include celebrated drag shows, world-famous DJs, epic clubs, and extraordinary pool parties.
They say that gays helped build Miami nightlife into what it is today, and that isn't far from the truth, and thankfully we are still welcome in most venues across the city – but with such a wealth of LGBT nightlife we barely had a chance to explore any 'mixed venues'.
Gay Miami for travelers is, unsurprisingly, centered around South Beach with its extravagant clubs, luxury Mid-century hotels (including one gay-only hotel), miles of glorious beachfront, pastel-colored art-deco buildings and refined dining. Honestly, it is easy to never stay more than a mile from your hotel and still have one of the best vacations of your life but Great Miami still has plenty to explore.
From the mushrooming arts scene to the creative Latino-inspired cuisine, from the proximity to the Everglades and numerous hidden neighborhoods to explore, Gay Miami is an ever-changing kaleidoscope of cultures, festivals, and creativity – all baked in the sun to glorious perfection and ready to explore. Much like the people here, Miami is stunningly beautiful, wonderfully progressive, and never too-good for a little debauchery.
Added to this the care-free and active South Florida lifestyle, and you too will decide Miami makes a fabulous gay holiday destination no matter where your interests lie! So what are you waiting for…
Are you relocating? This guide will help travelers discover the queerer side of the city. However, if you are lucky enough to be considering a move here, we recommend reading our article about moving to LGBT Miami or getting in touch with a local gay realtor. They can happily give you no-obligation advice and all the information you'll ever need to know about your new city. And if you then want their help to find your dream home, you are guaranteed fair, equal, and honest representation. No surprises or awkward conversations necessary!
Are you relocating? This guide will help travelers discover the queerer side of the city. However, if you are lucky enough to be considering a move here, we recommend getting in touch with a local gay realtor. They can happily give you no-obligation advice and all the information you'll ever need to know about your new city. And if you then want their help to find your dream home, you are guaranteed fair, equal, and honest representation. No surprises or awkward conversations necessary!
Gay Miami Guide: The Essential Guide To LGBT Travel In Miami Florida
Attractions in Miami
Being gay does not define which attraction most of us will want to see in each city, and generally, gay tourists will simply want to check out the top things to see in Miami during the day!
In all fairness, the main attractions here are the beach, the stunning resorts, the fabulous food, and the nightlife, so if you don't explore much, there is no need to feel bad. You're on vacation after all!
Highlights of Miami
Wynwood Walls – Conceived in 2009 in a run-down industrial neighborhood, the Wynwood Walls have completely revitalized the ailing community with its collection of life-size murals and colorful drawings. The Wynwood Walls are free to enter and contain a constantly rotating collection of artists and their creations – as well as some seriously funky shops and indoor galleries. This is not your normal political street art found in Medellín, Manchester or Ottawa but is fun and slightly irreverent. The surrounding area is now over-flowing with gorgeous works of art, as well as many cool eateries, bars, and restaurants. Come in the late afternoon to avoid the heat and plan to spend a few hours!
R House Wynwood One of the pioneer restaurant venues that put Miami's Wynwood Arts District on the map as a national destination. Enjoy food, art, and music all under one roof – attracting everyone from hipsters to homos and everyone in between, the live DJs and themed parties are always great fun – but the Saturday and Sunday drag brunch are perfect for combining with a day exploring this colorful area.
World Erotic Art Museum – A museum, library, and education think tank in Miami Beach that uses its collection to illustrate the history of erotic art. The collection includes sculptures, drawings, paintings, and photographs and ranges from folk art to the work of famous artists.
The Beaches Of Miami Island – Connected to the mainland of Miami by a series of bridges – the Miami Beach island feels a world away from the hustle and bustle of the city. With over 9 miles of beaches, there really is something here for everyone from the palm-fronted Lummus Park to the international South Beach. This is Miami at it's greatest and no matter what else you do, the beach should be top of your agenda. So go, grab your beach chairs, umbrellas and beach towels (available for free for SoBe Hostel guests) and relax. There is even the 12th Street Gay Beach is you are feeling like seeing-or-being-seen….
Miami Biscayne Bay Boat Tour – Take a 90-minute cruise and tour around the Biscayne Bay, where you will see the city's exquisite coastline. Sit back in the modern and comfortable yacht or take in the ocean breeze on the upper deck.
Art Deco Buildings Of South Beach – Famous all over the world, the eclectic collection of Art Deco buildings in South Beach explain why this neighborhood is often called the American Riviera, or more simply just an Art Deco Playground. Wonderfully preserved and today housing interesting boutiques, galleries, and restaurants – you can, and should, spend hours wondering this neighborhood. If the heat of the day gets to you, you can always return at night when they are all lit up – and the city really comes alive! If you are true Art Deco architecture fanatic there is also an Art Deco visitor's center next to the beach which runs tours daily.
Little Havana – Little Havana is the largest and most famous neighborhood for Cuban exiles in the world – many of who fled during the Revolution or in the years since in search of a better life. Today Little Havana is a major center of social, cultural, and political life in Miami and is well-known for its street life, food, music, small businesses, and political passion. Yes, feelings still run hot here about the Castro region in Cuba and asking many of the older generations of Cuban's here will result in an insightful, if one-sided, analysis of current affairs of their island to the South. Many famous festivals occur here annually including the Calle Ocho Festival, Cultural Fridays and the Three Kings Parade. But a visit here is worthwhile any time of year if only to see the famed Calle Ocho, Domino Park, the Versailles restaurant or the Azucar Ice Cream Factory. This is multi-cultural Miami at it's best, and not to be missed!
Key West Day Trip from Miami – Experience the colorful streets and breathtaking beach of the southernmost tip of the Florida Keys as you cross 42 bridges and savor the views on the way. When you arrive in Gay Key West, enjoy your free time and explore the picturesque town at your own pace but don't forget to visit Ernest Hemingway's Little White House and try a some of the famous Key Lime Pie while you savor the local culture and Caribbean atmosphere. While we are not quite sure it counts, this is easily the most gay-friendly Carribean Island we can think of…
The Miami Food Scene – For years Miami was famous for just it's beaches and nightlife, but recently the Miami food scene has become somewhat of a rising star and an attraction in its own right. Forget Copenhagen, Tokyo or Mexico City… This is the new darling of the foodie world! While authentic Cuban and Latino cuisine has always been the mainstay of Miami food, nowadays homegrown chefs are leading the charge to upturn Miami and create a culinary mecca – and so far they are succeeding. New and innovative restaurants and trends are constantly being trialed here, making it hard to pin any one place down. For the trendiest places, however, avoid the Ocean Boulevard strip and head to Downtown Miami, Brickell and Wynwood and look out for a line stretching around the block! Locals will whisper their favorite haunts and new arrivals…if you promise to keep their secret.
Miami South Beach Culinary Walking Tour – Enjoy an entertaining lunch or evening walk when all the neon lights sparkle around the South Beach as you try typical yet exotic surprises like ceviche, empanadas and many other delicious delights. Visit and learn about the many interesting restaurants as you meet people who love good food such as you do.
Vizcaya Museum – Visit this luxurious Italian-French renaissance garden and museum, one of the Miami Historic Landmarks and trace the past here when dreamers and visionaries transformed a wilderness into the thriving metropolis we know Miami is today. Explore how this icon of American architecture was inspired by the palaces of Europe and Renaissance Gardens of Paris, Rome, and Milan while enjoying the stunning landscape that immediately transports back to a Golden age 100 years ago. While you are here, don't miss the amazing views of the Biscayne Bay from the backyard
Bayside Marketplace – A uniquely Miami attraction, a farmers marketplace on the edge of Downtown Miami. Located right next to the American Airlines Area (and therefore perfect for a pre or post-performance meal) this complex wraps around a Marina with views out to the ports and downtown…not to mention of all the luxurious yachts! Chances are you will recognize the location as it was frequently used as a CSI Miami and Miami Vice shooting location, but you are more likely to bump into a free gig or street performers here these days. The upstairs sea-food market has phenomenal views but still manages to maintain it's low-key vibe – with low prices to match.
Everglades Safari Park – Explore nature's River of Grass on an eco-adventure tour on an airboat at Everglades Safari Park. Hope on board at let an experienced captain guide you through the wilderness on airboat as you encounter breathtaking panoramic views, lush vegetation, and tranquility in this unique ecosystem. Look out for alligators, native flora and fauna, as well as other exotic wildlife in their natural habitat. So Florida right?
Bahamas Day Trip from Miami – Take the comfortable ferry to the beautiful and grand Bahamas and spend a day at Bimini. Try your luck at the casino slot machines, indulge in the full bar, and shop at the duty-free gift shop on board then enjoy some free time at the Hilton at Resorts World Bimini when you arrive – or simply head out to discover the island at your pace.
Go Miami Card: All Inclusive Pass – Choose from between 1- to 5-Day Cards and visit as many Miami attractions and scenic spots as you possibly can. If you are the type that wants to see and do it all, why not pay one price to pick from over 28 available attractions and schedule where you want to go at your own pace.
Gay Annual Events in Miami
Gay8 Festival (February) – A Hispanic LGBT art, music and food street festival in Miami that has grown into the largest Hispanic LGBT Festival in the United States attended by over 60,000 people. The one-day festival blends all of South Florida's delights into one gigantic party in the heart of Miami's historic, Little Havana, where Gay8 invites to all Miamians and visitors for the Fiesta of a lifetime stretching for three fun-packed, activity-filled blocks from 14th to 17th Avenues.
Winter Party Festival (March) – An annual, week-long celebration of music, dance, and community, produced to raise critical funds for the LGBTQ community. Founded in 1994, the original Winter Party featured just one event, a dance party on the sands of South Beach. In the years since, Winter Party has grown into an iconic week-long celebration featuring dozens of events and drawing crowds by the thousands from around the globe. Their method is part genius and part magic: they simply feature an amazing mix of people, music, entertainment, and international DJ talent, and do so in the exhilarating, world-class venues of Miami Beach. So why not take a break from the icy cold winter? Soak up the sun, breathe in the ocean air, and get ready to play hard.
OUTshine Film Festival (April) – Previously known as MiFo, this critically and internationally acclaimed gay film festival serves as a platform for numerous premiers and is the largest LGBT cultural arts event in South Florida. OUTrageous. OUTspoken. And OUTstanding in what they deliver, the OUTshine Film Festival is one of the best gay film festivals in the world – and well worth attending if you want a taste of gay culture without getting shirtless or attending a circuit party.
Miami Beach Gay Pride (April) – One of the most popular and anticipated gay events in Miami of the entire year. This festival brings together members of the LGBTQ community, their friends, allies, and supporters in celebration of the unique spirit and culture. More than 100,000 attendees flock here over two days for an out-of-this-world festival of gay parties, parades, days in the sun and fabulousness in a way only us queers are capable of.
Aqua Girl (May) – One of the biggest lesbian event week in the world. Thousands of women from all over the United States and the world will descend on South Beach to listen to live music, bask in the sun at the famous pool parties, dance the night away to the sounds of internationally known DJs, and enjoy cultural evenings at fine restaurants and VIP cocktail parties. The flagship event of the powerhouse lesbian events company, Pandora Events, which also plans Girls In Wonderland in Orlando, the Women's White Party, and FLING- Women's Pride Weekends.
Sizzle Miami (May) – Created in 2002, Sizzle has grown to become one of America's most celebrated and anticipated urban gay event in an atmosphere unparalleled to none. Party-seekers from around the world convene in sunny Miami, Florida celebrating life, pride & liberty! Originally a one-day occurrence, Sizzle Miami has evolved into a 5-day smorgasbord of captivating day-time events, and pulsating nightlife. Sizzle is mostly attended by African-American men, but all races and genders are welcomed and encouraged to attend.
Gay Accommodation in Miami
In what is one of the US's most gay-friendly destinations, you will not find any shortage of welcoming hotels in Miami – everything from opulent beachfront resorts to cruisy clothing-optional male-only hotels and quaint art-deco boutique hotels.
You will not find any major hotel that isn't gay-friendly here, and many hotels in Miami's South Beach area have gone above and beyond in recognizing and marketing to the LGBT community. Given their popularity with LGBT travelers we would say it has paid off!
No matter where you choose to stay however it pays to book as far ahead as you can because occupancy rates in Miami are extremely high with demand routinely exceeding supply. This trend goes into over-drive with special events, festivals and the winter months when good Miami hotels are known to sell out months in advance.
We have collected together the most popular gay-friendly and gay hotels in South Beach, and noted a few others around Miami, but there are also hundreds of other hotels in Miami too if you don't find quite find what you are looking for. Whether you want a cheap but private place to crash after a night of partying, a chic luxury option to sip cocktails surrounded by fashionable people or a happening male-only hotel, Gay Miami as something for everyone!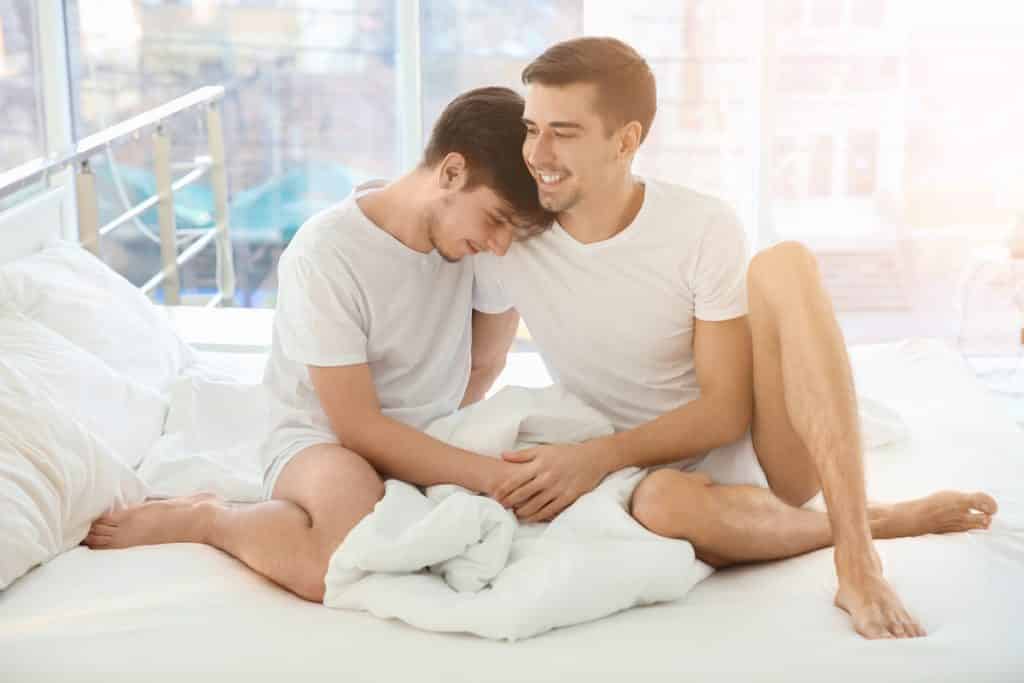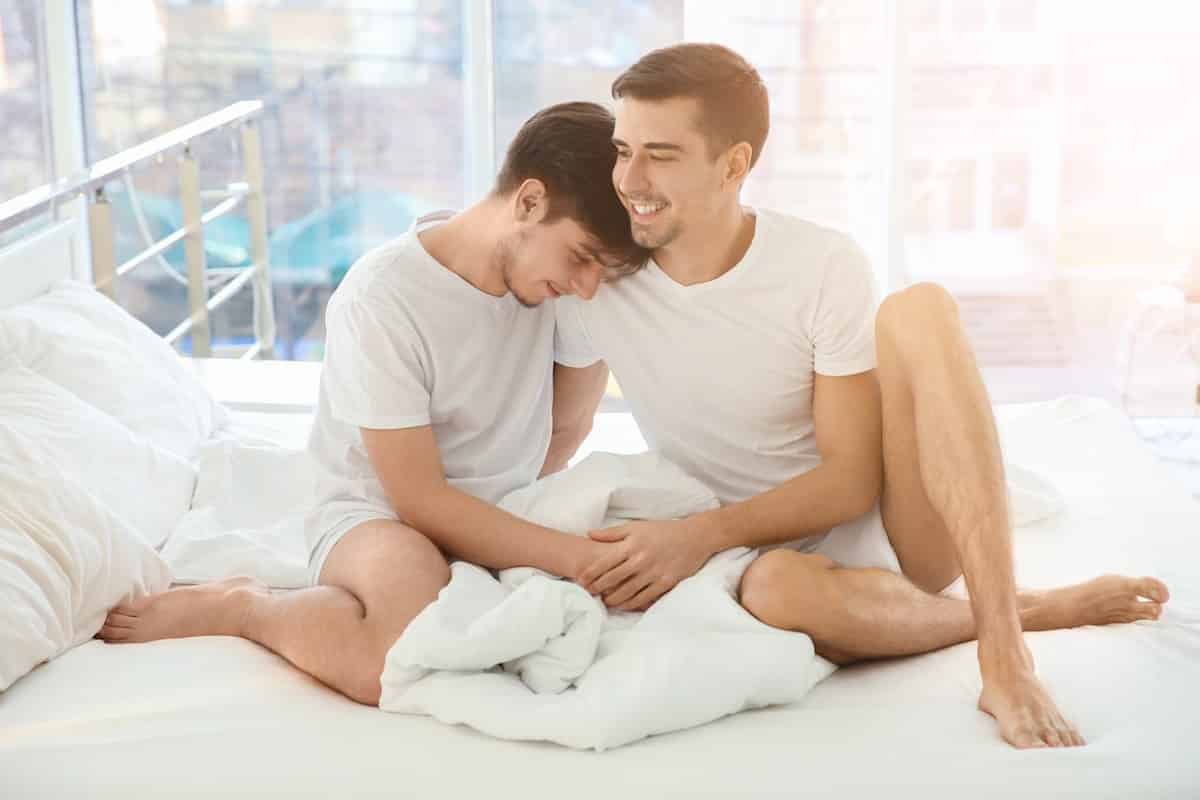 Gay-Friendly and Gay Hotels In South Beach
Hotel Gaythering ☆☆☆☆ – Why stay at a gay-friendly hotel, when you can stay at a friendly gay hotel? The only gay hotel in Miami and utterly fabulous, quirky and perfect for a chic gay escape. Found in a MiMo style, 1958 building in the heart of a Miami Beach gayborhood, this hotel caters exclusively to gay guests who want to experience a local's life in Miami Beach. Homey yet sexy, chic yet masculine, hip, nostalgic and vintage – and located just steps away from everything you could ever want! A wonderful space, with fantastic service, fun bar, and a busy men's sauna, Hotel Gaythering is our absolute first choice whenever we visit South Beach – and should be yours too.
The Standard ☆☆☆☆☆ -An offshoot of André Balazs's fashionable LA and NYC lodgings, there is nothing standard about this gay-popular hotel. Located on Belle Isle, steps away from the action on South Beach, The Standard Spa, Miami Beach is less a "hotel," and more a spa with guest rooms. Set amidst peaceful tropical gardens, the breezy, soothing rooms feature private terraces, many with outdoor soaking tubs, as well as an indoor and outdoor hydrotherapy playground, complimentary to hotel guests. We can also confirm their luxurious linens are a perfect place to hunker down for the night and watching gay TV shows. There is no judgment here.
1 Hotel South Beach ☆☆☆☆☆ – A South Beach retreat is inspired by 600-feet of beach along the Atlantic Ocean. Designed for comfort using reclaimed materials, it is one-of-a-kind, naturally. Relax in the clouds in an Ultra Sky Cabana on the rooftop or rejuvenate in the sun on a chaise lounge and contemplate the waves in front of the hotel. At cloud level, 18 stories above the beach, the rooftop pool is the perfect grown-up retreat. The luxe rooms all have inspired design and natural materials, while there is also a posh restaurant, multiple bars, and four pools, on-site gym and LGBT+ friendly service. Its no wonder this luxury hotel is one of our most popular gay stays in Miami.
W South Beach ☆☆☆☆☆ – Gays are obsessed with the W Chain, and we can't blame them since we are head over heels in love too! This location is unique, as they all are, just steps away from the Atlantic Ocean and offering a cutting-edge oasis in the cosmopolitan heart of South Beach. Iconic design and swaying palms set the stage for an unforgettable experience, where the pulsating worlds of music, fashion, and design meet contemporary luxury. Swing open the guest room door to discover the largest guest rooms in South Beach, each room boasting its own private balcony and striking ocean views, unlike any other hotel in South Beach. There is also upscale dining locations, a spa, garden lounge, rooftop basketball, 2 outdoor doors and a stylish nightclub for when you want to go out – but not all out!
The Marlin Hotel ☆☆☆☆ – A fully redesigned Art Deco landmark presents luxurious, contemporary design and private comfort in its 33 rooms and suites. The white sands of South Beach are steps away but when you return you can find high-tech features like mood lights, pre-loaded movie libraries on TVs hidden behind mirrors and fabulous rain shows. There is also a daily complimentary breakfast and a delightful welcome cocktail to set the tone.
COMO Metropolitan Miami Beach ☆☆☆☆ – An Art Deco luxury design hotel, this 74-room Miami hotel in the heart of the Miami Beach historic district, overlooks America's most iconic beach and all those gorgeous bodies that lie on it. COMO Metropolitan Miami Beach delivers the perfect blend of rest and revelry, urban modernity and period charm by way of light-filled rooms, a true urban escape, with fabulous interiors delivered by Italian designer, Paola Navone. And the pool has to be one of the most beautiful in Miami …
Island House ☆☆☆ – A budget accommodation in the middle of Gay SoBe catering mainly to gay males, but all open-minded adults are welcomed in. Simple, no-frills rooms and low prices with the ability to walk to everything make this a popular gay hotel in South Beach
Sense Beach House ☆☆☆☆ – Indulge in the South Beach experience, then retreat to the cozy comforts of this 18-room boutique hotel which truly does feel like a warm, quiet beach house – but with all the attraction and nightlife still nearby. Designed with your privacy and comfort in mind, these spacious rooms offer a relaxed ambiance with an array of thoughtful details including plush bedding for a good night's sleep, lavish toiletries for a luxurious bath and a fully-stocked minibar catering to your every craving. Kick back and get some love from the sun on their rooftop deck or head downstairs for an energetic restaurant offers an array of eclectic seafood American food with an extensive craft cocktail menu.
Blanc Kara Adults Only Hotel ☆☆☆ – Gay-friendly but welcoming to everybody, the exclusive number of rooms, the consciously designed studios and the thorough choice of every small detail are the essential assets of Blanc Kara. As is the very affordable price given the level of design and service, and location just three blocks from the beach.
Crates @ Gaythering ☆☆ – Just need a place to lay your head when you're done with the fun of Miami Beach? These unique Crate Shared Room (part of the Gaythering Gay Hotel) offer you a men-only 64 square feet private unit with 7-foot partition walls, a key card system, and a full-size bed. Additional amenities for your comfort include a 40″ TV (headset only), sleep sound machine, and safe deposit box. There is a shared bathroom, no housekeeping service and it's not exactly quiet – but its cheap as hell and the only gay hostel in Miami.
SoBe Hostel & Bar ☆☆ – If you don't want to stay in the Miami gay hostel, why not stay at least gay-friendly at SoBe? One of the cheapest beds in South Beach – we loved staying here as there is a free daily breakfast, free dinner, free welcome drink, free beach equipment, free airport shuttle, daily activities and more. The best part? The organize nightly trips with HUGE groups to the hottest club happenings, seeking out guest DJs (we saw Skrillex and Sean Paul) and getting you free booze beforehand – and often in the club – before you go. Seriously, if you are on a budget, just want to party and socialize with new friends from all over the world we cannot recommend SoBe Hostel any more highly!
Other Gay-Friendly Hotels In Miami
EAST ☆☆☆☆☆ – The EAST brands first venture into North America, though we previously had loved their style after a stay in Gay Hong Kong, this location is situated on top of Brickell City Centre, close to popular areas such as Wynwood, the Design District, and South Beach. Offering a unique mix of customized guest services, cutting-edge technology, and innovative restaurants and bars, EAST tempts gay visitors away from South Beach with its chic rooftop cocktail bar with bay views, modern rooms with rainfall showers and luxe outdoor pools – four of them. If you want to try something different, EAST is it.
InterContinental at Doral Miami ☆☆☆☆ – Stay in comfort and enjoy the ideal Miami hotel for business, just 15 minutes from Miami International Airport and the Beacon Centre. Boasting very affordable prices with warm traditional rooms, an onsite Latin fusion restaurant, and a casual cocktail lounge, outdoor pool, and gym – this isn't our first choice of hotels in Miami, but it is perfect if you are visiting for business more than pleasure.
Kimpton EPIC Hotel ☆☆☆☆ – An almost gay hotel in Miami, Kimpton is renowned for its LGBT+friendly atmosphere and actively courts gay guests. In Downtown Miami, this is a match made in heaven as the Kimpton urban resort promotes sun-worshipping poolside, relaxing at Exhale spa or indulging in cocktails in the upscale Area 31 patio bar. Blending urban sophistication with fun in the sun, why not try to check-in in time for the free evening wine hour?
Gay Nightlife in Miami Florida
While the center of Gay Florida has migrated northwards to Fort Lauderdale we are here to tell you: the gay nightlife of Miami is still here, still very queer and still absolutely unforgettable.
The nightlife culture of Miami today is largely thanks to the legacy of Miami's gay culture of the past, and without the queer club scene here Miami as we know it would not exist.
Whether it's an underground drag show, high-brow cocktails in Wynyard or the glitzy glamour of South Beach, gay culture is rooted here. Miami has grown more inclusive over the years and today the LGBT community is welcomed in many of the biggest super-clubs and you can meet members of the rainbow community practically everywhere you go – but Gay Miami today is still very much rooted in South Beach, so if you want utter fabulousness this is where you need to go.
We have included our favorite gay nightlight spots around the city, and a few epic LGBT+ friendly or popular venues we think you absolutely should try to check out. To get the full experience, be prepared to stay out all night long as the hottest clubs often don't even open till midnight. So take a siesta, and get ready for a night you will never, ever forget with all those gorgeous, sun-kissed, fun loving boys…
Gay Bars & Clubs In South Beach
Twist – The hottest and longest-running gay club in Miami, this Gay South Beach "must do" has continuously redefined queer nightlife for over 25 years, providing a friendly and welcoming environment where people from around the world can meet and have an utterly fabulous time. Professional bartenders, world-class DJ's and the sexy-as-hell dancers come as standard in this epic venue with entertainment most nights including some of the Miami's finest drag acts. Two blocks from the Atlantic Ocean and the popular 12th street "gay" Beach the 7 bars and 3 dance floors here – each with a different vibe in every room means there is always something going on at Twist. Never a cover… always a groove, 7 nights a week, every week of the year
Palace – Every Queen needs a palace, and after a short hiatus the infamous Palace Bar has reopened on 11th Street and Ocean Drive – two blocks from its original location. After serving South Florida's LGBTQ community for almost 30 years and providing a safe haven with rainbow-painted crosswalks and daily over-the-top drag shows the Palace once again providing a home for the glittering queens and drag performances of South Beach. Go for brunch, lunch, cocktails or late night partying, there is always something happening at Palace. Drinks, music, music, drag, magic and queer vibes – what more could you want really?
Repour Bar @ Albion Hotel – Everyone is welcome at this hipster bar in South Beach decked out with eclectic furniture. Head out to their patio to enjoy delightful craft cocktails made with tea, herbs & spiked jam.
Kill Your Idol – An alternative (unofficially) gay bar in South Beach, KYI offers a throwback to the emerging No Wave movement of the late 70s with evolving live local artists, drag shows and musicians. There is a popular ladies night on Wednesday, cheap beer, fantastic karaoke and a fun dive bar vibe that is the antithesis of the typical over-the-top South Beach club. Leave the chaos of South Beach and enter the chaos that is Kill Your Idol.
Bar @ Gaythering – We always recommend staying at the Gaythering to get the best experience of Gay South Beach but even if you don't you can always pop into this local hotspot. No red velvet ropes. No guest lists. No smoking. There is a marvelous daily happy hour, good vibes and plenty of entertainment including Bears & Hares Friday where all our favorite gay woodland creature come out to play: Bears & Hares, Otters & Wolves, Pigs, and even Beavers. Tight Ass Twos'days bring 2-4-1 well drinks all night long, or why not test your pop-culture knowledge with Wednesday Trivia Nights. Craft cocktails and beers at prices you would expect from a gayborhood bar, and plenty of friendly people to chat with. Bottoms up!
The Cabaret South Beach – A live music venue offering cabaret and piano entertainment nightly. A very chilled atmosphere, great food and a mix of modern and classical music. Very classy with fanciful décor and an actual mixologist, expert bartender crafting divine cocktails for your enjoyment. Busier aroun9 pmpm at night but with no cover charge why not pop in any time from 8 pm to 1 am, Thursdays to Saturday.
GLAM Nightclub– A staple of South Florida's urban gay nightlife, GLAM offers a safe and sexy club atmosphere with high-energy strippers, neon-lights, a diverse LGBT crowd, and an animated and distinctive mix Of Hip-hop, Reggae, R&B, Latin, House, And Old School Beats. Sexy Saturdays are our favorite nights but see their Facebook for events before heading out.
Other Gay Bars & Clubs In Miami
Pandora Events – A production company from South Beach producing some of the hottest women's soirees in the country local weekly and monthly lesbian-themed parties from Miami to Fort Lauderdale and into Central Florida. Sorry ladies, there are no exclusively lesbian bars in Miami but feel free to party with us…
Azucar Nightclub – The high-energy, flamboyant and never-boring gay Latin nightspot you came to Miami looking for! Who needs Medellin, Guadalajara or Santo Domingo when you can just head here for wonderful Latino party vibes. On the 'mainland' just south of Little Havana, locals know to head here for wild drag war shows, all-night dancing, the hottest go-go boys and DJs who really know how to set the mood. Drinks are reasonable prices, especially compared to Gay South Beach, and in the weekend it really gets pumping!
On The Rocks – A neighborhood sports bar in Miami Beach popular with the local gay crowd open every day until 55 AM A great selection of beer and liquor at reasonable prices with multiple TVs, karaoke, and bar games. Not worth the trip out, but if you are staying nearby be sure to stop in.
Gramps – A trendy gay bar with incredible cocktails, knowledgable bar staff and delicious pizzas. Fun camp décor with plenty of palm trees outside, arcade games including pinball and asteroids and a long bar to relax at. There is a daily happy hour from 4-7 pm, trivia on Tuesdays, drag bingo on Wednesay and a rotating list of gay parties with events listed on Facebook. A funky spot to chill in Miami's Wynwood neighborhood.
Jamboree Lounge – A local gay dive / cruising bar – one of the only ones in town – across the Biscayne Bay just north of Little Haiti. If you are hiring a car in Miami why not try it out, there is an interesting crowd, an enthusiastic drag show and events every night of the week listed on their website. With bare-bones decor and dark lighting, this is the kind of place to enjoy cheap drinks or if you are interested, for original and discreet cruising in the back patio. You are either going to love or hate it.
Floyd Miami – A oh-so-cool speakeasy hidden in plain sight. Very hipster / gay-popular with DJs playing underground artists setting the perfect vibes to enjoy Prohibition-era cocktails in a luxury British mansion styled space straight out of Edinburgh or London. Later at night ,things get very crowded, so if you want to enjoy the ambiance better to arrive earlier…
Sundays @ Sweet Caroline Karaoke Bar – Miami's newest karaoke bar! As Neil Diamond would say, Sundays are "so good, so good, so good" for karaoke so why not join them every Sunday So Good Sundays – Gay Karaoke Night, an extremely engaging and fun environment where attendees are encouraged to dance, drink, and sing along!
SHOTS – Not specifically gay, but very LGBT-friendly we absolutely love this vivacious dance club well known for, well, its pouring of shots of alcohol, they have over 100 combinations! A sort of interactive party bar where the customer takes center stage, there is no cover charge, on weekends food trucks rock up and there are DJs in two rooms with different music to explore. A cool open-club feel in the popular Wynyard district if you want to spend a night away from Gay South Beach this is a fun, upscale option. Shots has become so popular they have also expanded to Orlando if you don't have a chance to visit here.
Blume Nightclub – A gay-friendly but every mixed high-end nightclub in Miami's humming urban Brickell neighborhood. Offering a contemporary and extensive nightlife experience fusing high energy and chill atmospheres perfectly with its expansive indoor setting and idyllic outdoor terrace.
Club Space – A epic, fashionable venue known for their famous DJs who spin tunes until early morning with a stunning rooftop terrace. Today the name is synonymous with dance music in the United States, and Club Space has become the go-to venue for any nightlife enthusiast in the nation. Club Space goes out of their way to ensure a 'love everyone' vibes, specifically welcoming the queer community in and even hosting Matinee's infamous Gay Pervert Party.
Cruising, Gay Saunas & Bath Houses in Miami
Halleloo! Unlikely so many Gay USA destinations we visit … Austin, Nashville, Santa Cruz, Honolulu… there is actually a gay bathhouse in Miami. Two in fact!
While Grindr and other gay hooks up apps have lead to the closure of sauna and bathhouses worldwide, we are happy to report that both Miami bathhouse are still great options for some hot and sweaty fun. Miami, however, is much less of a destination for gay sex and cruising than it was in the Golden '80s and '90s and today much of the action has moved north to Gay Fort Lauderdale. For many Latino gay men though, Miami reigns supreme and you can expect to find plenty of guys from Cuba, Brazil, Colombia, and elsewhere in the Caribbean or Latin America.
There is also some very cruisy gay resort in Miami, the Jamboree Lounge gay dive bar mentioned earlier and two gay beaches you might also want to consider. Use our gay map of Miami at the end to decide which is best for you, and if you are nervous about visiting a gay bathhouse for the first time, read our guide first!
Club Aqua – A chain of private saunas and gyms providing a safe, healthy and fun environment for adult gay and bisexual men with other locations in Columbus, Fort Lauderdale, Houston, Indianapolis, Orlando, St. Louis and Dallas. This Miami outpost is conveniently located in Downtown and is the perfect location for those looking for an escape from the hustling Miami lifestyle. This steamy bathhouse offers the perfect atmosphere where you can relax and enjoy sunbathing by the outdoor heated pool, blow off some steam in the steam room or socialize in their play areas. Open 24/7 onsite you will also find a full gym, whirlpool, dry sauna, maze/video area, and sundeck. Leave your expectations at the door and let your eyes explore.
Sauna @ The Gaythering – An clothing-optional gay sauna in Miami catering to the guest of Hotel Gaythering. Not a bathhouse (The Gaythering is too classy for that…), but an indulgent and cruisy spa where you can enjoy unlimited use of the dry cedar sauna, steam room, Jacuzzi with massage jets, changing rooms, showers with aromatherapy body wash, and lockers for day use with provided keyed locks. Come along to see what all the fuss is about while you immerse yourself in the experience!
12th Street Gay Beach – The most famous and convenient gay beach in Miami found in South Beach only a hop, skip and a jump away from all the posh hotels and several of the cities best gay bars – including the famous gay hang out, the Palace, which is just two blocks away. If you want to be immersed in a sea of bronzed, chiseled bodies then this the perfect place to spend a few hours – but beware, there is no privacy to be had here and clothing is required. Take in the eye candy, mix, and mingle, but if you are looking to meet Mr. Right (or Mr. Right Now), consider staying in a hotel room in South Beach so you have a place nearby. Easy to find, just look for all the rainbow flags from 12th Street at Ocean.
Haulover Beach – If you are hiring a car in Miami, this famous clothing-optional beach is only a 10-mile drive up the coast along Route A1A, or can less easily be reached by bus. Once here you will find a beautiful stretch of sand covered in gay men of all shapes and sizes (as opposed to the peacocking of South Beach), and while sexual activity of any kind is still illegal here you will quickly note many guys cruising and disappearing off together. Police have been known to patrol the beach so any connections are at your own discretion and not advised.
Fort Lauderdale – Again, if you have hired a car in Miami you could also consider heading just a little further up the coast to the gay beaches of Fort Lauderdale or to explore their gay sauna scene – which is more lively. There is also plenty of clothing-optional gay resorts here, most of which sell day passes.