A grand metropolis of love, business, art, design, and shopping where queer people are embraced as a natural part of society, it's no wonder Gay London is one of the world's most famous LGBT travel destinations.
By day there are plenty of sexy English boys and girls picnicking in historic parks, wandering the banks of the Thames or lazing around cafes in London's gay areas but by night is when things really come alive. High-brow cocktails? Camp drag shows? Dark underground fetish parties? Some of Europe's most extravagant gay parties?
Check, check, check and CHECK!
London is world renown as one of the greatest gay cities on Earth, and no trip here would ever be complete without visiting the expansive gay villages in the Soho and Vauxhall neighborhoods. As you will see, LGBT bars and clubs can be found all over Gay London, but it is within these two neighborhoods that you can really see gay life flourishing.
Energetic cafes, pubs, bars, clubs, and members-only organizations combine to offer a truly diverse range of nightlife entertainment – expand your horizons; London has everything you always knew you wanted…and surely if a few hidden delights you might never have considered.
Gay travelers need not take any more extra precautions in London than they would in any other Western European capital, especially in the gay areas of London, but should be aware of a rise in reported LGBT+ hate crimes in London. This is a serious 'wake-up call' and an important reminder that even with modern, accepting attitudes and the well-established LGBT presence in London, homophobic and transphobic attacks can still occur.
Enough said? We hope so – and by no means want to put you off a trip to Gay London – but this is something we should all be aware. Not that this problem is by any means limited to just London or the United Kingdom….
Even excluding the nightlife, the world-class museums, haute couture shopping, iconic architecture, fine dining, and utterly intoxicating atmosphere will give tourists more than enough reason to visit Gay London – whether it's for a night, a week, or to live full-time. Welcome to fabulous London!
Gay London Guide: The Essential Guide To LGBT Travel In London England
Attractions In Gay London
Being gay does not define which attraction most of us want to see in each city, and most queer tourists will simply want to check out the top things to see in London during the day! London is a very safe city, but all travelers should take caution with valuables. Gay people in London do not need to take extra precautions regarding public displays of affection in this very progressive city and should have no issues exploring this magical city's beauty!
Here are just a few of our favorite gay things to do in London – seriously, this is by no means comprehensive, but it might help to see something other than the inside of a club. Don't laugh; you wouldn't be the first person to come all this way and not see a single sight and certainly wouldn't be the last…The gay scene here is just that good.
Top Things To Do In London
Gay Places In London
Gay Events In London
Gay-friendly and Gay Hotels in London England
Being one of the most gay-friendly countries in the world, almost every hotel and hostel in London can be considered open and welcome to LGBT travelers.
After all, being gay-friendly is simply providing a non-judgmental and respectful environment where all people are treated equally. Elegant design, helpful staff, and excellent value for money never hurt anyone! Some hotels in London have gone above and beyond in recognizing and marketing to the LGBT community, and given their popularity with gay travelers; we would say it has paid off!
There are quite a few popular hotels in London that are go-to hot spots for gay travelers…and really, doesn't everyone like to be surrounded by people with common interests! These are the hotels we have checked out and included here. While there are no exclusively gay hotels in London, any hotel in the stylish SoHo gay district of London is sure to have more than a few gay guests staying and nearby you can find Hyde Park, the Tower Of London and the London Eye – plus being a stumble home from all the gay bars in pretty desirable.
There are hundreds of other good hotel options in London if you don't find what you are looking for but we are confident you'll find something here for you – we have tried to cover it all. Whether you want a fun and social hostel, a cheap place to crash after a night of partying or a luxury designer option to sip cocktails and surround yourself with fabulous people – Gay London has something for everyone!
Hotels In Soho Gay Area Of London
Gay-Friendly Luxury Hotels in London
Gay-Friendly Mid-Range Hotels in London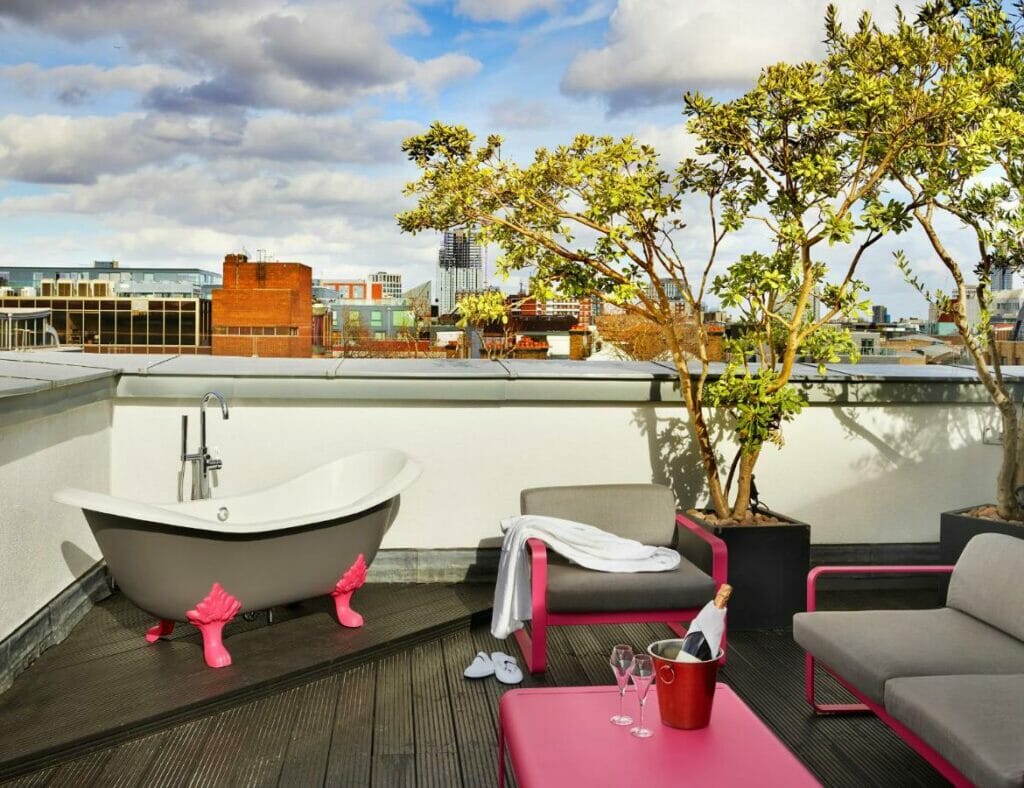 Gay-Friendly Hostels in London
Gay Nightlife in London
Where not even sure where to start as the gay nightlife in London is amongst the best in the world. If you are as overwhelmed as we are, the only thing you need to know is the Marais district is the perfect hub of LGBT nightlife in London…But by no means the only place to enjoy a fabulous night out.
Gay club parties in London are all the range with different locations every evening, but we have only listed the most popular and fabulous, as there are almost too many to count!
Use our Gay London Map at the end if you're lost, but there is plenty of bars, cocktail lounges, drag shows and bear dens littered across London to satisfy even the most discerning of gay travelers.
Oh, and speaking of discerning…You know that rude Londoner stereotype? Just as accurate in the bars and clubs. It's one big meat market out there so don't take it personally. Much like gay guys in Paris, Milan and Tel Aviv, people here are almost aggressively direct and to the point.
Gay Bars In Soho London

Other Gay Bars In London
Weekly Gay Parties And Clubs In London
Occasional Gay Parties In London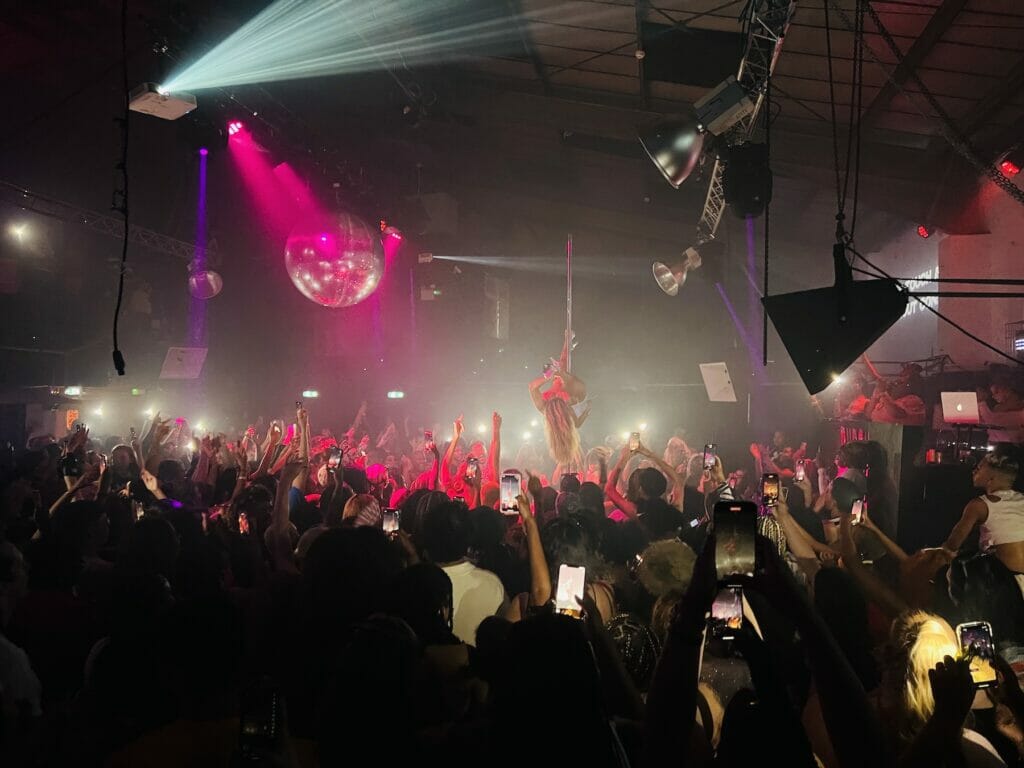 Gay Saunas in London
Had enough of gay cruising in London – either in the bars or elsewhere? For those who want a bit more guaranteed action, the gay saunas in London will not disappoint you (unlikely all those faceless accounts on Grindr or the other hook-up apps…).
While gay sauna worldwide have been closing down – and London has not been immune to this trend – there is still a lot of fun and steamy sauna to explore here spread out across the city, and most with 24-hour opening times on the weekend. Most are well-maintained and there is something for everyone from huge mega-sauna with every imaginable facility for you to enjoy to small sauna filled with loyal locals and chilled vibes. If this is your first time, you might also want to busy up on etiquette with our gay sauna guide.
Take your ID if you look young and be aware that searches on arrival are frequent due to an ongoing problem with drug-related incidents. Bottled water can generally not be taken into any sauna for this reason but is available inside.
Most gay saunas in London get crowded on weeknights after 5 pm, on weekend mornings and on Sunday afternoons. We also found Google Maps helpful for displaying the busiest times for most locations. While we are sure we missed a few these are the most popular gay sauna in London, and you spend weeks just exploring each and every one.
Gay Cruising and Fetish Clubs in London
If the bars or gay parties in London are too vanilla for you, perhaps these fetish clubs and cruise lounges are a better fit?
We have to warn you; however, London has one of the most intense fetish scenes we have ever come across – up there with Prague, Vienna, Rome and Paris – and it is not for everyone.
We have tried to identify places for the more 'initiated,' but really there is nothing vanilla here. Sadly, the number of permanently kink-friendly spaces in London is diminishing (as it is globally) thanks to soaring rents, gentrification, and gay hook-up apps, so a few great venues have recently closed. Thankfully, however, there is still plenty of ways to satisfy yourself, whether it's in a dark and dirty fetish dungeon, a large cruise club or the increasingly popular ultra-hardcore cruising parties and club theme nights.
Just play safe, and try not to get too overwhelmed. The fetish scene in Gay London is not for faint-of-heart…
Gay London Map