Whether you go on holiday for the suntan, new experiences, to blow off steam, or just to escape the daily grind, we're willing to bet that you want to feel relaxed and free to be yourself. Thankfully the resorts and gay hotels in London allow you to do just that – to be 110% yourself, without a single double-take, all in the company of other open-minded folks.
It is a secret to no one that London is one of the world's great cities – quite possibly the greatest. It has a culture that is unsurpassed, with flourishing theater, music, and art scenes. And despite long-held stereotypes about British cuisine, there is a wealth of fine (and varied) dining to be experienced in London. Not to mention the absolute plethora of museums, the greatest of them no doubt being the massive British Museum.
London is also home to some of the world's most iconic and recognizable landmarks, including Big Ben, The Tower of London, the Palace of Westminster, and the list goes on and on.
But what many may not realize about London is that it is one of the best gay cities in Europe, to say the least. Which shouldn't be too surprising given London's cosmopolitan spirit. It has always been a diverse city, since its days as a small village called Londinium. It was founded by the Romans as part of an empire that spanned all the known world at the time. So London was a melting pot from its very beginning, and that spirit of diversity continues today.
It is truly a "city of the world" in that you can find all sorts of people here, from all walks of life, all backgrounds, all colors and creeds, and all sexual orientations and gender identities.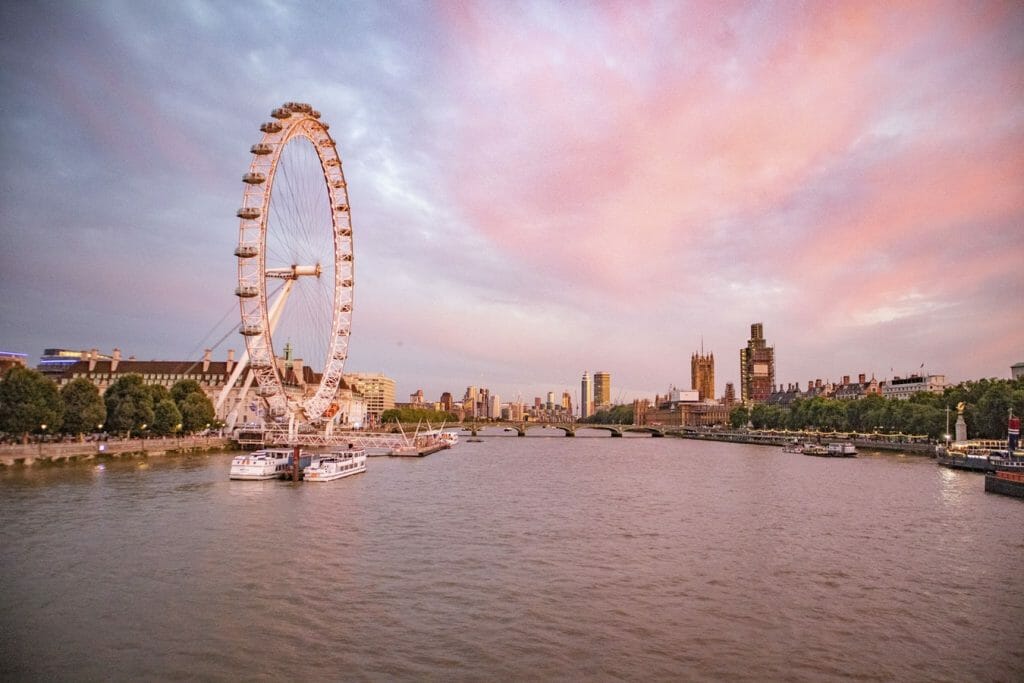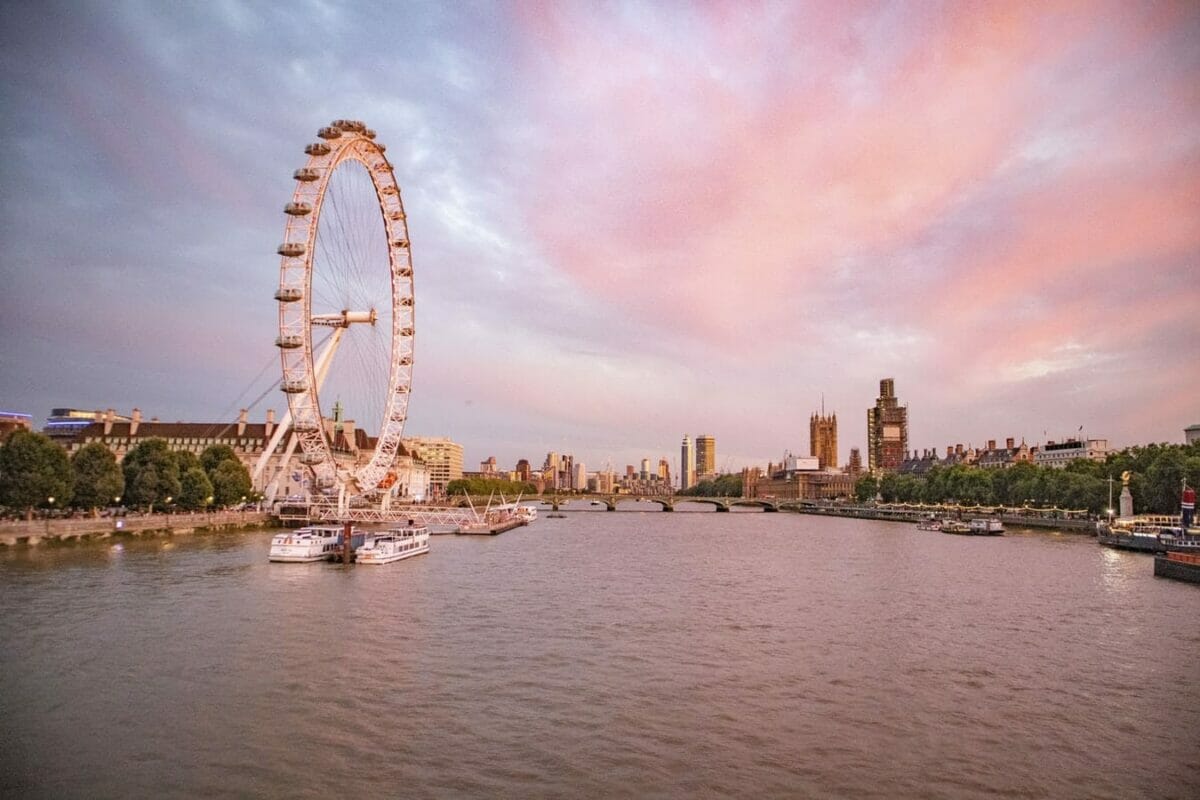 While Gay London has its share of gayborhoods, LGBTQ+ people can feel safe and comfortable all throughout London's considerable expanse, and you are pretty unlikely to encounter any problems on account of one's lifestyle choices.
But not only that, but London is also home to uncountable gay bars and clubs, and they are scattered throughout, so fabulous gay nightlife is never hard to find in this very party-loving city. And of course, London's many LGBTQ-themed events cannot go unmentioned, with London Gay Pride leading the way in June, and other queer events like Fringe Film Fest and the BFI London Lesbian & Gay Film Festival celebrating gay and lesbian art and culture.
As we have established by now: London is huge, with a wealth of things to explore, so you want the flexibility and freedom to sightsee without worrying about budgeting and stressful transport. That's why the London Go City Explorer Pass is a must-buy for your visit.
With it, you can enjoy incredible savings and discover top attractions, all on one digital pass. From Shakespeare, to The Shard…take total control of your trip as you pick a 2, 3, 4, 5, 6, or 7 credits package. You'll then have 60 days to use it with free digital delivery. Save time and money with Go Pass stress-free sightseeing in London, or try the London Inclusive Pass.
As you can probably begin to tell, Gay London is one of the most welcoming and diverse LGBTQ-friendly places on the planet! With that in mind, it's important to know where to stay when visiting England's capital!
We've put together a fantastic list of the best gay-friendly and gay hotels in London to ensure your stay is as comfortable and as glamorous as it can be! While there are no longer any exclusively gay hotels that cater only to male clientele, our list features hotels across different areas of London that openly court queer travelers, are very gay-popular and take into account gay interests, culture, budget, location and of course the nightlife!
The Assembly Hotel is located in the middle of London's West End, just behind Leicester Square. It is a great walkable location with public transport within easy reach for guests looking to venture out and explore more of the city.
This gay-friendly establishment bills itself as "a hotel for everyday explorers and urban adventurers." Indeed, all of West End's museums, shows, cafés, shops and restaurants will be right at your doorstep when guesting at the Assembly Hotel London.
The hotel has 139 cozy, sound-proofed guest rooms offering comfort and calm in the heart of the city. Décor is inspired by the likes of London fashion mavens Alexander McQueen, Stella McCartney and Gareth Pugh, all alums of London's Central Saint Martins College of Art and Design.
Rooms feature En-suite bathrooms with walk-in power showers, super comfy beds, air conditioning, and free Wi-Fi.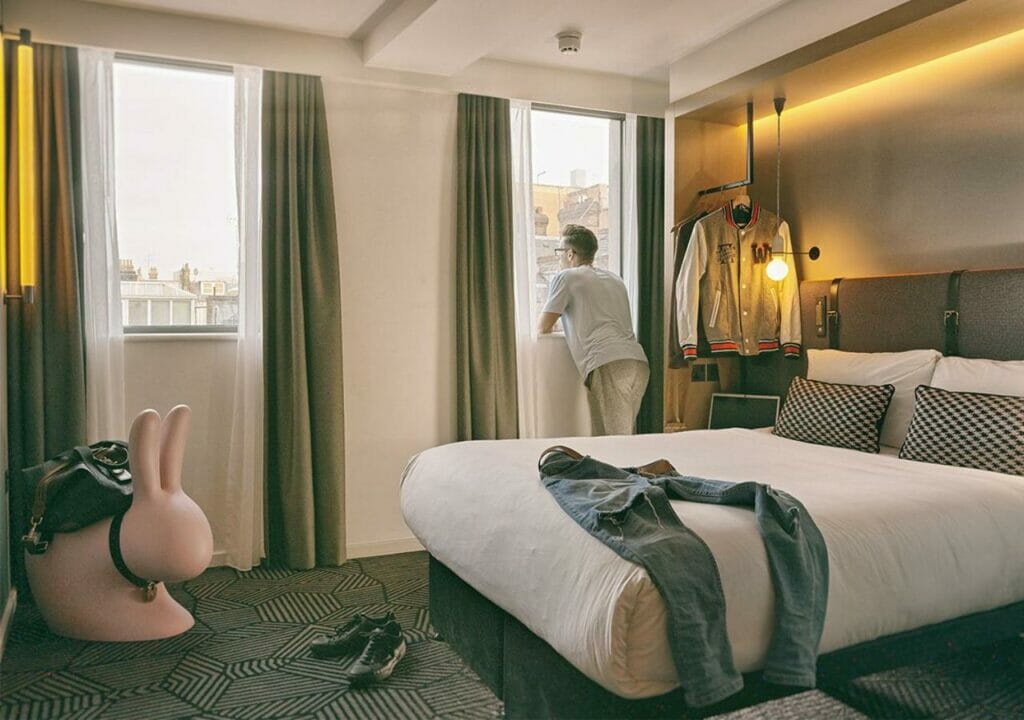 Accommodation styles vary. Their snug rooms sleep 2 with a double bed and 10 sq.m. Nest has a tad more room, with 13 sq.m. Pads up the space to 16 meters square, while Hide accommodations are designed solely for the purpose of sleeping in the same space as the Snug rooms. Finally, windowless Den rooms sleep two with Egyptian cotton sheets, cozy ambient temperature and gentle lighting if you are on a budget.
The Garden Room is the hotel's rooftop bar and restaurant. It offers breakfast, weekend brunch, dinner, cocktails, and more, all with breathtaking panoramic views of the city. Open all day and every day, the Garden Room is not called such for nothing; a botanical utopia of plants and flowers adorns the restaurant. The highlight of The Garden Room is its Pre-Theatre offering, which provides guests the chance to dine amongst the stars with a two or three-course meal from a special pre-theatre menu.
The Assembly Hotel London provides an excellent option for gay and lesbian visitors to London for a safe, comfortable and welcoming setting with a fabulous location in the middle of some of the best that London has to offer. Another great thing about this hotel – and something it is rightly proud of – is that it donates 2% of all its profits to charities that support underprivileged and disadvantaged communities across the U.K.
Shoreditch has grown to become one of the most popular London boroughs for its trendy, hipster vibes and diverse nightlife. As a result, it also boasts some of the top gay-friendly hotels in London.
Point A Hotel, located in the center of Shoreditch, offers all the style, comfort and amenities of a high-end hotel, but at budget-friendly prices!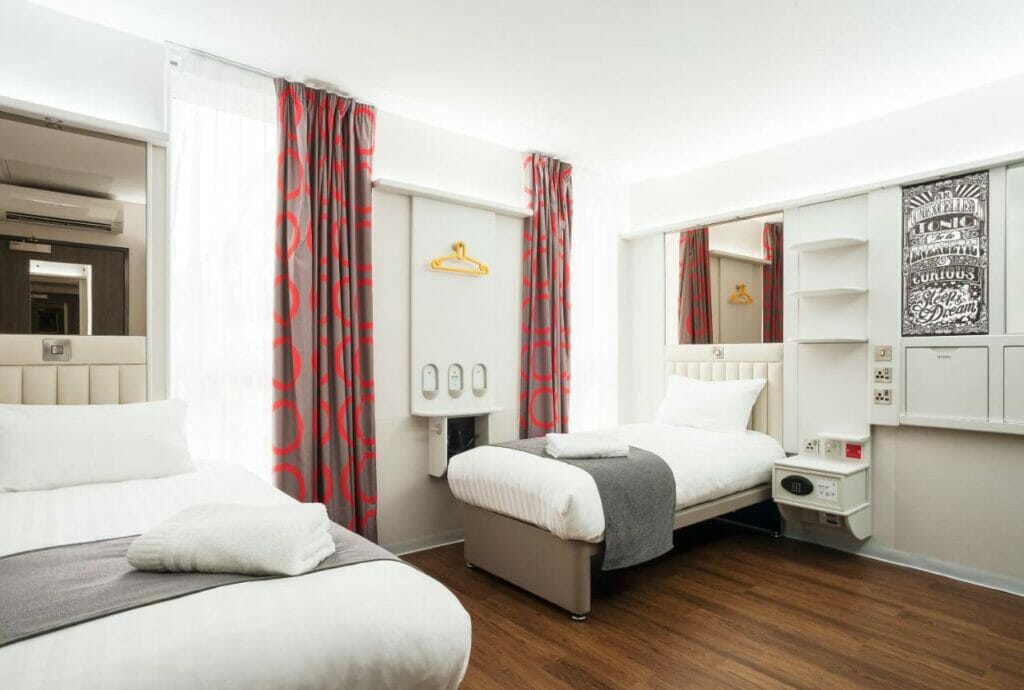 Guests can expect modern, cozy rooms kitted out with all the latest gadgets and tech including smart TVs, power showers and even mood lighting! The lobby area has a wonderful cafe, perfect for socializing, and serving breakfast every morning included with the price of the room.
The local area of Shoreditch is simply packed with an eclectic range of bars, restaurants and cafes. While not an area specifically known for its gay bars or clubs, it seems like there's something new opening up every day, so you're sure to find what you're looking for! If you're visiting London for a good night out then this is a great place to start!
Our 3 favorite features include its modest style but with great facilities, a boutique-style cafe serving fantastic coffee and the perfect location in one of London's most exciting areas.
This hotel provides LGBTQ travelers an oasis of calm in the center of London's trendiest, most happening neighborhood, Soho. "Heartfelt hospitality, relaxed enclaves, trusted standards" is the hotel's tagline. The Resident Soho enjoys a prime location only a stone's throw from the best of Soho's fabulous shopping and eating. And with Tottenham Court Road station just a 5-minute stroll away, the rest of London is within striking distance as well.
The Resident Soho has a fine set of amenities, with a 24-hour front desk attended to by Resident Insiders – specially trained experts with an abundance of knowledge about the local area and a passion for sharing it. These Resident Insiders can share how visitors can get the most out of their stay and can point hotel guests to the best attractions and the best places to eat and drink. They can also help guests book tours, arrange taxi pickups, and book restaurant reservations on guests' behalf.
Room service is also available, either from the hotel's drinks and snacks menu or through any of the online food delivery apps – staff will call your room when your food arrives, then deliver it to your room. In-room groceries can be ordered up to 24 hours before you arrive if you'd prefer, so you can stock your in-room fridge just to your liking. And since rooms feature in-room mini-kitchens, you'll be able to prepare your own food if that's your preference.
These mini-kitchens also have microwaves, a sink with BRITA filter taps, a kettle, and Nespresso coffee machines with complimentary Nespresso capsules and Fairtrade teas. Also crockery, cutlery and glassware.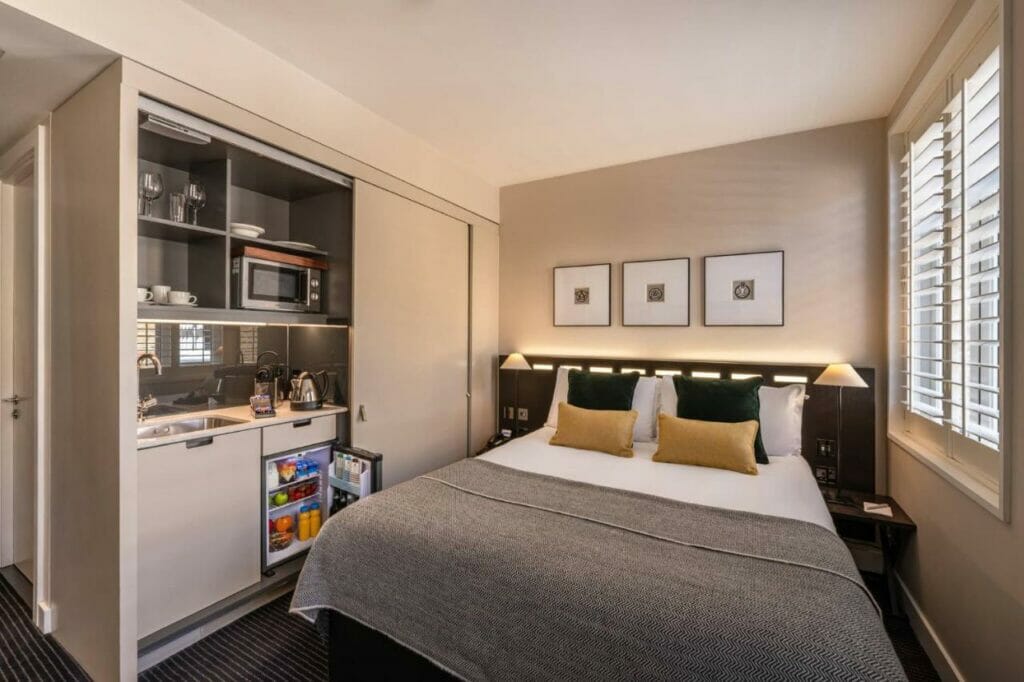 Rooms are designed to provide a relaxing setting and are thoughtfully designed with an emphasis on comfort. All rooms have complimentary high-speed Wi-Fi and spacious ensuite bathrooms with bathroom toiletries. There is an array of room styles, the most basic of which are the Singles. These are at least 15 sq.m. in size and feature pocket-sprung single beds, sleeping one person. King Rooms sleep two with either a pocket-sprung king bed or two single beds.
King rooms are at least 19 meters square. Other accommodations add space and guest capacity, from standard double, small double, superior, and deluxe. Some of them sleep up to four, and some have additional sofa beds or rollaway beds that can be added upon request.
The Carlisle Suite provides an exceptional experience with unique views of Soho Square. This is the crown jewel of Resident Soho's accommodations, with just under 50 square meters of space and top-of-the-line comfort. Gay and lesbian tourists looking for a great hotel to base their London explorations need to look no further, considering the added bonus of a great locale in arguably one of the most stylish communities in Europe.
Hazlitt's is one of London's best-kept secrets and a real jewel in the gay-friendly hotel crown! Its modest exterior makes it look like a row of old-fashioned Georgian-style houses, located just off Soho's main square. Stepping inside is like taking a trip back in time!
Its 18th-century, contemporary English style is charming and enchanting, making you feel more like royalty!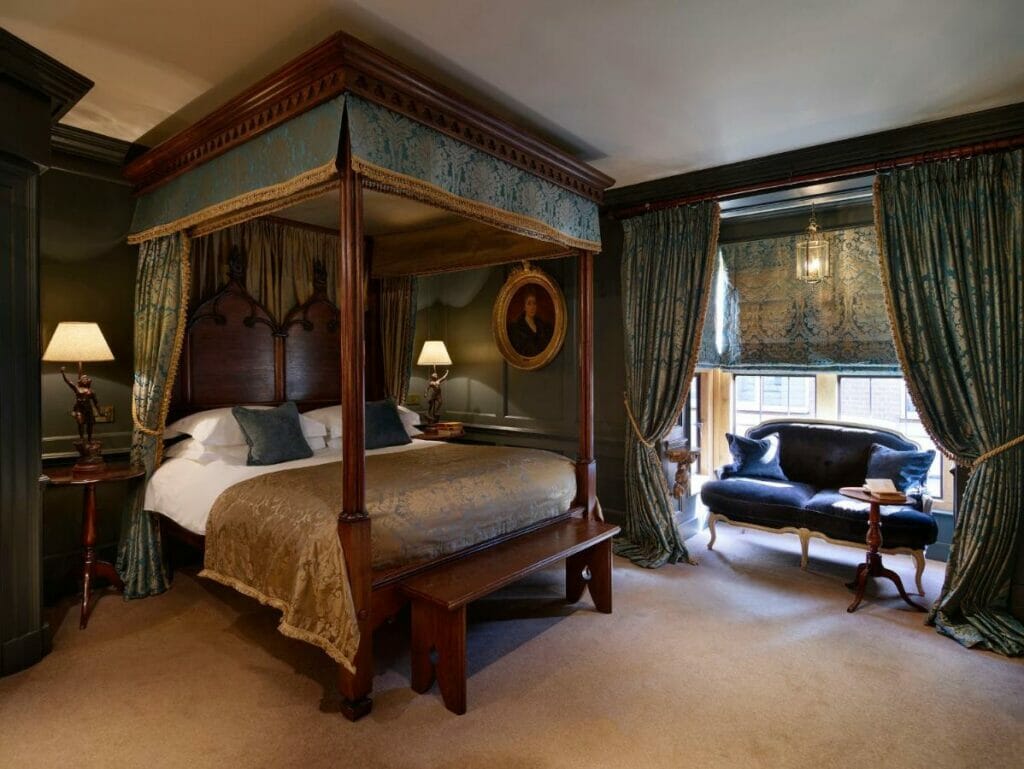 Rooms are decorated with antique artwork, Victorian-style furniture and lavish 4 poster beds for a truly luxurious stay. The hotel's philosophy is completely based around the guest experience and they don't disappoint! The staff are always on hand to make sure you have everything you need.
What makes this place one of the best gay-friendly hotels is its location. Right in the heart of Soho, you're just a stone's throw from iconic gay bars Circa and G-A-Y! If you're looking for a real authentic London stay then this is the place for you.
Our 3 favorite features are that you can feel London's history as you step through the door, its antique furnishings and decoration and the central location to Soho's gay nightlife.
The LaLit is an Indian-inspired boutique hotel with just as much charm and beauty as the Taj Mahal! The rooms and suites are highly sophisticated, making the most of Victorian-era architecture and giving a true 5-star experience.
Located just a few minutes from Tower Bridge, it is a little bit further from the typical gay quarters of London, however, with nearby underground stations, you'll still get to the party zones in no time at all! Its location does lend itself perfectly for a bit of sightseeing though, being just minutes from iconic London landmarks The Shard and Borough Market.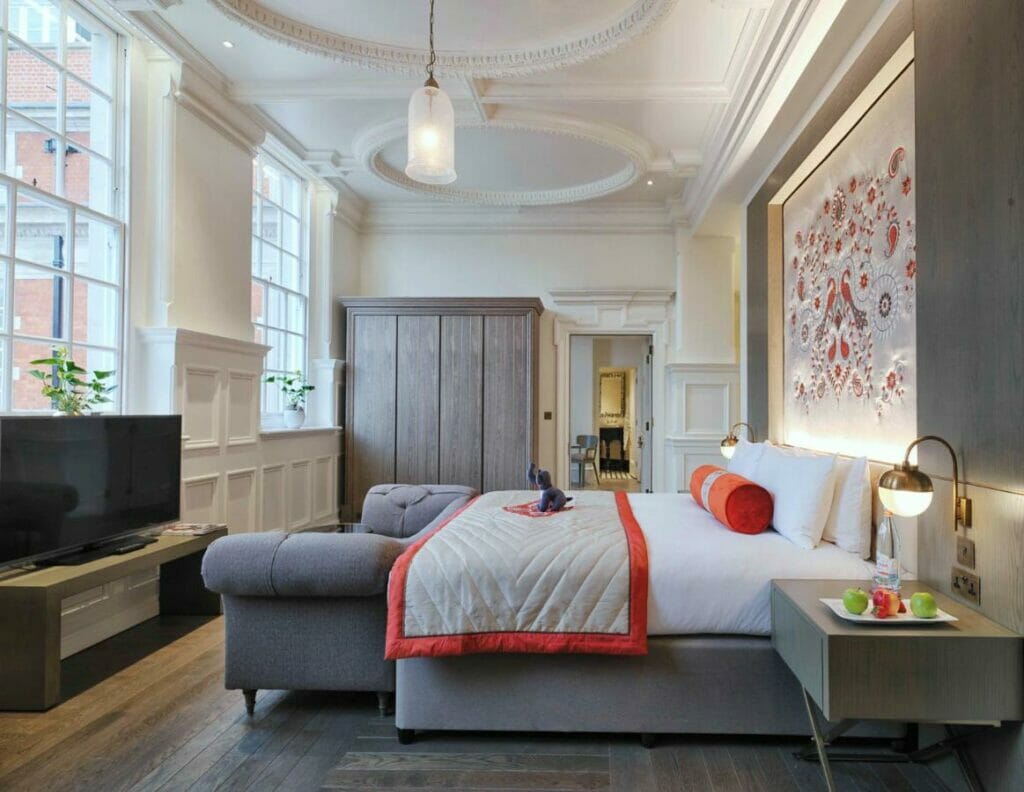 This hotel stands out on our list for a number of reasons, most notably as it actively promotes diversity and inclusion! Its philosophy of peace and respect and sense of community make it a welcoming place for travelers from all over the world. We also need to mention the delicious, award-winning Indian cuisine served at their own restaurant Baluchi, a must-try whether you're staying here or not!
Our favorite features are its stunning design (obviously!), and that it is way from the hustle and bustle of Central London.
This 183-room luxury gay-friendly hotel lies in the very heart of London, in the West End, in a magnificent building. The hotel specializes in what it calls "French luxury and local cuisine in the world's most exciting city." Sofitel St James is consistently ranked as one of the finest hotels in London – quite a compliment.
Sofitel St James London features a fitness center, So FIT. This luxury gym has a large fitness studio with Technogym state-of-the-art equipment including that for strength training, cardiovascular, weights, exercise bikes, treadmills, and a multi-sensorial Sha Chair. SoSpa, the hotel's on-site spa, features treatments by Codage Paris and Cinq Mondes.
Spa services include traditional Hamam, various message treatments including Balinese and Ayervedic massages, facial treatments, waxing, and body wraps, in addition to a variety of other ways for guests to pamper themselves like the Martini & Manicure offering, or the Pint & Pedicure.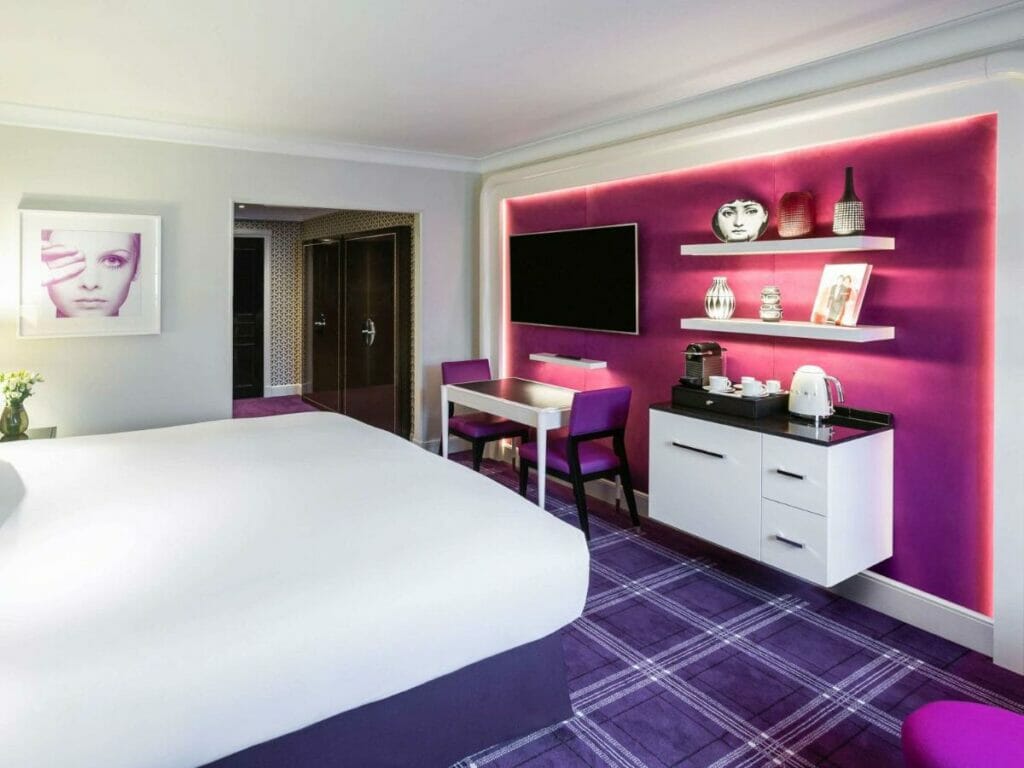 On-site dining is nothing short of top-notch, with Wild Honey St James – a Michelin-star restaurant – among the fine dining options guests have at Sofitel St James. Wild Honey St James features an intriguing blend of French techniques with the finest seasonal British produce. The Wild Honey Terrace offers an al fresco Parisian Café experience overlooking Waterloo Place, with Aperitivo-style drinks.
Other drinking options are St James Bar, a major St James cocktail destination with a smoking area and live music and the Rose Lounge offers a selection of exclusive teas and champagne and has an afternoon tea service.
As can be expected with a large hotel, room types are numerous with something to suit just about anyone, from classic rooms to luxury suites. Rooms generally include the hotel's signature Sofitel MyBed, turndown service, private ensuite bathrooms with rain showers and Hermes Bath Amenities, 55" TVs, with satellite and/or cable channels, iDock sound systems, kettle and espresso machines, and a mini bar. Free Wi-Fi is available in all rooms.
The Sofitel St James London provides everything one could want in a gay-friendly luxury establishment in the middle of all the great London action, and gay and lesbian travelers will have a hard time finding something that will top it.
The Park Plaza sits gloriously along the Thames South Bank and enjoys stunning views of London's famous river, the Houses of Parliament and the London Eye. Located in Vauxhall, considered by many to be just behind Soho in terms of its gay scene, this is a great location to enjoy some London culture as well as its nightlife.
Its 600+ rooms are all stylishly decorated in neutral colors, emphasizing tonnes of natural light from the floor-to-ceiling windows. The suites include a kitchenette and balcony so you can sip a morning espresso while enjoying the breathtaking views of London's skyline.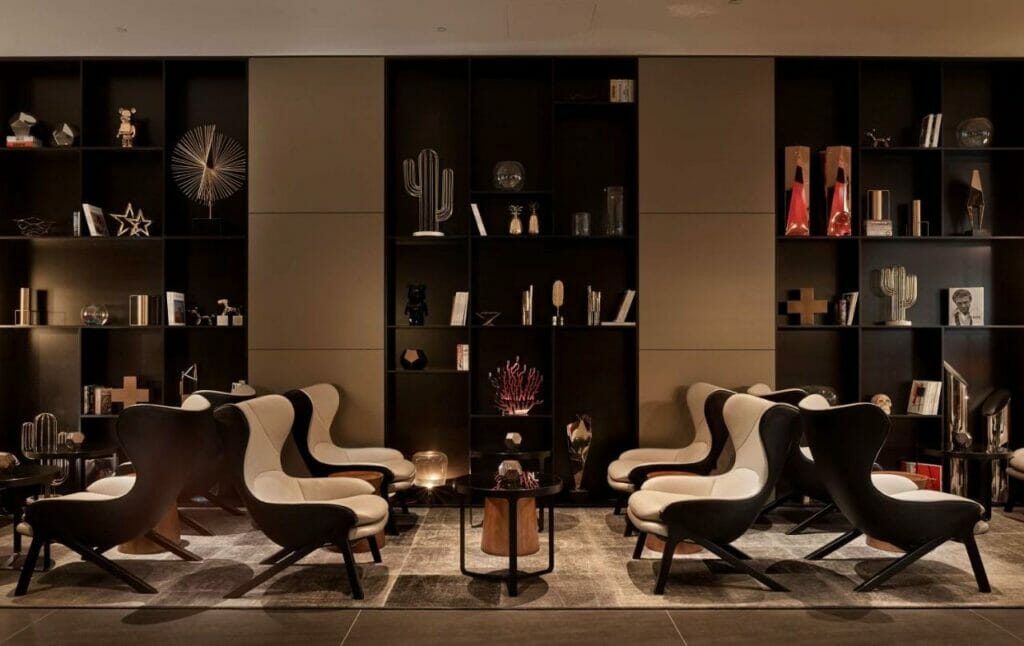 The luxury doesn't stop there either. The Park Plaza contains a heated indoor swimming pool, sauna and a complete fitness suite to keep you occupied when you're not exploring the capital city. Its onsite restaurant boasts high-end Peruvian and Pan-Asian cuisine as well as indulgent Latin-inspired cocktails. The Park Plaza is perfect for couples looking for a weekend getaway without wanting to splash too much cash!
One thing we love about this place is that it actively promotes itself as an LGBTQ-friendly hotel on its website and offers recommendations for gay travelers visiting London!
Our favorite features include the stunning views from its classy rooms and suite, it's convenient location between Soho and Vauxhall and that it represents a slice of luxury without the crazy price tag!
There are several Z Hotel locations in the city of London, but we have chosen to feature this particular establishment located in the Westminster section of central London – one of the city's most iconic boroughs with such world-famous landmarks as Westminster Abbey and Buckingham Palace. The Z Hotel Victoria is also situated close to Victoria Station, so guests staying here will have the entire city within reach. It is also set among some of London's finest parks.
The Z Hotel line is a noted gay-friendly franchise, and as with all Z Hotels, LGBTQ guests can rest assured that they will find a welcoming setting, with excellent staff and top-notch service.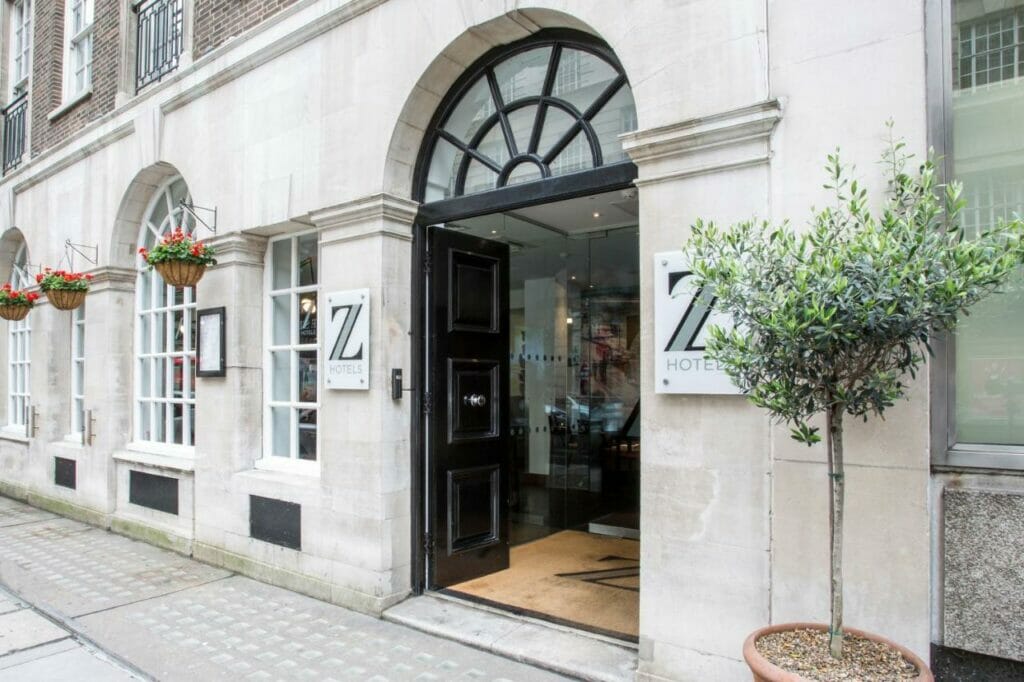 The 106 rooms of this hotel feature sumptuous beds with crisp linens, in-room coffee and tea facilities, air conditioning, ensuite shower rooms, complimentary toiletries, Samsung HD TV with Sky TV, and Wi-Fi. Standard, Double and Queen Rooms are available.
Also, there are accessible rooms for disabled and handicapped guests; these feature a specialist shower, lowered hand basin, and grab rails. Though they tend to be smaller, all rooms have plenty of hanging space and under bed storage.
There is a café & bar on the ground floor, and also a snack bar. Free wine and cheese are offered every evening. With multiple Z Hotel options in London, gay and lesbian tourists will have no problem finding luxury accommodations in "The Old Smoke," but the Z Hotel Victoria might just be the best of them all.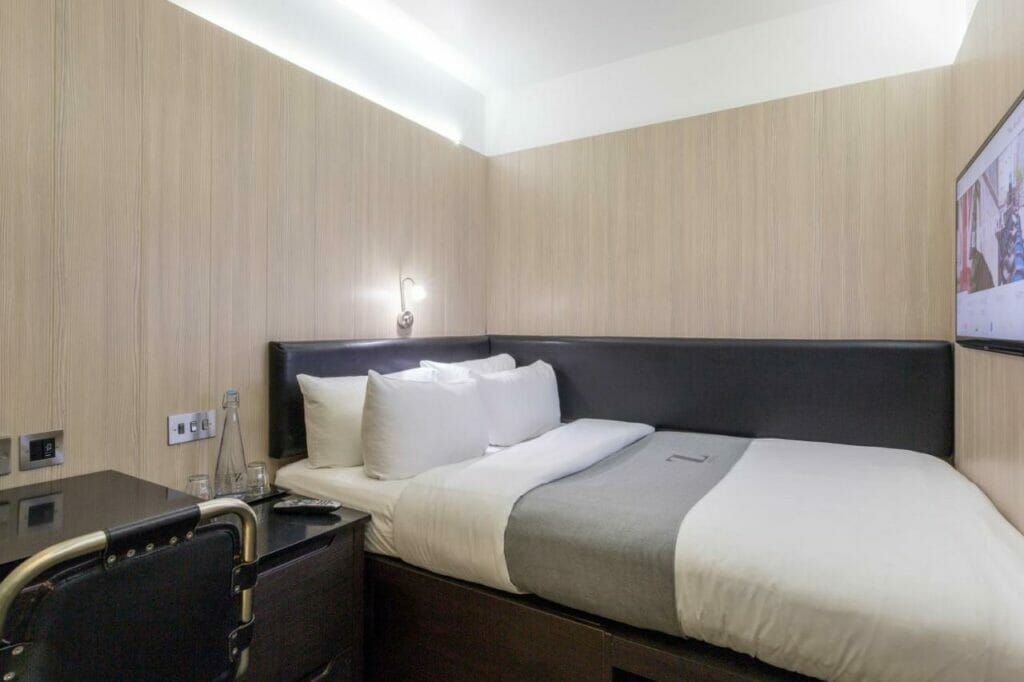 The Stylotel may not be much to look at from the outside but it's certainly one of the best budget options for gay-friendly hotels in the whole of London! Once you step inside this Victorian-style building you're greeted with ultra-modern, trendy decor that's not too over the top.
Their spacious rooms are available as a standard studio or a 1-bedroom suite which can accommodate up to 5 people, making this London hotel the perfect place to stay for both solo travelers and small groups. Make sure to book early though because it gets full very quickly!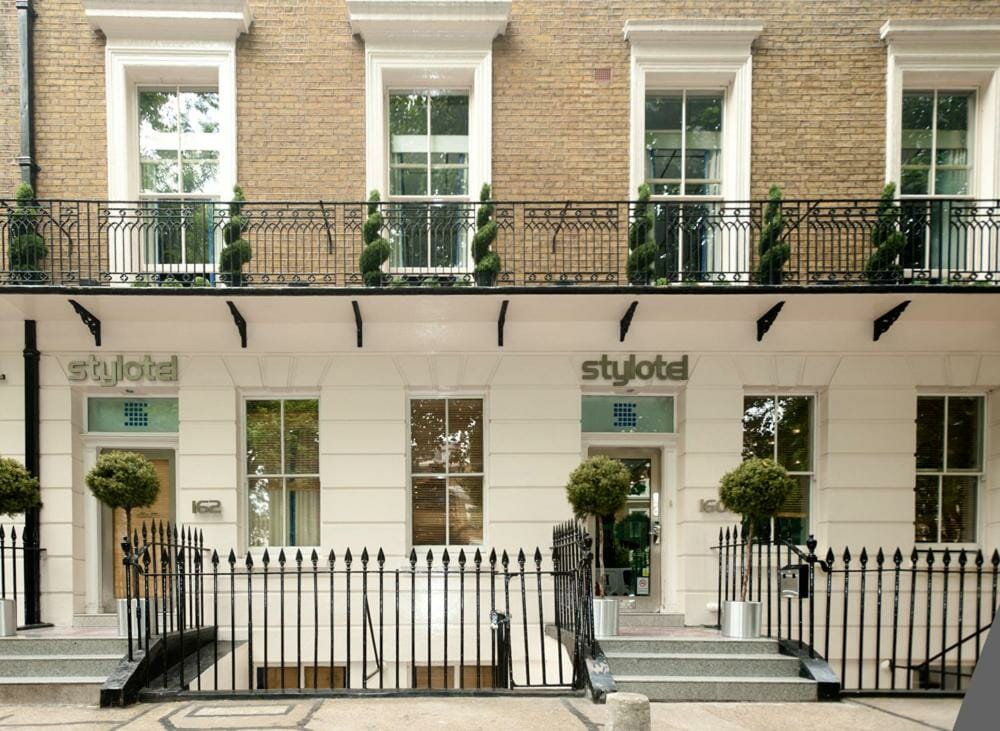 Getting to the Stylotel couldn't be easier as it's located only two minutes' walk from Paddington station, one of the major transport hubs of London. This also allows for a quick tube ride to Soho if you want to check out some of London's best gay bars!
One thing we really love about this budget hotel is the generous breakfast options included in the already very generous price! Choose from continental or full English-breakfast options to make you feel human again after indulging in London's nightlife, or to energize you before a big day of sightseeing!
We love that this is a very sociable hotel, perfect for meeting other travelers, that Paddington Station is nearby making it extremely accessible from Heathrow Airport and it has some of the best rates of all gay-friendly London hotels.
Just around the corner from Picadilly Circus, this gay-friendly West End hotel is tucked squarely in between bohemian Soho and London's Chinatown. Winner of TripAdvisor's Travellers' Choice Award as well as TripAdvisor's Certificate of Excellence, The Picadilly London West End boasts exemplary service, an inclusive setting that invites everyone with a penchant for the finer things in life to come and experience what makes this hotel exceptional. There is no better place in London for discerning travelers of all lifestyles to come and spoil themselves.
The hotel's 67 rooms come in a range of styles: Compact Doubles, Premiere Singles, Doubles and Twin, Club Double and Twin, Quad Rooms, and Junior and Four Poster Suites. Room amenities vary and include ensuite bath and/or shower (in all rooms), climate control and air conditioning, telephone, underfloor bathroom heating, European, USA, and UK plugin adapters, electronic door locks as well as electronic safes, iron and ironing board as well as a hair dryer, flat-screen TV with satellite channels, and complimentary Wi-Fi in all rooms.
The spa – which like the hotel in general is open to all – includes three treatment rooms, a sauna, a steam room, a Jacuzzi, and state-of-the-art fitness center. There is a wide array of wellness services on offer, including Swedish Message, algae body wrap, hot stone body treatment with exfoliation, and many more.
Other hotel amenities are 24-hour CCTV in all public areas for peace of mind and security, concierge and reception available 24 hours a day, and a top-notch multilingual staff that is always ready and willing to help make guests' stay the best it can be, and making sure everyone is made to feel welcome.
The hotel's Picadilly West End restaurant offers what is not only a complimentary breakfast included with rooms but also one of the best breakfast restaurants in the West End. The morning buffet includes a continental breakfast, as well as a traditional full English breakfast. Also pastries and fruits, and cereals, for quite a versatile breakfast spread. Not to mention a plethora of teas, coffees and juices to wash it all down.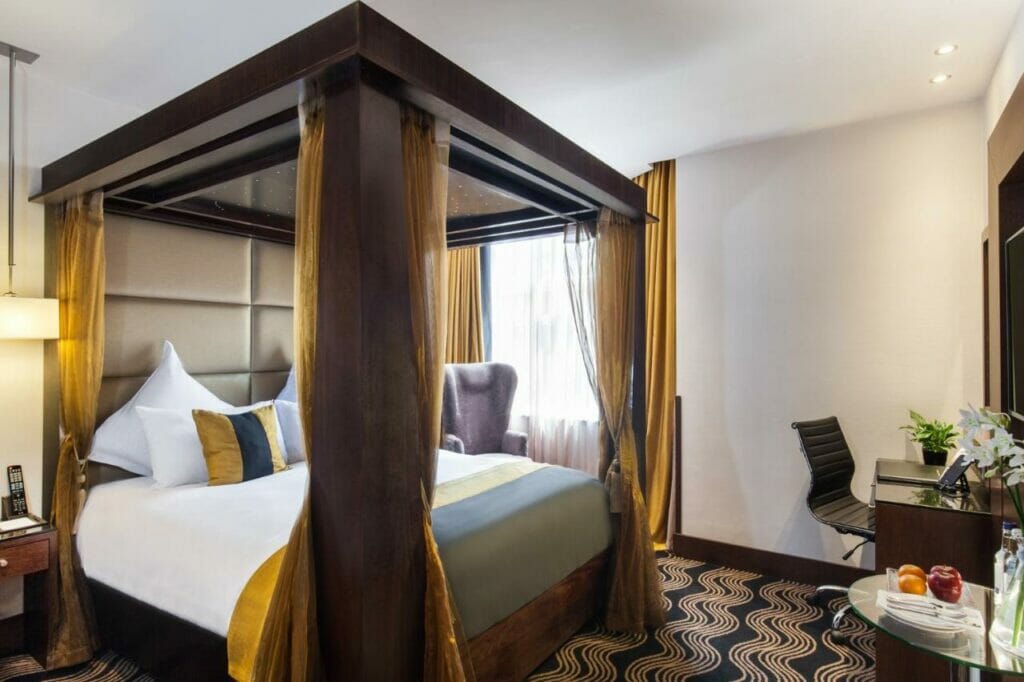 An article about the best gay hotels in London wouldn't be complete without mentioning the infamous Z Hotel in Soho! Undoubtedly a favorite within the gay community thanks to its amazing location right in the heart of London's gay scene.
If you're looking to party in London then this is the place for you! Literally, on the doorstep of G-A-Y, one of the most popular gay clubs in the entire UK and surrounded by many other fabulous bars and restaurants, you'll be truly spoilt for choice!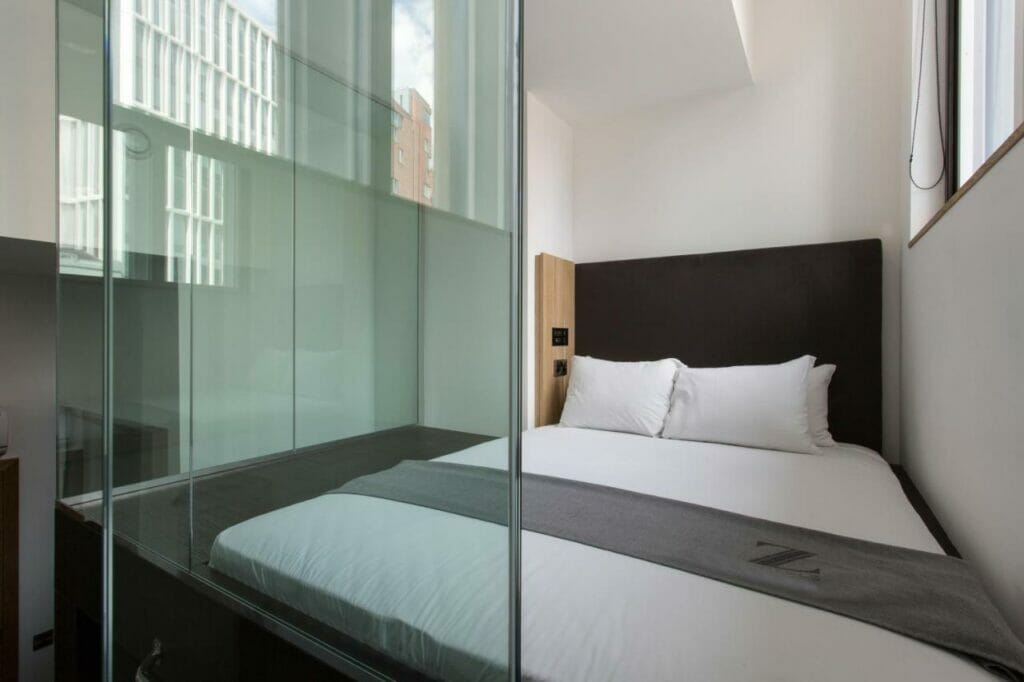 As well as the nightlife, it's also incredibly close to London's West End theatre district and major tourist attractions such as Picadilly Circus and Trafalgar Square. If you plan it right you could see the sights during the morning, catch an afternoon theatre performance, and get glammed up for a night of partying! Sounds like the perfect day out in London!
As for the hotel itself, although the rooms aren't the biggest, they are practical and well-equipped with everything you'd expect from a budget-friendly hotel. Comfortable beds with an ensuite bathroom, hot showers, free wi-fi, and exceptionally friendly staff ensure you get great value for money at The Z Hotel.
Our 3 favorite features are that it is located right in the heart of London's gay culture, that it is one of the friendliest gay hotels in the entire UK and that it is simple and practical at a very affordable price.
Citadines Hotel is a fantastic gay-friendly, mid-range budget set of serviced apartments with all the style and convenience of an upmarket hotel! Every apartment is kitted out with a fully equipped kitchen including a fridge, microwave, utensils and even a dishwasher! The perfect place to relax, prepare your own meals and feel right at home.
It's ideally located between Covent Garden and the City of London making it an excellent base while spending a weekend sightseeing. Theatres, cafes and restaurants are all within walking distance as well as some of London's top tourist destinations, The British Museum being the pick of the bunch at only 8 minutes away!
If you've come to London for the nightlife, Covent Gardens' charming cocktail bars and restaurants are right on your doorstep, whilst Soho's gay village is only a 10-minute walk! This gay aparthotel offers it all; culture, sightseeing, style, comfort and location making it one of our top gay hotels anywhere in London!
Our 3 favorite features of this fabulous gay hotel in London are its central London location makes it perfect for sightseeing, the business center on the ground floor ideal which is ideal for working travelers and that it is within walking distance to London's theatre district.
The highly rated King William Hotel is a gay-friendly establishment set in Greenwich, on the famous curve of the River Thames. Guests staying here will not only enjoy a great central location in the city but will also be near the very center of the world, with the prime meridian close by.
Also near are the O2 Arena (ten minutes away), Greenwich Park (5 minutes), the National Maritime Museum, the Old Royal Naval College, Queens House 16th century mansion, Greenwich Market, Cutty Sark, and the Royal Observatory. There is also a tube station close at hand respective to the hotel, and the world-famous Tower of London (also known as the White Tower) is a short ride away.
Rooms feature modern-elegant décor and have such amenities as a flat-screen TV with cable and DVD players, an electric kettle, an ironing set, and coffee-making facilities. Rooms service and housekeeping, as well as high-speed Wi-Fi. The private bathrooms have towels and toiletries, hair dryers, and feature either a tub or shower. Rooms also come with linens, a clothes rack, a refrigerator, and a microwave.
Room types include Single Standard Rooms (65 sq.ft.), with one twin bed sleeping one. Deluxe Double Rooms (80 sq.ft.) with a full bed that sleeps two. Family Rooms sleep up to three and have 1 full bed and 1 twin. These spacious rooms have 130 square feet of space.
The hotel has an a la carte restaurant with local fare. There is a Mcdonald's close at hand for those so inclined. And the Efes Meze restaurant serves fine Turkish, Greek and Middle Eastern dishes just 100 meters from the hotel. London City Airport is a mere half kilometer from the King William Hotel.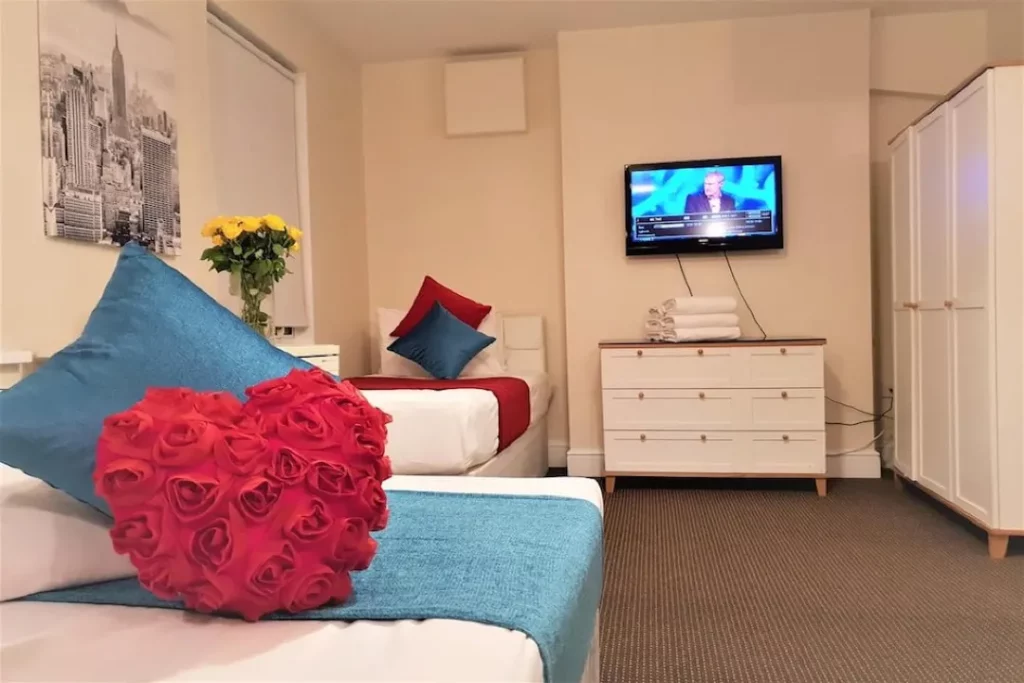 Let's finish our list of the best gay hotels in London with a little bit of luxury! Actually, in this case, A LOT of luxury! The Soho Hotel is a beautiful five-star hotel tucked away on a quiet back street in, you guessed it…Soho.
Its 96 rooms and suites are all uniquely designed in a modern English style, complete with ensuite bathrooms and plenty of stylish extras. Room options are plentiful ranging from superior and deluxe rooms all the way up to three-bedroom suites, making The Soho an ideal choice for larger groups or grand celebrations. Each room even comes with your own Bluetooth Bose sound system and a fully stocked mini-bar to get the party started before heading for a night out in Soho!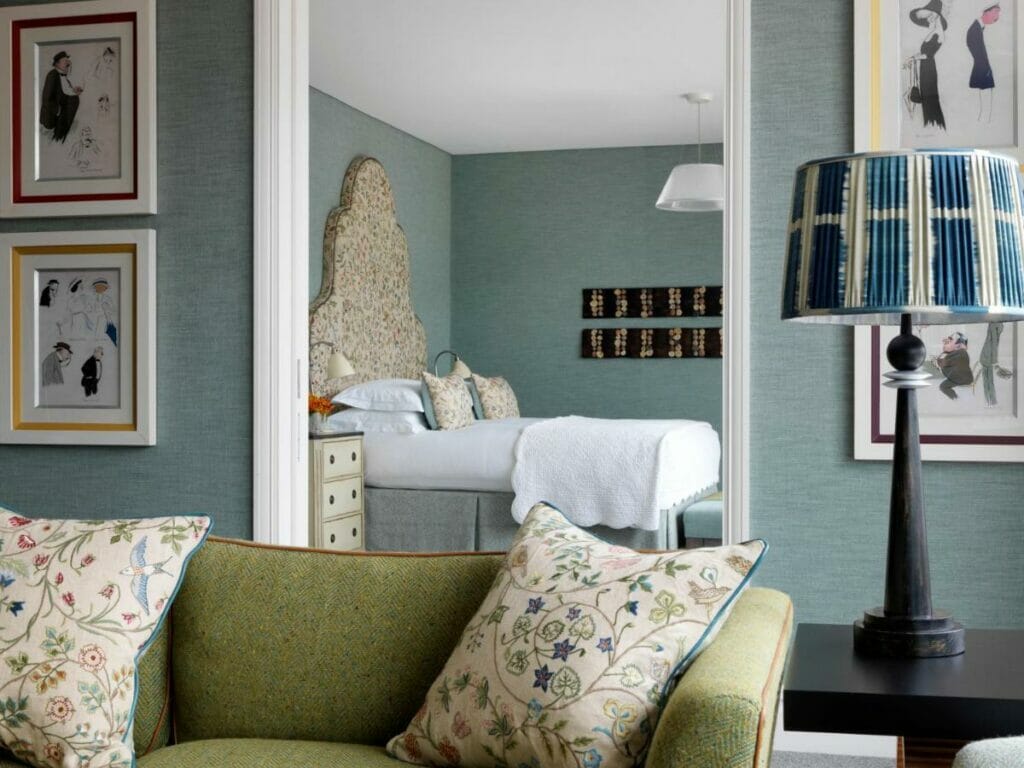 Centrally located in the heart of Soho, the hotel is just a few minutes' walk-away from some of the most popular gay bars, pubs and restaurants London has to offer including The Yard, Village Soho and The Duke of Wellington.
As well as being surrounded by stunning nightlife, The Soho itself boasts plenty of facilities to keep you busy! Two first-class screening rooms, a library, a state-of-the-art gym and the all-important cocktail bar and restaurant are all located within the hotel grounds. The only downside to this gorgeous hotel is that you can't live here permanently!
Our 3 favorite features of this luxury gay hotel in London are it is perfectly located within one of London's most popular gay scenes and you are able to get massage and body treatments available within the hotel spa!