With one of the world's biggest queer scenes, a proud history of LGBT activism, magnificent gay nightlife and a liberal population who have seen and done it all – New York was always destined to be one of the world's great gay cities!
The fabulosity of Gay New York is unrivaled on Earth, and queer culture seeps into every corner of its five boroughs. Chelsea, Hell's Kitchen, Greenwich Village – are all bastions of gay life that you need to add to your queer-tinerary and much like Manchester's Canal Street, Le Marais in Paris and Toronto's Church and Wellesley neighborhood, at times it can seem the LGBT community far outnumbers their hetero-counterparts here.
This leads to the unusual position of many venues declaring themselves straight-friendly which we are absolutely living for!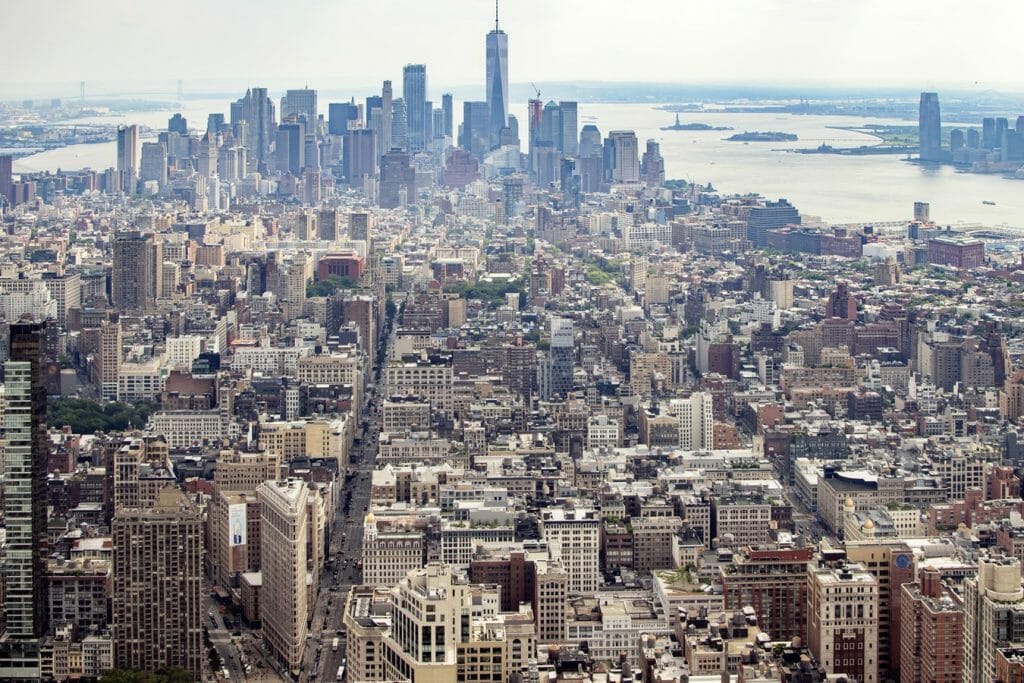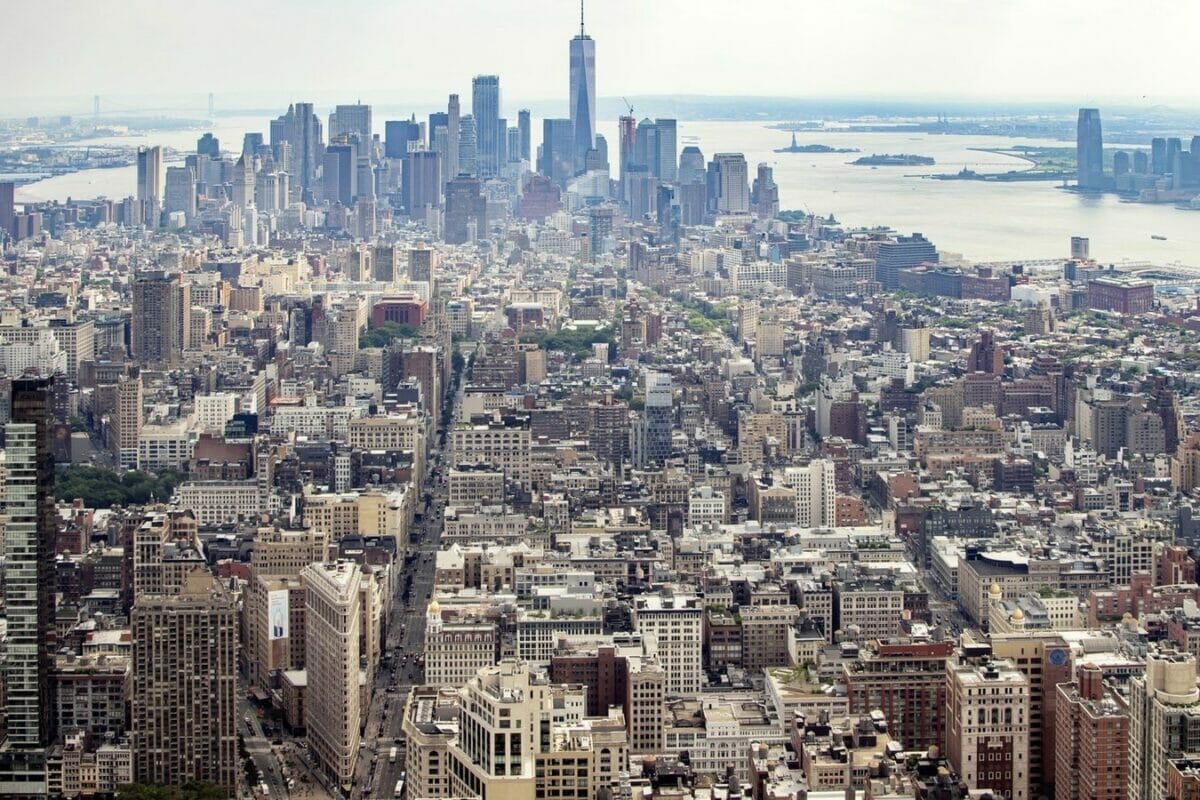 The queer vibes and come-as-your-fabulous-self spirit here infuses your soul with warmth and tempts you to never leave but to be clear: the LGBT community is welcome across the entire city and you should explore beyond these legendary gaybourhoods. New York is such an iconic city that the first few days you're there you walk around wide-eyed with wonder, feeling like you're in a movie.
This pulsing city has tons to offer gay visitors – it's steeped in LGBT history and culture (yes, there is far more than just Stonewall) and whatever you'd like to do here, you can! In between soaking up the atmosphere and walking so much your feet hurt, you can sample some of the world's best dining, explore boutique stores, avant-garde museum exhibitions, and beautiful parks – or just spend your time gawking at all the cute guys.
If you have ever seen Hunting Season, the steamy LGBT web series set in Manhattan about the romantic and sexual exploits of Alex – it's exactly like this. So, why not have a little fun…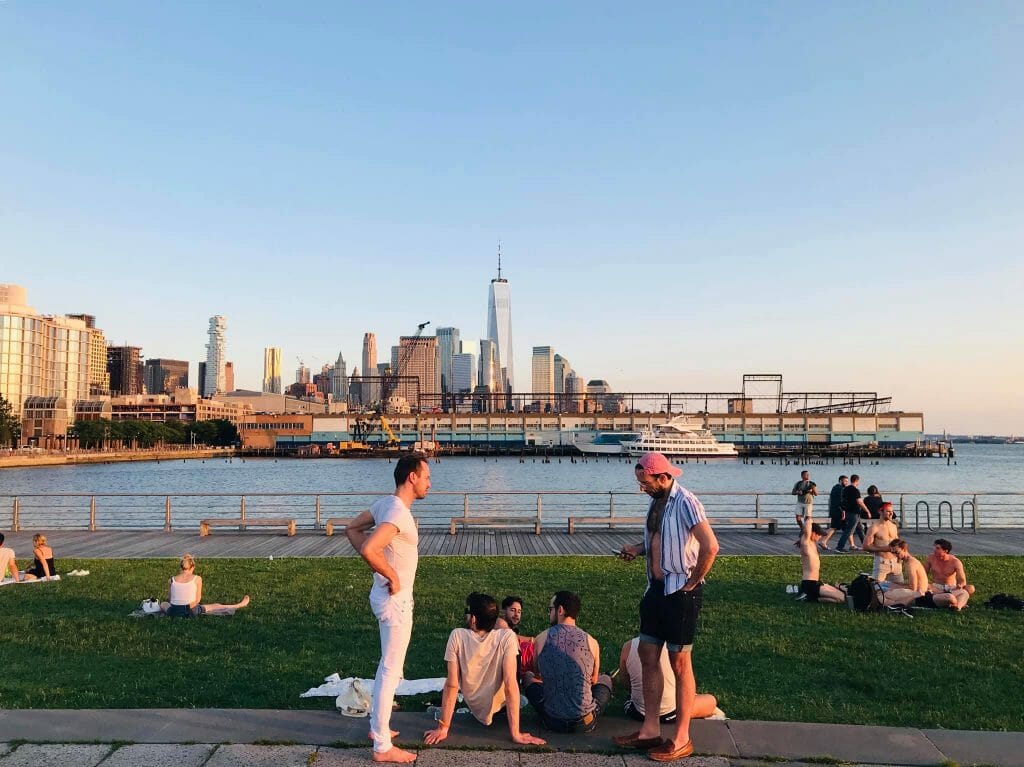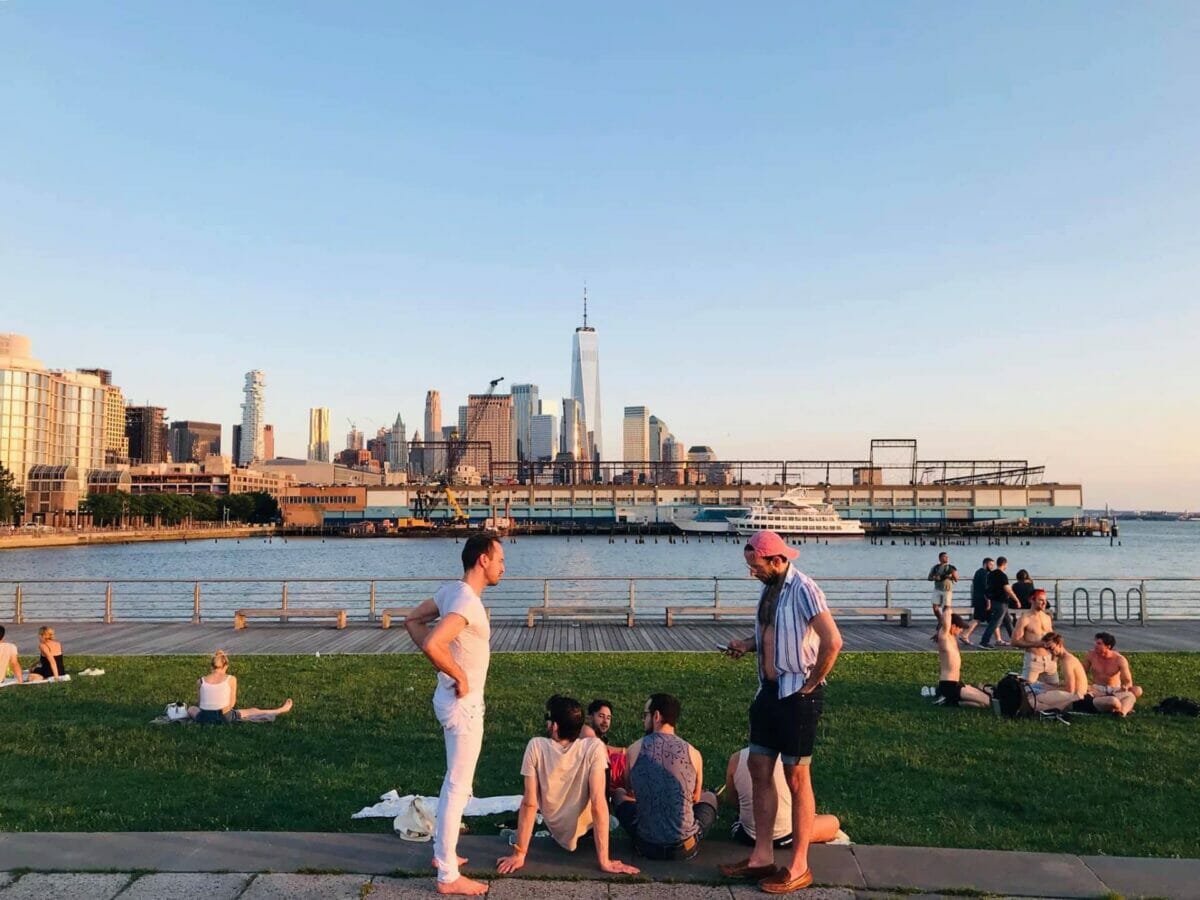 Another aspect we loved in Gay NYC was discovering a local LGBT community imbued with energy, passion and genuine excitement about the future – all this despite the best efforts of the Trump-era politics of hate and discrimination. From gender-bending drag, post-gay nightlife venues, queer arts festivals and one of the biggest Pride Festivals on Earth – there is never a boring minute in this trend-setting city.
A metropolis with its finger on the pulse of global queer culture, or more often, setting it.
For just one example, consider the House of Yes parties out in Brooklyn, one of the best things to do in the entire world right now, reviving the gritty NYC party scene with a sensory overload of the weird, wonderful, taboo and exotic. This is one nightlife spot you can let your freakiest freak flag fly! E
ver-changing, we have tried to capture as much as possible of the diversity that Gay New York offers. From cabaret to clubs to hotels to festivals to arts and more – we gave it our best shot. So get prepared darlings, we are going on a journey to the center of the world…
---
Are you relocating? This guide will help travelers discover the queerer side of the city. However, if you are lucky enough to be considering a move here, we recommend reading our article about moving to LGBT New York City or getting in touch with a local gay realtor. They can happily give you no-obligation advice and all the information you'll ever need to know about your new city.
And if you then want their help to find your dream home, you are guaranteed fair, equal, and honest representation. No surprises or awkward conversations are necessary!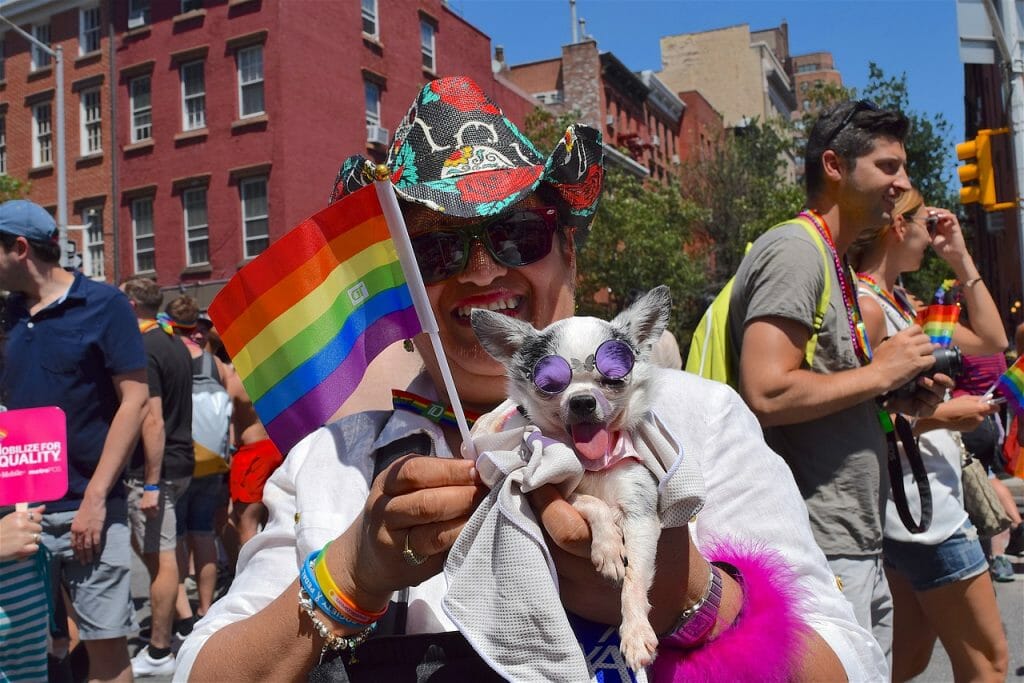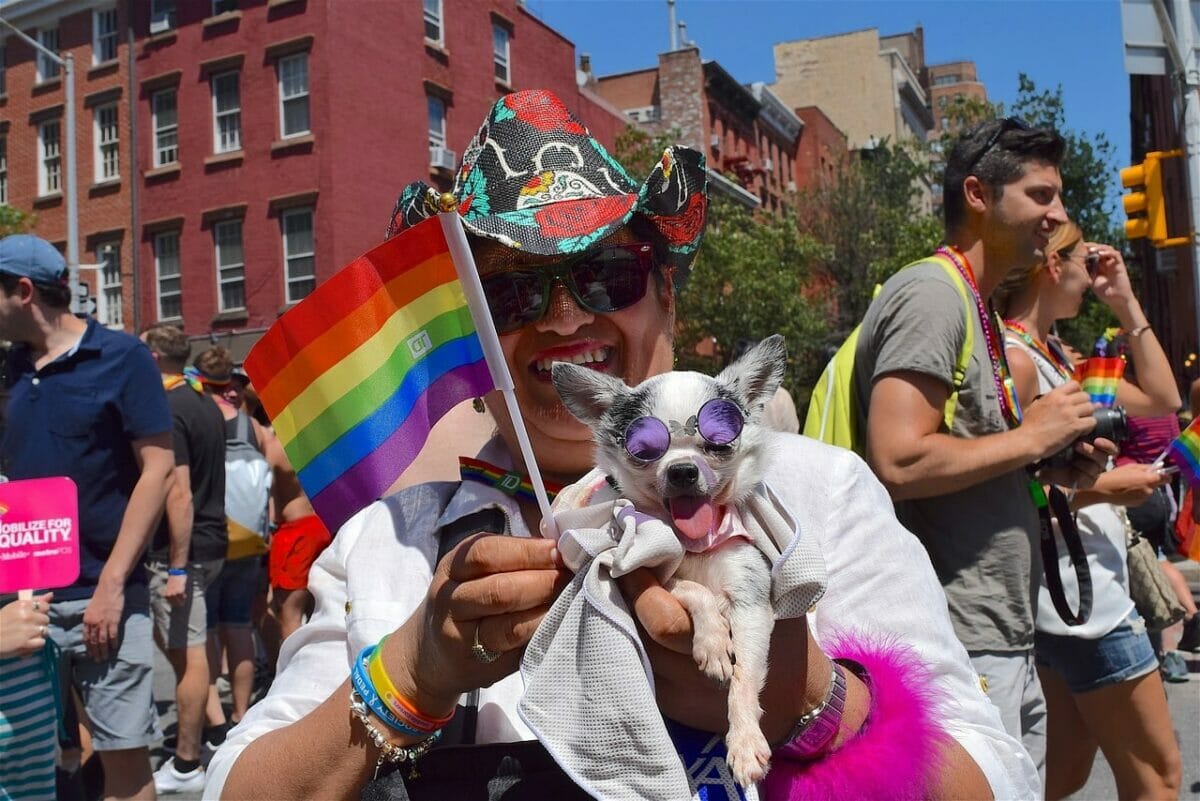 Attractions in New York City
Naturally being gay does not define which attractions most of us will want to see in each destination and most queer travelers will simply want to check out the top things to see in New York City during the day! We found our favorite memories were enjoying happy hours at energetic cocktail bars, dancing till dawn with our queer family, or exploring the fabulous food and world-class museums on offer here.
If you are ever lost you can head to Brooklyn for a diverse multi-neighborhood experience with gays of all tribes and a smattering of queer watering holes throughout or Queens for lower prices, fewer tourists and plenty of sexy Latino gogo dancers and dance-centric nightlife.
Back on the island, the West Village is where it all began with historic LGBT venues, Chelsea was the second major gaybourhood scene in NYC but is slowly dying as gentrification is complete – moving to the edgier Meatpacking District, now the 21st-century gay epicenter of NYC.
The East Village has similar vibes to the East, just grittier, stickier and grungier versions of the west side haunts while the Union Square and Flatiron District areas all have LGBT 'spill-over' clubs and bars that are worth exploring.
No guide to every hope to keep up with every highlight of New York, and you can rest easy in the knowledge there is no way you will ever see or do it all here. It is impossible. But that doesn't mean you shouldn't try: so here are just a few of our favorite ideas to get you started…
Top Highlights in New York City
Leslie-Lohman Museum of Gay and Lesbian Art
An art museum dedicated to exhibiting and preserving artwork that speaks about the LGBTQ experience. With a collection of over 30,000 objects, the Museum hosts six major exhibitions annually, offers several public programs throughout the year, publishes an arts newsletter, and maintains a research library of over 3,000 volumes.
Male Strips Clubs in NYC
New York is the city that never sleeps, and that means if you're looking to have some fun after dark, you've come to the right place. New York City is home to one of the most exciting nightlife scenes in the world, and there is no shortage of male strip clubs to explore while you're living it up in the Big Apple.
In fact, there are so many to choose from that you might have a difficult time narrowing down your selection! Although each show is different, the atmosphere in New York is generally inclusive, and you'll see people of all gender expressions and sexualities at a strip show. Check out our separate guide to decide which male strip show in New York City could be for you…
NYC Aids Memorial
A public memorial that was built "to honor New York City's 100,000+ men, women, and children who have died from AIDS, and to commemorate and celebrate the efforts of the caregivers and activists." It is the first major space that is dedicated to the epidemic in New York City.
It feels like only yesterday that New York just had two observation decks, but with this latest opening, there are now five. Summit One Vanderbilt does things a bit differently, however, rising to a height of 14001 feet over Midtown Manhattan and provides not only unobstructed 360° panoramic views but stunning art installations, breathtaking glass floors, glass elevators, and surprisingly sophisticated Apres cocktail bar (which we highly recommend you try!). The endless reflections, infinity mirrors, and stunning light combine to create a cerebral experience that is unsurpassed by any observation deck in New York City (or the world, to be honest).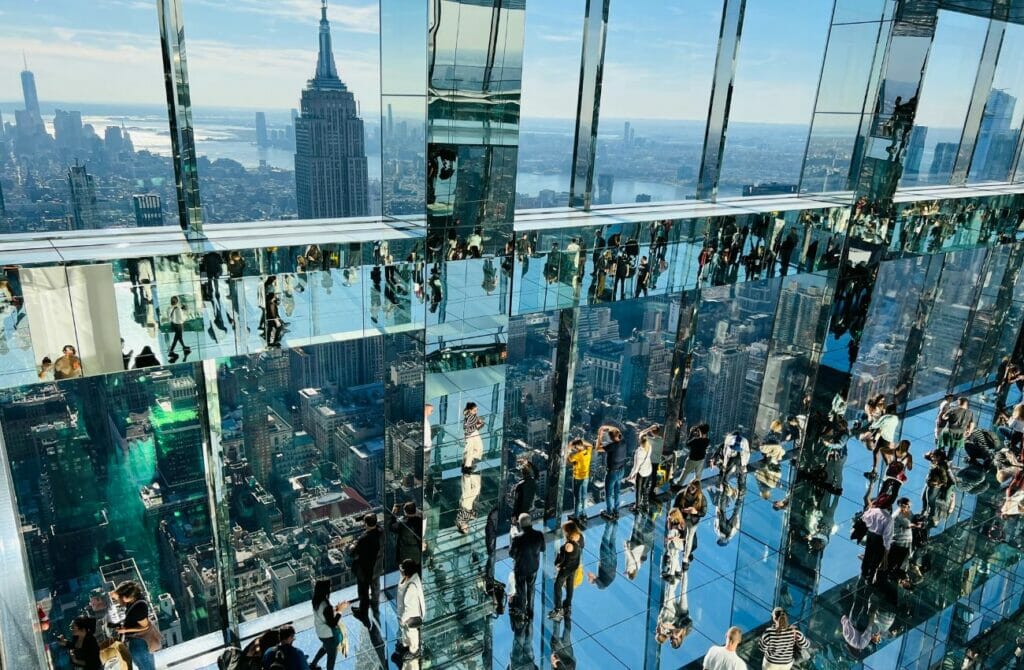 Gunnison Beach (Sandy Hook) – The nearest nude beach to NYC, though it is in Jersey and not specifically for the gays. As the land is owned and managed by the federal government, it's also New Jersey's only legal clothing-optional beach (as it is not subject to state or local regulations). Ferries operate seasonally between May and September with a connecting shuttle service.
Statue of Liberty and Ellis Island – Check two huge sites off your bucket list with this exciting guided 4-hour tour of the Statue of Liberty and Ellis Island. Start the tour by getting early Reserve Line Access boarding on the ferry to Liberty Island. Once there, go inside the pedestal of the statue and head to the observation decks for an awesome view of New York City and its surroundings. Then hop back on the ferry to Ellis Island to learn about the intriguing history of immigration to America that took place here between 1892 and 1954.
If you are a purist you are going to want to explore the world-famous Empire State Building and visit the 86th-floor observatory for an unforgettable 360° view of New York City and beyond. Tour the newly renovated art-deco lobby featuring ceiling murals and spot one of the most famous images in New York City displayed on the wall above the front desk.
Take a bite out of New York City's hippest borough on this half-day Brooklyn food and culture tour. From traditional ethnic eateries to culinary hotspots that spark national dining trends, your guide will show you where to eat like a local. Snack on kielbasa and pierogis in the Polish enclave of Greenpoint, satisfy your sweet tooth in DUMBO and get a taste of farm-to-fork freshness in trendy Williamsburg.
Visit the world's leading museum of modern art, featuring 150,000 works of art, including paintings from masters such as Vincent van Gogh, Claude Monet, and Jackson Pollock. You can also use your admission ticket to visit MoMA PS1, an affiliated contemporary art museum that is famous for its art exhibitions, project series, and music series.
Christopher Street Pier
For more than 100 years the Greenwich Village waterfront along the Hudson River, including the Christopher Street Pier, has been a safe space for the local queer to gather, for cruising, for sex, for socializing and for gathering together. Today, the seediness has been replaced with an upscale park for sunning and coming together – on a warm day you will see gaggles of shirtless gays here – but there are no private spaces for some quick fun like in the old days…
Step into the shoes of a Roaring Twenties scofflaw on this cocktail tour of Manhattan's best and most secretive speakeasies. Learn about the history of Prohibition and how New Yorkers responded with an underground liquor scene, and then visit six or seven modern incarnations of these vintage watering holes. Discover the locations and hidden entrances of such hard-to-find spots, and enjoy high-quality craft cocktails while soaking up the nostalgic atmosphere.
Experience up to 11 New York attractions or tours such as Hop On Hop Off Bus Tours, the Empire State Building, Yankee Stadium, and many more! Choose from 45+ available attractions and schedule where you want to go as you go. You have 30 days to visit the attractions of your choice and enjoy discounts on other activities, shops, or dining
New York Gossip Girl Sites Tour – Visit over 40 locations in New York that have been featured in the famous American teen drama, Gossip Girl. Check out the New York spots where the young characters lived and created memories. Hold court at the Met steps where Queen Blair always sat for lunch and grab that photo opportunity then visit The Empire Hotel, where gorgeous and troubled Chuck Bass made his newest home and business. Go sightseeing around New York City and get spotted around town like you're in an episode of Gossip Girl!
The Center – Since 1983 New York City's Lesbian, Gay, Bisexual & Transgender Community Center has empowered people to lead healthy, successful lives. The Center celebrates diversity and advocates for justice and opportunity. Visit The Center to find out more—they are open 365 days a year!
No self-respecting gay that grew up lip-syncing to Christina Aguilera, Lil' Kim, Mýa & Pink's Lady Marmalade will want to miss seeing the visual feast with is Tony award-winning Broadway adaptation of Moulin Rouge. Enter a world of splendor and romance, of eye-popping excess, of glitz, grandeur and glory! A world where Bohemians and aristocrats rub elbows and revel in electrifying enchantment. Pop the champagne and prepare for the spectacular… Welcome to Moulin Rouge! The Musical.
No trip to NYC is complete without a Broadway show, and thankfully Moulin Rouge and many other spectacular Broadway musicals can be easily booked via the Broadway Collection. There is something for everyone, whether you're looking for a classic musical or the newest, trendiest play. When you click to purchase individual or group tickets for any of the performances on their website, you are obtaining them from the official source because they work directly with the shows. It's like going straight up to the ticket counter – but far less hassle, and it lets you book before you arrive in New York!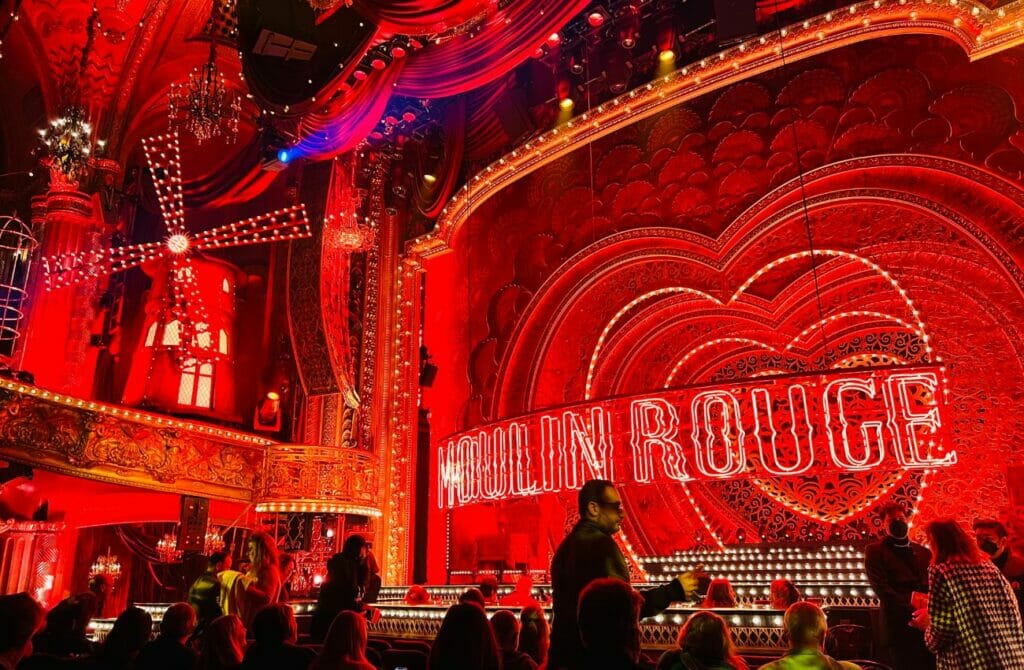 The Metropolitan Museum of Art – let's meet on the MET steps for some Gossip Girl realness, but culture vultures won't want to miss exploring inside. With over 2 million works in their collection, you will be visiting one of the most famous and largest museums in the United States housing 17 departments that cover art, architecture, and artifacts from Europe, Africa, Asia, Oceania, and more.
Solomon R. Guggenheim Museum – Founded on a collection of early modern masterpieces, the Guggenheim today is an ever-evolving institution devoted to the art of the 20th century and beyond. Get an inside look at the building's design – created by visionary Frank Lloyd Wright – a masterpiece in itself and experience special exhibitions of modern and contemporary art.
American Museum of Natural History – Explore over 46 permanent exhibits featuring a wide variety of topics like human origins and culture, mammals, dinosaurs, the solar system and more! Famous for, among other things, its starring role in Night At The Museum, see the Titanosaur, the 122-foot-long dinosaur and newest addition to the museum's dinosaur hall.
New York Dinner Cruise – Forget trying to snag a hard-to-get reservation at New York's hottest restaurants du jour. Instead, indulge in a delicious three-course dinner during the cruise on an all-glass boat around New York City that offers you an up-close look at the Statue of Liberty and other famed sites. As a live pianist plays relaxing music for you, take in the immense view of one of the world's great cities and enjoy a delicious pre-set dinner by the onboard executive chef. Upgrade to enjoy a romantic or first-class VIP experience including a private table and French sparkling wine!
Museum of Sex – See over 30 exhibitions and 6 virtual installations geared towards advocating open discourse surrounding sex and sexuality. View 20,000 artifacts comprised of works of art, photography, clothing and costumes, technological inventions and historical ephemera. Or just drop into the MoSex store, one of the best museum shops in the world with plenty of bizarre souvenirs to take home…
Lower East Side Food and Culture Tour – From stroopwafel to mozzarella to knishes, there are many amazing eats on Manhattan's Lower East Side. This small-group 3-hour guided Lower East Side walking tour takes your taste buds to the most edible parts of the historic neighborhood. Emphasizing immigration and its influence on the area, the tour focuses history—and the food—of one of the city's most dynamic areas.
Fire Island Pines – The most famous gay beach in NYC known for its upscale social life and beautiful harbor. Not feasible on a day trip, but if you have a few extra days you can take the Long Island Railroad train from Penn station to one of several stops depending on which community on Fire Island you were visiting, then a shuttle or taxi to the ferry terminal and then a ferry. Once you arrive, check in to one of the fabulous gay hotels and get ready for the queer party of a lifetime!
Gay-Popular And Gay Shops In New York City
The Leather Man – Serving the gay fetish community for more than 50 years in the West Village. Widely regarded as New York City's best source for S/M-leather-fetish clothing and gear.
Strand Book Store – A New York City booklovers treasure trove in Union Square home to 18 miles of books. New books, used books, rare books, out-of-print books, art books, queer books, you will find them all here.
Schmackarys Cookies – Offering 75 delicious and innovative cookie flavors in a modern bakeshop targeting millennials with too much money. Whether you are a seasoned cookie monster or just in the mood for a sweet treat, come experience Schmackary's for yourself and find the best, most original cookies New York City has to offer.
Big Gay Ice Cream – A New York City-based company that started with an ice cream truck and now operates 2 New York City storefronts – one in the West Village and one in the East Village. They specialize in serving soft-serve ice cream cones, cups, and novelties with a menu of unique and unusual flavors and toppings. Because darling, calories don't count when they are as fabulous as these!
Buvette – A gay-popular gastrothèque in the Greenwich gaybourhood inspired by European traditions that honor a history of craft and design, where each detail evokes a sense of story, place, and delight. Part restaurant, part bar, part café, Buvette combines the elegance of an old-world café with the casual nature of a neighborhood eatery. It is a light-filled space for an early morning espresso or a long lunch of shared dishes, even a spot for a late night digestif.
Nasty Pig – Pioneering the fusion of sportswear and gear since 1994 in Chelsea.A trailblazing brand that makes hot clothes that get you laid as influenced by hip-hop culture as by gay culture. Stop by their New York flagship store to see their latest offerings, and who knows who you might meet.
Elmo Restaurant – An uber-stylish restaurant serving American comfort food to their gay majority clientele. There is an animated bar and décor that harks back to NYC's fabulous golden age. So cool it almost hurts, we love Elmo and Elmo loves the gays – so make a reservation in advance unless you want to experience heartbreak and rejection.
BGSQD – The Bureau of General Services—Queer Division is an independent, all-volunteer queer cultural center, bookstore, and event space hosted by The Lesbian, Gay, Bisexual & Transgender Community Center in the West Village. The only queer book shop in NYC which seeks to excite and educate a self-confident, sex-positive, and supportive queer community by offering books, publications, and art and by hosting readings, performances, film screenings, book discussion groups, and workshops. They provide local and visiting queers and friends with an open and inclusive space for dialogue and socializing. The Bureau of General Services—Queer Division welcomes you.
Lips – Gay New Your's City ultimate drag queen palace with nightly shows for over 20 years! Yes all you young things, that is before Drag Race brought gender-bending realness into the mainstream. Every night they offer a different drag queen show including celebrity impersonators in Dinner with the Divas and Bitchy Bingo. Not only do they offer some of the best in modern drag queen entertainment, but they also have an exquisite menu from lobster ravioli and Filet Mignon to the chocolate sin dessert and more! Lips also offer a fun Broadway boozy brunch in NYC with all you can drink every Sunday – and has locations in Atlanta, San Diego, and Fort Lauderdale.
Gay Annual Events in New York City
As a paradise for the LGBT community, Gay New York City offers a wonderful line-up of annual events for gays, lesbians and transgenders and – well, anyone who wants to be involved!
These signature gay events are just the biggest and best, however no matter when you visit there is sure to be something on (which is why we really recommend locking your New York City hotel down in advance…)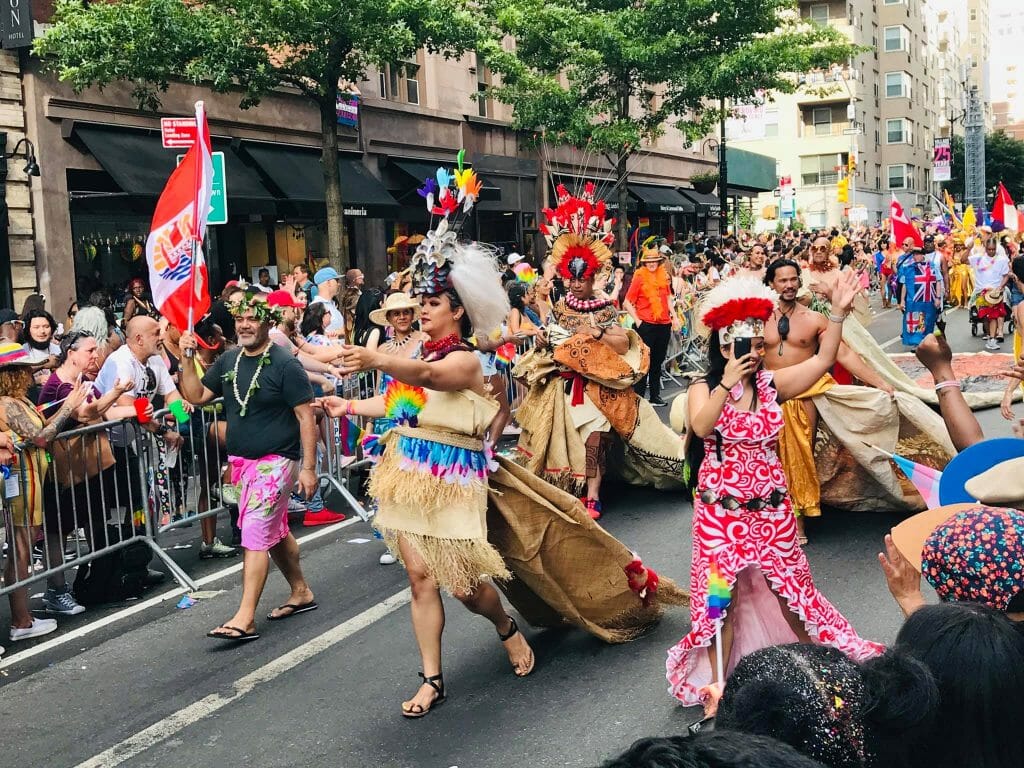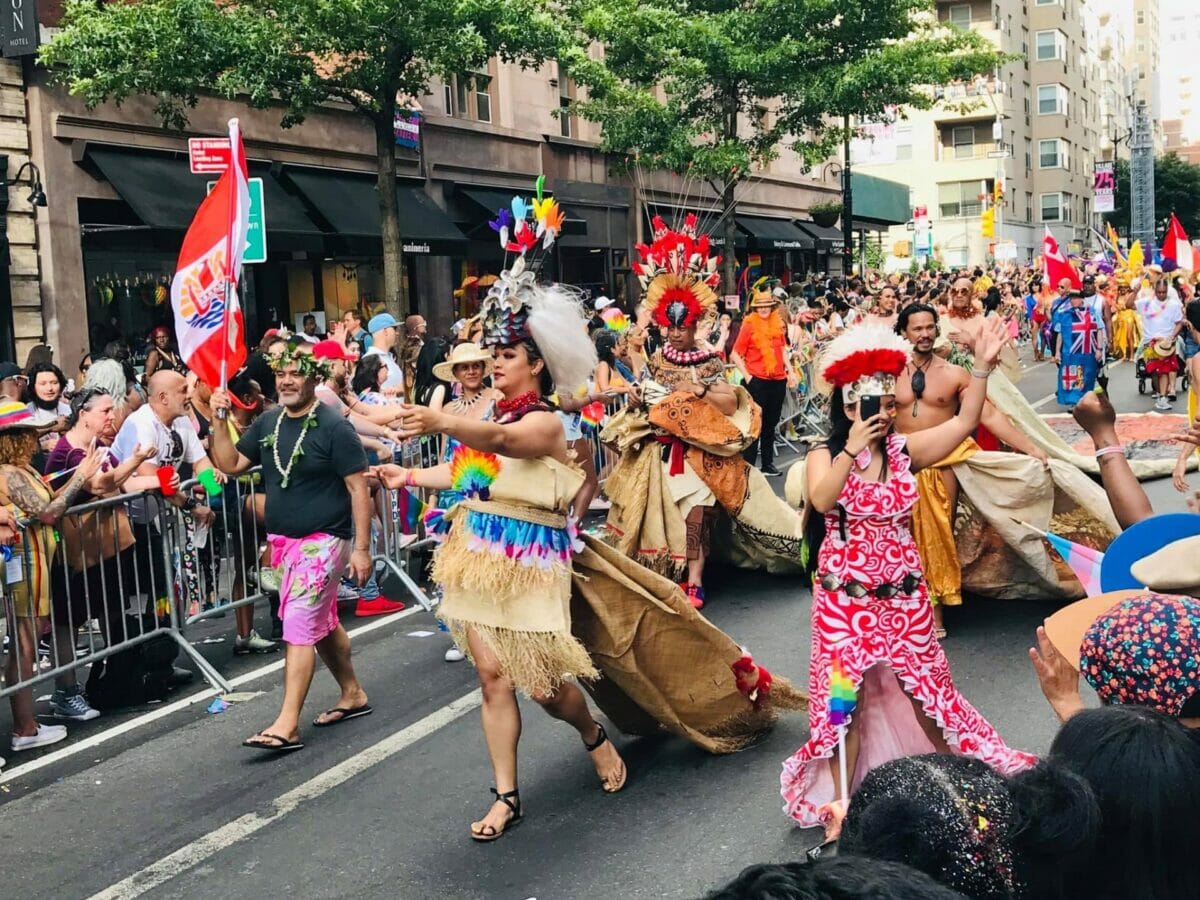 Fringe NYC (October) – A feistily independent open-access arts festival with innovative, diverse, and vibrant emerging performance artists hosted in converted spaces and pop-up venues around the city. It is not technically queer, but very liberal and alternative in the vein of 'gender is a construct tear it apart. Fringe NYC does use a juried application process, so it is not quite as experimental and radical as the original Edinburgh Festival Fringe.
Bushwig (September) – An award-winning two-day queer music & performance festival at Knockdown Center, Queens – a sprawling warehouse converted into a world-class artist gallery, music venue & bar. The Bushwig festival is committed to fostering innovation and creativity in performance and is not just a drag queen festival but a celebration of queer creative New York.
Folsom Street East (June) – Since 1997, the Folsom Street East street festival has been an annual highlight of the global fetish/kink calendar — an in-your-face, sex- and body-positive shared space on the streets of New York City for all to enjoy! Much like the original event in Gay San Fran, or Folsom Europe in Berlin, this is one unmissable display of pride, kink, and fetish you will not want to miss!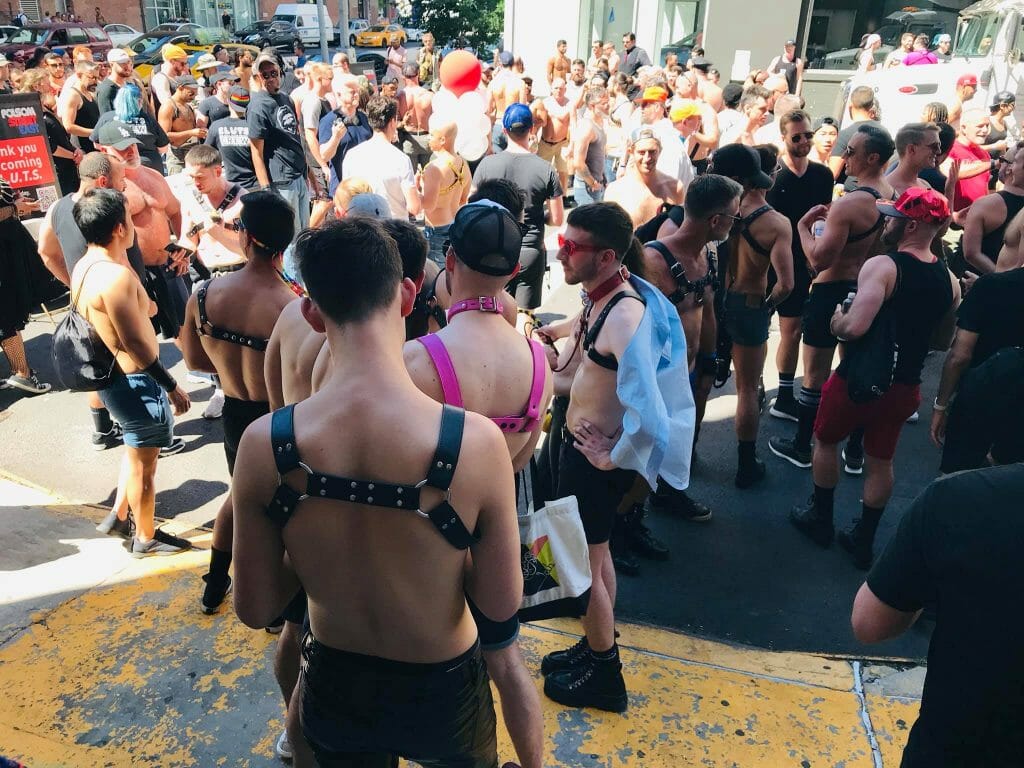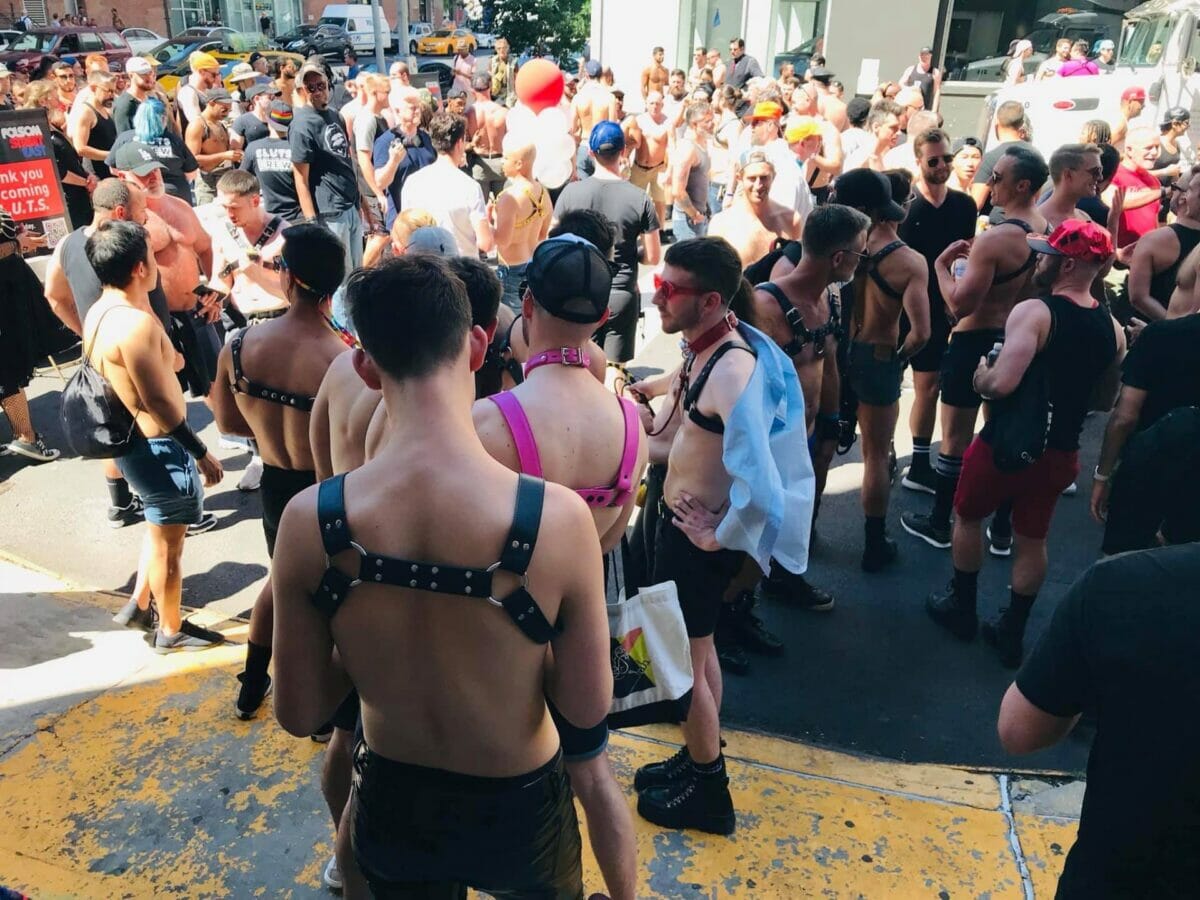 Fresh Fruit Festival (July) – A festival celebration of LGBT+ art and culture encompassing theater, performance, poetry, comedy, spoken word, music, dance, visual arts and some talents that defy categorization. They present work that is fresh, exciting and insightful – and most importantly inclusive of the entire community.
Urban Bear NYC Weekend Street Fair (May) – Our furry friends hit the street once a week for a block party like no other that has taken the bear subculture in NYC from fringe to mainstream. Join thousands of the hottest bears, cubs, and friends at this old-school street party and open-air Fur-Fest in the heart of the Meatpacking District featuring a beer garden, incredible food, artists, dancing, community groups, entertainment and more!
Pride Festival (June) – New York is hosting the largest Pride celebration in the world in 2019, spanning the entire month of June to coincide with 50 years since the Stonewall Riots. It will also be the first time WorldPride has been held in the USA in over 20 years. We all celebrate Pride in different ways, which is why you'll find over 50 different official and partner events offered culminating in the famous NYC Pride March on the final Sunday. There are more highlights and celebrations of queerness than we could ever possibly include in one place, but if you can figure out a way to time your visit – you will not be disappointed!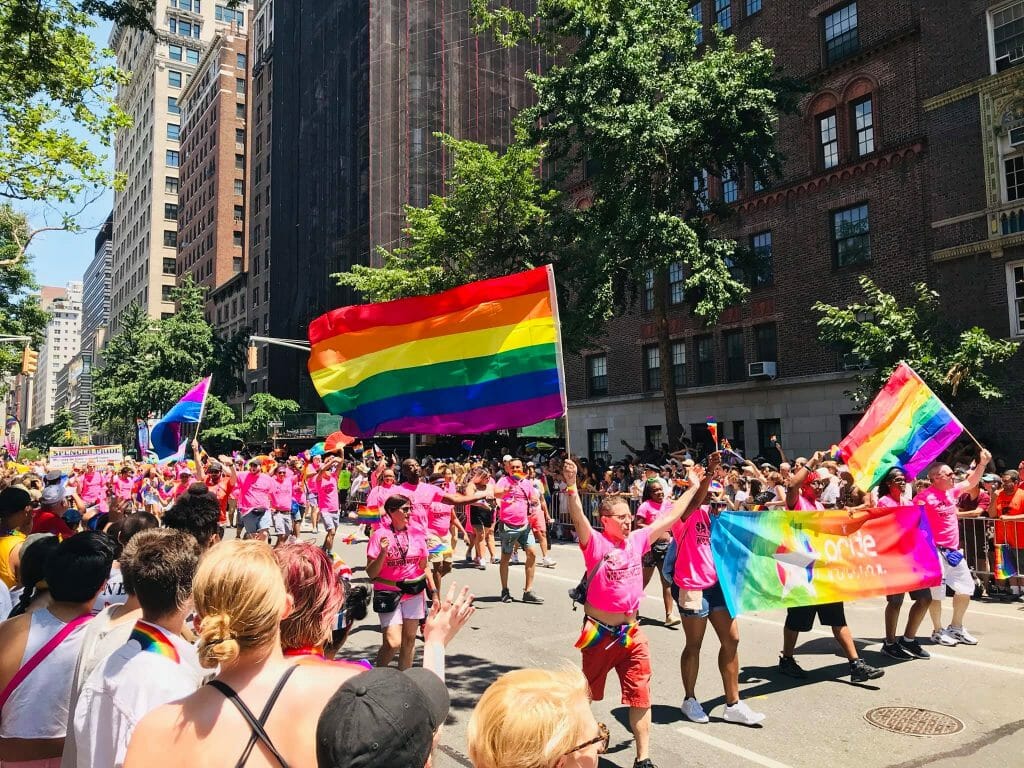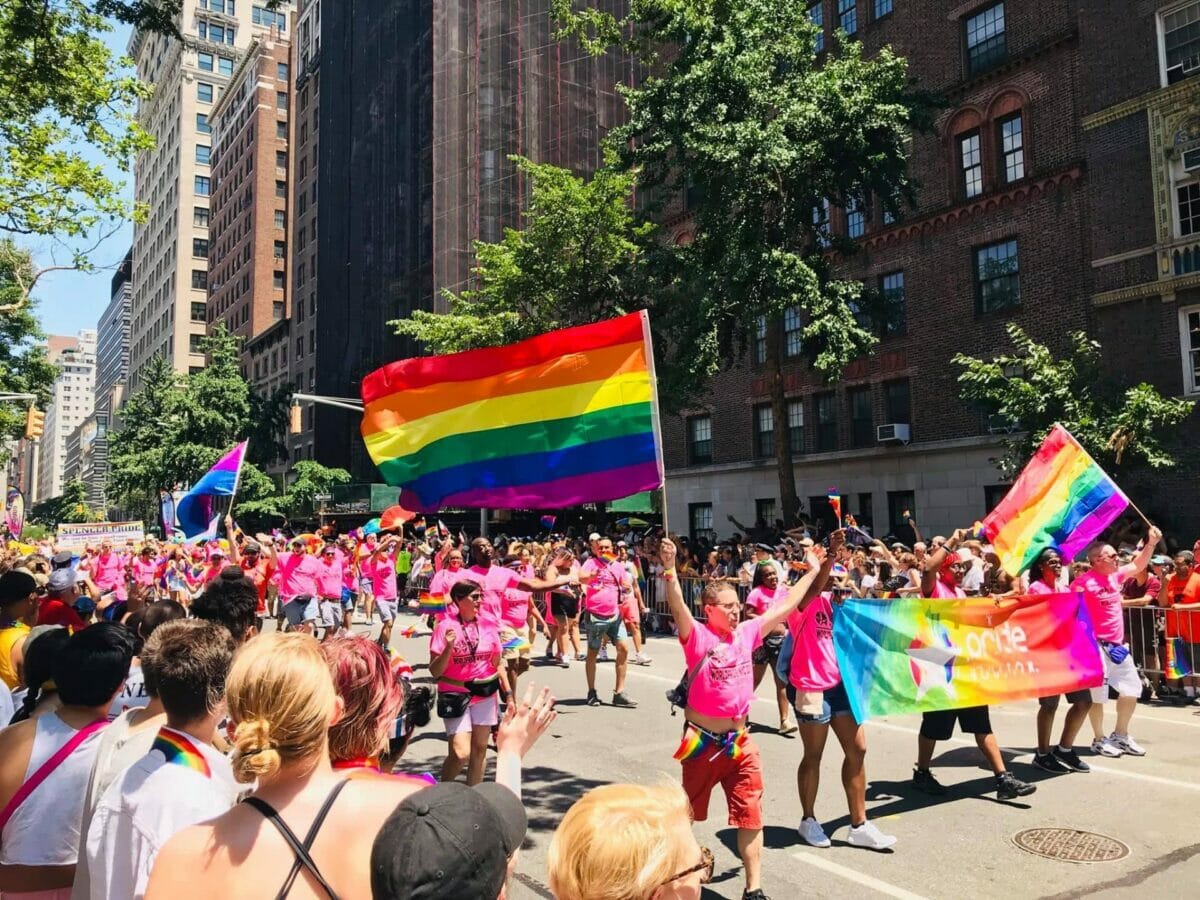 Newfest (October) – New York's LGBT Film Festival which features over 140 films, panels, and parties, and attracts over 12,000 attendees from around the globe. This annual celebration of the year's best LGBTQ film and media has grown to become a vital part of New York City's cultural landscape, and one of the world's premier gatherings of LGBTQ filmmakers and artists. NewFest's collection of narratives, documentaries, episodics, and shorts portray the diverse and compelling stories–shining a light on the LGBTQ experience.
Village Halloween Parade (October) – An annual parade in the NYC Greenwich village and is incredibly gay-popular. Some might even call Halloween a national gay holiday. This is the world's largest Halloween parade and the only nighttime parade in New York City with over 50,000 "costumed participants" and 2 million spectators. Expect one epic night of debauchery, first on the streets than in all the surrounding club parties and events.
Gay-Friendly And Gay Hotels In New York City
In this glorious and extremely liberal metropolis, you will not find any major hotel accommodation that isn't gay-friendly. After all, being gay-friendly is about providing a non-judgmental and respectful environment in which all people are treated equally.
In saying that, elegant design, helpful staff, and excellent value for money never hurt anyone. Some hotels in New York City have also gone above and beyond in recognizing and marketing to the LGBT community and given their popularity with gay travelers we would say it has paid off!
Everybody likes to be surrounded by people with common interests and as such there are a few hotels in New York City favored by gay travelers – although to be clear there are no exclusively gay hotels in New York City sadly. There was one 'official' gay hotel – The Out Hotel – which was a great place to stay but is now no longer marketed as a gay hotel and has been renamed Cachet Boutique Hotel NYC. Luckily New York has always welcomed everyone, so it's no surprise that you've got a huge choice of designer gay-friendly hotels to stay in.
The Hells Kitchen / Chelsea / Greenwich Village gaybourhoods are at the forefront of LGBTQ+ inclusiveness in New York City and are overflowing with queer nightlife and gay-owned businesses. They are our favorite gayborhoods to stay in since they have easy access to all of New York's amazing attractions by day. This is a huge city, however, and there simply isn't one perfect place to stay!
The following gay-friendly hotels in New York City are only the most recommended, but there are hundreds of other hotels in New York City if you don't find quite find what you are looking for. Whether you want a fun and social hostel, a cheap but private place to crash after a night of partying or a chic luxury option to sip cocktails surrounded by fashionable people, Gay New York City has something for everyone!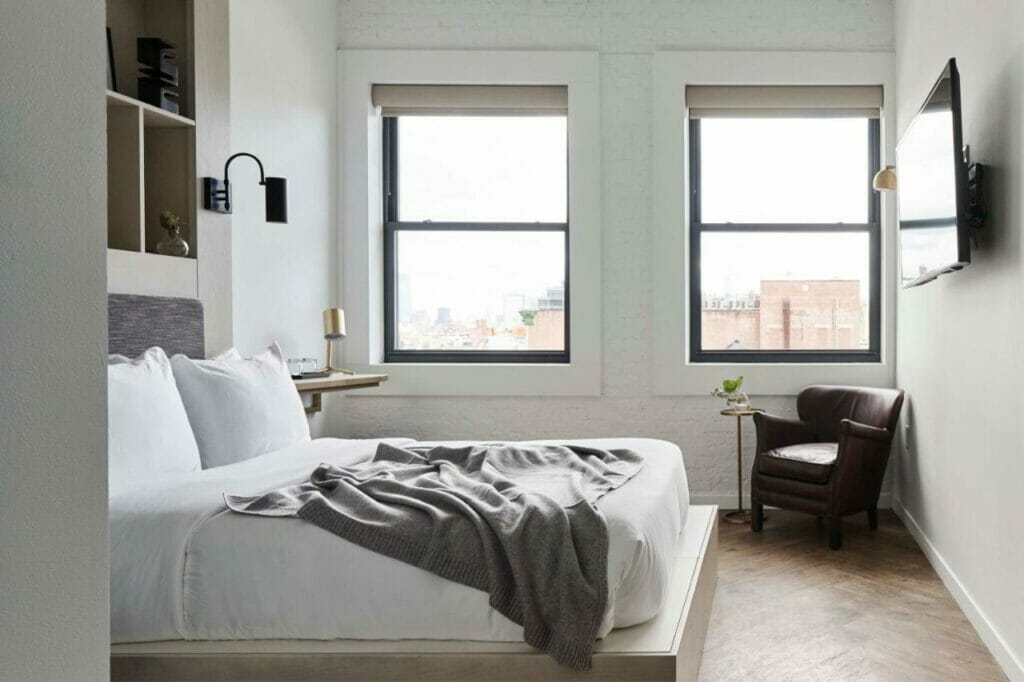 Gay-Popular Hotels in New York City
Walker Hotel Tribeca ☆☆☆☆ – Located in the iconic lower Manhattan borough of TriBeCa, the Walker Hotel Tribeca is inspired by creative expression and immersive experience, curiously shaped by its rich history and eclectic community. Affordable (for Manhattan) room rates, incredible views, a speakeasy hidden in the basement and a hyper-trendy coffee shop in the lobby are just some of the many highlights.
Each of the 171 luxurious apartments draws inspiration from Tribeca's distinct style and New York City's Golden Age while providing modern comforts, chic décor, and fashionable amenities. The compact footprint rooms at Walker Tribeca have fine furnishings, marble baths, and clean, fitted bedding. Well positioned for all subway lines, you'll be ready to move to Tribeca full-time after a stay here – or at least booking in your next stay before you leave (which we advise as the Walker Hotel frequently sells out).a
Nomo Soho Hotel ☆☆☆☆☆ – This is another contemporary and hip designer hotel where you'll sometimes feel like you're walking through an exhibit. The design is based on the 1946 French Film 'La Belle et la Bête' (Beauty and the Beast) and features a huge ivy-clad gate and lantern at the entrance. Nomo has managed to maintain this nod to SoHo's past while ensuring that the hotel guests have all modern conveniences. There are plate windows offering stunning views of the streets and you feel like you have your finger on the pulse in the open workspace downstairs.
The Standard High Line ☆☆☆☆☆ – This sleek high-rise hotel towers over the High Line and offers incredible views through floor-to-ceiling windows. There are on-site bars and restaurants, but there's plenty to be found in the surrounding Meatpacking District as well. Fun, minimalist décor and sexy peek-a-boo showers make this one of the best gay hotels in New York. It also happens to be one of our favorite hotels in the world and has been so successful there are now 6 different Standard hotel locations globally.
W Times Square ☆☆☆☆ – Perfect if you like eclectic stylings and being right in the heart of the action. The W Hotel in Times Square has space and luxury galore. True to W standards, the service is exceptional and attention is paid to every detail. Broadway is just a step away and the hotel's location in Times Square really makes you feel like you are on the pulse of one of the greatest cities in the world. We can also confirm their luxurious linens are a perfect place to hunker down for a night of watching gay TV shows — if that is what you feel like. There is no judgment here!
The Roxy ☆☆☆☆ – You might guess from the name, but the Roxy is all about old-school glamor and a touch of jazz. There is actually an underground jazz club in the hotel, as well as a cinema and a cocktail bar. No wonder it's one of the most popular gay hotels in New York! Once you retreat to your room, you'll find comfortable beds and great amenities.
Paper Factory ☆☆☆☆ – Sure, Queens is a little further away from the city, but you gain hugely in space when you don't stay in Manhattan. You are also out near the spicy Latin gay nightlife and everyone knows Queens has the best food. This is a gorgeous boutique hotel in a renovated paper factory – expect exposed brickwork and hip design. We love that there's a food truck in the backyard and a games room where you can relax with a bit of shuffleboard.
Hotel On Rivington ☆☆☆☆ – This modern hotel on the Lower East Side offers a range of rooms from standard rooms to deluxe suites. All needs are catered to with facilities including a 24-hour business center, a gym, a local restaurant, and two bars. Staying here, you know you are in safe hands – the service is good, the rooms are clean and elegant and there's easy access to all the best bits of New York!
Dream Hotel Downtown ☆☆☆☆ – From the minute you see the elaborate front of the Dream Downtown, you know that you are staying somewhere pretty special. It's appropriate that so many art galleries are nearby, as some of the décors here is close to being a work of art. The 315 rooms are inspired by New York lofts and every comfort is taken care of, from feather beds to wide-screen televisions. The 50-foot heated swimming pool actually has portholes in the bottom where you can look through to the lobby below (it's a great way to check out the incoming guests!). There's also a glamorous restaurant offering three meals a day, or 24-hour room service.
The Ace New York ☆☆☆☆ – Centrally located in Midtown Manhattan, this design-forward Ace hotel is found in a historic building that has been converted into a space that's ideal for business travelers, creatives, and everyone in between. The rooms combine coziness and minimalism, and they feature local artwork and design. Some rooms also feature guitars, turntables, refrigerators, and curated minibars. The lobby has a Stumptown Coffee outpost as well as a cozy lobby bar which is a little cruisy – at least when we were there! We loved the Ace Hotel in Palm Springs and New Orleans, and this location is just as fabulous.
Kimpton Eventi ☆☆☆☆ – This recently renovated (almost) gay hotel in Chelsea has some seriously understated glamor. It's huge, taking up a whole block, and has a range of restaurants and bars on the ground floor; it's always a good sign when a hotel restaurant is populated not just by guests, and that's the case here. The rooms are spacious and have full-length windows looking over the city. The Kimpton hotels were one of the first major chains to support diversity and speak out about LGBT rights, so you always know you are in good hands when you stay here.
Yotel New York ☆☆☆ – Yotel is the epitome of affordable designer hotels in New York – don't be put off by the slightly odd exterior, inside the cabin-style rooms are attractive and have all the latest technology (there's even a robotic luggage storer!). There's a roof terrace where you can chill out after a day's sightseeing and a Mediterranean restaurant serving tasty dishes to reenergize you for a night experiencing the legendary gay clubs of Manhattan.
Citizen M Hotel ☆☆☆☆ – An arty and compact hotel right in the heart of Manhattan, everything is 24-hour at the citizenM in Times Square. It's all designed to suit a busy, bustling visitor who wants to make the most of this busy bustling city. Like all their other location worldwide, the rooms are modern and use state-of-the-art technology for your convenience. Escape from the hustle with a drink at the rooftop bar, where the sounds of the city fade away a bit! They also have a second location in the Bowery if that appeals more…
Pod 39 ☆☆☆ – As the name suggests, this is another hotel that understands that you just need a comfortable place to stay in the heart of the city, and streamlines that experience as much as possible. Your room might be small, but it has everything you need – and there's more space at the bar on the roof.
The Local NYC ☆☆☆ – This just-in-Queens ultrahip hostel tops our list of gay hostels in New York City, found in a converted industrial building. As its name implies, you become a local of New York City when you stay here – and you should set your expectations high. It is one of the best design hostels in the world and not only features a stunning skyline view of Manhattan, but also offers various amenities such as an industrial bar and cafe, a rooftop terrace, and a communal kitchen. In the city that never sleeps, you will find yourself liking to relax and rest in this hostel – and just a four-minute walk four-minute walk from the nearest subway station to get into Manhattan.
Gay Nightlife in New York City
New York City has one of the hottest gay nightlife scenes we have encountered anywhere in the world – and trust us, there is a gay bar for everyone here.
Depending on your mood you can find anything here from a relaxed cocktail in an upscale bar to an all-night dance party surrounded by your queer family. There are also plenty of cruise/dive bars, sexy go-go boys, fabulous drag, fun events and – well, something to cater to every taste!
We have yet to find a gay city with anywhere near as many bars and nightclubs as we found here, and it can totally get a little overwhelming but we have tried to break the spots down by area so you can try each micro-scene out to get a flavor. For example, you could try Greenwich Village for historic gay bars, Hell's Kitchen for stylish-industrial hangouts, Brooklyn for the House of Yes and other alternative nightlife options or Queens for some spicy Latin heat!
Most gay bars and clubs are packed from 10 pm until into the early morning, with a mix of tourists and locals depending on where you go. The core of the gay scene is in the lower Manhattan and Mid-town area, so if this is a priority, you should try to stay here, but there are gay hotspots everywhere you go. Use our Gay New York City map at the end to help orientate yourself.
With a vibrant – and diverse – local LGBT community and a wonderfully gay-friendly liberal populace, you can imagine distinguishing 'gay bars' can sometimes be difficult, which is fabulous since you know you will be welcomed as you are basically everywhere here. For the following gay venues, however, we were looking for rainbow events, exceptional recommendations, and spots specifically marketed toward gays.
We are sure you will not be disappointed.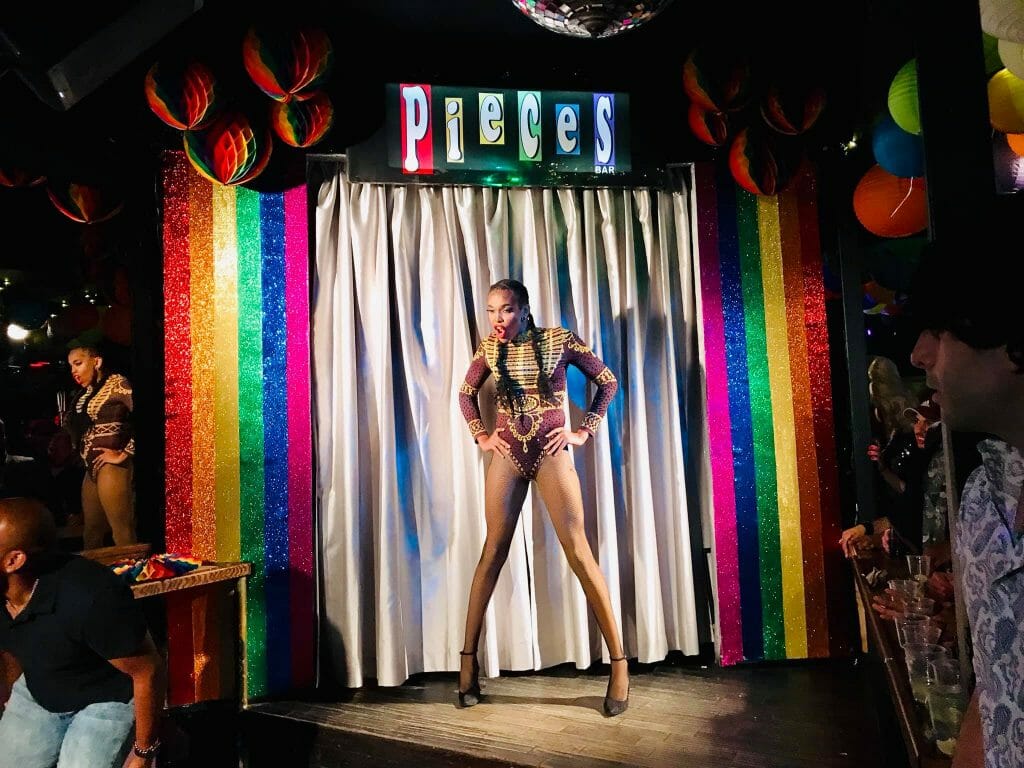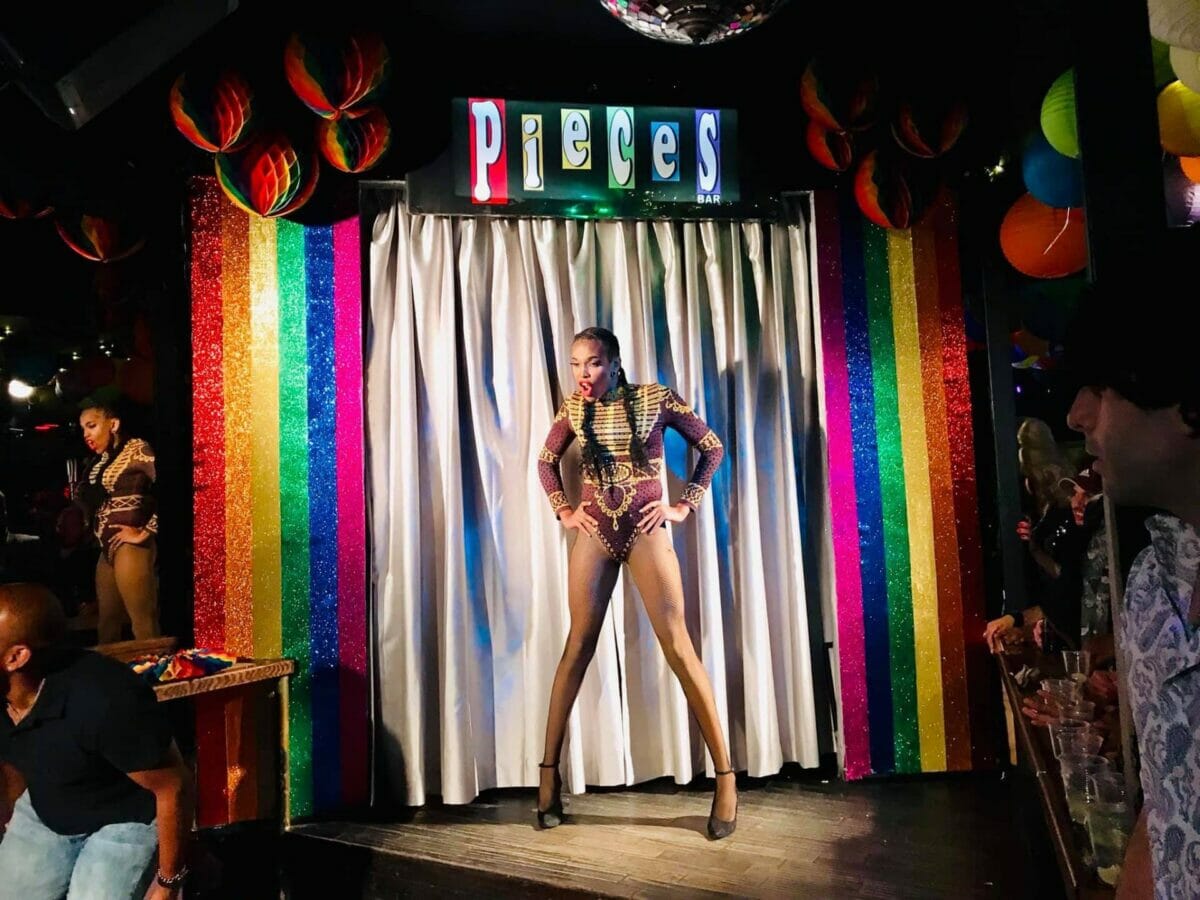 East Village Gay Bars
Nowhere – A low-ceilinged gay dungeon bar with an extensive beer menu, pool table, and jukebox. Not much of an atmosphere when it's quiet, but at the busier time, we really loved it. One of the newest gay bars in NYC – and slowly finding its feet.
The Boiler Room – With a great drink deal on Happy Hour, friendly service and a pool it's no wonder this gay dive bar has staying power after all this time. A no-frills kind of place that knows what it is doing and does it well. Cash only and busiest on weekends when locals pour in and things get quite steamy!
The Cock – Another gay bar with staying power, this hole-in-the-wall spot hosts fun theme nights with POP DJs & go-go boys. Cash only, the Cock is dark, hot and more than a little cruisey.
Club Cumming – A energetic gay bar owned by Alan Cumming with modern drag, cabaret and a roster of bizarre and diverse events nights that draw in the crowds. Quirky, queer and oh-so-much fun with proper dance music later at night. A must-visit – even if it is just to show your support for local up-and-coming talent in the LGBT performance community.
Bedlam – An mixed artsy/queer crowd gathers at this East Village 1600-square-foot nightclub and performance space, with a Victorian vibe. The venue consists of two spaces – a large main hall and a more intimate back lounge – both of which serve incredible cocktails and music from the best emerging talent and genre-bending artists.
The Pheonix – Originally established as The Bar in 1999, the Phoenix rose from the ashes after a fire devastated the mainstay dive watering hole. The Phoenix has a strong tradition of catering to a diverse and trendy crowd and has become a gay institution in the East Village. Receiving accolades including having the best jukebox in the city, being a fashion insiders party, and even a contemporary performance venue, The Phoenix has transformed from "go-to dive" to "be seen at destination".
West Village Gay Bars
The Stonewall Inn – The site of the Stonewall riots of 1969, which is widely considered to be the single most important event leading to the gay liberation movement and the modern fight for gay and lesbian rights in the United States. Closed after the riots, and moved to different locations in the intervening years, it moved back to its original location in 1990 and renovated and returned to its original name, "The Stonewall Inn", in 2007.
In 2015, the Stonewall Inn was the first landmark in New York City to be recognized by the New York City Landmarks Preservation Commission on the basis of its status in LGBT history and in 2016, the Stonewall National Monument was named the first U.S. National Monument dedicated to the LGBTQ-rights movement. An absolute must-visit, the modern bar has a ridiculous amount of events on daily, draws a diverse crowd and is never, ever boring. Upstairs is a lounge and busy dance floor with a stage for shows while downstairs is a bar, pool tables and small tables for conversation.
Pieces – A small but happening gay bar with stripper Saturdays, drag queen performances, Tuesday night karaoke and plenty of locals.
Marie's Crisis Café – A gay dive bar that epitomizes a deep love for show tune music, community, and fun, bringing the shows and musicals on Broadway to the West Village. If you love show tunes and want to sing and drink – go here!
The Duplex – Established back in the 1950s, the Duplex continues today as an international destination for arts and entertainment, providing nightly performances as varied and colorful as the streets of the West Village. Expect plenty of piano sing-alongs, drag revues & comedy in this near-mythical gay nightlife spot.
Julius – Known as NYC's oldest gay bar, this classic hangout serves burgers and beers to its mostly older regulars. Worth a visit, however, especially if you are interested in history as it was here in 1966 that four homophile activists staged a "sip in" to challenge the NYS Liquor Authority's regulation that prohibited bars and restaurants from serving homosexuals. Three years before the Stonewall Riots, this 'sip in' is considered one of the very first planned actions of civil disobedience for LGBT rights.
Ty's Bar NYC – One of New York's first gay bars to open after the Stone Wall Riot of 1969, Ty's has been gay owned and operated since opening in 1972, and it's always been a "man's" bar. Throughout the years, they have catered to the Levi's/T-shirt, leather, and bear communities and are well known for their no-attitude policy, friendly helpful staff, and great drinks at great prices
Hangar Bar – A dark and dirty urban gay bar with old-school and R&B classics. Cash only, an eclectic crowd and go-go boys on the weekend.
The Monster – This Manhattan LGBT venue has been a pioneer on the scene with loads of adventures through its rich and rather fabulous history. With roots in Fire Island and Key West, the Monster has been host to "homos" since the 1970s! Offering finger food, monster-sized drinks, great music and good dialogue with a nostalgic atmosphere, two floors of fun and plenty of celebrity sightings. There are events on every single night here – including Spunk Thursdays with 30+ shirtless, ripped, delicious men and a new drag competition on Sundays for the title of Miss Monster.
Gay Bars in Hells Kitchen / Meatpacking District
Rise Bar – A unpretentious gay bar in Hell's Kitchen with high energy, a younger crowd and fun music. Rise hosts fun events every night of the week including Piano Bar Sundays, Cut Throat Karaoke Tuesdays and Legend Wednesdays with iconic drag queens. Then they cart out the hottest go-go boys and music at their weekend dance parties to keep the place bouncing til close.
Industry Bar – A expansive gay bar with a trendy industrial-with-a-splash-of-color fit-out. Positively humming with the after-work crowd thanks to a nightly happy hour, then packed out again later at night with drag shows and dancing. The security, however, is quite strict, with many reports of manhandling customers and not being open to some parts of the community. While we didn't experience this ourselves, the amount of times we heard this means we feel compelled to mention it here.
VERS NYC – A new kind of gay bar serving up lush craft cocktails, elevated bar snacks, and unique entertainment in a beautifully designed space in Hell's Kitchen. A higher-end cocktail space for the queer community. Food is served from 5 p.m. to 11 p.m. on Tuesdays through Saturdays. Cocktails and shenanigans daily from 8:00 a.m. to 5:00 p.m.
Fairytail Lounge – One of NYC's most popular gogo bars located in Hell's Kitchen. Small and wonderfully kitschy, with fairytale-esque décor, DJ dance parties, and the occasional lap dance. Oh, and boys straight out of your naughtiest fantasies … Well, at least after a few drinks and in a darkened room.
Barrage – A Late-night gay lounge bar with comfortable seating, chic-sexy crowds, great cocktails, and our favorite no-attitude spot to go for a sleek yet relaxed gay hangout with friends for chats – and to see who we happen to bump into.
Therapy – Since 2003, Therapy has been one of the 'go to' gay bars in Hell's Kitchen. Open nightly, featuring awesome drag shows, good food & clever cocktails, we loved the b-level setup, stylish vibes and inclusive atmosphere. The popular RuPaul Drag queen Miz CRACKER frequently performed here, so if you are a fan you won't want to miss here.
Flaming Saddles – A Wild-West-themed gay bar that also has a location in LA providing the all-male version of Coyote Ugly. Amazingly friendly bartenders and dancers, busy dance floors and an all-welcoming environment. What's not to love? Serving us country-western queer liberation the likes of which we became obsessed with in Austin and Nashville, with events most nights of the week drawing in the crowds.
Ritz Bar and Lounge – An extravaganza of noteworthy music, drag performances, and beautiful queer spirits. This gay dance club boasts DJs on 2 floors, relaxed lounge rooms to mix and mingle in, plus an outdoor patio to cool off on. Docked on Restaurant Row, the nautical-inspired Ritz sets the standard for LGBT nightlife here with exceptional lighting and sound systems, fabulous events and strong pours. All genders, religions, ethnicities and sexual orientations and Ritz goes out of its way to make sure all human beings here are safe – and all this only one block from Times Square!
Posh – A tried-and-tested gay bar with a relaxed vibe, a regular local crowd, and reasonably priced drinks. Posh Bar & Lounge was the first gay bar to open in Hell's Kitchen, and even today is still popular thanks to its happy hour from 3 to 9 p.m. daily, live shows, DJs who spin all the best hits from dance to pop to retro classics and never, ever a cover charge.
Hardware – A buzzy bar and lounge with an award-winning bespoke design inspired by the old hardware store that it now occupies. Gay-owned and operated Hardware showcases talent from the most spectacularly entertaining drag queens – both local and guests from all over the country – and some of the best DJs in NYC.
Atlas Social Club – A great low-key happy hour spot with retro-athletics décor and friendly locals. If you're looking for a fun time, you'll find it here. Just watch yourself with those stiff drinks…
9th Ave Saloon – A basic but sassy gay bar with cheap drinks and great conversation. Now celebrating over 30 years of unpretentious fun!
Boxers Sportsbar – The Hells Kitchen branch of this popular gay sports bar in NYC with 3 other locations spread around. We aren't going to lie and say we get the appeal of the large TV screens with the latest game, but we did love the terrace, pool tables, video-wall-equipped basement and wonderfully chiseled bartenders who clearly had a better handle on sports than we do. Touchdown!
Gay Bars in Chelsea
The Eagle NYC – A NYC institution that spawned over 50 Eagle Bars around the world. While Eagle closed in 2000, it opened again in 2001 at a new location thanks to popular demand. The current Eagle is housed in a two-story building that was originally a horse stable dating back to the late 19th century. The mood is still dark and sleazy, the music is still heart-pounding and the studs are still coming. The pool table is back as is that old beat-up motorcycle. A dark playground of raw masculinity and guys straight out of Tom of Finland works, this is a place for hedonistic, hard-core cruising and celebrating the leather/ Levi ideal.
REBAR Chelsea – A animated gay bar offering hip DJs, modern drag shows and a stripped-down industrial-chic atmosphere. Rebar isn't flashy but it's real, it's raw and it's ridiculously fun. Re-establishing Chelsea as a playground for the gay community, look out for their theme parties and events.
Boxers Sportsbar – The Chelsea branch of this popular gay sports bar in NYC with 3 other locations spread around. We aren't going to lie and say we get the appeal of the large TV screens with the latest game, but we did love the summer rooftop terrace, pool tables and wonderfully chiseled bartenders who clearly had a better handle on sports than we do. Touchdown!
Barracuda Bar – A respected gay dive bar with a small stage for drag shows, plenty of seating, happy hour prices, and music that allows you to hold a conversation. Cash only, hot guys and attentive bartenders.
GYM Sportsbar – What is this, another gay sports bar – what is going on here? The same as before, hot guys, cheap drinks and large drinks pours with TV screens tuned to the latest games. Located on the basement level, the Locker Room is an alluring addition to GYM's main floor. The atmosphere created by the Locker Room's warm lighting, fun music, video displays, and copper-topped bar encourages the crowd to get up close and personal. It's clearly a home-run concept that has knocked it out of the park as the GYM also has locations in Los Angeles and Fort Lauderdale.
Other Gays Bars In Manhatten
Suite – A small but very welcoming gay lounge on the Upper West side attracts a mix of older local residents of the area and young students from nearby Colombia University. Weekly events like drag-queen karaoke are always popular, and dance parties on the weekend are appealing if you don't want to head downtown. One of the only gay nightlife hotspots uptown.
Big Apple Ranch – Levis meets Leather at NYC's biggest LGBT country western dance club. Forget all your gender stereotypes and come down for a rip-roaring time with country Two-Stepping and line-dancing in Midtown. Lessons and parties are held every 2nd and 4th Saturday night at Dardo Galletto Studios
Townhouse of New York – A magnificent gay cocktail lounge with three separate bars including an upscale piano room with nightly performances and a dress-to-impress policy. Serving eleganza extravaganza darling on the border of Midtown and the Upper East Side of Manhattan with something for everyone including gogo boys every Friday and Saturday, happy hour, daily specials, events, and more. This is refined gay nightlife, but if you feel like getting more dancey there is always Evolve across the street…
The Toolbox – The only gay bar in the Upper East Side with Bingo on Mondays, Karaoke Wednesdays and a Jacked Up Thursday performance featuring plenty of shirtless men. Dance-happy crowds descend on the weekend for the eclectic music and the generous Happy Hours until 10 pm nightly.
Evolve – A sophisticated yet friendly gay lounge with hot weekend cruising and weekday happy hour networking. Evolve boasts a happening dance floor, a separate billiard room, a state-of-the-art sound system, a unique outdoor garden patio and the hunkiest & friendliest bar staff around. Explore this chic 'neighborhood bar' among the hustle and bustle that is NYC.
Brandys Piano Bar – Not really a gay bar, but there are cheap drinks, sing-alongs, and a piano so you just know we are all going to be pilled in here. Hidden away, on a side street in the most unlikely of places, Brandy's is one of the Upper East Side's best-kept secrets. This intimate spot showcases live talent every night and has been for over 35 years with booze-infused sing-alongs, staff who know how to get the crowd going and loyal regulars who ensure all seats are filled early on the weekend. Seriously, it normally is standing room only past 9-10 pm (if you can even get in the door that is) so do yourself a favor, arrive early or book ahead for a table and settle in darling…because you are not going to want to leave!
Gays Bars in Brooklyn
Excelsior – A contemporary gay bar in Park Slopes that has been a fixture of the local nightlife scene since the 90s. Forced to relocate in August of 2014, Excelsior is now more than double its original size, with two floors, well-stocked bars and a happening vibe making it great for chatting and meeting new people. If you are feeling a bit kinky stop by for Cruisin', the popular leather night, every 3rd Saturday of the month.
Xstasy Bar and Lounge – A gay Latin nightclub in Greenwood Heights with great drinks, sexy Latino bartenders, late-night dancing, funky event and much more to offer. The ambiance was on-point, the weekend go-go boys had us gagging and the DJ music set the tone for the all-night fiestas we loved in Medellin, Mexico City, and Guadalajara. Everyone is welcome there with super friendly bartenders so why not give it a try?
Branded Saloon – A large Western-themed honky-tonk saloon serving us with delicious Southern-style bites live music, fierce décor and a ludicrous amount of fun. Ok, it is not officially gay but very welcoming to everyone and honestly, it is not-quite-gay-but-almost-gay so we were obsessed. Filling a gay in Brooklyn queer nightlife, Branded Saloon is always a good idea to start the night at – with delicious food, strong drinks, reasonable prices, and a very friendly crowd.
Happyfun Hideaway – A queer/arty dive bar in Bushwick with lots of tropical cheap cocktails, margaritas, draft beer, snack shack nachos, pinball, and a patio with picnic tables. So alternative it hurts, but with a random lineup of events and a daily happy hour, Happyfun Hideaway is always a good time!
Metropolitan – One of the original gay bars in Williamsburg and still a core part of the local scene, being a popular first or last stop on any night out. With a pool table, a lush outdoor patio, two fireplaces and daily happy hours – there is a lot to love here.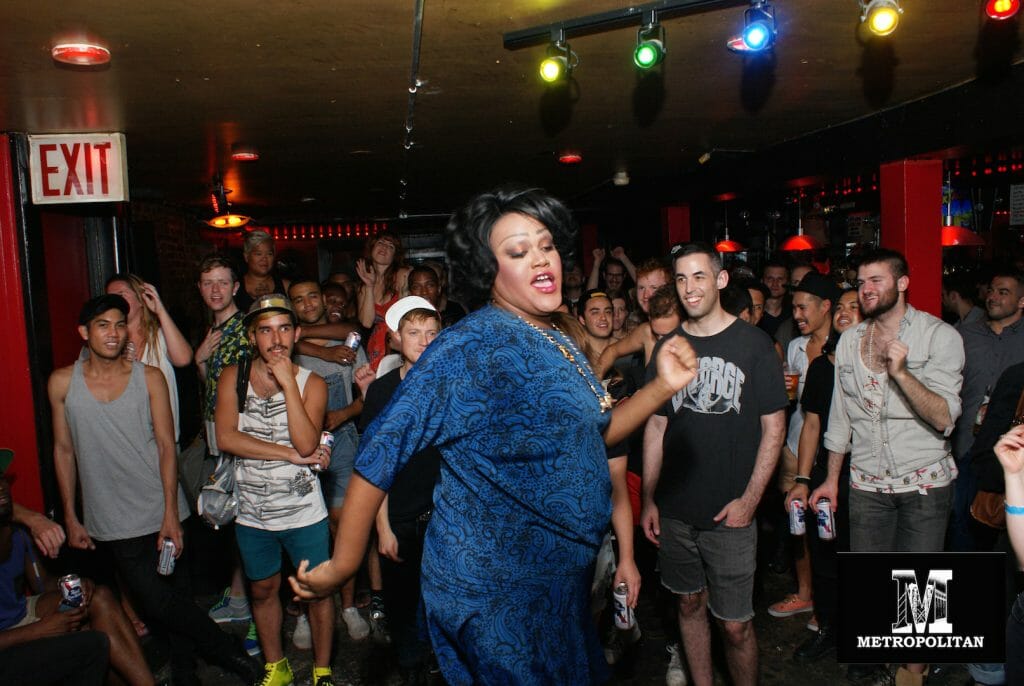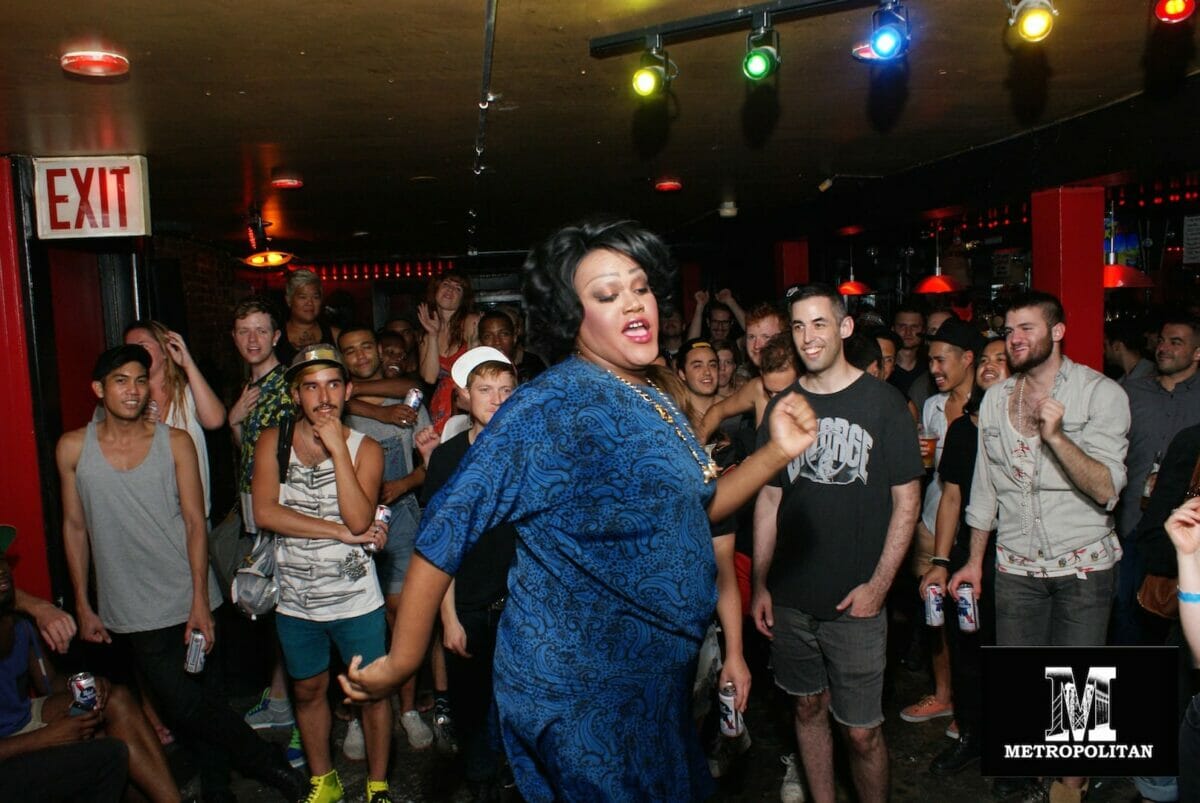 Langston Night Club – Where Real Men Come to Play! A pumping black gay club in Prospect Heights with neon lights, booming bass, old-school DJs and plenty of dancing. Authentically old-school Brooklyn with an electric atmosphere.
The Rosemont – A relatively new gay bar in Williamsburg known for being part cocktail lounge, part nightclub – depending on when you go! Hosting drag shows, DJ parties and live performances – all the best that the Brooklyn Gay Nightlife has to offer – alongside craft beers, small places, and a cute garden patio. Once a jazz club, but now very much in the fabulously queer camp – you wouldn't need to go much to get us back here again!
3 Dollar Bill – A upscale queer bar & performance venue in Bushwick- and the largest queer nightlife spot in Brooklyn allowing everyone to express themselves as their fullest, most genuine, selves. From fabulous nights at the bar to incredible events with amazing sound and lights, 3 Dollar Bill has arrived, and they are ready to have a good time.
Bizarre – An class haunt of locals in Bushwick with a clubby late-night vibe. Go earlier for designer cocktails, creative lite bites and edgy music. Not specifically for the LGBT community, but a known hotspot.
House of Yes – Weird. Wild. Wonderful. A performance-fueled nightclub and creative venue programmed with eclectic events and fabulous dance parties. Open to everyone but very LGBT / Queer popular we honestly have experienced a few events that are as incredible, liberating and fierce anywhere in the world. A safe space fusing dance culture, theatre, music, food, technology, and community where artists can create and present work while audiences can celebrate, socialize and be inspired. Fire-eaters, bearded drag queens, acrobatics, glitter stations, open dancing platforms, grand costumes – on any given night you can see it all. Get ready to be wowed and say YES, YES, YES! Look on their website for upcoming events to find the perfect one to match your creative energy.
Other Gays Bars In Queens
Hombres Lounge – A down-to-earth gay club in Jackson Heights with toned, barely clothed men ready to party. Modern and sexy with a hint of glamour, we loved the Latin vibes and gorgeous bodies…
Club Evolution – A large Latin gay nightclub in Jackson Heights with multiple dance floors, sexy bartenders, fun events, DJs and more. Each night hosts a different DJ or video DJ, playing the latest pop & house remixes, with hip hop, salsa, merengue, bachata & reggaeton! This makes the club ever so popular with Latin men & those who love them! The main room boasts a 500 square foot dance floor, & 15,000 watts of the clearest sound along with projector TV screens. The bar area & VIP party room have a separate sound levels so you can meet someone and still be able to hear their sweet words! Although the clientele is mostly male, they are an all-inclusive club and encourage you to bring your lesbian bestie, or that straight girlfriend who loves to party and see hot men at their best! Come and feel the euphoria and Latin heat!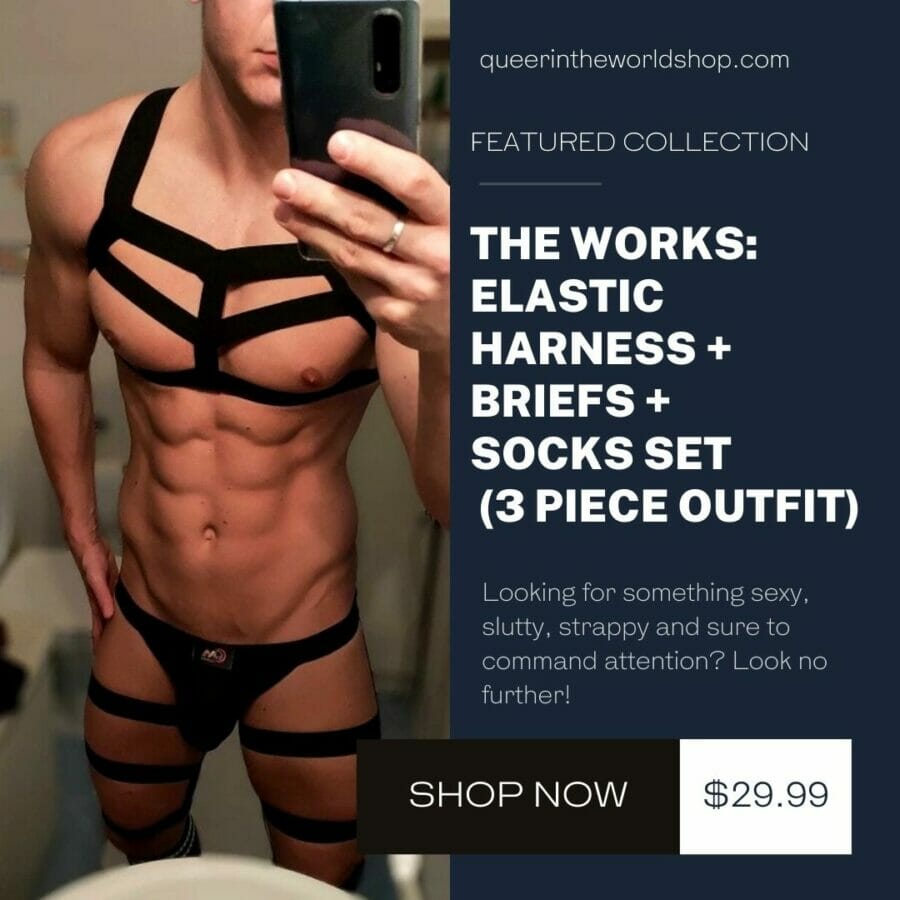 Music Box -A funky little gay Latin Bar in Elmhurst with no attitude, cute bartenders and a small dance floor. Drinks are a little pricey compared to other locations in Queens, but their Happy Hour specials more than makeup for this!
Friend's Tavern – An old-school Latin gay bar – the oldest in Queens – offering an alternative to the glamour, class, and sophistication of Manhatten. Great music, sexy dancers, cool crowds with no attitude and an 'anyone is welcome here' atmosphere.
Albatross – A cheerful LGBT bar in Astoria with fun daily events such as Karaoke, Drag Bingo and Live Drag Shows to bring the boys in. The 2-4-1 Happy Hour and lots of drink specials also help.
Icon Bar – A festive, fabulous and fierce gay bar in Astoria known for their sexy gogo boys and drag pageants. Many of the queens from RuPaul's Drag Race have graced the stage here, so even if you don't spot someone famous you are likely to see them soon on the show!
Lesbian Bars in New York City
Not many cities have devoted lesbian bars, but in Gay New York City you girls get lucky with one of the most vibrant lesbian scenes in the world. They really are the case of use it or lose it though ladies, and we can't tell you the number of similar spots we have seen come and go over the years.
Luckily they are all pretty great so you're probably going to love them!
Ginger's Bar – A relaxed lesbian bar with a very neighborly vibe in Park Slope Brooklyn. Boasting a daily happy hour, casual outdoor patio, pool table thanks to happy hours, a pool table, a jukebox, and a huge outdoor patio. Cheap, cheerful and full of character.
Cubbyhole – A long-time NYC gay village haunt most popular with lesbians but open to all. With eclectic décor, a mellow but very friendly crowd and a roaring good time to be had, why would you not check it out? Cubbyhole isn't preoccupied with being a lesbian bar however so feel free to take your friends!
Henrietta Hudson – Manhattan's number-one lesbian bar for 25 years, Henrietta Hudson is the ultimate destination for lesbians and the gay-friendly community, 365 days a year. Lesbian-owned and operated—now and always—Henrietta Hudson is renowned across NYC and the world for its friendliness, free spirit, and ever-inviting atmosphere. Their two full bars are stocked with a selection of liquors, wine, and beer and are expertly tended by attractive and charismatic bartenders. Happy Hour (4—7 p.m., seven days a week) offers discounted drinks, while an ever-changing selection of mixologist-created cocktails is available.
First-time visitors frequently become lifetime regulars at Henrietta Hudson, thanks to the welcoming vibe, constant influx of diverse and beautiful patrons, intelligent and sexy bartenders, exciting roster of events, and inclusive spirit. The bar is age- and gender-diverse, gay-boy friendly, and tourist-accommodating. There's something vibrant and new every day of the week at Henrietta Hudson—world-class DJs spinning for sexy and enthusiastic crowds, stimulating evenings of cocktails and conversation with old and new friends, electric evenings of world-class flirtations, and countless chances to meet someone special. So why not stop in and say hi?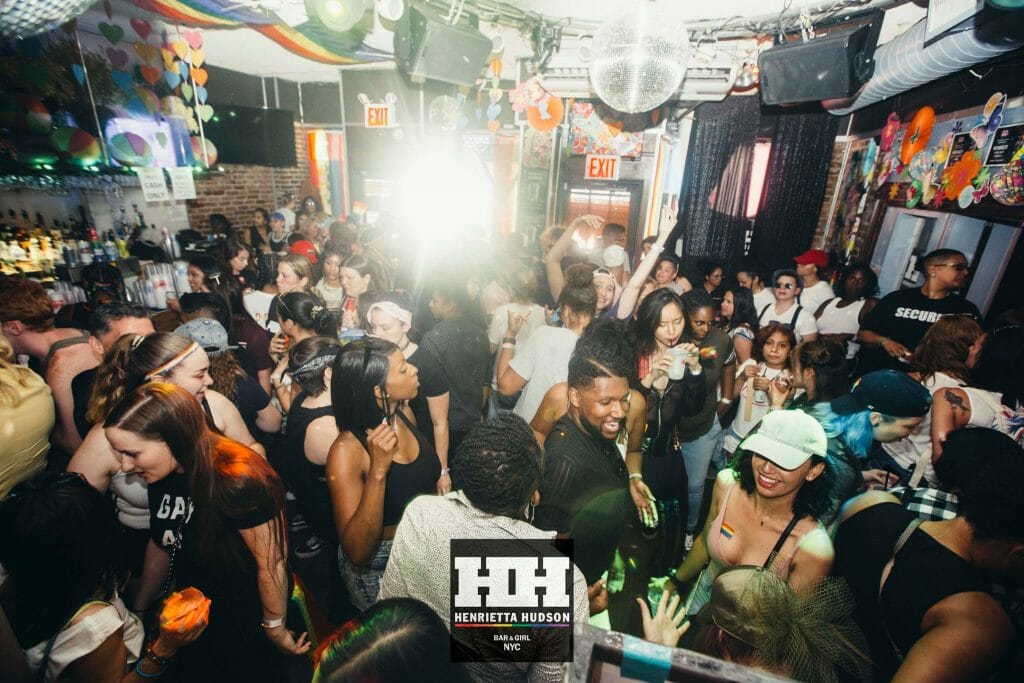 Gay Sex Clubs & Bath Houses in New York City
Even though New York City is a fabulous gay vacation destination there are only a few gay sex venues here – and all of them are pretty terrible. We really don't recommend visiting any if we are being honest.
If you are visiting from outside of the USA you should know that the gay bathhouse culture is not very prevalent in the USA and in no way as popular or as high-quality as you might find in international destinations such as Bangkok, Barcelona, London, and Paris. New York, however, much like San Fran, closed all of these gay sex locations in the wake of the AIDS crisis and it has never sprung back – because local regulations discourage them, hook-up apps remain popular and real estate costs are simply too costly.
With such a high LGBT+ population, you just know there has to be pretty of action going down here – and you can join in by either downloading a gay hook-up app, going to the last New York City bathhouse or checking out some of the more cruise-orientated gay bars.
East Side Club – From the same owners as the now-defunct West Side Club, but only marginally better since it is near the UN and you sometimes can meet interesting international guys here. Expensive, with a steam room that is basically never operating, dirty, sad and just not worth it. Sorry boys, we are big fans of hot and steamy fun, having tried cruising clubs everywhere from Cape Town and Melbourne to Seoul and Copenhagen, but these are just some of the absolute world. Just avoid it.
MaleBox – The best place to find all the current NYC gay sex parties currently – you'll need to be a member to join, however.