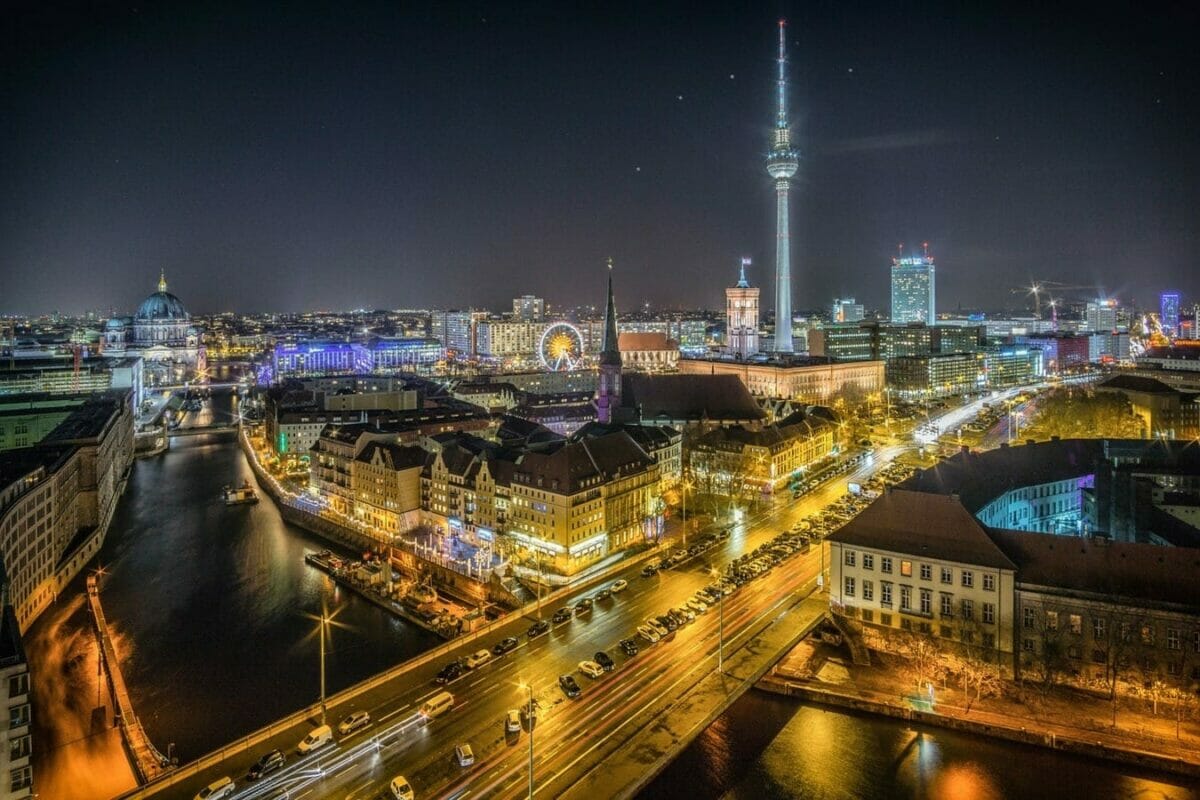 Think of hedonism, history, and hipsters combined, and you get the glorious city of Berlin. Anything goes in this wild and wonderful capital; you're more likely to see a man in a leather skirt on the U-Bahn at 8 am than you are to see a man in a suit and tie, and we are here for that.
By day you can explore the rich history and culture the city has to offer; walk along the East Side Gallery, climb onto the roof of the Berlin Cathedral, stroll along Unter den Linden before grabbing Kaffee und Kuchen somewhere. By night, who knows? Great adventures await once the sun goes down in Berlin whether it is in a labyrinthine dark room, smoke-filled pubs, camp drag bars or avant-garde cocktail lounges.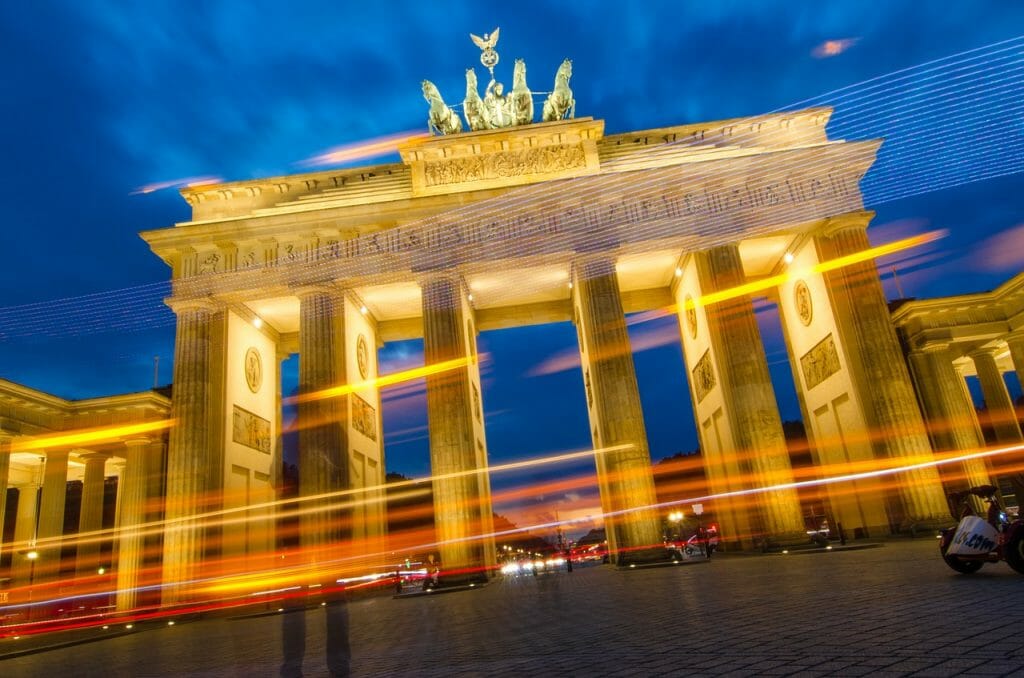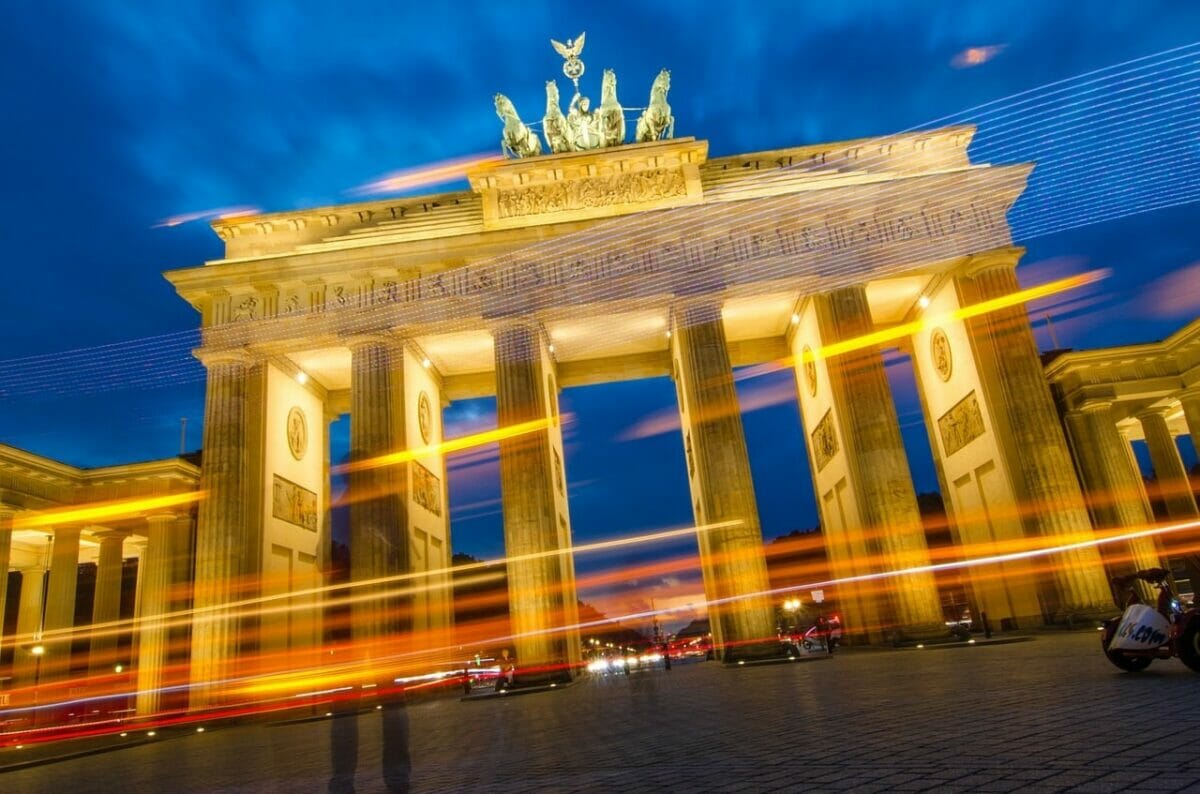 Often called the Gayest City in Europe – though with hot competition from Barcelona, Madrid, and Amsterdam – we would almost go as far as claiming Berlin is the biggest gay travel destination on the planet. Tel Aviv has its beaches, Palm Springs has its clothing optional resorts and New York has well, that city in a class all its own, but Berlin has kinky fetishes and morally-questionable debauchery on a scale that we didn't even know was possible. A sensualist's haven that smashes norms and set trends for gay subculture around the globe
There's a long history of openness in Berlin, despite repression in Nazi-era Germany. In the 'Golden Twenties' Weimar Republic, Schöneberg saw the establishment of the first gay village in the world, and it's still the heart of Berlin's gay scene, although gay culture is so widely accepted that you'll find a gay scene everywhere.
Everyone will have heard of Berghain, with its strict door policy, dark rooms, and sexual permissiveness. If you're feeling even braver than that, head over to the caverns of the KitKat club for scenes, you won't ever see again. Otherwise, there are plenty of gay clubs and bars in Schöneberg to get to know the locals in; go to Betty F*** Bar's for a very different form of drag show. You won't find the glossy Drag-Race inspired performances of San Diego, Miami or Chicago here!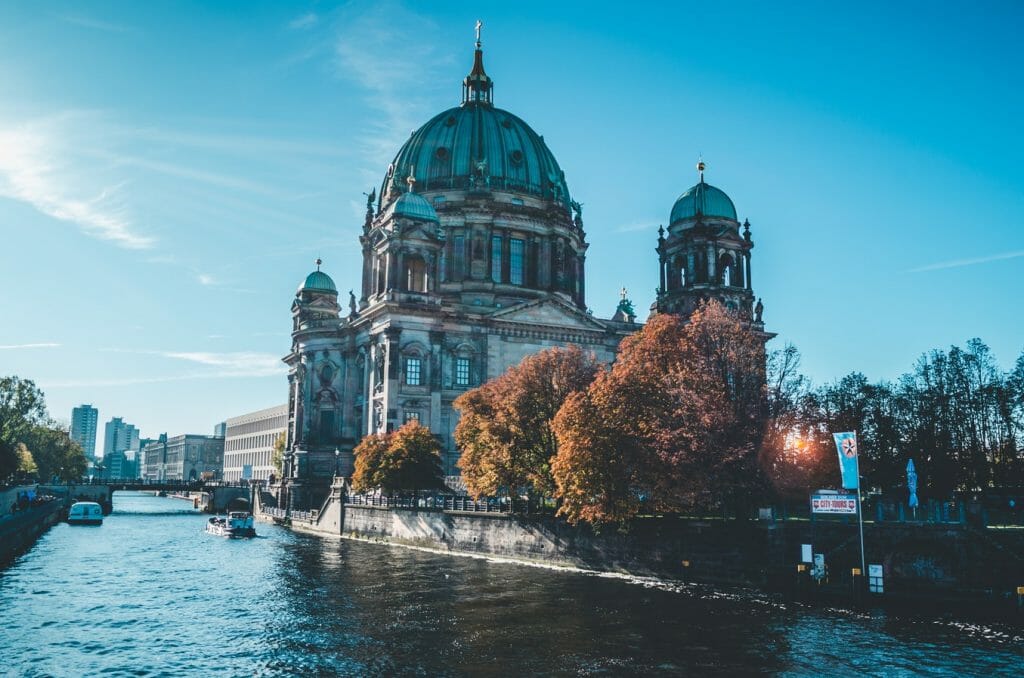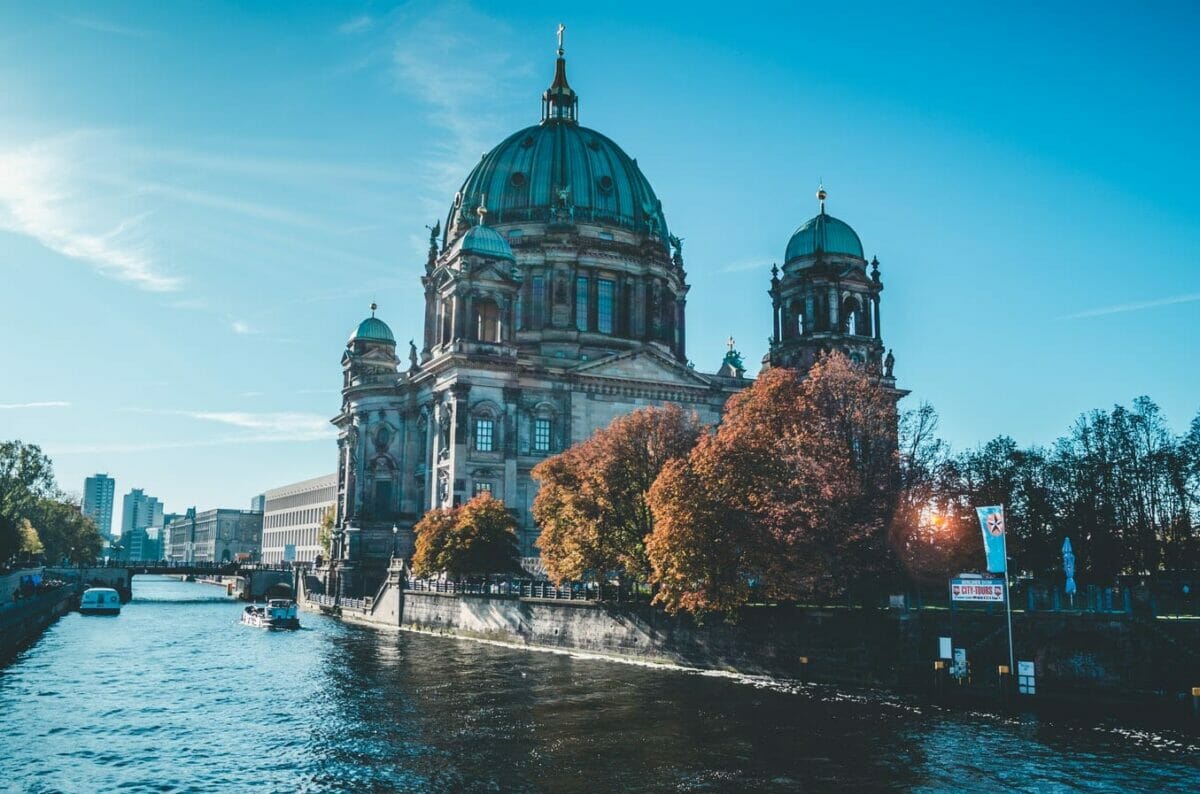 If hard-core partying isn't your scene (or you just need a rest day), then there's a Queer Walking Tour, the world's first queer museum and lots of queer bookshops to discover. And of course there's a fabulous Gay Pride, called the Christopher Street Day Parade – one of the best Gay Pride festivals in the world; there's even two separate Berlin leather fetish week.
A city where sex is celebrated rather than taboo, the LGBT community is embraced and nurtured and flamboyant gay magnificence can be found year round, its no wonder that Berlin is one of the world's most popular queer travel destinations, and that so many of us flock here year after year to experience life with real equality and unconstrained freedom.
Depraved. Glorious. Diverse. Open-minded. No matter where your interest lie in Gay Berlin – culture, nightlife, food, wine, luxury hotels, sex or art – we are certain there is something for you here as well…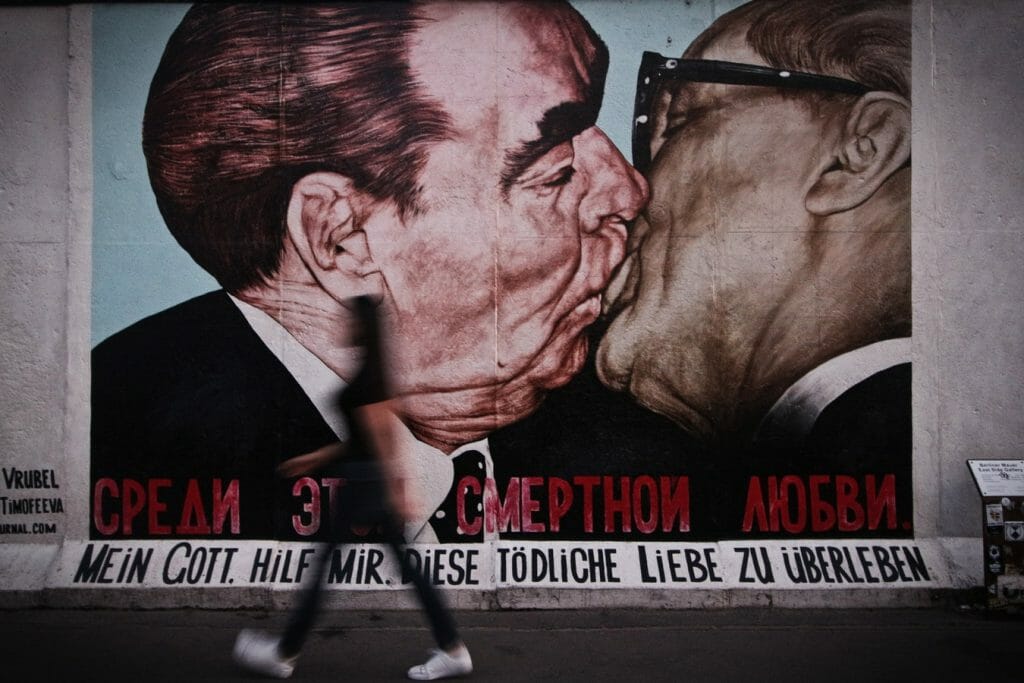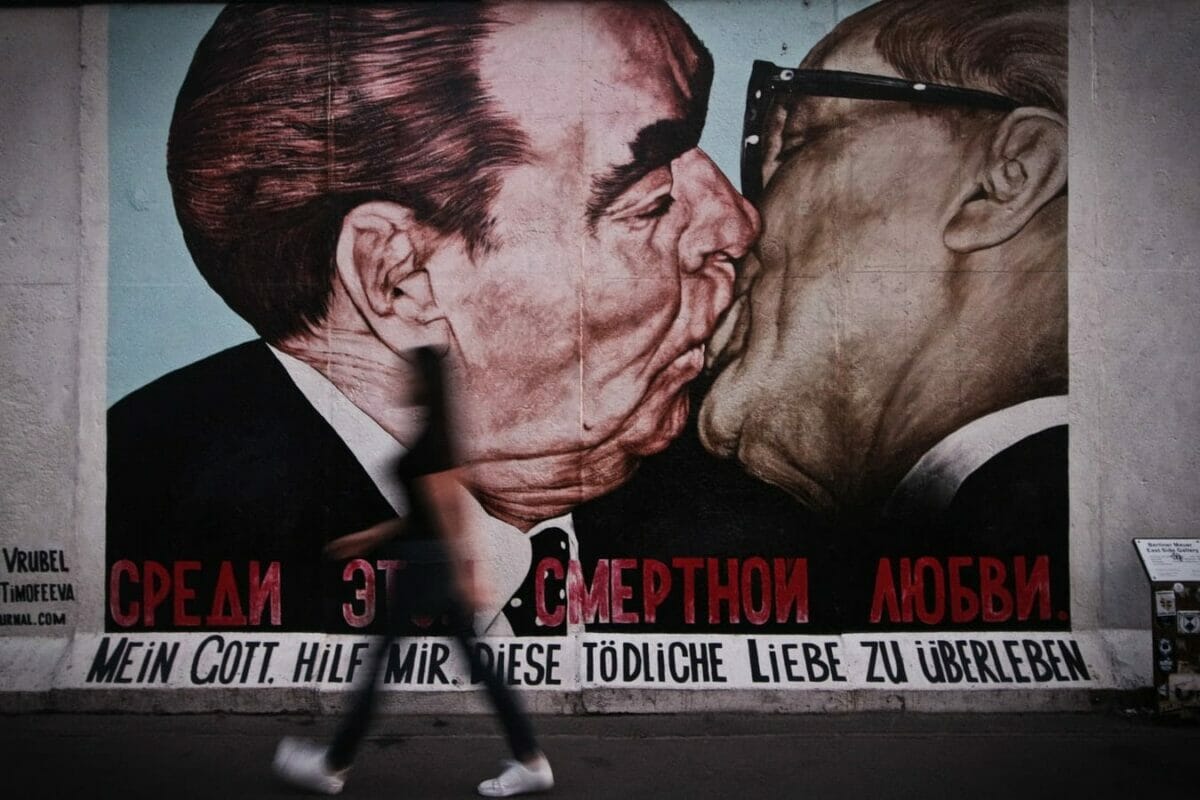 Being gay does not define which attraction most of us will want to see in each city and most queer tourists will simply want to check out the top things to see in Berlin during the day!
Berlin is a very safe city, but still, all travelers should take caution with valuables. Gay people in Berlin do not need to make any precautions at all regarding public displays of affection in this very progressive city, and we encourage you to experience what true freedom feels like. There are so few places in the world as uninhibited and liberating for gay couples as Berlin, and this is something every one of us should be able to experience every day!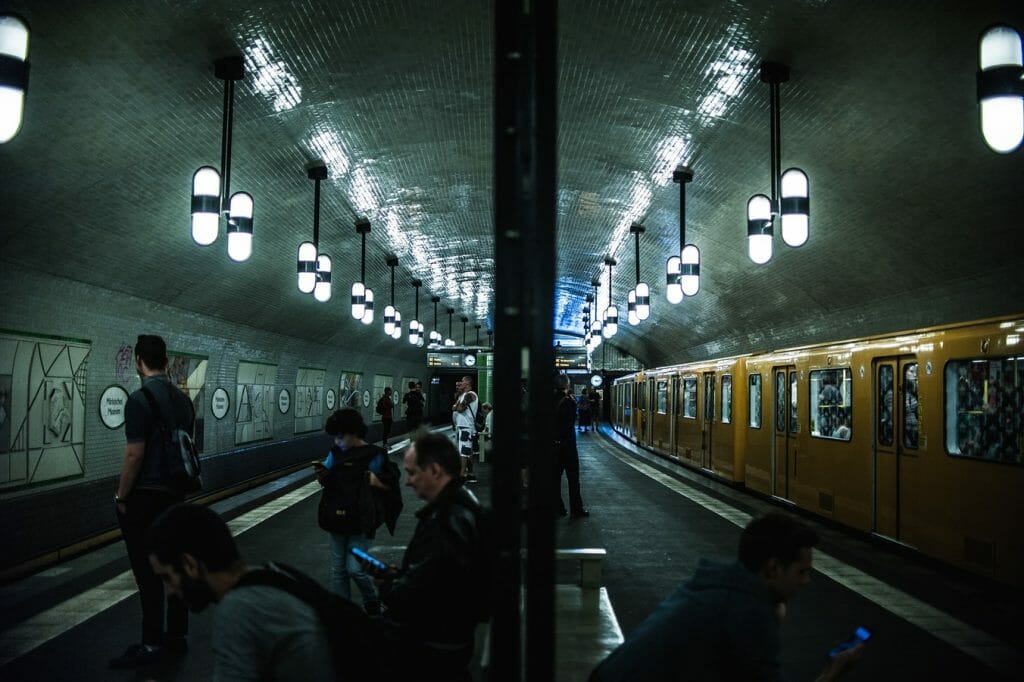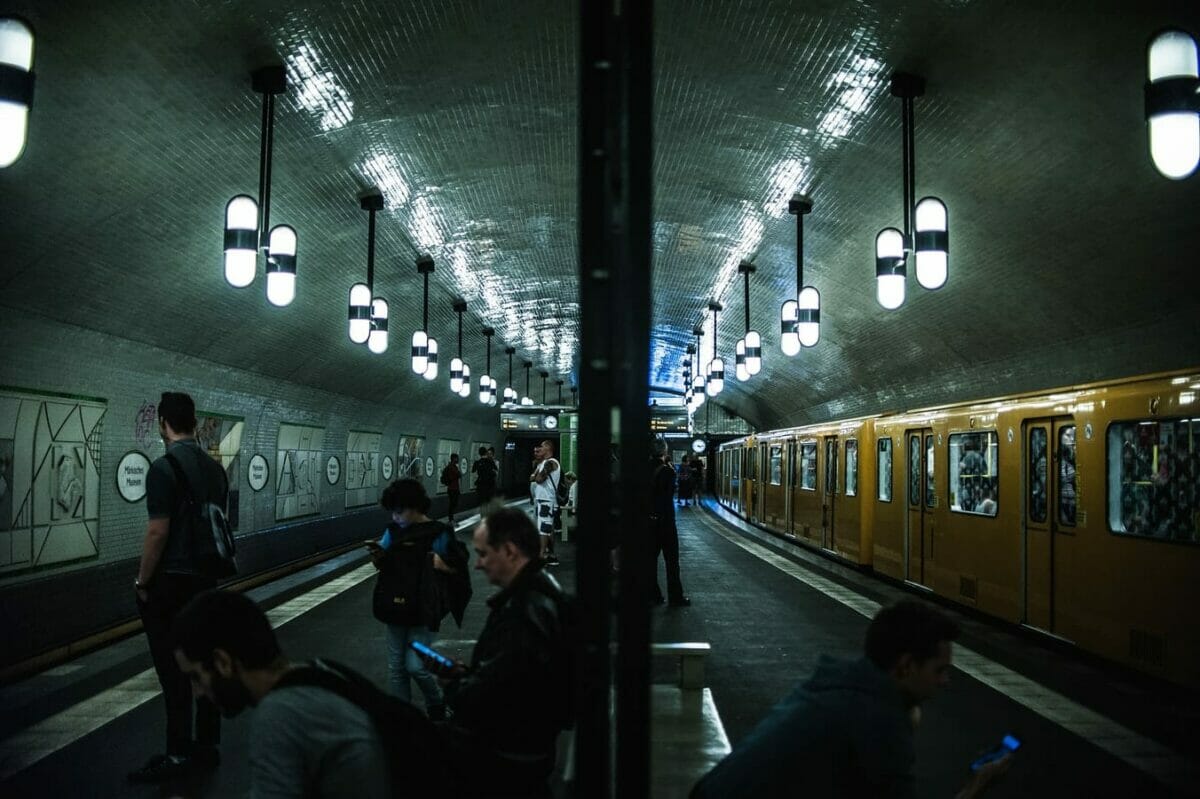 Berlin has so many things to do it can be overwhelming, but for LGBT+ visitors some neighborhoods are particularly interesting. The center of queer life here is undoubtedly in Schöneberg with quiet tree-lined streets, fabulous café terraces, raunchy gay pubs and an equal mix of burly leathermen and children riding bikes.
This what a well-established, multidimensional gay community feels like and we are living for it! This is also where two of the biggest gay events in Berlin are held, LGBT Park Festival and Berlin Pride / Christopher Street Day, in July. There is also two other popular gay areas to explore including the hip Prenzlauer Berg / Berlin Mitte area and alternative crowds in Kreuzberg / Neuköln / Friedrichshain
Everywhere in Berlin is gay-friendly however and you can also find numerous pink businesses and institutions doted around the entire city. Often where you least expect them. If you are not sure where to go, take a peek at our gay map of Berlin at the end to get an idea of where all the gay bars, clubs, sauna, cafes and stores are.
Having said that, here are just a few of our favorite things to do in Berlin to get you started!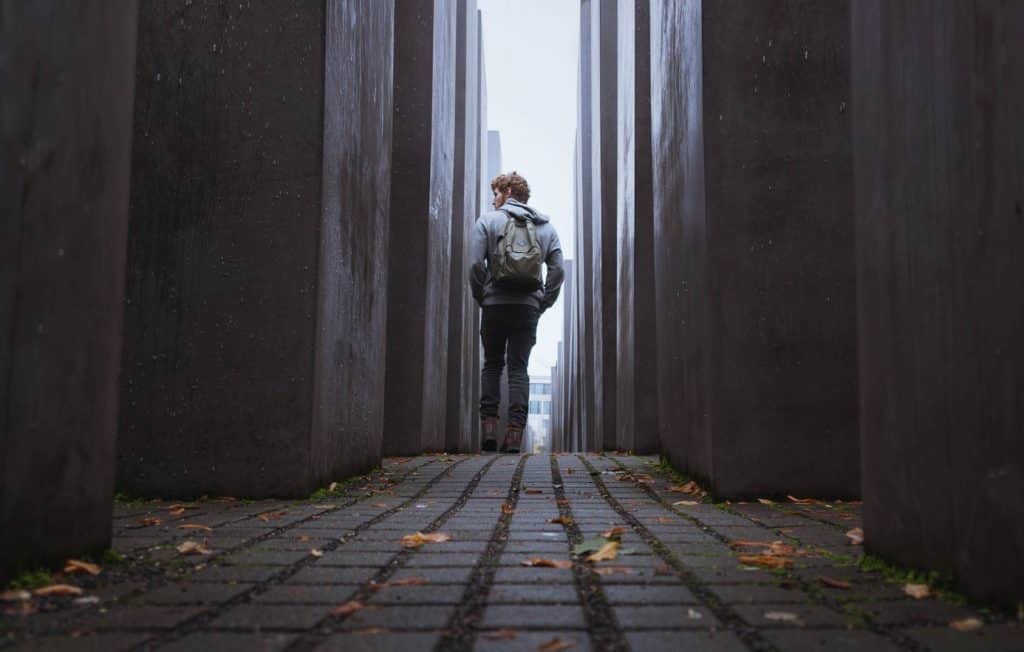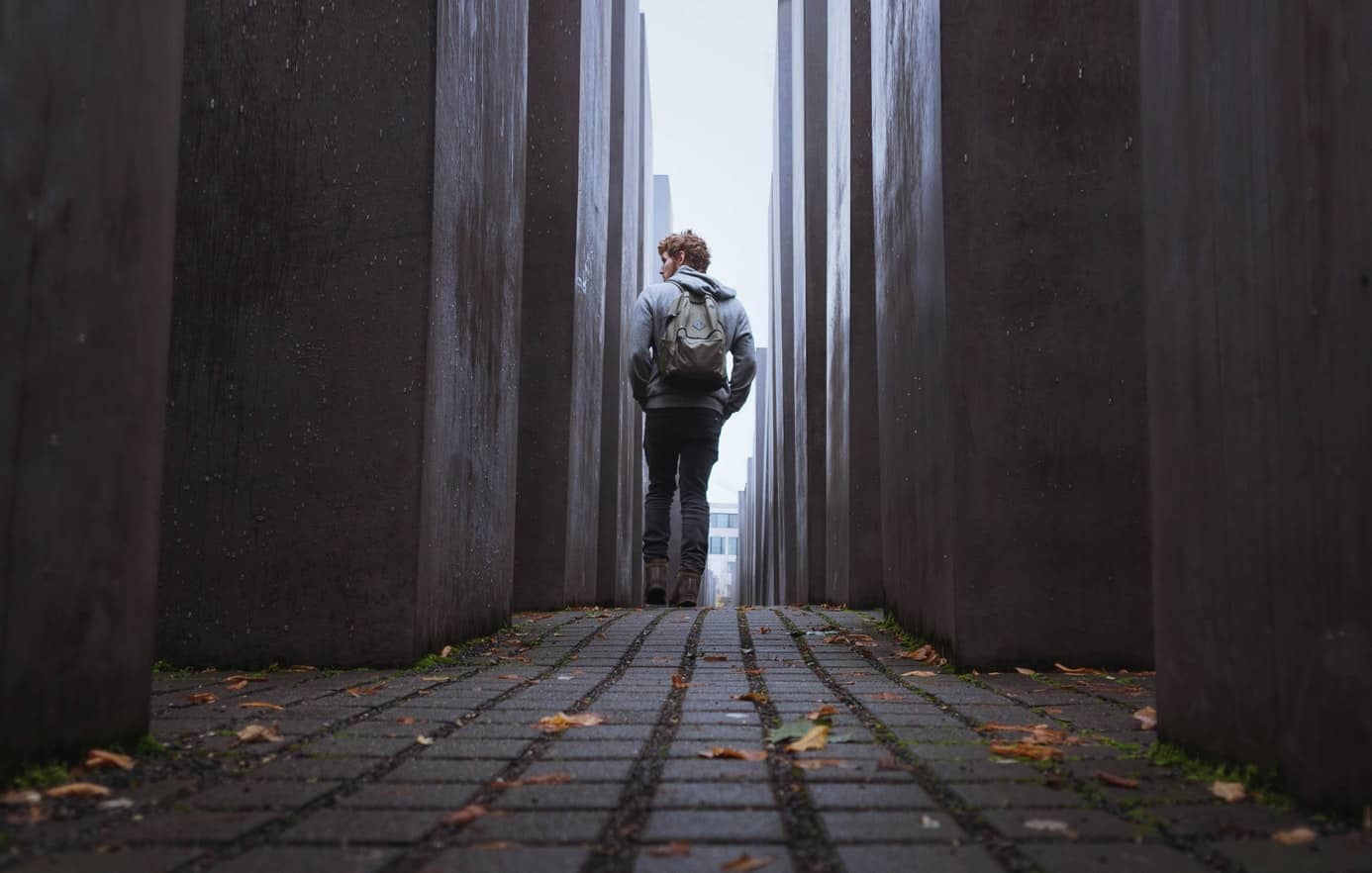 Top Gay Highlights Of Berlin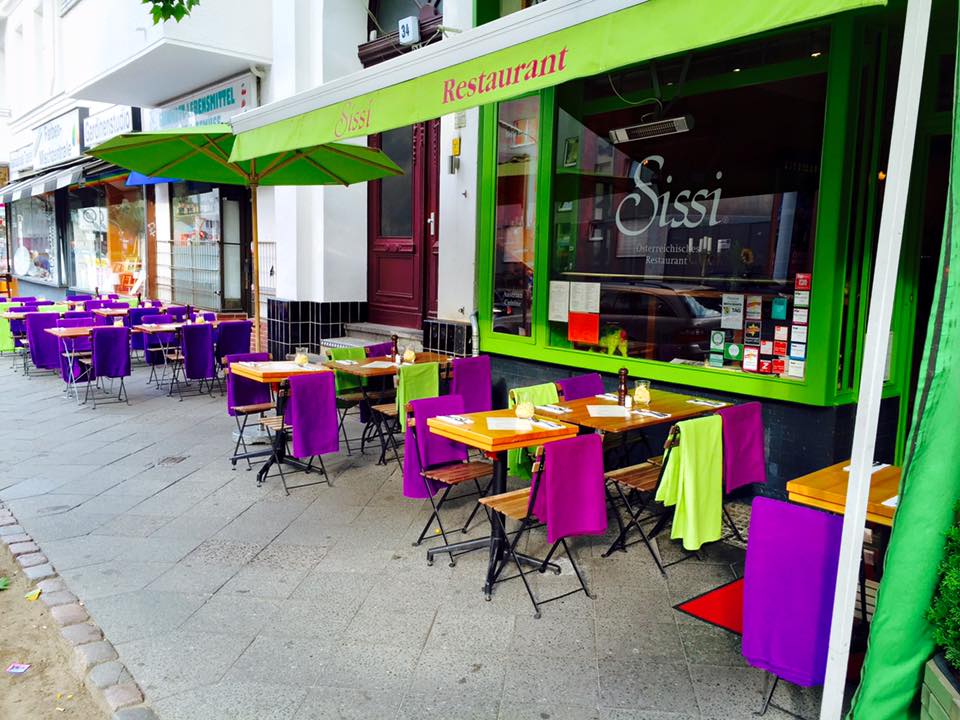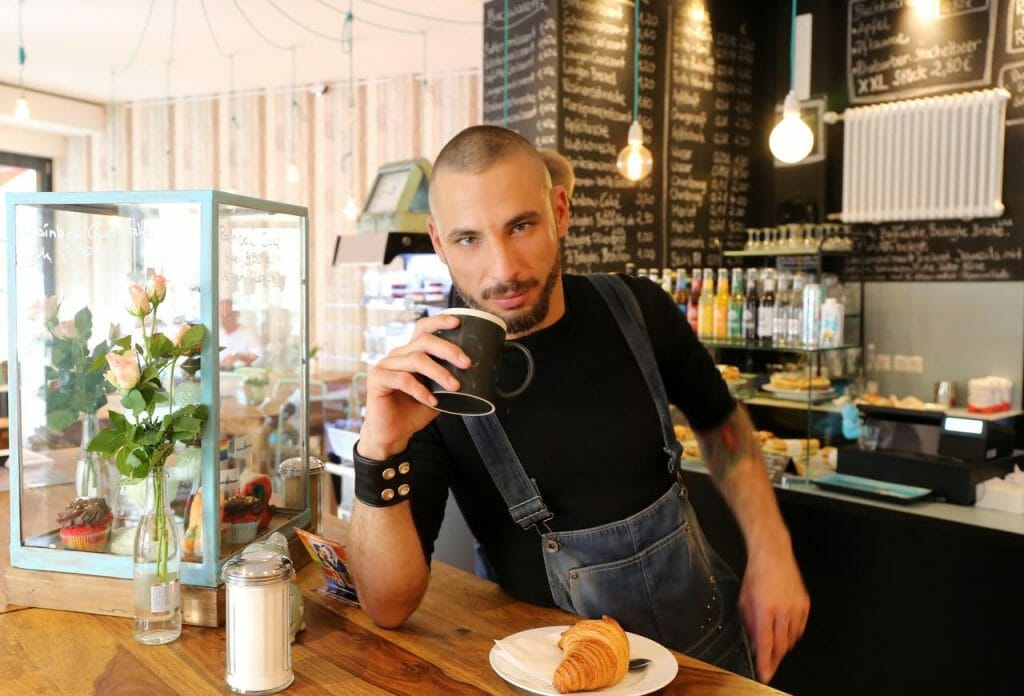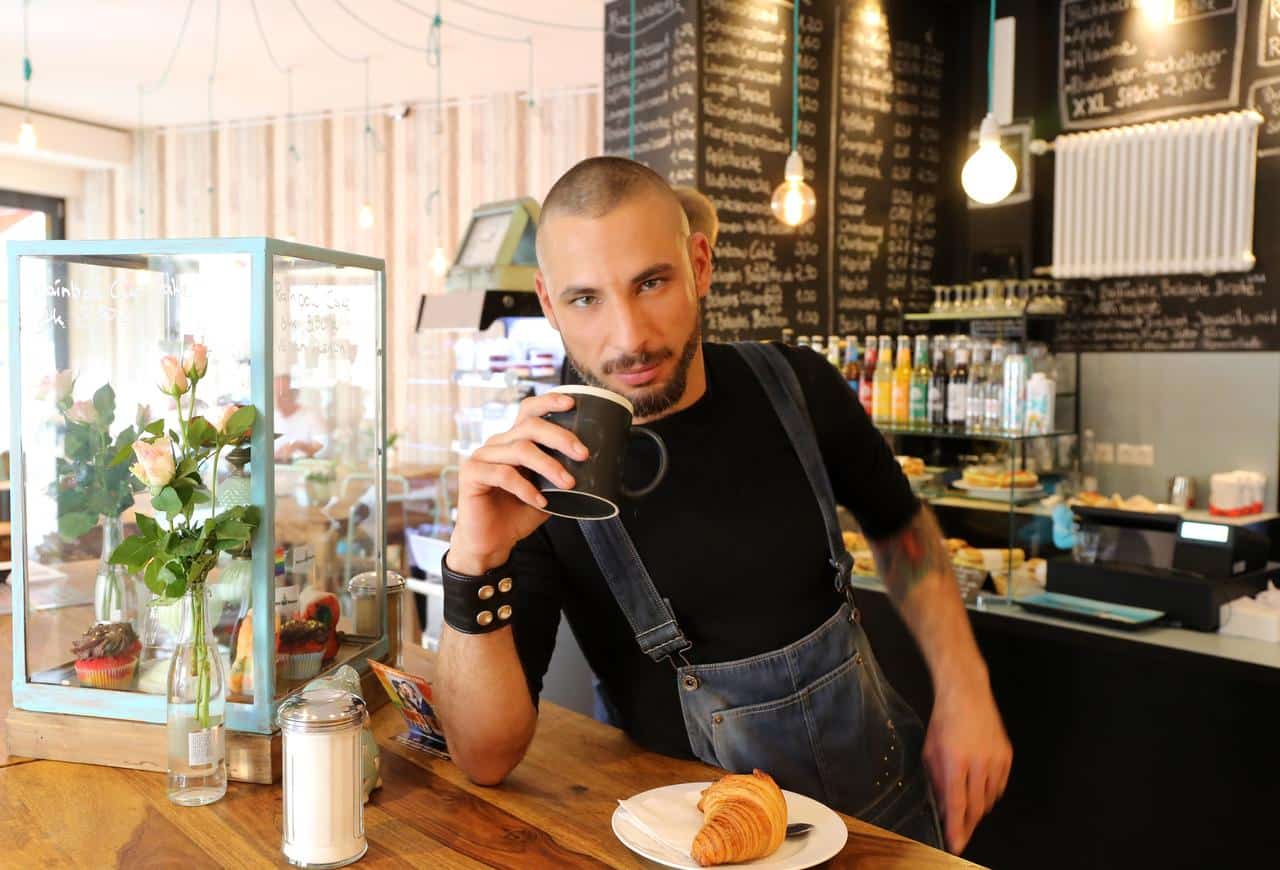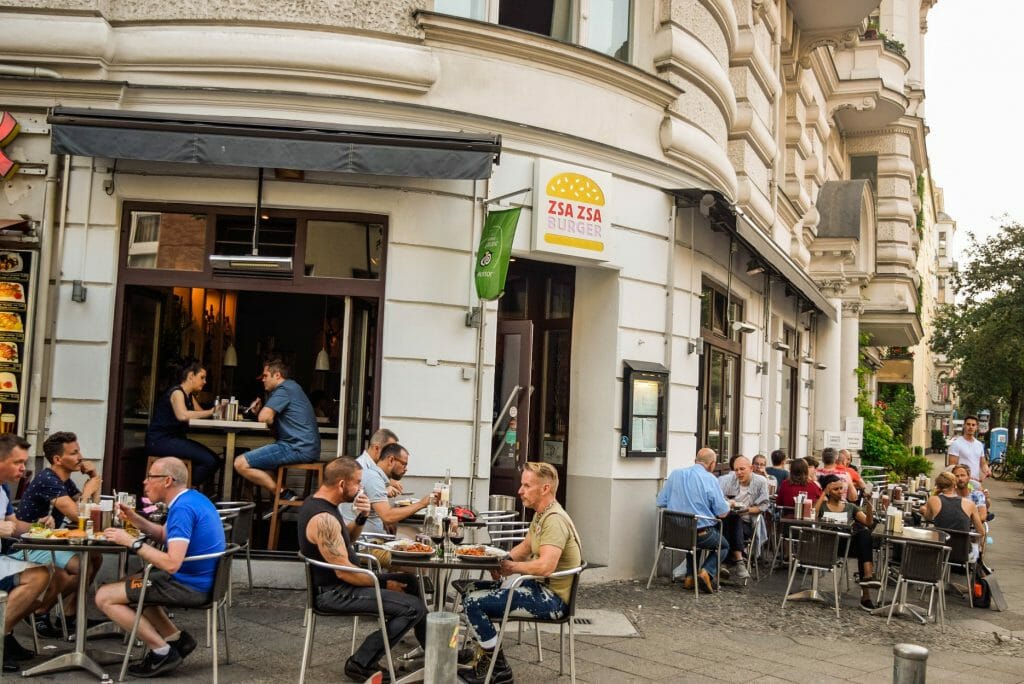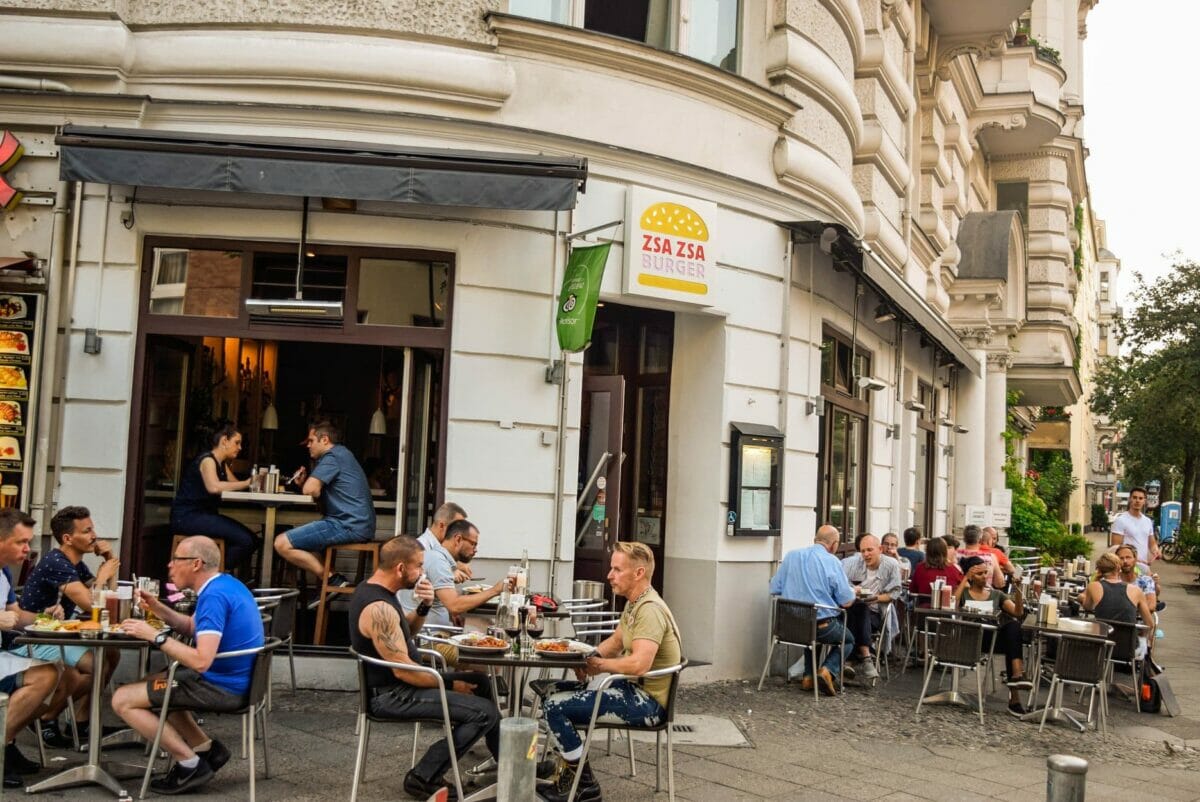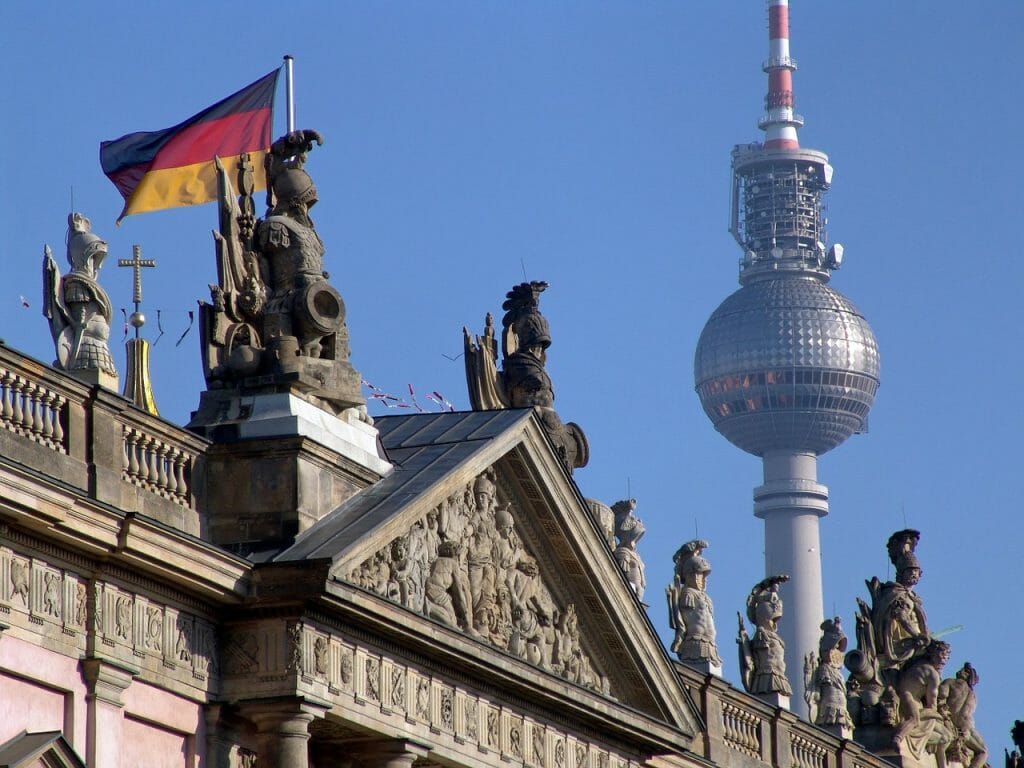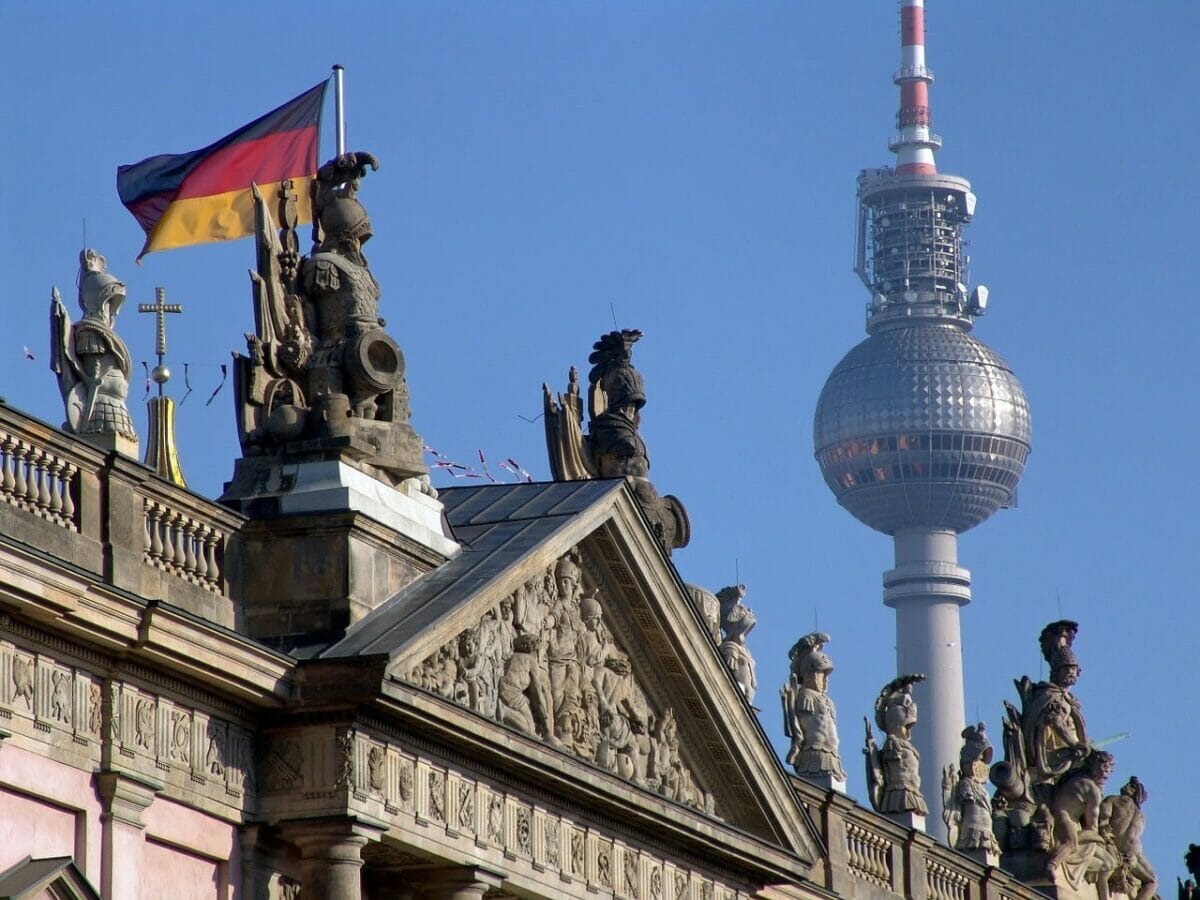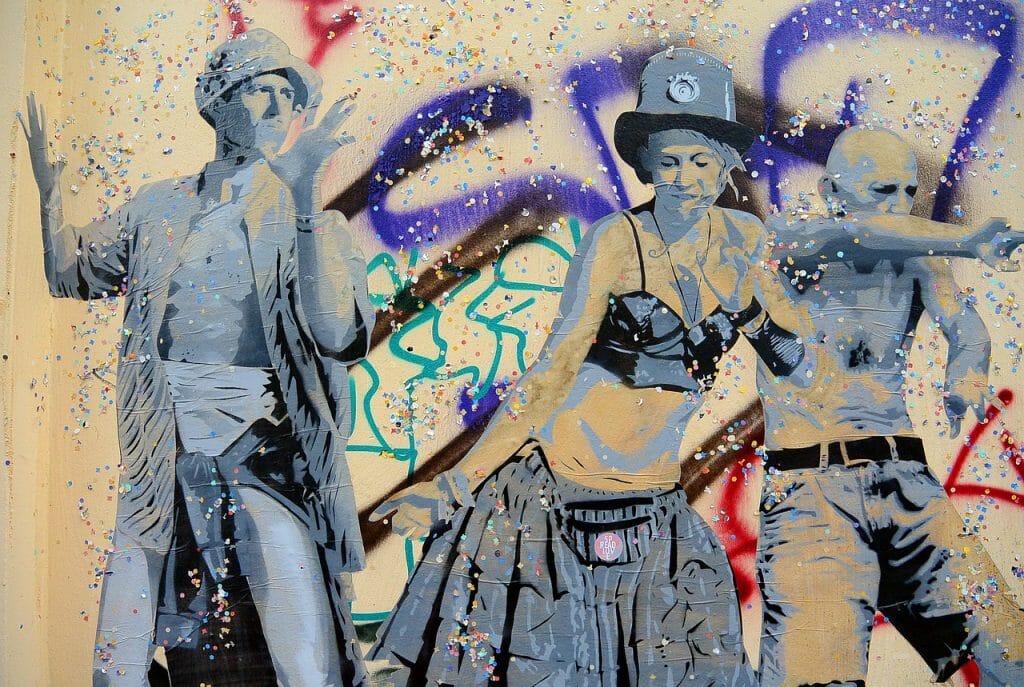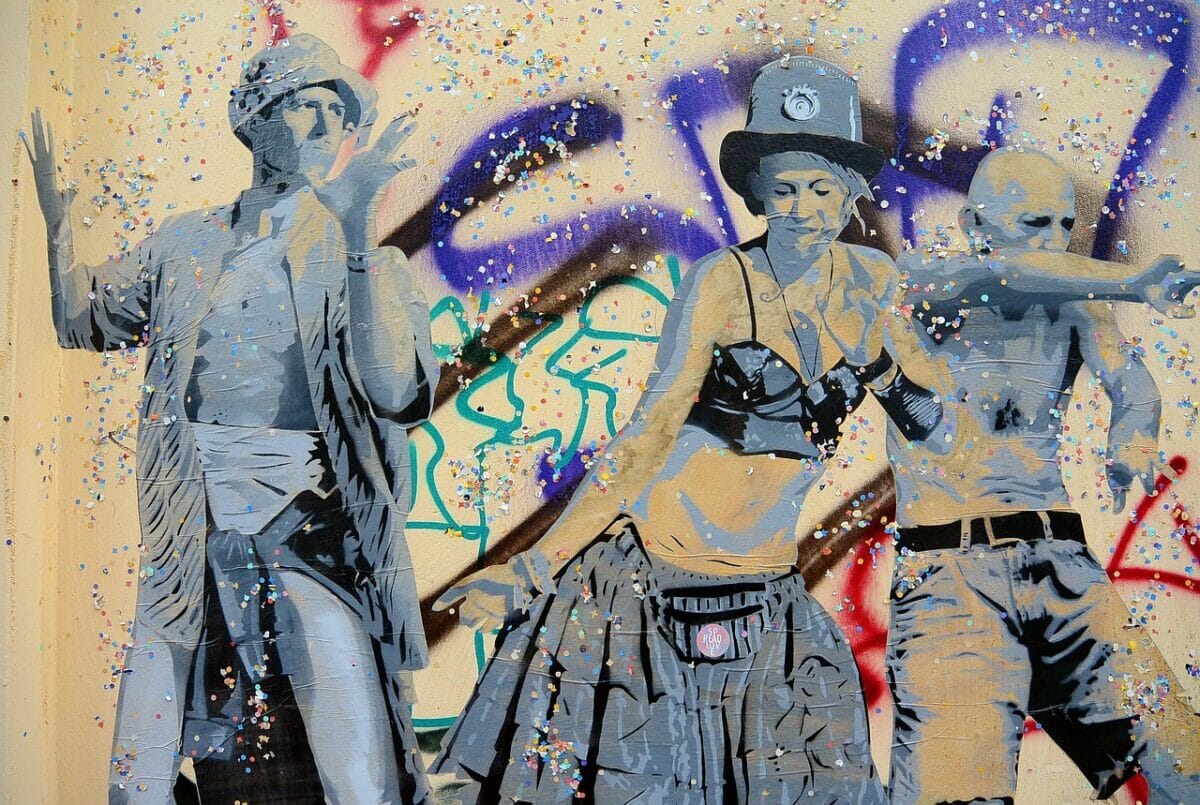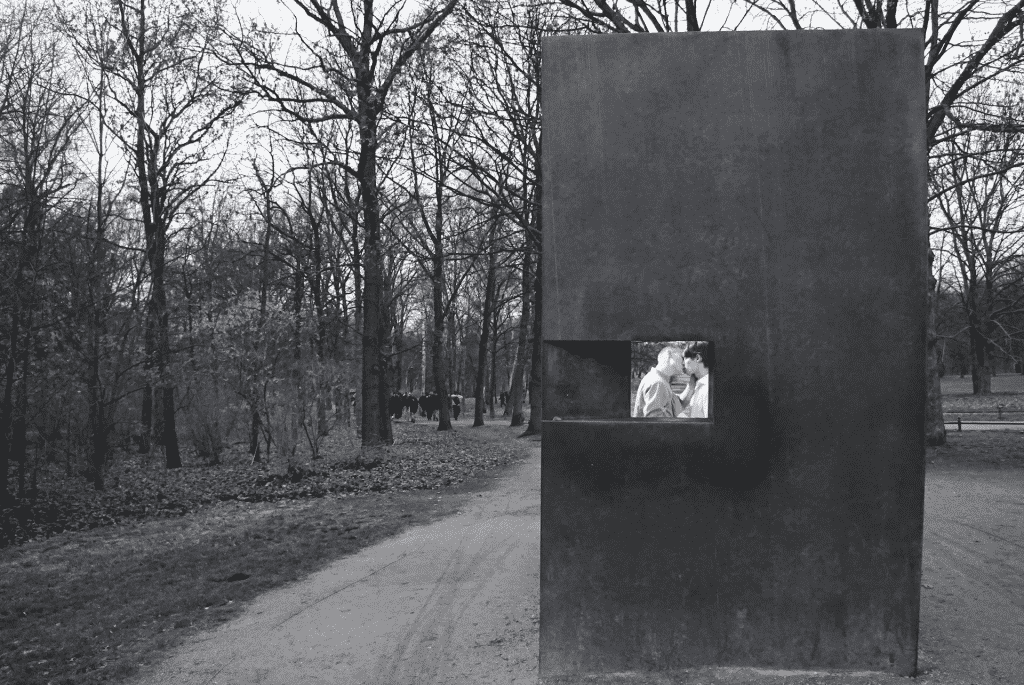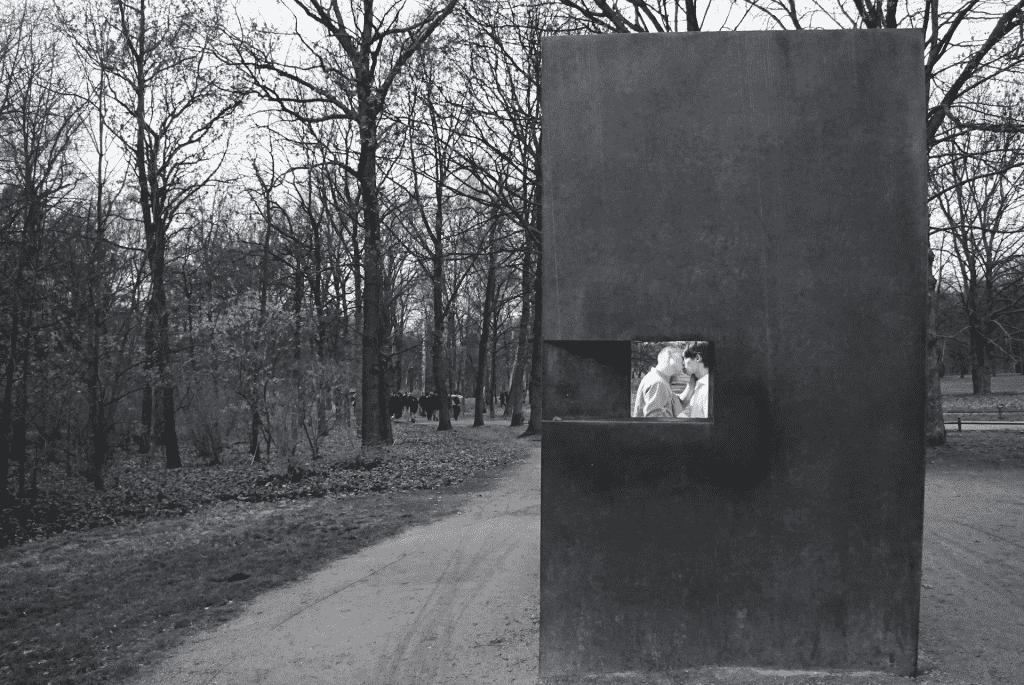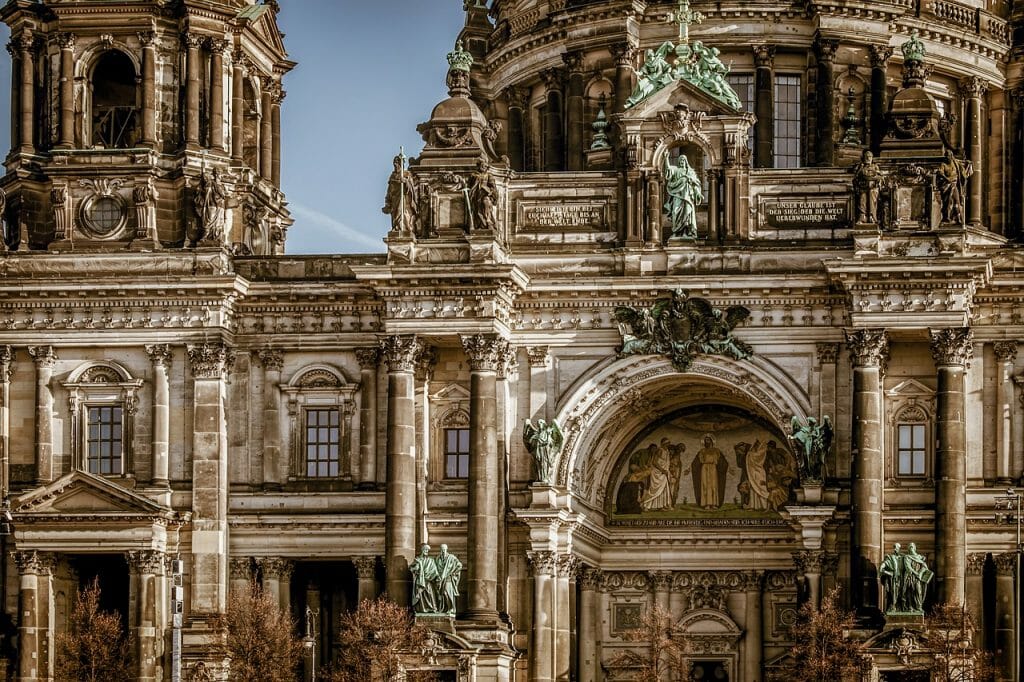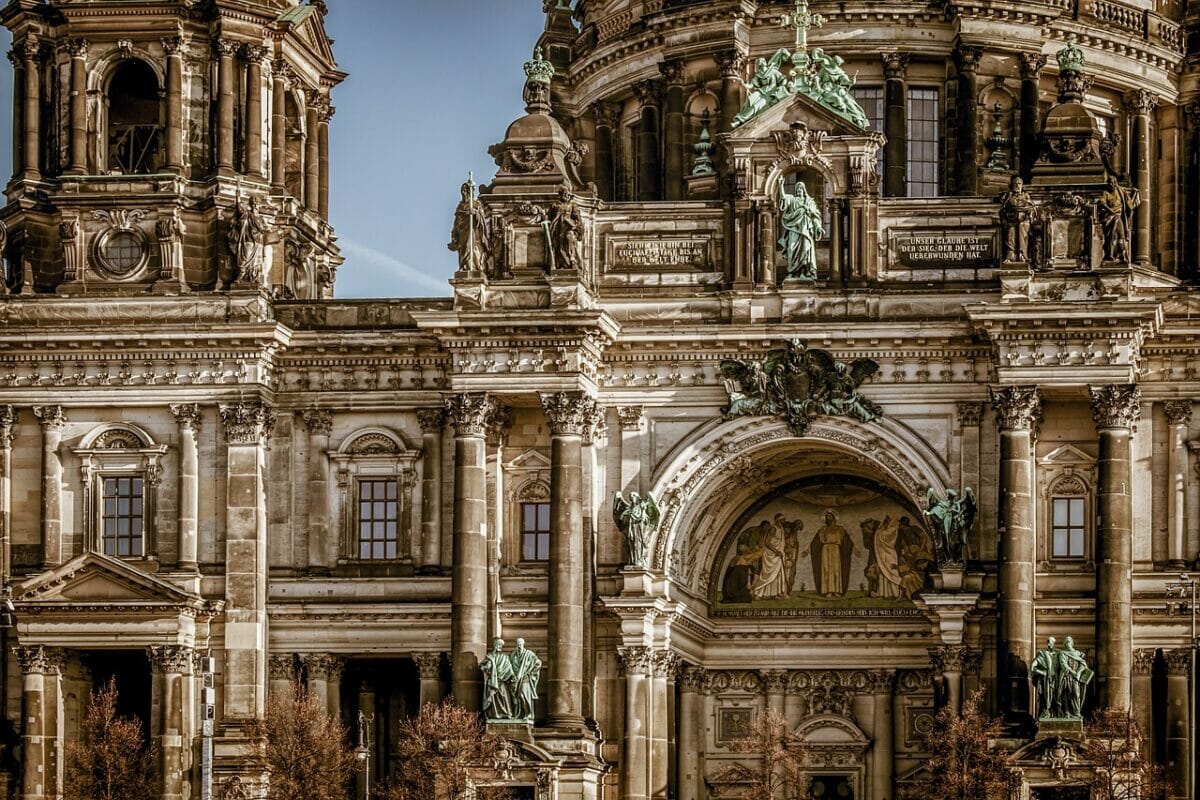 Gay Shops In Berlin
Let's be clear here: Gay Berlin has the world's widest range of gay stores offering absolutely everything you can imagine – and plenty of wild contraptions we still can't quite believe actually exist.
Every conceivable type of kink and fetish gear is available here, helping you to enjoy the extensive cruise club scene later at night. We have only listed our favorites below covering most desires, but you are sure to find many, many, many more as you explore after your arrival.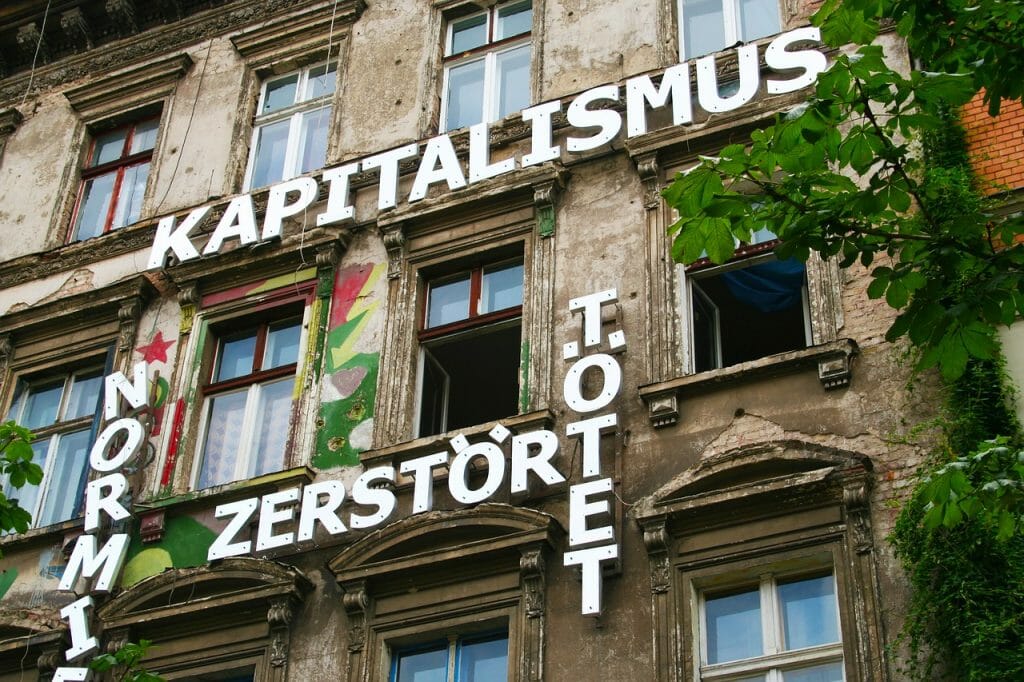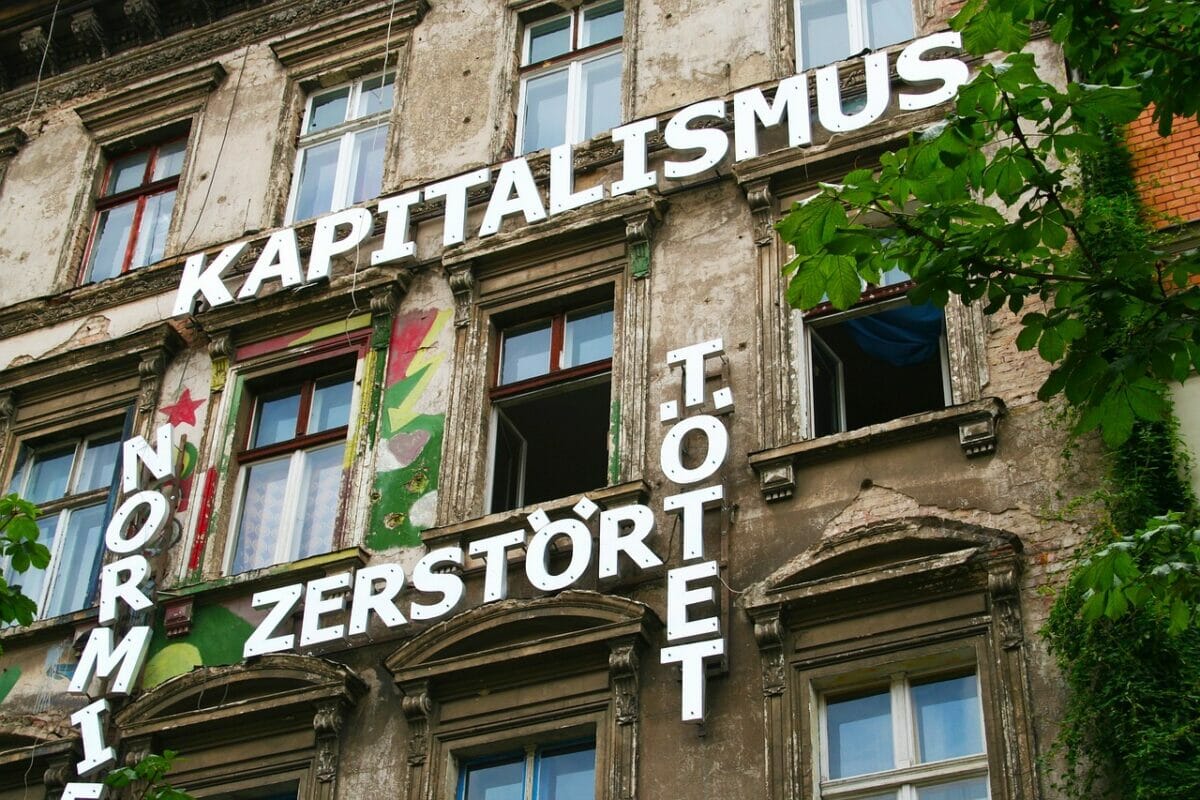 Brunos Berlin – The gay shop in German that stocks everything sure to make any man's heart beat faster. Well, the gay ones at least. Also found in Hamburg, Cologne, and Munich this anything-but-conservative store with big display windows and an atmosphere that shouts they are no longer taboo nor shameful. In order to make this shopping experience even more diverse, the product range has been considerably expanded in recent years. The fashion segment with underwear and sportswear is now an important focus in addition to books, magazines, and merchandise such as DVDs, sex toys and other gay accessories.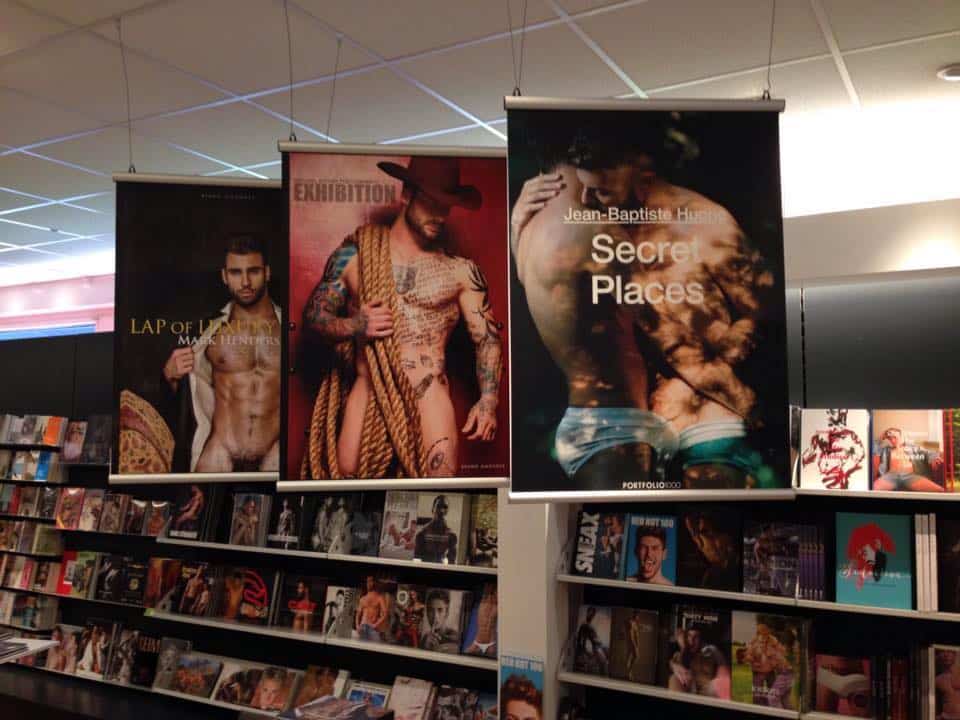 R&Co Berlin – Right in the middle of Berlin's queer scene this gay fetish store combines the best quality leather with expert craftsmanship to produce a huge range of leather-, rubber-, fetish- and sportswear, including lots of toys, accessories and care products. Most of them designed and produced in-house and the helpful team here can answer (almost) all your questions regarding fetish, leather, and rubber and open a new world of twisted fantasies to you.
Prinz Eisenherz Buchladen – Berlin's first gay bookshop founded 40 years ago in 1978 by the new gay movement as a collective to make the topic of homosexuality in all facets of literature visible and to expand the gay cultural landscape. From a scene meeting and manifestation point of gay political activists, Berlin intelligentsia and literature lovers, quickly developed this specialized bookstore for homosexuality. With a range of queer books, comics and DVDs (many in Germany) this guardian of the more enlightening Berlin gay scene is a must-visit, conveniently located near TOM's Bar and Scheune.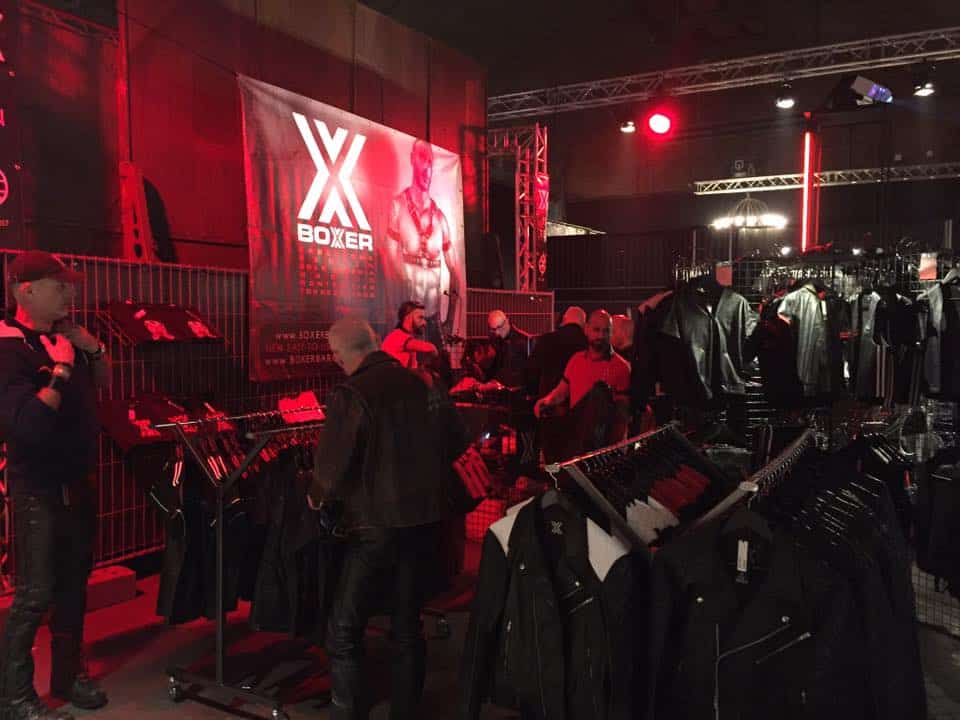 Military-Store – A landmark gay store on Motzstraße offering everything from sexy soldier attire to old Communist uniforms, gas marks, tents, and practical accessories. In need for some new cruising options after feeling out of your depth in Gay Berlin? This is a good place to start.
Bodysphere Men Concept Store – Founded to revive the monotonous and often very boring fashion range at the German underwear market back in 2008. Today they offer a large range of imported and in-house produced attire so that luxury, design and sports-savvy gay men may find what they are looking for.
Other Nature – A sex store with a difference, one in which you could bring your mother! If mainstream sex shops are unappealing and you're tired of big business capitalism, Other Nature hopes you'll find there feminist, queer, sex-positive, eco-friendly, and vegan sex shop. a refreshing alternative. Inside you will find a variety of high-quality products, body-safe sex toys, awesome books and zines, feminist porn, alternative menstrual products, natural and organic lube, gender expression gear, locally-made vegan floggers and cuffs, and lots of other sexy stuff.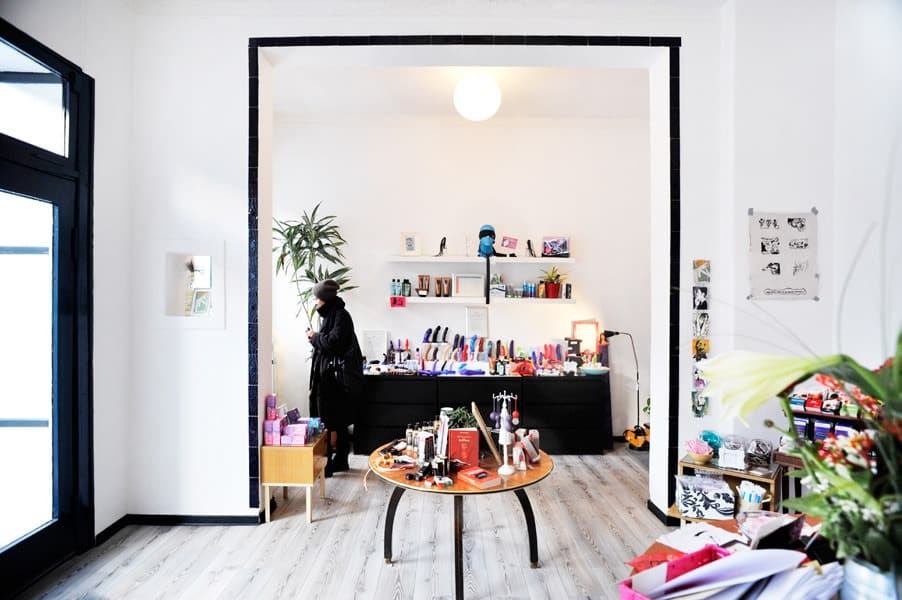 Boys-R-Us – A fun gay clothing shop in the Schöneberg village offering modern men's fashion clothing, accessories and LGBT-popular brand names.
Slingking – The name says it all right. Offering over 2000 high-quality items from their own production line in the fields of BDSM, SM and leather fetish.
4 Hunks – Sportswear is their thing. Blurred the lines between fetishwear and sports attire are these popular designs online available from the Kreuzberg area store.

Gay Events In Berlin
Folsom Europe Street Fair 2016, Berlin, Germany
Best of CSD Berlin 2018 | Gay Pride Berlin 2018
Gay-friendly and Gay Hotels in Berlin Germany
While basically every hotel in Berlin is friendly and welcoming to the LGBT community, there are some that make an exceptional effort to be part of gay Berlin.
Some hotels and hostels are exclusively for gay men or there is always the hetero-friendly Axel Hotels. Some hotels in Berlin are still a significant part of the local gay scene because of their location and history and others again are just well known as particularly welcoming of gay guests. The following gay hotels in Berlin can all be relied on for an extraordinary stay in Berlin.
There are
hundreds of other good hotel option in Berlin
if you don't find what you are looking for but we are confident you'll find something here for you. Whether you want a fun and social hostel, a cheap place to crash after a night of partying or a chic designer option to sip cocktails and surround yourself with fabulous people – Gay Berlin as something for everyone!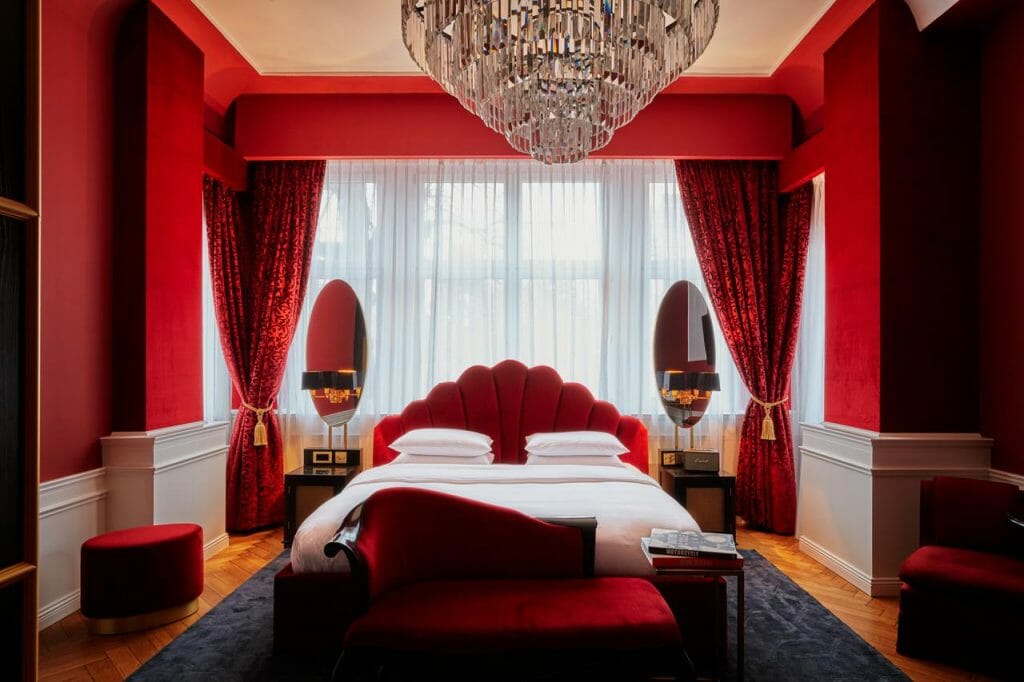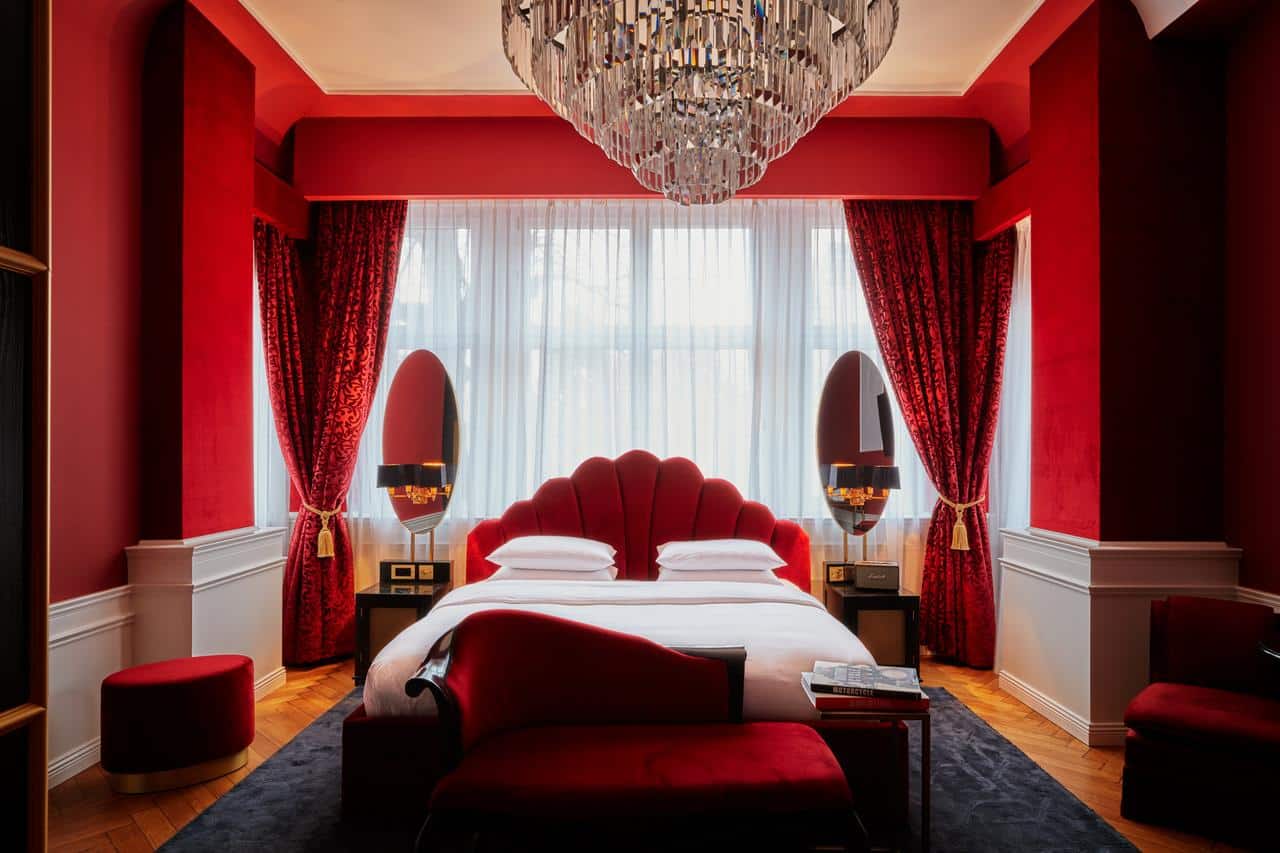 Gay Hotels in Berlin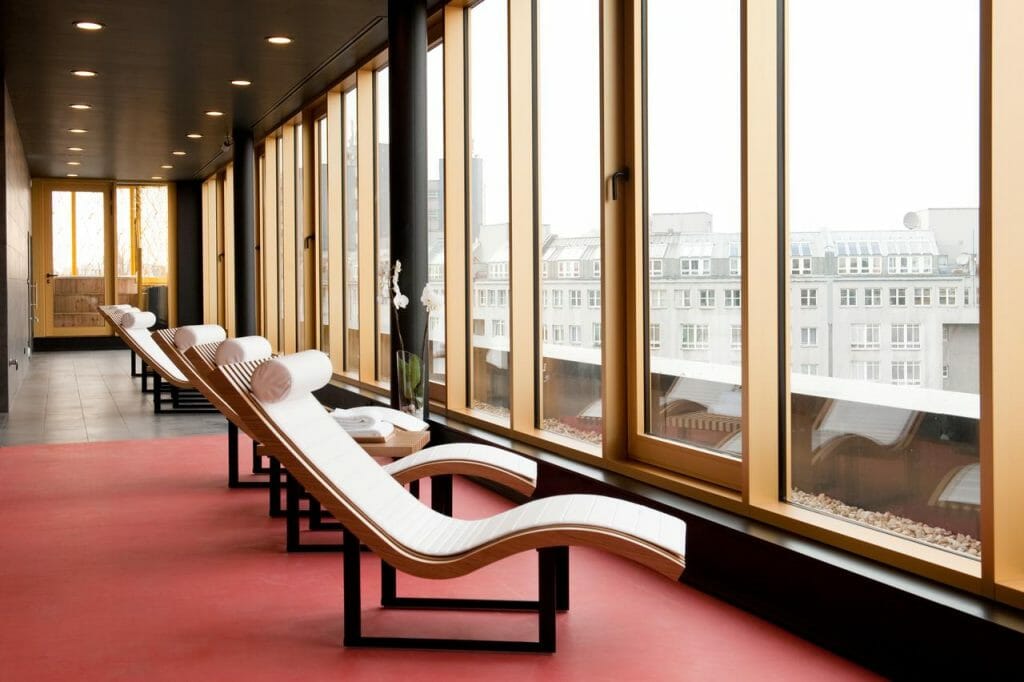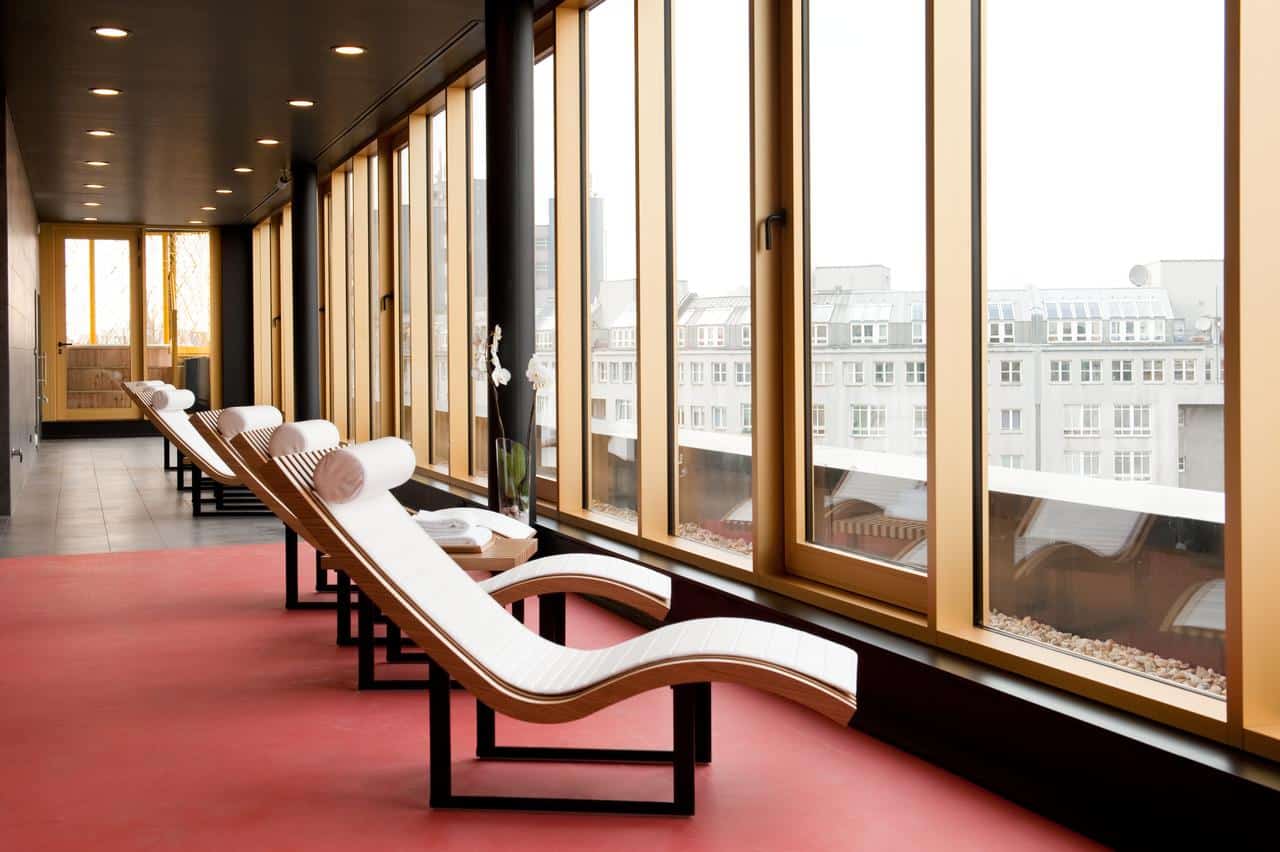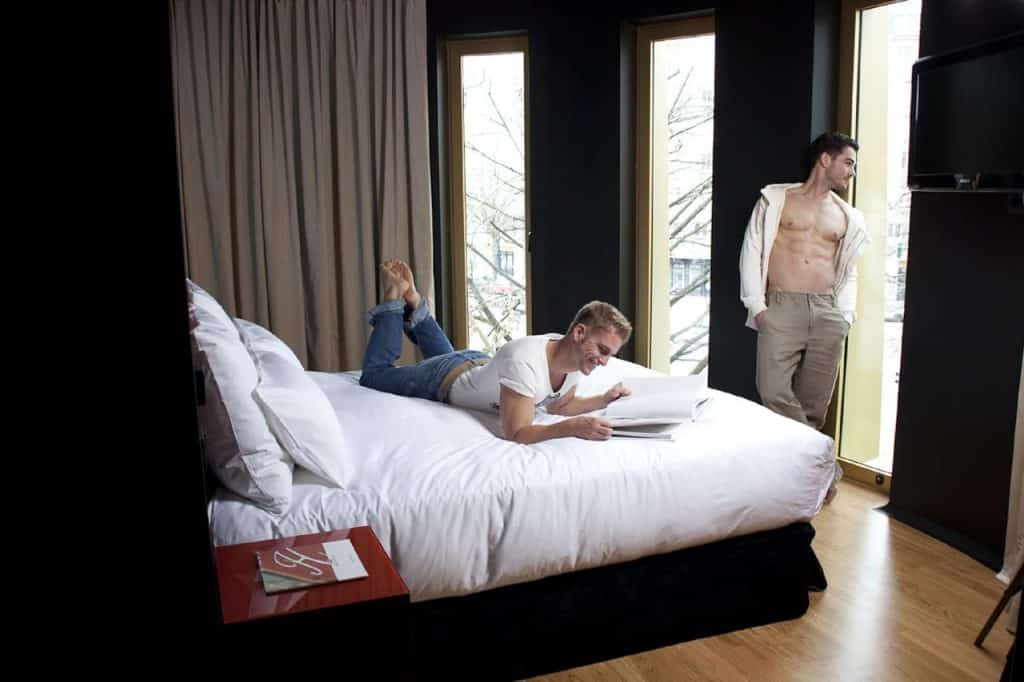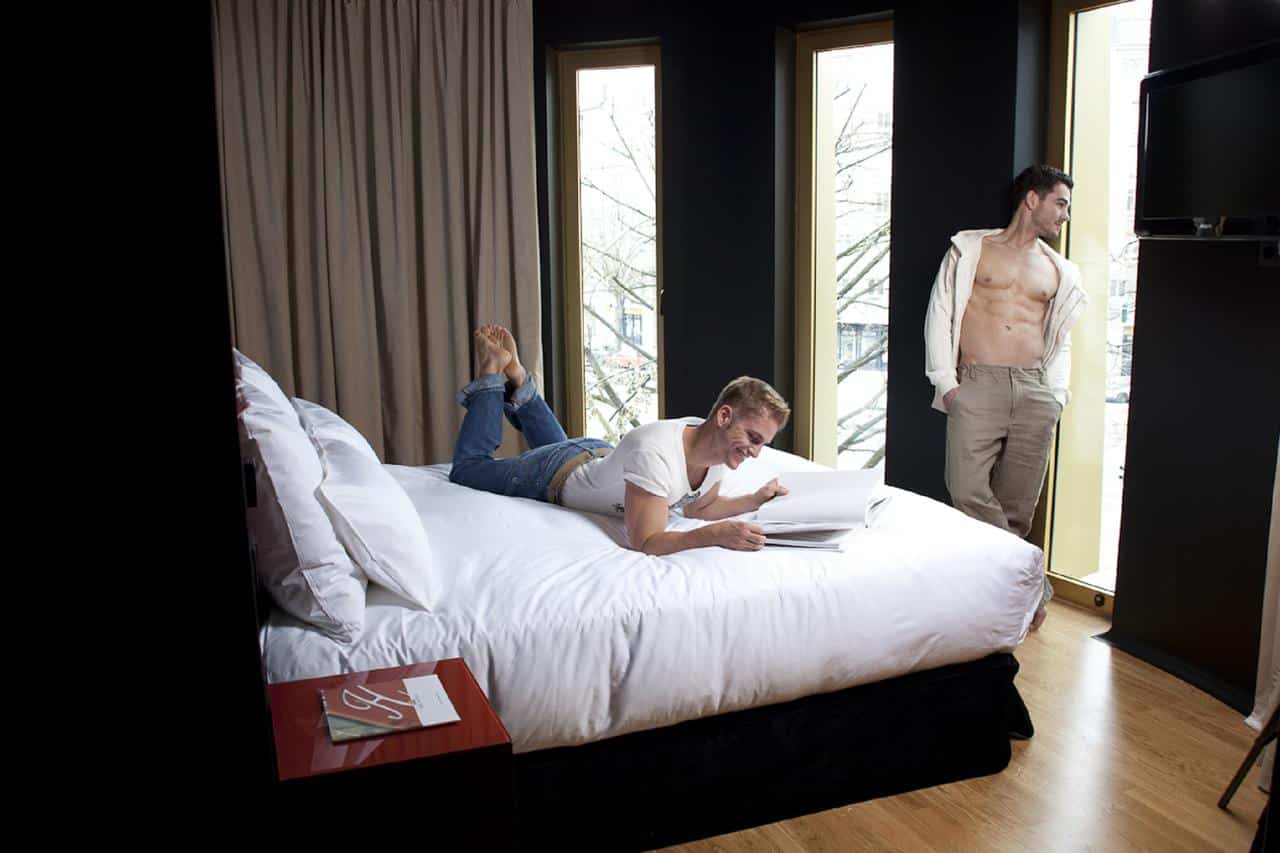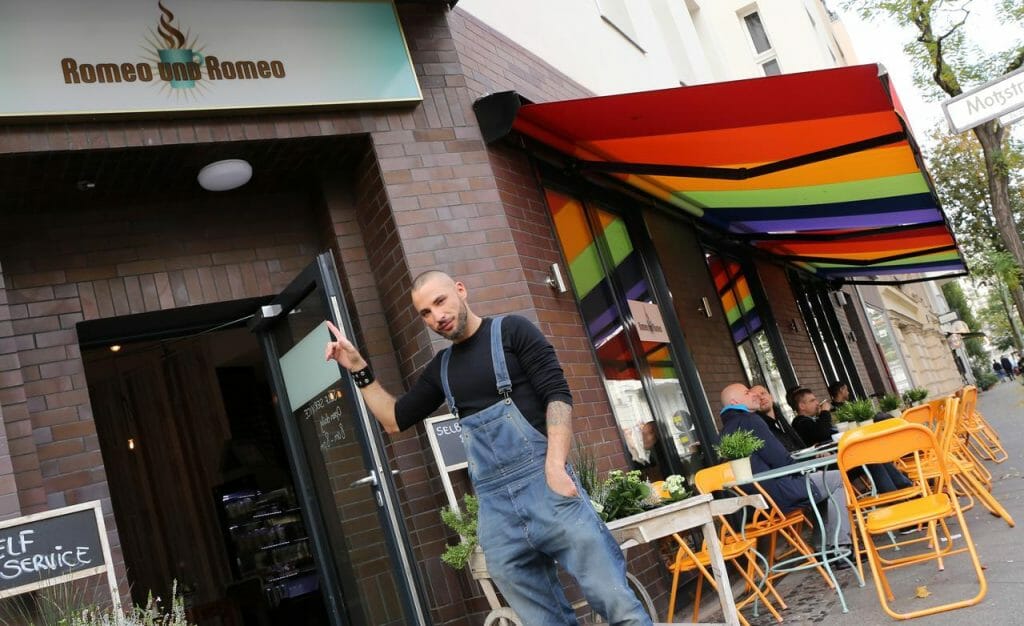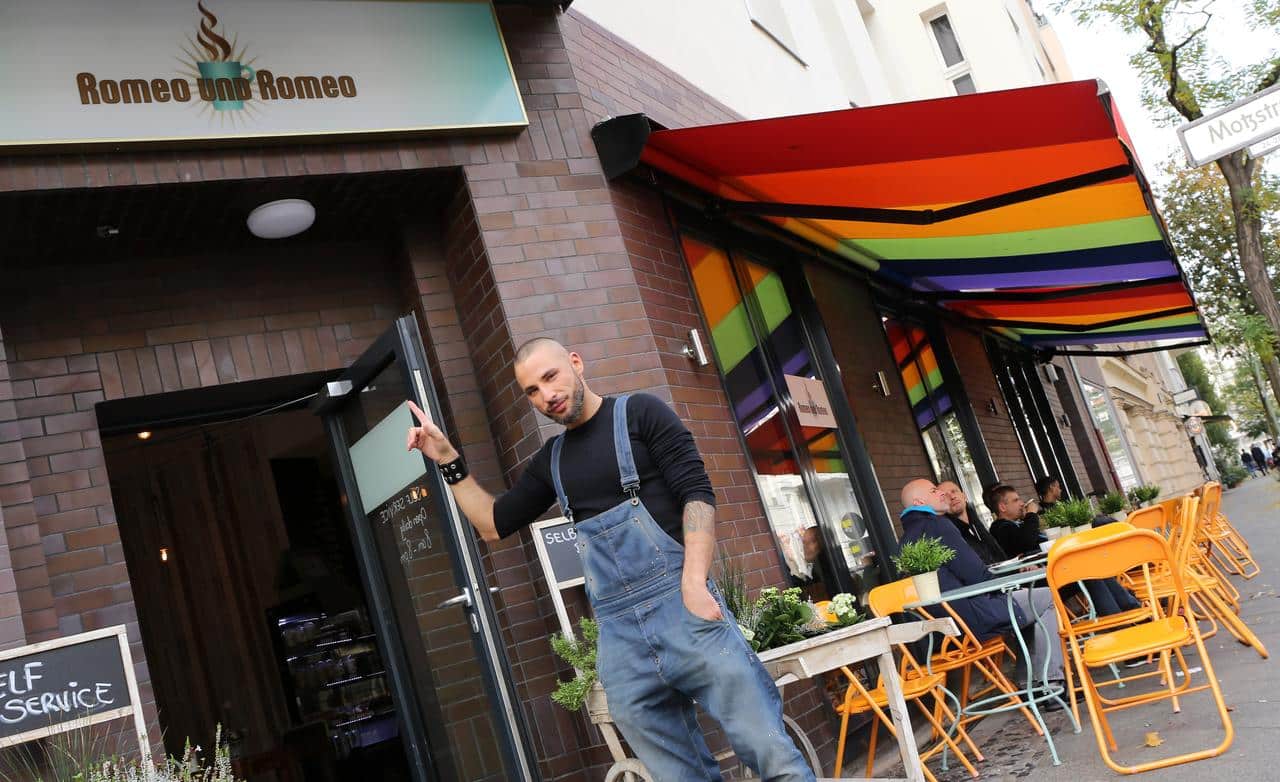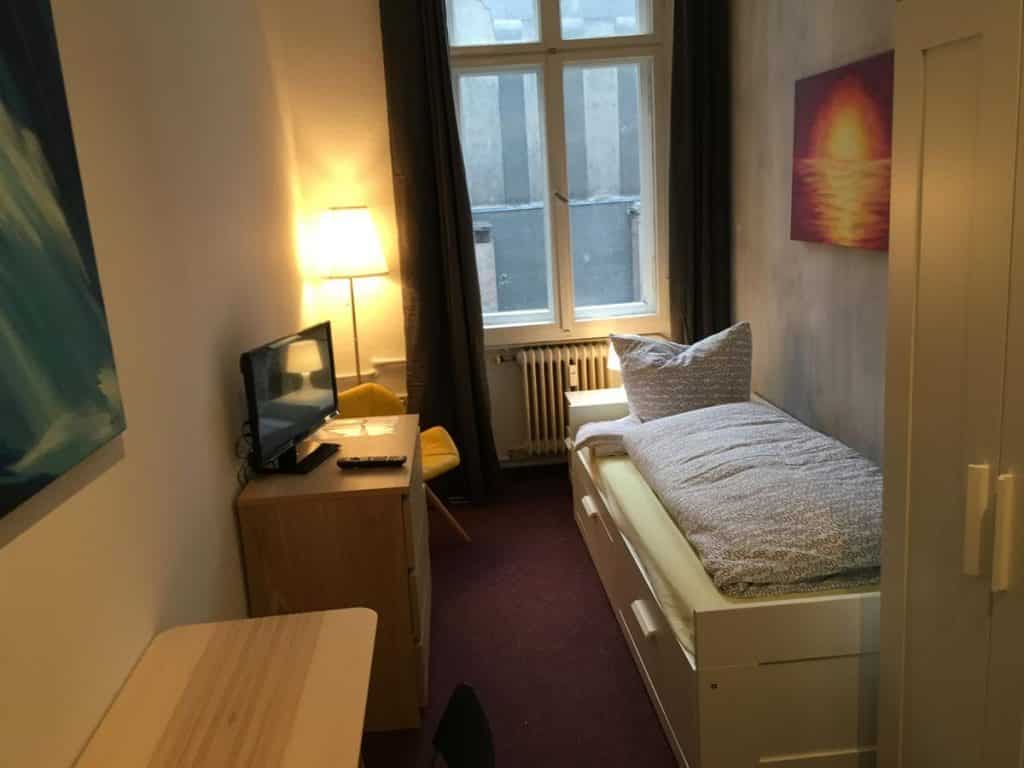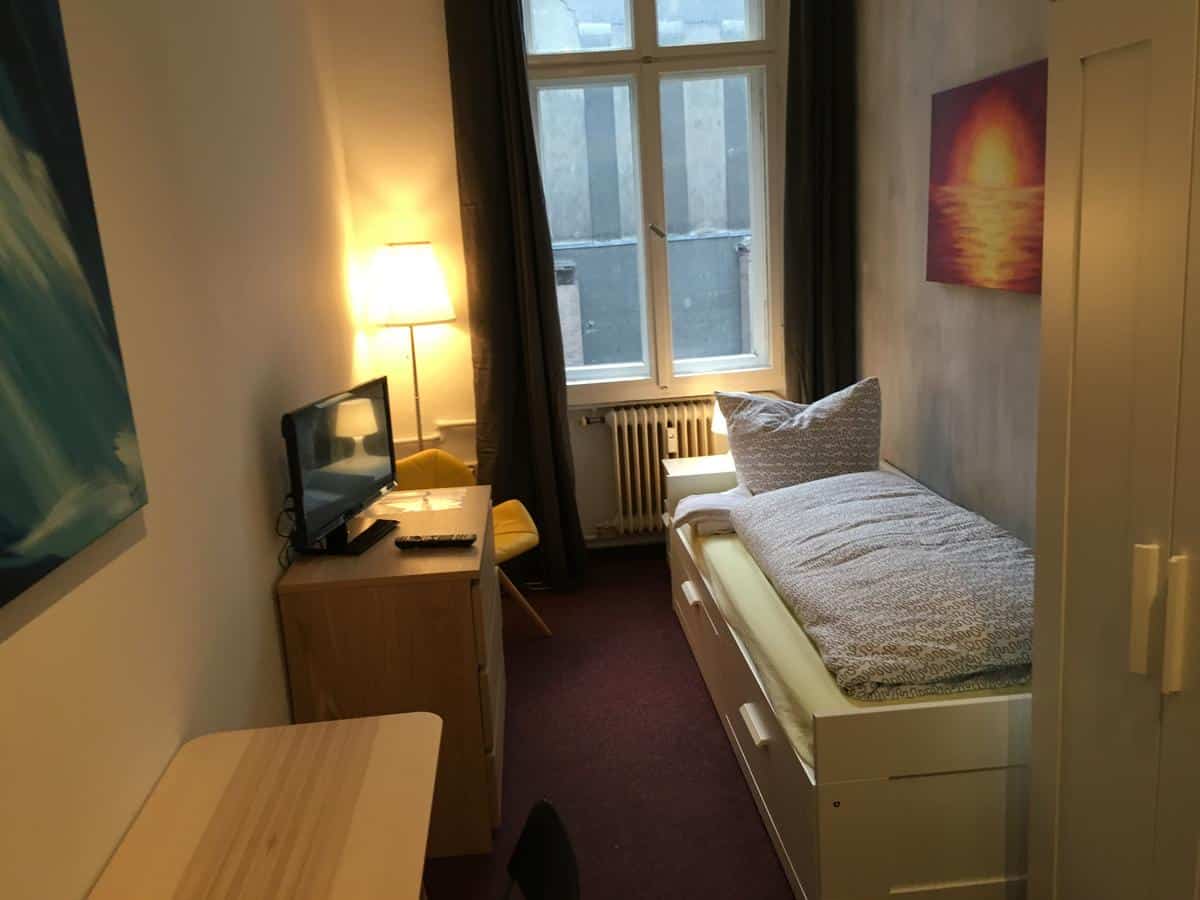 Gay-Popular and Utterly Fabulous Hotels in Berlin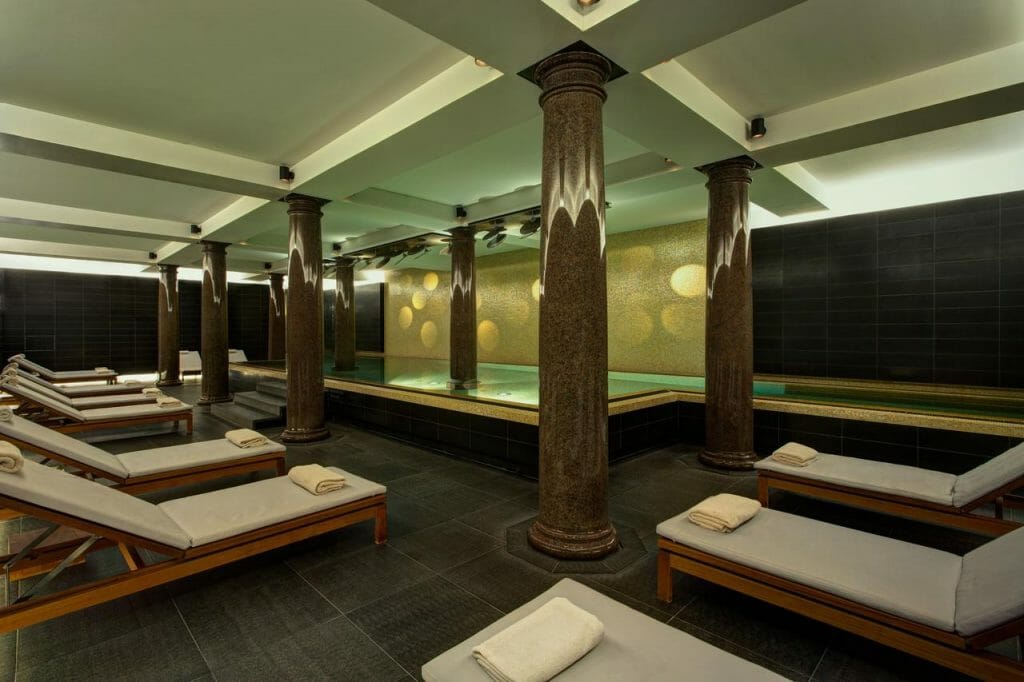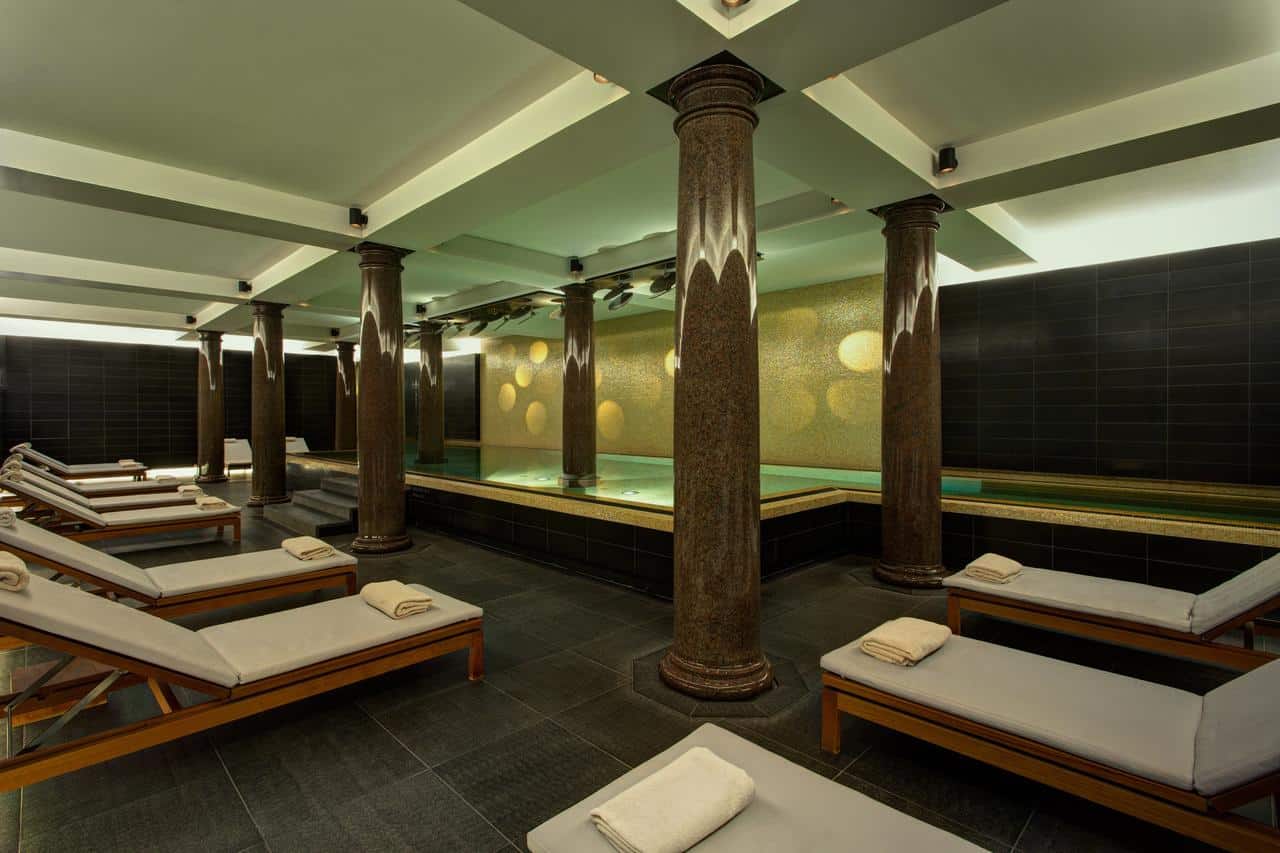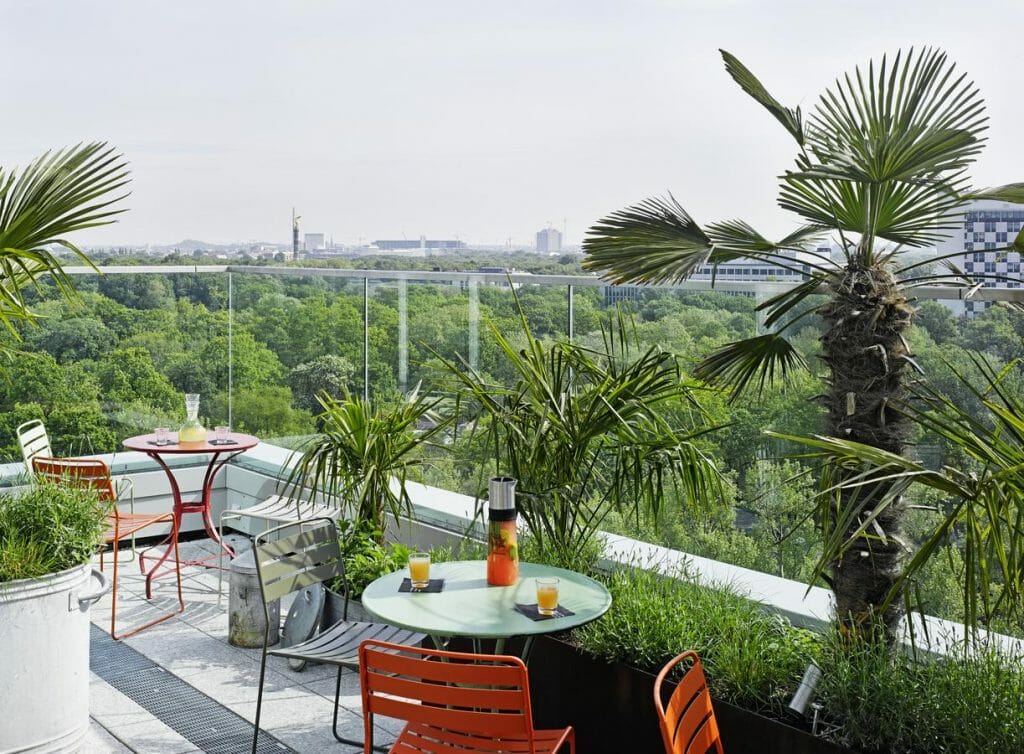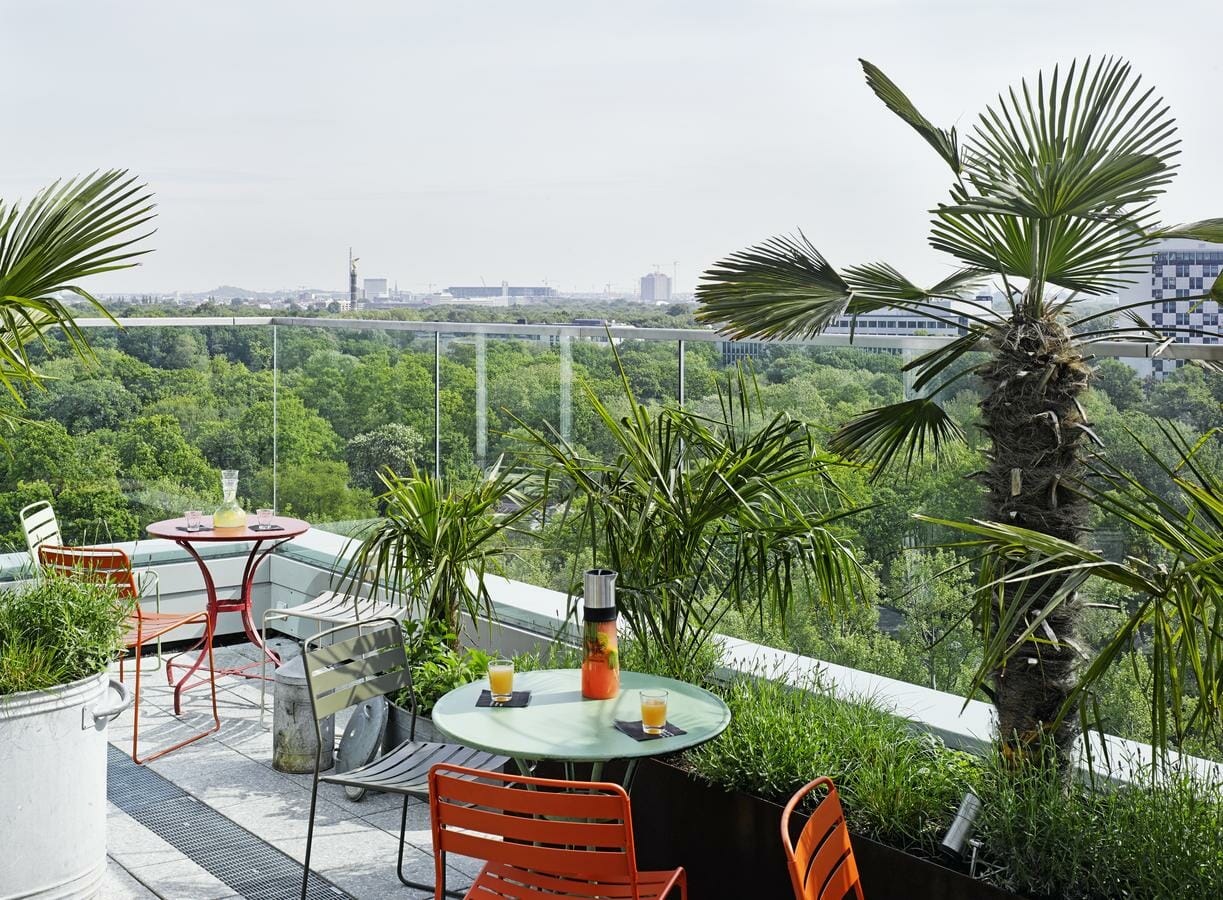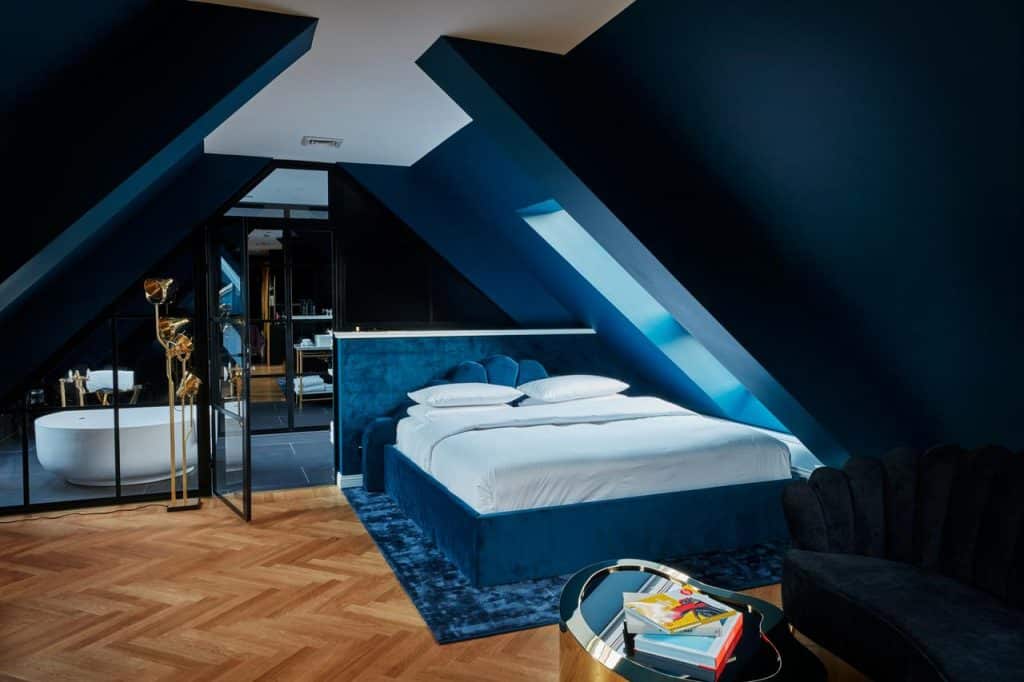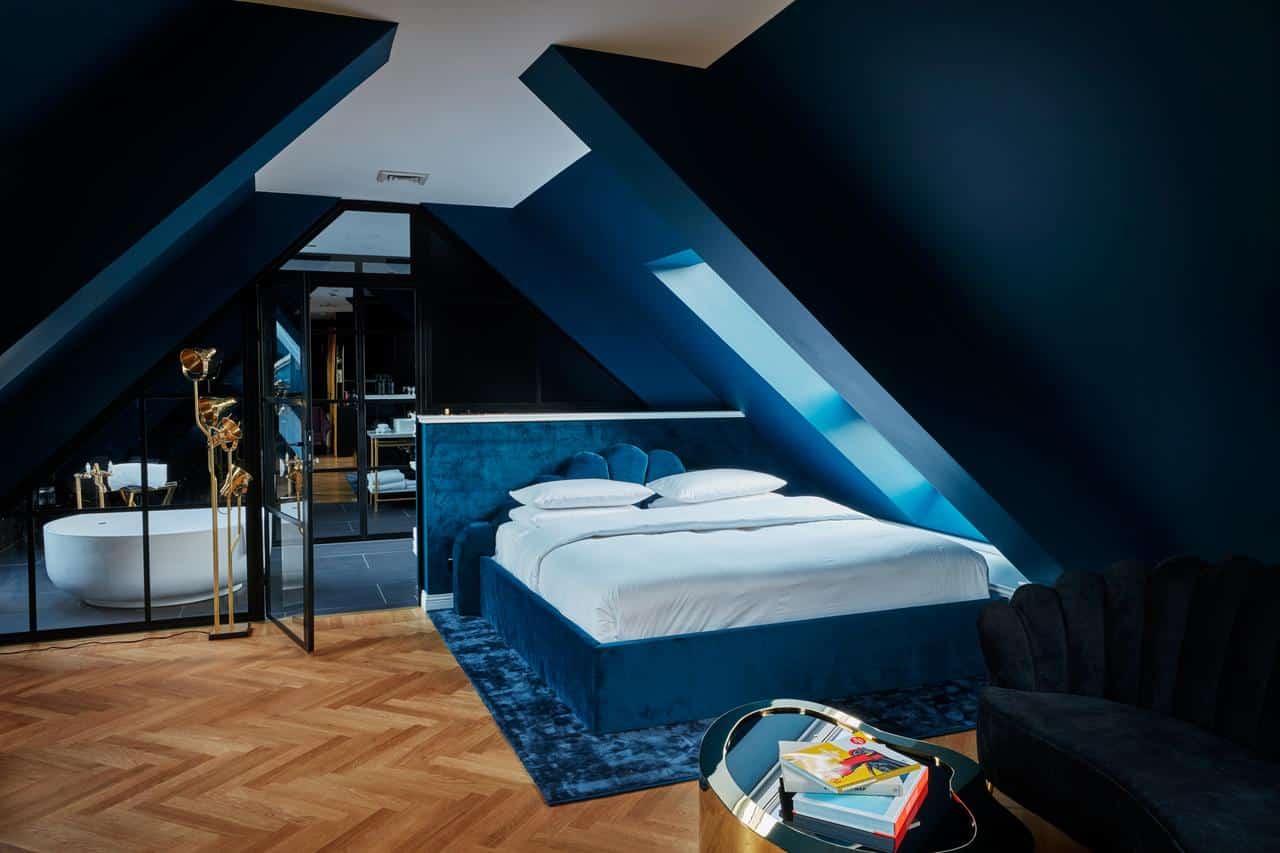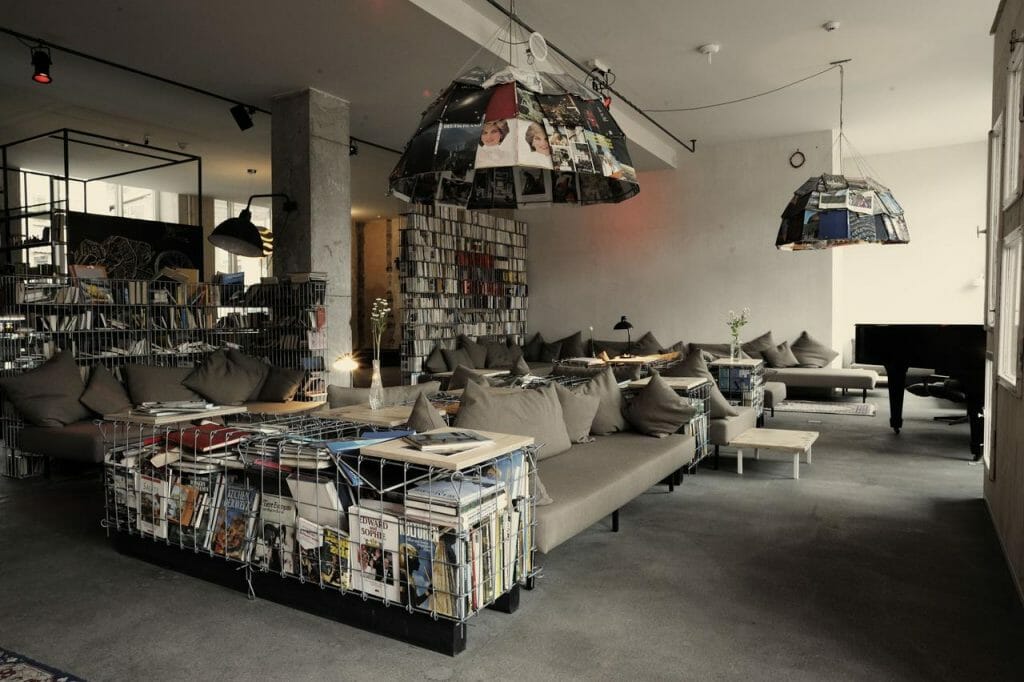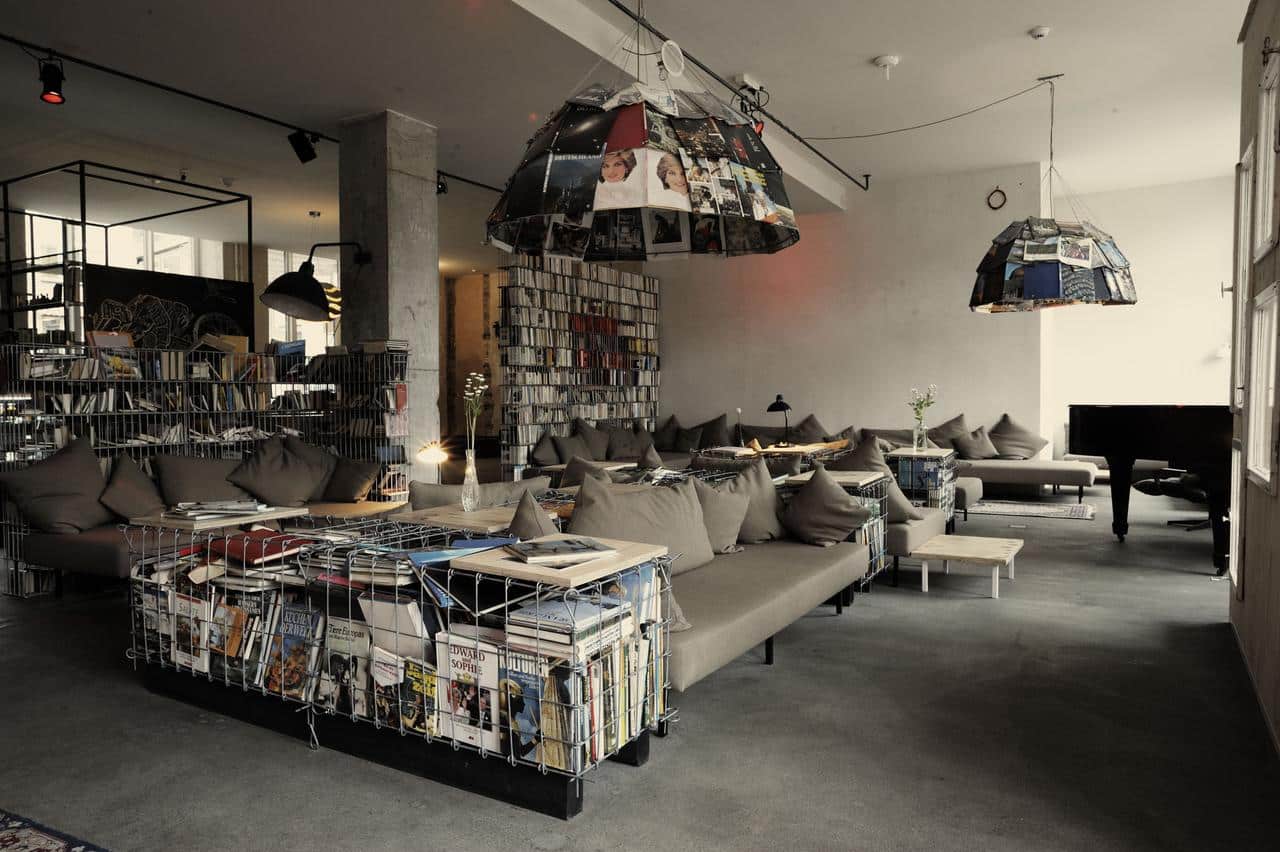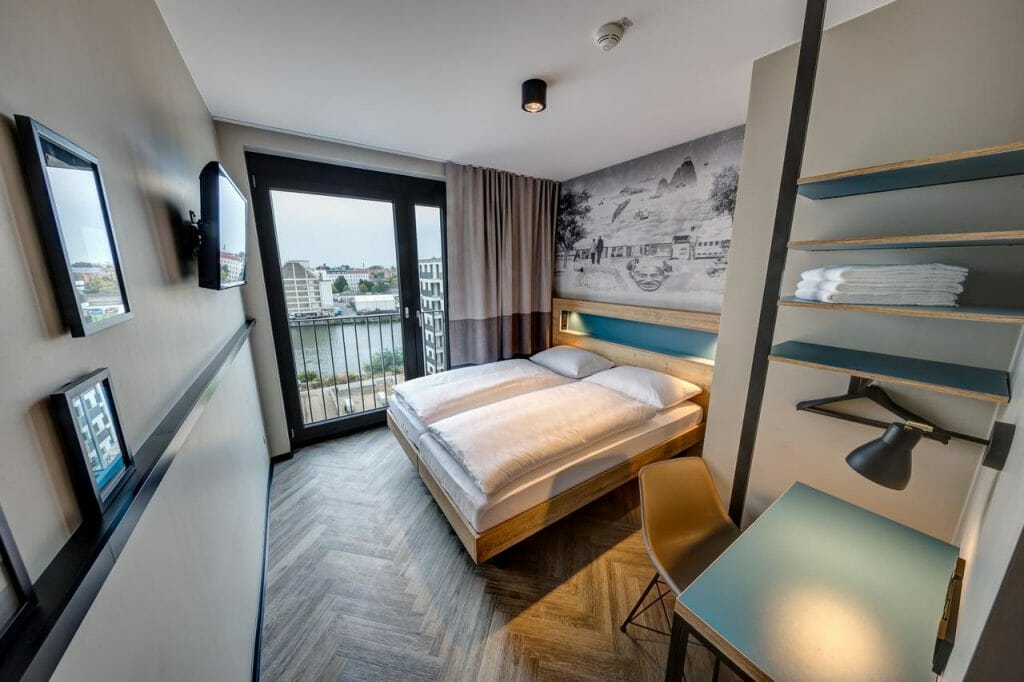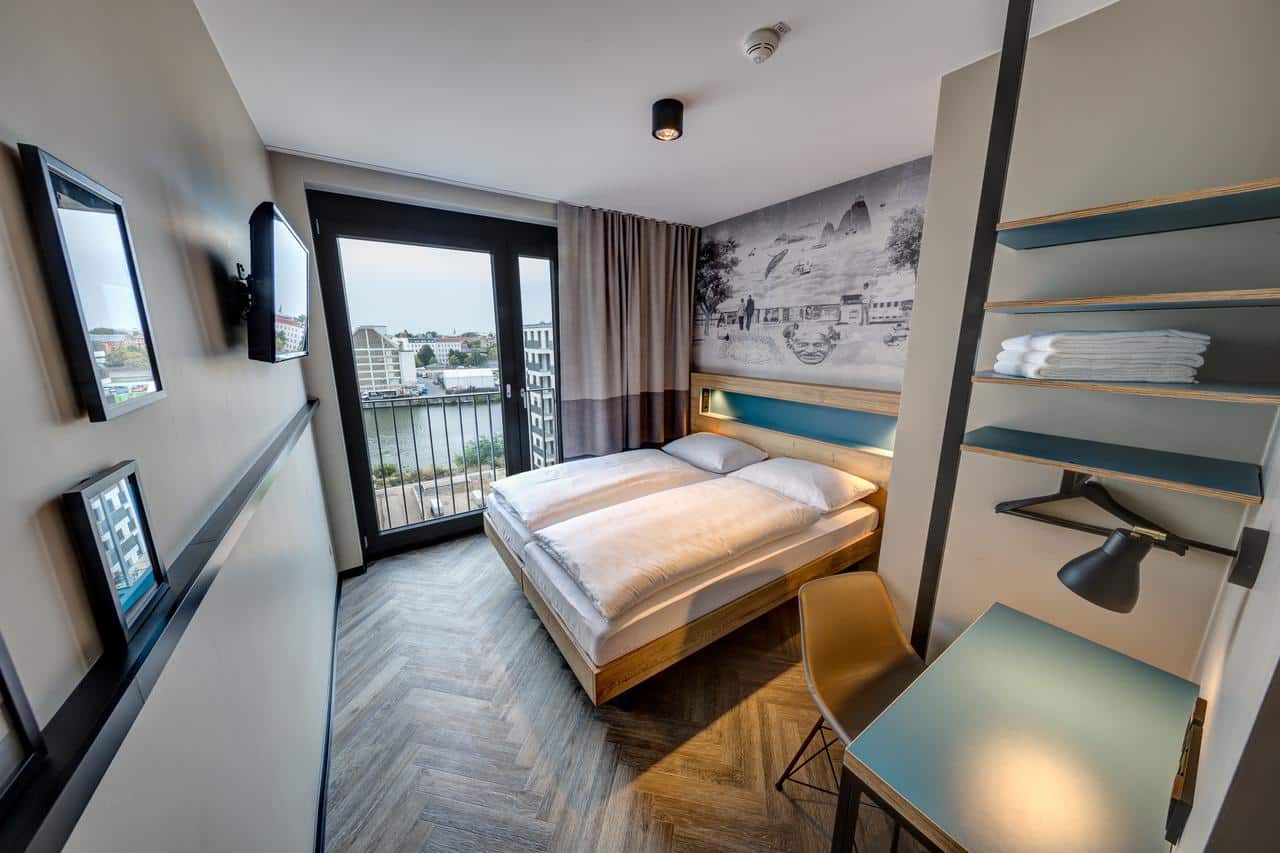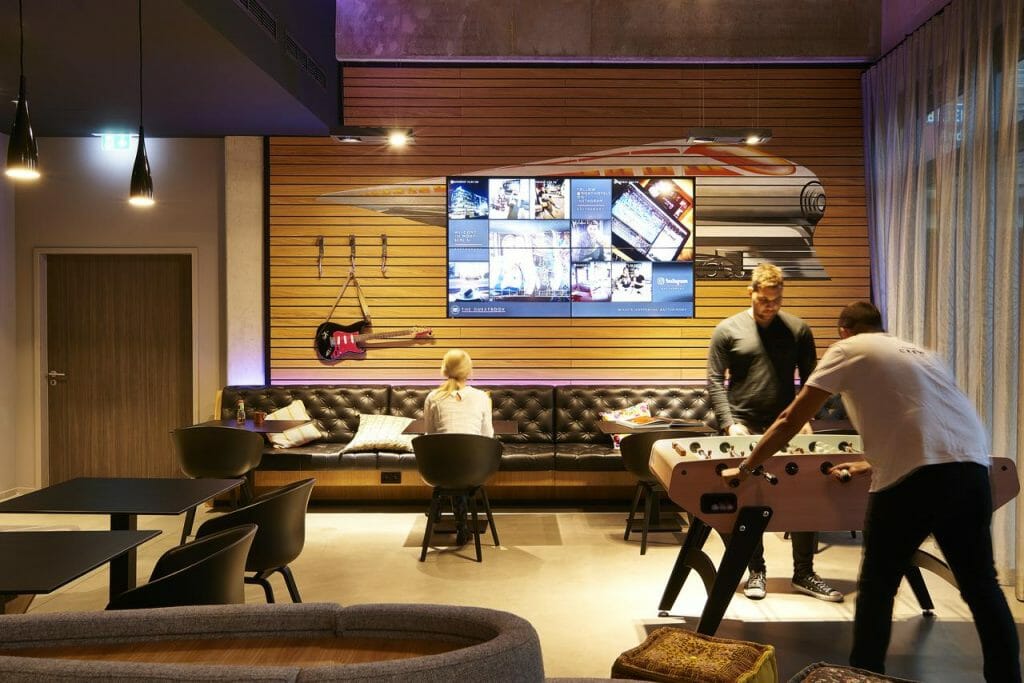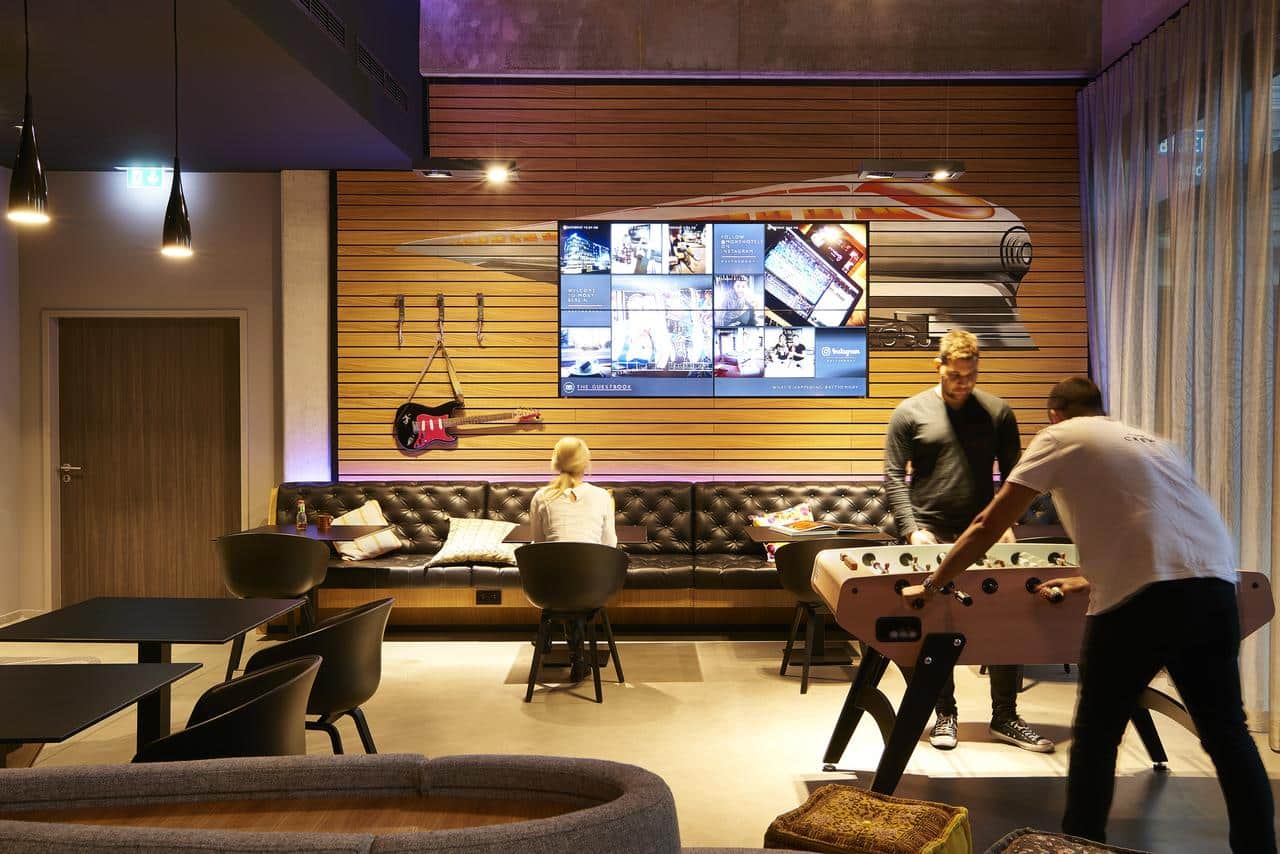 We are not even sure where to start as the gay nightlife in Berlin is amongst the best in the world.
If you are as bewildered as we are, the only thing you need to know is there are three main gay areas of Berlin. The first, the Schöneberg Gay Village, is full of many homey gay bars from yesteryear while the Prenzlauer Berg / Berlin Mitte, to us was the inverse of the Schöneberg Gay Village with oh-so-chic gay-mixed bars for the modern world. Then there is the Kreuzberg / Neuköln / Friedrichshain area is the home of indie-hip and alternative queer venues for the 'gender is a construct, tear it apart' crowd.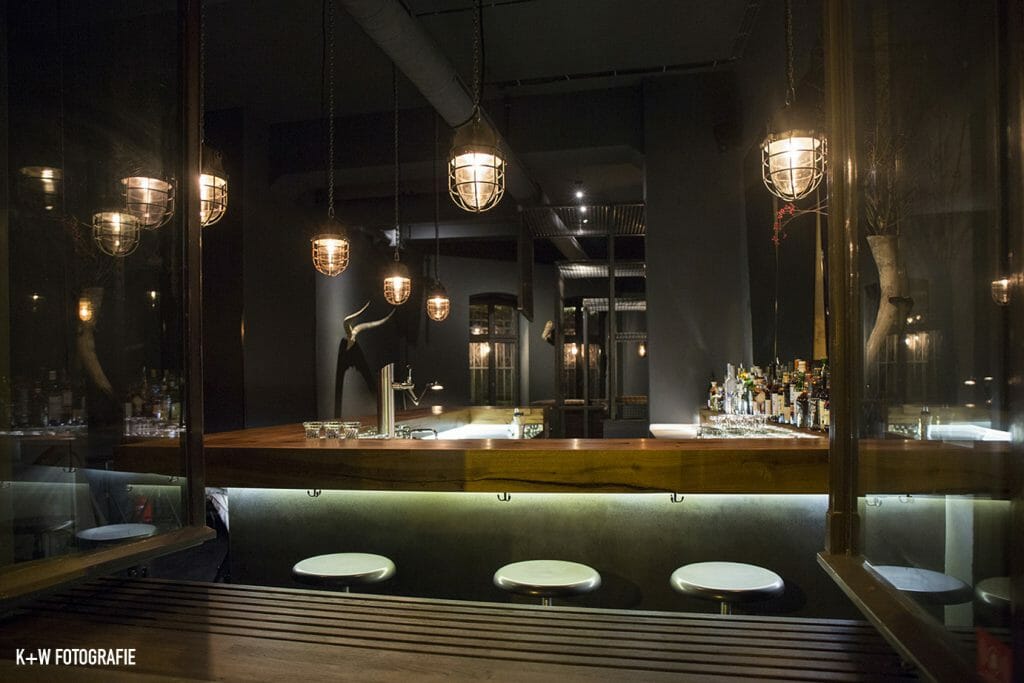 Gay club parties in Berlin are all the range with different locations across the city every evening, but we have only listed the most popular and fabulous, as there are almost too many to count! Use our Gay Berlin Map at the end if you're lost, but there is plenty of plenty of bars, cocktail lounges, bearded glitter queens and bear dens littered across Berlin to satisfy even the most discerning of gay travelers.
We have only focussed on explicitly gay venues here in Berlin, but the city and country are so liberal don't feel like you can't make out with your partner in most bars or clubs here!
Liberating and more than a little overwhelming, the gay nightlife in Berlin has something for everyone!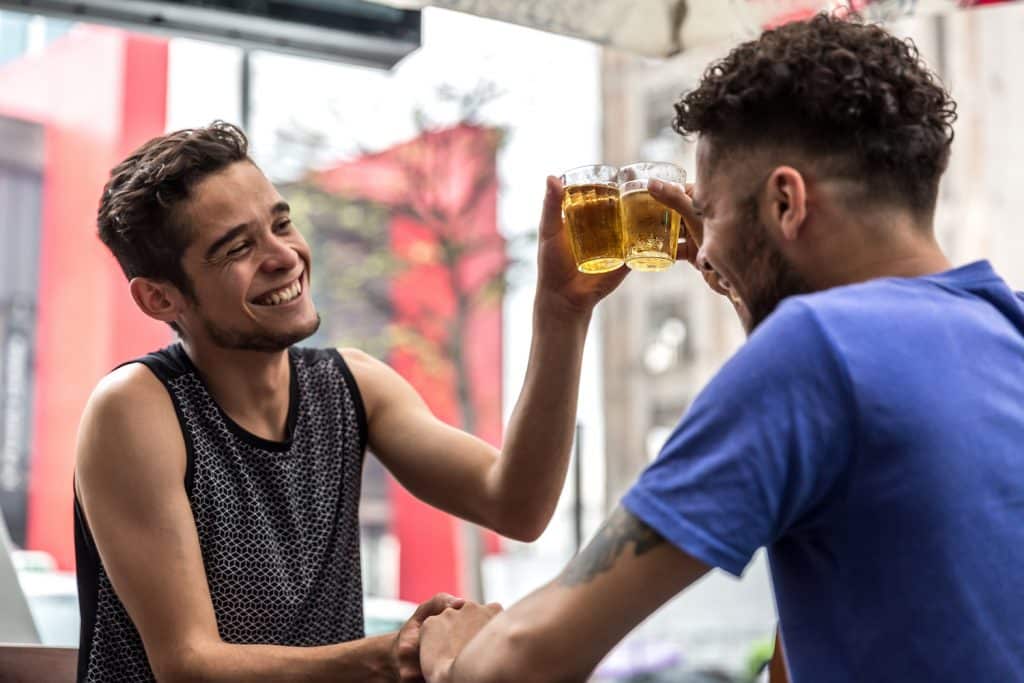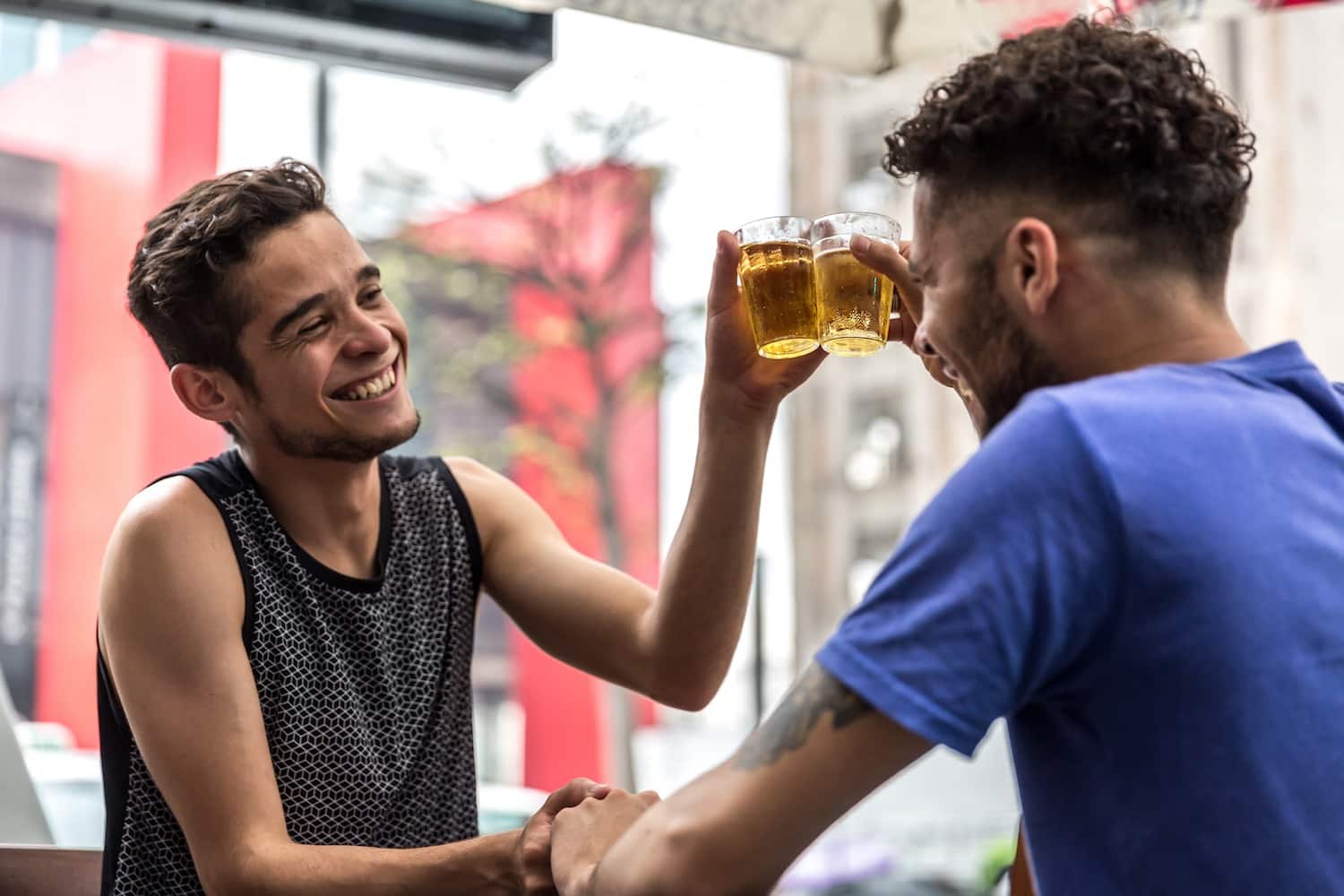 Schöneberg Gay Bars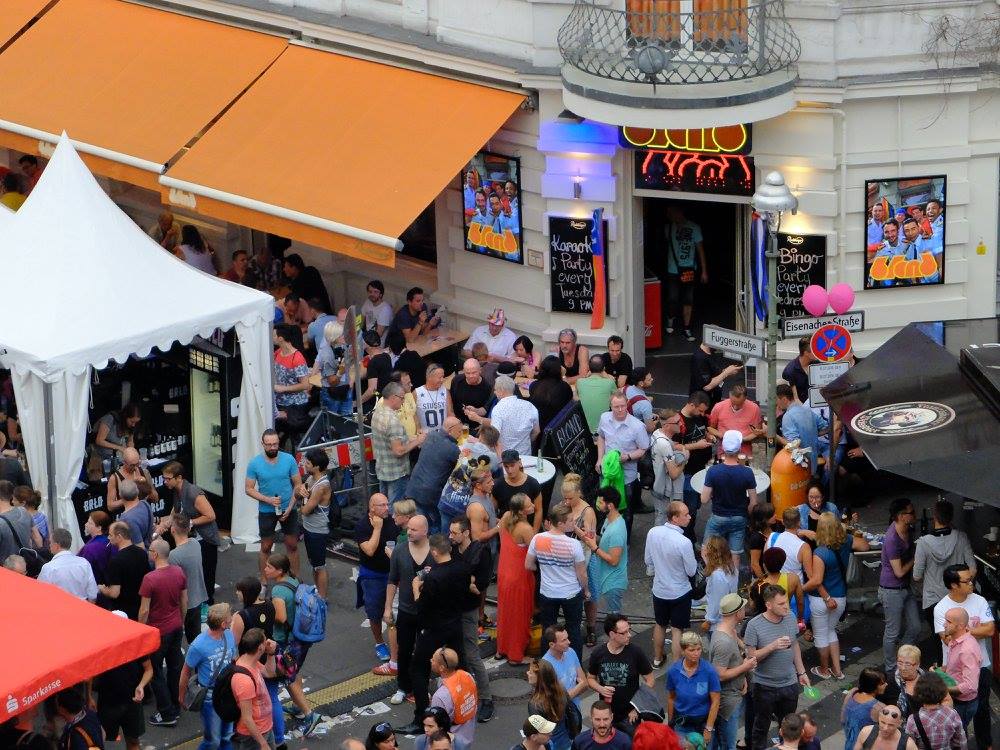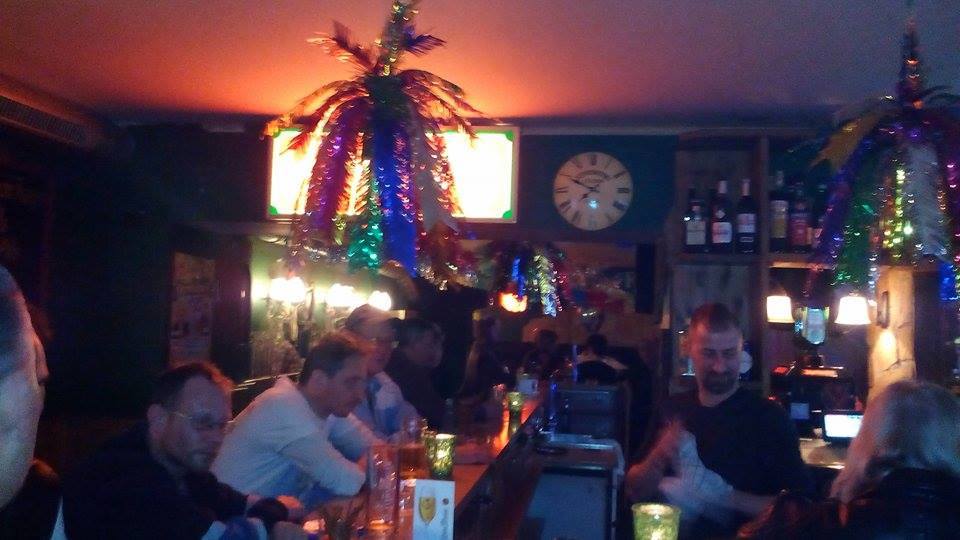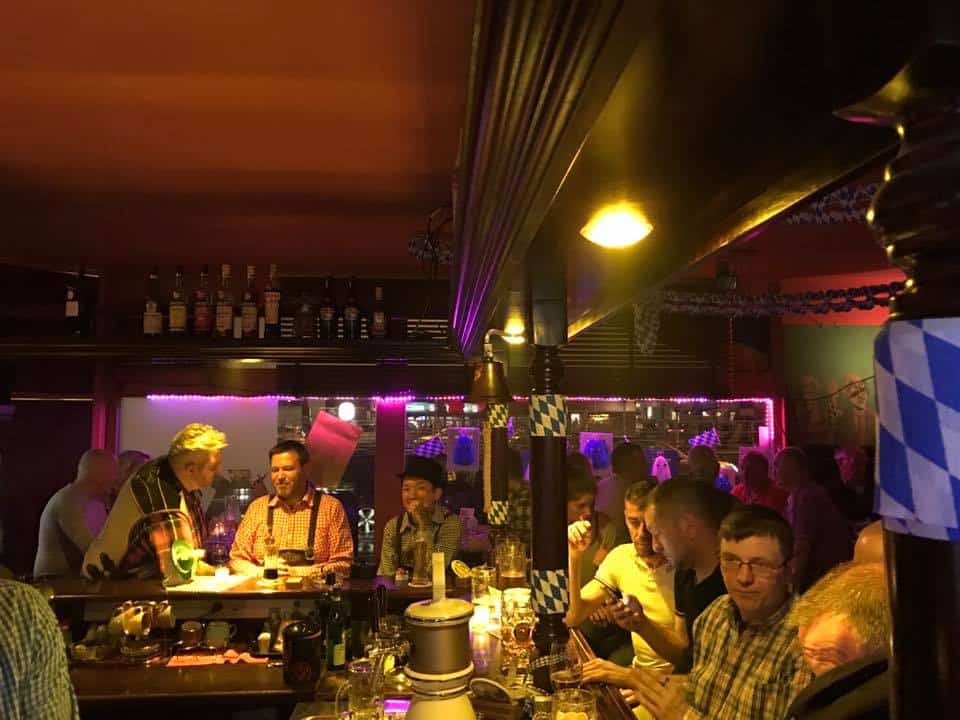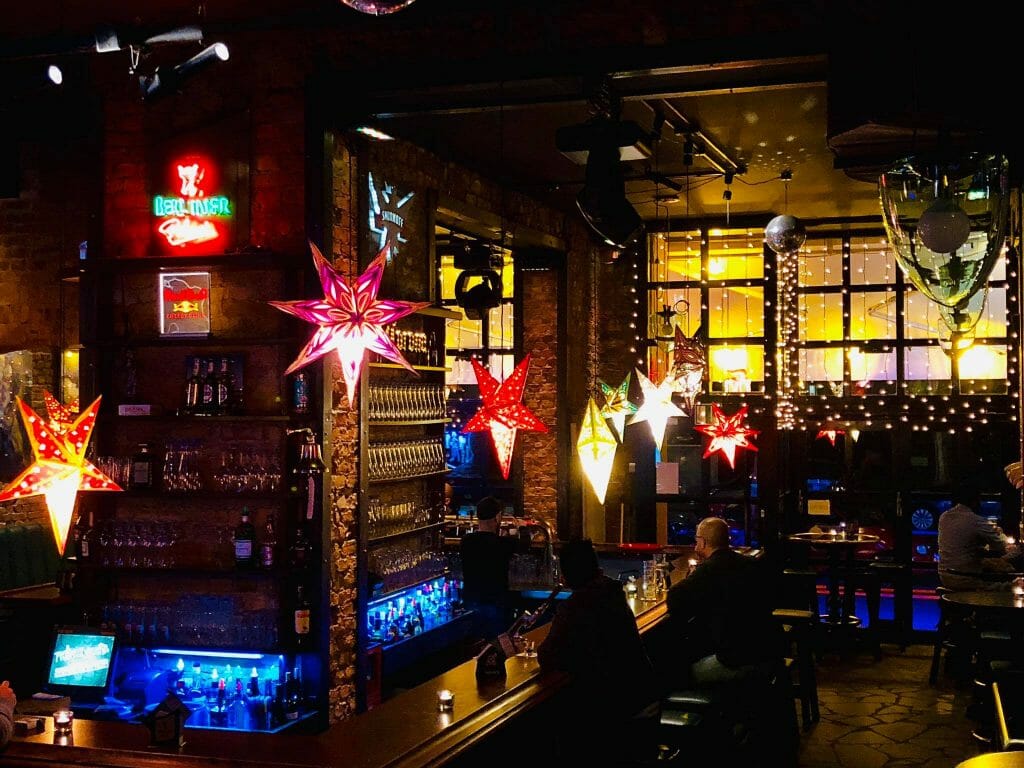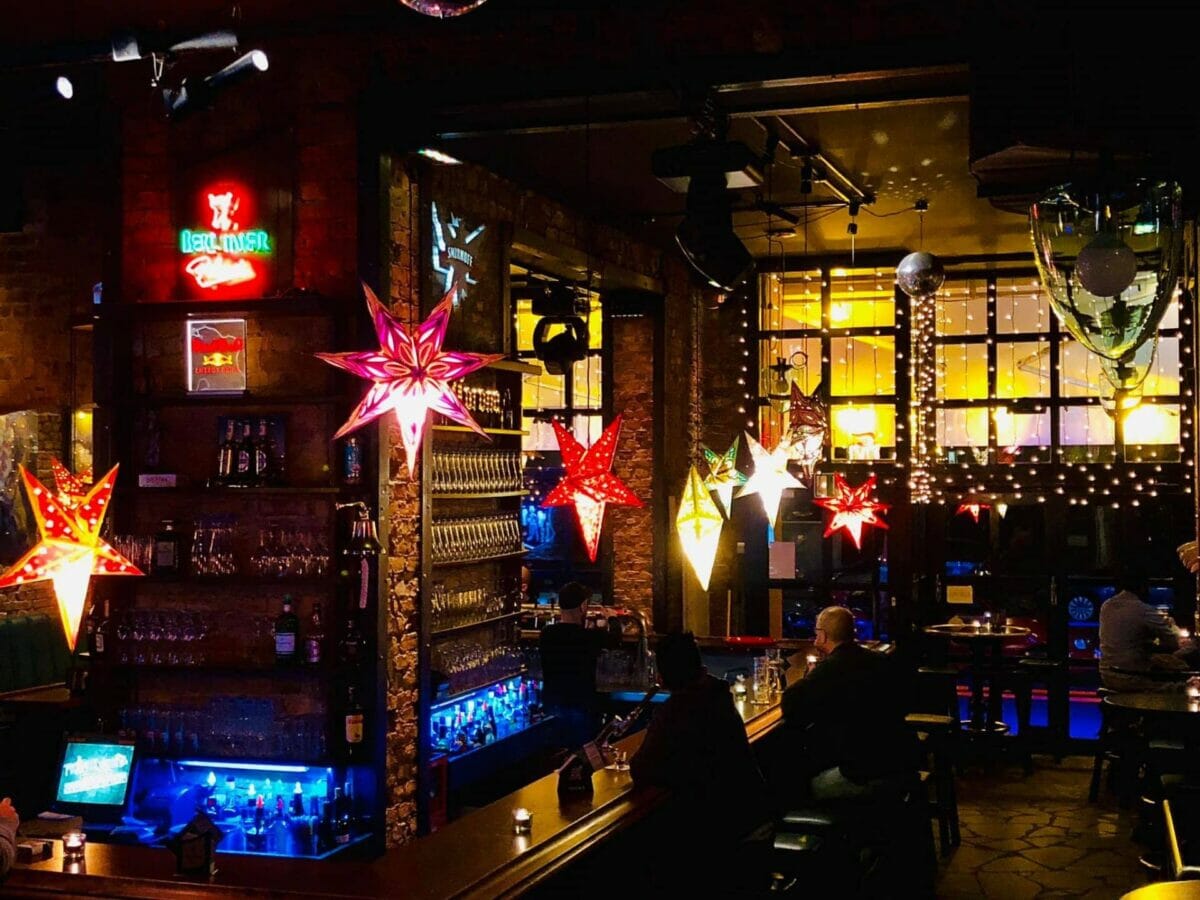 Kreuzberg / Neuköln / Friedrichshain Gay Bars In Berlin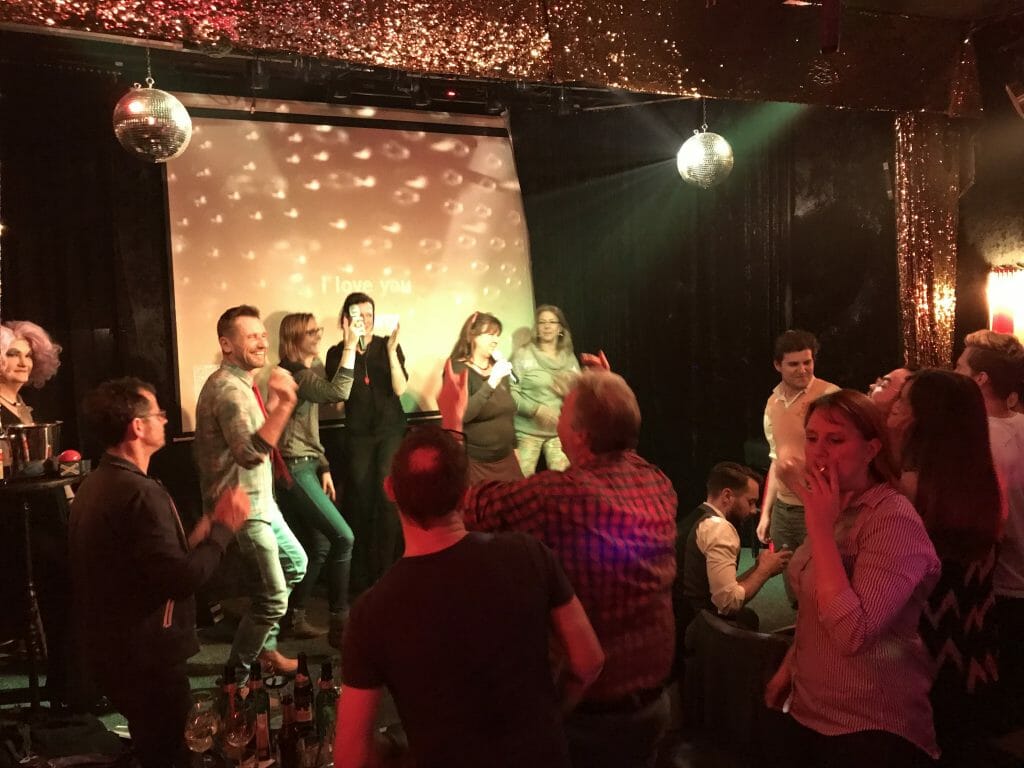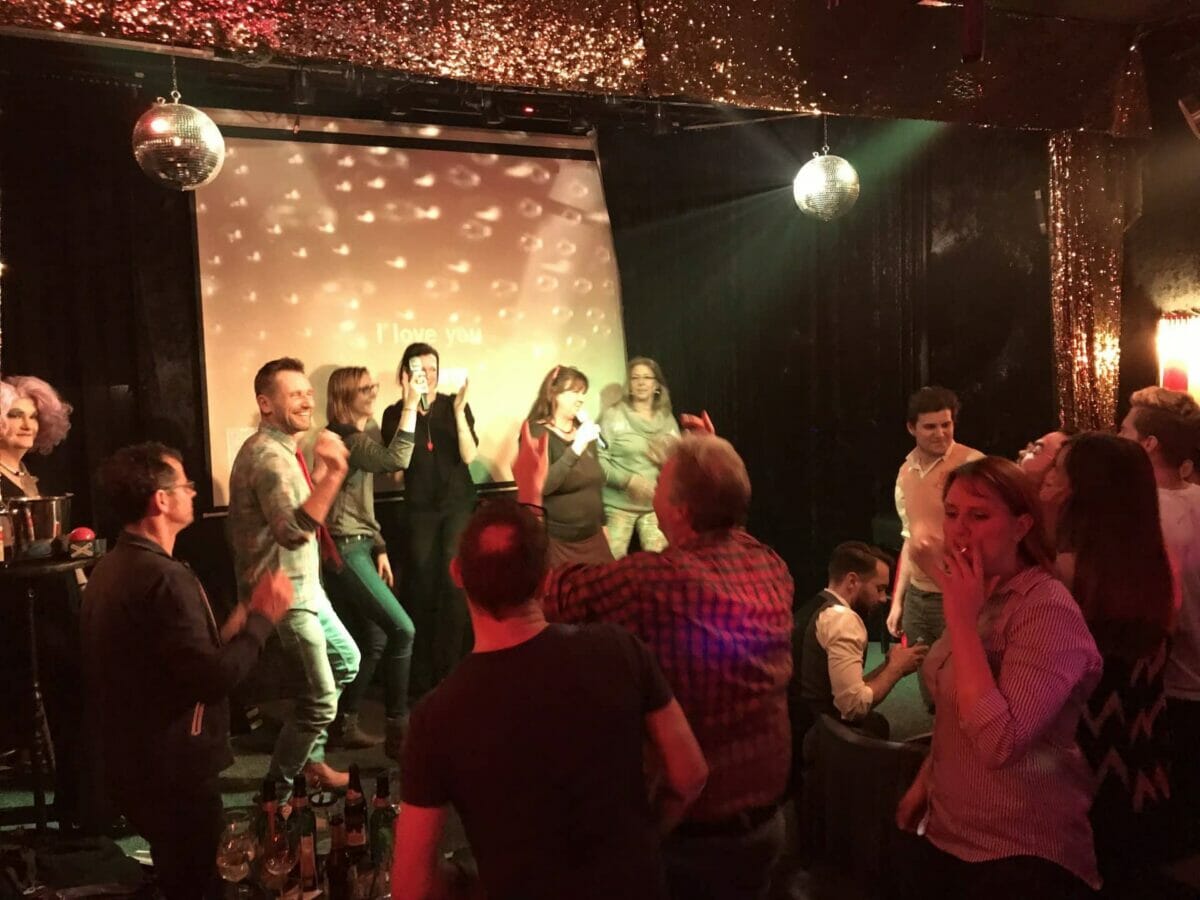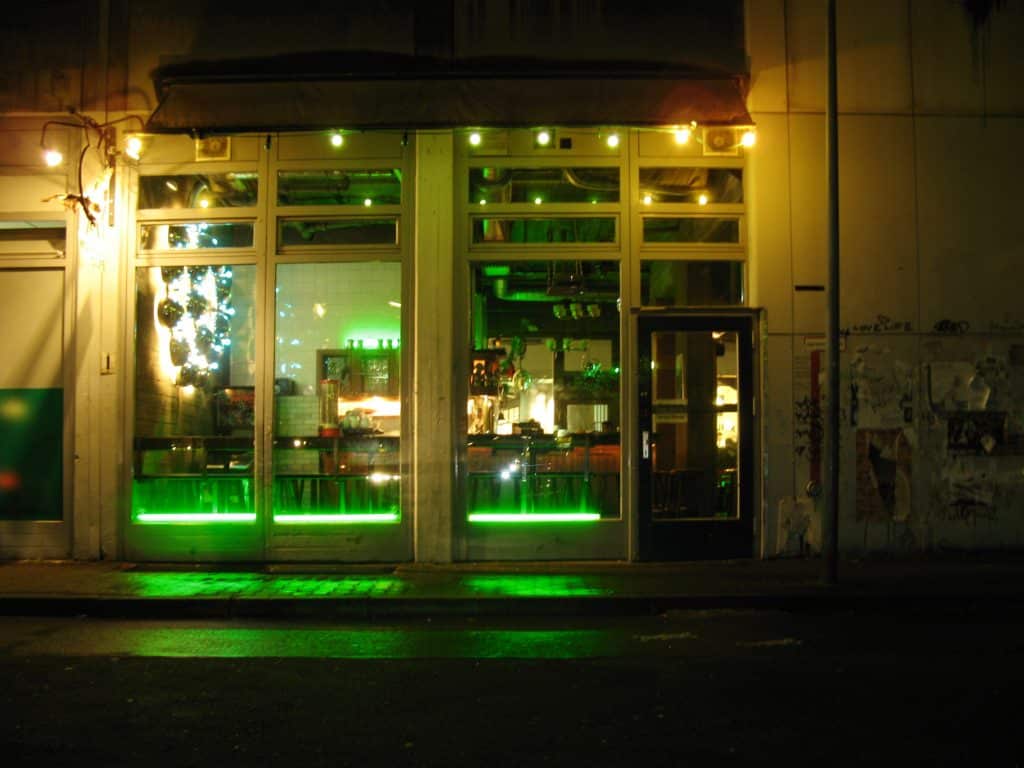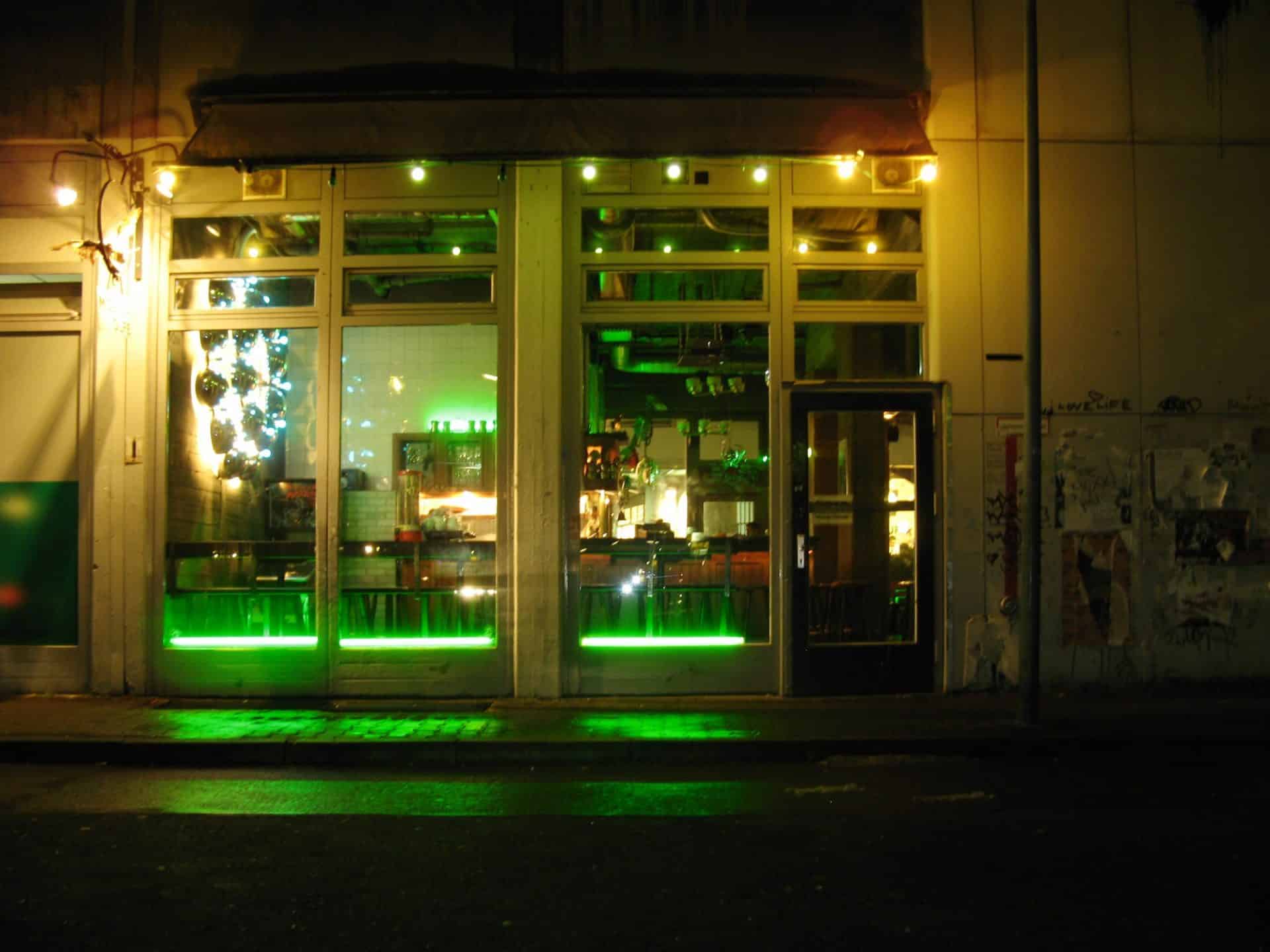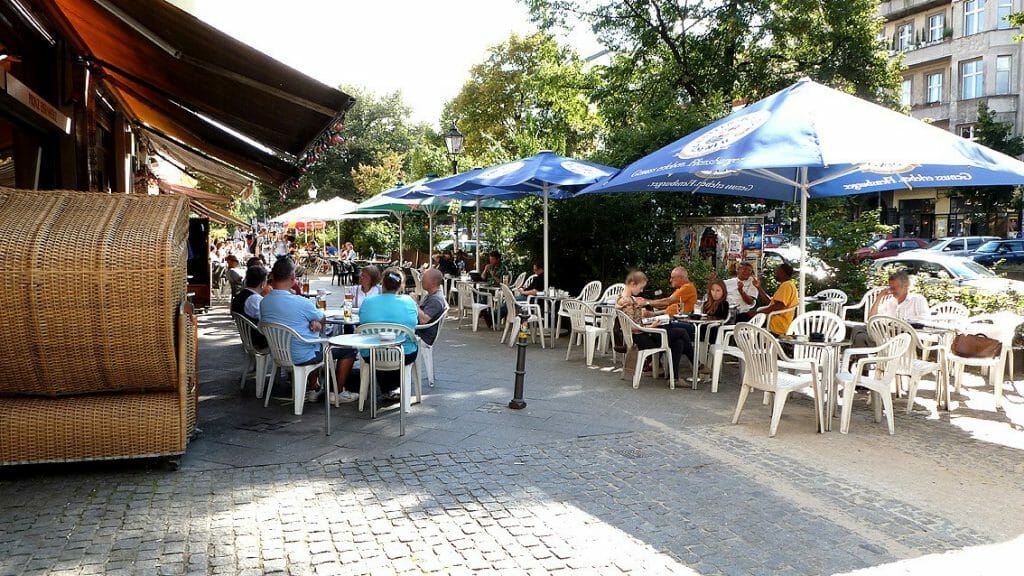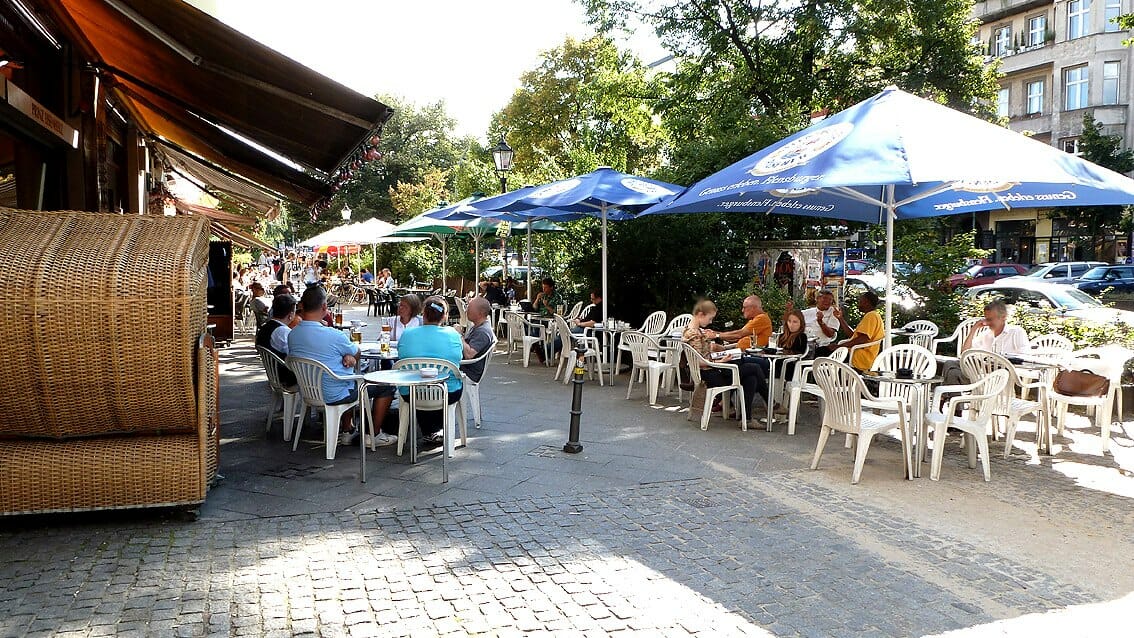 Prenzlauer Berg & Central Berlin Mitte Gay Bars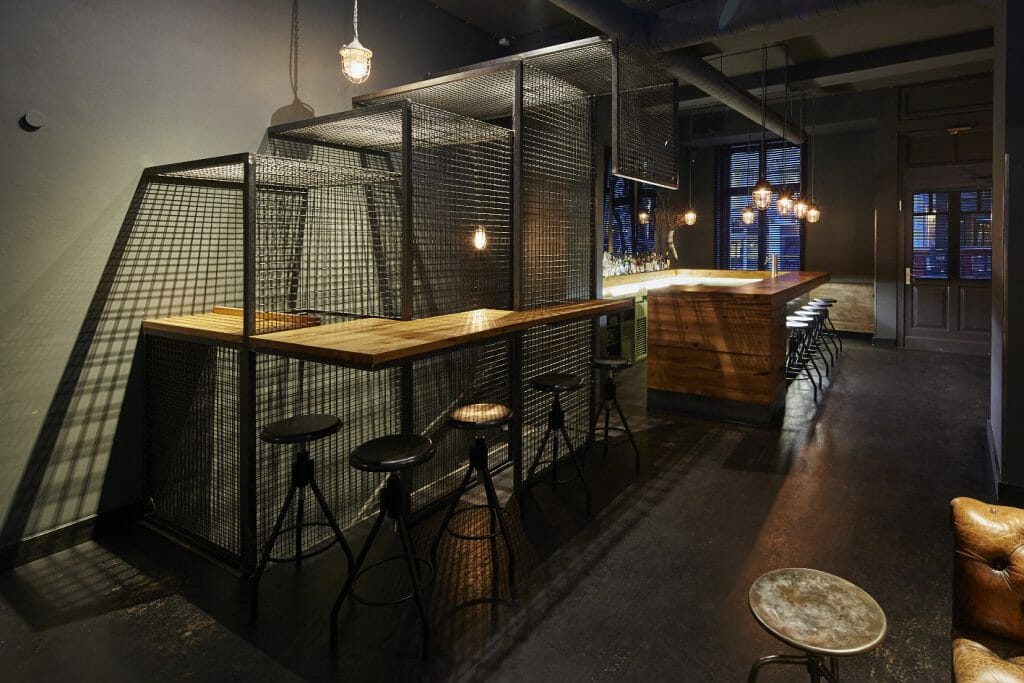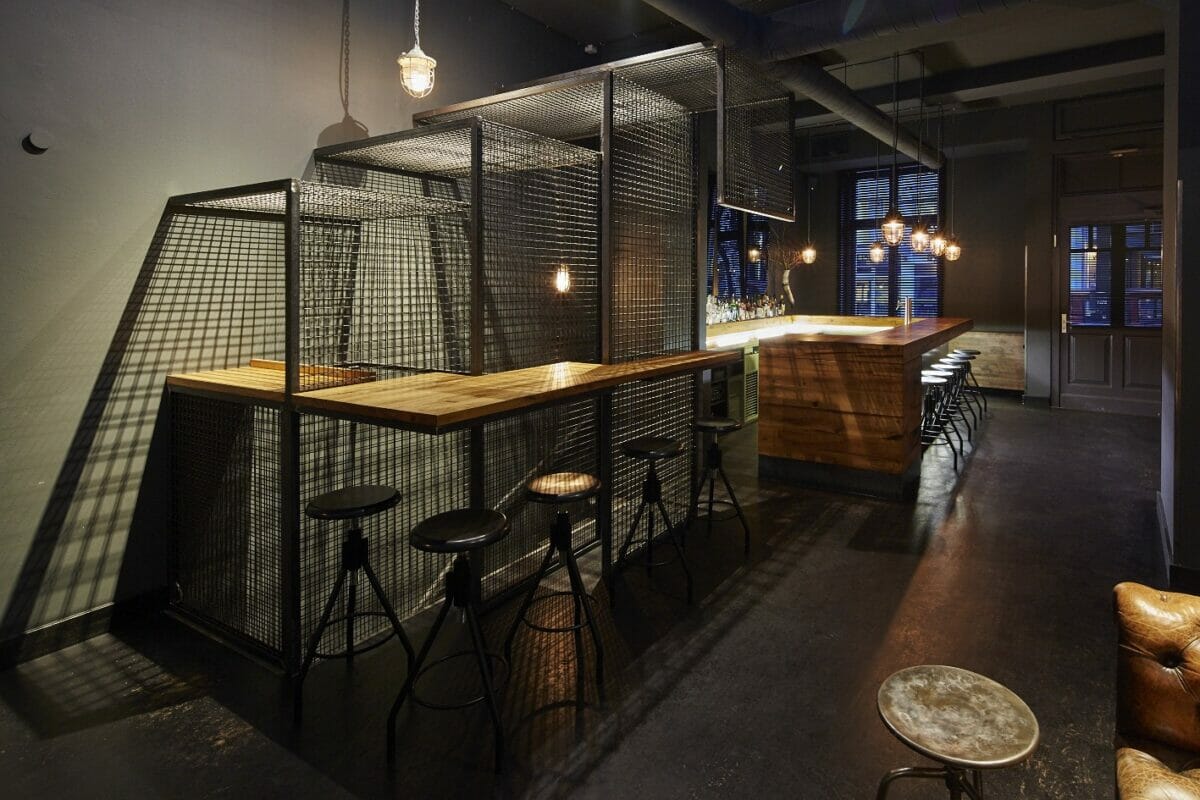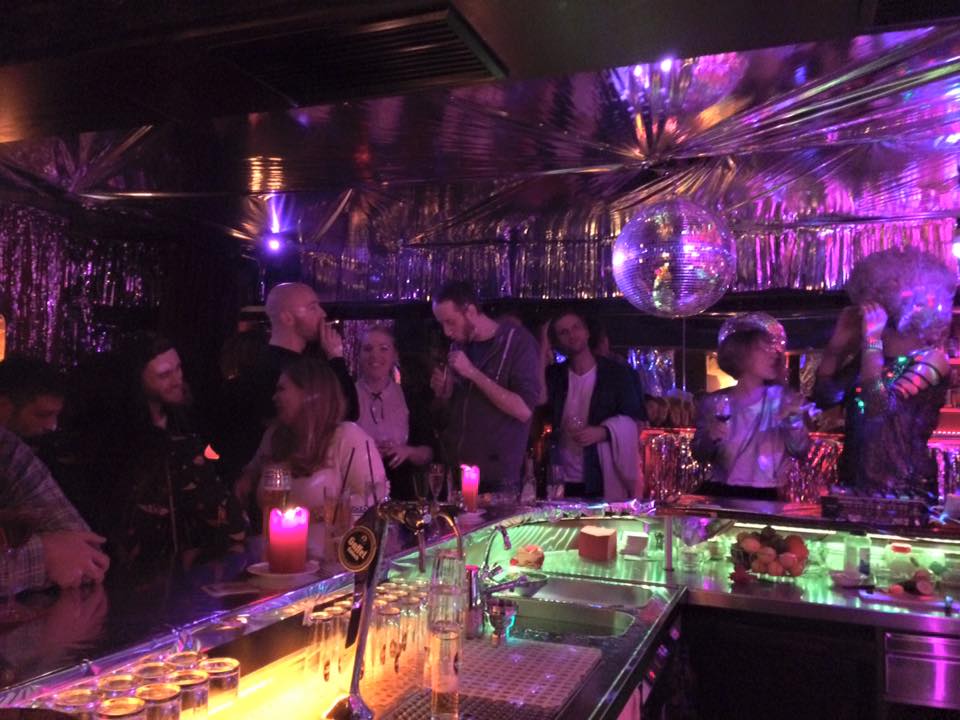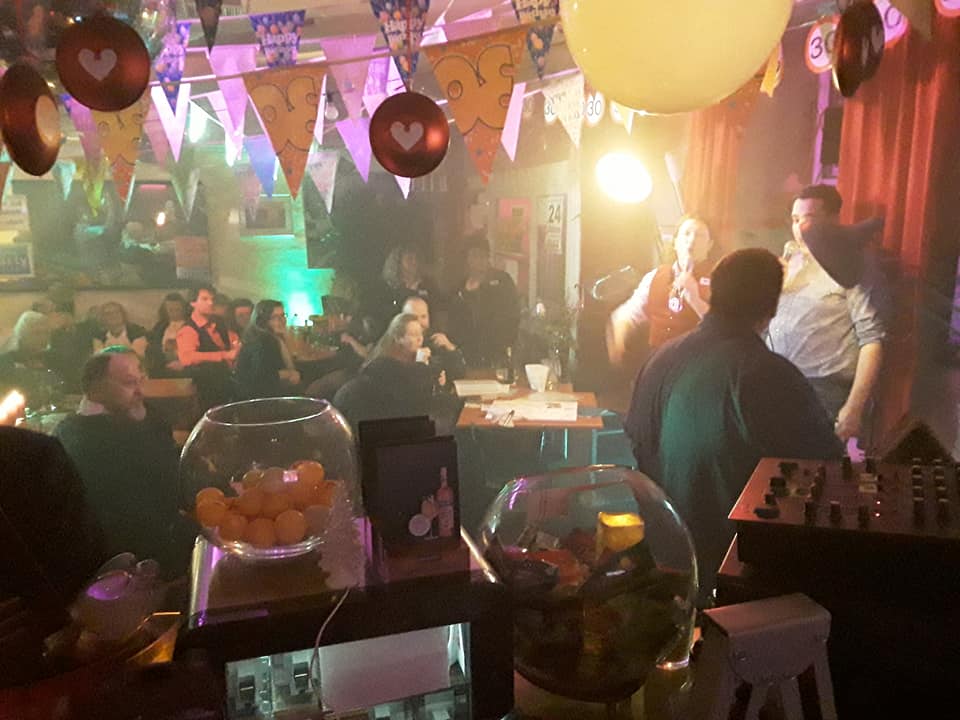 Gay Nightclubs In Berlin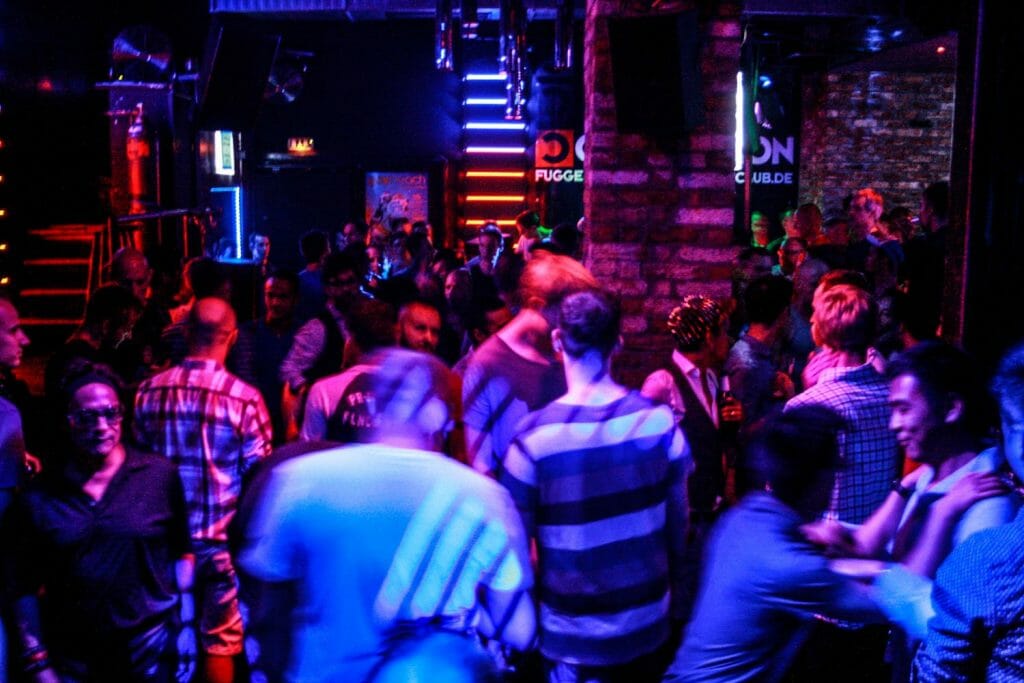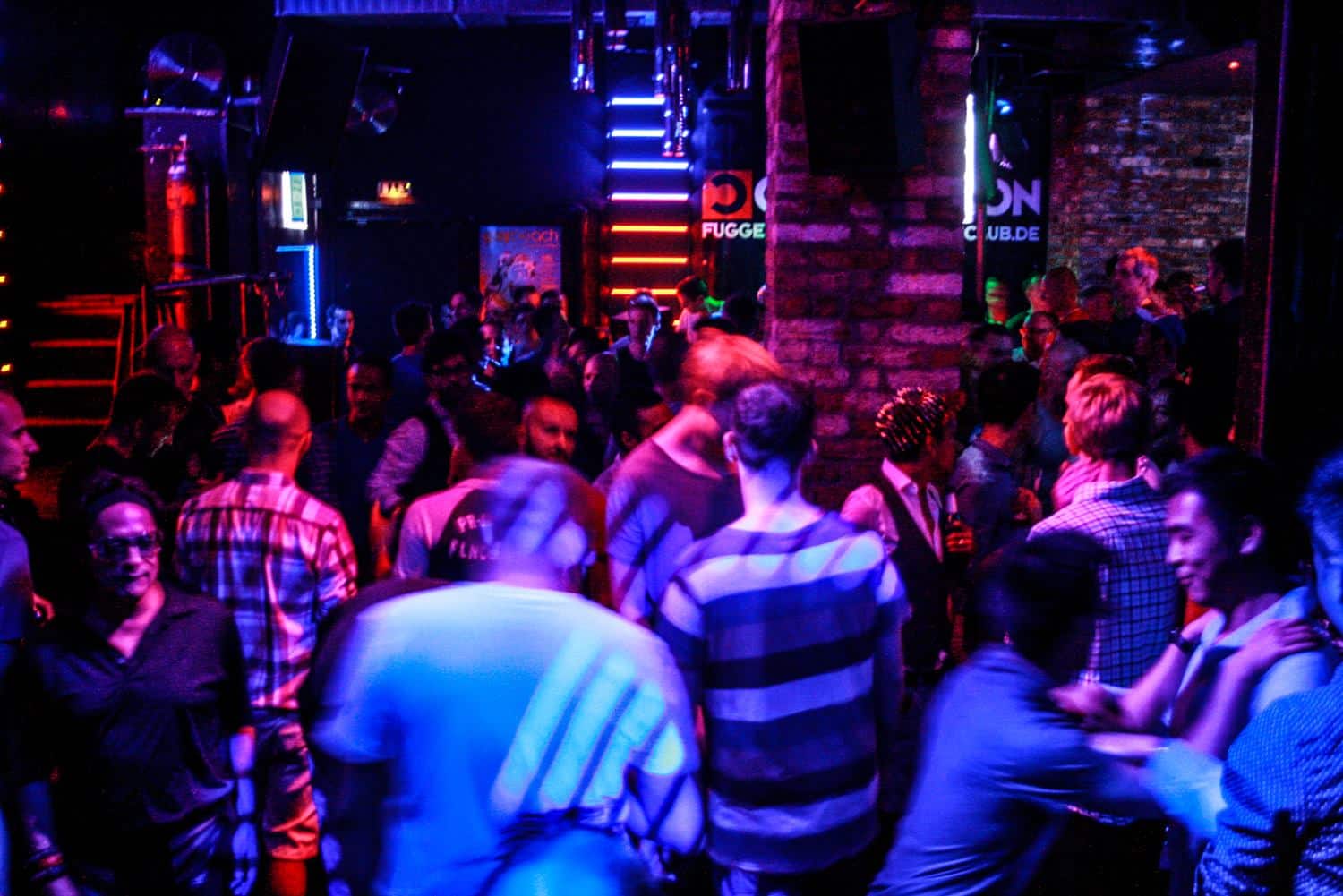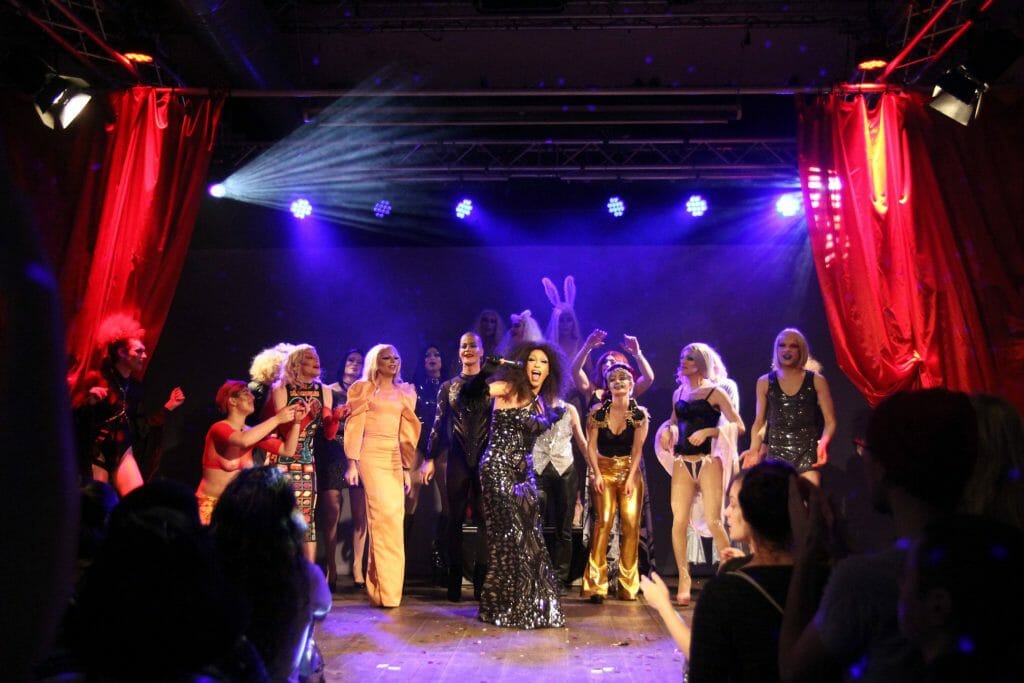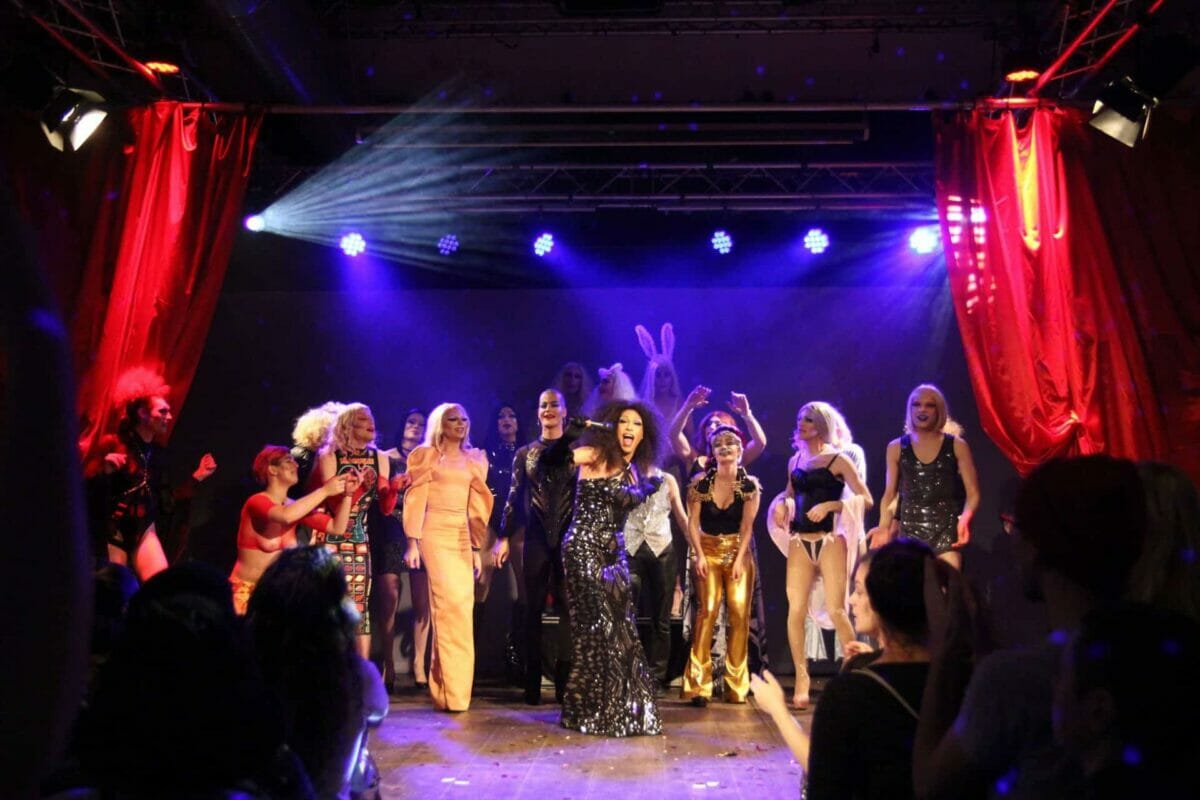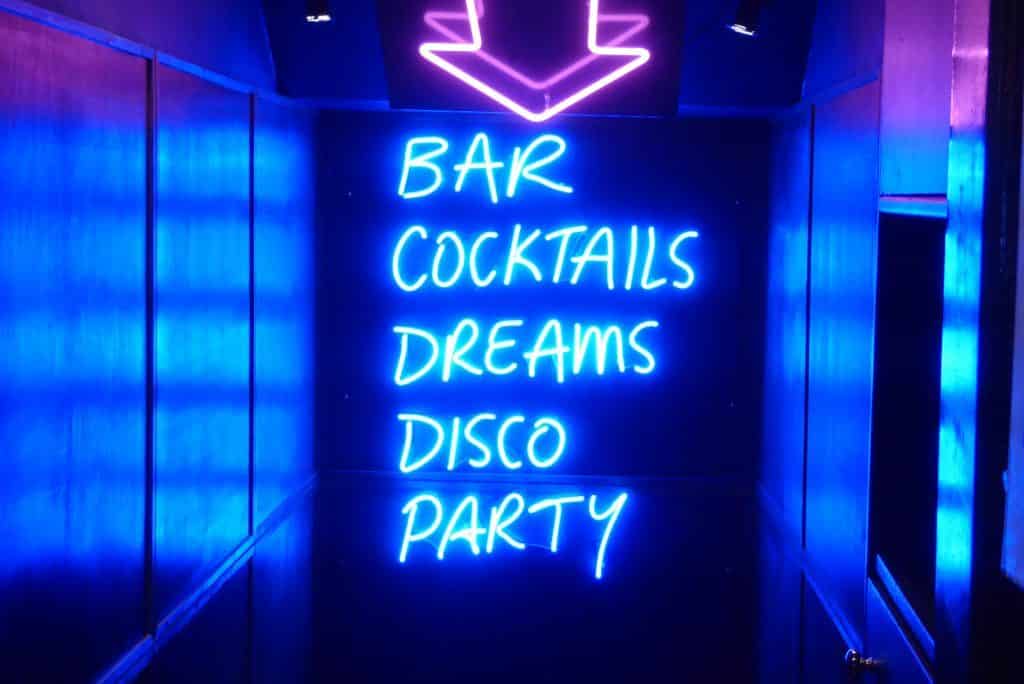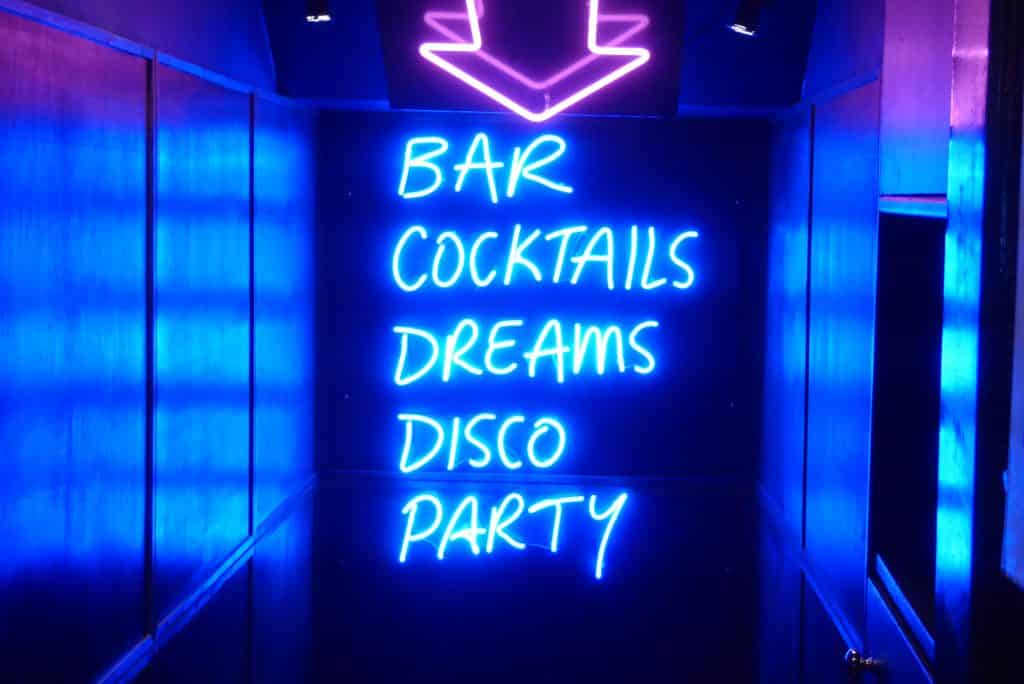 Gay Parties In Berlin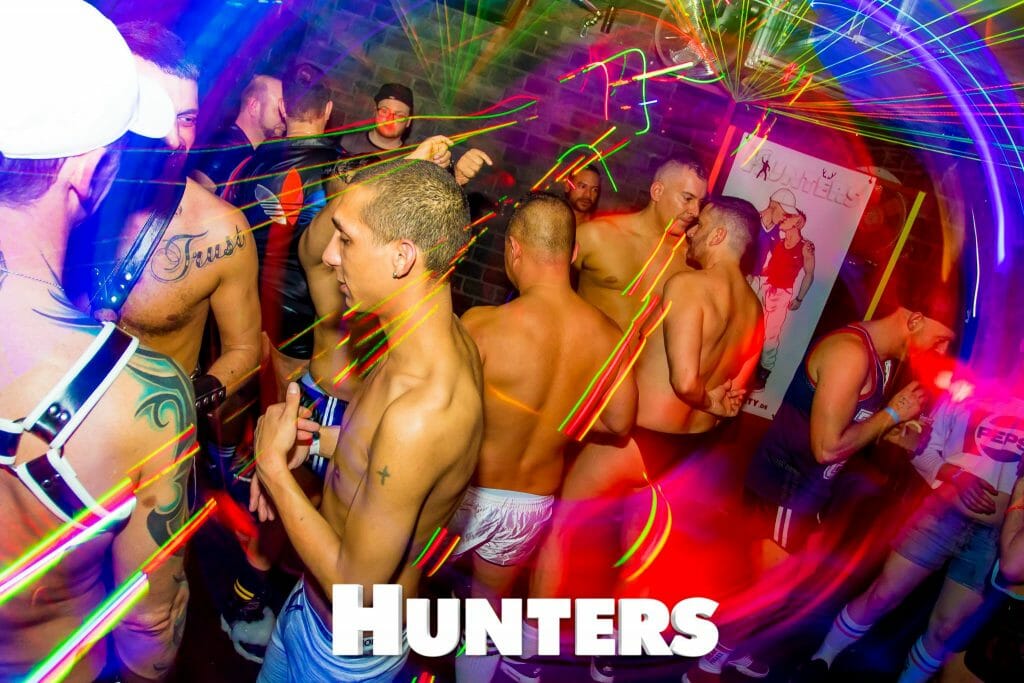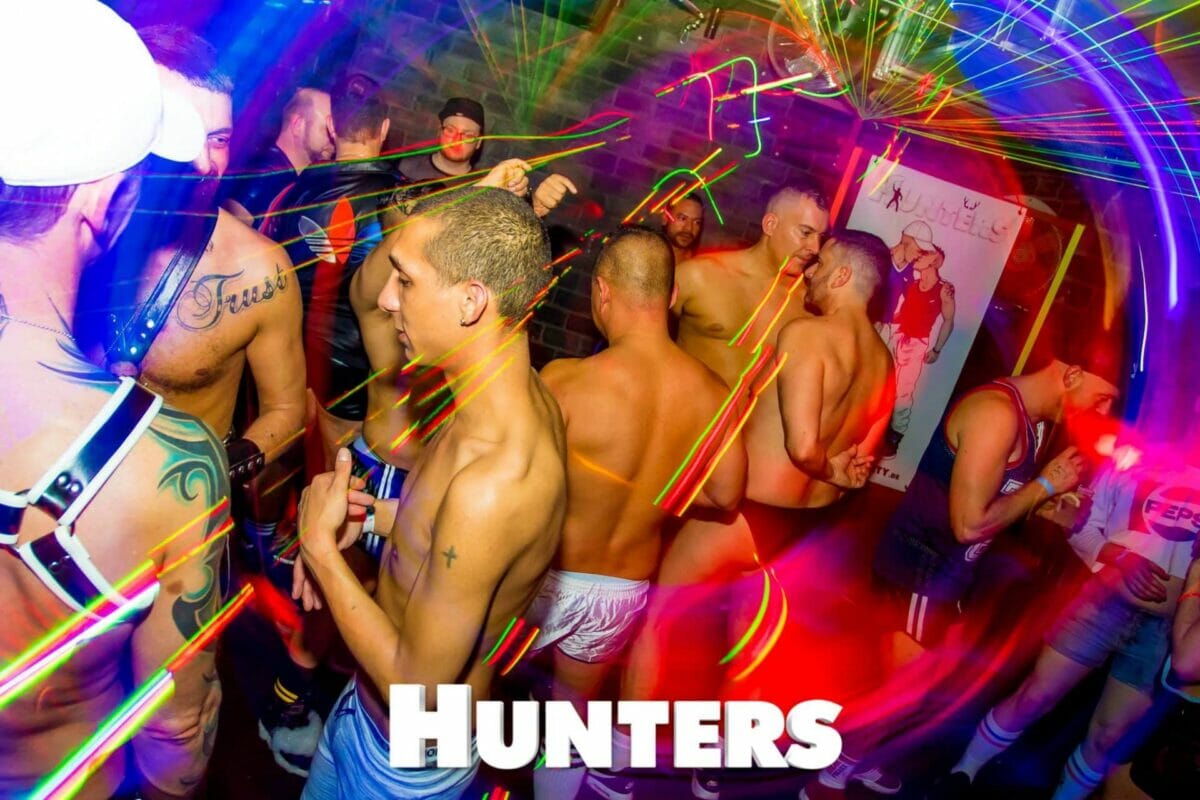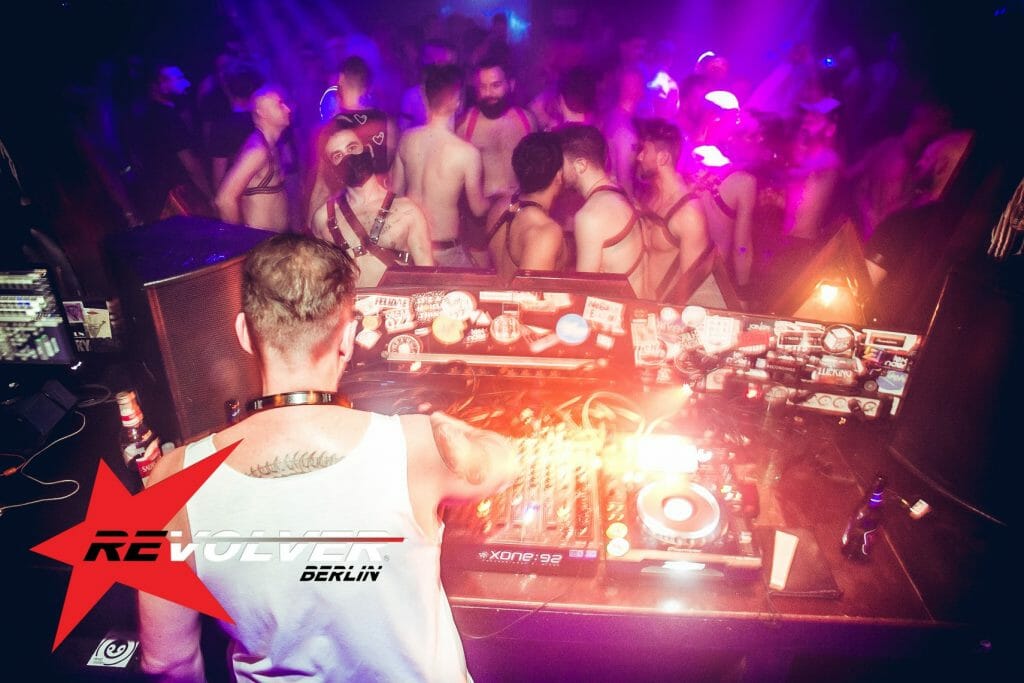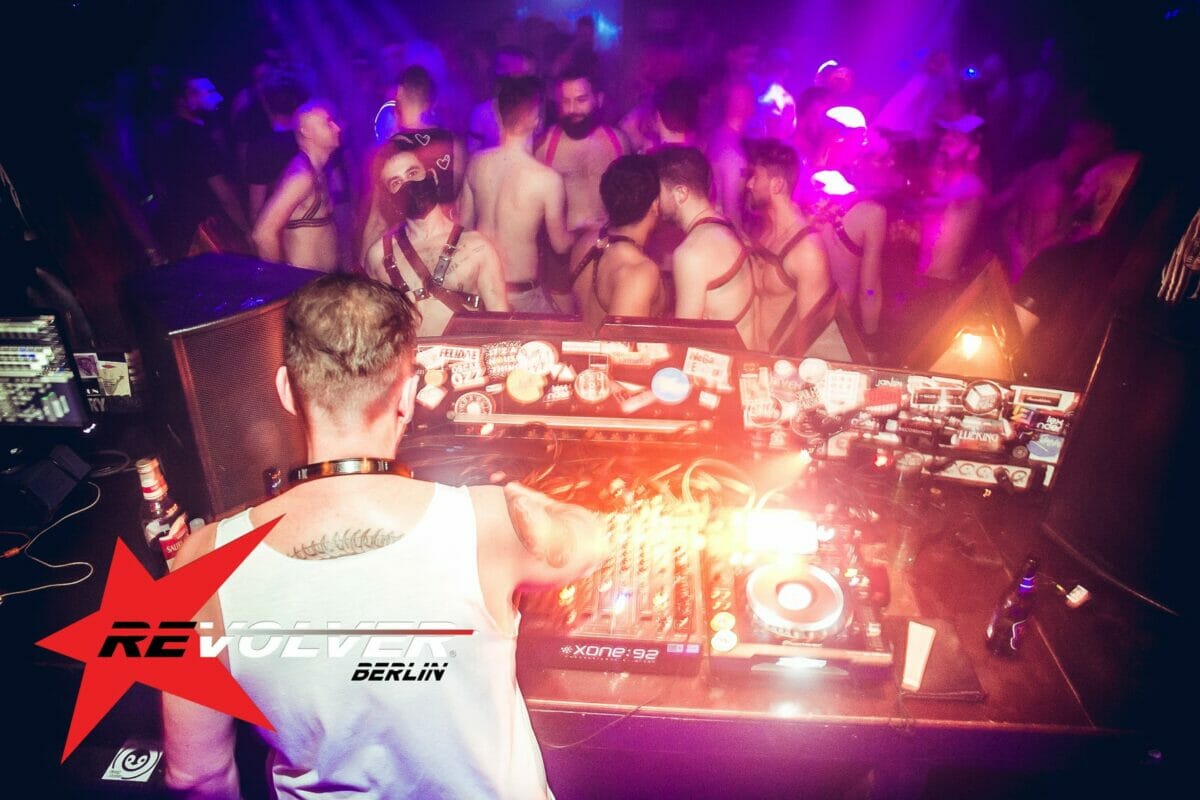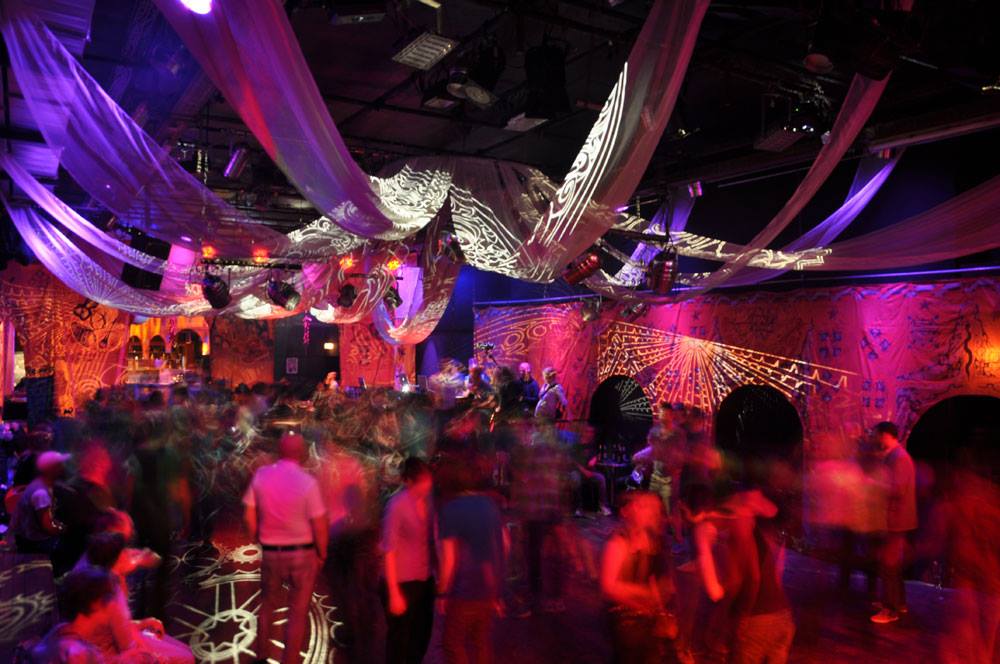 If the bars or gay parties in Berlin are too vanilla for you, perhaps these gay sauna, fetish clubs, cruise lounges, and smutty cinemas are a better fit? This is where you can truly experience the unrestricted, uninhibited, no strings attached freedom that Berlin is known for…
We have to warn you; however, Berlin has the single most intense fetish and cruising scene we have ever come across – not even those in Paris, Munich, Vienna, or Prague come close. We have tried to identify places for the less 'initiated,' but there is nothing vanilla here.
It is definitely not for everyone.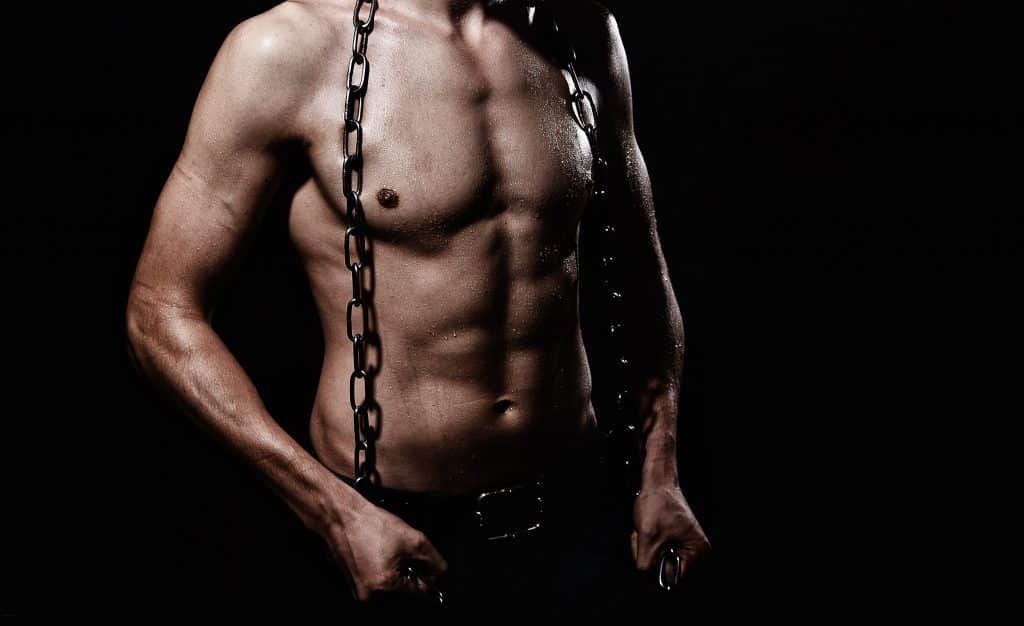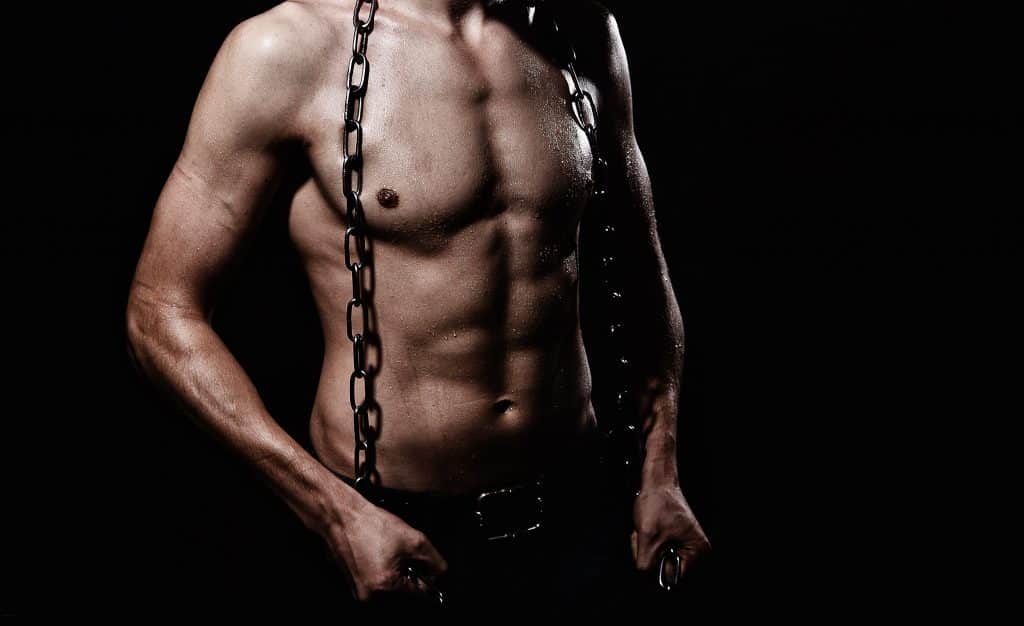 Most of these ultra-hardcore cruising venues / gay sex clubs in Berlin are centrally located and easy to find, but you can use our Gay Berlin map at the end to find the closest to you. If you are horny there is always an adventure to be had in Berlin, and meeting people in the real world is still very much the norm, even in these "hook up app" oriented times. Speaking of which, however, the German app Planet Romeo, is more popular than Scruff or Grindr here.
Whatever your into, you can rest assured you will find at one of these seemingly infinite Berlin gay cruising spot options.
Gay Sauna In Berlin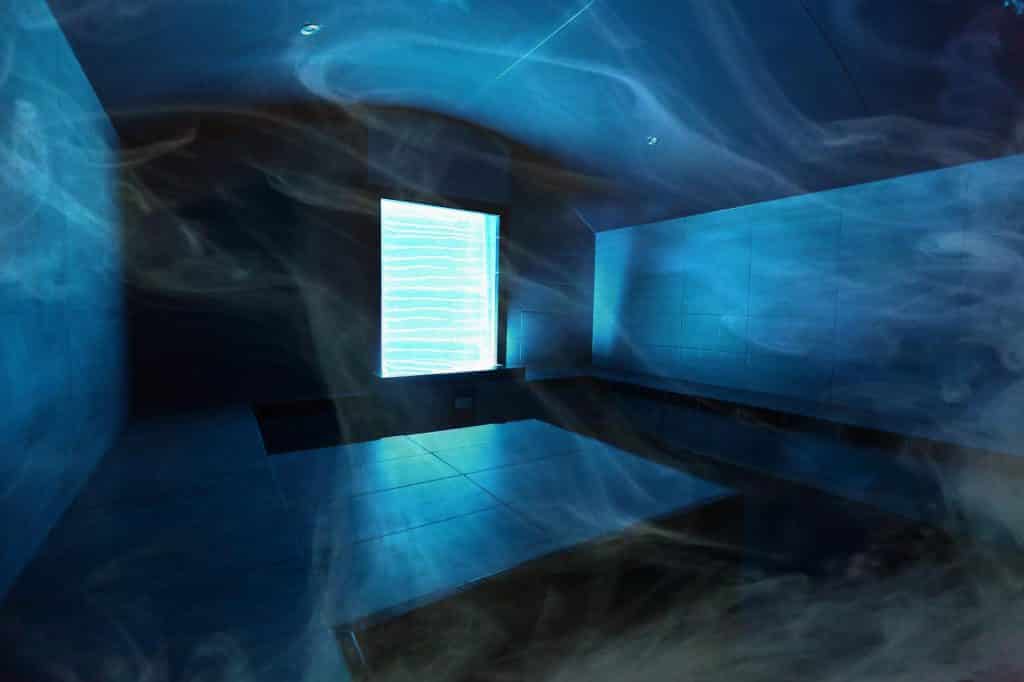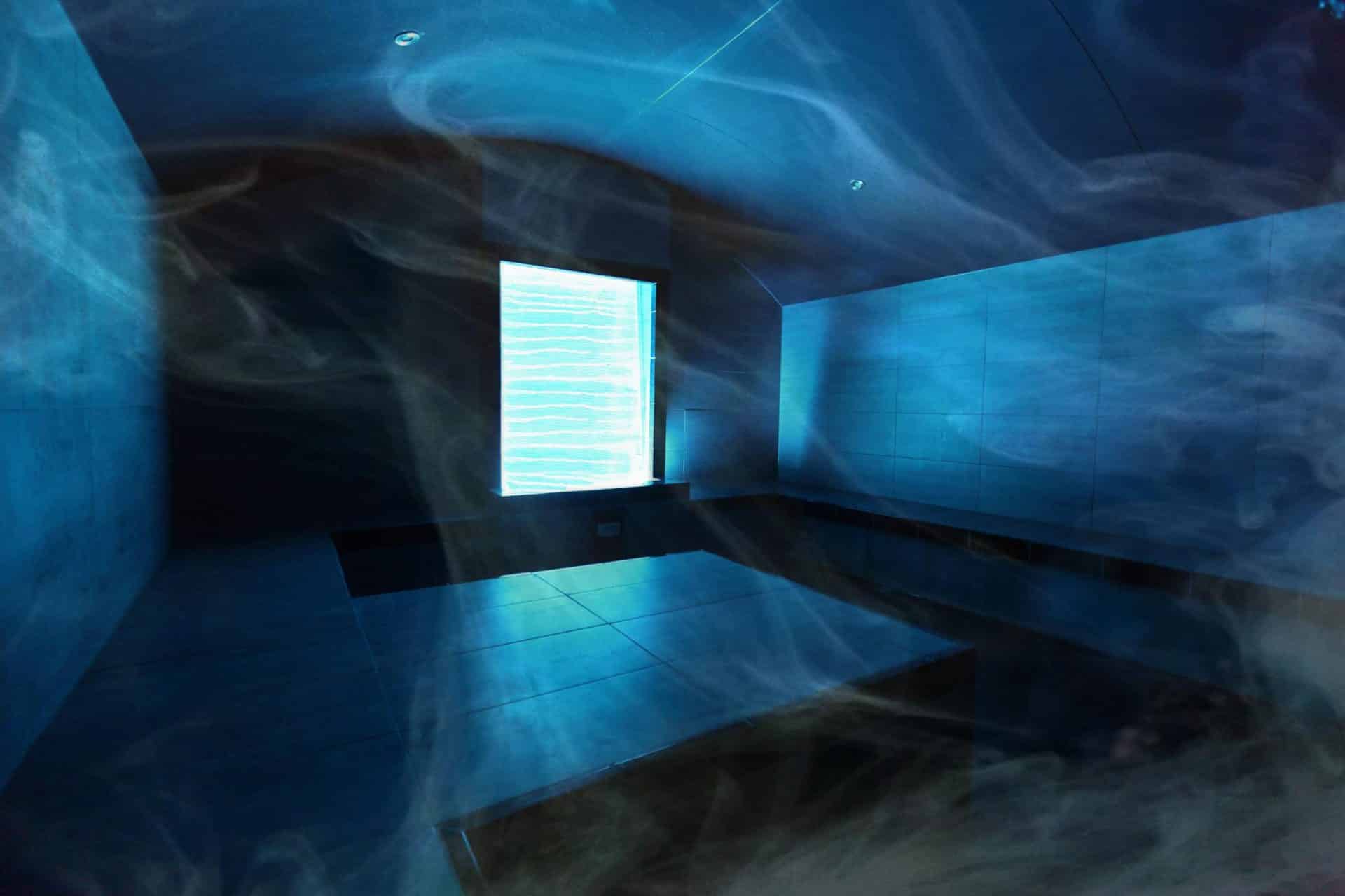 Gay Sex Clubs In Berlin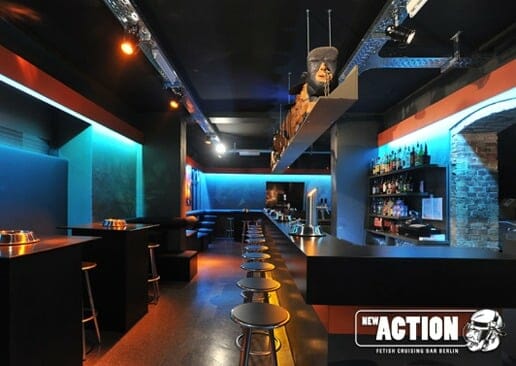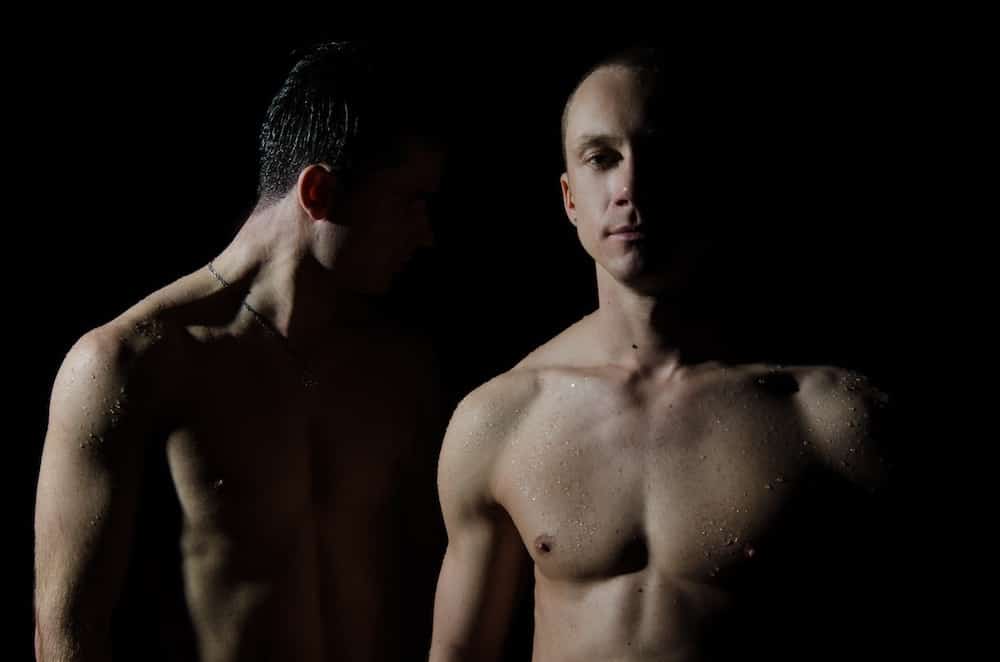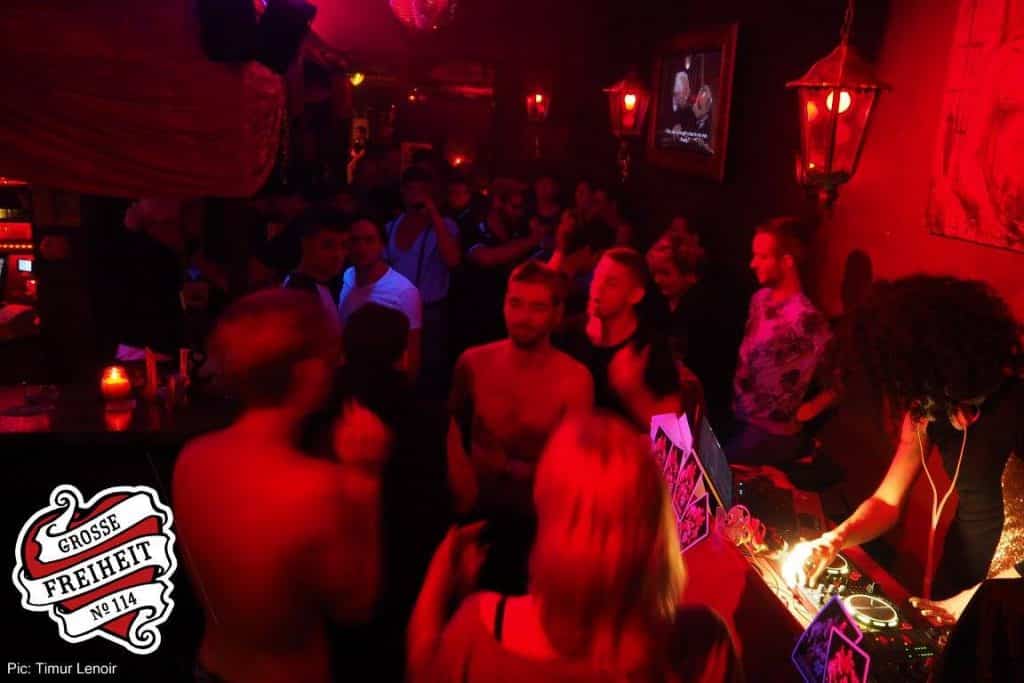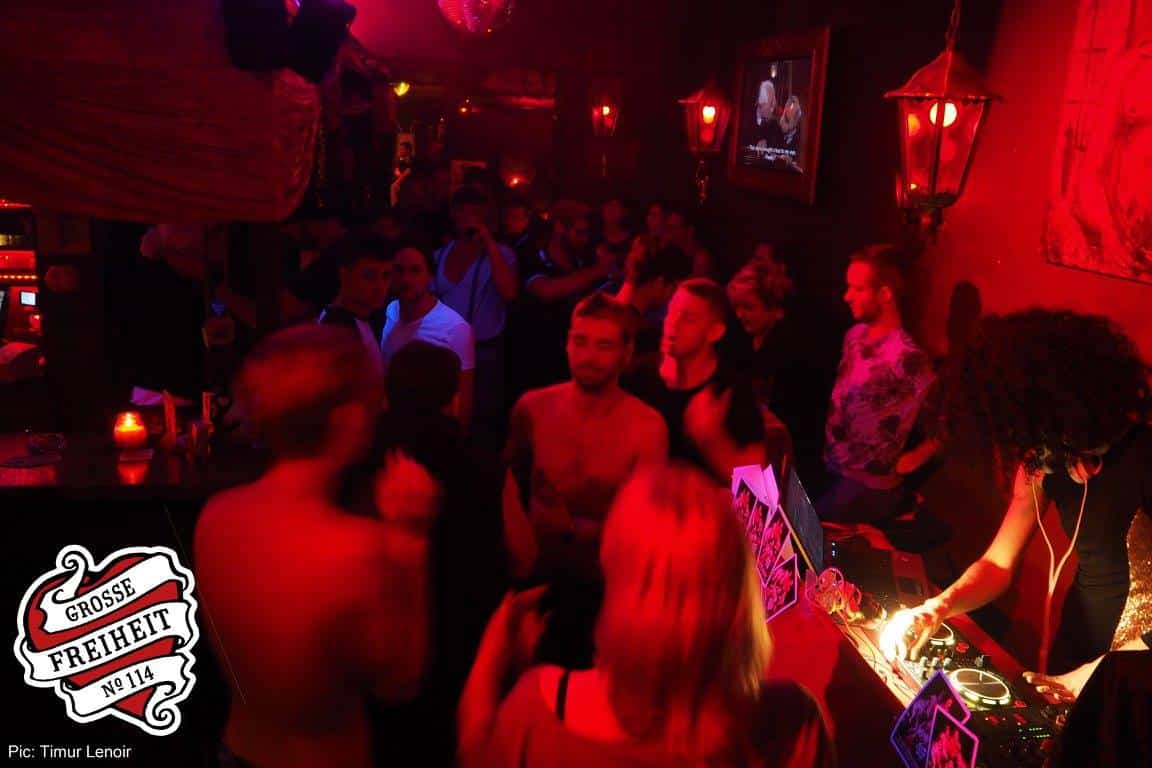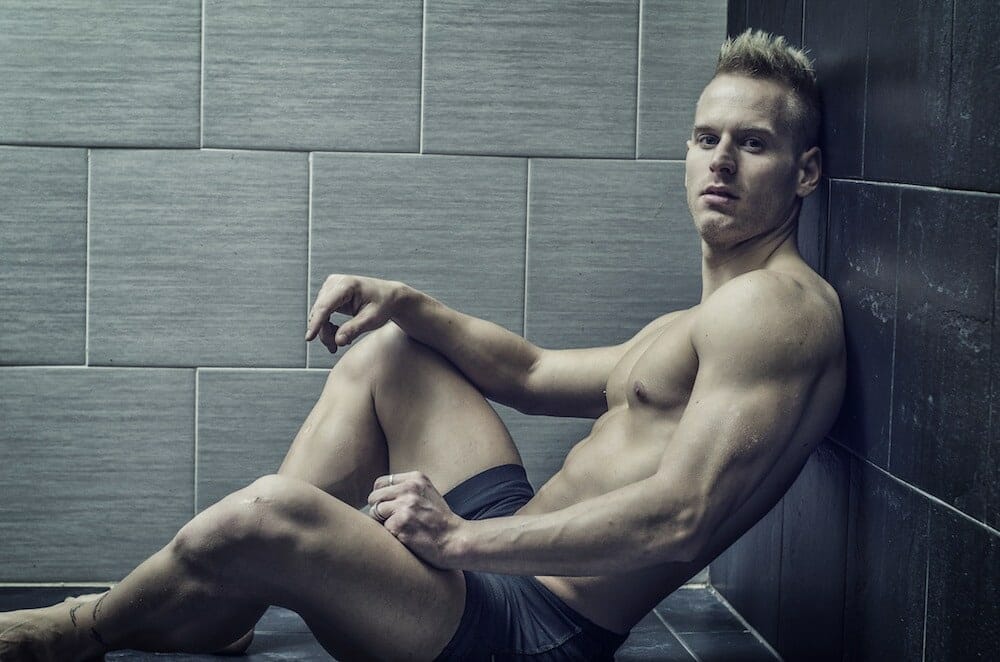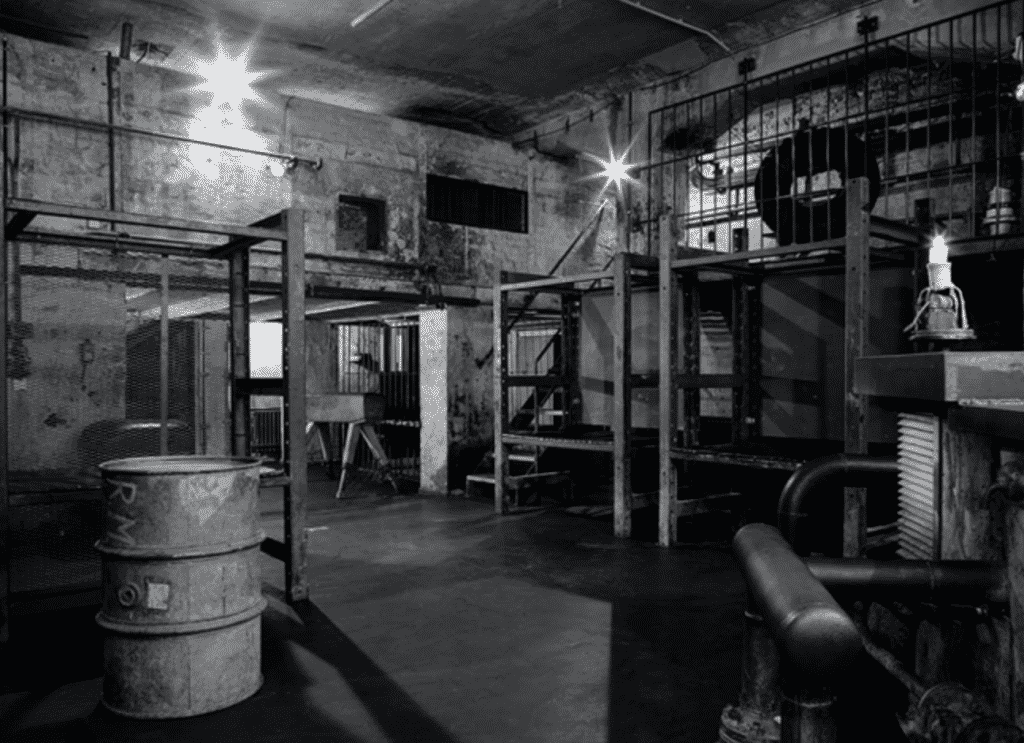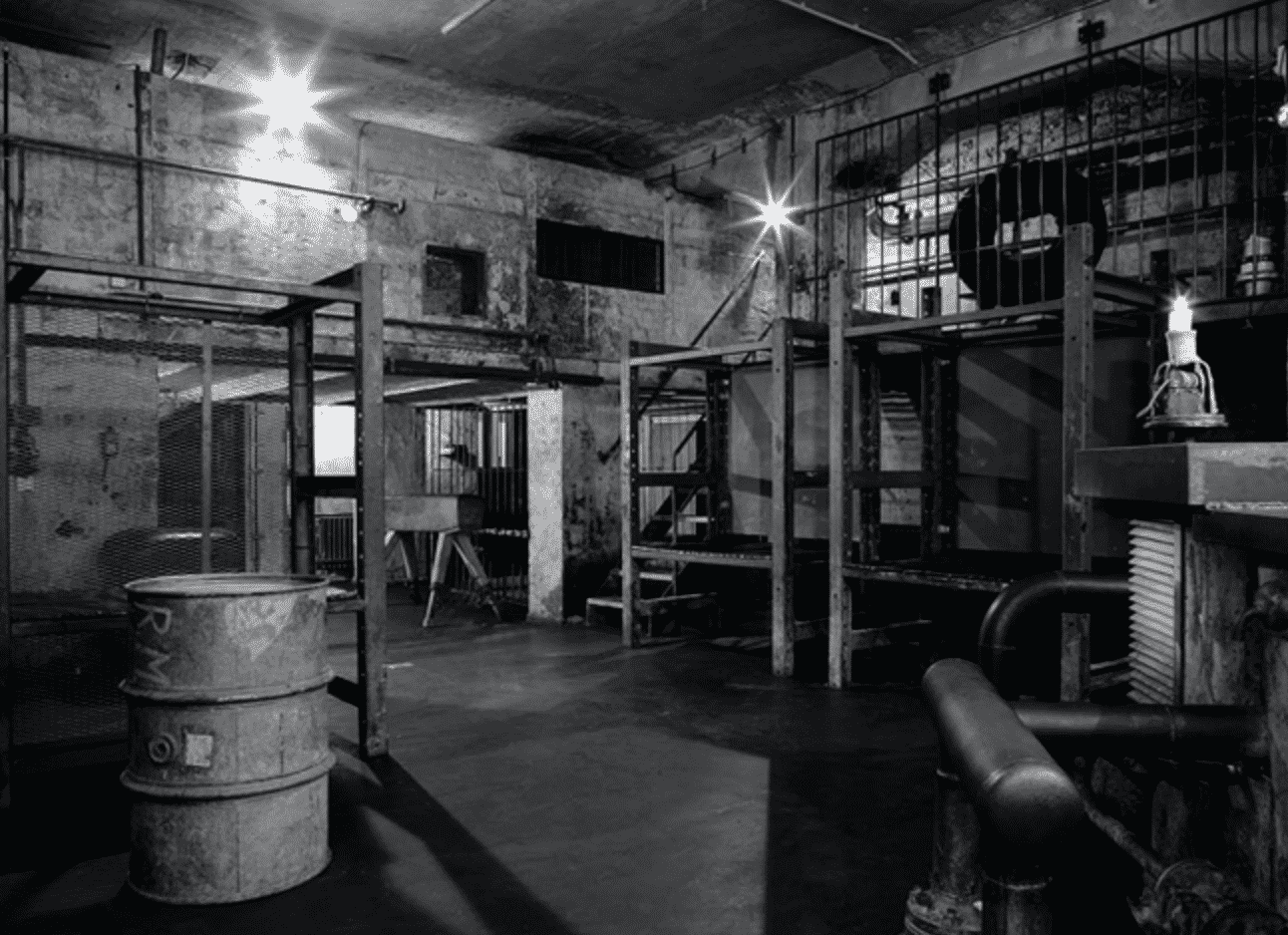 Gay Cruising Cinemas In Berlin