We think every gay man should own (and wear) a jockstrap. They are amazingly comfortable (and don't ride up in the front and back like briefs),help you feel confident and sexy, accentuate your assets and even make laundry less work.
Not to mention if you are hooking up with someone new (or old), they make for incredible, tantalizing foreplay.
Honestly, if you haven't tried out a jockstrap yet – today is the day to test the water. It is also the day to add to an existing collection. Because if there is one rule we have in life as gay men, it's that you can never have enough sexy underwear or jockstraps.
But there is an issues – and we've all been there. Sometimes we're walking through a store – or more realistically, scrolling through a shopping site – and we come across underwear that looks so good and that we're so sure is going to fit us.
Until we try it on – or worse still, buy it – and its fits too poorly and is so uncomfortable that the first thing we think about is how the return policy works so we can send it on back to wherever the hell it came from.

It feels like jockstraps should be exempted from such wardrobe mayhem. After all, they're such a necessary and essential part of our wardrobe (and if they are not yet, they will be after you discover the joys of these best gay jockstraps!).
Unfortunately, they're not, and a lot of the time, it can be so hard to find gay jockstraps that fits properly and doesn't cut off the blood flow to your nether region while also looking sexy and stylish.
I know it sounds like I'm describing an object of myth and legend but hear me out here, guy. It is possible to find a jockstrap that's all these things, and to prove it, I've put together a list of the best gay jockstraps that not only make you look sexy, you'll also feel it, too.
After all – with your package cradled and your ass left looking tasty and exposed, how could you not!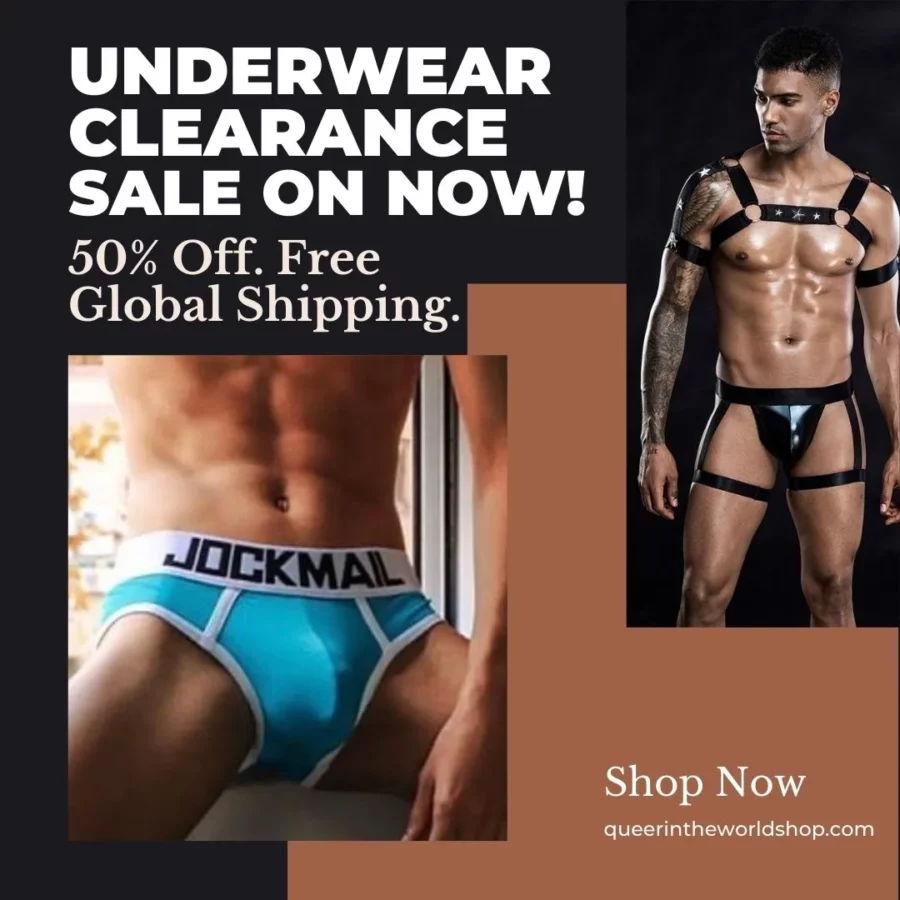 Number one on our list of best gay jockstraps is the Pikante Leader Jockstrap. It's a little-known gem that packs a huge punch – pun intended.
The Pikante Leader Jockstrap is made of polyester, so it's strong, lasting, and makes you feel good at the same time. It's also got extra straps because we all need that extra bit of support once in a while, right?
Now I know this isn't the point of this blog, but the Pikante Leader can also double as athletic underwear for use in sports like hockey. And we'd wear it just to see what fun it might bring us in the changing rooms after.
And in case that hadn't got you convinced, this gem features a fully exposed rear, and if I have to tell you what that means, you shouldn't be reading this. And just in case you need it spelled out, I'll give you two words: Easy Access.
Enough said.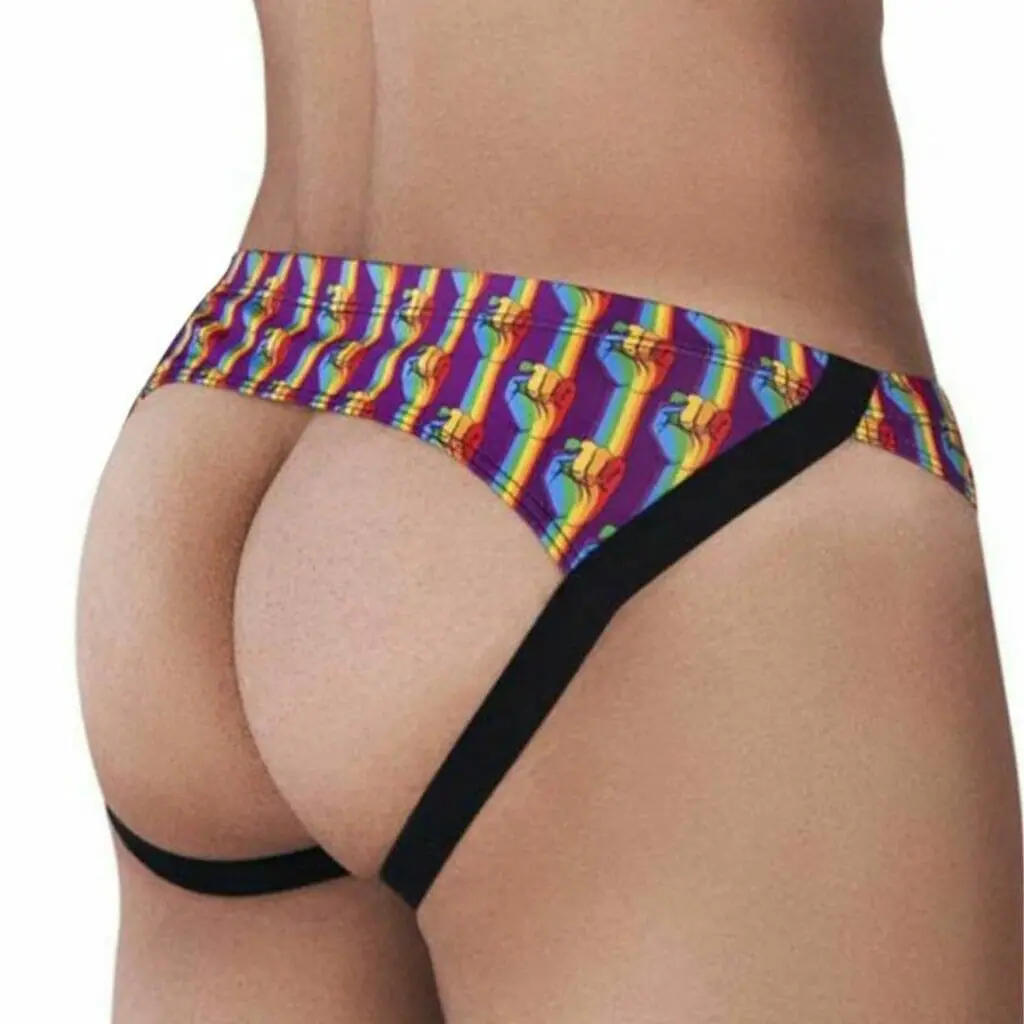 This next one is pride-themed, so that's a plus. The Andrew Christian Pride Net Mesh Jock is another Jockstrap that's got us excited over here. As Andrew Christian underwear always does
The main thing that stands out is that it's made of mesh, which means that it can do its job and still bring the heat in the bedroom or even out of it if you're feeling daring. The world is your oyster after all.
It's made of high-quality polyester, with some spandex added in for the stretch. And have I mentioned the mesh? Oh, I have? How about the fact that's it's got nothing at all at the back? Yep. What's the point of putting in all that work in the gym if you can't show your gains off to your man?
And even if you've done nothing but sit on the couch and eat ice cream all year, you can still flaunt what you've got, darling. It's even got a slimming waistband to hide those extra pounds in case they don't make you feel so good.
We are all about body positivity babe, and any we think all gay men in jockstraps look hot!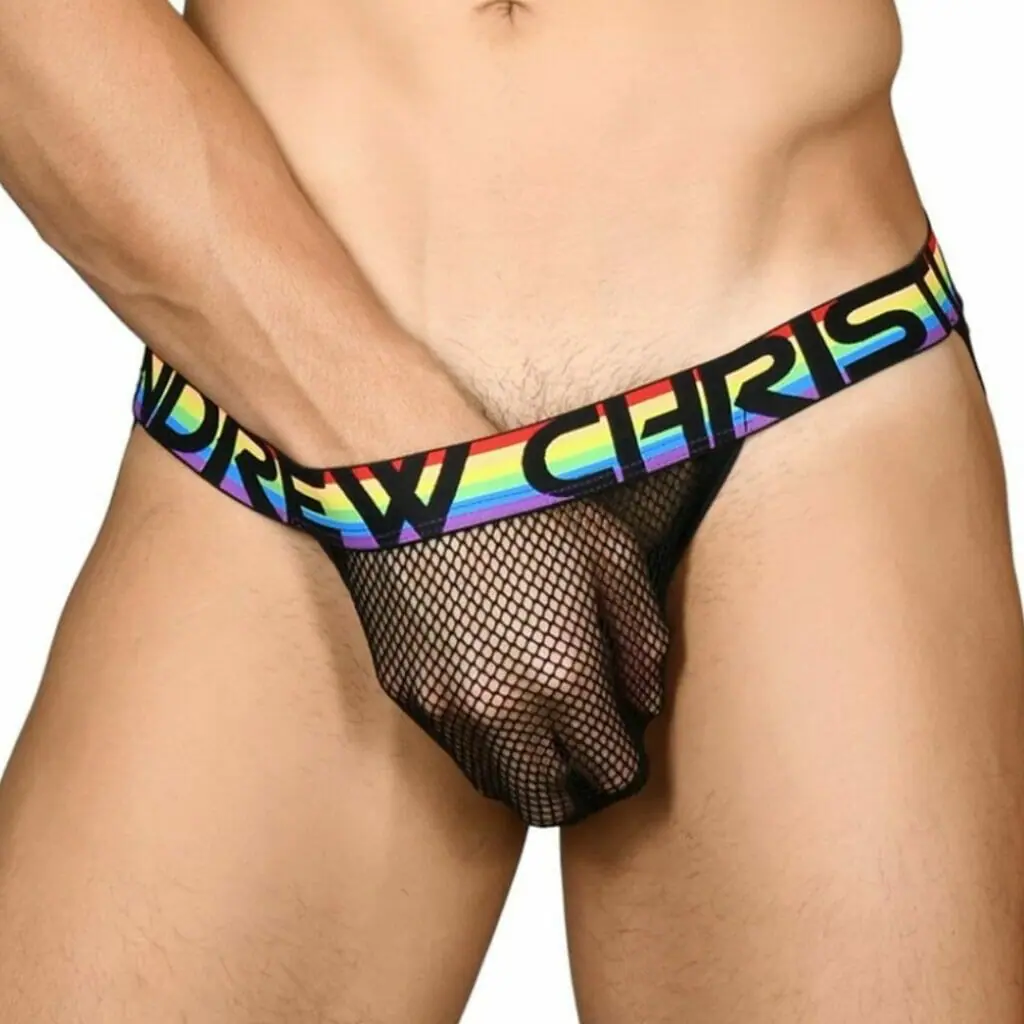 As the name implies, the Good Devil Metal Ring Jockstrap brings the heat. It'll completely change your life. It'll have you on your knees praying to…well whatever is above you at the time – and the Good Devil design team!
This is one Jockstrap that'll doesn't sacrifice aesthetics for comfort. Instead, it combines the two into one sexy-ass package. Its unique combination of straps and rings ensures that your package is gently cradled instead of squeezed. It's also low-rise, which means it flatters your figure and pairs perfectly with a gay sex harness – or does equally well as a stand alone performance.
Like all the other options on this list of best gay jockstraps, the Good Devil has minimal coverage in the backside department, so it doesn't get in the way of any ah, sinful activities.
After all, what's the point of wearing a jockstrap with such a name if you can't break a holy law or two?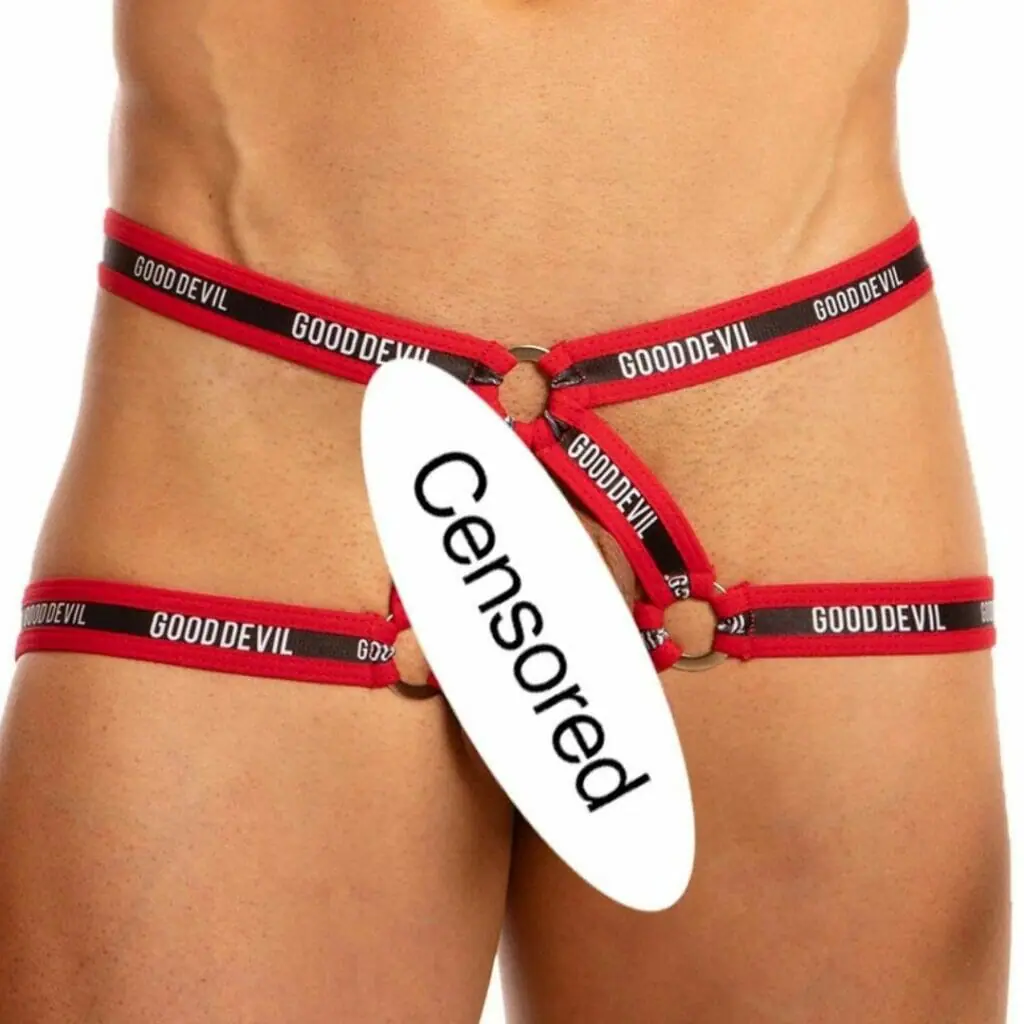 The Sugar Rush Jockstrap takes things to a whole other level with the "Pump!" logo written in bold across the front of the waistband. The fact that it says that right there might just be a happy coincidence, but I'm not inclined to think so. I read it as not only an instruction, but a demand. And one that the boys will be powerless to ignore.
Suggestive logos aside, the Sugar Rush Jock is incredible. It's made from nylon, cotton, and spandex for style, comfort, and fit – a triple threat. The flexible straps give the ol' buns a boost and keep gravity at bay, while the pouch is made of mesh, giving your goods ample space to breathe.
It's also got a nice contour, so you can proudly show them off as well. We all know how important it is to put our best foot forward in every situation.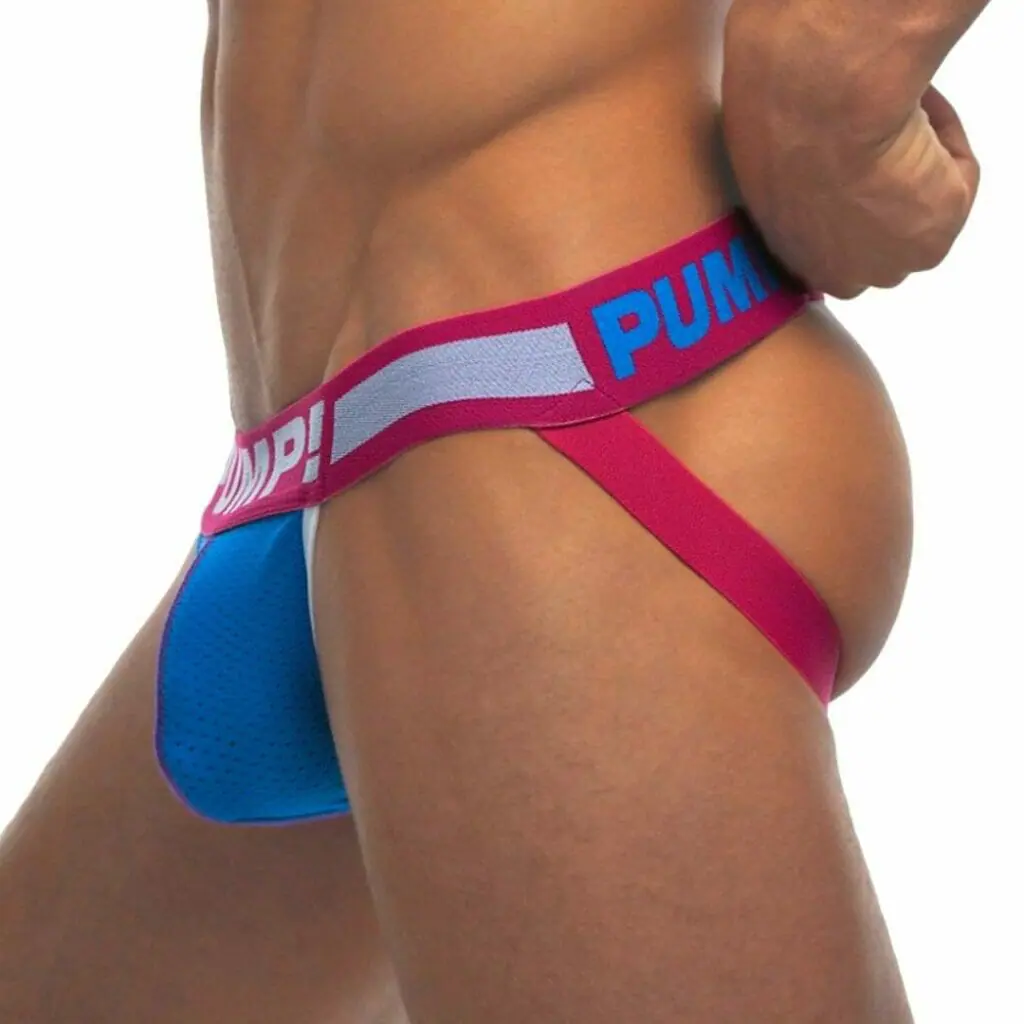 The Mundo Unico West Jockstrap might seem less edgy than some of the other sexy gay jockstrap that come before it on this list, but don't be too quick to discount it.

It's made of a glossy, smooth fabric that brings the comfort and the hotness factor, and it comes in beautiful, contrasting colors for when your man has an connoisseuring eye for art. After all, we feast with our eyes first before, well, anything else really, and nothing sets the mood more than some eye-catching, sexy underwear.
It's got a seamed pouch too, which is excellent for flattering, comfort, and extra support.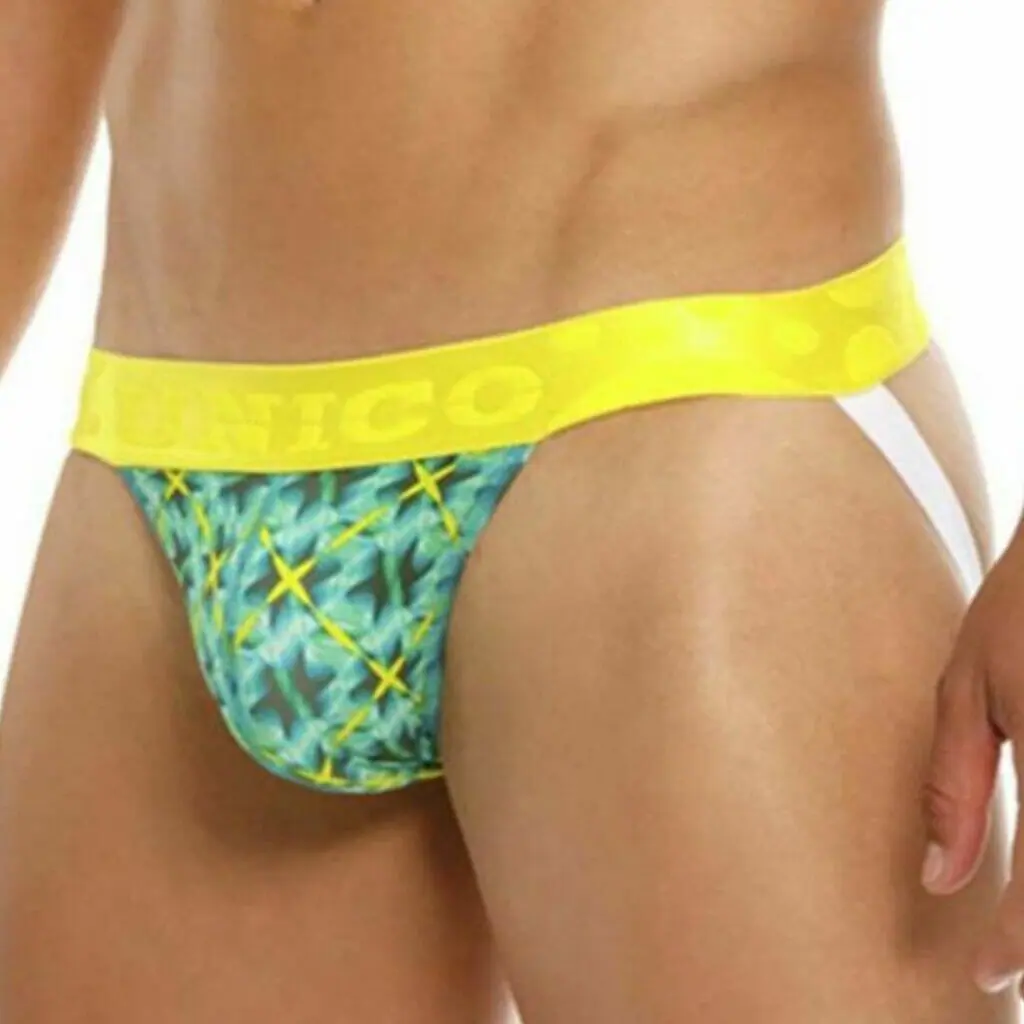 This one is also known as the jockstrap for the rich guys who have money to spend on designer underwear, and don't want you to ever forget it. I'm joking. Mostly, but the Armani's Mega Logo Jockstrap definitely gives you several reasons why you should pay that extra tens buck for it.
Just looking at it alone will convince you. Too bad it doesn't have a cool name like Pump because it seems like such a shame to waste that Mega Logo. Unless your man's a designer label freak, who gets turned on by Ralph Lauren T-shirts and Gucci man purses, in which case these are basically kink underwear for him.
If he isn't, worry not; this Jockstrap has plenty of other upsides, one of which is the fact that it's 95% cotton, and yet it still stretches. It's also got a contoured pouch for comfort and a low-rise waistband for style. It comes in a number of colors too, just in case you can't decide on one and want to buy the entire set. Which you probably will, because money is no object if you can afford these.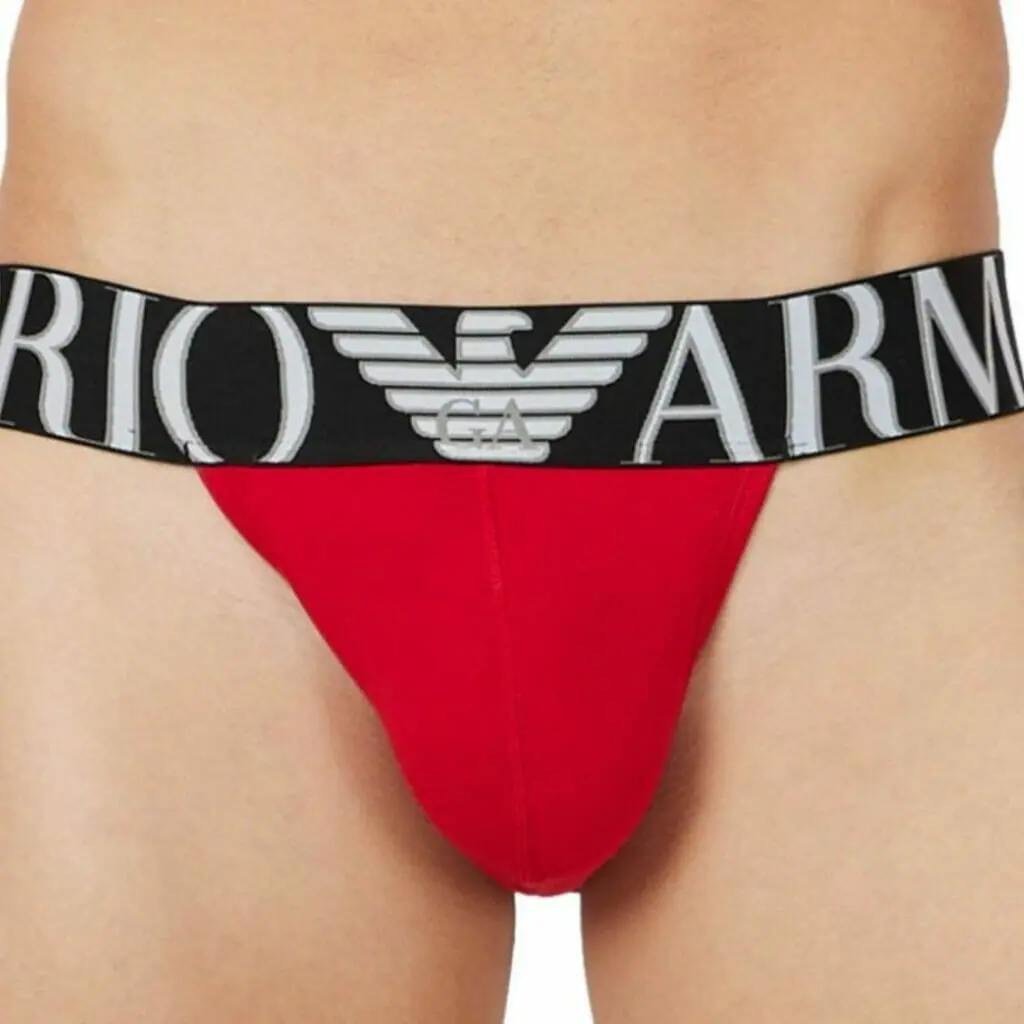 Here we have another pride-themed jockstrap, which can be worn throughout the year because, in my opinion, Pride never stops (just don't organize a pride parade on Thanksgiving because you will have pumpkin spice lattes thrown at you, and you'll have no one else to blame but yourself.)
I'd suggest doing a little gift swap with your partner for Pride, then wearing it throughout the rest of the year as a fun memento. Like many of our other gay sexy jockstrap offerings, this one has a fully exposed rear, but it also has backstraps that form a sexy design while also supporting your buttcheeks.
Talk about two for the price of one.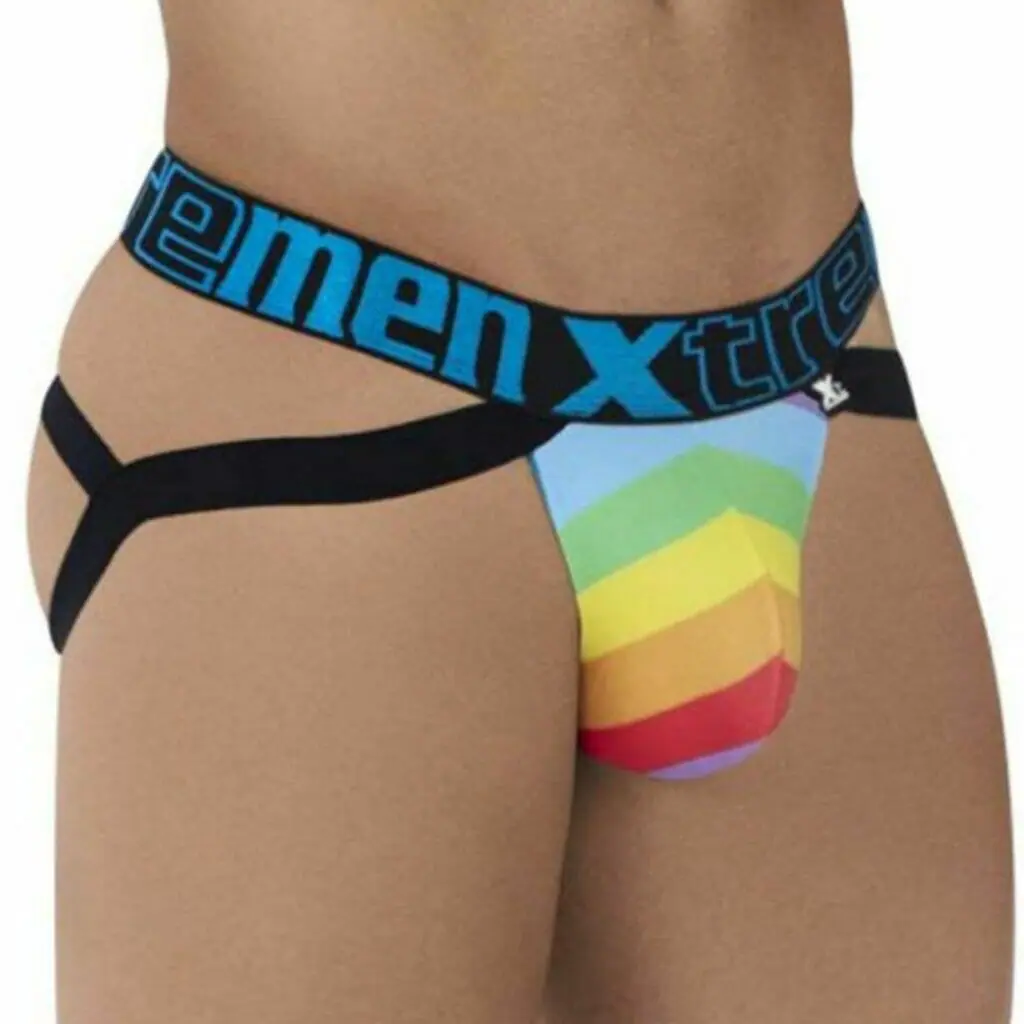 This Jockstrap is different from the others in that the pouch is so great it has to be protected by a trademark! That's right; the Cocksox Original pouch is formulated to provide support as well as enhancement.
Not sure what that means?
Let me put it this way; it'll turn your teeny tiny sausage into a colossal monster. Well, maybe not quite, but the Jockstrap can improve its appearance for a whole minute or two until it comes off and… Guys, I'm kidding. All dicks matter, great and small.
Asides from the size boost, the Cocksox Jockstrap is also made to be absorbent and quick-drying, and I think we can all remember a few moments where we could have done with something like this.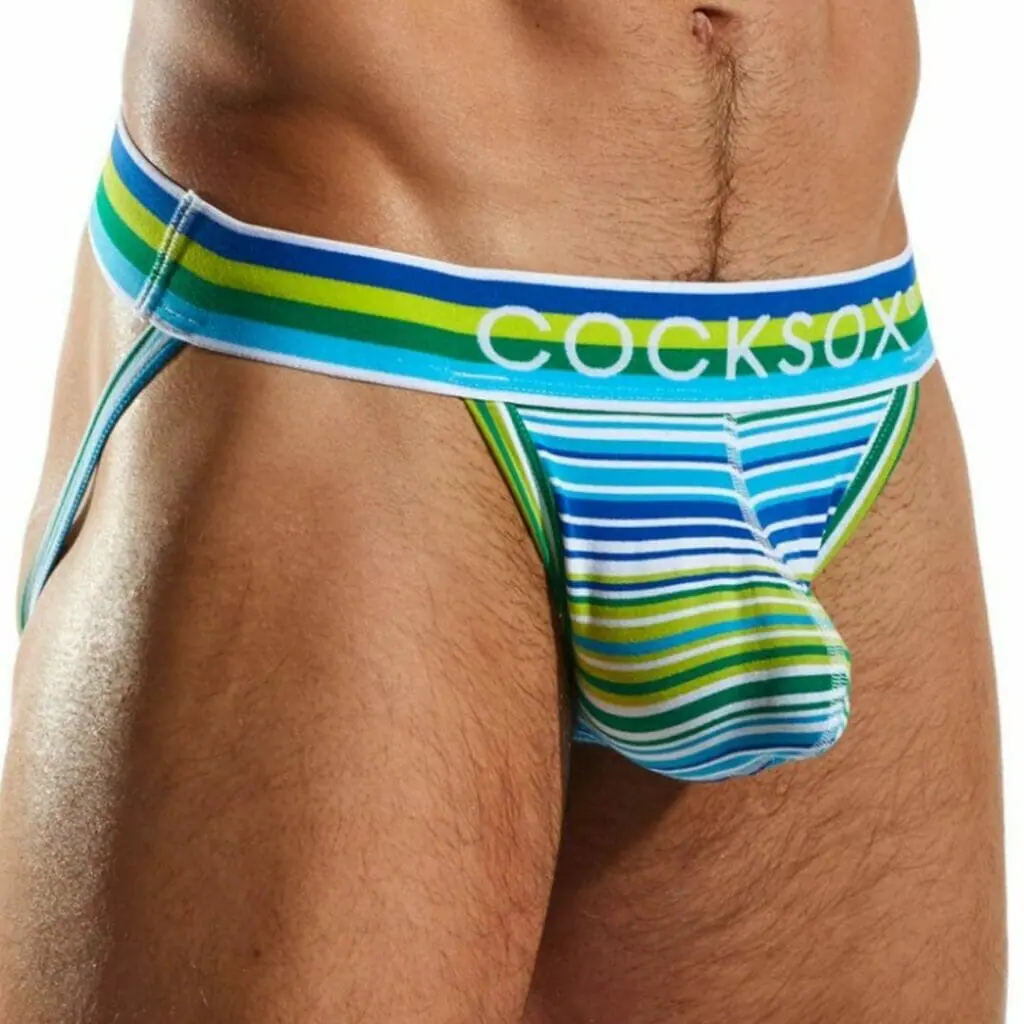 This Jockstrap is almost a hundred percent cotton, making for a true comfy fit. It also comes in colorful prints instead of solid colors, and it's got a fit that's second to none. But the most exciting part is the specially made no-roll elastic waistband.
I'm almost jealous of you guys – I'm giving away this knowledge free of charge.
I could have saved the number of tears and anguish if someone had told me this existed before I discovered it could not be quantified. The constant irritation of the rolled waistband is a universal experience, and I, for one, am glad someone finally decided to do something about it.
Now the only hard part with this jockstrap is deciding eggplant or banana? Or just get both and all it a gay couples halloween costume.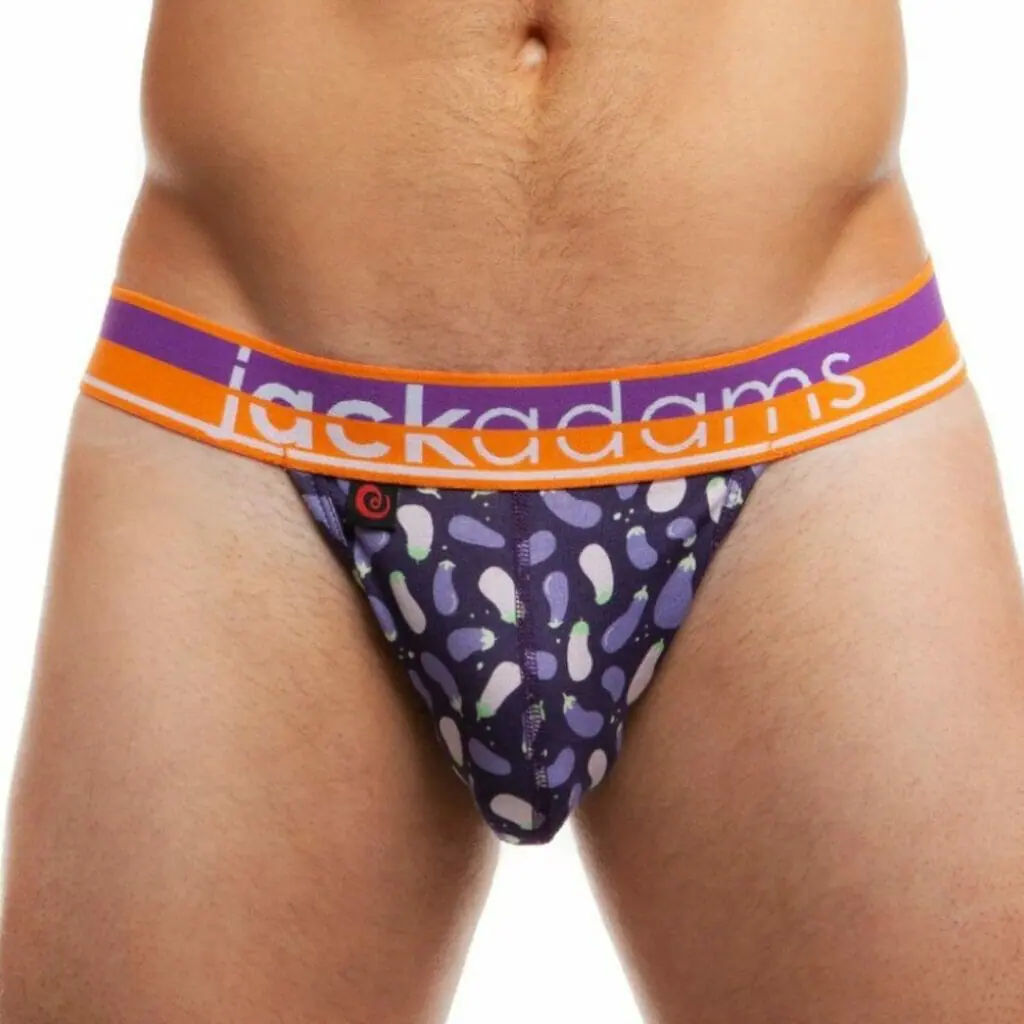 The Papi Jockstrap is that elusive beast – a jockstrap that is made from one hundred percent pure cotton. For those of us who've found out the hard way that we're allergic to anything else, this Jockstrap is the answer to our prayers.
Once again, the logo appears right in the center of the waistband, and guess what it says? It no coincidence that was also also what I asked for in my prayers (and have screamed on more than one occasion while on my knees).
In keeping with the theme of comfortable luxury, it's got a cushioned waistband and plush rear straps. After all, who said sexy times had to come with pain and discomfort just because you insisted on buying that pair of underwear that was two sizes too small because it came in your man's favorite color?

Not yet convinced? It's got an extra-wide ouch with a seam for better support. Let's see you beat that Calvin.