Underwear fetishism is growing and becoming increasingly normalized in the gay community, and with it has the options for gay Fetish Underwear. So much so that many gay men would not even recognize it as a fetish anymore.
For those of us who experience excitement over the observation, feeling, smell, and visualization of underwear, there has never been a better time to be alive. Nor has there ever been a better time to explore this kink.
Before we delve into some of our favorite products, we just need to reassure newbies that a gay underwear kink is nothing to be concerned or ashamed about. It is entirely normal for either you or your partner to be aroused by underwear and undergarments, and there is no one to explore this fetish.
Sexual variety and exploration are a natural and healthy part of the gay experience. And as long as you are not harassing individuals or violating their privacy, are respectful, and receiving explicit consent, you should feel free to try new things that appeal to you.
It can be a bit overwhelming diving into the world of gay men's fetish underwear because there is just so much to explore. Kinks and pleasure are very personal, and what fetish underwear excites you might not necessarily excite your partner. You might like to wear the underwear or get aroused by others wear the item.
From experience, we can tell you it is sweltering to discuss fetish underwear before going on a date – and having one or both partners wear them throughout the night as a surprise under otherwise regular clothing.
There are many gay underwear brands to explore, and everything from lace and see-through mesh to latex, rubber, leather, lycra, and more. Material and accessories also play a big part. It might be gay jockstraps that do it; for others, it is briefs or lingerie. The open-back pleasure and freedom of jockstraps are a common fetish, though others enjoy the feminine look and feel of lace panties, thongs, or G-strings. Tease and titillation are all part of the experience, as are bringing your fantasy to life.
This is why athletic bodysuits and wrestling jockstraps are so popular (because who didn't dream about specific scenarios playing out in the gym when we were in school) – and many gay Halloween costumes involve role-play.
Accessories like cockrings, stockings, harnesses, and more are frequently used with fetish underwear to increase pleasure and stimulation – and we would encourage you to open your mind to anything that you believe can lead to more fun during sexual activity for some fun. Don't hold back.
Shiny neoprene, stretchy lycra, latex, lace, cotton, or spandex — all are capable of making a man feel sexy and attractive and adding to the passion and kinky details of the bedroom. You are only limited by your imagination.
So, let's get started with our picks for the best gay fetish underwear options to help you discover your desires in the world of kink.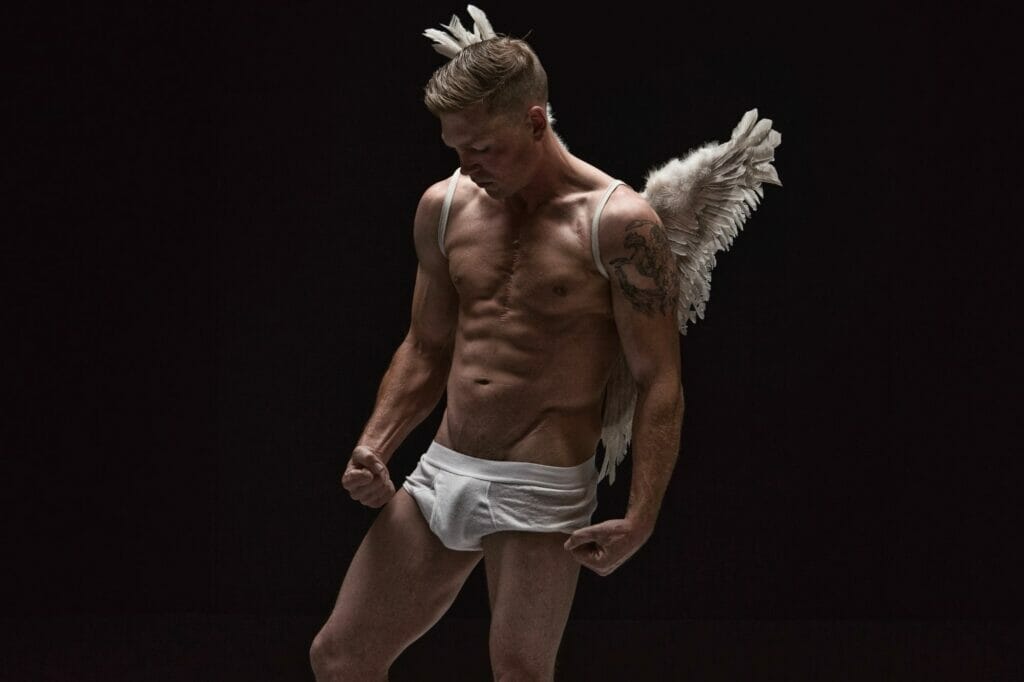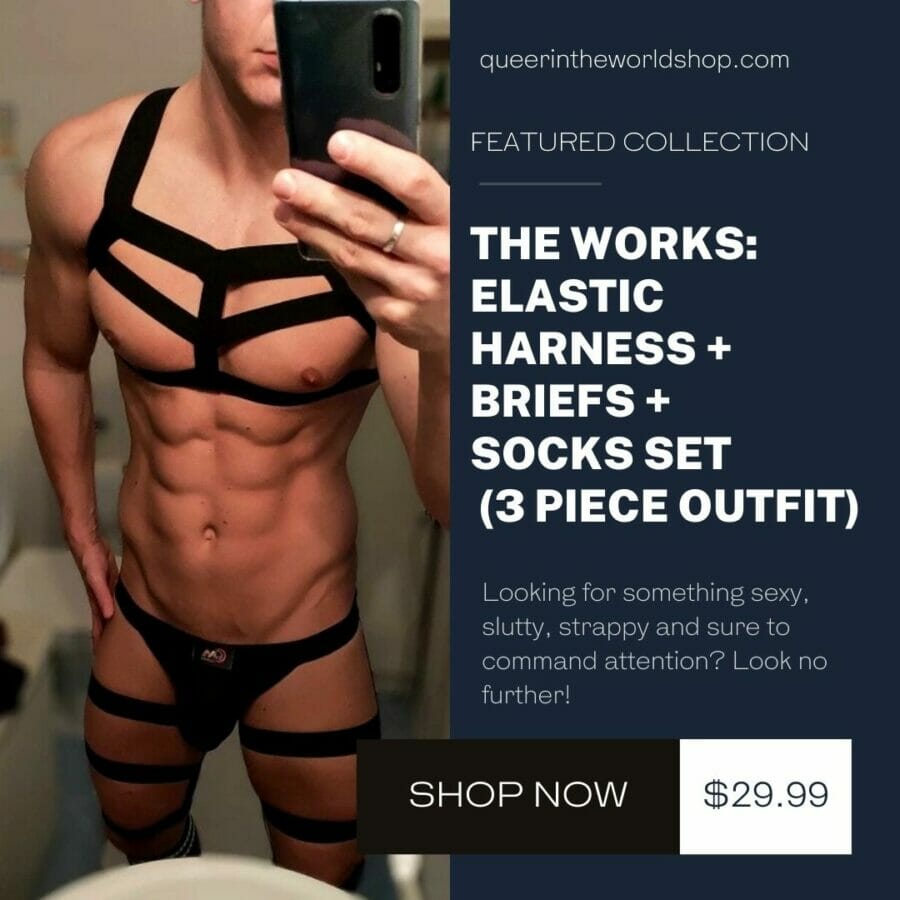 Ever looked at lace underwear online and sighed wistfully, knowing how soft and comfortable they must feel? Well, look no further than this exquisite example of lace lingerie underwear. It's so good that you'll want to wear it even when you don't have a man to show off for ( but please, I'm begging you, get you a man to wear it with. It's too gorgeous to keep to yourself).
It's got clever leg straps that sculpt your thighs, giving you a sensual look. It's also made from the softest, most comfortable, floral-patterned lace and comes in black and white, so whether you're feeling playful or naughty, you've got a color for every mood.
This Jockstrap may be sports-themed, but I can bet the last thing you're going to use it for is to play sports. Jockmail is a high-quality brand, and they deliver their usual perfection with this athletic lacing Jockstrap for the sports jocks who want to get kinky in bed.
We think every gay man should own (and wear) a jockstrap. They are amazingly comfortable (and don't ride up in the front and back like briefs), will ensure you feel confident and sexy, accentuate your assets and even make laundry less work.
Not to mention if you are hooking up with someone new (or old), they make for incredible, tantalizing foreplay.
Honestly, if you haven't tried out a jockstrap yet – now is your chance. And this affordable pair is the perfect way to test the water or add to an existing collection. And if there is one rule we have in life as gay men, it's that you can never have enough sexy underwear or jockstraps.
It's got a unique design that combines an aesthetic appeal with a durable, breakable pouch made of polyester and spandex.
It also comes in a range of fashionable, carefully selected colors based on modern fashion trends, so there's one to suit every taste. It's a tight fit, so I recommend working with measurements to get it as close to custom-made as possible.
I've not included many Latex items on this list, but that's because it's somewhat of a niche taste. Still, I pride myself on my inclusion and having something for everyone, so this one is for the guys with a latex fetish.
It's comfortable and molds your package, giving it an impressive look. In addition, it gives your thighs a sexy, long look, delivering that extra dose of confidence you didn't even know you needed. It's also got a zip down the back for ease of access and added style.
It comes in a wide range of sizes, and there's even a sizing chart, so you can be sure to purchase one that fits you perfectly.
If you want to dive dick-first into the world of gay kink, then this is a must-have. It is perfect if you want to show off/see some skin and will definitely help everyone involved get turned on. The thong-style underwear will have you salivating as you admire your partner, yet know the prize is hidden away for now.
Experience how hot your partner truly is and grace your eyes with their sexy thighs. You will also be getting the chance to see their juicy c0ck packaged as a Christmas gift. With just enough minimal coverage, when you have had enough of admiring your partner, undo the leather straps and claim your prize.
Better yet, rip it off them – adding to the overall excitement!
Who doesn't love a man in uniform? Now imagine that the uniform in question is a pair of backless camo briefs, and you can see why we love this offering from ORLVS. If you haven't tried backless briefs yet, you've been sleeping on one of the greatest inventions for men the world has ever produced.
It's true, a lot of jockstraps are backless, but there's just something about the comfort of briefs combined with the tantalizing kinkiness of an exposed ass that makes my mouth water. Factor in the stylish design and the fact that it's made of a premium cotton blend, and you've got yourself a hit that's sure to become a staple in your underwear drawer.
Wear these around the office underneath a pair of normal trousers and tell me you don't feel kinky as hell!
Allow yourself to dive into the exciting world of kink in style. This gay fetish underwear has revolutionized the meaning of style. What it offers you is pure class with its decorative studs. Your partner will be longing to get home and hold you in his arms (or throw you on the bed) after an experience with this.
Of course, make sure to get a good fit for your body for the most appealing and seductive experience.
The design of this gay fetish underwear is a pure masterclass. It is made of stretchy jet black leather-like fabric. This means that it will provide a sexy fit. It gets even better! It has an additional detachable Velcro thong. Oh yes. You will need to get several as you are guaranteed to have this torn off you in the heat of the moment. Have fun!
Pride rolls around every year. Sometimes it falls on multiple dates, depending on your location and identity. However often the rainbow flags come out, there is always a reason to celebrate, and it would be impossible to do so without some pride-themed fetish underwear.
Don't know where to start shopping from? Worry not; I've got you covered in that department.
Check out Jockmail's pride mesh underwear for the perfect blend of fun and kinky. It comes in black and white mesh, and you can get boxer shorts or briefs – though we guarantee you'll love it so much you'll probably end up buying both. Sizes range from M to XXL, so you don't have to worry about finding one that'll fit.
It is extremely sensual, and a feeling like you are wearing – well, nothing at all. You'll like the beautiful, see-through material and being the many attraction of the evening. And your guy? He won't wait too long to take you to the bedroom.
The product name ought to have told you everything there is to know! I bet that's why you can't wipe that smile off your face. The first thing that will have you falling in love with this product is the logo waistband. That is probably one of the reasons why you will be ordering several of them in a few different colors. This gay fetish underwear is not the kind you play teasing games with.
You are a good little devil who likes to get right now to business (and has a 'less-is-more approach to life).
The fact that it offers minimal coverage makes it obvious that it was designed for action. It is backless, thus ensuring that your partner has his eyes on the price from the word "go"! And the waistband is minimal, so it won't get in the way when it is time to get down to business.
Make any time of the day unforgettable with this sexy underwear hot enough for the devil himself!
There's something about leather that just puts people in the mood. Maybe it's the sleek, gleaming look or the soft, buttery feel against the skin. Whatever it is, leather has earned a badge of honor for being sexy and is beloved by so many fetish underwear enthusiasts in the gay community for this very reason.
These kinky briefs made from faux leather delivers all of the good qualities of leather with none of the bad (translation: you're not going to have PETA staging a protest outside your house.) And it won't cost you as much as a weekend in Mykonos as a result.
The material is a blend of synthetic leather and spandex, assuring style and comfort. It's tailored to show off your beat side, with a seamed pouch for cradling your package and enhancing its appearance. There's also a sizing chart provided to prevent any regrets or complaints about size.
Not that I'm a size qween.
If the product name alone is not a full demand of what needs to be done, one look at this amazing jockstrap should leave you with no questions. Gay fetish underwear that ushers you into the world of kink like you really mean it. You will need to get your hands on these Andrew Christians as soon as possible because they are limited edition honey.
Be bold and brave enough to know you little look hot as hell when you wear it, and then let your partner rip it off you with pleasure. It is without a doubt a no holds barred kind of product. The purpose of this is purely to make you look more inviting and let your partner know exactly what you want.
Allow yourself to look like the icing on the cake. Watch your partner lick, suck, and f*ck you like there is no tomorrow.
What's more fun than one Jockstrap? Three. This pack of jockstraps from ORLVS contains three sensual, tailored, cross-strap jockstraps for the guys who like to go beyond the boring and mundane. The Jockstrap comes in black, grey, and white, so you have a shade for every mood.
Its bold and modern design stands out, and it is made from a high-quality, breathable cotton blend for premium comfort. It's a jockstrap that you'll be proud to wear everywhere, from the beach to circuit parties to the bedroom for a wild time.
Just think about how tasty your ass will look being framed in them. Give it a try, and you'll be raving about it to anyone who will listen.
Do you like to be seductive? Enjoy the foreplay as much as the end game? To have your partner on the bed hard, but you to keep the teasing going before finally handing over the cookie jar? Then this gay fetish lingerie is going to be your new best friend.
The underwear is made of soft lace fabric that makes sure you are comfortable while emboldening your feminine side. The feeling of that soft fabric against your skin gives a confidence boost like none other. You will not have to worry about getting hard or looking hot. And neither will your partner.
To be even more daring, wear them at work under a particular masculine outfit. This secret will really get you going throughout the day.
We love leather underwear, and we love backless underwear, and we're pretty sure we'd do a couple of illegal things for backless leather underwear, especially when it's as sexy and snug as this one is.
It's brief-style, made from faux leather and spandex, and displays your ass a tasty little treat in the bedroom – or outside if you like to walk on the wild side. Wear it to set the mood for a nasty romp in the sheets or at a hard-core kink party to raise the heat.
Whatever way you decide to wear it, this underwear delivers a sculpted, sensual look and a premium feel.
Unlock your wild side in style like never before. If you are looking to be suggestive to your partner without saying a word, then this is for you. Gay fetish underwear that comes with absolute comfortability but takes nothing from the sexiness. It is made of sheer mesh fabric enabling its look to be complemented by our hot skin.
The sheer mesh fabric offers full coverage on your back. As much as that will make your partner drool over how hot you are, he will not stop himself from ripping it off of your body. Before he does, you can make the moment even more fun by undoing the zipper to expose your cock for some more fun.
We've seen tons of backless underwear, from briefs to jockstraps to thongs, and now I've found something that's even more deliciously wicked and kinky: open-pouch Boxers!
These bad-boys take sexy to the next level, with a clever design that allows the pouch to open outwards, giving easy access to your junk without having to go through the stress of taking off your underwear completely. It's made from a delightfully glossy fabric that makes your package look even more impressive while framing and lifting your rear end.
Colors range from fun neon green to a sensual dark red, and sizes go all the way up to XXL. This is one pair of boxers that shouldn't be missing from your underwear drawer.
If you or your partner loves to it wild, then dare not tame him! It would be best if you had a fetish jockstrap that can keep up. With minimal coverage of your ass, this gay footballer underwear is a must-have. Your partner will be thinking every day is your anniversary with this one. The fact that you two can go right into action even when you are still wearing it makes it a personal favorite for many.
Run a touchdown and land a Hail Mary!
This footballer lace-up masterpiece gets even better. The choice of what action goes first is completely up to you. You will be the one to decide whether you will only let him enjoy the back view first before undoing the lace. Enjoy all possibilities with your partner.
The ball is on your side. Let the games begin!
This one is less wild and more playful for men who want to reveal their softer side. This sexy floral lace underwear is something different, but different can be fun too. It comes in boxer and brief styles, with white, black, or dark blue trimming and a number of floral patterns.
It's insanely comfortable with great fitting – the pouch even stretches for those days where none of your underwear seems to fit in one particular area – and can be worn as normal underwear.
But it would be a shame to let all the lace and flowers and glittered go to waste. Light some candles, put on some music to set the mood, and slip on this bad boy for an unforgettable experience with your partner.
It goes all the way to XXL in sizing, so there's something for practically everyone.
If you have been stressing and thinking that you might miss out on any action because of your body type, then buckle up. This gay fetish underwear ensures you get comfortable before the action starts and works with any body type. Now that you have gotten relaxed, the next act has already been spelled out for you. Rip it off!
Made from a superelastic material and with the most minimal of coverage, you will have a perfect excuse not to keep your hands off your partner. The gay fetish underwear exposes all the hot parts of either you or your partner and makes sure nothing is out of reach.
It also has a detachable C-ring waistband with adjustable steel snaps! No day will be a dull one with your partner in this, lying next to you. We have made sure of it!
Jockstraps have all sorts of uses, but this one is specifically to heat things up in the bedroom. This kinky male Jockstrap is not for the faint of heart. If you're a newbie at buying fetish underwear, I suggest you start with something less spicy, but if you're ready to get right in there, then this is perfect for you.
It's made from faux leather – so you don't have to feel guilty about buying it – which is a polyester and spandex blend that delivers sexy sophistication, top-notch comfort, and exact fitting in one go.
It's also got a beautiful design that accentuates your package while providing the perfect framing for your rear end, showing it off as a tasty little treat for whoever the lucky guy is. It comes in a wide range of sizes, accompanied by a size chart for a more accurate fit.
I'm sure you love the term "minimal coverage." If you do, you will absolutely adore this gay fetish underwear. If you want your man drooling over the site of your back, then consider it done. As the name implies, the Good Devil Metal Ring Jockstrap brings the heat. It'll completely change your life. It'll have you on your knees praying to…well, whatever is above you at the time – and the Good Devil design team!
The straps are of cage design, making you look even hotter. All the hot straps then connect at the three metal rings at the front, and this is one Jockstrap that'll doesn't sacrifice aesthetics for comfort. Instead, it combines the two into one sexy-ass package. Its unique combination of straps and rings ensures that your package is gently cradled instead of squeezed.
It's also low-rise, which means it flatters your figure and pairs perfectly with a gay sex harness – or does equally well as a stand-alone performance.
Like many other options on this list of best gay jockstraps, the Good Devil Metal Ring jockstrap has minimal coverage in the backside department, so it doesn't get in the way of any ah, sinful activities.
After all, what's the point of wearing a jockstrap with such a name if you can't break a holy law or two?
Everyone knows we can never have too much Pride-themed underwear. After all, the mark of a Pride well-spent is how much time we spent in our underwear versus fully-clothed, and when it comes to this ORLVS Pride Jockstrap, I bet you you'll never want to take it off.
And thanks to its easy to access back, you might not have to!
It's made of a comfortable polyester blend that shows off your best side whole cradling your goods gently. It's also got rainbow-colored straps that look good while giving you the perfect fit, and it comes in a range of shades so that you have a lot to choose from.
This one is for the serious fan of kink underwear. At first sight, it's clear that this bodysuit is made solely for fun. It's an indulgent purchase that promises to be worth ever dear spent on it.
A unique leather contraption made for sheer pleasure and carefully crafted from a mixture of PU leather and spandex.
It's also tailored to look hot on whoever wears it and is made for a tight fit. It's part harness, part jockstrap, and all kinky allure. One look at it – on or off the sexy man of your choice – will have your mouth watering.
Sultry looks aside, this bodysuit delivers comfort and a flawless fit, bringing it as close to perfect as possible.
The only problem you will have is deciding who to wrestle first in it. Oh, and did we mention It's also backless, for extra pleasure.