Everything is better with a good thong. They're sexy and great for teasing. They're also invaluable in certain situations, like when you have to wear outfits that underwear lines will spoil. They're the multipurpose underwear we all need.
Sadly there's a downside to these nifty little items: comfort.
It's so hard to find gay men's thongs that aren't constantly getting into the wrong places and driving us crazy. That's why I decided to write this post. With knowledge gotten from years of sometimes painful, sometimes just plain embarrassing experiences, I've put together a list of sexy gay thongs that makes you look and feel seductive.
Comfort was an important factor as style in the course of making this list because we all know there are very few things that spoil the mood, like a thong strap poking into your ass while you're trying to get down and dirty. This is why so many gay men go for fetish underwear and harnesses instead – they believe that they are more comfortable. But those of us who have discovered the pure joy that comes with a well-fitting thong or gay g-string know better.
The thongs on this list coming in a wide variety of styles and fabric types, from the classic thong to floral lace, mesh, and even leather. We have even covered multiple gay underwear brands.
There's even a micro thong because, in this case, bigger doesn't necessarily mean better. Each one comes in a wide range of sizes, and several come in more than one color, so you'll be sure to find one that suits you.
Snakeskin patterns have become a popular underwear trend in recent times, and I must admit it has a certain appeal. Jockmail's Snakeskin thong confirms this. There's something deliciously sensual about this thong, and the print seems to add an extra level of appeal to an article of clothing that already screams 'sexy.' It reminds us of the wild jungles of Gay Brazil or the wild snakes we 'find' at circuit parties.
This Jockmail Snakeskin Thong is made from a special polyester blend, so it is extremely comfortable and can be worn as daily underwear. On the other hand, it comes in a range of vivid and stylish colors, including a sexy shade of black and a red that's almost too hot to handle for hookups.
With superb design and a perfect fit that frames and displays your package, you'll definitely not want to wear this under any outfit. As with all gay men's thongs, be sure to use the size chart for a fit that's second-to-none.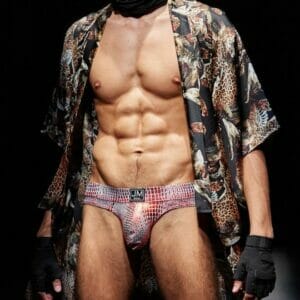 The thought of a leopard print thong might seem tacky, but one look at this one will surely change your mind. This thong is the essence of style and comfort infused with a touch of camp and kitsch. It's low-rise, which does wonders for torso length and crotch size. It's also made from a breathable nylon blend, so there's no construction and plenty of circulation.
This Leopard Print comes in over half a dozen colors, including purple and gold, so you'll definitely find one that's to your taste. Or buy one of each. There's a size chart and an inclusive range of sizes that start from S and go all the way up to XL.
And that's not even all. I love saving the best for last, so I waited till the end to mention that it's also practically backless. This ingenious design perfectly encircles and outlines your ass cheeks, leaving them exposed. It's the perfect choice for showing off all the work you've put in at the gym and presenting a tasty meal on your next hook-up.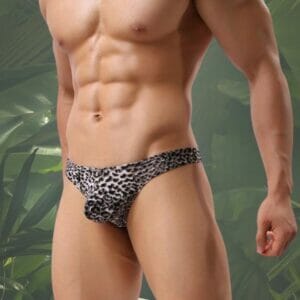 The breathtaking design of this Adanny mesh thong stands out at first sight. Each color had a different, abstract, camouflage-style pattern, and it looks so good you'll have to stop yourself from taking off your pants and showing it off every chance you get. If you've got pants on in the first place, which, ideally, you shouldn't.
This thong is entirely unique and sure to stand out no matter where you do from Miami beach parties or Berlin raves.
It's made of a nylon/polyester blend that promises a-hundred-per cent comfort, so you don't have to sacrifice wellbeing for style. The sizes go all the way up to XXL, and there's a chart for extra precision. Its design ensures an attractive package at the front while leaving your rear end exposed for the extra hotness factor.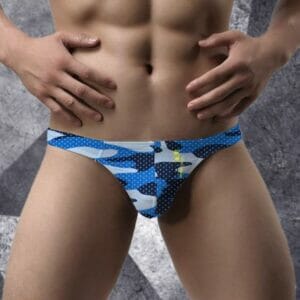 The ADANNU Classic thong comes in six shades, and every one of them is glamorous. In a genus design choice, the ADANNU logo is stitched all the way down the front of the crotch, creating an elongated effect while also drawing attention to your package. And boy, is it a package the boys will want to open – whether you let them however is up to you!
The crotch is also seamed for that extra bit of support. It's made from a polyester blend for comfort as well as an ideal fit and has a wide waistband to prevent any pinching and tightness.
The simplistic design draws attention to your peachy ass, and the tailoring provides a perfect frame. This thong offers quality, elegance, and simplicity all in one package. It's a must-have in your underwear drawer and one purchase you definitely won't regret.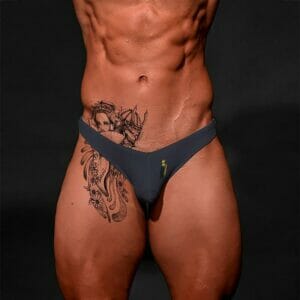 Jockmail's Ultra-thin Thong is the definition of luxury gay underwear. A cursory look reveals thoughtful design and careful tailoring geared towards providing the optimal underwear experience. It's made of a high-quality blend of nylon and spandex blend that's so thin it's almost see-through. Almost, but not quite. You have to keep some mystery after all!
The material is as light and comfortable as it looks and feels amazing against the skin. The straps are just as light and don't pinch at all. Then there is the crotch which is wide and spacious, with more than adequate support despite the lightness of the fabric.
There are about seven colors to choose from, and sizes range from S to XXL, so you'll be spoiled for choice.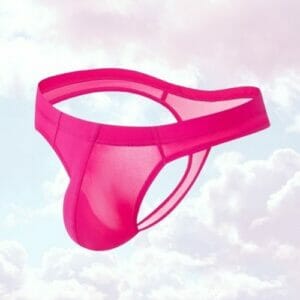 Leather underwear isn't for everyone. Let's face it, it's not precisely breathable or even particularly comfortable, but it sure is sexy, and sometimes we want sexy more than we care about our comfort. But what happens when you're not ready to accept a hot, sweaty crotch in return for having all eyes on you at that party or club?
Enter this PU Leather Buckle-Up Thong.
Made from breathable polyester that looks exactly like that soft, buttery leather that's to-die-for, this thong allows you to retain the style with none of the discomforts. It is low-rise, so it sits on your hips in the most flattering way possible, making your torso look longer and leaner.
The buckles give it a more stylish, modern appearance. It's worth every cent you'll spend on it and after a wild weekend in Gay Sitges, we can attest to their appeal!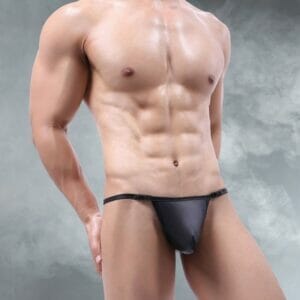 This thong takes synthetic leather to the next level by giving it a glossy sheen. It's fun and playful, perfect for futuristic-themed parties and queer festivals like Milkshake and Mighty Hoopla.
These Shiny PU Leather Thong are super light and comfortable, and yet it has a reinforced pouch to provide adequate support for your crotch. Plus they are practically backless, giving your ass cheeks room to shine (pun intended), and the blend of polyester and polyamide that it's made of is durable and easy to take care of.
If you have real leather items like gay shoes or harnesses you'll already know what a nightmare that can be – and how expensive!
Choose from four different colors, and be sure to use the size chart for the best fit. This photogenic underwear can be worn under clothes for everyday use or by itself when it's time to have fun.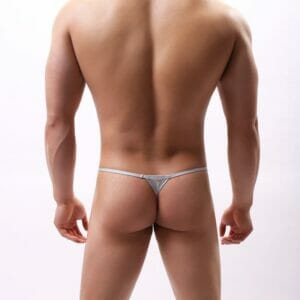 Lace is practically synonymous with seductive, sexy, and sensuousness, and this floral lace thong takes things to the next level. The waistband and straps are made from a polyester/polyamide blend that's comfortable and breathable, while the crotch and back are made from soft, quality lace, so it's cozy as well as oh-so-pretty.
The crotch is also seamed for support that inspires confidence. It comes in a g-string style, eliminating any unattractive lines and ensuring a better fit while still framing and revealing your ass.
Wear this for your lover to make them want you even more. And come one, you are already so irresistible – so imagine after donning this! This floral lace though has four colors and several sizes to choose from, so there's really no excuse for you not to have this piece in your underwear drawer.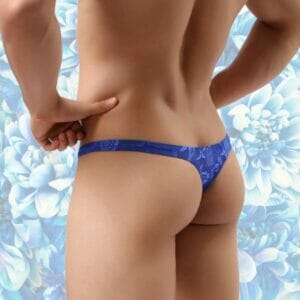 This erotic lace thong is as sensual as gay men's thongs go. It's a barely-there style, with high-quality floral lace forming the crotch area. The straps are made of a blend of nylon and spandex that's breathable and comfortable, and the lace crotch is seamed for extra support.
It sits low on the hips, attractively elongating your torso. It comes in a wide range of colors, and there's no rule that says you have to have just one (you'll probably want more than one when you give it a try).
There's a size chart provided when you order so that you can get your exact size. And did I mention how comfortable the lace is? It feels like heaven against the skin. Though wearing this, you'll probably wind up having more heavenly feelings against your skin at some point or another…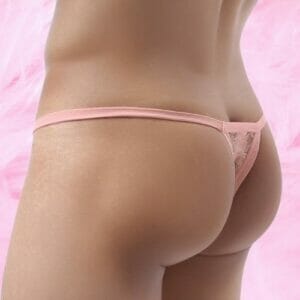 This Agacio Micro Thong is a modern take on discreet underwear. It's made of mesh that's constructed out of a soft and comfortable nylon blend. Its ultra-modern design means that it provides the ultimate support while still being able to remain backless, offering tantalizing views of your ass.
Its contemporary design gives it a modern touch, and the logo printed across the waistband elevates the look and feel. In contrast to the wide waistband and supporting pouch, the back strap is almost non-existent, creating a comfortable fit that draws attention to your package while having a slimming effect on your waistline.
The size chart provided at the point of purchase ensures that you get one that'll fit you perfectly.