People get up to a lot of things in bed, some less known than others. Tastes are subjective, but there are common kinks and kinks that require some research and time to understand.
Not for me though, I'm game to try anything. Almost anything, anyway, there's a couple of things I'm not quite ready to experiment with.
So y'all know I always keep my eyes and ears open for content to write about for you guys, and I recently came across this thing called 'gay puppy play.' The full story of how I discovered it would have to wait till another day, but basically, it's a sort of popular thing among guys that involves role-playing as a dog.
Now hold on, before you log and erase the blog from your viewing history and vow never to visit again, just hear me out. First, I just want to assure you that it's all consensual, and there are no animals involved, so your dog is safe.
It can be regarded as a brand of BDSM, where people – usually submissives – imitate young canine behavior during play. Accessories including fake dog tails doubling as butt plugs, leashes, collars, masks, and toys are usually involved, although they are not mandatory. If you have already explored a BDSM starter kit and liked the experience, pup play might be for you..
The subs are called pups and are usually 'owned' – in the BDSM sense – and protected by handlers – called daddies by some members of the community – who are often responsible for more than one pup. Groups of pups who play and sometimes live and work together are called packs.
Like every other community, the gay puppy play community isn't a monolith. There are several variations within it. For example, the extent of the role play varies from person to person. Some pups engage in role-playing solely for the duration of a sexual experience, preferring to return to conventional living outside the bedroom. On the other hand, some pups like to play the role even outside of sexual situations, going to dance parties and social events at the end of a handler's leash. I
If you have ever been to Folsom in San Fran, Berlin, or New York I'm certain you will have seen a few out – they even have puppy daycares set up there where 'pups' can be left to play with each other!
Puppy play, like every other sexual activity, involves informed consent between adults and has been popular at different points in queer history. Some studies have theorized that interest in gay puppy play stems from an interest in escapism and self-expression. Specifically, participants reported that it allowed them to imagine themselves as something other than who they actually were and to explore some sides of the that they usually did not display.
Some others also reported feelings of youthfulness, vibrance, and virility while engaging in it. Still, others admitted that it was a form of relaxation for them. However, the most popular reason given by members of the gay puppy play community for engaging in the practice was sexual pleasure.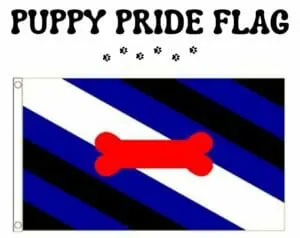 This is the Puppy Pride flag that represents a part of the queer community which enjoys Pet Play. It is similar to the more well-known leather flag, but on an angle, and with a red bone in the middle. The white stripe is larger to represent the broadness of the pet play community while the bone symbolizes the unconditional, non-judgmental heart of the puppy.
Regardless of whether it is in or out and whatever the reason for practicing pet or puppy play, it is a key part of a queer subculture that should be enjoyed without fear of shame or stigma.
In more recent years, it has become much easier for people who engage in puppy play to connect to each other, build bonds, and form packs. This is done via online forums such as Puppy Pride and Fet Life, as well as BDSM meet-ups, hook-up apps, and Pride gatherings.
There is less stigma surrounding what could be referred to as alternative sexual interests and a greater willingness to experiment and engage in them by people who would previously have been hampered by a number of factors, including societal disapproval. Now folks, in general, are more open-minded, and this translated to a more liberal attitude towards sexual exploration.
Whether you are experienced in gay puppy play, a rookie looking to get into it, or just a curious reader, I'm going to try to make this as informative as possible. The first and most important step is to do thorough research. If you're experienced, you've likely moved past that (though you'll be surprised by the number of people that just jump into sexual experimentation with little or no research or information about the practice, not cool guys, always do your homework).
If, however, you're just starting, you should do some reading on trustworthy sites and blogs and ask questions of people you trust to give you the right answers. Before you get into it, make sure you have a concrete idea of what is and isn't allowed; and what you should or should not do.
After this step, the next thing, in my opinion, is to go shopping for accessories. Of course, you could go in empty-handed, but what's the fun in that? Toys and accessories doubtless enhance any sexual experience, and puppy play is not exempt.
Whether you're a pro or a newbie, the right accessories will turn up the heat during puppy play. And just because I am generous and bountiful, I've put together a list of the essential accessories for puppy play. This list was produced after intensive research, and it contains at least one suggestion for all the gay puppy play staples, including collars, masks, and hoods. If you enjoy wearing a gay harness already, you can easily just add a hood to start off with and away you go.
To make it easier to find them, I've included items that can all be found in one place, the Queer in The World shop –an inclusive shop and lifestyle brand that caters specifically to LGBTQ folks and ships globally.
This is a full puppy play set that contains Handcuffs, foot cuffs, and a collar. Beach items in the list can be purchased separately, or you can buy the whole set. As you've probably guessed, I recommend the latter. I mean, why would you want a pair of foot cuffs or a collar without handcuffs?
They are black on the outside, with an eye-catching purple trim and lining. The items are made from synthetic leather that looks so genuine that you'll probably have to avoid any PETA protests when you're wearing them. They're also easy to clean and unbelievably comfortable, so you don't have to worry about any chaffing, bruising, or skin issues when you've got them on.
They only come in one size, but they've got clever buckles and hoops that can be adjusted, so there's no need to bother about picking your specific size. The color and the design accentuate your features and bring out your best side. This set is not one to miss.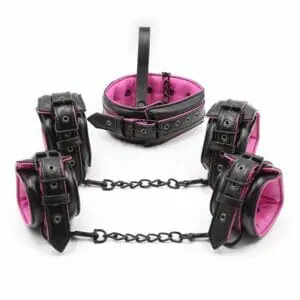 This item is my favorite, and it'll probably be yours too. It's a cute little butt Plug toy that packs a punch. In keeping with the puppy play theme, it doubles as a tail that curled upwards at the end, exactly like an overactive little puppy's. It's made from high-grade silicon that is easily cleaned with mild soap and warm water.
(though not compatible with silicone-based lube). The plug is not so big that you want to be able to sit down for days after using it, and yet the shape and texture will have your eyes rolling into the back of your head. It's perfect for use during sex or simply as part of a costume.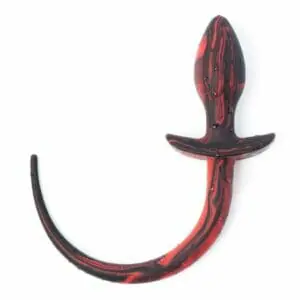 This collar is edgier than some folks are probably used to; with a chain design and an actual lock as a pendant, it'll probably be stable among the more both members of the community. The chain comes in black and silver.
So I was curious about the purpose and uniqueness of the chain collar as opposed to the more common leather one, so I did some research and found that it can be worn undershirts discreetly for pups who play the role outside the bedroom and are interested in wearing a symbol of their submission without attracting scares and questions from members of the public.
It's quite comfortable, so it can be worn for long hours.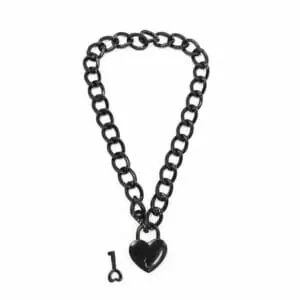 The hood is usually used by puppies to enhance the puppy play experience, and this particular one does its fair share of enhancing.
While their idea of a hood might make you stop and think twice, this one is made of Neoprene, which is soft, stretchy, and comfortable. It's also ridiculously easy to wear: just pull it over your head, and you are good to go.
It's got a muzzle, but that is very easily detached for access to the mouth, and the eyes are completely exposed, so the wearer's vision is not sacrificed. And it comes in a range of colors, so there's no reason not to buy one.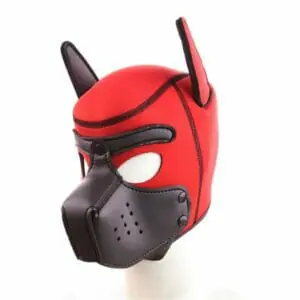 This Pink Pup Play Collar is the perfect mix of hard-core had playful. It's made from pink PU leather, but it's also studded with metal to give it an edge. The material promises comfort and durability, and as a bonus, it's fairly easy to clean.
It's got a buckle, making it adjustable, so there's really no need for more than one size; it comes with a lead made of synthetic leather and a metal chain. Wear it to stay in or go out with a partner, or just attach the lead if you're heading out for a night with other community members and looking to snag a man.
You just might be in for a pleasant surprise.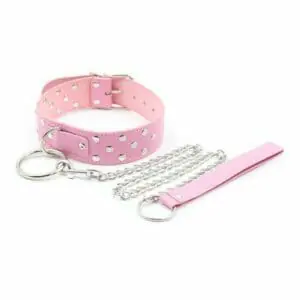 These handcuffs are the closest thing to lucky you can get with puppy play gear. It comes in two colors and four different styles, each of which is carefully crafted out of PU leather and metal, so you can select the one that best matches your style and personality, safe in the knowledge that you're not compromising on quality.
Each purchase gets you two handcuffs, just in case you cannot decide on which one to get, and they are all adjustable to eliminate any size and fitting concerns. Use them in combination with the hood or alone, and get ready for an unforgettable adventure as you explore your desires and discover ways to fulfill your needs.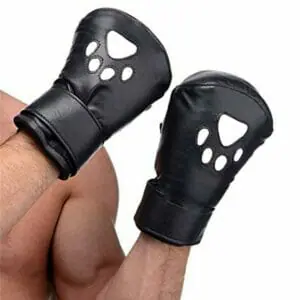 It might have BDSM in its name, but that certainly doesn't mean it hadn't got a variety of other users. It's carefully crafted and can be worn to raves or parties. It's got a pair of beautiful, realistic ears and even a little pink tongue to take your costume to the next level.
At the back, there's a smart system of buckles and straps, so a little adjustment gets you the perfect fit you deserve. The synthetic leather it's made from is so comfortable, you might even forget you've got anything on. The back and eyes are exposed, so sweat doesn't accumulate, and vision is unhindered.
Wear the mask by itself or with any of the other items on this list, and go have fun with the blessing of the gay gods.