If you're someone who is looking to add some spice into your mundane sex life but is kinda afraid to try on quirky sex toys, you have come to the right page. Harnesses are an extremely popular toy amongst the kinky community. But don't get me wrong, these pleasure devices are a go-to amongst first-timers as well.
In this short guide, I have briefly touched upon all the tidbits that one should be wary of while venturing into this world.
So buckle up, and read on!
Oh – and if any of gay guys in harnesses seem like what you are looking for we, have have linked them all to where you can find the product. As for the men – well, we are not a gay hook up app sadly.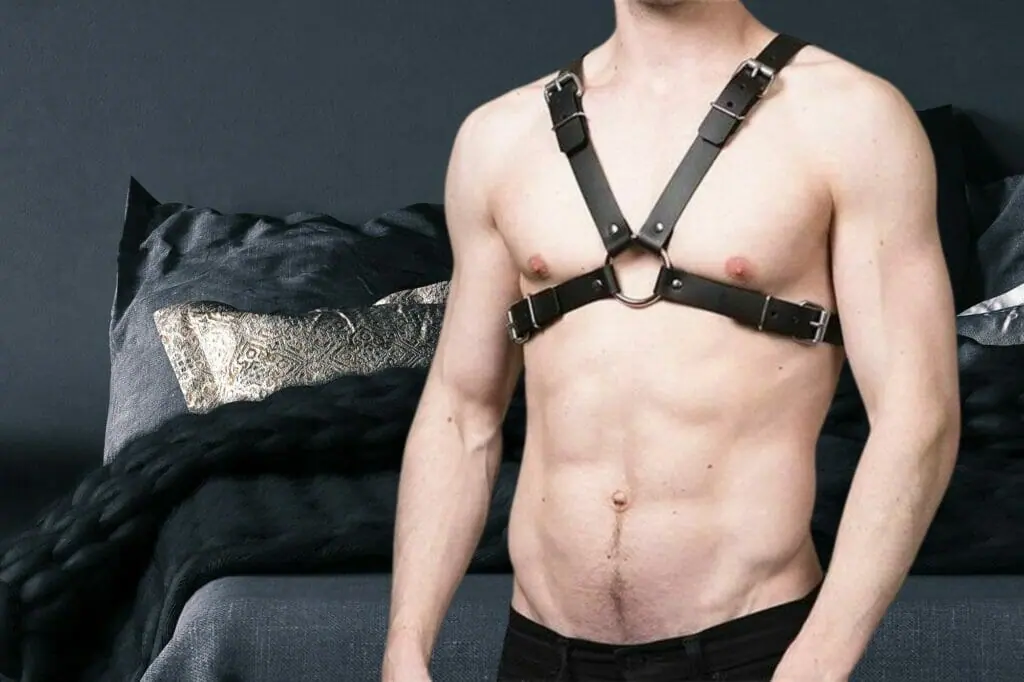 What Are Gay Harnesses?
To be pretty honest, harnesses are technically "THE" uniform which the gay community can claim as our own creation. Most of the other sexual uniforms like gay jockstraps or crop tops had debatable origins, but the male gay community can be proud to have this as their very own.
Gay harnesses are basically straps – traditionally made from leather – that one wears during sex and can have decorative and sexual purposes. There are many styles and materials used as you will see, but the basic goal of most harnesses is to either provide something to grab on to or to emphasize your shoulders and chest. As we said, decorative or pleasure.
Interestingly, in gay adult videos, harnesses are used mainly in bondage scenes, but in reality, they play a much diverse role in foreplay and even in solo play sessions!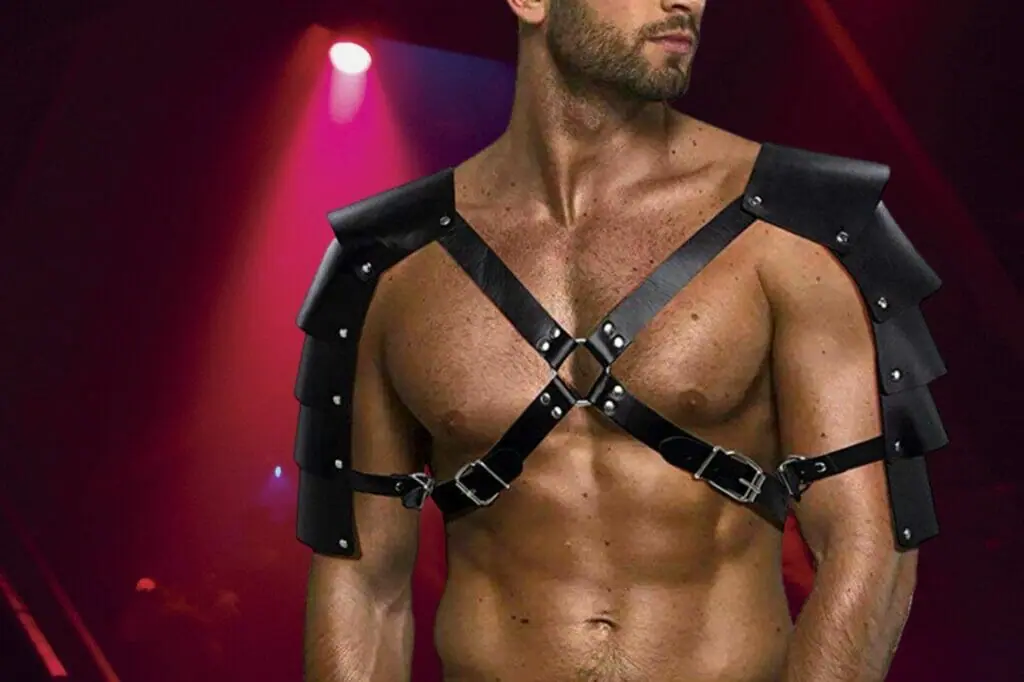 What Types Of Gay Harnesses Are There?
Oh dear. You'll be surprised to know that there are over 30 different forms of harnesses. Starting from the simplest shoulder straps to the intricately complex shibari ropes, harnesses take a life of their own in the hands of their owners. One can even distinguish them according to their roles. Be it the butt plug harnesses for solo sessions or the anal hooks for bondage, harnesses have supplied a buffet of options when it comes to pleasing men!
Here, I've talked about a few popular types suited for beginners:
This is a really unique type of harness made of metal rings knotted into a chain. Worn mostly by the dominant men in the duo, this harness is something one would recommend to give off a clear signal. You could even sport this harness in a pride party to show who you really are in the bedroom!
Plus, a little bling always makes an outfit pop. Even if said outfit is your birthday suit!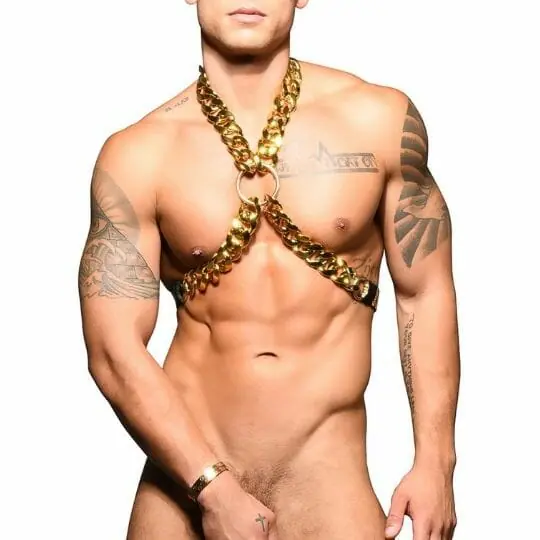 The most traditional gay harness. If you want to show off your round shoulders and muscular torso, this is the harness you should go for. Aimed at pumping out the chest in a very masculine way, a bulldog harness does its job perfectly to showcase the beast in you.
Even if you are not toned, the bulldog harness does a great job of flattering your dog and drawing attention to all the right places. We are all about body positivity and think any gay man in a harness is hot!
The tender yet firm leather straps hugging the torso with underarm supports connecting in the front on the two sides of your chest in metal rings give just the right amount of pump. It is something anyone would be proud to have in their wardrobe collection – and should aim to use often!
So you want to wear a harness but still show off your bare skin under the harness? It's like you want to strap yourself but still show off your skin?
Fret not. The mesh harnesses are perfect for the job.
As the name suggests, these harnesses are made of mesh materials helping in giving you the "oomph" factor while doing its job of strapping tight!
Don't go pulling at it too much however, as this harness definitely falls under the 'looks' category.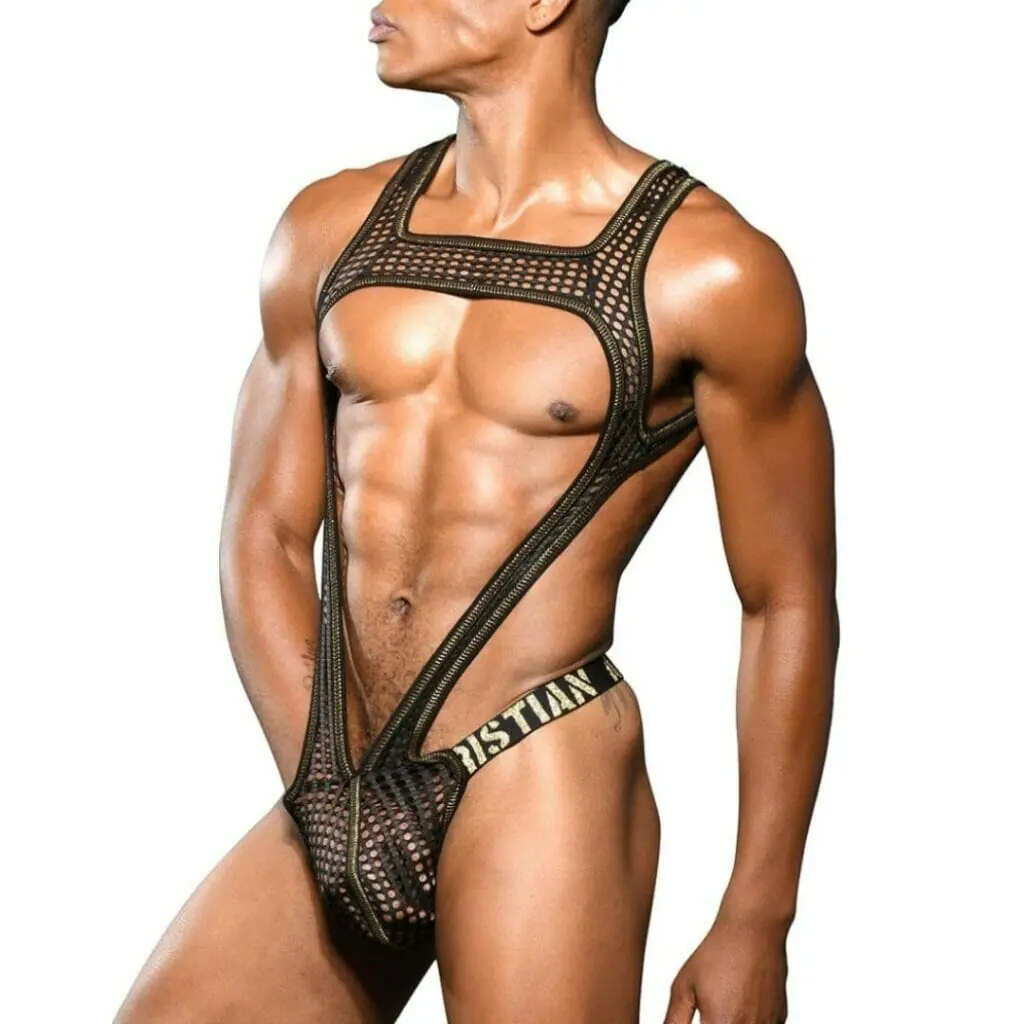 If you're someone who doesn't want to go all bare down there but still wants to put on a harness, then this Sheer Camouflage Ring Harness Singlet one's for you. It has a pouch at the lower part where you put your privates with a shoulder strap in a camouflage design! I swear if looking at this doesn't get your partner off, nothing will!
Plus its from Andrew Christian and you can save on underwear as you won't be needing any to wear with it.
Other more-traditional camo harnesses are also popular with gay men at the moment, especially as many circuit parties opt for the masc military muscle men theme.
The irony is wearing these camo harnesses is that you will draw all eyes to you rather than blend in. But no self-respecting gay is going to let logic get in the way of a great outfit.
If you really are on a budget and need another reason to justify buying one, these harnesses can also double as a gay Halloween outfit.
Imagine a harness that not only gives you a hot seductive look but is also successful in keeping your loyal foot soldier erect and standing to attention for a longer duration.
This is what these suggestive cockring harnesses promises. Made of mesh fabric with a body-hugging criss-cross design, this harness also has a cock ring attached to it. So you slide your dick in while wearing it, and it keeps the latter from going limp any time soon!
It also had some important instructions handily written on it that are hard to disobey. It is the best of both worlds!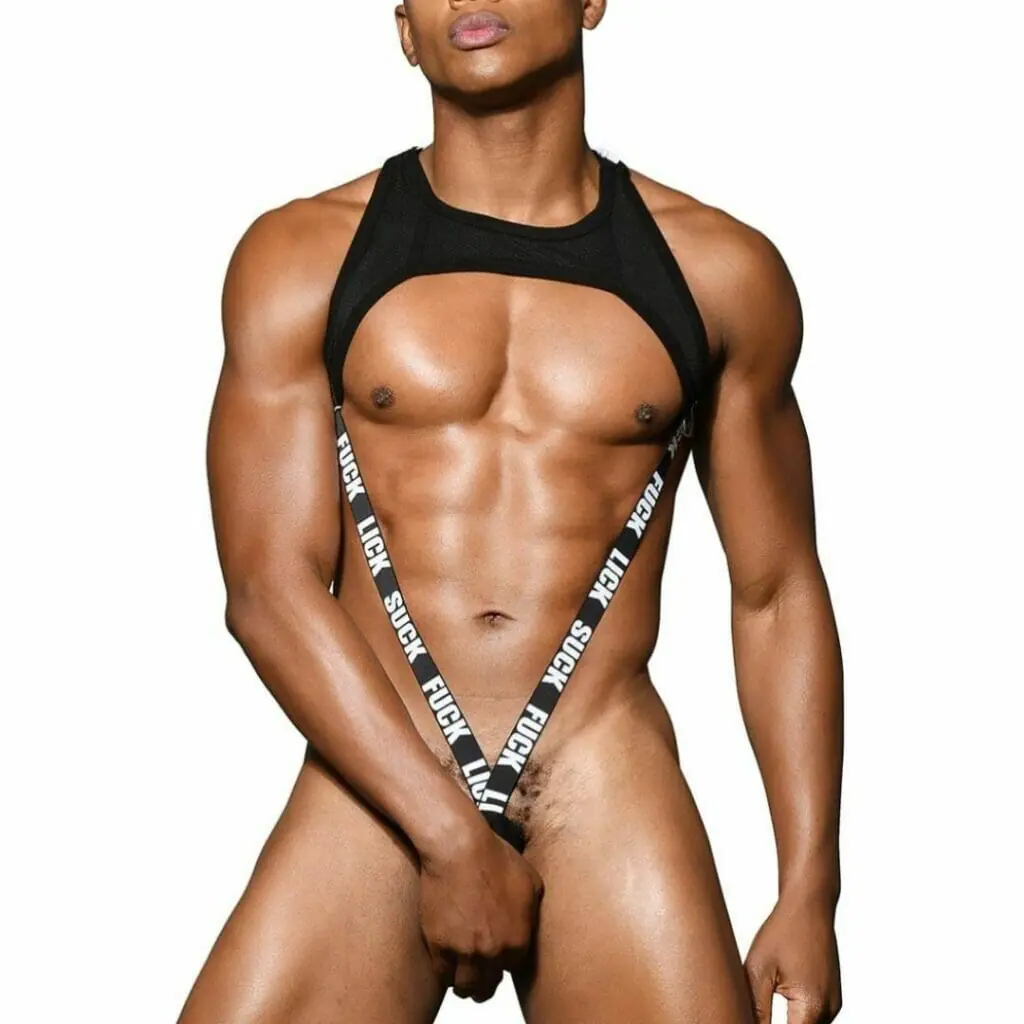 Gladiator, half-H, Sea-Dog, etc. are all types of asymmetric harnesses. These, as the asymmetrical name implies, rest on one of the shoulders with the attaching hook in front of the left or right chest. Since it's a very simple harness, it finds its usage most amongst the beginners. If you're looking for a sleek harness which you can just put on and use for a quick session, this one is your best bet.
Furthermore, if you want to keep a low profile in kink parties or pride gatherings but still want to show off your bondage side, then this harness is a real life-saver.
This is probably the most "complete" harness type on offer covering both of the upper and lower body. The best thing is that the straps which wrap around the body provide a buffet of opportunities in terms of their use to ramp up the kink game. The versatility of the options you'd get to use each strap and ring is only a test to your imagination.
We wouldn't advise this to a submissive guy (or those brand-spanking new to the gay harness fame), but if you're looking to experiment with a BDSM starter kit and fetish kinks while looking hot, you should definitely give it a shot.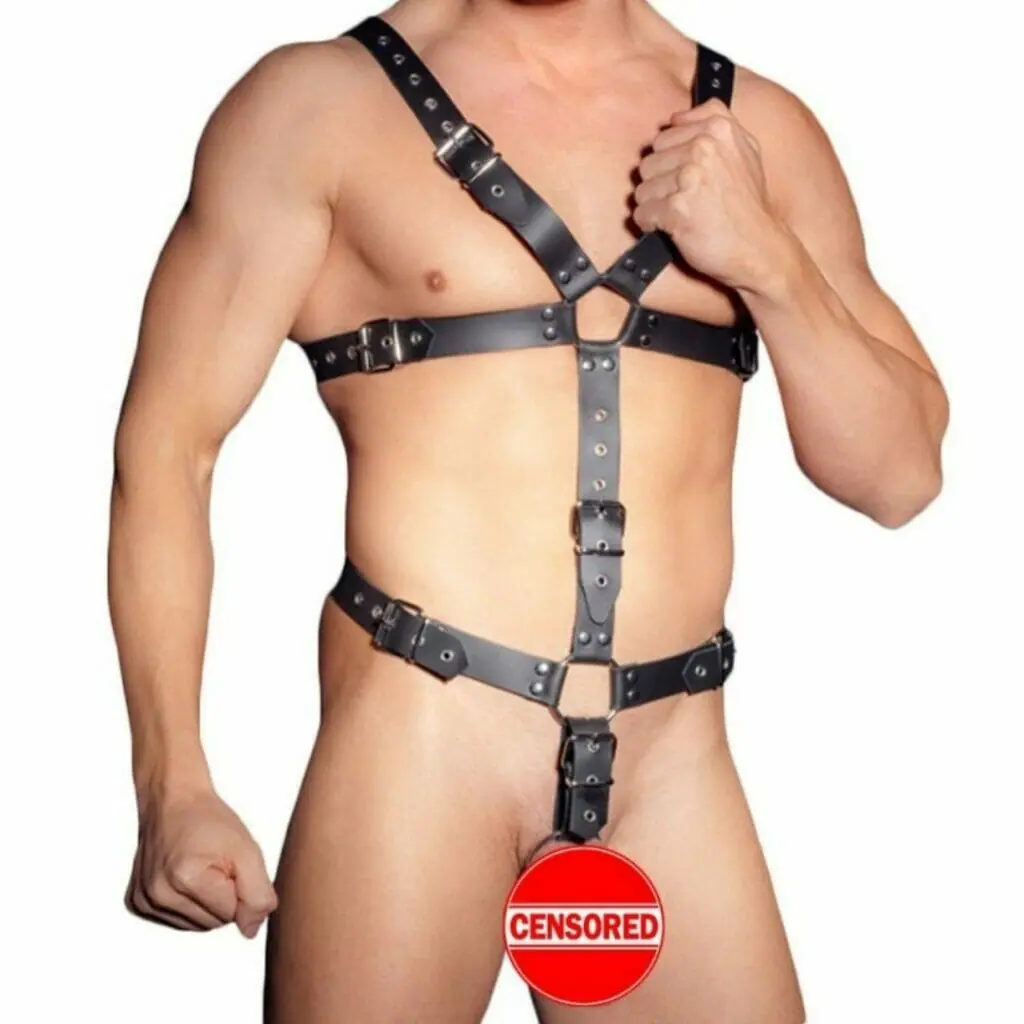 Look – we are not going to pretend this is a major type of gay harness, but damn – if we didn't wish it has. This shirt collar harness just screams "Ravage me business daddy" and our boardroom meetings would look so different if these were to go mainstream.
This harness emphasizes your shoulders and chest, drawing attention to these areas – and any effort you have put into developing them. And as we said, harnesses are no longer just about sex, or leather, or being black, and have become more of a style and fashion statement. A simple ornament that looks sexy and makes you feel powerful, which this "Black Tie" Shoulder Harness certainly does.
Try it out if you want to make a statement or really stand out at your next gay event. And tell us you don't feel confidence coursing through your veins…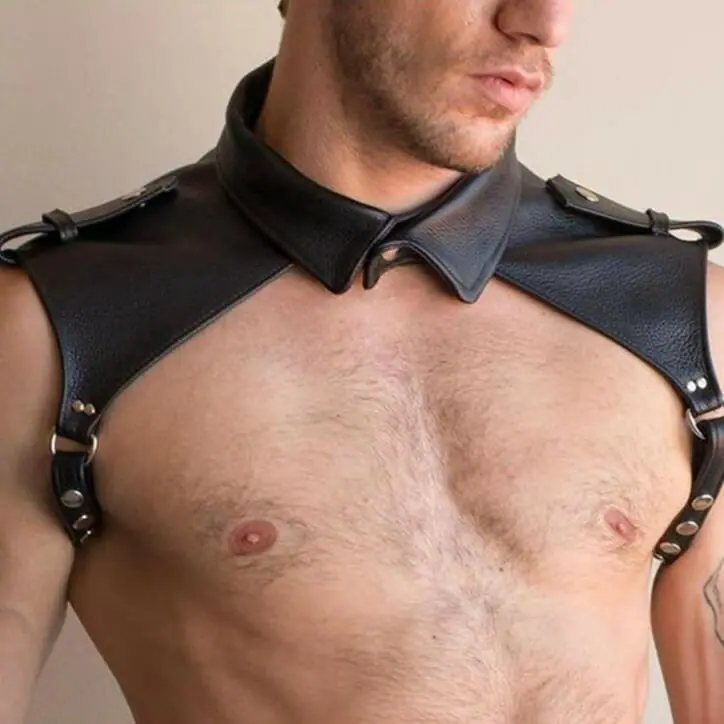 Boy o' boy… if leather started the industry, elastic has taken not only taken it forward, but catapulted it into the mainstream gay scene. Sure harnesses look super sexy in leather, but elastic straps are right now in a league of their own. And their price point is a lot easier to swallow.
If you're searching for a casual look for a queer party, then elastic harnesses should be your go-to accessory. With a vast variety of options to choose from, you'll find an elastic version of almost every type of harness. The best part is the range of colours.
From neon pink to camouflage green, you have them all, in contrast to most leather harnesses which are primarily available in black or other darker shades (though we are a little obsessed with our pink vegan leather harness)
These are some of the basic forms of harnesses any first-timer could try. Other than that, if you still want to venture more, you could try out the dildo harnesses, puppy tail harnesses, and Y-harnesses, to name a few.
How Should You Take Proper Care Of Your Harness?
Just like every other sexual device, taking care of harnesses, especially after use, should be on the priority list.
Most harnesses are made of leather, and since leather is just processed skin, one must take extra caution. Wash it with lukewarm water and soap every time it gets sticky or oily. Use leather conditioner to moisturize it after drying. Not your poppers/ amyl nitrite. Real leather cleaner!
Sometimes there are silicon or metal parts, be wary of not using silicon-based lubes or any corrosive detergent, which might damage the harness adversely.
What Are Some Tips For Trying/Buying Bondage Harnesses?
Choosing a harness can be a daunting task, especially if you're a beginner in the bondage world. So here are a few essential tips which you should keep in mind before purchasing or trying out your first harness:
➔ If it doesn't feel right, it probably isn't. Try to adjust the fit or the change configuration of the harness; if it still doesn't feel right, change it for a different style.
➔ Metal chains are sometimes a bit tedious to use and might need a bit of handling to get "used to" it. Hence I wouldn't really recommend you buying one unless you're really into it and not for a first-timer.
➔ If you want a durable, long-lasting harness, go for leather ones. If you want one for looks to match a party, or are on a budget, elastic harnesses are your best bet.
➔ Neoprene harnesses with a smooth surface feel the best on the skin as it has a seated surface to wrap the body. It is also a bit more flexible as compared to other materials. Hence, if you're unsure about your exact size, go for this material.
➔ If you're planning to use it in water, go for rubber.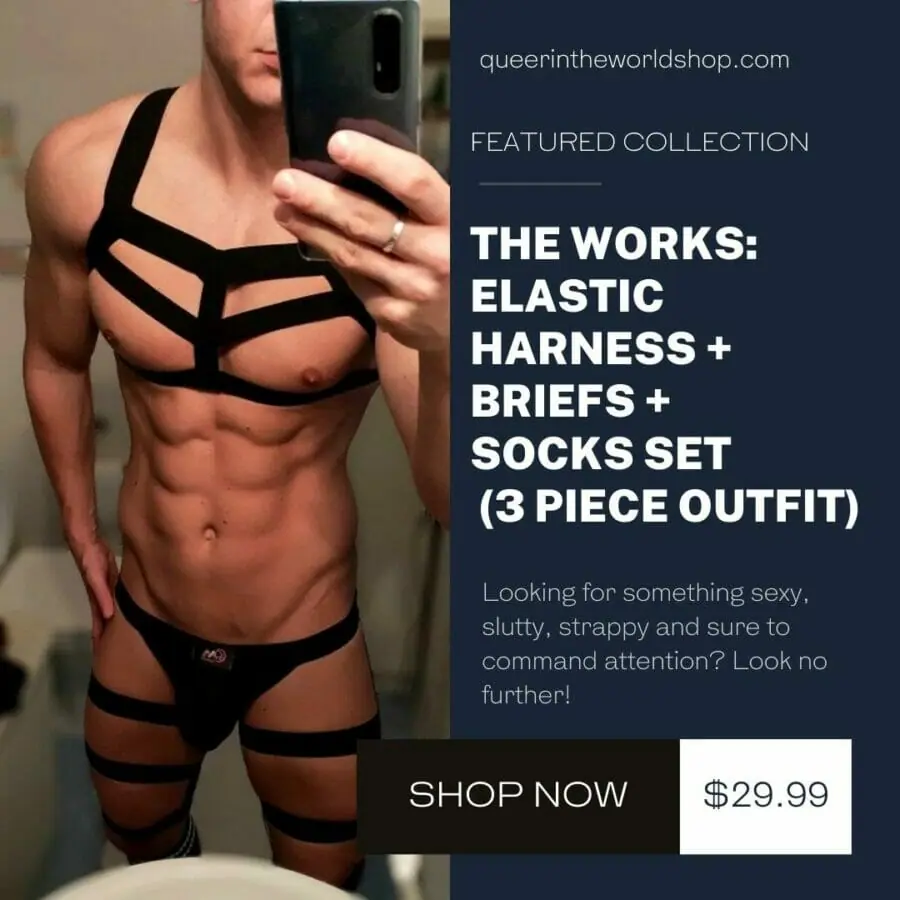 Where Should You Wear A Gay Harness?
We could name hundreds of places where wearing harnesses should be worn – but if pushing the boundary isn't your thing, you might want to take it easy first and try it at home or on the hook-up apps.
Interesting they are not popular in gay sauna settings, unless there is a specific kink night on. But as above, harnesses and water typically do not go well together.
Before you sport a harness in your bedroom, I'd advise you to have a discussion with your partner regarding this. This will not only help you understand each other's intentions but will also help spice up the mood later during the action!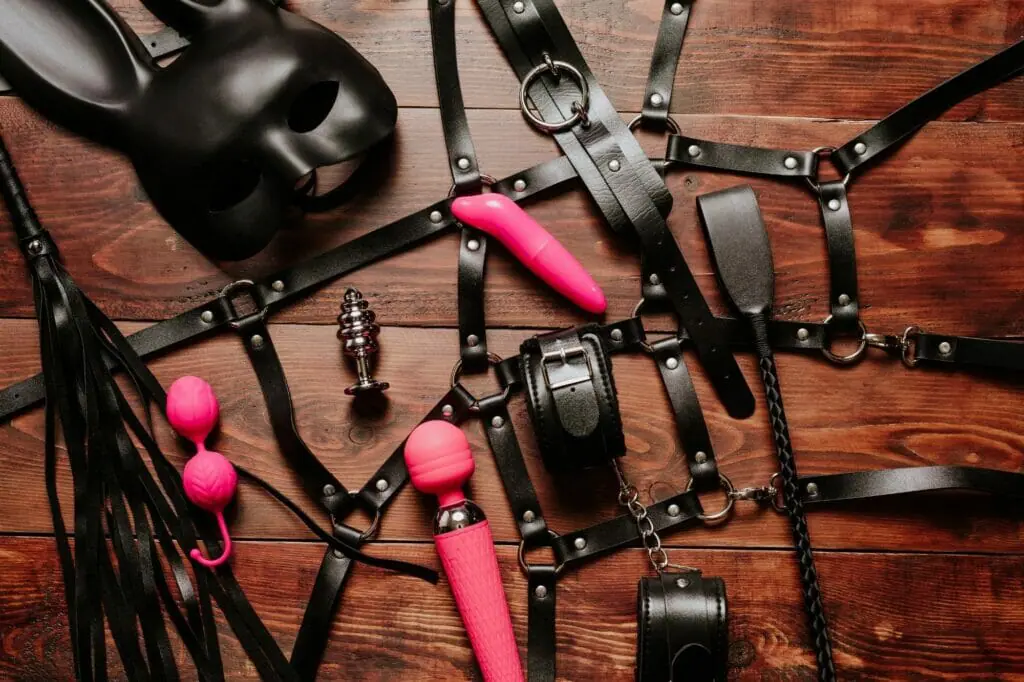 Other than the usual bedroom and bathroom drama, you can sport a harness in parties and pride parades. As a matter of fact, Olympic medalist Adam Rippon was seen showing off his leather Harness at the Oscars gala in 2018!
With the rise of the recent rave parties and circuit gigs, wearing a harness would definitely grab the much-needed eyeballs. You can either combine it with any other outfit or go topless with just the harness (if you dare!). But whatever your outfit, a harness will undoubtedly bring out the man in you.
At the end of the day, one must remember to maintain proper hygiene and follow all the precautions listed by the harness to reap its full potential.
So go ahead, buy yourself the harness you always wanted and show off your gay side like never before. The only regret you'll have is not doing it earlier!