Do you know how they say that you can make yourself feel fabulous from the inside out? Well, obviously, that's about inner beauty, but we reckon it's also got a lot to do with underwear.
Let's face it, no one's feeling sexy when they're wearing a years-old pair of briefs with saggy elastic and holes in the waistband (excuse us while we shudder). And, the horror of horrors, imagine if you get lucky with a gorgeous stranger and then have to strip down to those. We all know gay men have high expectations for underwear – and that nothing kills a good time faster than old, cheap, ugly or ill-fitting underwear.
That's why we should all be wearing underwear that's not only comfortable but stylish and sexy, too. Luckily, there are a whole lot of gay underwear brands that will get the job done, leaving you feeling hot as hell and ready to take on the world. Is there any better form of 'self-care' than the confidence boost of a flattering pair of briefs?
Naturally, these brands can be worn by everyone – gay or straight – but let's just say that the aesthetic experience makes them particularly appealing to gay men. Plus, we never want to pass up an opportunity to support a gay-owned or gay-friendly organization, which most of these brands are. Because what better way is there to express yourself, your values, and your diversity that through your queer clothing, and more specifically your underwear…
We believe your underwear is more than just a covering. It is an extension of you. Your underwear should reflect your spirit, your inner colors, and the truest versions of yourself. They are a way to celebrate our unique personalities, an opportunity for body empowerment, self-love, and self-confidence at a time where we may be at our most vulnerable. Because confidence is sexy – and it shows!
So, chuck away those Target multipacks and prepare to invest in yourself with some new gay underwear that will make you feel and look hot as hell!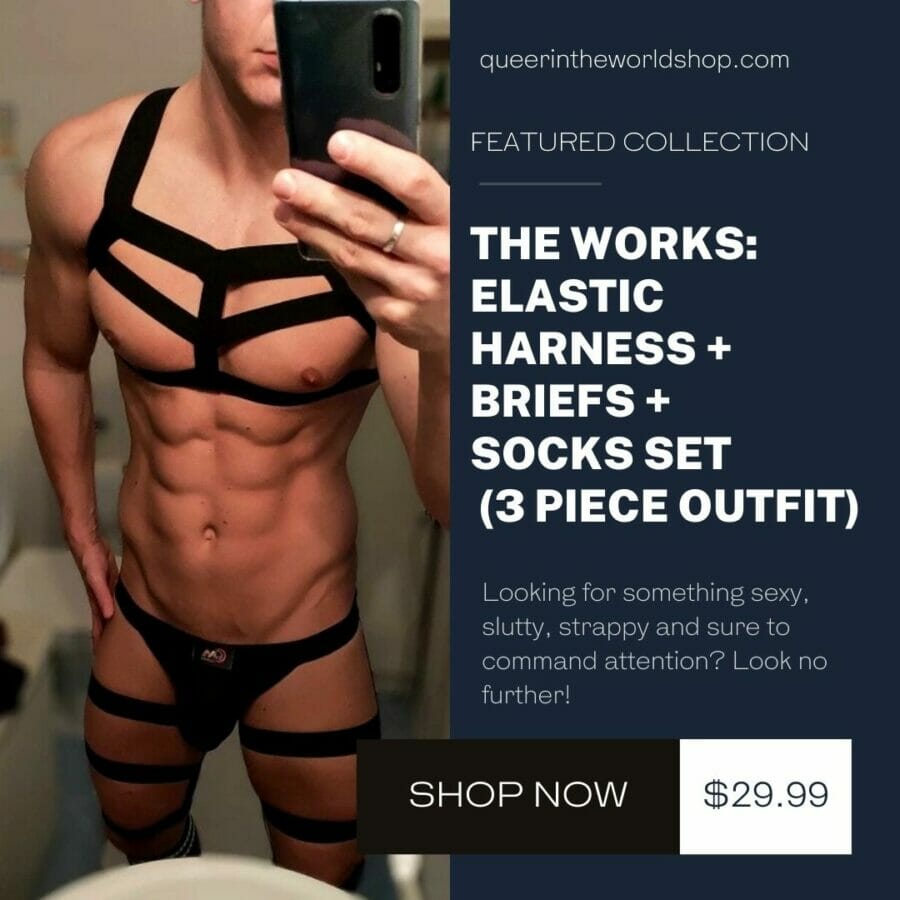 Not one for the shrinking violets, definitely a brand for the hunks, Andrew Christian has made its name on the raciness of its kecks and its LA fanboys. The eye-catching designs and body confidence required to wear these are what has made Andrew Christian one of the top gay underwear brands. It's so iconic in the gay community that it has even sponsored the famous Xlsior Mykonos Festival.
Whether you like to bare your skin in a gay thong or a jockstrap or prefer a saucy brief or trunk number, there's something here for you. Another stand-out feature of this brand is the anatomically correct front pouch that leaves plenty of room and support for your package. We love the bright colors and elaborate designs, which cheer you up no end when you put them on in the morning. You're sure to get positive comments!
Stylish and colorful, with microfiber blends, lustrous finish & breathable fabrics, Garçon Model are proudly Canadian made and offer modern sex appeal. Initially branded as 'Garçon Model,' a play on a French expression meaning "Good Boy, we have to say we have had more than a few naughty adventures that started with the sight of the Garçon Model eye-catching bands.
So, while they might not only be good boys, these underwear are both sophisticated and suggestive and worthwhile addition to any gay man's wardrobe. Based in Vancouver, Garçon is also proudly dedicated to social justice, continually contributing to homelessness, refugee, and queer charities
For anyone interested in cute and affordable gay underwear but budget-conscious, there is always Jockmail.
Designed with comfort and style in mind, Jockmail is far more affordable than the other premium gay underwear brands yet will still cradle your package while leaving your ass looking amazing. They have various fun designs and both underwear and sexy jockstraps – all while sporting the JOCKMAIL logo up front and center.
Make a statement and showcase your booty, without breaking the bank. We might also be biased since we are wearing them now, but in these tough economic times, we are thankful for a brand that makes us feel like a million bucks — without costing it!
Welcome to the Jockmail experience.
Pump! is a brand that 100% reflects its name – practical, to-the-point, sexy. The branding and the design conjure up images of Berlin dark rooms, rhythmic techno music, hunky men in their underwear. OK, that last one isn't just our imagination; PUMP! uses a lot of hunky models to show off their wares. And as well as the dancing in clubs, their designs also have a sporty aesthetic that appeals to the athletes among us.
Bright reds, sophisticated black, cute candy shades, contrasting color blocks, splatter, and graffiti styles are all used to create these stand-out boxers, brief, and jockstrap options. Not only do they look fab, but they also feel great – as you'd expect from a company that sees itself as sporty. The fabric is custom for PUMP!'s undies and is so soft you could almost forget you're wearing them (ooer!).
Don't worry, though; you don't have to be a sportsman to wear them, only someone who likes to look good, not feel constrained by their pants, and is easily influenced by fit models (jokes). And if you can't decide which you like more, we have a list of the best PUMP! underwear there is to help you out!
Possibly the most exquisite Italian underwear – few things are as sexy as a gorgeous man laid out with these iconic black briefs. Gays are notoriously fickle and love a good trend, and yet classic Emporio Armani is still exceedingly popular in the hyper-competitive and fast-changing field that is gay male underwear.
Emporio Armani has also released more contemporary designs that honor their heritage, excellent quality, and attention to detail. Still, for our money, their classic black design worn by the likes of David Beckham and Cristiano Ronaldo are our go-to. Emporio Armani is the only Giorgio Armani line that's fundamentally designed by Armani himself, and it's starred at Milan fashion week every year.
Wear the famous pineapple and embrace the crazy, rude and fun designs on offer from Toronto-based gay underwear designer JJ Malibu. Their wide range of men's underwear, swimwear and tank tops are sexy as hell and promise to turn heads wherever you go.
If you are looking for colourful gay thongs, short shorts, work out tanks or that perfect harnesses for the next gay circuit party, this cheeky brand has something for you. Their goal is to provide fierce fashion for gay men from all walks of life. So whether you're a party animal, a certified fashion freak, a buff gym shark or simply looking for a chill outfit to wear on your next gay resort holiday, JJ Malibu has something for you.
Shipping to over 140 countries worldwide and just five years old, JJ Malibu has also sponsored the Bangkok White Party, the most prominent LGBTQ+ party in Asia, and been seen numerous times on the main stage of RuPaul's Drag Race providing wardrobe for the gorgeous Pit Crew. Setting trends rather than just following along, we don't think they will stop until they are a staple in every gay men's closest.
If you want to be ahead of the game – these are the gay underwear brand for you.
Designed in Barcelona, Addicted fully represents the vivacity and party spirit of its home country of Spain with bright colors and daring cuts. Their swimwear is definitely for the bold as most options leave little to the imagination, and they come in a range of fun patterns – you certainly won't fade into the background wearing these!
Addicted underwear shapes are similar to the swimwear, and they also utilize bold colors and design to maximum effect. There are briefs, boxers, and jockstraps available in top quality fabric. Most of the designs have the Push-Up feature, which gives you extra support. Rather than feeling invasive, this actually makes the underwear way more comfortable. Who's this brand for? Definitely the party boys, the ones you'll find dancing by the pool and giggling over cocktails.
Fun, fresh, and comfortable enough to do all the dance moves, here is the best Addicted underwear available (in our opinion)
Along with Aussiebum, TEAMM8 is Australia's leading gay menswear label specializing in underwear, swimwear, beachwear, and activewear. Inspired by the beautiful Australian continent and the men who inhabit it, each teamm8 underwear design is sporty, bright, and designed to be shown off.
You'll spot more than a few pairs on any given day at Bondi Beach, and if visiting Sydney for Mardi Gras, you'd be forgiven for thinking they were the official sponsor. Soft to the touch, form-fitting, and fashion-forward, TEAMM8 underwear might not be cheap – but the best things in life never are.
Linked to Addicted is the ES Collection – the sister company that's probably a bit like the quieter, more sensible sister who likes wearing more expensive jewelry. Basically, ES Collection is the premier brand that offers slightly simpler designs that still show off your style.
Both Addicted and ES will cost a bit more, but you really do get what you pay for, and because it's manufactured in Spain, the quality stays high. It also means you have a more transparent supply chain, making these more ethical companies to buy from, which is a little bonus. Wearing ES' well-cut and well-fitting briefs, boxers or jockstraps leaves you feeling sophisticated and a little bit naughty.

A new men's underwear label launched in 2016, Helsinki Athletica offers European styling and underwear that are perfect for guys who like to work out and show off their body. Focuses on bold design, quality fabric, and suggestive design that emphasizes the male physique, Helsinki Athletica is quickly becoming a mainstay for muscle boys from circuit events to the beaches of Torremolinos and Nice.
Designed to ensure you look your best, whether you are in the gym, at the beach, or just relaxing at home – Helsinki Athletica doesn't leave much to the imagination. And that's exactly the way its fans like it.
The loud-and-proud tagline proclaims that this brand is for nasty guys and those who love them, and who among us doesn't like to get a little nasty now and again? You know from the name that this brand is ballsy. Despite being told to change it, they stuck with the name and their 'if they don't like us, screw 'em' attitude to build this excellent company that "sells underwear to help you get laid." If you're not already in love with these guys (a New York couple), read their history on the website – you'll seriously want to be their BFF.
They started out in 1994 and, over the years, have developed a vast range of designs, from your standard jocks and briefs shapes to cute AF onesies, a Leg Harness, and BDSM inspired looks. If you're looking for a new style of underwear that's going to make you feel confident and sexy, Nasty Pig is it. It's basically impossible to not feel badass wearing these snug, well-cut, bold undies. A staple of fetish/kink festivals like Folson San Fran and Darklands Antwerp.
What do we love about Cocksox (aside from the name, obviously!)? Well, it could be the fact that they very conveniently divide their collection into 'Everyday' and 'Sexy,' so it's super-easy to find what you're looking for. It might be the incredible support that's integral to all of their designs, as they see their goal to "support manhood by supporting YOUR manhood" – no wonder they're one of the most popular gay underwear brands! Or even the fantastic fabric they use – the SUPPLEX material keeps you fresh and feels fantastic against the skin.
Actually, it would be easier to list things we don't love about Cocksox – nothing! The Everyday briefs, boxers, and trunks are comfy and fun, with bright colors and trendy patterns used (our faves are obviously the animal print numbers with the yellow waistband – reminding us of a particularly hot safari in Cape Town…). Even the simpler designs are jazzed up with thoughtful little touches like metallic waistbands. Sheer and mesh fabrics spice up the Sexy range, with thongs and slingshots that leave little to the imagination – but lots to enjoy!
Seriously, we couldn't finish a list of awesome underwear brands without talking about the King of the Peeking Waistband, Calvin Klein. They're a classic make that at some point every man will have had in their underwear drawer – for a good reason! A pair of Calvins are well-made, show good taste, and won't break the bank. You'll feel good wearing them, and there'll be no shame if someone else sees them.
They're ideal for men who like to keep their style simple, with a range of boxers, briefs, and trunks. The color schemes are streamlined, with mainly white, black, and grey featuring. We love the thick waistband as it feels a lot more supportive and a lot less like the elastic is digging into you. If you're feeling a bit snazzy, you could get one of the colorful versions; although, to be honest, if you're wearing these for a classic look, then keep it simple.
A gay underwear brand dedicated to the male way of life – which, to be honest, we are as well. So its a match made in heaven! Based in Thessaloniki, Greece, Modus Vivendi has a reputation for high-quality fabrics, exclusive hand-design, and luxurious packaging, so you can expect nothing but the best.
Since 1989 they have been creating unique collections that respect diversity, and each offers its own distinctive character. Spectacular patterns and bold colors are always a given as are elegance, authenticity, and edgy designs.
As you might have guessed from the name, this is totally a brand for those freewheeling guys who like to bum about on the beach, guys who don't take life too seriously (but still want to feel good in their underwear!). Developed by a former beach bum, this incredible underwear range started as swimwear and then expanded. With styles including 'brief,' 'hipster,' 'jock' and 'cheeky' (we'll leave you to explore that one on your own!), the excellent quality and colorful designs of AussieBum have made it world-famous.
What has made it so popular in the gay community? Well, it could be the 2006 launch of the 'Wonderjock,' a design to enhance your package. It could be the saucy advertising – google Aussiebum Shearing the Rams for an example. Or it could be how the entire collection was used in Kylie Minogue's Slow music video. Or maybe it's just the thought of their gorgeous models on the beaches of Perth and Brisbane? Whatever the reason, it's undoubtedly a gay underwear brand that's here to stay. They also have a fun swimwear collection to inspire your next tropical holiday!
SKU is the in house underwear brand launched by one of Europe's biggest underwear stores, Les Dessous D'Apollon. Les Dessous D'Apollon has been situated in the famous Marais district of Paris since 2005 and has become a hotspot for gay travelers looking for the best gay briefs, boxers, and jockstraps. And now, after twelve years, have launched their own label, SKU Paris.
SKU is an acronym that stands for Stock Keeping Units. SKU is used for the classification of a commodity in the trade and logistics dialect, a kind of special identification code. The company conceived the idea that "Stock Keeping Unit" also sounded like something that protects you down there, so they actually named their own label after it!
Designed in Paris and manufactured in Portugal, the most key factors of the product are reflected in the design: consistency, functionality, and aesthetic. Briefs, jockstraps, boxers, and more, all with an athletic style, are part of the range. And typically available in the French flag colors of white, red, and navy blue – though their range is ever-expanding.
Since 2002, rather than just another pair of underwear, RUFSKIN has become more of a cult lifestyle for its wearers. The brand is based in Southern California and offers a sexy range of underwear, swimwear, sportswear, leisurewear, and accessories. Each piece is crafted to enhance the male form and offer individuality while redefining what sexy can look like at the same time.
The entire idea of the brand concentrates on the famous California lifestyle, which is essentially directed towards men. The entire collection of RUFSKIN is designed and assembled in Southern Californa and purchased at their San Diego storefront or online.
So, why not join the Rufclub too?
HOM is a French company that has entirely concentrated on men's underwear. Design and quality are paramount, and this shows through their entire stylish collection. Since 1968, this brand has been competitive in the global underwear market and continues to grow and maintain popularity with gay men.
Their form-fitting underwear does not only sit well and securely but ensures you make a statement with their high-profile HOM designs. HOM is the ideal underwear for every form of guy, regardless of age or heritage, and their extensive range does well to cater to everyone. For everyday wear or special occasions, to spicy things up with your partner or surprise a new lover – there is always HOM.
A classic among underwear for men, Diesel fuses trendy Italian fashion with sexy, casual cuts. Diesel has traditionally been a trend-setter in denim apparel since its establishment in 1978 by the Italian fashion entrepreneur Renzo Rosso. In 2007, with their men's underwear range, Diesel stepped in a new direction, and just like its denim, has created a beloved option for modern, fashion-conscious, and active men.
Diesel underwear for men appeals to a wide variety of tastes with its vivid colors and modern graphic prints and helps you display your uniqueness. Diesel's New & Bright line, revised seasonally, incorporates bold colors, patterns, and contrasting stitching on the pouch and leg openings. Diesel's Under Denim underwear, modeled after the brand's signature denim collection, expresses the style, soft comfort, and comfort of your favorite pair of jeans.
To demonstrate your sense of style for convenience and imagination, buy Diesel underwear.
Marcuse excites traditional men's underwear design, advancing men's underwear with exclusive designs, while provisioning for all dispositions and tastes. Marcuse concentrates on the importance of looking stylish and yet feeling comfortable in a quality product.
They believe they offer the best designer men's underwear that money can buy – and while this is a hard claim to verify, we are a little obsessed with their Empire Jock range that is sure to get your partner's sexual juices going without even taking off your underwear. Their unique Calecon boxers are also a standout and appeal to both visual and tactile senses.
Underwear designed to exceed your expectations and enhance your wearing experience, Marcuse is one of the best under-the-radar gay underwear brands. Based in Sydney.
Another affordable gay underwear brand for providing style for guys who like to stand out from the crowd. Perfect for everyday wear or to give you a sexy look in the bedroom or clubs, ORLVS as a massive choice of styles from jockstraps to briefs, boxers, and more – meaning you can find the look and feel just for you.
Time to throw away all your outerwear and enjoy showing off your body in items from one of these great gay underwear brands.