Do you know how they say that you can make yourself feel fabulous from the inside out? Well, obviously, that's about inner beauty, but we reckon it's also got a lot to do with underwear.
Let's face it, no one's feeling sexy when they're wearing a years-old pair of briefs with saggy elastic and holes in the waistband (excuse us while we shudder). And, the horror of horrors, imagine if you get lucky with a gorgeous stranger and then have to strip down to those.
That's why we should all be wearing underwear that's not only comfortable but stylish and sexy, too. Luckily, there are a whole lot of gay underwear brands that will get the job done, leaving you feeling hot as hell and ready to take on the world. Is there any better form of 'self-care' than the confidence boost of a flattering pair of briefs?
Naturally, these brands can be worn by everyone – gay or straight – but let's just say that the aesthetic experience makes them particularly appealing to gay men. Plus, we never want to pass up an opportunity to support a gay-owned or gay-friendly organization, which a few of these brands are.
So, chuck away those Target multipacks and prepare to invest in yourself with some new undies that will make you feel and look hot as hell….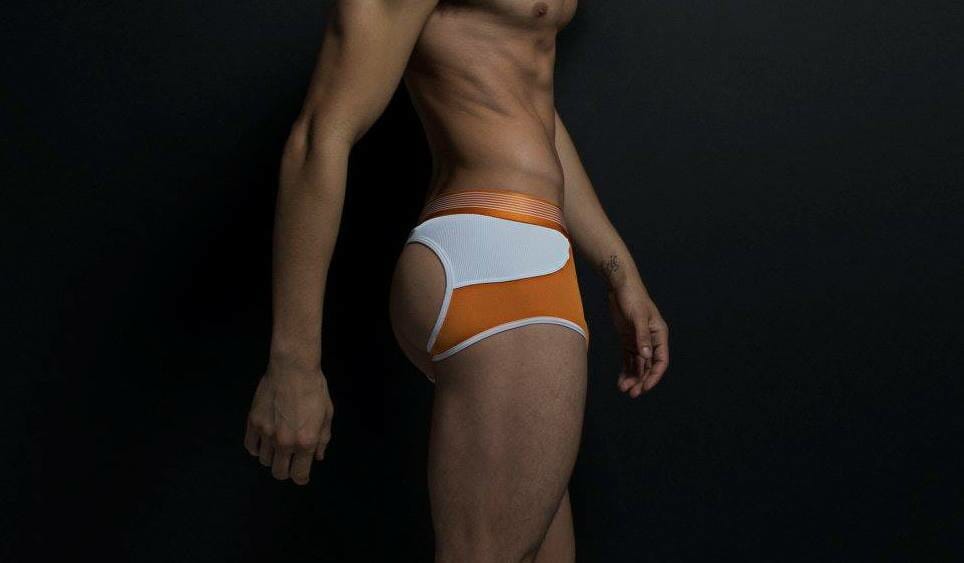 Top Gay Underwear Brands To Make You Feel And Look Sexy AF! 😍
In this article we will cover...
Not one for the shrinking violets, definitely a brand for the hunks, Andrew Christian has made its name on the raciness of its kecks and its LA fanboys. The eye-catching designs and body confidence required to wear these are what has made Andrew Christian one of the top gay underwear brands. It's so iconic in the gay community, in fact, that it has even sponsored the famous Xlsior Mykonos Festival.
Whether you like to bare your skin in a thong or a jockstrap or prefer a saucy brief or trunk number, there's something here for you. Another stand-out feature of this brand is the anatomically correct front pouch that leaves plenty of room and support for your package. We love the bright colors and elaborate designs, which cheer you up no end when you put them on in the morning. You're sure to get positive comments!
This is a brand that 100% reflects its name – practical, to-the-point, sexy. The branding and the design conjure up images of Berlin dark rooms, rhythmic techno music, hunky men in their underwear. OK, that last one isn't just our imagination; PUMP! uses a lot of hunky models to show off their wares. And as well as the dancing in clubs, their designs also have a sporty aesthetic that appeals to the athletes among us.
Bright reds, sophisticated black, cute candy shades, contrasting color blocks, splatter, and graffiti styles are all used to create these stand-out boxers, brief, and jockstrap options. Not only do they look fab, but they also feel great – as you'd expect from a company that sees itself as sporty. The fabric is custom for PUMP!'s undies and is so soft you could almost forget you're wearing them (ooer!). Don't worry, though; you don't have to be a sportsman to wear them, only someone who likes to look good, not feel constrained by their pants, and is easily influenced by fit models (jokes).
Designed in Barcelona, Addicted fully represents the vivacity and party spirit of its home country of Spain with bright colors and daring cuts. Their swimwear is definitely for the bold as most options leave little to the imagination, and they come in a range of fun patterns – you certainly won't fade into the background wearing these!
Addicted underwear shapes are similar to the swimwear, and they also utilize bold colors and design to maximum effect. There are briefs, boxers, and jockstraps available in good quality fabric. Most of the designs have the Push-Up feature, which gives you extra support. Rather than feeling invasive, this actually makes the underwear way more comfortable. Who's this brand for? Definitely the party boys, the ones you'll find dancing by the pool and giggling over cocktails. Fun, fresh, and comfortable enough to do all the dance moves!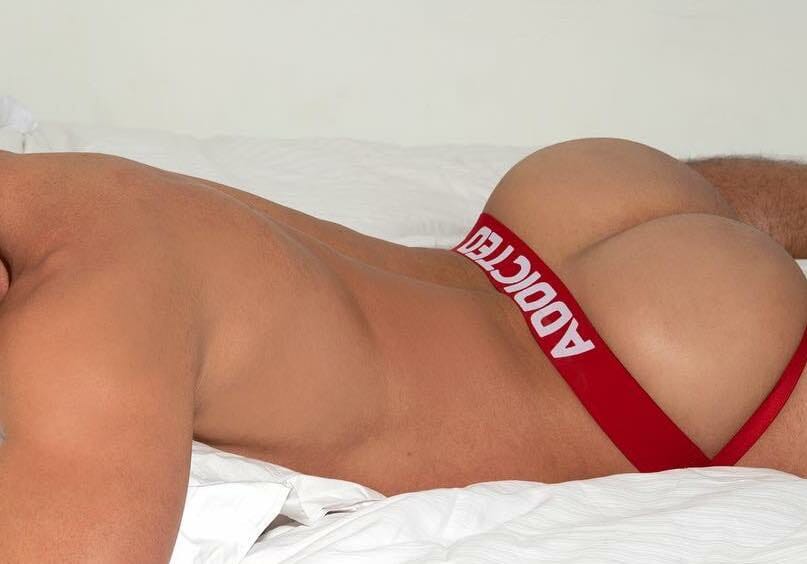 Linked to Addicted is the ES Collection – the sister company that's probably a bit like the quieter, more sensible sister who likes wearing more expensive jewelry. Basically, ES Collection is the premier brand that offers slightly simpler designs that still show off your style.
Both Addicted and ES will cost a bit more, but you really do get what you pay for, and because it's manufactured in Spain, the quality stays high. It also means you have a more transparent supply chain, making these more ethical companies to buy from, which is a little added bonus. Wearing ES' well-cut and well-fitting briefs, boxers or jockstraps leaves you feeling sophisticated and a little bit naughty.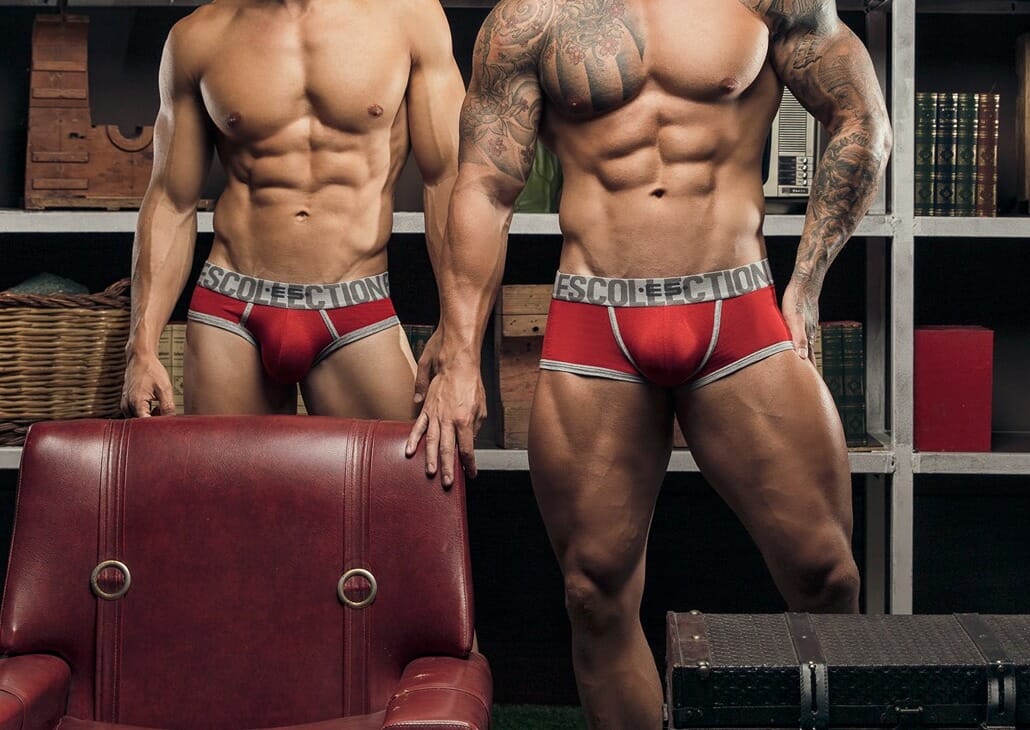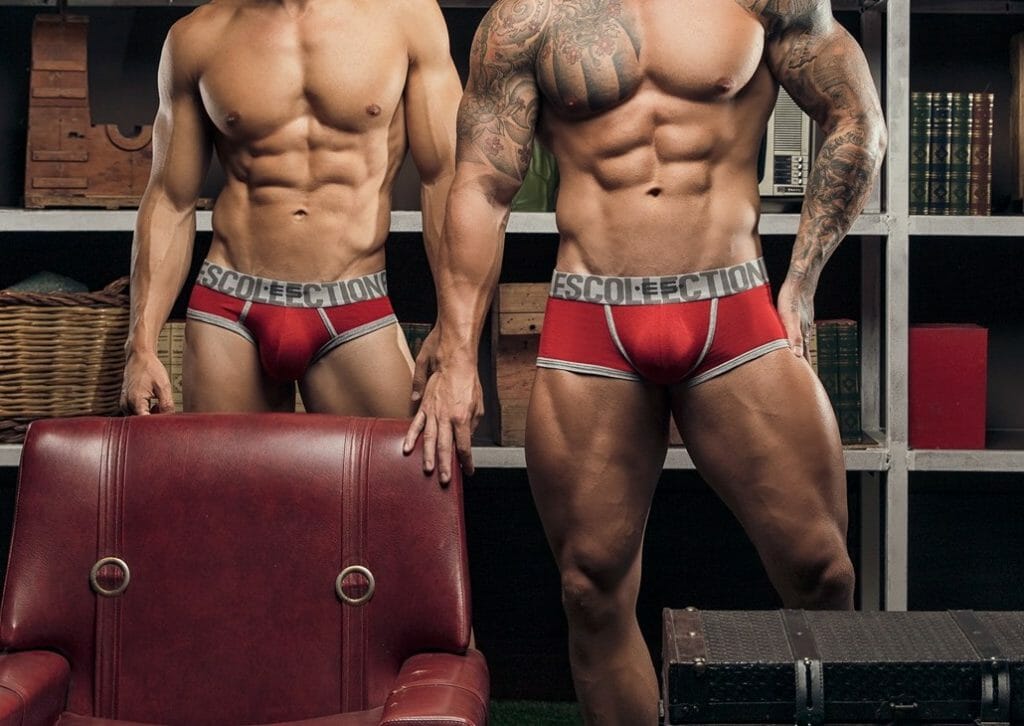 The loud-and-proud tagline proclaims that this brand is for nasty guys and those who love them, and who among us doesn't like to get a little nasty now and again? You know from the name that this brand is ballsy. Despite being told to change it, they stuck with the name and their 'if they don't like us, screw 'em' attitude to build this excellent company that "sells underwear to help you get laid." If you're not already in love with these guys (a New York couple), read their history on the website – you'll seriously want to be their BFF.
They started out in 1994 and, over the years, have developed a vast range of designs, from your standard jocks and briefs shapes, to cute AF onesies, a Leg Harness, and BDSM inspired looks. If you're looking for a new style of underwear that's going to make you feel confident and sexy, Nasty Pig is it. It's basically impossible to not feel badass wearing these snug, well-cut, bold undies. A staple of fetish/kink festivals like Folson San Fran and Darklands Antwerp.
What do we love about Cocksox (aside from the name, obviously!)? Well, it could be the fact that they very conveniently divide their collection into 'Everyday' and 'Sexy,' so it's super-easy to find what you're looking for. It might be the incredible support that's integral to all of their designs, as they see their goal to "support manhood by supporting YOUR manhood" – no wonder they're one of the most popular gay underwear brands! Or even the fantastic fabric they use – the SUPPLEX material keeps you fresh and feels amazing against the skin.
Actually, it would be easier to list things we don't love about Cocksox – nothing! The Everyday briefs, boxers, and trunks are comfy and fun, with bright colors and trendy patterns used (our faves are obviously the animal print numbers with the yellow waistband – reminding us of a particularly hot safari in Cape Town…). Even the simpler designs are jazzed up with thoughtful little touches like metallic waistbands. Sheer and mesh fabrics spice up the Sexy range, with thongs and slingshots that leave little to the imagination – but lots to enjoy!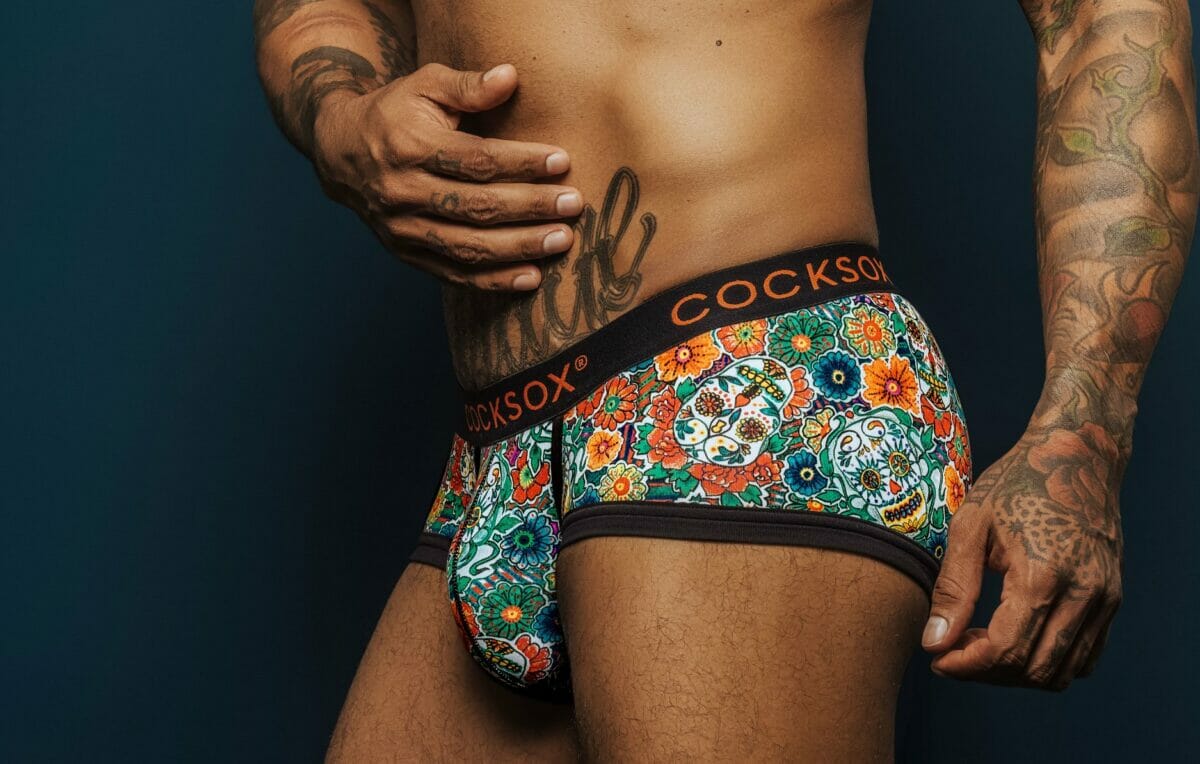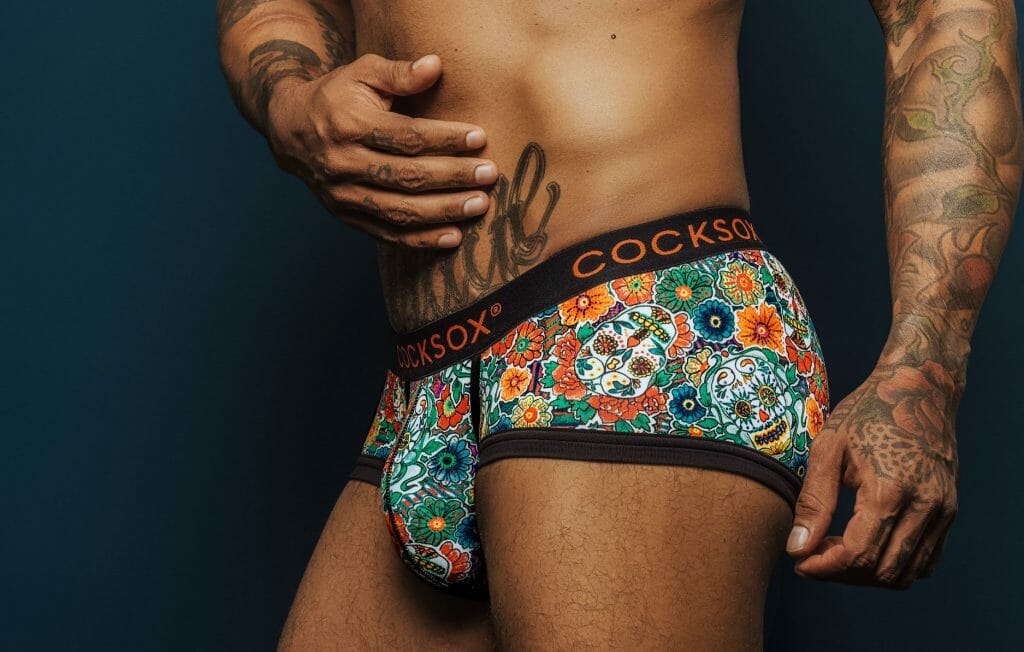 Seriously, we couldn't finish a list of awesome underwear brands without talking about the King of the Peeking Waistband, Calvin Klein. They're a classic make that at some point every man will have had in their underwear drawer – for a good reason! A pair of Calvins are well-made, show good taste, and won't break the bank. You'll feel good wearing them, and there'll be no shame if someone else sees them.
They're ideal for men who like to keep their style simple, with a range of boxers, briefs, and trunks. The color schemes are streamlined, with mainly white, black, and grey featuring. We love the thick waistband as it feels a lot more supportive and a lot less like the elastic is digging into you. If you're feeling a bit snazzy, you could get one of the colorful versions; although, to be honest, if you're wearing these for a classic look, then keep it simple.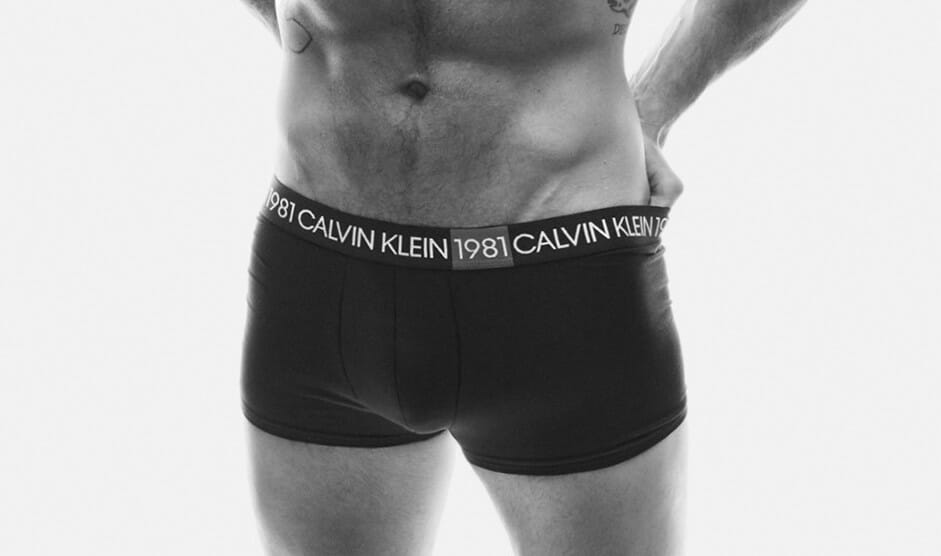 As you might have guessed from the name, this is totally a brand for those freewheeling guys who like to bum about on the beach, guys who don't take life too seriously (but still want to feel good in their underwear!). Developed by a former beach bum, this incredible underwear range started as swimwear and then expanded. With styles including 'brief,' 'hipster,' 'jock' and 'cheeky' (we'll leave you to explore that one on your own!), the excellent quality and colorful designs of AussieBum have made it world-famous.
What has made it so popular in the gay community? Well, it could be the 2006 launch of the 'Wonderjock,' a design to enhance your package. It could be the saucy advertising – google Aussiebum Shearing the Rams for an example. Or it could be how the entire collection was used in Kylie Minogue's Slow music video. Or maybe it's just the thought of their gorgeous models on the beaches of Perth, Sydney, and Brisbane? Whatever the reason, it's undoubtedly a gay underwear brand that's here to stay. They also have a fun swimwear collection to inspire your next tropical holiday!
Time to throw away all your outerwear and enjoy showing off your body in items from one of these great gay underwear brands.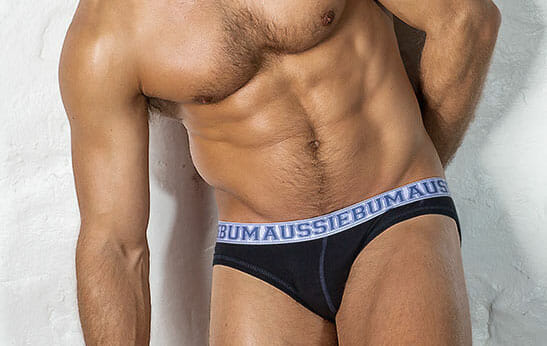 Further Things To Consider Before Any Gay Trip
Now you're all set and prepared to explore our big queer world, why not sort out everything else out all in one go? If necessary for your travel plans make sure you have brought proper travel insurance, protected your privacy by getting a secure VPN, compared all the top hotel booking sites to find just what you're after, reserved an unbeatable rental car price and - of course - booked the best flight deals!
Or maybe just forget it all and go for a last minute cruise or effortless tour instead?
Many gay travelers (including us) indulge in worldwide airport lounge access and pre-arrange airport transfers to take the stress out of travel. Naturally, we would never leave home without a more mainstream travel guide since we couldn't possibly cover everything here!
Just add an adventurous attitude and plenty of smiles - they go a long way - and that about covers it all! Now go out, find your global rainbow family and don't forget to share your best gay stories with us on Facebook, Twitter, and Instagram...We'd love to hear from you!