Why do you go on holiday? For the suntan? For new experiences? To escape the daily grind(er)? To blow off steam? Whatever the reason is, we're willing to bet that you want to feel relaxed and free to be yourself.
In that case, what better place to spend your vacation than at a gay resort? Luckily, being gay is increasingly socially acceptable in most countries.
Still, no matter your situation, we're sure you'll appreciate spending time somewhere you can be 110% yourself, without a single double-take. Even in the USA, we can all still admit things for queer people are far from perfect – and in many ways are getting worse as intolerance, far-right extremism, and bigots feel emboldened. Thus the relevancy and popularity of gay resorts, safe spaces you can feel totally comfortable being you – having fun, enjoying the pool, and chilling out.
There are so many gay resorts now that you'll definitely find one that suits the type of USA gaycation you're planning, whether you want to party, strip down, sunbathe, do sports or try new activities. And you get to do whatever you want in the company of other open-minded folks.
It's amazing how quickly you can form friendships with people at a gay resort – it's as though knowing everyone there has something in conventional means, there's no judgment, and you can connect easier.
There is no need for dating sites or gay apps to meet people here…
Most USA gay resorts are in wild Provincetown and fabulous Palm Springs along with Florida (mainly Fort Lauderdale, Miami, and Key West )– after all, many of us gays love to chase the sun! However, there are more gay resorts springing up all over the country (with concentrations in Michigan and Texas) and each one has its unique appeal.
Remember that some gay resorts might be clothing optional – which for us, merely adds to the sense of freedom you feel while here. However, if you're more retiring (no judgment), then make sure you read the small print before booking! Wherever you go, make sure you go with an open mind and enjoy shedding those inhibitions. You can go alone, with your other half, or with a group of friends – however you travel, you're sure to receive a warm welcome at a friendly gay resort.
Really for us, the main appeal is that it's a chance to spend our holiday somewhere totally judgment-free. There's no pressure to be a certain way or hide any aspect of who you are; it's just about having a good time. So let's have a look at some of our top USA gay resorts for your next fabulous gaycation. There's something for everyone on this list, so enjoy narrowing down your choice and enjoy your trip!
Grizzly Pines claims to be the premier clothing-optional gay resort in the state of Texas. It's a claim that is hard to refute, given how far the resort goes to cater to gay men and ensure that they have a safe, inviting space to have fun. This independently-owned establishment is located in Navasota and set in a pleasant woodsy environment. Grizzly Pines has even been featured on the cover of Outsmart Magazine's travel issue.
There is a range of accommodation styles at Grizzly Pines, including tent spaces, cabins, and rooms at the Bearracks Bunkhouse. And for dining guests first choice is Randy's Big Gay Taco, which serves up homestyle cooking in addition to standard fare like chicken tenders, sandwiches, grilled cheese, breakfast burritos, and the like.
Cabin rooms are creatively named, with options like The Lookout Lodge, The Bear Cove, 69 & 96, The Cabin in the Woods, The Stonewall, Little Bear Lodge, and so on. Unique names aren't all these accommodations have, though. While amenities vary, they include, depending on room styles, air conditioning, Wi-Fi access, some even have full kitchens and bathrooms, and some have king and queen beds. The largest cabins can sleep up to six people.
The property has bathrooms and showers for guests to use, and there are charcoal pits scattered around the property. There is also bagged ice, charcoal, and firewood for sale, and the resort even has two licensed massage therapists on-site should you need a relaxing massage while you are here. Wi-Fi is available at the resort, and golf carts can be rented for easier mobility. Owners stress that all areas of the resort are nonsmoking.
Gay men looking for a safe, fun space to be themselves in the presence of others who are also all about enjoying the good vibes in a rustic setting will find no better place than Grizzly Pines. It's no wonder guys come from all over the Lone Star State and beyond to soak up the fun atmosphere this resort has on offer.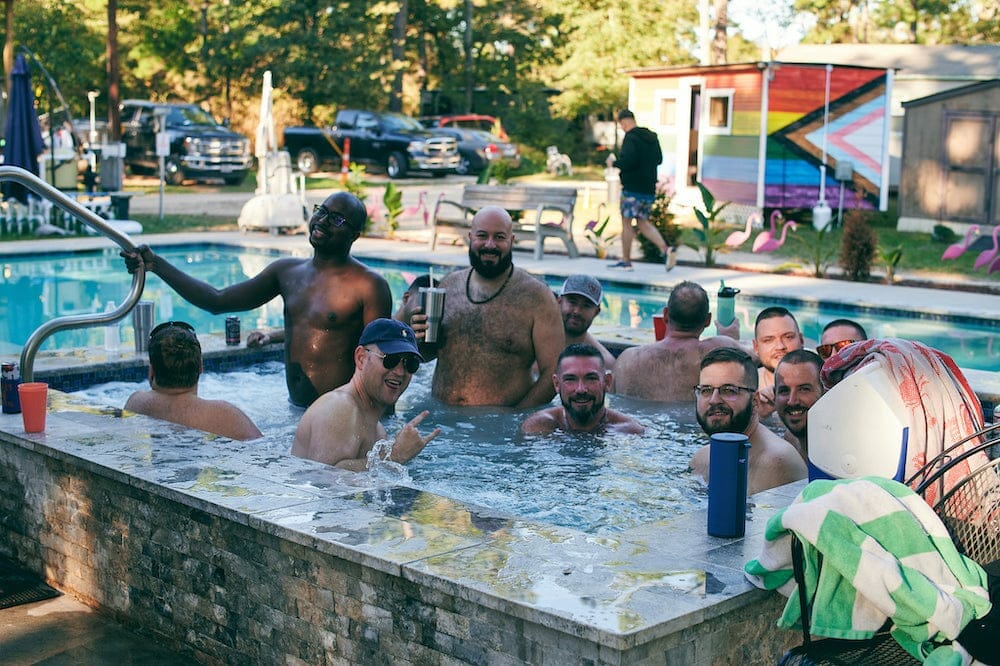 The R3 Hotel advertises itself as the premier entertainment resort of the Russian River area. It also adopts the laid-back, open-minded attitude of its locale: Guerneville. The hotel was originally a drive-in motor lodge more than three decades ago, and traces of that origin can still be seen in the property's U-shaped layout, in which the pool takes center place with walkways and landscaping surrounding.
Besides the pool, the R3 Hotel has an on-site restaurant and a bar, as well as a game room. The bar is the unofficial hub of activity at the hotel, with a sliding glass wall that looks out onto the pool. The bar also has ten televisions and a DJ booth with a high-end AV system, and a billiards table.
The R3 Hotel has 23 guest rooms, so while it is a smaller establishment, guests can enjoy the more intimate vibe that comes along with that. The rooms come with private baths, cable TV, refrigerator, microwave, and coffee maker. Free Wi-Fi is also available in all rooms, along with air conditioning. Thanks to the resort's layout, all the rooms are in close proximity to the pool and have easy access to the poolside bar and entertainment stage.
The hotel is big on providing entertainment, and there are a host of events taking place at the R3 throughout the year. Events like Oscar Parties, Easter Weekend Fun, Cinco de Mayo, and Women's Weekend are just a few examples of how the hotel works hard to make sure guests can have a good time, with plenty to do.
The best part of all is that the R3 will put guests right in the middle of everything Guerneville has to offer, with a smattering of bars, galleries, and eateries just a stroll away. All that and a fantastically friendly atmosphere where everyone is free to be just who they are.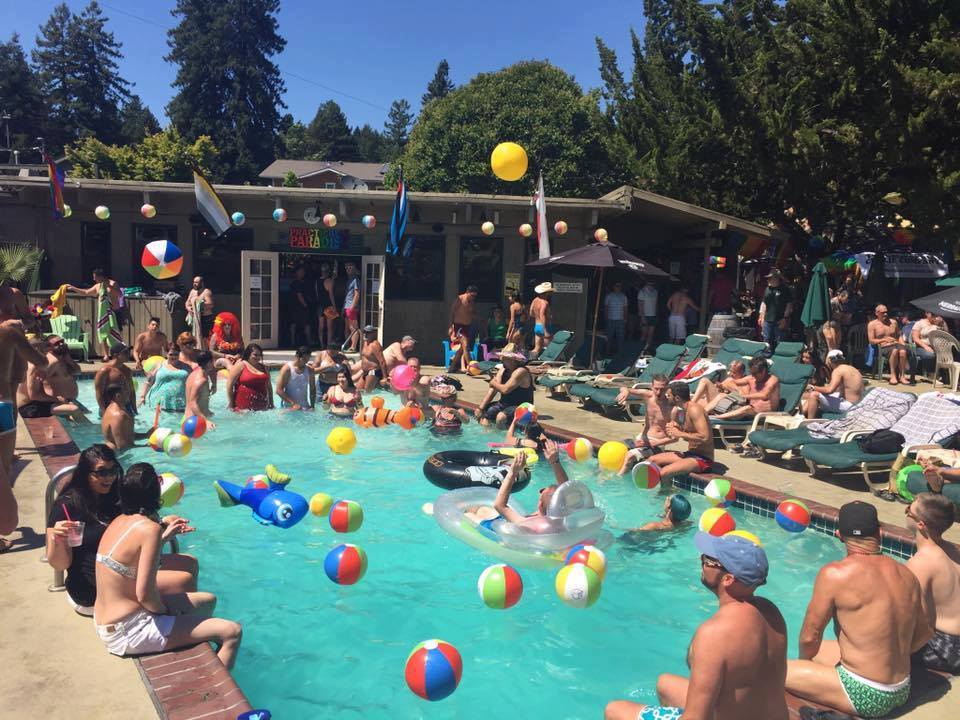 Starting with a gay resort that has everything you need all in one place – the famous Hotel Gaythering truly is a place to 'gayther,' with a bar and men-only sauna on-site. This means you don't even need to leave the comfort of your accommodation to have a drink and get to know new guys (it's the dream).
We love the contrast of the bright and breezy exterior, with its white balconies, against the sexy décor inside, all black leather and red accents. While not that close to the beach, the resort puts on a free shuttle service to the local gay beaches – or you could borrow a free bicycle and freewheel around the Magic City. Alternatively, sip a craft cocktail in the bar and see who else drops by!
This friendly resort oozes Palm Springs retro chic with its pale green and blush pink exterior walls, sun loungers around the modest pool, and rooms with fully equipped kitchens (for when you feel like a night in). The grounds are a real selling point for Vista Grande, and they work hard to keep them beautiful.
A blue lagoon, complete with a lush waterfall, adds to the picturesque surroundings, and you've got a stunning view poolside of the desert mountains in the distance. It's clothing-optional, so you can feel free to enjoy the water on your skin and truly relax in the sauna and steam room. It's a liberating feeling! The fabulous staff are the cherry on top of the cake, always going the extra mile to help you enjoy your stay.
We love the bright and breezy sea-front rooms in this welcoming and uninhibited resort, but what really sticks out is the famous Tea Dance that they host pretty much every afternoon in summer by the pool. Enjoy throbbing dance music and making new friends as the sun goes down over the horizon, and everyone gathers on the deck.
While it's one of the best-known USA gay resorts, it is not exclusively gay as everyone is welcome to join in the sun (you'll find a higher proportion of LGBT travelers). When people aren't dancing on it, the pool deck is great to relax on, and the clean, comfortable rooms make ideal retreats. Easily reachable from Boston, Providence, and close to New York, making for an easy weekend getaway or addition to any fabulous gay trip to these popular cites.
This adult-only guesthouse is a gorgeous restored 1902 building with a white clapboard façade surrounded by deep green vegetation. The rooms are just as welcoming as the exterior: simply but elegantly decorated and fully equipped. Alexander's claims to be good for your soul, and you certainly end a stay here feeling rejuvenated.
Spend days (and evenings) lounging by the attractive pool, feeling the magic as dusk falls, and eating your continental breakfast here in the morning. Adding to t
he peaceful ambiance are the incredible staff, who are friendly, helpful, and welcoming. Step through the doors here, and you know you won't need to worry about a thing.
You are on Key West Island time after all now…
From the chilled to the hedonistic, this bright and cheerful gay men's resort is the place to come if you want to party a bit and meet some friendly guys. There's a free and easy vibe at CCBC with a totally judgment-free atmosphere. You can splash around in the pool or unwind in the Turkish steam bath.
The rooms are large and comfortable – while they're not spectacular, they are very welcoming. The pool area gets pretty spectacular at night when it's lit up with neons! It's clothing optional as well, with a designated play area.
Palm Springs takes the crown in the US for clothing-optional gay resorts, and this one is an excellent example of why. Upon entering this idyllic resort, you immediately feel all your cares slip away. With hammocks swinging under palm trees, a spacious pool area with views of the San Jacinto Mountains, and an outdoor fire pit, you know that you're going to have a relaxing stay.
The large, air-conditioned rooms confirm this initial impression. Every need is catered for, and many have French doors onto private terraces or seating areas. Come with a special someone for a romantic treat and enjoy your men-only retreat under the California sun.
This epic place shows other USA gay resorts how it's done! The Worthington encompasses the Alcazar and Villa Venice Resorts and the Worthington Guesthouse, linking the three clothing-optional properties by well-kept gardens. Wherever you're staying, you can enjoy the facilities at all three resorts, meaning you can pick your hot tub or pool depending on what kind of mood you're in (they all have different vibes). Either way, let's just say your gay underwear choices will matter here – so don't let yourself down.
Not only do you have all these facilities, but the ocean is only 500 meters away! All of the staff and the other guests are super-friendly; in the rare case that you need a bit of a break from their company, your room is a lovely place to hang out and has all the amenities you could ask for. If you ever bring yourself to leave, there is also all the incredibly gay attractions of Fort Lauderdale…
"Gay, lesbian, straight, or something else? We don't care as long as you don't either." Those are the hotel's own words, and it doesn't get more accepting than that, does it? This "all welcome" boutique hotel takes pride in embracing diversity and open-mindedness.
The Guesthouse actually encompasses nine faithfully restored historic buildings, with an enclosed terraced courtyard. There is an infinity-edge pool and oversized in-ground spa on the grounds as well. All of it is enclosed for a secluded, quiet experience that shuts out the noise of the city, though it is still at your doorstep. In fact, pretty much everything can be walked to within minutes.
There is a rooftop deck where guests can lounge, as well as a 15-person hot tub with views of the open sky. Also, there is a wine and cheese reception every evening that provides guests a great opportunity to meet each other. As does the on-site Shipwreck Lounge, one of P Town's most popular gay hangouts. It offers handcrafted cocktails and an excellent tapas menu. There is a courtyard out back that offers a secluded outdoor bar experience, with vintage décor, fire pit, lounge seating, and "thoughtful" lighting.
All in all, LGBTQ tourists will have a hard time finding a better choice for accommodation in Provincetown that promises a good time for all.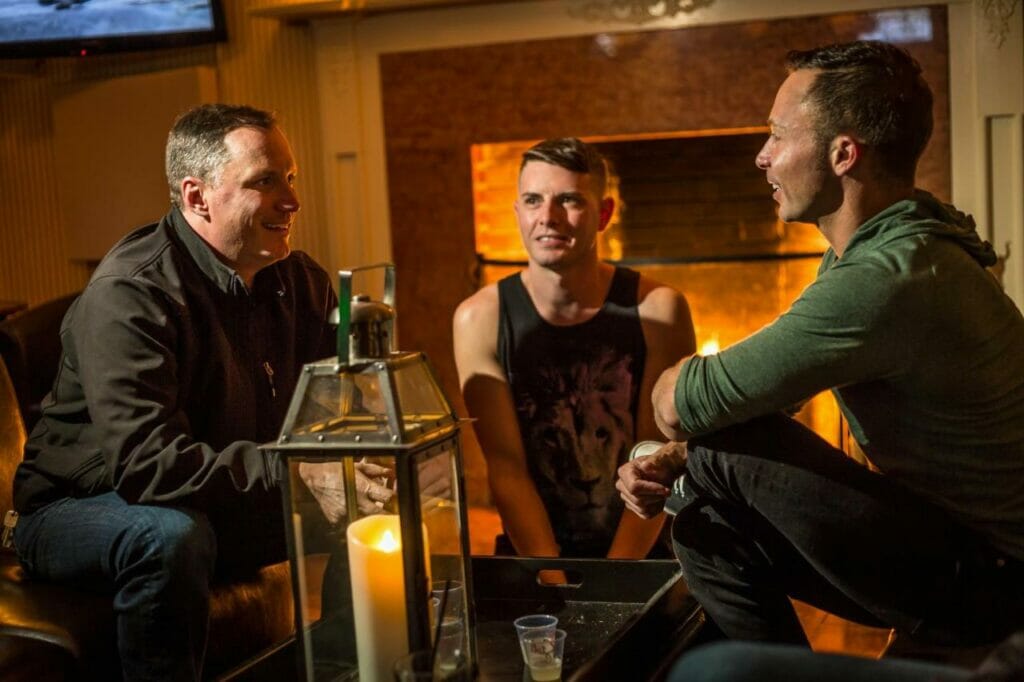 Axel Hotels is a popular gay Europe resort franchise if you don't know, and AxelBeach Miami is the latest arrival on the scene, only the second gay resort in Miami to open after Hotel Gaythering (which is also featured on this list). It is also the chain's first hotel in the United States, having opened its doors in 2019. The hotel has 159 guest rooms along with a restaurant, a gym, and a spa. There is also a sky bar with impressive views of the city
The hotel features five varieties of accommodation: Axel City; Axel Premium; Axel Premium Superior; Axel Single; and Axel Suite. All but the singles sleep two. Rooms are air-conditioned and come with free Wi-Fi access, as well as a flat-screen TV and private bathrooms. All the standard room amenities are included in this three-star establishment.
Staying at the AxelBeach Miami guest will enjoy having the beach virtually at their doorstep, along with a bevy of restaurants, bars, and shopping. Art Deco walking tours are available, as are speedboat sightseeing tours and a variety of walking food tours – the restaurant scene of Espanola Way, in particular, shouldn't be missed anytime you find yourself in Miami Beach.
Gay tourists visiting Florida and dreaming of a gay-friendly stay with top-notch hospitality will find it right here, and none come more recommended than AxelBeach Miami.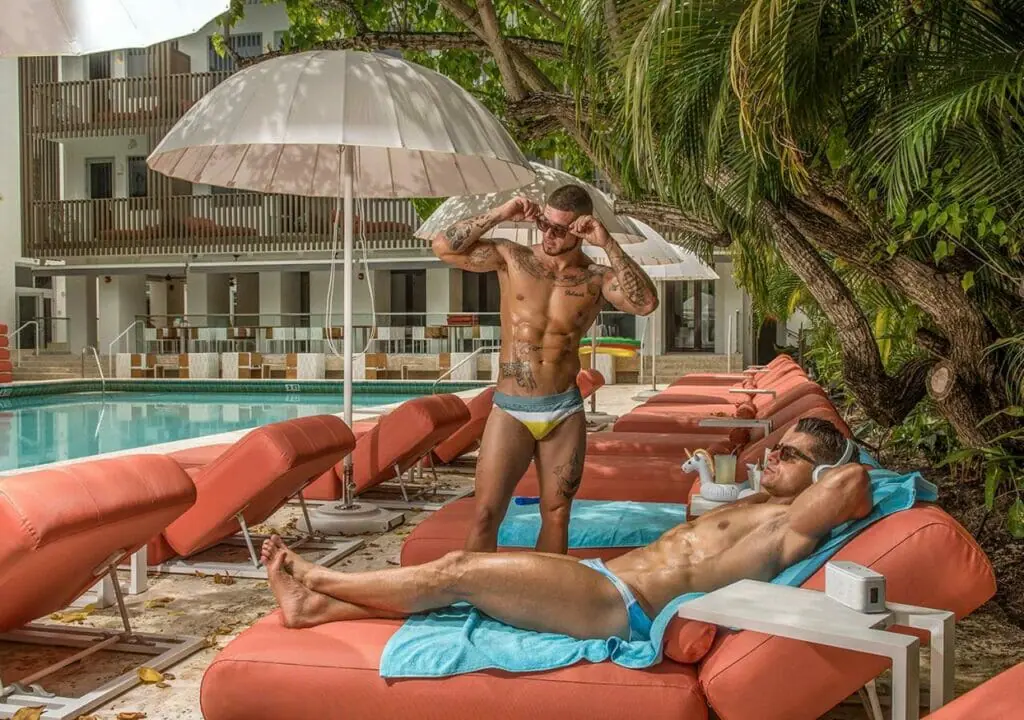 Just like its namesake, Florida's biggest LGBT resort is colorful, flamboyant, and here for a good time (OK, we don't really know if flamingos are the most fun-loving animals, but it's a good guess!). A couple of miles from the Gulf of Mexico coast and close to Gay Tampa, the Flamingo boasts not only an outdoor pool and sun terrace, but no less than six bars, five shops, and a dance club.
This is what makes it stand out from other USA gay resorts – the sheer passion for fun and play that the resort demonstrates. The rooms are more than adequate, if a little outdated, but it's the friendly staff and lively atmosphere that will make you want to keep coming back here. We love the events like Drag Bingo, the Sunday Tea Dance, and Showtime Saturdays – the perfect place to wear our Pride outfits like it was Pride every night. Because here, it might as well be!
OK, guys, pack light and get ready to enjoy retro-chic at its finest at Escape Resort, one of the oldest clothing-optional resorts in Palm Springs. The beautiful 1950s building is one of the top draws here; so is the atmosphere of tranquility created by the flourishing gardens and chilled-out pool area. We love floating around the pool on one of the inflatables, enjoying the view of the mountains.
It's definitely not about the cruising scene here, although, of course, flirtation is never off-bounds! But Escape is for people who want to escape the party circuit and simply enjoy a chilled-out gaycation with no need to put on swimwear unless you want to! Tastefully decorated rooms complete the experience.
The Rainbow Ranch is an LGBTQ+ campground located right smack in the middle of the Lone Star State, near Groesbeck. The resort sits adjacent to Lake Limestone. The Rainbow Ranch has been the recipient of the Dallas Voice's Readers Voice Award for Best Weekend Getaway an incredible five times since 2009. It is the largest LGBT campground in the state at almost 700 acres and prides itself on being a place where everyone can feel free to be themselves in comfort and relaxation.
There is a range of accommodation styles, with something to suit everyone. The primitive campsites are, of course the most affordable options; these do not have water or electricity. RV sites water and 20/30/50-amp electrical service.
There are also large cabin rentals, which include two queen beds, air conditioning and heat, a private bathroom, and a kitchen with a single burner stove, microwave, small fridge, coffee pot, and dining table. Bedding, cookware, and utensils/kitchen supplies are not included. Pets are welcome for a fee, and the guest is liable for any damages incurred. Small cabins have one queen bed, are also air-conditioned, and have a refrigerator and microwave. The stunning mountain views come complimentary.
Apartments offer all the comforts of home and sleep up to five guests with king and queen beds, private bathroom, full kitchen, sofa and love seat, desk, and dining table. As with the cabins, you will need to bring bedding, cookware, and kitchen utensils. And finally, there is the rentable house, with 2800 square feet of space and the capacity to sleep up to 14 people with 4 bedrooms outfitted with one king (primary bedroom), one queen (bedrooms 1 & 2), and two twin beds and two pullout sofas (bedroom 4) respectively. The house's other amenities include central heat and air conditioning, washer and dryer, wraparound porch, kitchen, and charcoal grill.
The resort also hosts many events throughout the year, including a Luau Weekend, a Fall Women's Fest, a Memorial Day Pride Pool Party, a Men's Summer Splash event, and many, many more. Just an example of the fun and carefree atmosphere guests will encounter when they stay at the Rainbow Ranch campground. It is the perfect kind of place to bring someone out of their shell – and to showcase your sexiest men's underwear…
It's also a great place to enjoy the great outdoors, with hiking, biking, and walking trails galore. And there is a pond – not to mention a pier on Lake Limestone – to do some fishing if you are so inclined. The resort also has a swimming pool overlooking the lake. All in all, the Rainbow Ranch is the biggest LGBT campground in Texas, not just in terms of acreage, but it's also the biggest when it comes to how far it goes to make everyone comfortable and welcomed when they come here. It really is a can't-lose choice for gay and lesbian campers looking for a nice getaway in mid-Texas.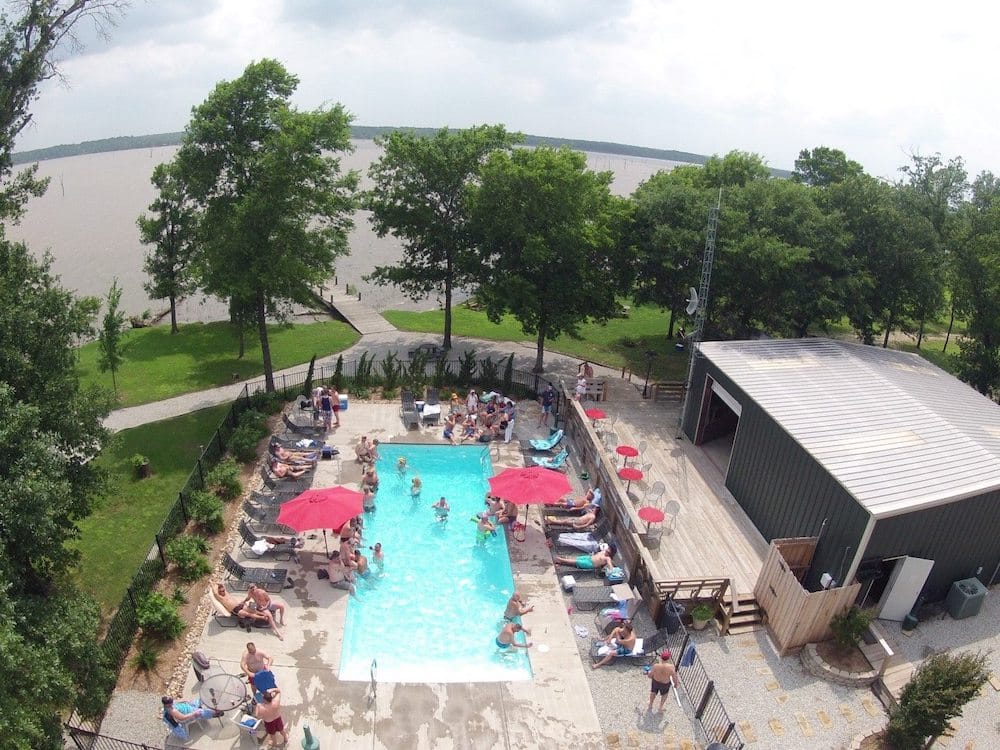 This isn't just one gay resort; it's two-in-one! There's the main resort and the 'Annex,' and both are as fabulous as each other. On South Warm Sands Drive, moments from the center of the city, these optional clothing resorts have a range of rooms, from studios to deluxe king suites. If you're feeling flash, opt for a room with a Jacuzzi (why not, you're on gaycation!).
It's always playtime at All Worlds – there are five swimming pools, indoor and outdoor mazes, two hot tubs, a dry sauna, a steam room, and playrooms. Endless options, right? You can see why people never leave the resort! It's adult-only and clothing-optional, with a party atmosphere, so expect to flirt a lot!
Let's be honest, you didn't expect to see somewhere in Oklahoma City on our list of USA gay resorts, did you? But the Hotel Habana (or Habana Inn) is a whole 170 rooms, two swimming pools, a restaurant, and a bar of gay, adult-only resort. It's not the most stellar place we've ever been, but if it's closer than heading to California or Florida, it's worth a visit.
In the heart of the city's gay district, this is an affordable place to stay where most guests are feeling footloose and fancy-free. The bars on-site are always buzzing, as are the pools. Friendly staff keeps the mood positive, and the rooms, while a bit dated (although renovations are underway), are comfortable and clean.
This over-21s gay resort and campground genuinely make the most of the spectacular West Virginia landscape, being located on top of a mountain. In fact, it's on a slope which means the permanent buildings are structured on stilts, and the drive up there isn't the best. But once you're there, oh boy, is it worth it. Breathtaking views, beautiful surroundings, and every amenity you need – plus super-friendly staff who help you feel right at home.
Spend your time here in the buff if you want (clothing is optional) and enjoy relaxing by the pool, on the sun deck, or in the hot tub. For the more active among us, the 222 acres of land covered by Roseland offers hiking and mountain biking trails aplenty. It's a little bit of paradise and a totally unique holiday option.
The lush tropical gardens and buzzing pool area at the members-only Parliament Resort let you know immediately that you're somewhere pretty fun. The 70 motel rooms are in cheerfully-colored buildings, and it's all kept enclosed by a privacy fence, making you feel like you've truly escaped from the outside world. Guests have to be over 21 and men – the vibe is quite cruisy, so it might not be best for a romantic couple's getaway!
But if you like exploring new experiences and open-minded people, then this is the place for you. The team working here always goes the extra mile to ensure you have a comfortable stay, and there's a wealth of facilities to enjoy.
You have to be a member to stay at this expansive camping resort, but it's definitely worth it if you come to the area often. The 161 acres are beautifully maintained and include campsites, trailer parks, a lake, nature trails, and a lively pool area. The surrounding Pocono Mountains are a lovely area of the country, and this LGBT clothing optional resort is a great place to experience staying here.
If camping in a tent isn't your scene, there are some cabins and luxury trailers available. Everything you need is on-site, available in the camp store, and the Clubhouse hosts parties on the patio and an evening bonfire to enjoy the starry night.
We know what you're thinking: Vermont is not the first place you think of when you consider a nudist resort gaycation. Nevertheless, this gay-friendly (but open to all) resort is open all year round and is one of the most serene places you can imagine. Communing with nature here is an exceptional experience, from the walks by the river to the naked morning yoga to the famous Sugar Shack Club on-site.
There's a campground which is excellent in summer, but if you come in the colder months, you might prefer the bed and breakfast or a room in the Meadow House Inn. The beauty in the changing seasons makes it a romantic place to visit any time.
'Hideaway' is the perfect name for this adult-only gay and lesbian campground nestled among six lakes in the heart of Georgia. It's an open-minded playground for grown-ups where you can fish, walk, chill, eat, or party (or all of the above and more!). Fabulous events take place even on quiet weekends, from drag cabaret to dance parties.
It's another members-only spot, but you get a lot for your fee. Choose to camp if you love the outdoors life or rent a comfy cabin on the side of the water. The saltwater pool is a great place to unwind and watch the world go by; if you need to relax, even more, head to the sauna! Roy takes pride in ensuring guests have a fantastic stay, and there are lots of lovely extra touches all around the grounds.
Could anything be more tempting than this cute resort name? It's a charming gay-owned and operated mountainside resort that welcomes men and women from the LGBT community. We love the quirky rooms and the cute clapboard houses that form the complex, all set around a pond, and with some gorgeous walking trails.
While they have plenty of activities on offer, including tennis, shuffleboard, and rowing, you can just as easily spend your days chilling by the pool or in the hot tub. Guests tend to be super-friendly, so you'll definitely find people to chat with. The food at the bistro is a much higher standard than you'd expect, and as you can imagine, we love the drinks there, too! They fly their rainbow flag proudly, and so can you!
Thirty-three acres of wooded land, log cabins, bunkhouse, and trailers await you in Saugatuck, Michigan. But it's not just the facilities that make this place unique; it's the warm welcome, the feeling of being part of a family when you stay here. A gay and lesbian outdoor community has been created here with adult-only weekends and family-friendly times during the week.
If you're here for the natural surroundings, then there are nature trails and parkland to satisfy your yearning for the outdoors. If you feel like letting your hair down after a long week, you can do that here as well. Friday nights start the weekend off with a social gathering, and there are often events throughout Saturday and Sunday. An on-site store keeps you stocked up with supplies, and the clubhouse and pool become the heart of the area.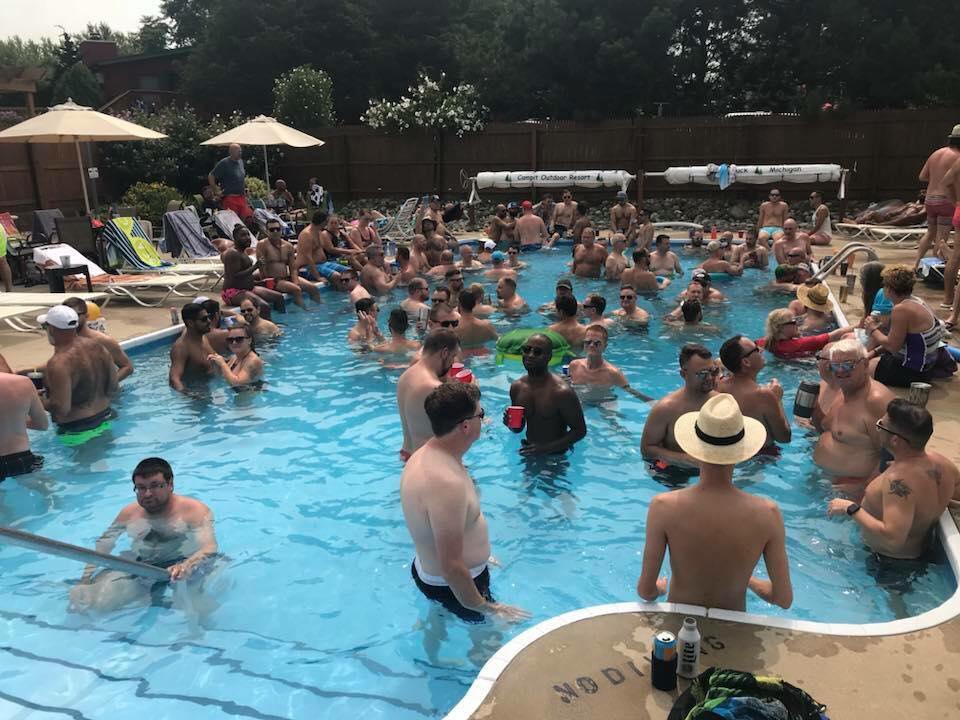 This guesthouse happens to be an award-winning gay resort legend in Palm Springs. It has received 5-star accolades from such sources as Planet Out and TripAdvisor. You are guaranteed to find no more welcoming, inclusive, and friendly establishment than the Inndulge. It is not just gay friendly but is focused on catering to the needs of gay guests, and you can tell the hotel really goes out of its way to create a safe, encouraging space where everyone is free to be themselves. It is an optional clothing resort, and swimsuits are allowed as well. Skinny dipping in either the 24-hour swimming pool or the 12-man jacuzzi is not required, though it is strongly encouraged.
There is a range of accommodation choices at the Inndulge, from one-bedroom suites to deluxe and superior rooms. The luxury rooms have free Wi-Fi, daily continental breakfast, local gym access, laundry room access, air conditioning, a safe, microwave, refrigerator, and flat-screen TV, and also have kitchenettes. The hotel has an evening social hour that provides the perfect opportunity for guests to meet each other.
There are also Thursday pizza parties and weekend pool parties. The Inndugle really pulls out all the stops to be a great place for guests to meet new friends.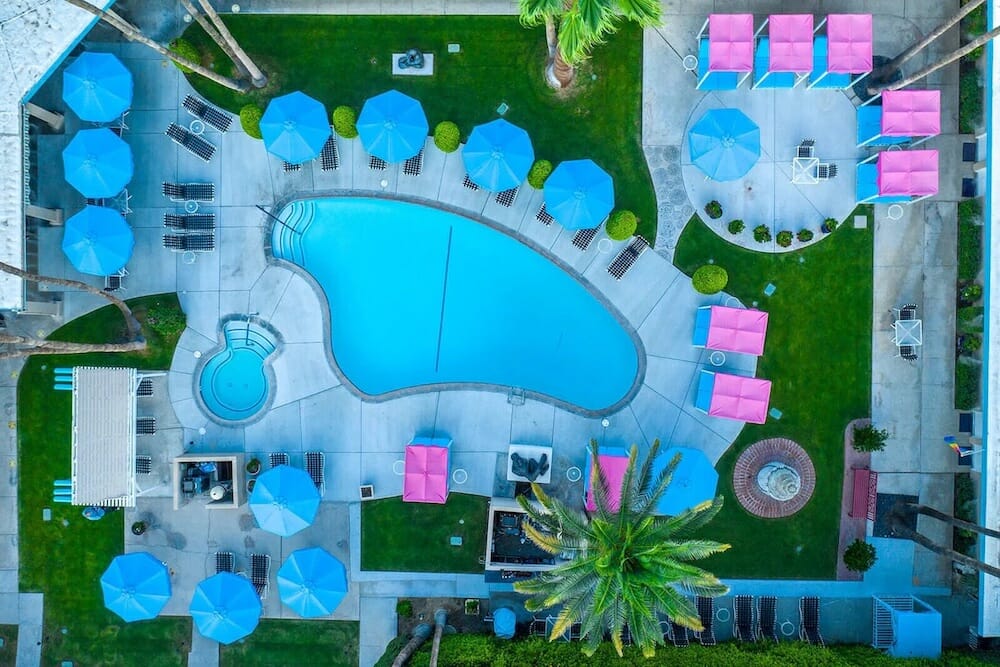 In gentle competition with Campit is the Dunes Resort, providing a safe haven for the LGBT community in the Midwest (and beyond) for 36 years. It's grown to become one of the biggest in the area, encompassing various accommodation options, entertainment venues, a sociable swimming pool, and the show bar, where you can enjoy cabaret performers doing their thing.
It's so big here that it feels like a self-contained community with tons of things to do. Personally, our favorite thing to do here is to sit in one of the poolside cabanas and people-watch. This is the place where you are going to want to show off your latest Aussiebum swimwear… There's always a vibrant atmosphere at The Dunes and plenty of goings-on to keep an eye on! The Vinyl Lounge is another place you can kick back with a book, a game, or a TV show – it's always good with these resorts to know that there's somewhere more chilled to go, aside from all the party areas!
This is a gorgeous upscale resort that has gone through something of a rehabilitation. Yes, it used to have a bit of a dodgy reputation, but no trace of that remains. The only reason you might hear people talking about Island House now is that it's a vibrant spot for you to make new friends (or maybe more).
It's an all-male premise where clothing is optional, so you can enjoy a gaycation that's fully free. There's a wide range of rooms to choose from – from more basic rooms to pool-side suites, most are luxury with classy décor, large seating area, and balconies. You can enjoy days by the pool, feasting your eyes on the beautiful surroundings (and the other guests), and make use of the Jacuzzi, sauna, steam room, health club, ba, and café. All amenities are free for overnight guests.
I know, why would you ever want to leave the resort, right? But if you do decide to leave the facilities and the amazing staff at Island House behind for an evening, Key West's gay bars and restaurants are only 10 minutes away.
The Canyon Club Hotel is a clothing optional hotel for gay men, situated right within the epicenter of some of Palm Spring's best gay nightlife. It boasts 32 rooms with affordable rates and all the amenities to make your stay pleasant and enjoyable.
The hotel is designed for maximum on site fun, with an expansive outdoor space with a garden, outdoor park, and hedge maze. Lounge chairs are provided, and guests will appreciate the sunbathing opportunities. There is also a koi pond in the garden, and water misters provide a cooling mist breeze when the heat is up. The resort also boasts a steam room – the perfect thing for rejuvenation – and a dry sauna that can complete the revitalization process. There is also a 52' pool in the middle of the property, though the 16-man spa is not to be outdone for group fun.
Some rooms are outfitted with computers and webcams should guests wish to make use of them, and there is a computer available for guest use in the lobby as well. Wifi is available throughout the hotel. King, double, and master suites are available in several variations of accommodation packages. Each of the 32 non-smoking rooms, which have been described as airy and colorful, are air-conditioned and come with maid service. Each room has a TV and radio/alarm clock. There are also refrigerators in each room, and each has a private bathroom. Some rooms feature a kitchen or kitchenette. Some have a private patio, and some feature walk-in showers. Double deluxe rooms feature two full-size beds.
The Canyon Club Hotel has special offers for students and members of the military. It offers free parking and a complimentary continental breakfast. And the best thing it offers is an open, free-spirited atmosphere where gay men can let loose and be themselves. There may be no better choice in Palm Springs for gay visitors than the Canyon Club.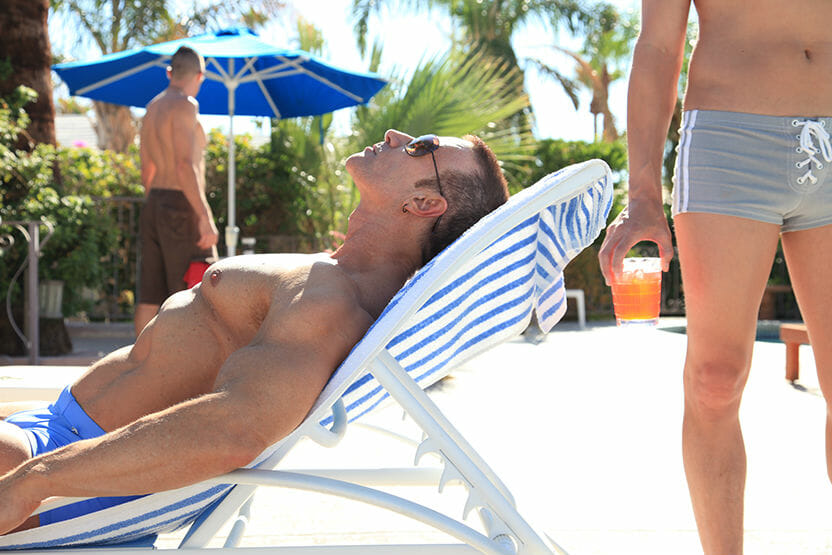 This gay-owned and managed hotel proudly proclaims itself to be the gayest in San Juan, or in the entire Caribbean for that matter. And really, who could argue the point? As part of its mission statement, the Coqui del Mar Hotel says "We welcome all LGBTQIA. Our goal is to make you feel at home. You are safe. You are welcome. And you can relax and enjoy your vacation the way you would like to." And if that isn't enough to convince gay tourists in San Juan that this is the place for them well, we don't know what is!
But in all seriousness, this hotel offers many nice little perks that you won't find everywhere else, such as complimentary brunch on weekends. And fee-free access to beach chairs, beach bikes, and even kayaks. So it is safe to say that owners Rob and Vianney know how to treat their LGBTQ guests – with a unique brand of sensitivity and attention that likely won't be matched anywhere in Puerto Rico.
The hotel's dozen rooms are all distinct and have a unique style and personality, as evidenced by the room names: The Pink Room, The Bear Room, The Orange Room, The Rainbow Front, and so on. The hotel has a pool and a jacuzzi. Something else you should know is that the entire ground floor is clothing optional. And you may be glad to know this is the only 420-friendly hotel in San Juan, and the hotel can even assist you in getting your medical marijuana license, should you need it. Medical Marijuana dispensaries are available within walking distance of the hotel.
All told the Coqui del Mar offers a one-of-a-kind hotel stay that you won't find anywhere else in San Juan. And for gay-friendly accommodations, it really doesn't get more gay-friendly than this.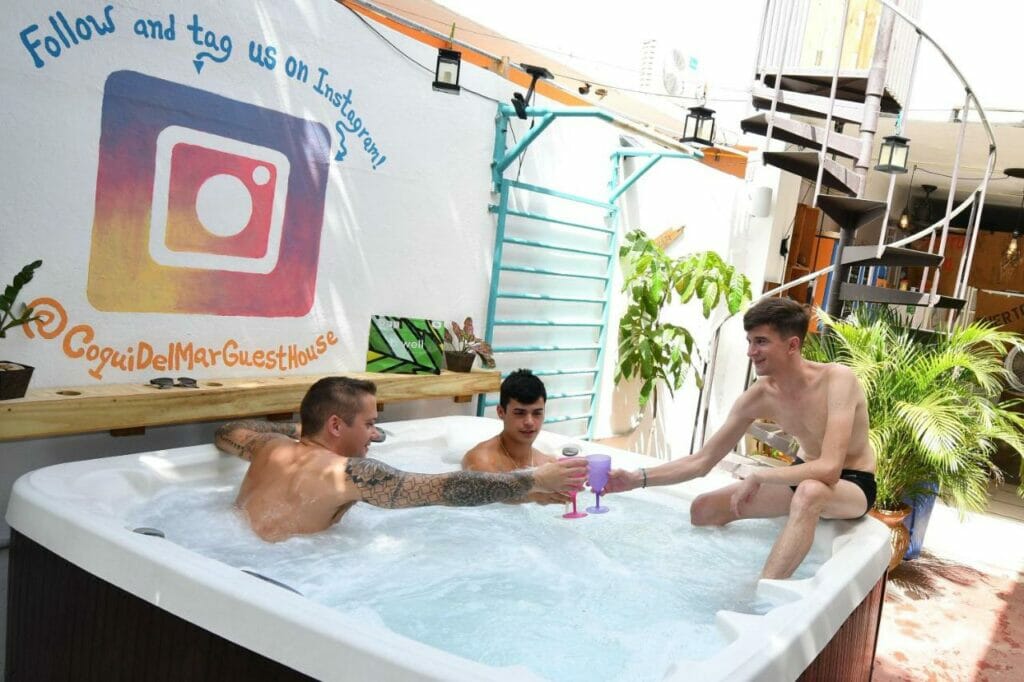 This is a member-only resort for gay men in rural Crawford, Texas, which is just west of Waco. Clothing is optional in designated areas of the resort, which also has an RV park and campground on its premises. The Homestead promises good times for open-minded men, is open year-round, and allows for booking a day visit or for multiple nights.
Owners Rob and Mark have an unobstructed policy toward men of all ages, shapes, and sizes, and all gay men looking for a fun, encouraging setting are welcome. Membership is the only requirement. Well, that and a fun-loving attitude and eagerness to put your cares aside. This is the place to showcase your favorite jockstrap or swimsuit, explore your kinks, let loose your inhibitions and just be yourself. The Homestead has recently won a Camper's Choice Award from ROVERPASS.
The resort boasts a long list of amenities: free Wi-Fi, free parking, a restaurant and bar (The Longwood Tavern), messages by licensed massage therapists, recreational fishing at Rainey Creek, outdoor movies, picnic tables, a fire ring, and a charcoal grill as well as a drinking water dispenser on the campgrounds. There is also a rec center with a billiards table and a community coffee maker and microwave, as well as vending machines, video viewing rooms, communal showers, and restrooms. There is also a black light graphics room and a steam room in the rec center with limited nighttime hours.
The Homestead at 3218 also can host an array of events such as birthdays, anniversaries, retirement parties, engagements, and so on. The beautiful resort makes the perfect setting for any kind of get-together with friends and loved ones. And it can host for a day or a weekend, or even longer.
Accommodations at the Homestead include the Red Rooster Cottage, with its two bedrooms, living room with large sleeper sofa and flat-screen TV and dining room/fully furnished kitchen, private bathroom with walk-in shower. Also, there are the Rainey Creek House Suites, which are fully furnished with queen beds and a queen-size sleeper sofa in most suites, private baths, and full kitchens with stove/oven combo, refrigerator, dishwasher, toaster, and coffee maker. The suites also have a flat-screen TV with DIRECTV, ceiling fans, and adjacent parking for the utmost convenience. Rainey Creek House is a pet-friendly area, though a deposit is required if you wish to bring your pet.
Bunk rooms and hostel-style sleeping cubicles are also available at the resort, along with the campsites. And then, of course, there are the RV spaces that can be had in a variety of utility hookup packages.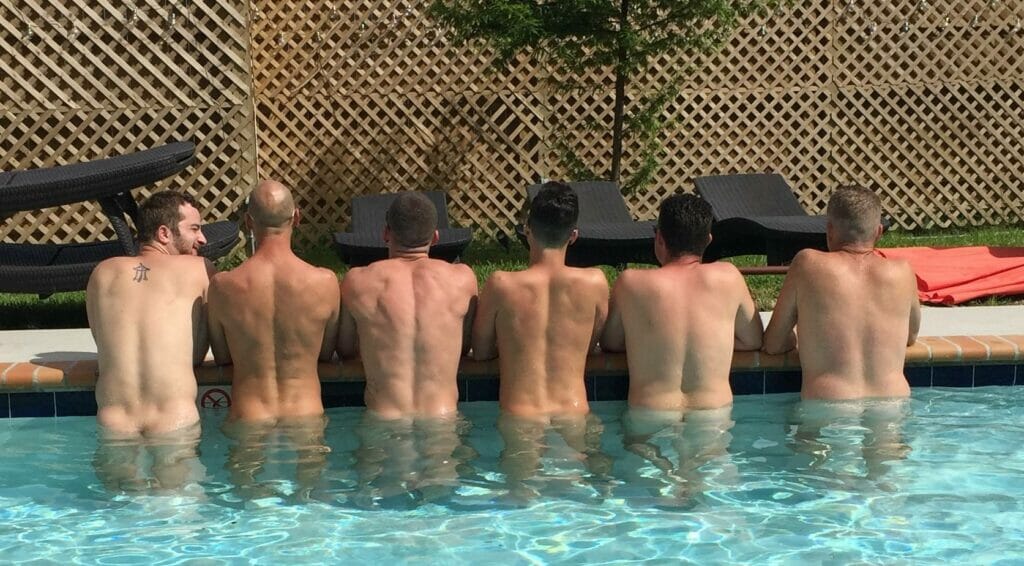 The Descanso is a newly reimagined and freshly refurbished gay men's resort in Palm Springs that harkens back to the glory days of old Hollywood, but with a modern vibe.
Guests are often blown away by the impressive list of resort amenities to be found at the Descanso, like the privacy fencing surrounding the property for added peace of mind. Or the heated swimming pool, outdoor spa, or the misting system for extra relief from the heat of the desert. Then there is the poolside garden shower, the communal outdoor fire pit, poolside day beds, and the meticulous landscaping with native plants and trees to enjoy. And did we mention the cantina with its snacks and beverages which come complimentary? Or the "stay and splash" poolside lunches and Weekend 'Wine O'Clock' Happy Hour which is also complimentary. And for those fun-loving eco-gays, the resort also has electric vehicle chargers on the property.
A multitude of modern rooms and suites are available – either balcony or poolside – and there is the balcony deluxe suite option should you want to go all out. This latter sleeps up to three guests with one king bed and a daybed. It also features a spacious bathroom with a freestanding tub and stunning mountain views. The rooms have one king bed and sleep two. All rooms are nonsmoking. Other room amenities include fast Wi-Fi access, refrigerator, iron, safe, and hairdryer in all room options.
Descanso prides itself on its world-class service and staff. It can also lay claim to an inclusive setting where gay men can feel free to be themselves in an environment that encourages guests to enjoy the supreme relaxation opportunities the hotel has to offer.