Whether you go on holiday for the suntan, new experiences, blow off steam, or just to escape the daily grind, we're willing to bet that you want to feel relaxed and free to be yourself. Thankfully the gay resorts in Michigan allow you to do just that – to be 110% yourself, without a single double-take, all in the company of other open-minded folks.
Why would anyone choose to visit the American state of Michigan, particularly LGBT tourists, you might ask? Well, to put it simply, the Mitten State has a lot more to offer than most people give it credit for, especially for gay and lesbian travelers who might be looking for a different sort of getaway destination than the old standbys that everyone else goes for: Florida, California, the Caribbean, and so on.
All the resorts featured here are gay-friendly, and some of them are gay-owned and operated. And this is, of course, our mission: to provide you with a starting point in your quest for a welcoming and inclusive accommodation for your stay in Michigan. We aim to point you in the right direction, and once you stay, you'll find how quickly you can form friendships with people at a gay resort – it's as though knowing everyone there has something in conventional means, there's no judgment, and you can connect easier. Even better, there is no need for dating sites or gay apps to meet people here…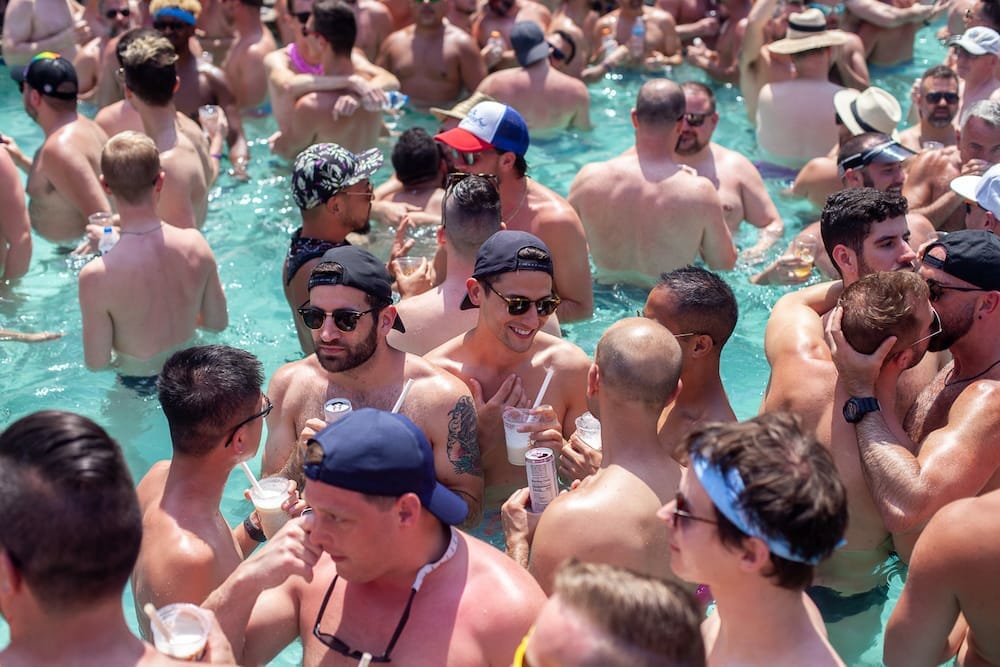 But you may still be asking yourself: what is there to do in Michigan? The answer: plenty. Michigan is home to some fabulous cities (Ann Arbor, Kalamazoo, Grand Rapids, Traverse City, just to name a couple) that, while they may not get the limelight they deserve, are still well worth visiting and offer so much for visitors to see and do in the form of amusement parks, casinos, aquariums, zoos, planetariums, and so on and so on, more things than we can list here. And if you are a car buff, the Henry Ford Museum in Dearborn is a must. And Michigan is also home to some of the most beautiful small towns in the entire country.
But of course, if you do choose to visit the Wolverine State for your next getaway, you are probably going to want to spend the bulk of your time outdoors so you can admire the state's unsung natural beauty. From majestic pine forests to stunning lakeshores to the Sleeping Bear Dunes to beautiful winter wonderlands, the state is a nature lover's dream.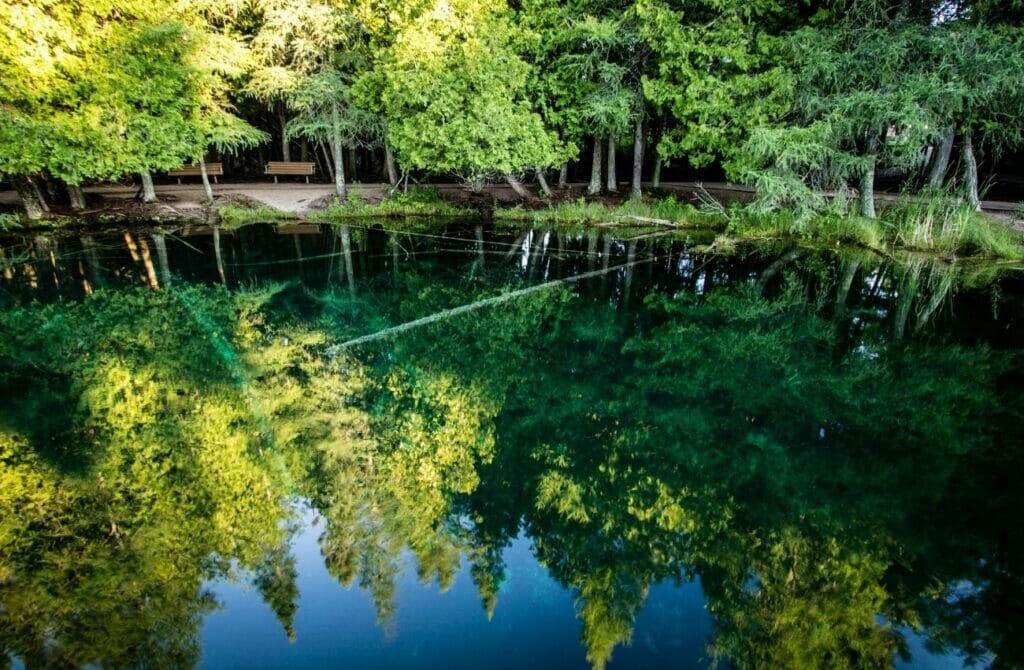 But what about LGBT tourists, whom we mentioned earlier. What's in Michigan for them? For starters, there are more gay bars and clubs than you may think. True, the bulk of them tend to be clustered in the bigger urban centers, but those are the places that naturally have the best nightlife anyway if that is what you seek. Places like the Adam's Apple Bar and the Hayloft Saloon in Detroit see to it that the LGBTQ crowd have a safe, welcoming, and accepting place to go to have a good time and get to know some of the locals. The Garden Nightclub, the Scarlet Bar, Woody, and SAILOR are other great gay establishments scattered throughout the state.
So now that you are sufficiently sold on Michigan as a gay-friendly destination where you can beat the crowds that flock to more popular American states, let us move on to the most important part of any trip: where to stay. You'll be glad to know that there is no shortage of gay and gay-friendly accommodation to be found in Michigan. Here are the best ones.
"What do you get when you mix three gay men, a few pitchers of margaritas, and a crazy idea? That's right, The Dunes." So says the resort's website, and so it is. We can promise you that you are going to find no more welcoming, accepting, and friendly gay resorts in Michigan, in the United States, or on the entire globe for that matter. Danny, Greg, and Mike have worked hard to make The Dunes Resort a place where everyone can feel comfortable and be themselves.
That said, it is one of the largest LGBTQ resorts in the country. It is also an adults-only resort for guests 21 and over. There are about a half dozen accommodation types ranging from standard mote-style rooms to one-bedroom cottages and suites to duplex cottages. The standard motel rooms come in one king bed and two double bed varieties, with the latter sleeping up to four guests. These rooms have air conditioning, a refrigerator, cable tv, and a private bathroom. Cottage suites add a kitchenette and living room along with a porch. Duplex cottages offer a private deck and hot tub.
The resort also hosts all kinds of fun events, so there is never a dull moment here. Euchre games, potluck events, karaoke, the "perfect ten men show" (a guest favorite, unsurprisingly), and drag queen bingo are just some of the events on offer for guests, and there is a special show called "Winter's a drag" which is not to be missed. There are all sorts of other events and attractions, too. Its club is open every weekend of the year, and the Main Bar is open seven days a week.
The resort's huge pool also has a bar, and The Show Bar features a variety of talented acts ranging from comedy to drag and a cabaret boy band, and so on. The Vinyl Lounge offers a gay sports bar theme with billiards tables. Food can be ordered from the aforementioned Main as well as The Burger Hut, and can even be ordered and brought to your room or served to you at the pool. If you like, you can even call ahead and have them pack your lunch so you can take it with you to the beach. The menu consists of sandwiches and wraps and such, and breakfast is also served. The LGBT sandwich – lettuce, guacamole, bacon, tomato served on a toasted sundried tomato swirl bread – comes highly recommended.
For a friendly, hospitable gay resort that will pull out all the stops to make your stay one to remember, you really can't beat The Dunes Resort. It has pretty much everything you could ask for in a gay hotel resort. There is no better place where you can be yourself and feel comfortable being surrounded by friendly folks just like yourself.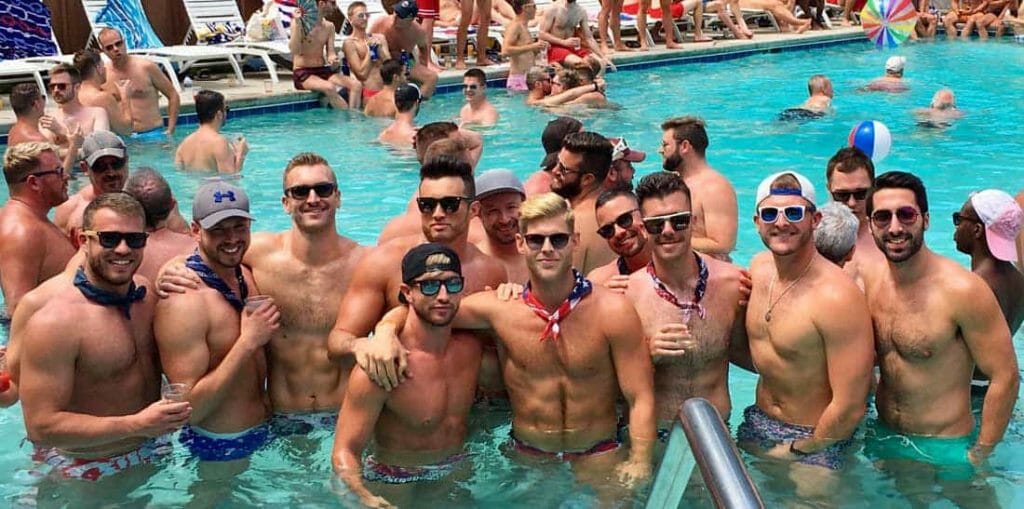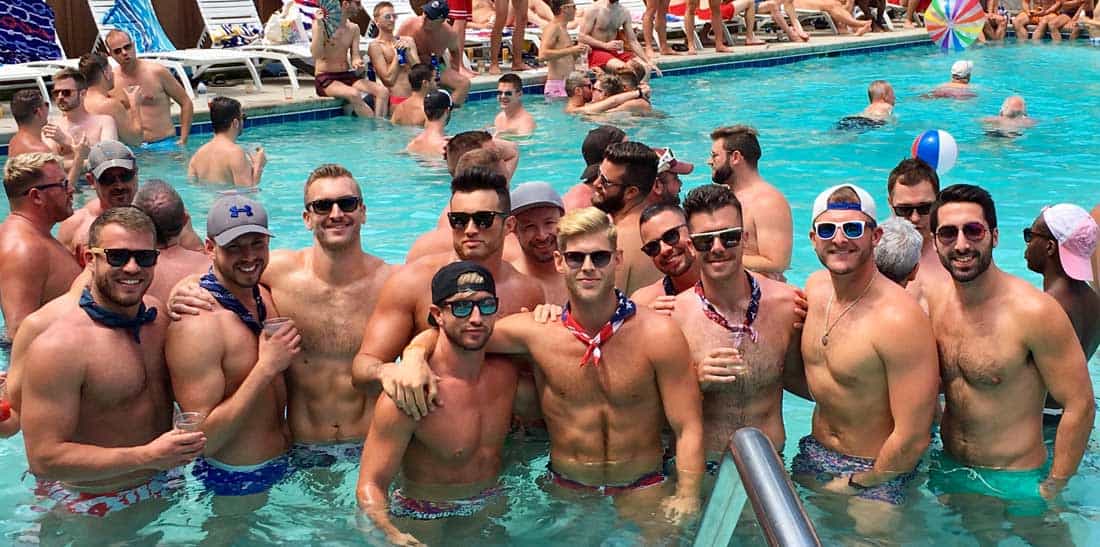 This naturist retreat bed and breakfast, located in the city of Battle Creek (of the Kellog Company fame), may not be for everyone, and that's okay. To each his own. But for those who can appreciate the naturist resort experience (such as those famed in Texas, Florida, and Mexico), this place is a little slice of heaven on earth. It offers a woodland-surrounded, beautiful romantic lodge-style setting. And the best part is that the hotel is LGBT friendly, and gay guests can rest easy in the knowledge that they will be welcomed and treated with the utmost consideration.
If you have never been to a naturist resort before, not to worry: about half of the guests that come here are other first-timers. (And besides, the resort is clothing optional, not nude mandatory). If you've ever, say on a dare, engaged in a bit of drunken streaking or even simply gone skinny-dipping with your significant other, then you have had your first taste of the naturist experience.
The hotel has a rustic ambiance, with an emphasis on reconnecting with nature. So you won't find some of the noiseful activities you would at other resorts such as live outdoor music or pool parties. What you will find, however, is abundant opportunity to find a more intimate connection with nature, your partner, and yourself, and in a setting that exudes tranquility and serenity.
That isn't to say that the resort doesn't have plenty to do, however. Quite the contrary: meditation, yoga, birdwatching, hiking, fishing, swimming, snowshoeing (if it's the right time of year), and kayaking are just some of the activities you can partake in – in au naturale fashion if you like – on the resort. Or enjoy an outdoor shower; if you've never had one, you simply must try it. Or enjoy some nighttime stargazing…in a hot tub. Or catch up on your reading with a selection from the resort's library, or take to the brand-spanking-new pickleball court. Guests can also play a game of billiards in the game room. Or head back outside for a game of horseshoes. Or badminton. Or try your hand at what is likely a new game for you on the official-sized bocce court. Other indoor activities include board games like chess, backgammon, and monopoly. Free Wi-Fi access is offered, though not necessarily encouraged.
The Nuance Naturist B&B offers a unique gay-friendly resort experience for those who are comfortable with the clothing-optional resort-style, or at least willing to give it a try. Gay tourists looking for a Michigan retreat where they can enjoy a peaceful, welcoming stay where they can reconnect with the natural world and with themselves need look no further than this.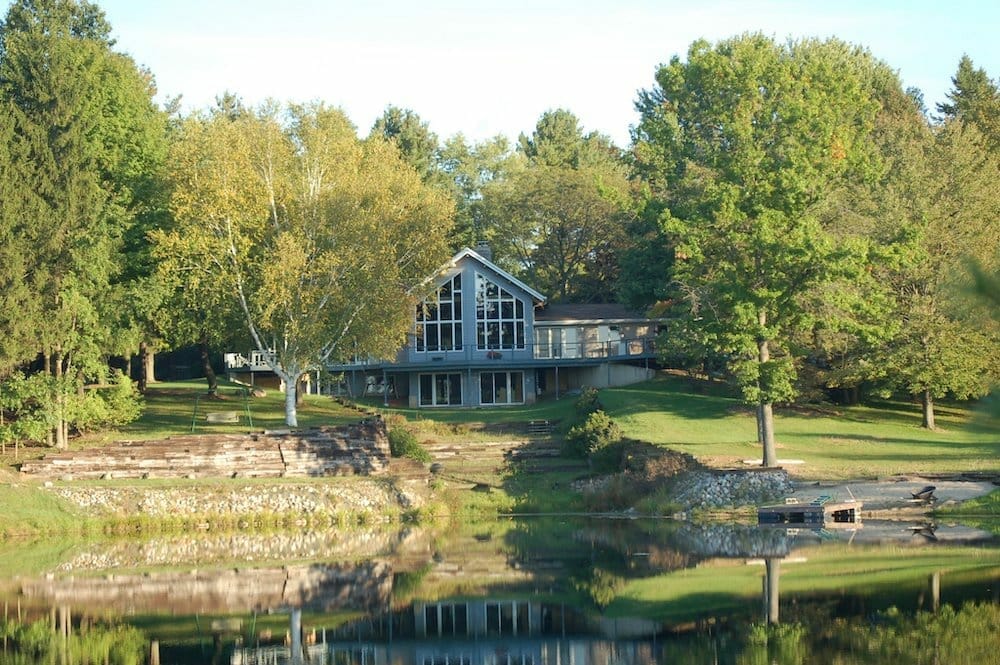 "Campit Resort – Saugatuck is an outdoor resort for all people identifying with the LGBTQ communities, their friends, and allies." These are the words that begin the resort's introduction on its website, so LGBT guests know that they are in for a wonderfully welcoming experience where all are accepted and free to be themselves.
The resort sits on 33 wooded acres a mere ten minutes drive from Saugatuck and Douglas, both of which are well-known statewide as two of the most LGBTQ-friendly towns anywhere in Michigan. The site has space for those with tents and RVs, but there are also 22 rentable cabins, as well as vintage trailers and a five-bedroom, bunkhouse-style B&B. Suffice it to say; there is something here on offer to suit any type of guest seeking a place where they can get reacquainted with nature in a friendly and encouraging atmosphere. Campit, which draws travelers from all 50 U.S. states and beyond, doesn't bill itself as a queer campground for nothing and is frequently the first suggestion when it comes to considering the best gay resorts in Michigan for a party. In fact, it is even considered one of the best gay resorts in the USA.
Cabins are fully furnished with full private baths, a full kitchen, living room, and porch. Standard cabins are pet-friendly, and premium ones are a bit more nicely furnished. Rooms in the bunkhouse come with a fireplace and small kitchen with refrigerator and microwave; three of them have private bathrooms. The vintage trailer rentals are rather minimalist affairs as far as goes furnishing and amenities, and though they are equipped with electricity, trailer guests must use the campground bathhouses.
The property also features a large heated in-ground swimming pool, a general store, and a clubhouse. There are also other shops and pubs on the property, mostly gay-owned. Events and activities are frequently hosted by the resort, such as the Out of Hi-Bear-Nation Opening Weekend Celebration. The resort offers themed weekends every weekend, and these may include live music and entertainment, contests, parades, and sometimes even free food. Caliente Latin Weekend, 80s Retro Weekend, Cub and Bears Weekend, and Campit Pride Weekend are just a few such themes offered throughout the year. If you are looking for an outdoorsy-style adventure with a friendly atmosphere and the chance to meet others with the same mindset, then this is the Michigan place for you.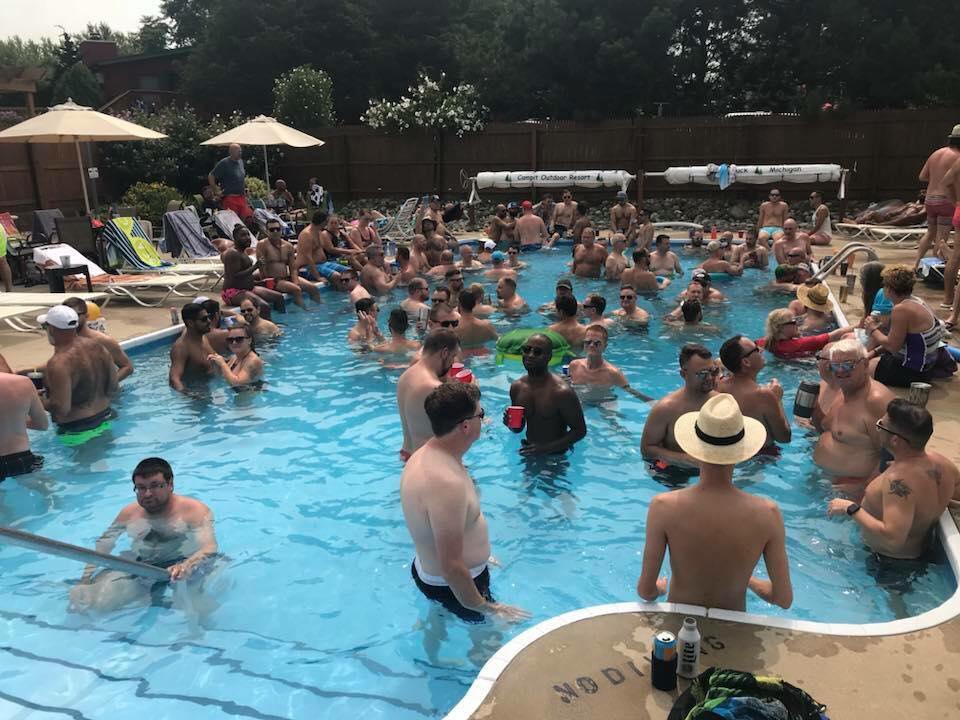 This LGBT-owned and operated hotel is housed in a beautiful 19th-century Victorian-style mansion. It has five guest rooms as well as a master suite on the third floor. The so-called bronze rooms – that is, the Anne Boleyn and Ladybird Johnson rooms – feature private but detached bathrooms, meaning they are just outside the guest room and accessed with a key. The Silver Rooms are the Dolly Madison, Lady Diana and Martha Washington rooms; these come with private baths. All rooms feature a queen size memory foam bed, luxury robes, sitting area, in-room heating and cooling, flat-screen TV with cable access, Wi-Fi, and continental breakfast. Guests who stay in the two-bedroom suite get a complimentary wine and cheese tasting thrown into the bargain.
The hotel's on-site eatery is J. Paul's Dining Room & Lounge. It offers a "refined" menu, with wine and cocktails. The Kirby House is centrally located in downtown Douglas, with easy access to the town's shopping center, and Saugatuck Oval Beach is just a few miles away, a short drive that is well worth your time and then some. The beach has a gay section and has been called the best beach for LGBTQ people in the entire state of Michigan. And need we remind you that Douglas and Saugatuck are the friendliest of gay-friendly towns, so gay tourists will have it pretty good here in terms of accepting and welcoming establishments in the area. For a unique, cozy stay in the Mitten State, with a gay-friendly atmosphere, you can't go wrong with the Kirby House Hotel.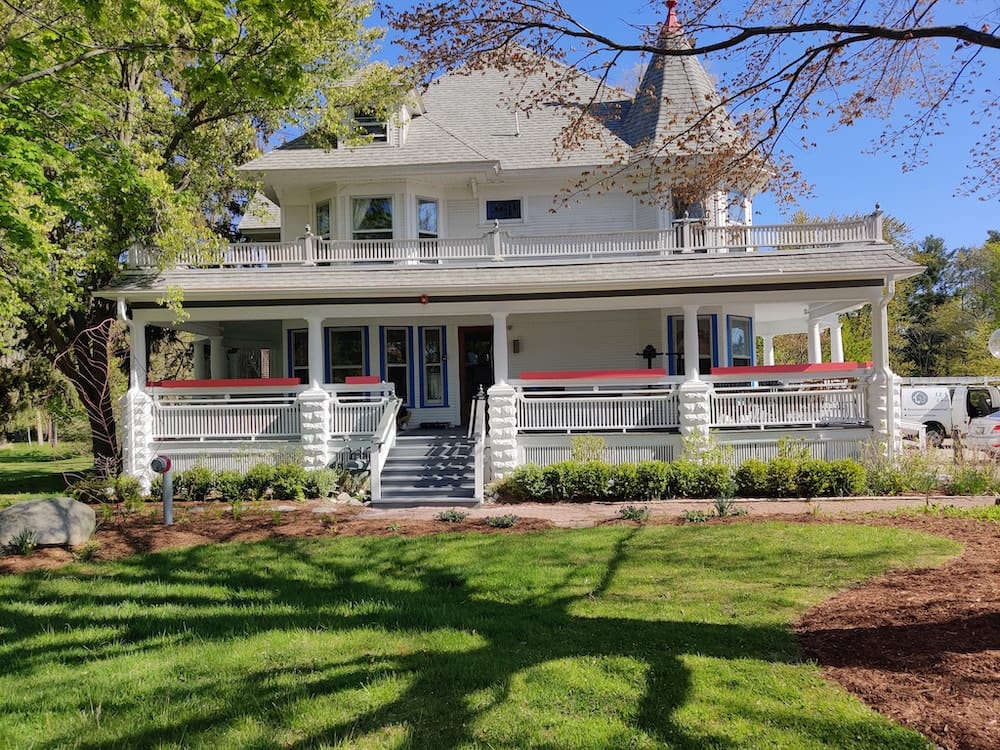 This gay-friendly Bed and Breakfast is conveniently located right in the heart of downtown Kalamazoo. It offers ten beautiful guest suites and an array of property amenities. The rooms all have individual heating and cooling systems and private bathrooms furnished with towels, bathrobes, hairdryer, and personal care products. Rooms also include a flat-screen TV with Roku and DVD player and free Wi-Fi internet access. Guests also receive complimentary 2-course gourmet breakfast with their stay, as well as fresh homemade cookies in the evening and access to a free 24-hour coffee and tea station.
Packages can be added when you book a room; these packages add nice little perks to your stay. For instance, the Romance and Renew package adds a bouquet of fresh-picked flowers in a keepsake vase, hand-dipped chocolate-covered strawberries, and a chilled bottle of wine or champagne with wine glasses. Obviously, this package is intended for honeymooners or couples on a romantic-style getaway. It is a nice touch you could add to show your significant other your affection without words. Another package is the Kalamazoo House's Charcuterie Box, which is described as an "artisan appetizer" box of cured meats, cheeses, nuts, and seeds, and also locally made Bilberry Jams. Great for a picnic at the local park, especially for a picnic with someone special. Or just enjoy in the comfort of your room.
The Kalamazoo House is a great choice for a gay-friendly and inviting hotel in Michigan, and is especially great for a romantic stay with your partner in a beautiful setting.
Here we have quite possibly the best gay-friendly hotel in all of Detroit. It enjoys a prime location downtown in the middle of some of the best attractions that Motor City has to offer. The Garden Building, GM Renaissance Center, Campus Martius Park are all a stone's throw away from the Siren, as are Dieppe Gardens and Memorial and Adventure Bay Family Water Park.
The hotel has a wide variety of accommodation styles. All rooms have complimentary free Wi-Fi, flat-screen TVs, and air conditioning. Rooms also include gourmet snacks, blankets loomed by hand, custom Italian linens, as well toiletries made for exclusively for the hotel. Each room features its own private bathroom with a vanity and beautiful terrazzo tilework.
The Hideout sleeps two and has a twin bunk bed. The studio is perfect for a single guest though it can accommodate two. The Playroom features two full beds and can sleep four. The Chamber sleeps one or two and is ideal for couples looking to add a touch of romance to their stay. The Chamber Superior has a queen bed and a writing desk. The spacious Parlor has a king bed and can sleep two. The Chamber Suites located on the penthouse floor offer impressive views of the city; these duplex-style suites have a living area on the lower level and a sleeping quarter on the upper. Also, on the penthouse floor, the Parlor Suite is advertised as a "Suite among the Stars" and has a king bed sleeping one or two. And lastly, the crown jewel of the Siren, the Penthouse, features a full living room and dining room on the lower level and sleeping quarters upstairs. There is also a massive glass window in the middle of the building's façade that allows a fantastic view of downtown and Comerica Park.
All this comes with a welcoming, gay-friendly atmosphere where anyone can feel comfortable and at ease to be themselves. Gay tourists in Detroit should definitely consider this friendly hotel as an excellent choice to enjoy their time in Detroit in style.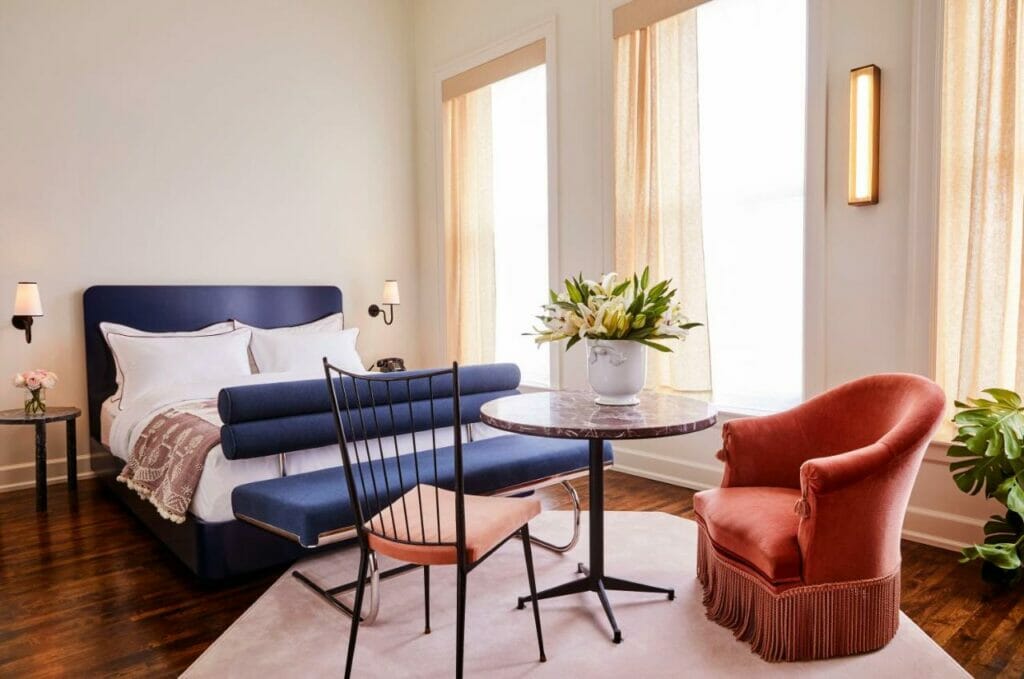 The Starlite Resort is another gay-friendly hotel located in the LGBTQ haven of Saugatuck. Their 29 rooms include standard double or single queen bedrooms, deluxe single or double queen bedrooms, two jacuzzi suites, and a junior suite. All include free Wi-Fi, a flat-screen TV with cable channels, a refrigerator, microwave, and coffee maker. Free continental breakfast included. Rooms are spacious, and daily housekeeping service is included.
Being located in super gay-friendly Saugatuck, gay visitors to the Starlite can rest assured knowing that they will be treated with all due courtesy and consideration. The resort welcomes LGBTQ people as well as hetero. And of course, it is central to one of Michigan's great meccas, with the LGBTQ-friendly town of Douglas also being just a short drive away.
The property has a swimming pool as well as outdoor lounge areas, so guests can take in the beautiful Michigan outdoors and get a chance to socialize with other guests, if they desire. The Starlite Hotel is a good, safe bet for gay visitors to Douglas or Saugatuck in search of gay-friendly accommodations.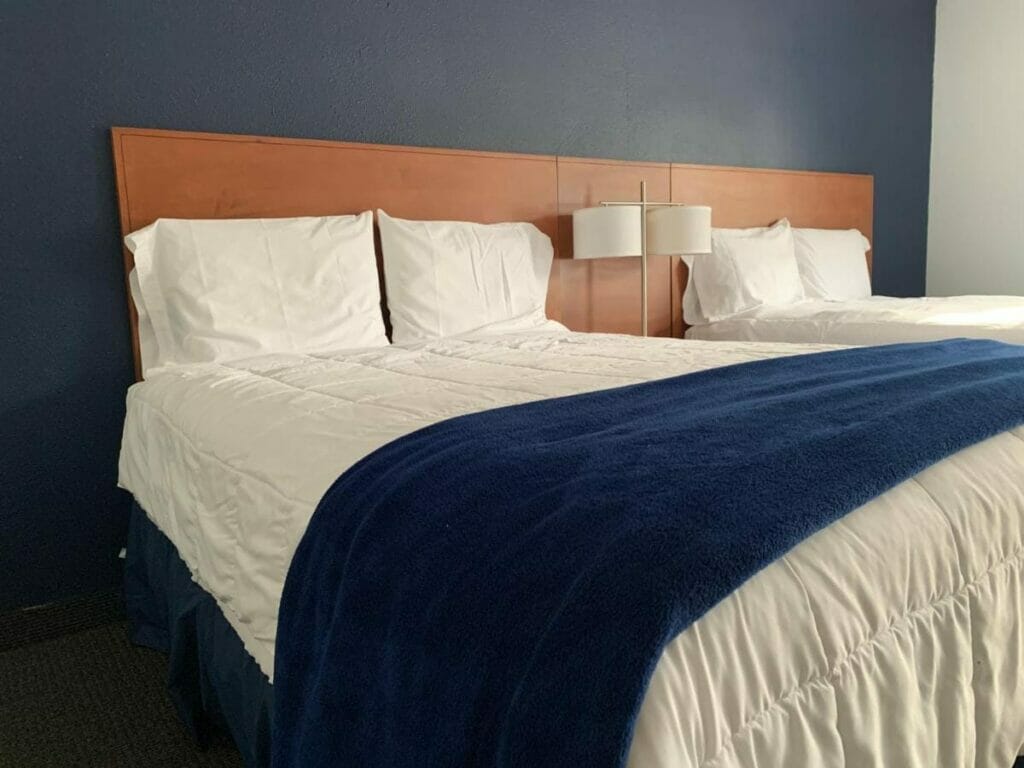 Our last gay-friendly hotel resort in Michigan is the Bavarian Inn Lodge, located in the town of Frankenmuth, right smack in the middle of the lower part of the state. As you might have guessed, there maybe just a bit of German heritage going on here in the part of Michigan. There also happens to be a lot of inclusive, gay-friendly attitudes too, so LGBTQ visitors to the Mitten State can be safe in the knowledge that they will be generally accepted here in Frankenmuth. If you haven't heard of this place, it's about time you have: it is perhaps Michigan's most underrated attraction, and one beautiful town, taking inspiration from the Bavaria region of Germany. And then, of course, there is the water park, which draws literally millions of visitors every year.
As for the Bavaria Inn Lodge, it is a huge, gay-friendly Germany-themed hotel. The 360 rooms come in a slew of styles, from standard double bedrooms to family suites. Some have whirlpools; some have balconies or patios. All are air-conditioned and come with free Wi-Fi access and a flat-screen TV. Room service is available from the resort's Bavaria Inn Restaurant. The resort offers a host of packages that will add a nice little touch to your stay and make that much more special, such as the kid's package, which includes a "kid's mystery bag" stuffed with toys and activities should you be on a more wholesome gay family vacay . There are also birthday packages and couple's packages, the latter of which includes a romantic dinner for two with champagne, as well as a romantic riverboat ride or, if you prefer, a ride on a horse-drawn carriage.
Frankenmuth is really a great travel destination for LGBTQ folks, and the Bavaria Inn Lodge is really their first choice for friendly hospitality, which provides a welcoming and tolerant atmosphere. It would be hard to go wrong with a stay at this resort, with its top-notch service and excellent amenities.