Whether you go on holiday for the suntan, new experiences, blow off steam, or just to escape the daily grind, we're willing to bet that you want to feel relaxed and free to be yourself. Thankfully the gay resorts in Miami allow you to do just that – to be 110% yourself, without a single double-take, all in the company of other open-minded folks.
Few would argue with the fact that Miami is one special city, especially anyone who has been there to experience it firsthand. Does it live up to the hype? It absolutely does, and then some. Miami is one of the most distinct cities in the United States with its mid-century art decor flourishes, best embodied in the many magnificent buildings taking inspiration from the arts-decoratifs design movement.
The main draw for most visitors to Miami of course is the beach and sun and sand abound in Miami Beach, arguably the hippest beach in the whole country (if not the world). It is the place to see and be seen in Miami, with one of the most exciting beach atmospheres you will encounter anywhere, and it really epitomizes beach culture like no other spot. The other Florida gay resorts could never offer this…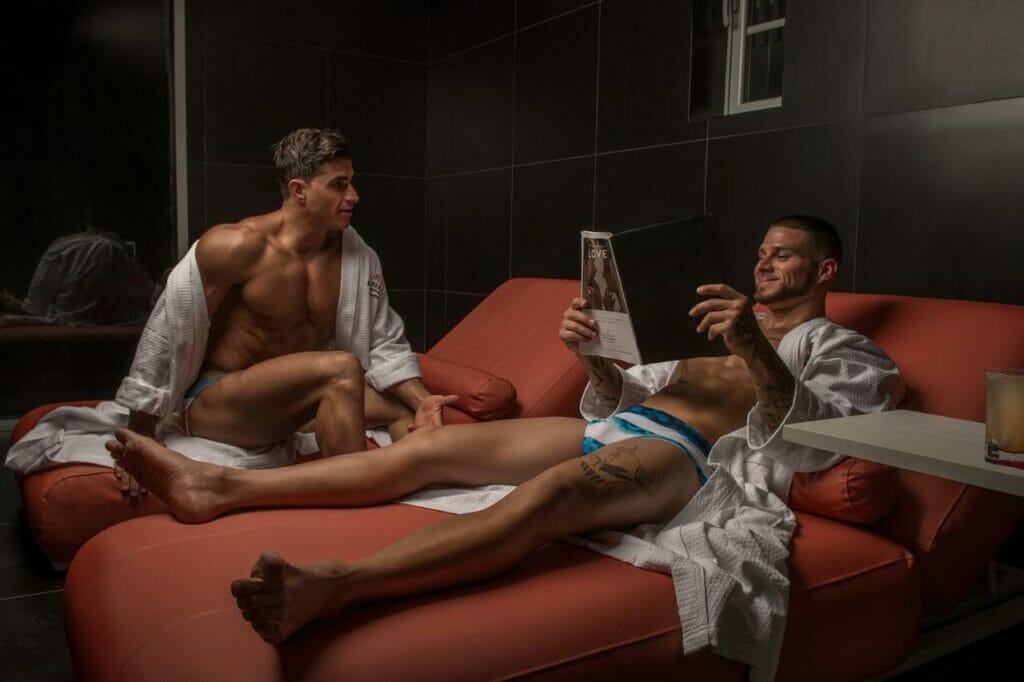 Miami isn't all about fun in the sun, however. It is also famous the world over for its nightlife, with more bars and restaurants than we could even begin to mention here, each more fabulous than the last. The oceanfront is lined with world-class luxury hotels, and the city's art galleries are truly something to write home about. Throw in some of the most fabulous designer stores and five-star dining, and you have the makings of one of the greatest cities to discover anywhere in the world.
All the resorts featured here are gay-friendly, and some of them are gay-owned and operated. And this is, of course, our mission: to provide you with a starting point in your quest for a welcoming and inclusive accommodation for your stay in Miami. We aim to point you in the right direction and once you stay, you'll find how quickly you can form friendships with people at a gay resort – it's as though knowing everyone there has something in conventional means, there's no judgment, and you can connect easier. Even better, there is no need for dating sites or gay apps to meet people here…
the best part is that Miami is extremely gay-friendly, and gay tourists need not worry about finding an inclusive atmosphere here. It is without doubt one of the most gay-friendly cities in the U.S., and this attitude is almost universally reflected in its hotels, bars, and restaurants. And here we have assembled the best accommodation and gay resorts in Miami the magic city has to offer LGBT tourists.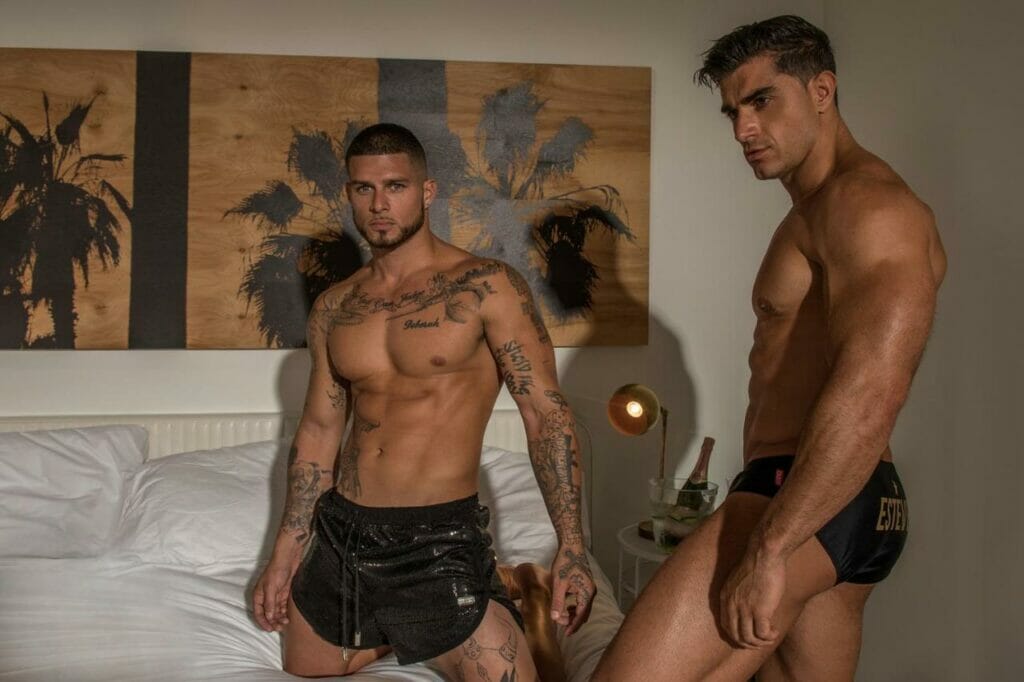 Gay Resorts In Miami
The Hotel Gaythering bills itself as "the gayest hotel in Miami Beach." Why stay at a gay-friendly hotel when you can stay at a friendly gay hotel?, the resort's site asks. The resort is located in the heart of Miami Beach's gay neighborhood, with a plethora of bars, restaurants, and shops just a short stroll away.
There are several accommodation types ranging from Petite King to the Fun King Room, with many more choices in between. Rooms have complimentary wireless Internet access, air conditioning, flatscreen T.V. with satellite channels, work desk and chair, a safe for securing your valuables, coffeemaker, hairdryer, mini-fridge, and a Brookstone sleep sound machine. Rooms also feature custom furniture and original artwork, and each has a private bathroom with a walk-in shower.
The Gaythering Bar is the place to go for a drink or to see one of the many varied shows featured there. The bar has an expansive drinks menu with a wide selection of gin(such as Seagram's, Hendricks, Beefeater Dry and more), rum (Bacardi Silver, Captain Morgan), vodka (Absolut, Svedka, Belvedere), tequila (Olmeca Altos, Milagro Silver), whiskey (Jack Daniels, Hennessy Cognac, Maker's Mark, Crown Royal), liqueurs (Martini & Rossi), beer (Bud Light, Corona Extra, Heineken), wine (House Merlot, House Cabernet), and cocktails (Havana Club Dark and Stormy). And all this is just a sampling of the fabulous drinks list perfect for getting you started for a long night exploring Miami's gay nightlife…
The inhouse bar's events calendar is just as exciting though, with a number of shows being part of the regular schedule. Karaoke Mondays, Trivia Wednesdays, Bingo Thursdays, Boogie Blast Saturdays, and Sunday Funday filling the week with fun and laughter. There are plenty of other shows and events to break things up, however, with shows like "Bears and Hares" and drag performances. With so much on offer at The Gaythering, guests will be faced with the temptation to never leave once they're there.
No wonder it is one of the most talked-about gay resorts in Miami…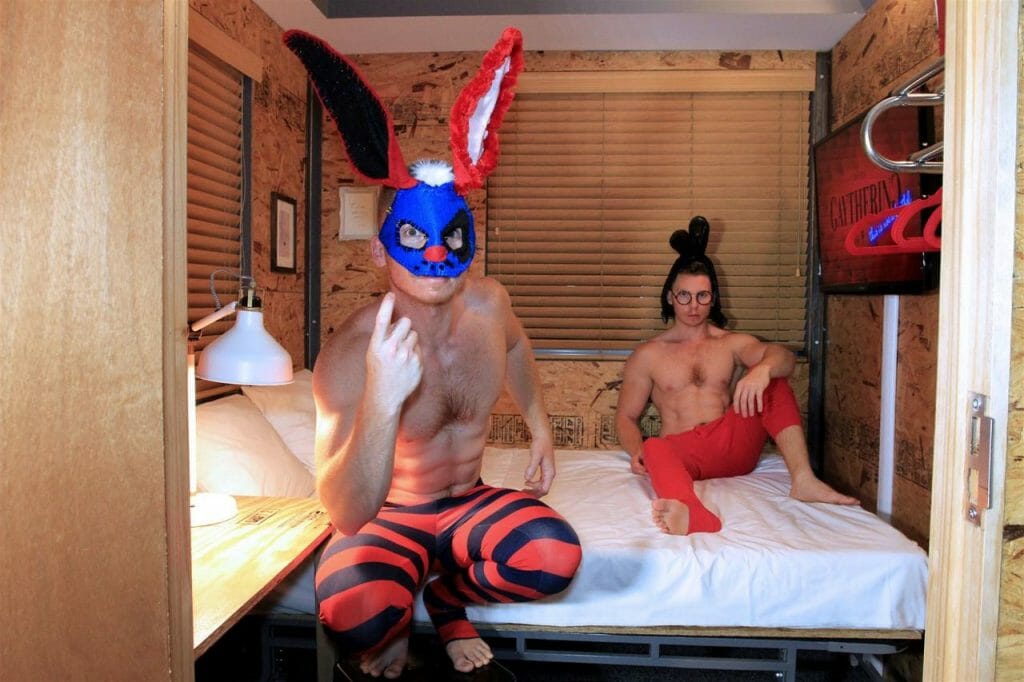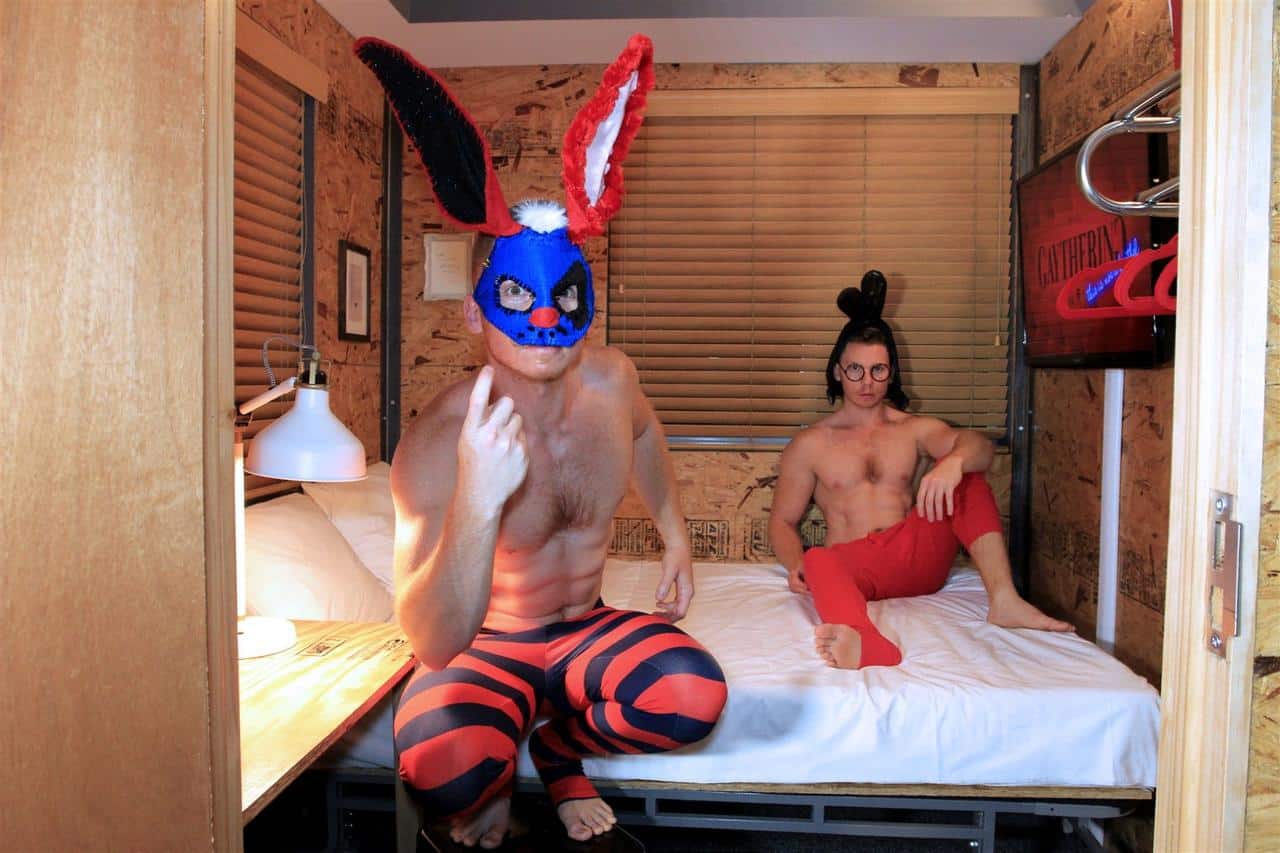 This gay resort is located just a block away from the beach, in Miami's Art Deco district. It is a prime location indeed, with all of Miami's best shopping and nightlife right at your doorstep when you book a stay here.
Of the resort's 160 rooms, 120 of those grant guests views of the city, particularly of Collins and Washington Avenues. 29 rooms have garden views, and the remaining 11 have views of the swimming pool. Your stay includes access to the hotel's beach club (which includes beach towels and beach beds), free Wi-Fi access, free local phone calls, access to the gym, spa, and pool, and a safety box and coffee/tea facilities.
A variety of accommodations are ready to be had for all kinds of needs: Axel Single, Axel City, Axel Premium, Axel Premium Superior, and Axel Suite. Each option comes with its own private bathroom (with either a tub or shower), robe and slippers, LCD TV, minibar, safe, hairdryer, a "Casanova Kit" by Axel Amenities, and the resort fee which covers resort amenities are included when any room is booked. Each room also comes with room service, which is also covered by the resort fee.
The Axel gay hotel brand is the leader in lifestyle hotels, so guests can rest assured that they will be treated to the distinct, trademark hospitality and world-class service that is associated with the name Axel. The gay resorts of the USA need to up their game with the entrance of this suave European competitor and for gay visitors to the Miami Beach area, there is no better accommodation choice than the Axel Beach Miami.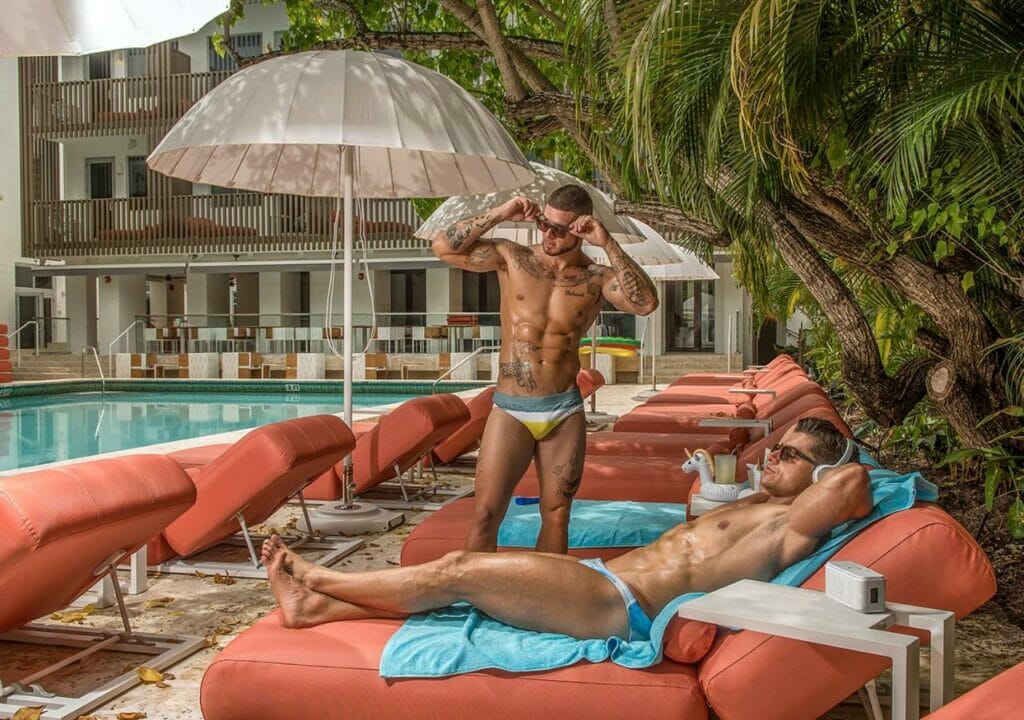 Gay-Friendly Resorts In Miami
The Blanc Kara is an adults-only, gay-friendly boutique hotel located in a trendy part of South Beach known as South of Fifth, which puts guests just a couple minutes from the beach and all of Miami Beach's glorious nightlife and shopping. It is the perfect place to shop, rest, party, or relax — or maybe a little of all the above — if you are visiting the South Beach area. The Blanc Kara is a non-smoking establishment, and it is not pet friendly. Also, only two people are permitted per room…
Regular studio rooms are 400 sq. ft. and feature fully equipped kitchens and dining areas. Guests will have at their disposal a refrigerator, microwave, cooktop, dishwasher, Nespresso machine, and more, all of it right in the convenience of their own room. They will also have a stocked minibar and a comfortable bed with quality linens, and a cozy bathroom.
Large studios add about 95 sq ft of space for added comfort and convenience and feature all the same amenities and furnishings. Terrace studios — as you might be able to guess — provide the added perk of having your own private terrace. Just imagine having your morning coffee out on the terrace as you watch the sunrise or taking an outdoor nap on the terrace's bed or enjoying a cocktail on the lounge chair.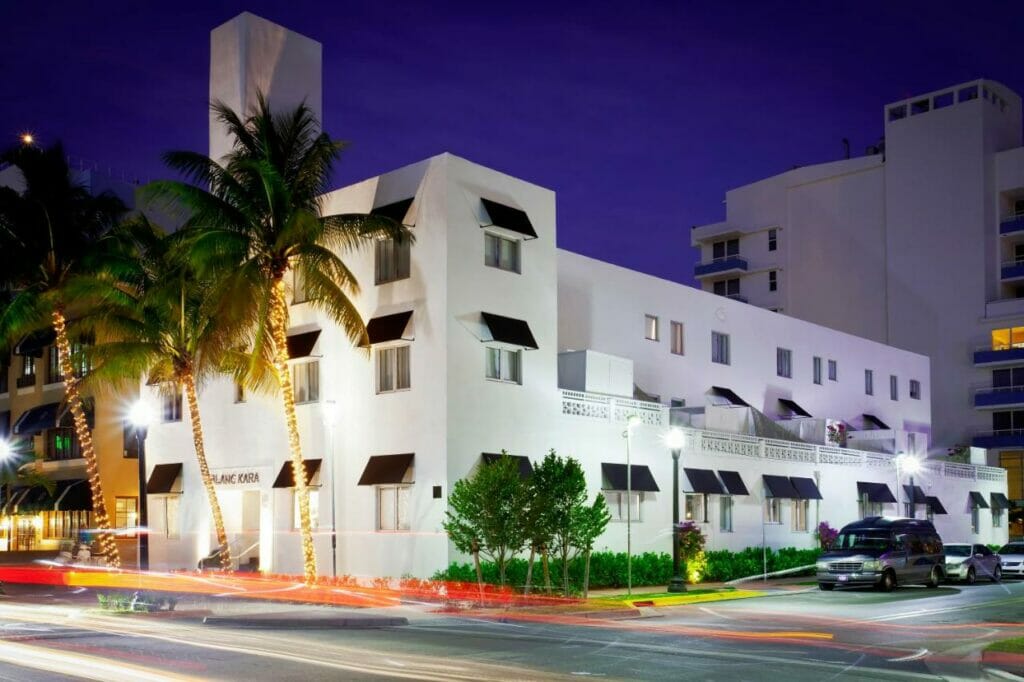 Dream South Beach: "An icon of luxury that redesigns Miami modernism." The Dream Miami South Beach is housed in what was formerly The Tudor Hotel and the Palmer House, two shining examples of the Art Deco architectural style. What's best is that it is a mere 50 yards from the beach. Style and service come together in this beautiful, gay-friendly hotel.
Dream Miami's 107 rooms and suites include a variety of options, with something to suit all tastes and needs. The resort also has a guesthouse, which is its crown jewel, and it is the pinnacle of luxury and comfort. Guests fortunate enough to book a stay here will be treated to accommodation that is fit for a king. The 2,000 sq ft space features a separate living room and bedroom. It also has a private covered roof deck. The interior has adjustable mood lighting, a nice feature that we'd like to see more often.
The Guesthouse also includes a 65" LCD TV, an oversized dressing and bath area in the bathroom, with a jetted tub, and an oversized shower. There is a separate water closet with Seura TV. The large living room features a spectacular skylight. The upstairs deck has sofa seating and a refrigerated bar with a cocktail table, as well as a 54" flatscreen T.V. and sunbeds.
Even if you can't be lucky enough to stay in the Guesthouse, all the other rooms and suites will provide a wonderful, comfortable lodging experience with direct access to one of the country's most exciting beaches, in one of the hippest cities in the world.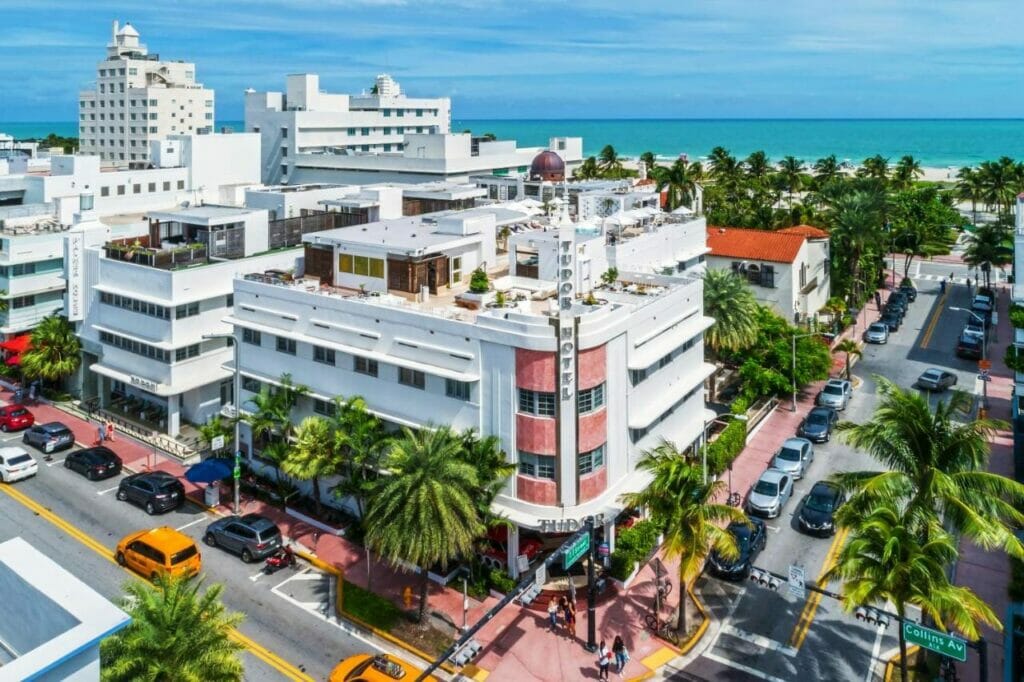 The Hotel Victor South Beach puts you, just as its name suggests, right in the heart of glamorous South Beach. "A refuge from the predictable," is its tagline, and with its Ocean Drive address, how could it help but to deliver on that promise. Guests here will find themselves in the epicenter of all those luxury boutique stores, not to mention the multitude of restaurants and bars, the majority of them gay or gay friendly. and then of course there is the main draw: South Beach.
As for the hotel itself, it doesn't get much hipper, chicer, or trendier than this. The hotel was designed to evoke a beach house aesthetic and uses neutral tones throughout in combination with natural materials. There is a half dozen room types that range from single king bedrooms to king suites. each features either a king or queen bed, 42" T.V., minibar, and free Wi-Fi. And each is wheelchair accessible.
Then there are the Victor/Victoria penthouses. These lavish accommodations include a private garden terrace (with a contemporary hot tube), a bedroom with a king-size bed, a large living room, and a kitchenette. The bathrooms feature a walk-in shower and dual vanity.
It wouldn't be a proper luxe hotel without a swimming pool, and the Hotel Victor has a sublime one perfect for Insta-shots wearing gay shorts or other sexy swimwear. It also has a 24-hour fitness center and a spa which is the first Peruvian Crystal Color Therapy Spa in the United States. Besides its signature therapy, it also offers massages, hydrotherapy, facials, body treatments, and more. The spa also has a hammam, sauna, and meditation room.
A visit to the spa might just be the thing you need after a night out exploring the best nightlife South Beach (and maybe even the entire U.S.), has to offer.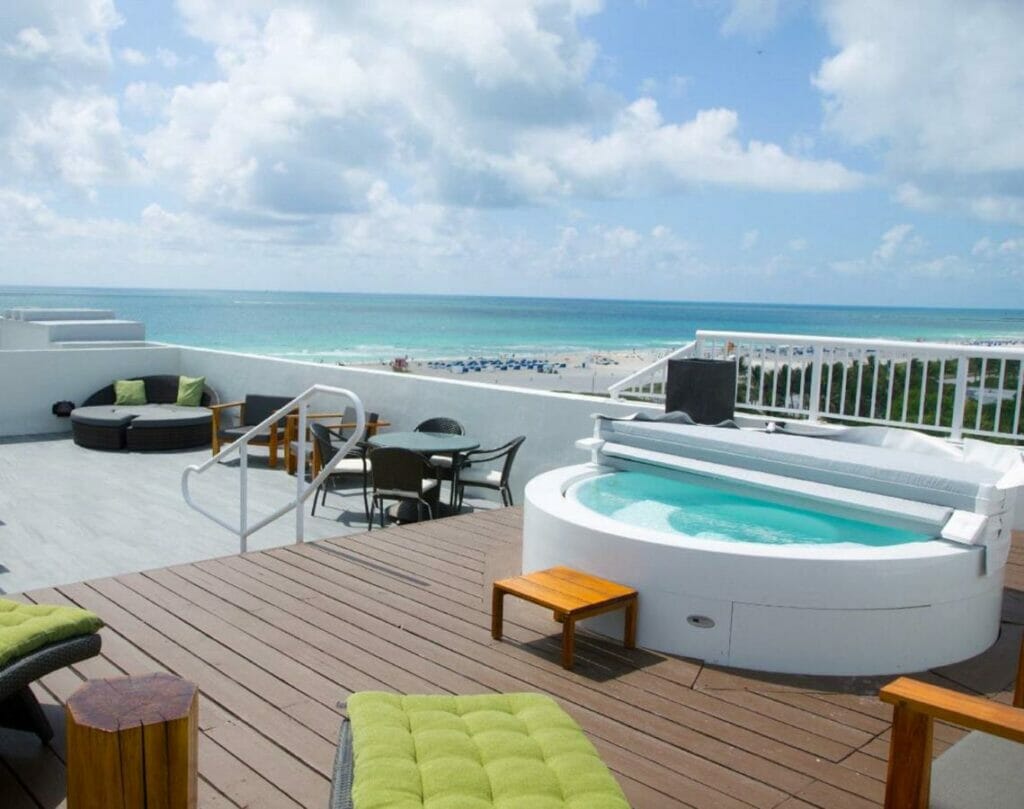 Built in 1942 (and completely renovated in the mid-90s) the Mantell is one of Miami's many distinct art deco architectural icons, in case you are wondering what the name of this gay-friendly resort refers to. The hotel features a pool, an exercise room, and a great room that accommodates up to 50 and serves as a great function venue, and is equipped with a kitchen area. There is also a secluded patio area.
The gay-owned hotel is hosted by Ray Breslin and Patrick Pecoraro, which gives the resort the Bresaro part of its name. Bresaro Suites has five guest suites available. They range in size from 260-300 sq ft, and all are equipped with a bathroom and kitchen. The latter all have a full-size refrigerator, microwave, coffee maker, toaster, two-burner stovetop, and all the pots, pans, and utensils needed. dinner service for up to four is also available. suites also include a dining table and chairs, queen bed, sleeper sofa. Other room amenities include cable T.V. with over 50 channels, including HBO+, and a DVD player. There are also beach towels, a water cooler, extra towels and linens, free local calling with a phone in the room. A waffle maker, electric wok, and small pan are available on request as are beach umbrellas and chairs.
As you have likely guessed, Ray and Patrick really go out of their way to provide guests with the utmost comfort throughout their stay. For a gay-friendly stay in Miami that is something different, with a cozy vibe removed from the glitz and noise of Miami Beach (and one that is gay owned, no less), you really aren't going to find it anywhere else like you'll find it here at the Bresaro Suites at the Mantell.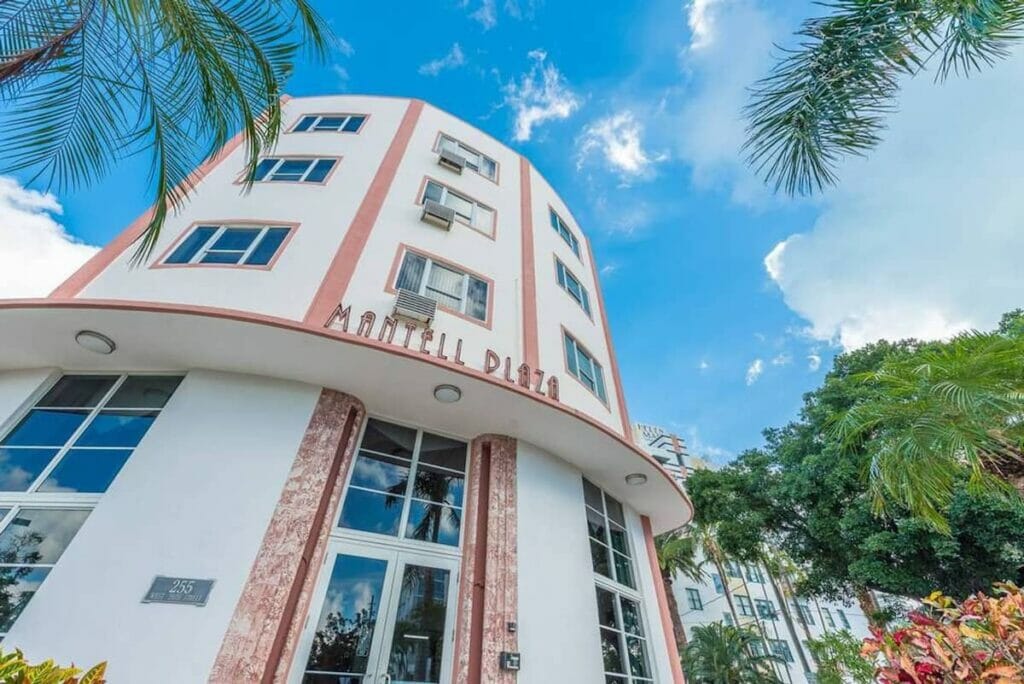 Here is another Art Deco gem, built in 1938, and situated in the SoBe district on Ocean Drive. The all-suite resort's accommodations are spacious and many of them include either a full or partial kitchen, as well as a living room (with pull-out sofas), dining area, and private bedroom. Bathrooms feature whirlpool tubs and rain showerheads. The gay-friendly establishment is located on Ocean Drive, opposite Lummus Park and South Beach.
The hotel has a rooftop terrace with beach views, and there is also an exercise room. Other room amenities are air conditioning and free Wi-Fi, and there is a flatscreen T.V. and a microwave in the suites. Note however it is a kid-friendly resort so if "jockstraps on the rooftop terrace " are your vibe, this might not be the best spot. Property amenities include a solarium, a fitness center, and of course easy access to the beach.
All in all, this three-star hotel may be one of the more unpretentious resorts on Ocean Drive, and that's not a bad thing. It is a great place to base your discovery of fabulous South Beach and all it has to offer, and it embraces the inclusive atmosphere that Miami Beach is known for, and it goes out of its way to make sure that all are welcomed.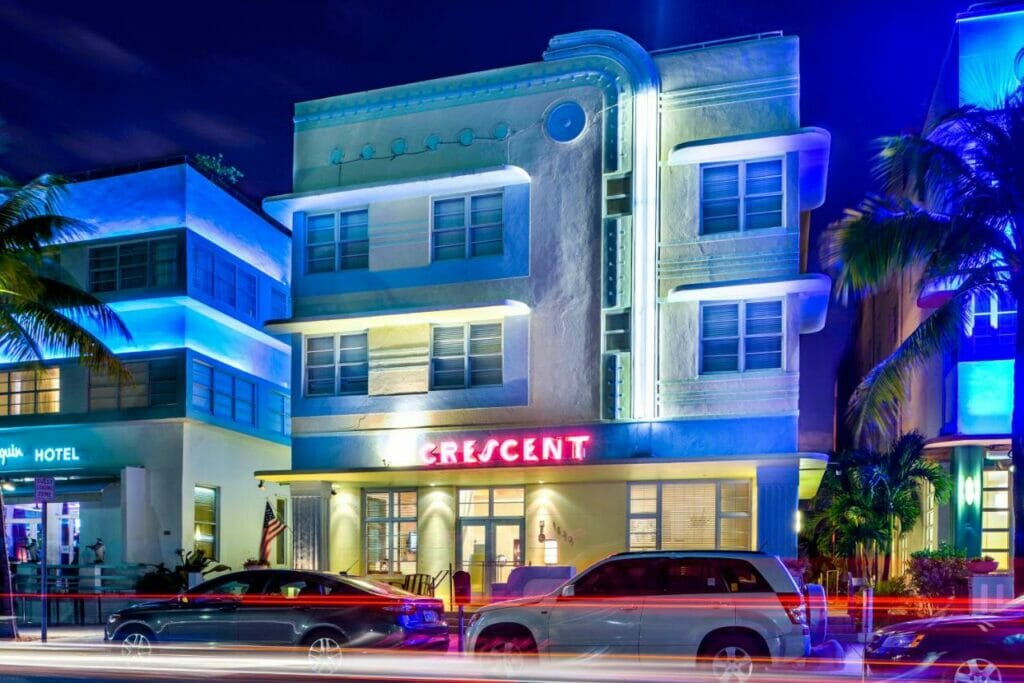 The Fontainebleau has been called the Number #1 hotel in Miami Beach by Travel + Leisure, so you know it must have something pretty special going for it – but what is that you may ask? For one, it is located on Collins Avenue, in the heart of an area called Millionaire Row. All of which is quite fitting, really, because the Fontainebleau is the pinnacle of luxury. and what's even better is that it is a gay-friendly hotel that makes sure to create a setting in which everyone is welcome and included.
of the many services and amenities that the resort can boast are housekeeping (every other day), concierge service, rental car services offering everything from trucks to exotic cars like Bentley and Rolls Royce. And you dog and cat lovers will be delighted to know that this is a pet-friendly hotel. In fact, it bills itself as the ultimate pet friendly hotel, with a host of special amenities just for your furry companion. These include an onsite oceanside dog park where they can run and play to their heart's delight. While Fontainebleau is a non-smoking hotel, smoking is permitted in designated areas.
Fontainebleau dining options abound thanks to its prime location, and you are sure to have access to some of the finest dining in the entire city no matter what your preferences are. Hakkasan, which has been called one of the top 50 restaurants in the world, offers some of the best Cantonese cuisine you are going to find anywhere. AAA four diamond award winning Scarpetta offers stellar Italian fare, Stripsteak is a classic American steakhouse, La Cote offers French cuisine, and Arkadia Grill has casual dining options that are not to be beat.
As for room types, they include standard guestrooms, junior suites, one- and two-bedroom suites, and specialty suites. all feature the best in both style and comfort and have an impressive set of amenities. The property has a pool, spa and salon, gym, and facilities to host just about any kind of function you could think of, including weddings. Without a doubt the Fontainebleau is one of the best gay friendly hotels in Miami, and probably in the entire country for that matter.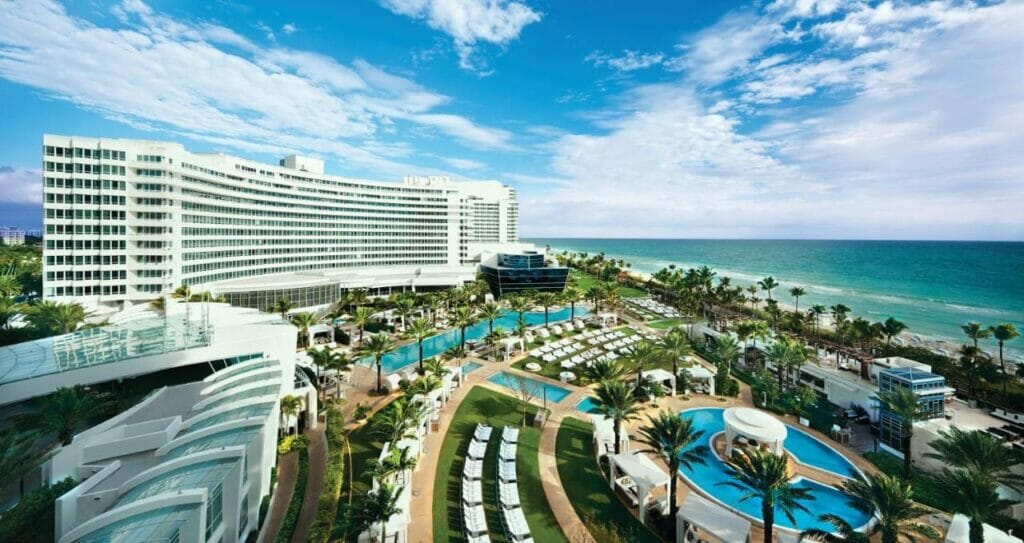 Travel + Leisure has named the Nobu Hotel at Eden Roc Miami Beach one of the city's top 5 hotels in its 2021 World's Best Awards. And that is high praise indeed, given the sheer number of luxury hotels in Miami Beach, one of the most glamorous places in the world. The hotel bears the name of world-renowned celebrity chef Nobuyuki Matsuhisa, also known as Chef Nobu. You may have spotted his cameo appearances in movies like Casino and Memoirs of a Geisha.
The hotel bears not only the culinary icon's name but also his Japanese heritage and signature style, the former of which can be seen in the hotels' architecture, which resembles a Japanese pagoda, to the trained eye.
Rooms include high speed wireless internet access, 60" T.V., individual temperature control, and a media hub with Bluetooth. There is also a gourmet coffee machine and in-room safe. Each room has a balcony. The private bathrooms are outfitted with waterfall rain head showers and adjustable lighted mirrors. For accommodation varieties you'll have a choice of deluxe rooms, junior suites, and corner suites that have unique wrap around balconies. There are also three villas that are top of the line when it comes to luxury lodging.
By now you will be completely unsurprised to know that the Nobu Hotel's restaurant is home to what is quite possibly an unrivaled gastronomic offering in Miami Beach. It features Nobu's signature fusion of Japanese cuisine with Peruvian ingredients, which is what the chef is best known for.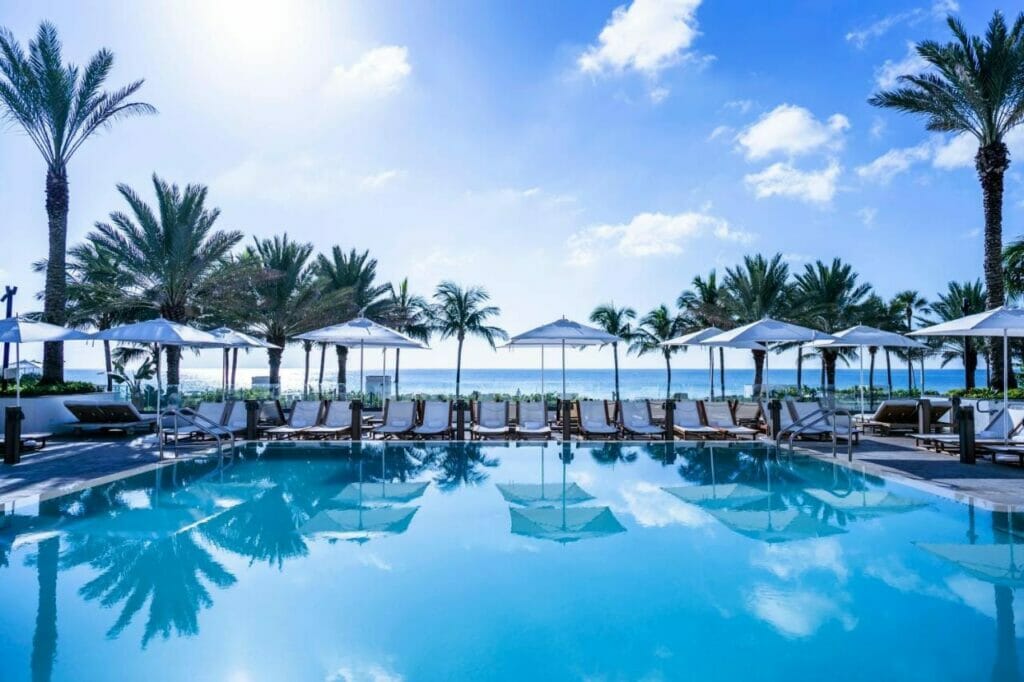 The Eden Roc is yet another art deco Miami landmark, this one designed by the legendary Morris Lapidus in 1955. accommodations consist of guest suites, premium rooms and bi-level lofts.
Suites feature oversized balconies with stunning views of Biscayne Bay. rooms also have high speed Wi-Fi, individual air conditioning, 55" flat screen T.V., standing desk, gourmet coffee machine, in-room safe. and the bathrooms feature rainfall shower heads, vanity lighted mirror, and come with bathrobes and bathroom amenities. Free local phone calls are included with the rooms, and there is 24-hour room service available, as well as bike rental. You also get two beach chairs and towels to use down at the beach should you wish.
The resort also has a lush pool and a spa. There is a lobby bar (called The Lobby Bar) from which guests receive a welcome cocktail. There is also a poolside bar, so you will have no reason to go thirsty when you book a stay at the Eden Roc. The on-site cafe, Cafe Inez, offers fresh brewed coffee and pastries to get your day started off right. Both in-room and outdoor private dining experiences can be arranged.
The Eden Roc also hosts weddings (including same sex ones) with a choice of venue options, be it the stately Mona Lisa room, which recalls vintage glamor; the Pompeii ballroom with its upbeat, festive ambience, or the spa terrace for an outdoor wedding experience with the perfect backdrop – the city skyline and the ocean beyond. Either way those looking to exchange vows are guaranteed an unforgettable experience.