Choosing swimwear is so much more intense than choosing all other types of underwear and even any other types of clothing. The main reason for this is that swimwear is made for wearing outside in public, ergo in front of several other people, who will be looking and silently judging.
Of course, you can also wear swimwear in a private pool, but chances are if you buy it, you're going to be wearing it in front of others. You've got to keep this in mind when you're purchasing a pair of
swimming trunks or briefs. What do you want it to say about you? Are you going for fun, flirty or hot?
The occasion you're wearing it for also has to be considered. For example, you wouldn't wear the same swimwear to a lazy day at the beach in Mykonos and an gay circuit-style pool party. And then what do you wear to the gay hotels of Palm Springs or Key West?
You could, if you chose a generic pair of boxer-style swim trunks, but what would be the fun in that? That's why I'd advise you to have a number of swim trunks in different styles and colors, so you can pick the right one for the correct occasion. But it can be difficult, choosing the right gay swimwear to get without any sort of direction.
That's why I've put together a list of the best gay swimwear options that would not only make you look good but feel fabulous as well. They're also quite affordable, so you don't have to worry about the cost. Pick a few from this list, and you'll never have to worry about what swimwear to wear again.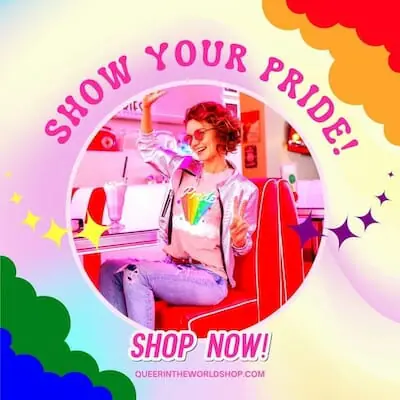 You can't go wrong with rainbow-printed anything. It's fresh and fun, and it's also a great way to signal to the world that you're proud of who you are. This pair of Rainbow Sky Swimmers combines a cute sky motif with individual rainbows across each cloud, forming a lighthearted design that's quite playful. However, the cut of these swimming trunks stops them from being childish.
It is a bikini-brief style, made of a woven stretch fabric that's both lightweight and airy – meaning that it dries very quickly – and is uber-comfortable. The Rainbow Sky Swimmers come with a specially designed crotch that's built for the greatest comfort and style. It's padded and shaped in such a way that your crotch is displayed in the best way possible.
It's also waterproof and anti-wrinkle, so you get no pinching, tightness, or dampness that could cause discomfort. The contrasting print and cut mean that it can be multi-purpose – wear it to the beach or a pool party with friends. It's meant to be a tight fit, so keep that in mind during purchase.
The All American Queer Swimmers is another fun pair of gay swim breifs. Made in a bold, colorful print that combines the rainbow with the American flag, it shows that you can embrace who you are fully without needing to conceal one side. Pefect for wearing anywhere from Honolulu to Fort Lauderdale and everywhere in between.
Actually – why stop there, when you look this good you need to take that booty on tour! Sitges. Puerto Vallarta. Sydney. You will stand out no matter where you go.
It's made to be fun and eye-catching while also being super comfortable. The woven stretch fabric dries quickly and feels wonderful against the skin, so you can wear it for hours with no problem. It also goes with a padded crotch that lampposts your package and makes you look and feel hot, giving you that confidence that's often needed when you're in swimwear, among other people.
It fits well, so you don't have to worry about it slipping and sagging, and as a plus, your ass is guaranteed to look great in it.
These classic Low Waist Swimmers are sure to because a favorite of yours once you give it a try. It comes in several solid colors, with a classic low-waisted brief style that'll have heads turning if you wear it to *that* gay pool party or a beach rave. It's made of strong but lightweight fabric that's woven to allow ventilation and make it quick-drying.
It's got a nifty little tie in the front that means that you can make it as tight or as loose as you want depending on where you're wearing it to and how sexy you want it to look. This gives you full control over your appearance, and consequently, confidence.
Buy a solid black or go with a fun orange; you can even get two if you feel like it. The choice is yours.
The Rainbow Striped Swimmers have a striking design that combines either black or white with diagonal Rainbow Stripes, making a bold pattern that's sure to draw looks whenever you wear it out. Made with comfort and style in mind, these swimming trunks deliver on both fronts.
The fabric is soft and luxurious, and it fits like it was made with you in mind. With the support provided both in front and back, you'll be sure to look your hottest. The silhouette is extremely flattering, especially with the extra support provided frontal department.
Thirsty looks are guaranteed wherever you go. Use the size chart for best results.
Jockmail takes rainbow print to the next level with these fantastic Rainbow Board Shorts. Instead of a single rainbow design, an arched rainbow is used as a motif, forming a geometric, modern design that looks fun without being too juvenile. It's a great way to show pride.
It's got drawstrings at the front for adjusting the fitting, especially of the crotch area. This ensures optimum comfort. It's also got a pocket at the back for a look that makes it stand out. It's made of a light, airy fabric with a loose waistband that prevents any pinching.
These shorts are guaranteed to make you look and feel fabulous. You can even use them for everyday wear with your fav jockstrap underneath!
These Navy Striped Swimmers bring the holiday-inspired uniqueness that you're sure to love. With a design that reminds you of basking on the beach, exhilarating boat rides, and luxurious, intimate gay cruises, the briefs are the perfect mix of vibrant and alluring.
They are low cut, with unbelievable support, and guaranteed to make your ass look perky. Choose from two styles, and rock it with confidence.
The woven fabric means you can wear it for hours, with no fear of discomfort, perfect for parties. It also means that your crotch is gently and lovingly cradled, giving you more confidence regardless of when you wear it to.
The Rainbow Leopard Print Swimmers take two classic patterns and combine them to form a design that looks surprisingly good. The Rainbow coloring lightens up the more mature leopard print and makes it fresh and new, making this a swim trunk you can wear to a wide range of occasions.
It's designed to sit low on the hips, flattering your figure as well as your ass. The fitting does wonders for your appearance as well, while the sort, the smooth fabric, will have you wearing it as day-to-day underwear without hesitation.
These Retro Striped Swimmers put a new spin on old school. Made in a stunning retro pattern that's simple and stylish, these swim trunks don't compromise on either style or comfort. Made from a light material that feels amazing against the skin, you'll barely notice you're wearing anything.
The seam down the front flatters your crotch and gives it a great shape and silhouette as all the best gay swimwear should. The drawstring at the front creates a comfortable waistband while allowing you to adjust the fitting to some degree.
Pride is meant to be fun and lighthearted, and these Dots of Colour Board Shorts completely embody that. Little white dots on a rainbow-patterned background create a bold, bright look that's almost guaranteed to be the only one of its kind wherever you go, making you stand out.
The shorts are made of a quality material that feels soft and pleasant against the skin, so you can wear them with or without thongs. The leg holes curve upwards, cleverly flattering your thighs and showing off all the hours you put in at the gym.
Floral pretty much guarantees sexy, and these Floral Fern Swimmers look pretty alluring if I do say so myself.
Multicolored ferns are printed across a dark purple background, forming a unique design that's pleasing to look at. But the print is not the only advantage it has; the fitting of these swimming trunks is immaculate. It's made with a too-notch material that molds the ass and the crotch, presenting them in the best way possible.
The waistband is also low, so if your hip bones are an asset, you're in luck. A drawstring makes for easy, convenient adjustments.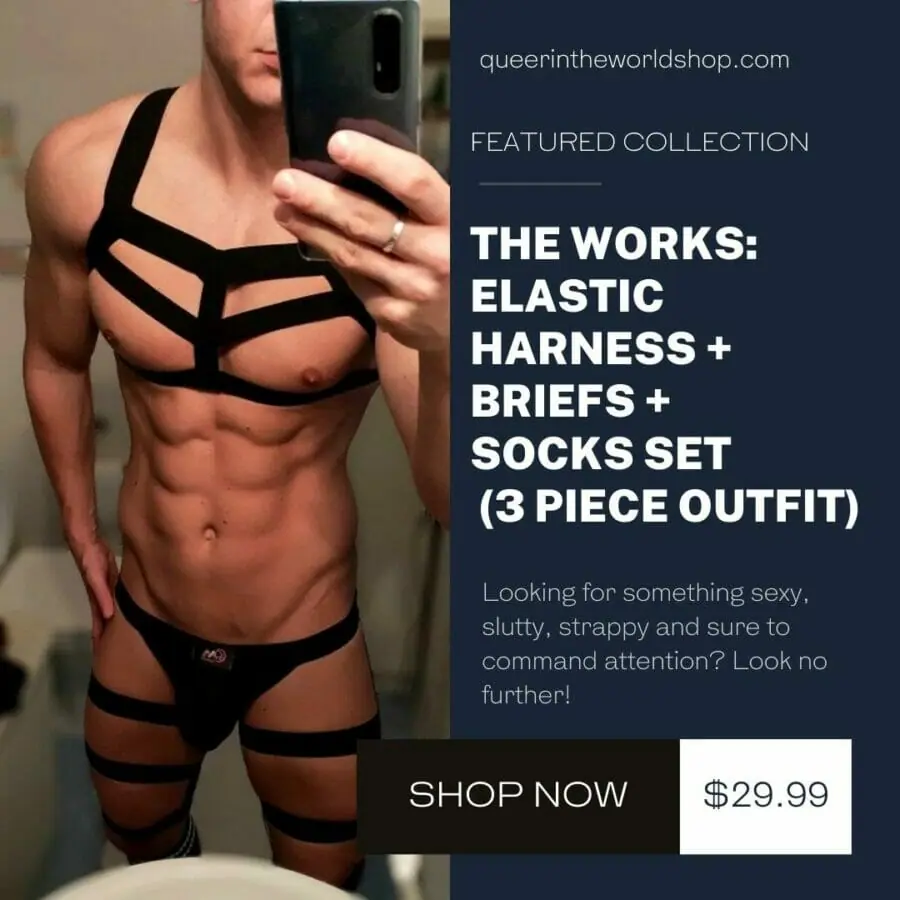 These Pride Stripe Swim Trunks are a thoroughly modern take on pride-themed swimwear – and are going to ensure instant attention on the beaches of Barcelona or Tel Aviv.
Stripes of different rainbow colors adorn a black or red background. They are very mature, in spite of the rainbow theme, and they fit like a glove. The fabric is wonderful and very quick to dry, so you can bid the days of annoyingly damp swimwear goodbye.
The white hems of the leg openings draw attention to and flatter your thighs, while the stitching at the front does its job, giving you a bulge you can be proud of.
These LGBT Rainbow Swimmers are the out and proud gay swim breifs of our dreams. Solid blocks of color form the pride flag and a stylish contrast with a white waistband that is wide enough to avoid any discomfort.
It's made of a lightweight, stretchy material that is quick-drying as well as comfortable. The crotch is padded with an extra layer that's made to protect as well as flatter your package, making you look and feel awesome. The crotch is also waterproof for extra protection.
These Pride Pocket Swimmers are much sexier and sophisticated than their name implies. As a matter of fact, they're probably the coolest pair of gay swimming trunks you'll ever buy. They're essentially solid-colored swimming briefs, with a rainbow-striped pocket at the back and one rainbow-colored tag at one side.
The rainbow accents really elevate what would have otherwise been a boring pair of swimming trunks. The one at the back especially calls attention to the ass, making it a sexy little twist that is honestly a stroke of genius.
With cozy, lightweight fabric and a crotch that's made to turn heads, what's not to love?
These unique Hug Me Tight swimming shorts are a summer essential. Don't let the fact that they are boxer-style deceive you: these beauties really live up to their name.
They are designed to hug every feature, showcasing them in a way that'll have admirers blushing and reaching for a cool drink. It comes in shades of solid colors, including black and blue, but the tailoring is the show's real star. Your package is displayed proudly, giving you a boost of confidence, and the tightness of the waistband is in your control, thanks to a smart drawstring that can either be tightened or loosened.
A size chart provided means you can pick one that enhances your looks.