Calling all you sun-worshippers out there curious about the gay clothing optional resorts in Palm Spring! There's nothing like a bask in the sun's rays, soaking up all the Vitamin D – unless it's slipping into a turquoise pool to cool off. Agreed?
Then Palm Springs is the place for you. This desert resort packs in plenty of recreation activities – biking, golf, riding, tennis – as well as being a great gay holiday destination.
In the 50s and '60s, Palm Springs was the rocking getaway of Sinatra, Elvis, the Rat Pack and other Hollywood celebs – until they moved on to the next spot and Palm Spring suffered. Thankfully in the 90s, us gays fell in love with its retro vibes, mid-century Modernism and glorious landscapes and Gay Palm Springs was born!
Now on par with other renown gaycation spots – Key West, Fort Lauderdale, Mykonos and Puerto Vallarta to name a few – there is a lot to love here!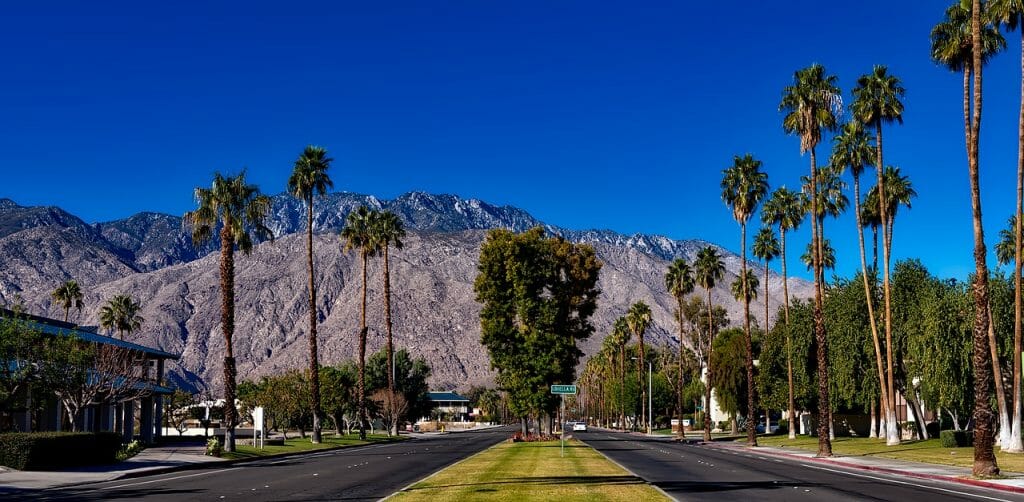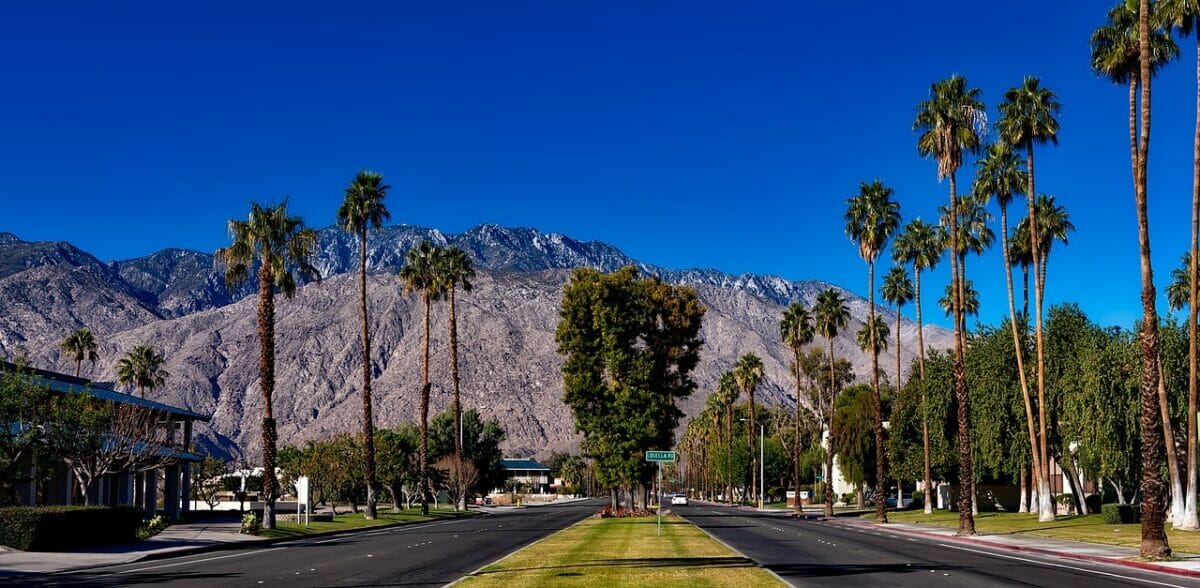 To make things even more interesting, Palm Springs also offers a great range of clothing-optional resorts for you gay travelers who like to feel extra-specially 'free' on holiday. Can you blame us for wanting to try it out? There is truly something freeing about just letting it all hangout…
Just make sure you put sunscreen everywhere!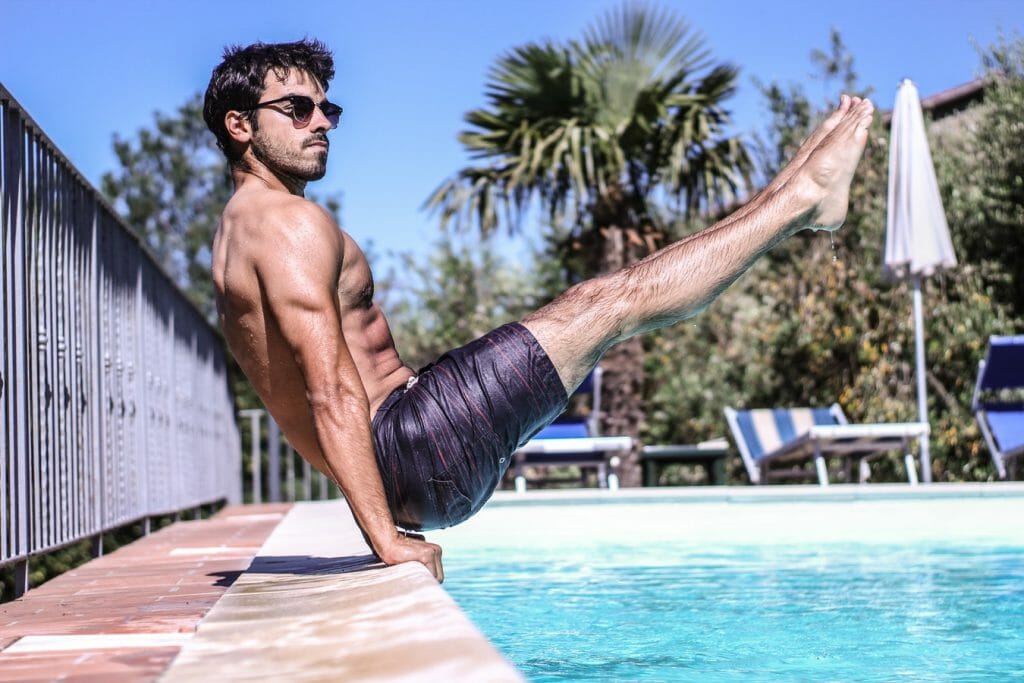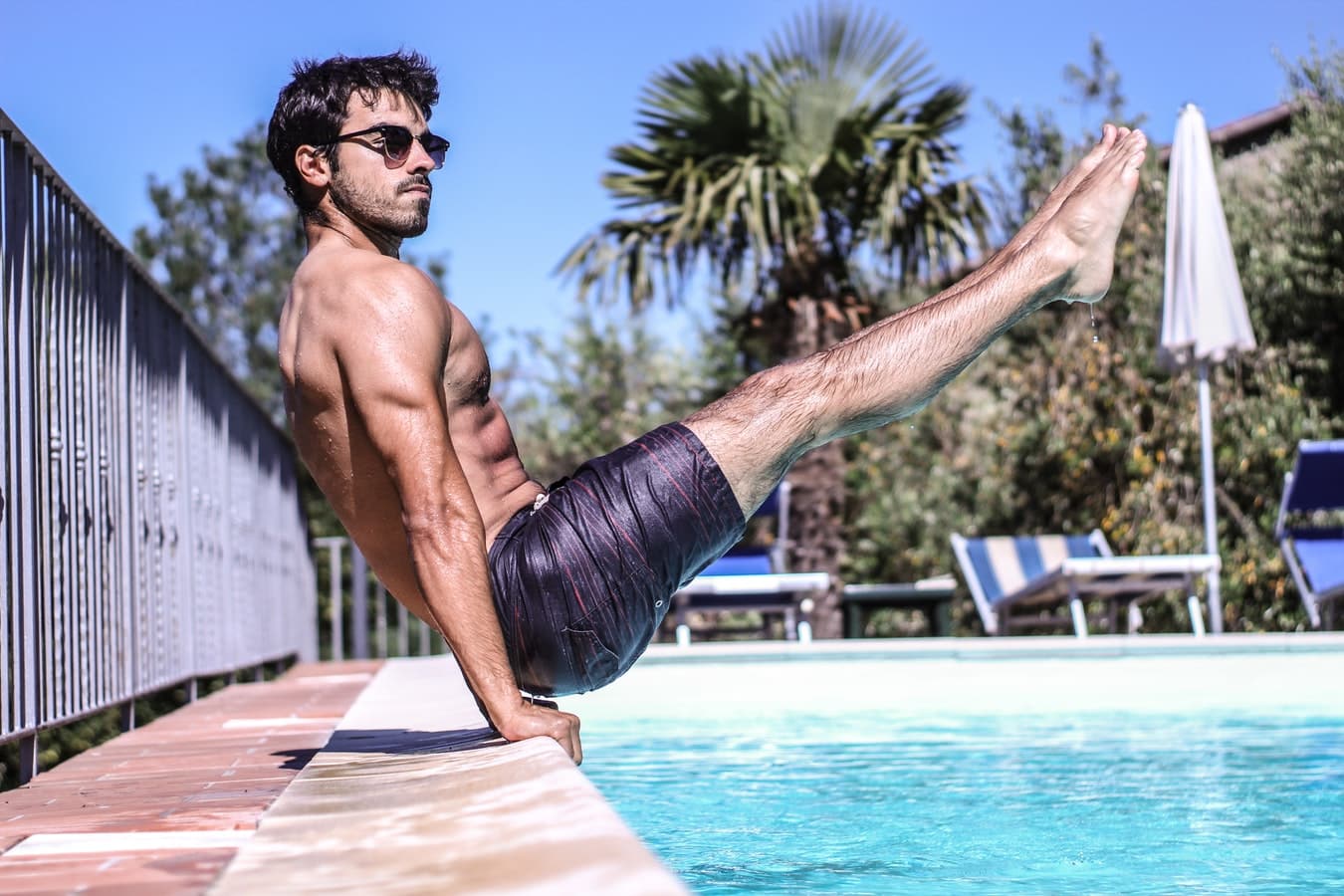 An absolute Palm Springs classic located in the West Sands area. An oasis of lush palm trees, a warm welcome is always guaranteed and there is a wide range of rooms on offer. As well as a saltwater pool, there's a steam room, Jacuzzi, and cruisy sauna, so you really do feel like you're in paradise. The rooms surround the pool for an intimate layout.
One of the things we love is how all the rooms are named after gay icons like Lucille Ball and Judy Garland, complete with paintings. The Presidential Suites are, unsurprisingly, the Marilyn Munroe and the Monica Lewinsky. You've got good company for your gay clothing optional resort in Palm Springs experience, that's for sure!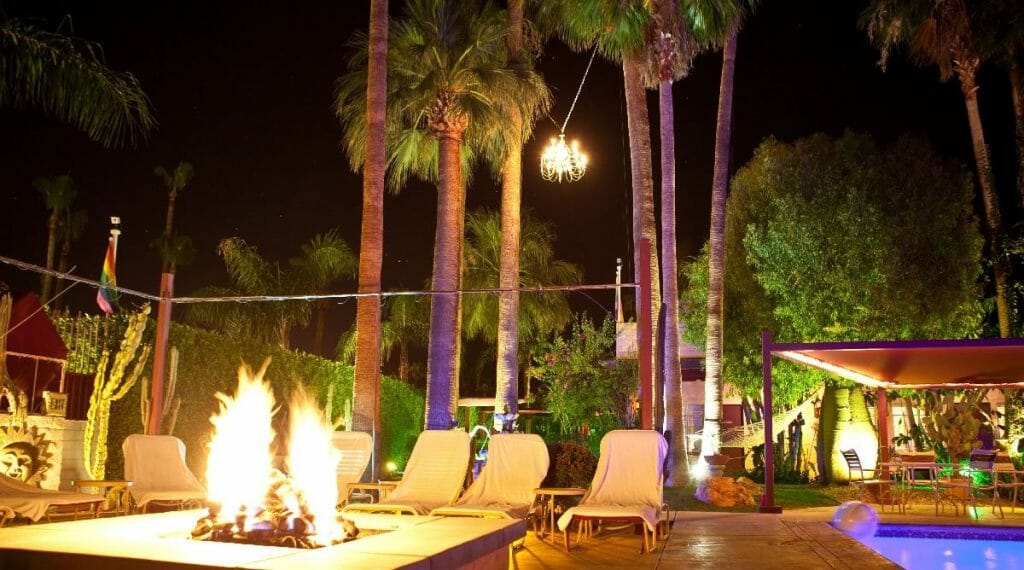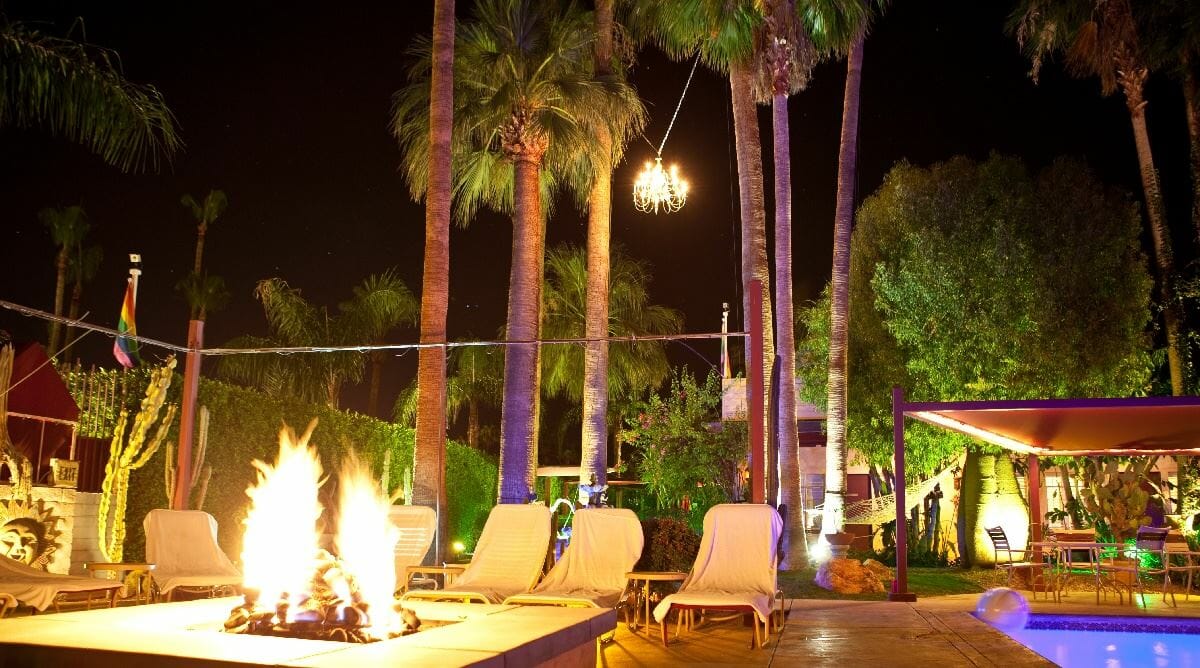 The largest gay men's clothing optional resort in Palm Springs and oh-so-cruisy, Consisting of two properties located on South Warm Sands Drive just a few blocks from downtown Palm Springs, guests of the hotel are able to access and play at both properties. The resort has a lot to offer, including 5 pools, 2 hot tubs, and 2 playrooms.
There is a Sunday Pool Party and Free BBQ, a wide selection of rooms and affordable prices. Day and night passes are also available if you are not quite ready to spend your entire time in Gay Palm Springs here.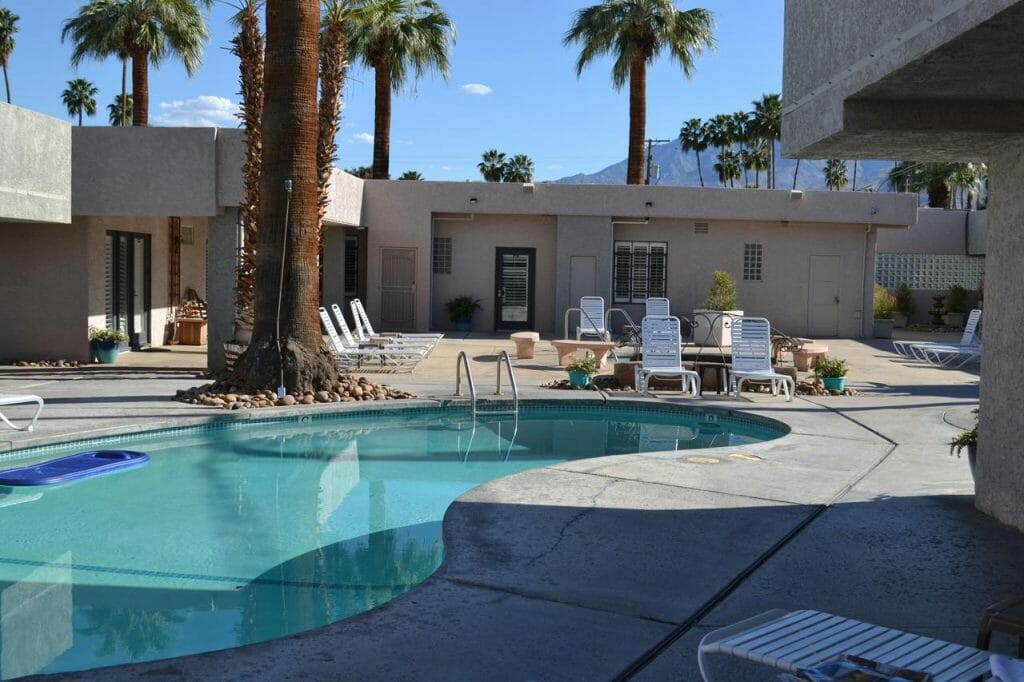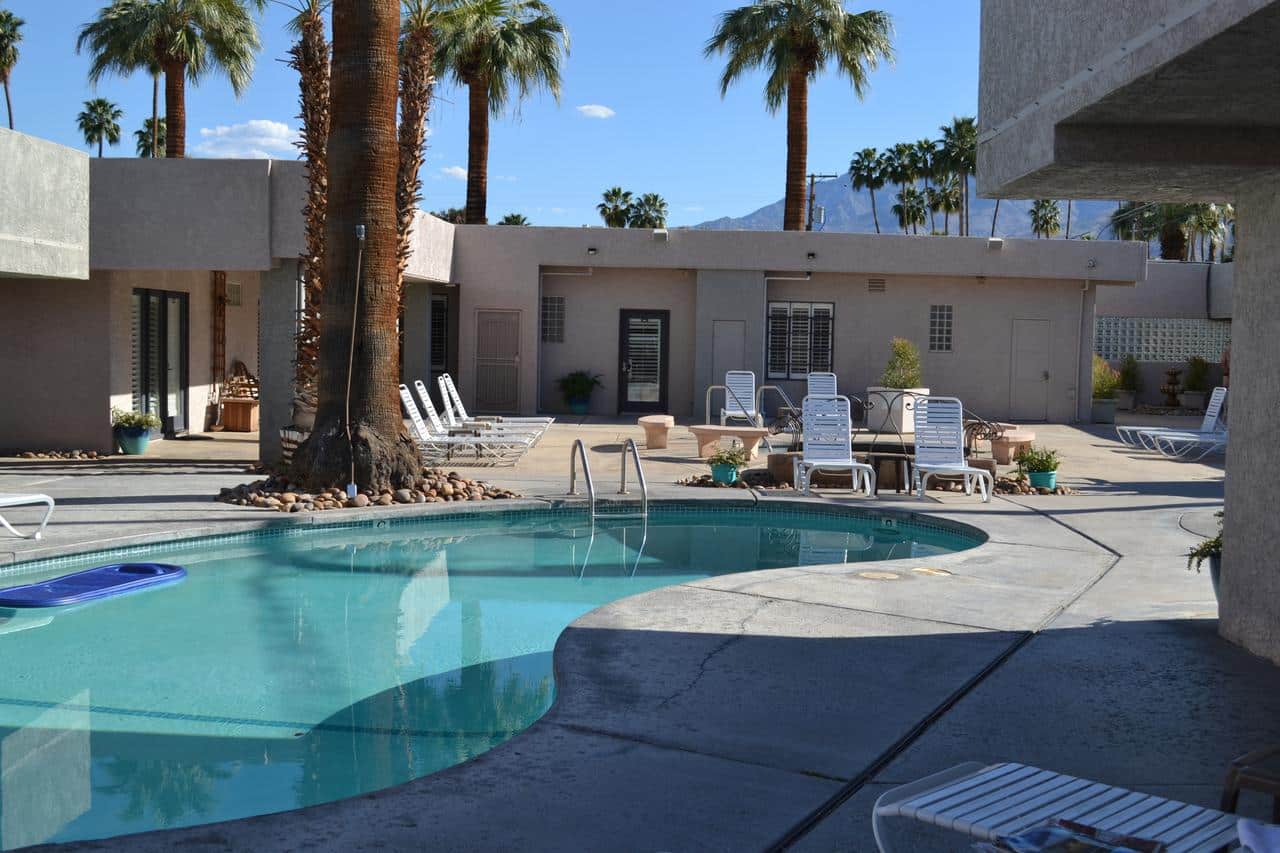 Another huge gay resort in Palm Springs, featuring epic pool parties, plenty of entertainment and a wide variety of guys – so there is something for all tastes. Featuring clean, modern and newly renovated rooms, dining, drinks & drag at the newly opened Runway bar, 4 playrooms, a 'military compound', pool, and spa!
This venue is perfect for those who want a frisky, carefree holiday. If you just want to be social, but escape back to a different hotel each night CCBC also offers 12-Hour Day Passes.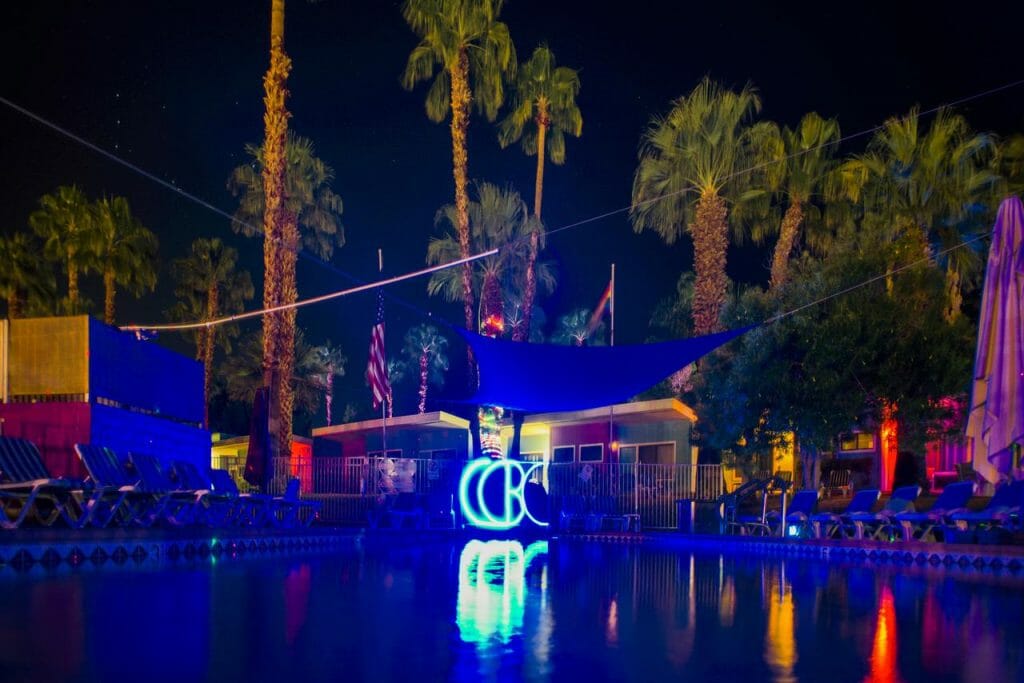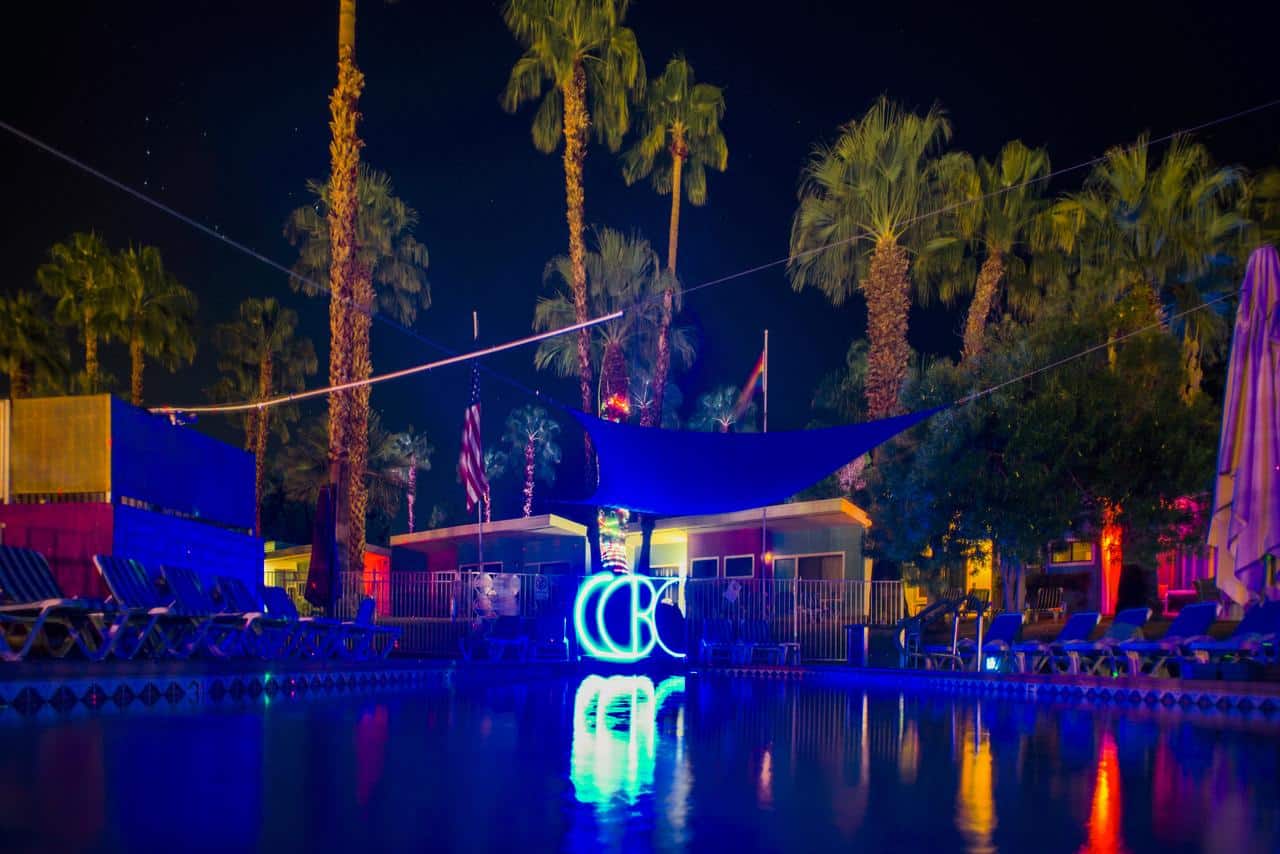 It really is a sweet life at this chilled clothing-optional resort just five minutes away from some of the most popular attractions in Palm Springs. It's not in Warm Sands, but don't let that put you off: there's a friendly atmosphere (rumor has it, it gets very friendly at weekends) and a range of rooms from studios to one-bedroom apartments.
There are not one but two pools to lounge next to in your birthday suit. Add a cocktail and poolside lunch to that picture, and I'm sure this is somewhere you'd consider stripping off.
This gay owned and operated property from the 1950s has been serving the gay community for decades and is a perfect place in Palm Springs to go tops-and-bottoms off. On their website Escape Resort highlights that it's not all about the party circuit there, so if you want something a bit different this is the place for you.
It's Escape by name and escape by nature: it feels like a secret sanctuary, with its minimalist rooms with private patios. There is a sizable garden next to the pool, which adds to the feeling of seclusion, and the white elegant poolside furniture adds to the stylish look.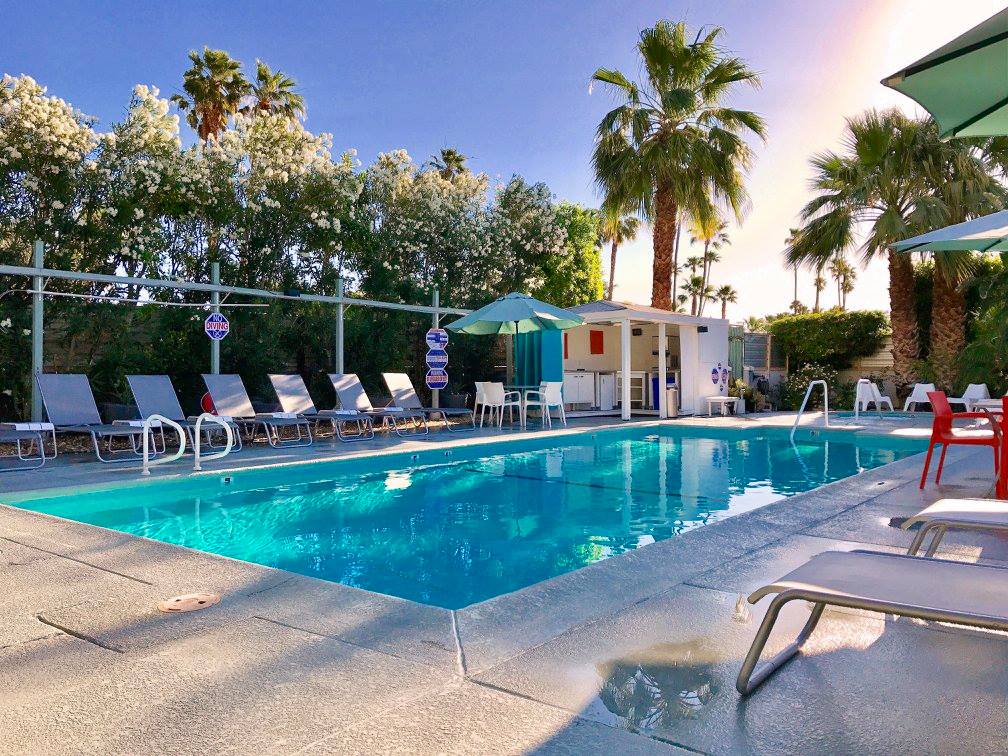 If you're traveling as part of a couple that loves to leave its fig leaves at home, The Hacienda is perfectly suited to you. It's notable for avoiding the kitsch factor common in gay clothing optional resorts in Palm Springs and concentrating on peaceful luxury.
There are two swimming pools to enjoy (whether you're a swimming costume fan or not) and many of the suites offer private patios away from the public areas, so you can enjoy that all-important alone time. It's an upscale resort with gorgeous gardens and a personalized service. Give it only five minutes here and all your stress will melt away.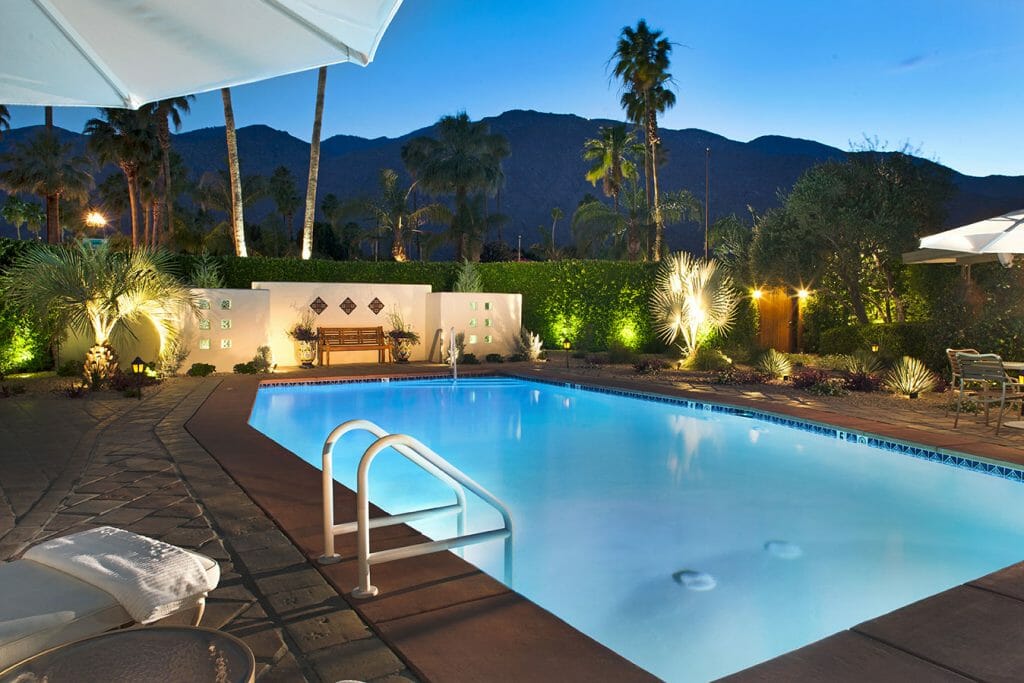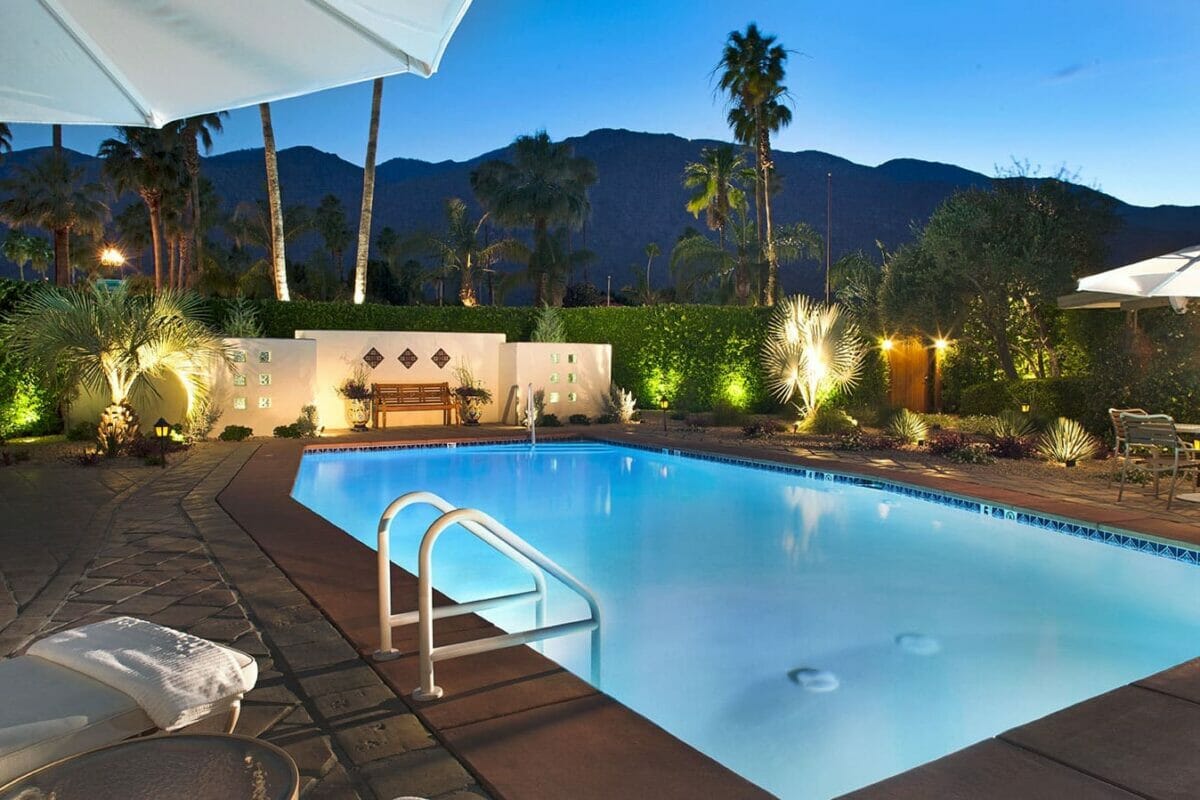 This is an intimate little resort that's a favorite among those in the know. It's in a more secluded location, away from the hustle and bustle of the high-profile Palm Springs districts, making it a great place for an escape.
They say that here you can make friends or 'maybe more'. What more do you want from a clothing optional resort? The pool is small, sure, but that just means you bump into more people! We also really like the fact that most of the rooms have a full kitchen and dining room because it's always nice to have a cozy night in. Somewhere you know you'll have fun!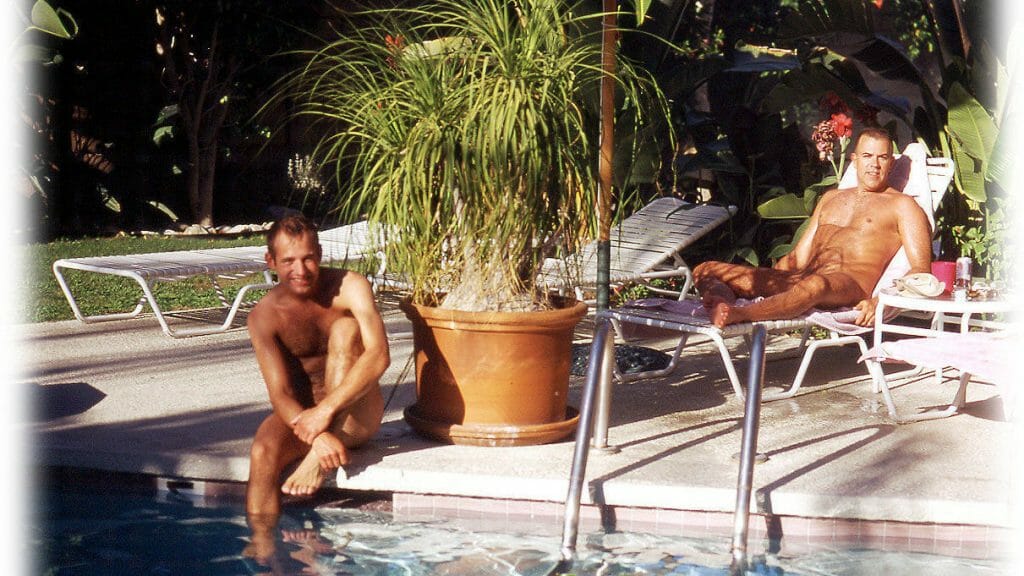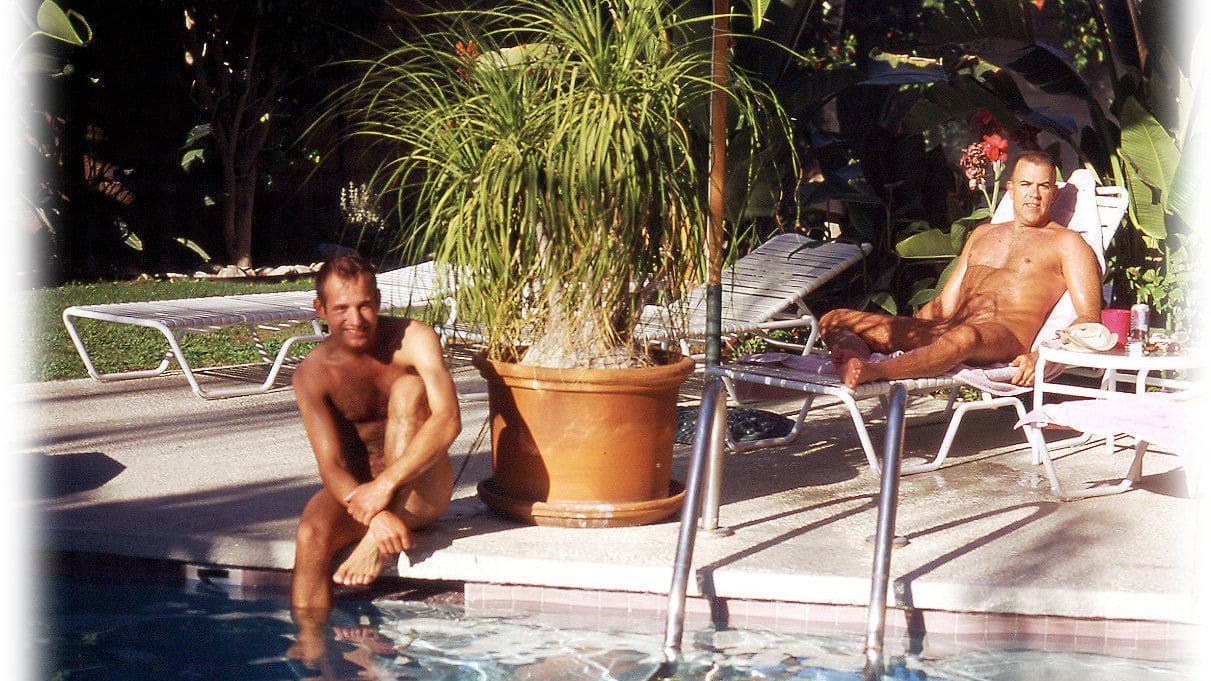 Staying at Vista Grande feels like being in a beautiful oasis in the desert. Surrounded by gorgeous landscaped gardens, the lush foliage creates an intimate atmosphere for you to relax and get to know people.
There's a room option for every price range from wallet-friendly studios by the pool to more luxurious villas looking over the waterfall. Although most rooms have kitchens, you won't necessarily need it when breakfast and lunch are included and all the best restaurants are nearby. Definitely a gay clothing optional resort for a holiday surrounded by natural beauty.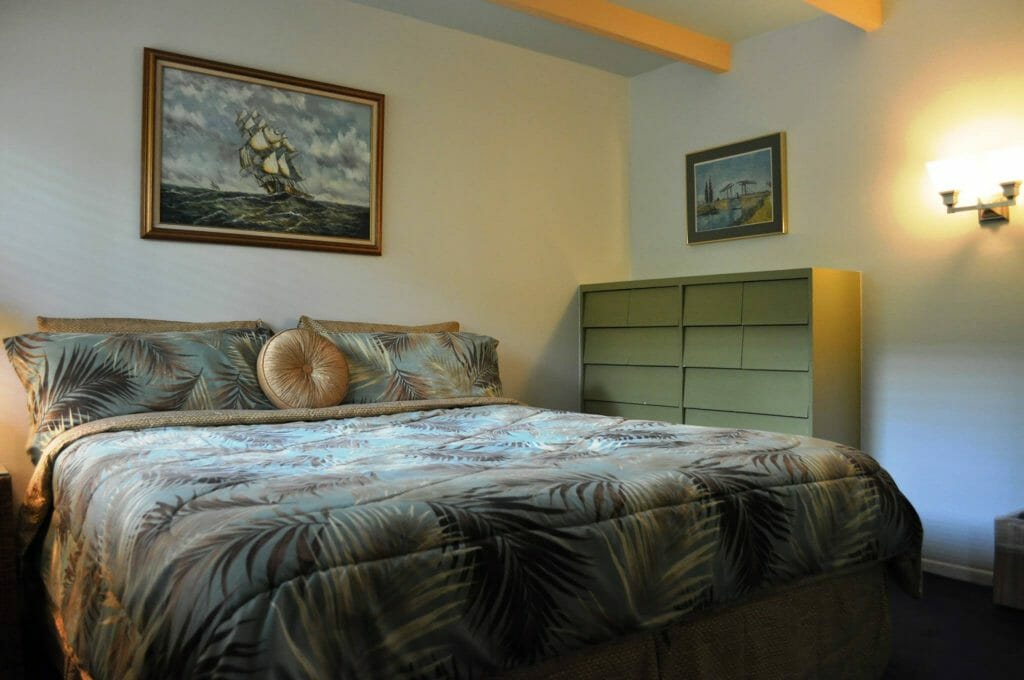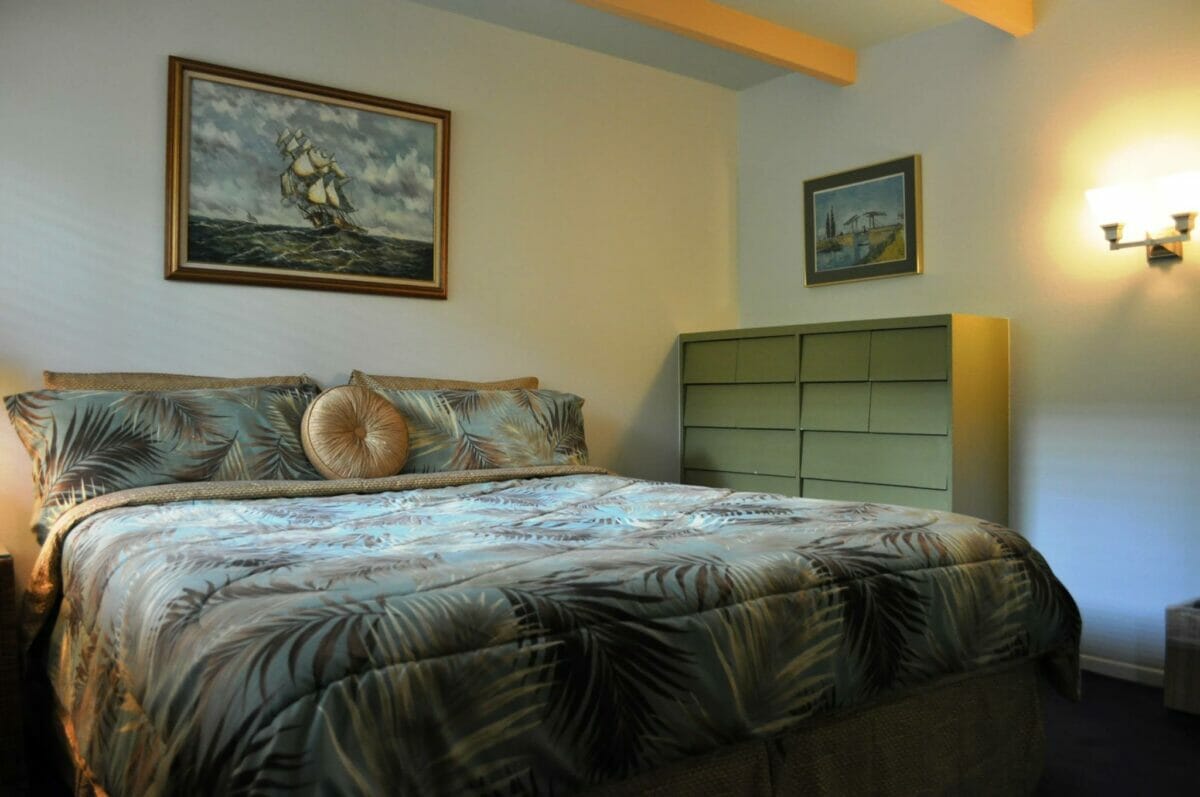 This clothing optional resort aims for a welcoming atmosphere that makes you feel at home immediately. It's been running for over 16 years in the Tahquitz River Estates neighborhood of Palm Springs with owners Ricardo and Robert pulling out all the stops to create a relaxing environment.
Lush foliage, including palm and citrus trees, decorates the compound while the pool area is a great place to let your hair down, have a chat and a cool drink. Whether you're in a couple or coming alone, Tortuga del Sol will make sure you have a holiday to wash away the stresses of daily life.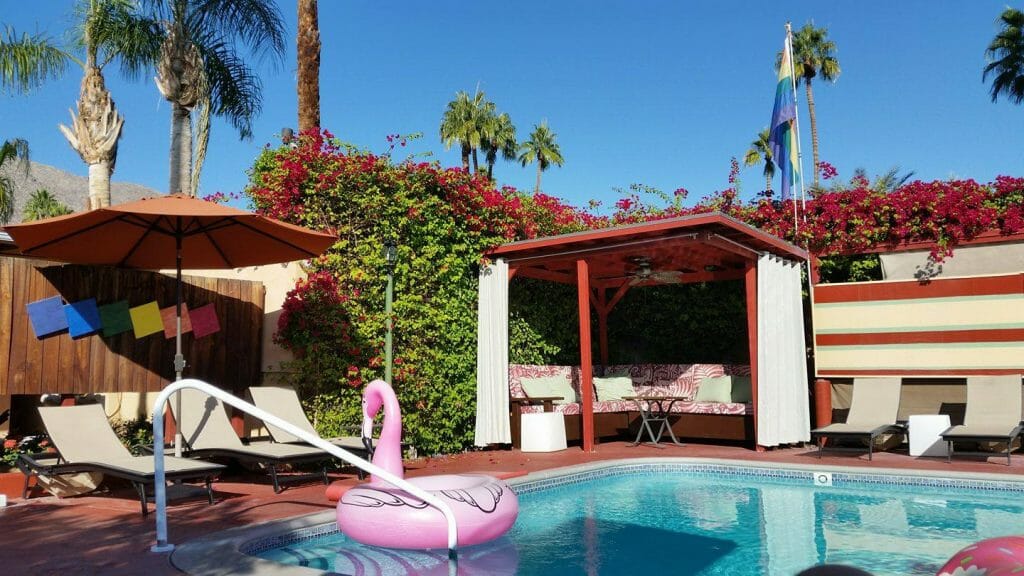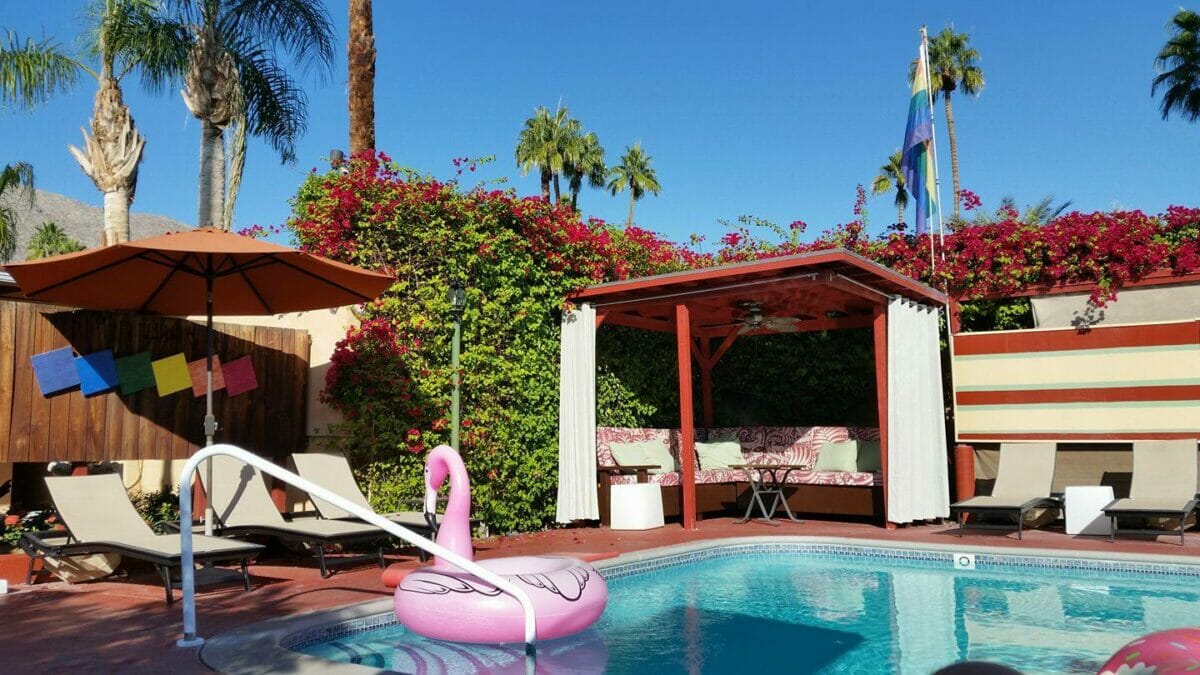 Yes, you guessed right from the name, Bearfoot Inn does specialize in catering to bears and admirers, but not exclusively: all gay men are welcome to come and enjoy the atmosphere at this well-equipped resort. Owners Glen and Jerry put a huge amount of effort into creating a relaxing gay clothing optional resort that everyone can enjoy.
The only resort of its kind in the historic Movie Colony area, the inn combines its restored Mid-Century architecture with modern facilities to make an elegant and comfortable place to stay. If you feel like a longer trip, many of the rooms have kitchens, so you can take even more time to enjoy feeling free and lounging around whatever attire suits – or none at all! Easily one of our favorite gay clothing optional resorts in Palm Springs!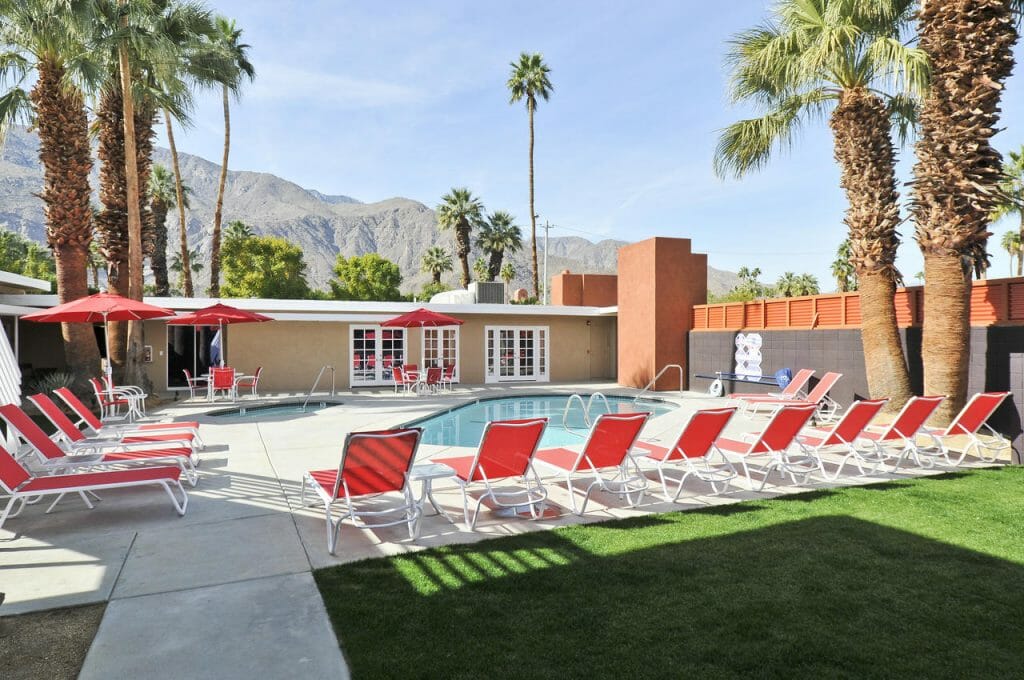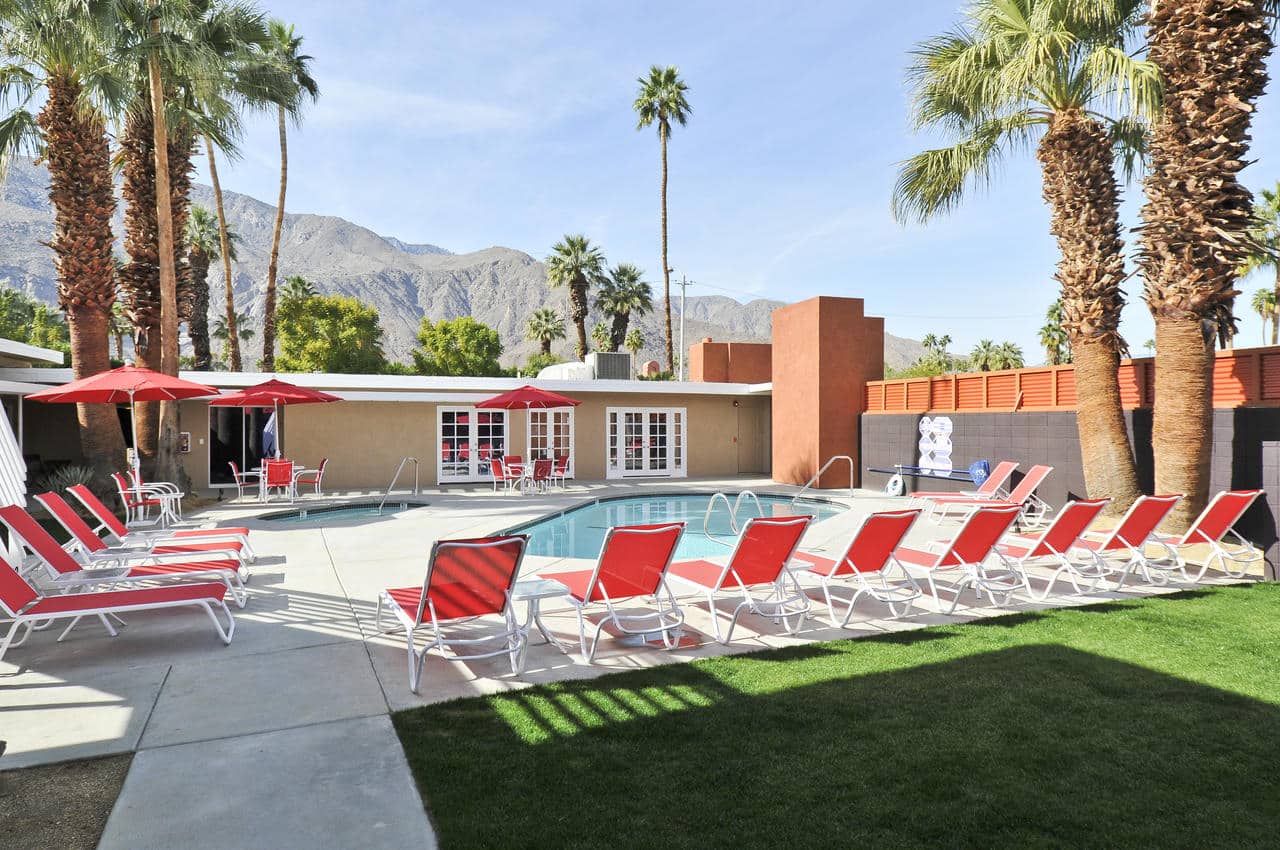 …Or if gay clothing optional resorts in Palm Springs might not be for you after all – These are our top three favorite LGBT friendly Palm Spring resorts but it is hard to choose amongst all those beautiful hotels…
Everything you imagined Palm Springs would be… The Monkey Tree Hotel is all about that 1960's style California chill – but with 21st Century conveniences.
Offering luxury without pretension, this funky private 16-room boutique hotel is nestled against the backdrop of the magnificent San Jacinto mountains on a large one-acre property. Originally designed and built in 1960 by celebrated modernist architect Albert Frey, the hotel re-opened in 2016, after a restoration by its current owners to its original mid-century modern design.
A delicious house-made continental breakfast is served every morning and is included in the room price. Inside the expansive private courtyard are a large, heated saltwater swimming pool and lush lawn area spacious enough to find a secluded area to relax in peace.
The hotel also boasts the area's first Scandinavian spa, which includes a newly built sauna, hot tub, and cold plunge – just like you might find in Helsinki, Oslo or Bergen – perfect to rejuvenate, re-energize, or recover after a long day (or night!)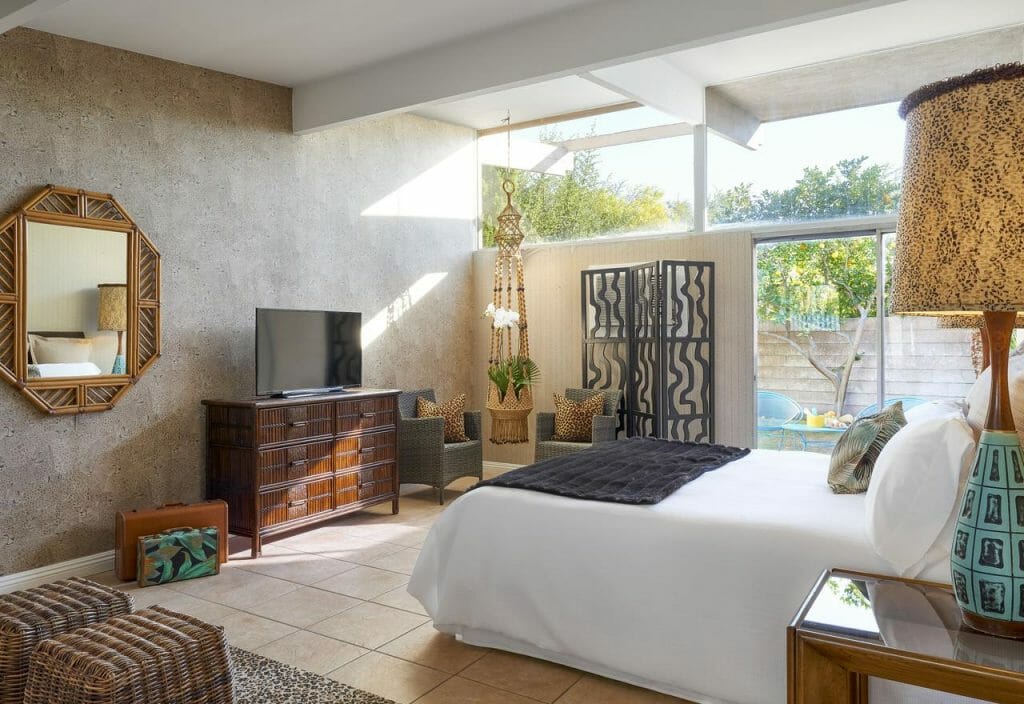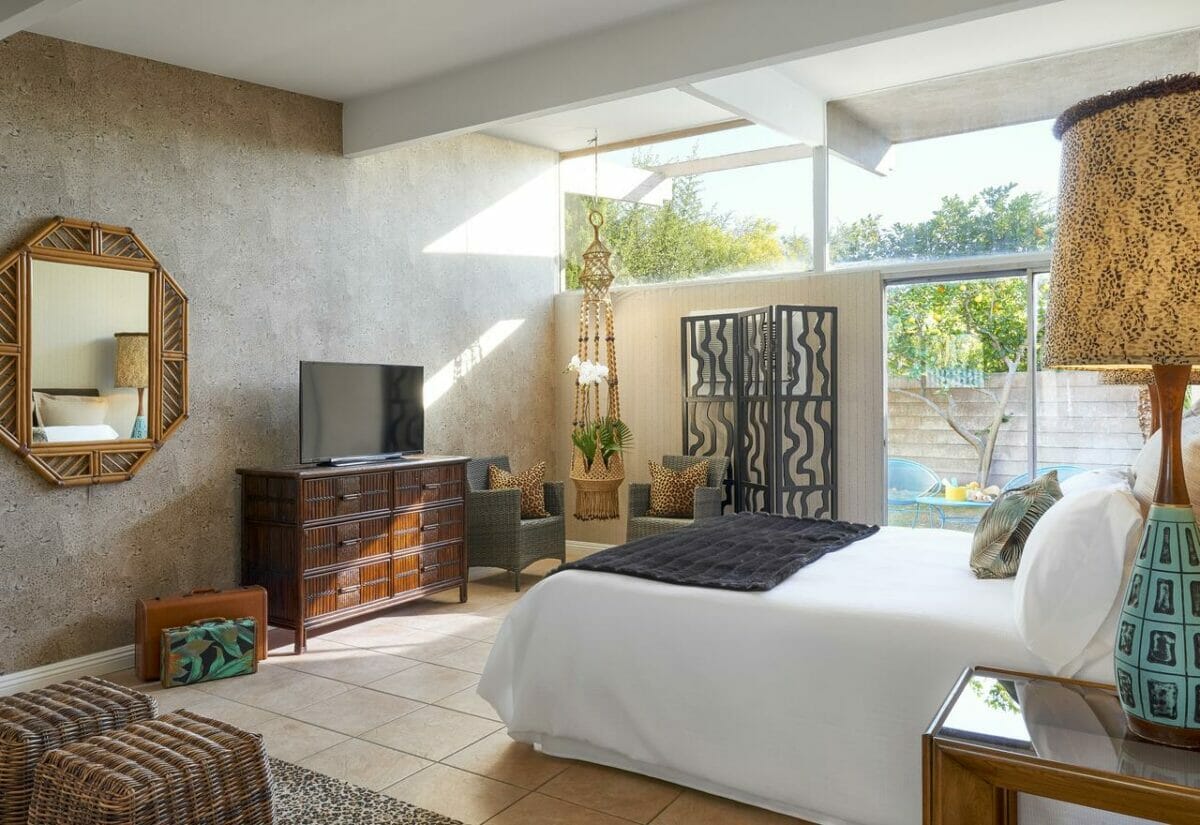 Most gay travelers are already familiar with the LGBT-friendly Ace hotel chain renowned for celebrating time-honored classic hotel design and their creative gumption.
Inspired design, unprecedented hospitality and the best bed you'll ever sleep on are all givens. In Gay Palm Springs they stumbled upon a neglected treasure — a mid-century desert modern former Westward Ho with a Denny's — promptly dusted it off, gave it some love and made it into now much sought after Ace Hotel & Swim Club.
This hip and cool 179-room hotel, spa, and resort in Palm Springs is conveniently located within biking distance of downtown and close to cool stuff like Joshua Tree, the Salton Sea, Salvation Mountain, all kinds of historic desert modern architecture and tons of great vintage shopping. Ace's is also unquestionably the best place in Palm Springs to get a laid-back massage or natural treatment – all available at the in-house Feel Good Spa, by the pool or in your room.
Oh-so-artsy, Ace also features a weekly bingo night, fun dog park, and beautiful outdoor fireplaces with cozy lounge areas – not to mention the hopping bar and retro diner-themed restaurant.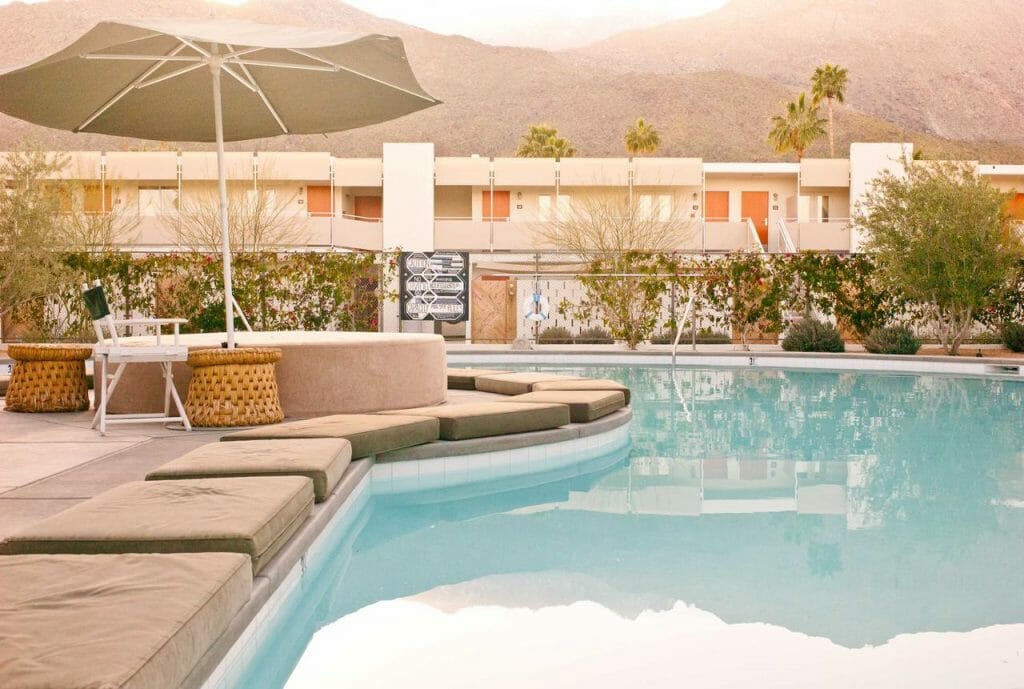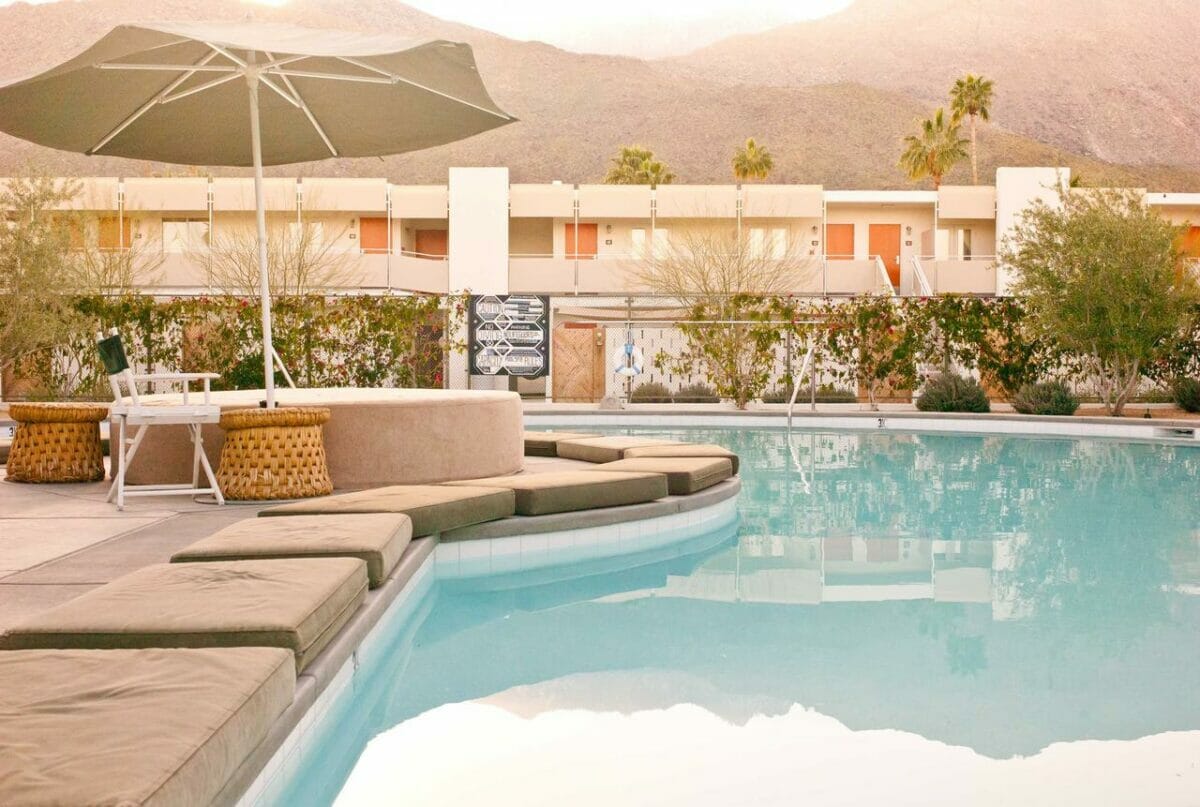 One of the best new hotels to open in 2018, this soulful downtown Palm Springs hotel beckons all gay travelers. An otherworldly desert beauty permeates every experience at Kimpton Rowan Palm Springs Hotel, where urban fascinations meet grand scenery.
The 153 pacifying, spacious guestrooms and suites offer an invigorating retreat after heart-thumping voyages on rugged trails or in the energetic gay nightlife scene. At the iconic rooftop pool and bar, you can pair dazzling sunsets with world-class cocktails or dine at one of three two chef-driven restaurants co-starring seasonal, shareable small plates made from fresh, local ingredients.
The Kimpton hotels were also one of the first major chains to support diversity and speak out about LGBT rights, so you always know you are in good hands when you stay here. From vista points like their revitalizing rooftop deck or the two-story cinematic window in the lobby, the views are stunning and unsurpassed. Let Kimpton The Rowan help you embrace this desert dreamland.