Hollywood is in the city of Los Angeles which is known for its bright lights and opportunities. With an outstanding population, there is sure to be a high population of queer folks, right? You would be absolutely correct!
Hollywood is filled with perfect areas to lose yourself in the gay nightlife, spend the night at an opulent hotel or simply just visit to feel the exuberant vibes that Hollywood emits to everyone who visits. Once you take a dip into the endless pool of Hollywood, you'll never want to leave!
From nightlife to family-friendly areas, Hollywood has it all for any type of tourist or visitor. Even though Hollywood is known for its flashing nights and dazzling events, there are plenty of intimate, relaxing spots to chill with friends or couples that want to take a getaway vacation.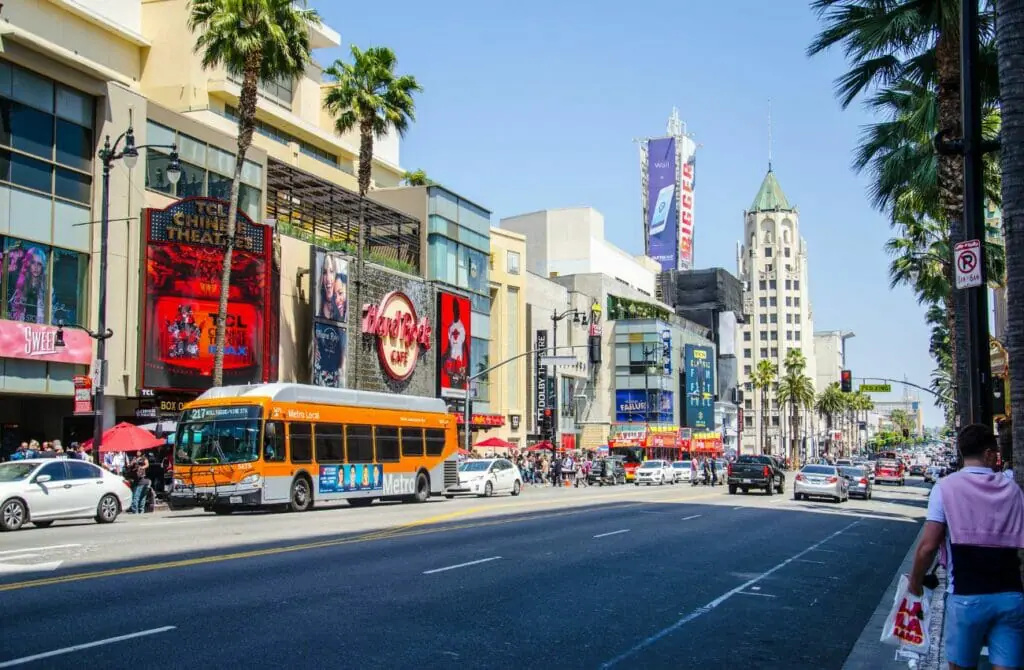 Hollywood has many notable areas to visit that tend to have a high queer population which makes every establishment a safe space for all tourists and travelers. With each place that you visit, there are attractions and parks around every corner, so this is truly a place for adventures and people that want to spend their days making unforgettable memories.
There are plenty of gay-friendly hotels, bars, clubs and hangout spots, so feel free to invite all of your queer friends to come down to the city of glitz and glamor. Hollywood isn't known as the city of opportunities for no reason; go experience all of the adventurous opportunities that are in store for you inside this remarkable city.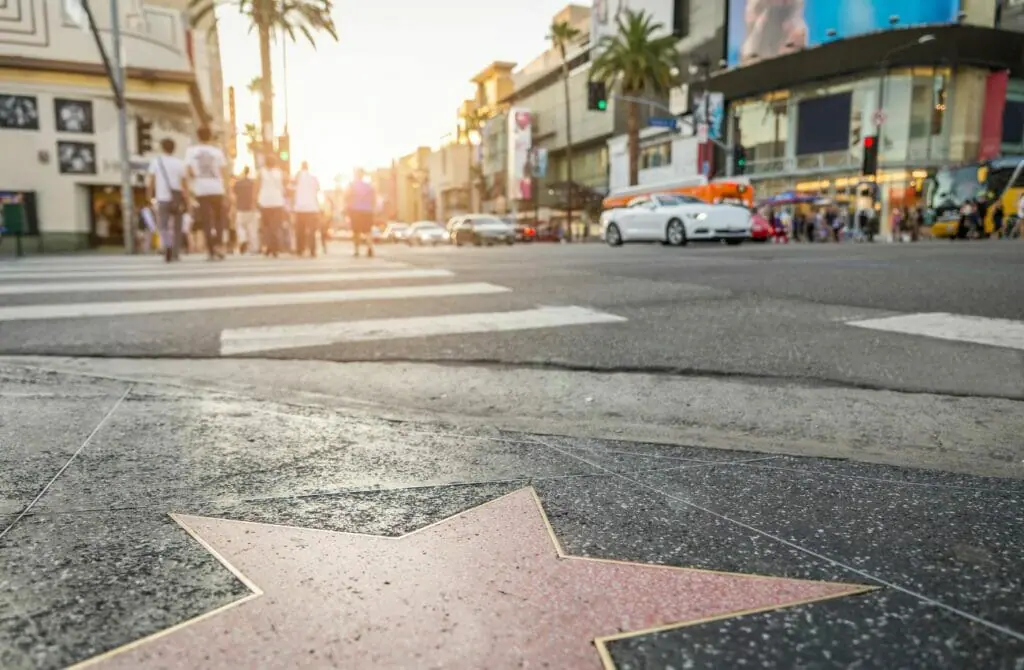 Hotels in Gay Hollywood, USA
There are a plethora of highly esteemed, organized and gay-friendly hotels, hostels and suites just for you to rest your head at night. Don't be too overwhelmed by all of the choices, any choice of hotel in Hollywood is a perfect choice!
Needless to say, there are also hundreds more hotel and hostel options in Hollywood if none of these suit your desired budget, facilities or area – but these are the best hotels according to other gay travelers and us. Whatever your needs are, Hollywood has you covered.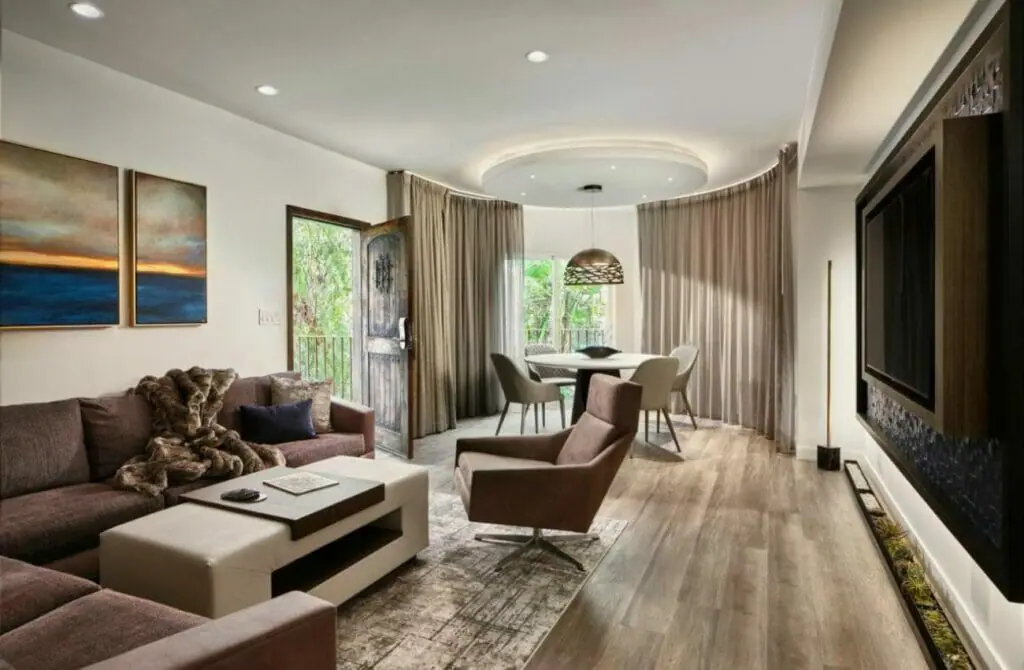 Sunset Marquis is a well-known hotel in West Hollywood for the excellent amenities and activities that it has to offer. Choosing to spend your night at this hotel will guarantee you a night of leisure and relaxation depending on how you want to live your night up!
Either way, there are plenty of rooms for the right occasion. What makes the Sunset Marquis stand out from other ordinary hotels is the outstanding amount of villas to pick from. That's right, spacious villas with plenty of options to choose from. One-bedroom, two-bedroom, grand deluxe, and presidential villas are all available for your visit to this astonishing hotel.
For those that want a spacious area to hang out with friends and host events, the Retreat Villa is waiting just for you! The Retreat Villa includes a full bar, a pool table and many other games to play for avid video gamers! With a one-minute walk from the sunset strip, this is a notable stop for nightlife and those that want to lose themselves in the night.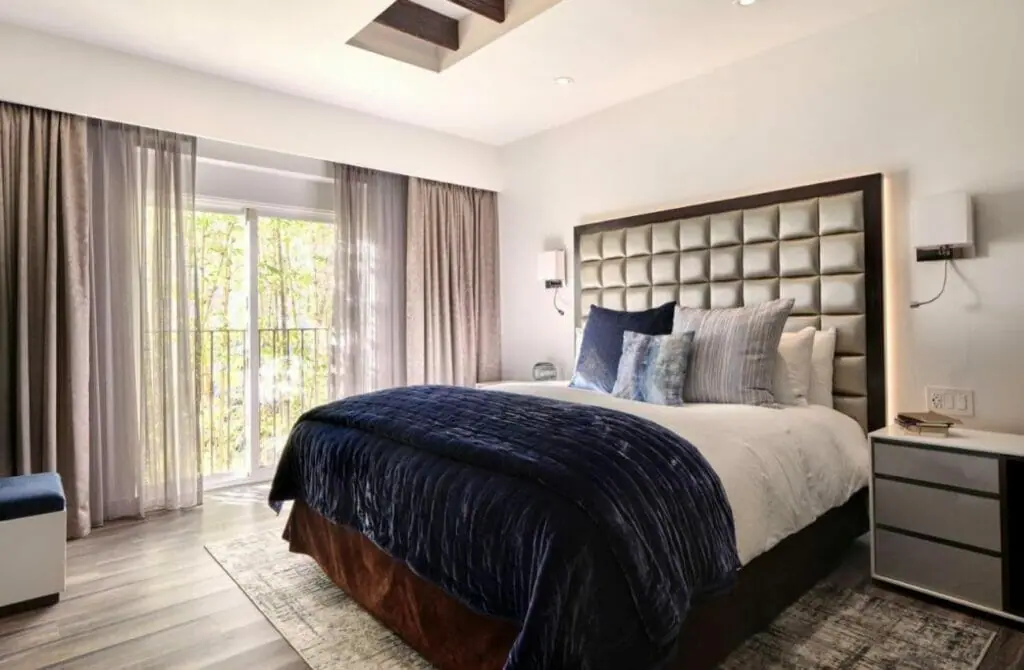 SLS Hotel, A Luxury Collection Hotel, Beverly Hills ☆☆☆☆☆
If you couldn't already tell by the name, this hotel is the perfect collection for all that you'll need during your visit to the captivating area of Hollywood. SLS Hotel is meant to give you a luxury perspective on Los Angeles and amplify your experience tenfold. There are a plethora of room options depending on the view you want to wake up to.
There are terrace rooms, garden views and quiet studio suites if you want to take an adventure on your lonesome. Choosing a terrace room is perfect for those that love nature and want to soak up the sun by sunbathing in the early morning. There are plenty of activities to take part in during your time at the elegant SLS hotel.
A rooftop pool deck is available for anyone that wants a cool down from the sun or splash around in the water with friends. Going to the spa is a crucial part of relaxation for many, if this is the case for you please be sure to book a visit at the Ciel Spa. This is the perfect relief for those with jet lag to relax their muscles for the rest of their effervescent stay in Hollywood.
W Hollywood has an alluring aesthetic, especially for those that love pink! This hotel mixes modern style chicness with the historic elements of Hollywood that make Hollywood the distinguished area it is today. Each room or suite of your choice has plenty of room and comfy furniture that is sure to make you feel at home.
Experience their renowned Wet Deck which is well known around Hollywood for its expansive views of Downtown Hollywood and Hollywood Hills. Soak up the sun while enjoying a sweet cocktail from the specialty pool bar just for your enjoyment. If you want to share intimate moments with your partner, make sure to book a private cabana with the addition of poolside beverages and food service.
As for activities, the Living Room Bar within the hotel holds Sunday Jazz Nights for wine sipping and grooviness. Every week there is a new DJ lineup for those who love to dance the night away in luxury.
Another epic feature of the W Hollywood hotel is the private music recording studio for music producers alike or for those that want to utilize a creative space to expand their palette of music. Where to eat is not a worry as there is the Delphine Eatery & Bar for those that want to drink and have a delicious bite to eat to fuel their nightly endeavors.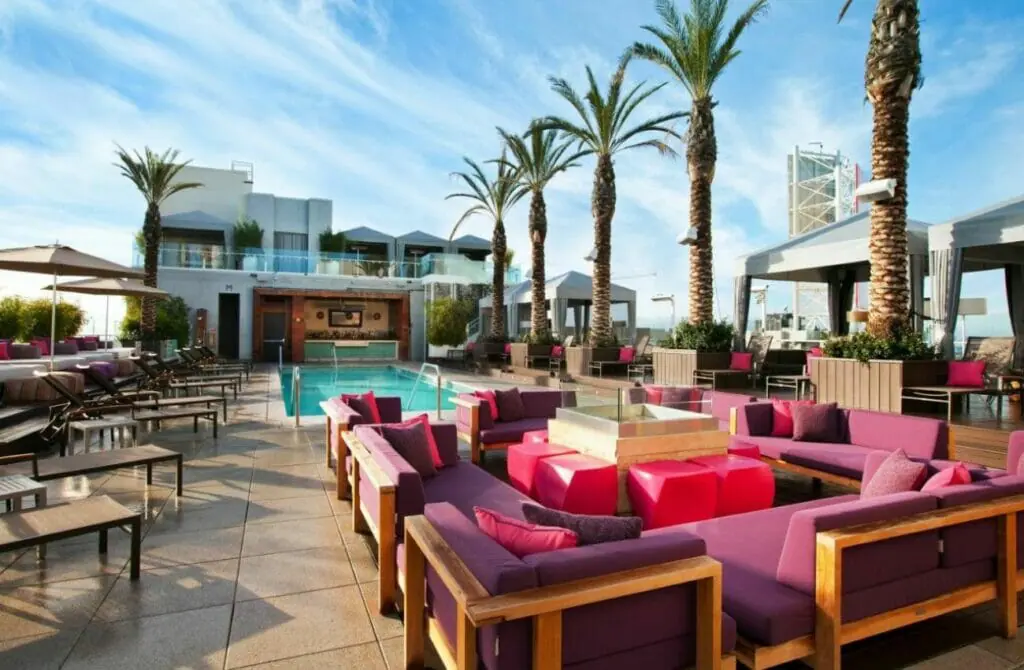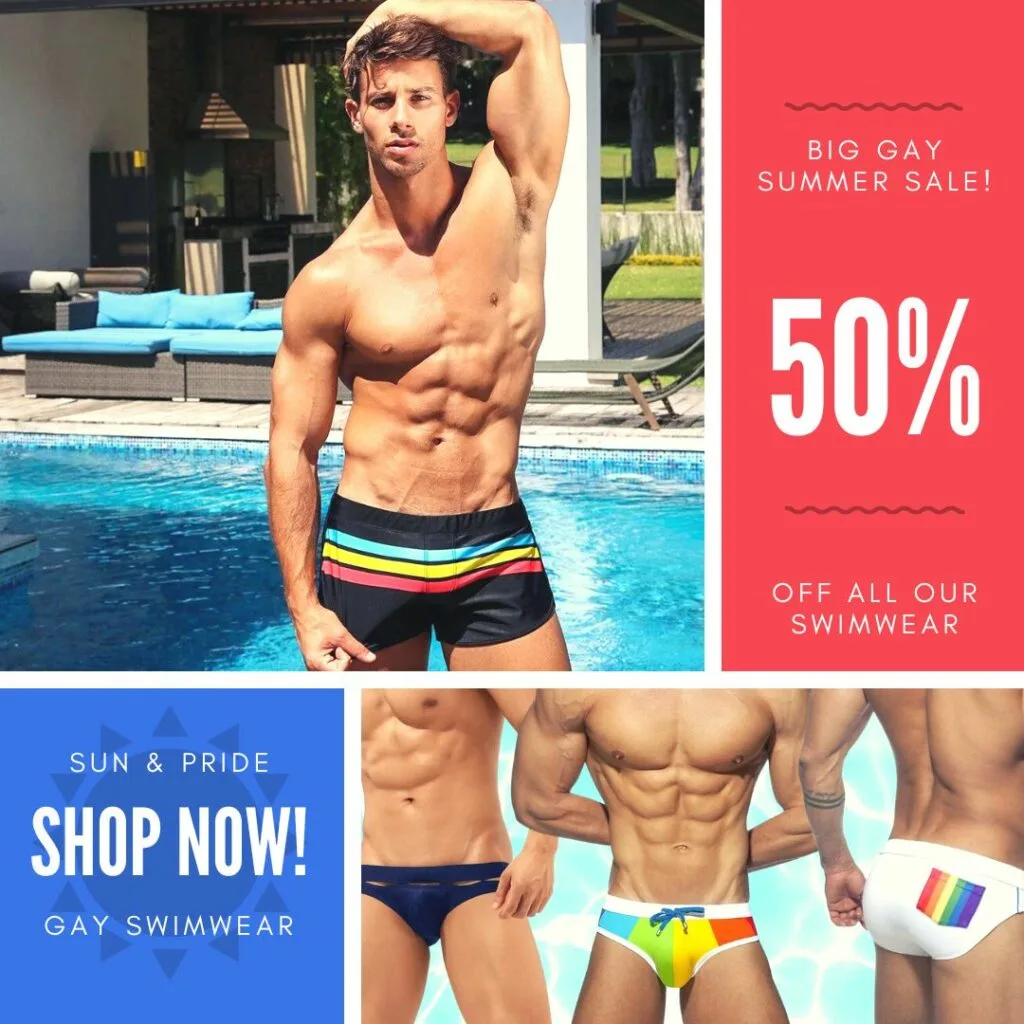 The location of BLVD Hotel is immaculate for people who want to experience the nearby sites and adventures of Hollywood. Included in your experience is a variety of hotel amenities like an astounding number of indoor pools, a number of bars and lounges and 24-hour fitness facilities for gym rats of all kinds!
This hotel is a hotspot for travelers who want to visit Universal Studios, Warner Bros Studios, Hollywood Bowl or Universal CityWalk. The aesthetic and vibes of the hotel make it extraordinary for all tourists and visitors who want to start their trip on a good note with the perfect place for a beautiful night's rest.
The simple, modern and homey energy of the suites make it a superb place for comfort. For those that love to drink, there is a classy bar for you to indulge in with a wide variety of cocktails. The lounge areas serve as calm, relaxation areas to take a sip and unwind with friends, and family or for a treat for yourself.
The theme of orange and blue throughout the hotel creates a vibrant, beachy vibe which serves as the perfect environment for a non-stop getaway vacation.
This cozy hostel is a calm, homestyle area to spend a night for those that want a quiet night's sleep with little interruption. The property is surrounded by nature, creating an earthy environment. Peaceful and serene is the aesthetic that perfectly describes Orange Drive Hostel. The exterior of the hostel provides a welcoming, congenial ambiance before you even walk into the establishment.
This tiny hostel is the perfect place for couples to share tranquil, intimate moments and simply get away from the stresses of work and other daily duties. There are plenty of tourist attractions nearby for adventures such as the Jimmy Kimmel Live Studio, the famous Chinese Theater, and one of the most significant sites, The Hollywood Walk of Fame.
To start off your trip on a calm note, the Orange Drive Hostel is the place for a cozy night's sleep.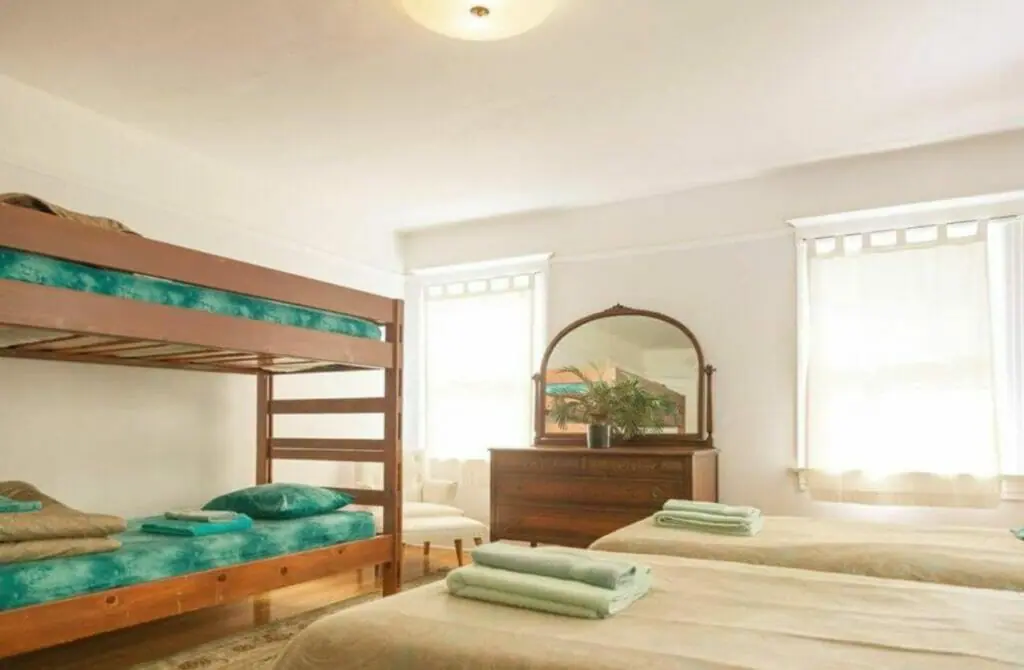 Gay Nightlife in Hollywood, USA
With the high population of gay residents within the esteemed area of Hollywood, of course, there are plenty of energetic, vivacious clubs and bars for a full night of amusement. There are a variety of gay clubs, gay bars and hangout areas for any type of vibe you are going for during your night.
Many clubs have drag shows and are overall gay-friendly, so don't be afraid to only enter certain clubs. When going to clubs, the safest option is to go in a group of people in order to look out for each other. Always be certain of where your belongings are and are aware of the people to who you talk.
Other than that, there are no immediate worries or concerns with any of the clubs in Hollywood. Just be safe, go with a friend and use your common sense above all.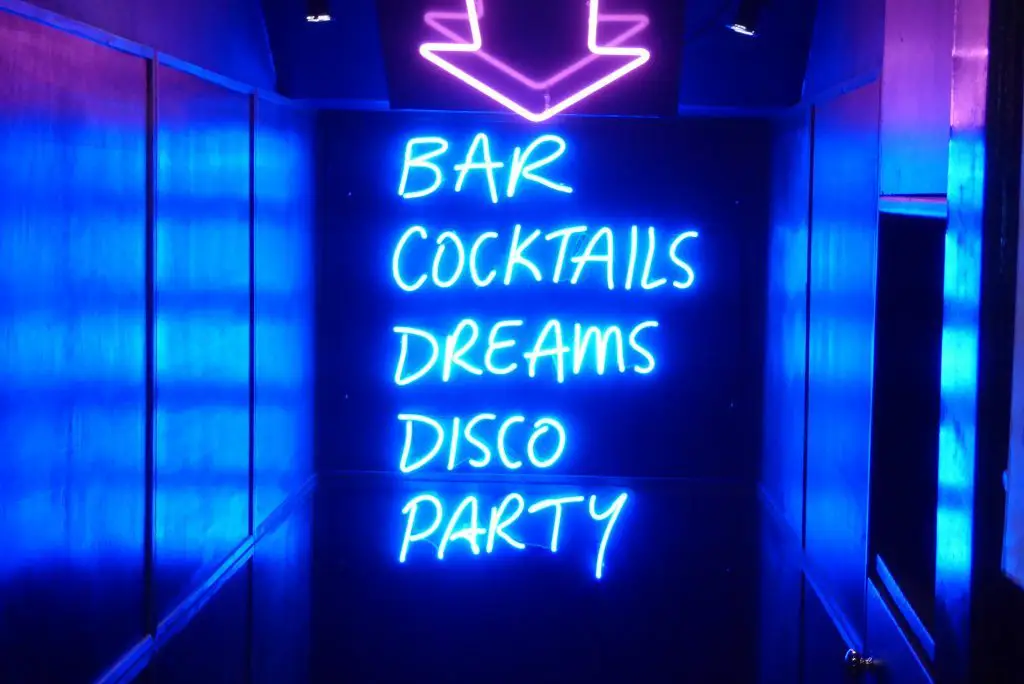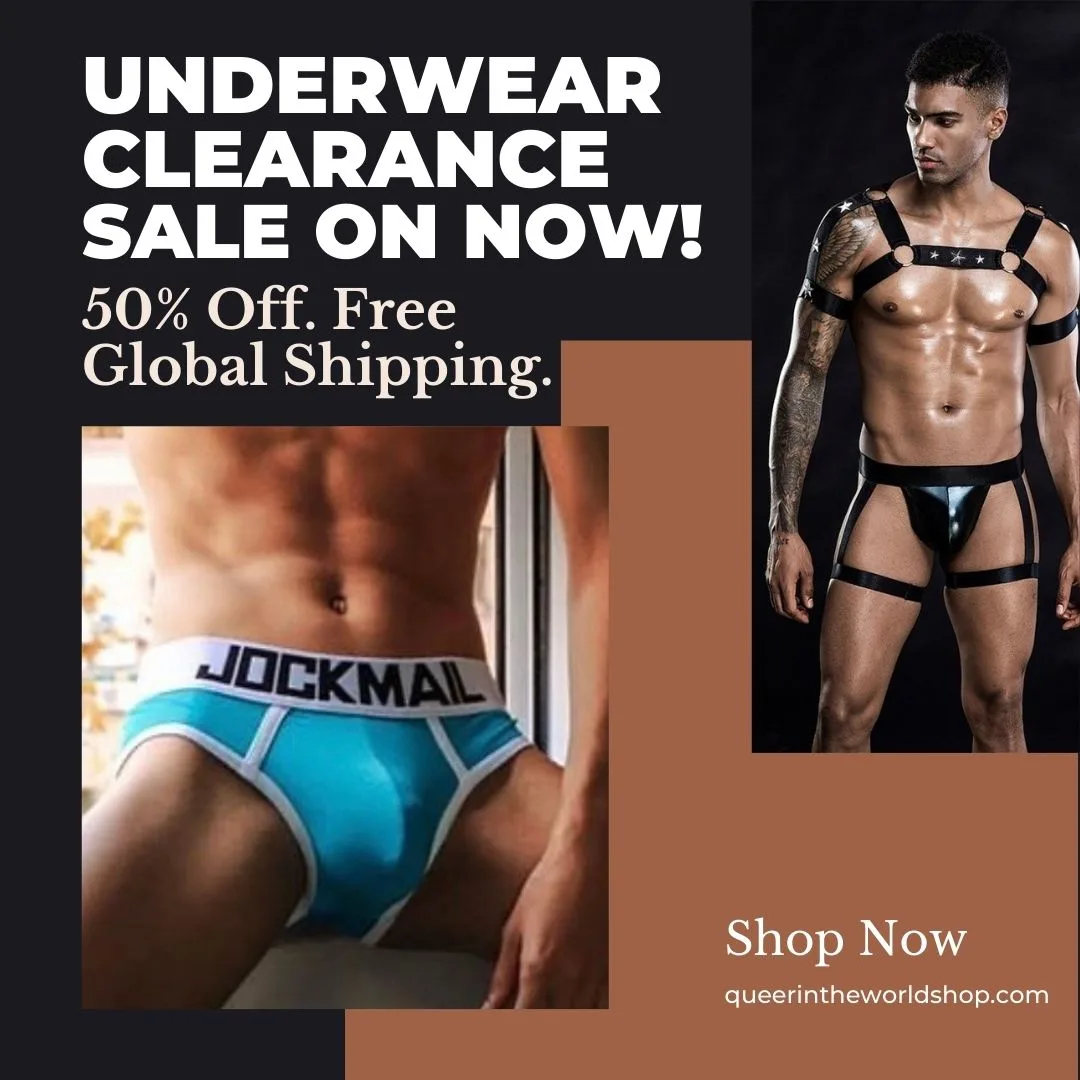 Club Tempo is the perfect nightspot for the queer community to live up the night and party to their heart's content. This exuberant club has nightly drag shows, special guests, surprise performances and live bands. Sunday nights they have mariachi and daily drink specials for avid drinkers.
The theme of the club is Latin cowboys, so for the Latin queer community, this is the place for you and Spanish speakers are extremely welcome as well. There is a large assortment of holiday events ranging from New Year's Eve parties to Halloween specials for holiday goers. Club Tempo is the ideal spot for dancing, and big groups of people and of course, a full bar is included.
The interior and exterior are that of a typical club, with bright neon lights and a dark inside theme to keep you engaged through the night. With the selection of three dance floors with a variety of bumping music, you can't go wrong with visiting Club Tempo!
The vibe of the club depends on which activities you want to take part in, whether it be grooving to the live music or taking a sip at the bar and chatting with friends. This is a friendly, social area where gay folks can socialize without any judgment or fear.
Don't let the exterior of this club fool you; the most unforgettable nightlies before those very doors. Although The Plaza has the appearance of a closed, desolate laundromat, this club is known to be one of the most acclaimed nightclubs for gay nightlife. This is also another Latin club, but anyone and everyone are still welcome to come and engage in the nightly festivities.
The Plaza is a signature unmatched place to host a birthday party due to its buoyant and exciting environment that oozes from the club. The extensive bar is known for its tasty drinks prepared by knowledgeable, amiable bartenders that are more than happy to serve you. The space inside the bar is more than big enough to groove with as much space as needed.
There are burlesque and many other shows that are performed on Friday and Saturday so plan your visit accordingly to see one of the best performances of your life! The Plaza is known for being a gem for the entertainment and amusement it provides for all of its visitors. Be sure to swing by this thrilling storefront-looking club to have the time of your life with all of your friends.
Akbar is an invigorating gay-friendly bar with a modern, elegant interior that is sure to draw you in for an evening of drinking and enjoyment. The staff consists of many queer individuals that try their best to ensure that your night is filled with comfort and ease. The variation of music ranges from disco to 90's house and caters to all types of dancers and music listeners.
This club may contain predominantly gay men, but people outside of the community rave about the excellent and welcoming vibes of everyone within the club. Anybody who visits Akbar is sure to make a new friend or two; everyone is exceedingly kind and encouraging of the efforts of making sure everyone fits in with the crowd.
The prices are reasonable considering the intimate and friendly environment that is provided during each visit. This club may be small, but it is still feisty and electrifying with its two bars and bouncing dance floor. Come by and have a night full of riveting, memory-making moments with current friends and new friends that you are sure to make during your visit.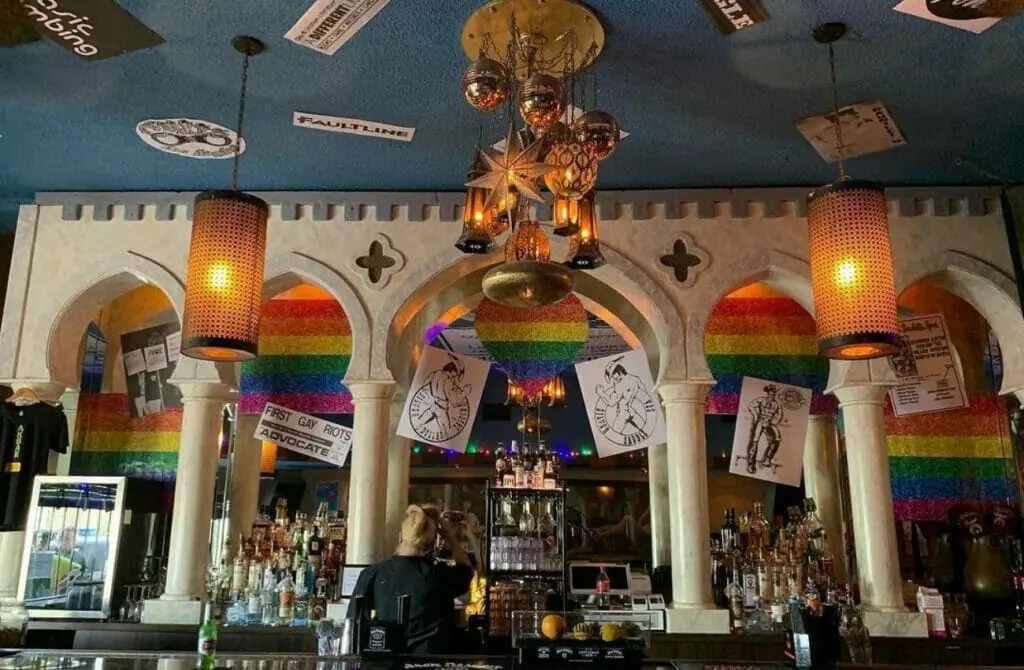 The Abbey is known for being one of the best gay bars in West Hollywood with its polished, charming interior and large-scale bar for all of your drinking desires. Besides being an outstanding gay bar, their food is to die for and sure to make your mouth water from tasty appetizers to full meals all within a reasonable price range.
There is a plentiful amount of weekly events making it perfect to visit on any day of the week! With the choice of four dance floors, tempting martinis and a wide variety of live acts, there are a limitless amount of ways to lose yourself during the night. Every dime spent in this upscale bar is worth it once you realize the number of vibrant moments you are sure to create on a night out with your queer friends.
Going during the day creates a whole different vibe with the ability to sit in the sunshine and enjoy your palatable meal and flavorful drinks. The staff is attentive to your needs and makes you feel a part of the warm family the club has created.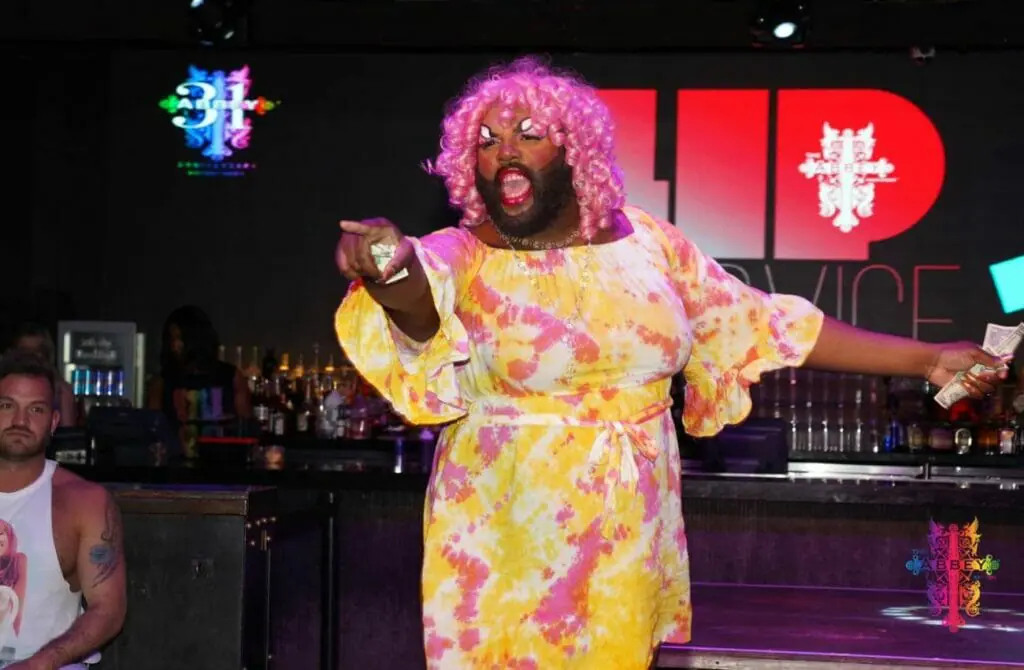 The Revolver Video Bar is an upbeat gay bar with a plethora of opportunities for entertainment and amusement. With these classic neon lights, the energetic club has inexpensive prices for all that it has to offer. With go-go dancers, video mash-ups and a lot of events, not only is the place jam-packed, it is jam-packed with all of the events it has each night!
The Revolver Video Bar is known for having the "friendliest staff on Boulevard", which is an added bonus for all that choose to visit this animated, event-filled bar. The 80s and 90s music are played throughout the night along with celebrity DJs who play the latest radio music.
This bar is one of the most loved spots by the gay community for its bubbly, zestful vibes that create an accepting environment for all visitors, travelers and tourists. Karaoke nights are perfect for those with crystal clear voices or just simply want to sing the night away on an outing with friends.
This is a hub for young adults and for people's first time going to a gay club, so newcomers are welcomed and accepted with open arms.
The Bullet Bar is the best place for constant partygoers and party animals alike with it being open 365 days a year and 7 days a week. The events held each week make this bar a must-be spot for all the fun to be had in North Hollywood! With events like drag bingo, daily happy hour and selective themed nights, you can see why the line would be out the door at all times.
The club can come off with a strong, raunchy vibe as there is NSFW content shown on the TVs that can be seen upon entering the establishment. So for those that are sensitive and just want to enjoy a cool beer, this may not be the ideal spot for you. Although the bar can be seen as provocative, you set the tone for the type of vibe you want your visitors to have.
Everyone is very eccentric and lively and there are different areas of sitting to suit your selected vibe for a night out with friends. Sitting inside or at the bar as well as their large outdoor patio seating area is all for the choosing as you enjoy your savory drinks and delectable pub food.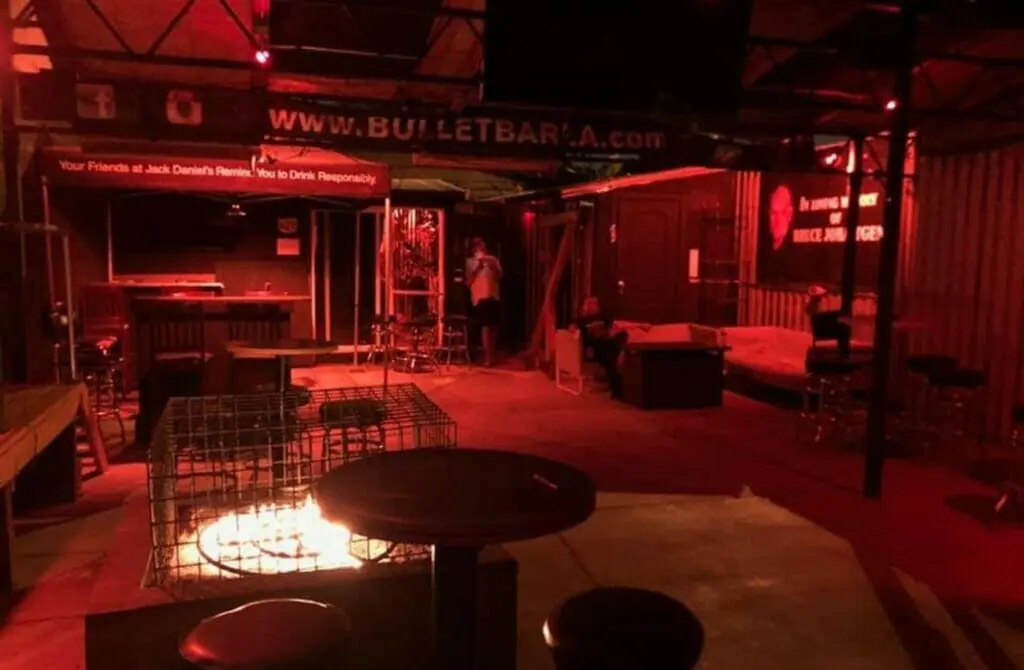 Mother Lode is considered to be in the top ten gay bars in West Hollywood due to its crowd-gathering environment. Although many people gather here for a good time, this bar is more of a chill vibe for those that simply want to enjoy the night and nothing more.
This bar is a mix of a sports pub and a gay bar which is ideal for sports watchers and fans. With a full bar that provides beer, wine and tasty pub food, this is the perfect spot to unwind and watch some compelling entertainment. One of the most noted parts of the bar is the food because of their twists on classic meals.
Items like a pork chop on a stick, huge killer nachos and blackened ahi tuna burgers are sure to satisfy your palate for a full night of relaxation and pleasure. This simple bar is regarded as one of the top bars in West Hollywood, so rest assured that your visit will be pleasant and much more.
There is an excellent selection of food, wine, beer and cocktails all for drinking and eating as you watch sports with your friends or by your lonesome for an unwinding experience. The staff provides high-quality service along with their bright, cheery attitudes.
The owner of the restaurant considers the establishment to be so friendly that you can invite your parents. So, if you want to go to a place to have a great time with members of your family, (over the age of 21 of course), Hi Tops Bar welcomes and accepts every guest that walks into the establishment.
The bartenders are very familiar with the customers, so if you visit often as many people do, they are sure to know you by name! For social butterflies, this is a great place to flourish; making friends is quite simple with all of the kind, gentle, loyal visitors that are eager to meet new people.
The only thing to look out for is the drinks due to how strong they are unless your palette is able to handle a flavor overload! Like many bars, karaoke is offered on certain days of the week, so going with a group of friends will assure you a calm, momentous evening filled with drinks and delicious food. Everyone leaves with a smile on their face from the Mother Lode!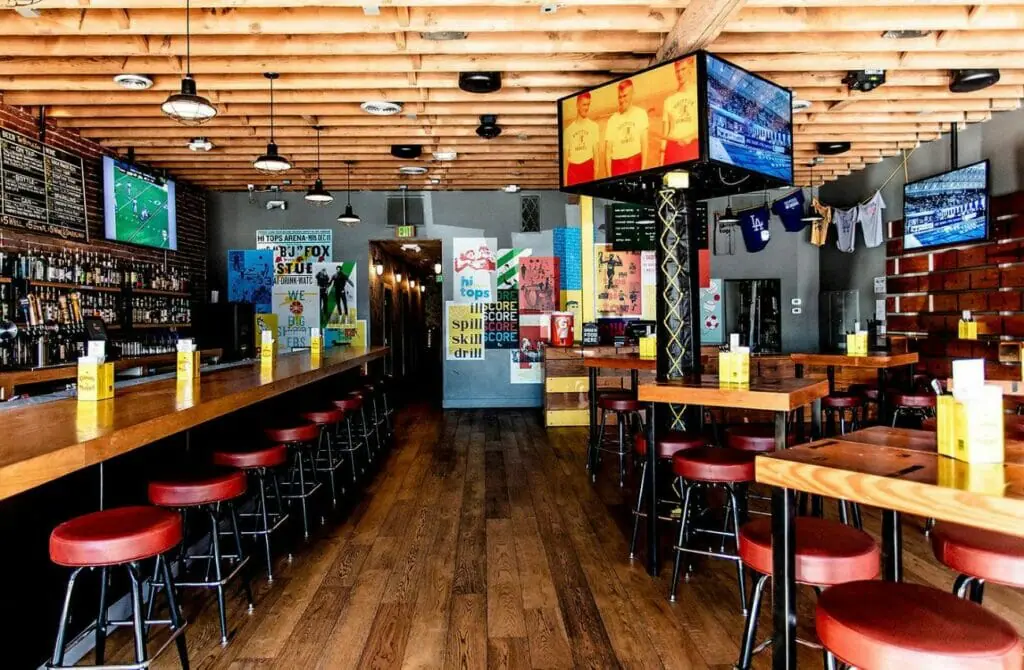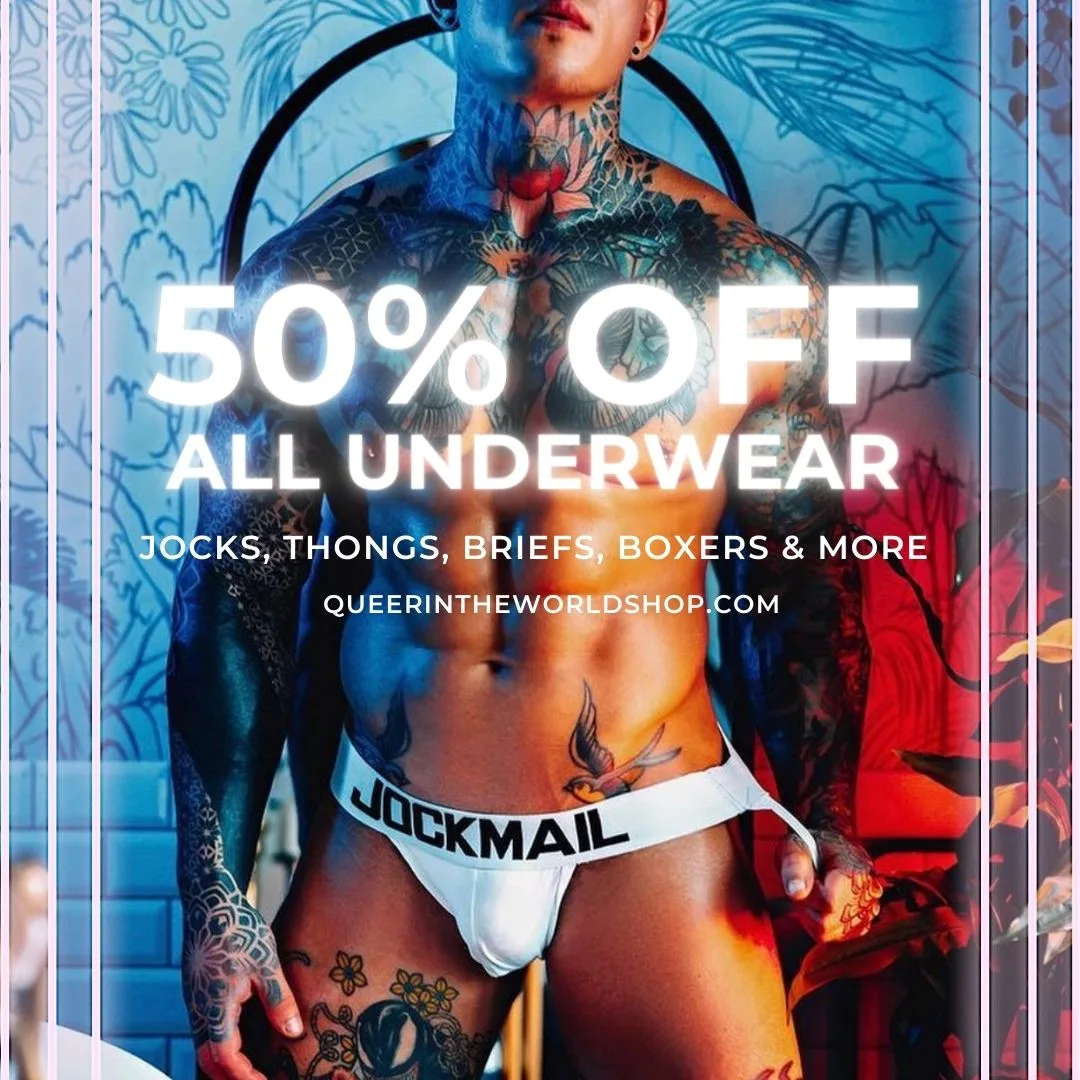 Gay Map Of Hollywood
Finding it hard to envisage where everything is in Hollywood? Hopefully, this queer-centric map helps where we have marked all the bars, clubs, parties, hotels, saunas, massages and more will help you stay in the spot best suited to you!