There was a time not so long ago, all over the world, when things were very, very different for LGBT folks.
A time when it was prohibited by society to dress a certain way, talk a certain way, or behave a certain way. A time when it was dangerous for some couples to walk down the street holding hands or to share a simple kiss. A time when it was considered a criminal act for certain people just to be who they were.
Flash forward to the present, and things are much different. While there is still progress to be made, to be sure, the world is a hugely more livable place for LGBTQ+ people.
And behind every victory, behind every inch of progress that has been made is someone who said no. Someone who had the courage to defy the status quo. Someone who in some way great or small, made the world just a little safer, a little more accepting of all kinds of people. Someone who paved the way for others to follow.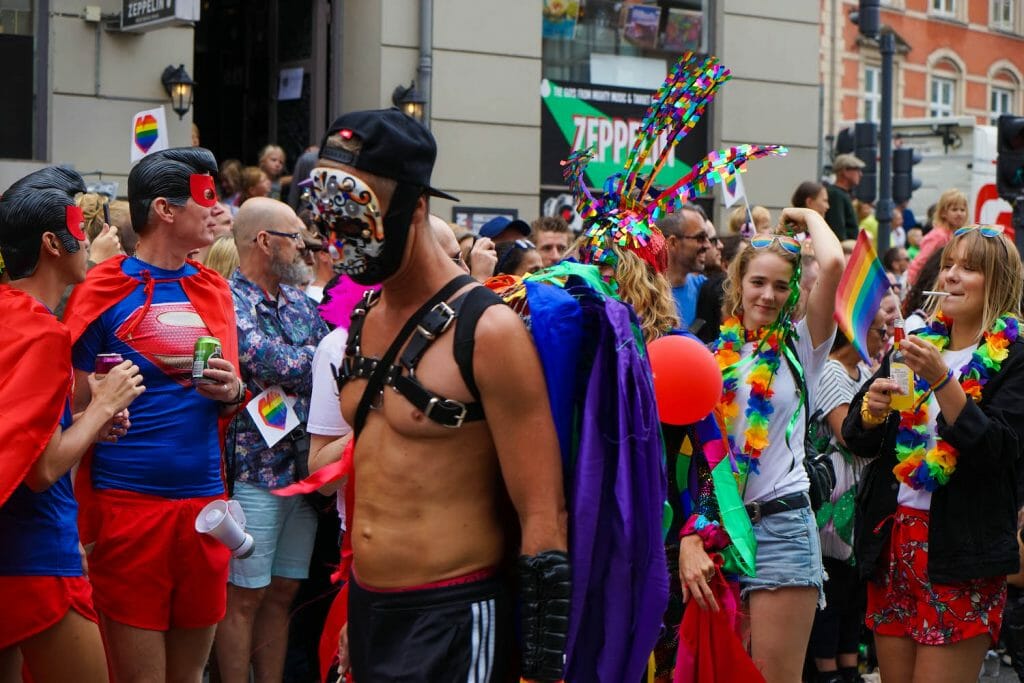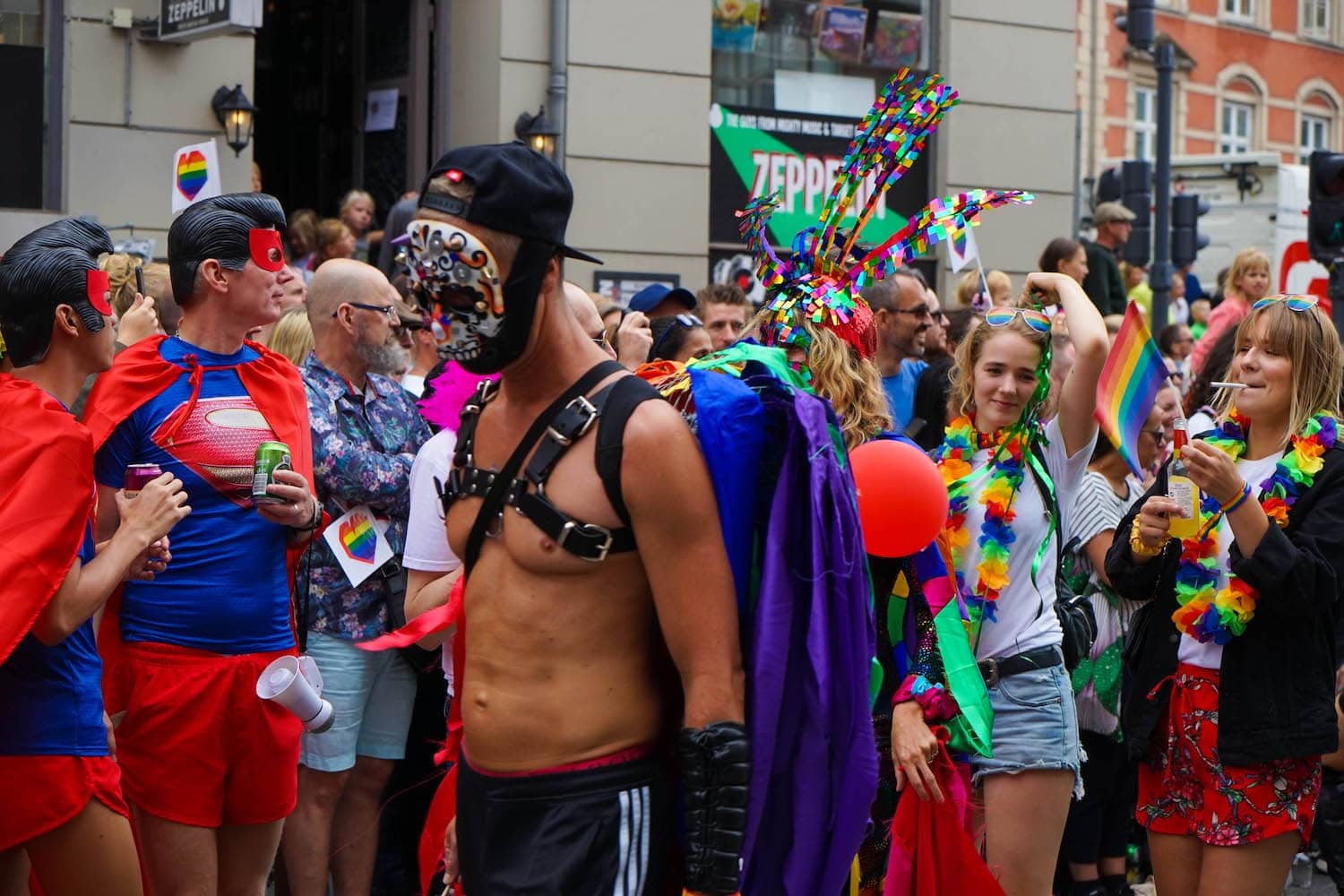 It's important to acknowledge these brave people who inspire us. The people on this list are actors, singers, athletes, and academics. But they are much more than mere celebrities. They are people who do nothing less than go out there and change the world. They are people who leave a mark on the cultural landscape and in our hearts. They are people who, through their courage and passion for change, are born to be celebrated. They are the LGBT icons.
No list of LGBT icons could ever be exhaustive, nor do we try to be. Our aim is to shine a light on some incredible people – and encourage you to continue your search as there are so many other fabulous and inspiring stories we have not covered here. With no further delay let's get into it: ten of the most inspiring, admirable and encouraging LGBT icons that ought to be celebrated.
Freddie Mercury
The legendary Queen frontman and vocalist was in every way the very personification of a rock god, with his flamboyant and charismatic stage presence and 4-octave vocal range. He is an inductee to the Rock and Roll Hall of Fame, the Songwriters Hall of Fame, and the UK Music Hall of Fame.
Although other well-known and much-loved entertainment figures had succumbed to the AIDS virus before (such as fellow singer Liberace) Mercury's 1991 passing, the singer's death seemed to mark a turning point in the disease's history. In the following year the remaining members of Queen organized The Freddie Mercury Tribute Concert for AIDS Awareness, the proceeds of which helped launch The Mercury Phoenix Trust in his honor. The organization continues to fight HIV/AIDS to this day, with an annual "Freddie for a Day" fundraiser being held in London.
Freddie's legacy endures in other areas as well. He has been honored as an inductee in the Rainbow Honor Walk in San Fransisco, and statues dedicated to him stand in Lake Geneva in Switzerland, in London's West End and on the South Korean island of Jeju. In 2018 Bohemian Rhapsody, a biographical musical drama starring Rami Malek, was released depicting the rock legend's life (albeit in dramatized form).
Though he was not publicly open as a bisexual man throughout his life, Freddie Mercury was nonetheless an icon for LGBT youth with his binary-defying onstage persona. He gave hope to queer people living in a time that was much more hostile toward them than the more progressive times of today, and a culture coming to grips with HIV/AIDS. And in his death, he gave proof that it is possible to be loved and dignified both as an LGBT person and a person suffering from AIDS. His life is well worth our celebration decades after his passing.
Jane Addams
For those who haven't heard of Jane Addams, it's about time you did. Jane Addams was an activist and reformer, social worker, sociologist and public administrator from Chicago. The first woman to receive the Nobel Peace Prize, she is recognized as the founder of the social work profession in America, and she was one of the co-founders of the American Civil Liberties Union (ACLU). She was also a lesbian.
Jane Addams was instrumental to the Women's Suffrage movement in America during the early part of the 20th century. Among the many causes she adopted throughout her long career were improving public health, developing fair labor laws (such as 8-hour work days, factory inspections, and workman's compensation), advocating research of the causes of poverty and crime, developing the juvenile court system, calling for a more equable justice system and advocating for immigrants and minorities (she was a member of the NAACP). Addams was also a pacifist and an advocate of world peace who was influential in the formation of the League of Nations – the predecessor to the United Nations. And all this really only scratches the surface of what she accomplished during her lifetime.
Addams was in a relationship with Mary Rozet Smith, a fellow philanthropist from Chicago. The relationship lasted for 40 years until Smith's passing, and the two considered themselves to be married though unfortunately, the law did not allow for same-sex unions at the time. Addams is an inductee to the Chicago Gay and Lesbian Hall of Fame.
Lili & Lana Wachowski
You can hardly think of the classic Matrix film franchise without thinking of the Wachowskis. But what many may not realize is that the siblings, formerly known as Larry and Andy, respectively, are both transgender women.
Lana was the first to reveal her transition in 2012, and is the first major Hollywood director to come out as transgender. In an interview later that year she recalled a childhood incident where she was reluctant to join the boy's line, having unconsciously accepted herself' as belonging to the girls.
Lily followed suit 4 years later, coming out as a transgender woman in a statement to the Windy City Times in which she stated, "I am one of the lucky ones. Having the support of my family and the means to afford doctors and therapists has given me the chance to actually survive this process. Transgender people without support, means and privilege do not have this luxury. And many do not survive."
Lily made her first public appearance after beginning her transition process a few weeks later upon accepting an award for her Netflix series Sense8, at the 27th GLAAD Awards. As part of her acceptance speech she said, "I didn't feel obligated to be here, but I wanted to do something. And it's serendipitous that the awards were a couple of weeks later and our show was up for an award."
Lana has been a recipient of the Human Rights Campaign's Visibility Award. Upon accepting the award, Lana stated "I couldn't find anyone like me in the world and it felt like my dreams were foreclosed simply because my gender was less typical than others. If I can be that person for someone else, then the sacrifice of my private civic life may have value."
That sacrifices of these two sisters earns each of them a place on our list of LGBT icons worth celebrating.
Oscar Wilde
Of all the inspirational LGBT icons on this list, few can claim to be more trailblazing than this Irish author, poet and playwright. As one of the 19th century's greatest literary figures, Oscar Wilde was also one of the most controversial. He is best known professionally for his play The Importance of Being Earnest and the novel The Picture of Dorian Gray, among many other now-classic works.
What Oscar Wilde is also known for is for twice being prosecuted for homosexuality and gross indecency in 1895. Though the jury was unable to reach a verdict in the first trial, Wilde was tried and convicted, and for his "crimes" he was given the harshest sentence possible: two years in a hard labor prison. Wilde's health deteriorated during his time in prison and following his release in 1897, and he died at only 46 in the year 1900 of bacterial meningitis.
Wilde, along with more than 50,000 other gay men, was posthumously pardoned as part of the 2017 Alan Turing Law. Wilde is remembered as having an energetic and vivacious – sometimes flamboyant – personality punctuated by his quick wit and affinity for humor. This can be evidenced by looking up some of his best-known quotes.
It is said that Oscar Wilde was fabulously defiant at his trials, and many times had the court erupting in laughter at his wit. He was also eloquent. Among the best-remembered quotes during his trial are "It is in this century misunderstood, so much misunderstood that it may be described as the "Love that dare not speak its name," and on account of it I am placed where I am now. It is beautiful, it is fine, it is the noblest form of affection. There is nothing unnatural about it"
It is this display of dignified resistance that makes Wild one of the original LGBT icons…
Anderson Cooper
Anderson Cooper is one of the most recognizable gay male icons in the world right now. Upon coming out as gay in 2012 Cooper was called by The New York Times "the most prominent openly gay journalist on American television." Since that time, he won several GLAAD awards in addition to a Peabody Award, an Edward R. Murrow Award, a National Headliner Award, and multiple Emmy Awards for his work. He is also the first openly LGBT person to moderate a US presidential debate.
Since 2003 he has been the host of Anderson Cooper 360°, which is a one-hour news/talk show. He is also the author and co-author of three books including the inspirational memoir The Rainbow Comes and Goes.
On coming out Cooper said "The fact is, I'm gay, always have been, always will be, and I couldn't be any more happy, comfortable with myself, and proud." He has stated over the years that he first realized he was gay in his teen years, and first came to truly embrace that part of him shortly after college.
By choosing to be open about living his truth, Anderson has done an immeasurable amount of good for the LGBT community, and LGBT people are much more visible today because of him.
Chaz Bono
The son of legendary entertainers Sonny Bono and Cher, Chaz Bono is a transgender writer, actor and musician. He underwent his transition from 2008-2010, and in 2011 a documentary boldly recounting his experience was released with the title Becoming Chaz. Upon coming out as a transgender man Chaz' publicist told the media that "It is Chaz's hope that his choice to transition will open the hearts and minds of the public regarding this issue, just as his coming out did."
Bono has had several film credits including lesbian rom-com Bar Girls and in the 2020 documentary Disclosure: Trans Lives on Screen. He has also appeared on television in the horror series American Horror Story as well as on Ellen, and was a contestant on Dancing with the Stars as well as appearing as a guest judge during the 6th season of RuPaul's Drag Race.
Chaz has authored multiple books on his experiences as a transgender man in the public eye, and was a longtime regular contributor to LGBT lifestyle and interest magazine The Advocate. As an activist Chaz has been tireless. Bono is a spokesman for the Human Rights Campaign and has been active in promoting National Coming Out Day, as well as against the anti-LGBT Defense of Marriage Act. He has served as Entertainment Media Director for GLAAD (Gay and Lesbian Alliance Against Defamation).
Like all the transgender activities on this list, Chaz Bono deserves to be celebrated for using his notoriety as a platform to speak for other transgender people and ensuring the T in LGBT is never forgotten.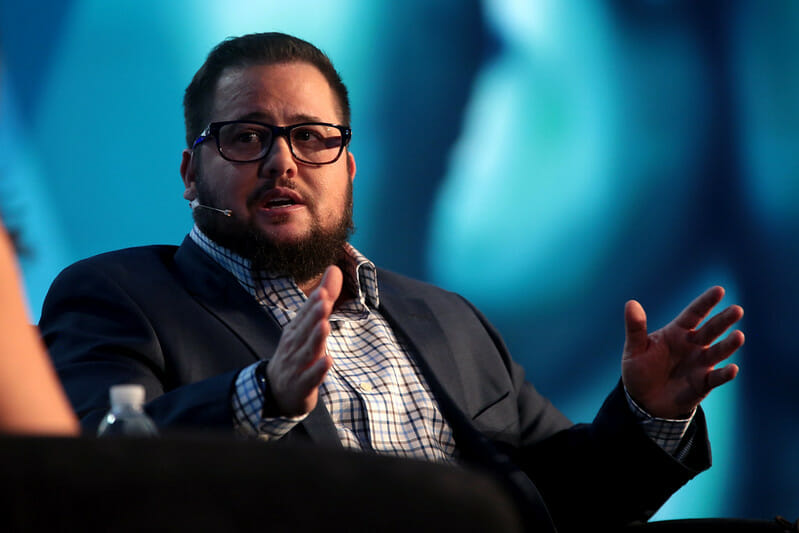 Steven Tyler
Many may not realize that the legendary Aerosmith frontman is nonbinary, though really it shouldn't be a surprise to anyone who has seen the singer perform onstage. In his 2011 memoir, Does the Noise in My Head Bother You? he wrote, "I've been misquoted as saying that I'm more female than male. Let me set the record straight — it's more half and half. And I love the fact that my feelings are akin to puella eternis (Latin for 'the eternal girl'). What better to be like than the stronger of the species?"
It would be hard to think of a better representative of the genderfluid crowd within the rock and roll subculture, for Tyler is the voice of one of the most influential bands in history. And with his trademark binary-defying fashion style, highlighted by flowing scarves, flamboyant colors, and eye-catching prints, Tyler has shown himself to be bold and unapologetic in his gender identity. Steven has described his style as "Over the top, old school, a mixture of now and then, with rock and chic. Funky, but chic, with a side order of sexy."
Steven Tyler's bold, devil-may-care attitude when it comes to self-expression (that is, not caring what the world thinks) is what makes him a trailblazing LGBT icon. And looking at him in this light, you'll probably never listen to Dude (Looks Like a Lady) in the same way again.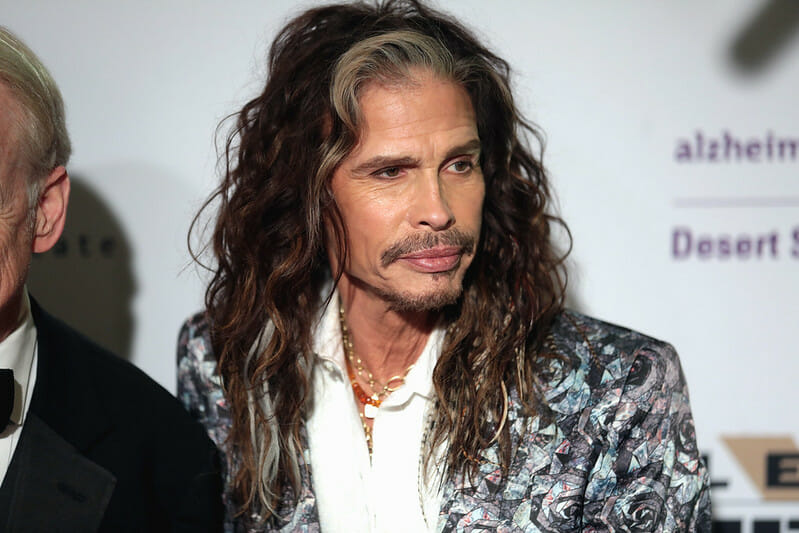 Lady Gaga
Singer, songwriter, actress and one of the biggest music stars in the world, Lady Gaga is equally famous for her work as an LGBT rights activist. Having sold millions upon millions of records and singels throughout her career and garnered numerous accolades – among them 18 MTV Video Music Awards, 13 Grammy Awards, both Billboard's Artist of the Year and Woman of the Year, and 16 Guiness World Records – it is safe to say the bisexual star has left quite a mark on popular culture ever the last 20 years.
Lady Gaga has also left quite a mark on the LGBT community. As an activist for LGBT rights, she has been an outspoken critic of the "don't ask, don't tell" policy in the US military which prohibits gay and lesbian servicepeople from being open. She has also spoken out against anti-gay bullying in American schools. She appeared in the Human Rights Campaign's tribute video for the victims of the 2016 mass shooting at the Pulse nightclub in Orlando, Fl.
Perhaps Lady Gaga's most important accomplishment is her landmark Born This Way album and its cultural impact. While she has reinvented herself as an artist many times, one thing that hasn't changed is her tireless support and advocacy for gay rights causes. And for that she deserves the title of LGBT icon.
RuPaul
Model, recording artist, TV host and producer, actor, author, reality show competition judge and the most recognizable drag queen of all time, RuPaul Andres Charles has been included in the annual Time 100 list of the most influential people in the world.
And that is something for which the LGBTQ+ community can be thankful, for RuPaul has been very involved in LGBT activism in the United States, particularly in persuading LGBT people to exercise their right to vote. As a spokesperson for Mac Cosmetics in the 1990s, RuPaul became the first drag performer to land a major cosmetics campaign and helped to raise money for the Mac AIDS Fund.
RuPaul has released 14 studio albums as of 2022, and has had several singles appear on American and U.K. music charts. Among his long list of acting credits are appearances in such films as Crooklyn and To Wong Foo, Thanks for Everything! Julie Newmar. RuPaul is also the author of three books, and co-hosts a long-running podcast with Michelle Visage. He also hosted The RuPaul Show on VH1, which ran for over 100 episodes.
But it is the international smash hit reality show RuPaul's Drag Race for which he is most popularly known. For his hosting and judging duties for the show, RuPaul has become the most-awarded person of color in the history of the Primetime Emmy Awards, with 11 Emmys to his credit.
At this point, RuPaul has achieved more than most could of in three lifetimes. And by forging a place for himself in popular culture, RuPaul has made LGBT people much more visible and has no doubt been a source of inspiration for countless young people growing up.
Lili Elbe
Among the earliest recipients of sex reassignment surgery, Lili Elbe was a Danish painter born in the late 1800s. Because the records of that time are unclear, is it believed (though not confirmed) that Elbe was born as an intersex individual.
Elbe was primarily a painter of landscapes in her early career, and was the winner of the prestigious Neuhausens prize in 1907. Her works are still on display in her hometown of Vejile and in Paris. It was when Elbe was called on to fill in as a model for wife Gerda, who was also an artist, that Elbe's life was forever changed. Finding that the heels and stockings a natural fit, Elbe began to dress in women's clothing and to present as a woman.
Elbe would give up painting following her transition. Meanwhile, Elbe's wife Gerda (Gottlieb) gained fame in the art world and beyond with her artistic renderings of beautiful women, with Elbe serving as the model for these depictions. (Gerda would also go on to push the cultural boundaries of her time with a series of provocative paintings of women in seductive contexts).
Lily Elbe would go on to complete her transition with sex reassignment surgery, which at the time was still in its nascency and highly experimental. While the first three operations were successful, Elbe's body unfortunately rejected the uterus transplant that was part of her vaginoplasty surgery, and she died from complications of an infection she incurred during the subsequent surgical revision.
Lily Elbe is honored in the Danish MIX Copenhagen Film Festival – one of the oldest LGBTQ+ film festivals – with their Lily Award, which is named for her and is the event's most prestigious award. In 2000 a novel based on the relationship of Lily and Gerda was published. Entitled The Danish Girl, the book was made into a film of the same name in 2015, and it was released to critical and box office success. It is still considered one of the best trans films of all time.
Lili Elbe deserves commemoration here as an intrepid soul who bravely pushed the cultural boundaries of her time.
Sasha Velour
Most of you will probably need no introduction to this American genderqueer drag queen and winner of the ninth season of RuPaul's Drag Race. Aside from her reality show fame, Velour is known for helping to create the very first all-queer show for Fashion Week in partnership with clothing brand Opening Ceremony. The multitalented Velour also published a digital historic comic (before her drag fame she was a professional graphic designer) about the Stonewall Riots to celebrate the 50th anniversary of the event, titled Three Dollar Riot.
Sasha has also made TV appearances on shows like Broad City and The Bold Type. Her production company, The House of Velour, has made waves in the drag community and beyond with works like Smoke & Mirrors – a solo theater show which she has performed in New York, Los Angeles and London as well as in Australia, Canada and throughout Europe. An 8-episode docu-series based on the show called Nightgowns was produced to widespread acclaim, with one reviewer calling it one of "the most life-affirming shows you could find on any platform." It won a RealScreen Award in 2021.
It is safe to say that Sasha Velour has made the most of her reality show success. That is great for her, and what is great for others is that she has chosen to use that success as a platform to help create safe spaces for others who reject the traditional binary notion of gender and instead choose to define their own gender identity. She is probably one of the most influential gender-fluid entertainers out there right now, and perhaps her biggest contribution thus far is that now-legendary line in C.L.A.T.: "gender is a construct, tear it apart!"
Princess Diana
Known as the People's Princess, Diana Frances Spencer was one of the most admired public figures in modern history, not to mention one of the most celebrated and important LGBT icons ever.
Diana was of the most fervent advocates for those afflicted with the HIV/AIDS, especially in the early years of the disease's onslaught, and she did this at a time when few others would – a time when gay men became public enemy no.1; a time when men who lay sick and dying were disowned friends, family and country. She combatted widespread negative perceptions of gay men and AIDS patients. She visited AIDS patients, shook their hands, and reminded the world that they were people, deserving of compassion. To a very considerable degree, Diana is responsible for creating gay presence in the contemporary world.
And it may be that much of the reason why she is held as a LGBT icon, both in her own time as well as throughout the years since her death, is because LGBT people find her relatable (this idea is supported by taking a quick glance at some of Diana's closest friends: George Michael, Elton John, Gianni Versace and Freddie Mercury).
An outsider within the royal family, she was a vulnerable woman in the unenviable position of being one of the most scrutinized people in the history of the world. For this reason, many LGBT people find her relatable. Those who were made to feel "different" by a society that was largely homophobic could identify with Diana's situation in life, and most could admire her for the defiant poise and grace with which she handled it all. Diana's legacy will live on, and for LGBT people across the globe she remains a shining example of both courage and compassion.
Vita Sackville-West
This English author and poet is probably not as well-known as she deserves to be, for she was quite a trailblazer especially given the time in which she lived.
She is well-known for her 10-year relationship with fellow writer Virginia Woolf. It is interesting to note that that period was the artistic peak for both women's careers. As one might imagine, the relationship was quite bold for two women (both of them married to men) to carry out in the 1920s and 1930s, especially for well-known public figures. The two would often flee together to pursue their romance and shirk the efforts of each woman's family to sabotage the relationship.
Vita was the inspiration for one of Woolf's most famous works, Orlando, about an English poet who lives for centuries and changes sex over time. The novel is a classic of feminism, women's studies, and gender studies.
In her own time, Vita Sackville-West became something of a larger-than-life personality, and she was known for her free spirit: flirtatious, fun-loving, and sometimes brash. She lived life to suit herself, which is something we should all aspire to. This makes her worthy of a place on our list of LGBT icons.
Harvey Milk
Harvey Milk was a trailblazing openly gay politician who, as a member of San Fransisco's City Board of Supervisors, championed gay rights before being assassinated alongside the city mayor by a disgruntled political rival.
Before his political career Milk served in the U.S. Navy during the Korean War before being forced to accept a dishonorable discharge because of his homosexuality (or else he would have been court martialed). As a politician, Milk had a style that was brash, animated, often fiery and sometimes flamboyant.
He was elected city supervisor in 1977, and though he served less than a full year until his tragic and untimely death at 48, he managed to sponsor and ultimately help pass a bill which banned discrimination in housing, employment and public accommodations on the basis of sexual orientation.
Despite a political career cut short, Milk made a lasting impact not only in the gay community but in the American consciousness as well. He was posthumously awarded the Presidential Medal of Freedom in 2009 by then-president Barack Obama, and has been called "the most famous and most significant openly LGBT official ever elected in the United States."
There is no question that he paved the way for gay rights activists that followed, not only in San Fransisco but throughout the United States and the world. Throughout the years of his involvement in public life, he led the fight against anti-LGBT initiatives. He was a visionary whose credo was gay liberation, the importance of local communities, and the notion that government should be responsive to individuals.
Caitlyn Jenner
Caitlyn Marie Jenner is quite possibly the most recognizable transgender person in the world today. Her original claim to fame was winning Olympic gold in the 1976 Summer Olympics in Montreal, Canada, in the men's decathlon event. At the time Jenner was given the unofficial title of "world's greatest athlete" and became something of a national hero.
Subsequently, Jenner went on find success in various forms as an actor in television and film, as a spokesperson for Wheaties, as a model for Playgirl magazine, as a businessperson, and even as a race car driver. Jenner's fame reached new heights in 2007 with Keeping up with the Kardashians, a reality show which follows the lives of the uber-famous family.
Caitlyn came out as a trans woman in 2015, and began starring in a reality television series of her own: I am Cait, with the show focusing on her gender transition. Her transition was something of a cause celebre. In the years since her coming out, Caitlyn Jenner has become a transgender rights activist, although some of her views on transgender issues have been the subject of controversy. She ran as a Republican candidate in the 2021 California gubernatorial recall election, albeit with little success, and later became an on-air contributor on Fox News.
Jenner has been outspoken on her experiences with gender dysphoria. She underwent gender reassignment surgery in 2017. Although she is somewhat controversial as the most famous trans woman in the world, her courage in being open as transgender and living her truth is unassailable. Her journey has captivated the world, and done more for trans visibility that can be measured.
Gigi Raven Wilbur
Though many may not have heard of Gig Raven Wilbur, it's about time they did. This American LGBTQ activist and writer is perhaps best known for being one of the three people who created Celebrate Bisexuality Day in 1999. Later that year, they (Wilbur accepts any and all pronouns but leans toward they/them) were the recipient of the Globe Award from the American Institute of Bisexuality.
Gigi themself is intersex, though they were subjected to nonconsensual surgery and masculinizing hormone treatments as a child. They have identified themself as hermaphrodite, ladyboy, and third gender. On their identity they have said, "Society does not allow my true gender to exist…I am neither female nor male, and I am both female and male." On their sexuality they have identified as both bisexual and pansexual.
With a Bachelor's degree in philosophy as well as a Master's in social work, Gigi Raven Wilbur has dedicated her life to activism and advancing the cause of LGBTQ equality, particularly for the bisexual community as host of a bisexuality radio show and a coordinator of BiNet USA, a nonprofit organization whose mission is to "facilitate the development of a cohesive network of bisexual communities, promote bisexual visibility, and collect and distribute educational information regarding bisexuality."
Toward this end Wilbur's own words are, "One of my big dreams life vision is to create a sex-positive world that's accepting of all sexes and where there's equality between all sexes. We have so much misogyny and just inequality in life." Those are words to inspire the champion for equality in each of us, and it is that vision the makes Gigi Raven Wilbur a more than worthy LGBT icon that should be celebrated.
Sappho of Lesbos
For this entry we go all the way back to Ancient Greece. Sappho was an Archaic Greek poet of the 6th century B.C. hailing from the island of Lesbos, and ultimately all lesbian culture owes some credit to her. In her own time she was regarded by the Greeks as one of their finest lyric poets, and she was also known simply as "The Poetess." She was considered the female counterpart to the great Homer.
Unfortunately, most of her poems are now lost to time: the only one that is completely extant is "Ode to Aphrodite," though fragments of others remain. Scholars consider her work to be a celebration of eros between women. Her poetic style has been described as exuberant and passionate, and centered on the themes of love and infatuation. Her work is considered to be, to at least some extent, autobiographical.
At some point in her life Sappho was exiled to the island of Sicily (a statue dedicated to her used to stand in the town hall of Syracuse), probably due to political reasons, and it is believed she eventually returned to Lesbos.
More and more, the mainstream is coming to learn about Sappho, and pop culture is coming to know this lesbian icon too: Sappho and her work were the subject of an SNL sketch just a few years back, which features the queer duo Kate McKinnon and Ariana DeBose. Many do not know the extent to which the life of Sappho has influenced modern women.
Nonetheless, she remains arguably the premiere lesbian icon – and obviously now the inspiration for next year's lesbian Halloween outfit…
Geena Rocero
Geena Rocero is a Filipino-American transgender model and advocate. As a model she has enjoyed a long career that has been as trailblazing as it was successful, having competed in countless beauty pageants and was not only the first trans woman to be featured as part of Playboy Playmates of the Year (2020), but was also Playboy Playmate of the Month in August of 2019, and the first openly transgender Asian-Pacific Islander to pose for the iconic magazine.
Rocero had undergone sex reassignment surgery in Thailand when she was 19 years old. However, she had not been publicly open about it until famously coming out on International Transgender Day of Visibility in 2014, in a powerful TED Talk she gave on her experiences. In the video, which has garnered more than 2 million views online, Rocero opens by saying "The world makes you something that you're not, but you know inside what you are, and that question burns in your heart: How will you become that?"
During the speech she says "I could no longer live my truth for and by myself. I want to do my best to help others live their truth without shame and terror…my deepest truth allowed me to accept who I am. Will you?"
Since that day Rocero has become a staunch advocate for transgender visibility as founder of Gender Proud – "an advocacy & awareness campaign that aims to advance the rights of all transgender individuals." She is a board member of NY LGBT Center and is also a Stonewall Ambassador. Rocero's courage is enviable, and for her dedication to making the world a safer, more accepting place for transgender people everywhere, we owe a debt of gratitude, and our celebration as an LGBT icon.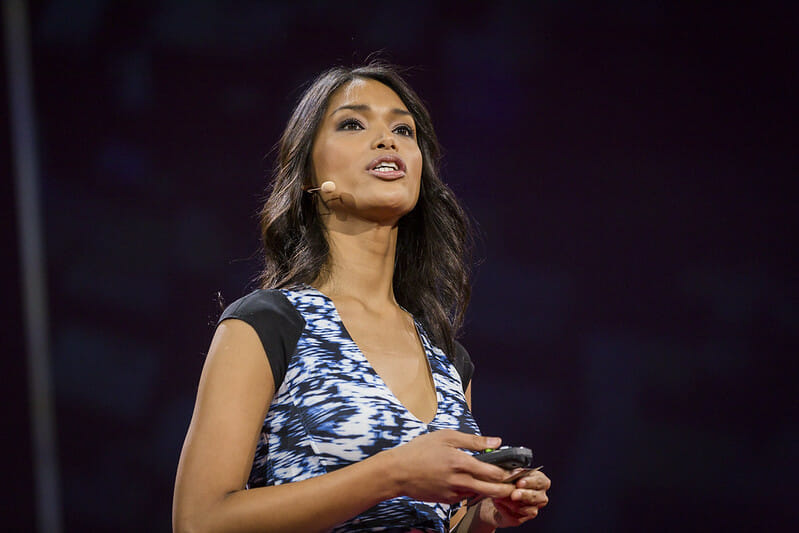 Sir Elton John
This music legend needs to introduction. Elton John is without a doubt one of the greatest singer/songwriters of modern times, with dozens of albums and more chart-topping hits than there is room to mention here. Suffice it to say, he is one of the most popular and biggest-selling music artists ever.
But Elton John is also one of the most influential openly gay figures of the past five decades and counting. He came out as bisexual early on in his career – something that was not an easy thing to do back in the 1970s – in an interview for Rolling Stone magazine (on which he was featured on the cover). In the interview he said "There's nothing wrong with going to bed with somebody of your own sex. I think everybody's bisexual to a certain degree. I don't think it's just me. It's not a bad thing to be. I think you're bisexual. I think everybody is."
You have to understand that this was in a very different time than the present, and it took some major courage for an up-and-coming star to be so open in that time. Later in 1992, again in an interview for Rolling Stone, John said that he was "quite comfortable being gay."
Later that same year he would go on to found the Elton John AIDS Foundation. Since that time, he has gone on to help raise millions of dollars for AIDS research and education. He has also been an outspoken champion of gay rights, especially same-sex marriage.
Charli XCX
This English singer/songwriter is not only one of the hottest pop divas around, but she has also been a mainstay favorite of gay culture since her rise to pop prominence in 2012.
The awards and accolades she has received as a music artist are many, and include a Billboard Music Award as well as a Billboard Women in Music recognition, a British LGBT Award for Celebrity Ally nomination, and nominations for iHeartRadio Music Awards, and Grammy Awards, just to name a few.
Her television and film credits are also worthy of mention. She has appeared on Saturday Night Live as musical guest and RuPaul's Drag Race as a guest judge.
Charli's fabulous career has been paralleled by her career as a LGBT rights activist. Specifically, she has been outspoken against LGBT+ conversion therapy. In 2020 she penned an open letter to MP Liz Truss calling for a ban on the practice in all its forms. She is also responsible for co-organizing the inaugural Go West Fest: a LGBT music fest by and for queer artists, with proceeds going to the GLAAD organization.
Charli XCX has often expressed gratitude to her LGBT fans, saying on one occasion, "The LGBTQ community has shaped who I am as an artist today. I am thankful every day for my friends, fans and collaborators, who belong to this very special community. Without you I'd be nothing." She is also known for extensively collaborating with queer artists, from Troye Sivan to Kim Petras to Big Freedia, and many more.
Her dedication to her LGBT fanbase and to the LGBT community at large makes Charli XCX one of the best straight allies in the entertainment world today.
Lori Lightfoot
In 2019 openly lesbian attorney and politician Lori Lightfoot became the first openly LGBTQ mayor of the city of Chicago, as well as the first woman of color to be elected to the position. What makes the accomplishment even more admirable is that she had to overcome occasional homophobia from the local electorate – something which seems to be a fact of life even in supposedly progressive Chicago.
Lightfoot was honored as one of the grand marshals of the Chicago Pride Parade in 2019, and in 2020 she was named by Queerty (an online magazine covering LGBT lifestyle and news) as one of the 50 heroes "leading the nation toward equality, acceptance, and dignity for all people," in honor of the 50th anniversary of the first gay pride parade (which took place on June 28th, 1970 in NYC). That same year was the recipient of the NMQF Honorable John Lewis Lifetime Achievement Award, from the National Minority Quality Forum.
As mayor of Chicago Lightfoot hopes to achieve progressive change, with a focus on cleaning up decades of political corruption and bringing opportunity to communities that have long been neglected.
Lightfoot represents a progressive milestone in the world of politics as the leader of the third-largest city in the United States. Her success is an inspiration to LGBT people the world over.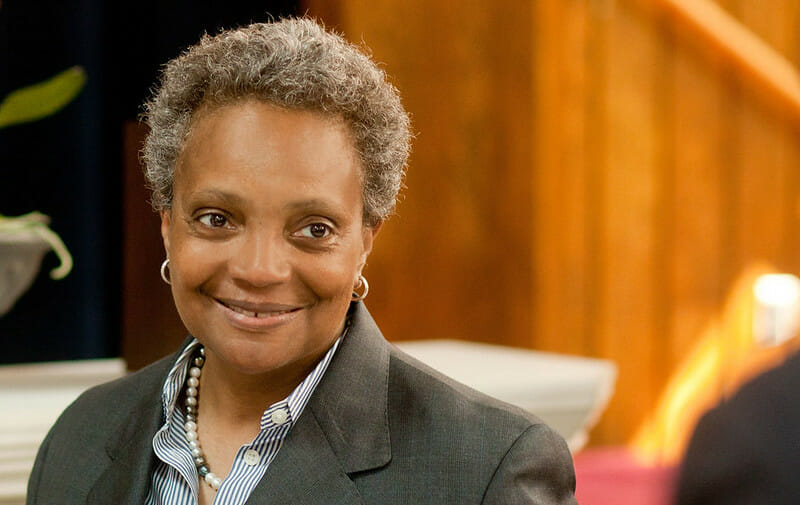 Jonathan Van Ness
One of the new Fab Five, JVN is an actor, author and comedian in addition to being a formally trained hairdresser. Aside from his role as the grooming expert of the Queer Eye reboot, Jonathan has starred in the web series Gay of Thrones, and is the host of his own podcast, Getting Curious with Jonathan Van Ness, which won the iHeartRadio Podcast Award for Best LGBTQ Podcast. In addition, his memoir, Over the Top: A Raw Journey to Self-Love, won the Goodreads Choice Award. In 2019 Van Ness was the recipient of the Critics Choice Award for Male Star of the Year.
It wasn't always stars and rainbows for Jonathan, though. Though he has always been comfortable in his own sexuality and gender expression, Jonathan was subjected to relentless bullying in his school years and was sexually abused by an older boy at church. His trademark sense of humor was born out of the trauma he experienced; it was something he used as a coping mechanism.
Unfortunately, self-destructive behaviors including drug use were also born out of that trauma. Later on in his twenties, Van Ness found out he was HIV positive, a revelation which led him to "clean up" and openly share his story of redemption, saying "I want people to realize you're never too broken to be fixed." Considering how far JVN has come to be where he is now, it's easy to say that he is an inspiration to anyone who has experienced adversity in life, especially LGBTQ people.
JVN identifies as non-binary and gender non-conforming. He has said of his skyrocketing fame that he wishes to use it as a platform to advocate for his gender experience as well as that of others who identify as gender nonconforming and living outside of the traditional binary, saying in one interview, "I have a very privileged and lucky experience; that doesn't mean I haven't worked really hard, because I have. I've been rejected and I've been through so many things."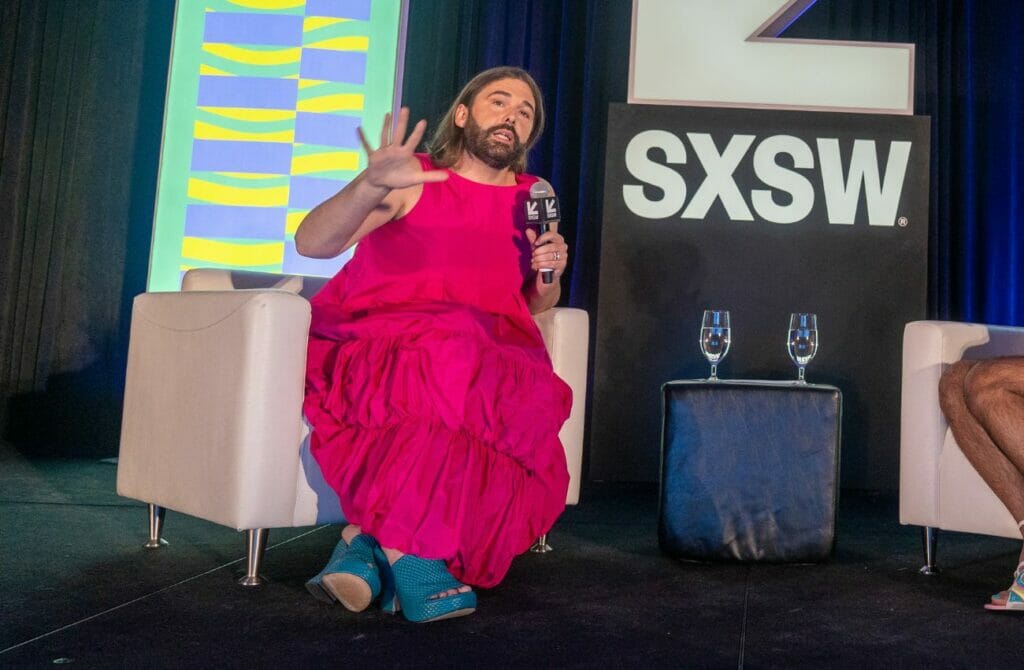 Elliot Page
This Trailer Park Boys transgender actor is well-regarded for his many screen performances, having garnered Oscar, BAFTA, Golden Globe and Emmy Award nominations as well as a Satellite Award and 3 Teen Choice Awards. Among his most notable roles are in the films Hard Candy, Juno, and Inception. He also appeared in the LGBTQ documentary Gaycation.
Page came out as gay in 2014 (while presenting as female at the time) in a speech at the Human Rights Campaign "Time to Thrive" conference in Las Vegas. And in December 2020 Page came out as transgender on social media; he has stated that his decision to become open to the public about his gender identity was party prompted by anti-transgender rhetoric in the media, and he has expressed both gratitude for those who speak out against anti-trans prejudice and frustration with those who choose to be silent.
In 2021 he became the first openly transgender man to appear on the cover of Time magazine. He has stated that as a child "I felt like a boy… I wanted to be a boy. I would ask my mom if I could be someday." His Time cover features the caption "I'm fully who I am." Page's memoir, Pageboy is set to be published in 2023.
In addition to being an LGBTQ and transgender rights activist, Elliot has also proven to be a vocal supporter of reproductive rights as a pro-choice feminist. For his courage in using his renown as a platform to speak out for other transgender people, Elliot Page deserves recognition as a trailblazing LGBT icon.
View this post on Instagram
Sir Ian McKellen
Here is another LGBT icon hailing from the United Kingdom. Just like the previous entry on our list, this legendary actor has been knighted for his accomplishments.
McKellen has had quite an interesting career, having begun as a stage actor who went on to win every major theatrical award in the U.K., as well as starring in multiple billion-dollar Hollywood blockbuster hits: as the wizard Gandalf in the Hobbit and Lord of the Rings trilogies, and as Magneto in the X-Men franchise.
McKellen has also had a long and impactful career as an outspoken gay rights activist. But it wasn't always that way. McKellen said in a 2009 interview for The Telegraph, "When I was 29 it was illegal for me to make love, I had a boyfriend and we slept together but the law said that we should be in prison…It was very hard to walk out in the street and say to him don't touch me or brush your hand against mine, there may be a policeman around the corner."
McKellen didn't come out as a gay man until 1988, when he was 49 years old, when he first came out to his step-mother. Later that year he lobbied against a bill known as Section 28, which was meant to prohibit the "promotion of homosexual activity." When a high-ranking government official who supported the bill asked McKellen for an autograph, McKellen agreed and wrote "Fuck off, I'm gay."
That alone makes him deserving of a place on this list. McKellen is also one of the founders of Stonewall, a U.K. based gay rights lobby group.
Sally Ride
For those of you out there who may not have heard of Sally Ride, she was only the first LGBT person to have visited outer space! She is also the only person to serve on both committees investigating the Challenger and Columbia tragedies.
Though Sally Ride was not quite the first female astronaut (an honor which goes to the Russian cosmonaut Valentina Tereshkova) she was the first woman astronaut for NASA. Sally participated in two space shuttle missions in 1983 and 1984. The 1983 mission, lasting 6 days, was dubbed STS-7, in which Sally was tasked to help operate the shuttle's robotic arm and deploy two satellites.
The second mission, STS 41-G, turned out to be her last as a future mission was cancelled in the wake of the Challenger disaster. Ride retired as an astronaut in 1987, and later became the first director of NASA's Office of Exploration. Afterward she went on to become a physics professor and director of the California Space Institute.
Sally Ride was the long-term romantic partner of women's tennis pro Tam O'Shaughnessy, who was something of a trailblazer in her own right. Ride chose to keep her personal life very private, however, and although she didn't publicly reveal the fact that she was lesbian (hers was a time when people's personal lives weren't thrown out all over social media, as much the case today) she was a feminist hero and an embodiment of girl power to generation X.
And in the years since her passing in 2012 she has become an important LGBT icon, and rightfully so. Sally Ride was one of the first two women to be honored in the American Women's quarter series in 2022; she is the first known LGBT person to be commemorated on American currency. Sally has also been commemorated in song, in Billy Joel's 1989 song "We Didn't Start the Fire," and in 2013 when Janelle Monae released a song named after Sally (curiously the popular oldie "Ride, Sally Ride" was not about the astronaut).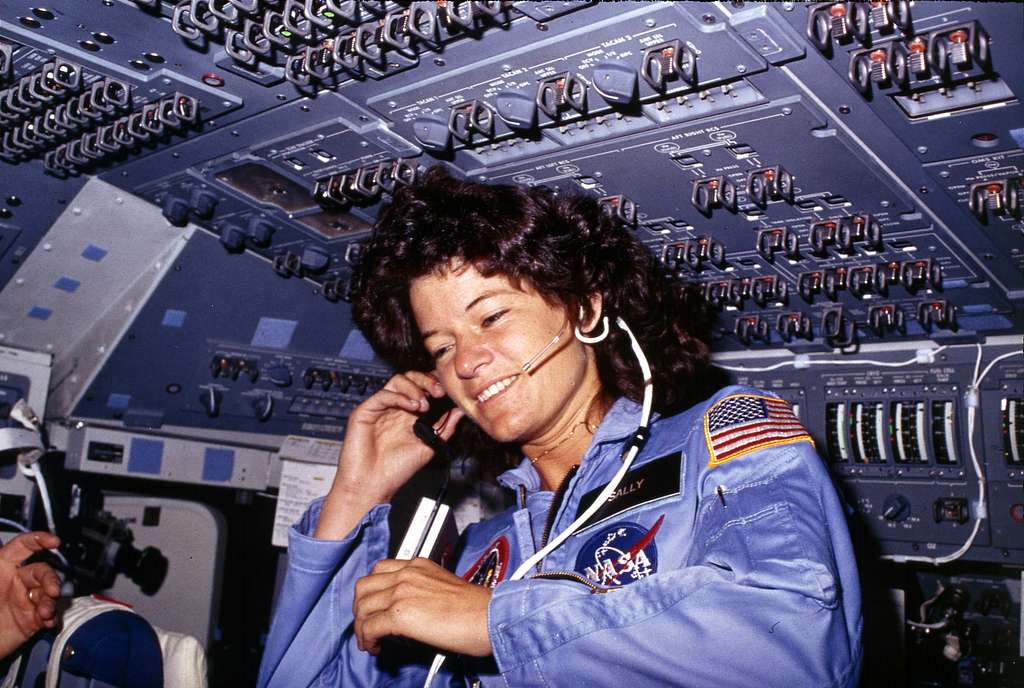 Jillian Michaels
There are likely many fans out there who didn't know that tough as nails celebrity trainer and television personality Jillian Michaels is lesbian. The circumstances of her coming out publicly were subtle. In a 2010 interview she had this to say on the subject, "Let's just say I believe in healthy love. If I fall in love with a woman, that's awesome. If I fall in love with a man, that's awesome. As long as you fall in love… it's like organic food. I only eat healthy food, and I only want healthy love!"
Nonetheless, Jillian Michaels deserves a place on our list of trailblazing LGBT icons. She is a staunch activist who has worked with a range of charities for a number of great causes, including the UNHCR to raise awareness and funds to support refugees in all parts of the world. She is also an animal lover, and has worked with PETA. It is this passion to do good that makes Michaels an excellent role model for people of any persuasion.
On embracing her sexuality, Michaels has said, "I'm just going to live my life and my truth and hopefully as you observe that it will become a little more— and I have so much trouble with this word— normalized for people who don't perceive it as the norm."
Michaels is now currently engaged to her partner, Deshanna Marie Minuto.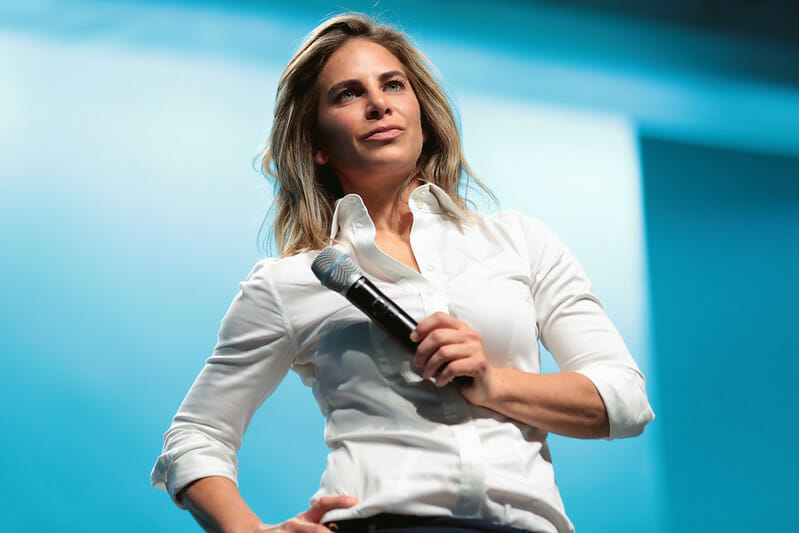 Tilda Swinton
This nonbinary British actress has had quite a storied career spanning 5 decades and numerous roles. Along the way she has accumulated many accolades, including an Academy Award, a BAFTA Award and nomination for a European Film Award in addition to a Golden Globe nomination, just to mention a few.
Among Tilda's most notable roles are in the Titular role in the 1992 film adaptation of Virgina Woolf's Orlando (based on a Virginia Woolf novel about a character who lives for centuries and changes sex), as well as her portrayal of The White Witch in the Chronicles of Narnia series and of The Ancient One in the Marvel franchise.
In a 2021 interview with Vogue Swinton stated, "I'm very clear that queer is actually, for me anyway, to do with sensibility. I always felt I was queer – I was just looking for my queer circus, and I found it. And having found it, it's my world." On her sexuality and identity, she has also been quoted as saying, "I don't know if I could ever really say that I was a girl… I was kind of a boy for a long time. I don't know, who knows? It changes."
Swinton considers gender a transformative possibility, and enjoys "walking the tightrope of identity, of sexual identity, of gender identity," to use her own words.
On the topic of how art and life sometimes correlate, Tilda had this to say, "That whole idea of transformation is at the heart of what I'm interested in as a performer and not least through the idea of gender. It's a very personal matter. I can categorically say that as Orlando does in the film: Yes, I'm probably a woman."
With such a fascinating take on sexual/gender identity, Swinton deserves a place on any list of the most influential and inspiring LGBT public figures.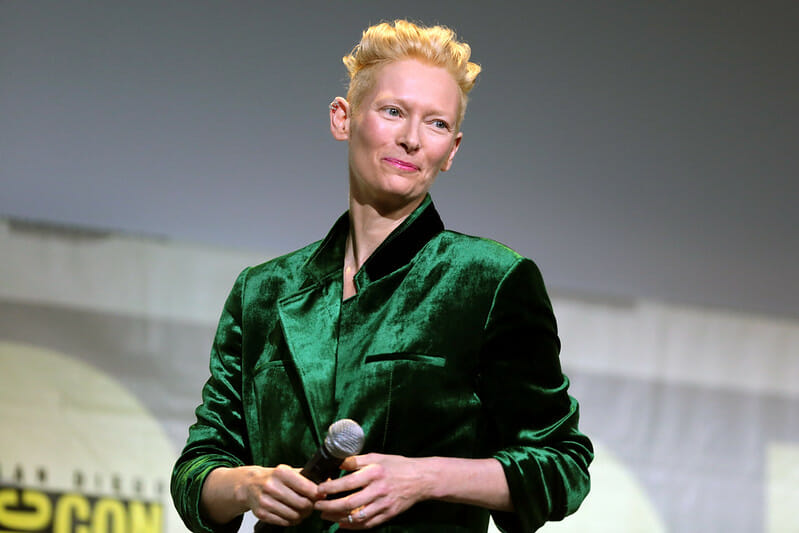 Jazz Jennings
YouTuber, television personality and LGBT rights activist Jazz Jennings seems to have been destined to make a positive mark on the world for gay, lesbian and transsexual causes. At only six years old she began appearing on television to speak about gender dysphoria and her experiences growing up as a transgender child, and was a guest on such shows as 20/20 and The Rosie Show, appearing alongside Chaz Bono.
The family has stated that Jazz made it clear that she identified as female, and wanted to be presented as such, as soon as she learned to speak. She is one of the youngest people to be identified as transgender.
Later Jazz went on to co-found the TransKids Purple Rainbow Foundation, an organization which "aims to enhance the lives of transgender and gender non-conforming youth and their families." Jazz is also the founder of Purple Rainbow Tails, which makes and sells rubber mermaid tails to raise money for transgender children.
Jazz has been listed as "one of the 25 most influential" teens by Time as well as Advocate's 40 Under 40, in addition to Out 100. She hosts a YouTube series titled "I am Jazz" and stars in a reality TV show, I am Jazz, both of which chronicle her life as a transgender youth.
Jazz completed her gender reassignment surgery in 2018. The fact that she chose to be outspoken and visible as a transgender child makes her not only uniquely courageous but also uniquely deserving of our admiration.
Pete Buttigieg
Mayor Pete, as Pete Buttigieg is sometimes known, is one of the first openly gay politicians to launch a major party presidential campaign. After winning the Iowa caucuses, Buttigieg became the first openly gay person to win a primary in the U.S. He currently serves as Secretary of Transportation, the youngest person to have held that position.
His historic candidacy for the 2020 presidential election represents a huge milestone for progress not only in America but throughout the world, and the level of success Buttigieg achieved will no doubt be an inspiration for future LGBT politicians.
In 2019 Buttigieg was named one of the Pride50 people by online magazine Queerty to celebrate the 50th anniversary of the Stonewall riots, an honor meant to acknowledge "trailblazing individuals who actively ensure society remains moving towards equality, acceptance and dignity for all queer people." And in 2020 British gay lifestyle magazine Attitude named him as their Person of the Year in honor of not only his presidential run but for his work in supporting LGBT causes.
Virginia Woolf
One of the most important writers of the 20th century was also a trailblazing lesbian woman who defied the "mores" of the pompously conservative Victorian culture in which she grew up.
As an author Virginia Woolf can rightly be credited with inspiring modern feminist literature. She was part of the Bloomsbury Group – a informal literary club that embraced progressive views and rejected the austere quality of English society. Her novel Orlando is largely inspired by fellow author Vita Sackville-West, with whom Woolf was involved in a long-term romantic relationship that proved formative for both women as literary artists.
The letters the two wrote to each other are now the stuff of legend. One of Vita's letters to Woolf in 1926 begins, "I am reduced to a thing that wants Virginia." To which Virgnia responded, "Yes yes yes I do like you. I am afraid to write the stronger word."
What else could be expected from two of the century's greatest wordsmiths?
The relationship between the two was trailblazing indeed, especially given that both women were part of upper Victorian society. As a lesbian icon, Virginia Woolf was instrumental in forging a path for LGBT women who came after, both in art and in life. She was a woman who lived life as she saw fit, and it is undeniable that the world would not look quite the same today if not for her remarkable life and work.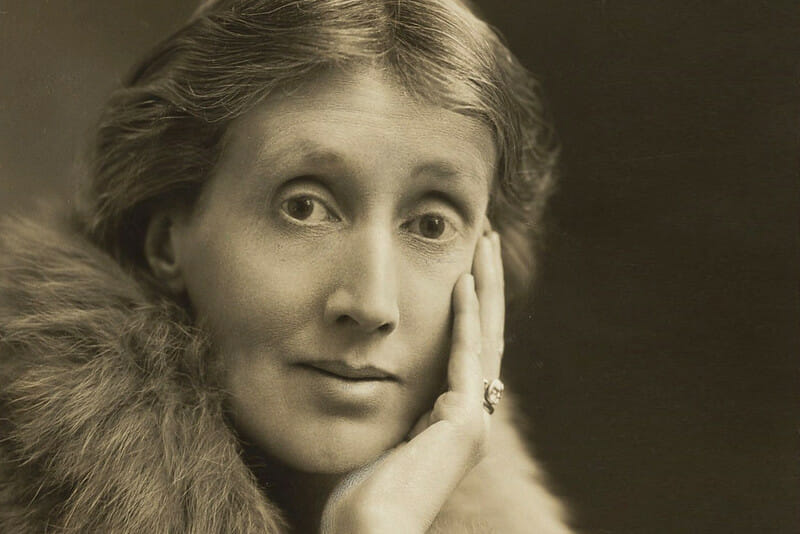 Christine Jorgensen
This successful actress is considered the first person to be widely known in the United States to have undergone sex reassignment surgery.
After serving in World War II and then going on to attend college, Jorgensen traveled to Europe and in Copenhagen, Denmark underwent a series of sex-reassignment operations. Shortly afterward she wrote to friends, "I have changed a great deal. But it is the other changes that are so much more important. Remember the shy, miserable person who left America? Well, that person is no more and, as you can see, I'm in marvelous spirits."
Upon returning to America, she became something of a celebrity with the story of her transition making headlines, such as the one that ran on the front page of the New York Daily News with the headline "Ex-GI Becomes Blonde Beauty." Her return flight was met on the tarmac by a crowd of journalists who largely ignore the Danish royal family (who were also on that flight) in favor of her.
Jorgensen went on to have a successful career as an entertainer, with appearances on TV, radio and in theatrical productions. She also later published an autobiography. Later in life Jorgensen became toured college campuses and other venues as a lecturer, speaking about her experiences as a transgender person. In this role, she became a tireless champion for understanding and acceptance of other transgender people, and through her personal charm and wit, she won the hearts of millions.
For her activism and forging a path for many transgender icons who came after, Christine Jorgensen has been honored with inclusion National LGBTQ Wall of Honor (Part of the Stonewall National Monument), as well as an induction into the Legacy Walk in Chicago and the Rainbow Honor Walk in San Fransisco.
In an interview for the Los Angeles Times she stated, "I am very proud now, looking back, that I was on that street corner 36 years ago when a movement started. It was the sexual revolution that was going to start with or without me. We may not have started it, but we gave it a good swift kick in the pants." For her trailblazing spirit and determination to live life as she chose – and to help pave the way for others to do the same – Christine Jorgensen is more than worthy of celebration.
Amandla Stenberg
As one of the youngest entries on our list, actor and singer Amandla Stenberg is perhaps one of the most important ones as well, in terms of presenting a role model for nonbinary and genderqueer youth. Stenberg has been listed as one of Time's Most Influential Teens in the past, and they have been the recipient of a Teen Choice Award and an NAACP Image Award. They have also been nominated for 4 Black Reel Awards and a Critic's Choice Award.
Amandla's film credits include The Hunger Games, Mr. Robinson, Sleepy Hollow, The Hate U Give, and many more. Among the more poignant roles they have played are as a biracial teen who carries out a relationship with a member of the Hitler Youth in Where Hands Touch.
Amandla is almost as widely known for their activism as they are for their filmography. As an outspoken intersectional feminist, they have been publicly vocal on their political views. They have been called "One of the most incendiary voices of her generation." The nonprofit Ms. Foundation for Women named her "Feminist of the Year" in 2015.
To quote Stenberg on her own gender identity, "I tend to believe that gender as we've set it up in current-day society doesn't actually exist. I've said before that I'm comfortable with using the pronouns 'they' or 'them' alongside 'she' and 'her' just because that's a conversation that's important to me. I don't necessarily always subscribe to female pronouns just because I don't think that pronouns are necessarily very meaningful."
It's great to see Stenberg giving a voice to genderqueer young people, and she is more than deserving of being called a trailblazing LGBT icon.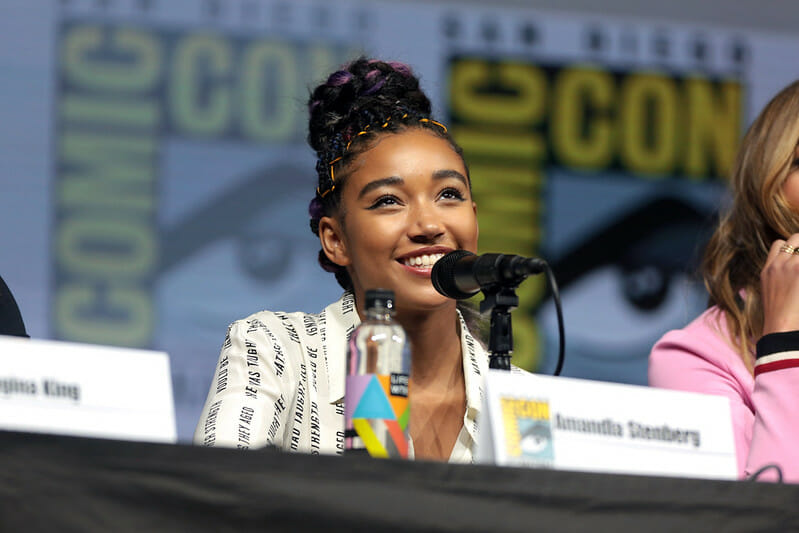 Judy Garland
Judy Garland will always be best remembered as the lovable, innocent Dorothy in The Wizard of Oz, quite possibly the most legendary classic film ever. Her legacy also endures as a LGBT icon.
Garland achieved international stardom and throughout the course of her long career as an actress and singer (for which she is also noted for her impressive versatility in both musical and dramatic roles) she racked up a Golden Globe, an Academy Juvenile Award, and a Special Tony Award. In all she appeared in 34 films, usually in the starring role, and released several studio albums.
Garland came to be known for her popularity among the LGBT community, particularly gay men of the time. She has been called by The Advocate "the Elvis of homosexuals." She has also been referred to as the quintessential pre-Stonewall LGBT icon. In fact, there are some who believe that Garland's funeral (which was held the day before the riots broke out) partly triggered the events of Stonewall. Whether or not one believes the theory, it is undeniable that Judy's death was particularly upsetting to the LGBT community, with notable trans rights activist Sylvia Rivera saying (of Garland) "It's the end of an era…there is no one left to look up to."
Garland's personal life was filled with turmoil, and it is believed that is why so many LGBT men of that time found her relatable. As one writer put it, "a symbol of emotional liberation, a woman who struggled to live and love without restraint. She couldn't do it in her real life, of course, and neither could her fans. But she did it in her songs, and with them she brought along anyone who similarly dared to care too much."
Stephen Fry
English actor and comedian Stephen Fry has earned a place as one of the most celebrated figures in British pop culture over the course of his 40 years plus career. He is an award-winning television host and writer and has been recognized for his work in the theatre. Among his long list of acting credits perhaps the highlight is his starring role in the 1997 film Wilde in which he portrayed his idol, Oscar Wilde.
Fry is also known as a staunch defender of LGBT rights in the U.K. In 2013 he published an open letter to David Cameron (then the Prime Minister) calling to boycott the 2014 Sochi Winter Olympics over Russia's persecution of LGBT people.
Fry struggled with his own sexuality throughout his younger years. On the matter he has been (hilariously) quoted as saying, "I suppose it all began when I came out of the womb. I looked back up at my mother and thought to myself, 'That's the last time I'm going up one of those'."
When Fry married his partner, comedian Elliot Spencer, in 2015 he posted a message on Twitter that read "It looks as though a certain cat is out of a certain bag. I'm very very happy of course but had hoped for a private wedding. Fat chance!"
It is his wit and eloquence that makes Stephen Fry an LGBT icon.
Melisa Etheridge
This legendary songstress has never been shy about her personal life and her sexuality. In a Today interview in 2021 Etheridge revealed that she knew she was lesbian by the time she finished high school. "I was just out to everyone I ever met," she told the interviewer. "It was kind of obvious to anyone who knew me. I never tried to be anyone I wasn't."
Etheridge has always embraced a fearless approach to being out and in terms of how it impacted her career – even when she was first signed by a major record label in the late 80s, which was a very different time in terms of acceptance of LGBT people, especially public figures. On her choice to be open about her sexuality Etheridge has said, "This is who I am and I really want to be authentic."
While that choice may have presented the intrepid singer/songwriter with a few hurdles in the early part of her career, given the culture of that time, Etheridge went on to become a breakout music sensation in the 1990's with a 2 Grammy Awards and 19 total nominations.
One song in particular – Come to my Window – made waves with the lyrics "I don't care what they think/I don't care what they say/What do they know about this love, anyway?" Releasing shortly after Etheridge famously came out to the public at President Bill Clinton's inaugural Triangle Ball (during which Etheridge took the stage and said, "You're the greatest thing I've seen this year, and I'm proud to say right here, I'm proud to have been a lesbian all my life"), the song and its lyrics resonated deeply with the LGBT community, and her unabashed authenticity throughout her career has done more for lesbian visibility than most people realize.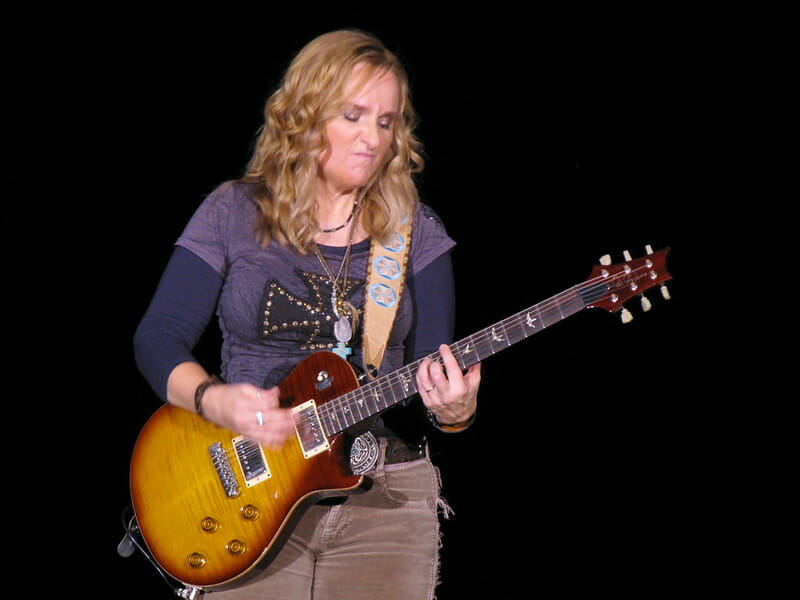 David Bowie
David Bowie scarcely needs an introduction as one of the most – if not possibly the most – influential music artist of the 20th century. Not only an unsurpassed singer and songwriter, but Bowie was also a genius of stagecraft and visual presentation, as well as a bonafide fashion god. He is also one of the most important LGBT icons of modern times.
Bowie's acting career is almost as notable as his musical legacy (which is quite a statement given that he is one of the best-selling musicians of all time with well over 100 million records sold, as well as being inducted into the Rock and Roll Hall of Fame). Of the many, many roles Bowie played over the course of six different decades of film the most memorable are as Jareth the Goblin King in Labyrinth and as Nicolai Tesla in The Prestige.
With his androgynous and flamboyant on stage alter-ego Ziggy Stardust, he challenged mainstream perceptions about gender and gender presentation – quite a bold thing to do in the early 1970s, which was a very different time and a very different atmosphere than that of today!
Bowie as an intrepid trailblazer who from the very start of his life in the public eye lived, loved, and presented himself exactly how he chose. For LGBTQ people then and now he was like a gift from the gods, and it is unquestionable that life for LGBTQ people would not be the same today if not for him.
Sam Smith
Singer/songwriter Sam Smith has found incredible success as a genderqueer artist, having sold well over 30 million records and won 4 Grammy Awards, 3 Brit Awards, 3 Billboard Music Awards, an American Music Award, as well as a Golden Globe and an Academy Award. Smith has also achieved two Guinness World Records for recording the first James Bond theme to reach no.1 in the UK music charts, and for scoring the most consecutive weeks in the UK top 10 by a debut album (In the Lonely Hour).
Same chose to come out as genderqueer in 2017, and two years later announced that they were nonbinary, and changed their pronouns to they/them to reflect their gender identity, saying "After a lifetime of being at war with my gender I've decided to embrace myself for who I am, inside and out." They also stated a desire to be open and visible in the hopes that they can contribute to giving visibility and a voice to others out there who identify as nonbinary and genderfluid. Upon coming out Smith expressed that they were, to use their own words, "scared shitless but feeling super free right now."
You just have to applaud that kind of bravery. And really, we could think of no better spokesperson for genderqueer people and the LGBT community at large.
Rosie O'Donnell
Rosie O'Donnell is an American lesbian comedian, television host and producer, author, actress, activist and philanthropist, though she hardly needs any introduction. She is outspoken as an LGBT woman, both in her personal life as well as in public, and has never been shy about going toe-to-toe with anyone she finds herself at odds with. She has proven this on multiple occasions, most famously as with her 2007 feud with future president Donald Trump.
In spite of this O'Donnell has earned the moniker "The Queen of Nice" for her many philanthropic efforts over the years, most of which have been focused on children's causes such as O'Donnell's own Rosie's Broadway Kids. All told, Rosie has given away more than a staggering $100 million to charity.
As an activist Rosie has been an admirable champion of LGBT causes. In particular she has been an outspoken advocate for gay parenting rights, especially in fighting to remedy laws that prevent LGBT couples from adopting. For her efforts in advancing LGBT causes she has been awarded Vito Russo Award from GLAAD (the Gay and Lesbian Alliance Against Defamation). In 2003 O'Donnell helped to launch the first LGBT family cruise tour, called R Family Vacations.
O'Donnell herself came out in 2002, announcing in quintessentially Rosie O'Donnel style, "I'm a dyke!" "I don't know why people make such a big deal about the gay thing. … People are confused, they're shocked like this is a big revelation to somebody." Rosie later said that her decision to come out was driven by a desire to put a face to gay parenting rights, an issue near and dear to her heart. Later that year Advocate, an LGBT-interest magazine, named her as their Person Of The Year.
Love her or hate her, there is no denying that Rosie O'Donnell has made a positive mark in the world. Her passion for giving is something anyone can take inspiration from, and for LGBT people she is a perfect role model as a bold champion of equality and social justice.
Cody Alan
Country Music Television personality had to make a bold decision when he decided to come out as gay in 2017. Country music and its fanbase, after all, has a certain perception of being not the most accepting community when it comes to LGBT people.
But of the Country Music communities' response to his coming out, Alan has said, "I understand all those perceptions exist, of intolerance or negativity." But he added that, "The country fans I've known over the years have been the most open and real people you'll meet."
Nonetheless, Alan's decision to come out as a gay man has no doubt served as inspiration and an example for untold numbers of young people out there who might be struggling to find acceptance.
In 2018, the year following the year that Alan came out, he said in an interview for The Tennessean, "I knew I had to keep it under wraps for what I thought was 'right,' what I thought my mom and dad wanted. And it was a societal thing – no one else I knew at the time was like this." Later that same year he hosted the third Concert for Love alongside openly gay country music artist Ty Herndon. The show was put on courtesy of GLAAD, a gay rights advocacy group.
Alan has said that his decision to come out as a gay man was driven by a desire to be more genuine and authentic both with his family as well as fans. It is encouraging that Alan's popularity as a television presenter has only risen since coming out as gay.
View this post on Instagram
Renee Richards
The name Renee Richards is an important one in transgender and queer history. Before becoming a tennis pro Richards began her transition process while in college, in a time when transsexualism was considered a form of insanity, and completed her sex reassignment surgery in 1975. She chose to adopt the name Renee, which means "reborn."
The following year Richards would be thrust into the national spotlight upon entering the US Open. Having been outed by a TV news anchor, Richards was refused entry into the tournament as a woman when she refused to take the Barr chromosome test. Richards sued for discrimination and ultimately won her case, with the judge ruling that requiring Richards to pass the Barr test was "grossly unfair, discriminatory and inequitable, and a violation of her rights," on the part of the various professional tennis sanctioning bodies that had instituted the test. It was a landmark victory for transgender people in sports.
Renee Richards went on to have a professional tennis career highlighted by winning the 35-and-over women's singles (a feat she duplicated two years later) and reaching the women's doubles at the 1977 US Open. She later coached Martina Navratilova to her two Wimbledon victories. Richards was among the first class of inductees into the National Gay and Lesbian Sports Hall of Fame. She is also a revolutionary LGBT icon whose contribution to transgender equality is immeasurable.
Demi Lovato
This singer and actress has been in the public eye for most of their life. It wasn't until 2021 however that they came out publicly as nonbinary and changed their pronouns to they/them, after having come out to friends and family a few months earlier.
On the decision, Lovato stated, "I feel that this best represents the fluidity I feel in my gender expression, and allows me to feel most authentic and true to the person I both know I am and still am discovering. This has come after a lot of healing and self-reflective work. I'm still learning and coming into myself; I don't claim to be an expert or a spokesperson. Sharing this with you now opens another level of vulnerability for me."
They added, "I'm doing this for those out there that haven't been able to share who they truly are with their loved ones. Please keep living in your truths & know I am sending so much love your way."
Their work as an LGBT rights activist was honored with a GLAAD Vanguard Award in 2016. Lovato has also been the lead performer for NYC Pride Week as well as Grand Marshal for the LA Pride Parade. They have also worked with the Human Rights Campaign in honoring the victims of the Orlando nightclub shooting, as well as being a spokesperson for Human Rights Campaign's America for Marriage Equality.
Lovato has also used her fame as a platform to create visibility for other causes, such as spreading mental health awareness as well as speaking out against bullying. The fact that they have done all this while facing down their own personal struggles makes Demi Lovato all the more deserving of being known as a trailblazing LGBT icon that we can all look up to.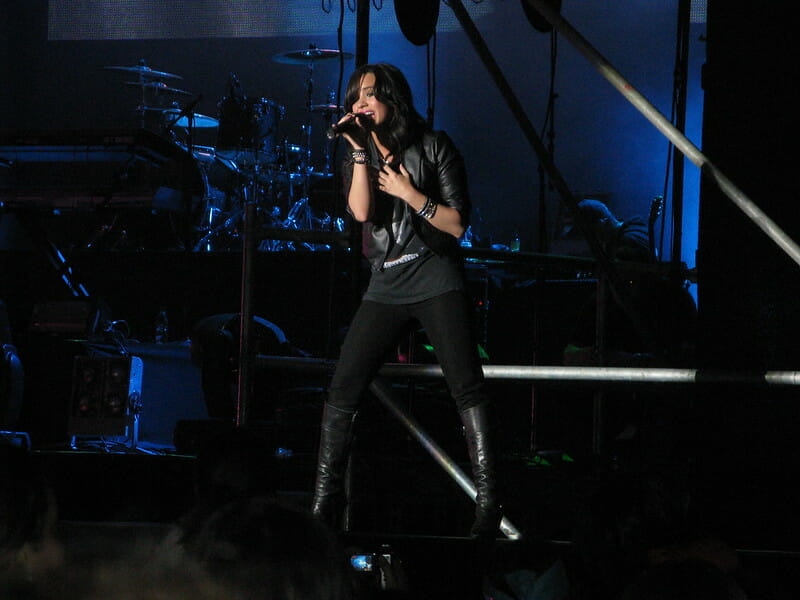 Rachel Maddow
An outspoken champion of liberal causes, Rachel Maddow is also the first openly lesbian news anchor to host a major primetime news show in the US. As well as being one of the most prominent and recognizable political commentators, Rachel is the author of three books and has won a Grammy Award for Best Spoken Word Album for her book Blowout. She also has won multiple Emmy awards, and a John Steinbeck Award among many other accolades.
She has worked as a correspondent for The Advocate Newsmagazine, and of course is most noted for The Rachel Maddow Show on MSNBC. She has been called the smartest lesbian on TV."
Rachel came out at 17…by posting flyers in her dorm at Stanford University. The move made the University newspaper and shocked her strict Catholic parents (though they got over it in time) who had not realized their daughter was gay. Looking back on it Maddow said, "I came out when I was 17. That's not an issue for me, it's not a decision for me. It's not something I've ever thought about my whole adult life."
She has been outspoken against anti-LGBT policies, particularly those aimed at thwarting marriage equality in the United States. Whether you are into politics or not, there is no denying that Rachel Maddow is one of the most vocal and most tireless proponents of LGBT equality. She is truly an icon deserving of praise for her unapologetic fervor in furthering the acceptance of gays and making America and the world a more gay-friendly place.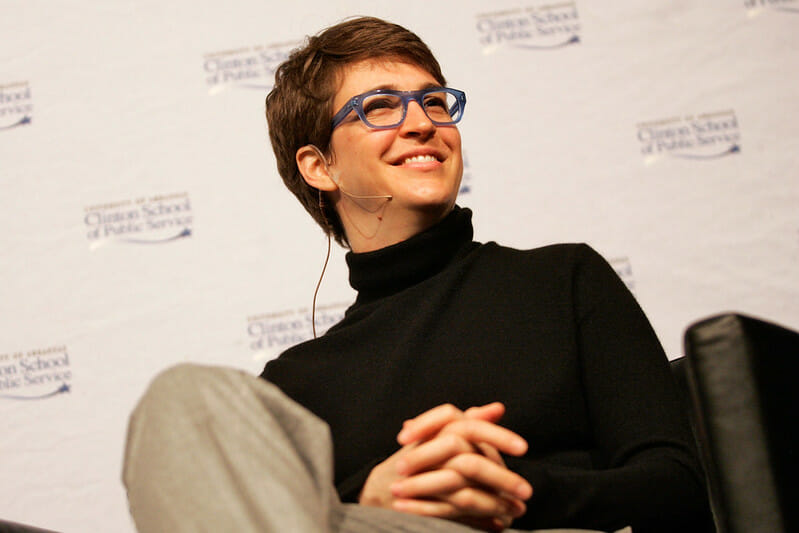 Kate McKinnon
The actress, comedian, writer, and Saturday Night Live alum is also an openly lesbian woman who has also appeared on The Big Gay Sketch Show, in addition to the Audible audio series Heads Will Roll (which has also featured Bob the Drag Queen and Queer Eye's Fab Five). She has appeared in many films such as Yesterday and The Spy Who Dumped Me.
The longest-tenured female cast member in SNL's 46-year history, McKinnon is perhaps best known for her many celebrity impressions, including those of her idol Ellen DeGeneres, whom McKinnon honored at the 2020 Golden Globes, naming DeGeneres as being an inspiration in choosing to be open about her sexuality. It was actually the first time McKinnon had publicly spoken about her own sexuality, though she had been open about it all her adult life.
Another SNL performance by McKinnon that captured the hearts of LGBT viewers was her collaboration with fellow queer icon Ariana DeBose in a sketch entitled "Sappho," whom you will recognize further on in our list. Without spoiling it, the sketch hilariously plays on a range of commonly held stereotypes about the lesbian experience. It is how her art intersects with reality that makes Kate McKinnon an LGBT icon.
McKinnon has also been outspoken when it comes to LGBT issues. Recently she appeared in a skit on SNL titled "Don't Say Gay, Sing It," in response to the state of Florida's so-called Don't Say Gay law. In the skit, she mocks the newly-passed anti-LGBT legislation with wit, sardonic humor and bravado. It is this kind of courage and an unflinching willingness to call out the prejudice that makes Kate McKinnon an inspiration worthy of celebration.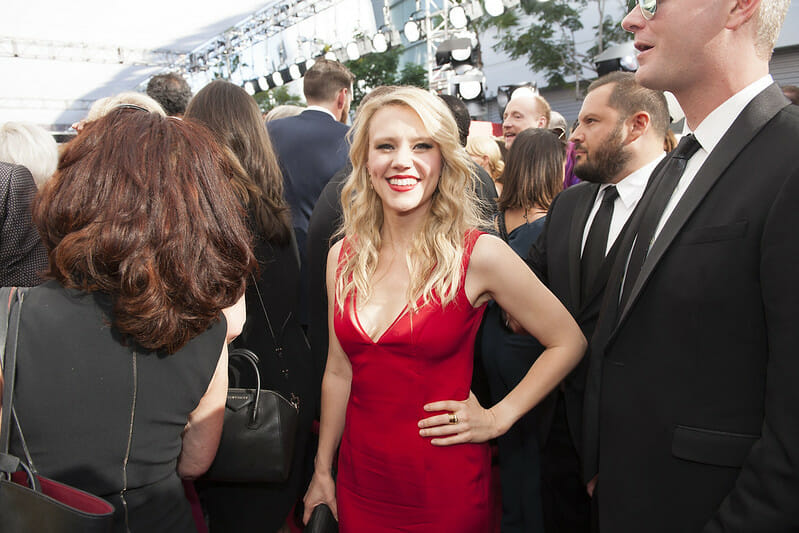 Dexter Pottinger
Dexter Pottinger was a fashion designer, hair stylist, makeup artist, and Jamaican gay rights activist who had come to be known as "the face of Pride." The stylist was a celebrity in his home country and something of a national hero for Jamaica's LGBT community.
In the year before his untimely passing Pottinger had played a prominent role in the Pride Week celebrations, organized by J-FLAG (Jamaica Forum of Lesbians, All-Sexuals and Gays). Of this, he said, "I hope that my participation will show members of J-FLAG that it is OK to come out in an atmosphere where there is no violence, realize that it's your time to be part of the change—not just for the week but permanently as a part of the community." To say the least, it is not easy to be an openly gay man – and a high-profile celebrity, no less – in Jamaica, where homophobia is widespread.
Also known as Dexter 3D Pottinger, the fashion icon also served as a judge on Make Me a Star, a Jamaican reality competition show. He was murdered in his home, in the Washington Gardens district of Kingston, in 2017, the victim of an apparent robbery. Pottinger was only 35 years old when he died.
He was mourned by the country as a whole, and eulogized by several fellow celebrities. Jamaican musician Ce'Cile, one of Dexter Pottinger's closest friends, said of him, "He lived life just like his pictures. "What you see in the pictures is exactly who the man is. He was colorful. You never knew what to expect. It was always something vibrant and new."
Dexter Pottinger is lovingly remembered as a brave soul who lived boldly and without fear, and inspired an entire nation to live out loud.
Miley Cyrus
As one of the biggest names in entertainment (not to mention a huge A-list celebrity) Miley Cyrus needs little introduction. What many may not realize about Miley is that she is one of the most prominent non-binary public figures out there.
Mily has been quite open about her sexuality and how she identifies herself. On the topic she has been quoted as saying, "I don't relate to being boy or girl, and I don't have to have my partner relate to boy or girl." Cyrus has been an advocate for increasing visibility for LGBTQ people, and for increasing social acceptance for people who choose to live outside of the binary.
To that she partnered with Instagram in its InstaPride campaign to help share the stories if nonbinary, transgender and gender-fluid people, as well as those of others in the LGBTQ+ community. And in the wake of the death of Leelah Alcorn – a 17-year-old transgender girl who committed suicide due to the alienation she experienced – Cyrus founded the Happie Hippie Foundation to benefit the homeless and LGBTQ communities.
Though she has unfortunately often been maligned in the media, and much of her advocacy work has been overlooked, Miley Cyrus is very much a worthy inspiration for not only other non-binary and gender fluid people, but for all LGBTQ people. By being so open about her self-identity, Miley has done much to make those who reject the traditional boy/girl paradigms much more visible.
Laverne Cox
This transgender actress is the first trans person to be nominated for a Primetime Emmy Award in the Acting category as well as the first transgender woman to win a Daytime Emmy Award in Outstanding Special Class Special (for her role as executive producer for Laverne Cox Presents: The T Word). She was also the first transgender person to portray a transgender series regular character on American broadcast television in her role as Cameron Wirth on the CBS legal drama Doubt.
As host of the makeover show TRANSform Me, Cox was the first African-American transgender person to produce and star in their own TV show. Laverne is also the first openly transgender person to be featured at Madame Tussauds wax museum with a wax figure. In 2014 she became the first transgender person to be featured on the cover of Time.
That's quite a list of accomplishments for the actress. That she has been a trailblazer in the world of television is beyond dispute. In her foremost role as Sophia Burset (a trans woman serving prison time for credit card fraud) in the Netflix series, Orange is the New Black Cox found the perfect platform to give voice to the cause of trans rights, saying "Sophia is written as a multi-dimensional character who the audience can really empathize with—all of the sudden they're empathizing with a real Trans person. And for Trans folks out there, who need to see representations of people who are like them and of their experiences, that's when it becomes really important."
Her work as an LGBT and transgender rights activist is just as notable as her boundary-smashing work in television, and Laverne Cox has rightly been honored as one of the most important and influential LGBTQ people in the world.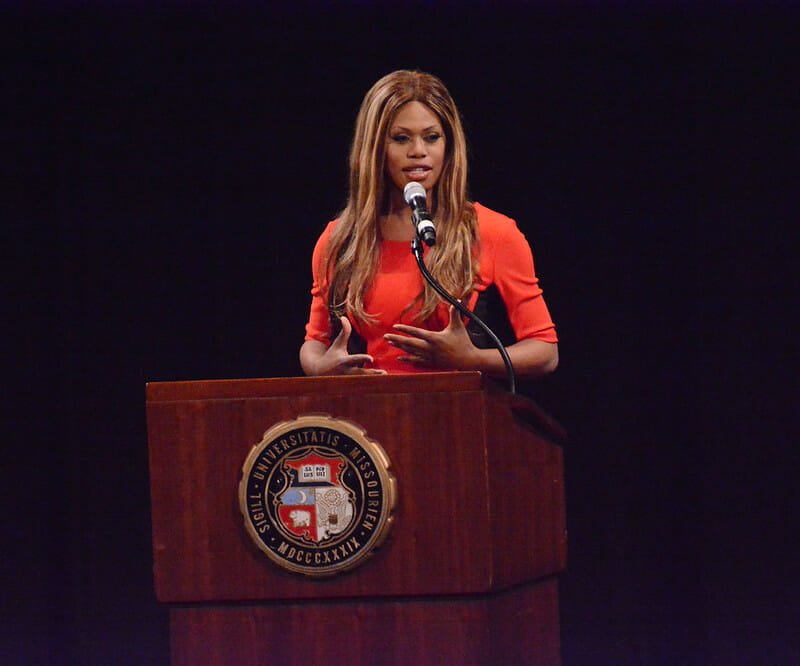 Janelle Monae
This singer, songwriter, actress and sci-fi author came out as non-binary in an April 2022 interview on an episode of Red Table Talk, saying "I'm nonbinary, so I just don't see myself as a woman, solely. I feel all of my energy. I feel like God is so much bigger than the 'he' or the 'she.' If I am from God, I am everything. I am everything, but I will always, always stand with women. I will always stand with Black women. But I just see everything beyond the binary."
The 8-time Grammy Award nominee has released 3 albums, the latest of which is a concept album titled Dirty Computer, which was accompanied by a short film that won a Hugo Award. Monae has also written a collection of cyberpunk short stories working off the album's concepts. She has also found success on the big screen starring in the Academy Award-winning film Moonlight.
On her creative alter-ego (a woman named Cindi Mayweather from the far future city of Metropolis) Monae has said, "I speak about androids because I think the android represents the new 'other'. You can compare it to being a lesbian or being a gay man or being a Black woman … what I want is for people who feel oppressed or feel like the 'other' to connect with the music.
George Michael
The pop music legend was a fervent supporter of LGBT rights, both in his life and in his music as well. Michael grew up in a time that had not seen the progress we enjoy today, and like many gay men of his generation, Michael struggled to come to grips with his sexuality and to find acceptance, living in a culture where homophobia was the rule, not the exception.
Upon coming out publicly as gay in 1998, Michael said "I never had a moral problem with being gay. I thought I had fallen in love with a woman a couple of times. Then I fell in love with a man, and realized that none of those things had been love."
After losing his partner, designer Anselmo Feleppa, to an AIDS-related illness in 1993, Michael hosted an MTV documentary called Staying Alive, which examined the lives of young people living with HIV. The documentary went on to win an Emmy Award. Michael was also a supporter of the Terrence Higgins Trust (a British charity that provides education and services related to HIV and sexual health).
Geroge Michael's passion and pride is evident in his work, too, as even a cursory look at some of his song's lyrics will show. One of the best examples can be found in his 1987 hit Father Figure: "That's all I wanted/But sometimes love can be mistaken/For a crime." These lyrics seem somewhat ironic looking back, given the circumstances surrounding his coming out to the public 10 years later. But it is unmistakable that Michael meant to make a statement through his music.
And though he sadly passed away on Christmas Day, 2016, at only 53, Goerge Michael is remembered not only as one of the greatest music artists of his time but also as among the most significant icons for a generation of LGBT people.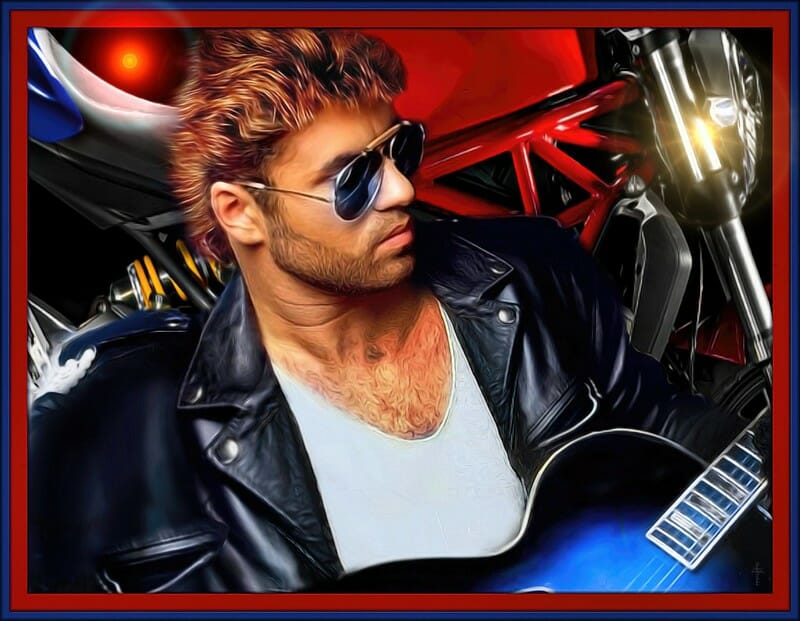 Ellen DeGeneres
The American comedian, actress, writer, television host and producer, and voice actress is probably one of the most recognizable celebrities in the world. A longtime television fixture, Ellen DeGeneres first starred in her sitcom, Ellen, and has hosted a talk show named after her since 2003. Throughout her amazing career, Ellen has won 30 Emmy Awards and 20 People's Choice Awards, and in 2016 she was a recipient of the Presidential Medal of Freedom.
DeGeneres came out as a lesbian in 1997. Actually, her coming out was a sort of "double coming out" for both her and her semi-biographical onscreen character in a scene that is nothing short of brilliance. Looking back, the landmark scene was not only a television event but a cultural one as well, and one which a great many people have said was life-changing for them. Sure, there was some backlash (actually there was a lot of backlash, so much that it led to the show's cancellation) but the scene will forever be looked upon as an iconic moment in popular culture.
Since that time, she has been called "The most beloved queer person in the United States." There have even been Pew research studies – those polling both the general population and LGBT Americans specifically – that have indicated her as a leader when asked to name well-known public figures who have been important in advancing LGBT rights.
It is undeniable that Ellen DeGeneres has been one of the most visible LGBT public figures in America. And she has been out for so long now that it is scarcely an issue for most people. Though it wasn't like that when she first openly announced her sexual orientation amid a wave of vitriol from certain (though not all) media outlets. Still, DeGeneres kept smiling and went on with living her truth as her career skyrocketed. By being not only out, but so unabashedly, she has probably done more to "normalize" LGBT people in the eyes of hetero people than any other celebrity.
This is what makes her an LGBT icon worth celebrating in spite of the controversies she's endured along her journey.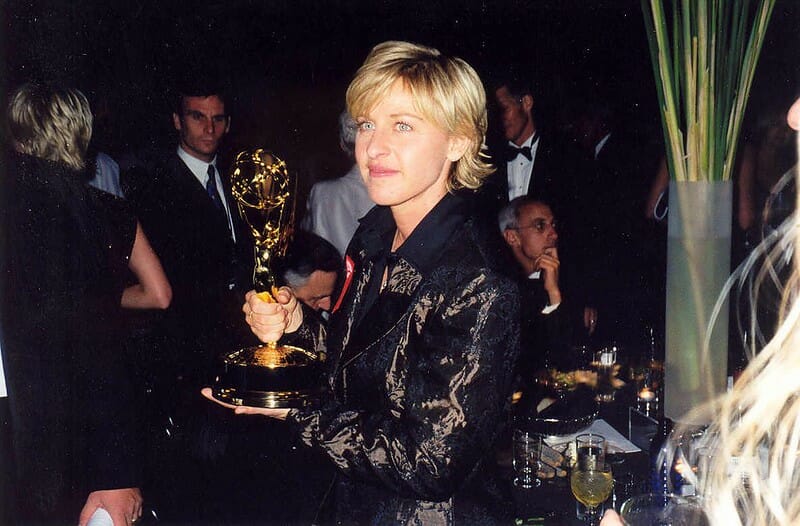 George Takei
For those who don't know, Geroge Takei is a Japanese-American actor, author and activist. He is of course best known for his role as Hikaru Sulu in the Star Trek television series and films. Later in life he also became one of the most prominent and outspoken LGBT rights activists in the US.
Throughout the course of his long career – which has spanned an incredible eight decades – Takei has appeared in films alongside such screen legends as Frank Sinatra, Cary Grant, and Richard Burton. He has appeared in or done voicework for such diverse shows as Miami Vice, The Simpsons, Murder She Wrote, The Twilight Zone, Heroes, Will & Grace, Scrubs, and many more.
George came out as a gay man in 2005, (in an issue of LGBT magazine Frontiers) saying "It's not really coming out, which suggests opening a door and stepping through. It's more like a long, long walk through what began as a narrow corridor that starts to widen." Takei sexuality had been an open secret in the industry, however, and he had long openly been a member of LGBT organizations like Frontrunners – an LGBT walking club. Takei is a spokesperson for the Human Rights Campaign's Coming Out Project. He is a recipient of the LGBT Humanist Award in addition to the GLAAD Vito Russo Award in recognition of his activism.
Not only is George Takei a living legend in the world of entertainment, but also he is one of the most important voices in the world right now for LGBT equality.