Are you planning on moving to LGBT Orlando? Whether you're moving for work or simply looking for temperate weather and sunshine, Orlando can be the city to start a new life.
Orlando, the theme park capital of the world, might not scream dream gay locale on first thought – but away from the I-Drive hotel zone, you will actually find one of the most resonant and LGBT-friendly cities in America!
Vibrant communities, trendy neighborhoods, and close-ish proximity to fabulous beaches have created the perfect conditions for a distinctly cosmopolitan vibe to take hold, and today LGBT Orlando has one of the most lively queer communities in the world with a distinctly Latin twist.
It also helps that Orlando has breathtaking natural scenery, plenty of job opportunities, attractions, and a casual atmosphere.
And did we mention a tight-knit queer community?
Yes, just like in New York City, New Orleans, Miami, and other fabulously gay US cities, there is also an energized LGBT scene here (if you know where to look), and this is something a gay realtor in Orlando can help you navigate as you find your new perfect home here.
The legendary Parliament House, Disney Gay Day's and the annual Come Out With Pride events are some of the highlights of moving to LGBT Orlando, but there is also plenty of modern dining, live music, and other queer events! Add to this the legendary theme parks and affordability of life here and you will begin to understand why Orlando is the number one travel destination in the USA and a growing permanent gay population.
Orlandians stood together in the wake of the Pulse nightclub tragedy, and today the community is strong and the region more committed to inclusiveness and diversity than ever before. Rainbow flags and light displays still cover the city, Orlando Pride transforms the entire city and everybody has come together, united – providing that love will always prevail.
Think of this article as a queer Orlando relocation guide that will help you understand what you're getting yourself into when moving to this beautiful city. If you need a more night-life and travel-focused guide detailing all the LGBT clubs, parties, and more, check out our Gay Orlando Guide!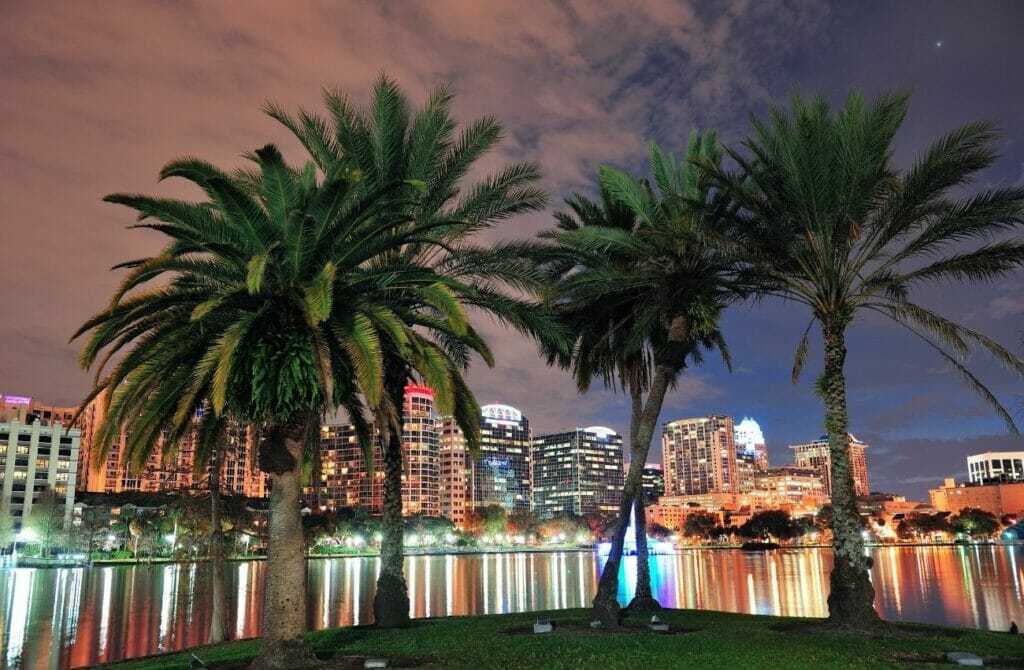 Highlights Of Moving To LGBTQ Orlando
Moving to Orlando can be exciting, and you will be spoilt for choice, considering the beautiful neighborhoods, cultural diversity, opportunities, and sunshine. Here's what you should expect once you move here.
Plenty Of Opportunities
Orlando is well-known for having a highly-rated school system. The city is home to several excellent school districts, and if you've got kids, they will have access to some of the best education in the U.S. The Seminole County Public School System is one of the finest districts in the city. The Orange County Public School System is also a great district with more than 200,000 students. Orlando is also home to plenty of private schools, if that's what you're after.
The Weather
If hot and humid summers are what you're looking for, you will enjoy Orlando's weather. The climate here is majorly tropical, with dry and chilly winters. Make sure you consider hurricane precautions. If you choose to live further inland, they won't happen so often but might experience severe tropical weather after a hurricane.
Theme Park Living
The whole of San Francisco can fit into the area occupied by the Walt Disney Resort. Orlando is a city best known for its theme parks, and moving here means you've got access to some of the most popular tourist destinations and attractions in the world. Here, there's LEGOland, Walt Disney World, Discovery Cove, Seaworld, and Universal Orlando. As a resident, you will get massive discounts when there are fewer discounts, how about that?
Does Orlando Embrace The LGBTQ Community?
Orlando has had a Municipality Equality Index of 100 for four consecutive years. The city also has plenty of initiatives, ordinances, and policies to support the resident LGTQ+ community. Orlando's local government and LGBT organizations work together to ensure that the LGBT+ community enjoys a safe and inclusive environment.
After Mayor Buddy Dyer got into office, he brought an inclusive government that encourages diversity by establishing ordinances, laws, and local programs beneficial to the LGBT community. These include;
Non-Discrimination Ordinance: Since 1973, the city has had a non-discrimination statute and corresponding City board entrusted with promoting equality in the city and is active in supporting the city's recent equality efforts.
Domestic Partnership Registry: The ordinance, approved by the City Council in 2011, established Orlando's first Domestic Partnership Registry, making Central Florida's number one government agency to take the essential milestone of providing all couples with the same rights as other committed couples. Since then, the city's register has served as a model for 13 other jurisdictions in the state.
Marriage equality supported in court briefs: The Mayor and the City Council approved the lodging of amicus curiae documents supporting marriage equality in various Florida cases challenging the state's same-sex marriage prohibition in June 2014.
Gender Identity inclusion to the Anti-discrimination Chapter 57: In July 2014, Chapter 57 Review Board advised the City Council to add gender identity to Orlando's Recruitment and Employment and Harassment procedures and policies as a protected class. On August 11, 2014, the City Council unanimously passed legislation to add gender identity.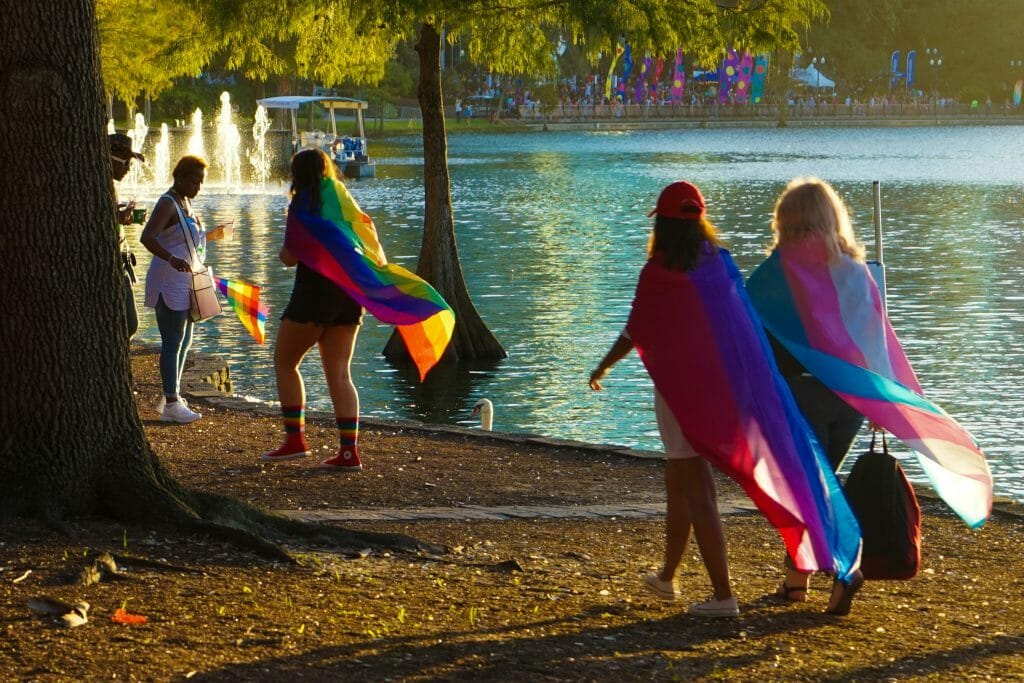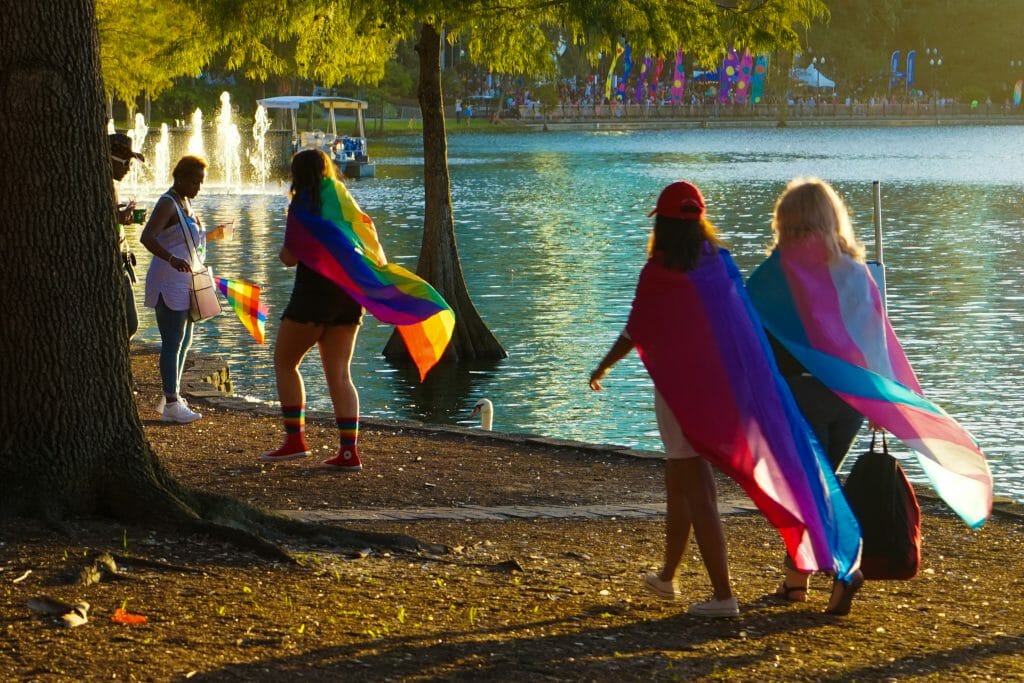 Enforcement of City and Federal laws to abolish discrimination in housing, employment, and public accommodations: The Human Relations Division advances equal opportunities for Orlando residents by advocating nondiscrimination policies and implementing city and Federal laws prohibiting discrimination in housing, public accommodation, and employment. The anti-discrimination laws discharged prohibit discrimination based on sexual orientation, color, race, age, gender identity and expression, retaliation, disability, sexual harassment, and national origin.
Law Enforcement and LGBTQ Liaison Training: The City Police Department ha instructed and taken part in law enforcement and public safety training programs aimed at helping the residents and various law enforcement agencies to develop an understanding of the aspects of the LGBTQ+ community and the issues such individuals face, as well as developing policies to tackle LGBTQ+ issues, fostering community trust and public law safety and law enforcement relationships. The city has an LGBTQ liaison model rules to ensure all are treated with decency, respect, and frequent training. The LGBTQ Liaison was also the first agency in the southeast region to implement the Safe Place program, protecting LGBTQ+ people.
Unfortunately, travelers to the city view it as the home to Universal Studios and Disney World or as an amusement park wonderland rather than as a destination to queer culture. However, what they don't know is that the city scored a perfect mark as its 2020 MEI score. This score rates a city's inclusivity regarding policies, services, and municipal laws. The queer community in Orlando has grown in the last couple of decades and has become one of the country's most inclusive communities.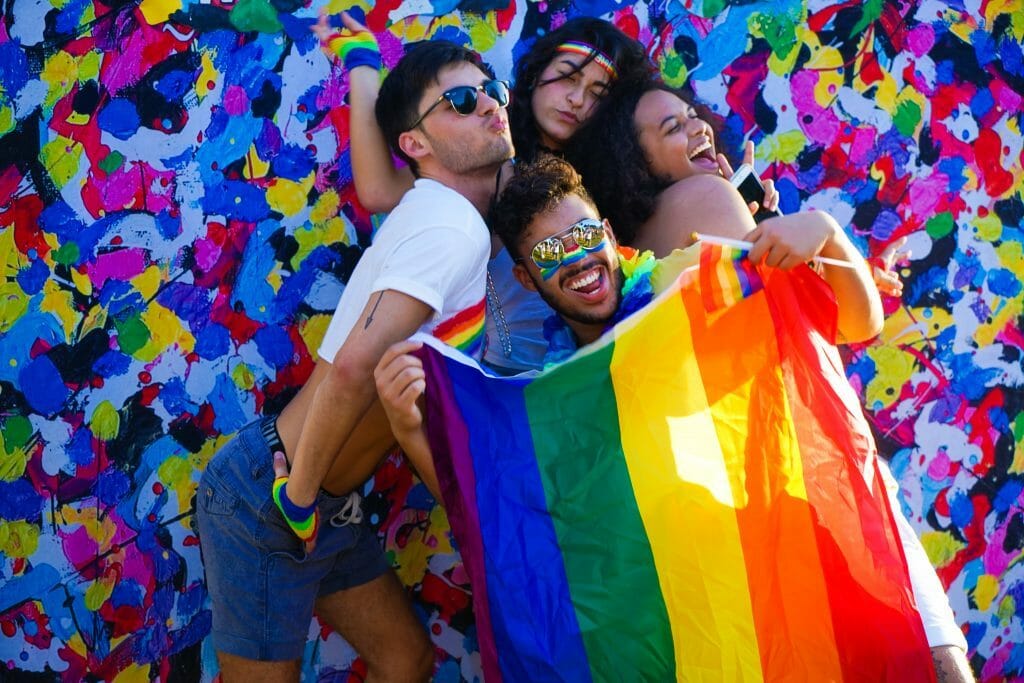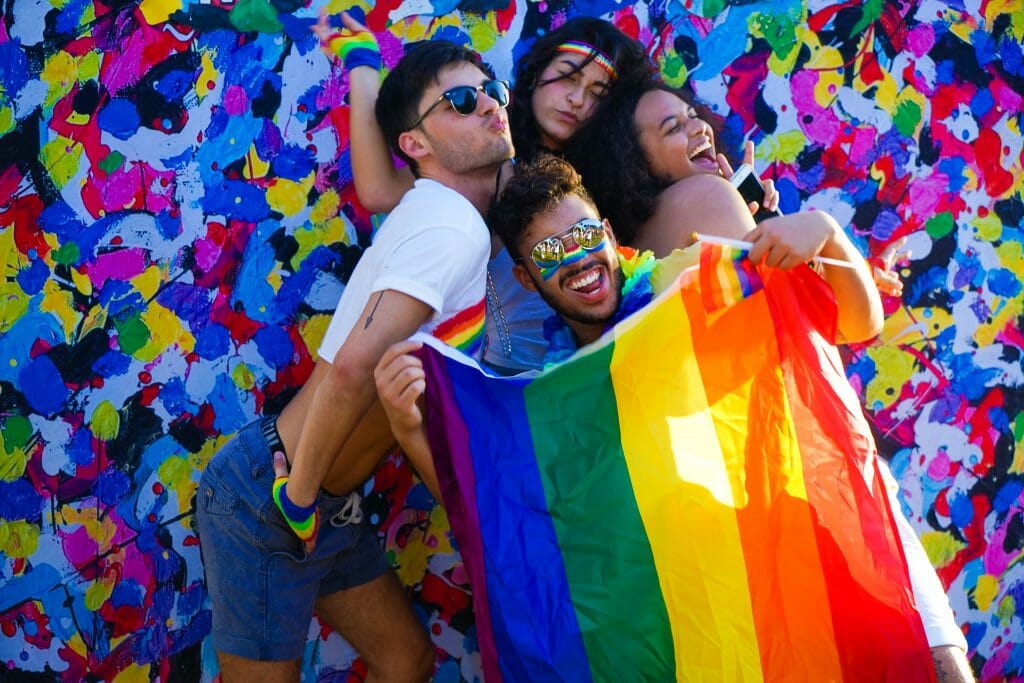 Is Orlando An Expensive City To Move To?
Orlando's cost of living and housing is 5% and 11% lower than the country's average, respectively. Let's take a closer picture of how much some goods and services cost in the city.
Energy bills cost an average of $186.44
Loaf of bread would cost you $3.40
Doctor's visit costs $97.65 per visit
A gallon of gas costs $ 2.45
While rent prices in the city are reasonable, they are rising. A one-bedroom apartment in the city costs $1,180, while a two-bedroom costs about $1,400. If you're single and want to live in a one-bedroom apartment, aim for an income of about $17.70 per hour or $35,300 per.
In 2019, the Census Bureau reported that the median income in the city was $51,757. To live above the poverty wage in Orlando, you should aim to make about $15.44 per hour working full-time. While wages in the city are reliable, you might need to make a little more if you'd like to enjoy theme parks and nightlife regularly.
One of the best things about living in this city is the no-income-tax Florida residents enjoy. While living here, you don't have to pay inheritance tax, income tax, or estate tax.
The Best Gay Neighborhoods In Orlando
Not all LGBT individuals want to live in the frenzy of Downtown Orlando and it's central business district, so thankfully, there are lots of alternate areas to live for those who are seeking a calmer-yet-still-LGBT-friendly environment.
When relocating to LGBTQ Orlando, keep in mind that some neighborhoods are closer to all of the exciting queer events and happenings than others. Knowing them in advance will ensure that you arrive at your new home in the most suited gay-friendly area of town.
Start with these top gay and LGBT-friendly Orlando communities to find your fabulously perfect new home, each with its own individual personality, welcoming community, and amenities you'll adore. Allow ample time to become acquainted with Orlando's diverse personalities, and keep in mind that this city has plenty to offer everyone – LGBTQ or not!
Now let's take a look at where the handful of marvelous gay areas in Orlando are and talk about the Orlando gayborhood where you might feel most at home! Or speak to a local LGBT real estate agent for a more detailed understanding of the best options today.
Colonial Town
Colonial Town is located northeast of Downtown Orlando and the Orlando Executive Airport. The Colonial Town neighborhood is home to tree-lined streets and historic homes and possesses lots of charm. This neighborhood is popular with Orlando's gay community thanks to its nightlife, restaurants, and proximity to the downtown area.
Over the years, many homes in this area have been renovated, and the neighborhood is gentrified. Colonial town is a walkable, convenient neighborhood thanks to I-4 running through downtown Orlando and the 408 East-West Expressway. If you're looking for a gay neighborhood a little further from downtown Orlando, this is the community for you. The median price of homes in this area is around $319,600.
Thornton Park and Lake Eola Heights
The LGBTQ community in Orlando loves Thornton Park and Lake Eola Heights. This area is within walking distance of Downtown Orlando and offers an excellent mix of bars and restaurants frequented by a diverse and thriving community. The neighborhood features craftsman-style homes beautiful bungalows sitting on cobblestone streets.
Thornton Park is considered one of Orlando's most trendy areas and has excellent places to eat and unique shops. The area is also considered Orlando's second-best neighborhood with luxury apartments and historic homes. Thornton Park has several schools, such as Hillcrest Elementary School, Boone High School, and Howard Middle School, rated above average. The Thornton Park neighborhood consists of a friendly and welcoming community with both the old and the new.
Lake Eola Park is one of the highlights of this community, and a couple of LGTQ events happen here all through the year. Residences here range from highrises along the lakeshore to vintage farmhouses. There are plenty of things to do here, including cycling, walking, or taking a lake tour on paddle boats shaped like swans. The median price of homes in the Thornton Park and Lake Eola Heights neighborhood is $344,700.
East Downtown
The East Downtown neighborhood is considered to have the most LGBTQ+ couples in Orlando. East Downtown has a variety of LGBT-owned businesses. A member of the LGBTQ+ community holds the council seat representing this neighborhood.
If you're looking to purchase a home here, you have the option to choose between a single-family home or a condo. East Downtown is often considered one of the more sophisticated areas of the city and one of Orlando's best neighborhoods. East Downtown is a thriving business district and is perfect for those looking for an ideal place to live, work, and play.
East Downtown comes with all the best things life offers, such as excellent theaters, museums, parks, and seafood markets. Nightlife in this neighborhood and the Walt Disney Amphitheater are both major attractions. The neighborhood is also known to host plenty of dance performances, festivals, and outdoor concerts all through the year.
Park Lake
Park Lake is rated one of the best places in Florida to live. It is a quiet neighborhood located north of Lake Eola Heights and is characterized by scenic views, coffee shops, restaurants, bars, parks, and young professionals. Popular spots in the neighborhood include the Orlando Urban Trail, which presents an excellent way to bike through the city, as well as coffee spots where you can pick your morning cup of coffee on the way to work.
Lake Highland Prep, which is part of the neighborhood, is made up of smaller campuses and is one of the area's top academic institutions. If you'd like to live in the Park Lake neighborhood, you should know that homes here are always in demand and are highly priced, starting from between $200,000 and $399,000.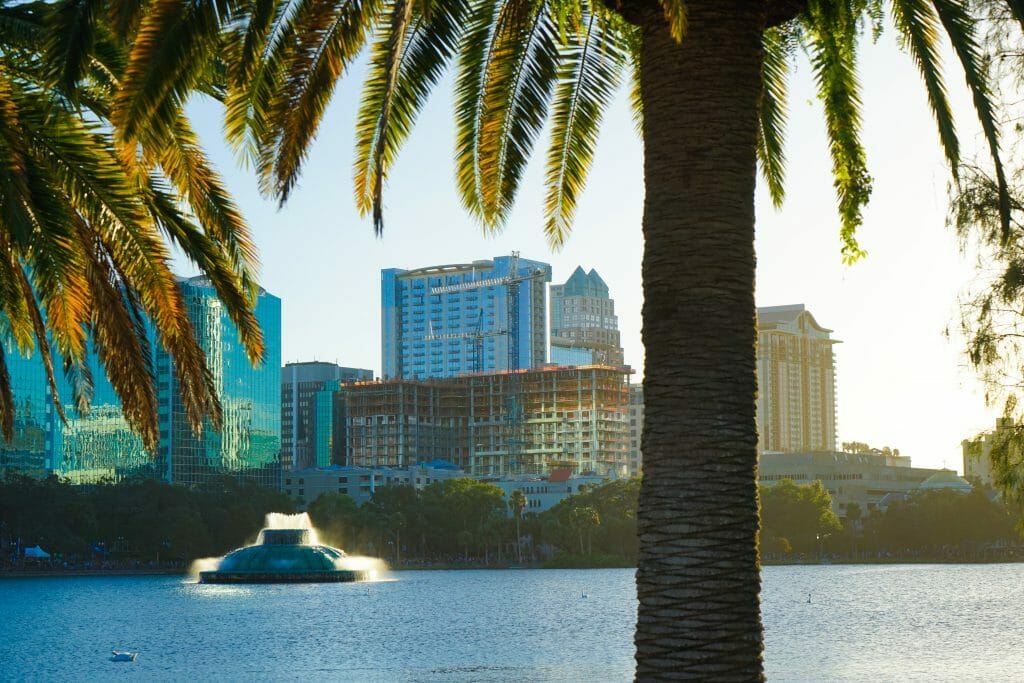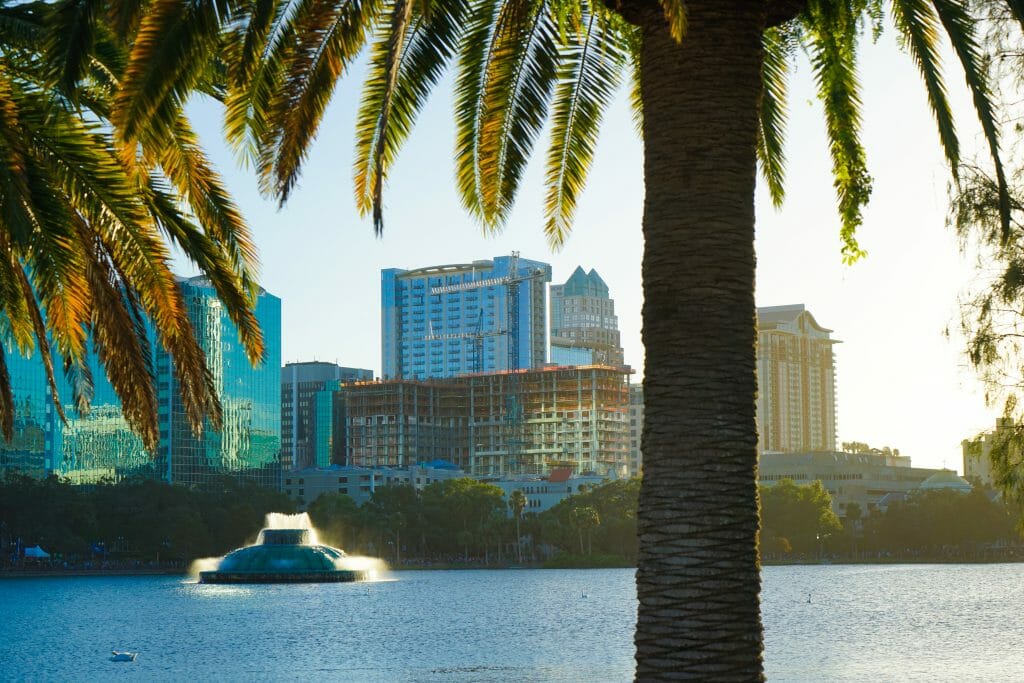 Annual LGBT Events In Orlando
After moving to a new city, you will likely want to create new connections, meet new people, and network. Thankfully, LGBT Orlando plays hosts to a variety of annual events for lesbians, transgender persons, gays, and anyone else who wants to have a good time.
While there are many queer events in the city, the ones listed here are the largest and greatest and are all worth marking in your calendar as you won't want to miss them.
An annual week-long family-friendly event in June where queer people vacation together at pre-designated Disney World Parks. Although not officially sanctioned by Disney, it was attended by over 50,000 people last year so be sure to book your hotels near Disney World well ahead of time. The event covers each of Disney's Parks each day (so a 4 parks in 4 days Disney pass is best) and is one of the best gay events in Orlando ideas for both the young, and young at heart!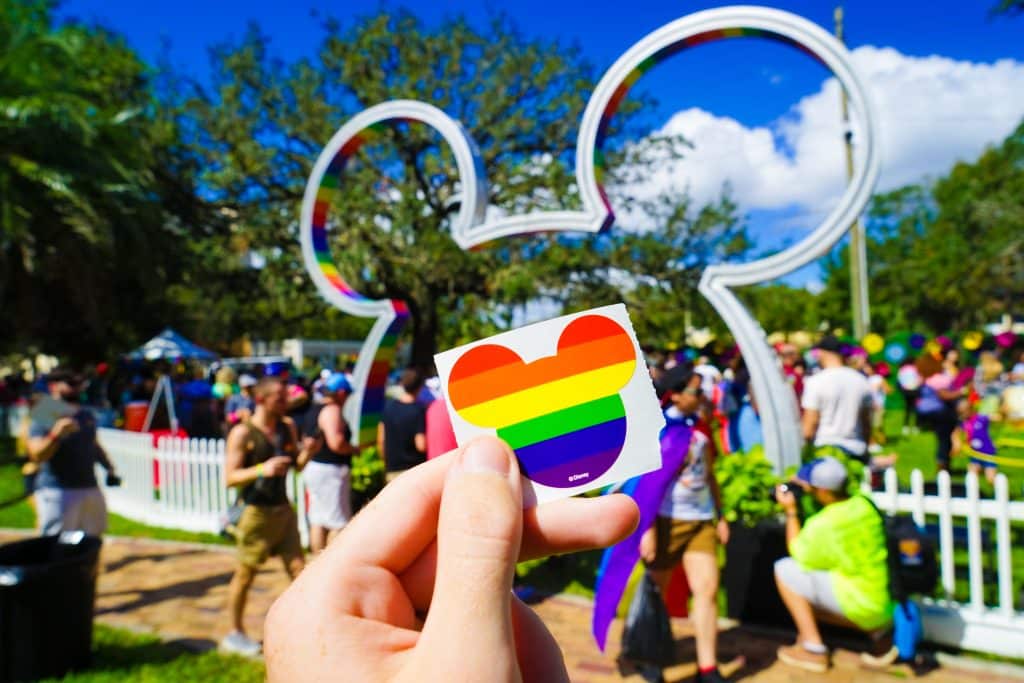 Piggy-backing somewhat on the success of Disney Gay Days in June, but entirely without the wholesome fun is One Magical Weekend. A three-night circuit park coinciding with Gay Days, including the biggest DJs. Think of a private all-night party at Disney's Typhoon Lagoon Waterpark, all-night dance sessions, and therapy pool parties by day…Why choose between events when you can do them both??
Bears, cubs, and otters descend on Orlando in September for one weekend of all-out mayhem. With a masquerade ball complete with leather, whips, and uniforms, ample Happy Hours, associated events, theme parks, and the Bear Bash Cabaret this is one event to plan your summer calendar around!
Orlando International Fringe Festival
Not strictly LGBT-focused but with a fully inclusive atmosphere, this 14-day annual arts festival in May is America's biggest and oldest fridge festival. Consistently voted Orlando's best annual event, no list of gay events in Orlando could be complete without it.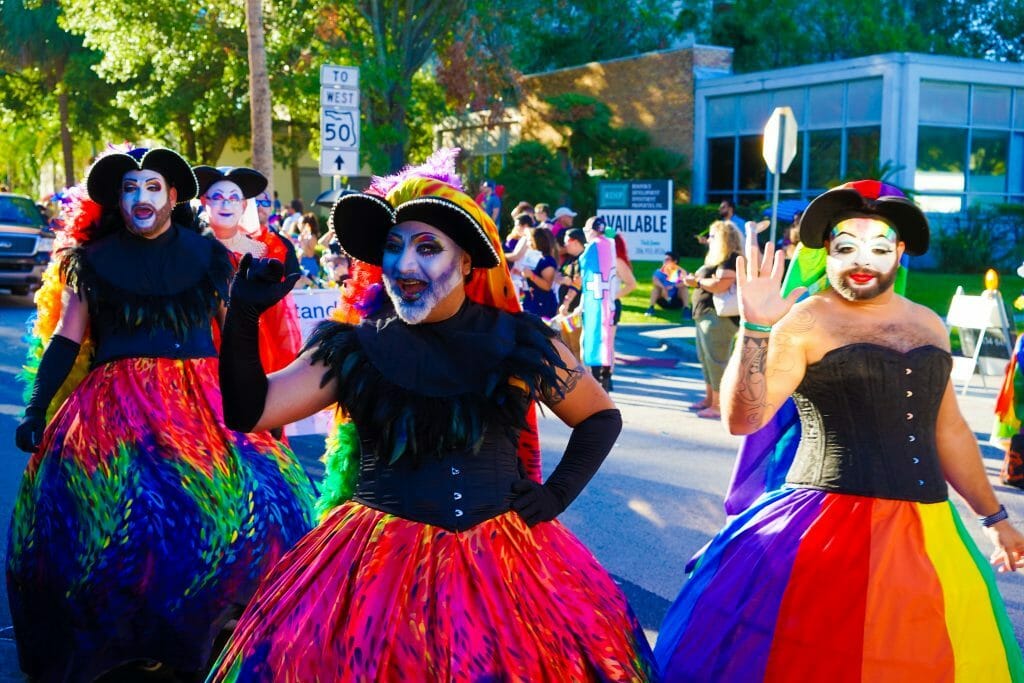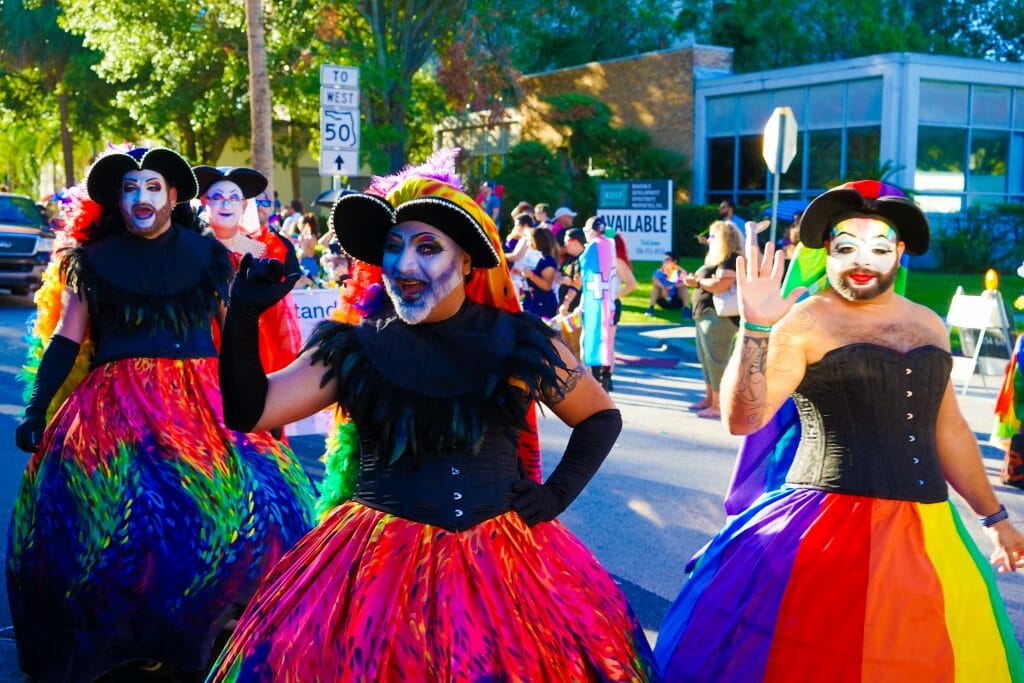 The largest LGBT event in Florida, Pride Orlando held annually in October brings together the LGBT community and friends to celebrate progress and diversity annually. A week-long roster of events culminated in a festival and parade at Lake Eola, after the tragic event at Pulse Nightclub this is truly the celebration the city continues to need to bring it together.
Halloween Horror Nights
An epic once-in-a-year event in October at Universal Orlando where you can explore up to 11 haunted houses, including those inspired by horror plays Trick 'r Treat and Stranger Things. When the sun sets, the whole Universal Orlando turns darker, eviler, and will surely leave you shaking. Ok, it is not gay at all – but it is utterly fabulous and not to be missed…Seriously!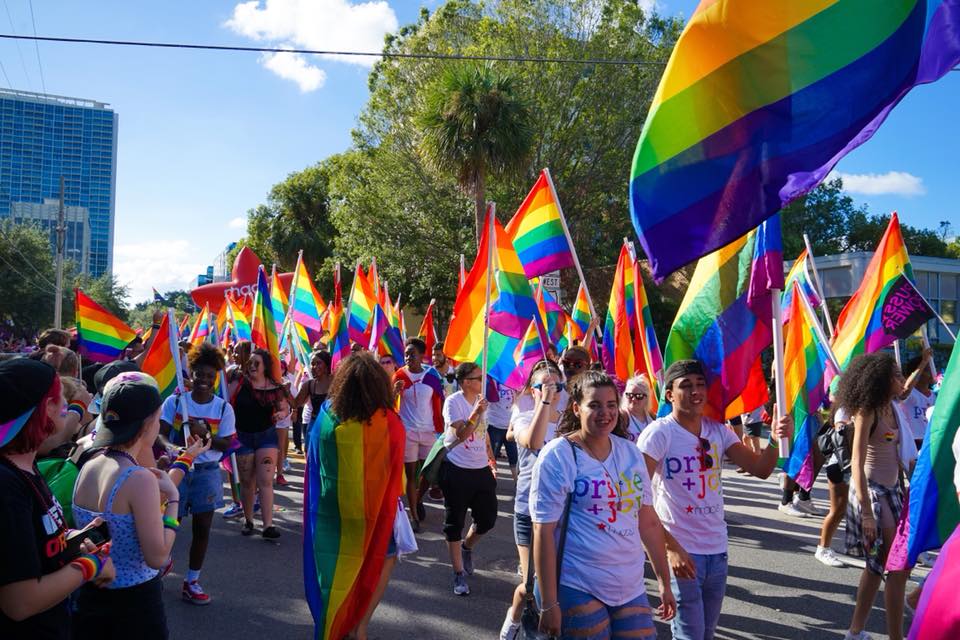 LGBTQ+ Community Organizations In Orlando
To progress the LGBTQ agenda, the queer community commonly has to rely on donor organizations or non-profits.
Wherever you live, it's critical that you support such groups in any way you can use so that they can reach out and aid others in the community. You might even need their assistance right or at some point in the future – and no matter what, every queer person has benefited from their tireless work to achieve the progress and rights we have today. Here are some outstanding community LGBT organizations in Orlando.
These are wonderful places to start if you're looking for LGBTQ groups to join, seek support from, meet new people with or volunteer for a cause you care about.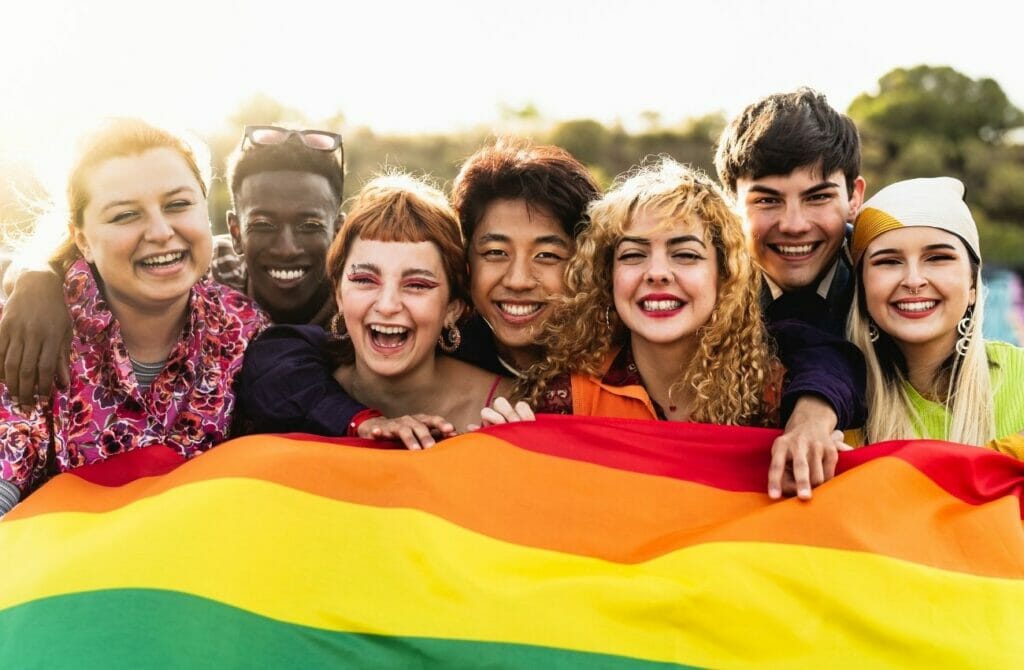 Zebra Coalitions' mission is to inspire and support LGTQ+ youth. The coalition comprises many organizations that offer services to gay, lesbian, bi, transgender, and other LGBTQ+ youth aged 13-24 years. The coalition helps youth facing bullying, homelessness, isolation from their families, and sexual, physical, and drug abuse with customized programs guiding them towards stability and recovery.
Also known as The Center, the LGBT+ Center Orlando is one of the country's oldest centers. It aims to promote the well-being of the LGBT community in Central Florida. Its mission is to empower and promote the LGBT community and allies through advocacy, education, and information.
OUT is an LGBT+ sports league serving the Central Florida queer community. The league was created to provide a social, inclusive, and safe alternative to bars for the LGBTQ+ community to meet and interact. OUT seeks to develop a diverse and friendly community through sports leagues.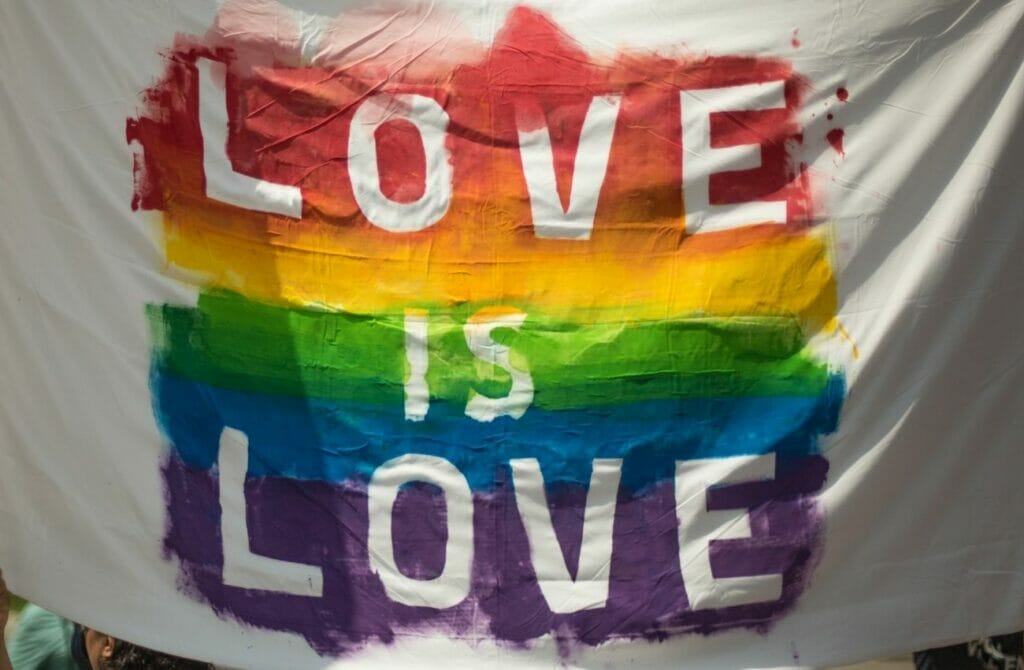 LGBT Owned Businesses In Orlando
After moving to LGBT Orlando, it's only natural to want to support queer businesses. One strategy for establishing a safer and more inclusive society is to create a secure environment where people may rest, buy, dine, and connect without fear, and this is exactly what LGBT companies should strive for.
To safeguard the queer community's survival and success, it is critical to support these initiatives wherever you are. With that in mind, here are a few LGBTQ-friendly businesses worth visiting in Orlando.
The Glass Knife
The Glass Knife, owned by partners Lance and Steve Brown, is a café well-known for its pastries and coffee, delicious desserts, and brunch served every Saturday and Sunday.
Hungry Pants
Hungry Pants is for those that are curious about plant-based or gluten-free foods. The business offers only healthy menu items and ensures that everything they serve is enjoyable. Owned by husbands Alex Marin and Joey Conicella, Hungry Pants offers an environment welcoming to all.
A downtown Orlando institution with a Broadway Brunch, Dining with the Divas, Bingo, and many, many more LGBT orientation events. Classic American appetizers, burgers, and drinks served with a side of sass! One of the more fabulous locations for this queer burger and drag franchise, though we also loved their Denver, Vegas, and Puerto Vallarta locations.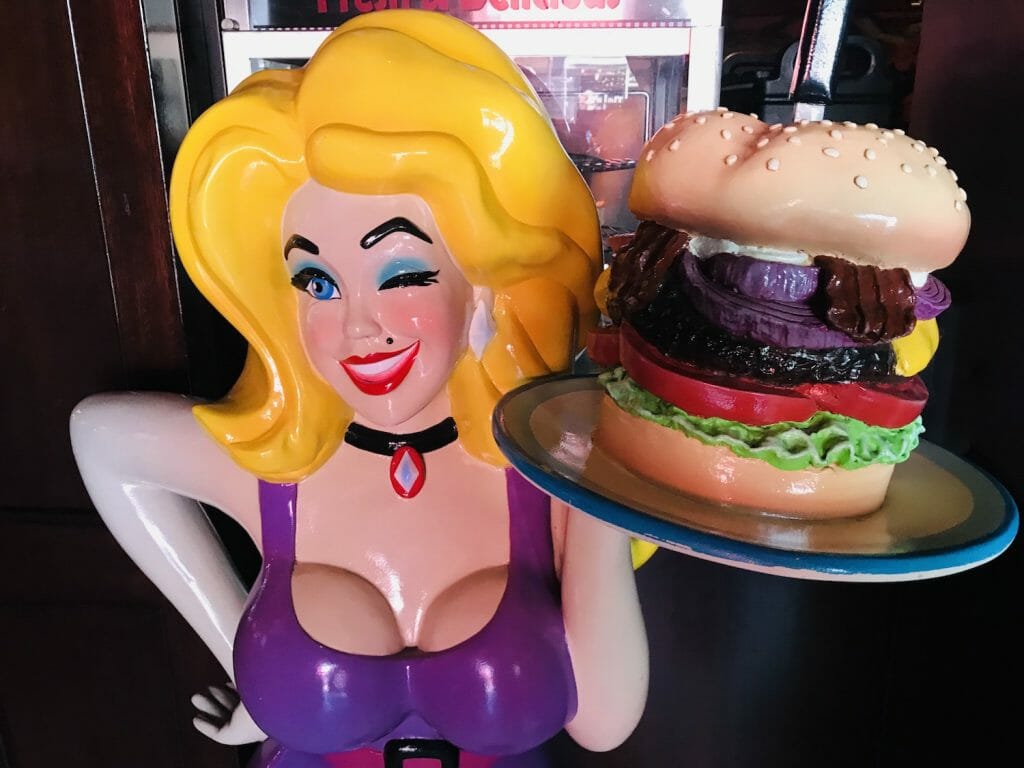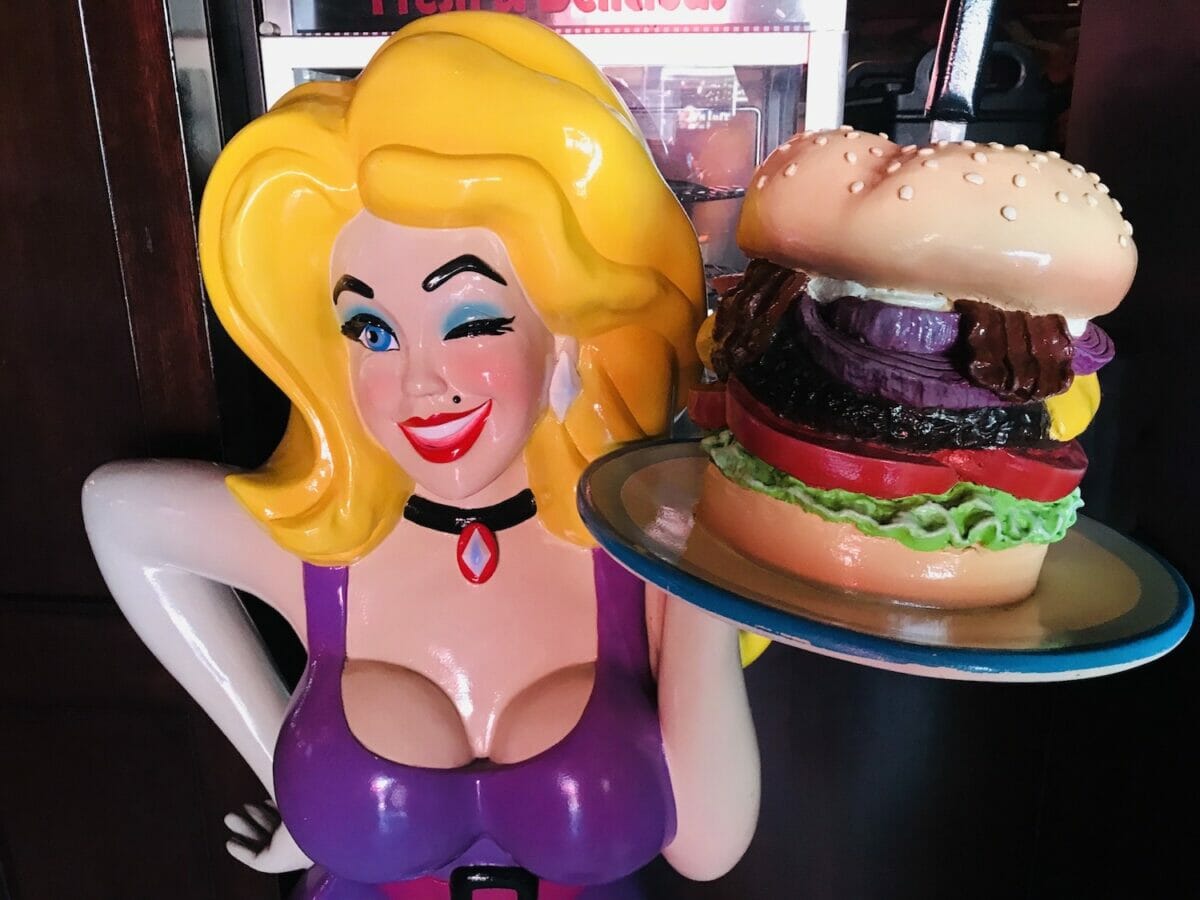 A small cafe in a quiet block served funky teas and creative sandwiches and sides – all with eclectic personalities and art. And it's open all night on weekends!
An upscale lounge where you go to see-and-be-seen! With hot bartenders, even hotter go-go dancers, and chic decor, this is the place to go for early drinks and to stay well into the night.
A huge multi-room club with a special girls / lesbian night every week (Making Southern Nights the closest thing to lesbian clubs in Orlando). Plenty of areas to dance, chill and mingle – South Nights will be packed on the weekend and most nights with weekday events such as their famous Drag Race competitions.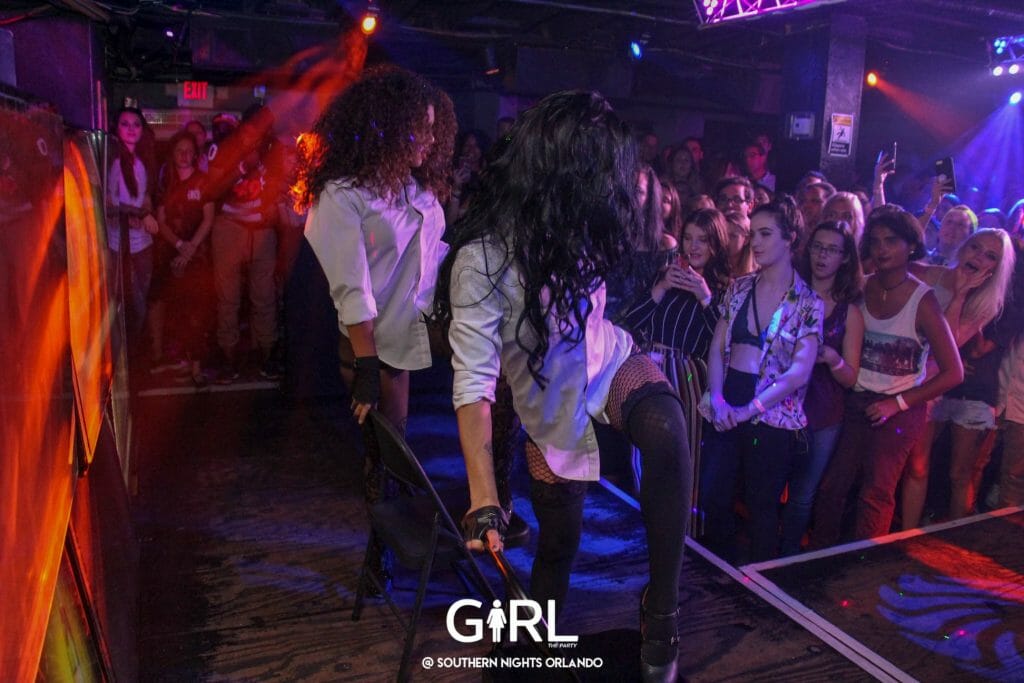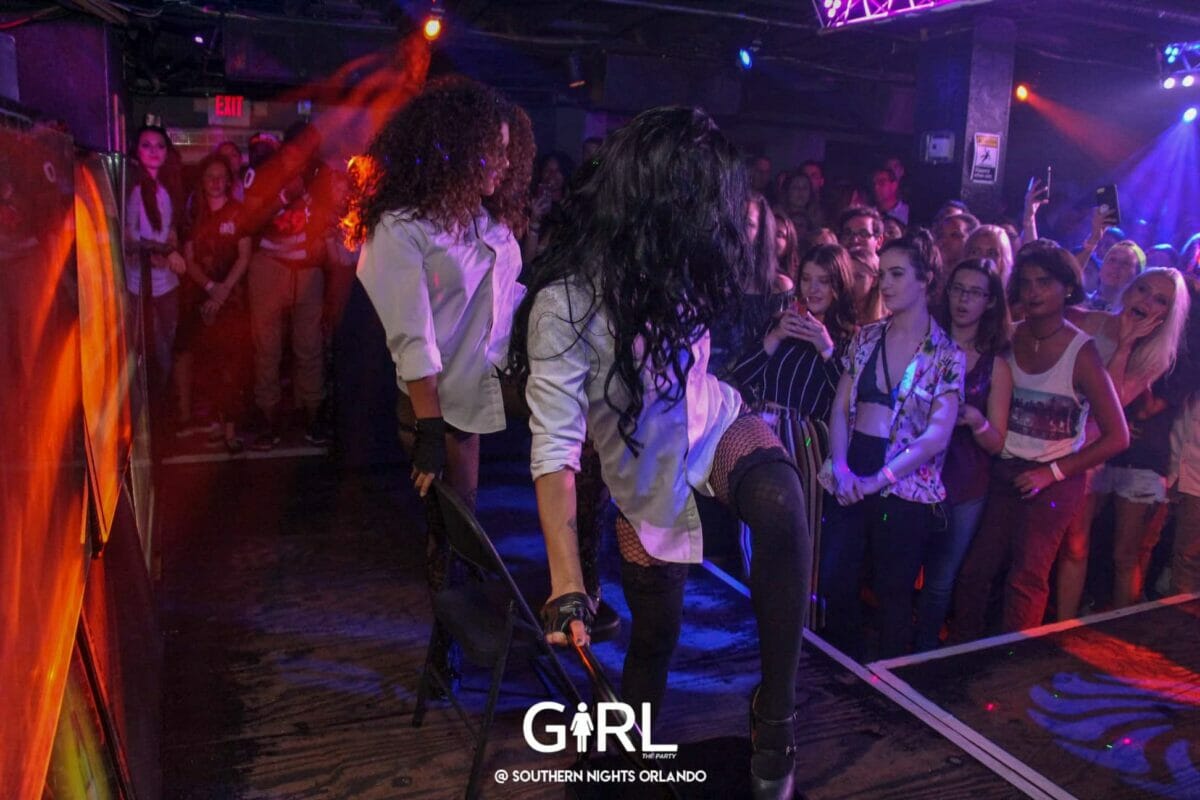 Señor Frog's Sunday Drag Brunch
Reserve your tickets in advance; this is one of the country's premier Drag Brunch known for bottomless drinks, hours of entertainment, and past contestants of Ru Paul's Drag Race dropping in from time to time.
Se7en Bites
Se7en Bites is an eatery and bakery owned by Trina Gregory-Propst. Se7en Bites is located at the center of the city's Milk District and features a delectable menu of homemade sweet treats, coffee, brunch, and breakfast faves, as well as southern comfort food.
Final Thoughts On Moving To LGBTQ Orlando
Orlando is a friendly city, and you will find that most of its residents are tolerant, friendly, and agreeable. Don't be shocked if you see people taking a little time to help each other. If someone smiles at you, make sure you smile back at them, as that's the fastest way to make new friends.
Keep in mind that life is what you make it, and wherever you choose to begin your new life in gay Orlando, we hope you find the openness and security you deserve. The surest way to discover LGBT Orlando is always going to be living in a gay-friendly neighborhood by frequenting local LGBT businesses and events and joining queer community groups and sports teams.

We promise that if you follow these steps, your transition to LGBT Orlando will be easier, and you'll rapidly meet like-minded people to build your new chosen family here. And if you are still not sure, we also recommend reading our Gay Orlando guide with more specifics on the queer attractions, events, and LGBT fun on offer…
Finding Gay Realtors In Orlando Florida
When looking for the ideal realtor, why would you consider someone's sexuality? This may seem strange at first, but there are several reasons why contacting a gay realtor in Orlando is a great way to find your dream house.
After all, when it relates to one of life's most important transactions, it's not unreasonable to expect fair, equal, and honest representation from someone who understands the queer community's particular needs and wishes. Furthermore, unfortunately, many people (up to a third of Americans) continue to believe that our community does not deserve protection and dignity in housing, adoption, employment, and other areas of life.
So it's no surprise that LGBT people who use mainstream realtors often describe feelings of discomfort, unnecessary trouble, unenthusiastic representation, or even antagonism or outright contempt. Everyone deserves a pleasant, stress-free home buying or selling experience while being adequately represented, and this is why we feel you should hire a gay realtor to assist you in finding your future home.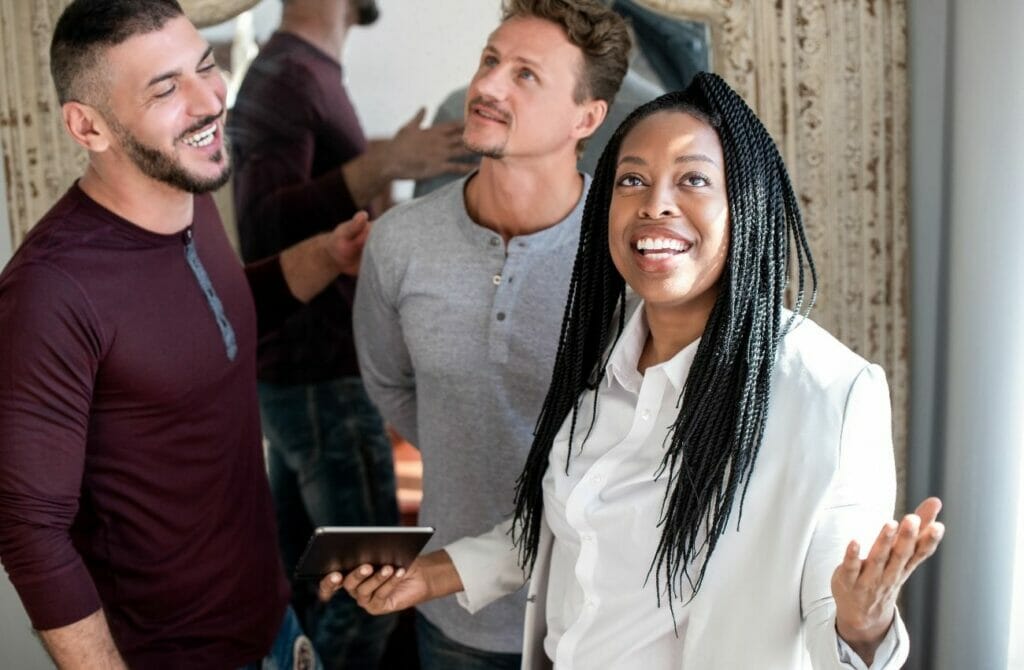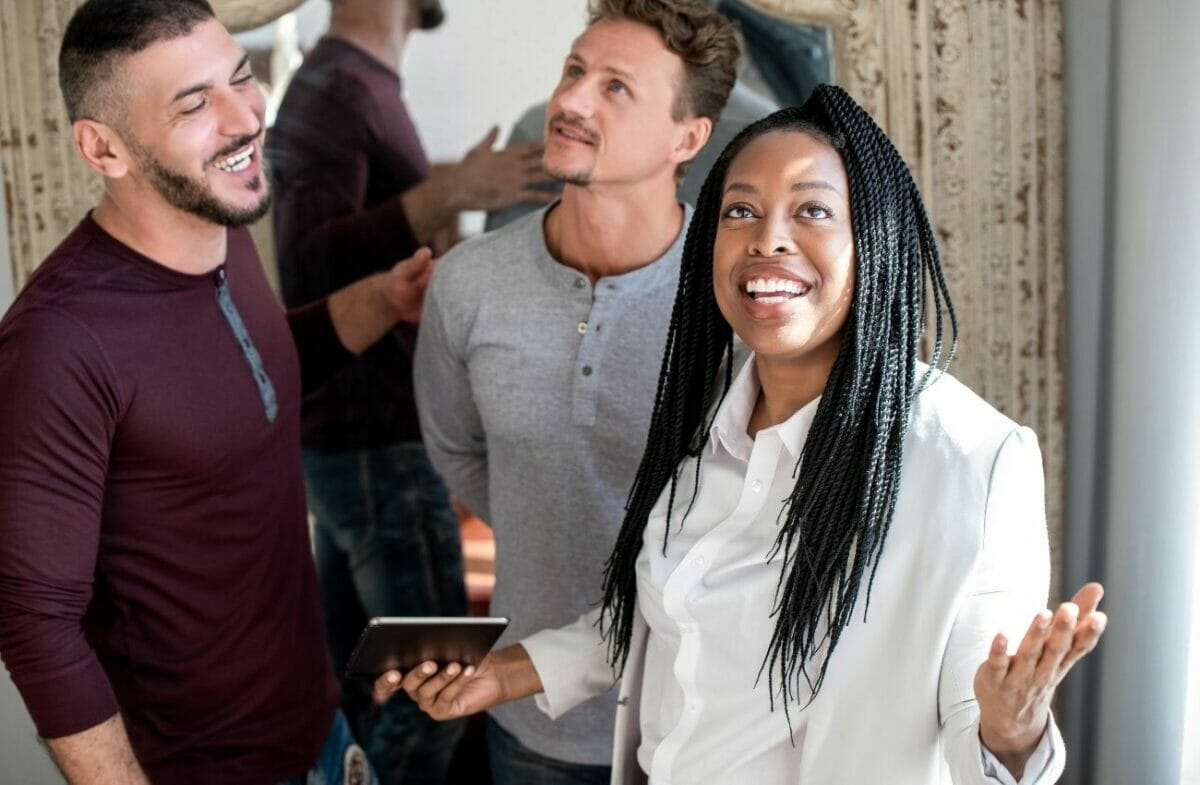 LGBTQ realtors are more likely to be familiar with the diverse communities in their area and know which ones may be best suited to you when looking for a home. That's not to say a heterosexual realtor isn't capable, but they've probably never had to address many of the issues LGBT people face. Rather than just being concerned with how bustling, fashionable, or up-and-coming a neighborhood is (or what it may appear like), gay realtors conduct extensive research into the neighborhoods in which they sell homes to ensure that clients are safe.
It used to be difficult to locate professional LGBT-friendly real estate agents in Orlando, and it was virtually impossible to find one if you were relocating here from out of state and didn't have access to a local referral. You no longer have to search for a realtor without knowing whether or not they are accepting of others because you can use a list of gay, lesbian, and gay-friendly agents in Orlando to do all of your homework for you.
Simply go to the page, and you'll be presented with a free list of gay, lesbian, and gay-friendly agents who can help you with your relocation as well as other useful information like LGBT+friendly schools, shopping, storage firms, tradesmen, and more. Read the biographies of LGBT real estate agents, then choose the one who is right for you. It's critical that you find someone who will be by your side and support you and your family during one of life's most exciting occasions.
Even better, there is no hidden motive, cost, or obligation whatsoever!