If you ever mentioned that you're thinking of moving to LGBT New Orleans, chances are high that the person you're telling will turn green with envy.
New Orleans is party central. It's a feel-good city synonymous with multi-colored beads, jazz, parades, and Creole cuisine. But, those aren't the only reasons why more than 17 million visitors visit this lively city each year.
For over 300 years, Gay New Orleans has been a nexus for everything decadent and alive. Regardless of who you and or who you love, this is one place where you can just be -and it is like no other city on Earth.
In The Big Easy music, art, history, food, and people of different ethnicities, nationalities, and sexual orientations all commix and coalesce into creating something extraordinary. A city that doesn't sleep thanks to the fabled French Quarter (which never closes), New Orleans also boasts a laid-back attitude to sex and voluptuary parties every night regardless of whether it's Mardi Gras, Jazz Fest, Halloween, or a regular Tuesday.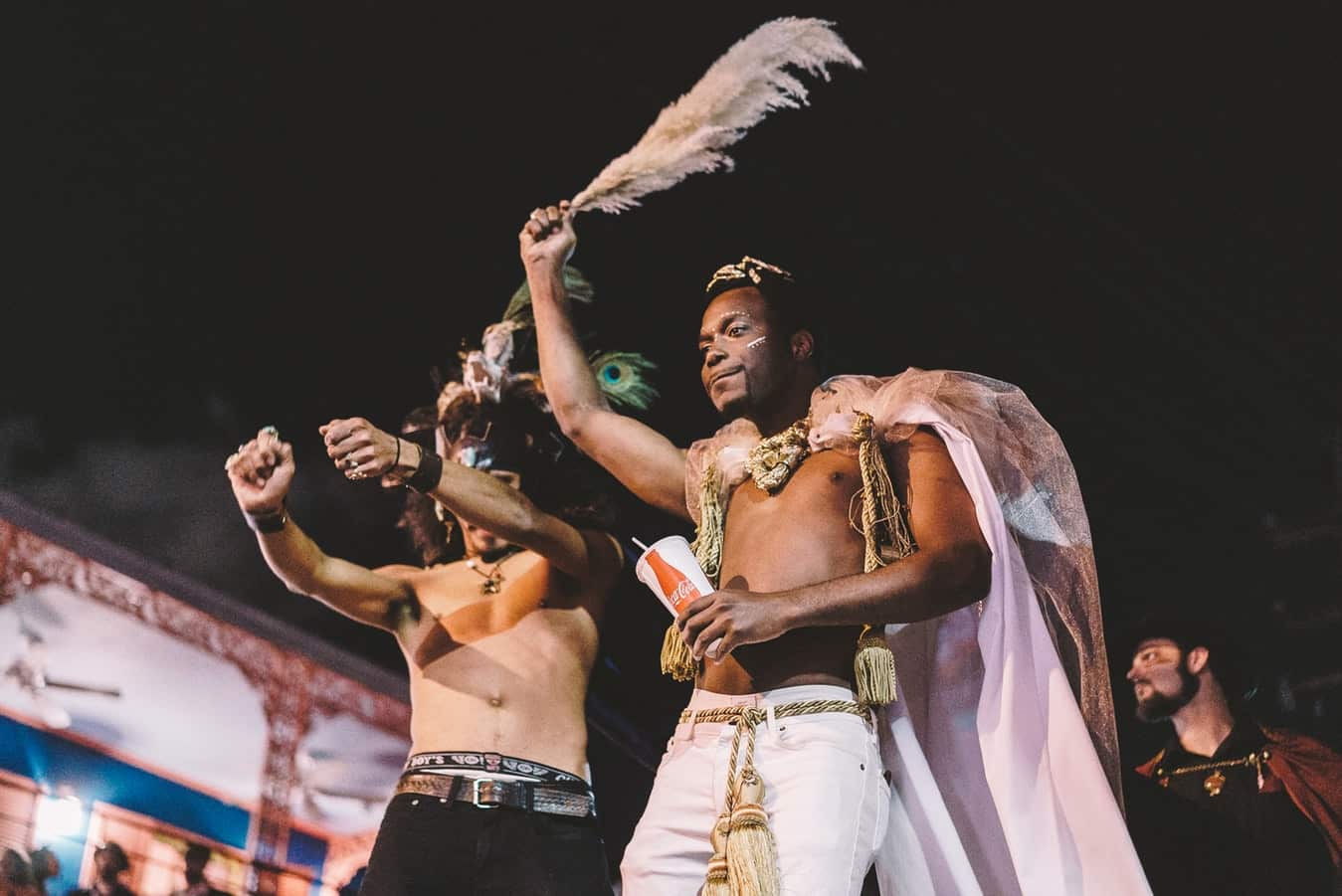 Queers and straights share the infamous Bourbon Street, although the LGBT crowd gravitates toward the northern end, with a host of bars and clubs serving up something for everyone. You're also free to take your cocktail with you as you wander the streets, as long as it's in a plastic container – so bar-hopping is not only popular but actively encouraged.
And did we mention a tight-knit queer community?
Yes, just like in Miami, Fort Lauderdale, Los Angeles and other fabulously gay US cities, there is also an enthusiastic LGBT scene here (if you know where to look), and this is something a gay realtor in New Orleans can help you navigate as you find your new perfect home here.
New Orleans wants everyone to know whether you are a leather daddy, twink drag queen, butch lesbian, or trans; you can come, enjoy, and be accepted as you are. And come us queers have, in droves for the nightlife, the food, the posh residences, and warm Southern climate. With a long history of embracing diversity and commitment to supporting the queer community, is it any wonder New Orleans has been home to some of the brightest LGBT literary minds, artists, musicians, and activists?
Slow and balmy, musically inspired, and tastefully delicious, the city's charms set the stage for fireworks of every kind. No matter where your interests lie, you can be sure Gay New Orleans will draw you in and beg you never to leave.
Think of this article as a queer New Orleans relocation guide that will help you understand what you're getting yourself into when moving to this beautiful city. If you need a more night-life and travel-focused guide detailing all the LGBT clubs, parties, and more, check out our Gay New Orleans Guide!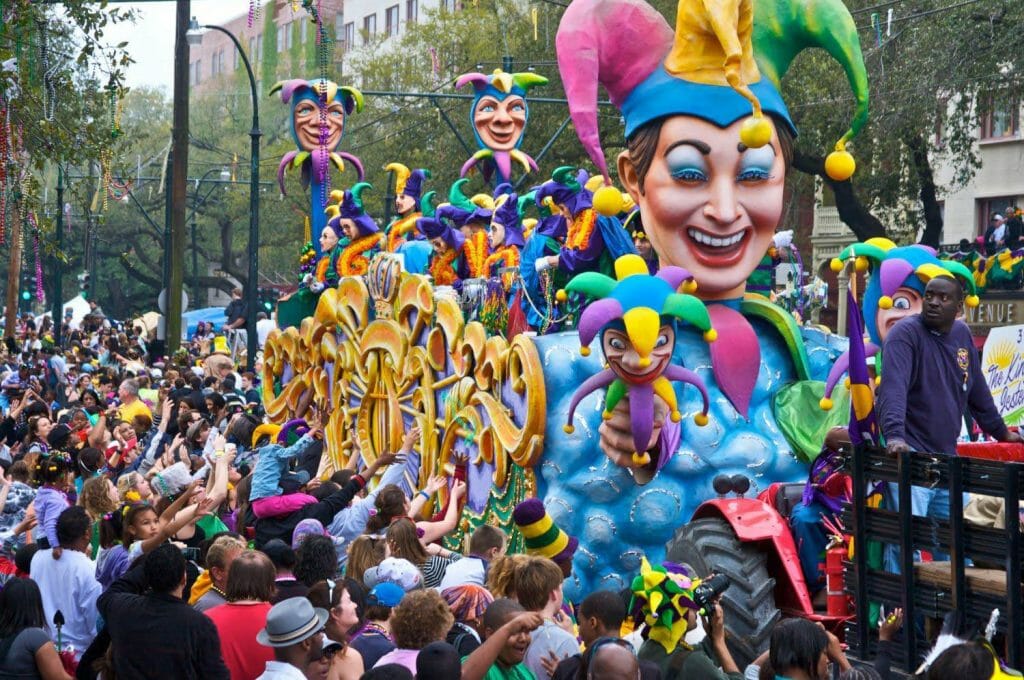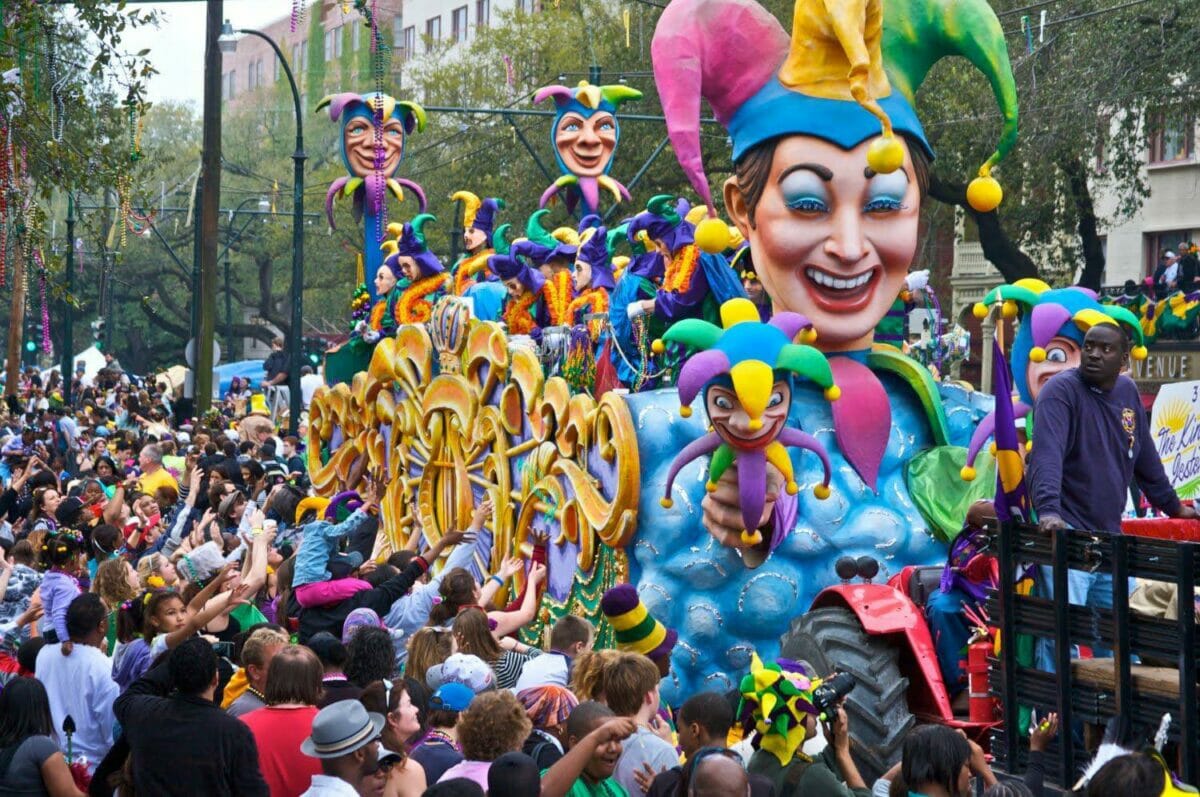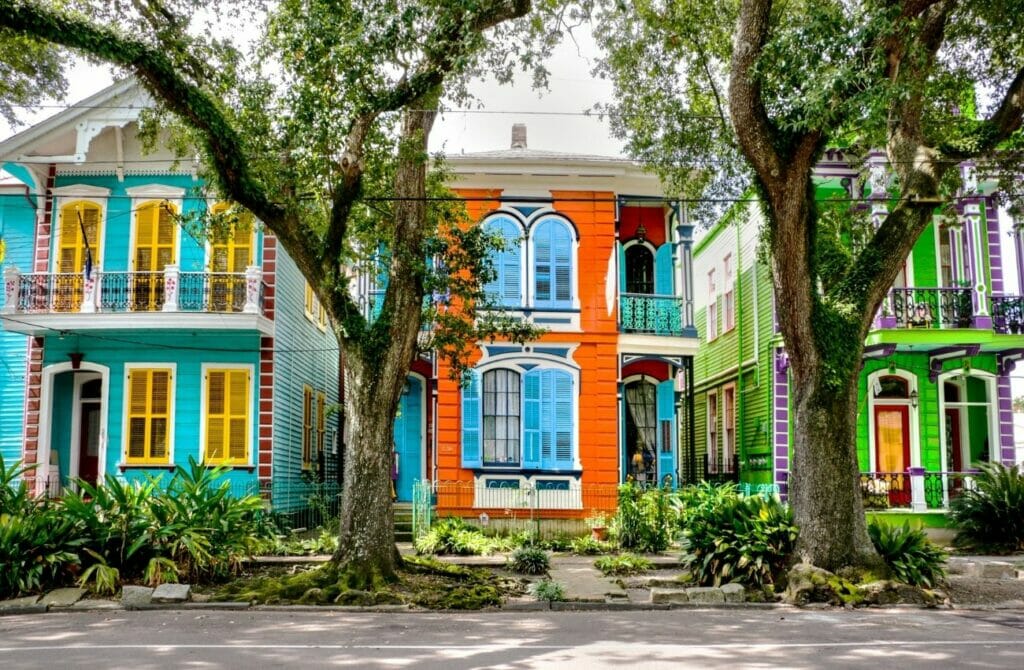 Highlights Of Moving To LGBTQ New Orleans
New Orleans is also known as NOLA, and there's nothing typical about this vibrant city. The truth is, New Orleans has a unique feel, and moving here isn't the same as moving to other cities we've previously covered. Before we find out whether NOLA is an ideal LGBT destination, here are some city highlights.
The Architecture
New Orleans is a dream come true for architecture lovers! Wandering around the city and its numerous districts is like taking a walking architecture tour. Because of the city's rich heritage of being influenced by various cultures, NOLA has everything from Greek Revival public buildings to Spanish Colonial and Creole townhouses and Victorian bungalows. Some of NOLA's most interesting architecture can be found in the French Quarter; see the country's oldest cathedral- St. Louis Cathedral, and The Presbytère in this neighborhood.
The French Quarter
The French Quarter is unquestionably one of the city's best areas, popular with visitors and locals. The "Crown Jewel of New Orleans," located in the city center, is home to historical sites, beautiful Creole townhouses, and some of NOLA's top nightlife, restaurants, and street musicians. Look no further if you're looking for things to keep you busy in the French Quarter.
Take a stroll in Jackson Square to appreciate the work of local street artists and take in gulps of fresh air. Café Beignet serves handcrafted beignets, gumbo, and other city favorites. Browse through the relics and discover NOLA's Voodoo heritage at the New Orleans Historic Voodoo Museum.
Live Music Everywhere
Where in New Orleans can you find the best live music? There's a lot of it all over the place! The Spotted Cat Music Club in Marigny offers jazz, blues, and funk music. At Preservation Hall in the French Quarter, you may see the renowned Preservation Hall Jazz Band concerts.
At Le Bon Temps Roule in Uptown, enjoy soul music, live piano, and honky-tonk sounds. Or, take a trip around the French Quarter and Tremé, and try to catch a performance from Kenny Terry, Doreen Ketchens, and Tuba Skinny, who are some of the city's best street musicians.
The Food
One of the best aspects of living in New Orleans is the local cuisine! Southern comfort food and Cajun-Creole cuisine rule supreme in New Orleans, but the city offers many dining alternatives. S some of the best restaurants in the city can be found a Commander's Palace in the Garden District. Order the Pecan Roasted Gulf Fish or Grilled Veal Tenderloin. Scotch House in Tremé serves the tastiest fried chicken in the city.
Does New Orleans Embrace The LGBTQ Community?
New Orleans is recognized as the 'south's gay capital.' The city has long been a welcome destination for members of the LGBTQ+ community, from the days of Truman Capote, Tennessee Williams, and Clay Shaw to a recent survey that ranked it as the fourth most LGBT inhabited city in the United States.
NOLA has been a magnet for all that's decadent and lively for 300+ years. Music, history, art, gastronomy, and people of all ethnicities, nationalities, and sexual orientations mingle and blend like the hues in a Michalopoulos painting. Despite all of these cultural attractions, there's one more reason why the city is the most popular Southern vacation in the U.S: its legendary nightlife.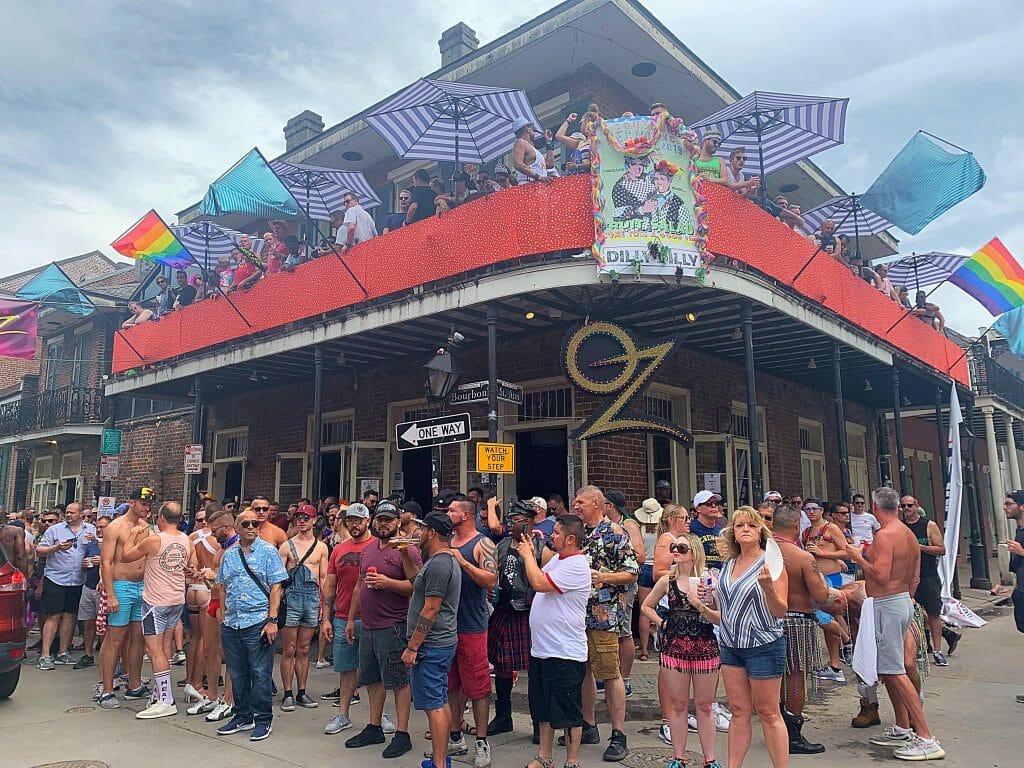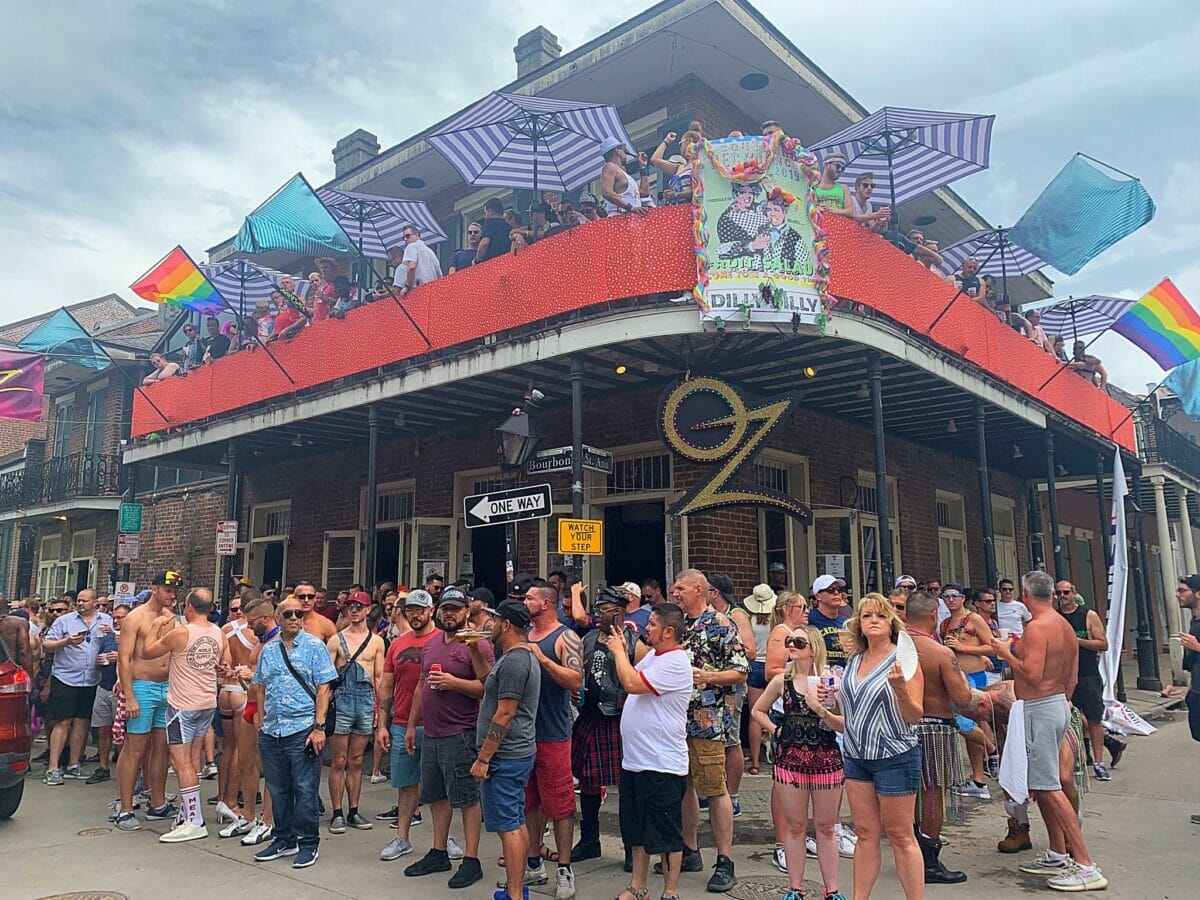 It's not because of the PRIDE flags, the annual Southern Decadence celebrations, or weekly drag brunches that New Orleans has consistently ranked 2nd in the world's most hospitable cities. Crescent City's unrivaled capability to make anyone feel seen without making them stand out, to welcome everyone by making them feel entirely at ease, and to constantly urge you to be remarkable while others only want you to be conventional are what make it so attractive.
The LGBTQ community is celebrated throughout the year in festivals, with Gay Mardi Gras attracting approximately 125,000 people and Southern Decadence during Labor Day weekend. Decadence has plenty of parades, drag shows, costumes, and themed parties, but they're also a part of NOLA's Pride Fest, Halloween celebrations, Mardi Gras, and Easter.
The Saints and Sinners Literary Festival adopts a more deliberate approach, gathering GLBTI writers for three days of thought-provoking discourse. Diversity is always embraced here; no matter your passion, there's also an LGBTQ celebration for it. Crescent City is progressive and liberal, with a thriving LGBT community. Gay-owned businesses and Queer spaces enterprises abound in the city. As an out and proud LGBTQ+ resident, you should know that the city is friendly and safe for everyone.
Is New Orleans An Expensive City To Move To?
The good news is that, while not inexpensive, NOLA is still a reasonable city to visit. With a cost of living score of 96, you will pay 4% less than the national median. In terms of cost, New Orleans is a dream. Only transport costs more than the U.S. average of substantial cost indexes.
Transportation: Even though there are fewer cars on the road, transportation in the city is costly. Interestingly, transport costs are more than in many other cities of comparable size, which is a source of frustration for many drivers in the city. One of the causes for this is the high cost of public transit and higher auto insurance premiums.
Utilities: A monthly Internet plan with an average speed of roughly 8 Mbps will set you back around $80. For a 915 sq. ft space, essential utilities such as gas, heating, and electricity will cost you around $207 each month. These values will vary depending on the season, size of the space, and how many people will live in the house.
Housing: NOLA is divided into 13 housing districts, each comprising 72 neighborhoods. You could search for an apartment in various regions, ranging from historic areas like the French Quarter to the new regions like Metairie. The city's median rent for a 1-bedroom apartment is $1,420, while the average rent for a 2-bedroom apartment is $1,870. The cost varies depending on the number of rooms, the inclusion of utilities, and the location
Groceries: groceries cost the same as the national average. That's great news for people with large families or a tight budget.
The Best Gay Neighborhoods In New Orleans
Not all LGBT individuals want to live in the frenzy of New Orleans Central Business District, so thankfully, there are lots of alternate areas to live for those who are seeking a calmer-yet-still-LGBT-friendly environment.
When relocating to LGBTQ New Orleans, keep in mind that some neighborhoods are closer to all of the exciting queer events and happenings than others. Knowing them in advance will ensure that you arrive at your new home in the most suited gay-friendly area of town.
Start with these top gay and LGBT-friendly New Orleans communities to find your fabulously perfect new home, each with its own individual personality, welcoming community, and amenities you'll adore. Allow ample time to become acquainted with New Orleans's diverse personalities, and keep in mind that this city has plenty to offer everyone – LGBTQ or not!
Now let's take a look at where the handful of marvelous gay areas in New Orleans are and talk about the New Orleans gayborhood where you might feel most at home! Or speak to a local LGBT real estate agent for a more detailed understanding of the best options today.
Faubourg Marigny
The Faubourg Marigny district may have an odd name, but it is abundant with magnificent architecture. It's one of NOLA's oldest neighborhoods, dating back to 1805, and lots of it is on the National Register of Historic Places. The Faubourg Marigny district languished in the 1950s.
However, after Hurricane Betsy, many displaced Filipino Americans came into the deteriorated region, and the Faubourg Marigny started to grow. It was host to various music venues and arts events in the mid-1980s. This attracted many LGBTQ people to the Faubourg Marigny, transforming it into one of the city's gayborhoods.
Everything that makes New Orleans so unique is right here in this modest piece of real estate. The jazz clubs along Frenchmen Street are world-renowned, and you can listen to big-name acts performing with tomorrow's hottest stars every night. Some of NOLA's finest restaurants are located in the Marigny, where emerging chefs continuously reinvent the city's cuisine.
From thrift-shop flair to museum-quality art, local antique stores and galleries have something for everyone. The eclectic mix of late Georgian, Greek Revival, and Creole homes in the region creates a unique and colorful cityscape.
The French Quarter
One of the city's most well-known areas, the French Quarter, is New Orleans' counterpart of San Francisco's Castro District. Like in the Castro, the cost of living here is much higher than in most other sections of New Orleans.
The various historical landmarks and distinct styles of the neighborhood, on the other hand, are well worth the trip, albeit you must understand that the region attracts a large number of tourists all year. This is one of the city's most diverse neighborhoods, and almost all who live here have embraced that diversity.
The French Quarter, often known as the Crown Jewel of NOLA, is one of the city's most historic areas. However, you will find a healthy blend of the new and old here. Modern boutiques and craft cocktails blend with cherished antique businesses and ancient restaurants in a reinvented French Market.
The French Quarter, just like the Creole aristocrats who line the Historic New Orleans Collection exhibitions, is an ageless depiction – specifically during sunset, when swallows soar over the fortunetellers around Jackson Square and the cream-colored facades of St. Louis Cathedral mirror the blazing sunset.
Pigeon Town
Pigeon Town is also an LGBT-friendly neighborhood in New Orleans. This area is more tranquil than the French Quarter but is no less historically significant. It's also incredibly eclectic, with many singers and artists calling it home. Residents have been known to congregate on the streets to revel just because they want to, especially when the roads aren't packed.
Rather than drive, most people opt to ride their bikes or take public transportation. There are several public art initiatives to which everyone can contribute. Ultimately, it's a beautiful location for families. P-town is an intriguing combination of commercial and residential space that reflects its history as a part of Carrollton. Carrollton was once a tiny town on the west side of multiple plantations, providing town and city amenities such as commercial office space and stores to those plantations.
Those large farms created new districts as plantation owners learned that subdividing their land and reselling it for houses was more lucrative than agriculture. The occupants of the new subdivisions would later request the City of New Orleans to incorporate them to benefit from municipal services like police and fire services.
Algiers Point
Algiers Point is the second-oldest district in the city. As a result, it has a lot of history and a lot of extraordinary ancient residences. This neighborhood features a variety of architectural styles, including Greek Revival Creole Cottages, Italianate, single-family and multi-family homes, and Victorians.
The Point almost feels like a quaint neighborhood, with children cycling down the streets, neighbors who are frequently more like family, and a strong sense of community. Don't let the name fool you: this isn't your typical suburb. Algiers Point comprises a diverse group of people, including artists, professionals, musicians, and families that have lived there for years.
There are some long-standing businesses and an inflow of new firms in past years. In addition, the neighborhood association is very involved and consistently trying to find new ways to involve the community.
The view of NOLA's skyline from the Point's levee is breathtaking, and the same goes for that from Algiers Courthouse. Cita Dennis Hubbell Library, which hosts events ranging from Drag Story Time to Author Night, is a must-see in the neighborhood.
Annual LGBT Events In New Orleans
After moving to a new city, you will likely want to create new connections, meet new people, and network. Thankfully, LGBT New Orleans plays hosts to a variety of annual events for lesbians, transgender persons, gays, and anyone else who wants to have a good time.
While there are many queer events in the city, the ones listed here are the largest and greatest and are all worth marking in your calendar as you won't want to miss them.
Gay Mardi Gras (February)
One of the most fabulous and glitterrific LGBT gatherings in New Orleans, second only to the annual Southern Decadence Weekend Celebration. Celebrations are concentrated for about two weeks before and through Shrove Tuesday, the day before Ash Wednesday. Usually, there is one major parade each day; many days have several large parades.
Mardi Gras balls are an essential part of LGBTQ Mardi Gras celebrations here and are typically themed and feature dazzling handmade costumes and presentations of krewe royalty. Some of the best-known gay Carnival balls include Armeinius, Petronius, Krewe of Mwindo, and Lords of Leather. Other gay carnival events include Fat Monday Luncheon and the Bourbon Street Awards. It is only rivaled by Mardi Gras in Sydney in terms of queerness.
Jazz Fest (April)
An annual celebration of the music and culture of New Orleans and Louisiana held at the Fair Grounds Race Course in the middle of New Orleans. Unofficially Jazz Fest also refers to the days surrounding the festival and the many unaffiliated parties at both the gay and straight New Orleans nightclubs.
The second biggest party of the year after Mardi Gras in New Orleans, the music encompasses every style associated with the city and the state: blues, R&B, gospel, Cajun, zydeco, Afro-Caribbean, folk, Latin, rock, rap, country, bluegrass, and everything in between. And of course, there is lots of jazz, both contemporary and traditional
New Orleans Pride (June)
The largest Pride Festival in Louisiana with 40+ events taking place over a three-day weekend, attracting people from all walks of life. New Orleans Pride counts over 94,000 participants, 4,000 of which were in the New Orleans Pride Parade, Louisiana's Largest LGBT+ Parade.
Pride here uses public awareness and education about the LGBT+ community as a way to combat "phobias" and discrimination. It includes programs, seminars, and events leading up to, and during Pride weekend, are meant to include individuals from all walks of life. Grab your best Pride outfits and get ready for one fantastic weekend in the Big Easy!
Southern Decadence (August)
An annual six-day event held in New Orleans by the local LGBT community during Labor Day Weekend, culminating in a parade through the French Quarter.
Over 250,000 people generally take part with guests beginning to arrive on the Wednesday before Labor Day and usually don't even think about stopping or going home until the following Tuesday. Expect packed streets, sold-out hotels, countless parties, and one wild weekend you will never forget.
Halloween Weekend (October)
Queer revelers from around the nation flock here for a week of events at the end of every October. Only Southern Decadence and the Gay Mardi Gras attract more gay and lesbian visitors to the city of New Orleans.
The Halloween "circuit party" all began as a simple gathering of friends back in 1984 but now has evolved into one of the most celebrated gay circuit party weekends of the year. It is so festive that the partying lasts from midday on Thursday until the wee hours of Monday morning. Plan your gay Halloween outfit far in advance – because costumes here are no afterthought.
LGBTQ+ Community Organizations In New Orleans
To progress the LGBTQ agenda, the queer community commonly has to rely on donor organizations or non-profits.
Wherever you live, it's critical that you support such groups in any way you can use so that they can reach out and aid others in the community. You might even need their assistance right or at some point in the future – and no matter what, every queer person has benefited from their tireless work to achieve the progress and rights we have today. Here are some outstanding community LGBT organizations in New Orleans.
These are wonderful places to start if you're looking for LGBTQ groups to join, seek support from, meet new people with or volunteer for a cause you care about.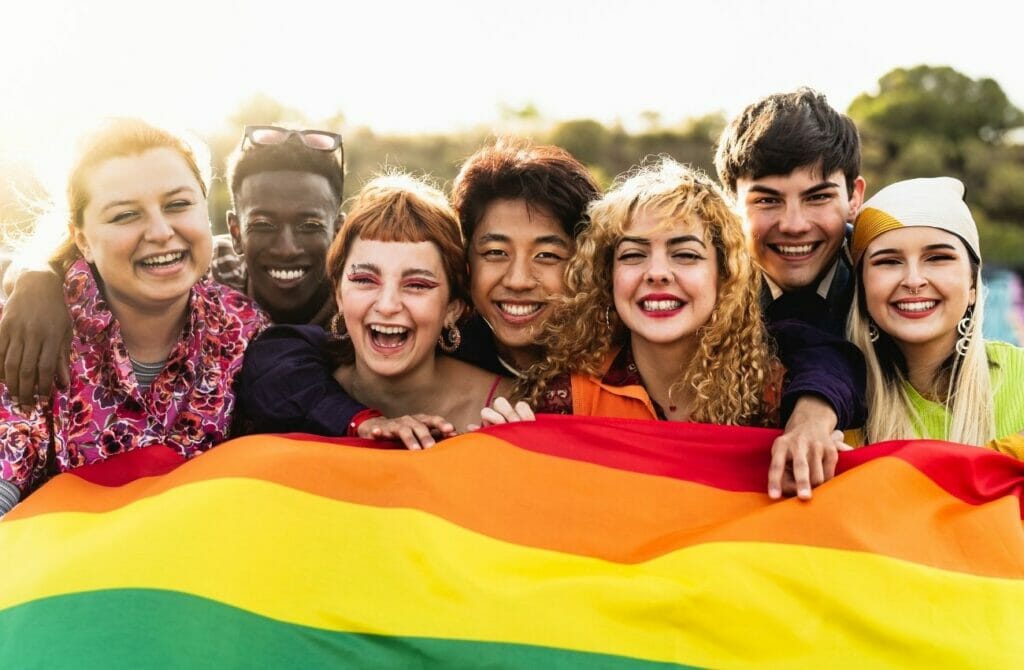 LGBT Community Center of New Orleans
Our objective is to fight homophobia, racism, transphobia, and misogyny in the New Orleans area through sponsoring community-driven initiatives and groups. The Center's mission is to make the Greater New Orleans region a more suitable and empowered place for sexual and gender minorities.
The mission of BREAK OUT! is to establish a more just New Orleans; it seeks to eliminate the criminalization of lesbian, gay, bisexual, transgender, gender non-conforming, queer, intersex, and nonbinary adolescents. Members of the organization enhance their leadership skills through individual leadership development and workshops so they can support the upcoming generation of organizers to build a more sustainable movement.
The Lambda Center provides a haven for LGBTQ+ members of several 12-step programs. Although most of the groups that congregate at Lambda are majorly LGBTQ, everyone is invited to attend meetings.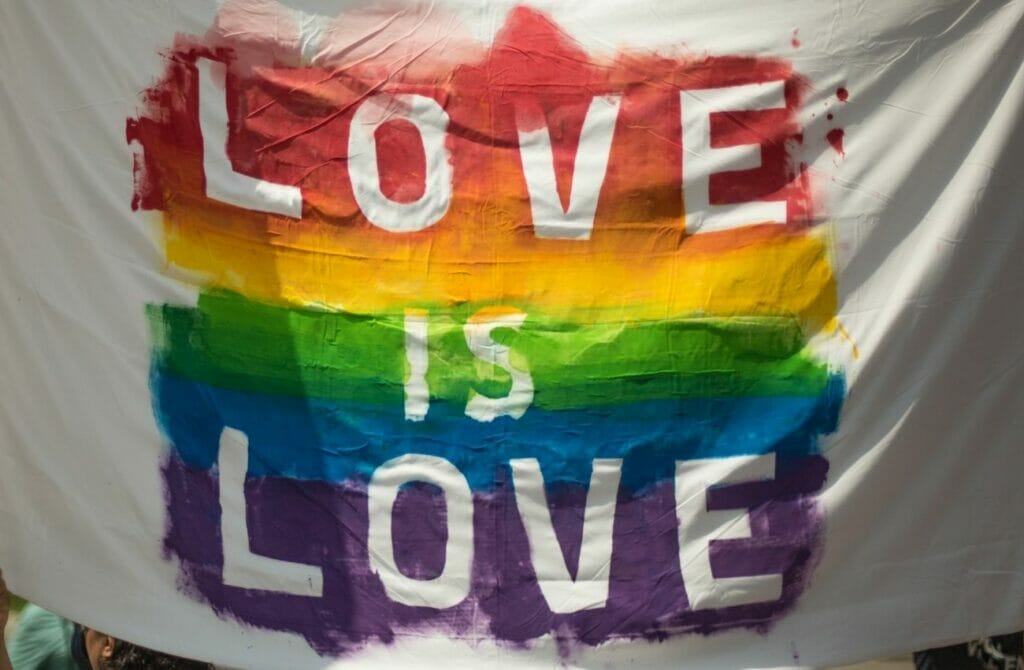 LGBT Owned Businesses In New Orleans
After moving to LGBT New Orleans, it's only natural to want to support queer businesses. One strategy for establishing a safer and more inclusive society is to create a secure environment where people may rest, buy, dine, and connect without fear, and this is exactly what LGBT companies should strive for.
To safeguard the queer community's survival and success, it is critical to support these initiatives wherever you are. With that in mind, here are a few LGBTQ-friendly businesses worth visiting in New Orleans.
Material Life, an Afro-centric gift shop founded by lesbian businessperson Carla Williams in NOLA's Lower Ninth Ward, closed a short while ago. Carla then opened House of Black Style, a great online market striving to promote and preserve the creative contributions of more than 100 Black artists, designers, and consumers to the style and fashion world of the 1940s-present."
Alma is a trendy Honduran restaurant situated at the center of New Orleans' Bywater area. Alma is an LGBTQ+-owned and operated business. Chef Melissa Araujo owns Alma.
A pearl of New Orleans in the heart of the Marigny, this lounge and cabaret venue offers burlesque, gender-fluid drag, comedy, erotic readings, and more. A beautiful space to lose yourself in eclectic entertainment, well-priced cocktails, and utter queer fabulousness. One of our favorite venues in New Orleans and a place that is guaranteed to never, ever let you down.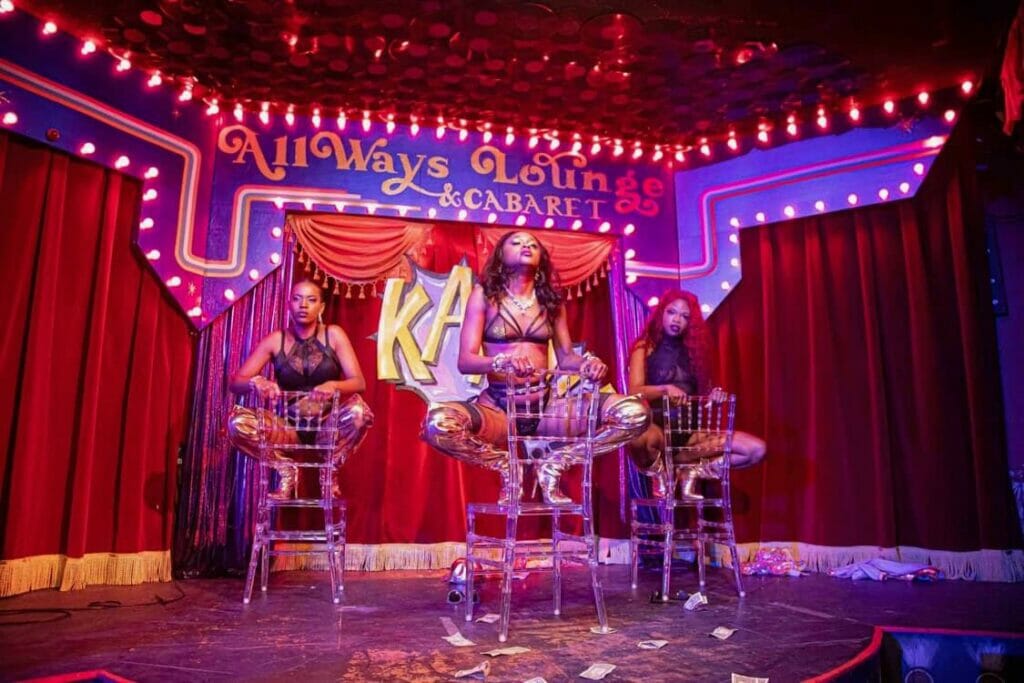 The oldest continuously operating gay bar in the United States, open 24/7 on Bourbon Street. Café Lafitte is a must-see if you are interested in visiting an incredibly unique landmark in New Orleans' historic French Quarter. Dating back to 1933 and the end of Prohibition, Café Lafitte has always been welcoming. A fabulous hangout with upstairs and downstairs bars, gorgeous outdoor seating, ice-cold A/C, and great no-nonsense bartenders.
A multi-level gay venue designed for casual-snappy fun and open 24/7. The downstairs houses a solid mahogany bar with three arches and brass rails adorned with gargoyle vases with emerald neon calla lilies not to be missed. There is also custom art and a brick fireplace that makes it a perfect place to warm up during the colder months.
Upstairs the Queens Head Pub has an intimate Victorian setting with its solid oak flooring, gold/maroon faux finished walls, chandelier, and more. Karaoke every Tuesday and love Piano music on Saturdays, but the décor and vibe are worth stopping by for at absolutely any time. During their daily Happy Hour, things can get very crowded.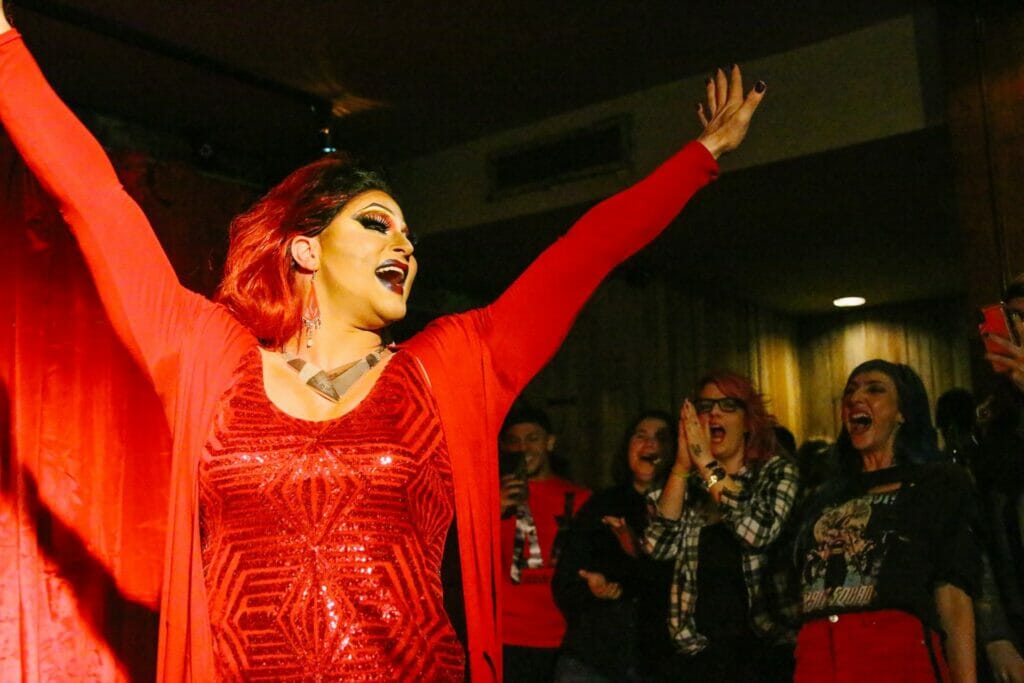 Saveur Catering was founded in 2013 by Melissa Araujo. The catering company offers delicious meals directly to the table from the farm. Saveur Catering's mission is 'farm to table,' and they only use fresh ingredients sourced from local farmers and other operations all over the South.
A craft cocktail gay bar in the French Quarter known for its signature Mojitos, which come in a variety of flavors and are all made with fresh ingredients. Never a cover charge, some of the cleanest bathrooms on Bourbon St and hosts of the annual Bourbon Street Extravaganza.
Final Thoughts On Moving To LGBTQ New Orleans
New Orleans is a metropolis rich in culture, cuisine, and festivities. It's a city where music and entertainment dominate daily life, even when there are no festivals are taking place. Residents of the city can proudly proclaim that they are living the dream. However, that's not all. There are many neighborhoods to select from, each with a flavor that will guarantee an exciting life!
Keep in mind that life is what you make it, and wherever you choose to begin your new life in gay New Orleans, we hope you find the openness and security you deserve. The surest way to discover LGBT New Orleans is always going to be living in a gay-friendly neighborhood by frequenting local LGBT businesses and events and joining queer community groups and sports teams.
We promise that if you follow these steps, your transition to LGBT New Orleans will be easier, and you'll rapidly meet like-minded people to build your new chosen family here. And if you are still not sure, we also recommend reading our Gay New Orleans guide with more specifics on the queer attractions, events, and LGBT fun on offer…
Finding Gay Realtors In New Orleans Louisiana
When looking for the ideal realtor, why would you consider someone's sexuality? This may seem strange at first, but there are several reasons why contacting a gay realtor in New Orleans is a great way to find your dream house.
After all, when it relates to one of life's most important transactions, it's not unreasonable to expect fair, equal, and honest representation from someone who understands the queer community's particular needs and wishes. Furthermore, unfortunately, many people (up to a third of Americans) continue to believe that our community does not deserve protection and dignity in housing, adoption, employment, and other areas of life.
So it's no surprise that LGBT people who use mainstream realtors often describe feelings of discomfort, unnecessary trouble, unenthusiastic representation, or even antagonism or outright contempt. Everyone deserves a pleasant, stress-free home buying or selling experience while being adequately represented, and this is why we feel you should hire a gay realtor to assist you in finding your future home.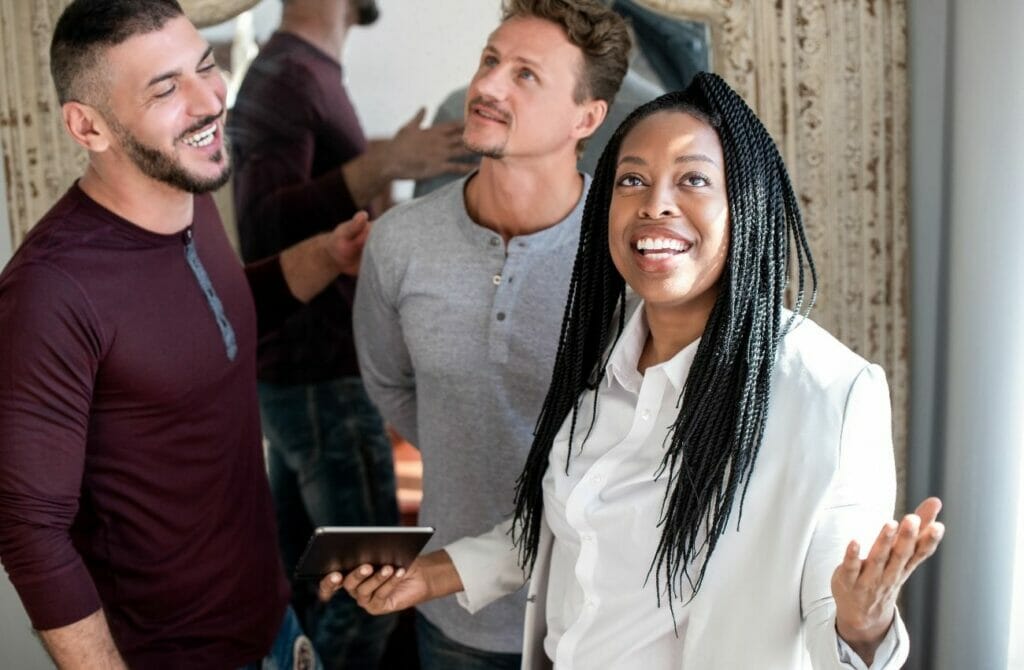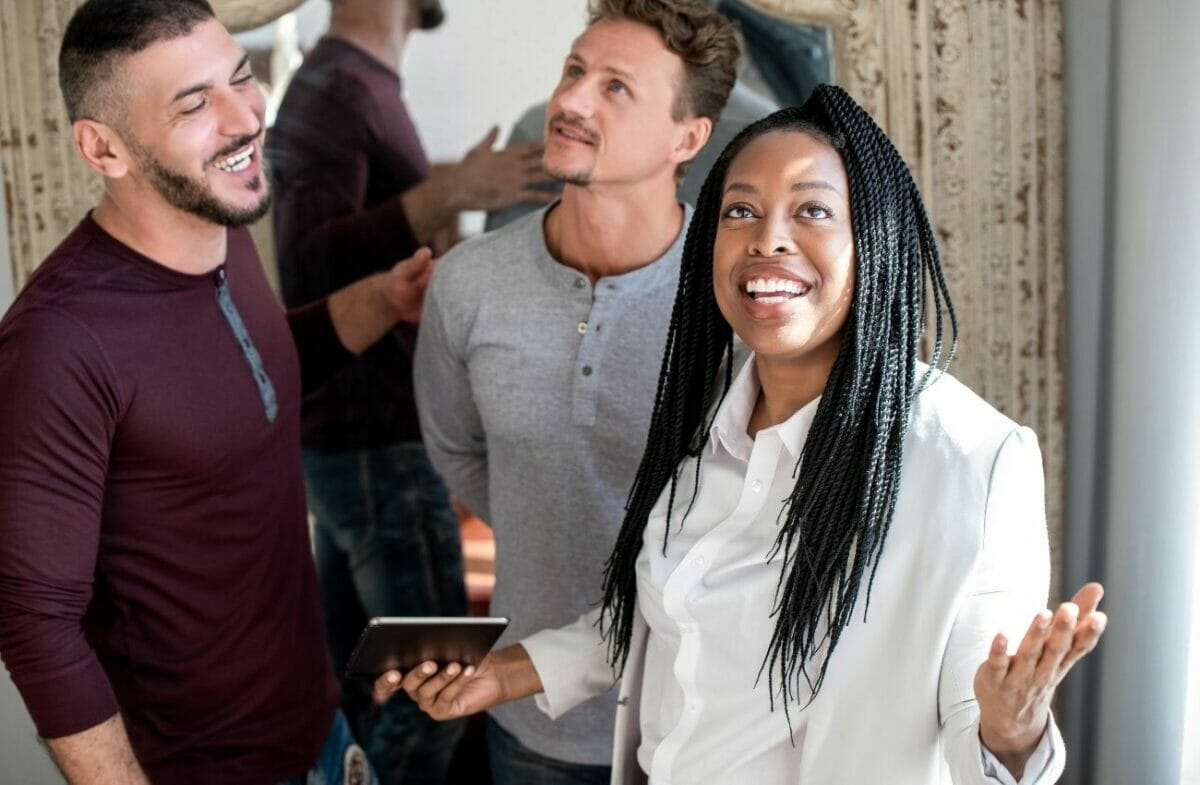 LGBTQ realtors are more likely to be familiar with the diverse communities in their area and know which ones may be best suited to you when looking for a home. That's not to say a heterosexual realtor isn't capable, but they've probably never had to address many of the issues LGBT people face. Rather than just being concerned with how bustling, fashionable, or up-and-coming a neighborhood is (or what it may appear like), gay realtors conduct extensive research into the neighborhoods in which they sell homes to ensure that clients are safe.
It used to be difficult to locate professional LGBT-friendly real estate agents in New Orleans, and it was virtually impossible to find one if you were relocating here from out of state and didn't have access to a local referral. You no longer have to search for a realtor without knowing whether or not they are accepting of others because you can use a list of gay, lesbian, and gay-friendly agents in New Orleans to do all of your homework for you.
Simply go to the page, and you'll be presented with a free list of gay, lesbian, and gay-friendly agents who can help you with your relocation as well as other useful information like LGBT+friendly schools, shopping, storage firms, tradesmen, and more. Read the biographies of LGBT real estate agents, then choose the one who is right for you. It's critical that you find someone who will be by your side and support you and your family during one of life's most exciting occasions.
Even better, there is no hidden motive, cost, or obligation whatsoever!