Miami is a world-famous LGBTQ paradise and more and more queer folk from across the US (and further abroad) and making the move here every year. The question is, could moving to LGBT Miami be the right move for you?
The city, also known as 'the jewel of the south, is popular for its hot sands bordering warm water and lively crowd. If you're considering moving here, be prepared to enjoy unbeatable beaches and unforgettable nightlife.
While Fort Lauderdale to the north may have taken some of this city's shine, make no mistake: LGBT Miami is still one of the world's most fabulous places to live! Hosting some of the world's biggest gay parties and offering sun, sea, sand, luxury – and a nightlife scene quite unlike anything we have experienced before, or since – Miami is a gay mecca we want to return to time and time again!
And did we mention a tight-knit queer community?
Yes, just like in New York, Los Angeles, Houston, and other fabulously gay US cities, there is an engaged LGBT scene here (if you know where to look), and this is something a gay realtor in Miami can help you navigate as you find your new perfect home here.
From the hot and sweaty mess that is the annual Winter Party Festival in March, to the legendary White Party in November, Miami sandwiches more LGBT events annually than almost anywhere in the country. Even if a blockbuster event isn't on, any given weeknight (or weekend) is almost guaranteed to play host to a celebrated drag show, world-famous DJs, epic clubs, and extraordinary pool parties.
However, moving to a new city does present some distinctive challenges. Luckily, we've got your back.
Think of this article as a queer Miami relocation guide that will help you understand what you're getting yourself into when moving to this beautiful city. If you need a more night-life and travel-focused guide detailing all the LGBT clubs, parties, and more, check out our Gay Miami Guide!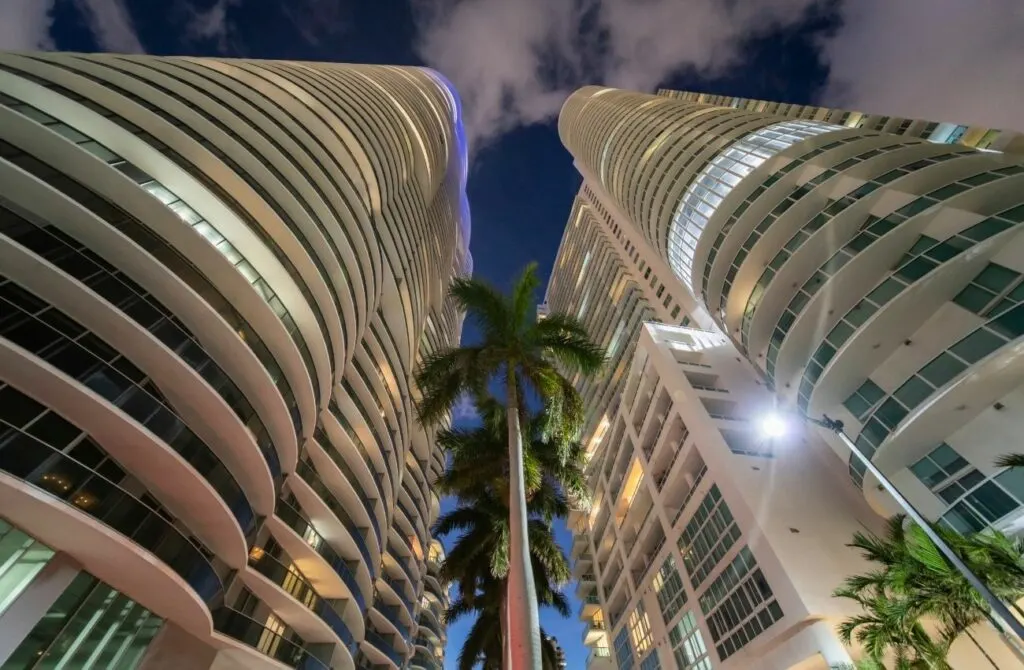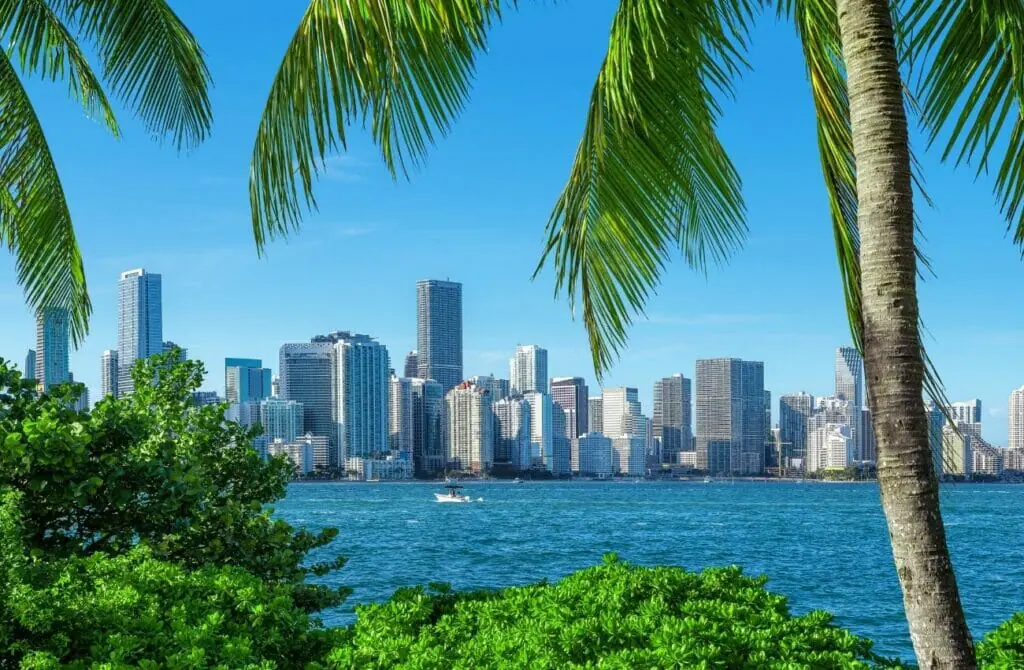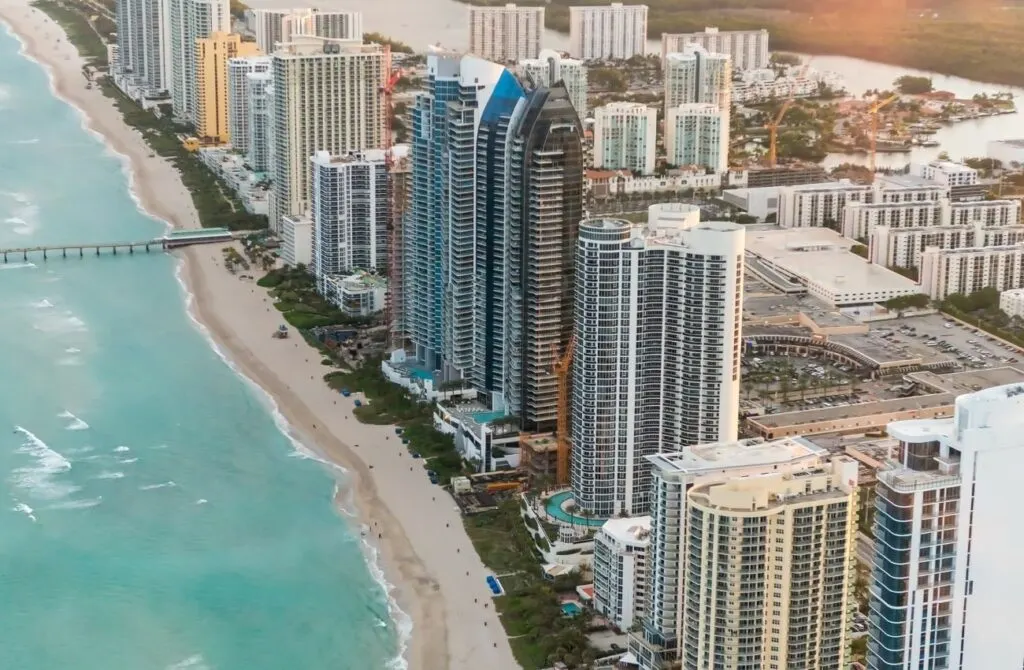 Highlights Of Moving To LGBTQ Miami
It's no secret that many people wish they could live in a city like Miami. Whether it's the hot people, fabulous lifestyle, or warm climate, everything about Miami is to love. However, there's more to the city than meets the eye, and its secrets are what should inform your decision to move here.
Low Job Payment
Job payment- both full-time and part-time- is low in Miami. This is because services are in high demand, and companies can't afford high payments. The good thing is, the cost of living here isn't over the top, but you might need to work two or more jobs to have a comfortable life. Residents of Miami understand how the city works and have no qualms about working in different positions to enjoy a particular lifestyle.
It Wouldn't Hurt To Learn Spanish
Speaking Spanish is not compulsory, but learning a few words or slang will be good for you. It will help you fit in faster because most residents speak Spanish, and you don't want to get left out of any conversation. Even if you don't want to learn the entire language, learning a few words will help you not stand out like a sore thumb.
It's Hot
There's no snow in Miami, and the weather here can be unbearably hot. If you're moving here from a cooler city, make sure you carry a pair of sunglasses with you at all times. Even though the sunshine is enjoyable at times, it can also cause your skin to break out, so sunscreen is a must-have here.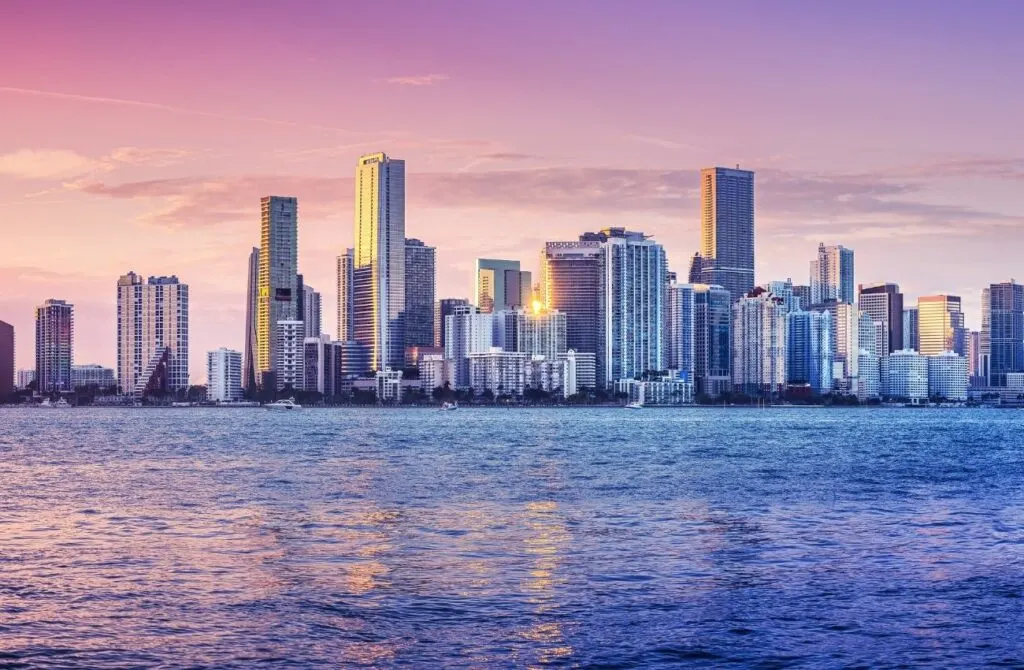 Does Miami Embrace The LGBTQ Community?
Miami welcomes more than 1 million LGBT travelers each year, so it's safe to say that it's a gay mecca. This isn't something new since the gay nightlife scene in Miami dates back to the 30s. Even so, things took off in between the 80s and 90s when Miami Beach was the center of vibrant nightclubs and Speedo sunbathing.
There are currently more LGBT destinations beyond the Ocean Drive area. While the queer culture in Miami has been in existence for decades, the city only had its first Pride Parade in 2009. Even so, the event has caught up and attracts more than 15,000 participants each year.
Miami is an out city, clearly evidenced by the number of rainbow flags flying all over town. The rainbow flags you see in town aren't there by accident. They're signaling gay-owned and gay-friendly neighborhoods and businesses. The most exciting thing about LGBT Miami is that you will spot multi-colored police vehicles with the word 'Police' painted in rainbow hues roaming around the metro area. Early in 2019, the Wilton Manors Police Department revamped one of their squad cars and painted it with giant rainbow patterns on each side.
While even the police department seems gay-friendly, don't expect to see the officers in rainbow-colored uniforms. Miami Beach is considered gay-friendly today thanks to the array of LGBTQ events the city hosts for the gay community and the numerous gay bars, resource organizations, and services catered to the community.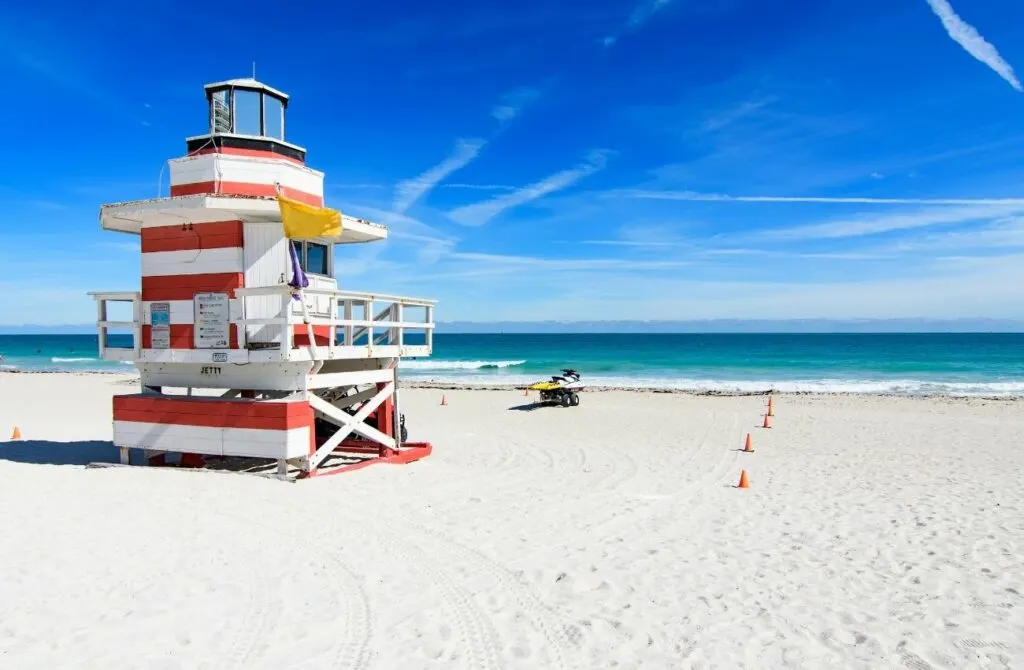 Is Miami An Expensive City To Move To?
Miami has one of the highest costs of living in Florida. Housing costs in the city are high and make most things expensive. However, residents of the town pay very low taxes, which puts a balance on things. Let's look at the breakdown of different items you will pay for in the city, such as housing, transportation, and utilities.
Housing: the average rent for a house in Miami is $1,700 per month.
Utilities: utilities in the city are lower than the country's average. Expect to pay an average of $115 per month if you live in a 915 sq. ft. apartment.
Food: prepare your meals at home if your goal is to save on food. Food costs in Miami are higher than the U.S average. If you choose to eat at home, you will spend an average of $100 each week on average.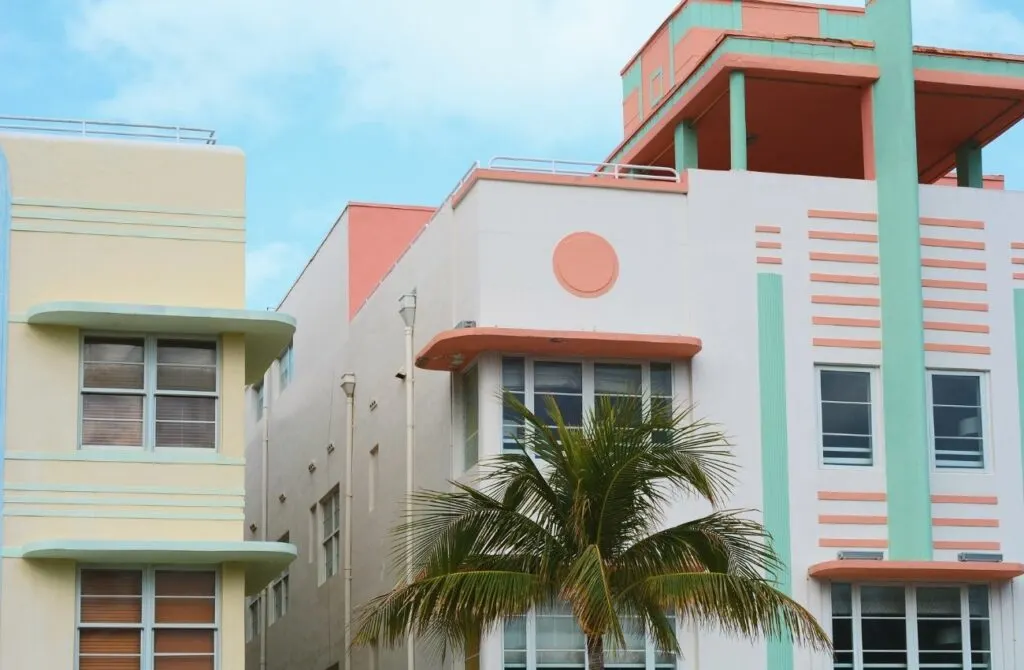 The Best Gay Neighborhoods In Miami
Not all LGBT individuals want to live in the frenzy of Downtown Miami and its central business district, so thankfully, there are lots of alternate areas to live for those who are seeking a calmer-yet-still-LGBT-friendly environment.
When relocating to LGBTQ Miami, keep in mind that some neighborhoods are closer to all of the exciting queer events and happenings than others. Knowing them in advance will ensure that you arrive at your new home in the most suited gay-friendly area of town.
Start with these top gay and LGBT-friendly Miami communities to find your fabulously perfect new home, each with its own individual personality, welcoming community, and amenities you'll adore. Allow ample time to become acquainted with Miami's diverse personalities, and keep in mind that this city has plenty to offer everyone – LGBTQ or not!
Now let's take a look at where the handful of marvelous gay areas in Miami are and talk about the Miami gayborhood where you might feel most at home! Or speak to a local LGBT real estate agent for a more detailed understanding of the best options today.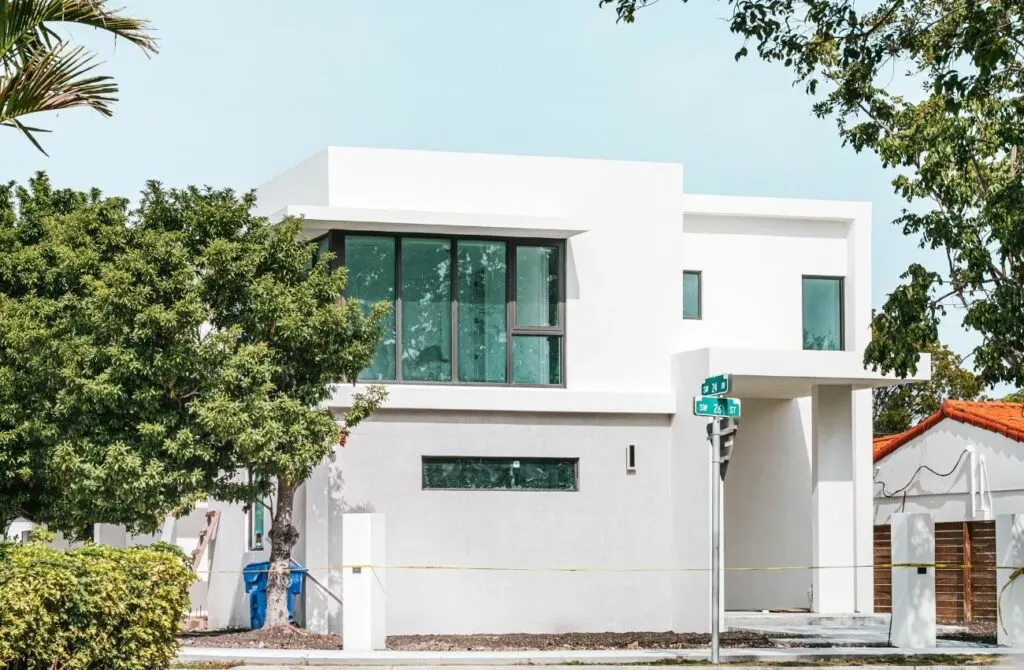 South Beach
South Beach has been the heart and soul Of LGBTQ culture and life in South Florida for the longest time. It is famous for its vibrant lifestyle, never-ending parties, and upbeat energy. The neighborhood is characterized by breathtaking views of aquamarine water and white sandy beaches, as well as pastel-colored Art Deco buildings.
The center of LGBTQ life in South Beach is between 10th and 15th Streets. You will find 12th Street Beach easy to find with the plethora of rainbow crosswalks and flags. Tourists and locals come here to take in the sun and sand and spend their days surfing. South Beach has plenty of gay-friendly businesses, and the atmosphere here is inclusive, friendly, and welcoming.
Also known as SoBe, South Beach features rich urban culture, miles of beaches, and fitness buffs looking to exercise outdoors. This neighborhood is home to some of the most beautiful Art Deco in the world, so if you like style, you will love living here. South Beach is crowded most of the time, and the people who come here are radical. If you like a quiet life with lots of space, this district will not match your lifestyle.
The residences in this area are mostly high-rise condos and apartments. Standalones aren't easy to find and are extremely expensive. The median price for a home in this area is $570,000.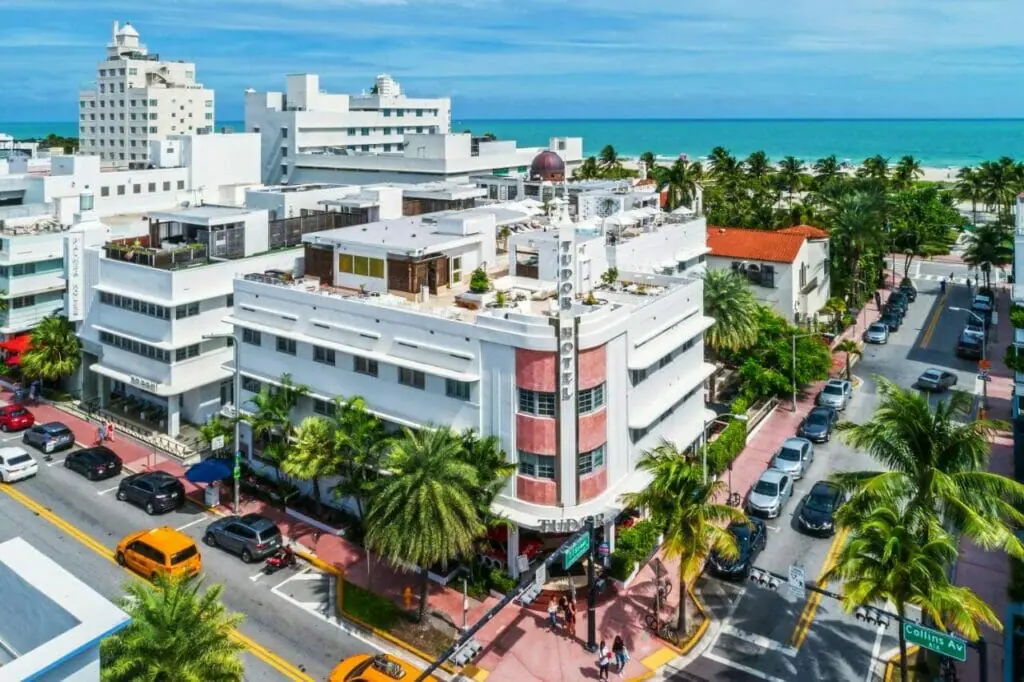 Coconut Grove
Before South Beach became the hub of Miami's gay scene, Coconut Grove was the place to be. Coconut Grove has a long history of acceptance and liberalism that's still evident today. It is Miami's oldest neighborhood characterized by green spaces, tree-lined streets, lush parks, and historic architecture.
While other districts have surpassed it, it is still welcoming and inclusive to the LGBTQ community. Coconut Grove is where you will find a relaxed atmosphere, breathtaking scenery, and access to Biscayne Bay. The neighborhood features beautiful boutiques, spectacular scenery, and a vibrant night attractive to the young and the young at heart.
Coconut Grove is also known as the 'Wall Street of Central America' and is home to a spectacular mangrove forest. You will find many celebrities at the Boho Hangout, and the neighborhood is also home to the Vizcaya Museum and Gardens, which hosts a Farmer's Market each Sunday. The waterfront at Coconut Grove is home to several marinas and hosts sailing clubs. The median price for homes in the Coconut Grove neighborhood is $887,500 or $465 per sq. ft.
Wilton Manors
The Wilton Manors gaybourhood in nearby Fort Lauderdale is also worth a look in as a world-renowned place for embracing and celebrating diversity. The neighborhood is second after Provincetown in the gayest cities in America. A large percentage of the residents in Wilton Manors identify as lesbian, gay, bisexual, or transgender. Wilton Manors is a progressive district and makes an excellent area to live, work, or play.
Since the neighborhood is surrounded by water, it is also called Island City and is a municipality. Most members of its city commission identify as LGBTQ. The Wilton Manors Police Department does special training that focuses on working with the LGBTQ population.
The neighborhood is home to Pride Center at Equality Park, which is one of the indicators of the neighborhood's commitment to serving the LGBTQIA+ population. Pride Center at Equality Park is one of the largest LGBTQ centers in the U.S and provides a safe space, education, information, and different events to the LGBTQ community.
The neighborhood's business district is the hub of LGBTQ culture, and you will find more than 40 LGBT-owned and gay-friendly businesses here. Whether it's restaurants, cafes, boutiques, or lounges, the vibe you will find here is friendly and warm.
Wynwood
Wynwood is also known as 'Design District. This district is characterized by high-end shopping and oddball galleries. While South Beach is home to some fantastic Art Deco, Wynwood is the city's art center and is home to Arsht Center.
You will find plenty of LGBTQ life in Wynwood north of Downtown. The area was once a rundown neighborhood but is now one of the hippest hangouts in the world and considered among Miami's most diverse, vibrant, and exciting neighborhoods.
2nd Avenue in Wynwood is where most gay-owned businesses are, and this area carried an inclusive atmosphere. It is lined with independent boutiques, cafes, breweries, and restaurants. The neighborhood boasts plenty of street and contemporary art, galleries, and colorful murals on neighborhood walls.
The Wynwood Walls is the neighborhood's public art centerpiece and is a collection of 35 works of art by world-famous artists. This art district is attractive due to its many murals, massive galleries, and colorful museums. The locals here look cool against the art backdrop, while visitors look for instagrammable moments among the murals.
Historically, this neighborhood was the industrial hub of Miami, but it now hosts trendy bars, world-class restaurants, breweries, and everything expressive in the city. The median price for a home in this area is $277,000 or an average price of $333 per sq. ft.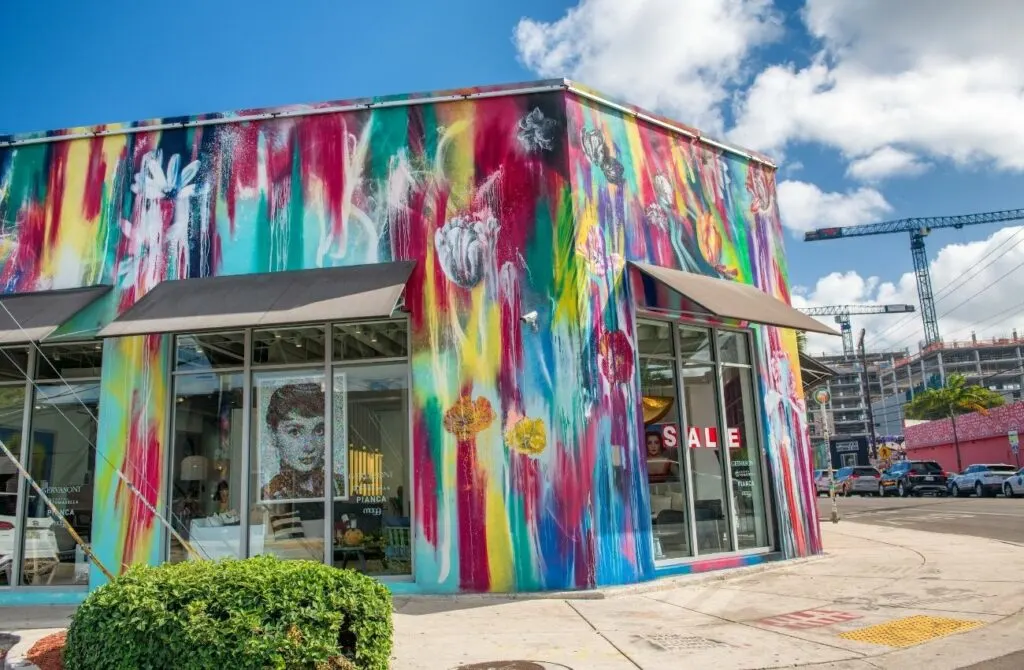 Annual LGBT Events In Miami
After moving to a new city, you will likely want to create new connections, meet new people, and network. Thankfully, LGBT Miami plays hosts to a variety of annual events for lesbians, transgender persons, gays, and anyone else who wants to have a good time.
While there are many queer events in the city, the ones listed here are the largest and greatest and are all worth marking in your calendar as you won't want to miss them.
A Hispanic LGBT art, music, and food street festival in Miami that has grown into the largest Hispanic LGBT Festival in the United States attended by over 60,000 people. The one-day festival blends all of South Florida's delights into one gigantic party in the heart of Miami's historic, Little Havana, where Gay8 invites all Miamians and visitors for the Fiesta of a lifetime stretching for three fun-packed, activity-filled blocks from 14th to 17th Avenues.
An annual, week-long celebration of music, dance, and community, produced to raise critical funds for the LGBTQ community. Founded in 1994, the original Winter Party featured just one event, a dance party on the sands of South Beach. In the years since Winter Party has grown into an iconic week-long celebration featuring dozens of events and drawing crowds by the thousands from around the globe. Their method is part genius and part magic: they simply feature an amazing mix of people, music, entertainment, and international DJ talent, and do so in the exhilarating, world-class venues of Miami Beach.
OUTshine Film Festival (April)
Previously known as MiFo, this critically and internationally acclaimed gay film festival serves as a platform for numerous premiers and is the largest LGBT cultural arts event in South Florida. OUTrageous. OUTspoken. And OUTstanding in what they deliver, the OUTshine Film Festival is one of the best gay film festivals in the world – and well worth attending if you want a taste of gay culture without getting shirtless or attending a circuit party.
One of the most popular and anticipated gay events in Miami of the entire year. This festival brings together members of the LGBTQ community, their friends, allies, and supporters in celebration of the unique spirit and culture. More than 100,000 attendees flock here over two days for an out-of-this-world festival of gay parties, parades, days in the sun and fabulousness in a way only us queers are capable of.
One of the biggest lesbian event weeks in the world. Thousands of women from all over the United States and the world will descend on South Beach to listen to live music, bask in the sun at the famous pool parties, dance the night away to the sounds of internationally known DJs, and enjoy cultural evenings at fine restaurants and VIP cocktail parties. The flagship event of the powerhouse lesbian events company, Pandora Events, which also plans Girls In Wonderland in Orlando, the Women's White Party, and FLING- Women's Pride Weekends.
Created in 2002, Sizzle has grown to become one of America's most celebrated and anticipated urban gay events in an atmosphere unparalleled to none. Party-seekers from around the world convene in sunny Miami, Florida celebrating life, pride & liberty! Originally a one-day occurrence, Sizzle Miami has evolved into a 5-day smorgasbord of captivating daytime events, and pulsating nightlife. Sizzle is mostly attended by African-American men, but all races and genders are welcomed and encouraged to attend.
Now in its sixth edition, FUNDarte's Out in the Tropics is a unique, daring, and artistically outstanding performance festival featuring work by some of today's most innovative and relevant LGBTQ artists.
South Florida's first Hispanic LGBT Pride festival, now in its 8th year, and showcasing quality events, artists and local performances through Art, Music, Dance, Photography, Film, and Spoken Word.
An elegant gala where guests are encouraged to dress in white, and celebrate life, community, family, and friends while raising funds for the LGBTQ community. The White Party Miami is famous worldwide, having in two episodes of Queer as Folk and countless documentaries and is attended by celebrities and top talent as well as the general public who come together to dance and party for a good cause. The main White Party event is customarily held at Vizcaya Museum and Gardens.
200 of the world's leading international Modern and contemporary art galleries display artworks by over 4,000 artists, including paintings, sculptures, installations, photography, film, video, and digital art from all corners of the Earth: North America, Latin America, Europe, Asia, Australia, and Africa. Taking place once a week annually, if you are in town this is an unparalleled collection rarely seen in one place.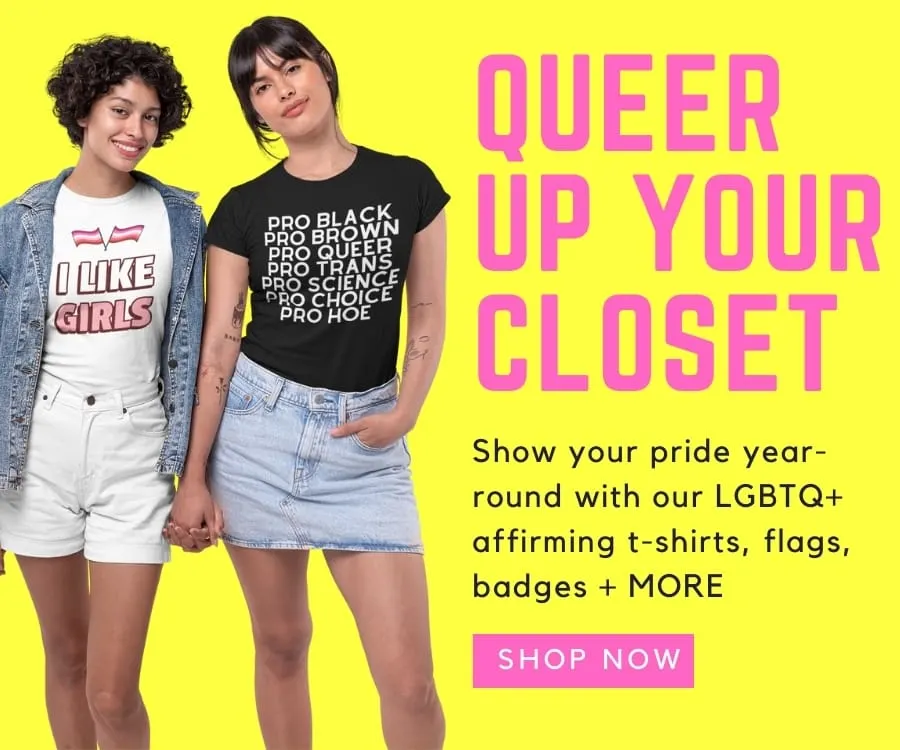 LGBTQ+ Community Organizations In Miami
To progress the LGBTQ agenda, the queer community commonly has to rely on donor organizations or non-profits.
Wherever you live, it's critical that you support such groups in any way you can use so that they can reach out and aid others in the community. You might even need their assistance right or at some point in the future – and no matter what, every queer person has benefited from their tireless work to achieve the progress and rights we have today. Here are some outstanding community LGBT organizations in Miami.
These are wonderful places to start if you're looking for LGBTQ groups to join, seek support from, meet new people with or volunteer for a cause you care about.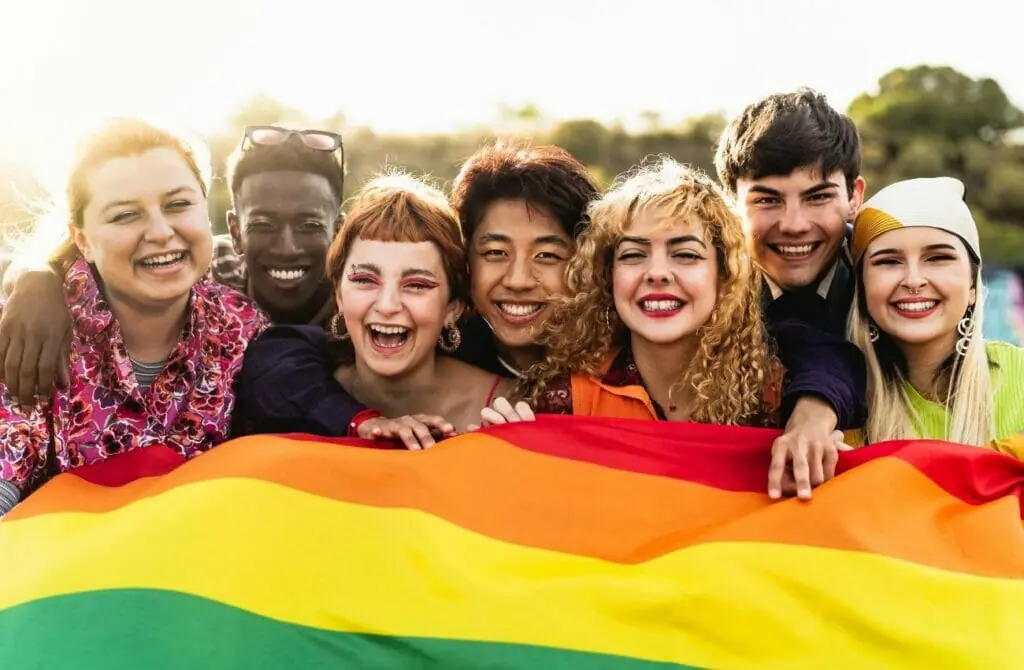 Spectrum is a for-students by students organization devoted to raising awareness through activism and education. It targets students of all gender and sexual identities. The group focuses on supporting an inclusive and welcoming community where everyone can feel safe with their self-identity.
The Miami Gay Men's Chorus is a community-based organization for gay men that changes and inspires lives through music. The group entertains audiences while aiming for artistic excellence.
Survivor's Pathway is a non-profit created to promote inclusivity, equality, and social action through advocacy and counseling services for the LGBTQ+ and Latino communities and different types of victimization such as human trafficking, sexual abuse, and intimate partner abuse.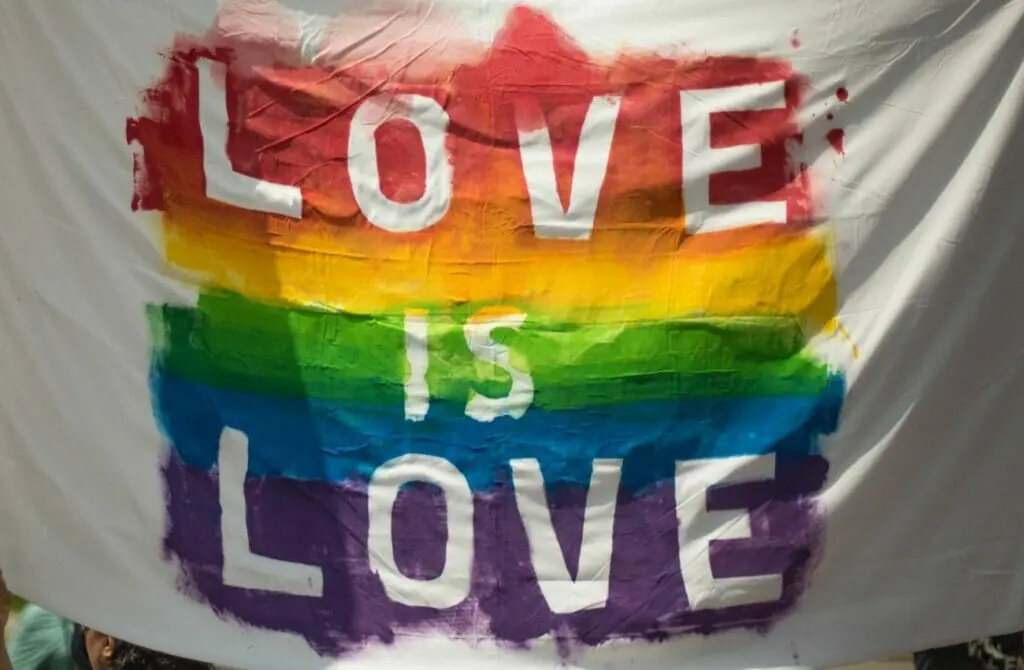 LGBT Owned Businesses In Miami
After moving to LGBT Miami, it's only natural to want to support queer businesses. One strategy for establishing a safer and more inclusive society is to create a secure environment where people may rest, buy, dine, and connect without fear, and this is exactly what LGBT companies should strive for.
To safeguard the queer community's survival and success, it is critical to support these initiatives wherever you are. With that in mind, here are a few LGBTQ-friendly businesses worth visiting in Miami.
A staple of South Florida's urban gay nightlife, GLAM offers a safe and sexy club atmosphere with high-energy strippers, neon lights, a diverse LGBT crowd, and an animated and distinctive mix Of Hip-hop, Reggae, R&B, Latin, House, And Old School Beats. Sexy Saturdays are our favorite nights but see their Facebook for events before heading out.
Why stay at a gay-friendly hotel when you can stay at a friendly gay hotel? The only gay hotel in Miami and utterly fabulous, quirky, and perfect for a chic gay escape. Found in a MiMo style 1958 building in the heart of a Miami Beach gayborhood, this hotel caters exclusively to gay guests who want to experience a local's life in Miami Beach.
Homey yet sexy, chic yet masculine, hip, nostalgic and vintage – and located just steps away from everything you could ever want! A wonderful space with fantastic service, a fun bar, and a busy men's sauna, Hotel Gaythering is our absolute first choice whenever we visit South Beach – and should be yours too.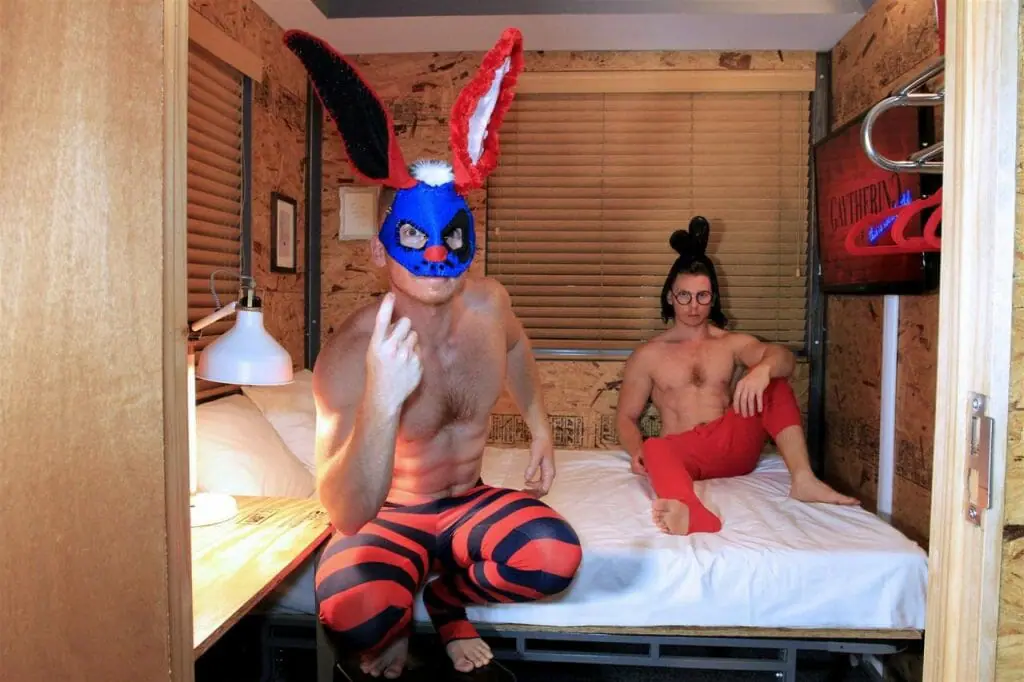 If you're looking for a costume for a special occasion, head over to Beatnix, located at 1149 Washington Ave. The top shop provides costumes for dancers, bartenders, servers, and more. Whether you're looking for accessories or swanky costumes, you will find the store filled with a collection that will not disappoint.
The hottest and longest-running gay club in Miami, this Gay South Beach "must-do" has continuously redefined queer nightlife for over 25 years, providing a friendly and welcoming environment where people from around the world can meet and have an utterly fabulous time. Professional bartenders, world-class DJs, and the sexy-as-hell dancers come as standard in this epic venue with entertainment most nights, including some of Miami's finest drag acts.
Two blocks from the Atlantic Ocean and the popular 12th street "gay" Beach, the 7 bars and three dance floors here – each with a different vibe in every room mean there is always something going on at Twist. Never a cover… always a groove, seven nights a week, every week of the year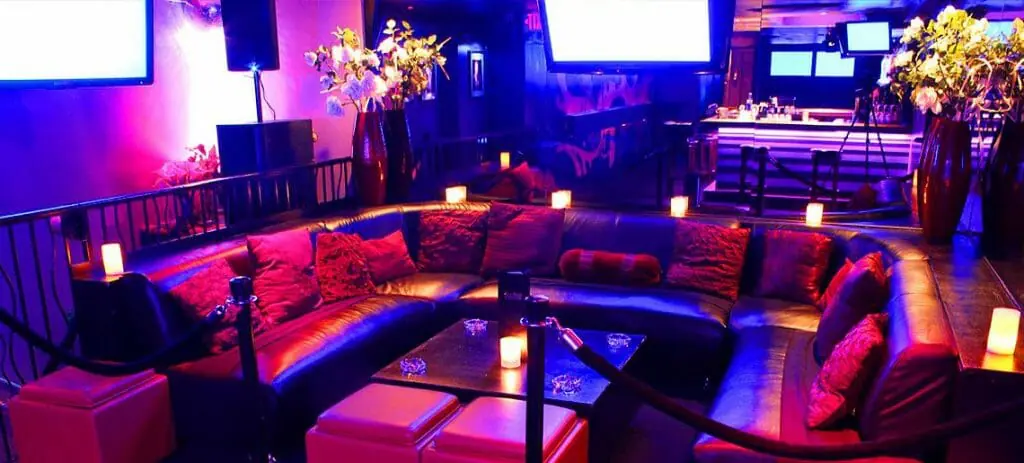 Every Queen needs a palace, and after a short hiatus, the infamous Palace Bar has reopened on 11th Street and Ocean Drive – two blocks from its original location. After serving South Florida's LGBTQ community for almost 30 years and providing a safe haven with rainbow-painted crosswalks and daily over-the-top drag shows, the Palace once again provides a home for the glittering queens and drag performances of South Beach.
Go for brunch, lunch, cocktails, or late-night partying; there is always something happening at Palace. Drinks, music, music, drag, magic, and queer vibes – what more could you want, really?
Owner Andre Gonzalez has made his mark in the Miami dessert scene with his business Night Owl Cookies. In various locations in Miami, what started as an Instagram delivery service has grown into a dessert institution with a formidable presence. Cookie recipes range from the traditional chocolate chip to those that will remind you of your childhood candies and cereals.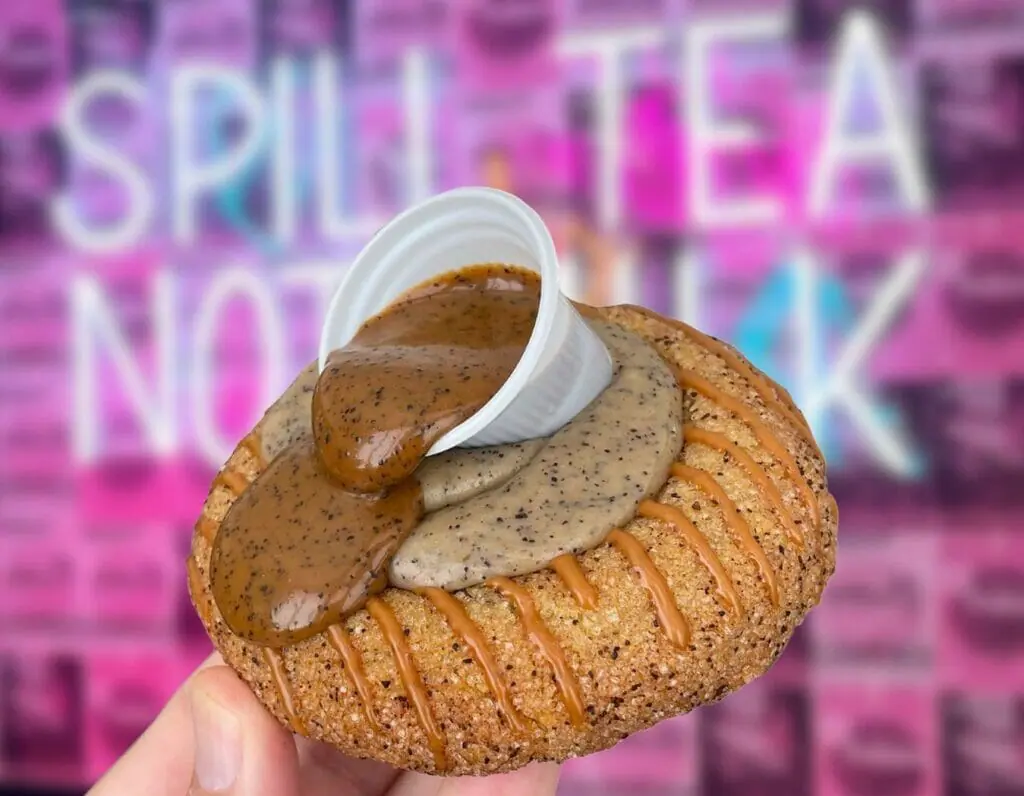 Are you looking for an iconic breakfast? Front Porch Café is the perfect choice for the most delicious pancakes in Miami. The gay-owned establishment has had a presence in the city for more than 20 years and has a welcoming ambiance perfect for different occasions.
A production company from South Beach producing some of the hottest women's soirees in the country, local weekly and monthly lesbian-themed parties from Miami to Fort Lauderdale and into Central Florida. Sorry ladies, there are no exclusively lesbian bars in Miami but feel free to party with us…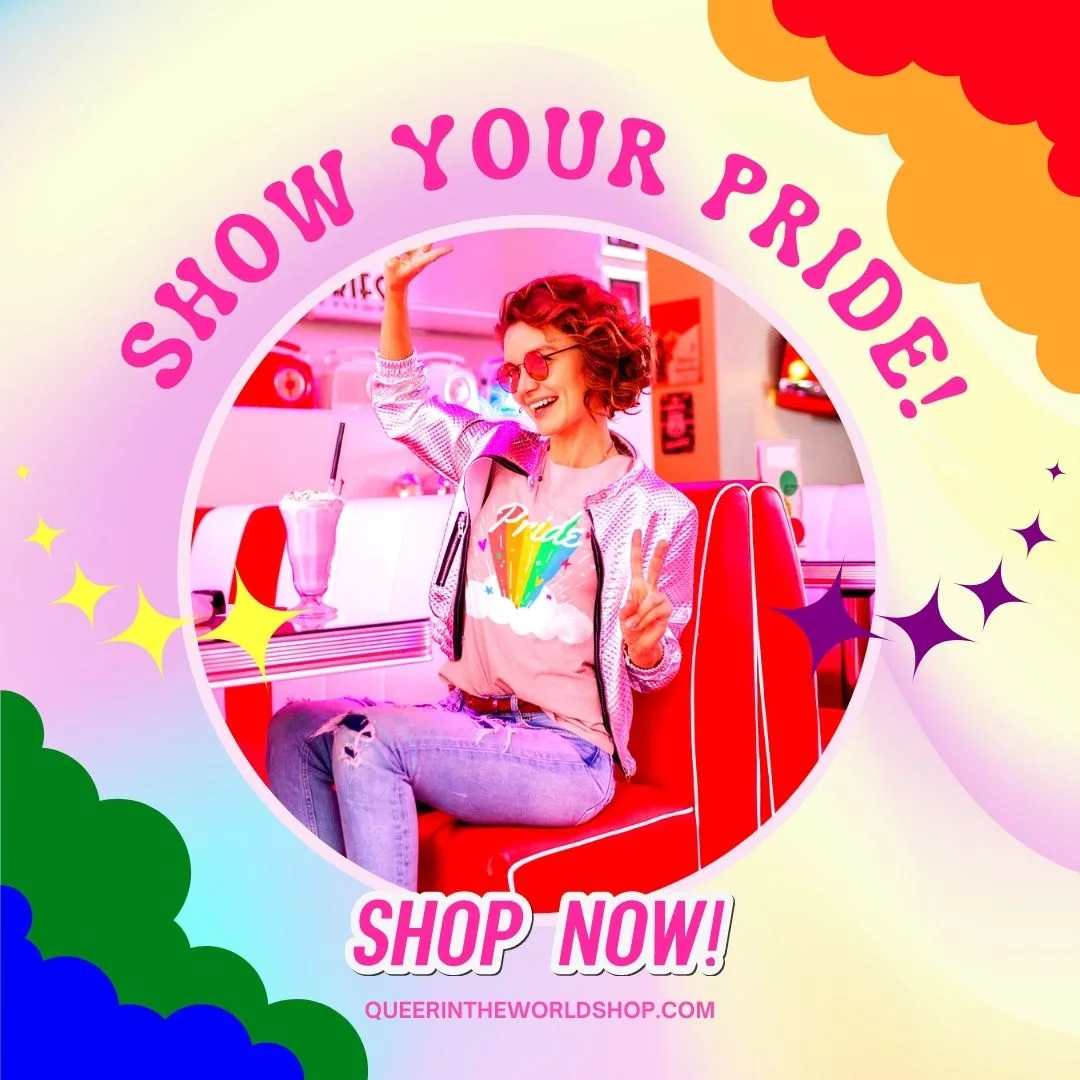 Final Thoughts On Moving To LGBTQ Miami
Beyond the white, sandy beaches and the vibrant club scene, there's so much to do in Miami. Whether it's museums, boutique shopping, theme parks, art shows, cultural districts, festivals, pro sports, national parks, or outdoor market spaces, Magic City has something for everyone! Plus, with an inclusive, welcoming, and nurturing community, you or your family will find a home far away from home.
Keep in mind that life is what you make it, and wherever you choose to begin your new life in gay Miami, we hope you find the openness and security you deserve. The surest way to discover LGBT Miami is always going to be living in a gay-friendly neighborhood by frequenting local LGBT businesses and events and joining queer community groups and sports teams.
We promise that if you follow these steps, your transition to LGBT Miami will be easier, and you'll rapidly meet like-minded people to build your new chosen family here. And if you are still not sure, we also recommend reading our Gay Miami guide with more specifics on the queer attractions, events, and LGBT fun on offer…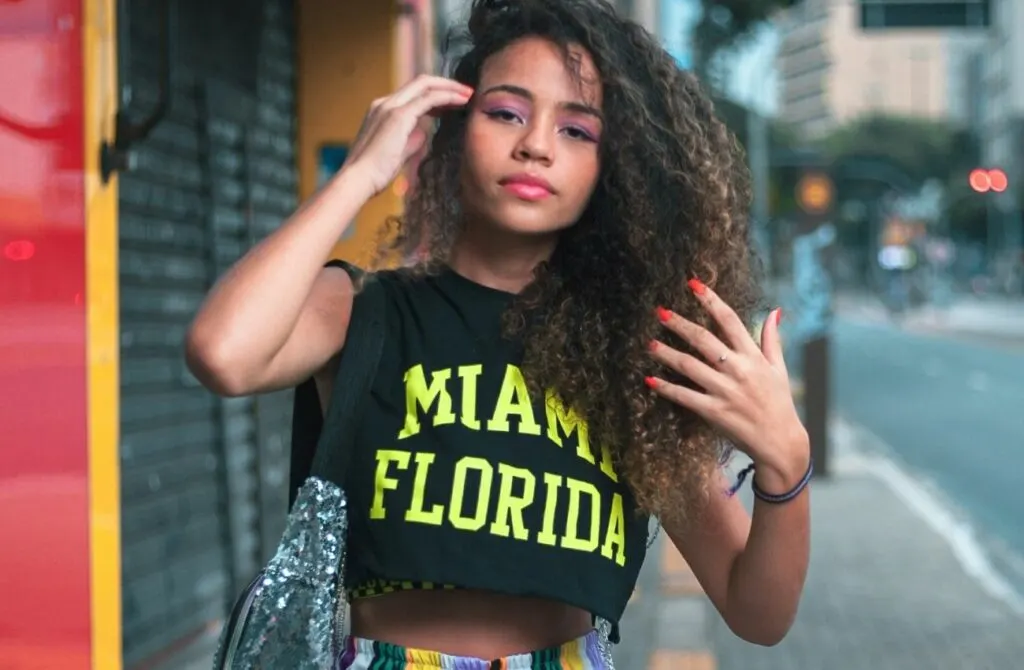 Finding Gay Realtors In Miami Florida
When looking for the ideal realtor, why would you consider someone's sexuality? This may seem strange at first, but there are several reasons why contacting a gay realtor in Miami is a great way to find your dream house.
After all, when it relates to one of life's most important transactions, it's not unreasonable to expect fair, equal, and honest representation from someone who understands the queer community's particular needs and wishes. Furthermore, unfortunately, many people (up to a third of Americans) continue to believe that our community does not deserve protection and dignity in housing, adoption, employment, and other areas of life.
So it's no surprise that LGBT people who use mainstream realtors often describe feelings of discomfort, unnecessary trouble, unenthusiastic representation, or even antagonism or outright contempt. Everyone deserves a pleasant, stress-free home buying or selling experience while being adequately represented, and this is why we feel you should hire a gay realtor to assist you in finding your future home.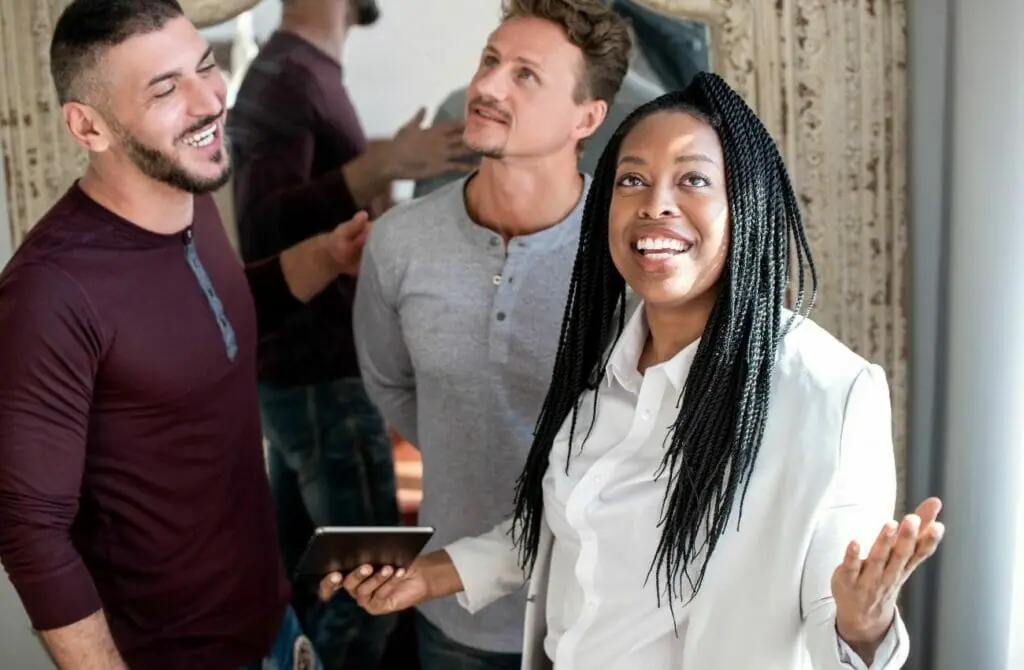 LGBTQ realtors are more likely to be familiar with the diverse communities in their area and know which ones may be best suited to you when looking for a home. That's not to say a heterosexual realtor isn't capable, but they've probably never had to address many of the issues LGBT people face. Rather than just being concerned with how bustling, fashionable, or up-and-coming a neighborhood is (or what it may appear like), gay realtors conduct extensive research into the neighborhoods in which they sell homes to ensure that clients are safe.
It used to be difficult to locate professional LGBT-friendly real estate agents in Miami, and it was virtually impossible to find one if you were relocating here from out of state and didn't have access to a local referral. You no longer have to search for a realtor without knowing whether or not they are accepting of others because you can use a list of gay, lesbian, and gay-friendly agents in Miami to do all of your homework for you.
Simply go to the page, and you'll be presented with a free list of gay, lesbian, and gay-friendly agents who can help you with your relocation as well as other useful information like LGBT+friendly schools, shopping, storage firms, tradesmen, and more. Read the biographies of LGBT real estate agents, then choose the one who is right for you. It's critical that you find someone who will be by your side and support you and your family during one of life's most exciting occasions.
Even better, there is no hidden motive, cost, or obligation whatsoever!