Are you considering moving To LGBT Houston? Trust us, you are not the only one! After all Houston is the most populous city in Texas and is also the fourth most populated city in the US after New York, Los Angeles, and Chicago…and there are few things queers like more than big city lights!
Houston is famed for its diversity and is considered one of the state's best places to live due to its welcoming atmosphere and quality of life. Houston is also known for its energy industry and space exploration, so it's no wonder that it's a top destination for those who want to relocate for work – though there is also an extravagant and empowering queer scene that could be a major drawcard depending on what you are looking for.
Yes, just like in Denver, Dallas, Boston, and other major US cities, there is also an energetic LGBT community here (if you know where to look), and this is something a gay realtor in Houston can help you navigate as you find your new perfect home here.
Then, once you throw in the impressive dining scene, the high-brow art exhibitions, employment opportunities, and a plethora of outdoor activities, you can begin to see why Houston is one of the most underrated destinations for members of the LGBTQ+ community looking to move from their current locations.
Moving to a new city presents distinctive challenges. Luckily, we've got your back.
Think of this article as a queer Houston relocation guide that will help you understand what you're getting yourself into when moving to this beautiful city. If you need a more night-life and travel-focused guide detailing all the LGBT clubs, parties, and more, check out our Gay Houston Guide!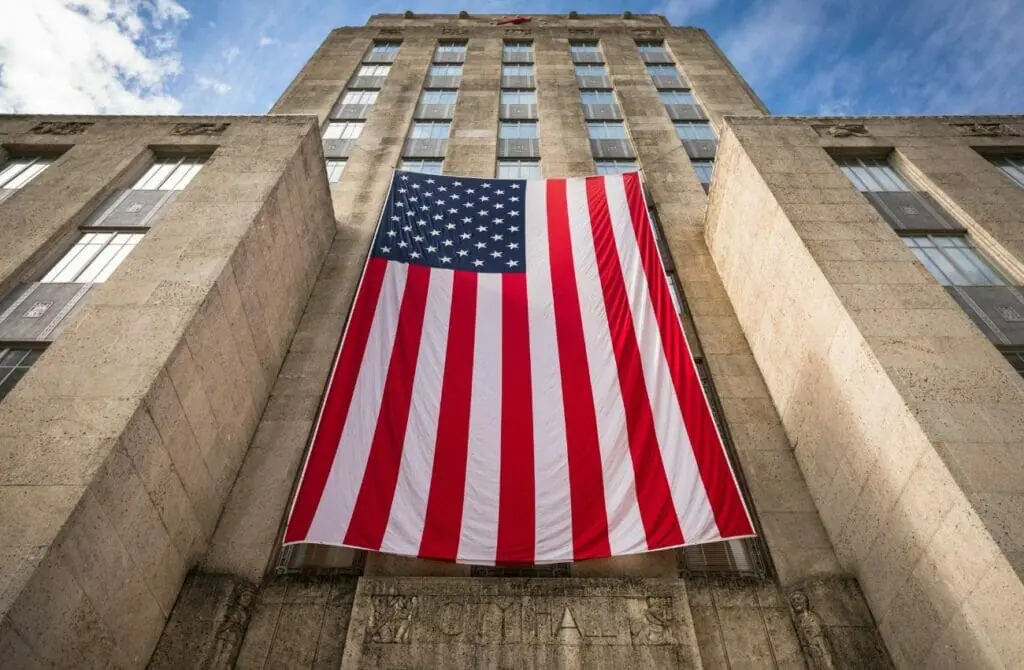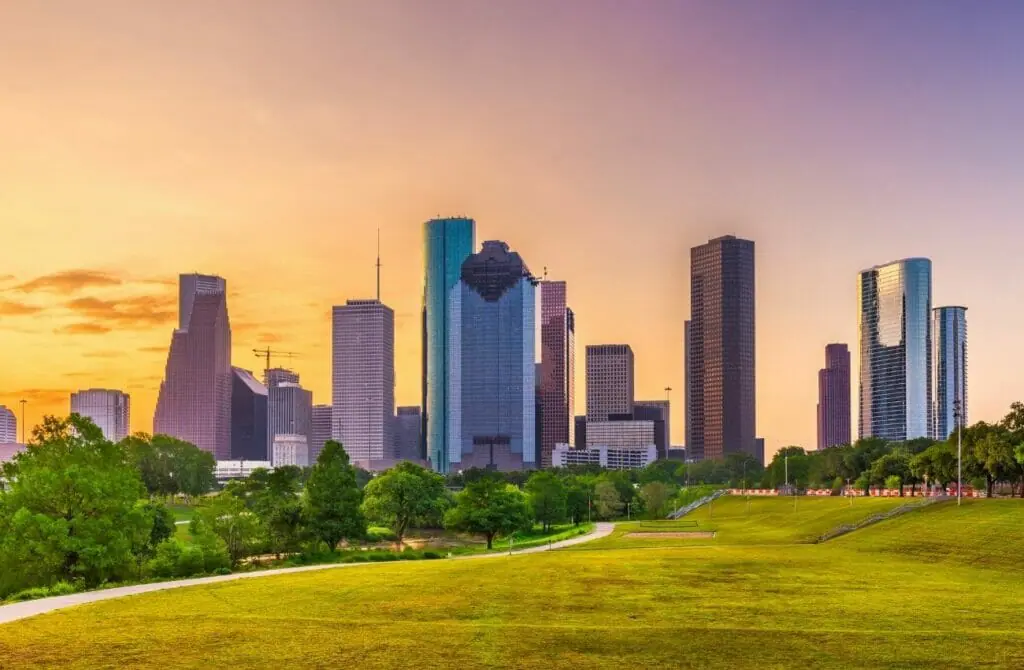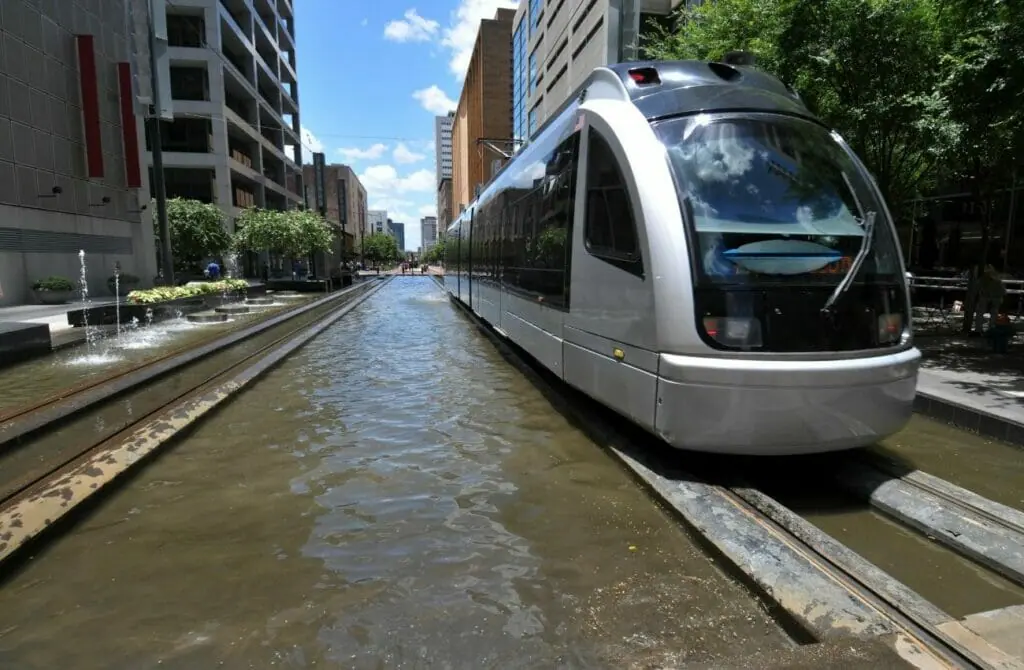 Highlights Of Moving To LGBTQ Houston
There's a lot to love about Houston, and we've put together some of the best highlights about moving to this city. Have a look.
Getting A Place To Live Is Easy
There's no shortage of places to live in Houston. The only decision you have to make is whether you'd like to live outside or inside the loop. Houston is home to posh suburbs with high-end living and entertainment and low-income neighborhoods. When it comes to choosing where you'd like to settle, housing costs, daily commute, and proximity to work are what you should consider. If you choose to live inside the loop, you will have access to Houston's best nightlife.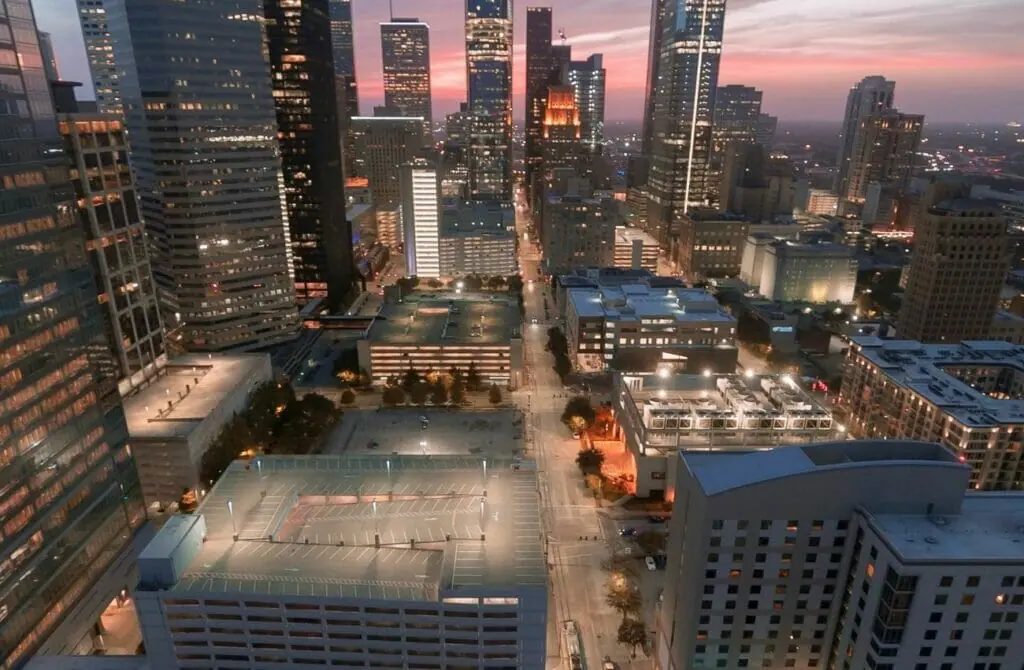 The Growing Job Market
Houston's job market is booming, and it's one of the reasons the city has a growing population. The real estate here is affordable, and the availability of jobs draws young professionals to the city each year. Some of the most popular industries in the city include; medical research, technology, aerospace, oil and gas, and healthcare.
If you're moving here for a job, you're likely to find one after a short while since many Multiple Fortune 500 companies are headquartered in the city.
Houston Has No Zoning Laws
Houston has no zoning restrictions. Zoning laws determine the construction of buildings and regulate building heights. Cities usually put zoning laws in place to ensure order and efficient land usage. Since Houston is such a large city and doesn't have zoning restrictions, you can see its disadvantages through a curious mix of buildings and architecture all over the city.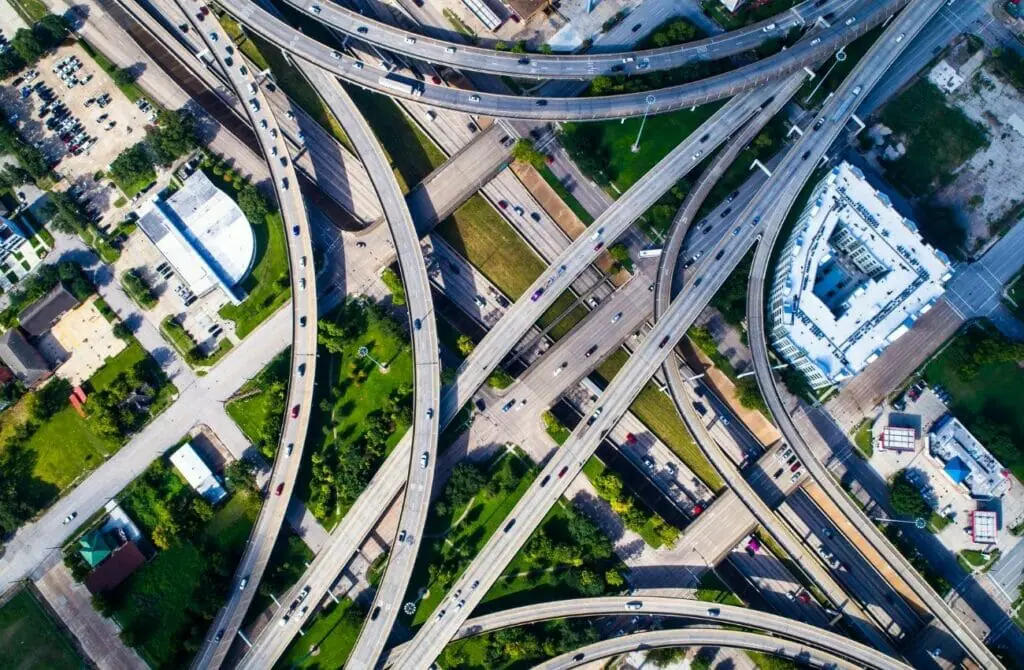 The Food Scene Is Life
Houston is one of the country's best food cities, and its cuisine is diverse. The food scene in Houston puts together International delicacies with Texan fare, and dining at local eateries and top restaurants is a regular thing in the city. Houston is well known for Tex-Mex, barbeque, chili, breakfast tacos, chicken fried steak, and other classics.
There's Always Something To Do
Nothing is boring about living in Houston. The local museums have plenty of art, visit NASA Space Center, or enjoy the outdoors in one of the many historical sites or local city parks. Whatever age you are, there's always something to do in Houston.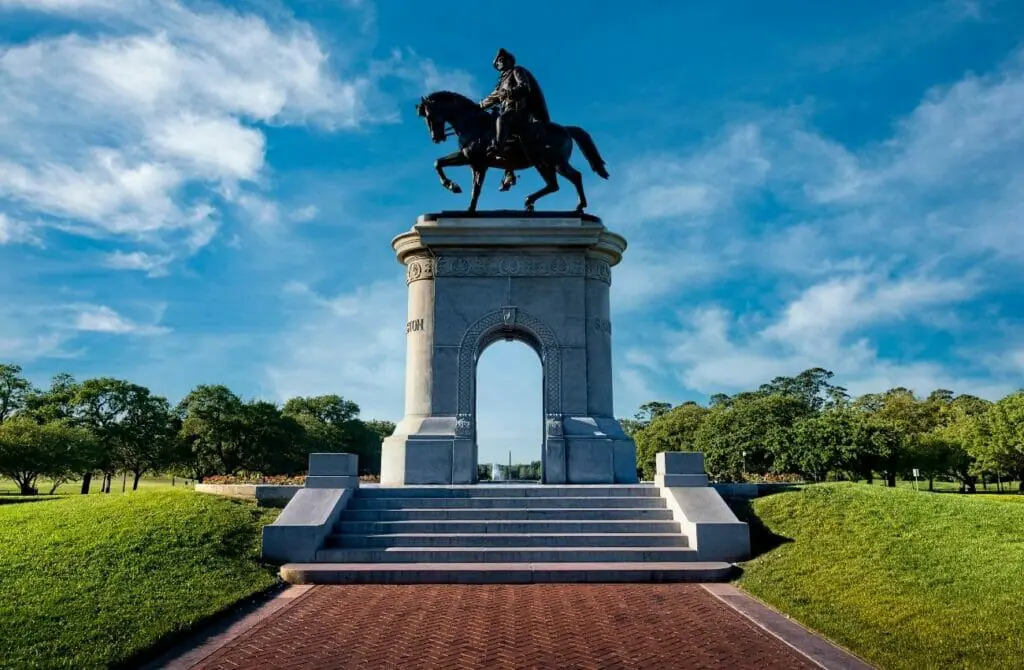 Does Houston Embrace The LGBTQ Community?
While Houston is still way behind other major cities in Texas regarding LGBT-friendliness, it's performing much better than the country's average in relation to LGBT-friendly policies. The city garnered a 70/100 MEI score and ranked above Texas.
However, this doesn't mean it's the only city in the county that didn't get a perfect score. Houston only got a low score since it didn't have non-discrimination protections in housing, public accommodations, and employment. All other cities in the state have laws protecting the LGBTQ community. While Houston passed a similar ordinance in 2014, voters repealed it a year later.
Houston only recently adopted nondiscrimination measures out in place by the city council. These measures prohibit the discrimination of LGBT individuals by workplaces and businesses in the city. They allow the LGBTQ community to have the same benefits other workers have and come after a federal directive prohibiting the discrimination of LGBT people by federal contractors.
The new protections in Houston allow LGBT individuals to present claims against their employers if they face workplace discrimination. Unfortunately, such cases aren't easy to prove and often require conclusive investigation to attain all the facts. The individual has to be part of a protected class then show that discrimination happened.
While the protections are in place, it isn't enough to show that the person being discriminated against is transgender or gay. Such individuals have to show that a company or business treated them differently, resulting in negative results. Even so, with the number of gay-owned businesses, and gay neighborhoods in the city, one doesn't need to worry about finding an ideal place to call home.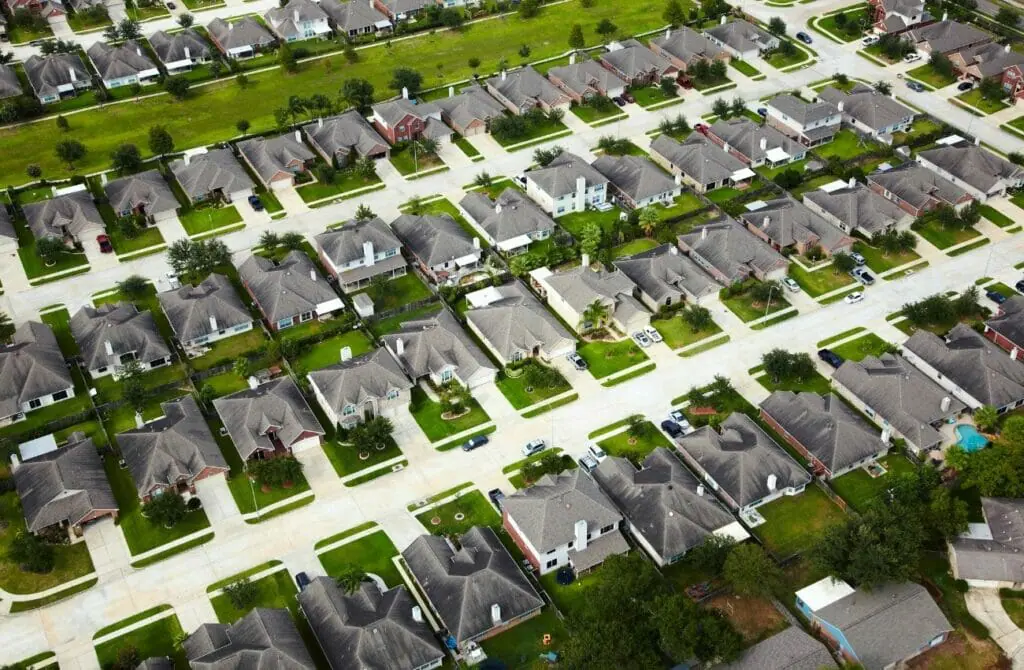 Is Houston An Expensive City To Move To?
Houston's cost of living is 2% less than the national average. Let's take a detailed look at some of the expenses you will incur while living here.
Housing costs: housing costs in the city are almost 15% lower than the country's average. Expect to pay around $1,200 per month for a one-bedroom apartment. A three-bedroom apartment will cost $2,500, and the median price for homes in the city is $333,000 or $168 per sq. ft.
Utilities: monthly utilities in Houston can range from $80- $250 depending on the size of your home and the season.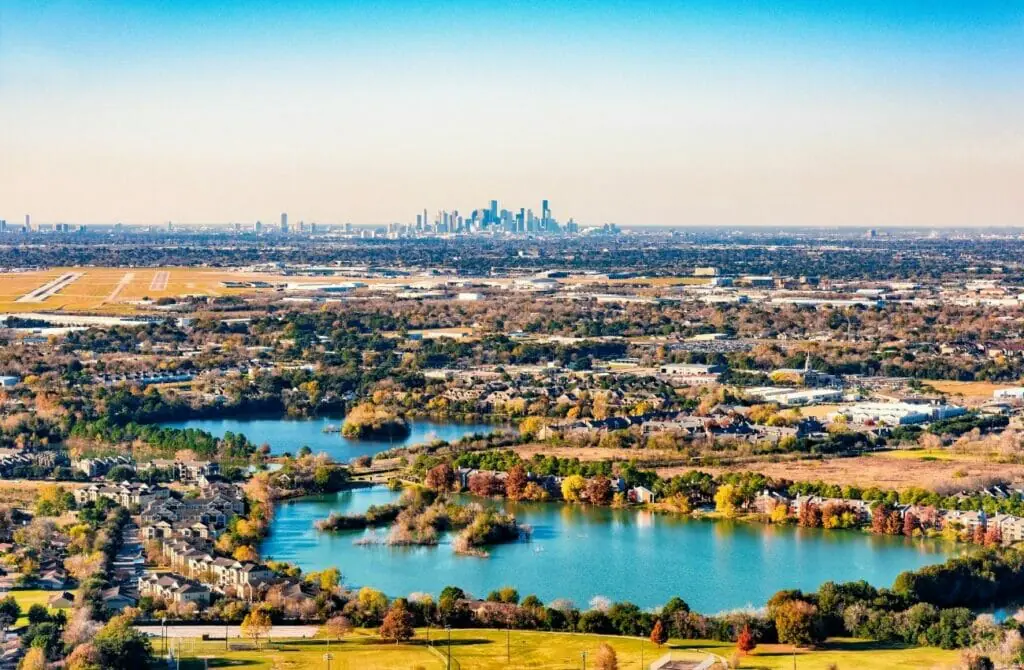 The Best Gay Neighborhoods In Houston
Not all LGBT individuals want to live in the frenzy of Downtown Houston and its central business district, so thankfully, there are lots of alternate areas to live for those who are seeking a calmer-yet-still-LGBT-friendly environment.
When relocating to LGBTQ Houston, keep in mind that some neighborhoods are closer to all of the exciting queer events and happenings than others. Knowing them in advance will ensure that you arrive at your new home in the most suited gay-friendly area of town.
Start with these top gay and LGBT-friendly Houston communities to find your fabulously perfect new home, each with its own individual personality, welcoming community, and amenities you'll adore. Allow ample time to become acquainted with Houston's diverse personalities, and keep in mind that this city has plenty to offer everyone – LGBTQ or not!
Now let's take a look at where the handful of marvelous gay areas in Houston are and talk about the Houston gayborhood where you might feel most at home! Or speak to a local LGBT real estate agent for a more detailed understanding of the best options today.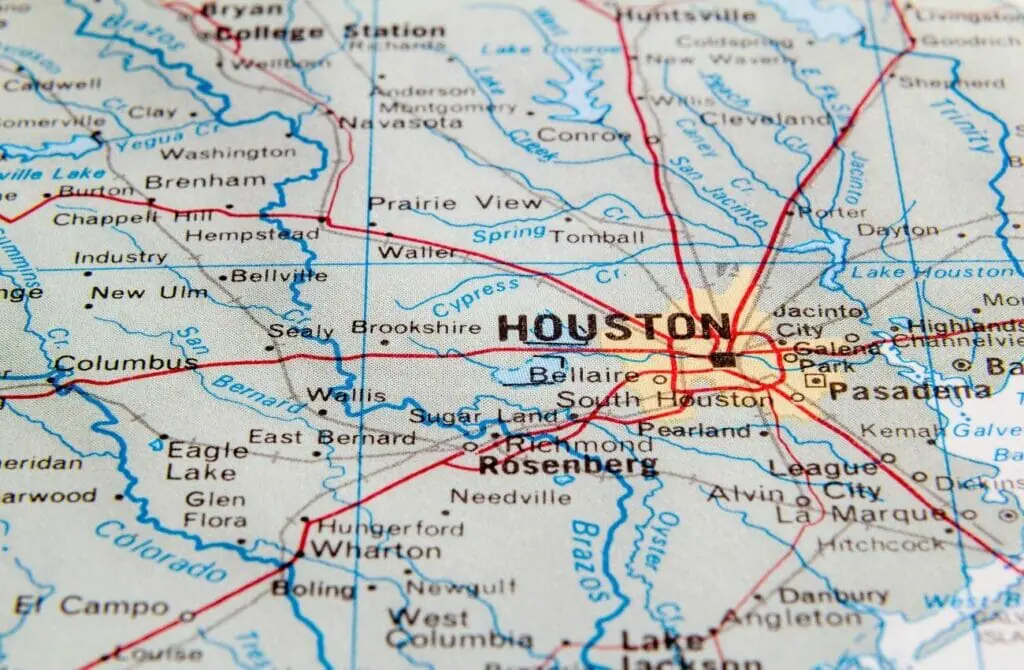 Montrose
An oil tycoon founded Montrose in 1911. It is Houston's gayborhood and home to a rich, vibrant culture. By the late 70s, the area had almost 40 gay bars, and the neighborhood is still loyal to its roots to this day. If you're looking for adventure in the city, this is the neighborhood you should move to as there are plenty of options.
Montrose is eccentric, flamboyant, and lends the rest of Houston its colorful vibes. You are likely to find cocktail bars, restaurants, art galleries, palm readers, vintage clothing stores, and tattoo parlors in this neighborhood.
The Montrose neighborhood is known as the heart of Houston. However, the district's true beauty is that there's something for everyone here. In Montrose, Clark Gable first became an actor, and Lyndon B. Johnson became a teacher. The mix of virtuosity and creativity is still apparent in contemporary Montrose, and there are art galleries and museums like the Rothko Chapel and the Menil Collection.
Montrose is also home to artisan stores, innovative boutiques, and restaurants. Foodies will enjoy living here, and if you're looking for a dynamic neighborhood to settle in, you've found it.
The Heights
The Heights, or Houston Heights, is famous for its stately Victorian homes along Heights Boulevard. The neighborhood is home to record and antique shops on West 19th Street and the iconic Heights Theater. The area's hike-and-bike trail winds down a leafy path to Downtown Houston.
The Heights is one of Houston's oldest neighborhoods and was originally a 'utopian district' in the late 1890s. Given its name from its 23 feet elevation compared to Downtown Houston, Houston Heights is an excellent place to be when the city experiences floods. Life in the heights is remarkable. The area is walkable and a few minutes from Downtown.
The Heights is home to many excellent restaurants, luscious parks with plenty of trees, and well-maintained Bungalows. The food and bar scene here is enviable, and the area has some beautiful murals. Houston Heights is a residential area with a few pockets of establishments on 6th Street, 19th Street, and 11th Street. 11th Street is primarily residential, but it has many coffee shops and restaurants around Studemont.
Houston Heights is party central, and the most exciting thing about this area is that most parts of it are 'dry.' This means you can't buy alcohol if you aren't a member of a bar's drinking club. Entry to a club is free and doesn't take long at all.
Museum District
The Museum District is a cultural hot spot with many home styles that attract transplants from all over the country. In Museum District, there are million-dollar historic mansions flanked by live oaks. You also have the option to live in a high-rise condo. Museum District is a walkable neighborhood with lush parks, outdoor music venues, and shady running trails.
This District is Houston's cultural hub hosting venues with subjects such as natural science and the experience of African-Americans. The Museum of Fine Arts collection includes Impressionist art, Egyptian antiques, and American sculpture.
The Museum District is one of Houston's most sophisticated, low-key, and serene locations to live, with 19 museums in a radius of three square miles. Despite being one of the city's smallest communities, the tree-lined avenues and keep-to-yourself neighbors provide a sense of peace and tranquillity, all while offering a convenient position in the United States' fourth largest city.
The Museum District, located just south of Montrose and north of the Texas Medical Center, has an affluent and well-traveled ambiance that makes it an excellent area for individuals who want to live close to everything while being off the beaten path. The average price for homes in this area is $500,000.
River Oaks
River Oaks has always been associated with luxury. It was Houston's first master-planned suburb, located between downtown and Uptown. The neighborhood has always attracted Houston's rich and socially valuable citizens.
Throughout the area, there are stately oaks and picturesque thoroughfares. River Oaks is a tree-filled suburb flanked by the Buffalo Bayou and lined with lush and old trees. This lush haven is one of Texas' wealthiest towns, with row after row of immaculately manicured yards and exquisite retail malls.
River Oaks has evolved into a heavily populated dining, shopping, and residential area. Locals enjoy a variety of see-and-be-seen eateries such as Steak 48 and Ford Fry's State of Grace. The River Oaks Country Club and the Briar Club are two of the many social clubs in River Oaks.
The neighborhood's historic homes from the 1920s and 1930s are now blended in with modern buildings that are just as big in size and complexity, designed in various architectural styles ranging from Spanish Colonial Revival to English Tudor. Stunning gardens can be seen on many of the multi-million-dollar properties.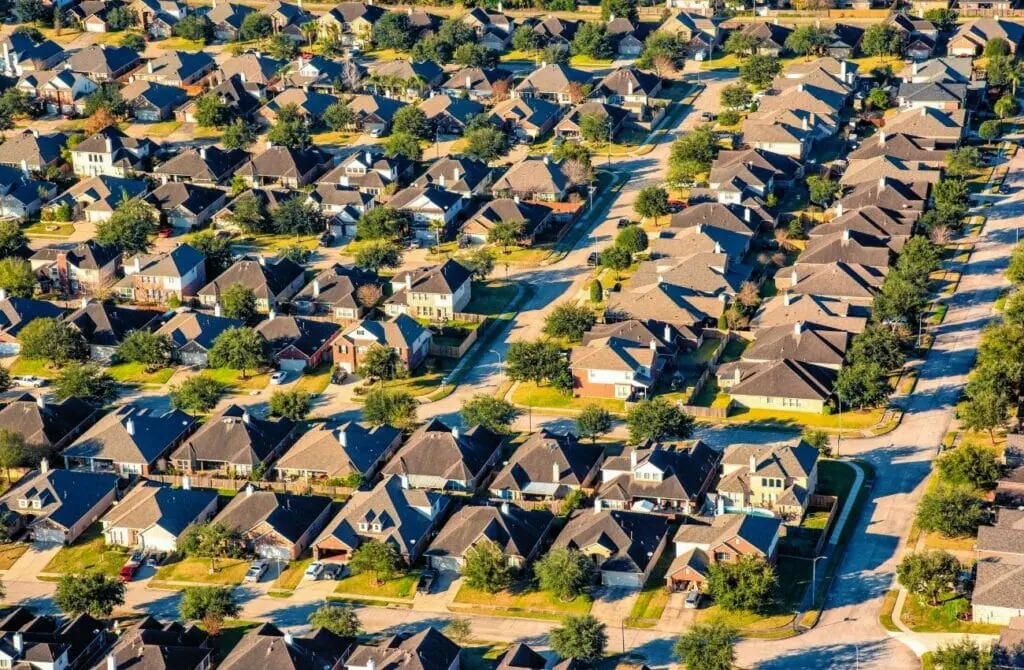 Annual LGBT Events In Houston
After moving to a new city, you will likely want to create new connections, meet new people, and network. Thankfully, LGBT Houston plays hosts to a variety of annual events for lesbians, transgender persons, gays, and anyone else who wants to have a good time.
While there are many queer events in the city, the ones listed here are the largest and greatest and are all worth marking in your calendar as you won't want to miss them.
A four-day weekend social party that combines various organizations, bars, businesses, and individual volunteers. It is primarily geared toward the leather/ BDSM communities. However, it has managed to transcend all boundaries uniquely and welcomes everyone, including bears, cowboys, transgendered, and drag aficionados. Whether you're a lifelong leather diehard or just like to play dress-up in gear, you'll be welcomed here.
For more than 37 years, Pride Houston has been a central part of the local LGBT community and become one of the biggest LGBT events in the USA.
Pride Houston celebrates the individuality and diversity of every person as we all strive for acceptance from parents, friends, and society-at-large. From annual charity events to aiding LGBTQIA support and counseling networks, its activities continue to promote social awareness and enrich the diversity that helps the Houston community thrive. The biggest event annually the Pride Festival and Parade, which is attended by over 500,000 people with admission to both being free.
The Parade is also one of the few nighttime Prides in the USA – along with Providence – beginning at 8 pm and ending around 11 pm. Expect plenty of block parties and other queer celebrations in the weeks before and after. Easily the best way to experience LGBT Houston!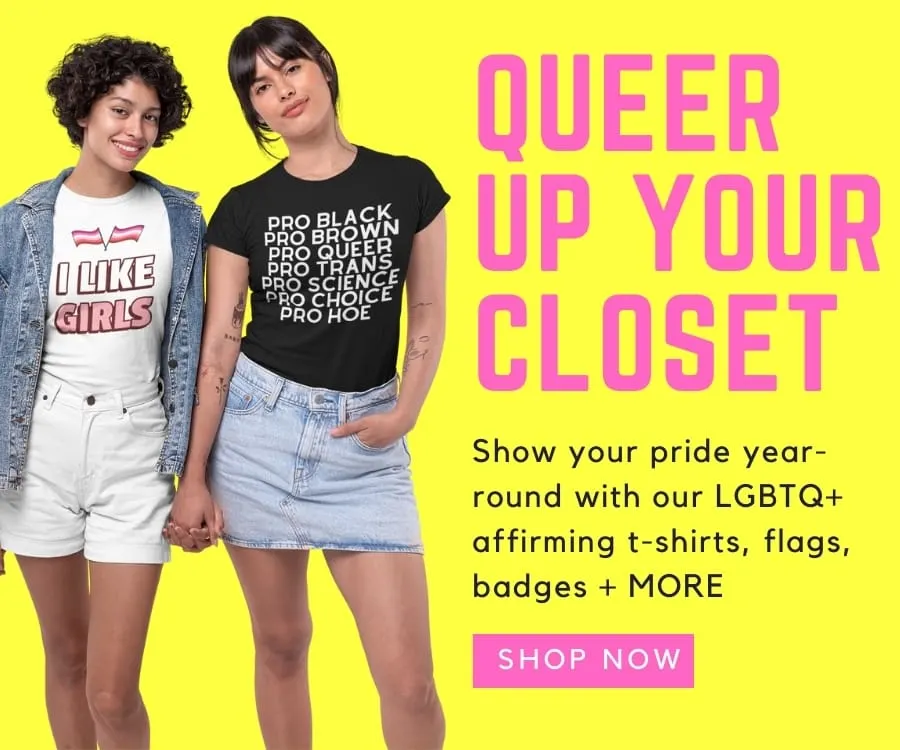 LGBTQ+ Community Organizations In Houston
To progress the LGBTQ agenda, the queer community commonly has to rely on donor organizations or non-profits.
Wherever you live, it's critical that you support such groups in any way you can use so that they can reach out and aid others in the community. You might even need their assistance right or at some point in the future – and no matter what, every queer person has benefited from their tireless work to achieve the progress and rights we have today. Here are some outstanding community LGBT organizations in Houston.
These are wonderful places to start if you're looking for LGBTQ groups to join, seek support from, meet new people with or volunteer for a cause you care about.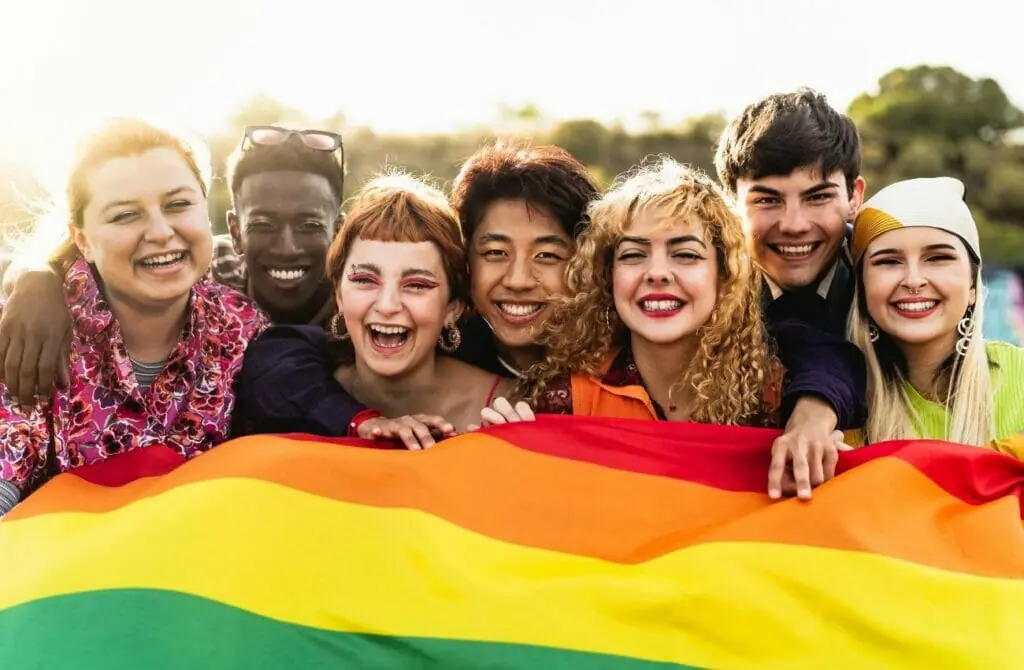 Lesbian, gay, bisexual, transgender, and queer people and their families are empowered by the Montrose Center to live healthier, more satisfying lives.
The center envisages a healthy society characterized by long-term, positive changes in behavior and attitudes toward LGBTQ people and the opportunity for all LGBTQ people to reach their maximum potential. The team of state-licensed clinicians, master's-level therapists, professional educators, support personnel, and committed volunteers collaborate to help the community live better lives.
Classic Chassis Car Club Of Houston
LGBT members of the Classic Chassis Car Club own or have a fascination for classic automobiles, models, books, or automobilia.
The Houston club members meet once a month, organize road excursions, and hold the Golden Girls Car Show and Event once in four years, drawing contestants and guests from all around the country and state.
FrontRunners is a group of lesbians and gays brought together by a passion for running. Members of the group meet twice each week at Memorial Park for a three-mile group run. The group also hosts regular social events, weekly events, and local and out-of-town competitions.
The Houston Bears is a non-profit charitable and social organization based in Houston serving the greater Houston area. Their membership transcends gender, race, age, and ethnicity to include bears, cubs, otters, admirers, and other allies to the Bear Community. They strive to be a positive and diverse force in our community, pursuing a mission based on the principles of Community Service, Fellowship, Fun, and Lasting Friendships.
They support various queer charities by hosting eclectic types of fundraising events throughout the year including their monthly Bear Bust events and Bear Tubing. A great cause and community to be a part of.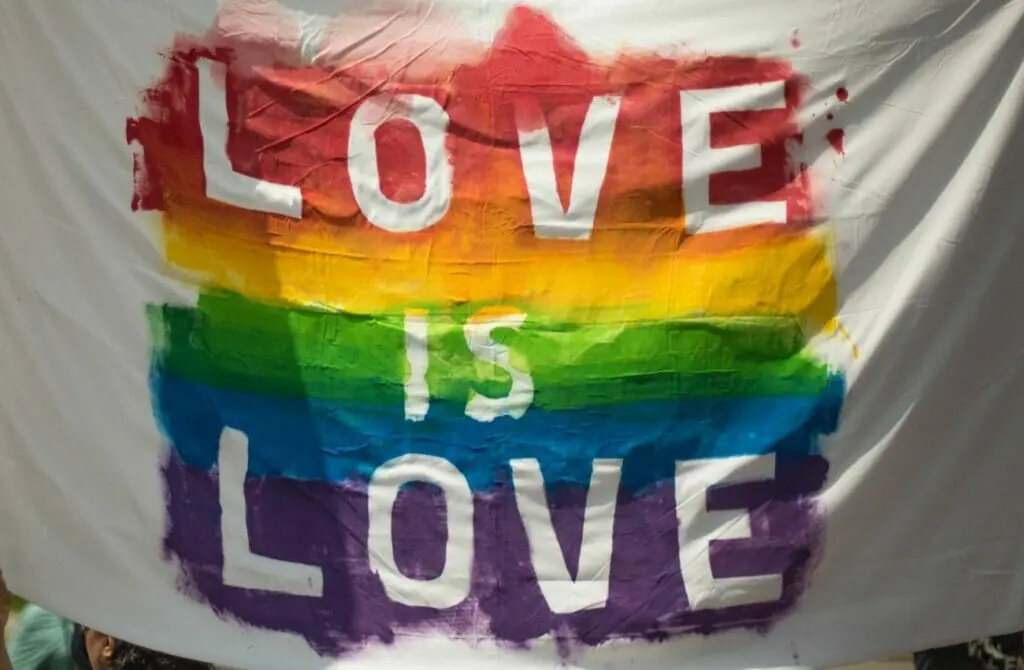 LGBT Owned Businesses In Houston
After moving to LGBT Houston, it's only natural to want to support queer businesses. One strategy for establishing a safer and more inclusive society is to create a secure environment where people may rest, buy, dine, and connect without fear, and this is exactly what LGBT companies should strive for.
To safeguard the queer community's survival and success, it is critical to support these initiatives wherever you are. With that in mind, here are a few LGBTQ-friendly businesses worth visiting in Houston.
Sky Dreams Dance Studio is owned and managed by Perfecto Ramirez. The dance studio offers everyone that comes in an enjoyable experience. Ramirez uses his choreography to encourage adults and kids to understand how vital it is to be committed, hard-working, and responsible. He teaches dance and helps others build their confidence and explore other cultures and music genres.
The Ranch Houston, owned by Tamika & Lenie Caston-Miller, is a wellness community that provides a space where LGBTQ+ and BIPOC feel empowered, heard, and seen. The facility allows members to reconnect with each other and nature through yoga and art. The owners also offer discounted and free services for paid workshops or events at the facility.
Dumpling Dudez will offer you the ultimate dumpling experience in Houston. Owned by Husbands Mike Dorsey and Chih Lin, Dumpling Dudez helps people create cherished memories and tasty dumplings. The two owners also provide cooking classes and help you make the establishment's magic.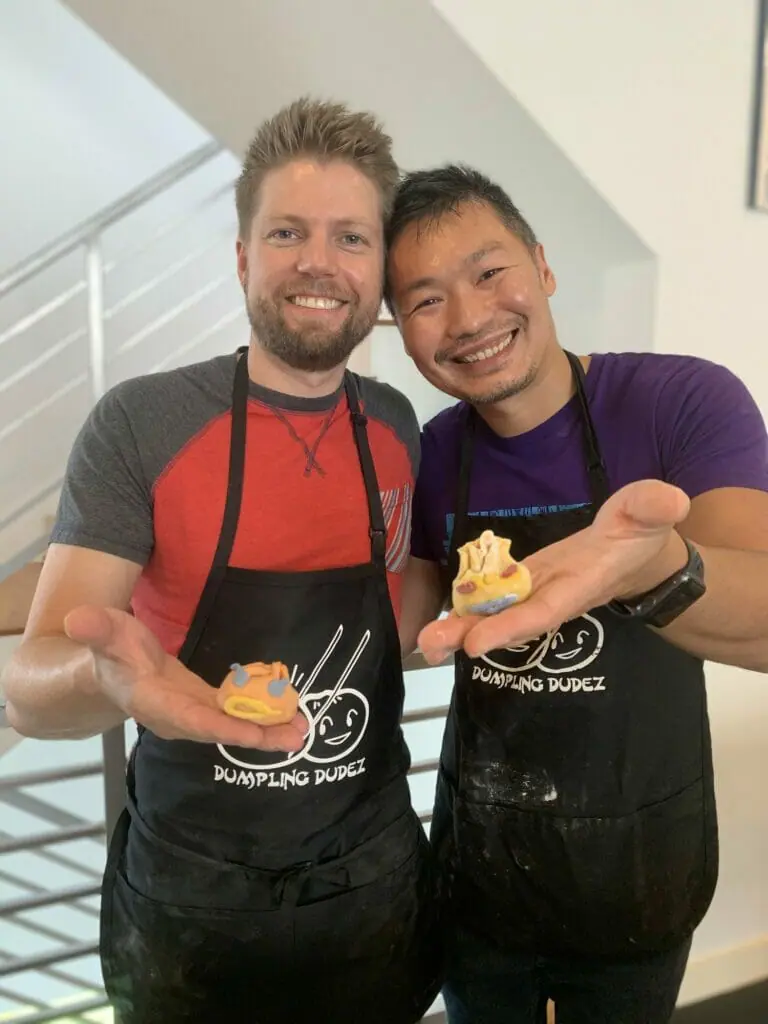 Located in the heart of Montrose, this gay-owned and operated adult boutique is your one-stop source for clothing, books, music, magazines, movies, toys, jewelry, gifts, and more.
A gay-friendly spot that is famous for its eccentric diner fare and hearty salads. The sassy wait-staff and cute boys who gather here to spill the tea over Sunday brunch are reason enough to visit, but if you want to question their queer credentials take a look at the logo. Yes, it is a sheepdog mascot surrounded by rainbows.
Nestled in the city's Montrose neighborhood, this queer American bar & grill chain offers diner classics, strong cocktails, and quirky entertainment, including plenty of drag. The first Hamburger Mary's in the Lone Star state, their drag brunches and dinners are always a fun option!
Much like its sister bars in Dallas and Denver—this is a quintessential gay hangout in Houston. JR's is known for its fabulous Southwestern-inspired décor, an expansive patio, popular happy-hours drink specials, and fun live entertainment each night, including dancers, drag shows, and karaoke. A mainstay of the Montrose gay scene, and Gay Houston in general, JR's is one of the most popular gay bars around – and the oldest gay bar in Houston. Go early for cheap drinks and conversation, or later at night for a uniquely Texan combination of pounding techno and cowboy go-go dancers in an energetic saloon atmosphere.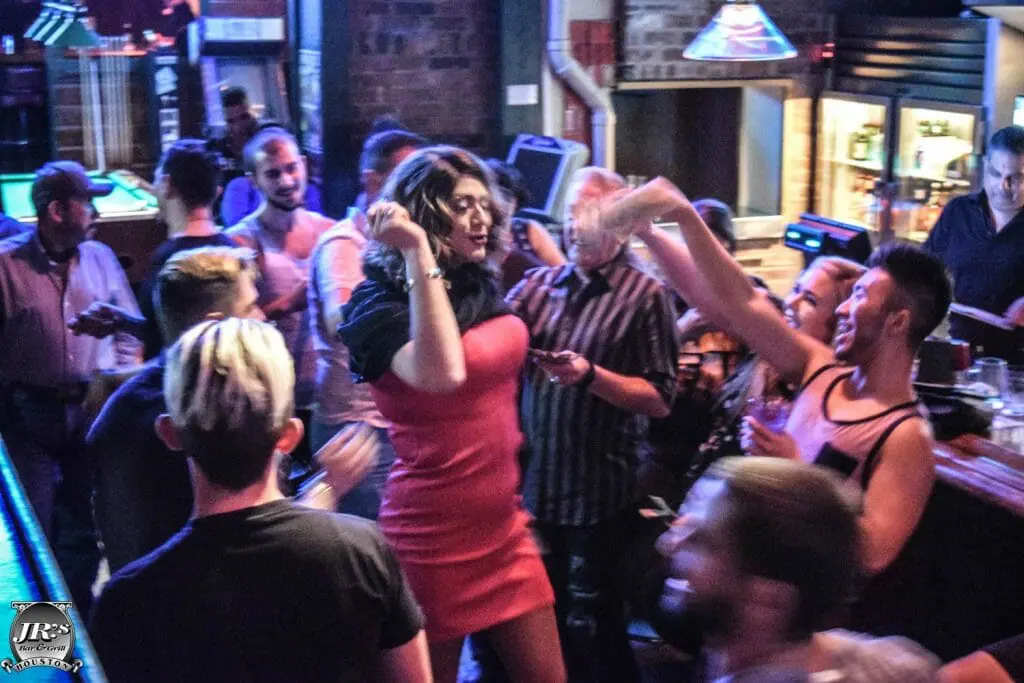 A gay piano bar that has something for everyone. Come in for a refreshing cocktail, a good laugh – and a sarcastic remark or two – or a broadway infused live sing-along/drag show. One of the most welcoming bars we have ever been to, where you immediately feel welcomed as part of the community and are sure to have a good time!
For those who are not familiar with the Eagle Bar concept, this is just one of many unaffiliated gay bars in dozens of different cities using the "Eagle" name to cater to the leather-&-levis crowd. Abruptly closed in 2016 due to a fire, the Eagle Houston has reopened with a new aptly named Phoenix Room upstairs, dedicated to the preservation of Houston's LGBT history. There is also a small retail outlet known as Eagle Trading Co. for all your kink and leather needs. The perfect place for pool light cruising and craft beer on the outdoor patio – though it is a bit more dancey on the weekend and definitely not a hardcore leather bar. Home to the Houston Bears and hosts fun vintage video game nights on Mondays and a memorable Big Ass Beer night on Thursdays.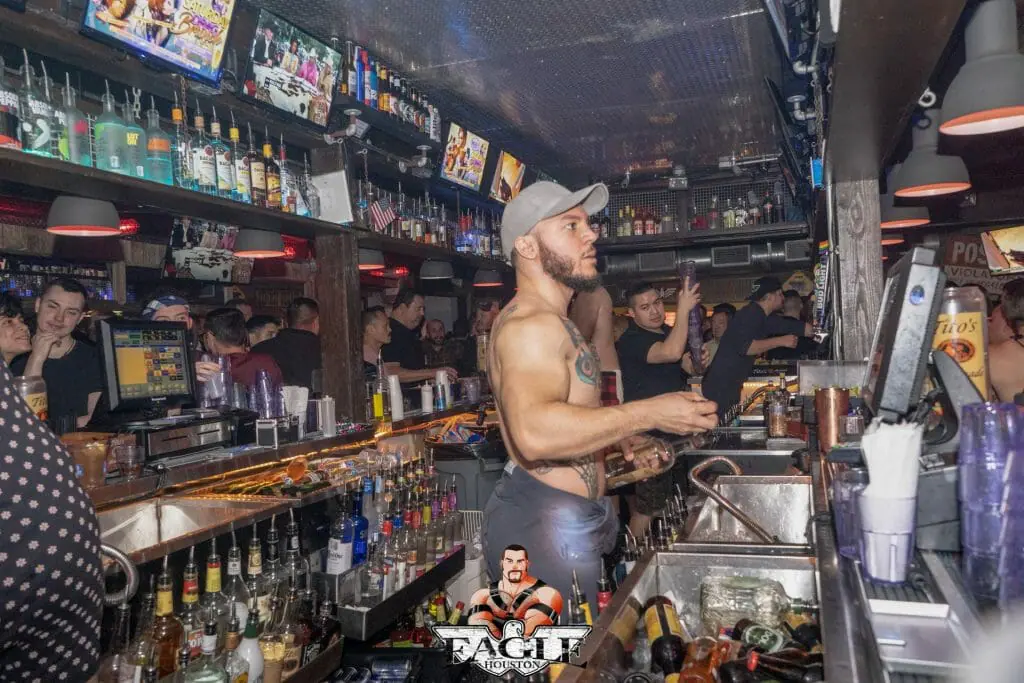 An fabulously queer country and western nightclub with over 11,000 sq. ft. of entertainment space with a spacious dance floor, sixteen bar stations, and ample outdoor patio space. Open from Wednesday to Sunday, Neon Boots is the perfect place to try out those new cowboy boots and dance the night away! Every Thursday evening, there are also Line Dance lessons – No partner is needed! There was a good mix of young & old, different races, and everyone was welcome here. You can't say you live in Gay Texas without having at least stopped by here…
Located in the Midtown area convenient to the Downtown and Montrose gaybourhood, The Club Houston provides a clean and safe haven in the heart of the city. Inside you will find a relaxing environment where men from all over Texas (and beyond) can forget about their hectic lives for a few hours and be able to enjoy themselves. Come sunbathe on their sun-drenched patio, take a dip in the heated pool, sweat it out in the steam room or relax and less the stress melt away in their dry sauna. There is also a full gym, whirlpool, lockers, and private rooms. Even though The Club is the only game in town, it is surprisingly upscale and a lot of fun.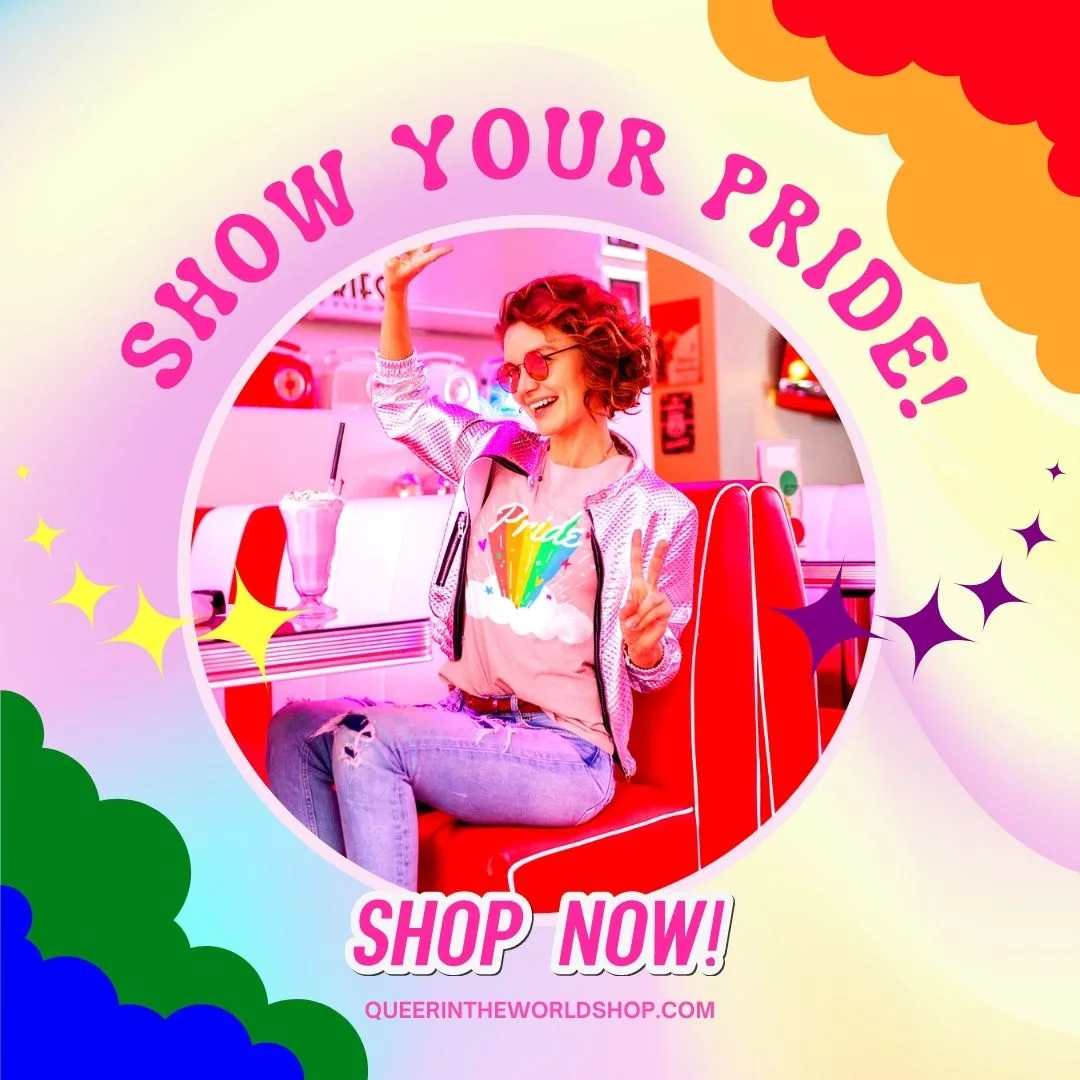 Final Thoughts On Moving To LGBTQ Houston
Houston is a beautiful city waiting for you to explore its depths. The LGTQ community in this city is welcoming and supported by plenty of valuable resources and organizations. You will feel at home here.
Keep in mind that life is what you make it, and wherever you choose to begin your new life in gay Houston, we hope you find the openness and security you deserve. The surest way to discover LGBT Houston is always going to be living in a gay-friendly neighborhood by frequenting local LGBT businesses and events and joining queer community groups and sports teams.
We promise that if you follow these steps, your transition to LGBT Houston will be easier, and you'll rapidly meet like-minded people to build your new chosen family here. And if you are still not sure, we also recommend reading our Gay Houston guide with more specifics on the queer attractions, events, and LGBT fun on offer…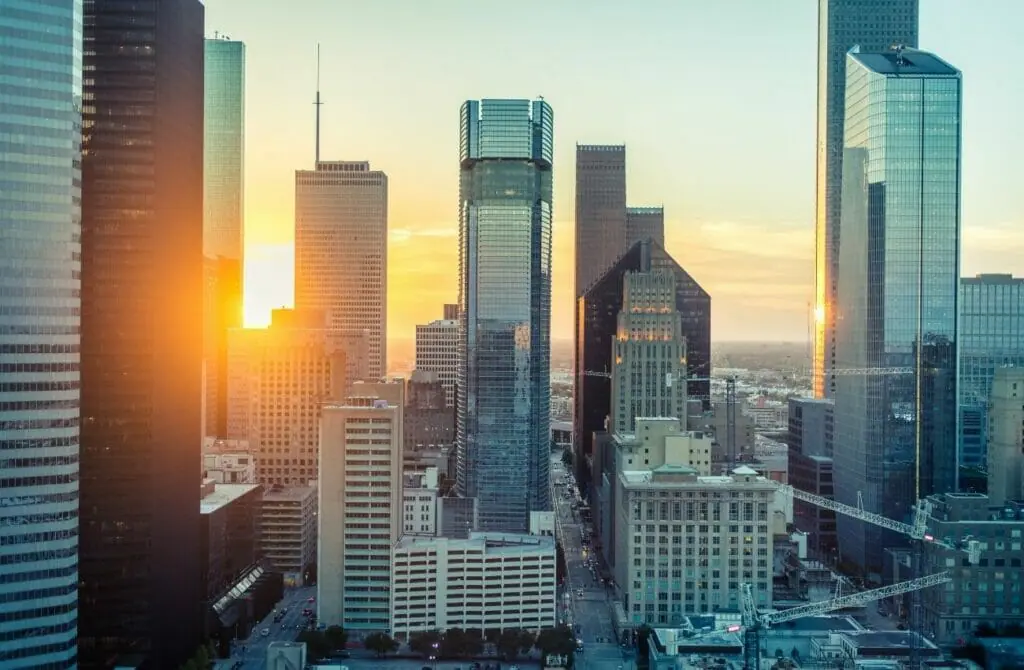 Finding Gay Realtors In Houston Texas
When looking for the ideal realtor, why would you consider someone's sexuality? This may seem strange at first, but there are several reasons why contacting a gay realtor in Houston is a great way to find your dream house.
After all, when it relates to one of life's most important transactions, it's not unreasonable to expect fair, equal, and honest representation from someone who understands the queer community's particular needs and wishes. Furthermore, unfortunately, many people (up to a third of Americans) continue to believe that our community does not deserve protection and dignity in housing, adoption, employment, and other areas of life.
So it's no surprise that LGBT people who use mainstream realtors often describe feelings of discomfort, unnecessary trouble, unenthusiastic representation, or even antagonism or outright contempt. Everyone deserves a pleasant, stress-free home buying or selling experience while being adequately represented, and this is why we feel you should hire a gay realtor to assist you in finding your future home.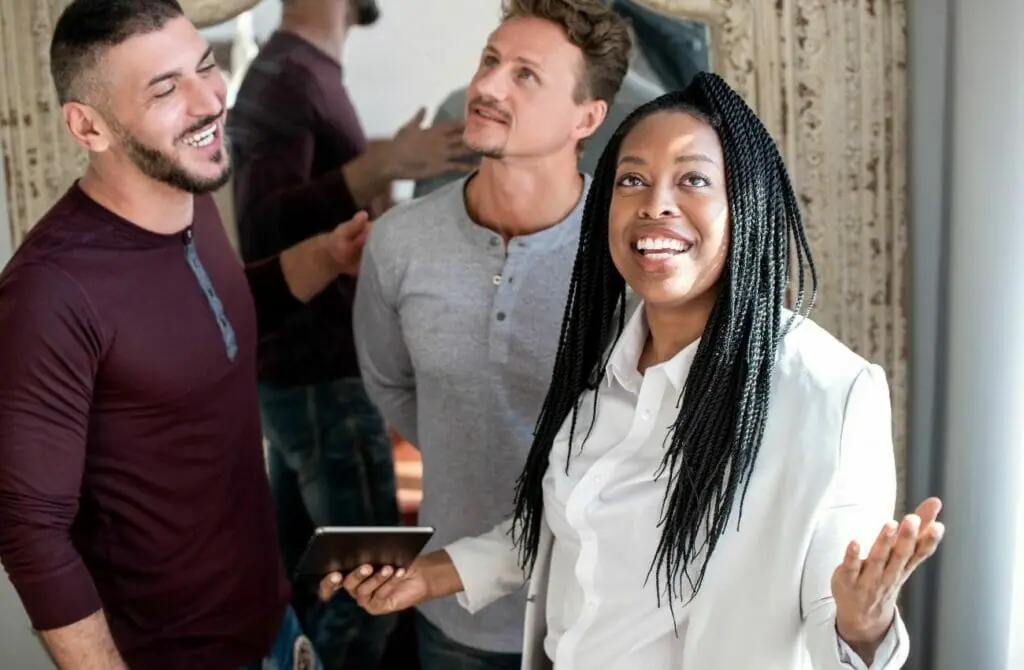 LGBTQ realtors are more likely to be familiar with the diverse communities in their area and know which ones may be best suited to you when looking for a home. That's not to say a heterosexual realtor isn't capable, but they've probably never had to address many of the issues LGBT people face. Rather than just being concerned with how bustling, fashionable, or up-and-coming a neighborhood is (or what it may appear like), gay realtors conduct extensive research into the neighborhoods in which they sell homes to ensure that clients are safe.
It used to be difficult to locate professional LGBT-friendly real estate agents in Houston, and it was virtually impossible to find one if you were relocating here from out of state and didn't have access to a local referral. You no longer have to search for a realtor without knowing whether or not they are accepting of others because you can use a list of gay, lesbian, and gay-friendly agents in Houston to do all of your homework for you.
Simply go to the page, and you'll be presented with a free list of gay, lesbian, and gay-friendly agents who can help you with your relocation as well as other useful information like LGBT+friendly schools, shopping, storage firms, tradesmen, and more. Read the biographies of LGBT real estate agents, then choose the one who is right for you. It's critical that you find someone who will be by your side and support you and your family during one of life's most exciting occasions.
Even better, there is no hidden motive, cost, or obligation whatsoever!