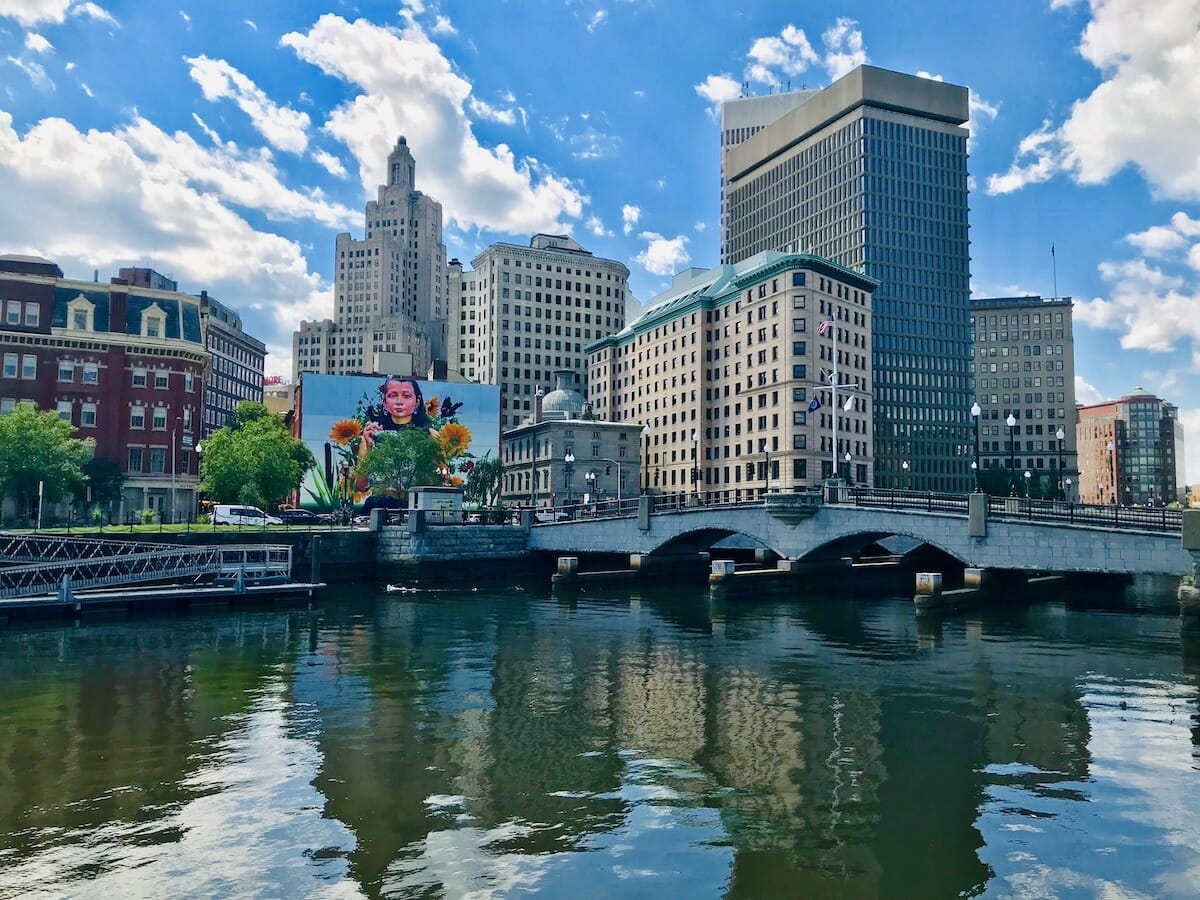 Providence – Rhode Island – is perhaps the gayest state capital we have ever visited. A dynamic city that embraces love, respect, and joy, we were blown away by this community's commitment to diversity – including that of its LGBT population. And that is before we even talk about the booming food and arts scene….
The 'islands' near NYC (Long Island, Rhode Island) often get a bad rep as nothing more than suburban surroundings to the Big Apple, but to skip over them on trips between New York and Boston would be a mistake. In fact, we are honestly going to suggest you skip Boston entirely and make Providence the focus of your entire Gay Trip to New England. It is utterly fabulous and nothing at all like what we had expected.
In particular, we were wonderfully surprised by its beautiful outdoor spaces, historical buildings, vibrant street art, and the innovative food propelled forward by the prestigious college of Culinary Arts at Johnson & Wales University. We loved roaming its streets of 18th and 19th-century buildings, taking endless photos, and found ourselves mentally picking out paint samples for the stunning villas we planned to buy, do up and live our best gay life (complete with two dogs of course.)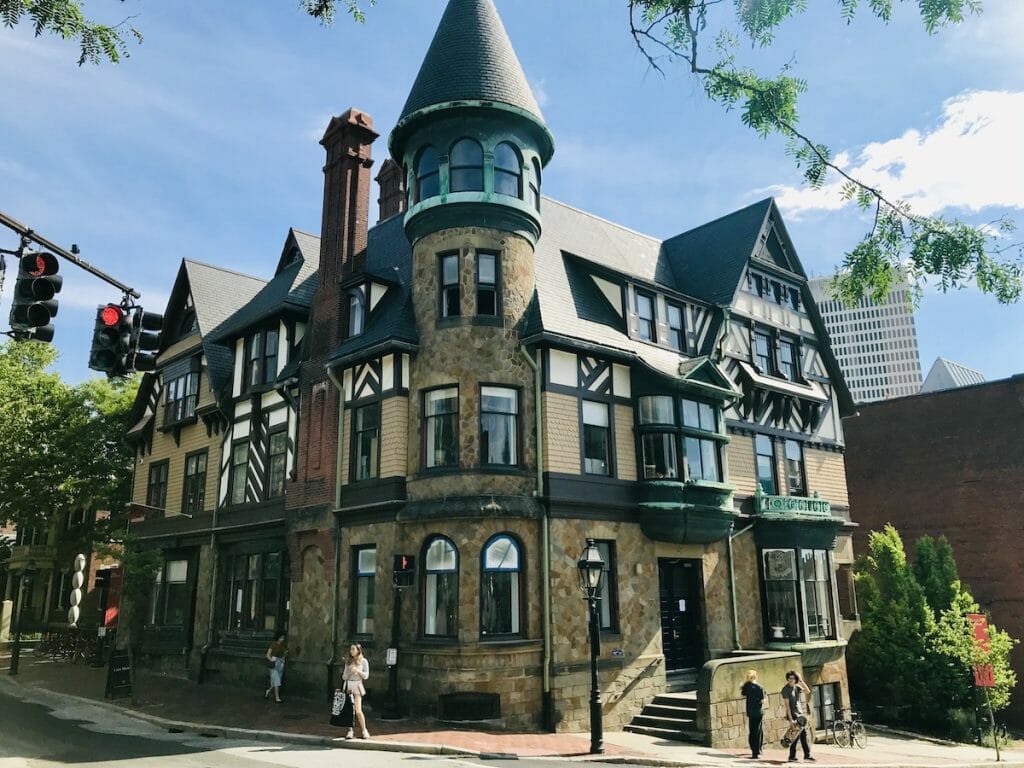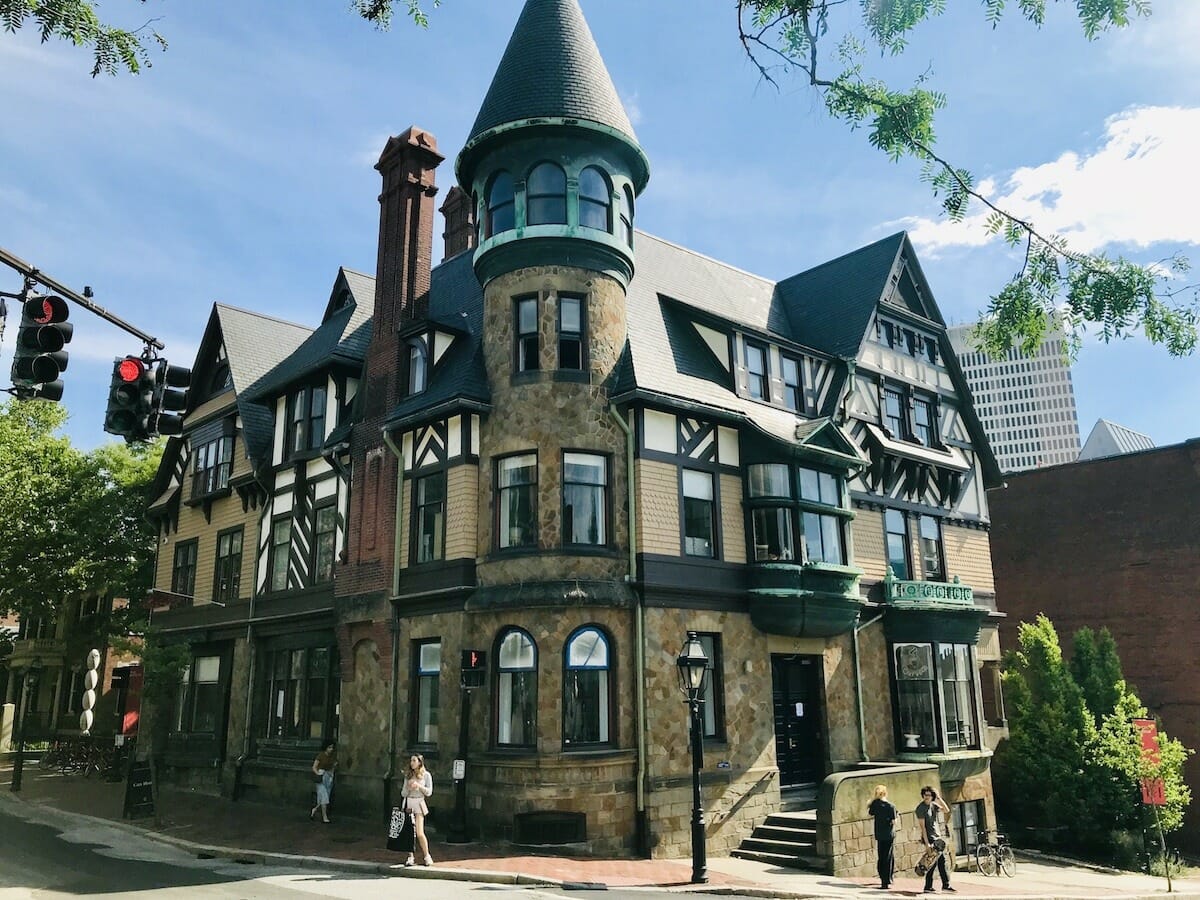 Claiming nearly 1,000 buildings on the National Register of Historic Places in the downtown and surrounding neighborhoods, exploring Providence yields a taste of the cities wealthy manufacturing past – though there is also plenty of modern and engaging arts and culture attractions to remind you, this is not a city that time forget. Providence is one of those rare destinations in the United States which has a rich urban tapestry of both old and modern, and we had a lot of fun exploring both. Best of all – welcoming Providence offers the right blend of local support, community ties, and liveability that keep people here, something you'll notice almost immediately after arriving as the locals here are extremely proud of their little city. And rightfully so.
In among all these dream houses, you'll find an affluence of trendy coffee shops, intimate theatres, innovative restaurants and great places to grab a drink. This is a student town, after all, with the famous Brown University on College Hill – any town with this many students has to work to stay hip and relevant, and luckily Providence has done just that. In fact what we loved most was that there is barely a chain restaurant to be found in the downtown, and instead, in their place, you will find independent brewpubs, chic cafes, and vibrant restaurants to investigate.
When it comes to the local gay scene, well where do we even start. Not only are there more gay clubs, bars, and bathhouses here than nearby Boston – but there are rainbow flags flown across the city to let you know you are welcome absolutely everywhere you do. Rhode Island was a state after all founded Roger Williams, a religious dissenter banished from Massachusetts Bay Colony for his radical advocate of religious toleration and separation of church and state.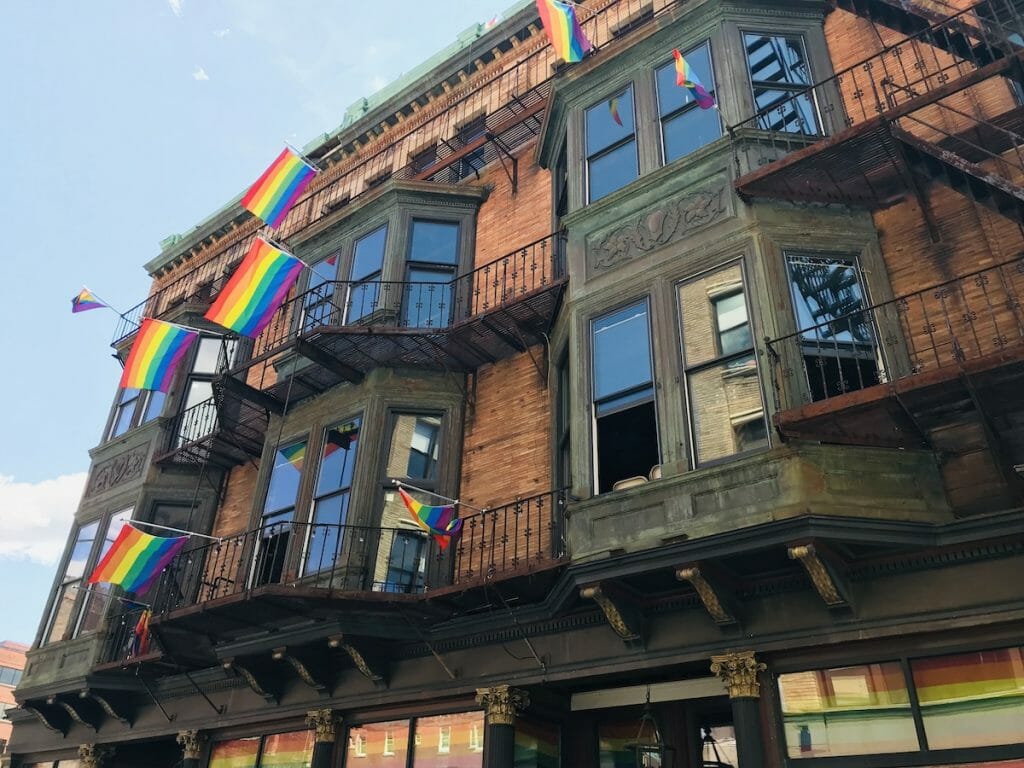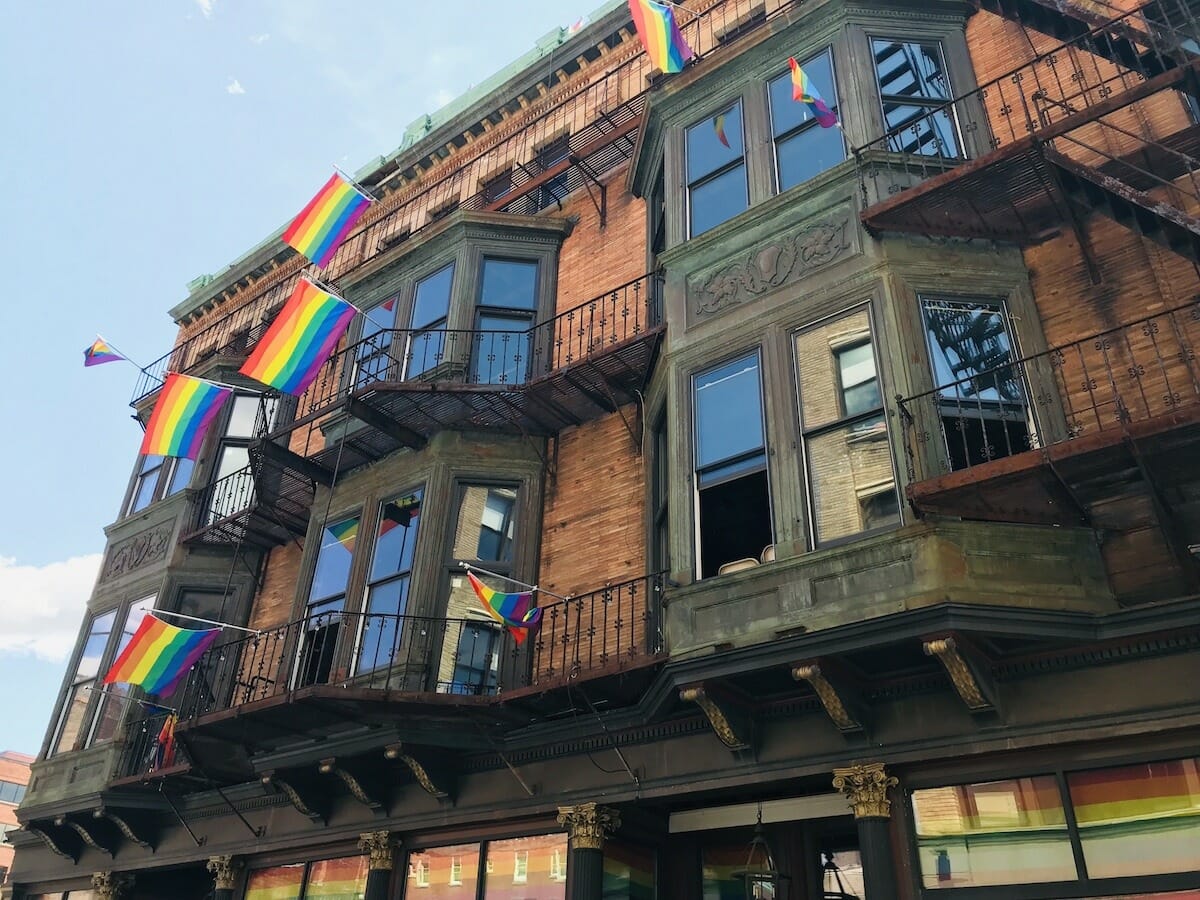 This 'wall of separation' inspired the founders of the United States, who later incorporated it into the U.S. Constitution and Bill of Rights. This condemnation of the orthodoxy of New England Puritanism and devotion to protecting individual "liberty of conscience" has left a tangible legacy today and as we said Providence is the gayest state capital we have ever visited – only rivaled by Austin, Texas. On their State House, they even have engraved his commandment: "… to hold forth a Lively Experiment that a most flourishing civil state may stand and be best maintained with full liberty in religious concernments."
This is all to say, Providence is the definition of a sanctuary city before that term was applied to areas harboring undocumented persons. Persecuted people from the early 1600s on to now have found protection in Providence including religious minorities, Catholics (back then) and Jews in particular, and also the Quakers and Unitarians – all of which have contributed meaningfully to the creation of Providence today.
Because the entire city is a sanctuary, there is no true gayborhood here and members of the LGBT+ community can be found dispersed throughout Providence. Queer spirit is still strong here and annual events such as the Rhode Island Pride Festival, the associated block parties and more see the entire downtown city shut down in a spectacle, unlike anything we have ever seen.
Even if you are not able to visit for these flagship events, there is all but guaranteed to be something every night of the week to pique your interest. GAYMER nights in the local arcade bar, queer rooftop parties, drag shows, EDM raves and more!
Are you relocating? This guide will help travelers discover the queerer side of the city. However, if you are lucky enough to be considering a move here, we recommend getting in touch with a local gay realtor. They can happily give you no-obligation advice and all the information you'll ever need to know about your new city. And if you then want their help to find your dream home, you are guaranteed fair, equal, and honest representation. No surprises or awkward conversations necessary!
Providence is weird, cool, wonderfully queer and waiting for you with open arms…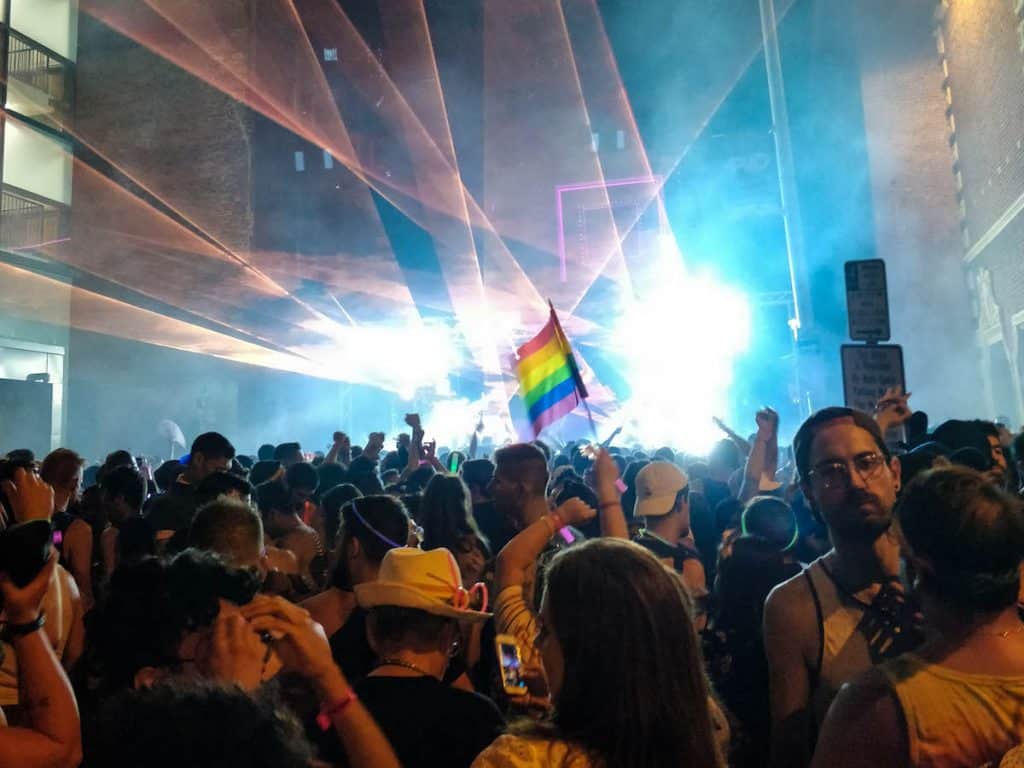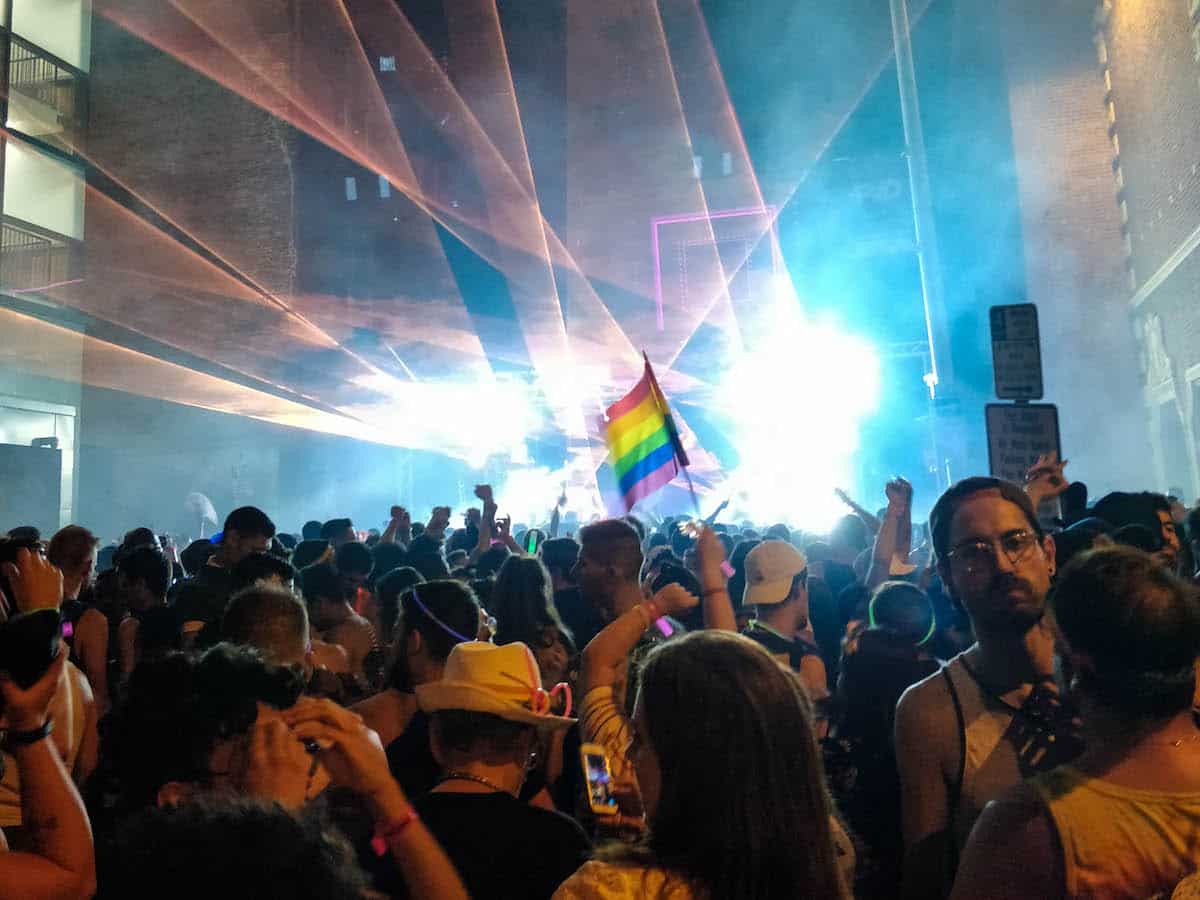 Gay Providence Guide: The Essential Guide To LGBT Travel In Providence Rhode Island
As we already said, there is a lot to love in this creative and accepting city. Providence blends the approachability and friendliness of a small town with the culture and refinement of a big city to create something unique, that just begs you to explore further and stay longer.
There is a prolific arts community, energetic and distinct neighborhoods to wander, exceptional architecture, a distinguished restaurant scene, and so many more things to do we couldn't possibly list them all. If you plan on getting a lot done then car hire in Providence is a very affordable option and popular to see more far-flung attractions of Rhode Islands and New England. This is America after all and the car is king.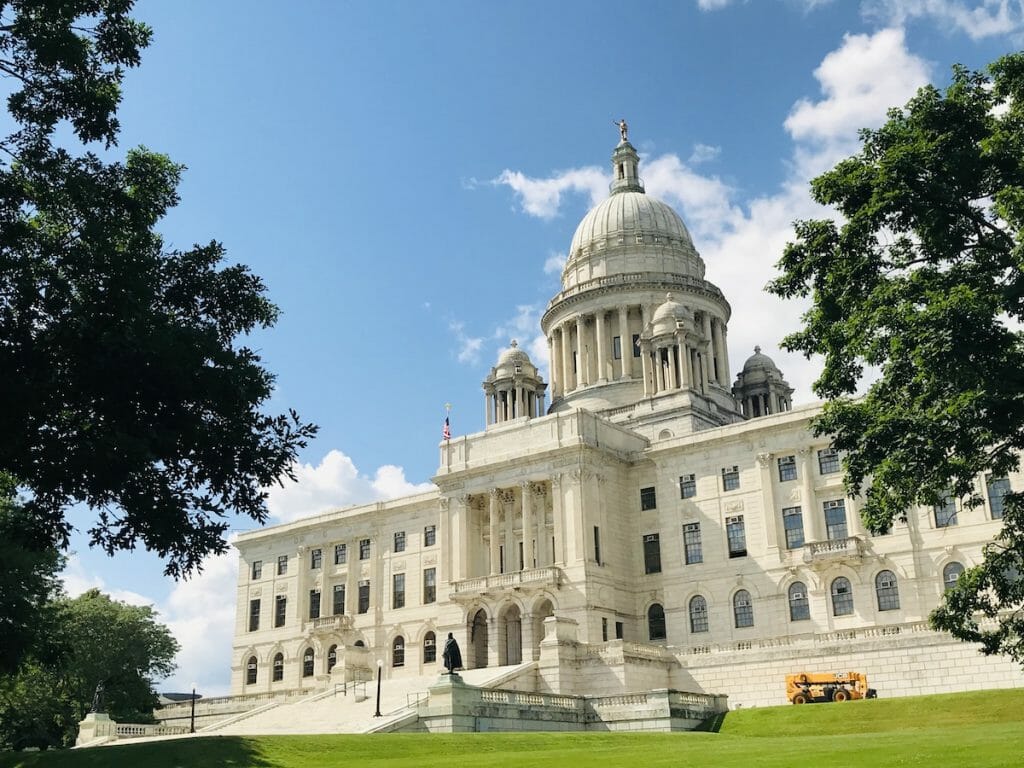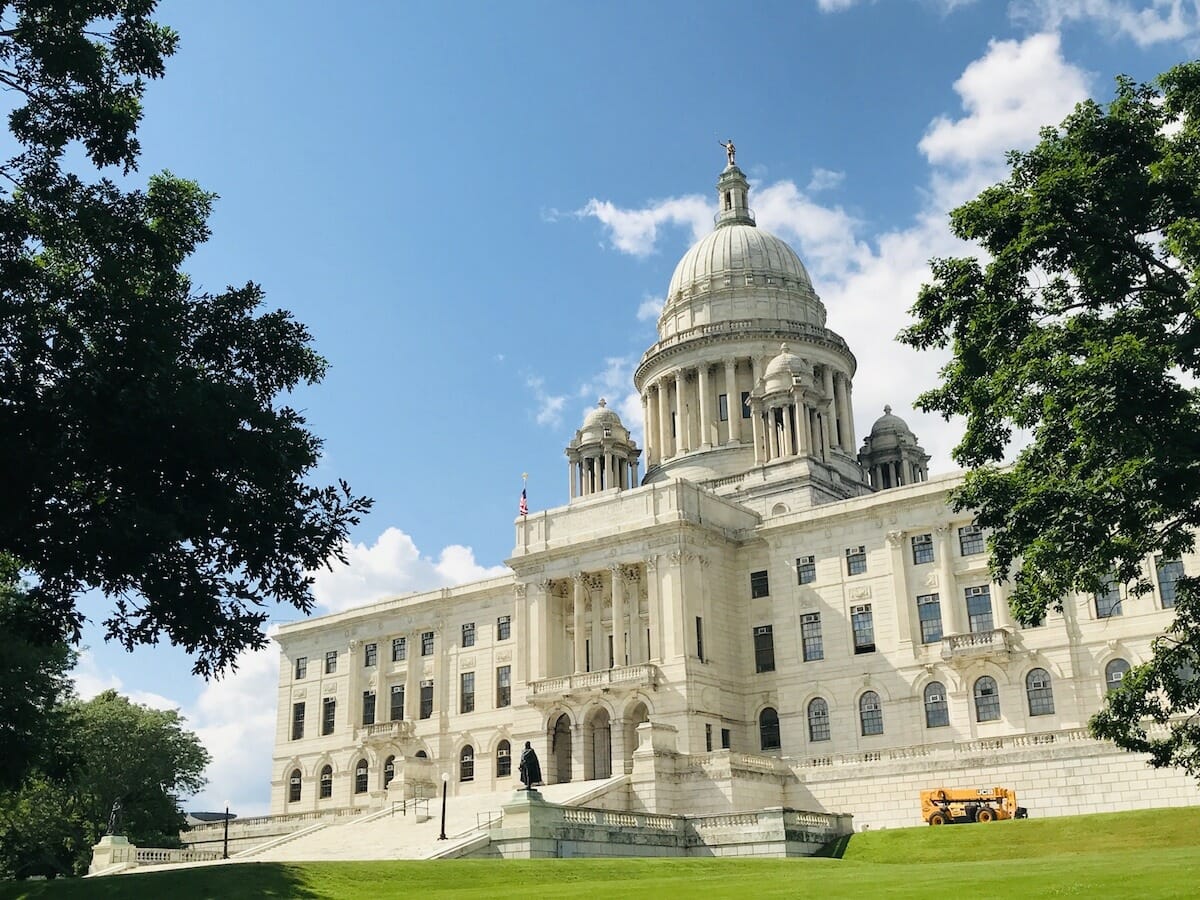 But if you just want to explore the downtown gaybourhood and a few other places – public transport and rideshare apps should be sufficient.
Naturally being gay does not define which attractions most of us will want to see in each destination and most queer travelers will simply want to check out the top things to see in Providence during the day! We found our favorite memories were wandering historic neighborhoods (and picking out our dream house), dancing till dawn with our queer family, exploring the booming food scene and spending hours in the eclectic RISD Museum.
However, if you're someone who can't sit still, we have put together a few of our other things to do in this inspiring city that are sure to keep you busy!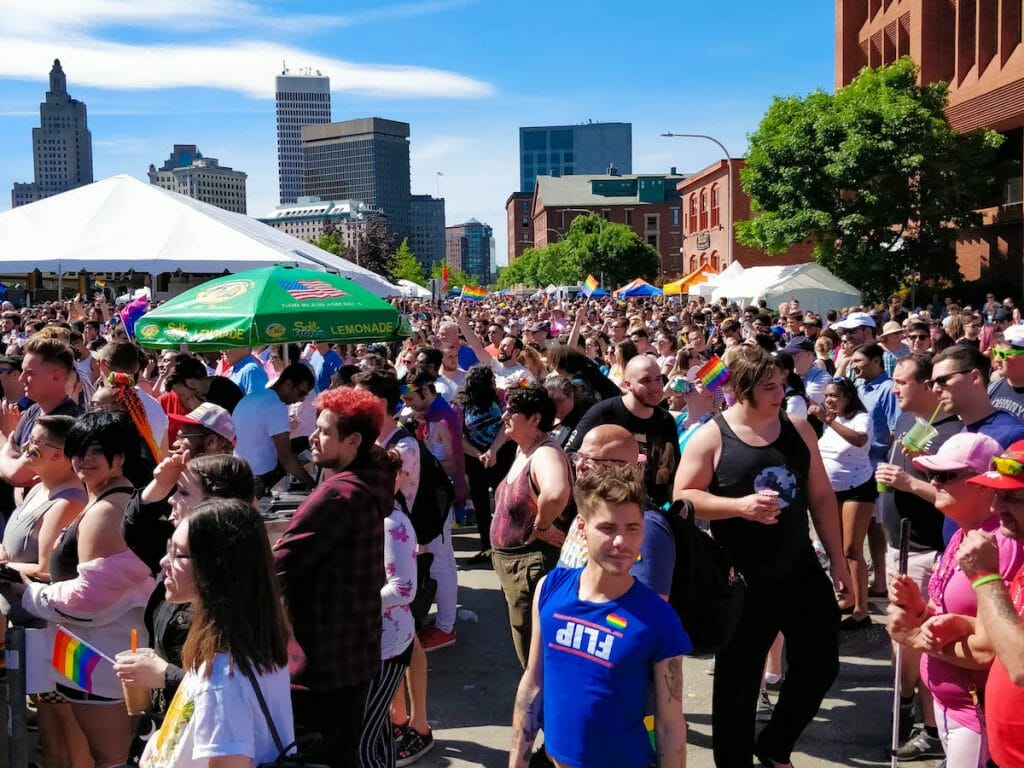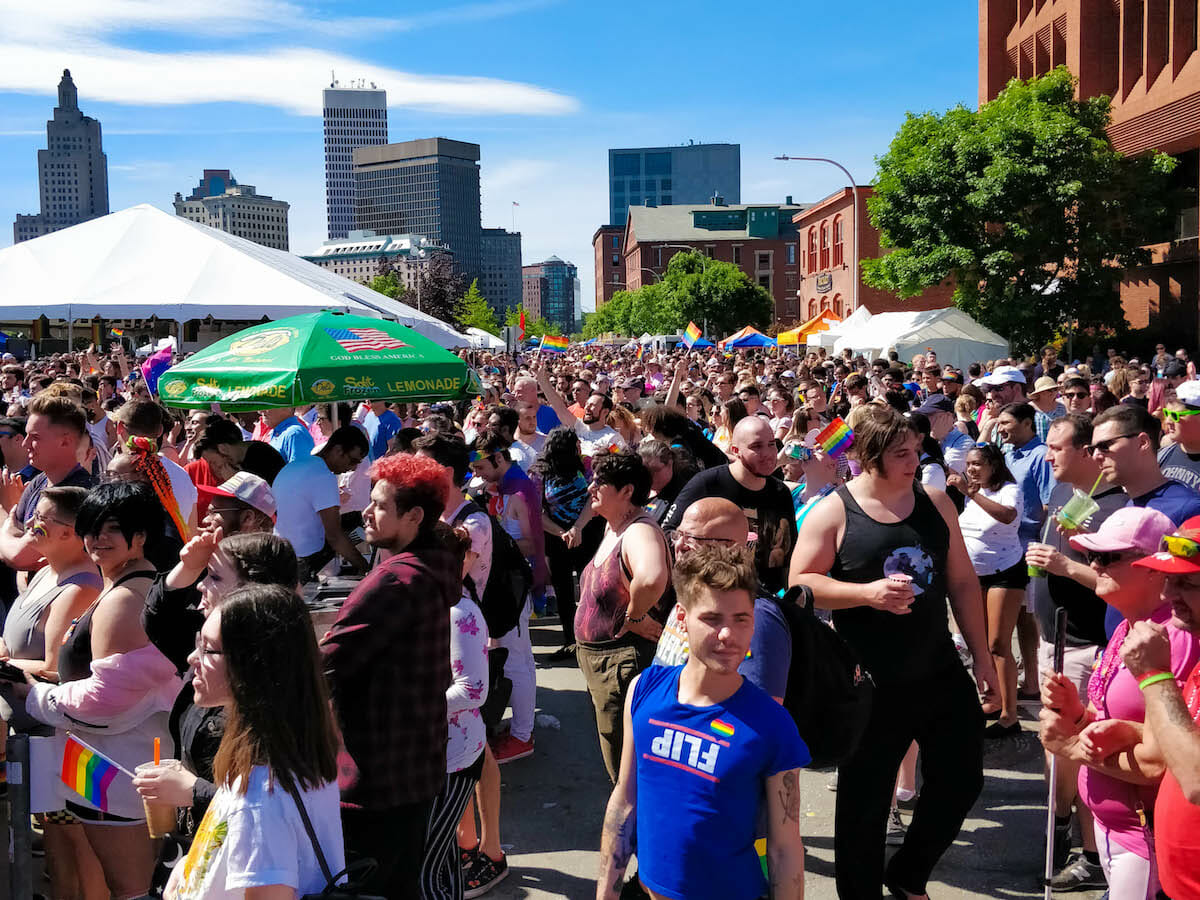 Top Highlights in Providence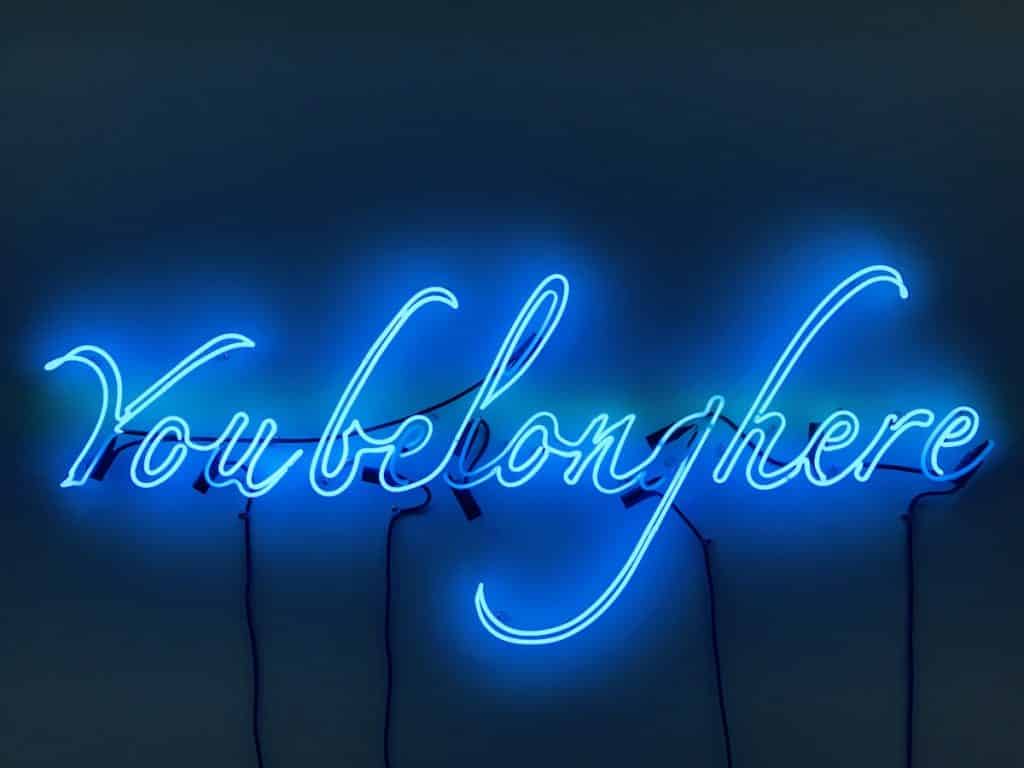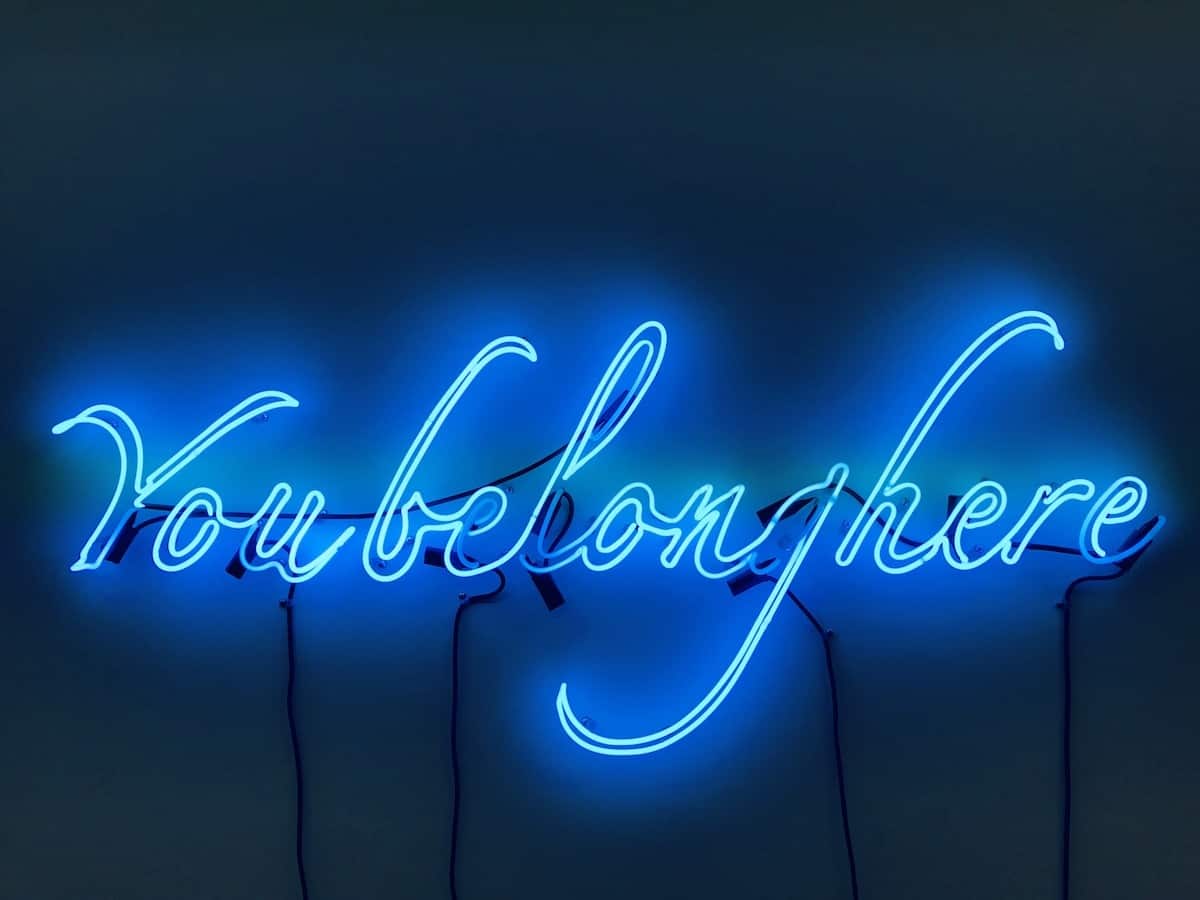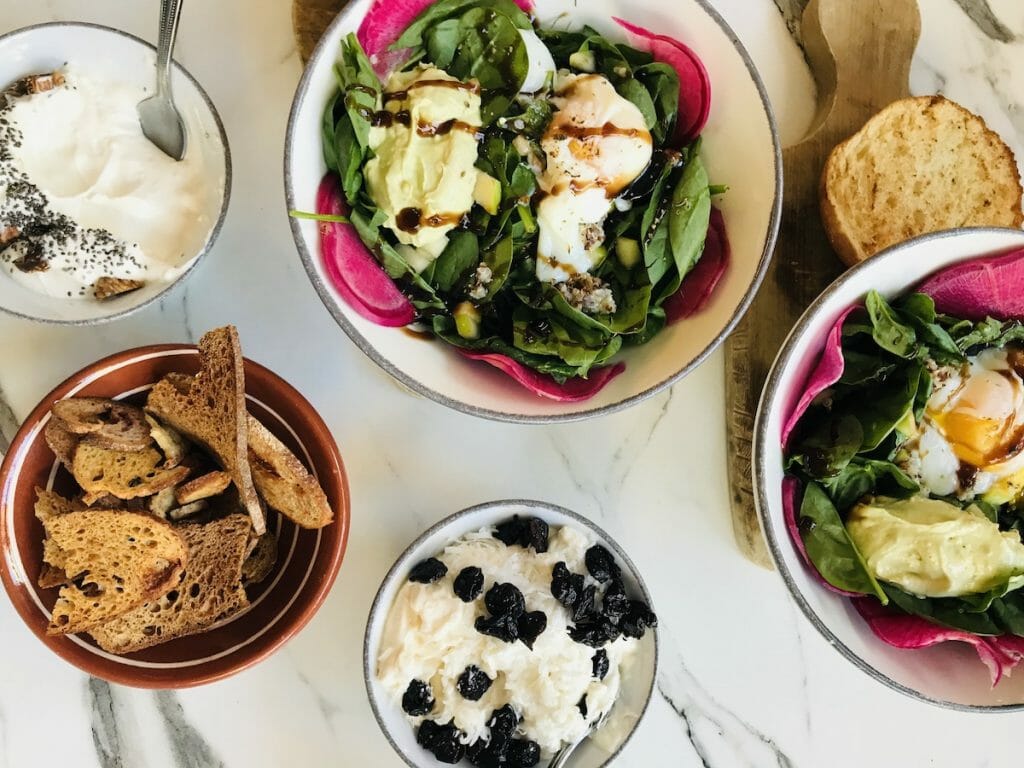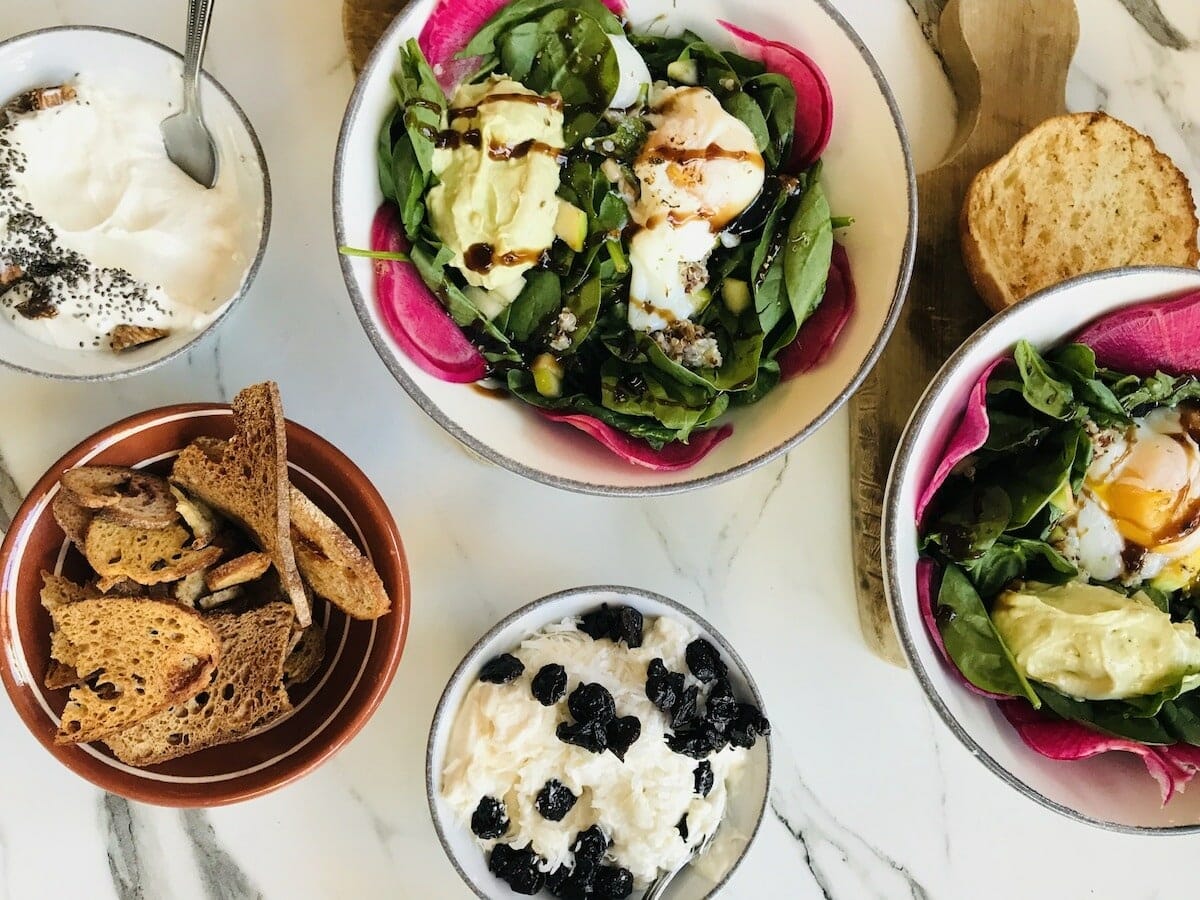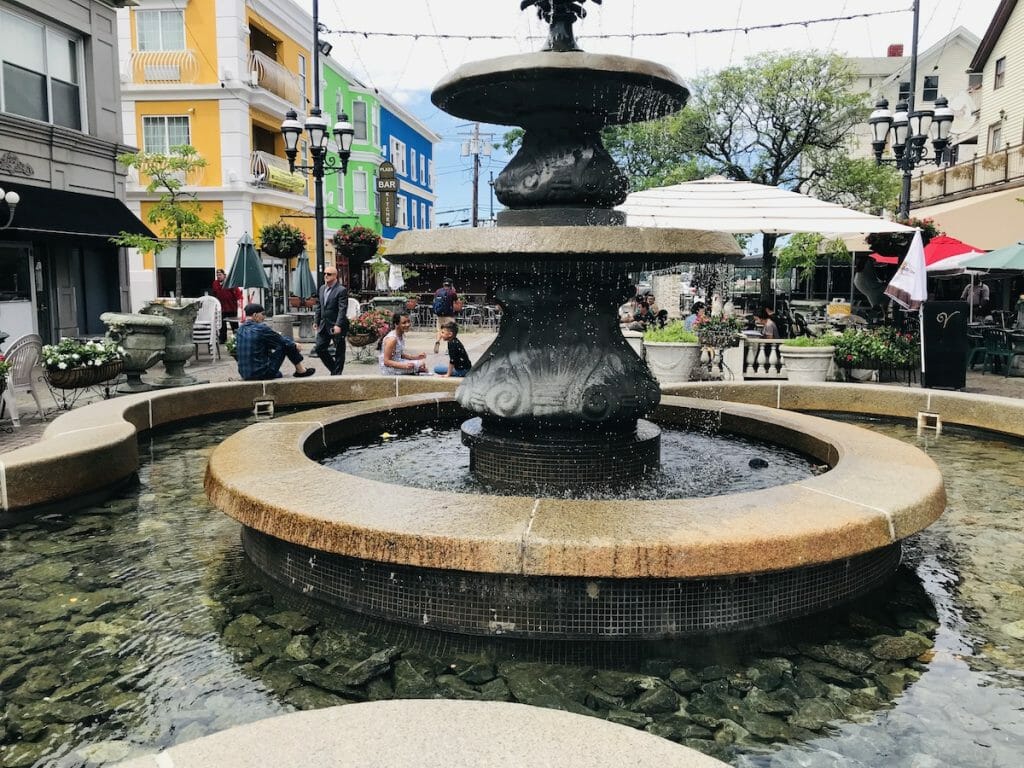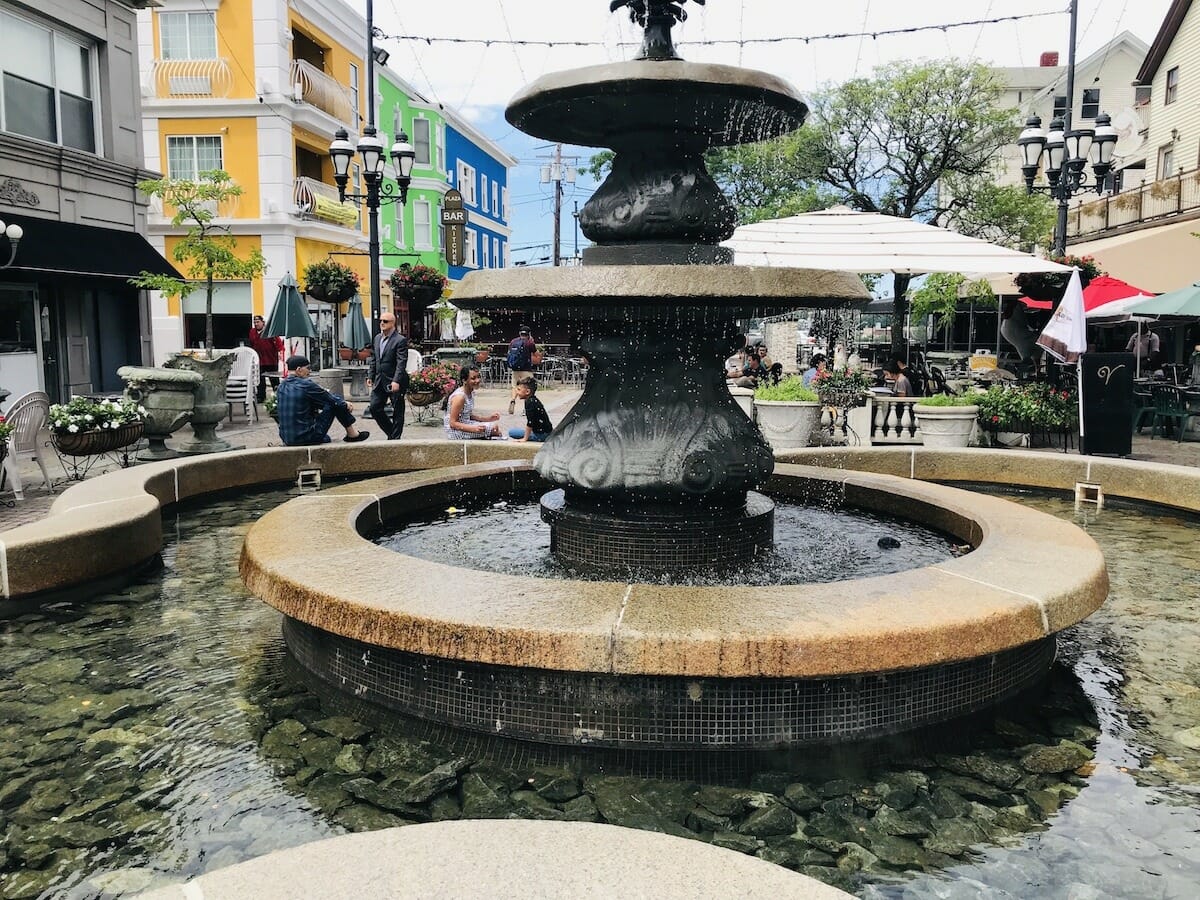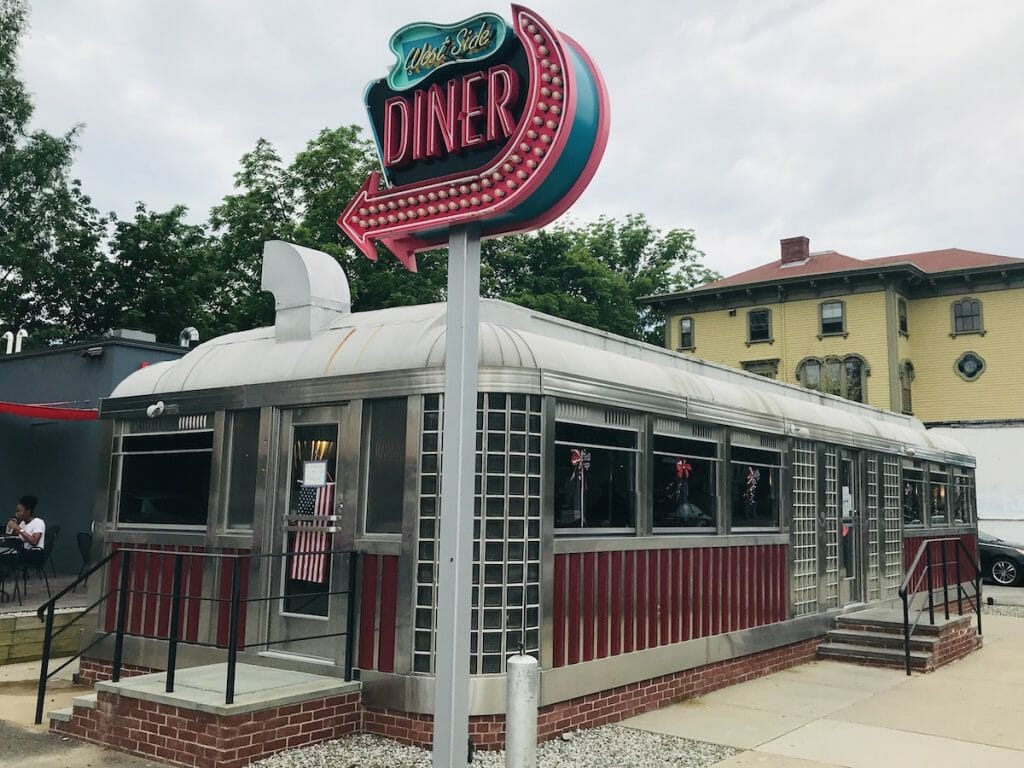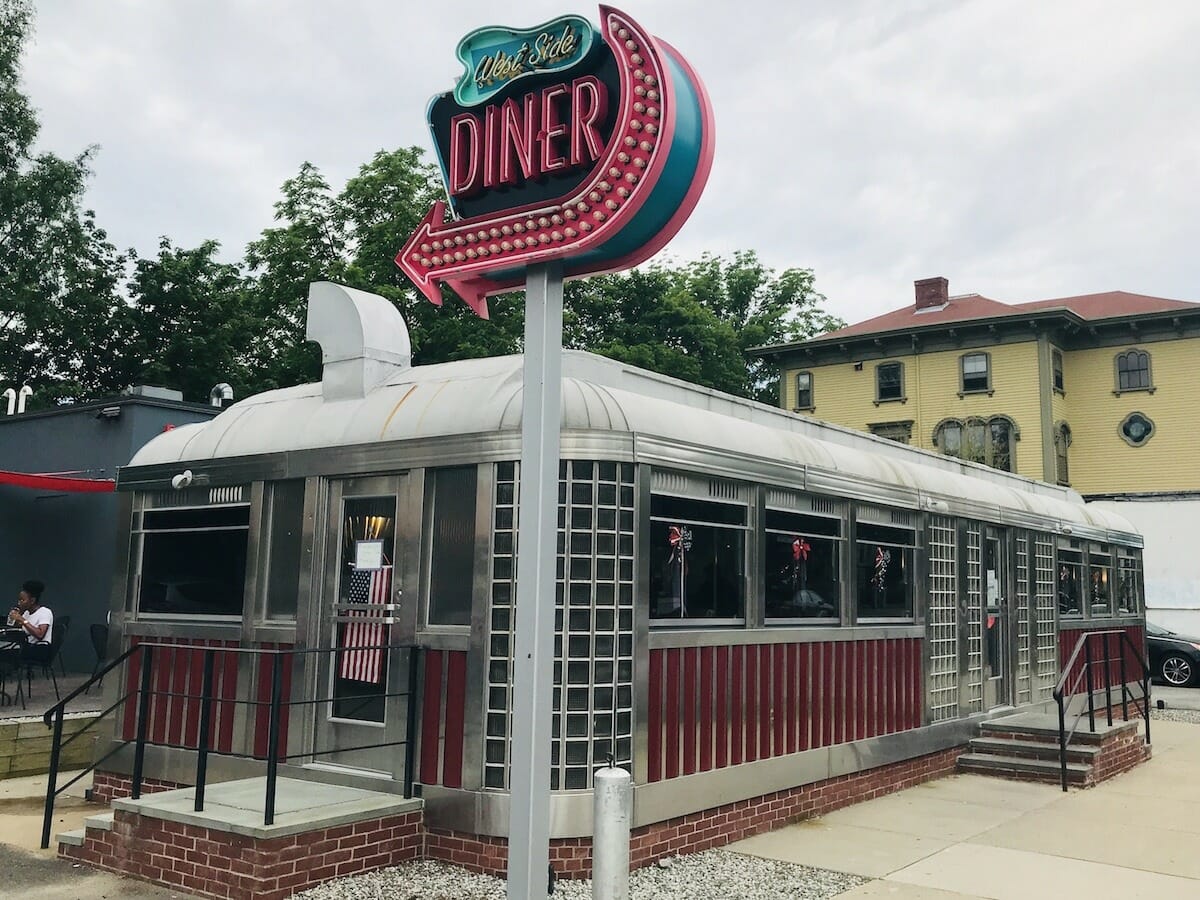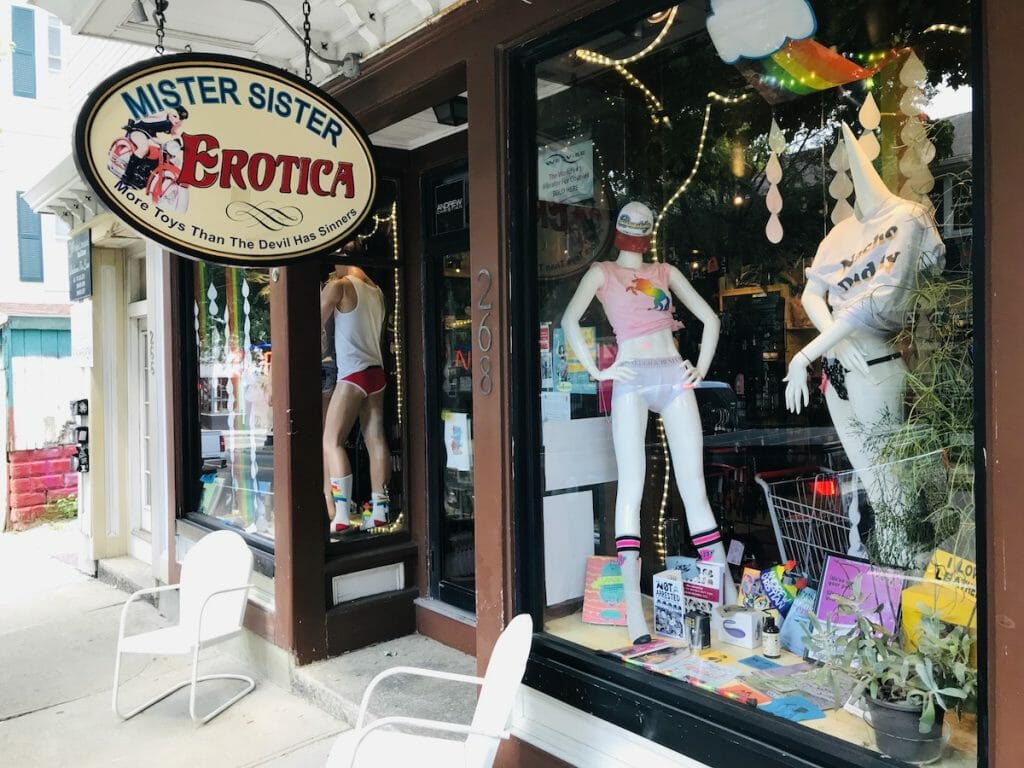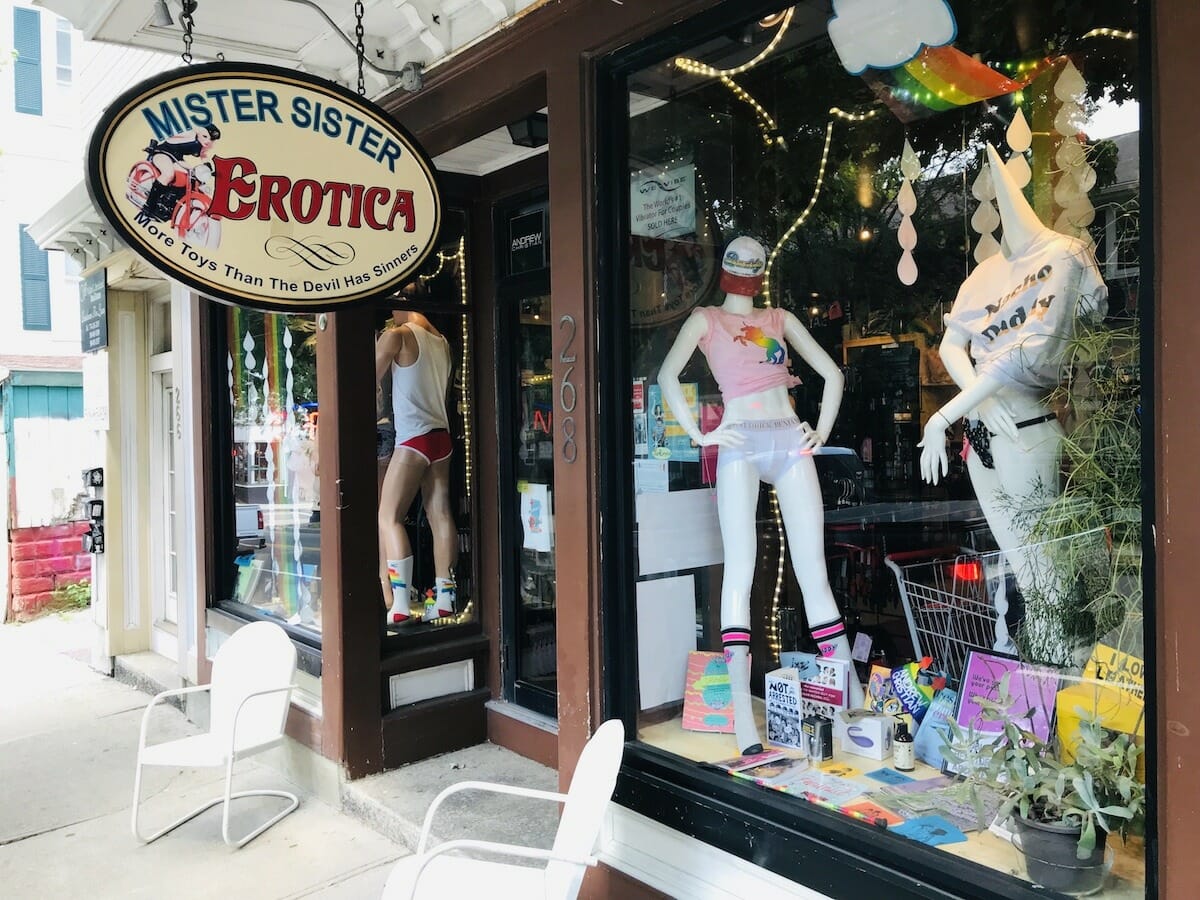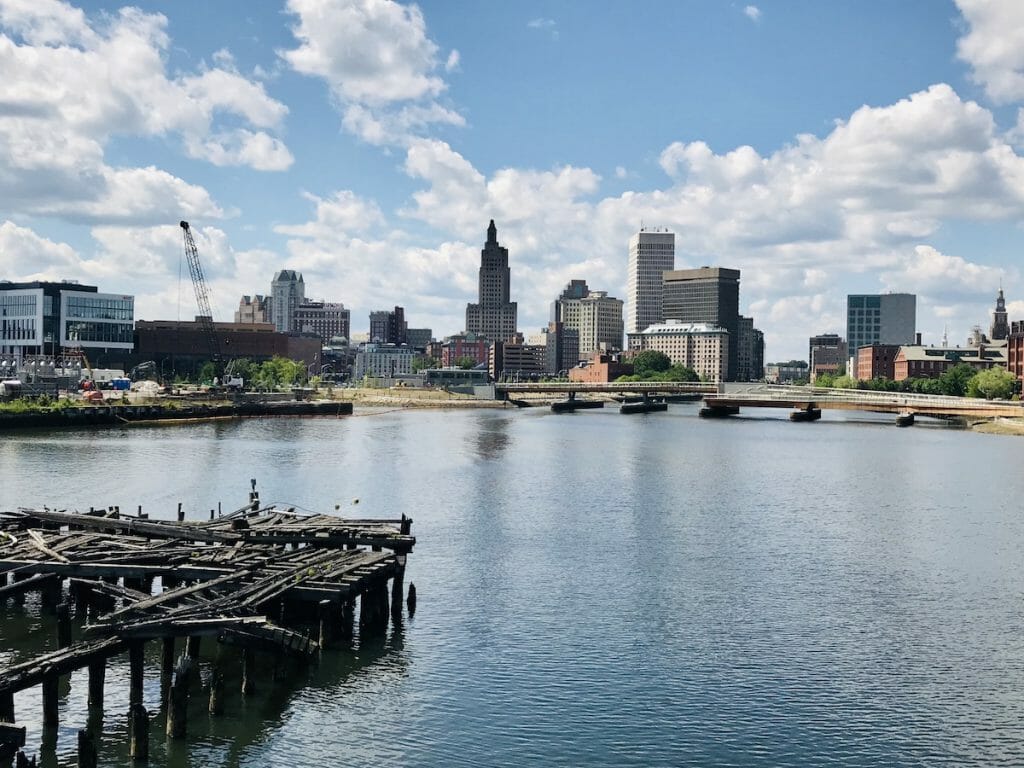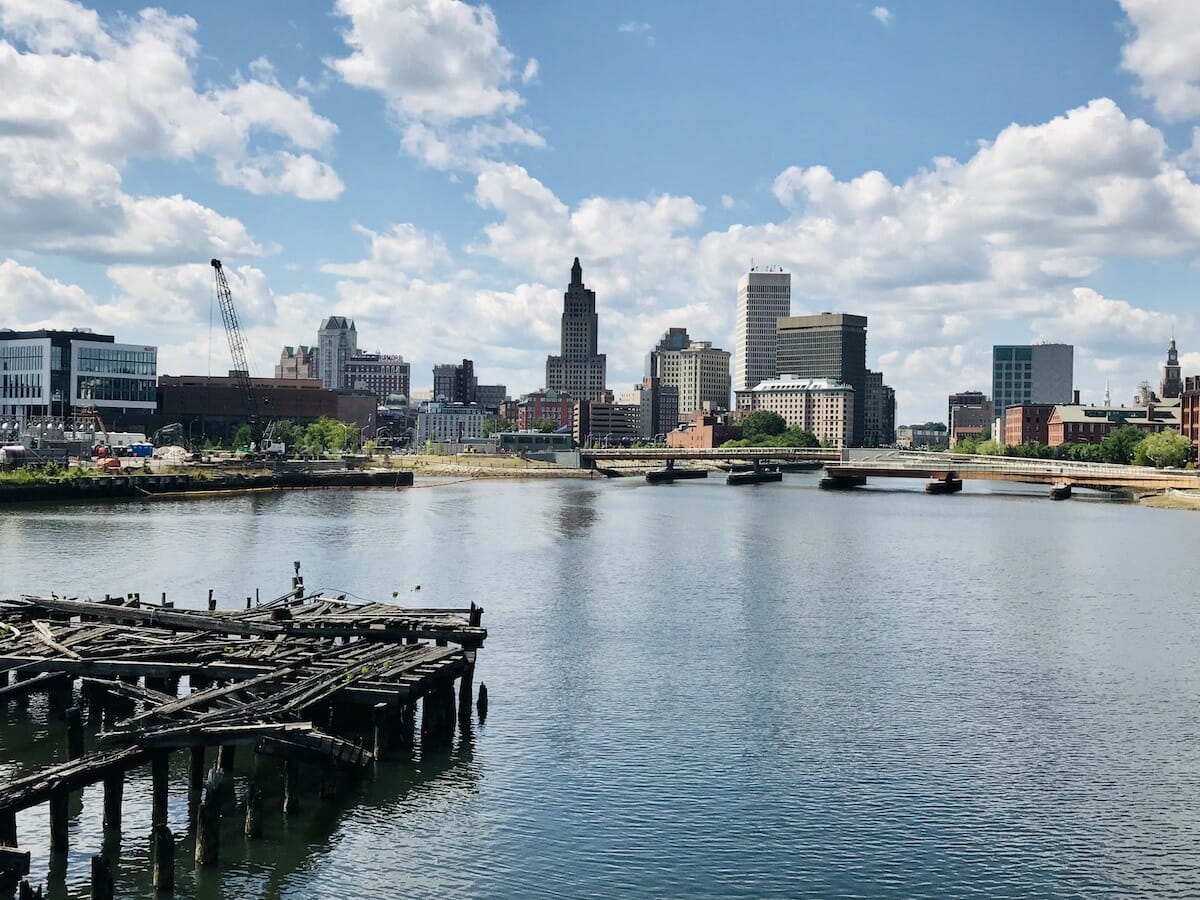 July 14th , 2018 WaterFire Providence Full Lighting
Gay Annual Events in Providence
As a paradise for the LGBT community, Gay Providence offers a wonderful line-up of annual events for gays, lesbian and transgenders and – well, anyone who wants to be involved!
These signature gay events are just the biggest and best, however no matter when you visit there is sure to be something on (which is why we really recommend locking your Providence hotel down in advance…)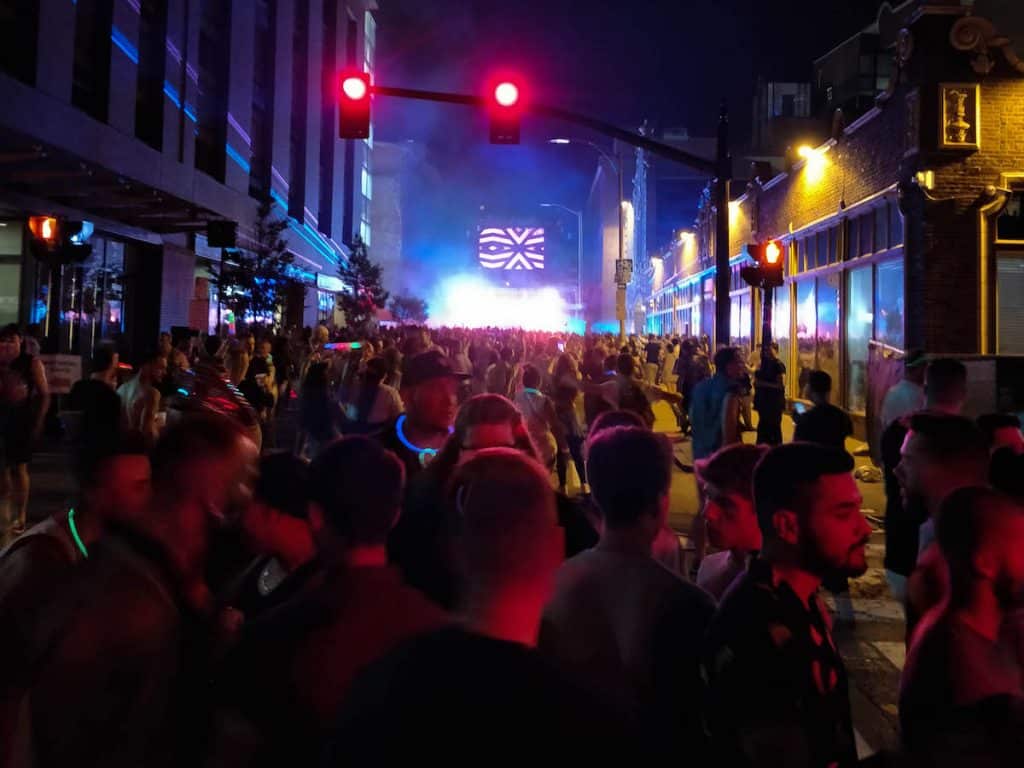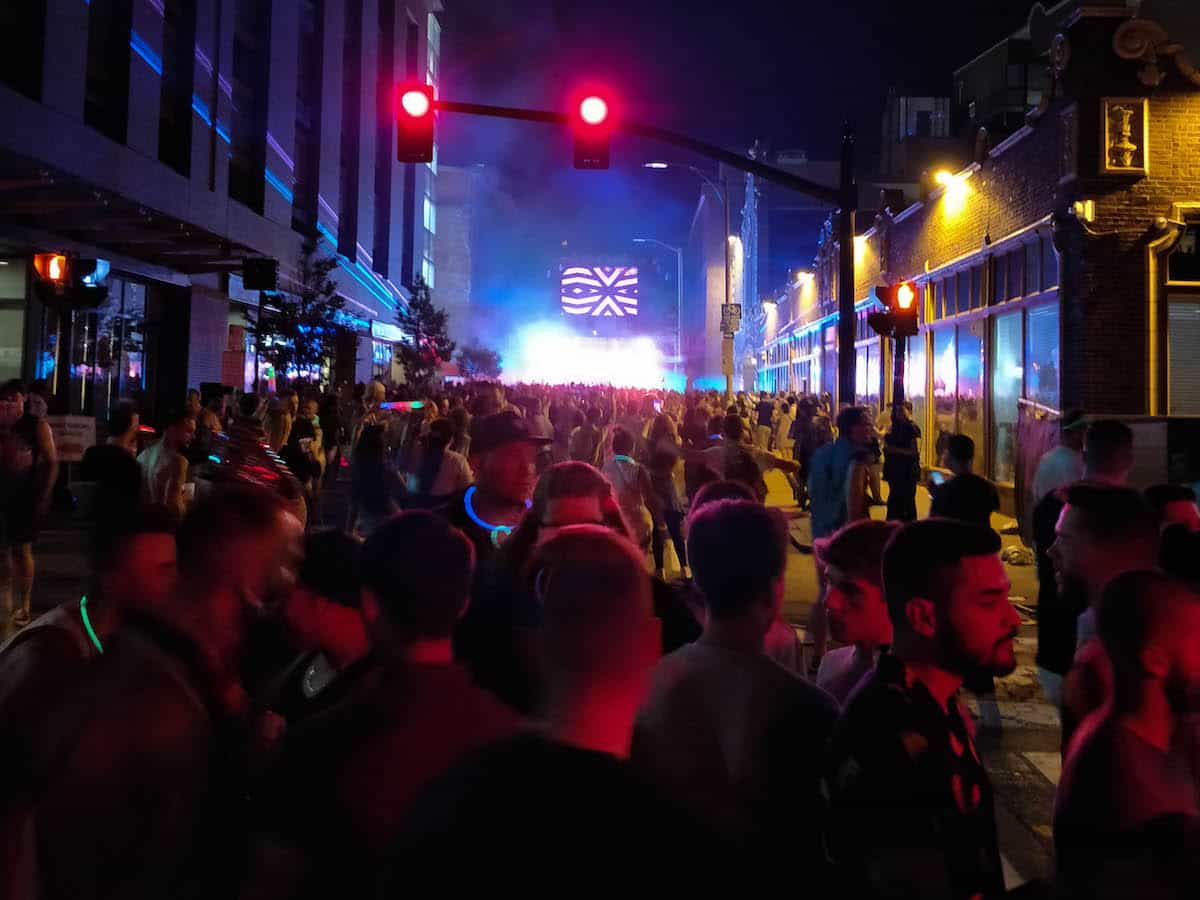 AIDS Walk RI raising funds for public awareness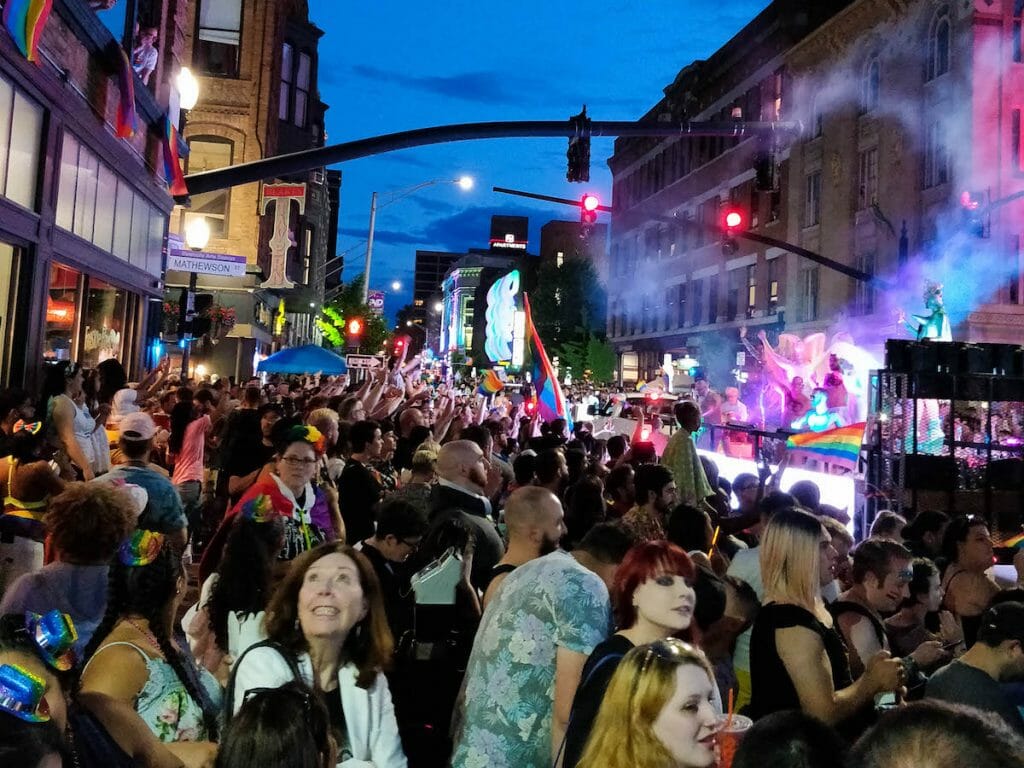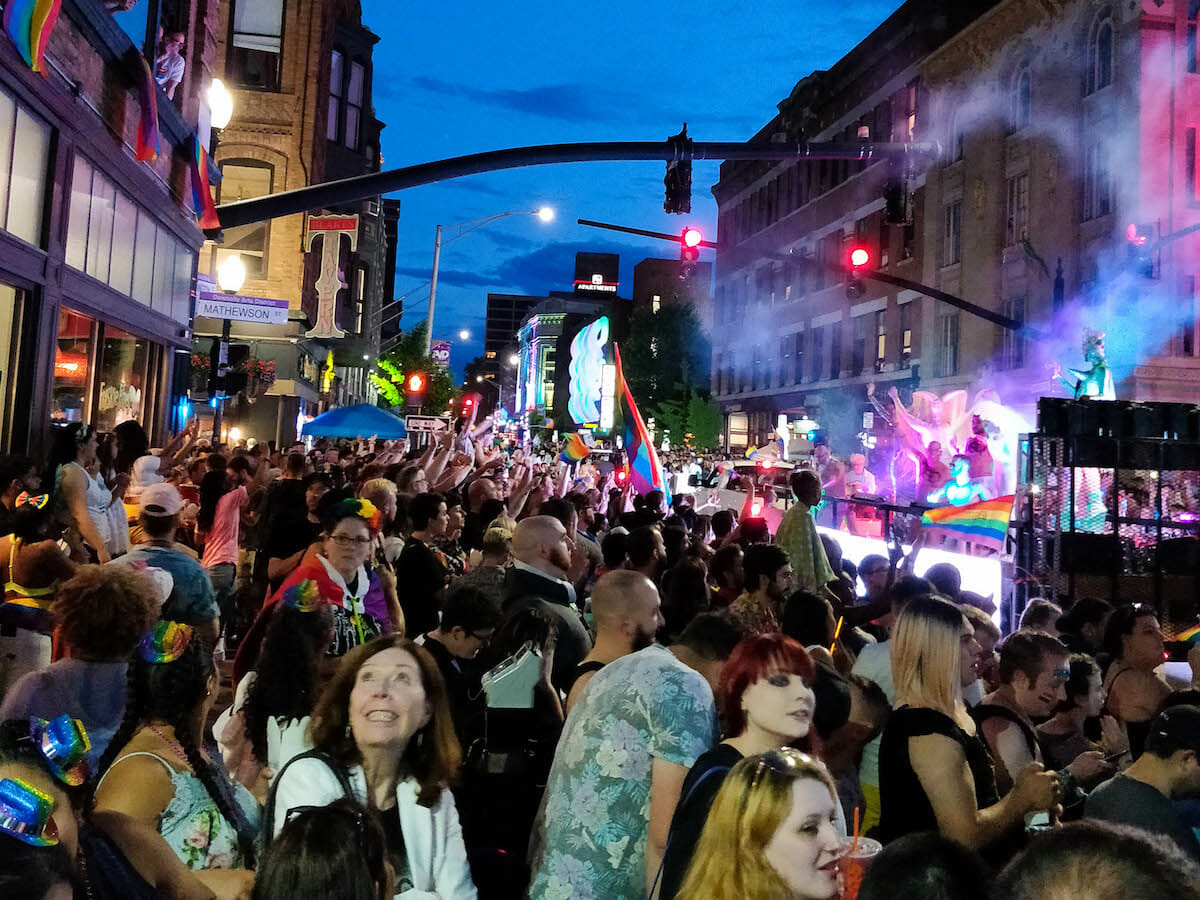 Gay-friendly and Gay Hotels in Providence
In this enchanting and extremely liberal city, you will not find any major hotel accommodation that isn't gay-friendly.
After all, being gay-friendly is about providing a non-judgmental and respectful environment in which all people are treated equally. In saying that, elegant design, helpful staff, and excellent value for money never hurt anyone. Some hotels in Providence have also gone above and beyond in recognizing and marketing to the LGBT community and given their popularity with gay travelers we would say it has paid off!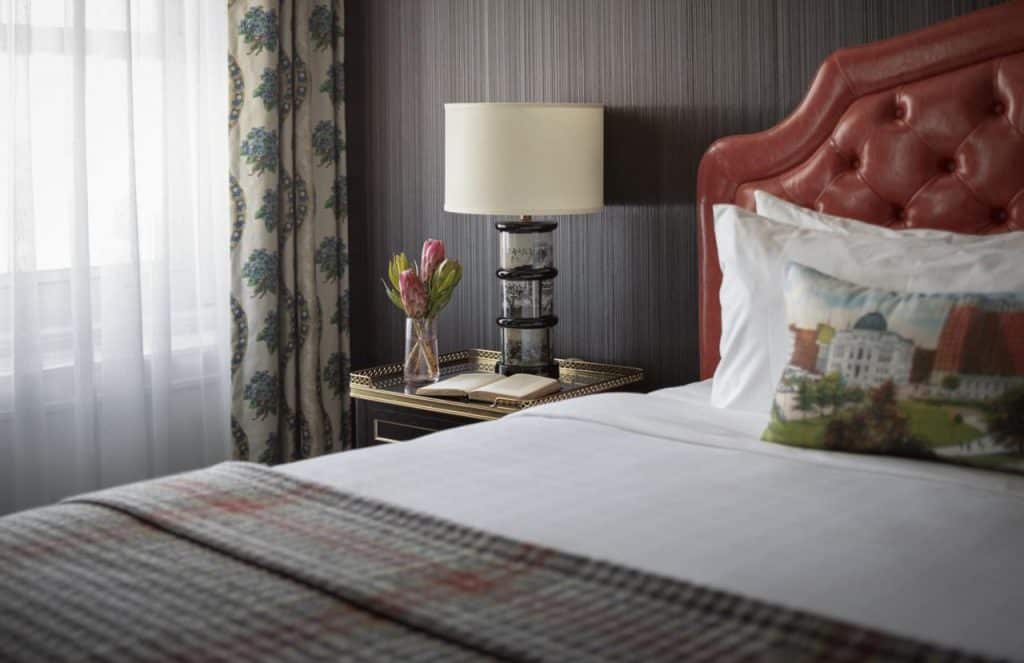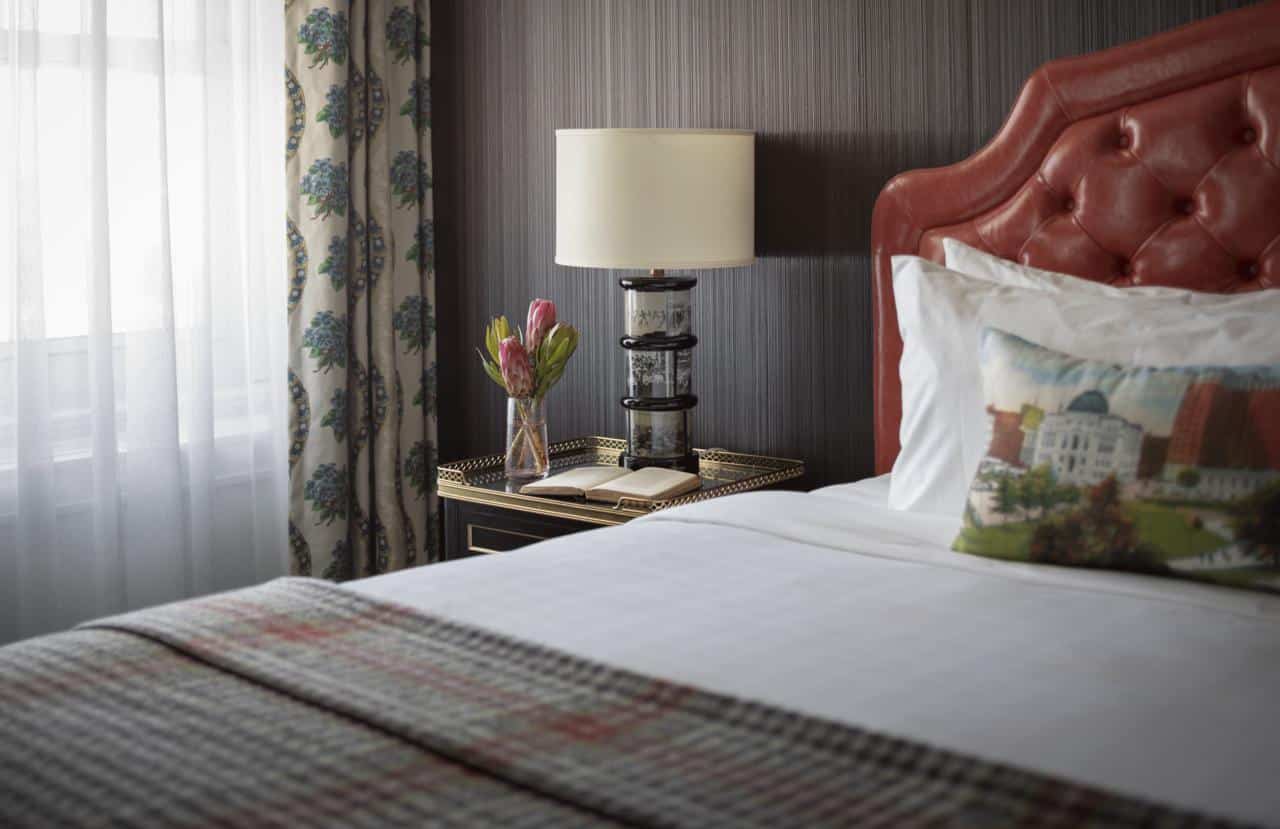 Everybody likes to be surrounded by people with common interests and as such there are a few hotels in Providence favored by gay travelers – although to be clear there are no exclusively gay hotels in Providence sadly.
The downtown gaybourhood is at the forefront of LGBTQ+ inclusiveness in Providence – and thanks to its diverse community brimming with queer nightlife and gay-owned businesses, this is the place to stay. It's proximity to all of the main attractions in Providence, and walkability to the many cute surrounding neighborhoods completes the appeal.
The following gay-friendly hotels in Providence are only the most recommended, but there are hundreds of other hotels in Providence if you don't find quite find what you are looking for. Whether you want a fun and social hotel-bar, a cheap but private place to crash after a night of partying or a chic luxury option to sip cocktails surrounded by fashionable people, Gay Providence as something for everyone!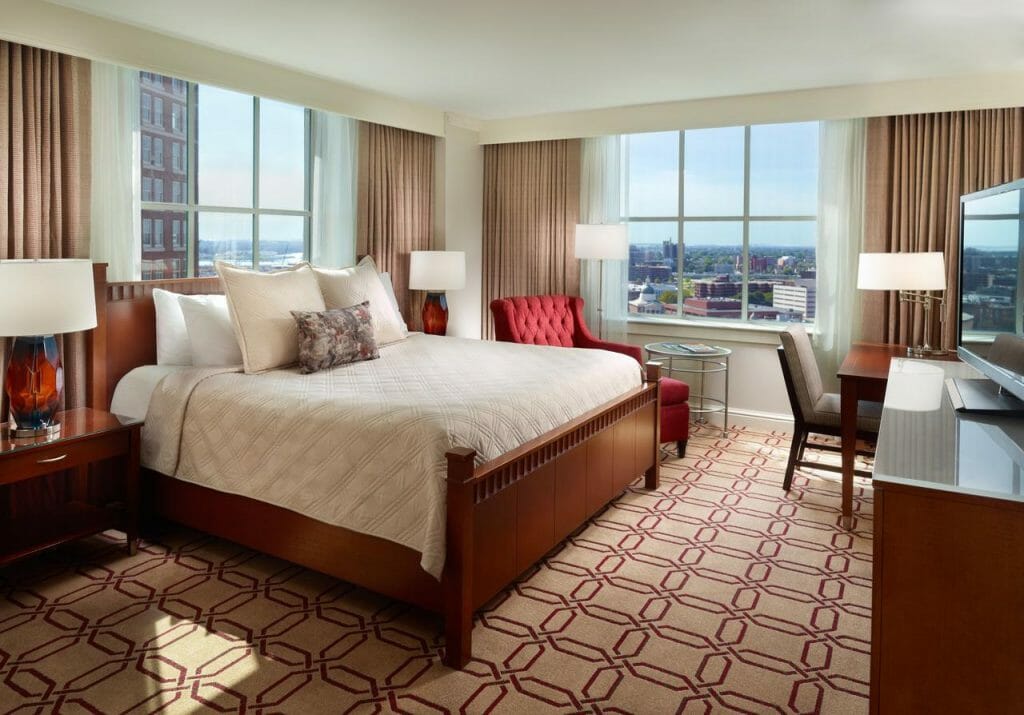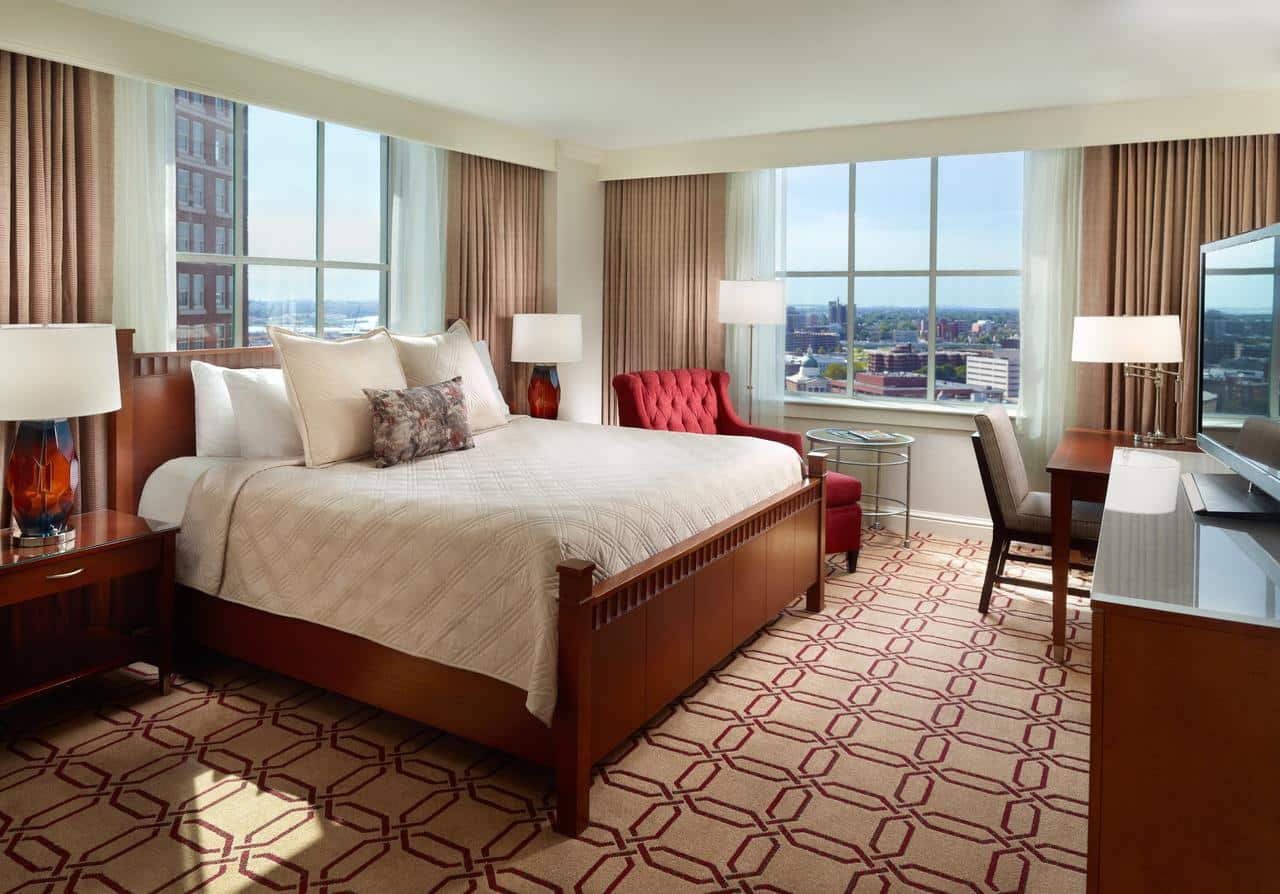 Gay-Popular Hotels in Providence
Omni Providence ☆☆☆☆ – This modern high-rise hotel brings you the spirit of downtown Providence with its numerous luxury guest rooms & suites, many with spectacular views over the entire city. Guests at Omni Providence Hotel will find themselves within walking distance of the city's main college campuses, historic attractions, gourmet restaurants, upscale shopping, entertainment and – yes, the gay bars and clubs! We found the contemporary rooms wonderfully spacious, the service friendly and location second-to-none as Omni is connected to the Rhode Island Convention Center, Dunkin' Donuts Center and the new Providence Place Mall. If you are arriving by bus to Providence it is a 1-minute walk, or the train station is about 15 minutes away. There is also a fitness center and heated indoor pool. The one downside we could find was WiFi access was not free unless you signed up to be a rewards member …
Renaissance Providence Downtown Hotel ☆☆☆☆ – Once a Masonic Temple dating back to the 1920s, this exceptional blend of momentous architecture and modern-day amenities offers great value and service. Relax in their luxurious rooms and suites, adorned with glossy décor, complimentary Wi-Fi, mini-refrigerators and marble bathrooms or head over to their signature restaurant for delicious American cuisine, paired with refreshing cocktails. Whatever the reason for your travels, you'll find a welcome acquittal from your run-of-the-mill life at the Renaissance Providence Downtown Hotel.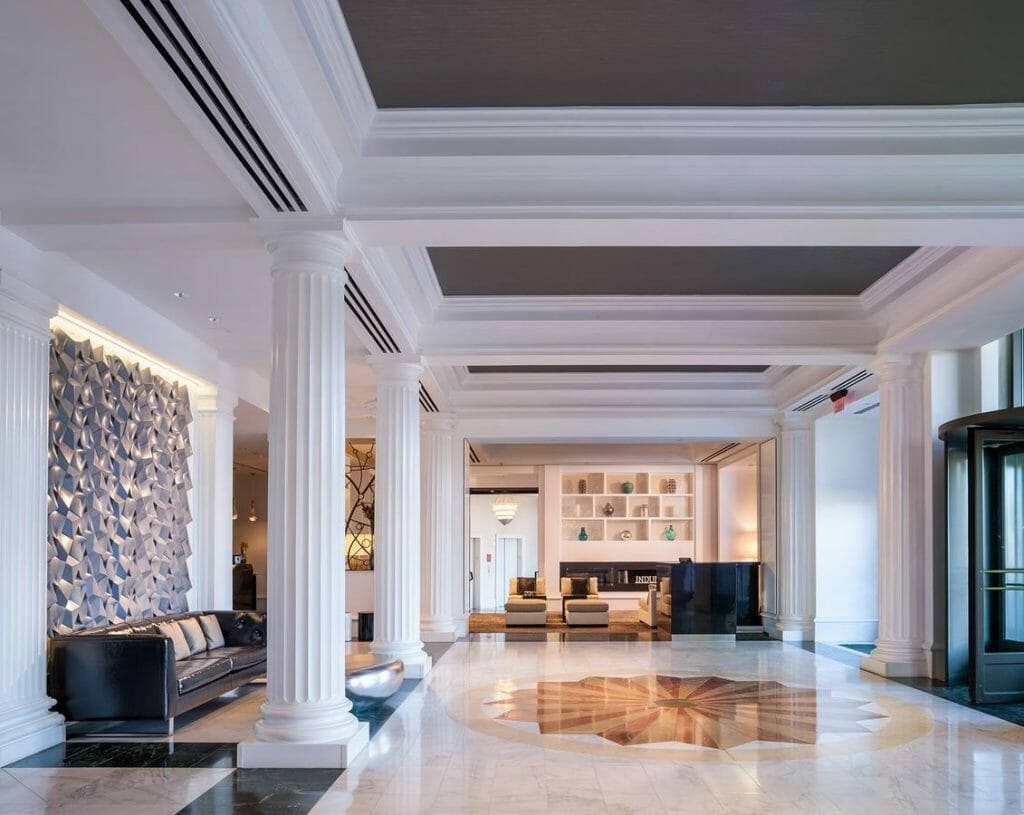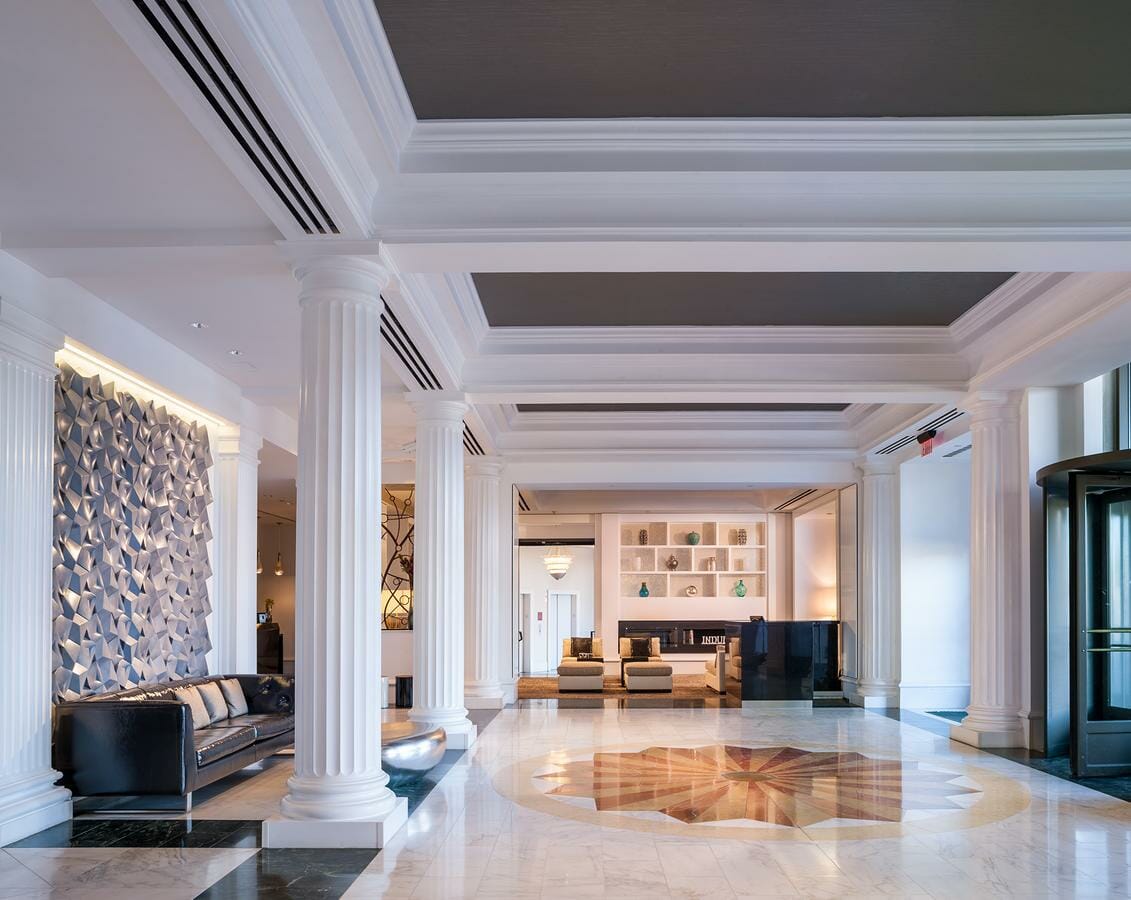 Graduate Providence ☆☆☆☆ – Built-in 1922, this landmark building is bursting with old-school charm from the lobby's original ornate ceiling to the famed glass-and-brass elevator. Formerly the Providence Biltmore, this recently renovated hotel offers exceptional rooms which pay homage to PVD's history and heritage. Little moments of surprise and discovery meet you down every corridor and around each corner, from the Malin + Goetz amenities in the room (and complimentary Wi-Fi) to the uber-cool Poindexter Coffee shop and yoga on the terrace offering every Saturday morning.
The Dean Hotel ☆☆☆☆ – A funky boutique hotel where old school meets new school. The Dean exudes masculine styling, easy elegance, subtle collegiate references, modernist & contemporary design – in both the public spaces and in its 52 modern rooms. If you love a hotel which inspired creatively and it's in touch with its local community, the Dean is going to be the place for you. Filled with custom furniture, craftwork from local purveyors and found objects from Europe and beyond, The Dean revels in the details. Not to mention, this is one of the closest hotels to Providence's main gay bars and clubs.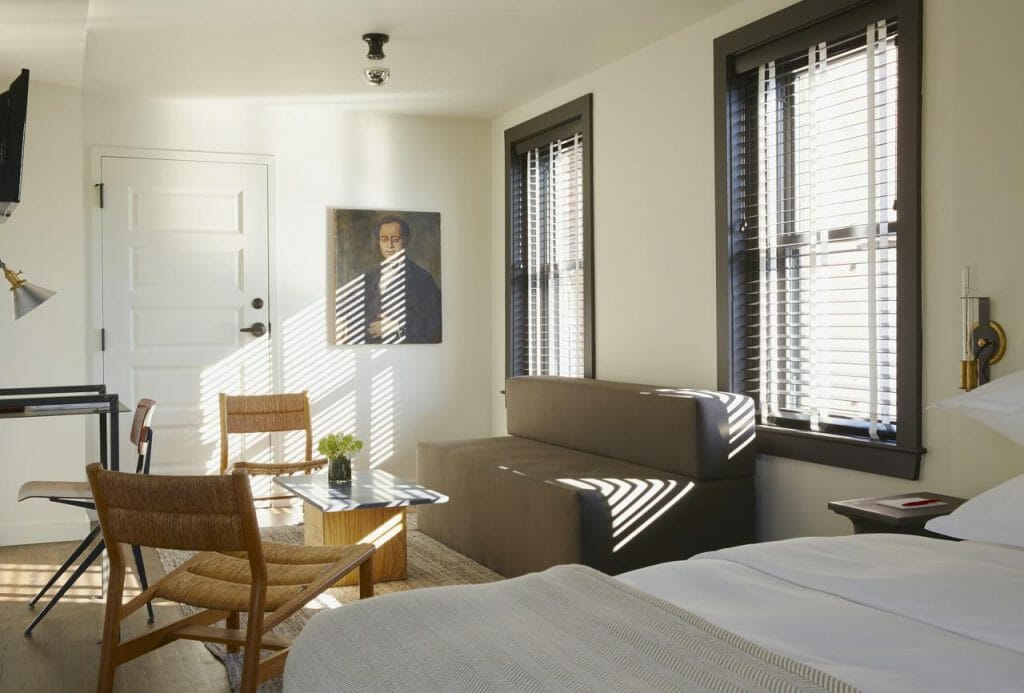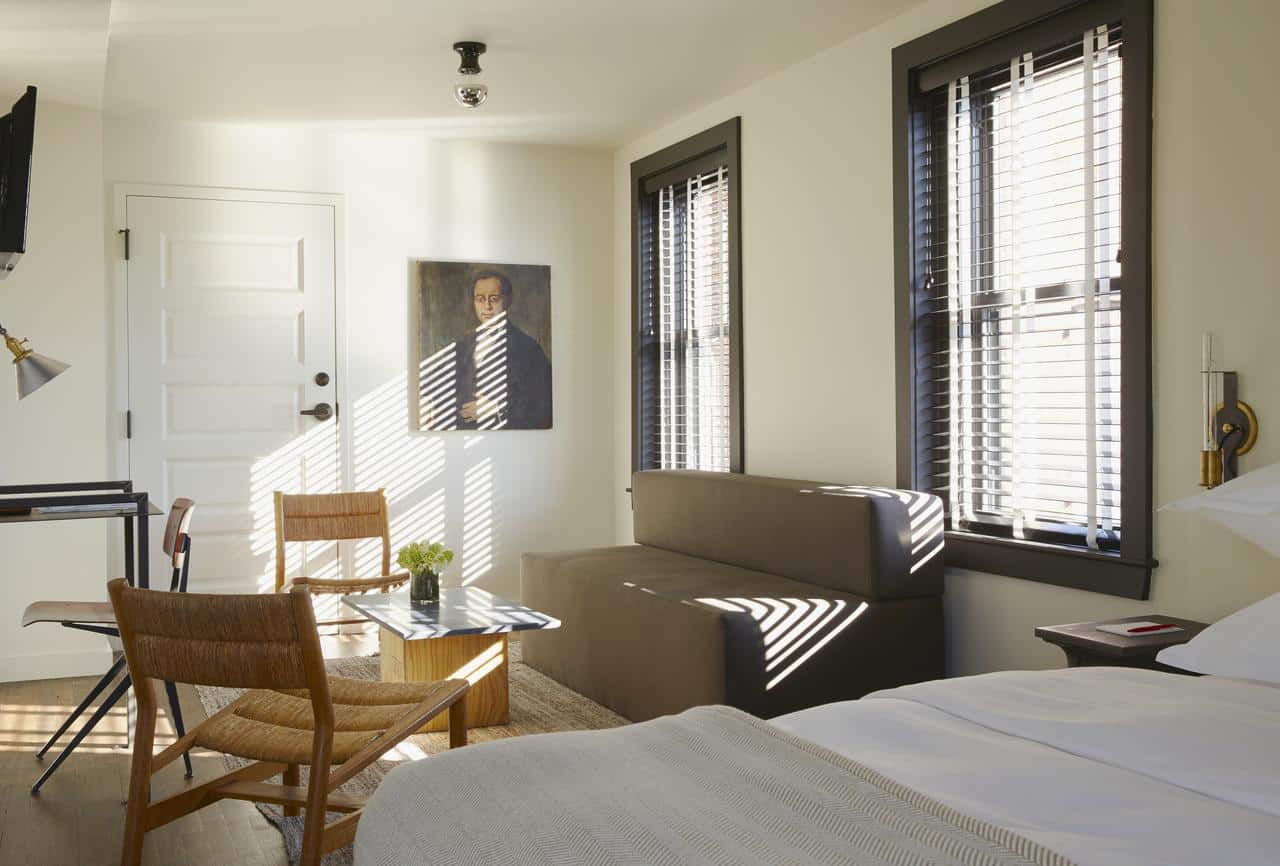 Homewood Suites By Hilton Downtown ☆☆☆ – A basic hotel offering -home comforts perfect for an extended stay or a weekend getaway – all at very affordable prices. Honestly, we found room rates in Providence to be very reasonable and worthy of a spurge but if you are watching your budget this laid-back hotel offers everything you need – and nothing more.
Christopher Dodge House ☆☆☆ – Elegant rooms and historic charm await you at this gorgeous bed and breakfast, offering luxury lodging conveniently located right in the downtown. The charming inn is housed in a historic 3-story brick Italianate mansion was built in 1858 and renovated in 2003 into a beautiful 14-room bed and breakfast. A labor of love, the staff and owners will do everything to ensure you stay in Providence is as enjoyable as possible. All rates include a hot plated chef's choice breakfast and the continental buffet offers homemade pastries and locally roasted coffee from Borealis Coffee Company.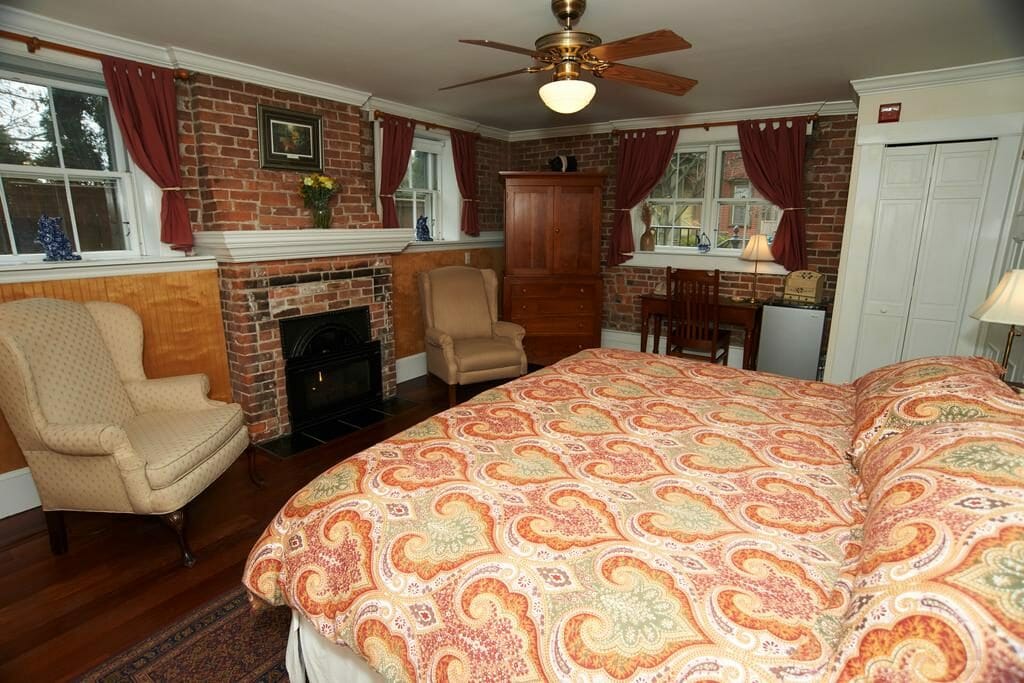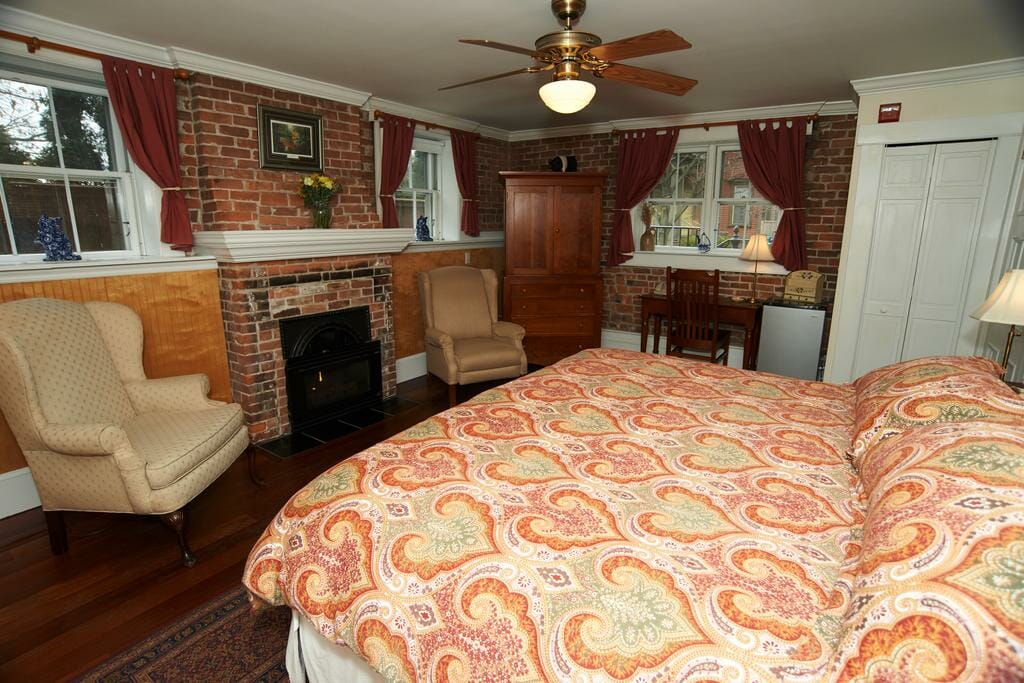 Gay Nightlife in Providence Rhode Island
With Providence being one of the most gay-friendly vacation destinations in the world, you would expect an incredible gay nightlife scene – and luckily Providence does not disappoint.
Depending on your mood you can find anything here from a relaxed cocktail in an upscale bar to an all-night dance party surrounded by your queer family. There is also plenty of cruise/dive bars, sexy go-go boys, fabulous drag, fun events and – well, something to cater for every taste! There is always something fun and interesting to do here, every night of the week from a GAYMER night on Monday's at an arcade bar, to new drag talent shows and Safe Space EDM parties midweek.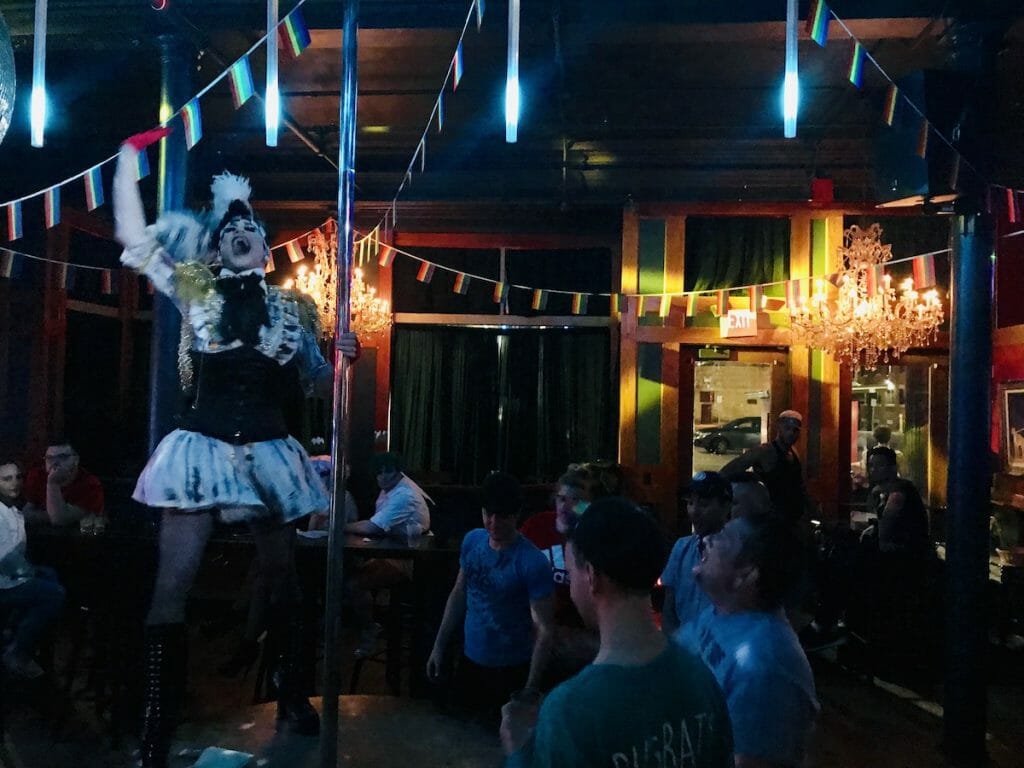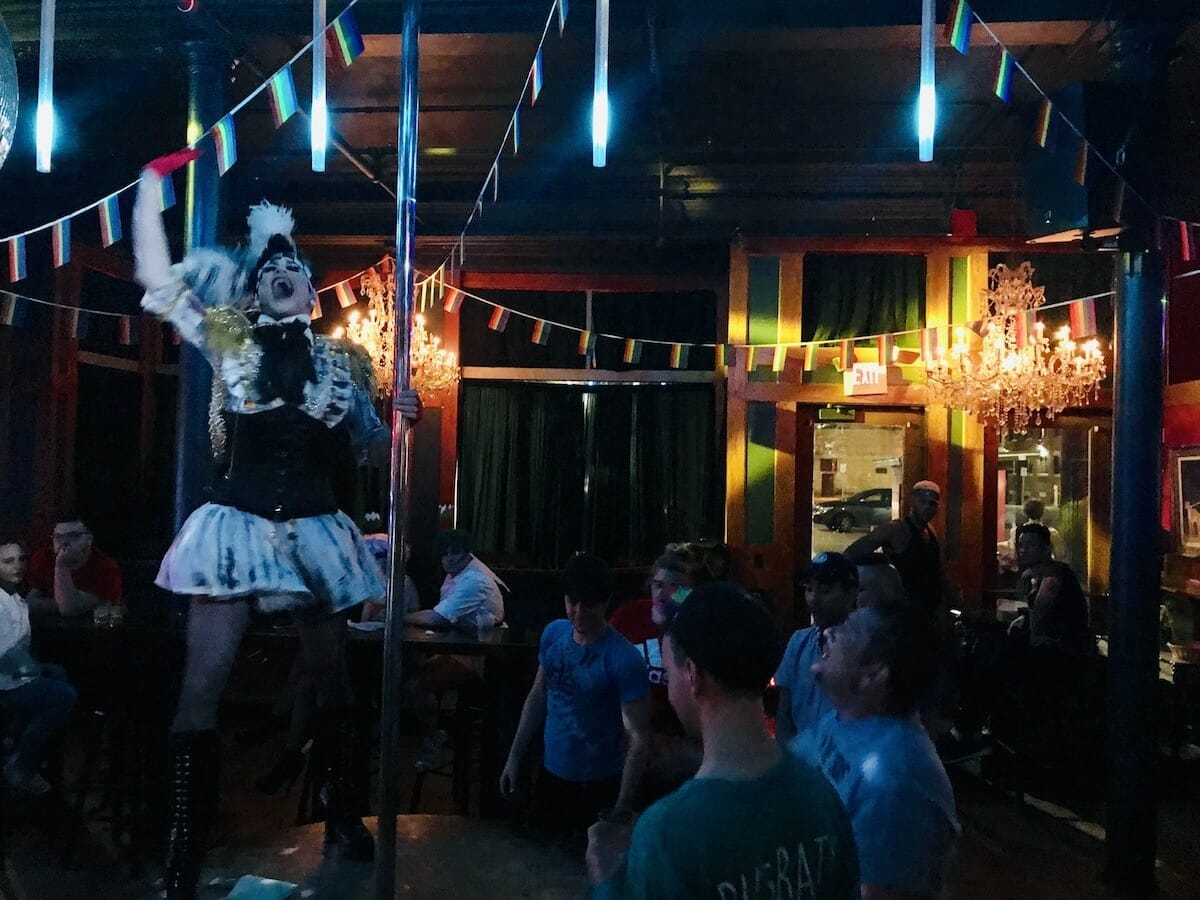 Most gay bars and clubs start to get busy around 10 pm and go until into the early morning, with a mix of quirky locals, business travelers, and out-of-state tourists. Most of the gay nightlife spaces are located in the artsy downtown, which is the unofficial gaybourhood of Providence – as the various rainbow flags will attest.
With a vibrant – and diverse – local LGBT community and a wonderfully gay-friendly liberal populace, you can imagine distinguishing 'gay bars' can something difficult, which is fabulous since you know you will be welcomed as you are basically everywhere here. For the following gay and gay-popular venues, however, we were looking for rainbow events, exceptional recommendations, and spots specifically marketed towards gays.
We are sure you will not be disappointed.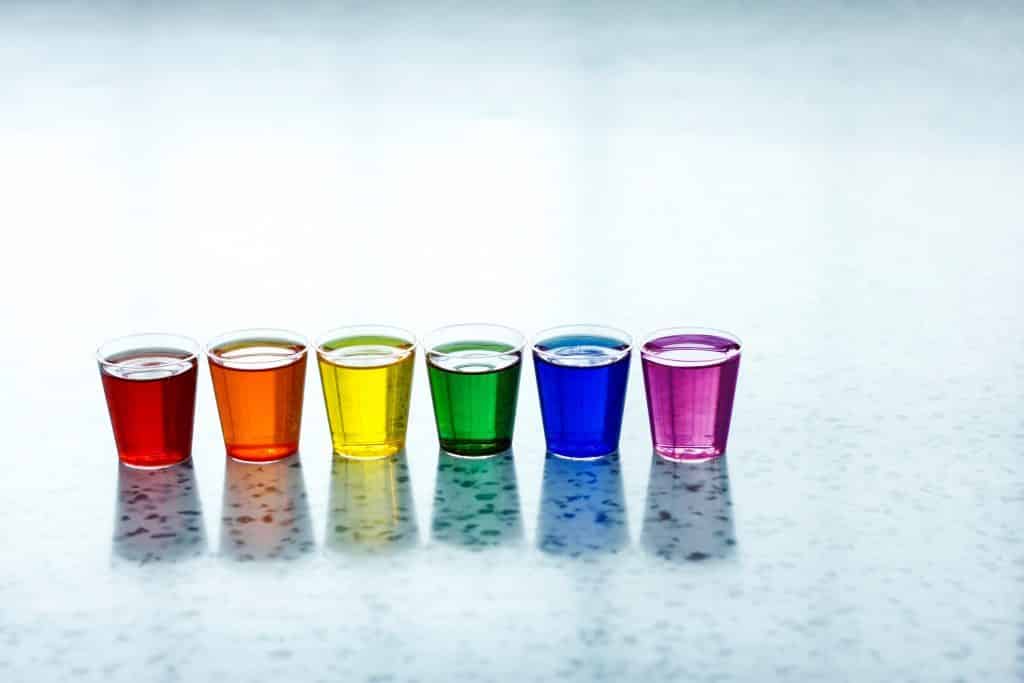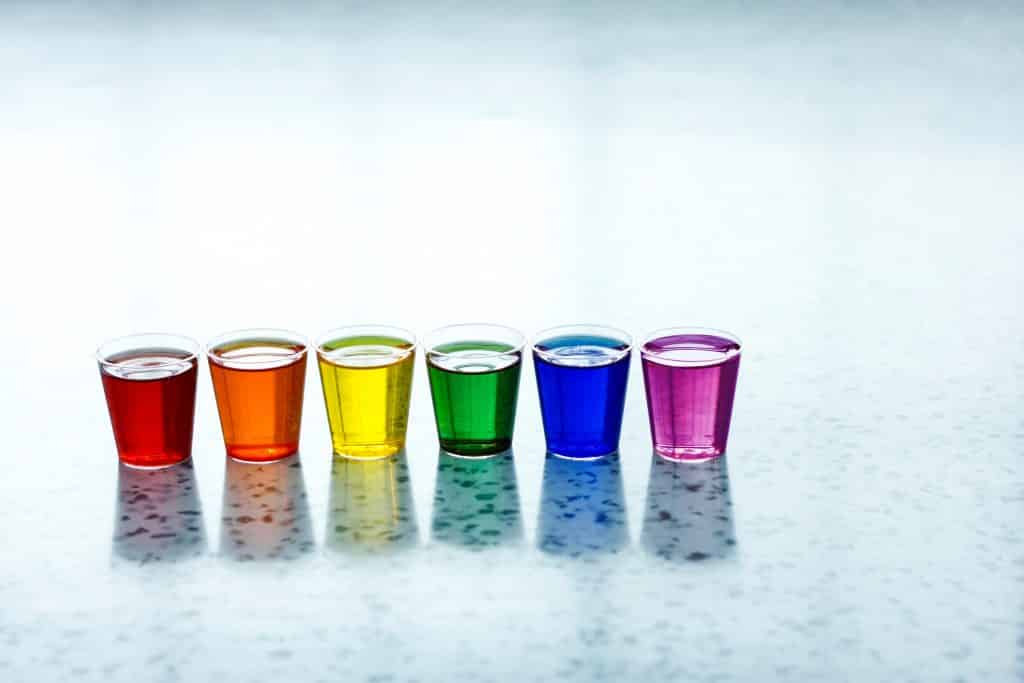 Gay Clubs & Bars in Providence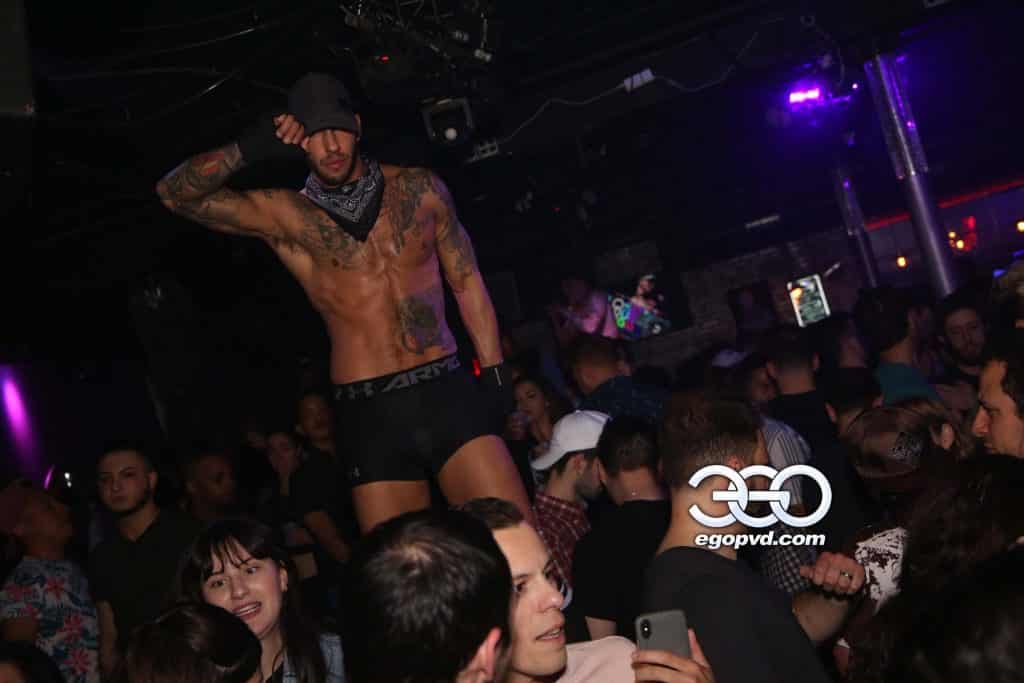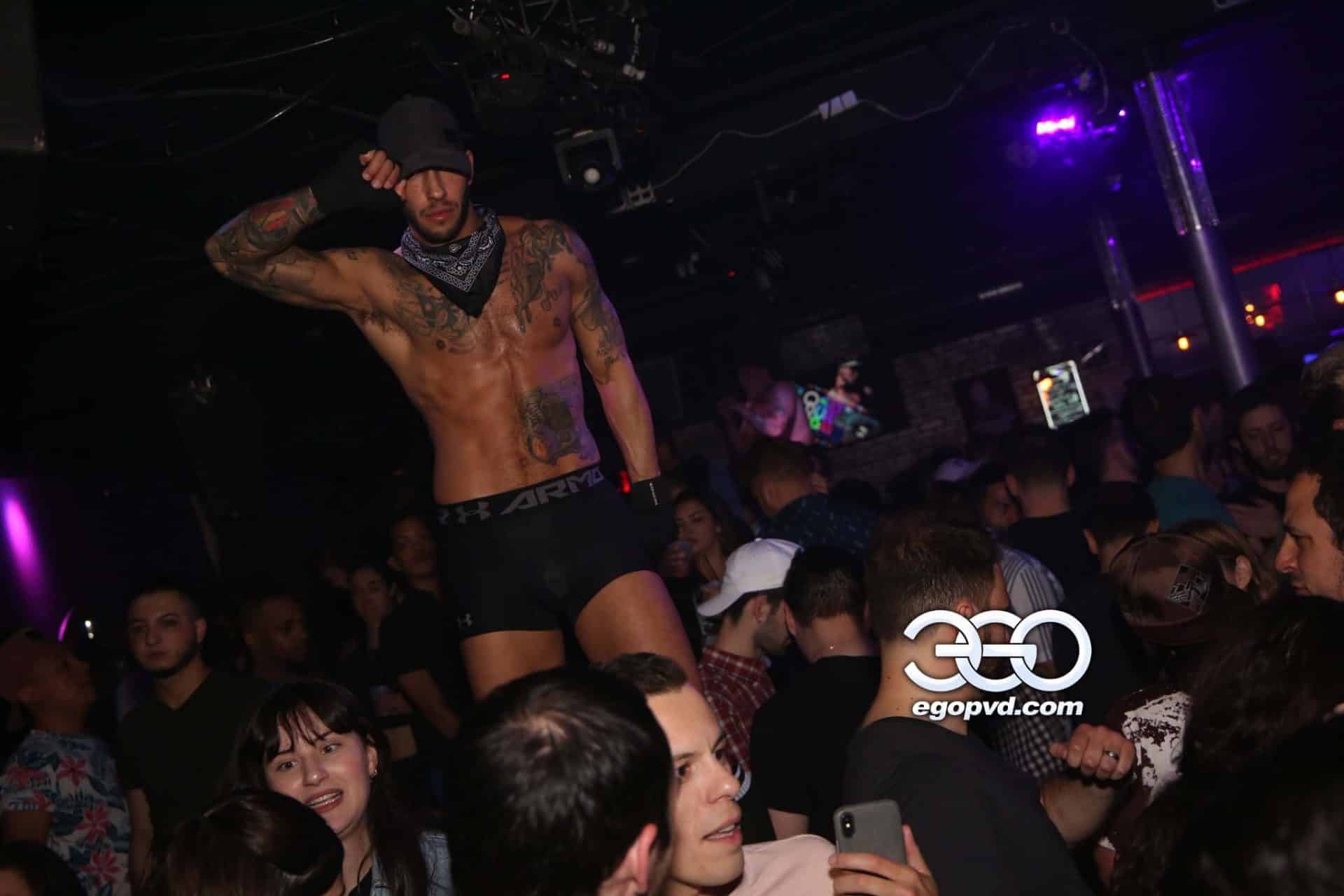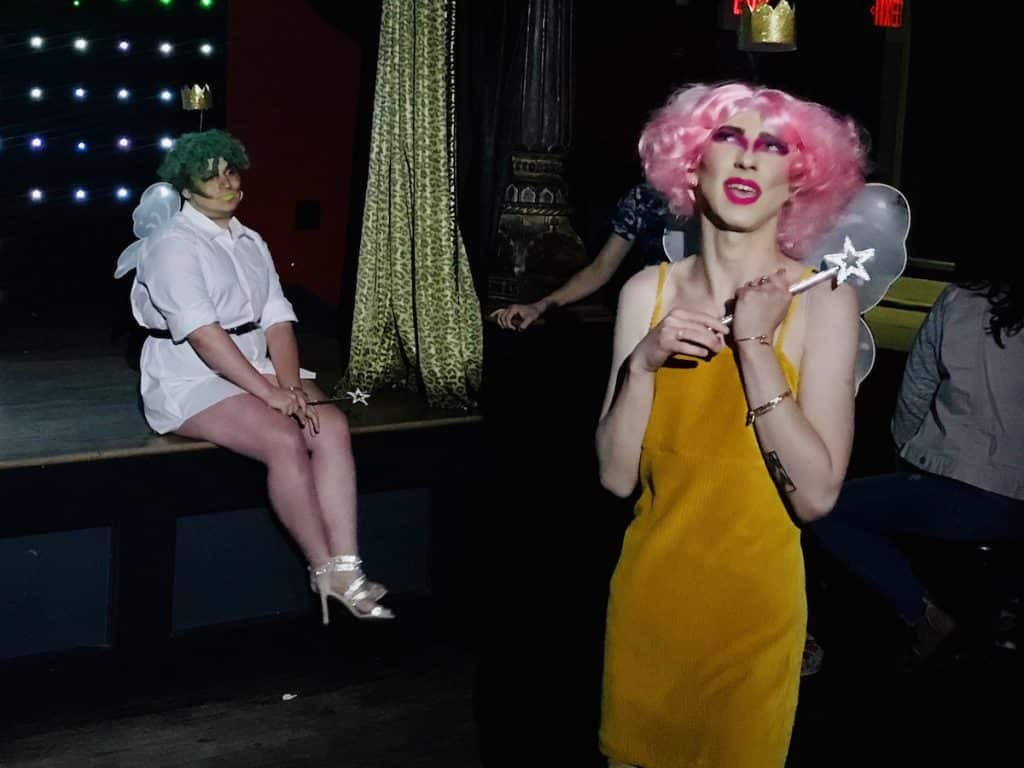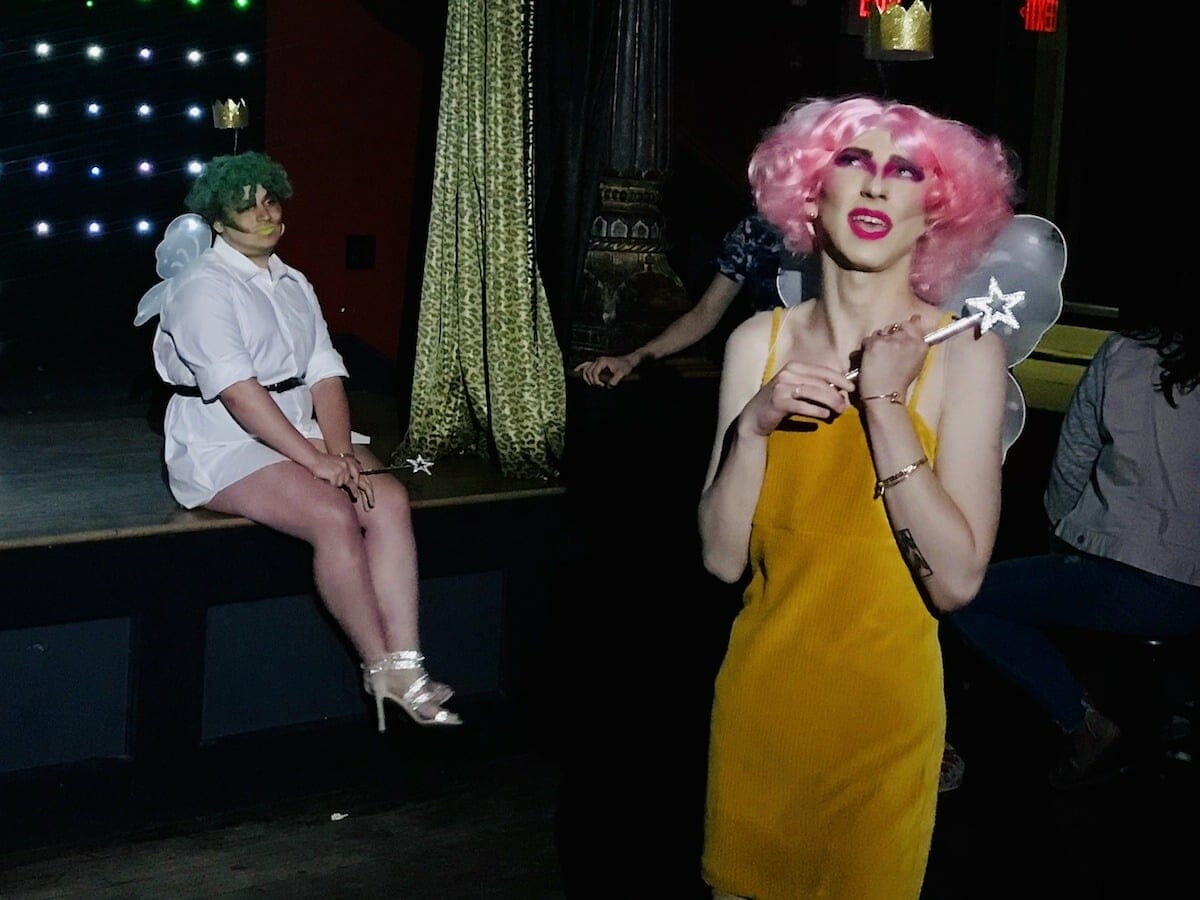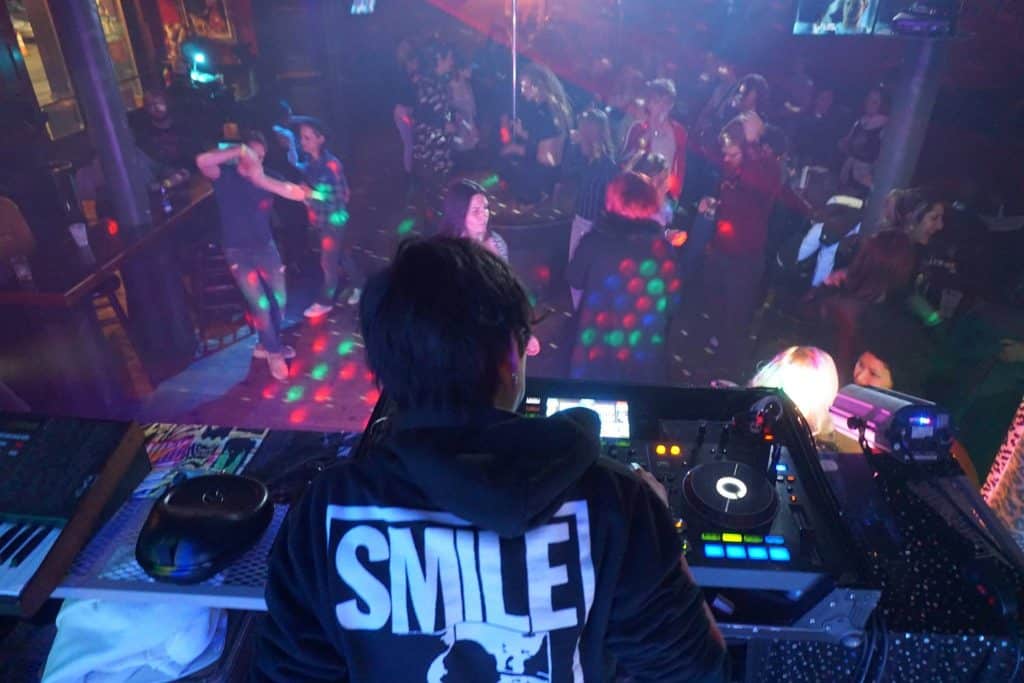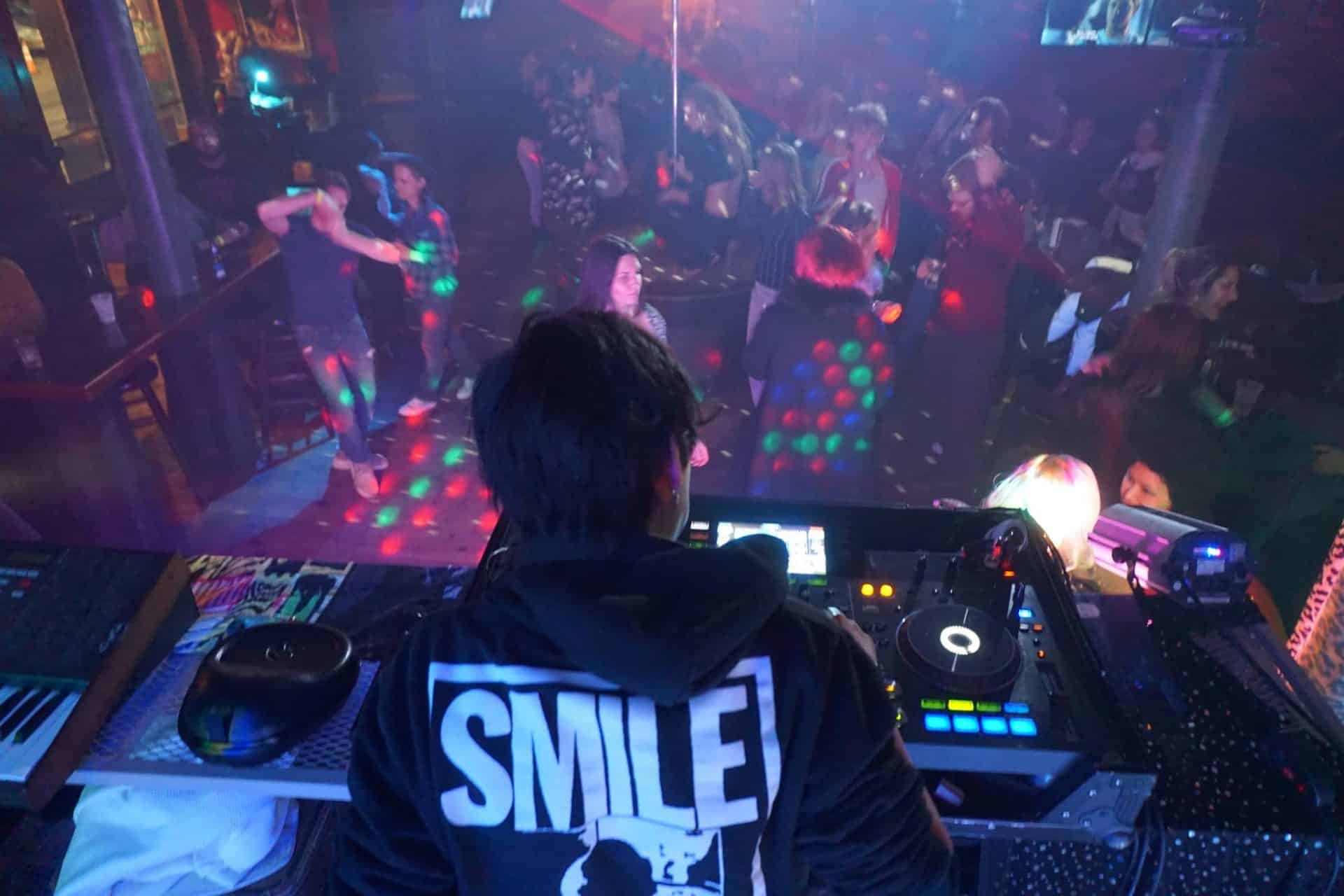 Gay-Popular Bars in Providence
The Salon – A very hip-and-happening bar offering cocktails and tacos with fun events most nights including DJ sets, comedy shows, bingo, drag shows and more. There is always pinball, ping pong foosball too, which helps to get the conversation flowing on an awkward date.
Barnaby's Public House – A old-fashioned public house established as a place for friends to gather and enjoy heavenly bites and legendary pours. They specialize in serving pre-prohibition era cocktails, a wide selection of whiskey, rye, scotch and bourbon, craft beers and fine wines. The story and historical significance of Barnaby's is a key component of the establishment. The scandalous legend and murder of Jerothmul's wife, Josephine, in 1881 (the first death by mail in the country), is being shared with all guests in a variety of ways ranging from the décor to the food and drinks that will certainly spark curiosity and interest
Free Play – A spirited bar arcade offering over 150 classic arcade games, pinball, skee ball, air hockey, and Dance Dance Revolution – all set to, well, Freeplay! There is beer on tap, delicious pizzas and fun cocktails to match the games including our personal favorite, Mario Kart (3 Olives Loopy, Stolichnaya Razberi Vodka, Peach Schnapps, Orange Cranberry Pineapple Juices, Topped with Sierra Mist). There is always a $5 admission fee at door, raised to $10 on Friday and Saturday nights, but we think it is entirely worth it. Monday is always their GAYME Night, where funds raised go to Rhode Island Pride – and a great way to start your weekend out.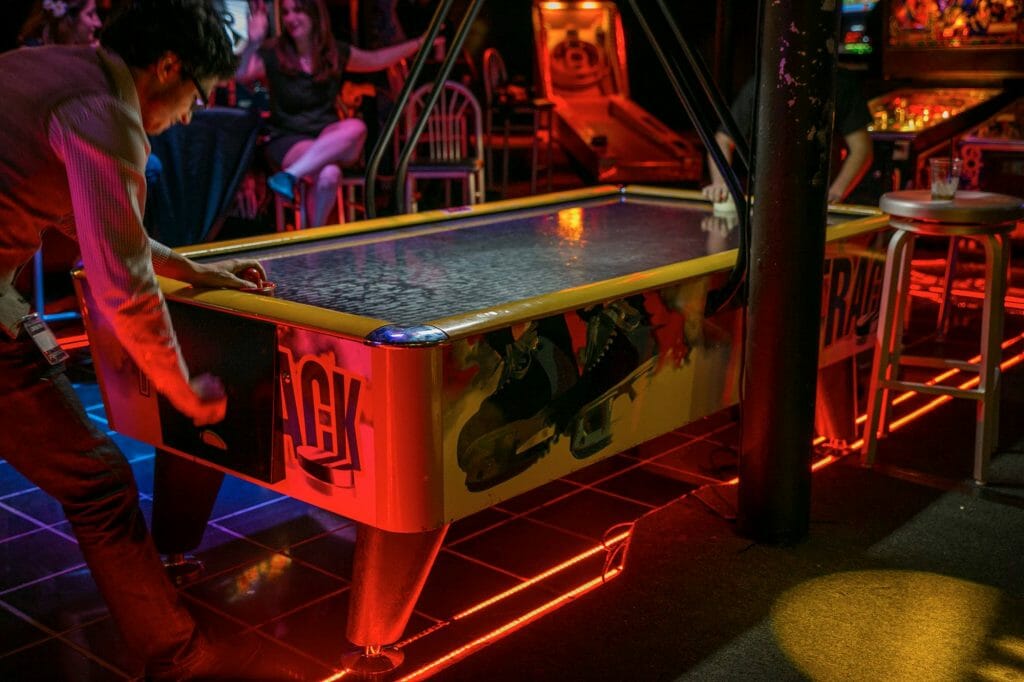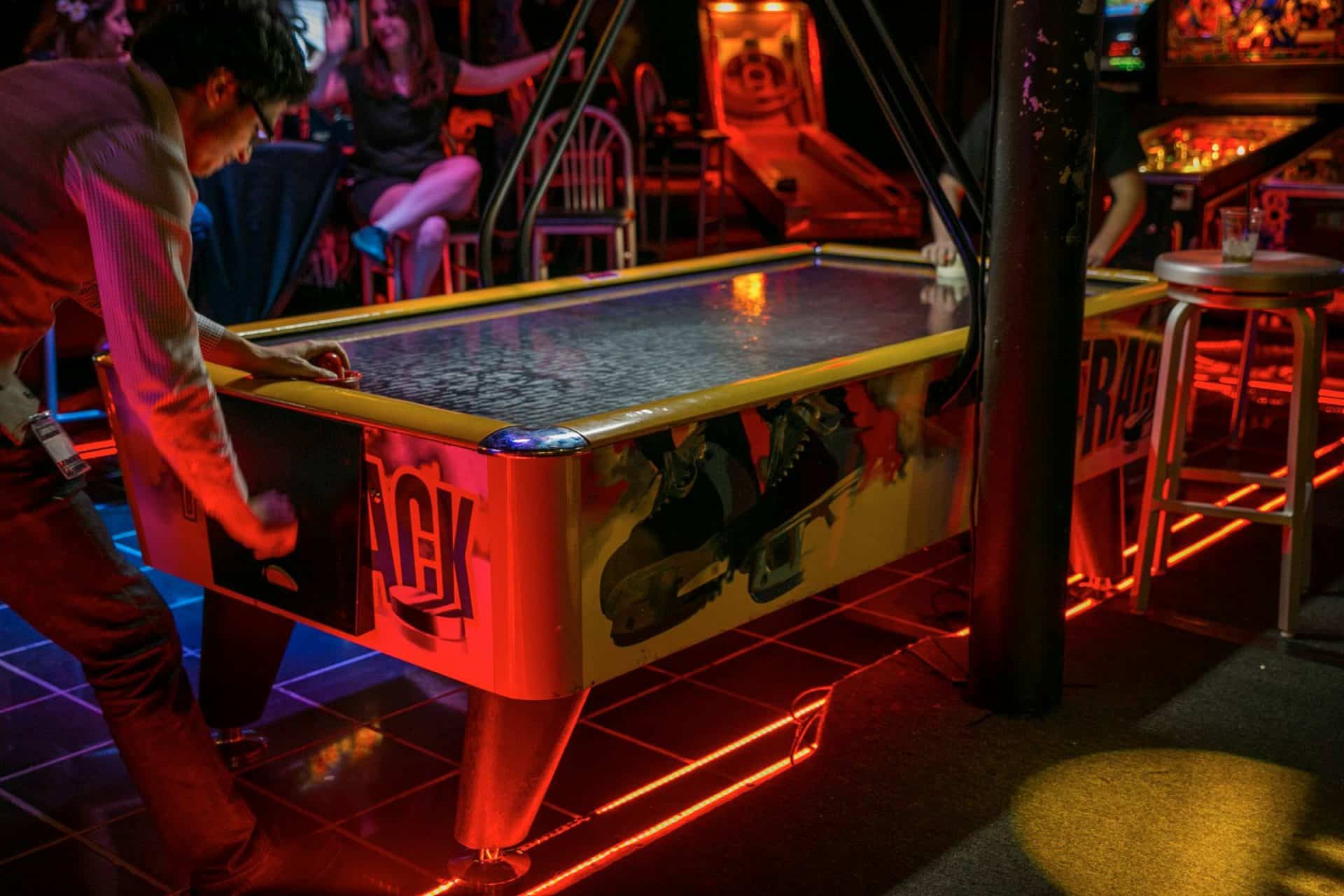 The Eddy – A so-stylish-it-almost-hurts cocktail bar with obligatory dimly lit lighting and almost speakeasy vibes. We were still absolutely obsessed with their friendly bartenders, creative cocktail concoctions and inventive bar food selection. Try the house punch, it's what pirates drink and – well, everybody loves pirates!
The Dean Bar / The Magdalenae Room – A hidden gem buried in the Dean Hotel, this hip lounge crafts modern cocktails in a creative space that encourages you to stay for 'just one more' with cozy sofas and intimate lighting. Perfect for meeting friends, strangers, and lovers…
Justine's – Hidden being a lingerie storefront, this 1920s-style speakeasy serving elegance, magic and strong cocktails from talented bartenders. We have not been so excited to see what was behind the red velvet curtain since the Wizard of Oz. Unlike Dorothy, you will not be disappointed.
Rooftop at the ProvidenceG – A luxe rooftop spot in downtown Providence's open nightly and serving craft cocktails, small plates, and dinner. Call ahead for reservations as can get very busy with the after-work crowd, though there is always room to sit at the bar if you want to be flexible. The best skyline views in the city, with prices to reflect that. They also host New England's only Rooftop LGBTQ+ monthly Tea Dance called SURGE Sundays where you can enjoy dancing to fabulous beats, reduced price well drinks and prosecco, a 50/50 raffle to benefit Options, good times and happy vibes!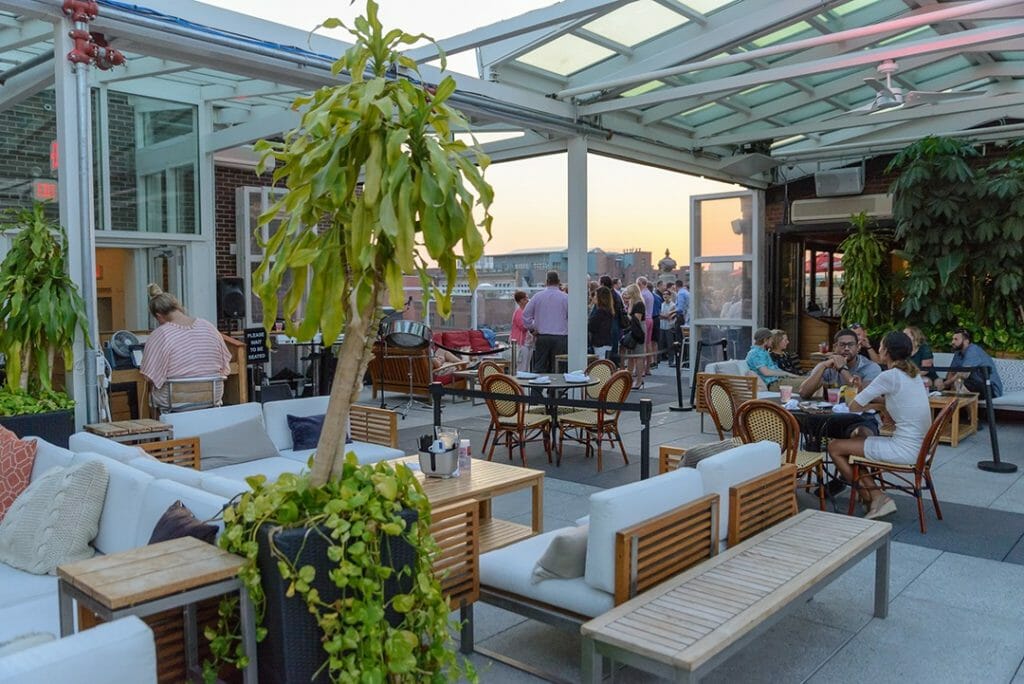 Cruising, Gay Saunas & Bath Houses in Providence
We were not kidding when we said Providence had an outsized gay scene, and you can see this reflected in the presence of not one but two gay bathhouses here.
If your visiting from outside of the USA you should know that the gay bathhouses culture is not very prevalent in the USA and in no way as popular or as high-quality as you might find in international destinations such as Vienna, Bangkok, Hong Kong, Lisbon or Paris. So, we were surprised to find we actually had choices when it came to enjoying naughty fun in Gay Providence – especially considering the dire state of cruising spaces in the rest of the country.
You can also try using any of these gay hooks up apps if you are not comfortable visiting the gay bathhouses, though we also have a few tips for anyone looking to explore a gay sauna for the first time.
MegaPlex – Located a 5-minute drive south of the urban center but perfect if you have a car, the Mega-plex is pretty decent gay sauna – busy, discreet and located next to the adult store. The space most certainly needs some improvements, however, and many of the facilities seemed to be out of action when we visited included the steam room. Still, if you want to mingle and have fun with a wide variety of guys this is the go-to option. With over 500 lockers, 75 private cabins and cruising spaces galore it is no wonder people drive from miles around to have fun here.
Club Body Center – The only gay sauna in Providence Downtown, close to all the gay bars. Open 24 hours a day, Club Body Center or CBC as locals call it isn't quite as popular but does consistently draw in the over 35 crowds of leather daddies and bears. Relax in the steam room, take a shower, chill in the lounge or indulge in some hot men-on-men contact…There is no judgment here. Every Monday is Military Muscle Day, Tuesday is twins, Friday is for bears and our furry friends – and there are also Transexual nights twice a month listed on their website.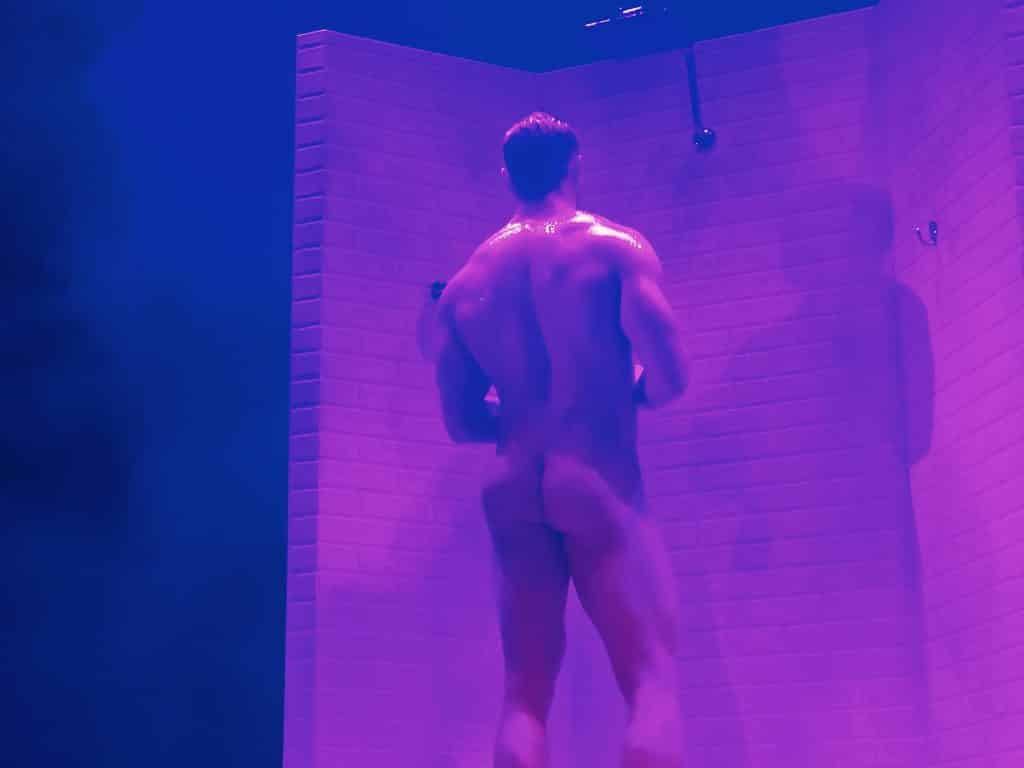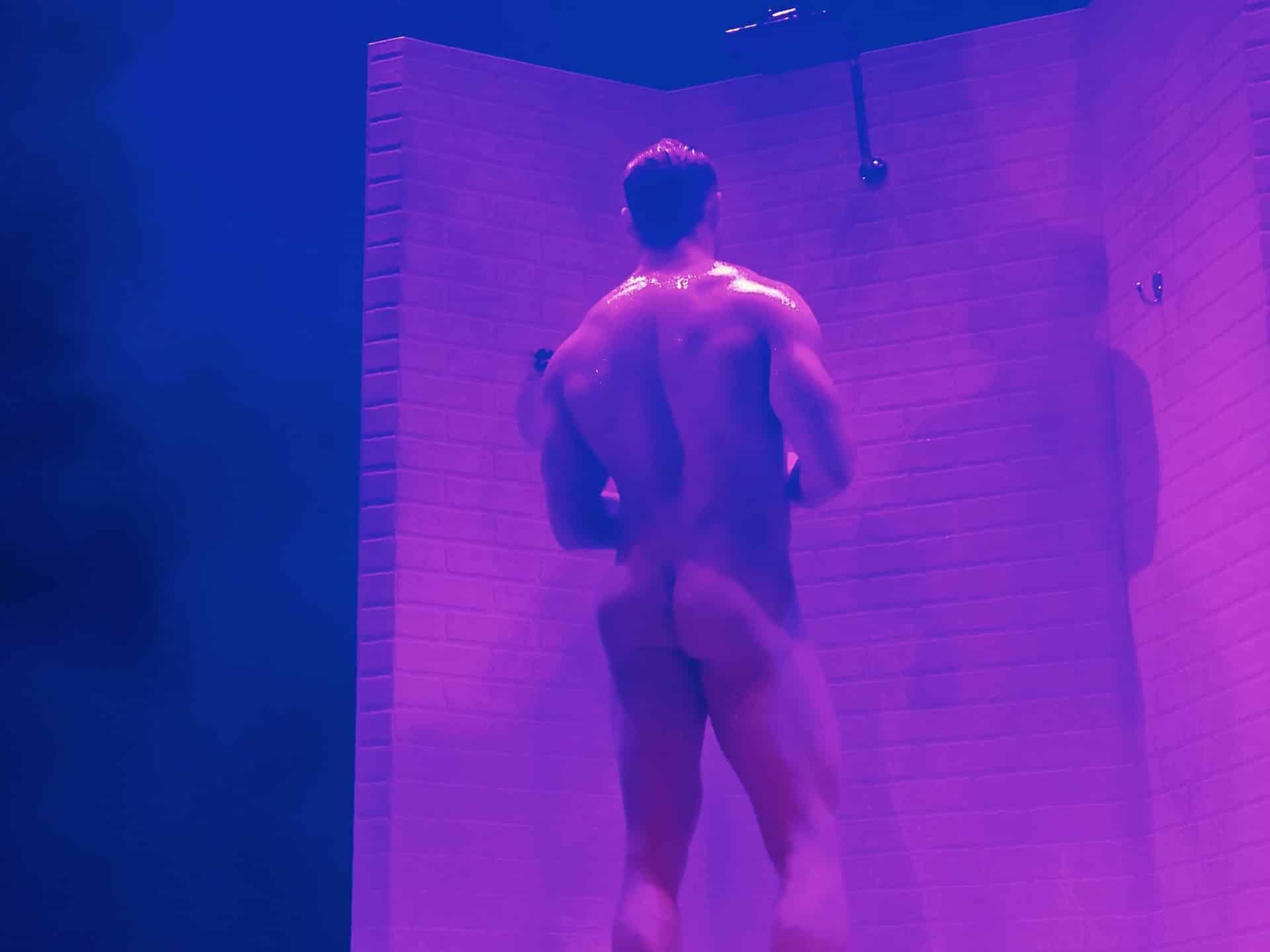 Gay Providence Map