If you like variety then you have come to the right place. Here we feature a smorgasbord of gay clothing ideas. We can assure you that there will be something here for LGBTQ folks of all fashion inclinations and stylistic persuasions.
We have included cute crop tops, racy mesh shirts, beautiful blazers, T-shirts, long sleeve button-up shirts, hoodies, fast-fashion two-piece outfits, you name it.
And if you are at a point in your life's journey where you feel like you are ready to come out and open your true self to the world, or you know someone who is at this stage, and are maybe looking for a sort of "fashion starter pack" to kick things off with the new you, then you won't need to look any further than right here.
The name of the gay clothing game is feeling great about yourself. When you strip it down to an essence, that is what all fashion is about: being who you are and feeling comfortable in your own skin. About expressing yourself, feeling pride and self-contentment, and bringing out the best of yourself.
And at the end of the day, the point of fashion is not about dressing up or trying to be swanky, and really it's not even about looking good for the sake of looking good, but rather it's about celebrating you as a unique individual and telling your story in a way that words never could. So with that spirit in mind let us go ahead and dive into this.
This unique shirt has a rather sporty look about it, and if that's your thing then you are going to love it. It can be had in navy or white, and is made of a soft mesh material which means that it is oh-so-comfortable, particularly when the weather heats up. If you love mesh, this is for you. If you love crew necks, this is for you. If you are a fan of comfortable short-sleeve button-up shirts, this is for you. If you are into gay fashion at all, this is for you.
This is bound to become your favorite shirt – that one that loves to put on when you're lounging around the house or just going out for a quick run to the store to grab that thing you forgot last time…yet it still looks good enough to make an impression of you happen to bump into that person you've had your eye on, if you know what we mean.
It is such a well-rounded gay pride shirt, there is little reason to not have this in your closet.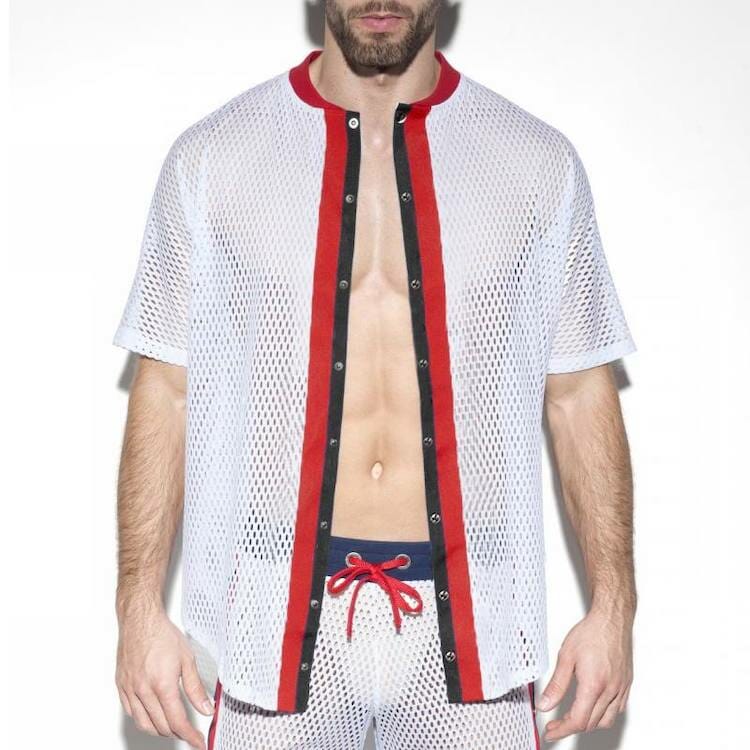 You'll feel like a rock star with this on. It gives off a chill vibe yet has a ton of swagger – an easy nonchalance that can't be faked or affected. If this suits your personality to a tee (if you'll excuse the pun) then this sexy top has a place in your closet.
Break it out when you're feeling especially self-confident. Or adversely, if you just aren't feeling it today, then there's nothing like just the right shirt to remind you how awesome you are.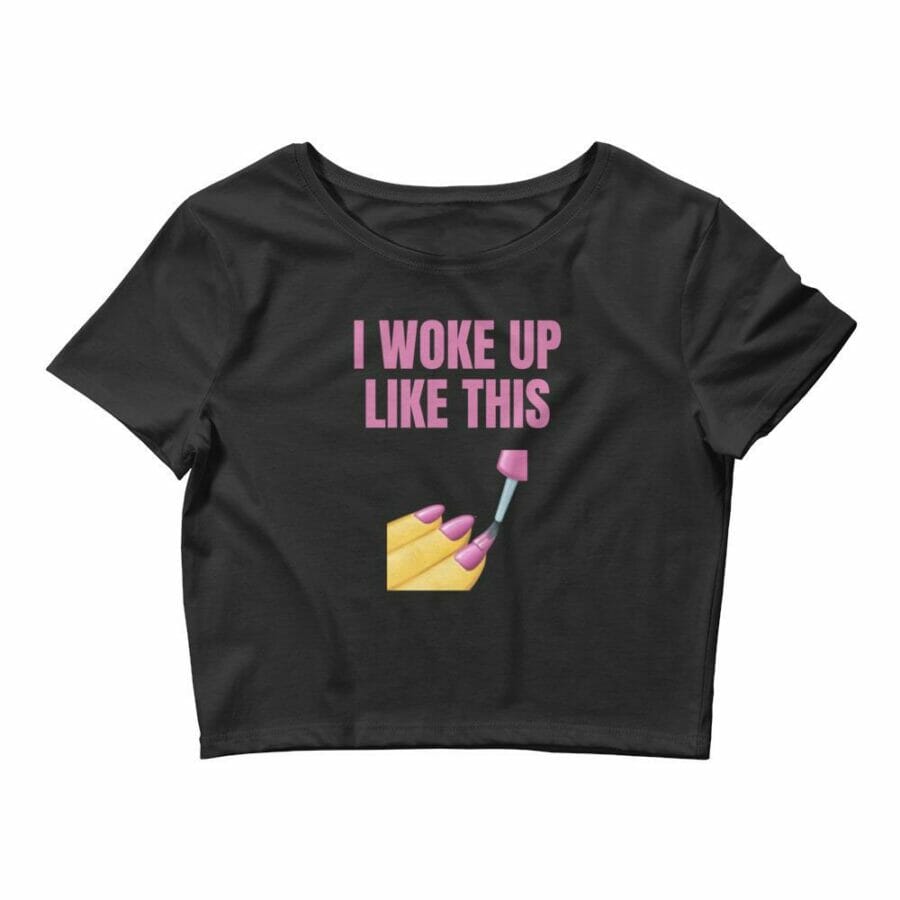 If you have so much as a style-sensitive bone in your body then you are going to absolutely fall in love with this. Who isn't a sucker for black lace, especially when it's see-through? There is just something tantalizing and irresistible about this aesthetic.
While white lace is symbolic of innocence, black lace signifies dark mystery. You will feel like an absolute god or goddess when you get into this beautiful shirt. It is a blend of coy and playful, and if that's your brand of flirtation, then you will love every minute you spend in this. You will love the empowering feeling that comes with casting aside your inhibitions, the liberation you'll feel in showing your skin and baring your sexy soul to the world.
Your significant other is going to love it too. It's sure to start a few bedroom fires when you surprise him/her in this. This stunning shirt is a must-have for your seduction arsenal of gay clothing. There's no reason to wait when you can make this a part of your wardrobe now.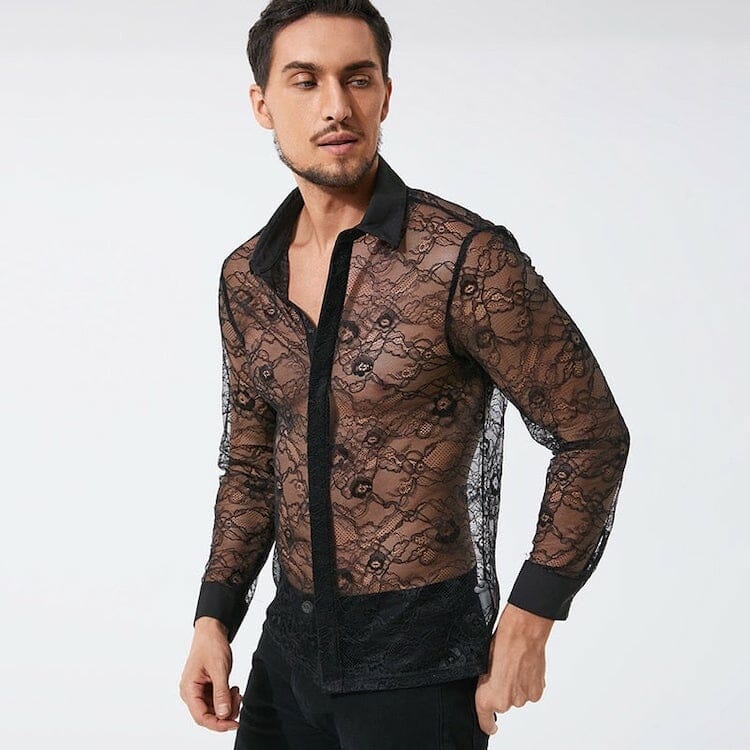 You just can't help but adore this trendy item. It's a versatile garment in that it gives plenty of protection in the outdoors since it is a gay hoodie, but also allows you to be comfortable in balmier weather thanks to the mesh fabric.
You won't struggle to look good in this cropped hoodie, either: it shows enough skin to be just the right amount of provocative. It's a great way to show off a little while still being tasteful about it, but this stunning hoodie is also a rather unique fashion item that allows you to express your individuality and your sense of pride.
This is the perfect kind of attire to wear to the park, out on a stroll, at the gym or yoga class, at the beach, or if you are a jogger or runner and still want to show some style while getting your exercise fix. This really is the kind of thing you can wear just about anywhere, in any kind of setting, and still fit right in.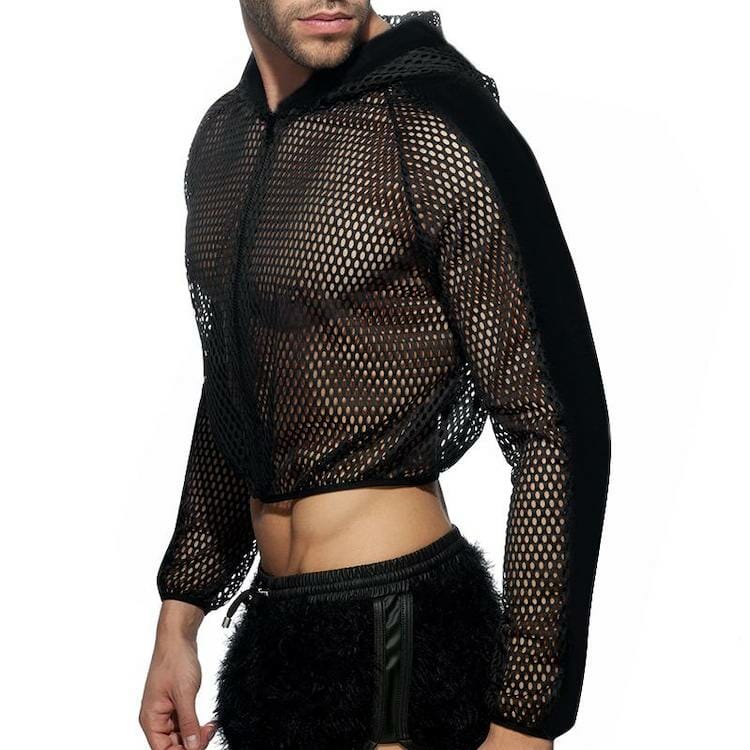 This casual two-piece outfit consists of both shorts and a crop top and comes in yellow, orange, and black, and you are going to love it no matter which color choice you go with.
The great thing about this kind of outfit is that it's always in style and always easy to pull off. Really you need at least one outfit like this in your closet for those times when you still want to look good but don't feel like getting "dressed up."
Or in other words, for when you don't want to spend all morning putting in a huge effort. And why should you when you can just simply throw this on and get out the door looking fabulous in five minutes or less?
This is another great summertime outfit that is sure to become a favorite: it is ultra-comfortable, easy to wear, and easy to look good and feel good in. It is fine for just lying about the house and it's equally fine for a quick jaunt to the grocery store or the park, the cookout, or the ball game.
It also makes an amazing male festival outfit. Why not make it yours today?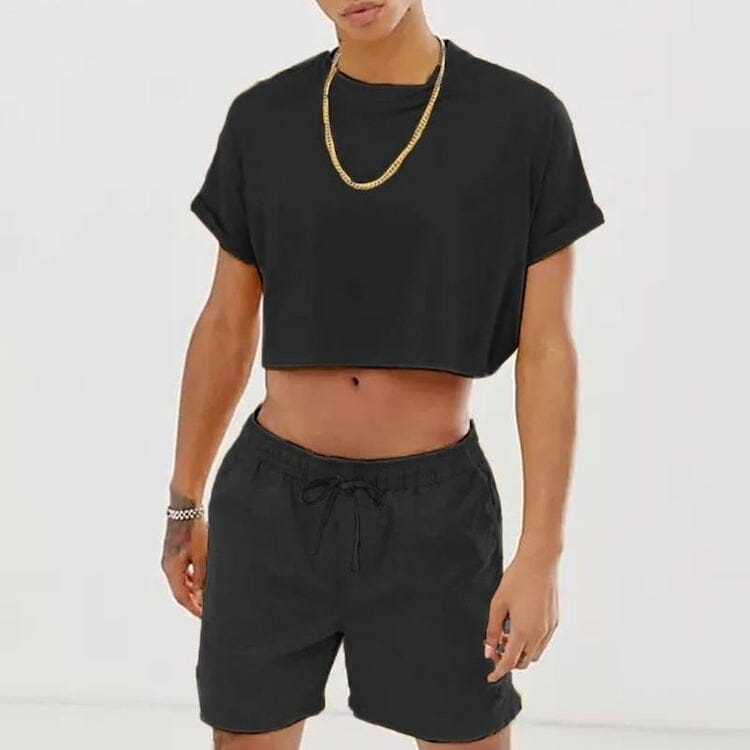 Here we have yet another striking mesh top. There's no better time than the very present to get in on this style movement. And it is a movement: mesh tops have become all the rage on the more visually-oriented social media like Instagram and TikTok. The reason: nostalgia.
Mesh tops were very popular in the nineties, and we seem to be in a cultural climate where anything retro is in vogue, particularly when it comes to fashion. Most all the biggest influencers and celebrities – Kylie Jenner, Dua Lipa, and Beyonce just to name-drop a few – have been spotted in them a time or two. And that's before we even talk about mesh underwear.
At any rate, you too can pull off this look. There is something alluring about the show of skin that mesh affords – it's all about the tease, the promise of something beautiful just beyond reach. This sultry mesh top pulls it off perfectly. If you are ready to make the mesh leap and explore new style territories, then you can't go wrong by adding this enticing number to your collection.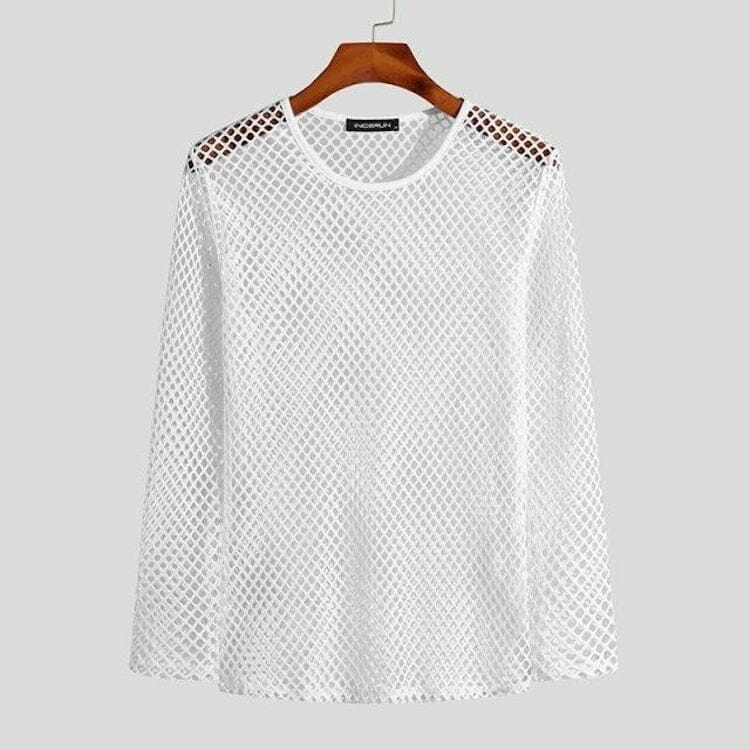 Adorable, fabulous, stunning. These are just a few of the terms one would use to describe this gorgeous pink turtleneck gay crop top. And yet even those adjectives don't quite do it justice. This chic, voguish, beguiling and glamorous top can be yours if you possess the right kind of confidence, the right kind of swagger.
And if you possess them then you will be absolutely unstoppable in it. This is a bold, empowering piece of fashion to have in your arsenal.
It is an alluring piece to be sure and is most apposite when you want to play the tempter or temptress. The top has a cross-folded design which makes it infinitely more interesting and features an inverted V cut that is very revealing of the midriff and upper body in general. Its subtle highlight – the turtleneck – adds a certain air of reserve to the top that, while at first glance may seem to be at odds with its seductive nature, actually serves to lend it an intriguing complexity.
This is an aesthetic that proclaims, "You will never have this…but you just might." All told this is a sensational piece of fashion that deserves a prominent place in your queer wardrobe.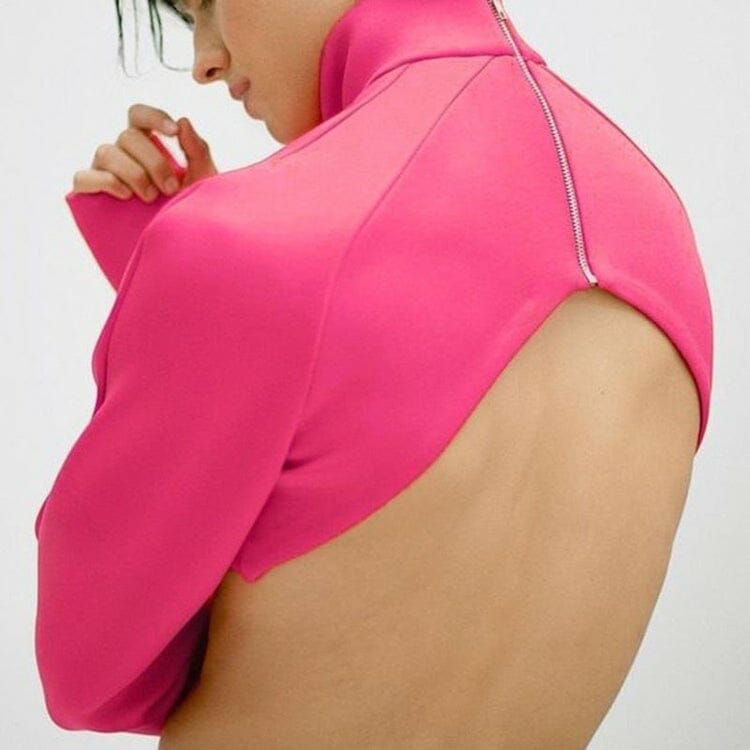 Another fabulous crop top that needs to be part of your gay clothing collection. The highlight of this one is the beautiful, lustrous shine of the fabric. You are going to feel like a rock star in this hot item. It's loud, it's bold, it's flamboyant, energetic, vivacious, and best of all it's you.
You'll love the glamorous silver sheen – rest assured you will not go unnoticed at the party, parade, festival, rave, or gala (yes, this top is nothing if not versatile). Pair it with almost anything: jeans, leggings, a skirt. And might we suggest you go with colors that are conventionally thought to go well with silver say, lime green or pale blue, or of course black. It all depends on what kind of vibe or aesthetic you are going for, and the possibilities are almost limitless!
These kinds of cropped shirts with long sleeves possess an aesthetic that is both intricate and sophisticated, and they tend to give an impression that is more refined, more urbane than that of other types of cutoff shirts and half shirts. If you like to stay vogue, if you like to be adventurous when it comes to your style, then this deserves a place in your closet.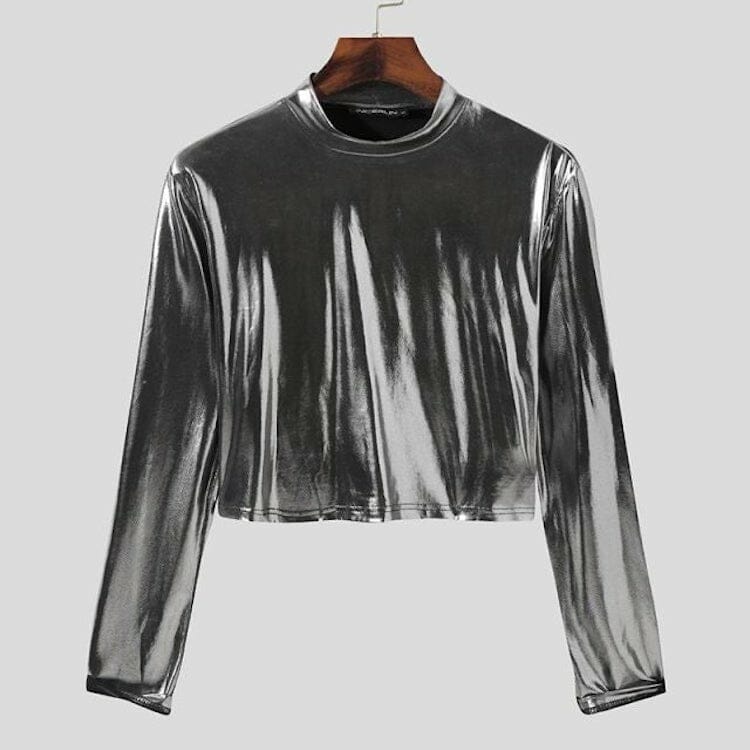 At first glance, this item may seem like a conceptual oddity. Indeed it does initially remind one more of a kimono than a sports jacket. But that is exactly the beauty of it.
Do you want to go through life a follower when you can be a trailblazer instead? And why not look sensational while you are blazing all those trails? This is just the thing that will let you do it. If you have a love for the unconventional, the bohemian, the eccentric, the outre, the daring, and the audaciously avant-garde, then you have found what you've been looking for.
The floral print is, to use a cliche, to die for. It features a phenomenal display of color with geranium pink and pink-violet flower designs on a pale rosewater primary color for the jacket. It is nothing short of fabulous and if you cannot feel beautiful in this well, then we don't know what to say to you!
But in all seriousness, you are going to be a sensation in this charming blazer. It is so pretty it almost hurts.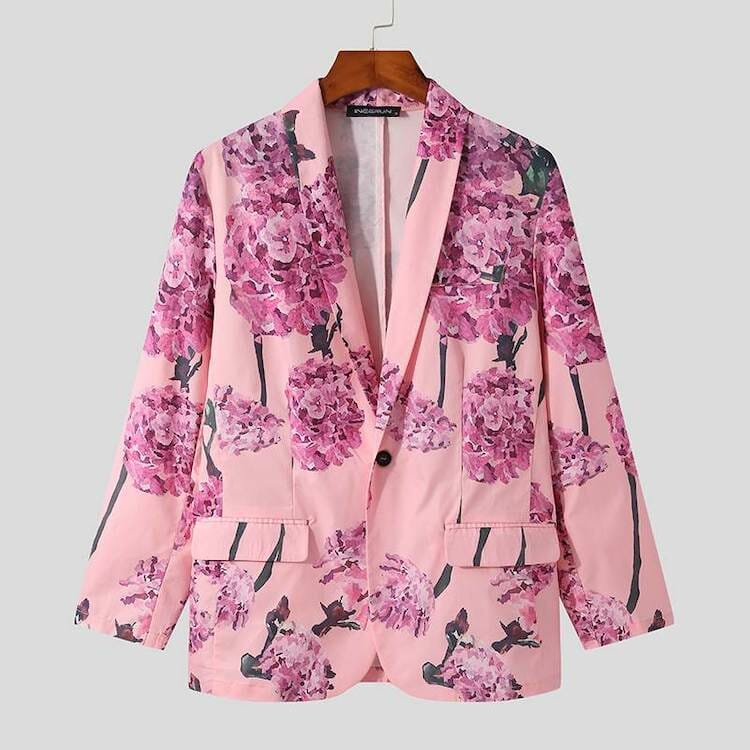 Here we have another adorable-as-all-get-out top, this one a cropped hoodie. It's like having the best of both worlds with this: you get that cute and huggable effect of the hoodie, combined with the showiness and raw sex appeal of a crop top.
What's even better is that you can get the best of both worlds in either black or pink. This top is a great way to be cozy and show some skin, and that kind of dichotomy – that blend of sugar and spice, of coyness and flirtatiousness – can hold a powerful allure. You will positively drive them wild in this. Show your proud and playful side when having this on. Give them a tease they won't soon forget.
And if you happen to be headed to a rave, or just down to the bar for a few drinks, or even a pride parade, then you are sure to fit right in yet stand out in all the right ways when you wear this snazzy top. You are sure to love it.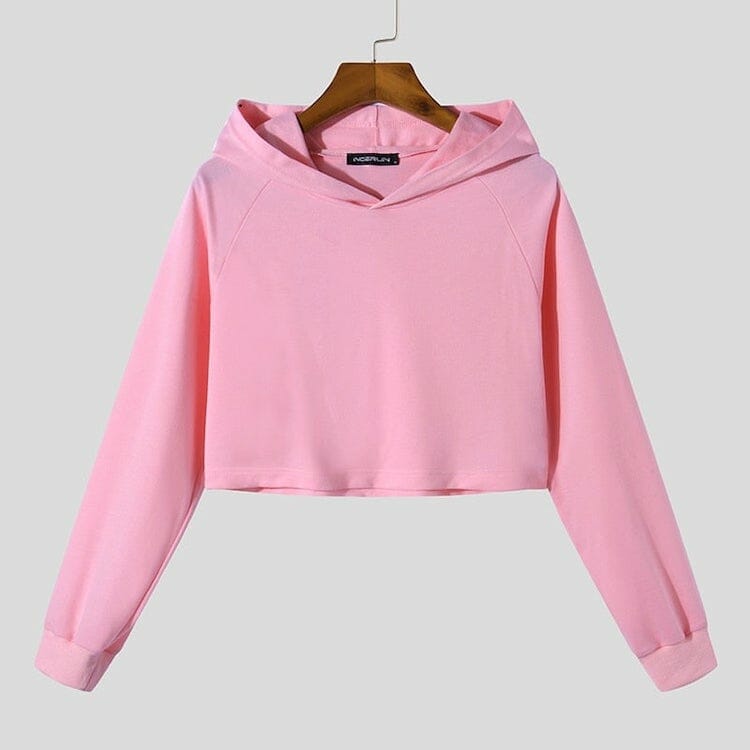 How can you not adore this beautiful cherub motif transparent top? This is surely one of the most unique things we have on the list. You will love the way the mesh fabric looks and feels, and you will adore the lush, beautiful color.
You are going to feel angelic yourself when seeing the impression this makes, and the kinds of reactions and compliments you are bound to receive when seen in this heartbreakingly beautiful shirt. We can virtually promise you that you have seen nothing like it – this is one distinct and original shirt.
Just imagine wearing this to a Christmas party, and the kind of impression you will make. This is dead-on perfect for the holiday season, and if you don't mind letting others in on this gorgeous and original piece of fashion, then it would make a fabulous gay gift or Christmas present.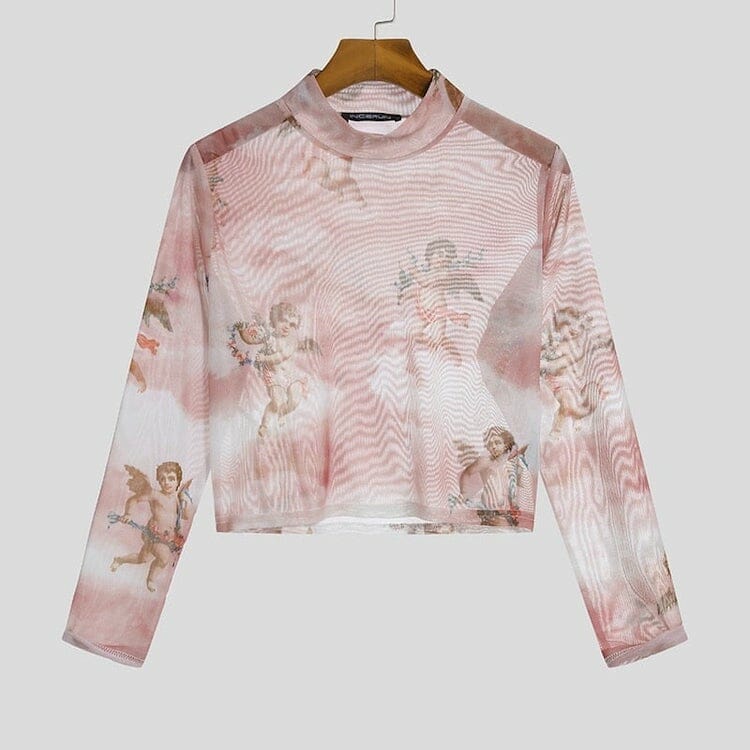 Sexy, sporty, and seductive, this mesh tank top is the last item on our gay clothing list. It is quite reminiscent of a sports jersey, so it has that hot athletic thing going for it. And there is something about that look that is so effortlessly appealing, so easy to pull off and unleash that raw sexual energy you have within.
It takes so little effort to look hot in something like this. If you're something of an attention whore (nothing wrong with that), then this definitely has a place in your closet. You can get it in black or orange for a very different look and vibe. You'll love both so why not have one of each for different occasions?
Or even get one as a gift – anyone with so much as a bit of style sense is bound to adore it.