Who doesn't love gay hoodies? They are the perfect solution for when the weather turns cooler, but not quite cold enough for a coat. And there's nothing like slipping on your favorite hoodie and pulling the hood on for instant comfort.
As awesome as summer is, there are loads of things to enjoy about the colder months; snuggling up inside, hot chocolate, maybe a bit of snow, Christmas! And one of the best things is the excuse to make some fabulous warm additions to our wardrobes.
There's no need to be disappointed that you can't wear your gay pride tank tops now the sun has gone, because you can now get sickening with these amazing gay pride hoodies.
Bring some rainbow joy into winter – or to colder gay-friendly travel destinations – with these bright, proud, and cozy gay hoodies.
The hoodie is also a versatile clothing article and can be used to complete almost any casual outfit. It's easy to see how it has come from its utilitarian origins to become the universally popular (among economic as well as age demographics) item it is today and a staple of almost every wardrobe.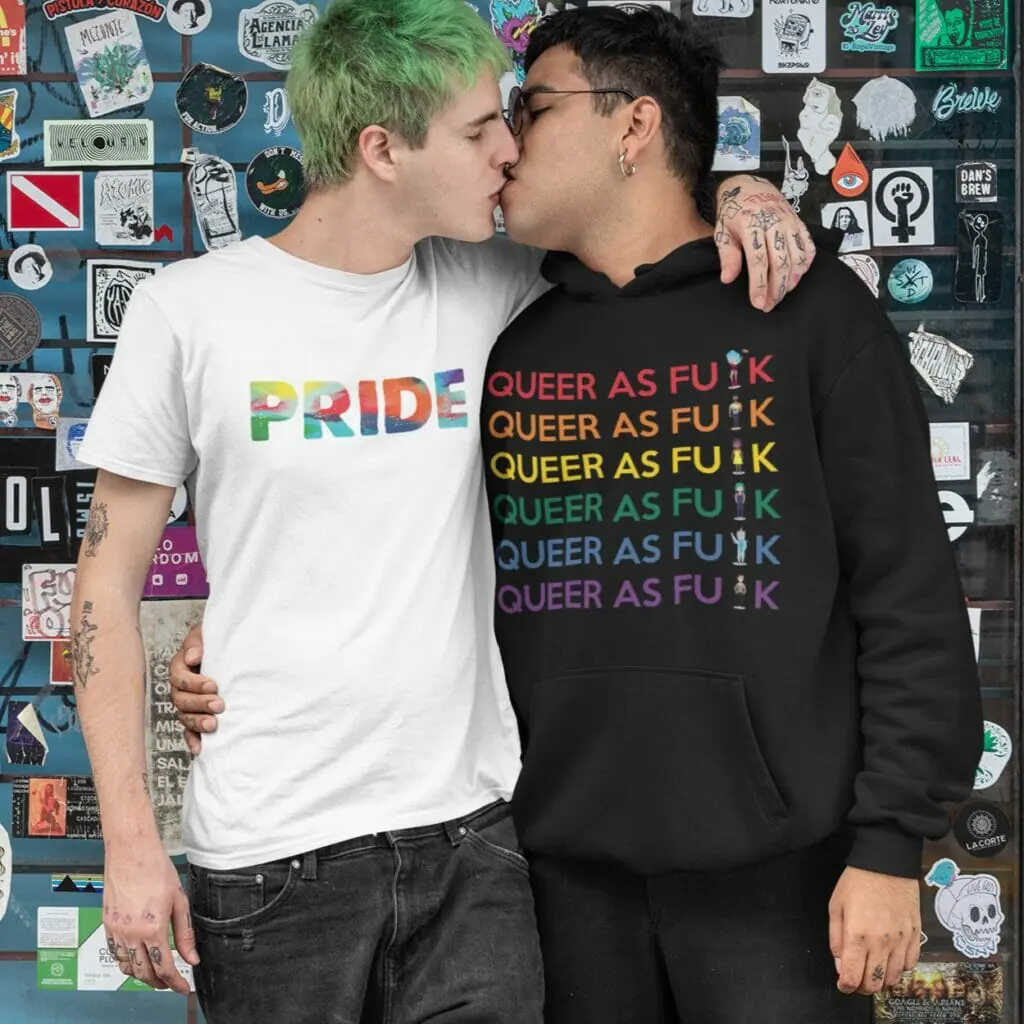 This veritable fashion fixture has a rich – and complicated – pop culture history. Who could forget the iconic training scenes in the first Rocky film? The hoodie has also become a staple of Hip-Hop fashion thanks to pioneering groups like Cypress Hill, Wu-Tang Clan, and Run D.M.C., and has long been a fixture on the college campus scene, especially those bearing the colors and logos of college sports teams. The hoodie has also taken on political significance, with perhaps the most poignant example being the "Million Hoodie March" that took place in the United States in March 2012 after the killing of Trayvon Martin.
As stated earlier, the hoodie has a very complicated and multifarious place in the mainstream consciousness: contemporaneously as simple casualwear and utilitarian apparel, as an emblem of competitive honor, and as a political symbol of defiance and empowerment. It could be reasonably said that the hoodie, more than any other type of modern garment, has had a meaningful impact on our collective conscious.
Believe it or not, the hoodie dates back to the early Middle Ages, albeit in a little bit different form than what you'll see today. In more recent times this garment has become associated with certain stereotypes and has picked up a social stigma, at least in urban environments. They have even been banned in schools and shopping centers (which sometimes continued to sell them while banning customers from wearing them inside the stores; you just gotta love the irony), in some places.
Fortunately movements have popped up across the world to change this. Does anyone remember Goodie in a Hoodie Day?, in which one prominent individual stated: "We've got to destigmatize the hoodie and see it for what it is. Everyone wears them. We need to take the hoodie back!"
And that is exactly what we aim to do here with our list of the best gay hoodies that let the world know "I'm Gay And Proud!". Or at least we aim to do our part for this fabulous LGBT fashion item that keeps us warm, looks cute, and allows us to showcase a bit of our unique personality. Here we go…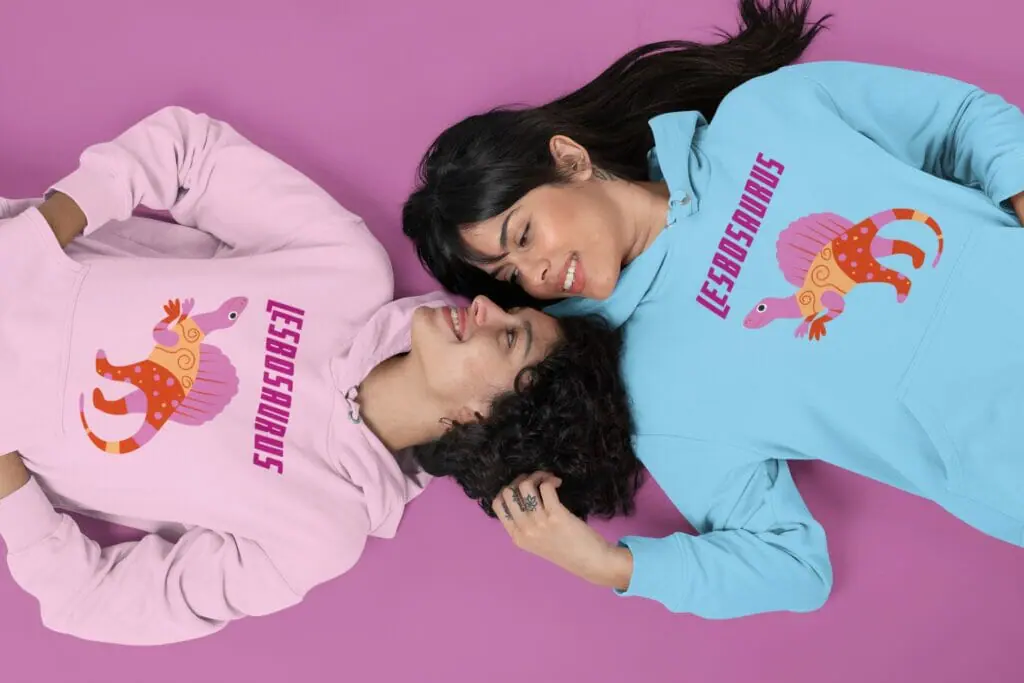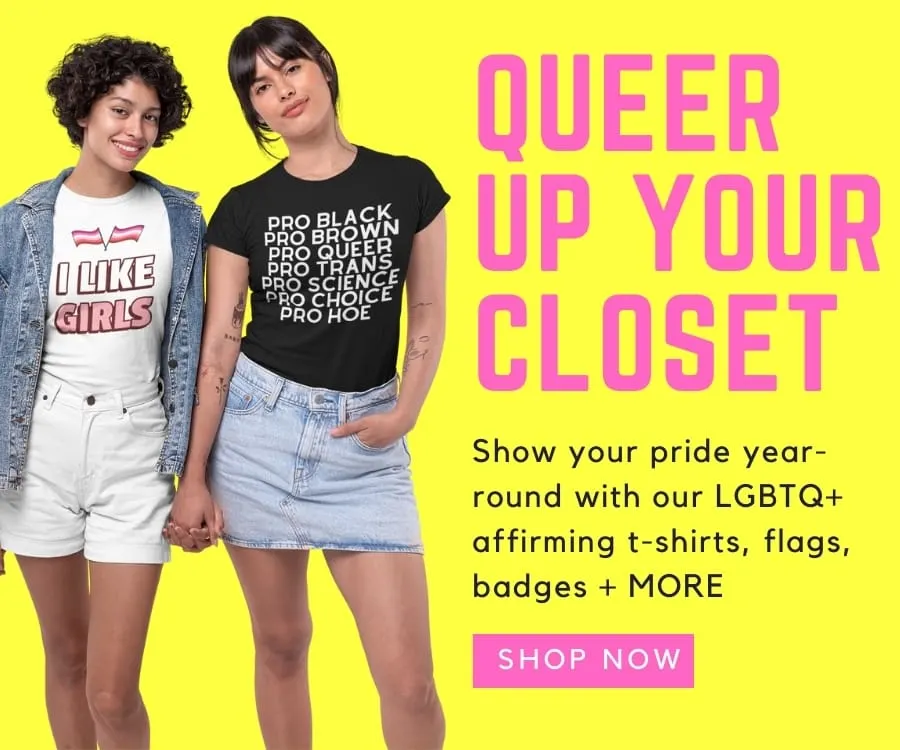 You can't help getting noticed in this colorful and flamboyant gay hoodie. It is perhaps the most quintessential gay pride hoodie on this list, incorporating the pride rainbow into its design to create an unmistakable message.
It features beautiful, vibrant colors that practically dazzle. Be proud, but also be warm and comfortable – not to mention style-conscious – while doing it. Simply put, this hoodie is a must-have item for your cool weather collection. It would also be the best gift you could give to that LGBTQ person you know.
This cool hoodie puts a playful spin on a serious statement. You'll be proud to wear this and embody the message of inclusionism printed upon this apparel. Not only will you look good and feel comfortable in this, but you will be proud of doing a small but important part in increasing visibility for what you believe in.
And the nice thing about the hoodie is that it adds a touch of humor to the message. Wear your convictions on your sleeve and do with style. Show your support for that fabulous, wonderful, and amazing hoe in your life.
Even better? Wear it over a gay crop top so when you get to the club and are ready to go full PRO HOE, you can take this hoodie off and emerge like a slutty butterfly ready to make the most of the night.
Are you the parent of an LGBTQ person? Then this is for you. Show your support of gay rights with this beautiful proud Ally hoodie. There's no more beautiful way than with the message displayed here.
You will be a hit when you wear this to the next pride parade. Help to build a culture of acceptance by wearing this and be a better LGBTQ ally. Or if you know someone who is the parent of an LGBTQ person then this would make a wonderful gift with the holiday season coming up right around the corner.
You can embrace the spirit of acceptance and tolerance with the beautiful message printed on this gay pride hoodie. "Love is Love" encapsulates the spirit of the Pride Movement.
It would of course, be a natural fit at any pride parade but would also make a great part of your everyday wardrobe. The meaning of the phrase, and hence the hoodie, is that the love one feels for another is real regardless of sexual orientation or gender identity, no matter what anyone else may think on the subject.
Love who you want and how you want, and express it proudly with this beautiful hoodie.
Owning this stunning gay hoodie is one way to ensure that you'll have something to break out of your closet when you want to feel especially confident.
Its highlight is a graphic featuring a brilliantly designed pride rainbow logo, with the words "Gay and OK." Now you can let the world know that you are happy with who you are, and it is one small way to grow acceptance and visibility.
To say that you are normal regardless of the unceasing efforts of certain others to claim otherwise. Gay is okay, and you can shout it from the rooftops when you have this hoodie on – which happens to pair perfectly with a fabulous gay hat and a pair of gay leggings to the ultimate pride outfit!
This hoodie displays a shocking level of self-confidence and pays tribute to a famous meme and song inspired by none other than the uber-successful Youtuber Markiplier, all at the same time. However, this cute hoodie puts an adorable spin on it with a colorful graphic depicting a rainbow alpaca pinata creature.
It is something that emblemizes the fact that every one of us is unique, irreplaceable, and yes, Fabulous! This gay hoodie is a celebration of that. C'mon, you know that at some point or another you've wanted to shout this expression from the rooftops; well now you can but in a more fashion-sensitive way.
Show em your pride, show em your trashy side. Do you have a foul mouth? Do you like to get blackout drunk in a club and make out with the nearest guy? Are you an aggressive flirt, or put ketchup on your steak? or simply don't give a fu*k about what society thinks.
If you answered yes to any of these, then you just might have a trashy streak in your personality. And that's okay: it takes all kinds to make the world go round, as the saying goes. This gay pride hoodie celebrates that notion and shows the world that you love who you are, no matter what others may think.
So get this hoodie and let your trashy side shine through. Embrace it with courage and pride – and wear it with some tight gay shorts for a truly iconic look.
You'll be an unstoppable force in this utterly fabulous gay hoodie. Like so many great things we have, it is inspired by RuPaul's Drag Race.
More specifically the funny message printed on this apparel comes from a phrase made famous by season 6 winner Bianca del Rio. Now you too can be not only fabulous but also fabulously sassy when you add this to your wardrobe. It's basically an amusing way to say "Outta my way, bitches!" You'll get plenty of stares but also plenty of amused smiles when you've got this on.
Get it today and have a blast with it.
Show the world what a remarkable species you are with this fun and witty lesbian hoodie. It's a great way to be out and proud, and to show your support for gay pride.
It features a cute dinosaur graphic and comes in an array of fun colors, and it's a charming reminder that people come in all shapes, colors, orientations, and characteristics – and the world is so much more interesting for it!
If you know someone who would identify with this, then why not get it as a special gay gift, a subtle way to show your acceptance and support of all types of folks.
Let your freak side show with this fun piece of fashion. Wear it out and let everyone know you're the kinky type and you're not ashamed of it. Dildos, butt plugs, sex toys, pup play, or more – it's all just another day for you, and you should be proud to push boundaries. Vanilla is just another word for boring after all.
You'll be sure to bask in all kinds of looks, some of them approving, some maybe not but who cares? Be loud, be proud, and most importantly be you. You'll have no trouble getting noticed, that's for sure. And who doesn't appreciate a little attention now and then, right? And you never know: wearing this you just might run into that kindred spirit that you never even knew you were looking for.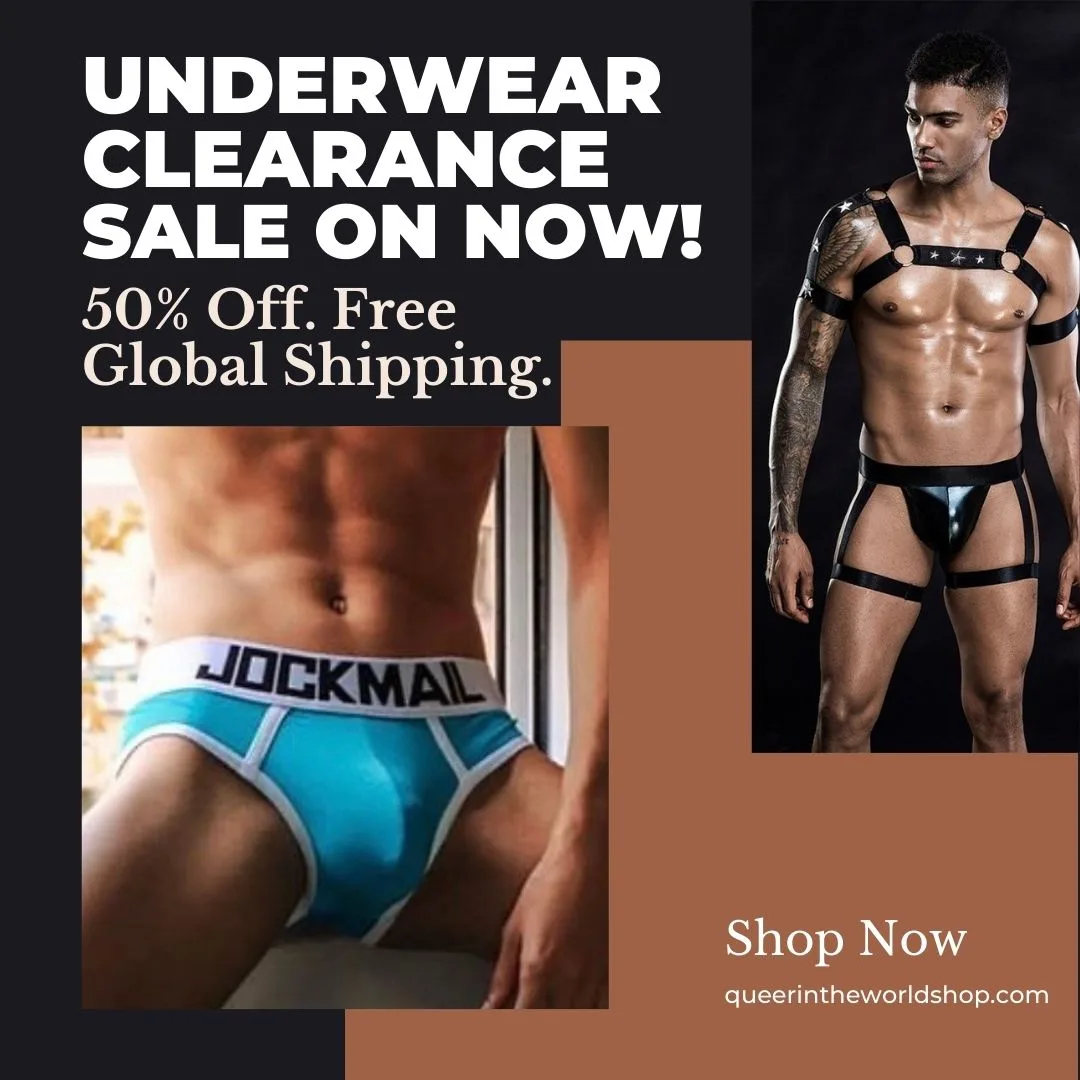 Show yourself some love by getting this fabulous gay hoodie. You will adore the design and you'll adore the way it makes you feel when you wear it, especially out in public. Wear it with pride and confidence, and you are sure to get loads of approving glances.
They say that confidence is sexy, and this hoodie embodies the very essence of swagger. Get some of that swagger for yourself when you throw this on and wear it out and about. Wear it to the Christmas party and you will be a hit. And speaking of Christmas, it is right around the corner, and there are so many presents to get…why not make this one of them for that gorgeous friend or relative.
They'll feel like a million bucks when they open that package and see this inside.
We couldn't think of a better holiday season gift to get for that big cuddly bear in your life. This thick fleece hoodie is just the thing to keep them warm on a cold winter's night. They'll be super comfortable and ready to snuggle when you give them this. The fleece material is soft and pleasant to the touch – and there is apt to be plenty of touching going on when you get all cozy with your bear.
Are you a bear yourself? Then this is perfect for you. Treat yourself to this adorable hoodie, you will feel all warm and snuggly inside when you wear it. Your significant other will love it too and they will demand cuddle time every night once they've seen you in this.
It is available in coffee and blue, and on that note just think how cute it would be it got one of each: one for your SO and one for yourself. Now just imagine how adorable the two of you will look in those pictures.
You'll love this queer hoodie. It has a beautiful design that cleverly conveys the idea of inclusivity within the LGBTQ community. It also symbolizes how interwoven the community is with the greater society as a whole.
The ultimate message here is that the gay community is all around you: it is your neighbor, your coworker, your friend, your brothers and sisters, your sons and daughters. And this is why it is so important to stand up for equality and gay rights wherever you can. One small but significant way you can support the Pride Movement is to get this hoodie and other apparel like it and show that you are an ally.
Another way is to get one for your gay, lesbian, bisexual, or trans friend or relative. These make wonderful gifts and are the best way to show that you care.
Sick of labels? Then this is the non-binary hoodie for you. Defy society's penchant for categorizing people with the bold messaging on this apparel. You'll feel like a badass and more importantly, you'll feel true to yourself when you wear it out – with your fabulous non-binary makeup hopefully.
You really can't find a more stylish way to stick it to so-called gender "norms" than with this voguish item. Show the world that you won't be pinned down or pigeon-holed into looking or acting a certain way just to please others. Remember, being non-binary is valid, regardless of anyone else's understanding of it.
You will feel a renewed pride in sticking up for your beliefs and you just might discover that inner badass that was there all along just waiting to come out.
This gorgeous bisexual hoodie features the colors of the bisexual flag, which was made to heighten the visibility of bisexual individuals within the LGBT community as well as within society as a whole.
The flag puts an appealing twist on the standard gay pride rainbow, featuring pink, royal blue and purple stripes representing (respectively) attraction to same sex, opposite sex, and both sexes. This color scheme is replicated on the hoodie for an aesthetic that is as simply stunning as the message of inclusion which it conveys.
Do you ever feel like a hot mess? Have those days where you don't feel like getting out of your pajamas or brushing your hair. Of course you do, because we all do!
Well now you can run around in all your unkempt glory with this hoodie, which says 'HOT MESS" in pride-rainbow lettering. There's something hot about that disheveled look, anyway, so just go with it and wear it with swagger and confidence.
Use this gay hoodie to round out your outfit and you'll get along just fine, messy hair and all.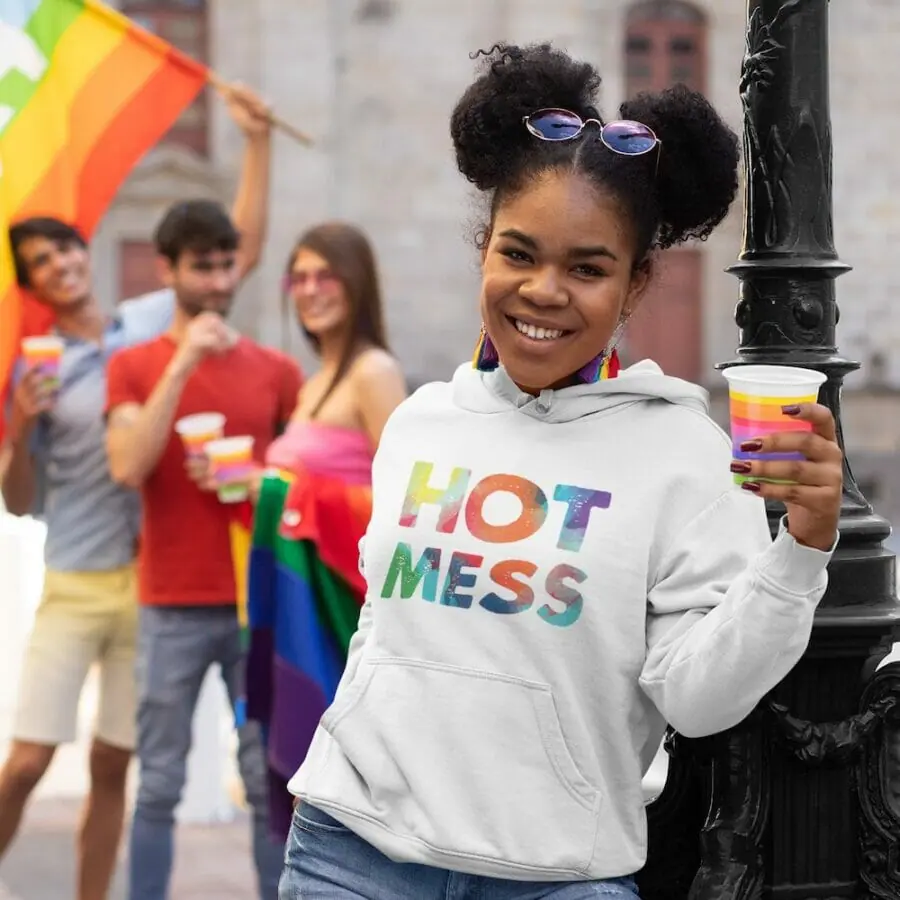 This LGBT hoodie is about as straightforward as it gets with its messaging. It features a cute rainbow graphic with the word "Queer" superimposed over it and minces no words about how you choose to identify yourself.
It's bold and endearing at the same time. Wear it and you'll be too. Don it proudly, boldly, unapologetically, and most of all wear it with self-love, for the best way to support the gay community is to simply not hold back in expressing yourself. This should be a wardrobe staple for anyone who identifies themselves as queer.
And for everyone else, here's a tip: it would also be a perfect present just in time for the holiday season. Now what better gift could you give that queer person you know than the gift of warmth when the temperatures start to drop. Not to mention the gift of style.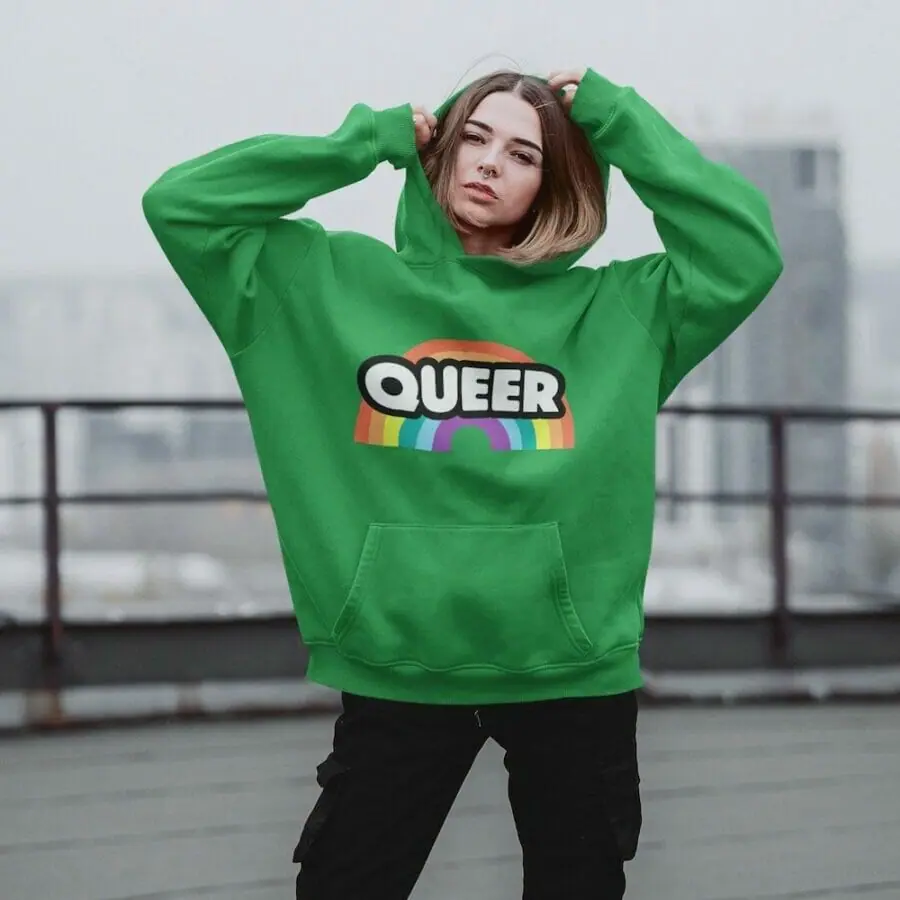 This will make a fabulous gift for that big strapping furry bear in your life. Or maybe you are a bear yourself? If so then what better way to wear your pride than with this fashionable item?
Besides making use of a handsome color combination, it features a cool bear paw graphic that proudly declares what and who you are. Rough and rugged on the outside, warm and fuzzy inside. Own this gay bear hoodie, and not just in the material sense.
Make it you. Wear it proudly.
If you've got a naughty sense of humor then you'll appreciate this for sure. You can count on getting some laughs when you wear this out in public. You'll get plenty of looks too, and while some of them may not be exactly approving, it's important to remember that you can't please all of the people all the time.
So you might as well just have fun with it. Wear it to the mall, the bar or just going over to a friend's house or, best of all, to a restaurant or burger joint. Either way you will have a blast with the reactions you are sure to get from those who can stand a little innuendo to with their humor.
RuPaul and her famous Drag Race have bestowed many gifts upon popular culture. But perhaps greatest among them is this simple piece of advice, which might just be the greatest advice ever given: "Don't Fuck It Up!."
It's so funny because it's so apropos. Don't fuck it up is at once a warning and a word of encouragement. Wear this LGBT hoodie and take on the same never-say-die attitude that is the essence of this fun catchphrase, which has gone on to become a wildly popular internet meme.
So get it, put it on, go out there, be fabulous, good luck, and don't fuck it up!
Here we have a gay hoodie with a simple but beautiful message. Do your part in spreading peace, love, and kindness with this wonderful item, and don't underestimate how far simple little things like wearing clothing like this can really go in spreading kindness.
You will feel a special kind of pride when you embrace the spirit of goodwill. With the Christmas season right around the bend there would be no better time to get this as a gift for a special friend or family member, whether they are LGBTQ themselves or a straight supporter of gay rights.
Are you a rebellious soul? Then this nonconformist hoodie is just what you need to push back against society's habit of putting folks into artificially conceived notions of gender and gender roles.
What's best is that it does so with humor, which is often the best way to make a statement. Let everyone know that you are free to live life as you choose and won't be put into a box.
You'll be not only fabulous in this attractive apparel, but you will also feel proud and indomitable. Get it, put it on, add your favorite LGBT pin and go out there and start a revolution!
Put a playful spin on a topic that has often been the source of some controversy within the gay community. Be a walking message of inclusivity and solidarity within the community as well as without. You're sure to be greeted with much approval when you wear it out. Or not, but then it helps keep the toxic out of your life, and isn't that worth it alone?
The simple text-based design is positively fabulous with a stunning choice of font – that really pops with some lipstick for men. Who doesn't love an outfit with a heavy dose of irony?
Either way, this will make a great addition to your pride fashion collection.
You just can't help but adore this trendy item. It's a versatile garment in that it gives plenty of protection in the outdoors since it is a gay hoodie, but also allows you to be comfortable in balmier weather thanks to the mesh fabric.
You won't struggle to look good in this cropped hoodie, either: it shows enough skin to be just the right amount of provocative. It's a great way to show off a little while still being tasteful about it, but this stunning hoodie is also a rather unique fashion item that allows you to express your individuality and your sense of pride.
This is the perfect kind of attire to wear to the park, out on a stroll, at the gym or yoga class, at the beach, or if you are a jogger or runner and still want to show some style while getting your exercise fix. This really is the kind of thing you can wear just about anywhere, in any kind of setting, and still fit right in.
You will get an absolute kick out of this funny gay hoodie, and so will others. This is quite possibly the most amusing thing we have on this list, which makes it a great way to round it out.
Everyone gets a little thirsty sometimes, right? Especially in the heat of the summer, with all those cuties running around in their tight little shorts and crop tops and…um, what were we talking about again? Oh, right – the hoodie.
Even when the weather turns cooler you can dial things up a notch in this fun and suggestive garb. Hey: a little playful innuendo never hurt anyone, right? Wear it and have fun with it.