Stuck looking for a gay gift idea for that special person in your life? We've got you covered.
There is a special warm-and-fuzzy feeling that comes from giving someone a gay gift that really means something to both them and you. Perhaps you've got a significant birthday coming up; maybe it's Christmas, maybe you just love spoiling your nearest and dearest; whatever it is, why not get someone a gay gift to share that prideful rainbow spirit?
After all, whether it's something big or just a little token, who wouldn't want a joyful, rainbow pressie to show off their support of LGBT rights?
From the cliché (gay pride t-shirts) to the less cliché (rainbow cocktail shaker), treat your queer / LGBT / gay friends to some of these gag-worthy gay gifts.
Just remember – no matter how marvelous they all are, you are shopping for someone else and can't buy them all for yourself!
Oh honey, this eight-piece rainbow stainless steel bar set is precisely what a gay needs to get drunk with PRIDE. Whether they are whipping up a batch of espresso martinis or getting fancy with pomegranate mojitos, this colorful cocktail set is easy to use and sure to extract OHHHSSS and WOW's from guests.
The design ensures longevity and practicability, so you can be promised high-performance and not have to worry about issues you get with other shakers (like that they freeze when shaken with ice). A fabulous accessory to add to any queer's home bar…
Thanks to this embroidered apron, anyone can support gender equality and nonbinary gender identities – while not having to worry about keeping clothes clean when cooking!
The neck loop and long ties, two front pockets, and intricate embroidery in front all come together in an eye-catching and comfy gay accessory that'll make anyone long for more time in the kitchen.
Honestly, we couldn't think of anyone who wouldn't look cute wearing this, making it a fabulous LGBT gift idea no matter the person's sexual or gender identity.
Custom Rainbow Pride Button
The craze for gay buttons as a small accessory is back in vogue. The rainbow image is the perfect LGBT symbol, and it's an absolute pride to turn it into a button decoration! Gift a set of custom buttons to someone you care about.
Create any LGBT flag-inspired pattern you want, and wear it as the most stylish pride decoration. Even when organizing a pride parade, you can mass customize what you want to express, and the possibilities for custom accessories are endless. Let your imagination run wild.
We can't know who you are looking at buying for, but if you are in the market for gifts for gay men, Jockmail is fast becoming our favorite go-to for all things gay underwear.
Their Pride Mesh Underwear is a solid ten for comfort, style, and sizing. The waistband is printed with the Pride rainbow and a Jockmail logo (in either black or white, depending on the mesh option chosen). Despite being light, the mesh is strong enough to provide adequate support and survive enthusiastic wearing and removal because there's nothing sexy about mesh underwear with holes in them.
They come in either a brief or boxer option, both of which are great for a sexy little tease making this a rather sexy and spicy gay gift.
Not the shirt to choose if it is a gift for the shy and quiet type, this funny gay shirt makes a strong statement and will make the gift receiver smile every time they catch sight of them self in a mirror.
We love the out and proud 'Bossy Bottom' statement and the fact it might even save the world some late-night awkward situations in a club when two bottoms go home together by accident. If you know, you know.
The quality is excellent, so while you might buy it for a one-off laugh, it can be worn time and time again.
This stunning LGBT Gay Pride Romper is one striking outfit that is sure to turn heads and is our top pick of gifts for a gay best friend.
Perfect for festivals, cocktails on a boat, or doing the grocery shopping on a Saturday morning… because sweetie, there is no reason not to look this fabulous 24/7!
A great gay gag gift, these penis-shaped glasses will make an unforgettable gift – and an unforgettable party.
While nothing quite compares to the real deal, these gigantic phallic-shaped drinks promise to stay as stiff as they are made and never leave anyone feeling disappointed. Now, if only we could say that about the real thing…
A must-have for pride parties, gay drinks, or just to infuse a bar cart with some camp fun.
We absolutely love the subtle, straightforward design of these fabulous gay socks. Coming in both black and white colors, these socks feature an LGBT+ rainbow motif on the top of the socks, which will garner attention and bring awareness to the queer cause.
Beyond all of that, however, these socks just look sweet! We think they're a must-purchase for any rainbow supporter. Just be aware – whoever wears them will have to up their game with the rest of their pride outfit to stop these socks from stealing the show…
We have said it before, and we will say it again – underwear is one of the best gifts you can ever give a gay, and the enviable range of Underwear Expert is perfect for choosing your gay his ideal pair.
One of the world's most seasoned and dependable sources for men's underwear, Underwear Expert combines practical knowledge with cutting-edge technology to create an indispensable center for men's underwear and more. You can join the club to receive flexible shipments of personally picked products that are sent out monthly (which is the gift that keeps on giving all year!), or you can browse the store for trending must-have items, such as men's underwear from the top brands like Andrew Christian, BIKE, Marco Marco, Addicted, and more as well as apparel, grooming products, supplements, and play accessories.
In addition, the company is Brooklyn-based and proudly LGBTQIA+ owned! The real underwear specialist, the Underwear Expert, ensures that whoever is lucky enough to be gifted these will get "that best pair feeling" with every pair.
The image of the rainbow has always been the perfect symbol to embody the spirit of queer pride. Featuring a multitude of bright, vibrant colors under one cohesive symbol – the rainbow signifies the plethora of different individuals who fit under the LGBTQ+ banner.
These awesome Rainbow Pride Enamel Pins feature pretty colorways representing nearly all aspects of the LGBTQ+ community, including Pansexual, Asexual, Transgender, Non-Binary, Bisexual, Genderqueer, Aromantic, Genderfluid, Lesbian, and an all-encompassing queer rainbow.
Thus there is sure to be one to encapsulate the identity of the person you are buying for perfectly. Not only is this a thoughtful touch – but it is oh so cute, fun, and PRIDEFUL!
What can we say? This is a cute gift for a gay friend who has it all – or someone that is hard to buy for, after all, who doesn't need more hats in their life. Sun protection is sexy y'all.
You will never lose the wearer in a crowd no matter where you go. Day at the beach, all-night rave, or maybe a PRIDE parade? This cap has them – literally – covered anywhere and everywhere.
This 'Let's Try Something New' BDSM Starter Kit is great for bondage play and will give the user's sex life an instant pick-me-up.
The perfect sexy gay gift, whether you're looking to surprise your partner for a special night or give to someone who is looking to try something new, this BDSM starter kit is going to be just what you need.
While we think there is absolutely nothing wrong with more "vanilla" sex positions, trying out some kinky play in the bedroom can allow people the chance to investigate sex preferences together – and what better gift could there be than unexpected pleasures.
Where do these fabulous Hong For Gay Rights pride bumper stickers belong? ABSOLUTELY ANYWHERE! … When giving as a gay pride gift, we recommend they put it on their bumper so on the drive to pride they can enjoy the chorus of honks that accompany them there.
Another use? They can delete all the gay hookup apps, as with this sticker on their car proudly proclaiming their queerness, they will be able to start a conversation with cute gays in any carpark!
This bright and cheerful cushion is excellent as a housewarming gift if you know someone who needs a little rainbow spirit in their home. It promises to fill any home with even more queer energy and fabulosity – and remind everyone that Yasss Queen, they can slay the day!
Made of a soft fabric with a linen feel, it will stay comfortable and vivid for a long time and even includes a shape-retaining insert (because nobody likes a gift that becomes a chore – like finding the right pillow insert!) Bring a little fun into someone's new home with this.
If your giftee is like us and loves anything to do with rainbows, unicorns, and magic, then this fun shell lamp is going to absolutely make their day (or night) …
Simple and easy, the rainbow projection looks so beautiful in the dark and lights up any room with PRIDE. It seems like a real rainbow – and you might even want to buy two, so your friend can have a double rainbow (or you can keep one for yourself!).
Plus, it is portable so that it can be taken anywhere. A totally unique gay gift that will ensure your friends and family will never be without rainbows ever again.
Although our phones are sacred portals to our social lives, they can be dropped and destroyed in an instant. Or leave it on top of a car as it drives off. We are all only human, after all.
With this LGBTQ+ iPhone case, you can save someone's entire (virtual) life and prevent scuffs and scratches with an ultra-thin softshell case and 360-degree edge protection.
Buy some peace of mind and help the giftee express themselves by protecting their phone while also telling the world exactly who you are because #LOVEISLOVE baby.
When looking for gifts for gay men, you should know that is it literally impossible for us to have enough gay swimwear. Ever. We always want more – and this pair will make a fine addition to any collection.
You can't go wrong with rainbow-printed anything. It's fresh and fun, and it's also a great way to signal to the world that you're proud of who you are. We love the cute sky motif with individual rainbows across each cloud, forming a lighthearted design that's quite playful, and the bikini-brief style, made of a woven stretch fabric that's both lightweight and airy. This means that it dries very quickly, is uber-comfortable, and you get no pinching, tightness, or dampness that could cause discomfort.
It is a unique and different gay gift idea for anyone who loves the beach, pool parties, or showing off their body.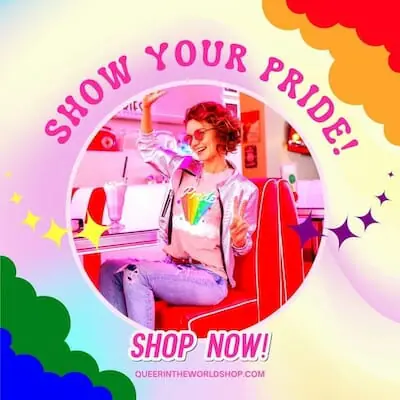 The perfect gift idea for a gay bear, with this pride throw blanket, they can stay safe and warm wherever and whenever they choose to hibernate.
Adding an eye-catching, yet practical design element to any home décor, this soft silk touch throw blanket will remind everyone that the owner is a proud member of the global gay bear brotherhood!
RuPaul has gifted us with so much, from iconic entertainment to inspiring us to show off our true selves. She popularized 'Sissy That Walk' as a way to prompt people to walk with attitude, to really work it with confidence, and it has since been a fun rallying cry for queer boys and girls all around the world.
Hearing the command immediately makes you want to strut a little harder to show that you're proud of who you are – so what better gay gifts could there be than a soft cotton gay pride tank top proclaiming Sissy That Walk in bright pink letters. No one's going to miss that message; it'll provide inspiration time and time again.
Set a fierce example with this tank, and don't forget to tell whoever it is for to 'Sissy That Walk' that walk while wearing it!
These Elemental Workout Leggings from Seobean are a testament to the work that this up-and-coming gay underwear has put in to get to where it is today. They are meticulous when it comes to producing leggings anyone will be glad to wear. Plus, the abstract patterns on them are incredible, and the wearer will look like living art.
And you know what else would look like art?
The fitting, which is immaculate, curtsey of the spandex in the polyester-spandex blend. Every dip, every curve is outlined by the fabric, and puts the booty proudly on display. They are sized for men, but y'all this in the 2020s, and you can gift these to anyone!
Sometimes it's the little touches that can complete your loved one's collection of gay pride merchandise: this is one of those touches.
A jauntily colorful LGBT Rainbow License Plate Frame that adds the rainbow to their car!
Perfect for driving to pride outings or declaring LGBT support on the highway each and every day.
The twenty-first century has broken the mold for what and who makeup is "supposed" to be used for, creating a medium centered around art and total self-expression.
Numerous makeup brands, artists, and advocates have made an impact and continue to shatter barriers that previously assigned makeup only to females. The journey towards normalizing lipstick for men is just one just example.
So, a great LGBTQ+ gift idea might be to purchase one of these new non-binary makeup brands for someone special who might appreciate this new and more inclusive beauty wave. Some brands we recommend are We Are Fluide, Fenty Beauty, Adveket Cosmetics, and Illamasqua… just to name a few.
With this fun and cute gay mug, your intended giftee with be able to easily cheer on all of the queer individuals in your vicinity!
We decided to add it to our gay presents list because we love the bright blue and pink colors and the cursive script design of this mug. It brings out the colorful side of all of us. Entirely made from ceramic, this mug is sure to keep cheering on your queer friends for many years to come.
Gifts are not limited to chocolate boxes and socks, so why not spice things up with the gift that keeps on giving: gay lingerie – which is not just limited to skin-tight briefs and leather harnesses. Sometimes a little innocence serves to heat things up more than the most suggestive of displays, which makes this lace crop top and boxers set the perfect way to tease fun with a side of naughty.
It's made of a soft, floral lace that feels great; whoever is wearing it will never want to take it off. At the same time, it's fitted and revealing enough to have anyone's mouth-watering once they see it. The net is delicate and see-through, while the crop top reveals the torso (whether it's ripped washboard abs or soft love handles, the sight of a body in lace should turn on any partner big time).
The tight little shorts show off the wearer's ass and can be worn with or without a thong. It also comes in three colors, including a sensual black and a smoking-hot pink, and a wide range of sizes, making it the perfect intimate gay gift.
We love the cheeky juxtaposition of this classic wardrobe essential LGBT top with an in-your-face, powerful slogan repeated in all colors of the rainbow. Having Queer As Fu#k repeated six times is an excellent way to get the message across, after all. There's no messing around in this shirt, that's for sure.
Luckily, it's comfortable enough that the intended wearer can continue to be their badass self with ease. The longer sleeves are an excellent option for pride partying in chillier climates, and you can choose from a variety of color combos to suit the lucky person who will receive this.
It's not exactly suited as a relaxed business outfit – but we are obsessed with this unapologetically queer look nonetheless.
Like RuPaul's Drag Race, Queer Eye is another celebrated show that members of the LGBT+ community have embraced. Since the show premiered, our community has adored the incredible cast of queer hosts; Jonathan, Karamo, Antoni, and Bobby.
Whoever you give this as a gay gift to can also join the fan club by proudly wearing this tote bag. They will surely draw the envy of every fan of Queer Eye, one of the best gay TV shows of all time – and thank you for such a thoughtful present!
After all, what better way could there be to work pride into your everyday routine than with a fabulous gay tote bag.
Nothing puts more pressure on our favorite Queen than perhaps these four words uttered by RuPaul. A mantra to live by if ever there was one.
Simple yet effective, the time has come… and this drag queer merch hoodie is everything you've dreamed of and more!
Extra-soft to touch, this stand-out hoodie is so comfy you're going to want to wear it everywhere, be it on your couch, out on a walk, during a yoga class, or to the clubs. It is the perfect choice for cooler evenings or winter, and it's flattering on everybody – regardless of gender.
Good luck, and don't F*CK IT UP!
Help a queer get cozy and bring out their fabulous personality with the gift of these LGBT pride leggings/tights!
Wear them at the gym, to the clubs, or when you're on your way to make a statement at a gay pride parade. Complete the look by adding a nice tank top and an LGBT flag over the shoulders – or wear them in for a night in binging lesbian tv shows.
Made of a breathable and elastic polyester-spandex mix, these skinny tights promise to be a whimsical addition to any wardrobe, and they can be worn over and over again without losing their form. They stretch to perfectly fit most bodies – an important consideration when giving a gift – so, no matter what physique the recipient has, it will hug all the right curves of their gorgeous figure.
Amazing, don't you think?
Cheerful and bold, these gay pride bracelets are lightweight rubber, making them an easy and fun addition to any party wardrobe. It might not be the most sophisticated of gay pride bracelets, but they are perfect for a cheap gay gift and come in a set of three, so you can split them amongst friends!
Decorated with bright pride colors, it shows everyone you meet that you are confident in who you are and not afraid to shout it loud and proud.
Even better? Suppose you are looking for a unique gift for asexuals, pansexuals, bisexuals, genderqueer, genderfluid, non-binary, aromantic, or polysexual individuals. In that case, they also come in the colors of their respective pride flags!
We'd love to start this description with a penis joke, but we don't want to sound cocky.
Dare we mention; this costume is quite the package. This ain't no travel size.
A great gift idea for gay Halloween; who wouldn't want to get all decked up with the latest and greatest inflatable penis costume. With a generous size to grab all the crowd's attention, why not literally show up as the mascot itself – fully loaded? We guarantee all-night fun and pleasure – and that no one will ever have gotten a gay gift like this before!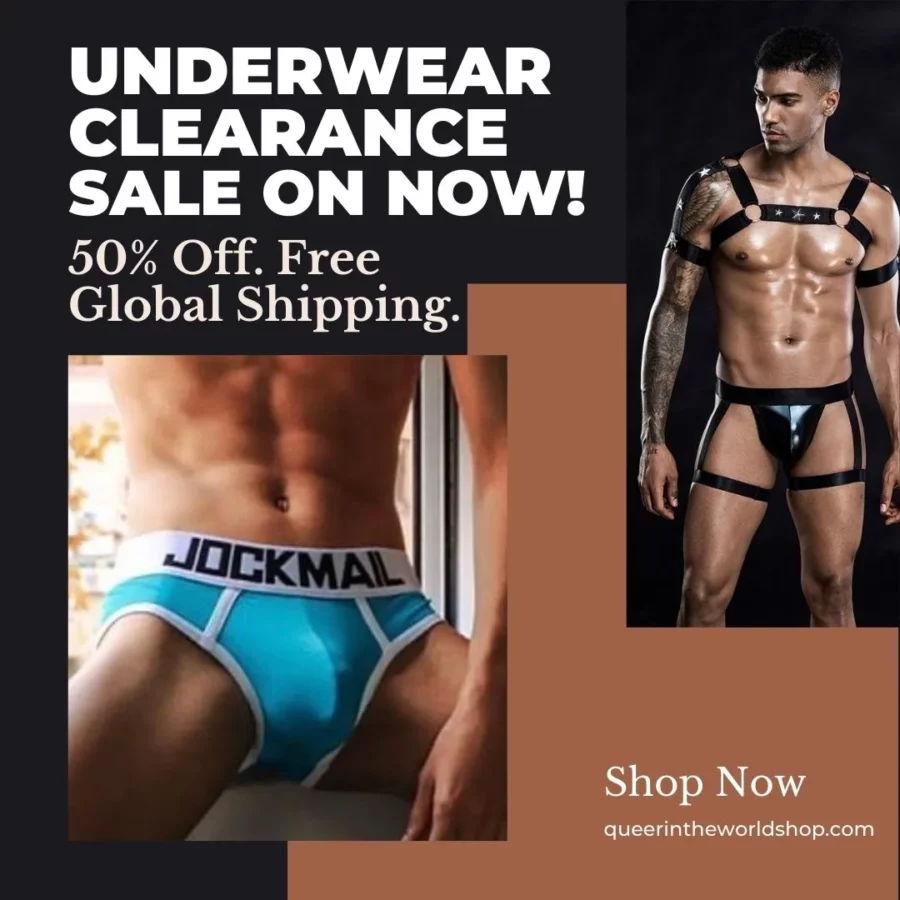 The perfect gay pride gift for an extraordinary proud, and powerful individual in your life. These stunning LGBT Pride Sequin Mid-Calf Boots will get them all set for their pride march with more shimmer and gorgeousness than most mere mortals can handle.
These mid-calf boots are hand-made with love with a sequined cloth upper and a polyurethane lining for comfort. There is also a rubber sole for an added grip. Comfortable gay boots like these will not only create a statement of pride, positivity, and love with its pride flag colors all over, they will also make any walk a comfortable one without hurting any feet.
Because sure, everyone will be gagging at how fierce they look in these boots – but self-care and love (for your feet) are still important!
Set on a low heel platform of 1 cm-3 cm height and black lace-up option for a classic look and better grip, expect compliments from left, right, and center. The bright and bold mid-calf boots will always draw attention with the shimmer and pride flag colors – so we only recommend them as a present idea for people who love the spotlight.
Worn with a classic tee or crop top and some short shorts, they will create the ultimate summer pride look.
One of the most stylish rainbow pride rings we have come across, this ring reminds us of our favorite Gaga album and its unwavering happiness and the pursuit of healing.
It's a feeling we get from this ring, too – while still loving that it's a bit 'undercover' and not in your face like other LGBTQ rings. There are plenty of ways to show your pride with gay jewelry, but this ring hits the sweet spot of both fashionable and queer.
Plus, it is so shiny and suitable for all genders – so who wouldn't want to get it as a present!
The latest and most inclusive flag is meant to represent the entirety of the LGBTQ+ community; who would not want to receive this flag as a present?
Not only does it add some color and fabulosity to any mundane space, but it can be taken down and worn at pride and other queer events – then put back afterward embodied with even more memories and queer spirit.
It was only developed in 2021 and built upon Daniel Quasar's 2018 Pride Progress flag (which explicitly included trans and POC for the first time). Therefore, it is unlikely the person you are shopping for already has one. And if they do – who cares, the more, the merrier which applies to queer flags and people under the queer umbrella!
Give the gift of gay pride decorations with this bright and cheerful rainbow flag bunting. Imagine how gorgeous this will look, fluttering in the breeze at the giftee's next pride garden party. The flags are dyed all the way through, so both sides have vivid strips, and the string is tough enough to last through the wildest of parties.
You get one bunting that is approximately 26 feet long with 32 flags (8 per each kind of flag – transgender, bisexual, pansexual, and LGBT Pride flags), and each flag is 5.5″ wide and 8″ long… so there's more than enough to decorate any property thoroughly – and they can be taken up and put downtime and time again.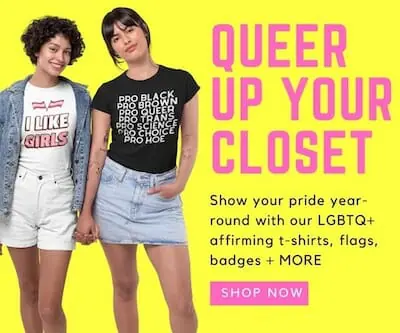 A lot of our gay gift ideas have sex or novelty appeal – but not this one. This one is useful. It shows the world that LOVE IS LOVE, y'all, while providing a colorful way to keep track of keys or ID cards. It is uber-bright – so it is impossible to lose again.
The lanyard is perfect for cell phones, keychains, cameras, security badges, IDs, keys, and more. Suppose you are thinking about a gift for someone who needs to show ID regularly, like doctors, nurses, dentists, teachers, IT persons, office workers or military, etc.
In that case, they will also appreciate the ID case, which clips onto the lanyard.
Another LGBT gift idea for someone that has it all… Introducing this vibrant and utterly fabulous LGBT Progress Pride Towel to take pride to the beach (or the pool) this summer.
Who wouldn't want the additional good vibes that emanate from this towel as they lay in the sun with the sand between their toes, or to simply make the daily shower routine more fun as they wrap up with this super soft and cozy all-over sublimation towel afterward…
And to answer what I'm sure some of you are wondering. It is not too 'much.' When it comes to queer pride and being proud of who you are, nothing is too extra!
A super cheeky bisexual tee for those who like to tell it like it is – and a good way to let all their suiters down easily. It might not be the best choice for date night, but otherwise, it's a hip and fun shirt for that extra-saucy bisexual person in your life.
There's a choice of neutral white and grey, so the pink, purple and blue text really jumps out at you – and there is no chance of people not getting the message.
Another fun gay gift idea for someone in your life who loves to get a bit extra. With this Acrylic Statement Chain necklace, they will stand out from the crowd – as if they needed any help with this! It makes for a unique addition to any outfit and trust us, whoever is wearing this will get noticed.
Bonus points if you are a sugar daddy already – in which case, message us, we would love to talk!
Another great gay gift idea for men – because one can never have too many briefs, especially when they are all from a quality brand such as ADANNU. Technically this is an economy pack; this six-pack of briefs looks anything but cheap and makes for a great present.
With six solid colors and breathable cotton material, whoever receives this will likely find themselves returning to buy this classic briefs six-pack over and over again. They do justice to every physique and flatter every body shape, and the range goes up to XXL, proving that sexy is not size-dependent.
If you love canvas shoes and believe solidarity with the LGBTQ community and self-expression are essential, these are the gay shoes for you… to give as a gift.
The upper is made of canvas and dyed in black with a front white lace-up closure for contrast. They also have the round toe and a high ankle top style. The lining inside is made of cotton fabric to provide maximum comfort as they walk for the pride march or dance in the clubs all night afterward.
All of the drama comes to a head in the sole of the shoes that are painted with LGBT Pride flag rainbow colors to let everyone know that you know LOVE IS LOVE.
This classic-canvas-but-with-a-twist-of-gay pride is all about celebrating happiness and bringing color to everyone's life. What better gift could there be than that?
Heteronormativity is the way of the past! We totally adore the way this sticker sums up the message that we all agree upon – that heteronormativity is a cult, and one that definitely needs to go away.
The bright colors and the awesome non-binary figure on this sticker make it a winner in our books. It's a no-brainer for a gay gift – especially as there is a discount on offer for ordering multiple gay stickers in the same order.
They are printed on durable, high opacity adhesive vinyl, which makes them perfect for regular use and for covering other stickers or paint. The high-quality vinyl ensures no bubbles when applying the stickers and allows them to be stuck with PRIDE almost anywhere.
This cozy hoodie combines a classic shape and style with a confident universal message. We recommend the timeless colors of our beloved rainbow flag, but you can choose from a range of options depending on the person you are buying for – with most gender and sexual orientations accounted for!
LOVE is the key here, and it's a positive statement to make; the wearer is sure to get tons of compliments and great feedback.
Who wouldn't want to be covered in rainbows with this full-on gay hoodie with an all-over multi-colored print? It's lightweight, warm, and, most importantly, joyful!
Bear love is one of the things we love most about the gay community; we've been saying for years that chubby and hairy doesn't have to mean undateable. In fact, for lots of us, it's the complete opposite!
So why not celebrate that by giving an awesome gay bear t-shirt as a gift that not only looks fabulous on, but sends a powerful message of acceptance.
This one is an excellent option among gay bear t-shirts if you prefer something with a plainer design – here, you can just choose a color, and the design is minimalist enough that anyone can feel comfortable wearing it everywhere.
Sometime in the past ten years, unicorns became gay icons, second only to the rainbow flag in symbolizing queerness.
And what better way to stay warm and unleash an inner unicorn than gifting this warm and cozy unicorn onesie -one of our favorite unicorn-themed gifts for adults. From sleepovers and costumes parties, to pub crawls and music festivals, these magical unicorn onesies will brighten the mood and anyone who sees it!
Plus, there are even matching sizes for little ones should you want to give a matching gift to your nephew, niece, or… well, anyone really!
Do you know someone who loves Drag Queens and can't get enough of their fabulous style? Or who want to add some color to their life – but not necessarily on their face?
Why not work your magic and help them out with the gift of a Drag Queen coloring book. There are so many to choose from, but we recommend the Drag Queen Coloring book series, covering various seasons for Drag Race and queens in each edition. Each has around 50 pages that have been crafted to allow the ultimate immersion in the wonders of coloring.
As you go from page to page, you will notice that the time passes faster, and you will feel more relaxed. What's also worth mentioning is the fact that each one is affordable to all pockets. This is drag on a dime, honey. Thus, you don't have to go broke on your gay gift-giving expedition.
Buying for a gay that loves to just 'be cute' and get dressed up? Then do we have the gift for them. Help them display their pride for the world to see with this Colorful Rainbow Tie + Bowtie + Hanky combo set. It will let them show off their unique queerness and promises to add a pop of color to any formal look.
These queer accessories have no magical powers — though many people report feeling fiercer and prouder wearing them. And what could be better than that!
The ultimate gay-but-not-too-gay gift, this stunning Pink Rose Short Sleeve Shirt + Shorts outfit is sure to turn heads.
If your giftee is into festivals, beach days, elegant cocktails, and looking utterly transcendent, this gift is going to be perfect for them.
Available in a range of sizes from S to 5XL, you can also get the fit perfect for everybody type – though not be too concerned, the style is designed to be loose – always an important consideration when gift buying.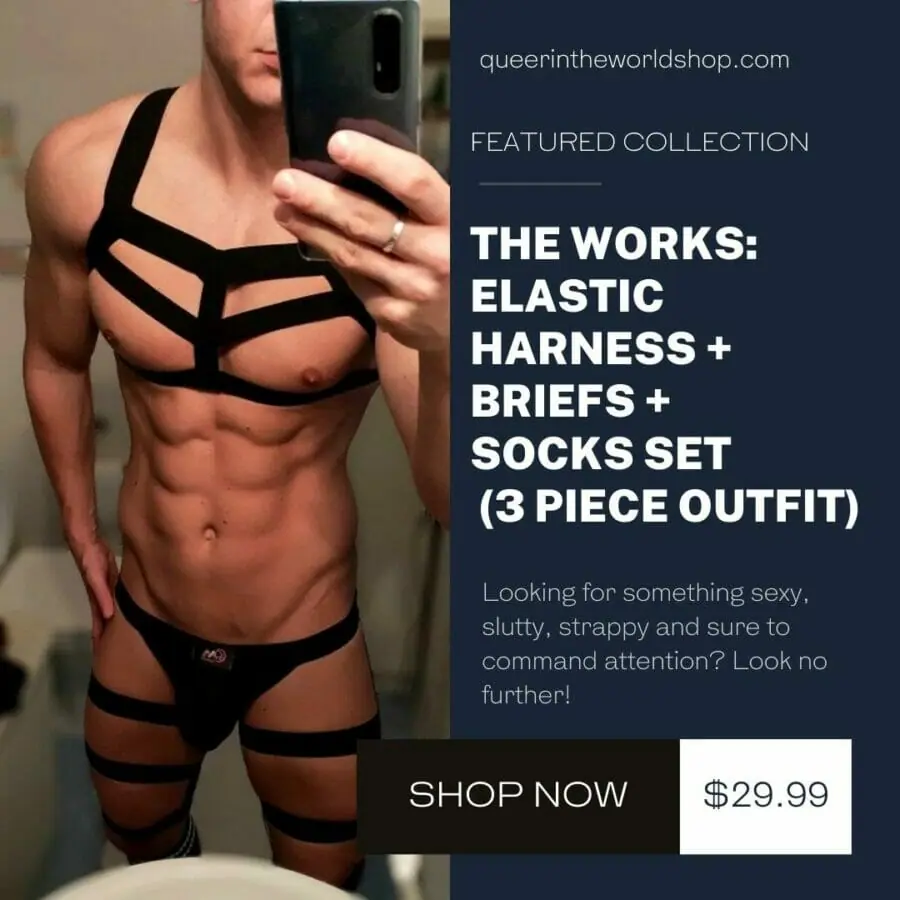 You get it all in this fantastic five-piece pride starter pack full of LGBTQ pins! Two LGBT flags, the V-sign, a heart, and a heart + rainbow design, all in the beautiful colors of the LGBT pride flags.
We think this pride pack makes the perfect gift for that LGBTQ+ person in your life. Or you spread the love by adding a pin to five separate gay gifts as a little something extra!
A scent cannot be defined by gender, and if someone enjoys a perfume, they should not be afraid to wear it. They might prefer sandalwood over strawberries, hints of lemongrass, grapefruit, or green tea.
It really does not matter, and while we think all perfumes should be for people, many brands still perpetuate harmful gender stereotypes in their product marketing. So, to show your support in a gift, why not give a unisex perfume created with all humans in mind! Remember, gender is a construct, and the best unisex fragrances help to tear it apart.
A few of our favorites are DS. & DURGA Jazmin Yucatan Eau de Parfum, Tom Ford Black Orchid, and Calvin Klein CK Everyone – but there are plenty more.
Being a lesbian is pretty darn fabulous – there's loads of fun, a great community and, plenty of fantastic lesbian shirt options to really show off that rainbow spirit.
Specifically, this tee is a blunt statement of fact with colors you can choose from that are both bright and varied – meaning you can match them even more to the person you are buying for. And it is 100% cotton which makes it a comfortable option all the time.
It can be so hard buying gifts for butch lesbians – trust us on this. So why not just lean into it all with this fun and 'on the nose' option that is as bold and clear as you could ever be.
If you are still flip-flopping on what gay gift to buy, we have the answer – these cute pink flip-flops that scream YASSS QUEEN. Perfect for an adventurous and carefree summer, this gift will remind the wearer which each and every step, they are a fierce individual and can take on all of life's challenges.
They are also exceptionally comfortable – and hard to lose, given the bright and bold design.
With this massive roll of 500 LGBT pride stickers, you'll be giving the gift of having stickers for days! There's no better way to spread some LGBT love and support than with this roll of 500 (!) stickers, which all feature a heart design paired with the rainbow colors of the LGBT flag.
Stick 'em on a laptop, stick 'em on a desk, stick 'em on a dog! This is a great gay gift idea to spread the love – and they are available in four different styles.
The perfect gay Christmas present with that sexy fluffy crop top and the tight-fitted shorts, even Santa himself couldn't have chosen a better present. This eye-catching Sexy Gay White Christmas Costume will most definitely put a little oomph in your holiday season – especially if the wearer is someone you always want to see a little more skin from.
Jump straight on the naughty list this kinky Christmas party with this Sexy Gay White Christmas Costume. It's perfect for the puns alone. You can pretend to be the present, and you might just get laid under the tree! Who wants to be Santa's helper? Ho Ho Hoe! You can see what's in my sack…