We all love a good binge-watch of the latest TV series, but sometimes it can be frustrating to see so few LGBT characters represented on our screens, particularly gay women.
Clearly, the television gods have been listening to our grumbles, because the past few years have seen a burgeoning of amazing and varied lesbian TV shows, ones that avoid stereotypes, limited storylines or patronizing approaches.
Here we've got a list that includes superhero and comic-book shows, period drama romps, modern teenage stories, and musicals – so whatever your tastes, you know that next time you snuggle up under a blanket to watch an episode or 4, you're going to see queer women in all their multifaceted glory.
So slip out of those sandals, log out of the dating apps, and get comfy with your favorite t-shirt on the couch… This is going to be good!
Wondering where to watch? It depends on where you live in the world and which streaming services you have. We link to the streaming service we watch on in each case - be it Netflix, Amazon Prime, Apply TV+, or elsewhere.
You can get one month free of Amazon Pride (or a 6-month trial for students) of Amazon Prime and also get immediate access to FREE Two Day shipping, Amazon Video, and Music. While you won't be charged for your free trial, you'll be upgraded to a paid membership plan automatically at the end of the trial period - though if you have already binged all these, you could just cancel before the trial ends.
Apple TV+ also has a one-week trial, and Hulu has a one-month trial (which can be bundled with Disney!). Another option might be using a VPN to access Netflix titles locked to other regions. Netflix is now available in more than 190 countries worldwide and each country has a different library and availability. US Netflix is (understandably) one of the best.
While we wish everything could just be in one place - for now, it seems these are the best streaming platforms to watch on.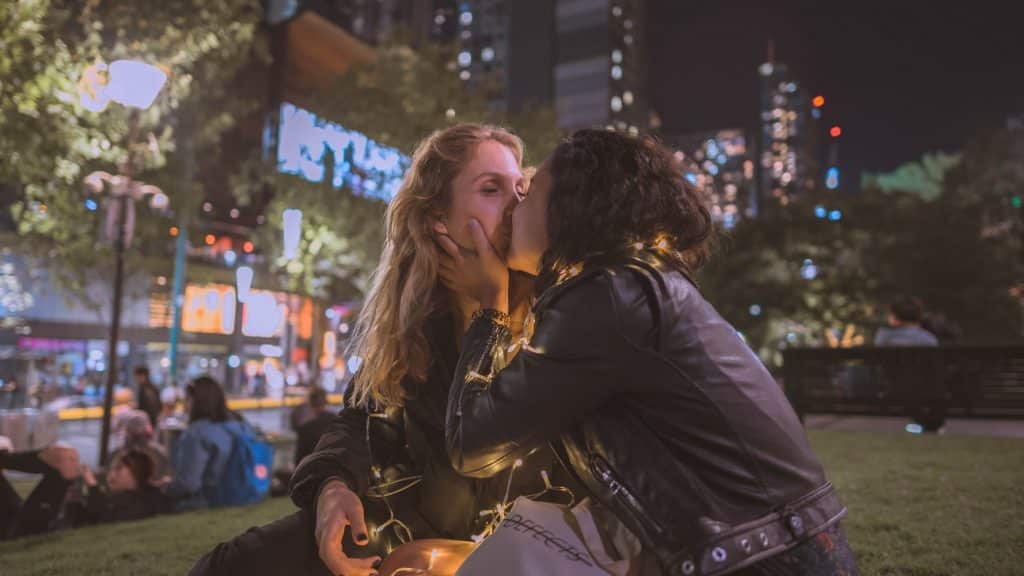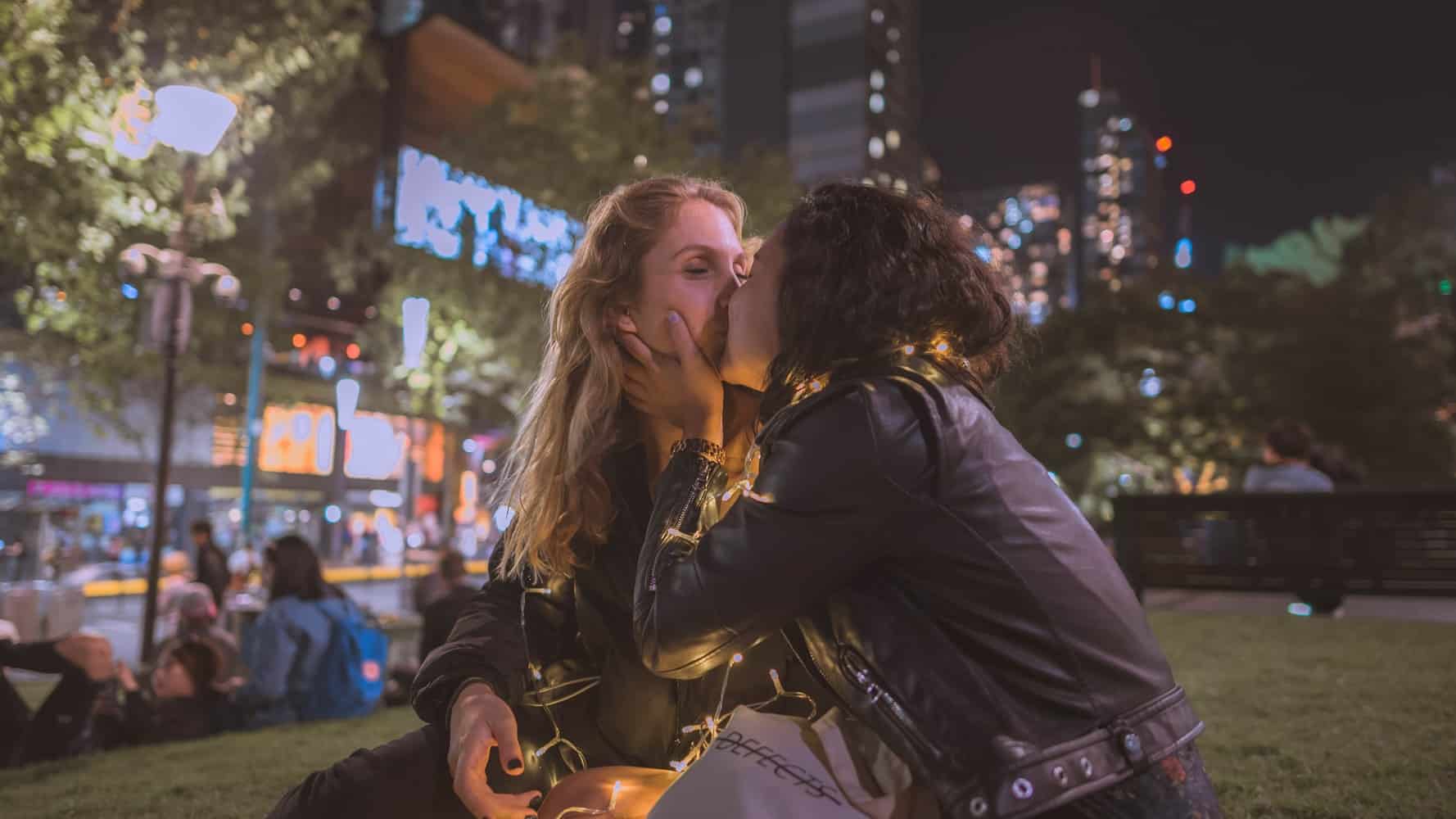 Hold on to your hats, this is the lesbian period drama romance that you've been waiting for. If you haven't been waiting for this, who even are you?!
We joke, and reassure you that this amazing BBC interpretation of a true story is ideal even if you're not a fan of British historical drama. Anne Lister was a wealthy landowner who lived in the 18th century, a woman whose determination, confidence, and passion meant she lived her life on her own terms – including who she loved. Resisting familial attempts to marry her well, she falls in love with the beautiful Ann Walker and the resulting story is captivating.
If nothing else, we love Gentleman Jack for the reminder that you don't need dating apps or lesbian festivals to find love…who knew?
It's almost cheating to have this on our list of top lesbian TV shows, as unless you've been in outer space for 6 years, chances are you've heard of Orange is the New Black, prison-based drama with a truly diverse cast including plenty of queer characters.
Piper Chapman goes to prison after being convicted of a crime that occurred 10 years previously, a crime that she committed for an ex-girlfriend. Upon arriving in Litchfield prison, she encounters a group of women who are by turns kind, violent, complex and funny.
These include trans women, queer women and bisexual women navigating the horrors and heartache of life behind bars.
Many of us coming of age in the early 2000s will remember The L Word, the long-running show about a group of (unrealistically) glamorous lesbians living in Los Angeles.
Think of it as Sex and the City for queer women – watching it now, it's intensely problematic, but at the same time you've got to remember that this was one of the first TV shows with more than one queer character so it gets props for that. And despite its many problems, it's a hell of a fun show! December 2019 saw a 'Generation Q' season released set 10 years after the original.
Are we allowed to put a TV series on a list of best lesbian TV shows merely because of one superb episode? We're going to do it, anyway. To be fair, Master of None also gets points for featuring out lesbian Lena Waithe as main character Dev's best friend, another friend casually talking about her sex life without it being a big deal at all.
Then there's the famous 'Thanksgiving' episode, which Waithe co-wrote and rightly won an Emmy for, focusing on Denise's coming out story. It's an episode that spans about 25 years, set entirely in her family home, and is realistic, touching and full of authentic, fully-formed characters.
One of the things we love most about recent lesbian TV shows is the huge range of genres they showcase. From sitcom to period drama to graphic novel adaptation, in the case of Wynonna Earp. The title character returns to her hometown, Purgatory, to become a demon protector in the Wild West.
Yup, it's as awesome as it sounds, made even better by the blossoming relationship between Wynonna's sister Waverly and female police officer Nichole, a romance that might be one of our favourite lesbian TV pairings of all time.
Look, we've got the same issues with Glee that everyone else seems to, but there's no denying that it packed a powerful punch when it came to showing queer relationships as every bit as meaningful as hetero ones, here in the context of teen love. Case in point: Brittana.
Glee managed to tell the story of Santana's coming out in a way that beat the tropes of the 'teen-lesbian-coming-out' plotline, while providing lesbian fangirls with an authentic couple to root for. It also helped that we found an understated bisexual character in Brittany, who loved who she loved without being played for titillation.
Despite accusations of queerbaiting, we're still going to call Killing Eve a lesbian TV show. OK, maybe we're just trying to get you to watch it – but seriously, you should watch it, it's incredible. Especially the first series, written by Fleabag creator Phoebe Waller-Bridge, which is dark, funny, violent and sexy all at once.
Sandra Oh plays a MI6 investigator on the tail of Jodie Cromer's highly-skilled and possibly psychopathic assassin, who becomes obsessed with her in turn. Is it love? Is it comparison? Who knows, but we're here for it. The cherry on top of the cake is the co-star turn by amazing (and out) Fiona Shaw.
When HBO's new show came out, a lot of us seemed to think it would be a kind of updated OC-style teen drama so the explicit nature of the series might have come as a bit of a surprise – but not in a bad way! Plus, to be honest, what else can we expect of HBO?!
Starring Zendaya as a 17-year-old just out of rehab, it explores her blossoming relationship with transgender girl Jules. It's so unusual to see teen sexuality represented in this diverse way, without creepiness and showing the complexities of emotions.
Honestly, how could we not feature the show with the first black lesbian superhero on TV? It also yet again proves that nowadays lesbian TV shows can come in all genres!
We love a bit of sci-fi at the best of times, and especially one that features queer relationships with a woman who can make herself stronger through her breathing and create powerful shockwaves. Fighting increasing crime rates and institutional racism, Anissa Pierce/Thunder works with her father Jefferson.
This out-of-the-box show met with mixed reviews for its first season, but by the time it was cancelled after the second, the internet was basically fully in love with it. It's probably safe to say that if it's your kind of thing, you'll love it forever.
A group of 8 strangers find themselves able to connect telepathically after shared visions, and get together to try and find out what's going on. Basically, every character is pansexual and there's a lesbian relationship that will warm the cockles of your heart (even as you find yourself wondering what on earth is going on with this plot!).