Love it or hate it, Gay Los Angeles is undeniably creative, ruggedly good-looking, oh-so-trendy, and filled with more LGBT hotspots than we could ever count – though that's not to say we didn't give it our best shot!
A city you feel you know before you have even hopped off a plane at LAX, Los Angeles is famous around the globe as the entertainment capital of the world – and unless you have someone who managed to avoid all movies, television, and music (like, ever) … you probably have some idea what to expect!
But exploring Gay Los Angeles, you quickly learn to expect the unexpected.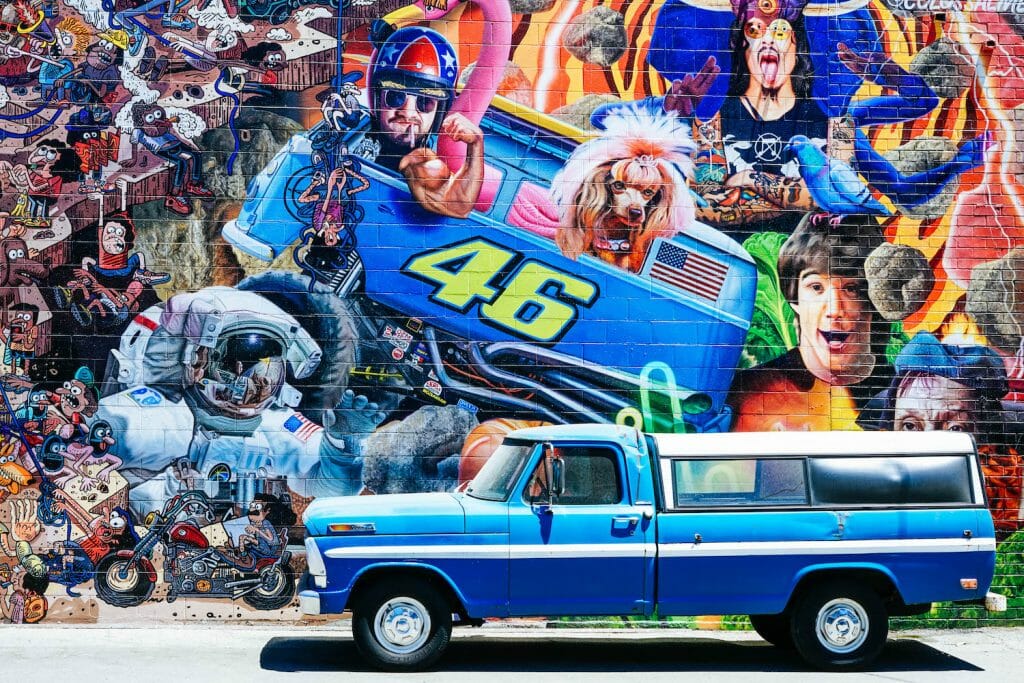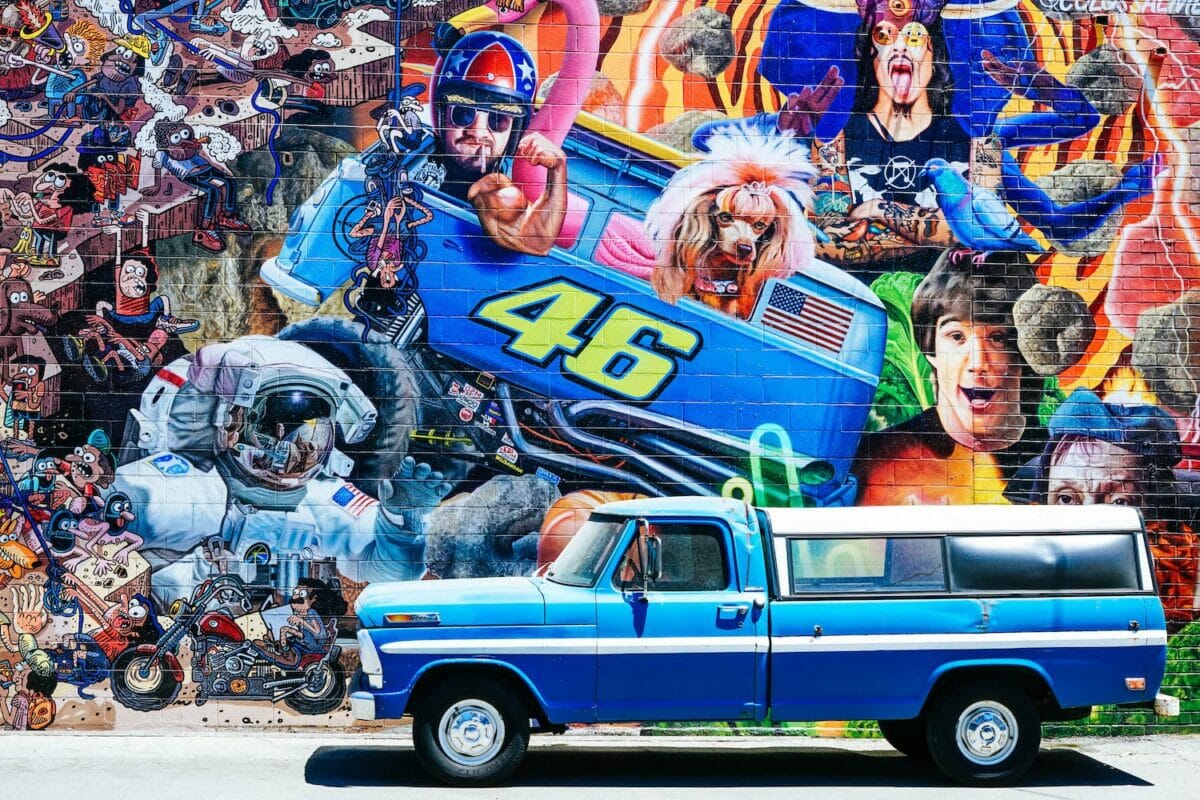 Gay Annual Events in Los Angeles
As a paradise for the LGBT community, Gay Los Angeles offers a wonderful line-up of annual events for gays, lesbians and transgenders and – well, anyone who wants to be involved! These signature gay events are just the biggest and best; however, no matter when you visit, there is sure to be something on (which is why we really recommend locking your Los Angeles hotel down in advance…)
A highlight of the annual gay events calendar in Los Angeles is undoubtedly this Masterbeat Circuit Event. Since its launch in 1996 as a dance compilation series focused on making hard-to-find dance mixes available on CD, Masterbeat has had one primary objective: making dance music accessible to the public.
Over the years, Masterbeat has grown from a record label to DJ management, music website and, most notably, an event production company that produces several special events per year, with its most famous being the annual Masterbeat New Year's in Los Angeles, which brings tens of thousands of people together to ring in the New Year to Masterbeat's legendary countdown video.
They also host another circuit event around Pride and have hosted events in Orlando, Miami, Mykonos, London, Madrid, Tel Aviv and more.
Gay-Friendly and Gay Hotels in Los Angeles
In this glorious and extremely liberal city, you will not find any major hotel accommodation that isn't gay-friendly.
After all, being gay-friendly is about providing a non-judgmental and respectful environment in which all people are treated equally. In saying that, elegant design, helpful staff, and excellent value for money never hurt anyone. Some hotels in Los Angeles have also gone above and beyond in recognizing and marketing to the LGBT community, and given their popularity with gay travelers; we would say it has paid off!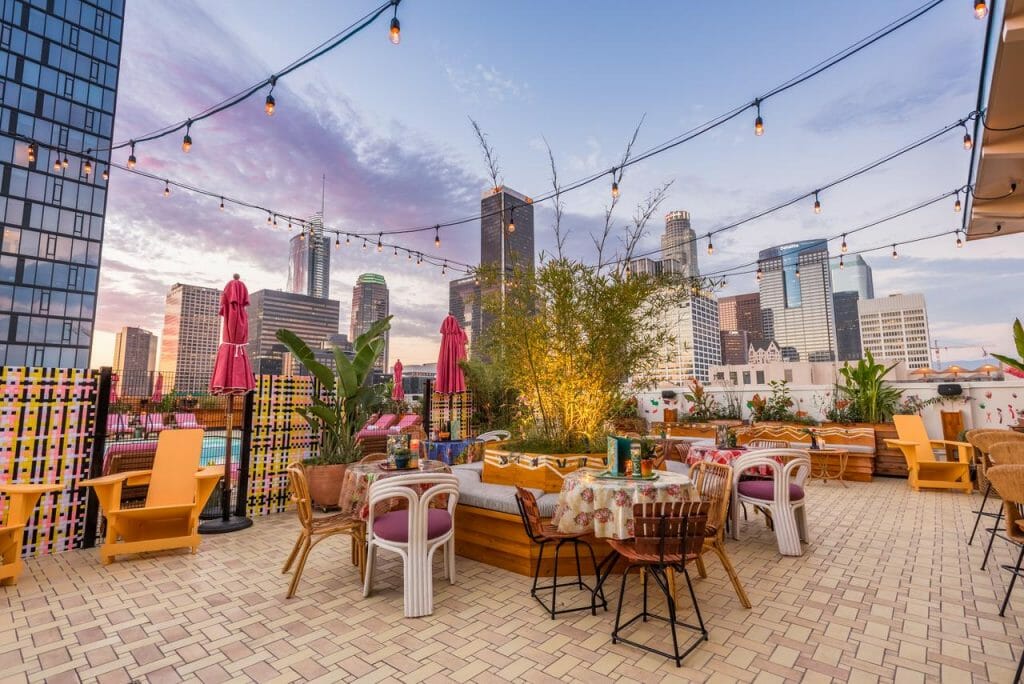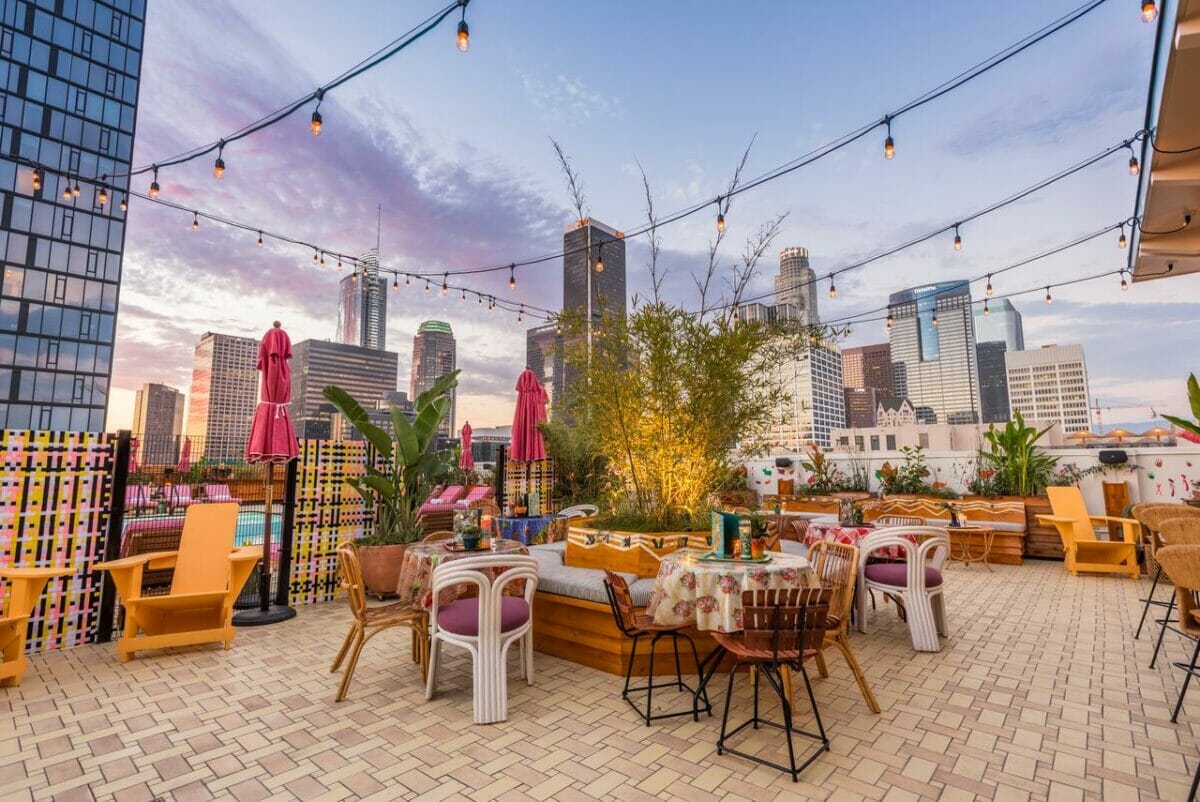 Everybody likes to be surrounded by people with common interests, and as such, there are a few hotels in Los Angeles favored by gay travelers – although, to be clear, there are no exclusively gay hotels in Los Angeles, sadly.
The WeHo gaybourhood is at the forefront of LGBTQ+ inclusiveness in Los Angeles – and brimming with queer nightlife, gay-owned businesses and luxurious hotels whose names are recognized around the world. Another popular option is to stay in DTLA, which has experienced a resurgence in recent years and now boasts many fabulous hotels, often within walking distance of the local gay scene.
The following gay-friendly hotels in Los Angeles are only the most recommended, but there are hundreds of other hotels in Los Angeles if you don't find quite find what you are looking for, whether you want a fun and social hostel, a cheap but private place to crash after a night of partying or a chic luxury option to sip cocktails surrounded by fashionable people, Gay Los Angeles as something for everyone!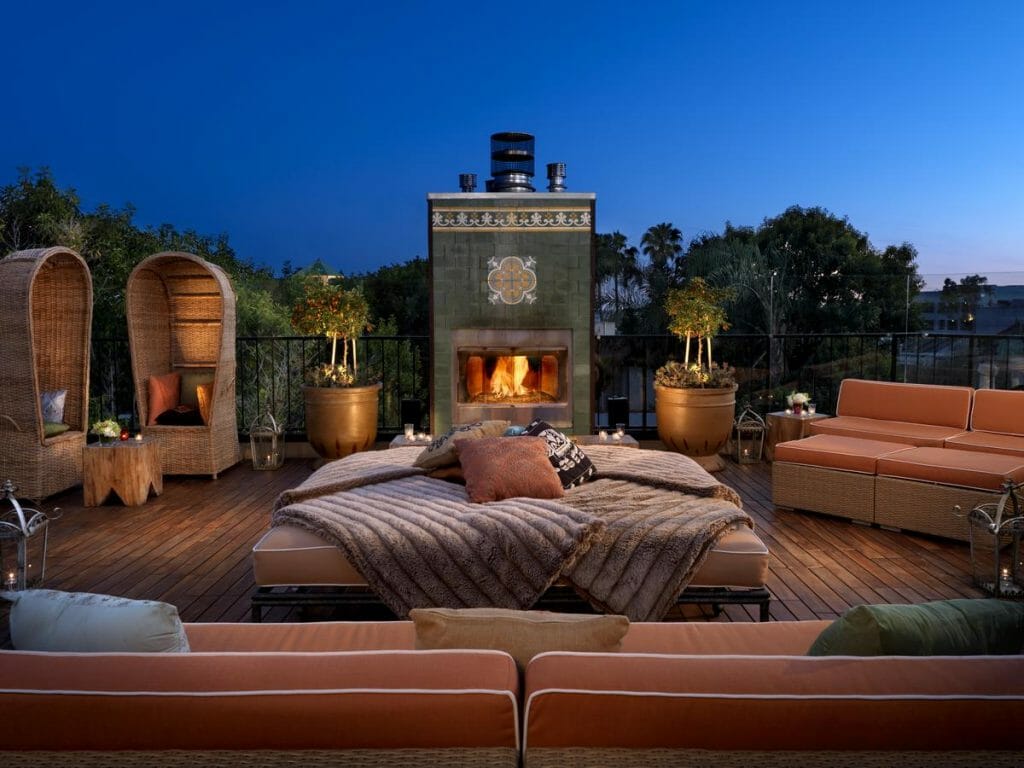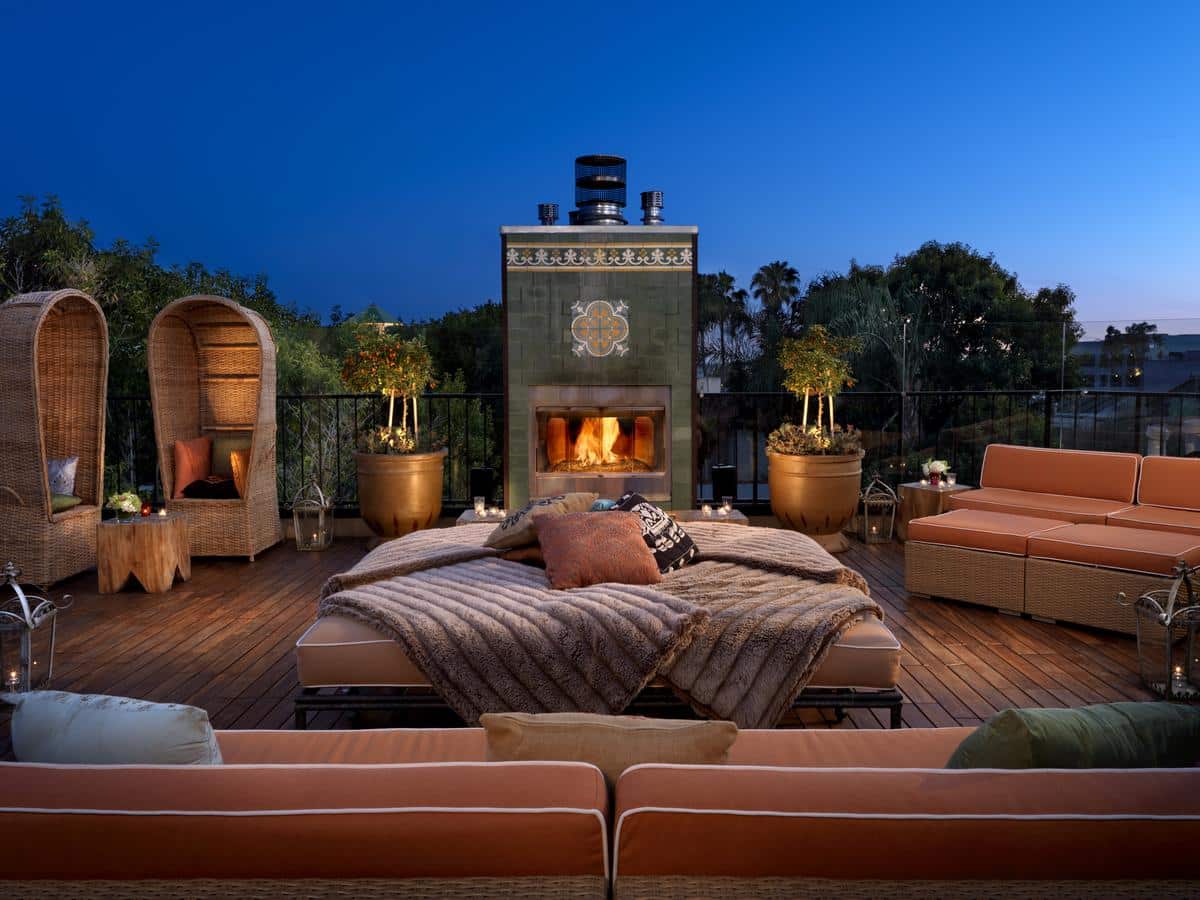 Gay-Popular Hotels in WeHo
One of the most gay-popular hotels in LA where upscale meets urban in residential style with luxe suites full of amenities – and all just steps from Sunset Strip and Beverly Hills. This newly revamped West Hollywood hotel boasts 133 residentially-styled and pet-friendly suites full of extravagance, modern decor, and contemporary art, but there is a lot to love once you have left your room.
Guests can take in stunning views of the LA skyline from the rooftop pool and bar, or get together with friends over dinner and drinks at the ultra-private restaurant and lounge – for guests only.
There is also a stylish grab-and-go café, 24-hour fitness center, rooftop tennis court, Vino & Vinyl Wine Hour and everything that matters from dining, shopping, and nightlife a short stroll away. Consider us gagged!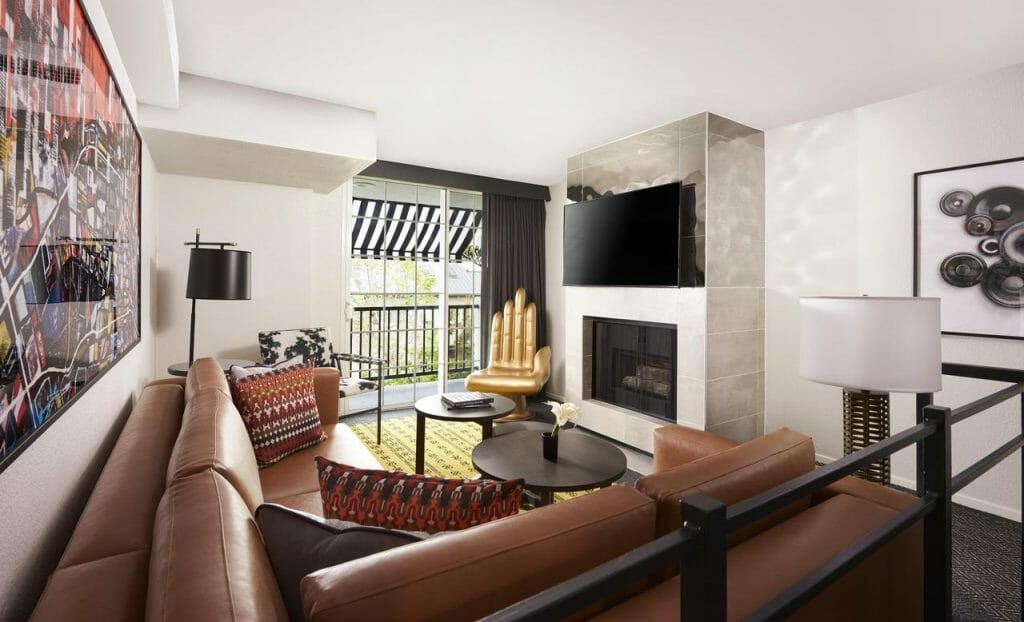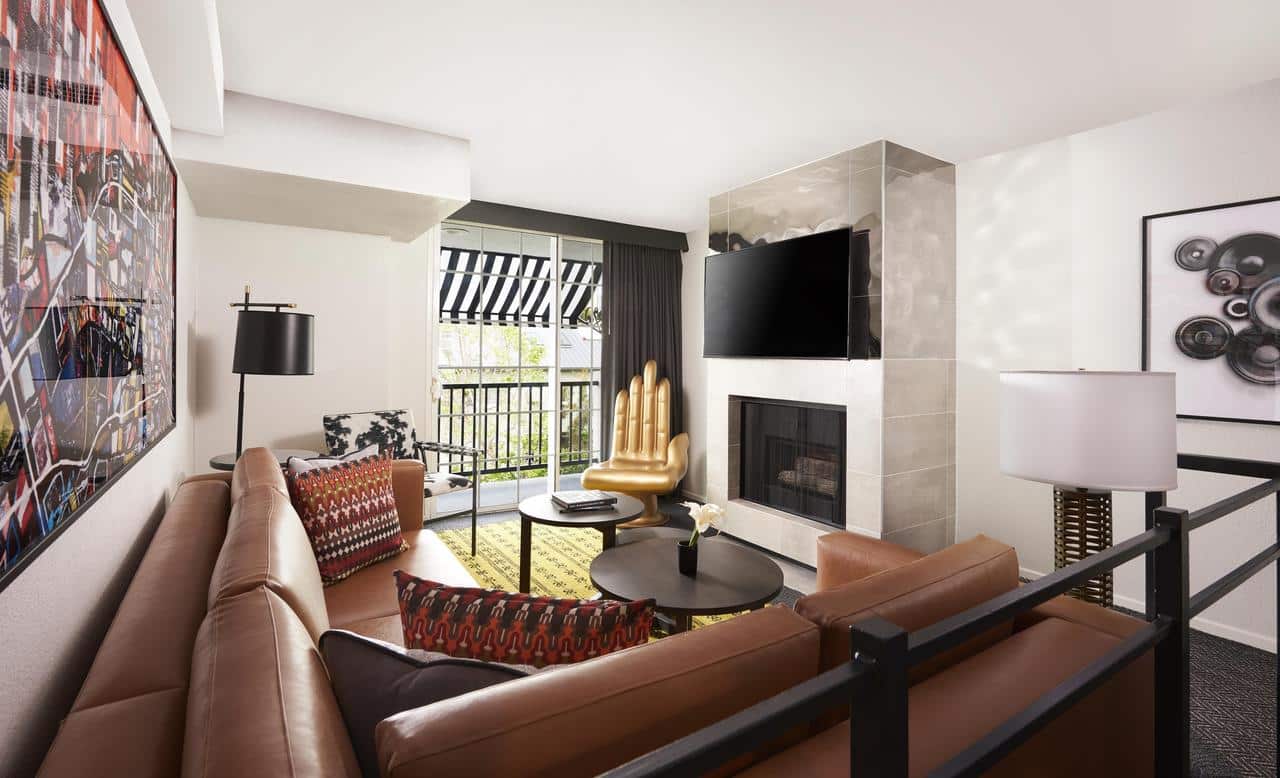 The London West Hollywood ☆☆☆☆☆
A tranquil oasis that combines cosmopolitan British elegance and laid-back California cool to create an unparalleled destination for a discerning new breed of luxury traveler. With spacious, all-suite accommodations, seamless service, inspired culinary options, and unrivaled amenities – including a rooftop pool with panoramic views of the city and beyond – this hotel is the ultimate urban refuge.
As the first hotel on the Sunset Strip, Andaz West Hollywood attracted legendary rockers in the mid-60s. It now serves as an eclectic gateway to Hollywood, Beverly Hills, and other fashionable neighborhoods for everyone: gay, straight or unicorn.
Elevate your LA experience at this iconic property reimagined for the modern day. With local art adorning the walls and Calcutta mosaics in the bath, the personality-infused rooms with stunning views offer a unique, comfortable home base as you explore West Hollywood. There is also a fab rooftop pool to bask in with a hand-crafted cocktail and sweeping views of the Hollywood Hills. Simply iconic, and darling, we are here for it!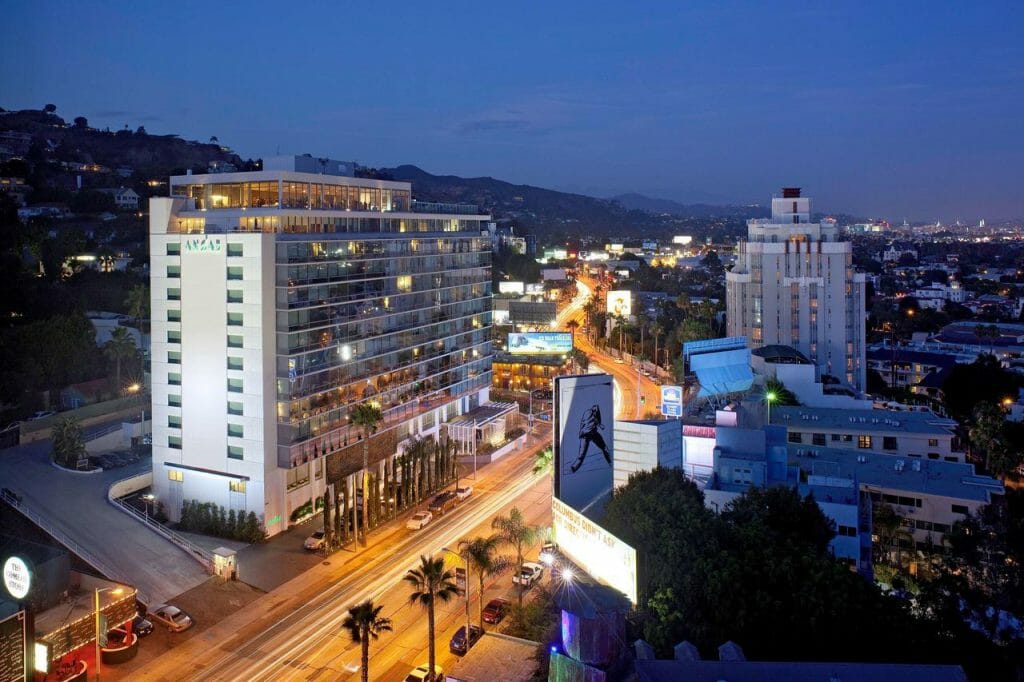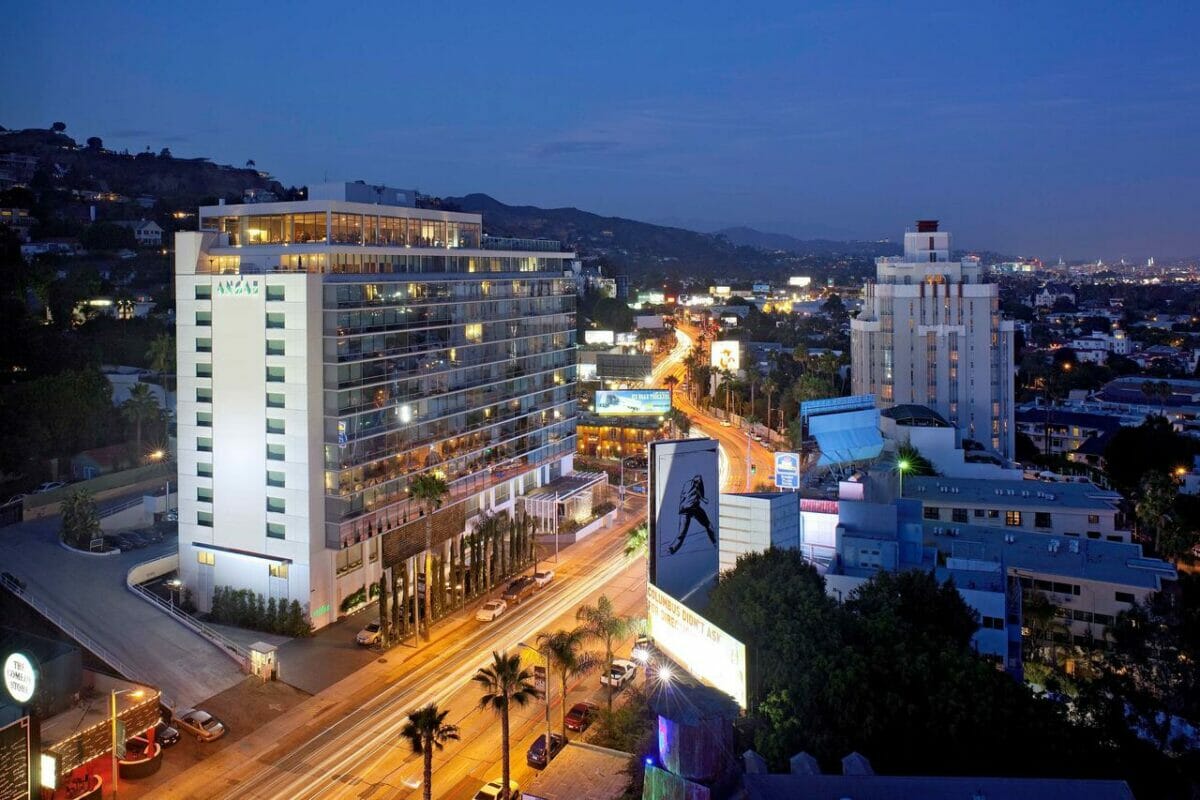 Surround yourself in the Bohemian chic ambiance of this weird and wonderful hotel, a contemporary hideaway outfitted with inspired artwork and designs + a heated saltwater pool with 360-degree views over the Hollywood Hills. Embrace the gypsy spirit at their craft cocktail bar or relax in the private rooftop garden filled with hummingbirds and butterflies.
Then there are the sunken fire pits, rooftop film screenings, morning yoga and an assortment of rather unorthodox amenities that gay guests seem to absolutely love. Petit Ermitage isn't just a Hotel; it's an escapade, curated on a daily and nightly basis to ensure you come away with either unforgettable memories or no memory of anything at all whatsoever.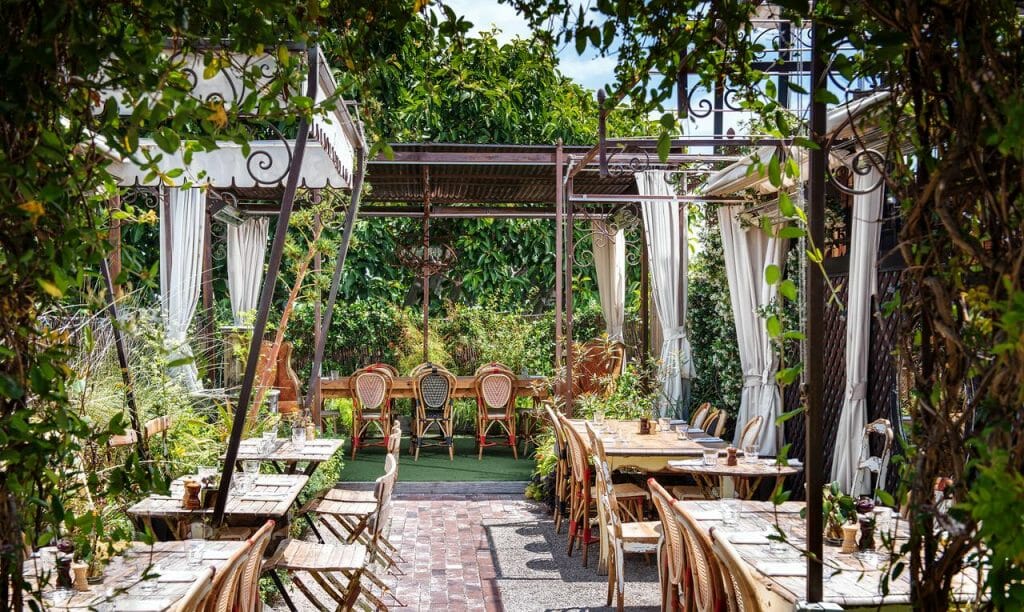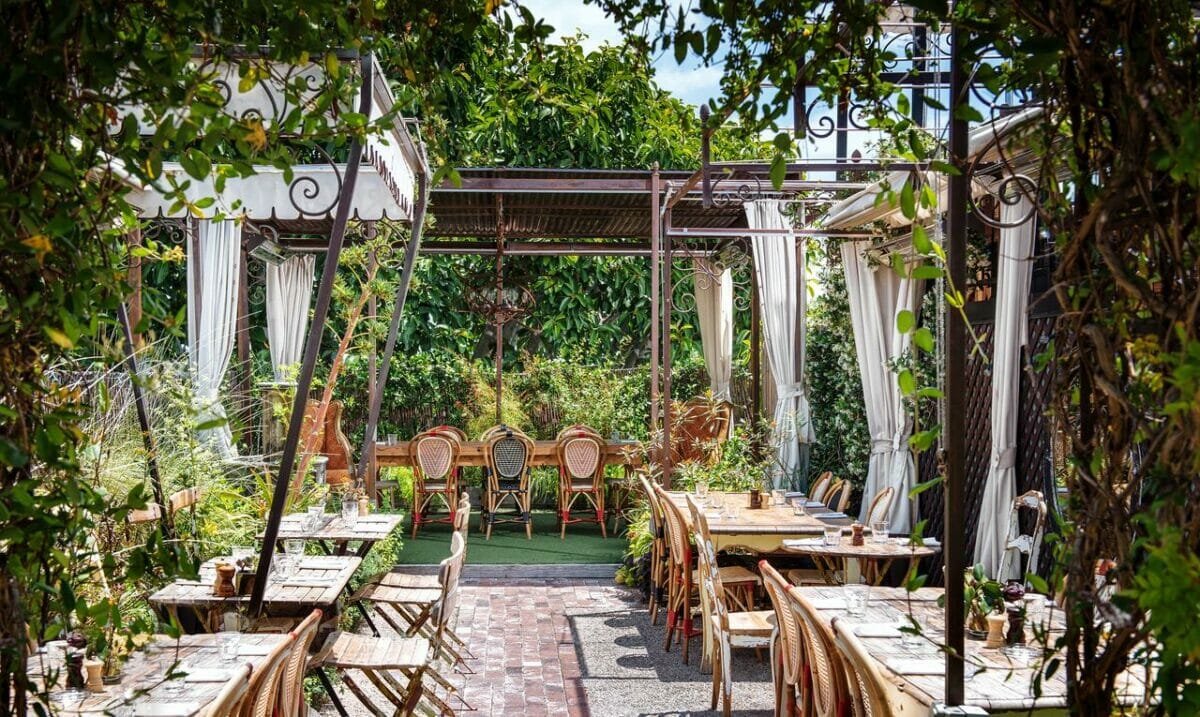 A stylish West Hollywood retreat well known to rising stars and trendsetting celebrities. Le Parc blends quiet comfort with easy access to the city's most glamorous attractions, including Boystown in WeHo.
The suites are spacious with private balconies, kitchenettes, fireplaces, and fully stocked mini-bars, while the Skydeck offers a relaxing getaway with divine cocktails. There is also a free local area shuttle, intimate bistro, heated pool, and rooftop tennis court. A boutique hotel near, well, everything!
Right in the gay heart of LA, this affordable hotel offers the best value, the best location, and the best overall choice for many gay travelers to WeHo! Seriously, just take a look around when you check-in.
Fronting lively Santa Monica Boulevard, this art-deco-inspired hotel has contemporary rooms, a trendy 24-7 restaurant, a sundeck, a palm-tree shaded pool and a fitness center. Better yet? The onsite Starbucks to get that iced coffee to go, because is it really a day in WeHo without iced coffee?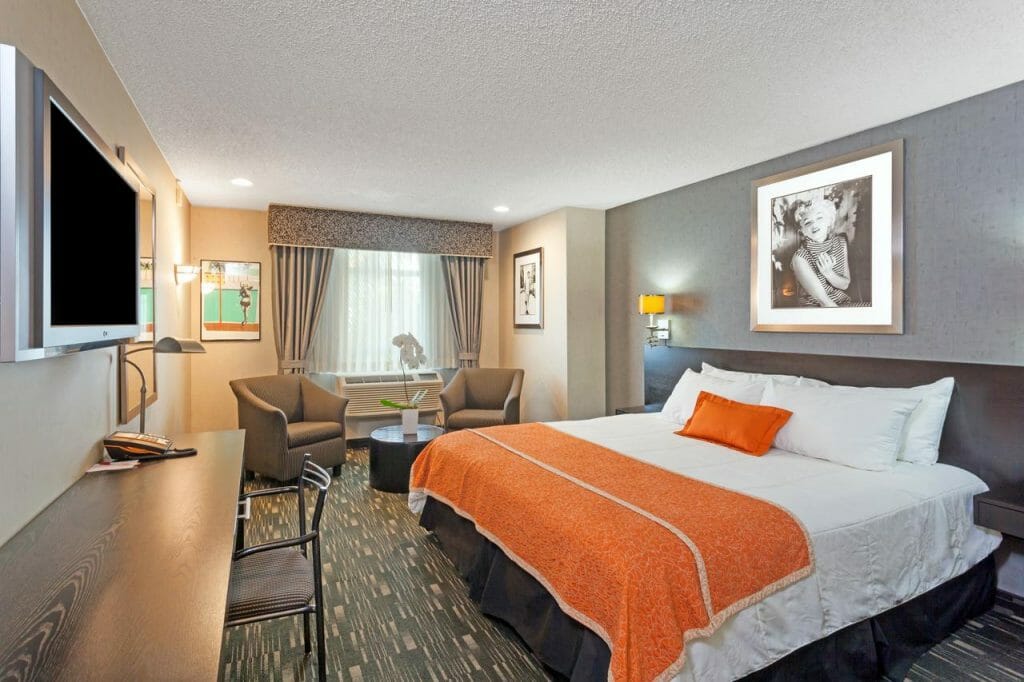 Gay-Popular Hotels in DTLA
Originally constructed as the headquarters of Superior Oil, The Standard, Downtown LA is Mid-Century California architecture par excellence.
And there is absolutely nothing at all 'standard' about this hotel chain. Smack-dab in the center of booming Downtown Los Angeles, the 207-room hotel features massive guest rooms, a rooftop pool, a bar with stunning panoramic views of LA, an intimate rooftop garden bar, and a stellar 24-hour restaurant.
There is also a quarry's worth of marble on the façade and covering the lobby, which is, well, very impressive. Much like their amazing NYC Highline location, there is so much going on there that we could scarcely hope to cover it all – but suffice it to say, if you love quirky events and avant-garde design, this is the place for you!
We can also confirm their luxurious linens are a perfect place to hunker down for the night and watch gay TV shows. There is no judgment here.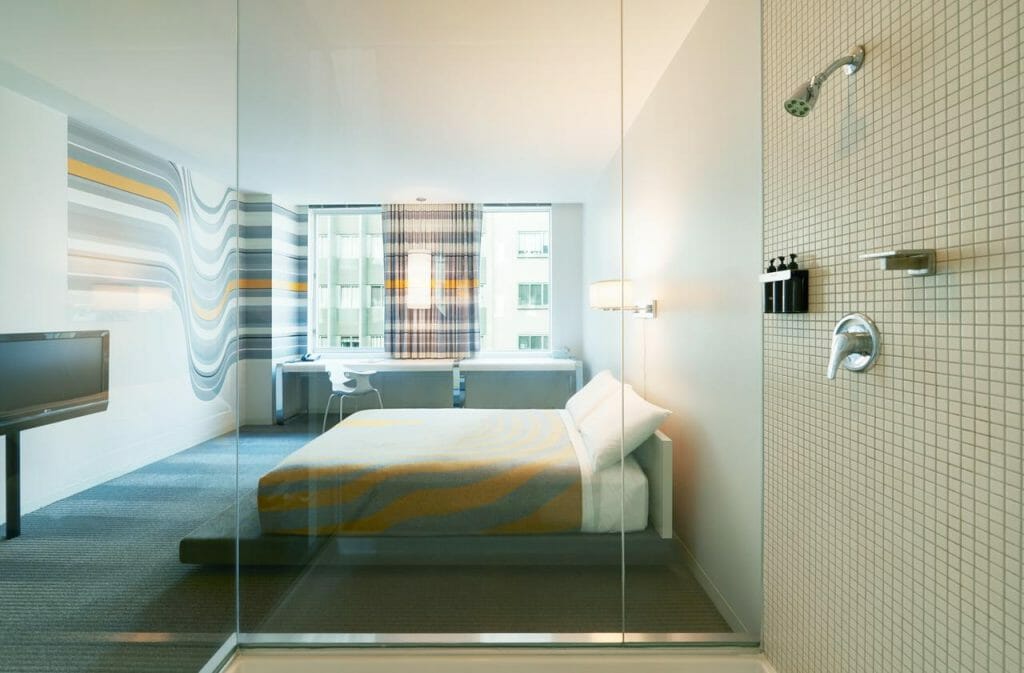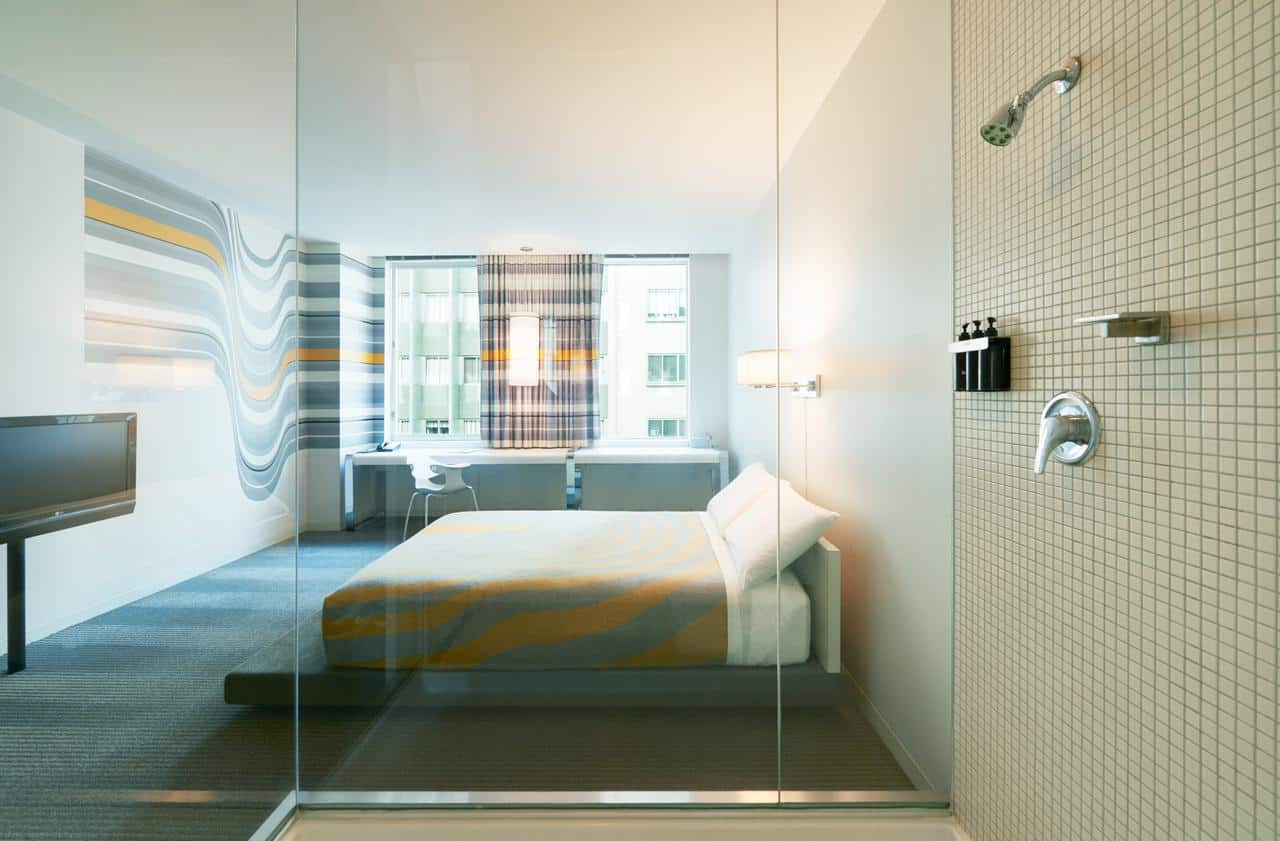 The Los Angeles Athletic Club ☆☆☆☆
A boutique hotel that occupies the top three floors of a 12-story historic landmark private club building. A stay at this historic private club is an entirely unique experience. Collapse onto cool cotton sheets after a rigorous game of squash. Rejuvenate in the fabulous spa with indulgent steam or massage, and indulge in one of their signature cocktails offered at the award-winning bar.
Opened in early 2014 in the historic United Artists, this hotel is uniquely LA with Industrial-chic rooms, a buzzing rooftop pool with a bar, a fab juice shop, a gym, and glorious 1920s Spanish Gothic-style theatre. You know, the one where RuPaul's Drag Race finale is normally formed. Doesn't get much gayer than that. Plus, the LGBT-friendly Ace hotel chain has never let us down.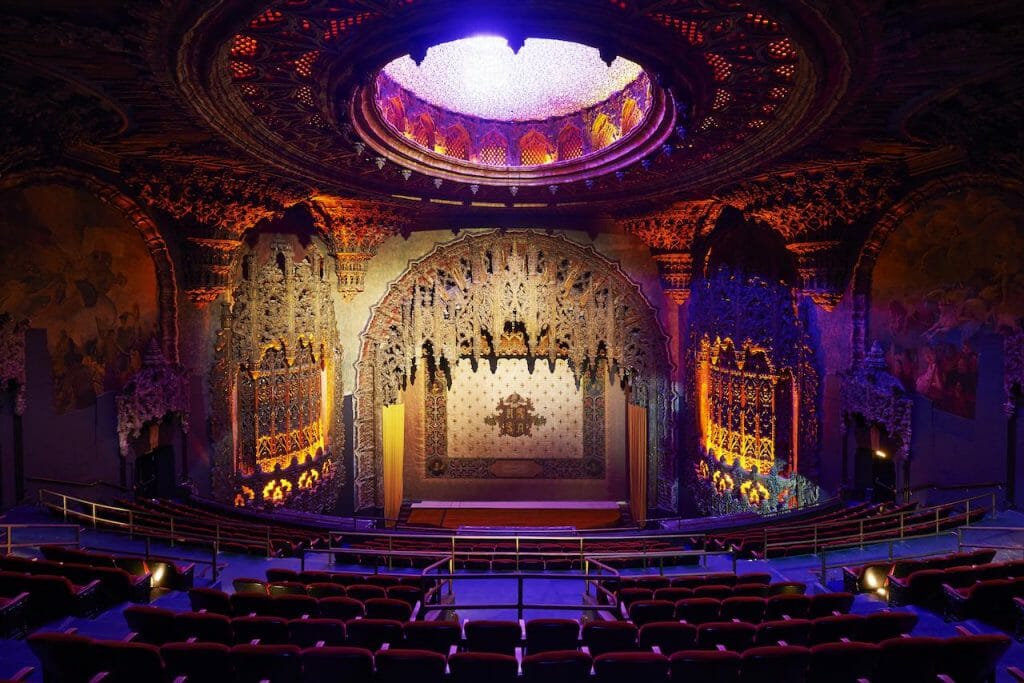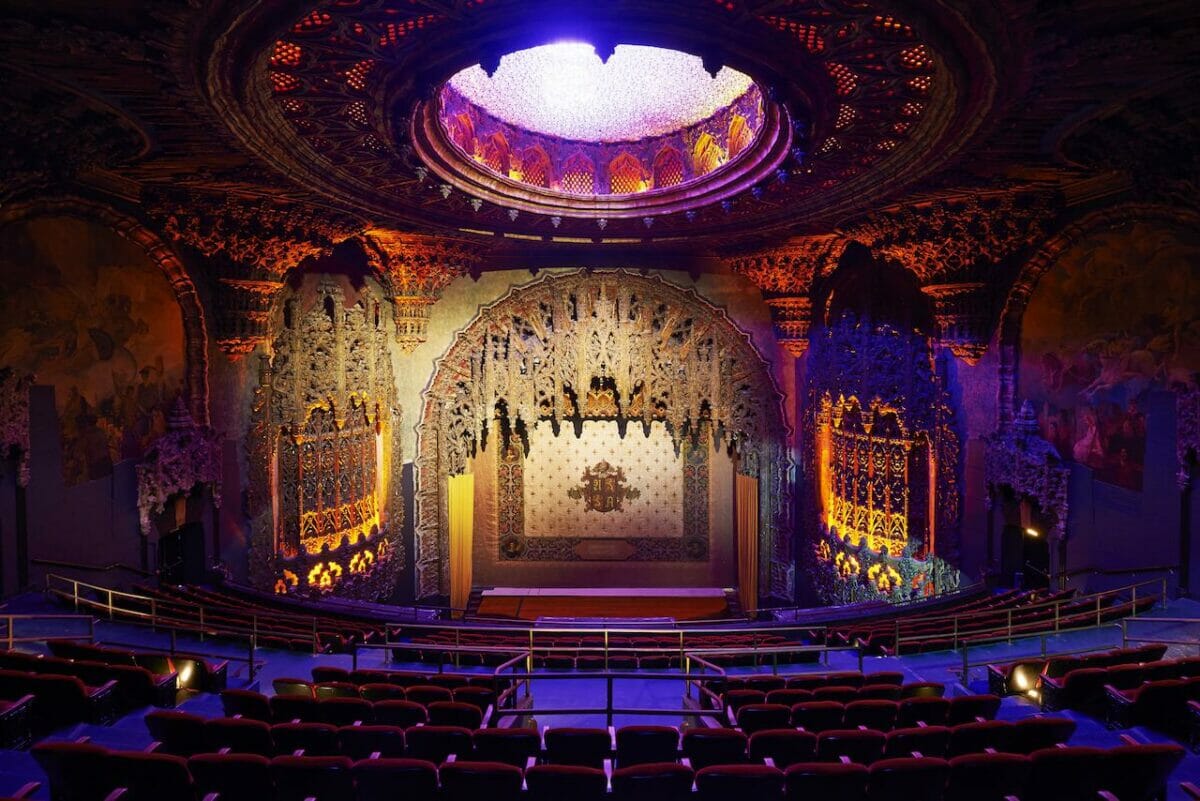 Elevate your expectations with 360-degree breathtaking views of the legendary California sunset from the tallest building west of Chicago. Check-in on the 70th-floor sky lobby and enjoy world-class dining atop miles of glass and steel shaped 73 stories high, rising 1,100 feet above street level.
This structure not only redefines the L.A. skyline but also reflects the glamour and exhilaration that define what it means to stay at an InterContinental property, with its rich, storied history and a promise of only the most luxurious amenities, attentive service and expansive suites. InterContinental Los Angeles Downtown awaits.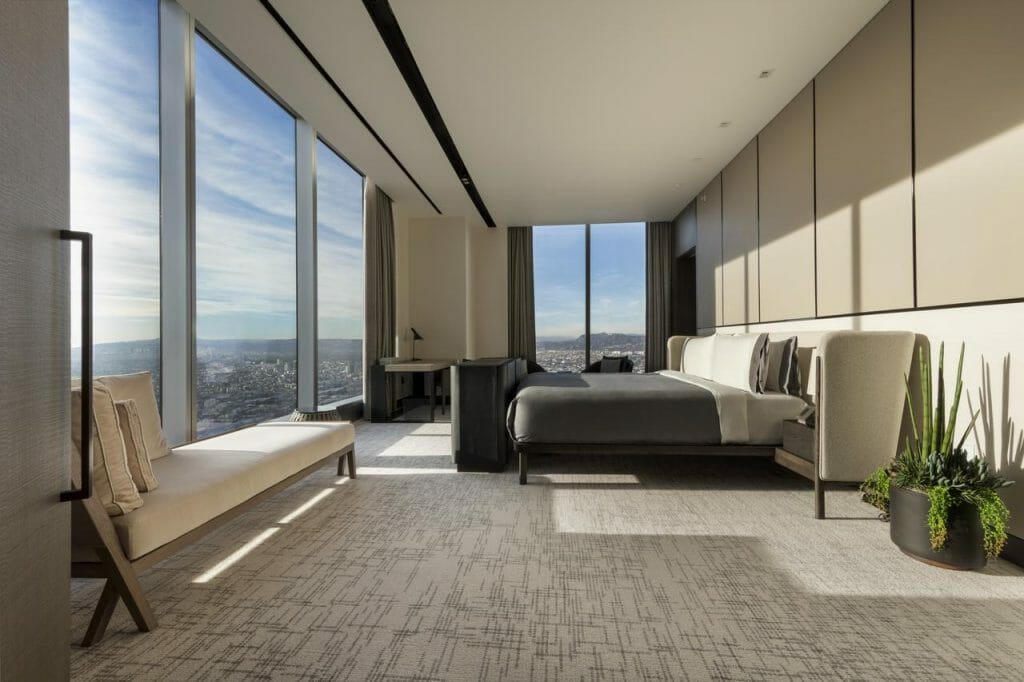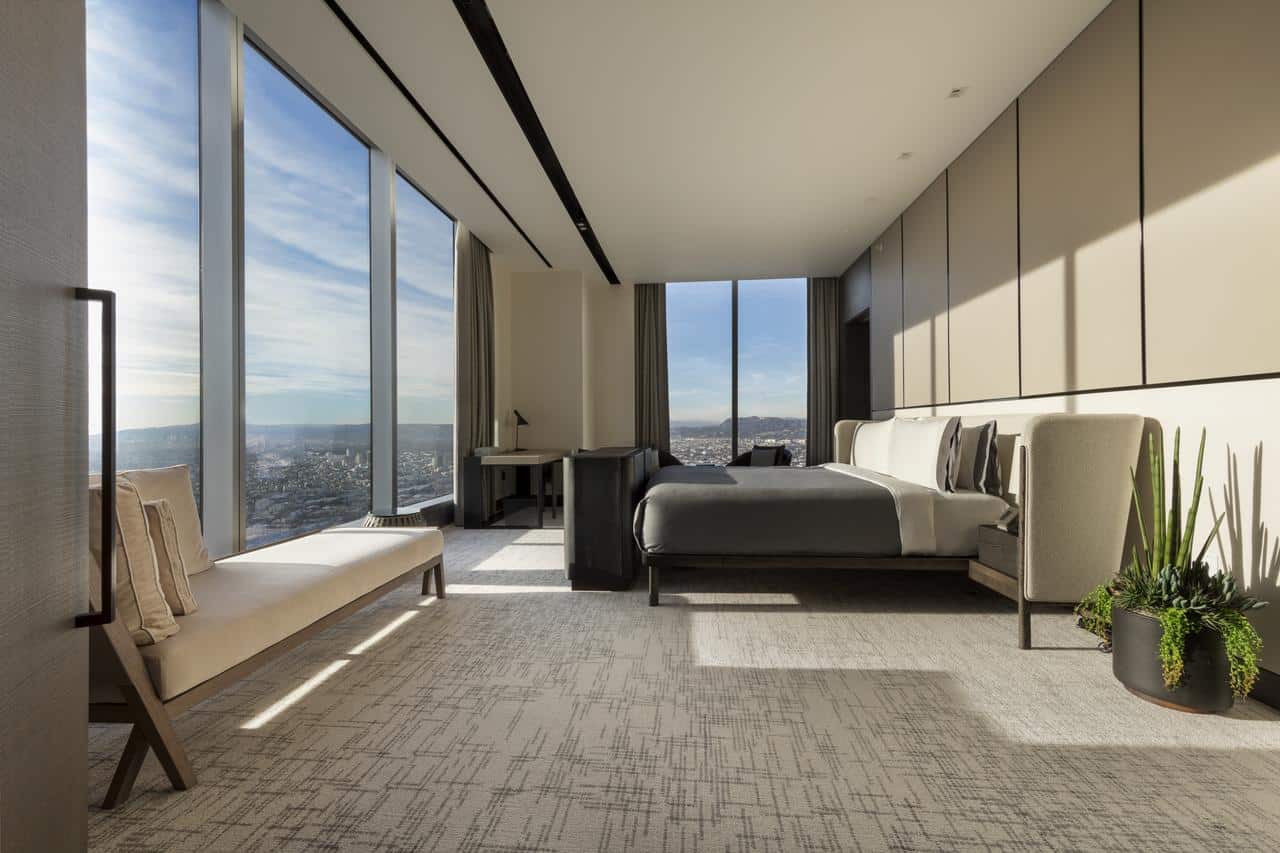 The Ritz-Carlton L.A. Live ☆☆☆☆☆
Immerse yourself in the glamour and sophistication of downtown Los Angeles from the moment you step inside this luxury hotel. Located at L.A. LIVE, The Ritz-Carlton, Los Angeles, emanates the cinematographic luxury of a Hollywood film.
Relax in airy guest rooms, see and be seen at the rooftop pool and sit down to dinner at WP24, the acclaimed restaurant with skyline views by Wolfgang Puck. Here, as in Los Angeles itself, dreams can become reality, and everything that glitters is gold.
Housed in the historic Commercial Exchange building, this local hotel in downtown Los Angeles is truly one-of-a-kind, featuring suites, premium hotel rooms and shared accommodations with interiors designed by Roman & Williams.
Often named one of the world's best hostels, Freehand is taking it up a notch in LA, offering upgraded amenities, including enhanced bedding, room service, convenient valet and an attentive bellman ready to give you a hand. Seriously, if you are on a budget but still want to live an A-lister life, this is an amazing option. It is, so LA to fake it til you make it after all.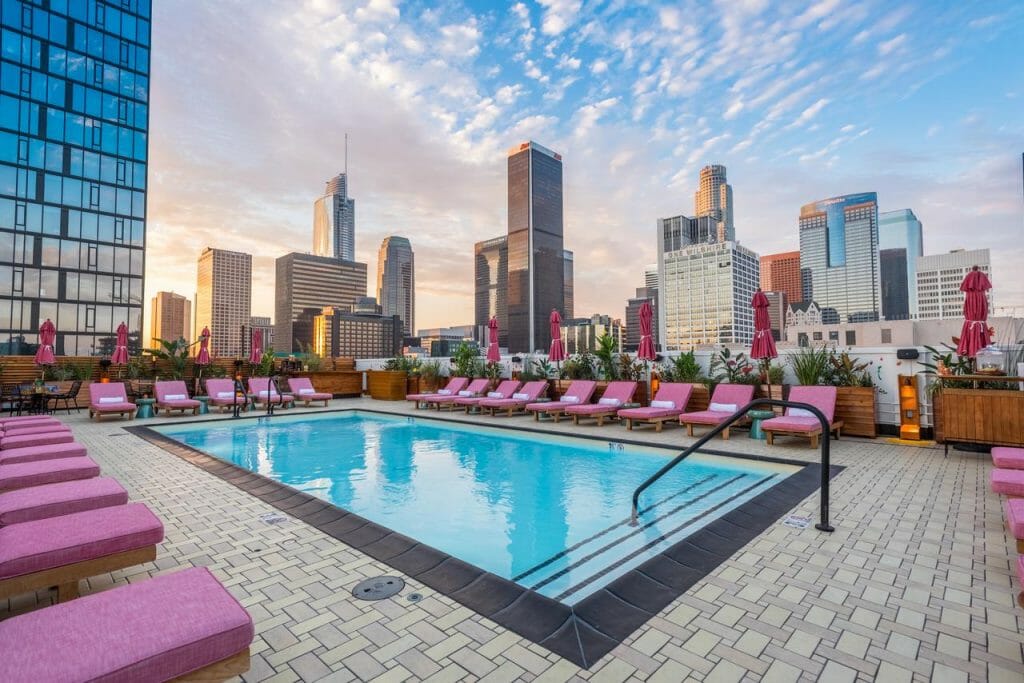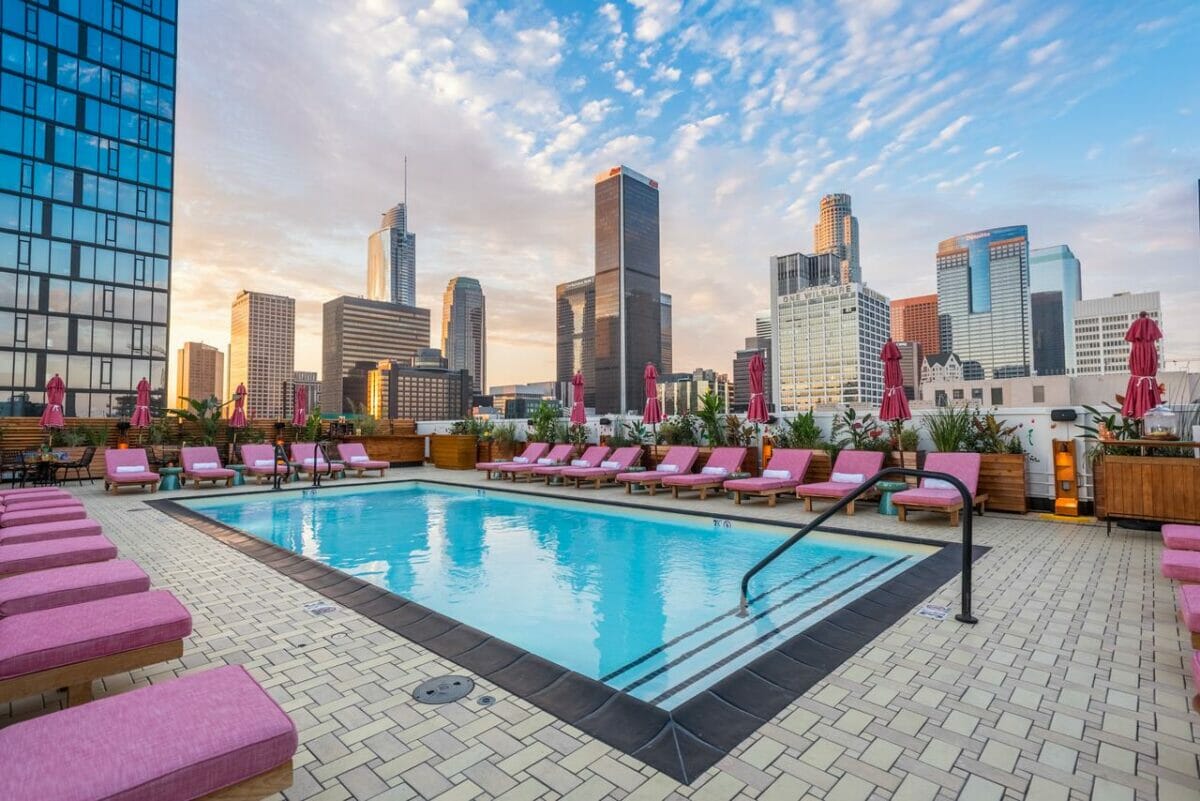 Other Gay-Popular Hotels in Los Angeles
Reminiscent of Hollywood's Golden Age with its curving ocean liner-inspired architecture and whimsical Art Deco design, Hotel Shangri-La at the Ocean has been welcoming guests to the beach since 1939.
Boasting one of the best locations in downtown Santa Monica, the hotel is within walking distance of the beach, Santa Monica Pier and iconic restaurants. Tempt yourself with some of the fabulous Santa Monica gay parties, or stay in with chic, minimalist rooms, a poolside spa, private cabanas, and a swanky rooftop bar.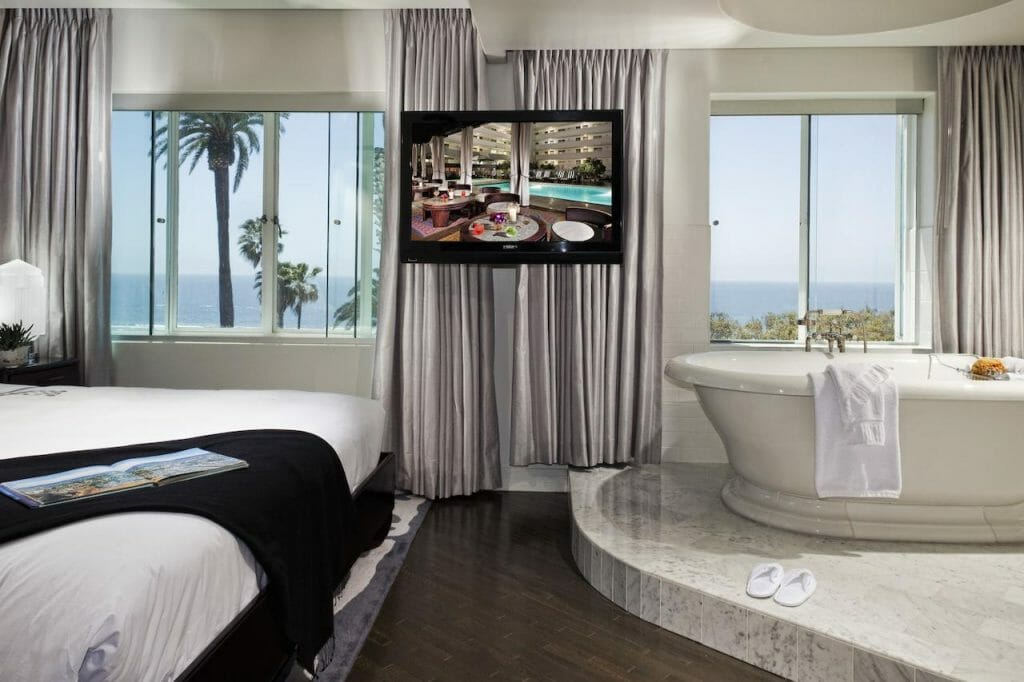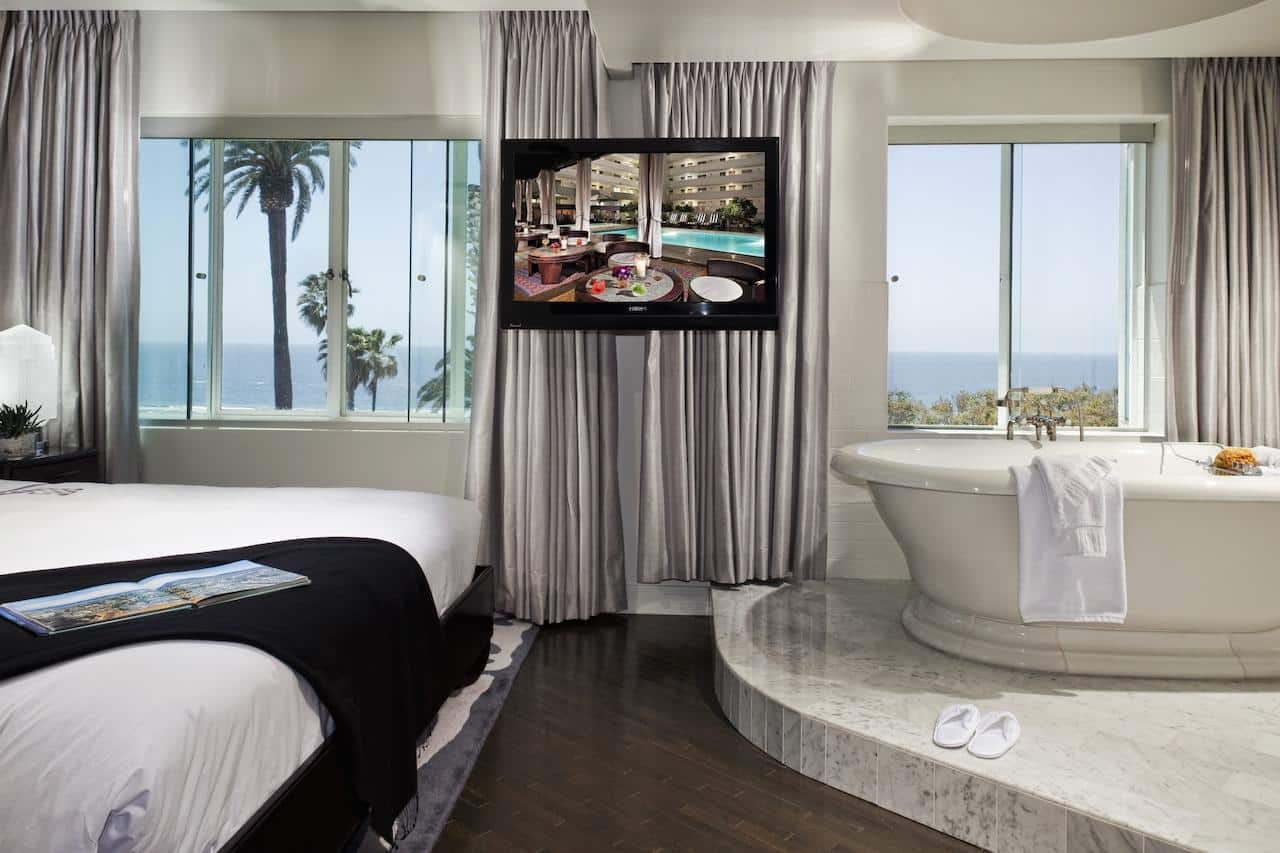 A luxury Universal Studios Hotels are offering an urban oasis secluded within seven lush acres, yet minutes from the excitement and thrills of LA. If you want a gay-popular hotel option in the valley, this is it! Bright sun pours in from floor-to-ceiling windows. An open fireplace warms cool California nights. Artisanal cocktails and farm-fresh eats await your request.
Welcoming and warm, yet distinctively retro, this is the California dream come true. Every design detail has been handpicked to evoke the whimsy and thoughtful aesthetic of a bygone era – and it is safe to say we are not the only ones who are in love with Garland.
Loaded with style, this boutique hotel in Burbank is within a short drive or rideshare to Universal Studios Hollywood and offers very affordable rates – especially when booked in advance. Part retro. Part modern. 100% cool. The Tangerine is a refreshing burst of color and energy in the Valley, with Hollywood-style rooms decorated with original wall murals and contemporary art.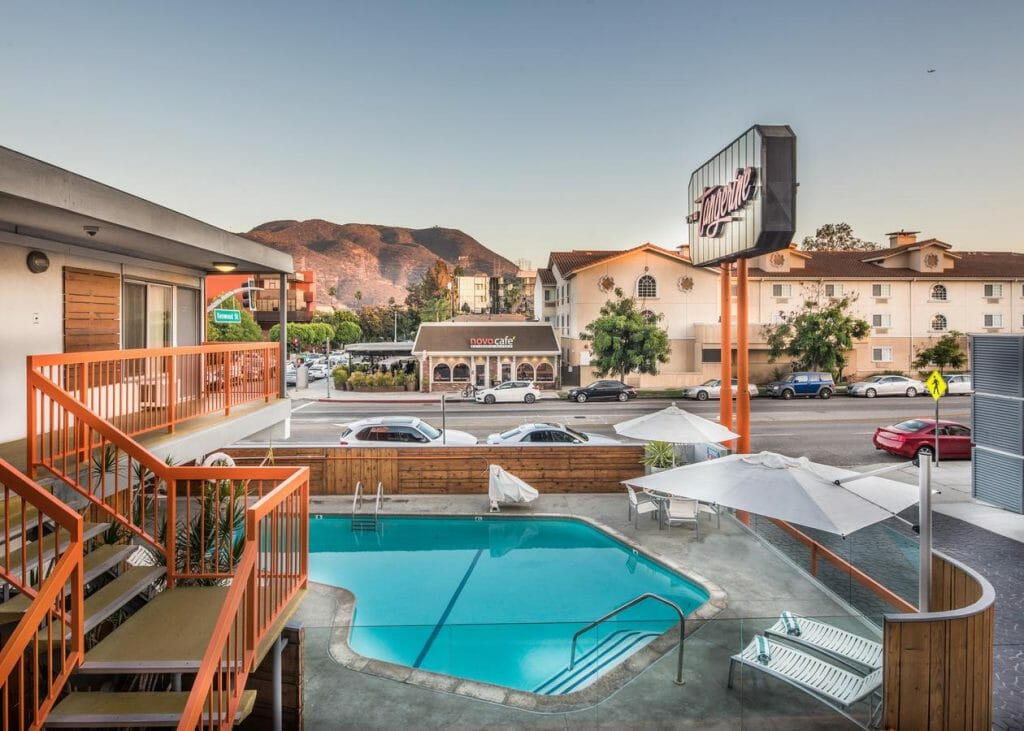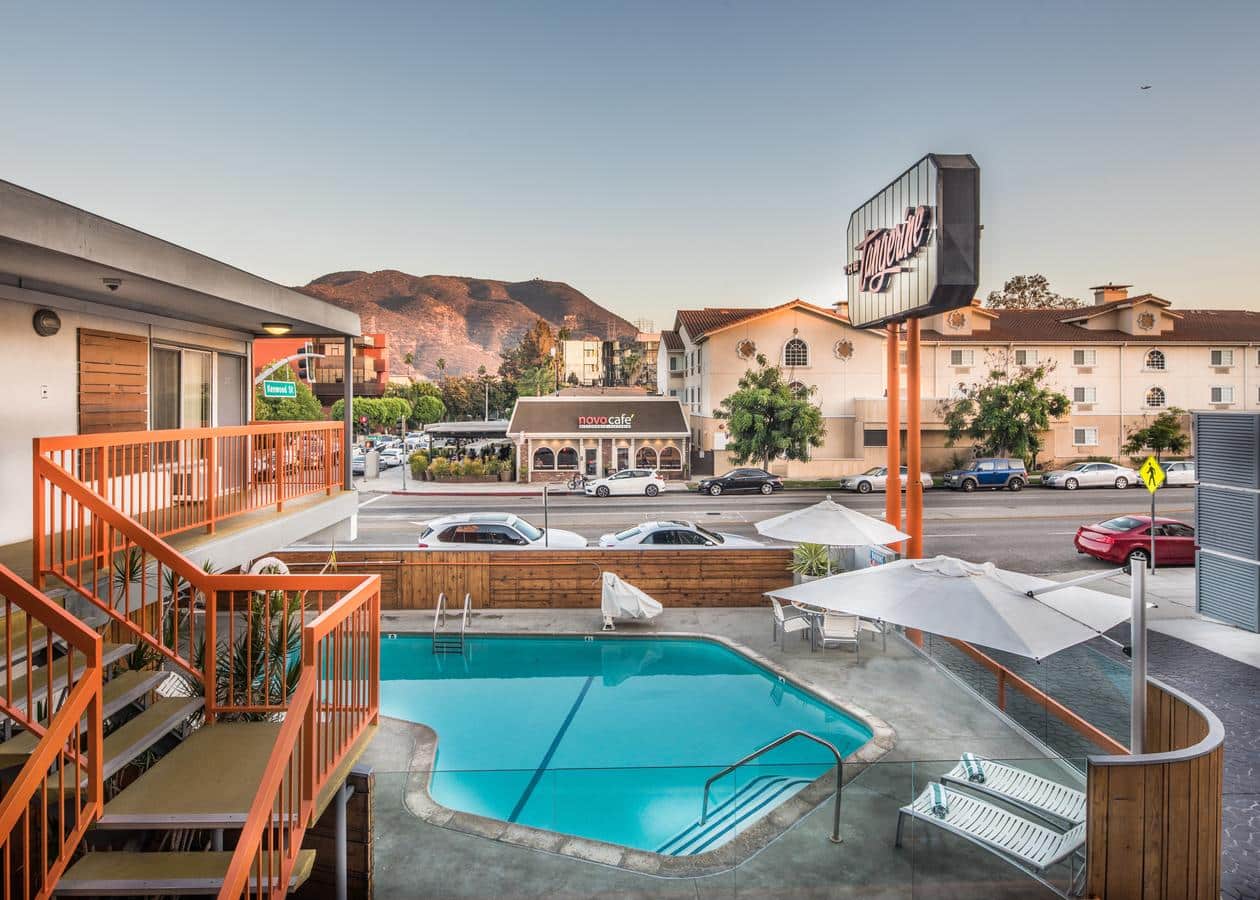 Hotel Silver Lake Los Angeles ☆☆☆
A budget hotel near the Silver Lake gay scene with unique, inviting hotel rooms, free daily breakfast, and a small pool to relax by. It's nothing inspired, but the price tag gives you a lot of reasons to love it here.
Escape the hustle and bustle of urban LA with a refreshing stay at this modern hostel just two blocks from the picturesque Santa Monica Beach. With cafes, art, shopping, and nightlife aplenty on your doorstep – and a weekly farmers market + light rail stop, it's no wonder so many budget-conscious travelers opt for this welcoming hostel.
The biggest purpose-built hostel in the USA, there are spacious dorms, well-designed private rooms, free breakfast, fast Wifi and a range of activities each day (and night) to help you enhance your travel experience. The staff is some of the most friendly we have ever come across as well, so if you have any questions about the local nightlife – be sure to ask them first!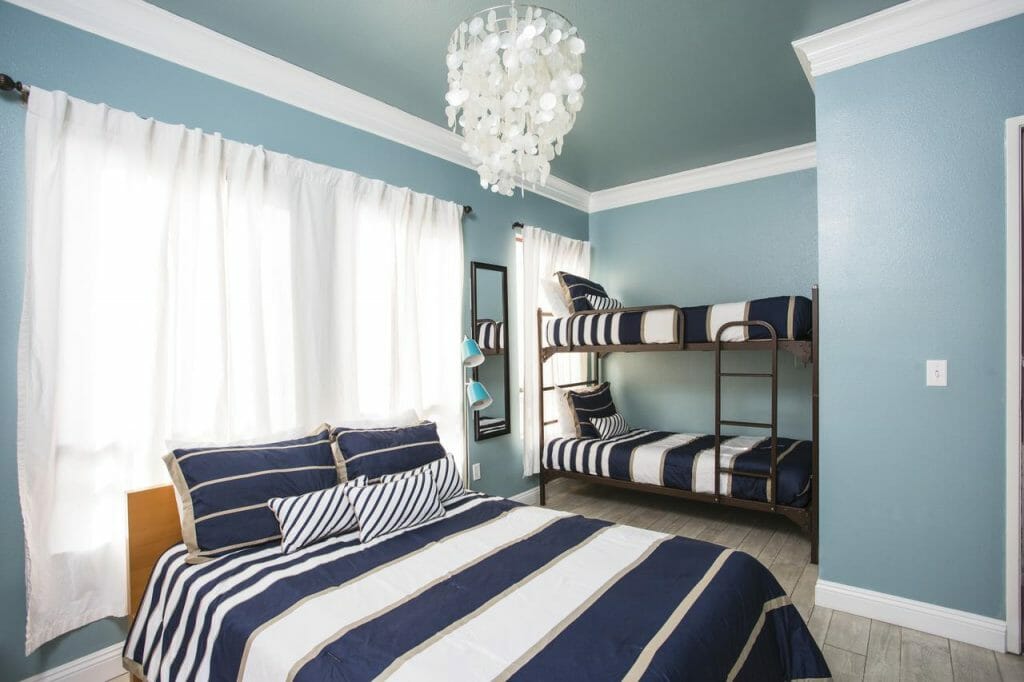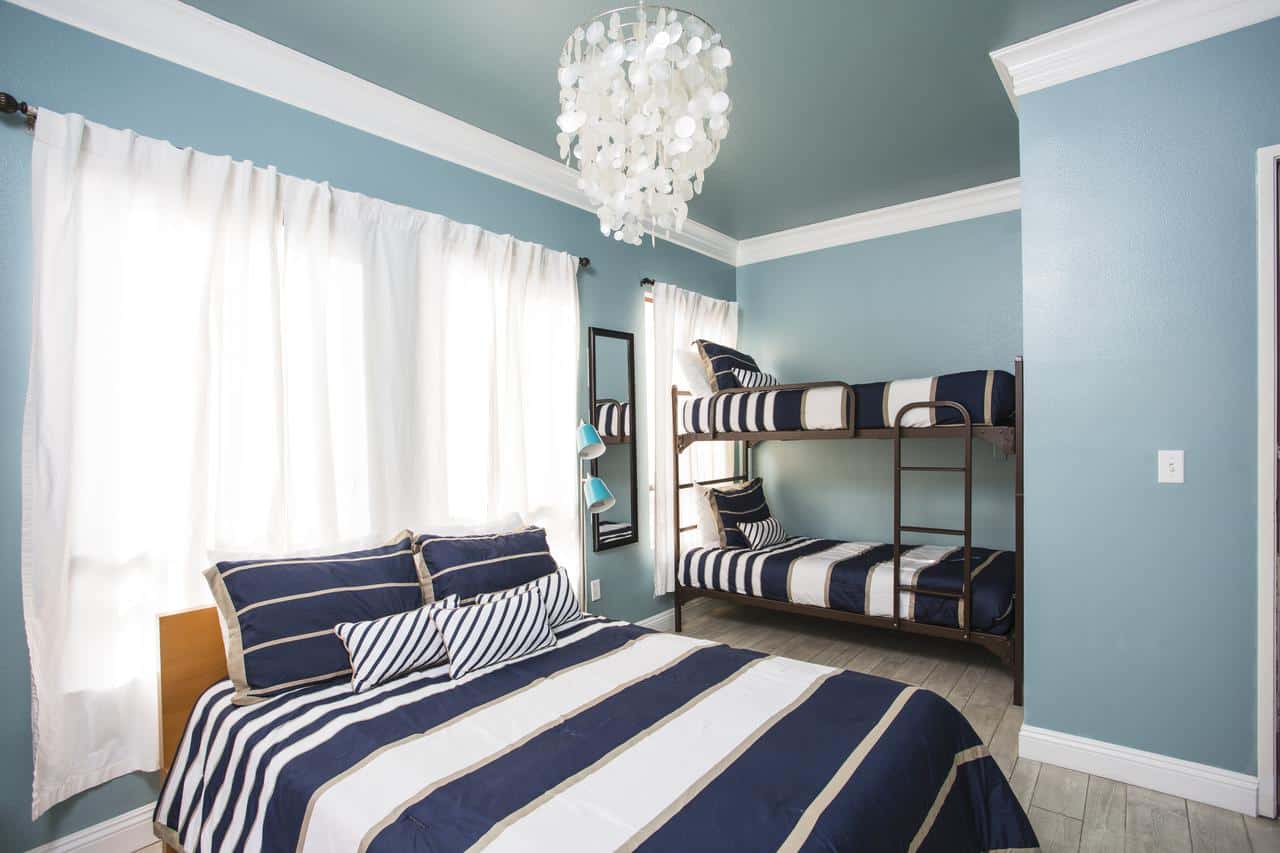 Gay Nightlife in Los Angeles California
With Los Angeles being one of the most gay-friendly vacation destinations in the world, you would expect an incredible gay nightlife scene – and luckily, Los Angeles does not disappoint.
Depending on your mood, you can find anything here, from a relaxed cocktail in an upscale bar to an all-night dance party surrounded by your queer family. There are also plenty of cruise/dive bars, sexy go-go boys, fabulous drag, fun events and – well, something to cater to every taste!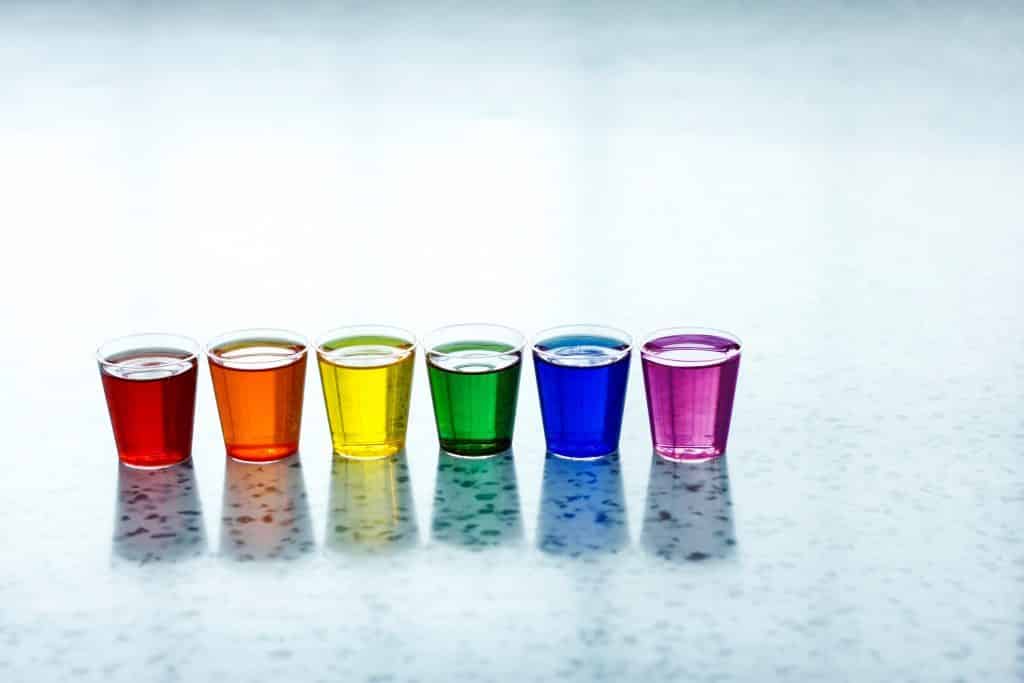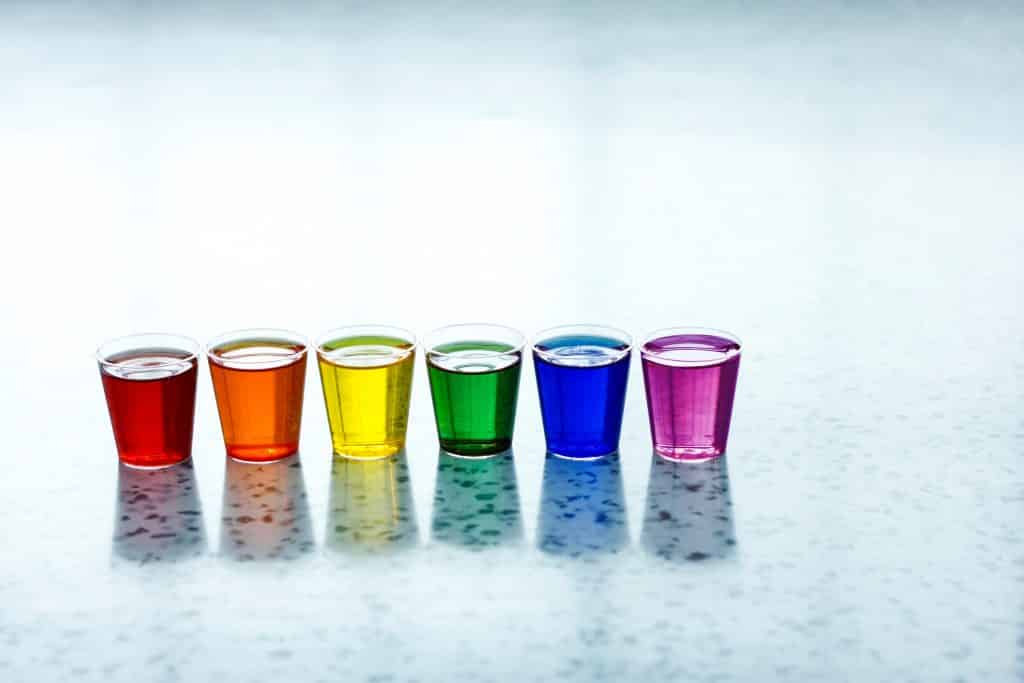 Gay Map Of Los Angeles
Finding it hard to envisage where everything is in Los Angeles? Hopefully, this queer-centric map helps where we have marked all the bars, clubs, parties, hotels, saunas, massages and more will help you stay in the spot best suited to you!