Cheaper and cooler than Los Angeles, Gay Long Beach is undergoing a fabulous resurgence as Angelenos move in to gentrify, and Orange County comes to slum it.
A hipster-city-by-the-sea filled with wonderful weirdos, dive bars, historic speakeasies, gorgeous bodies and more rainbow flags than we could count, Long Beach is proving that Gay Cali is more than just WeHo, the Castro and Palm Springs. And honey, we are absolutely here for it!
Along LA County's southern coast, the twin ports of Long Beach and San Pedro have gone from being industrial backwaters that suffered years of decline after the Navy moved out in the late 90s to hip, cool and happening.
This trend will only go into overdrive as Long Beach sheds its past in one of the country's largest continuing downtown redevelopment, with around $3.5 billion currently being spent on over 3 dozen projects.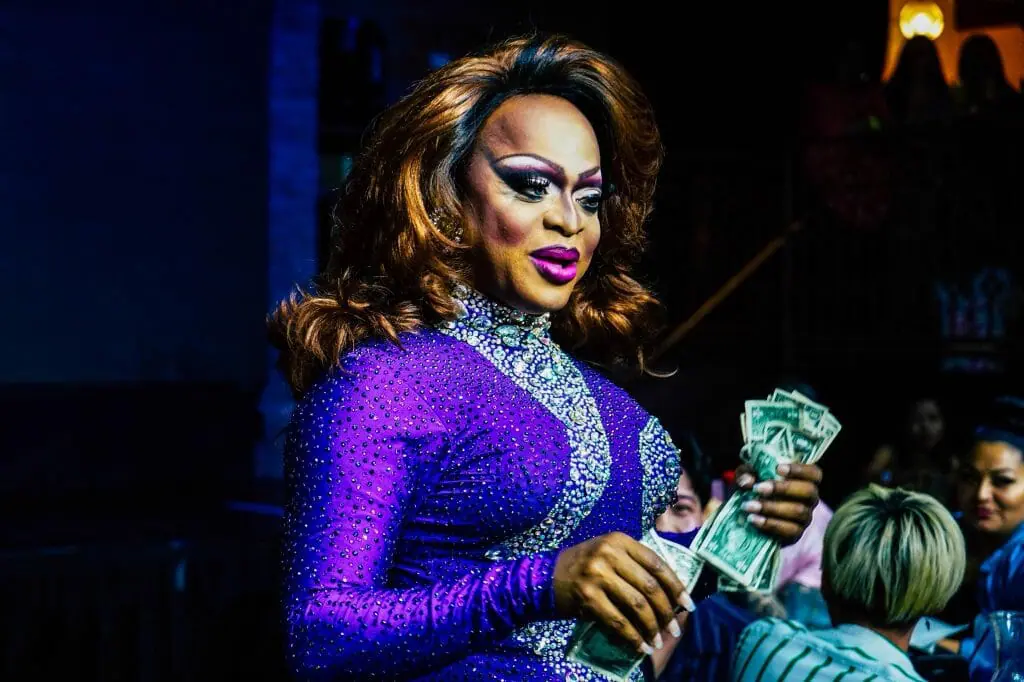 Of course, we gays have seen the potential of Long Beach long before this current boom, with quiet palm-lined streets, a seemingly endless beach and a wealth of Art Deco buildings – which probably explains the well-established gay scene here.
Centered just out of the downtown along Broadway between Alamitos and Cherry Avenue is the hub of Long Beach's gay scene, with plenty of cherished dive bars, the antithesis of avant-garde WeHo and perfect for a boozy gay bar crawl.
Much like Rome's Gay Street, Le Marais in Paris and Toronto's Church and Wellesley neighborhood, at times, it can seem the LGBT community far outnumbers their hetero-counterparts leading to the unusual position of many venues declaring themselves straight-friendly.
It's fair to say we absolutely loved it and can testify that the queer vibes and come-as-your-fabulous-self spirit here infuse your soul with warmth and tempts you to never leave.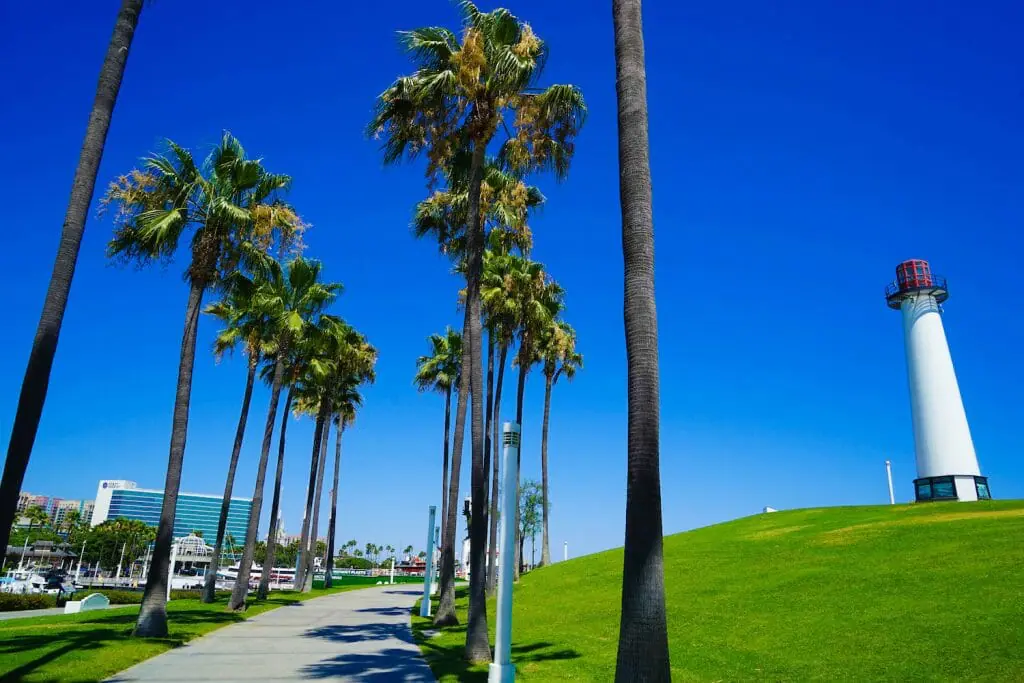 As chilled and welcoming as the stereotypical surfer dudes for which Cali is famed, in this sunny city, you will find an LGBT community infused with energy, passion and genuine excitement about the future – all this despite the best efforts of this current Trump-era politics of hate and discrimination.
Long Beach is not just gay-friendly; it's ridiculously friendly overall, with smiles and chatting locals everywhere you go.
But with the perfect weather, a welcoming community, and a thriving cultural scene, what isn't there to be happy about?
---
Are you relocating? This guide will help travelers discover the queerer side of the city. However, if you are lucky enough to be considering a move here, we recommend reading our article about moving to LGBT Long Beach or getting in touch with a local gay realtor. They can happily give you no-obligation advice and all the information you'll ever need to know about your new city.
And if you then want their help to find your dream home, you are guaranteed fair, equal, and honest representation. No surprises or awkward conversations are necessary!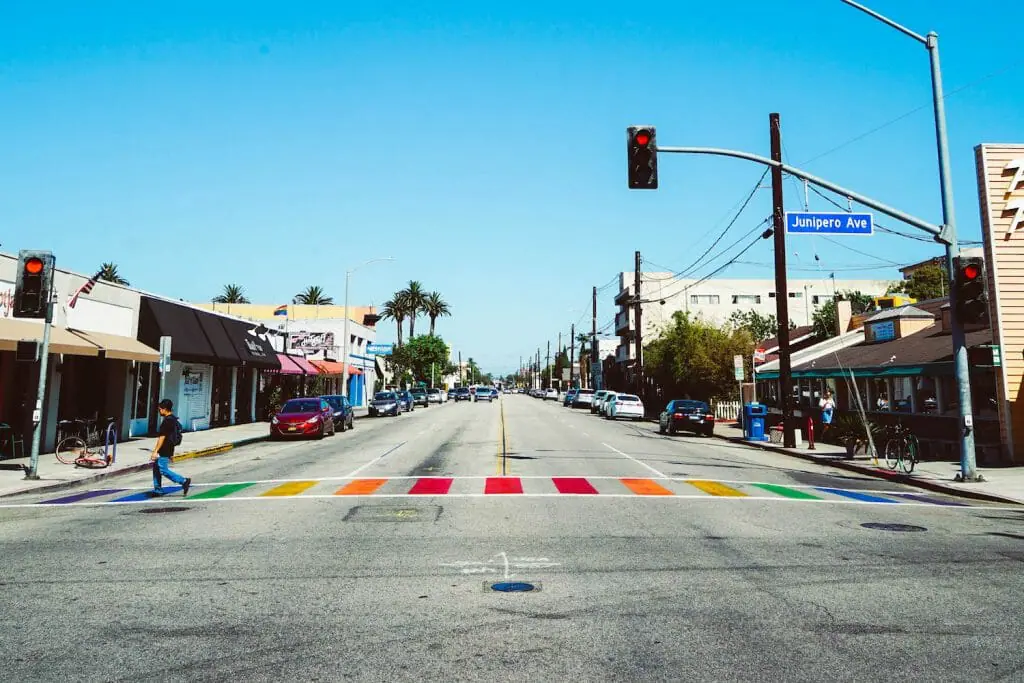 Attractions in Gay Long Beach
With more than 287 days of sunshine each year, you can bet there are going to be plenty of outdoor things to do in Long Beach and fabulous gay events which take advance of the amazing weather.
Beach days and cycling is popular, but equally so is laying by the pool, exploring the wonderful arts scene of Long Beach or just heading to one of the (seemingly) all-day happy hours. If you plan to get a lot done, car hire in Long Beach is a very affordable option and popular to see more far-flung attractions.
This is America, after all, and the car is king. But if you just want to explore the gaybourhood, downtown, and a few other places – public transport and rideshare apps should be sufficient.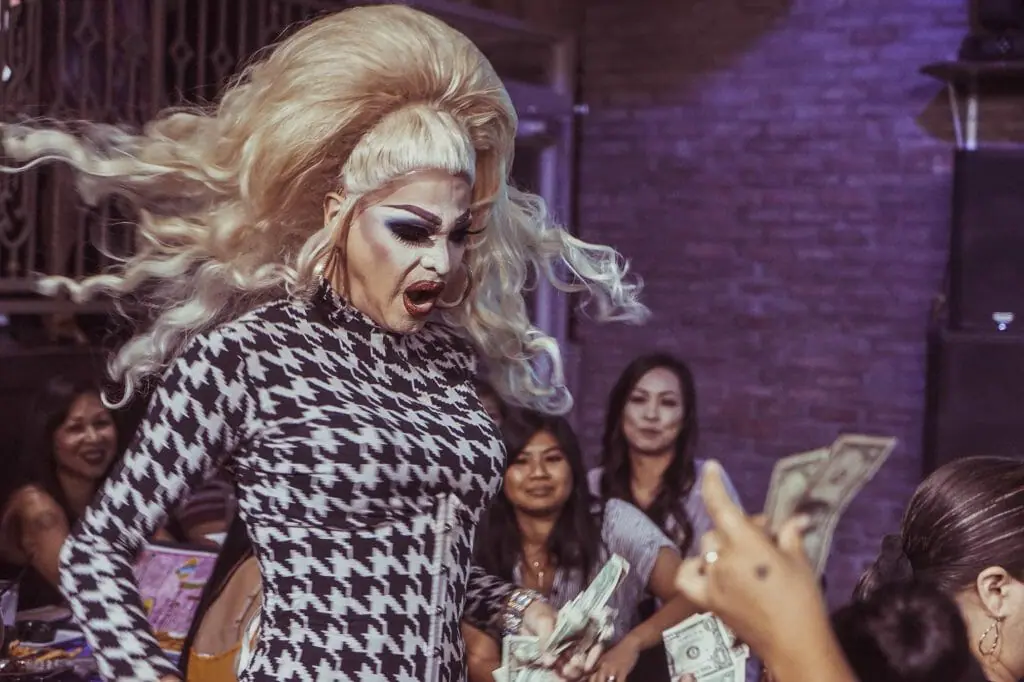 Naturally, being gay does not define which attractions most of us will want to see in each destination, and most queer travelers will simply want to check out the top things to see in Long Beach during the day!
We found our favorite memories were watching the sunset from a relaxing bar, dancing till dawn with our queer family, or laying out by the pool in our luxe Long Beach hotel.
However, if you're someone who can't sit still, we have put together a few of our other things to do in this gay paradise that are sure to keep you busy!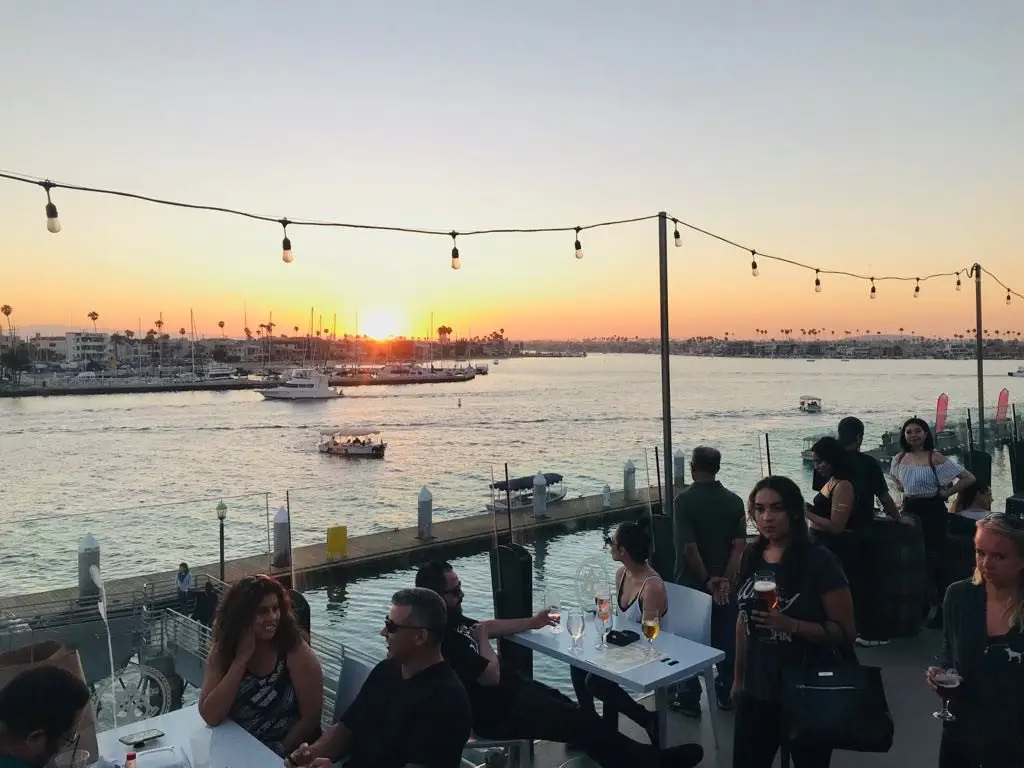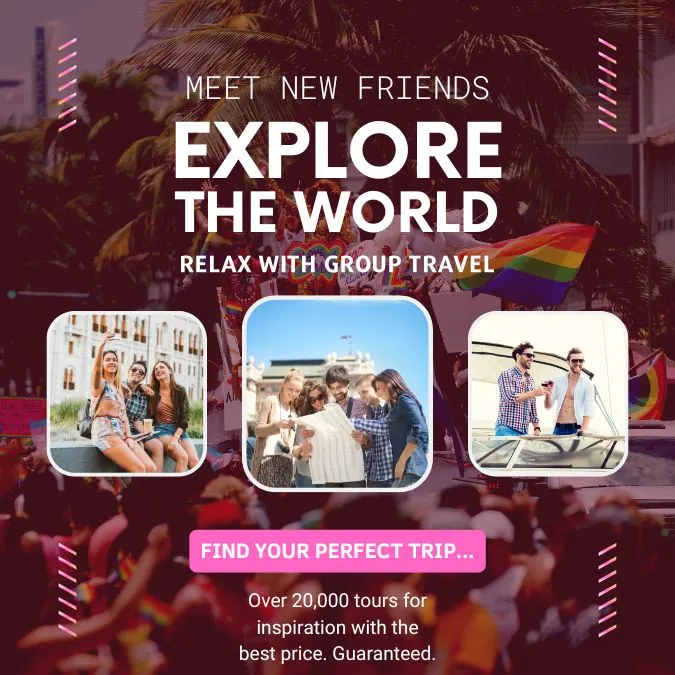 Top Highlights in Long Beach
A local community resource that seeks to engage, empower and advocate to achieve a more equitable society and fosters an ever-improving quality of life for the LGBTQ community of Long Beach.
Each year they serve over 25,000 people a year and include an array of services, including support groups, workshops and seminars, youth services, free HIV & STI testing, legal assistance, domestic violence services, employment referrals, mental health counseling, and cultural and social activities.
Hot Stuff
An adult store serving the LGBT community here since 1980, Dona Summer`s hit song "Hot stuff" inspired their name. For everything romantic, thoughtful, erotic, sexy and colorful, you can't go past this shop. In either case, it is pretty hard to miss with its rainbow flag, hot pink & black awning and giant retro neon sign.
Slightly less fun, but right in the middle of the Long Beach gaybourhood is this premier adult toy retailer with everything you could possibly need for a pleasurable night. Plus, later at night, you never know who you might bump into…
An old-school not-for-profit thrift store with an eclectic range of apparel, furniture & home accents. Prices are low, the staff is helpful, and there are plenty of gems to be found. The perfect part? All proceeds go directly to benefit people with HIV & AIDs.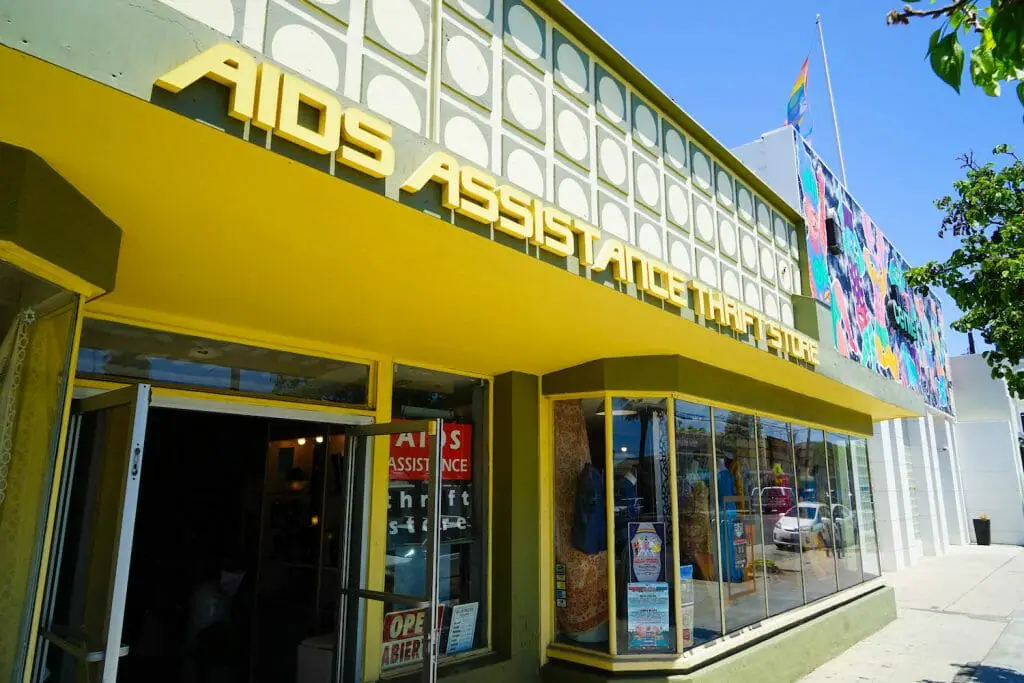 The Library
A cute bookish hangout filled with even cute LB gay boys getting their iced coffee fix. Enjoy free brew, and delicious food at this fashionable exposed-brick spot with interesting bookshelves and fun mismatched chairs to lounge in.
Travel to Southern California's Catalina Island by boat with this round-trip ferry service from Long Beach or San Pedro on the 'Catalina Express.' Enjoy views of the Pacific during the journey, and then spend the day exploring Catalina at your leisure.
The ferry drops you in the town of Avalon, the main town on the island, home to shops, restaurants, hotels, activities and more. You may return on the same day or stay overnight and use the return ferry ticket when you like.
4th Street Retro Row
A unique collection of independent shops, restaurants, and services keeping the vibrancy and creative spirit of Long Beach alive. Stretching between Cherry and Junipero, the district is home to an exciting group of 40+ independent merchants.
Kitchy and hip and always hospitable, 4th Street features vintage & contemporary clothing, furniture & accessories, art, antiques & collectibles, books, roller skates & skateboards, as well as locally owned restaurants, coffee shops, and wine bars.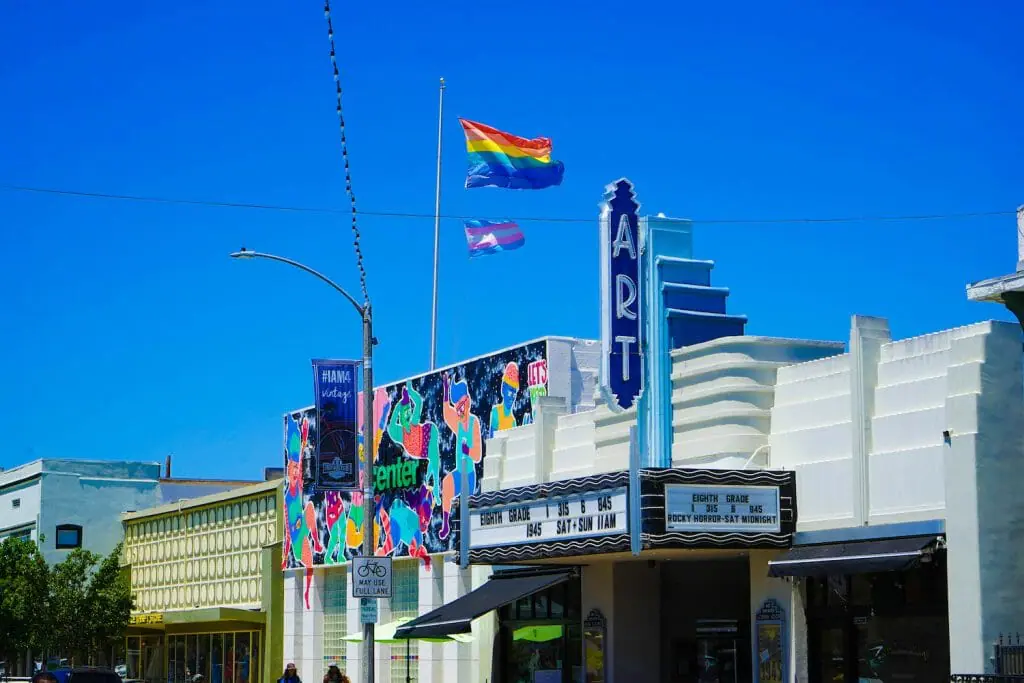 Portfolio
(Temporarily or permanently closed. If you know something, please suggest an edit.)
Retro Row's Favorite Coffeehouse deserves a shout-out for its amazing service, delicious food, fabulous vibes, and eclectic lineup of events. Very much a hub of the community, their snacks, sandwiches and gourmet desserts are sure to delight your taste buds, while their coffee is extraordinary and speedy WiFi and long tables encourage you to stay longer.
For over two decades, Portfolio Coffeehouse has been the host to legions of local coffee drinkers and is the very essence of the neighborhood watering hole, gay, straight or unicorn.
Explore the World War II-era cruise ship, the 'Queen Mary', while in Long Beach. Step aboard this floating museum and take your time learning about the ship's history, from alleged onboard paranormal activity to the art deco design. Get an in-depth look at the ship's design, mechanics and history; choose from several ticket options to suit your schedule and budget.
See sharks, penguins, and puffins up close as you explore 19 wildlife habitats from every corner of the world's largest ocean. Slip beneath a full-sized model of a blue whale, and catch the eye of a fierce leopard shark.
Travel from a Sea of Cortez kelp forest to the ice-crusted waters off Northern Japan; watch seahorses play in a tropical lagoon, pet a shark in a touch tank and listen to the eerie melodies of an undersea whale song. One of the world's best aquariums – and one of the top things to do in Long Beach!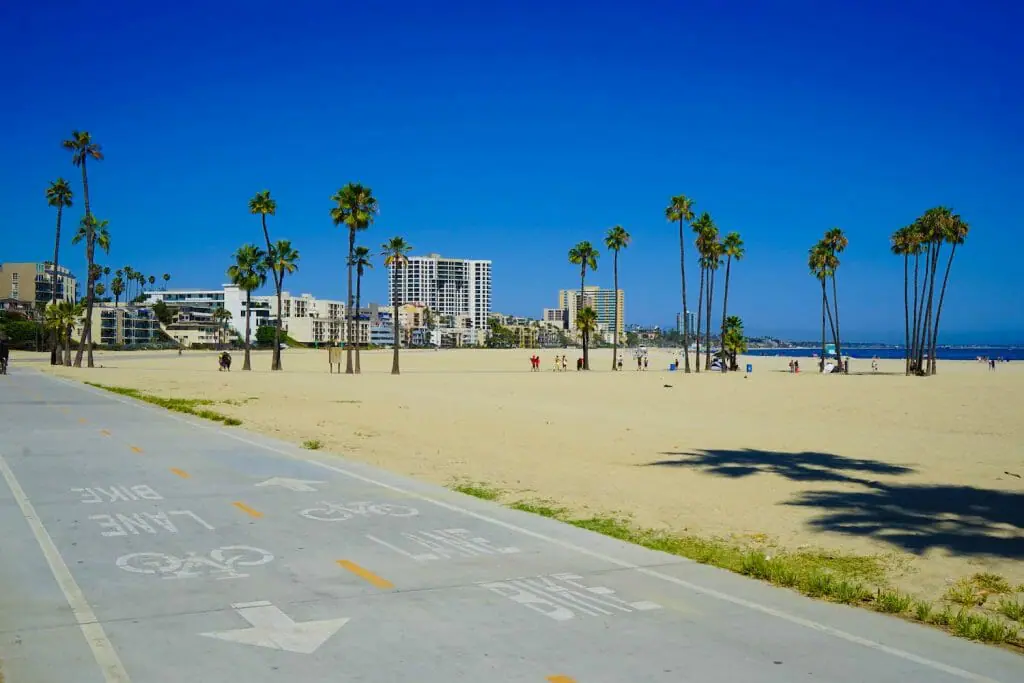 Out of the Closet
The Long Beach location of one of the world's most fabulous thrift stores that donates $0.96 of every $1 to the AIDS Healthcare Foundation. We loved that they also provide free HIV testing in-store with advanced testing technology and test results that are ready in 20 minutes or less.
Downtown Long Beach Food Walking Tour
Enjoy the culinary delights of downtown Long Beach during this 3-hour tasting tour. Sample a variety of the city's best eats as you experience seven or more tastings (and sips) of foods like Greek 'saganaki' (flaming cheese), cold-pressed juice, and much more.
Visit seven or more top-notch food spots in this Southern California city. Taste local favorites like Greek 'saganaki' (flaming cheese) and cold-pressed juice. An upgrade with additional alcohol pairings is also available.
Eat, drink and be, well, Mary, at this LGBT+ popular bar & grill chain renowned for serving diner classics and strong drinks alongside drag shows and weekend brunches. You can find it dotted around gay hubs in North America, including Orlando and Chicago or closer in Las Vegas, San Fran, and West Hollywood.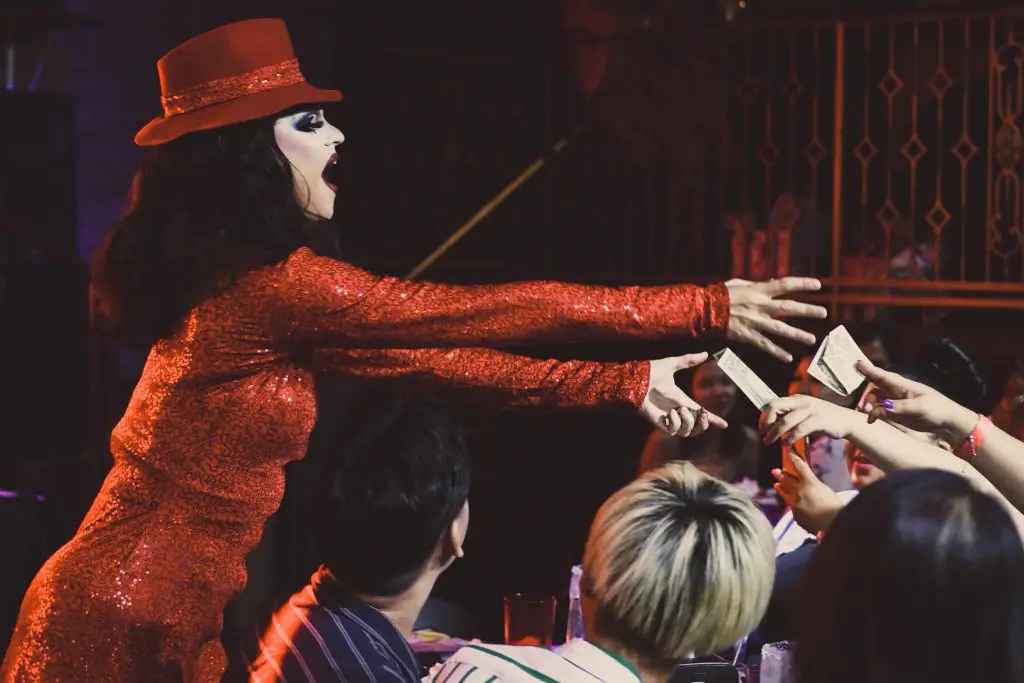 East Village Craft Cocktail Tour
Sip your way through Downtown Long Beach's favorite watering holes, while learning about the city's growing craft cocktail movement. Drink at 4 stops in Downtown Long Beach's East Village Arts District for over 3 hours. Nosh on curated small bites throughout the tour while learning trivia about your favorite spirits! No lines. No cash. Just fun.
Disneyland Park & Disney California Adventure
Fine, this is not exactly in Long Beach, but what kind of gays would be if we didn't recommend visiting the original Disneyland, the brainchild of Walt Disney and the only park built under his supervision?
Try out all the classic Disney rides like Space Mountain, It's a Small World, and Indiana Jones Adventure, dine in childhood fantasy locations and meet all your favorite Disney friends like Mickey Mouse, Goofy, Donald Duck, and more!
You will have to hire a car (or take a ride-share) to get here, but it will absolutely be worth it. Oh, and Gay Days Anaheim is a thing, just like we fell in love with in Disney Orlando.
More than 80,000 participants annually flock to this two-day event held in May, making it not just one of the biggest queer events in Long Beach, but in all of Southern California! Involving everyone in the LGBT+ community with family-friendly zones, teen pride, a huge parade and plenty of club parties, there is no better time to visit Gay Long beach – and celebrate with your global rainbow family!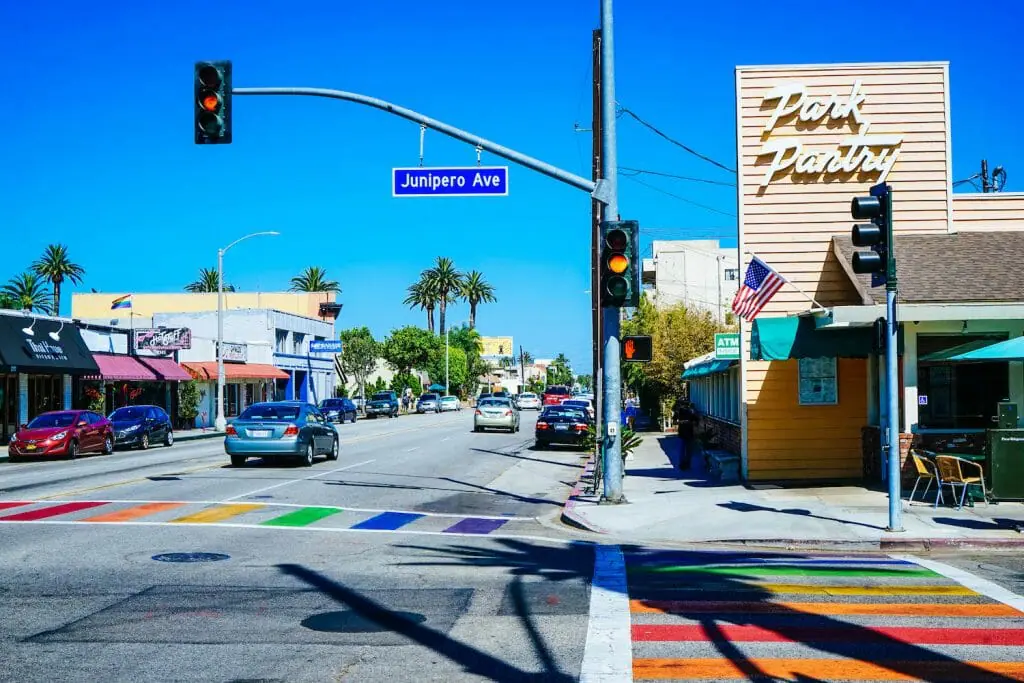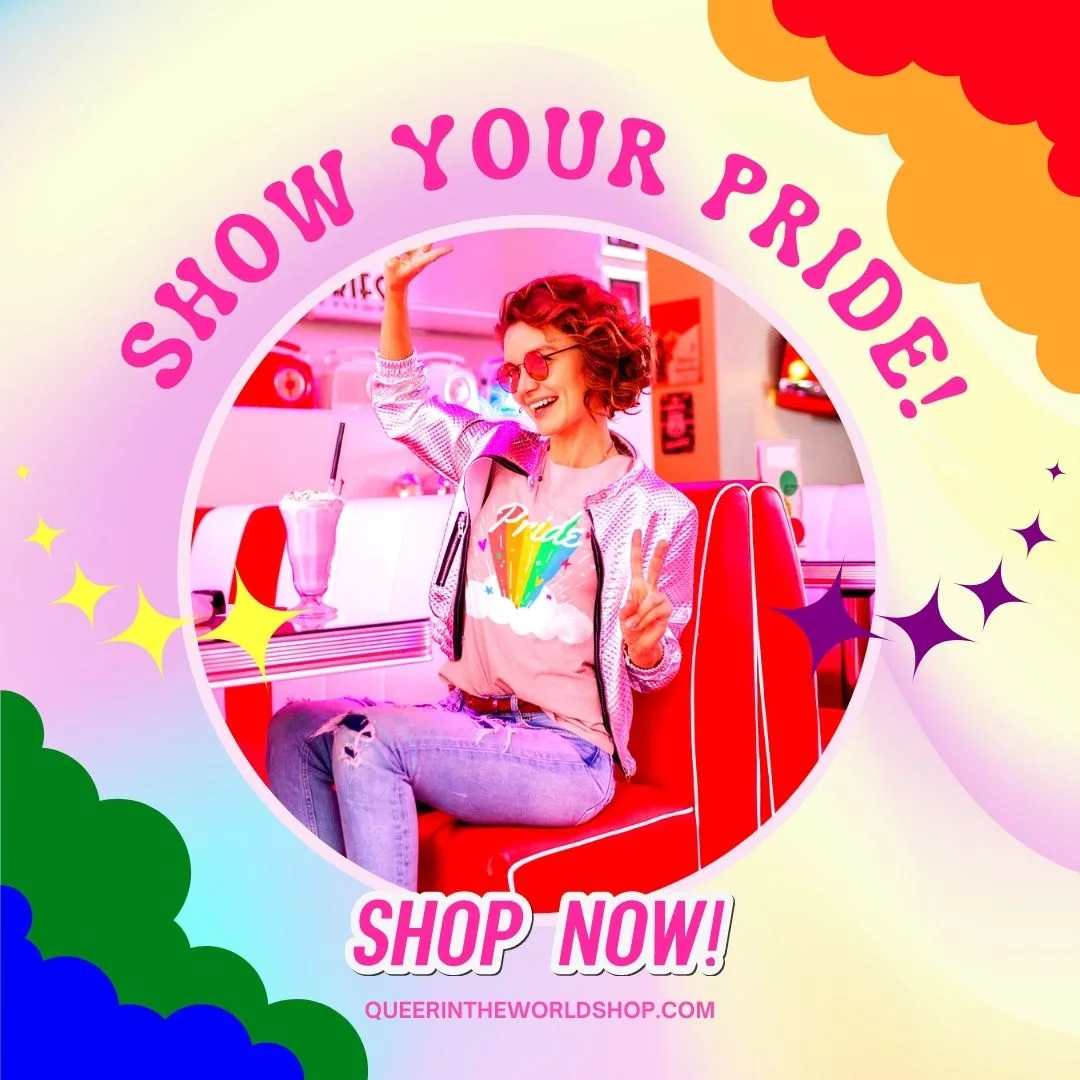 Gay-Friendly and Gay Hotels in Long Beach
In this glorious and extremely beachside city, you will not find any major hotel accommodation that isn't gay-friendly.
After all, being gay-friendly is about providing a non-judgmental and respectful environment in which all people are treated equally. In saying that, elegant design, helpful staff, and excellent value for money never hurt anyone. Some hotels in Long Beach have also gone above and beyond in recognizing and marketing to the LGBT community, and given their popularity with gay travelers; we would say it has paid off!
Everybody likes to be surrounded by people with common interests, and as such, there are a few hotels in Long Beach favored by gay travelers – although, to be clear, there are no exclusively gay hotels in Long Beach, sadly.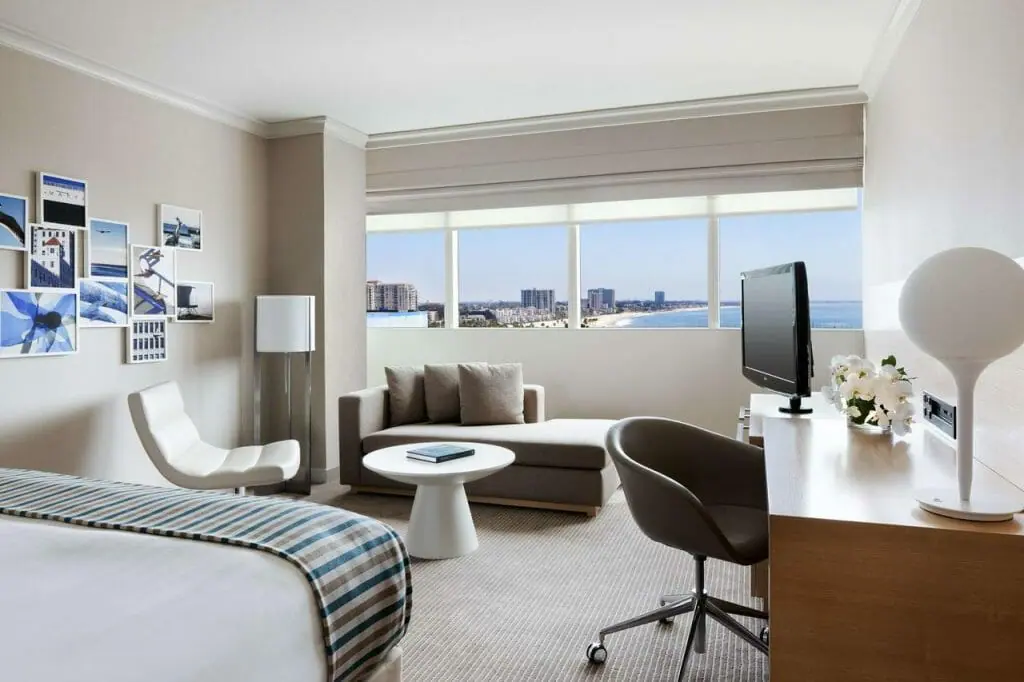 The gaybourhood along Broadway is at the forefront of LGBTQ+ inclusiveness in Long Beach – and while there is a diverse community here brimming with queer nightlife and gay-owned businesses, there are no hotels here.
Nearby, however, are the East Village Arts District and Long Beach Downtown, which give you many funky gay-friendly hotel options to consider here, all only a short drive (or walk) away.
The following gay-friendly hotels in Long Beach are only the most recommended, but there are hundreds of other hotels in Long Beach if you don't find quite find what you are looking for, whether you want a fun and social hotel, a cheap but private place to crash after a night of partying or a chic luxury option to sip cocktails surrounded by fashionable people, Gay Long Beach as something for everyone!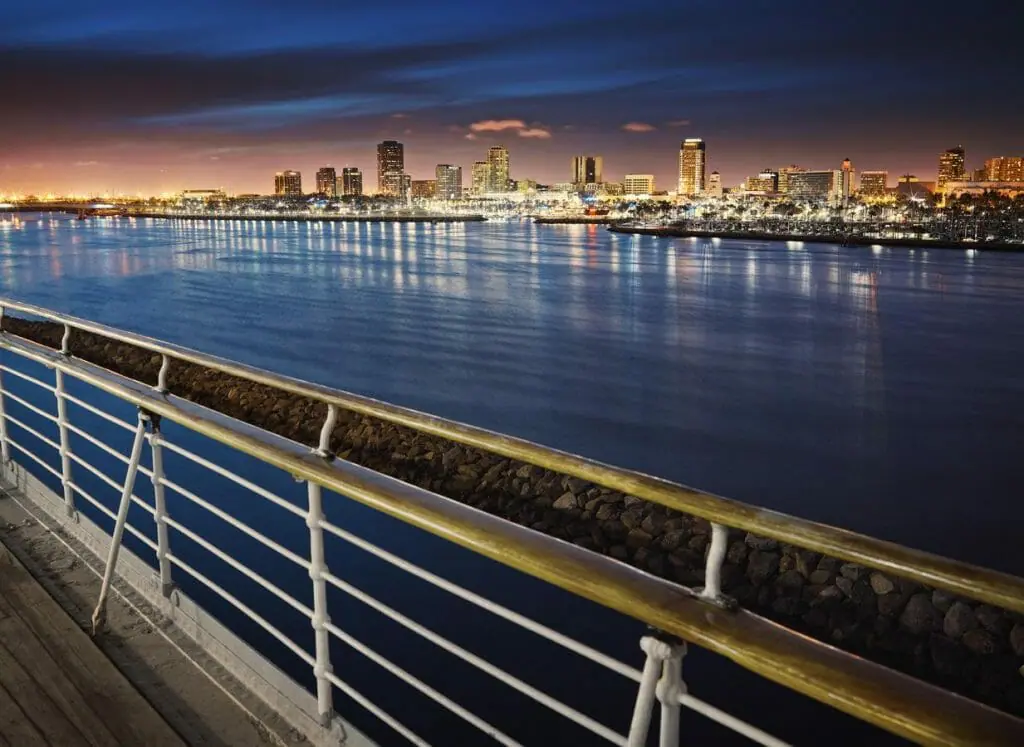 Gay-Popular Hotels in Long Beach
Not a hotel but a spacious and clean designer apartment featuring wood flooring, designer colors, 2-inch blinds, and vintage charm is just a few minutes walk from the gaybourhood. If you are driven by value for money or simply desire a more private location to host, Beach Haven is an excellent choice.
Wander down for sunset at Junipero Beach or hit up the Happy Hours at any of the gay bars; everything is so easy from this location – including parking which is included for free. There are no gay hotels in Long Beach, so why not just stay as close as possible to the gay scene instead?
A DoubleTree by Hilton property that is particularly gay-popular, probably thanks to its stunning swimming pool, where floating cabanas and fire pits emphasize the exotic design of the hotel. Of course, the people watching here are extraordinary.
Newly renovated with spacious guest rooms featuring private balconies, the lush tropical gardens, colorful decor, and stunning views of Long Beach Oceanfront make DoubleTree Maya a wonderful choice.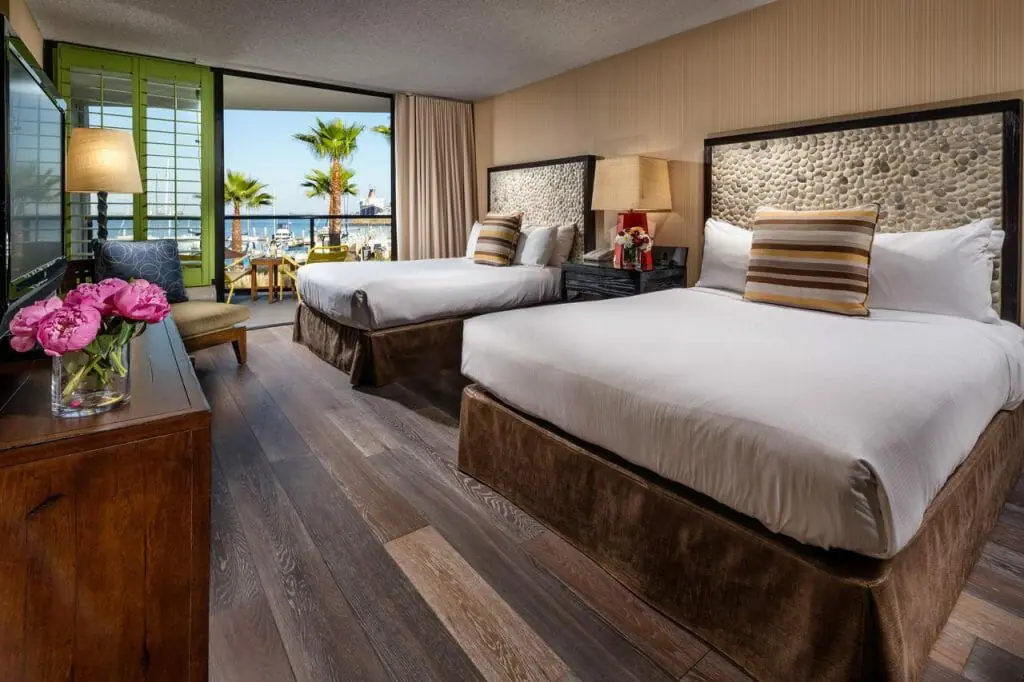 Located on a premiere waterfront spot in the heart of Long Beach Downtown, this luxe-hotel offers 528 guestrooms and suites with either ocean or harbor views.
With a combination of style, sophistication, comfort, and the ideal site, the Hyatt is an LGBT-friendly and popular stay for both business and pleasure, with chic ultra-modern décor, a delightful pool area, an expansive sun deck, a gym, and luxurious Regency Club lounge.
Courtyard by Marriott Long Beach Downtown ☆☆☆☆
A modern hotel on the edge of the Downtown – and only a ten-minute walk to the gaybourhood strip – it's no wonder so many LGBT travelers check in here. Offering contemporary rooms, a living-room style lobby for socializing, an outdoor heated pool, a gym and on-site parking, the Courtyard by Marriott Long Beach also just happens to be one of the best-rated hotels around. We can easily understand why.
Another affordable hotel in close proximity to the gay scene, nestled in the heart of Long Beach's East Village Arts District. Built in 1923, retaining its Art Deco roots after an extensive renovation, there is a range of upgraded rooms and apartment-style suites to accommodate different needs and budgets.
With art galleries, coffee shops, and unique retailers right on your doorstep, and the Metro Blue Line Stop so close for getting whizzed into LA downtown, the Hotel Royal offers everything you need (and no costly amenities you don't) for the perfect stay in Gay Long Beach.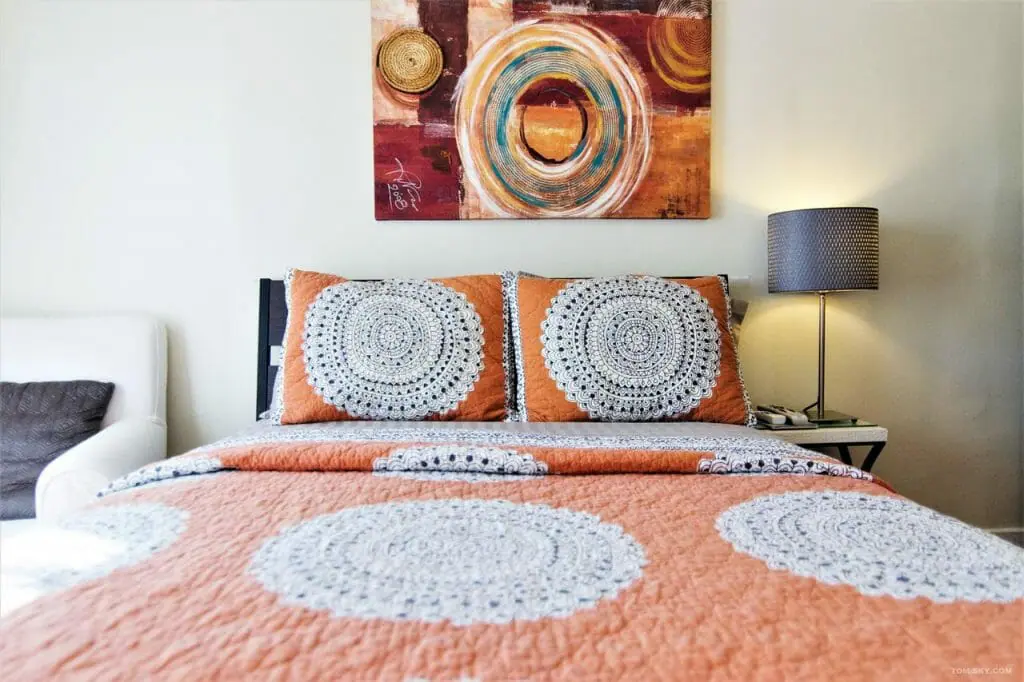 Original Art Deco Rooms aboard the Queen Mary. Whether it's the authentic polished wood paneling, the original 1930's artwork, the Art Deco style or the operable porthole(s), there's no question that the Queen Mary Hotel is unlike any other Southern California hotel. Each stateroom is unique with its own personality and offers a real glimpse into what transatlantic travel was like during the '30s, '40s and '50s.
With an impressive history and tradition of excellence, the Queen Mary Hotel is more than a place to rest one's head – it's an entire experience. For us, it's located a bit too far away from everything, but hey, it's something different and often rather affordable out of peak season.
Pamper yourself at Long Beach's newest lifestyle boutique hotel with an oversized guestroom. Setting the tone at check-in with complimentary champagne or juice, why not enjoy their large outdoor heated pool with sundeck, firepit & cabanas before heading down to the cozy bar later at night? Located a 15-minute drive away from the beach and gay scene, something which the price reflects.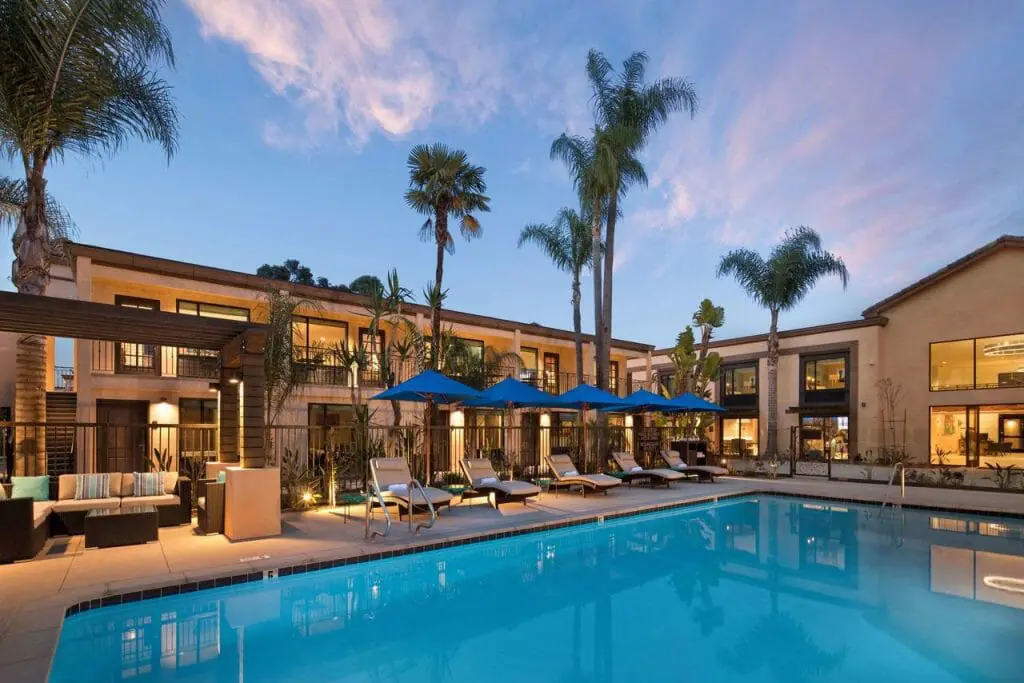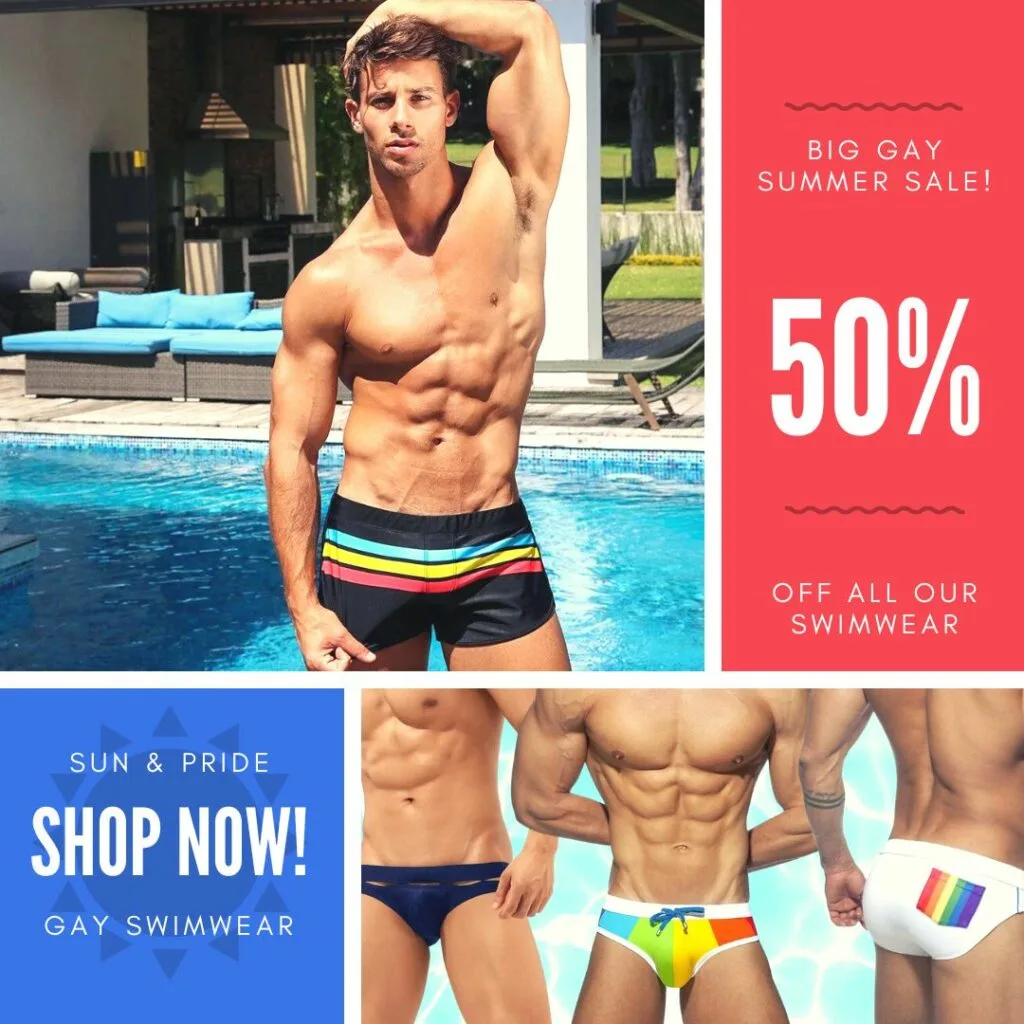 Gay Nightlife in Long Beach
With Long Beach being one of the most gay-friendly destinations in the world, you would expect a ridiculously good gay nightlife scene – and luckily, Long Beach does not disappoint.
Depending on your mood, you can find anything here, from a relaxed cocktail in an upscale bar to an all-night dance party surrounded by your queer family. There are also plenty of cruise/dive bars, sexy go-go boys, fabulous drag, fun events and – well, something to cater to every taste!
Visitors to Gay Long Beach tend to be more focused on the daytime fun-in-the-sun, so there is no need to wait until Happy Hour to head to the bars – and many travelers here can be found drinking any time of day on sun-drenched patios or in chic cocktail bars. Later at night, most gay bars and clubs are packed from 10 pm until into the early morning, with a mix of tourists and locals.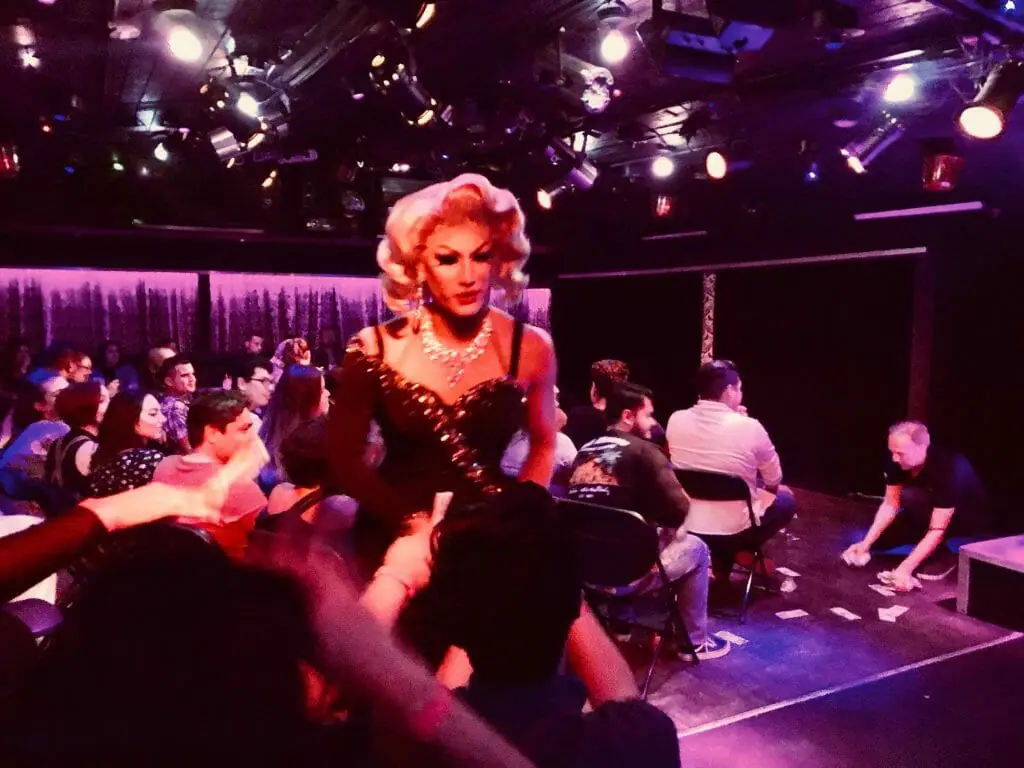 Broadway between Alamitos and Cherry Avenue is the hub of Long Beach's gay scene, with plenty of cherished dive bars, the antithesis of clubby WeHo. Classic LGBT venues such as Sweetwater Saloon, Mine Shaft, Brit Bar and Falcon can all be found here, making for a fun Gayborhood crawl, but later at night, rideshares are best for exploring the more hopping dance venues.
With a vibrant – and diverse – local LGBT community and a wonderfully gay-friendly liberal populace, you can imagine distinguishing 'gay bars' can be something difficult, which is fabulous since you know you will be welcomed as you are basically everywhere here. For the following gay venues, however, we were looking for rainbow events, exceptional recommendations, and spots specifically marketed toward gays.
We are sure you will not be disappointed.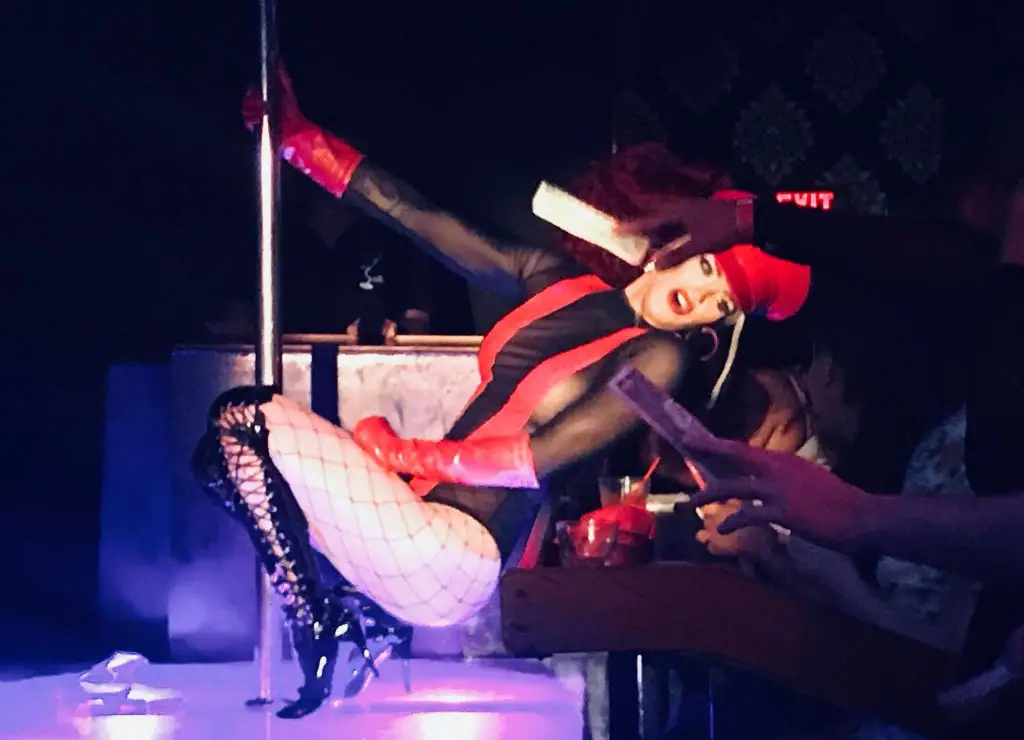 Gay Clubs & Bars in Long Beach
A casual English-style gay bear bar that you would expect to find in London or Manchester, not Long Beach… but the locals seem to love it. Never over-crowded and offering their loyal customer pool tables, arcade games, and affordable drinks.
Very cruisey with a nice variety of people and a bit more dancing later at night. Known for their jello shots and beer busts, with a very popular Friday night event: Club Bearskin.
An energetic gay dance nightclub with a pool table, video screens and daily drink specials. Grab a fun cocktail – the blueberry martini was our favorite – and head out to the large outdoor patio for a night of relaxed conversation or stay inside, flirt with the cute bartenders or dance the night away. Hosting a range of parties across the month, including drag bingo and Drag Race viewing parties.
Club Ripples
(Temporarily or permanently closed. If you know something, please suggest an edit.)
Long Beach's longest-running gay and lesbian nightclub features two levels, two bars, two dance floors, an ocean view and plenty of weekly events. High-energy, late-night fun with cocktails, DJs and always some form of entertainment.
Their long list of events is listed on the website, including weekly drag and burlesque shows and the hot-as-hell Latin Saturday nights where the party is just like those we found in Mexico City or Bogota.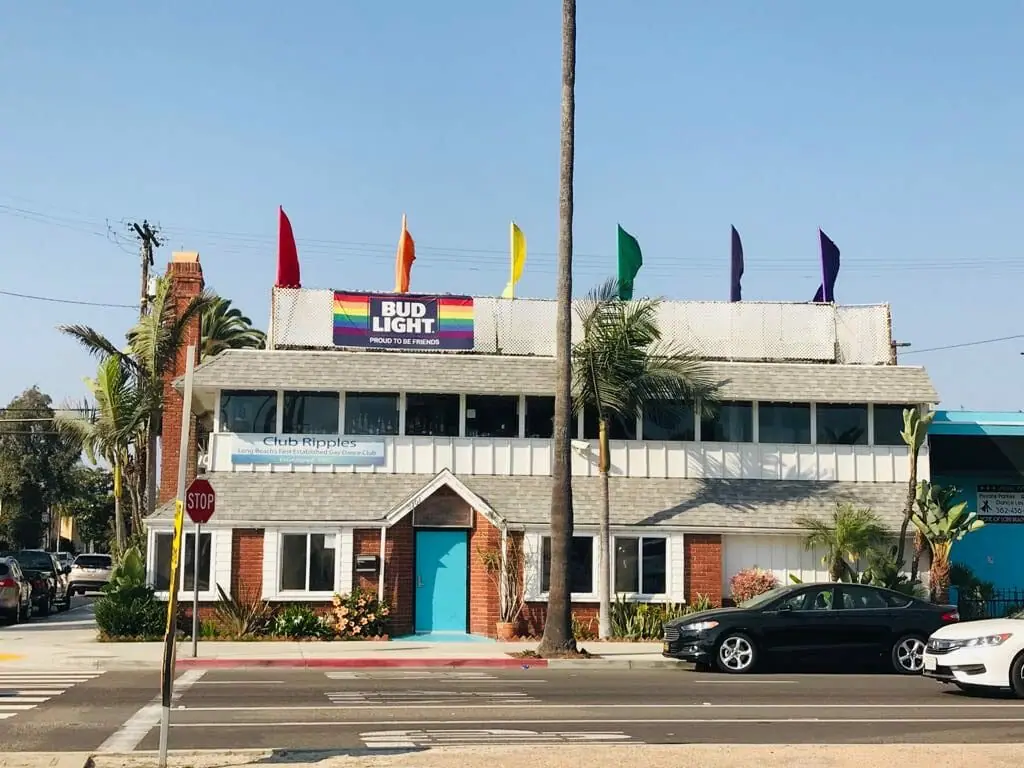 A no-attitude gay dive bar for the levis and leather crowd. Cheap drinks, pool tables, and jukeboxes set the vibes, though some nights are more popping than others in DJs, happy hour specials and event nights for the fetish crowd.
There are even go-go dancers on Friday and Saturday. Having been a part of Gay Long Beach for over 30 years, it's fair to say Mineshaft is one of the most beloved bars in town and can often get pretty crowded, though it is never uncomfortable.
A comfortable gay bar with a modern theme, pool table, small patio, and nightly drink specials. Recently renovated, stop by for their complimentary Sunday BBQ from 4 – 8 pm, or fun cocktails and draft beers any day of the week.
The classic LGBT restaurant-turn-nightclub, this is where diner class meets cocktails and quirky entertainment. Fantastic food, a fabulous drag show, and a late-night dance atmosphere that we are living for!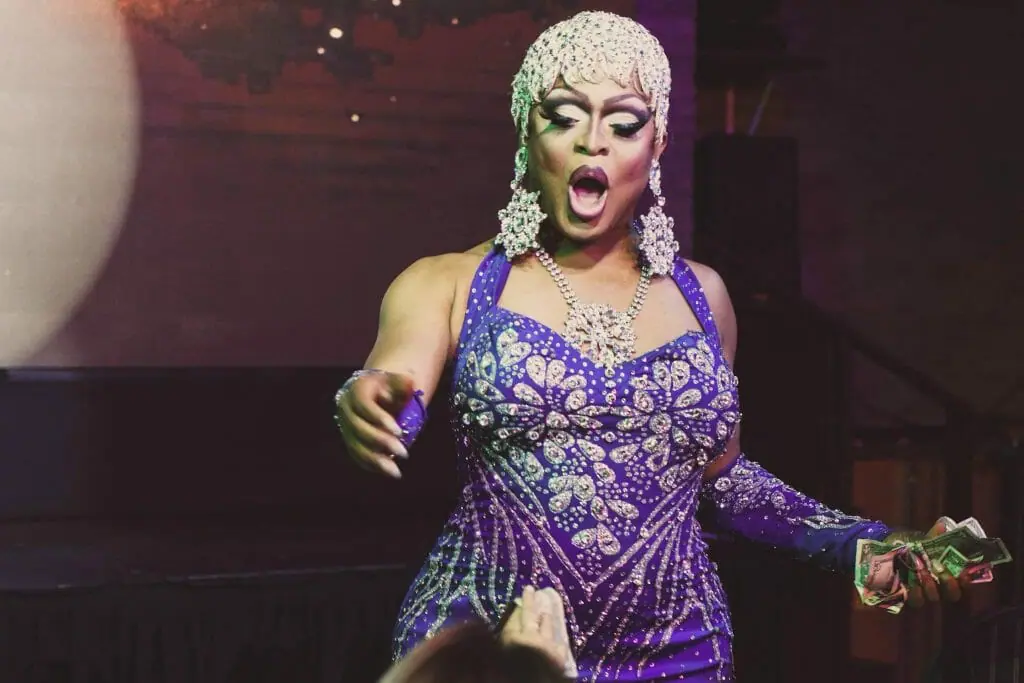 A trendy gay bar in Long Beach, with sexy bartenders, bar snacks and a diverse crowd of queer peps and their allies. Even when they get busy, the stiff/cheap drinks are worth the wait, though, on quiet nights, you can easily discover what excellent conversationalists the bartenders are.
A very cruisy leather bar in North Long Beach with kinky weekly events, cheap beer and an anything-can-happen mentality.
A mainstay of the Long Beach gay scene, recently completely renovated by new owners. Classy, sophisticated and welcoming: this is what we think all gay venues should strive to be. On the upper level, there is a dance floor, bar, VIP seating area and show bar where famed performers from RuPaul's Drag Rage, like Latrice Royale and Morgan McMichaels, perform each Thursday in the Lipstick Divas Show.
The lower level hosts a posh Ultra Lounge, which features a martini and cocktail bar, and luxurious, cabaret-style seating with full couches and modern tables. Retro lighting adds a carnival-like ambiance, and the long line-up of events at the Suite means there is a reason to head here almost every night of the week!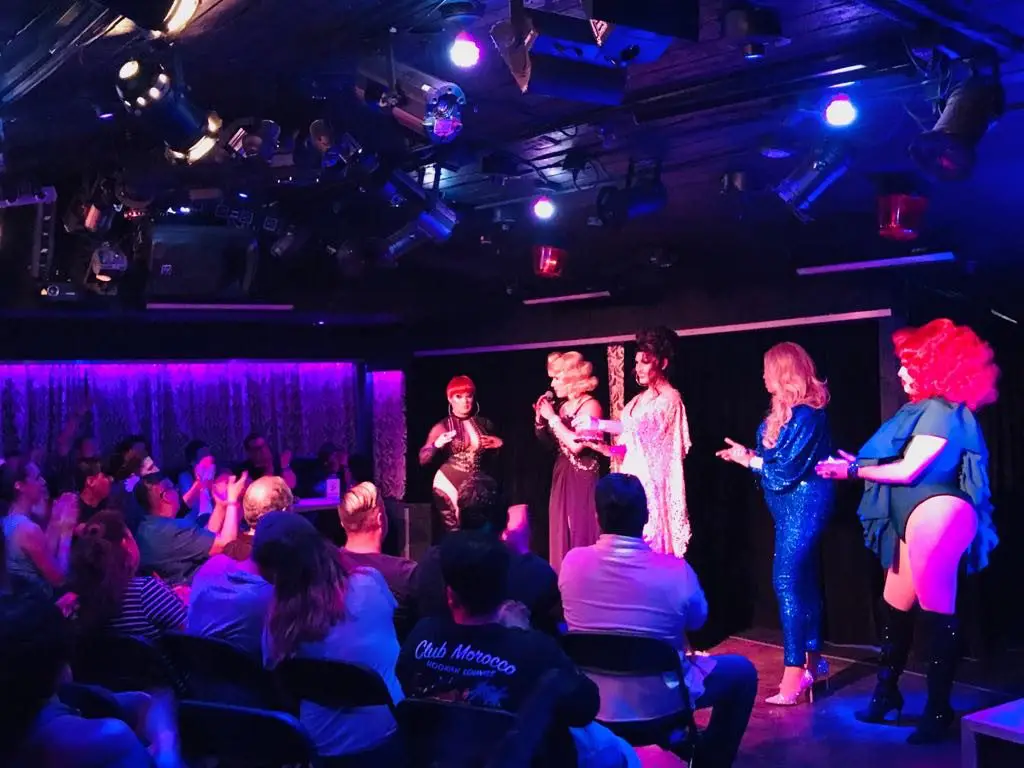 A fabulous gay bar with daily happy hour-themed events, and never a cover. Friendly people who want to dance pile in here, during the weekends, especially for the house music, divine bartenders and good vibes.
A friendly neighborhood gay bar that has been open for over 40 years! Often named the best karaoke bar in Long Beach (which takes place every Friday and Saturday), we also recommended going for the daily Happy Hour until 8 pm. Of course, there are strong pours and delicious cocktails, as the name would lead you to expect.
One of the premier gay clubs in Long Beach – and the Greater LA county area. Expect well-stocked bars, luminous space lighting with color effects and projections and multi-screens, featuring contemporary and classic music videos in an inviting and comfortable lounge setting.
The unmissable building facade is a collaboration of John Schinnerer and famed Art Deco restorationist Joe Musil, recreating the actual design elements used in the San Francisco Bay Exhibition of 1940. Then there are the fun weekly events which include a Tuesday 2-for-1 promotion, happy hour special pricing, live VJs on Fridays and Saturdays, and Karaoke on Sundays.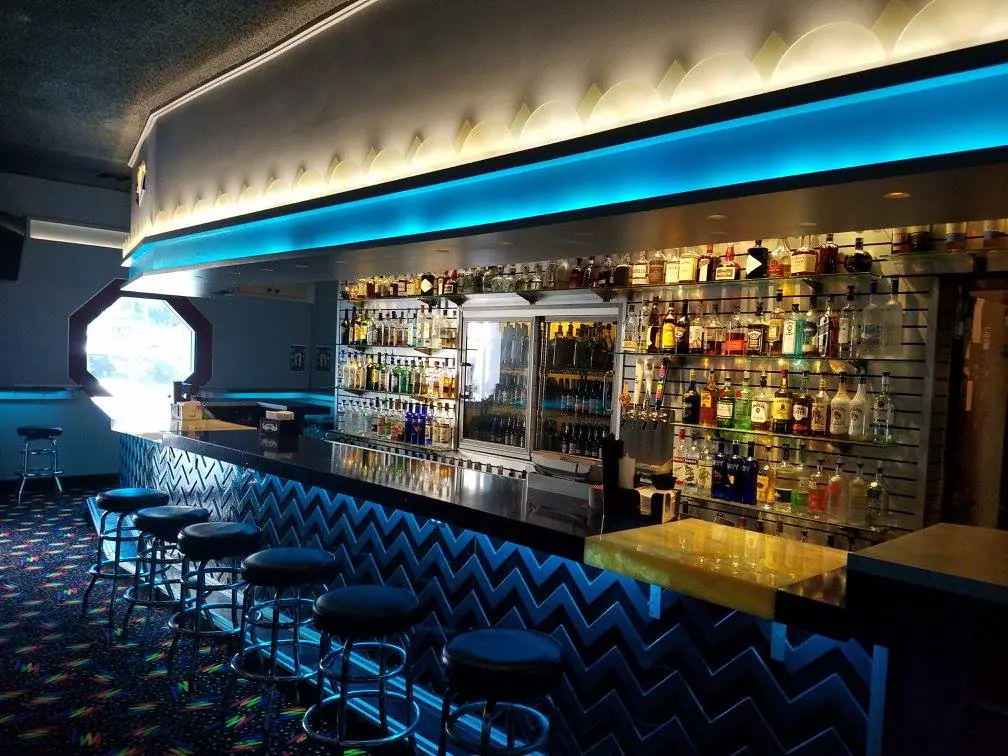 Gay-Popular Bars in Long Beach
A neighborhood wine bar with live music and a super-alternative vibe. This is not upscale elegance, but cheap drinks and weird LGBT+ crowds that we are low-key obsessed with. Totally different vibes every night but the perfect place to stop by and just see how it feels – you are either going to love or hate it.
Beer Belly
(Temporarily or permanently closed. If you know something, please suggest an edit.)
A beloved Los Angeles gastropub that has dropped its second location in Long Beach. Known as a trendy spot for craft brews and marvelous cocktails, though the upscale comfort food here is pretty incredible too. Go during the Happy Hours (Monday to Thursday, 5-7pm) for the best deals.
A magnificent choice for a pinkie-out-worthy craft cocktail and delicious food – all with a Latin twist. Relax on the outdoor patio or enjoy live DJs by stepping into the password-only speakeasy out back.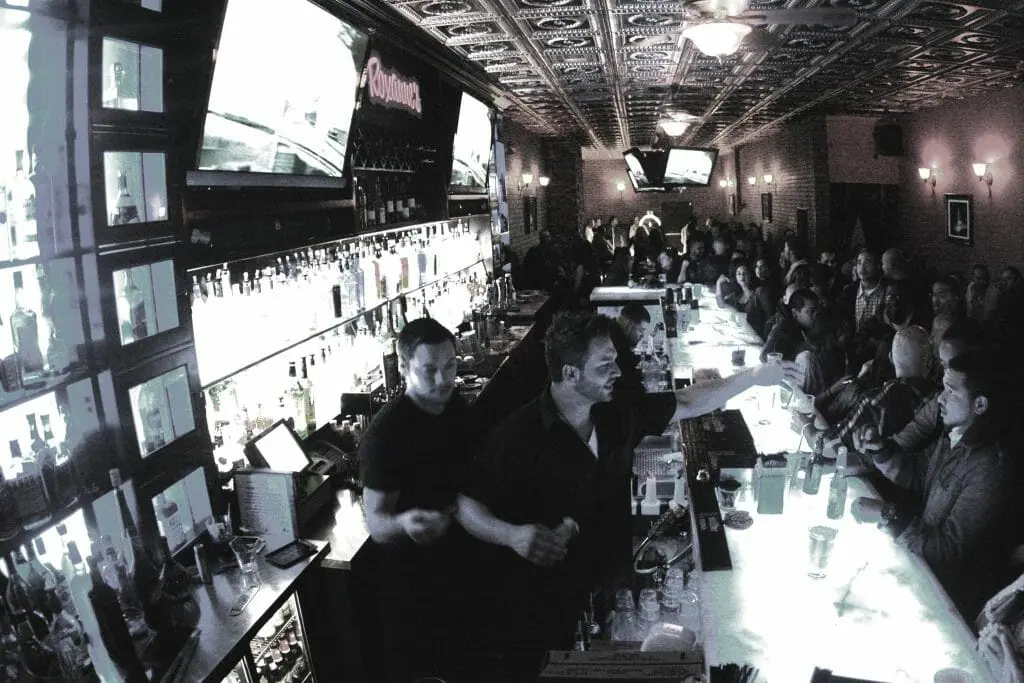 An underground whiskey bar and game room also serve craft cocktails, beer, and elevated bar food. During the weekends, this hidden gem turns into a hot steamy mess.
With an outdoor deck overlooking Alamitos Bay, it doesn't get much better than this. Get ready to stay all day. With refreshing ocean breezes and incredible water views, this Long Beach location is a sprawling harborside spot with two stories, outdoor patios with fire pits, and 60+ beers on tap to enjoy while watching passing boats and gorgeous sunsets.
Welcoming to absolutely everyone, this was our favorite sunset spot in Long Beach and a fabulous way to start any night off!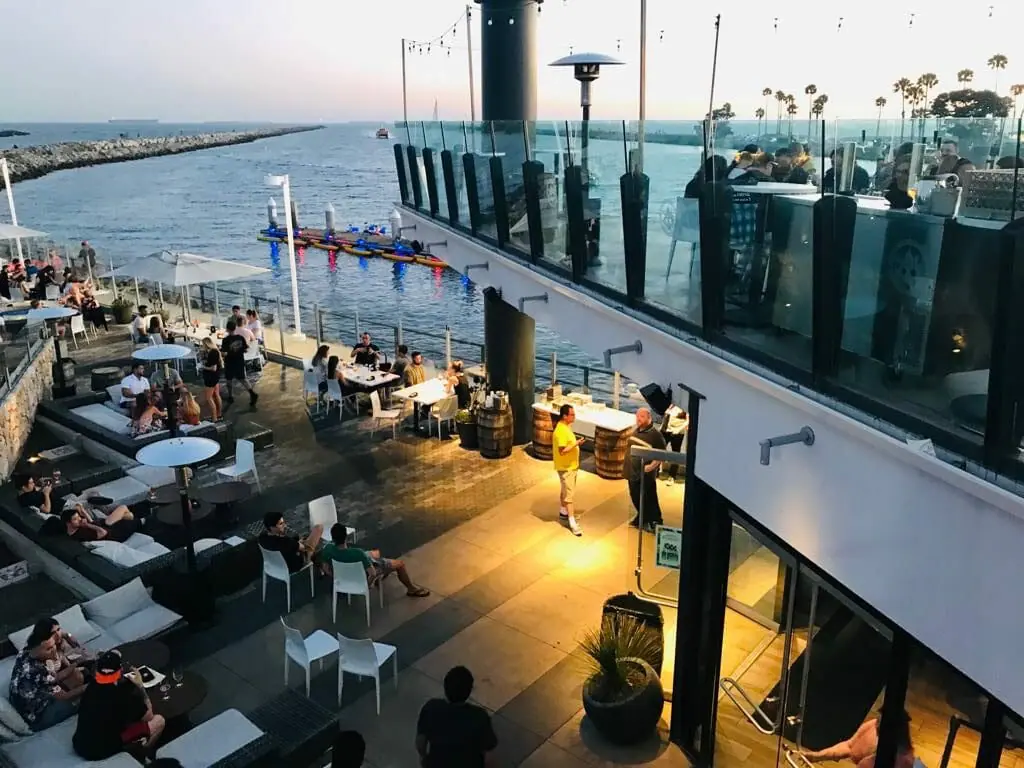 Cruising & Gay Bath Houses in Long Beach
Even though Long Beach is a passionately popular gay vacation destination, there is only one gay bathhouse in Long Beach, located a ten-minute drive away in Wilmington.
If your visiting from outside of the USA, you should know that the gay sauna culture is not very prevalent in the USA and in no way as popular or as high-quality as you might find in international destinations such as Lisbon, Taipei, Barcelona, Madrid or Berlin. Still, we never said there was no naughty fun to be had in Gay Long Beach…
With such a high LGBT+ population, you just know there has to be pretty of action going down here – and you can join in by either downloading a gay hook-up app, going to the last Long Beach bathhouse or checking out any of the cruisy gay bars. The City of Sinful Angels is obviously just up the road with more hot, steamy fun – or if you are planning further trips in California, we also found plenty of debauchery in San Diego, San Francisco, and Palm Springs.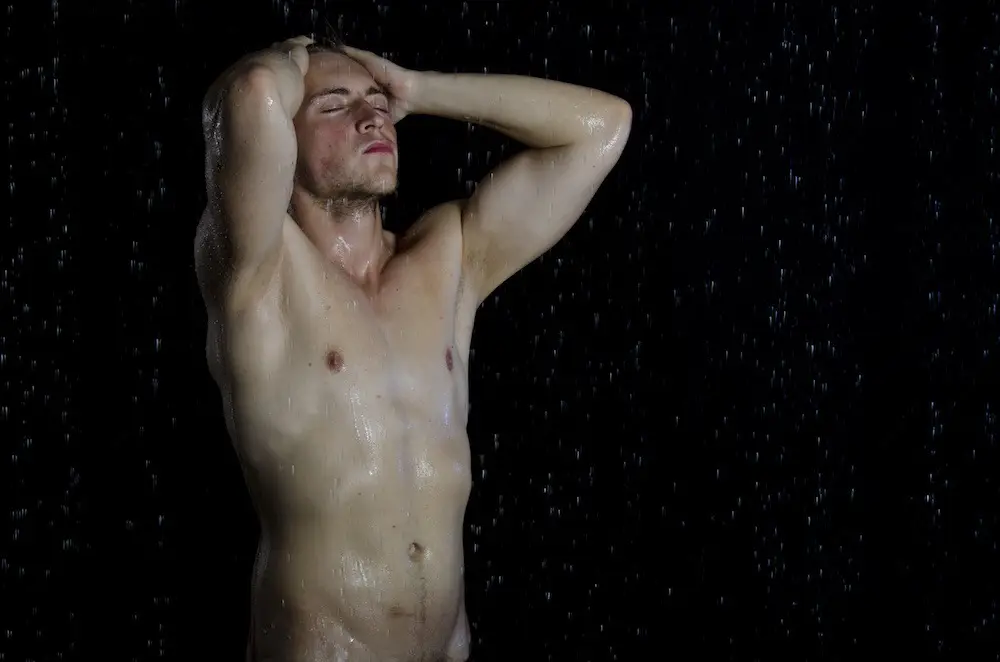 The 1350 Club
(Temporarily or permanently closed. If you know something, please suggest an edit.)
A Midtowne-operated spa with other locations in downtown LA and Denver. This good old-fashioned bath house has all the amenities you'll ever need or desire. An outdoor sun deck, steam room + sauna, lockers, private booths and plenty of gorgeous men looking for love. Relatively clean, with weekly and monthly events and free tours on Saturday at midday if you are just a little curious.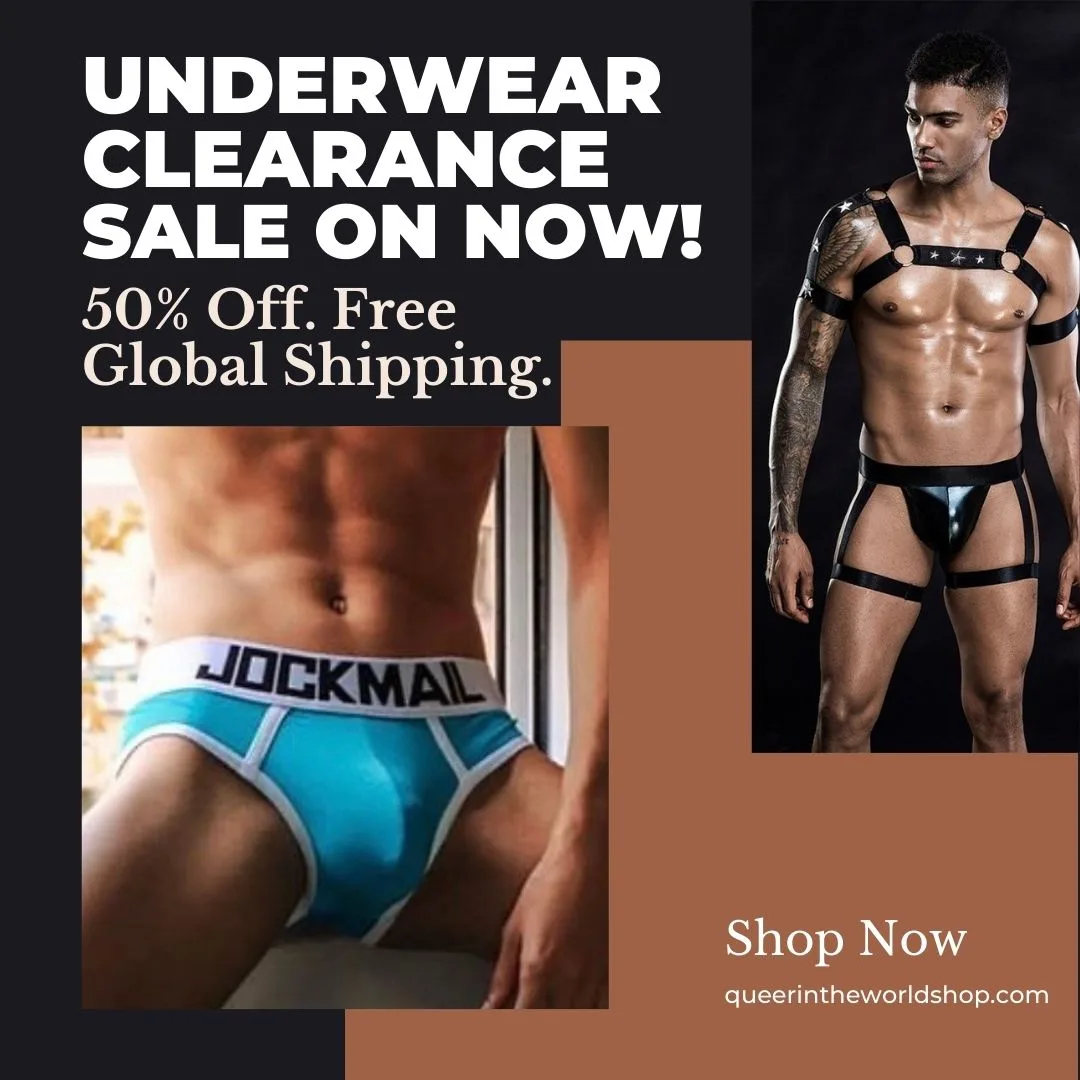 Gay Map Of Long Beach
Finding it hard to envisage where everything is in Long Beach? Hopefully, this queer-centric map helps where we have marked all the bars, clubs, parties, hotels, saunas, massages and more will help you stay in the spot best suited to you!