Experience the sheer joy and queer energy of Spain's capital, Gay Madrid, where art, gastronomy, nightlife, and beauty effortlessly combine to create a destination like no other on earth.
More elegant than Barcelona, with dignified boulevards and medieval mansions, Madrid is an architecture aficionado's dream. Lovers of art will also find plenty to feast their eyes on in the many art galleries, and don't even get us started on the food.
Then there's the nightlife – gay or straight, there are enough bars and clubs to keep you busy until dawn. It's a tolerant and welcoming city that just wants everyone to have a good time. While the traditional gayborhood is in Chueca, and has the highest number of gay bars and clubs, every neighborhood has plenty to offer gay visitors.
Areas like Malasaña, La Latina and Lavapies all boast a range of gay-friendly places to drink and party, with new things popping up all the time. Clubs are open until so late it's early again, and the vibrancy means you just won't want to go home.
Aside from hosting the biggest Pride Parade in Europe, attracting more than one and a half million visitors each year and being one of the best Gay Pride festivals in the world, Madrid also has a GayDays at the local theme park, WE Festivals around gay pride week and New Year and an LGBT film festival. Plus there is an outpost of fabulously queer Axel Gay Hotel chain and one of the world's only gay hostels where you know you'll receive a warm welcome and a place to lay your head after 12 hours of dancing.
Spain is undoubtedly one of the world's most gay-friendly country and while the Catholic Church still holds a lot of sways here, LGBT acceptance in Madrid (and other urban centers like Valencia, Seville, Barcelona, Sitges, and Salamanca) is very high. As big as it already is, the gay scene in Madrid is still growing as word continues to spread and more bars, clubs, hotels, sauna, and cafes battle it out for the almighty Pink Dollar. Yes, we all know the gays all love a good trend and in Madrid, everything has snowballed so that today it is all gay, all the time!
While the gay nightlife in Madrid is about as celebrated as it gets, there is also this warm Spanish soul, laid-back outdoor lifestyle and absolutely welcoming to all attitude to draw in LGBT travelers from all walks of life. Whatever you are looking for, we are sure you can find it in Gay Madrid.
Gay Madrid Guide: The Essential Guide To LGBT Travel In Madrid Spain
Attractions in Gay Madrid
Being gay does not define which attraction most of us will want to see in each city and most queer tourists will simply want to check out the top things to see in Madrid during the day!
Madrid is a very safe city, but still, all travelers should take caution with valuables. Gay people in Madrid do not need to make any precautions at all regarding public displays of affection in this very progressive city, and we encourage you to experience what true freedom feels like. There are so few places in the world as uninhibited and liberating for gay couples as Madrid, and this is something every one of us should be able to experience every day!
Madrid has so many things to do it can be overwhelming, but most gay travelers simply head for the Chueca gaybourhood or to the world-class museums during the day. We, however, also enjoyed investigating local food markets, fabulous architecture, art galleries, and the quaint surrounding towns. Other days, relaxing by our luxe hotel pool – cocktail in hand – was the only thing on our agenda. If you are not sure where to go, take a peek at our gay map of Madrid at the end to get an idea of where all the gay bars, clubs, sauna, cafes and stores are.
Having said that, here are just a few of our favorite things to do in Madrid to get you started!
Top Highlights Of Gay Madrid
Gay Events In Madrid
Madrid is where We Party, one of the biggest names in gay clubbing worldwide, was formed and is home to two of their flagship events held around Pride and New Years.
Sleazy Madrid and Madrid Gay Pride are the two biggest events of the year, so if you plan to attend – or visit during this time – book your hotel far, far in advance. There are many, many, many more events held annually which have listed also later on but these are the big ones you should know:
Gay-friendly and Gay Hotels in Madrid Spain
While basically every hotel in Madrid is friendly and welcoming to the LGBT community, there are some that make an exceptional effort to be part of gay Madrid.
No hotels are exclusively for gay men anymore – a sign of the liberal times we guess – but others are still a crucial part of the gay scene because of their location and history and some hotels are just known as being exceptionally welcoming of gay guests. The following gay hotels in Madrid can all be relied on for an extraordinary stay in Madrid, though one of these is the 'hetero-friendly' gay hotel Axel which is almost guaranteed to only have gay guests staying.
In all of the below options, you'll find sheer decadent luxury, contemporary design, and delicious in-house restaurants – along with plenty of other gay guests. If Madrid wasn't so amazing, we'd never leave some of these hotels!
There are hundreds of other good hotel option in Madrid if you don't find what you are looking for but we are confident you'll find something here for you. Whether you want a fun and social hostel, a cheap place to crash after a night of partying or a chic designer option to sip cocktails and surround yourself with fabulous people – Gay Madrid as something for everyone!


Gay-Friendly Luxury Hotels in Madrid
Gay-Friendly Budget Accommodation in Madrid
Gay Nightlife in Madrid
We are not even sure where to start as the gay nightlife in Madrid is amongst the best in the world.
If you are as overwhelmed as we are, the only thing you need to know is the main gay area for nightlife is the Chueca area just a few steps from Gran Via. This gaybourhood contains more gay spirit than anywhere else in the city – but is by no means the only place to spend the night with your global queer family.
Gay club parties in Madrid are all the rage with different events taking place across the city every evening, but we have only listed the most popular and fabulous here, as there are almost too many to count! Use our Gay Madrid Map at the end if you're lost, but there is plenty of plenty of bars, cocktail lounges, bearded glitter queens, bear dens and hardcore masculine-fetish parties littered across Madrid to satisfy even the most discerning of gay travelers.
Many restaurants here don't get busy till around 10 pm, which bars filled from around 1 am and clubs getting going around 2.30am. The insanely-epic weekend events like Kluster are the exception to this however and full up fast! Cash is king here, and pickpockets are sadly rife throughout almost venue we visited – just be careful, leave your non-essentials at home and just take what you are actually going to use on the night. Take special care at bars and in dark rooms as – well, easy targets are those literally with their pants down.
We have only focussed on explicitly gay venues here in Madrid, but the city and country are so liberal don't feel like you can't make out with your partner in most bars or clubs here!
Refreshing and freeing, men in Madrid take their partying seriously and you can rest assured – the gay nightlife in Madrid has something for everyone!
Madrid Gays Bars In Chueca Area
Other Gays Bars In Madrid
Weekly Gay Dance Parties and Night Clubs In Madrid
Less Frequent Gay Parties In Madrid
Gay Saunas in Madrid
Had enough of gay cruising in Madrid – either in the bars or elsewhere?
For those who want a bit more guaranteed action, there is eight steamy gay sauna in Madrid that shouldn't leave you disappointed (unlikely all those faceless accounts on Grindr or the other hook up apps…). If you want to explore your kinky side without a humid sauna, there is also the gay Madrid cruise club scene which is as sensually self-indulgent as you will find anywhere on Earth.
Foreigners are happily welcoming in all gay sex clubs and sauna in Madrid, and although many speak English, you'll still need to be good at reading non-verbal cues. Luckily we have out gay sauna guide to help you out! Most sauna here are open 24/7 at while not the cleanest in Europe, still offer plenty of fun – though watch out for rent boys at some location.
In Gay Madrid, you will quickly discover saunas are not mixed – but rather attract one type of gay client and if you don't fit the desired audience you won't have that much fun. We don't make the rules, but broadly we recommend Sauna Octopus for bears and middle ages guys, Sauna Paraiso for young twinks and jocks, and Sauna Principe for guys over 50.
Does this division hurt our community and allow for discrimination, sure, but if you want to actually have fun then you need to follow their rulebook.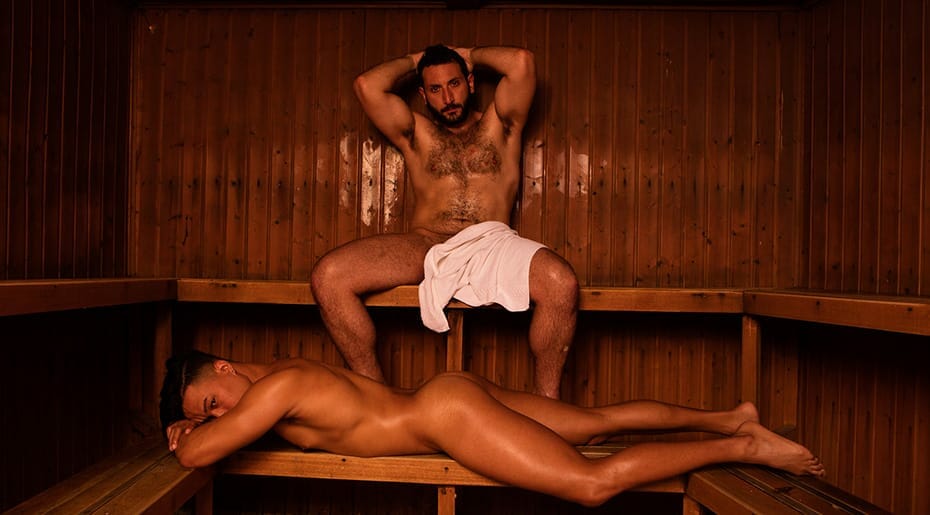 Gay Cruising and Fetish Clubs in Madrid
If the bars, gay parties or saunas in Madrid are too vanilla for you, perhaps these fetish clubs and cruise lounges are a better fit?
We have to warn you; however, Madrid has one of the most intense fetish scenes we have ever come across – up there with Berlin, Paris, Amsterdam, Vienna, and Prague and it is definitely not for everyone. We have tried to identify places for the more 'initiated,' but there is nothing vanilla here.
Most of these ultra-hardcore cruising venues / gay sex clubs in Madrid are centrally located and easy to find, but you can use our Gay Madrid map at the end to find the closest to you.
Gay Madrid Map