Whether you go on holiday for the suntan, new experiences, to blow off steam, or just to escape the daily grind, we're willing to bet that you want to feel relaxed and free to be yourself. Thankfully the resorts and gay hotels in Madrid allow you to do just that – to be 110% yourself, without a single double-take, all in the company of other open-minded folks.
Though the fact isn't as commonly known as perhaps it should be, Spain is one of the most gay-friendly countries in Europe and is filled with gay-friendly destinations. Most major cities in Spain have not only considerable gay communities but also an inclusive and tolerant general vibe.
Today Spain is considered one of the most progressive countries in the world when it comes to protecting the rights of LGBT people and is advancing all the time. Most Spaniards support gay rights, and same-sex marriage (which has been legal in the country since 2005). The past few decades have seen great strides for LGBT rights in other areas as well, such as in adoption rights and so forth.
All of this is perfectly reflected in the Iberian nation's capital, Madrid. Probably one of the most LGBTIQ-friendly cities on the entire continent – and on the globe, for that matter – Madrid boasts a massive gay community of around a half-million LGBT residents. For comparison that is roughly the same as the entire population of Lisbon, the capital of Spain's neighbor on the Iberian Peninsula, Portugal.
Madrid's gayborhood is Chueca, the biggest gay community in Spain and one of the liveliest and most happening anywhere, with more gay clubs and bars than one can count. As the local saying goes, "Chueca isn't gay friendly, it's hetero friendly." Chueca is also home to the biggest Pride event in Europe and the second biggest in the world, in which the festivities spill out into the area of the city surrounding Chueca.
To summarize, Madrid apparently has it all for the intrepid LGBTQ traveler: sensational nightlife, a welcoming, inclusive city that embraces diversity, and one of the best gay communities anywhere. The only other thing needed for the perfect gay getaway is a great gay hotel.
But we aren't interested in just any gay hotels. For the discerning LGBT traveler, only the best gay hotels will do for that once-in-a-lifetime, unforgettable perfect Madrid vacation. And here they are, in no specific order.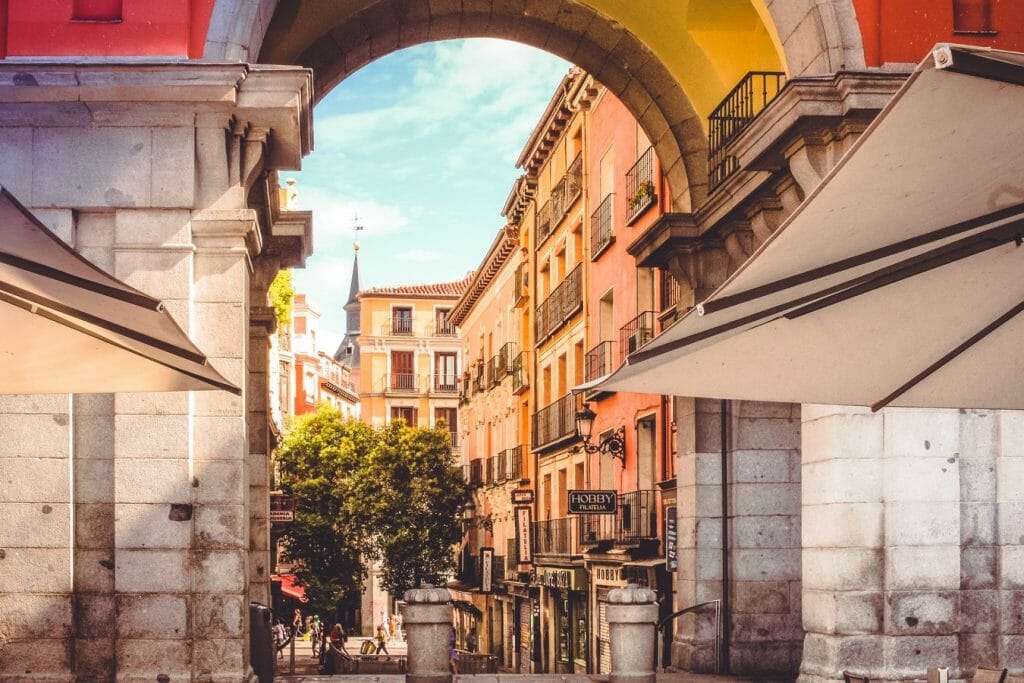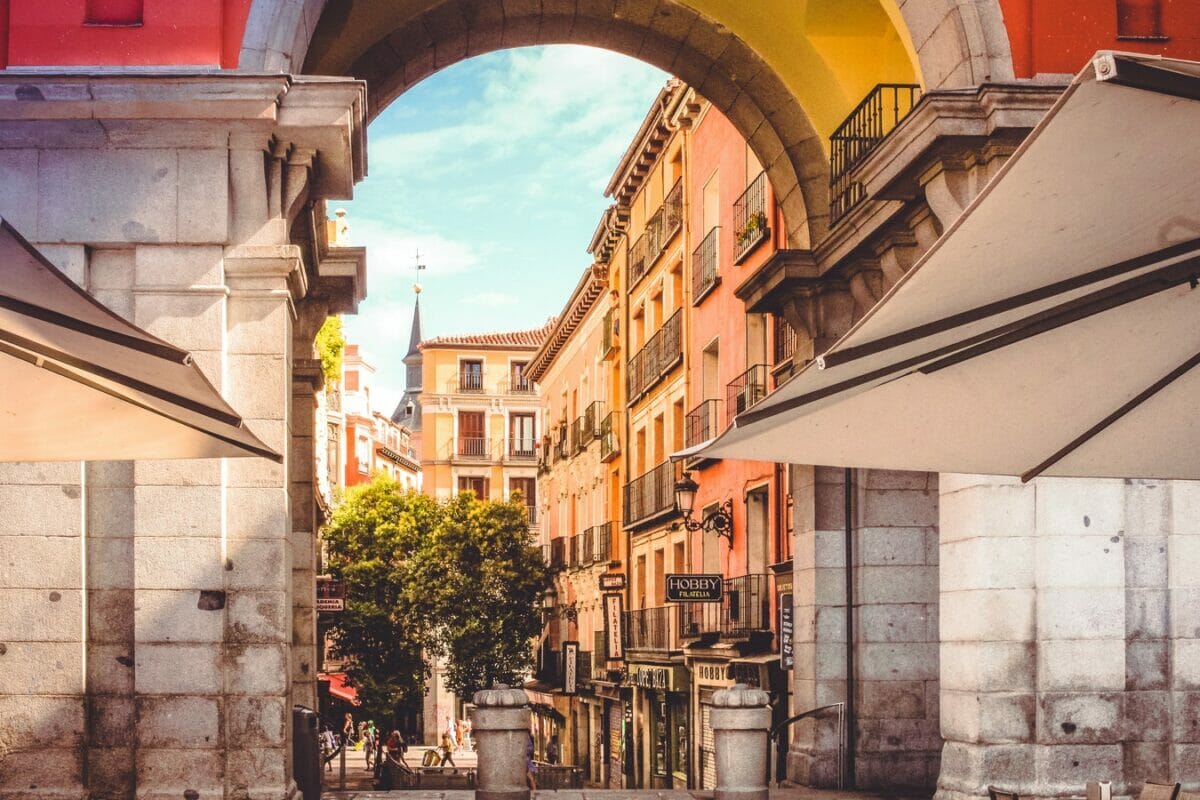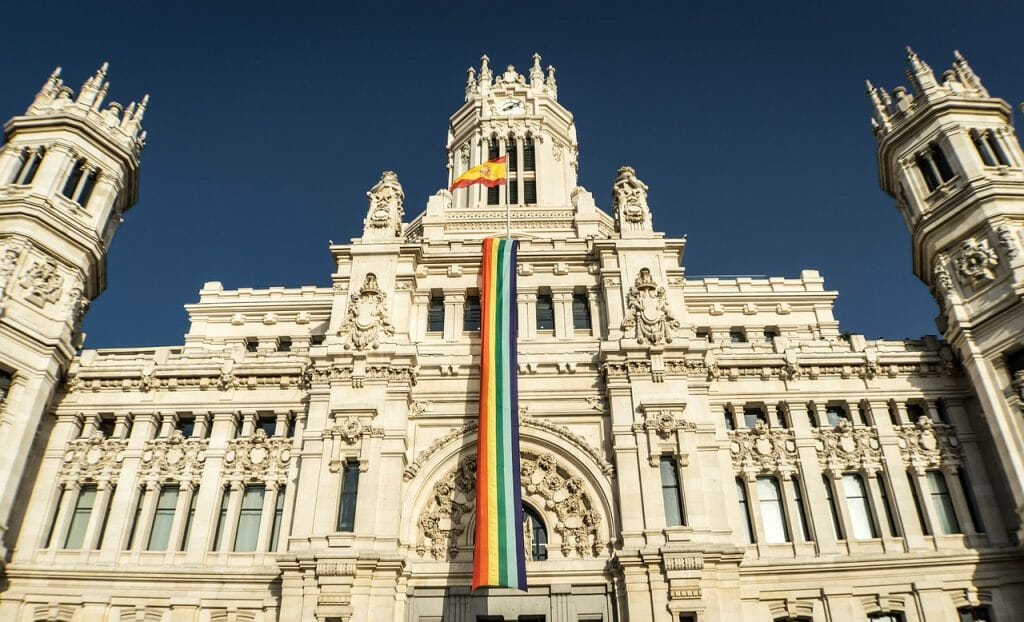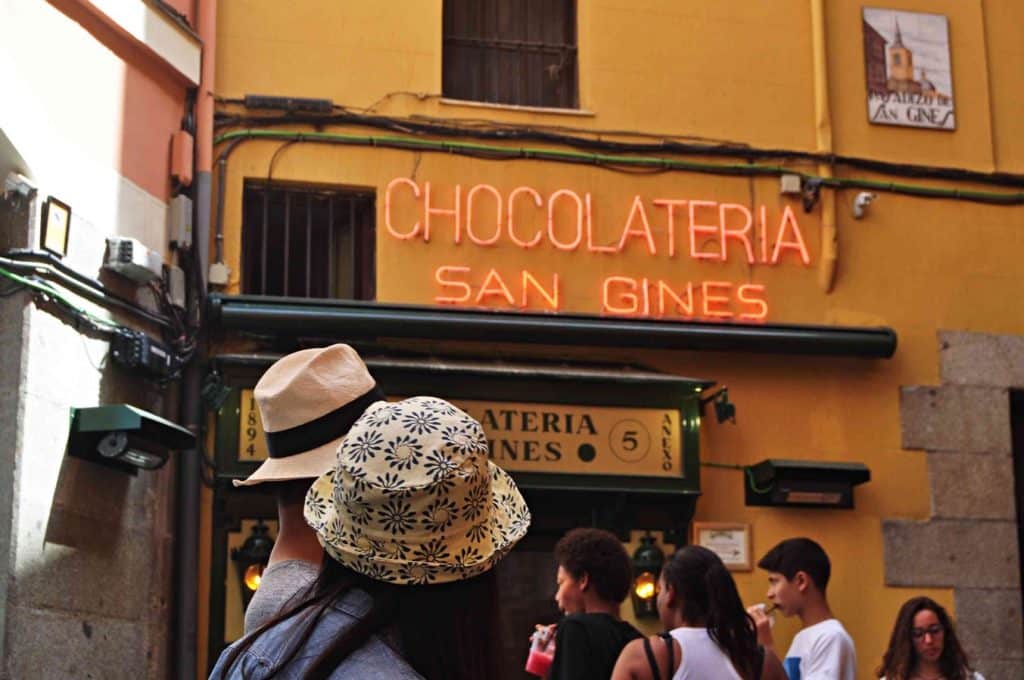 Maybe you've already experienced the glamour of Axel Gay Hotels in Barcelona, in which case it's time to enjoy the sheer energy and joy of their offering in Spain's capital. The only hetero friendly/ gay hotel in Madrid, the Axel Hotel Marid offers luxe four-star accommodation in a converted 19th-century palace.
The design and concept are imaginatively worked to recreate the spirit of the Movida Madrileña – the boom of creativity and debauchery that burst out with the death of Franco at the end of the 1970s. There are bright colors, neon slogans, and gold-tiled showers; it's gloriously decadent.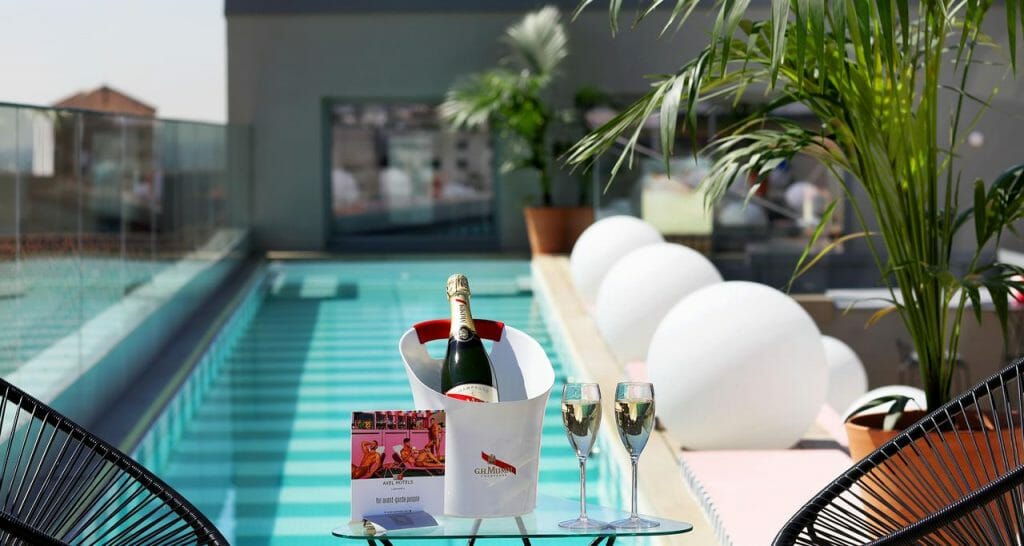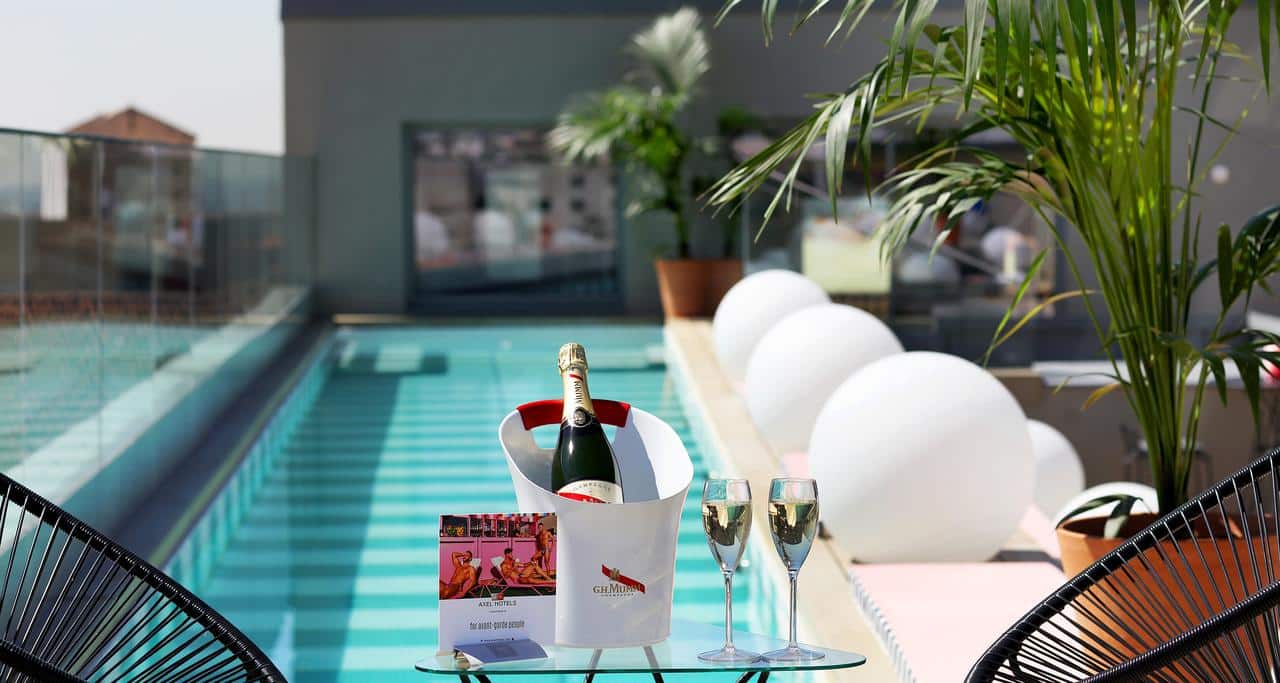 As always with the Axel chain, they want their guests – gay or straight – to have a good time and are fully equipped for that. Another rooftop pool with a bar is a summertime hangout, and there is a funky bar and restaurant space on the ground floor with more Movida references. In a brick-vaulted basement, the Bala Perdida Club offers all the indulgent partying you could wish for.
Not the only gay-popular hotel in Madrid..but one of our personal favorites!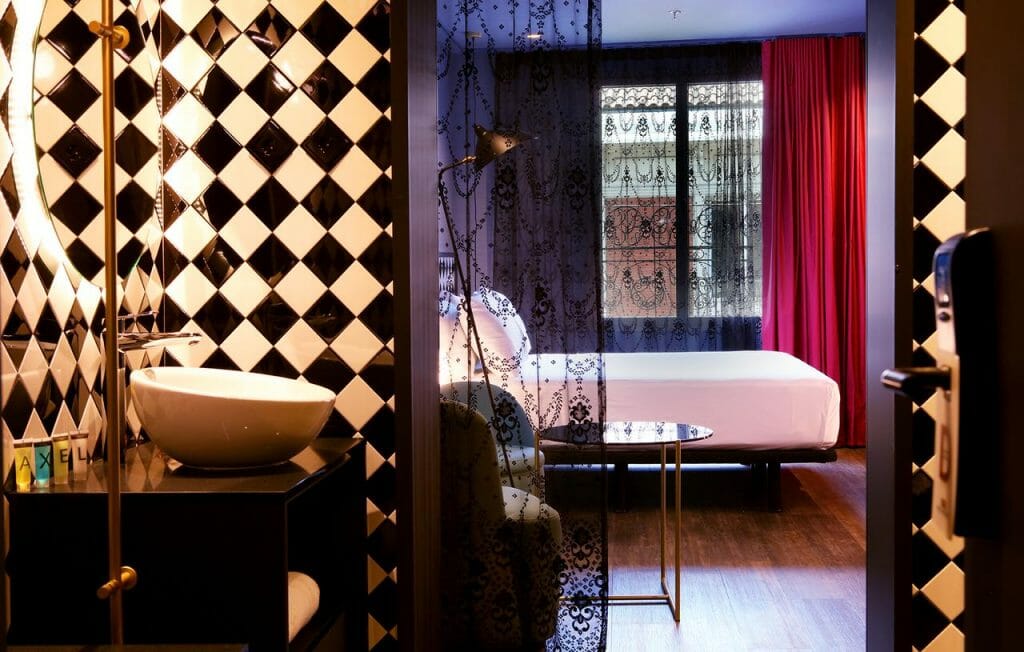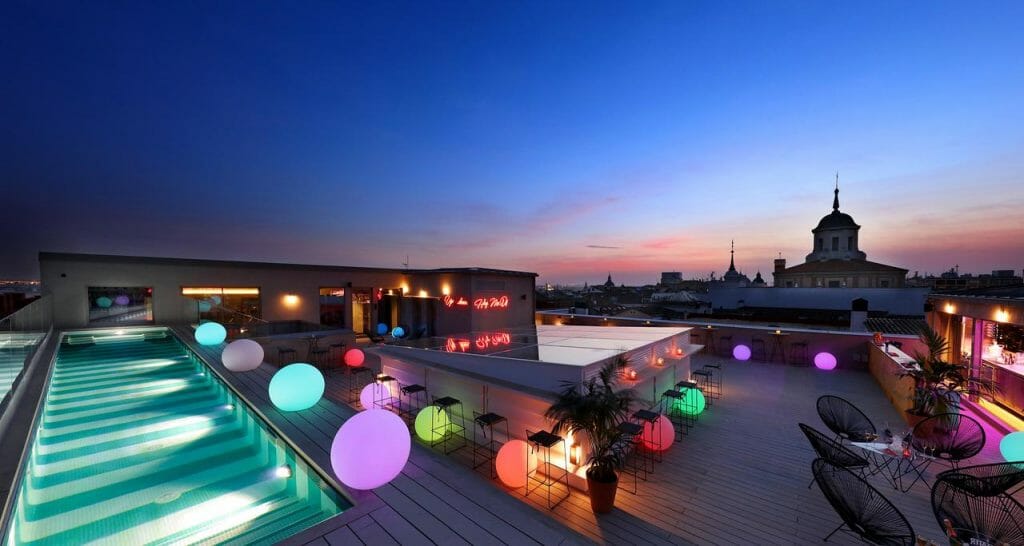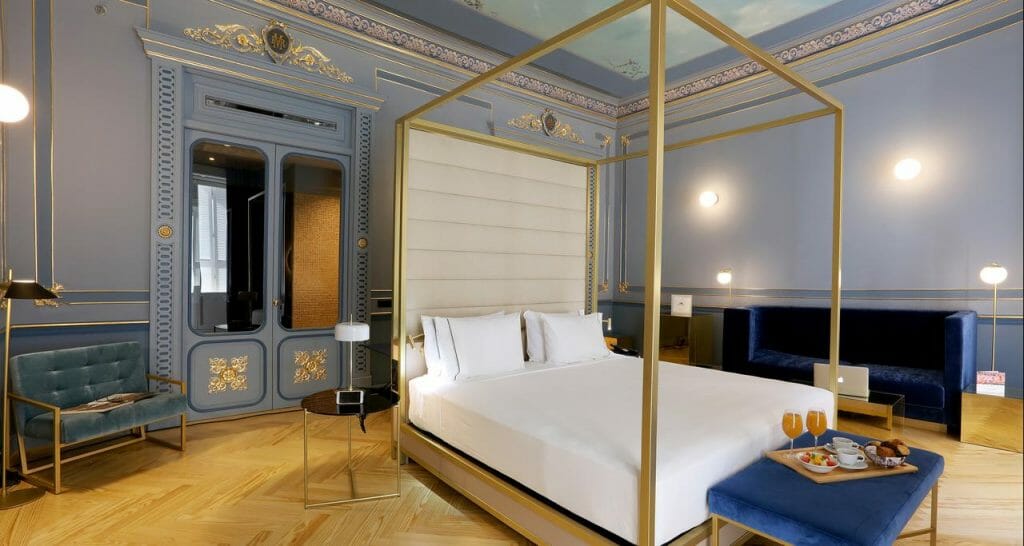 We continue on with this list of the greatest gay-friendly hotels in Madrid with a 5-star luxury hotel situated within the very heart of the city. It sits within the "museum triangle" formed by the Museo del Prado, the Thyssen-Bornemisza Museum, and the Queen Sofia Foundation (the hotel itself houses a permanent display of art from Papua New Guinea, and Asian pieces can also be found throughout the guestrooms).
Paseo del Prado, Puerta del Sol and El Retiro Park are all very nearby as well. And best of all, the Chueca gayborhood is a ten-minute walk away.
This upscale establishment is set in a newly constructed Art Deco building with avant-garde styling and is ranked by TripAdvisor as one of the top 30 hotels in Madrid. It offers contemporary luxury in a modern boutique hotel for the 21st century.
The Urban Hotel offers around 100 rooms and suites, ranging from Superior Rooms with 25 square meters of space to Junior and Junior Duplex Suites to the elegant and spacious Loft Suites with VIP services.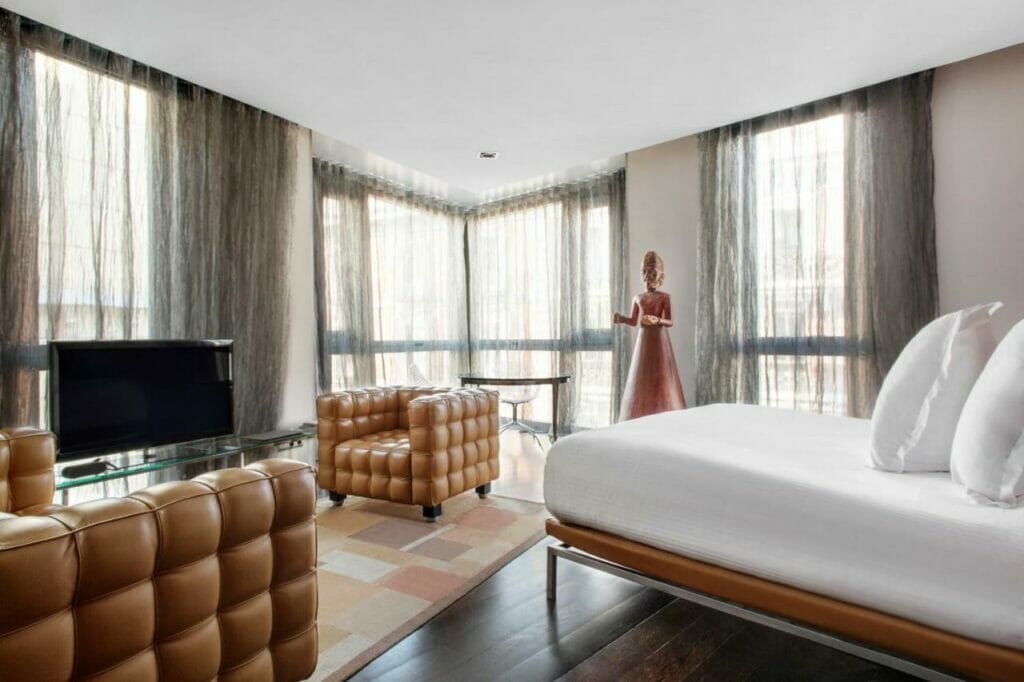 Room amenities can vary, but generally include super comfy beds, individual air conditioning, free cot on request, laundry and ironing services, pillow menu, laptop safe, free minibar with soft drinks, room service availability, LCD TV with Google Chromecast and satellite TV channels, sofa.
Nespresso machine, marble bathroom with shower or tub and bathroom amenities as well as a bathrobe and slippers, dock station for smartphones and tablets, and free Wi-Fi access. Some of the upgraded suites add a Jacuzzi and 24-hour availability for room service.
Resort amenities at the Urban Hotel are an outdoor rooftop swimming pool and solarium with spectacular views of the city, as well as a small gym. The Hotel Urban restaurant is a Michelin-starred eatery with a unique menu of gastronomic delights.
CEBO offers what it calls "progressive cuisine" with Mediterranean influences. The CEBO is also a Michelin star-awarded restaurant. And the all-new Glass Bar is one of the best places in central Madrid to have a quiet cocktail or two.
The gay-friendly Urban Hotel is one of the finest hotels in Madrid, and without question, it is one of the very best accommodation options for discerning LGBTQ visitors looking for the very best in the heart of one of Europe's greatest gay communities.
It would be hard to top this gay-friendly luxe hotel's excellent location right on the Gran Via, one of the city's major boulevards. TripAdvisor ranks it as one of the top 15 hotels in the city, and it is certainly one of the best choices for gay and lesbian travelers looking for world-class accommodation with an environment that embraces diversity and welcomes everyone.
One of the hotel's best features is its rooftop terrace, which boasts "a garden in the heights" in with olive trees, cypresses and water fountains, not to mention quite possibly the most stunning views in all the city.
Just below, on the 6th floor, is the Atico Restaurant with the casual yet bold cuisine of famous Catalan chef Ramon Freixa, and numerous terraces. La Terraza provides the perfect setting for a cocktail as you enjoy the live music and incredible views.
The Wellbeing Area is a place to relax and partake of a large selection of messages and treatments courtesy of Natura Bisse. The second-floor fitness room features state-of-the-art exercise equipment, including Technogym machines.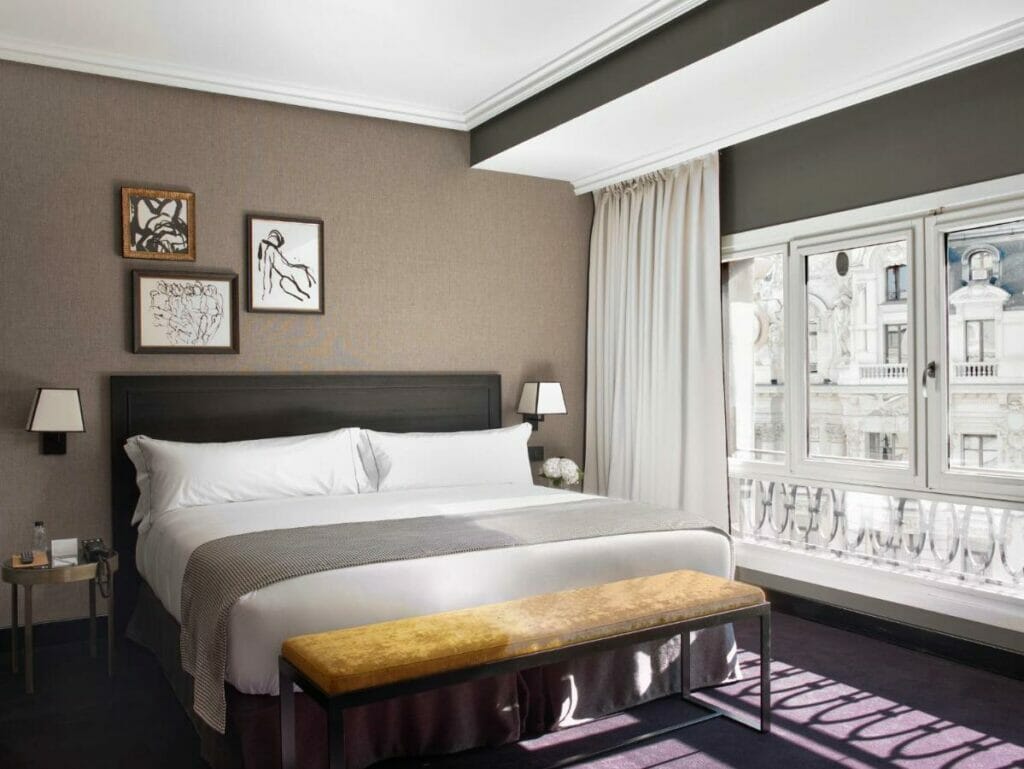 As for Principal Madrid's 76 rooms and suites, the hotel's 5-star status really shines through with top-notch luxury and comfort. Rooms feature high ceilings, large windows and complete soundproofing for added privacy. Also, extra-large ensuite bathrooms with amenities by Serena, Mallorca. Rooms feature natural colors and pleasant lighting.
All rooms are unique and have king beds with Egyptian cotton sheets and a pillow menu. Other room amenities are complimentary coffee and tea, a minibar with daily refills, a flat-screen TV, and high-speed Wi-Fi. Early check-in and late check-out are possible depending on availability.
Executive, Premium, Superior, Deluxe, and Junior Suite room styles are available, with the elegant, 50 square meters Suite Gran Via rounding out the list as the crown jewel. This super swanky accommodation sleeps up to four and has two separate rooms (living room with a dining area, and bedroom), each with its own entrance and balcony. It also affords gorgeous views of the Gran Via, hence the suite's name.
It also comes with the option of adding an extra double room, which converts the suite into a 70 sq.m. apartment. These suites have walk-in showers with a hydro massage, two 46" TVs, a Bluetooth sound system, and daily ice delivery is available on request, as is majordomo ( a type of butler) service.
The Principal Madrid Hotel offers truly the best service and 5-star, world-class hospitality you'll find anywhere. With everything it has to offer in addition to a gay-friendly atmosphere that appreciates diversity, this upscale hotel is practically unbeatable.
This LGBT-friendly is located – as one would reasonably surmise from its name – right on the Gran Via, which is one of Madrid's major thoroughfares. So, it probably goes without saying that you really can't beat its location in the heart of the capital. "The neighborhood of now," is how the hotel describes it. It has that electric downtown vibe, yet provides an oasis in the heart of the city.
The hotel features a gym with exclusive 24-hour access for guests only, with exercise bikes, steppers, running machines and cross-training, also a weight training system. The hotel's terrace is perhaps one of the best places in Madrid to watch a fabulous sunset while enjoying a savory cocktail. The Hotel Indigo has a seasonal swimming pool open from April to October.
Accommodation styles do not disappoint at the Hotel Indigo, no matter what option guests choose. Guest Rooms include cable/satellite High-Definition TV with pay-per-view movies, a workspace with a desk, iron and ironing board, telephone, and free wireless internet access. Rooms feature private spa-like bathrooms with a hairdryer and bathrobe included.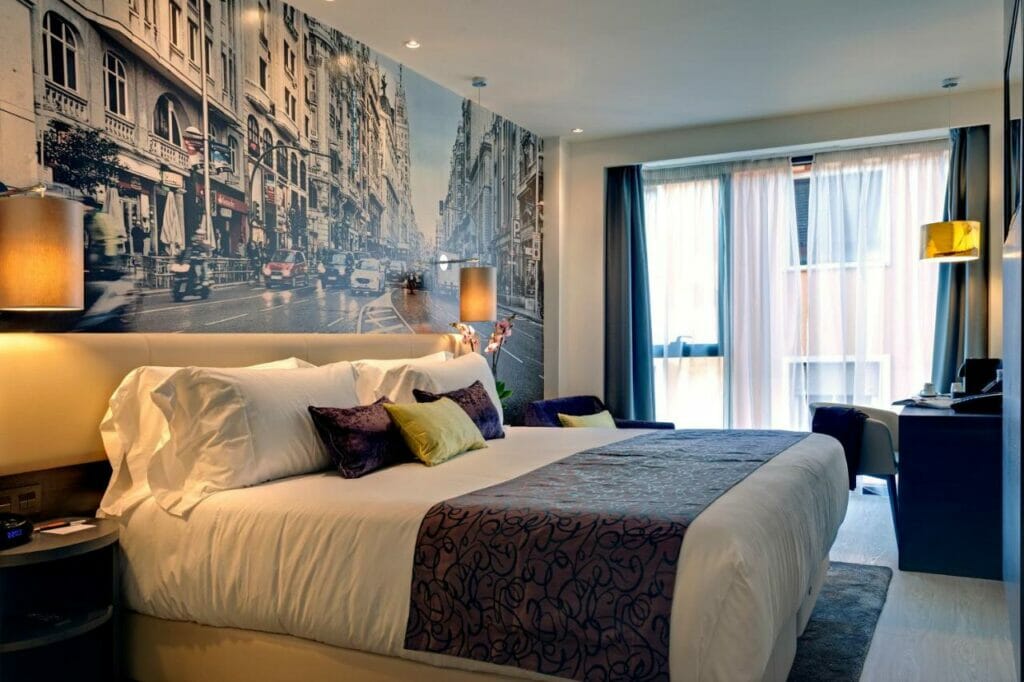 Rollaway beds and cribs are also available if needed. Coffee makers are included in rooms, as are minibars. Rooms feature individually controlled air conditioning and double-glazed windows. All rooms are non-smoking. Connecting rooms are also available. Executive Club Level Rooms and Suites add space and additional features.
The Hotel Indigo's restaurant, El Gato Canella (The Scoundrel Cat), promises "local and avant-garde gastronomy with a very rogue touch." It features "authentic local and market cuisine with a fun and creative twist." La Terraza del Indigo is the on-site lounge-style bar, located on the rooftop terrace. It is a stunning venue in which to enjoy some fine cocktails and delicatessen tapas.
The Hotel Indigo – Gran Via has so much to offer gay and lesbian tourists in the way of comfortable rooms, a great location, excellent amenities, and most of all a tolerant setting where everyone is made to feel welcome and accepted. It would be a mistake to overlook this fine hotel.
The elegant Hotel Liabeny is another great gay-friendly Madrid hotel with an awesome central location in the heart of the city, with the Gran Via just 100 yards away and the Puerta del Sol only 150 yards distant. And a short drive (or public transport ride) will take you to Puerta de Alcala and the IFEMA Exhibition Centre.
Best of all, the Plaza del Callao – one of Madrid's hottest areas for shopping, culture and restaurants – is just 4 minutes away.
The 4-star Hotel Liabeny has four event rooms to host events of just about any kind, especially conferences and exhibitions and such. Each can host up to 80 people and can accommodate a variety of setups such as classroom, theater, U-shape, etc.
Hotel amenities include a 24-hour reception and a concierge desk that can help guests with a ticket sales service for local theatres, concerts, cinemas and football matches as well as booking restaurant reservations. The concierge can also help with arranging transport to and from the airport, currency exchange, car rental, the printing of train tickets, and parcel shipping, as well as arranging guided tours.
A host of other services are offered, too, such as free luggage storage, bellhop, luggage porter, early check-in and late check-out depending on availability, room service, fax service, and so on. There is also afternoon turndown service and daily towel and bed linen change, and express ironing service is available if needed. The Hotel Liabeny has a gym with a spa.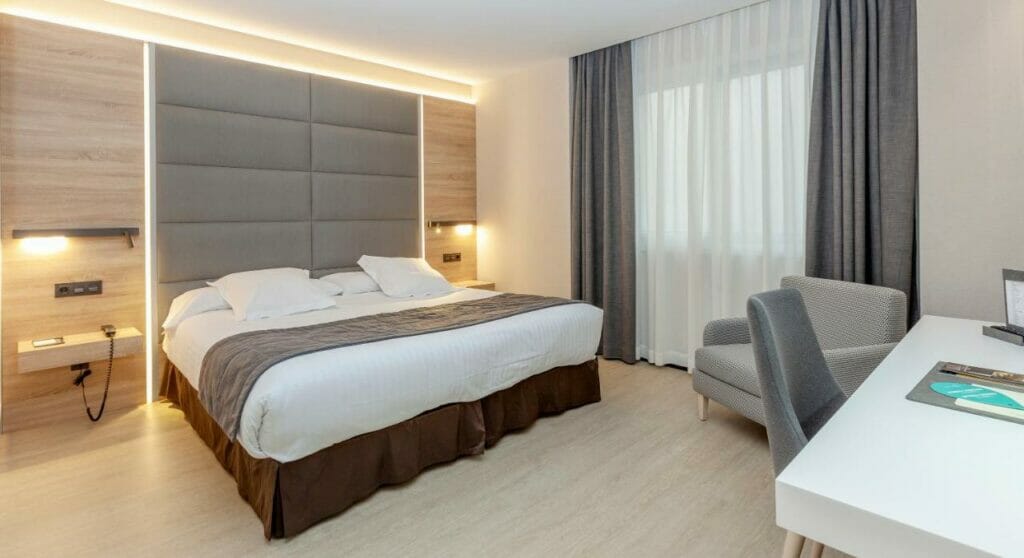 Mediterranean dishes and international cuisine are on offer at the Sensaciones restaurant, and you'll have your choice of traditional or sophisticated. Besides superbly prepared dishes like crunchy mushrooms with salmorejo or sole fillets with lemon, just to name a few, you will enjoy an elegant atmosphere that exudes distinction.
Enjoy exquisite dishes a la carte or partake of the lunch menu, and a breakfast buffet is also available with a large assortment of pastries and both hot and cold dishes. And for a taste of something quintessentially Madrid, try the homemade churros.
A range of single and double room accommodations are available, from economy style to standard to superior to deluxe. General room amenities are as follows: desk, safe, TV, heating and air conditioning, free Wi-Fi, in-room telephone, minibar (extra cost), optional breakfast in bed, wake-up service, bathroom with shower, hairdryer, dry cleaning and laundry service available at a surcharge.
The more upgraded room types feature additional space and can sleep up to four guests. For gay-friendly accommodations with an excellent central location in the middle of the city, LGBT visitors in Madrid can't go too wrong with this choice.
Here is another gay-friendly hotel on the fabulous Gran Via. Set in a majestic renovated building from the early 20th century that fits right in with other such structures on the Gran Via, H10 Villa de la Reina is a popular choice with the LGBTQ crowd, and it's no wonder why.
The hotel's interior features a French-inspired design and utilizes both modern and classic touches to create an aesthetic that is elegant and stately.
Along with inclusive LGBT-friendly four-star accommodations, guests will enjoy an excellent location with so many points of interest right at their doorsteps such as the Teatro Real and the Golden Triangle of Art, as well as the Puerto del Sol and many others.
A wide range of room styles can be had: basic, classic, deluxe, deluxe terrace, junior suites, suite terrace jacuzzi rooms.
Rooms feature 32" LCD TV with international channels, Nespresso machines with complimentary daily restocking of capsules, a welcome gift, minibar, kettle (upon request), bathrobe and slippers, in-room safe, individually adjustable climate control, iron and ironing board, fully equipped private bathroom with hairdryer, magnifying mirror, and exclusive Rituals amenities.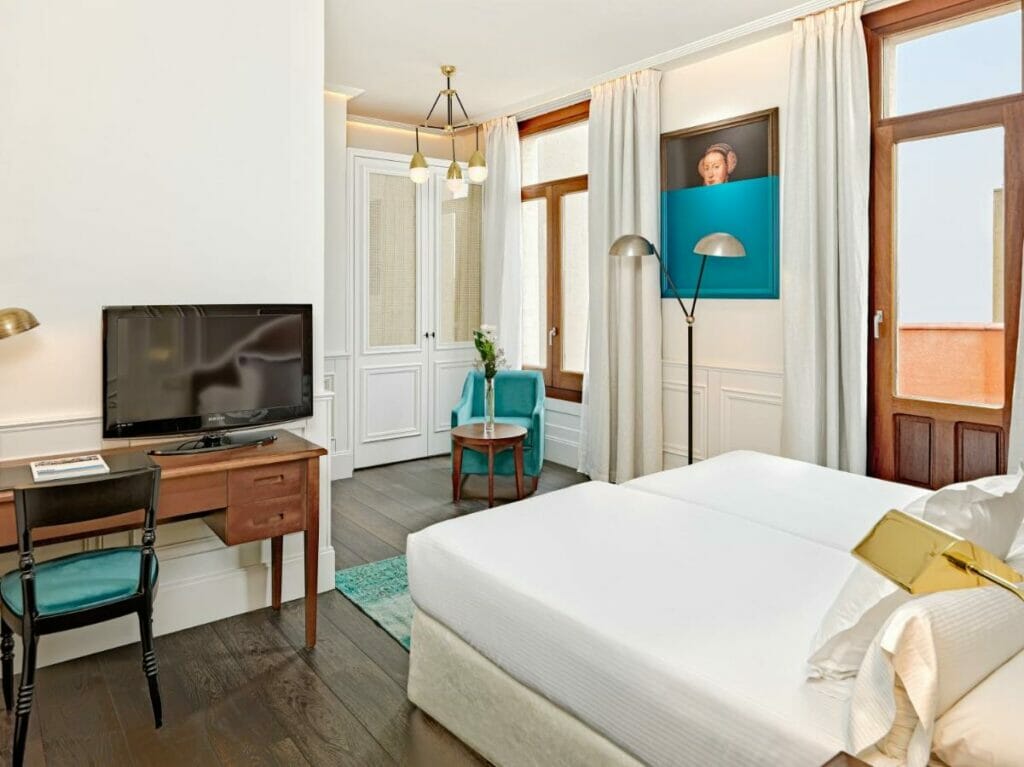 The more upgraded rooms feature a pillow menu and bathrooms with both tub and separate rain showers as well as professional hair dryers. In some cases, there is the option of booking connecting rooms.
Las Infantas Restaurant is H10 Villa de la Reina's on-site dining establishment. It features a very contemporary design reminiscent of a private kitchen. Among its offerings is a breakfast buffet with a full range of options – including gluten-free and diet-specific dishes – with more than 60 different products.
It also has lunch and dinner menus. La Villa Bar is an elegant lounge bar located in the lobby, and besides a fine selection of cocktails and beverages, it has salads, sandwiches and tapas, in addition to other light dishes and snacks. The bar has a reading area with a wide selection of books for guests to enjoy.
All in all, this hotel provides a welcoming, tolerant setting for everyone to enjoy, and as a luxury hotel with a prime location, it is hard to beat.
Not only does this gay-friendly boutique hotel have a unique name, but it is also a unique name for a very unique hotel. From its setting in a 19th-century mansion in one of the most distinct and avant-garde communities of Madrid, Salesas, to its all-day a la carte breakfast, Only YOU provides an original stay experience in the heart of the capital that you won't match anywhere else.
The hotel's proximity to Chueca – only meters away – with its many, many gay bars and clubs puts you right in the middle of some of the best gay nightlife in all of Europe and the world. It is also close to Paseo de Recoletos, and the hotel has a TripAdvisor Traveller's Choice award.
It is ranked as one of the top hotels in Madrid on both TripAdvisor and Booking.com. It has also been chosen as Best Boutique Hotel in the World in the design category. So suffice it to say, that this gay-friendly establishment is something special, to say the least.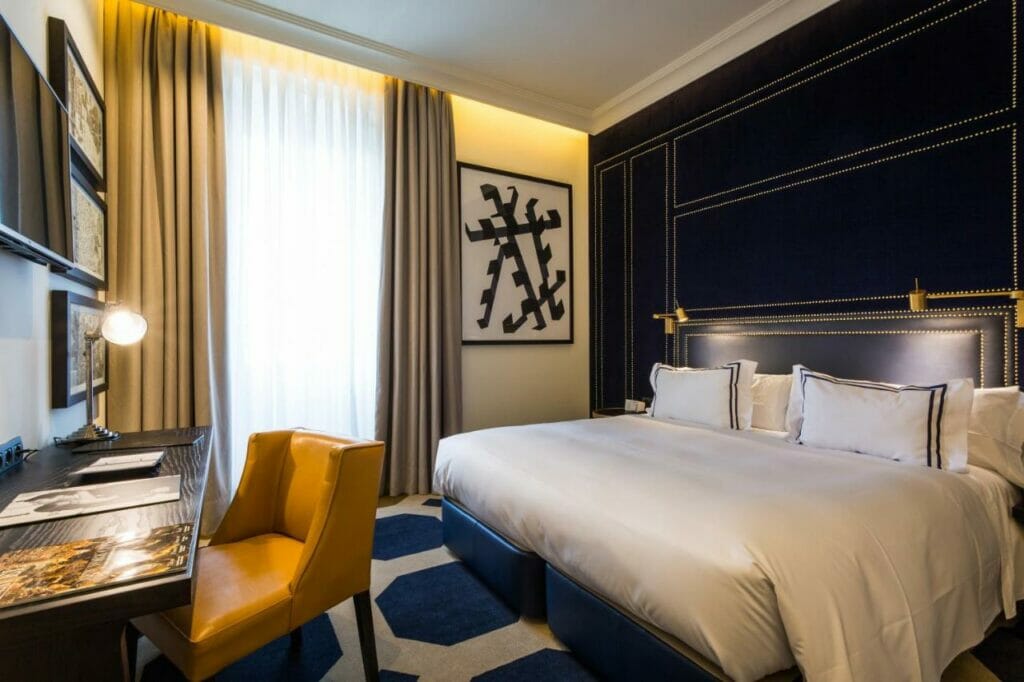 The hotel features a 24-hour stay schedule, with the availability of early check-in and late check-out. Best of all, there is a guaranteed room upon arrival. The aforementioned all-day a la carte breakfasts can also be had as take away.
The Thai Room wellness center offers an experience that is at once exotic and authentic and offers a range of treatments and services such as yoga, massage of various kinds, Chinese medicine, Ayurveda, and more. The immersive experiences add a sensory element with natural oils (for scent) and herbal tea. The experience is made complete with vibrant music with Tibetan flutes, Thai harps, and mantras.
If you are not already a foodie, prepare to become one when you visit YOUnique Restaurant, the on-site dining establishment. The restaurant boasts two separate menus, the YOUnique Menu and the Executive Menu, the latter of which will present you with more experimental culinary offerings.
Only YOU Madrid presents gay and lesbian guests with accepting accommodation in a friendly and tolerant atmosphere in what just may be the best boutique hotel in Madrid. A unique stay experience without question.
Our list of the best gay and gay-friendly hotels in beautiful Madrid concludes with what may just be the best of them all. Room Mate Oscar is an LGBTQ-friendly boutique hotel situated in the Chueca neighborhood – one of the most vibrant gay communities anywhere. Almost every gay bar and club in Chueca can be reached via a 5-minute walk.
In fact, two of the most popular, ZARPA and RICK'S are on the opposite side of the street from Room Mate Oscar. So suffice it to say, this boutique hotel has quite possibly the best location of any on this list for gay tourists if what you're looking for is gay entertainment and nightlife.
It's no wonder Room Mate Oscar is so popular with gay and lesbian folks and is one of the most booked hotels in Madrid among them.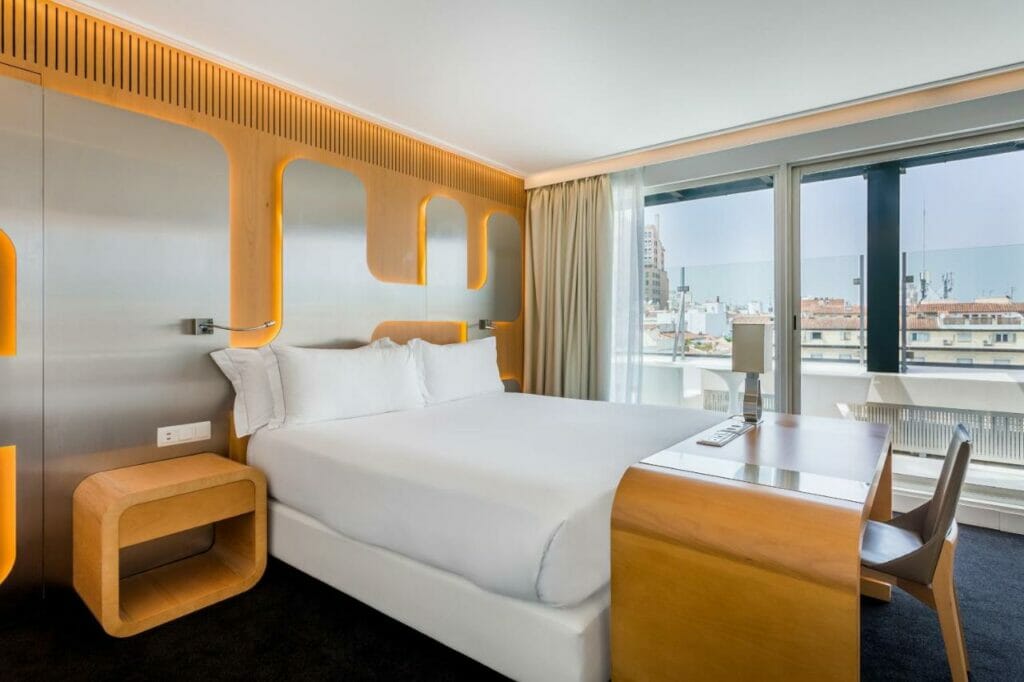 The hotel itself embraces modernity with a cutting-edge contemporary design and features plenty of bright colors and geometric shapes. The 74 guest rooms range from standard to suite and utilize understated décor to strike a fine aesthetic balance with the building's Bauhaus-esque style.
Rooms generally feature the following amenities: free Wi-Fi, air conditioning, flat screen TV, vanity lighting, desk, coffee and tea service, minibar, safe, and full bathrooms with amenities, and double beds.
Oscar's Terrace is the hotel's pride and joy, and one of the most beloved of Chueca's gay community landmarks. A beautifully designed terrace with 360-degree panoramic views of Madrid – views that have been called some of the best in the city – the heated terrace is adaptable to both summer and winter weather, and guests can enjoy it year around.
It is a favorite of locals and tourists alike and features a swimming pool and solarium. The cocktails list is one of the most complete of any in the city, and with over 30 bespoke selections to choose from, you'll never need to go thirsty.
This super-popular, super gay-friendly hotel can rightly be said to be a gay travel destination in itself, and LGBTQ tourists planning a trip to Madrid would be remiss to not at least consider the Room Mate Oscar.