Whether you go on holiday for the suntan, new experiences, to blow off steam, or just to escape the daily grind, we're willing to bet that you want to feel relaxed and free to be yourself. Thankfully the resorts and gay hotels in Amsterdam allow you to do just that – to be 110% yourself, without a single double-take, all in the company of other open-minded folks.
Amsterdam is often called "The Venice of the North," for the many historic canals that crisscross the city and the more than 1,500 bridges that span those canals. It is also home to some of the most beautiful architecture of any European city.
Not to mention the excellent museums that call Amsterdam home and the world-famous art galleries that show off the incredibly rich art history of the Netherlands – a country that has produced some of the most enduring and influential artists over the centuries.
But for all the high culture that one can experience in this great city, Amsterdam still manages to be one of the most happening party destinations on the whole continent. Though this side of the Netherlands' capital and the biggest city often gets overshadowed, for those in the know, Amsterdam has some of the hottest nightlife around, tucked in among the museums and galleries.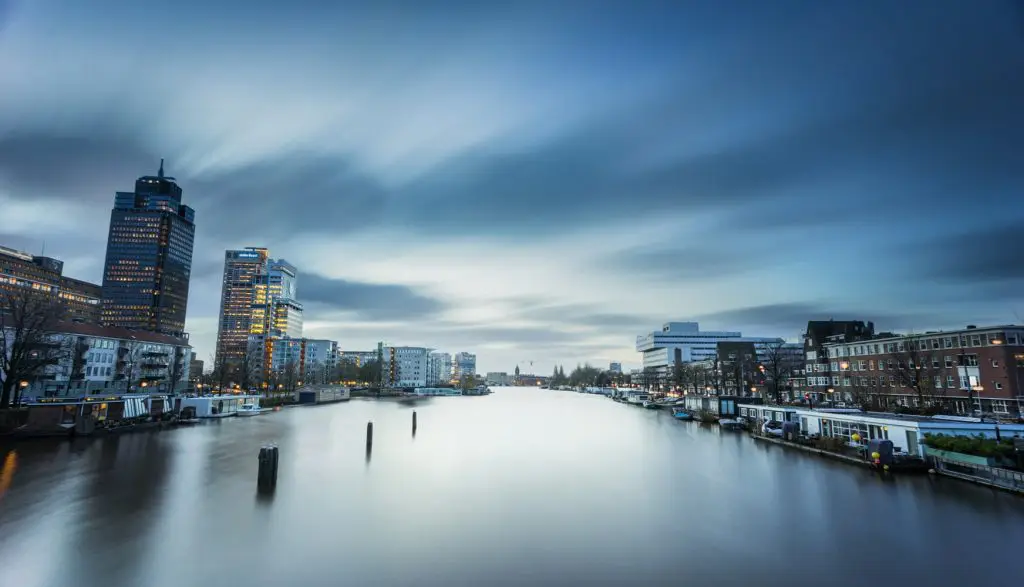 This is especially true of the gay scene in Amsterdam. Though many may not realize it, Amsterdam is one of Europe's top gay travel destinations. This shouldn't be too surprising when one considers that Amsterdam is the unofficial gay capital of Europe and is considered the birthplace of gay rights.
The country is rightly known as one of the most socially progressive in the world – a fact that can be seen in two of Amsterdam's most distinct (and infamous) features: legalized prostitution and marijuana. Homosexuality was decriminalized in the country over 200 years ago, and Amsterdam is home to the world's first openly gay bar, which opened in 1927, as well as one of the first gay rights organizations.
Amsterdam boasts many gay bars, clubs and entertainment venues catering to all subsets of the LGBT community. As for the gayborhood of Amsterdam, there are several. Reguliersdwarsstraat is probably the biggest and most popular. However, it is also the most mainstream.
Some of the city's gay highlights are the city's New Year's Eve celebrations, Queen's Day, and Amsterdam Gay Pride in August (there is also a Leather Pride edition in October). And Warmoesstraat, one of the city's oldest streets, is known for its gay cruise clubs and fetish shops.
So now that you are sufficiently sold on Amsterdam as a first-rate gay tourism destination, you will no doubt now be in the market for a welcoming gay hotel from which to base your gay Amsterdam adventures and exploits. Here we have compiled the very best in gay and gay-friendly accommodations in the city.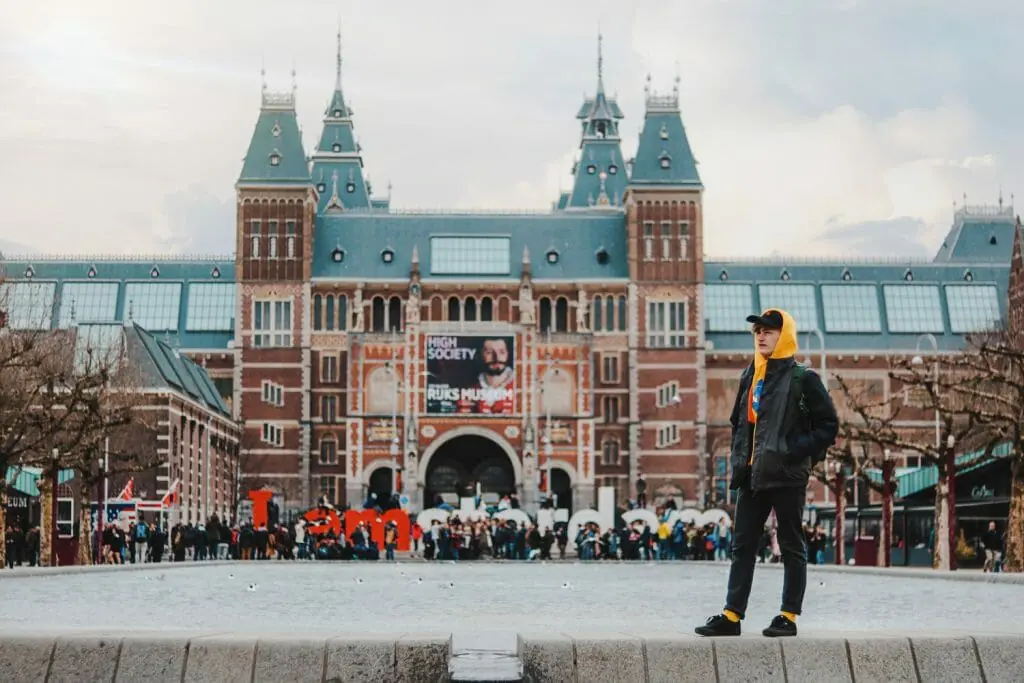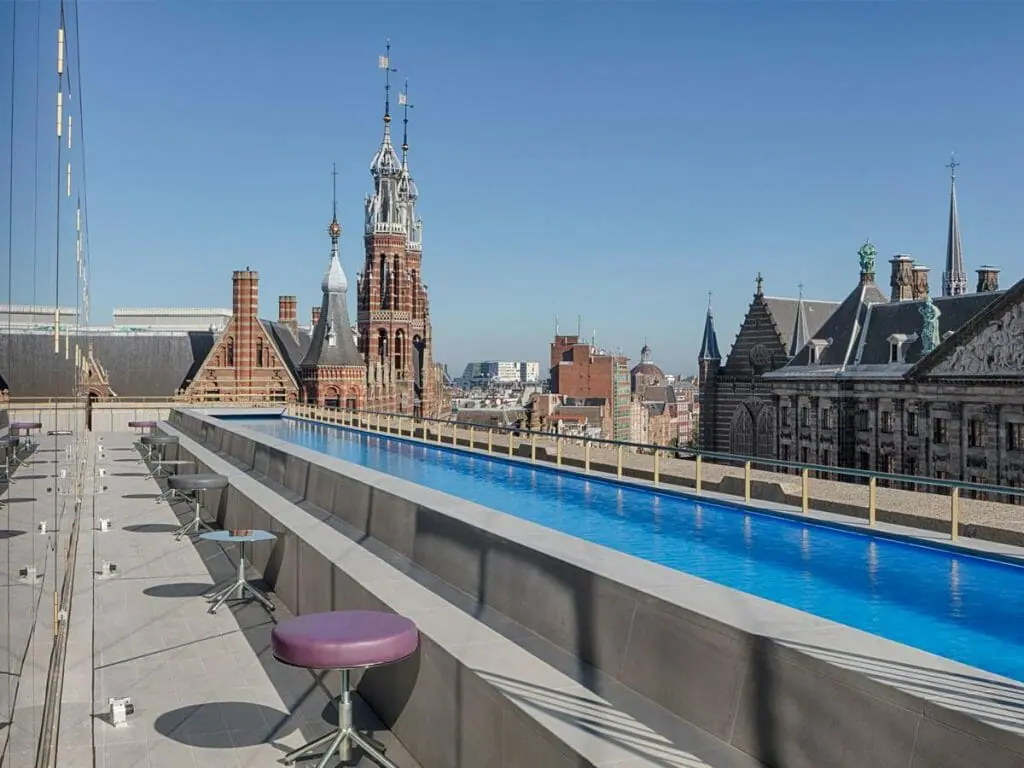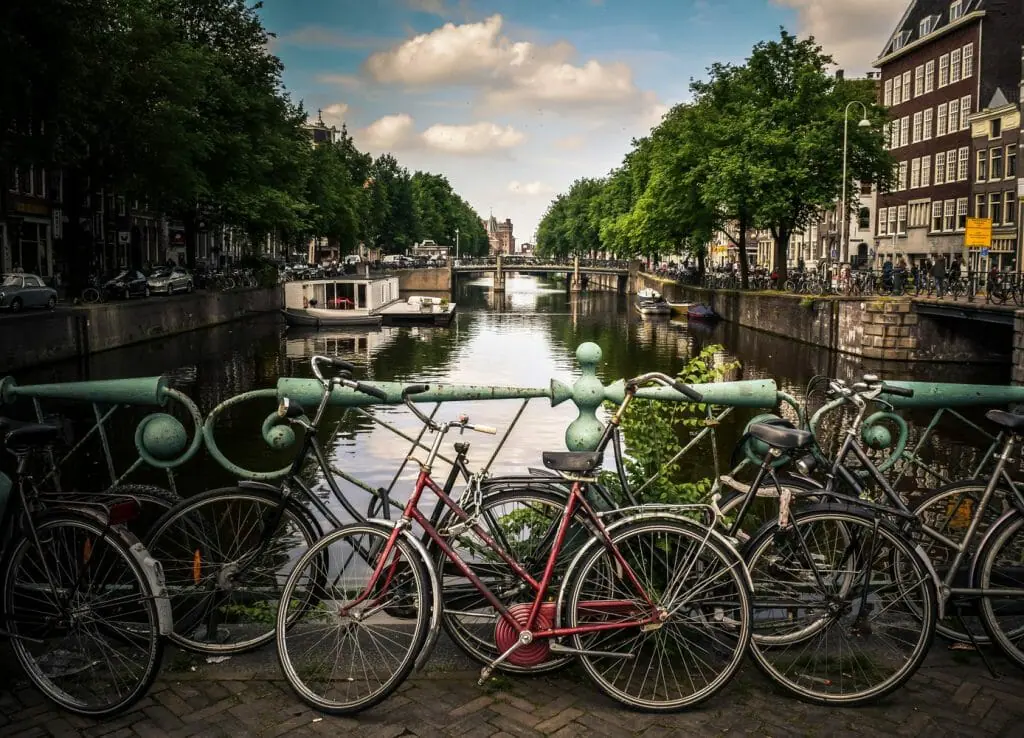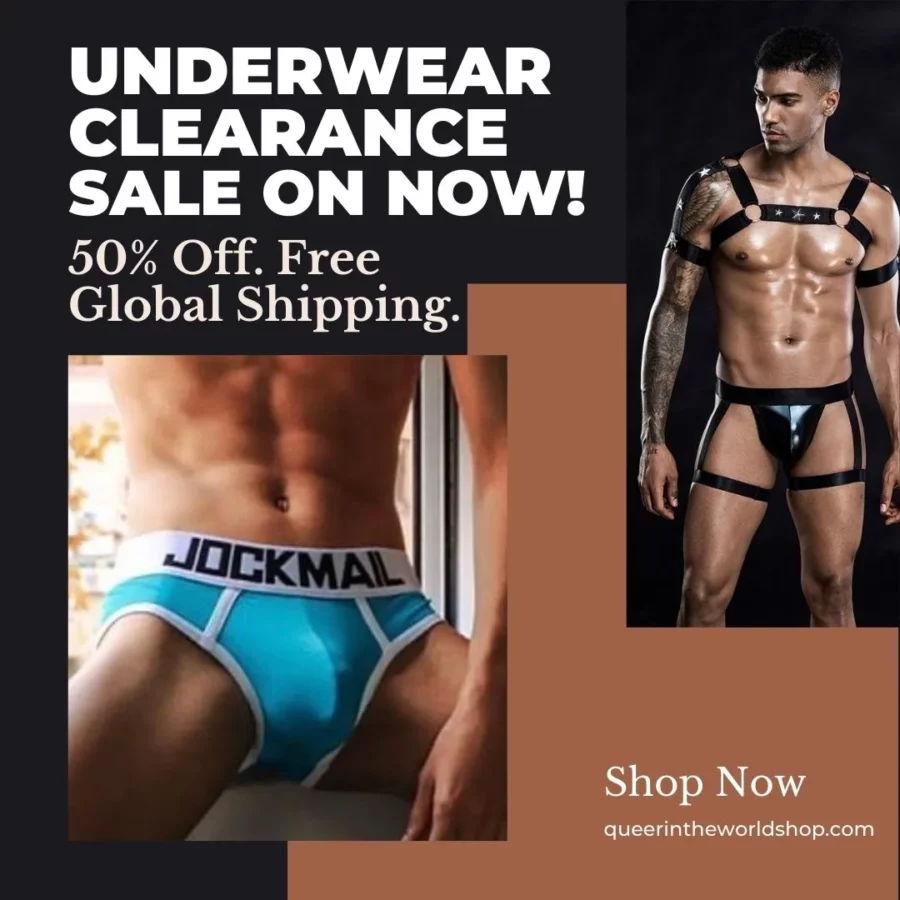 In this article we will cover...
A forerunner in Amsterdam's LGBT hotel scene, the Amistad was formerly known as the "gay-friendly hotel." But now it has gone a step further to make it a point to welcome everyone from the LGBTQ+ community, and the hotel has an open-door policy toward gay, lesbian, bisexual, transgender, straight or questioning.
The 9-room hotel offers the best of both worlds with the cozy, homey vibe of a small hotel combined with all the great service and amenities you'd expect from a larger establishment. Single and double rooms are available. All rooms feature ensuite private bathrooms with shower, toilet and sink.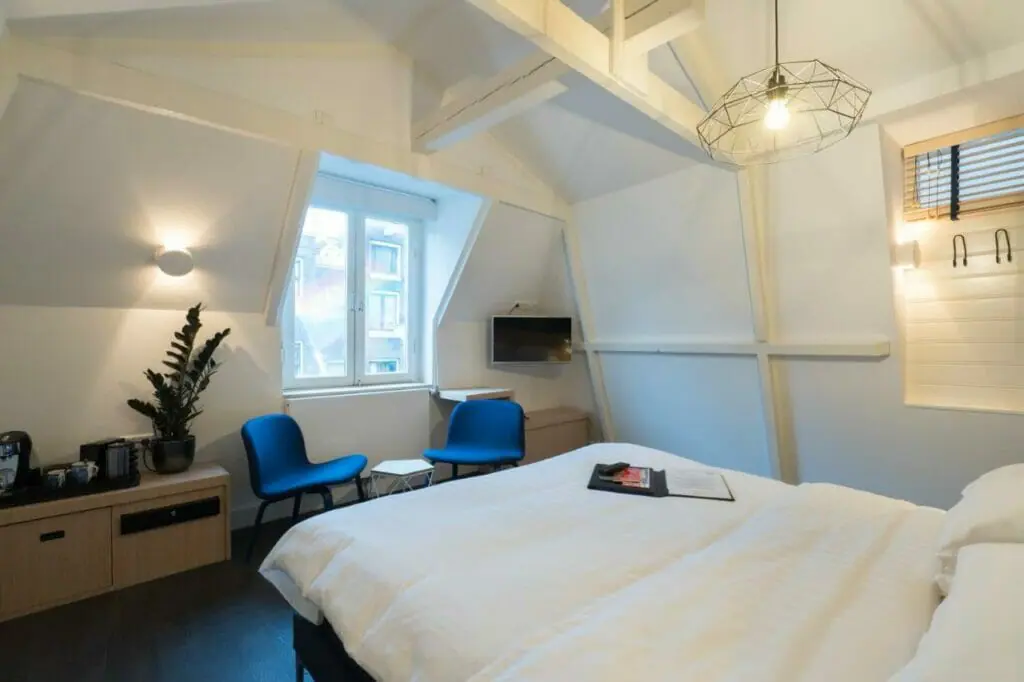 The hotel offers breakfast service each morning in the main kitchen, where guests can have the opportunity to meet each other at one big family-style dining table with freshly prepared eggs and pancakes. Many guests have reported this to be the highlight of their stay here.
You can tell that owners Klaus and Mike really strive to provide a hotel that gives the feeling of staying with close friends, and with the personal touch, the hotel brings in its service, it's hard to argue that it does indeed achieve this. The Amistad is an excellent LGBTQ-welcoming option in downtown Amsterdam.
This recently renovated, super-trendy superior design boutique hotel enjoys a prime location within the Canal Belt, with many well-known museums in the vicinity, if that's your thing. The Albus Hotel Amsterdam is a tolerant, accepting establishment where everyone can come and enjoy the 4-star hospitality on offer.
In fact, the owners of this boutique hotel consider relaxation an art form, and it shows in the masterful design on display, with a focus on sustainability, something the hotel owners are also passionate about.
Accommodations are nothing short of splendid and come in a variety of styles, with 75 rooms total.
Rooms, studios and suites all feature the best in comfort, and a fine set of room amenities like air conditioning, a 32" flat screen TV, a Nespresso machine with complimentary cups, safe with a laptop charger, free Wi-Fi, and heavenly beds with high-quality cotton linens and luxurious mattresses fill with a rubber/foam combination, not to mention super snug, large pillows for optimal comfort.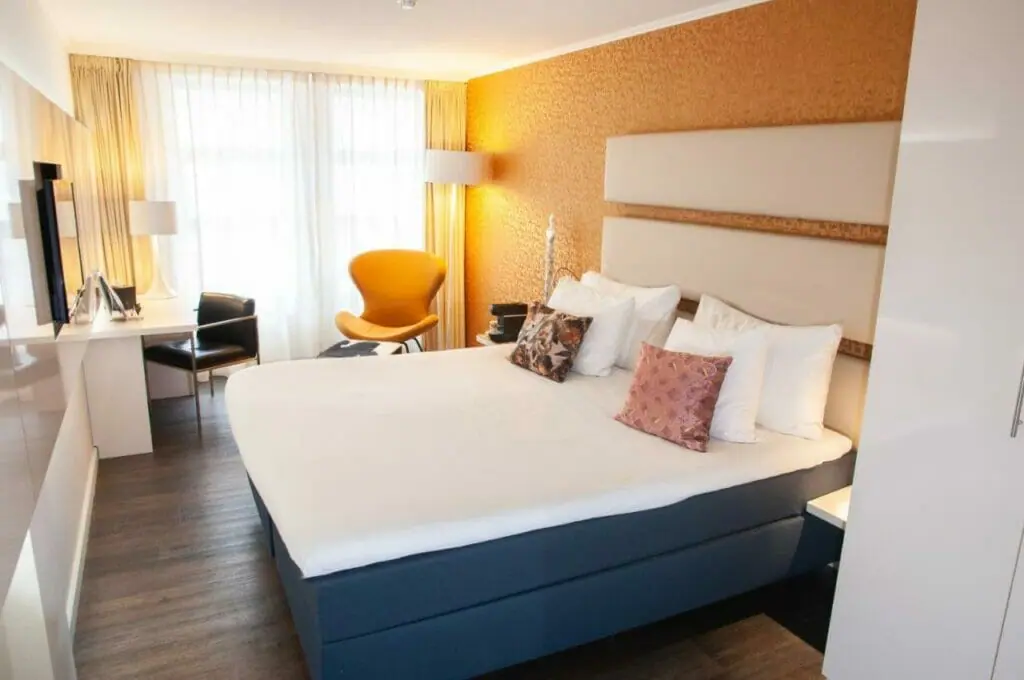 The private ensuite bathrooms are unique, with sinks specially designed for the hotel's environmentally-friendly philosophy. Bathrooms also have rain showers and towels, and bathrobes.
The Senses Restaurant is the on-site dining establishment, and it is ranked as the no.2 fine dining restaurant in the Netherlands by TripAdvisor, so needless to say, you will be hard-pressed to find anything to top it in Amsterdam.
Enjoy a Sensational gastronomic experience brought to you by a culinary dream team in the kitchen. Partake in a 2-5 course lunch or a 4-7 course dinner, with wine expertly selected by the restaurant.
Senses also offer a "Blissful breakfast" buffet-style breakfast offering. The restaurant's heated terrace allows for a beautiful al fresco lunch even if the weather itself is not so beautiful. Senses Restaurant is reason enough to consider this fine hotel as an accommodation option.
And even if you don't choose to stay here when you're in Amsterdam, it is practically a must that you at least pop into Senses for an unsurpassed dining experience.
The Albus Hotel is a clear winner for gay and lesbian travelers, with fine service and amenities and a great location close to some of the city's best gay bars and clubs.
This gay-friendly hotel is located on the southern end of the city center, which conveniently puts it near the Rembrandtplein gayborhood and its excellent gay nightlife. Hot venues like Queer's Café and Club YOLO are just a 15-minute walk away. The Heineken Experience is even closer, as is the trendy bohemian neighborhood of De Pijp.
The Hotel V Frederiksplein itself has 48 guest rooms (in addition to 6 loft apartments) that feel fresh, modern and well-maintained. Room varieties include small double (10-14 sq.m), standard double (11-15 sq.m.), and large double rooms (14-24 sq.m.).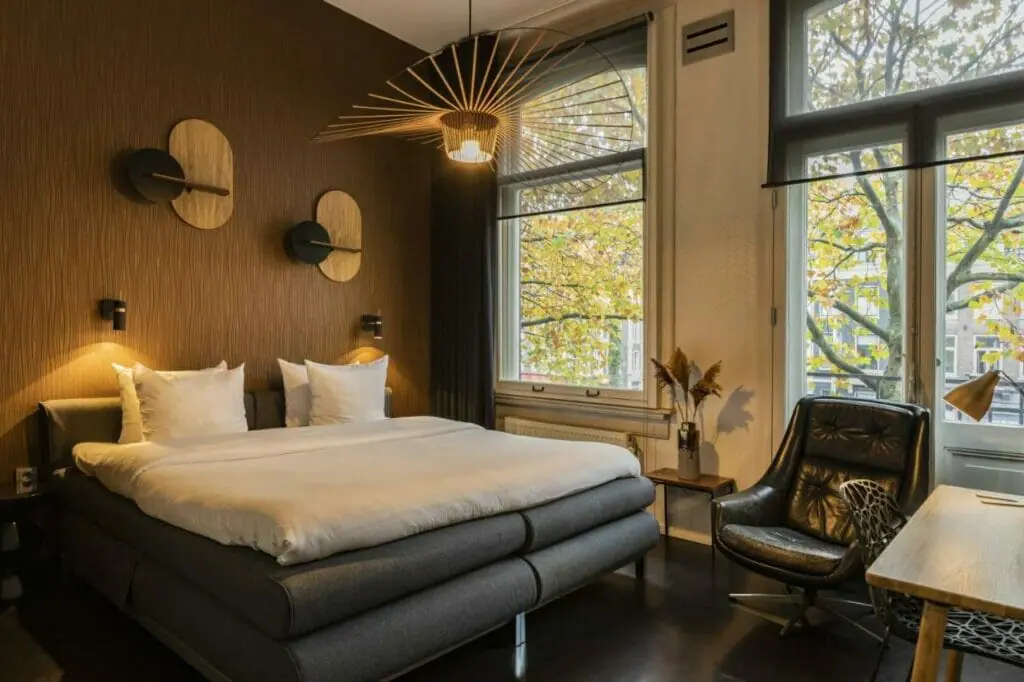 The small rooms are located in the basement, with a small window and a unique interior with golden floors. These rooms feature a queen size double bed that sleeps two, a desk, fan, phone, safe, flat screen TV, and Wi-Fi, as well as a compact bathroom with a hairdryer and exclusive Etika amenities and walk-in rain shower.
Standard rooms are on the upper floors and have large windows with high ceilings. They boast quality Auping beds and plenty of space. The large rooms have either a king-size Auping double or twin bed, and large windows that facilitate plenty of natural lighting. These large rooms feature a unique design for maximum style and comfort.
While it may not exactly be a super-luxe establishment, the Hotel V Frederiksplein has a lot to offer LGBTQ visitors in Amsterdam with an accepting atmosphere and a splendid location with some of the city's best gay nightlife and entertainment right at its doorstep. For the right kind of gay or lesbian tourist, this hotel could be a perfect choice.
The building in which this luxury gay-friendly hotel is located has quite a rich history. It was formerly a convent before housing royalty; then it was the headquarters of the Admiralty, then it was Amsterdam's City Hall.
Today it is one of the finest hotels in the Venice of the North, especially for LGBTQ visitors, as it provides a safe and comfortable space that welcomes and accepts everyone regardless of lifestyle or gender identity.
Featuring 178 rooms (including one for those with limited mobility as well as 13 family rooms) on five floors, the Sofitel Legend the Grand Amsterdam offers a unique ambiance with interior decoration that clearly shows its French inspiration.
Hotel amenities include a swimming pool and the Sofitel Spa, with a range of services like a Turkish steam bath, sauna, Hammam, and more. Other services include health wraps, hair care, yoga, manicure and pedicure, message, and more.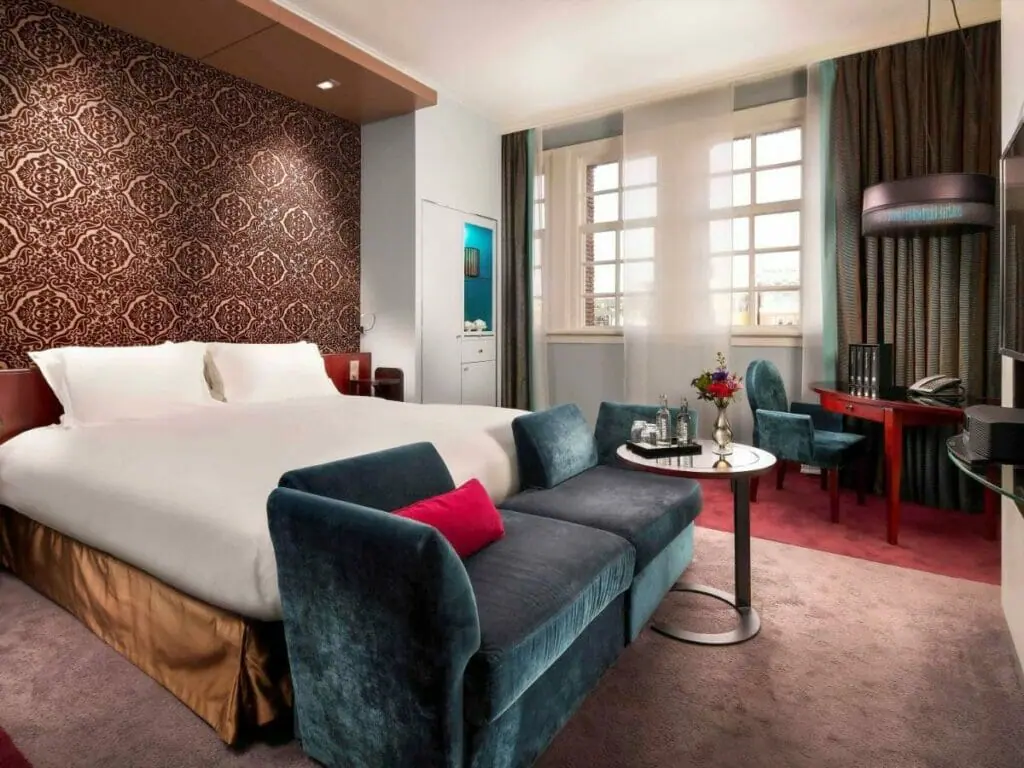 The fitness center has some of the most advanced equipment and Technogym Kinesis facilities, as well as exercise bikes, strength equipment, cardio equipment, treadmill, and fitness lessons available. Needless to say, this five-star establishment provides plenty of opportunities for guests to indulge in a little self-care. Or a lot, if they so choose.
The Restaurant Bridges offers a world-class gastronomic experience. Enjoy a five, six or even seven-course Menu du Chef at the Chef's Table, with each course accompanied by a wine selected by a sommelier.
Accommodation foods are also available, such as a children's menu, vegetarian menu, salt-free menu, and so on. Bridges also feature a cocktails menu. Oriole Garden Bistro has the vibe and atmosphere of a Mediterranean garden, not to mention the pure flavors of a seasonal menu.
As one would expect, accommodations are top-of-the-line, with spacious and comfortable rooms. Rooms include wireless internet, a pillow menu, private bathrooms with walk-in showers and complimentary bathroom products. Most have a queen-size Sofitel MyBed.
Minibar, Nespresso machine, and free mineral water. This is a fine hotel, and gay and lesbian guests will be made to feel comfortable and welcome as they indulge in the five-star luxury accommodations on offer here.
This LGBT-friendly hotel is spread across two buildings directly across the street from each other – one a former telephone exchange, one a bank. Both mix historical Dutch architectural elements with cutting-edge design and are located next to Dam Square.
With 238 guest rooms, including 23 suites in addition to 3 WOW suites and 2 Extreme WOW suites (WOW suites are the W brand's signature super-luxe accommodations), the W Amsterdam offers top-notch upscale lodging in comfortable rooms with signature W beds whether you go with the Bank side of the Exchange side.
W Lounge is an on-site lounge-style cocktail bar located on the 6th floor of the Exchange building. W Lounge has a disco, house music and more each night with live DJs – one of the best places to party for free spirits of all kinds, be they straight, gay, or anything in between. We can also highly recommend staying here during Milkshake Festival…
The lounge has terrace areas, including its Wet Deck on the roof of the building, with stunning views of the city, including the Royal Palace. It's one of the trendiest spots to be in the summer months.
Away Spa provides an escape within an escape, with a range of spa services from body scrub and facials to message and waxing and more. FIT is the hotel's fitness center, featuring steam rooms and a sauna in addition to an array of exercise equipment.
Guests will have two on-site dining choices: Mr. Porter Steakhouse features an ambiance that is "extravagant yet modest" and a smart-casual dress code, not to mention a refined dining experience with world-class service. The other on-site restaurant, The Duchess, evokes the elegance of the roaring twenties and boasts exclusive brews and iconic aperitifs.
For gay-friendly upscale accommodations in Amsterdam, W Amsterdam provides everything LGBT visitors could hope for, with a unique hotel experience.
The Art'otel Amsterdam enjoys a prime location across the street from Central Station. It also offers a "slice of eccentric comfort," with art-inspired guest rooms and a contemporary art & lifestyle hotel experience. The hotel features 120 artworks displayed throughout the property.
The 107 sophisticated rooms feature an impressive amenity set, with the hotel's signature "the art of sleep" bed being the highlight, featuring luxury Egyptian cotton and quality linens.
Also free Wi-Fi, blackout curtains, Bluetooth speaker sound system, personalized minibar, Samsung 42" TV, desk, chair and lounge chair, espresso machine, and private bathrooms with rainshower and Elemis Spa bathroom amenities, also bathrobes and slippers.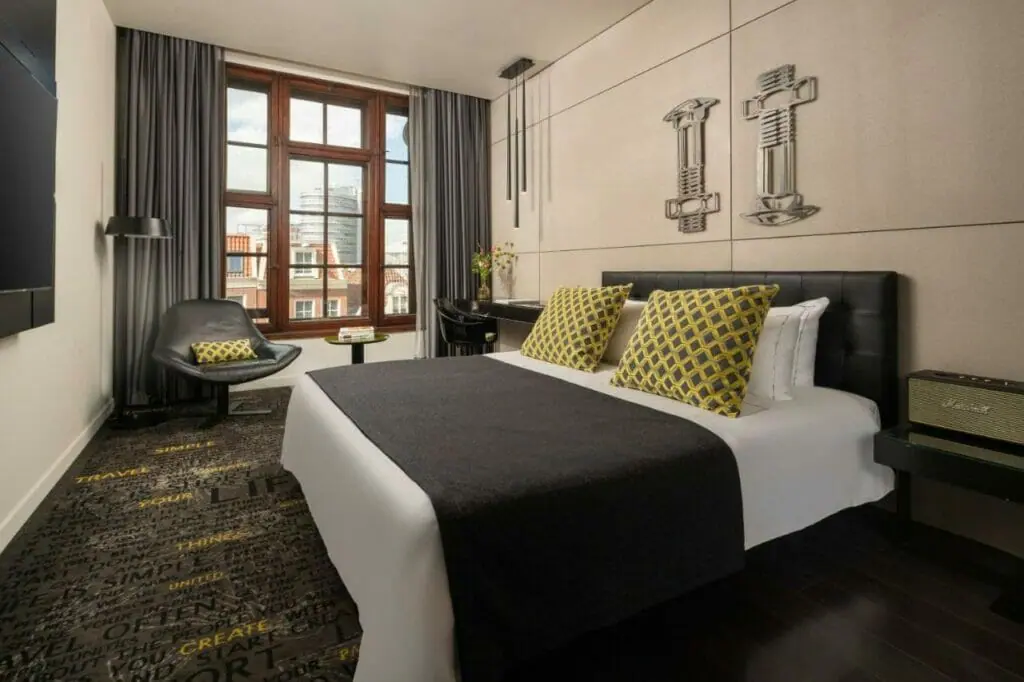 Hotel amenities are abundant and include a sauna, solarium, spa and wellness center with massage and other services, library, lounge, indoor pool, bicycle rental, art gallery, and more.
Among the many hotels, services are room service, 24-hour front desk, express check-in and check-out, safety deposit box, air conditioning throughout the hotel, concierge, and luggage storage. The public entrance, lobby, and public restrooms are wheelchair-accessible, and wheelchairs are available upon request.
Art'otel Amsterdam's onsite restaurant is the ARCA Restaurant & Bar. As only appropriate for such an original and unique gay-friendly hotel, the restaurant is the perfect spot for a memorable dining experience. It offers Portuguese dishes with unique Asian influences, not to mention a lengthy cocktail list.
ARCA has live music on Friday and Saturday nights, and there's no better place to enjoy a weekend evening with fine food and a great ambiance.
And really, the same goes for the Art'otel. It is one of the more original hotel concepts in Amsterdam for sure, and gay, lesbian and bisexual visitors looking for a different kind of welcoming luxury accommodation in Amsterdam will find it perfectly right here.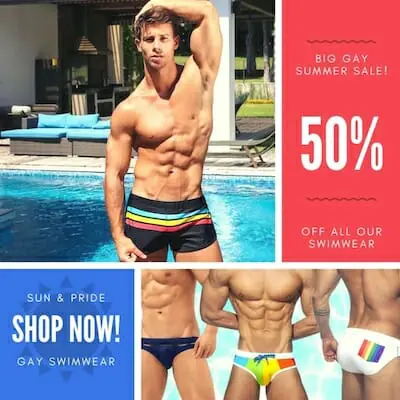 Another gay-friendly hotel, this 4-star boutique establishment offers "Sophisticated Scandinavian design – combined with an epic view." It is located in the heart of the Houthavens neighborhood, on Amsterdam's waterfront along the Ij River. The hotel occupies the ground floor of the Pontsteiger Building, an iconic Amsterdam landmark and one of its most unique and recognizable buildings.
Various rooms and suites are available, all tastefully designed, decorated, and well-furnished. From comfort rooms to junior and deluxe suites, there is something to suit everyone, no matter their budget or taste, no matter their lifestyle – everyone is welcome to enjoy this fabulous hotel.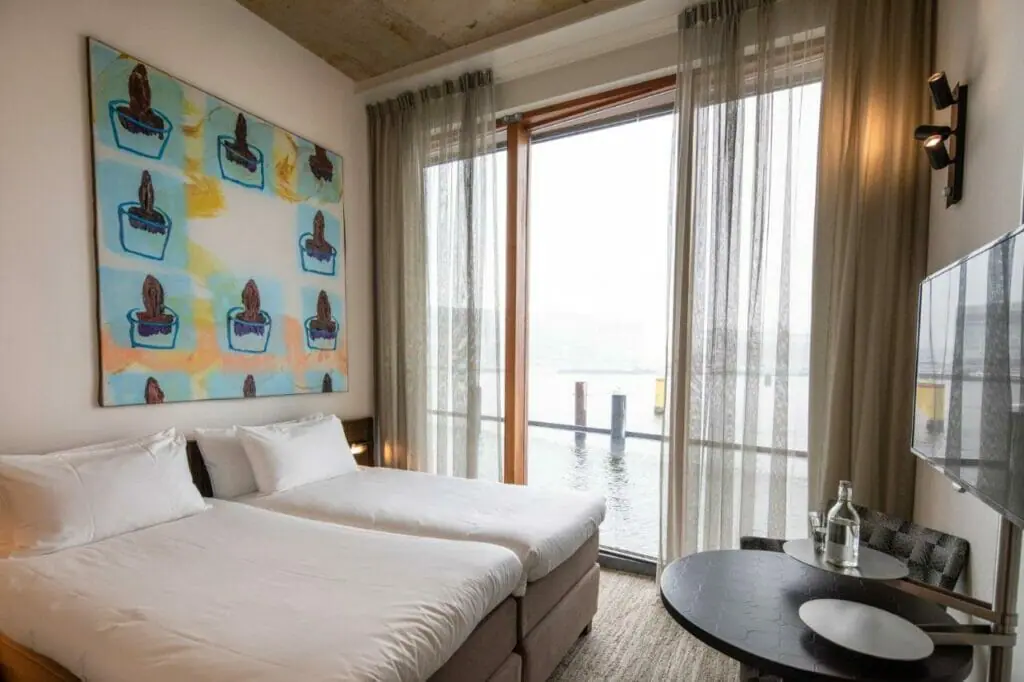 Services include 24-hour reception, flower service, dry cleaning, babysitting service, turndown service, iron and ironing board on request, baby cot, wake-up call, and bike rental. This last is a big deal because the bike is one of the best ways to get around the city center. It should be noted that the hotel is non-smoking throughout, and pets are not allowed.
The 25 rooms of this boutique hotel typically feature king or twin beds, air conditioning, kettle, Nespresso machines, Wi-Fi, TV, and private ensuite bathrooms with walk-in rainfall showers and luxurious toiletries. The more spacious suites also include separate seating and a freestanding bath in the middle of the room.
While it may not be quite as central to the best Amsterdam gay nightlife as some of the other hotels in this list, the Hotel Pontsteiger is still another excellent option for safe, accepting and comfortable accommodations for gay and lesbian tourists in Amsterdam.
This boutique hotel has rightly been called a hidden gem. It features both a timeless style and an ideal location. Mercier is friendly toward both gay and straight clientele and has all the conveniences and amenities you'd expect from a fine 4-star hotel.
Rooms boast fabulous interior design in a style where "art deco meets contemporary elegance."
It makes for a hotel that is a veritable treasure trove of eye candy, from the 48 rooms' burgundy metro tiles and mosaic bathroom floors to their vintage furniture and floral curtains and works of art decorating the rooms and public spaces of the hotel.
Hotel amenities include a bar and restaurant, meeting rooms, and a private courtyard garden.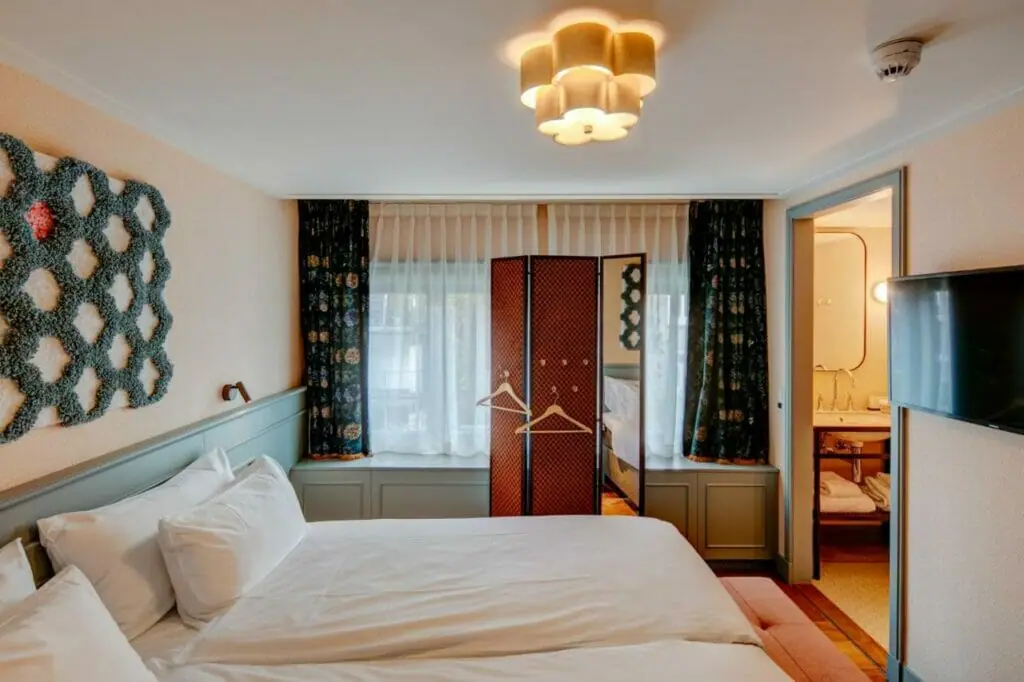 Room styles are comfort and deluxe rooms, junior and split-level suites, as well as a Bridal Suite that features the absolute best in luxury: velour fabrics, custom-made furniture, hardwood floors and large windows affording stellar views of the city, spacious living area and open bathroom with walk-in rainfall shower and a separate antique clawfoot bathtub, all of which add that special extra touch to the room. It is truly the crown jewel of the hotel.
Ons Huis is a hotel restaurant. It takes pride in its gorgeous art deco design and aesthetic – a feast for the eyes to accompany the fine dining and drinking on offer. Ons Huis provides not just a meal but an experience.
Relax in one of the lounge area's velvet chairs and sip a delicious cocktail or enjoy an extensive dinner. Both the hotel and restaurant are fine choices for LGBT travelers experiencing Amsterdam.
This gay favorite hotel is very near Amsterdam Central Station and thus makes the perfect gay-friendly hotel for LGBTQ tourists to base their explorations of the Netherlands' first city. It also is the perfect way to close out this list of gay and gay-friendly Amsterdam hotels.
The Park Plaza Victoria Amsterdam has a prominent place in pop culture, having been host to such esteemed guests as Louis Armstrong, Mata Hari, and Christian Dior.
Set in a stylishly refurbished Victorian building, the Park Plaza Victoria is within walking distance of several gay bars, including Queen's Head, Boys Club 21, and The ONE. Some of the other, bigger gay clubs on the opposite side of the city center is still just a 20-minute walk away.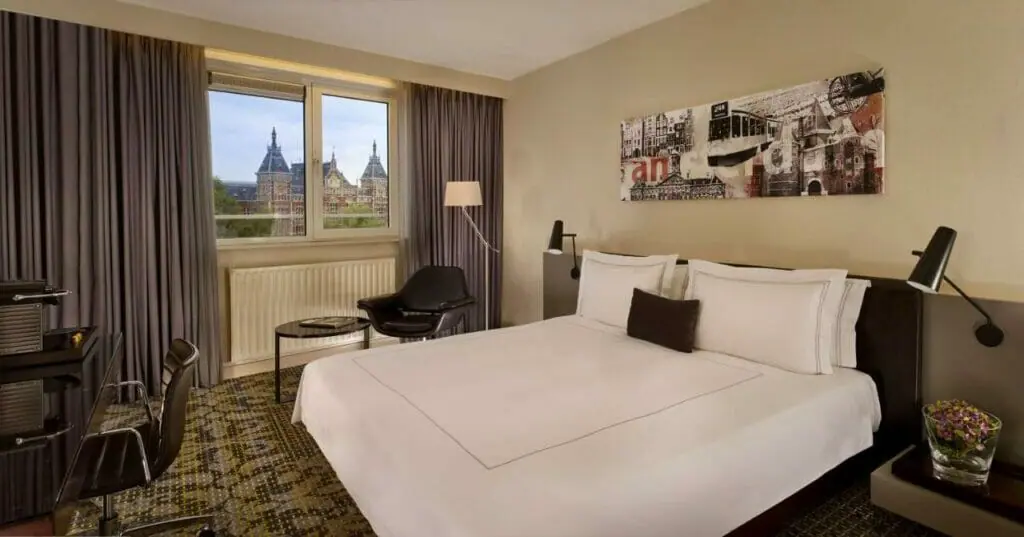 The hotel boasts 300 rooms, but they are consistently spacious and well-appointed, with no losers among the bunch. They are decorated and furnished in a simple but tastefully contemporary style.
The 4-star hotel also has a fitness area and wellness facilities, a swimming pool, salon, solarium, and Finnish sauna. And if you are more in the mood for a gay sauna, there is one right around the corner from the hotel.
The hotel's bar & restaurant is popular with tourists and locals alike. It focuses on creating an authentic gastronomic experience with ingredients sourced within the Netherlands. It also offers an impressive cocktail menu.
Park Plaza Victoria is an undeniable winner for LGBTQ guests, not only because of its phenomenal gay-central location but also for its excellent restaurant, expert staff and first-rate accommodations.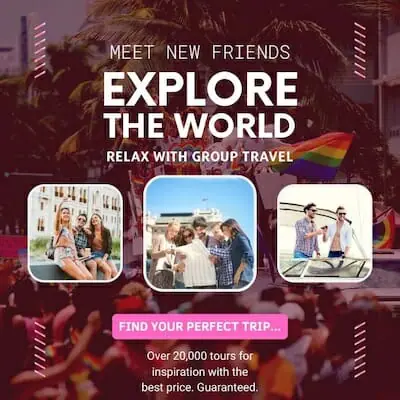 Gay Hotel Map Of Amsterdam
Feeling a bit lost while planning your journey to Amsterdam? No worries, darling! Our detailed LGBTQ+ tailored map is here to guide you. We've pinpointed all the vibrant gay-friendly bars, exhilarating clubs, extravagant parties, cozy hotels, relaxing saunas, and soothing massage parlors to ensure you find the perfect spot.
And these aren't just any spots; we're talking about the creme de la creme of locations in the heart of the city's vibrant gay scene. Think panoramic views, easy access to nightlife, and all the amenities to make your stay as comfortable and enjoyable as possible.
But hold on to your feather boas! These hot spots are so fabulous they vanish quicker than a drag queen's five o'clock shadow. Don't delay; book now to secure the best deals and locations. Remember, the early bird catches the best deals in Amsterdam! So, pack your rainbow flag, and get ready to experience the ultimate gay-friendly holiday in Amsterdam.