Gay Amsterdam has a long and proud history of supporting its queer communities by leading the world in LGBT rights, supporting celebrations such as Pride Amsterdam and Milkshake Festival, and, well – generally just not telling its queer community what they can and can't do!
How refreshing, right?
A country that – even historically – was not obsessed with interfering with its inhabitant's actions in the bedroom, the Netherlands has always done things differently.
Amsterdam had some of the world's first gay bars opening in the 1910s and 20s (one of which, Café 't Mandje, is still open today ), and in 2001 the Netherlands became the first country to grant legal recognition to same-sex marriage. Amsterdam has frequently been named one of the most LGBT-friendly cities in the world, and gay travelers will quickly enjoy the freedoms of living in one of the world's most culturally liberal countries.
There is a lot more to love in Gay Amsterdam than the many many gay bars, saunas, cruise clubs, dance parties, and LGBT events – travelers can marvel at the golden age canals, iconic tilting gabled merchant houses, intriguing museums, vintage shop, creative design studios, and the infamous Amsterdam coffeeshops.
Even better English is almost universally spoken by the Dutch, meaning it is never difficult to chat with locals – you will need to sift through a sea of tourists first! The nightlife here is nothing short of epic yet pleasantly attitude-free, so if you put yourself out there, you will never be lonely for long.
A city where sex has never been taboo, the LGBT community here is embraced and nurtured. Flamboyant gay glory can be found year-round, its no wonder that Amsterdam is one of the world's most popular queer travel destinations. So many of us flock here year after year to experience life with real equality and unconstrained freedom.
No matter where your interest lie – culture, nightlife, food, wine, luxury hotels, sex, or art – we are certain Gay Amsterdam will have something for you as well.
Gay Amsterdam Guide: The Essential Guide To LGBT Travel In Amsterdam Netherlands
Attractions in Gay Amsterdam
Being gay does not define which attraction most of us will want to see in each city, and most queer tourists will simply want to check out the top things to see in Amsterdam during the day!
Amsterdam is a very safe city, but still, all travelers should take caution with valuables. Gay people in Amsterdam do not need to take any precautions at all regarding public displays of affection in this very progressive city, and we encourage you to experience what true freedom feels like. There are so few places in the world as uninhibited and liberating for gay couples as the Netherlands, and this is something every one of us should be able to experience every day!
Amsterdam has so many things to do, it can be overwhelming, but for LGBT+ visitors, some neighborhoods are particularly interesting. We loved wandering the Amstel, one of the city's traditional LGBT areas and home to numerous brown cafés that reflect traditional Dutch culture or getting lost in the Zeedijk and Warmoesstraat area, which are hubs of LGBT-friendly shops and nightlife in Amsterdam.
Everywhere in Amsterdam is gay-friendly; however, and you can also find numerous pink businesses and institutions throughout central Amsterdam and on Reguliersdwarsstraat and Kerkstraat. If you are not sure where to go, take a peek at our gay map of Amsterdam at the end to get an idea of where all the gay bars, clubs, sauna, cafes, and stores are.
Having said that, here are just a few of our favorite things to do in Amsterdam to get you started! You could also consider a day trip to Gay Eindhoven or Gay Rotterdam….
Top Highlights of Amsterdam
Gay Things To Do In Amsterdam
Gay Events In Amsterdam
Gay-friendly and Gay Hotels in Amsterdam Netherlands
While every hotel in Amsterdam is friendly and welcoming to the LGBT community, some make an exceptional effort to be part of gay Amsterdam.
No hotels are exclusively for gay men anymore – a sign of the liberal times we guess – but others are still a crucial part of the gay scene because of their location and history, and some hotels are just known as being exceptionally welcoming of gay guests. The following gay hotels in Amsterdam can all be relied on for an excellent stay in Amsterdam.
There are hundreds of other good hotel options in Amsterdam if you don't find what you are looking for, but we are confident you'll find something here for you.
Whether you want a fun and social hostel, a cheap place to crash after a night of partying, or a chic designer option to sip cocktails and surround yourself with fabulous people – Gay Amsterdam has something for everyone!
Luxury Hotels in Amsterdam
Mid-range and Budget Hotels in Amsterdam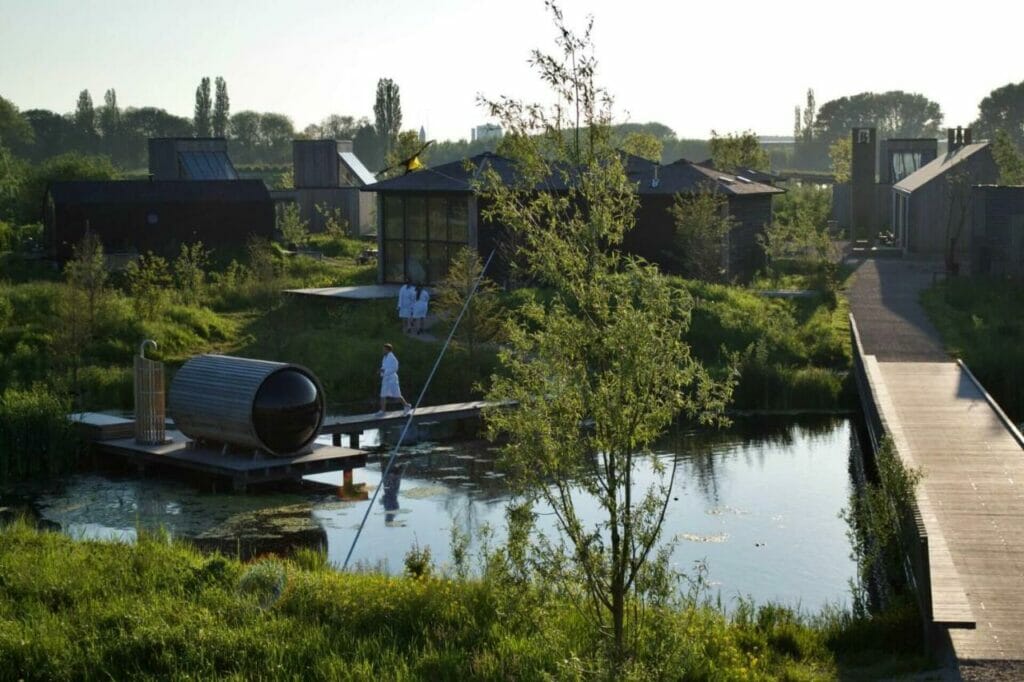 Gay Nightlife in Amsterdam
We are not even sure where to start as the gay nightlife in Amsterdam is amongst the best in the world.
If you are as overwhelmed as we are, the only thing you need to know is the Reguliersdwarsstraat / Amstel / Kerkstraat area and the Amsterdam historical city center around Dam Square are the hub of LGBT nightlife in Amsterdam…But by no means the only place to spend the night with your global queer family.
Gay club parties in Amsterdam are all the range with different locations across the city every evening. Still, we have only listed the most popular and fabulous, as there are almost too many to count!
Use our Gay Amsterdam Map at the end if you're lost, but there is plenty of bars, cocktail lounges, bearded glitter queens, and bear dens littered across Amsterdam to satisfy even the most discerning of gay travelers.
We have only focussed on explicitly gay venues here in Amsterdam, but the city and country are so liberal don't feel like you can't make out with your partner in most bars or clubs here!
Refreshing and freeing, the gay nightlife in Amsterdam has something for everyone!
Reguliersdwarsstraat Street / Kerkstraat / Amstel Gay Bars
Central Amsterdam Gay Bars
Gay Nightclubs In Amsterdam
Gay Parties In Amsterdam
Gay Saunas In Amsterdam
Had enough of gay cruising in Amsterdam – either in the bars or elsewhere?
For those who want a bit more guaranteed action, there is only one gay sauna in Amsterdam, but luckily it is pretty good and should not disappoint you (unlike all those faceless accounts on Grindr or the other hook up apps…). If you want to explore your kinky side without a steamy sauna, there is also the gay Amsterdam cruise club scene, which is as sensually self-indulgent as you will find anywhere on Earth.
Foreigners are happily welcoming in all gay sex clubs and sauna in Amsterdam, and most will speak English, but you'll still need to be good at reading non-verbal cues. Luckily we have out gay sauna guide to help you out!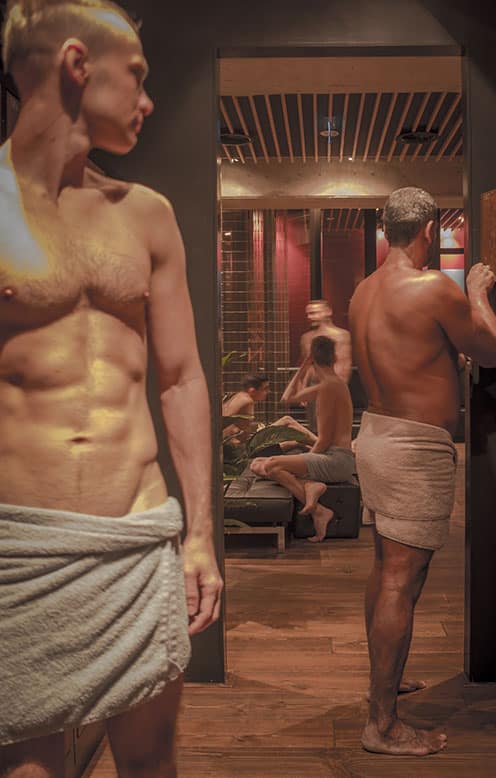 Gay Cruising and Fetish Clubs in Amsterdam
If the bars or gay parties in Amsterdam are too vanilla for you, perhaps these fetish clubs and cruise lounges are a better fit?
We have to warn you; however, Amsterdam has one of the most intense fetish scenes we have ever come across – up there with Rome, Paris, Munich, Vienna, and Prague, and it is definitely not for everyone. We have tried to identify places for the more 'initiated,' but there is nothing vanilla here.
Most of these ultra-hardcore cruising venues / gay sex clubs in Amsterdam are centrally located and easy to find, but you can use our Gay Amsterdam map at the end to find the closest to you.
Gay Amsterdam Map