Gay Amsterdam has a long and proud history of supporting its queer communities by leading the world in LGBT rights, supporting celebrations such as Pride Amsterdam and Milkshake Festival, and, well – generally, just not telling its queer community what they can and can't do!
How refreshing, right?
A country that – even historically – was not obsessed with interfering with its inhabitant's actions in the bedroom, the Netherlands has always done things differently.
Amsterdam had some of the world's first gay bars opening in the 1910s and 20s (one of which, Café 't Mandje, is still open today ), and in 2001 the Netherlands became the first country to grant legal recognition to same-sex marriage.
Amsterdam has frequently been named one of the most LGBT-friendly cities in the world, and gay travelers will quickly enjoy the freedoms of living in one of the world's most culturally liberal countries.
There is a lot more to love in Gay Amsterdam than the many, many gay bars, saunas, cruise clubs, dance parties, and LGBT events – travelers can marvel at the golden age canals, iconic tilting gabled merchant houses, intriguing museums, vintage shop, creative design studios, and the infamous Amsterdam coffeeshops.
Even better, English is almost universally spoken by the Dutch, meaning it is never difficult to chat with locals – you will need to sift through a sea of tourists first! The nightlife here is nothing short of epic yet pleasantly attitude-free, so if you put yourself out there, you will never be lonely for long.
In a city where sex has never been taboo, the LGBT community here is embraced and nurtured. Flamboyant gay glory can be found year-round; it's no wonder that Amsterdam is one of the world's most popular queer travel destinations. So many of us flock here year after year to experience life with real equality and unconstrained freedom.
No matter where your interest lie – culture, nightlife, food, wine, luxury hotels, sex, or art – we are certain Gay Amsterdam will have something for you as well.
Attractions in Gay Amsterdam
Being gay does not define which attraction most of us will want to see in each city, and most queer tourists will simply want to check out the top things to see in Amsterdam during the day!
Amsterdam is a very safe city, but still, all travelers should take caution with valuables. Gay people in Amsterdam do not need to take any precautions at all regarding public displays of affection in this very progressive city, and we encourage you to experience what true freedom feels like.
There are so few places in the world as uninhibited and liberating for gay couples as the Netherlands, and this is something every one of us should be able to experience every day!
Amsterdam has so many things to do, and it can be overwhelming, but for LGBT+ visitors, some neighborhoods are particularly interesting.
We loved wandering the Amstel, one of the city's traditional LGBT areas and home to numerous brown cafés that reflect traditional Dutch culture or getting lost in the Zeedijk and Warmoesstraat areas, which are hubs of LGBT-friendly shops and nightlife in Amsterdam.
Everywhere in Amsterdam is gay-friendly; however, you can also find numerous pink businesses and institutions throughout central Amsterdam and on Reguliersdwarsstraat and Kerkstraat.
If you are not sure where to go, take a peek at our gay map of Amsterdam at the end to get an idea of where all the gay bars, clubs, saunas, cafes, and stores are.
Having said that, here are just a few of our favorite things to do in Amsterdam to get you started! You could also consider a day trip to Gay Eindhoven or Gay Rotterdam….
Top Highlights of Amsterdam
Plan at least half a day for this world-class museum showcasing hundreds of paintings, drawings, and letters by the Dutch master himself. It can get hectic at the Van Gogh Museum, so make sure to plan in advance, so you don't waste time queuing and consider a skip-the-line ticket.
Experience Gay Amsterdam at its most picturesque on a romantic canal cruise by night. Discern the historic city center as you glide past the Skinny Bridge, and Golden Bend, and more than gape at the floodlit merchant houses while learning more about where all the local hotspots are if you want to head out afterward.
Indulge your love of classical art and appreciate over 400 masterpieces by great artists such as Jan Steen, Frans Hals, Vermeer and Rembrandt in one of Amsterdam's grandest museums. See the striking doll's houses, the wealth of silverware, and over 800 years of Dutch art and history through 8,000 objects in 80 galleries.
Wallow in panoramic views of Amsterdam from on high at the newly opened A'DAM Lookout observation deck. Get acquainted with the city's geography, from its iconic port to the layout of the Canal Belt, while feeling as free as a bird on the 360º indoor panorama deck – a vertigo-inducing 20 stories off the ground.
Venture out of Amsterdam for the day and experience the working windmill village of Zaanse Schans, which dates back to the 18th and 19th centuries. Stop in at clog makers to learn more about the traditional wooden shoe and be awed by the graceful houses of wealthy merchants and windmill owners.
Yes, Amsterdam is blessed with a plethora of art, and here you can see the works from modern and contemporary 'rock stars of art' including Andy Warhol and Salvador Dali, and Iranian street artists ICY & SOT and Banksy.
This museum is especially engrossed in the radical leaders and influencers of new art forms like Street Art or Pop Art, making Moco Museum perfect for those who typically shy away from 'stuffy' art museums.
Stumble upon one of the most talked-about collections of modern art and design in the world at the Stedelijk Museum Amsterdam, where over 90,000 artifacts are housed in a spectacularly renovated building on Museum Square.
Uncover what Amsterdam's oldest and most controversial neighborhood has to offer, from coffee shops and jazz clubs to sex theaters and S&M shops.
Learn about the realities and legends of this storied district, and don't forget to visit the Condomerie, the Old Church, Warmoestraat – the hardcore leather neighborhood – S&M specialist sex shops, video cabins, elite streets, the Prostitution Information Center, Newmarket, and much more.
While Amsterdam is much more than sex, drugs, and rock and roll – it's hard to tell that from a visit here.
Get the key to Amsterdam with an official I Amsterdam City Card, valid for 24, 48, 72, or 96 hours. Visit dozens of museums and attractions for free or at a discount, enjoy unlimited access to Amsterdam's public transport, and choose from many activities.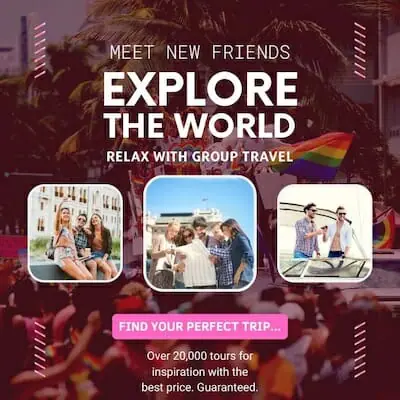 Gay Things To Do In Amsterdam
A gay store in Amsterdam with a range of accessories and knick-kak offerings with a gay touch. Think indecent candy, cuddly stuffed toys, erotic coffee table books, and rainbow china. There is also plenty of 'gay clothing,' basically think tank tops and the best gay underwear brands to accentuate your features.
An extensive library and archive for information and documentation around homosexuality and sexual diversity. Maybe worth visiting if you are intensely interested.
Vrolijk Gay and Lesbian Bookshop
A popular gay and lesbian bookshop with over two floors of novel travel guides, children's books, comics, photography, calendars, magazines, and small gifts to explore – most with a heavy LGBT slant. You can find most topics here, from religion, theatre, and psychology to lesbian motherhood and gay studies, with a good selection of queer cinema. Basically, something for everyone!
A well-regarded leather and rubber shop in Amsterdam offering fetishwear to gay men. Amicable and helpful staff who are happy to help find you exactly what your heart desires.
A core part of the leather history in Amsterdam for nearly 25 years, it recently moved to a new location but still offers the best in leather, rubber, and gay sex toys. Mister B also has locations in Antwerp and Berlin.
A gay lifestyle sold in newsstands around Amsterdam, which is worth picking up for the latest information on the scene – and it is published in English and Dutch!
De Oeverlanden Park
The most prominent cruising spot in Amsterdam and the only place where it is officially tolerated in public, as indicated on signs provided by the city. Just be aware you can get fined if you cruise outside the designated area, and like most public cruising around the world, it is dangerous at night, so still to daylight hours if this is your thing.
Homomonument
A touching memorial in the center of Amsterdam commemorates all gay men and lesbians who have been subjected to persecution because of their homosexuality.
Taking the form of three large pink triangles made of granite, set into the ground to form a larger triangle, the Homomonument was designed to inspire and support lesbians and gays in their struggle against denial, oppression, and discrimination.
It was also the first monument in the world to commemorate gays and lesbians who were killed by the Nazis when it opened in 1987. During the Netherlands' annual Remembrance Day ceremony on May 4, wreaths are laid on the monument to commemorate LGBT victims of persecution. On May 5, Liberation Day, the memorial becomes the site of a street party.
A gay information center next to the Homomonument on the Westermarkt run by the city! How cool is that? They can give general advice on the latest ongoings in Gay Amsterdam, and it is a great place to stop by at the beginning of your trip. They also have some cool queer souvenirs you will be
Gay Events In Amsterdam
Pink Film Days / Roze Filmdagen
Held annually in March, this festival has been a critical part of the gay Amsterdam cultural landscape since 1996. The Roze Filmdagen has an excellent reputation for bringing in top programming and a diverse array of LGBTQ cinema, including feature films, documentaries, and shorts.
International Queer and Migrant Film Festival
Held in December, this film festival looks at the sexual diversity among migrants in the world, and brings the power of cinema to this traditionally underrepresented group.
TranScreen Amsterdam Trans*gender Film Festival
A multi-day film festival with international films about transgender and gender diversity. They screen a mix of films from all over the world, feature films, shorts, mainstream, experimental, professional, and community films, and showcase an art program with video and other art forms.
An annual benefit evening/night at Paradiso, which is the focus of World Aids Night (December) in Amsterdam. An upbeat way to reflect on the still prevailing HIV / AIDS problem and raise as much money as possible for the Aids Fund with artists, DJs, divas, and live performances.
A queer dance festival in mid-July that has been created from the thought 'nothing should be a must; anything is possible. The milkshake festival shows that entertainment, taste in music, choice of clothing, and status has nothing to do with sexuality. Life is just a party, thanks to the great diversity of skin colors, religions, sexual preferences, and male and female forms.
Milkshake wants to celebrate liberal Amsterdam while trying to bring courtesy and friendly manners back into society. Thick, thin, small, large, gay, straight, trans, black, or white: people are the salt of the earth, and this is something to celebrate!
Similar to Mighty Hoopla in London or Flow Festival in Helsinki, go for the day for the epic line-ups of camp and stay for the whole festival.
Bear Weekend
The annual get-together for bears, cubs, muscle bears, daddies, chubbies, chasers, polar bears, and everything in between, takes place annually in Gay Amsterdam.
The guys behind Furball, Bear Necessity, and Club Church are the driving force behind Amsterdam Bear Weekend with the idea to create an umbrella event for the community, by the community, from people that are part of that community.
Different bars, organizations, clubs, or individuals who all feel part of this community come together to contribute to the event, be it small or large! Keep an eye on their schedule on their Facebook page – but you can guarantee no matter what's on, Bear Week is anything but boring!
A fashionable women-only part where over 1250 open-minded women from all different backgrounds gather for a big beach party at Bloemendaal aan Zee. A wild, fun time with the top female DJs, fabulous entertainment, and a guaranteed great 'girls' night out.' They also organize epic women-only dance nights in Amsterdam throughout the year.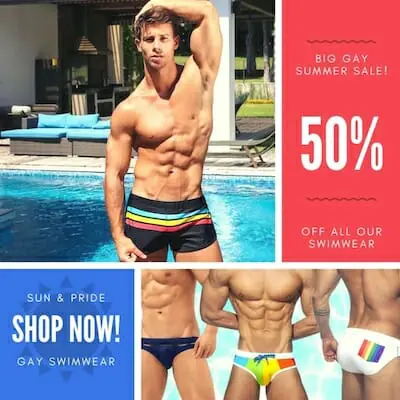 Just when we thought Gay Amsterdam could not get any more uninhibited and kinky, Amsterdam Fetish Pride comes along every May. It throws at us every type of fetish event imaginable, from leather and rubber to army, uniform, sportswear, and so, so, SO much more.
There are more events than we can list, but the highlight of the week is the unforgettable Invasion Fetish Party that takes place at the industrial NDSM Docks.
The biggest gay pride in the Netherlands, taking place in July/August, with a diverse range of events over one week and epic street parties over the weekend.
The main event is the famous Canal Parade on a Saturday afternoon which draws in crowds of tens of thousands who vie for the best spots canal-side perches along Prinsengracht, and on the Amstel River, to spot the floating barges bedecked out in over-the-top gay flamboyant glory.
A site like no other in the world, this is one of our favorite Gay Pride in the world and worth planning an entire trip around! Just be sure to book your hotels in Amsterdam far in advance – It is a busy, busy week!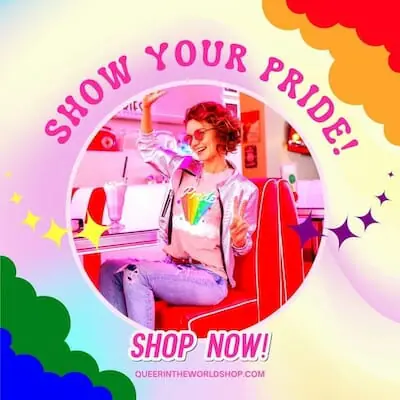 Gay-Friendly and Gay Hotels in Amsterdam Netherlands
While every hotel in Amsterdam is friendly and welcoming to the LGBT community, some make an exceptional effort to be part of gay Amsterdam.
No hotels are exclusively for gay men anymore – a sign of the liberal times, we guess – but others are still a crucial part of the gay scene because of their location and history, and some hotels are just known for being exceptionally welcoming of gay guests. The following gay hotels in Amsterdam can all be relied on for an excellent stay in Amsterdam.
There are hundreds of other good hotel options in Amsterdam if you don't find what you are looking for, but we are confident you'll find something here for you.
Whether you want a fun and social hostel, a cheap place to crash after a night of partying, or a chic designer option to sip cocktails and surround yourself with fabulous people – Gay Amsterdam has something for everyone!
Luxury Hotels in Amsterdam
Always very gay-popular, the W hotel chain brings its signature style to Amsterdam with a unique one-off creation dripping in avant-garde design and hip luxury.
Split across two unique buildings, a former telephone exchange building and a bank, W Amsterdam is an intriguing design mix of heritage and contemporary style where nights never end, and the pulse is always set high –day or night – and the rooftop W Lounge & WET Deck.
Experience the innovative design and luxury in any one of their 238 stylish guestrooms, including 23 suites, three WOW suites, and two lavish Extreme WOW Suites Design, fashion, and music connect at the W to create an extraordinary dynamic for the city of canals, and it is our favorite hotel in Amsterdam…Close to all the gay attractions by day or by night.
Exuding a modern approach to luxury through fresh, refined rooms and imaginative spaces that are steeped in inspired Dutch design, the Kimpton is a very gay-popular choice to stay in Amsterdam.
Experience an immersive labyrinth of contemporary millwork, lush layers and clean lines in this hotel that does not take itself too seriously in the heart of Amsterdam's thriving City Centre. Unwind in the leafy garden conservatory, have a quiet night in at the cozy House Bar, which dates back to the Dutch Golden Age, or hit the gym if you feel like it.
In addition, you will find complimentary lightning-fast Internet access, should you be tempted to spend the night in watching gay coming-out movies. There is no judgment here…
One of the most famous hotels in Amsterdam, this extraordinary and sensational suite boutique hotel is found in the beating heart of Amsterdam's city center: The Dam Square, overlooking the renowned monument and the Royal Palace.
Not a single detail has gone unnoticed by the visionary two-time winner of the Hotelier of the Year Award, Eric Toren, and it shows. The magnificent studios and 1 to 2-bedroom suites feature luxurious furnishings, oak floors, and stone bathrooms with whirlpool tubs. There is also a flamboyantly decorated bar, and butler service is available upon request – among other luxe amenities.
Offering genuine and truly tailored service, the Dylan is an icon of modern European design and a much-coveted luxury 5-star boutique hotel in Gay Amsterdam.
With sophisticated interiors, refined rooms, posh suites with rainfall showers, and canal views, there is a lot to love here – but we can't forget the graceful award-winning restaurant, the trendy wine bar, and the elegant courtyard garden.
Andaz Amsterdam Prinsengracht ☆☆☆☆☆
A trendy hotel with a voguish design and Fashionable, futuristic rooms and suites, many with views over the historic Amsterdam canals. Facilities include a stylish restaurant and an elegant bar with assorted designer decor, plus a video art gallery, a full gym, and a sumptuous spa.
Mid-Range and Budget Hotels in Amsterdam
Offering affordable luxury to all citizens of the world, we first fell in love with the CitizenM concept in Glasgow, but you can also find them in Taipei, NYC, and Paris.
Their idea is to cunningly design rooms around sleeping, the lobby to feel like a living room, and the canteen to be all homely and, er, kitchen-y. Ultra-modern, high-tech, and very contemporary, the Citizen M also keeps costs downs but does not provide all the luxe extras you ever actually use.
An incredibly unique, refined and nature experience on the edge of West Amsterdam, perfect for those who love seeing central Amsterdam but not necessarily sleeping in the chaos.
The thoughtfulness of every detail and sustainable qualities of the property are impressive – with chic raw wood cabins, a farm-to-table restaurant, a sauna, a lake and beach, wildflower meadows are more.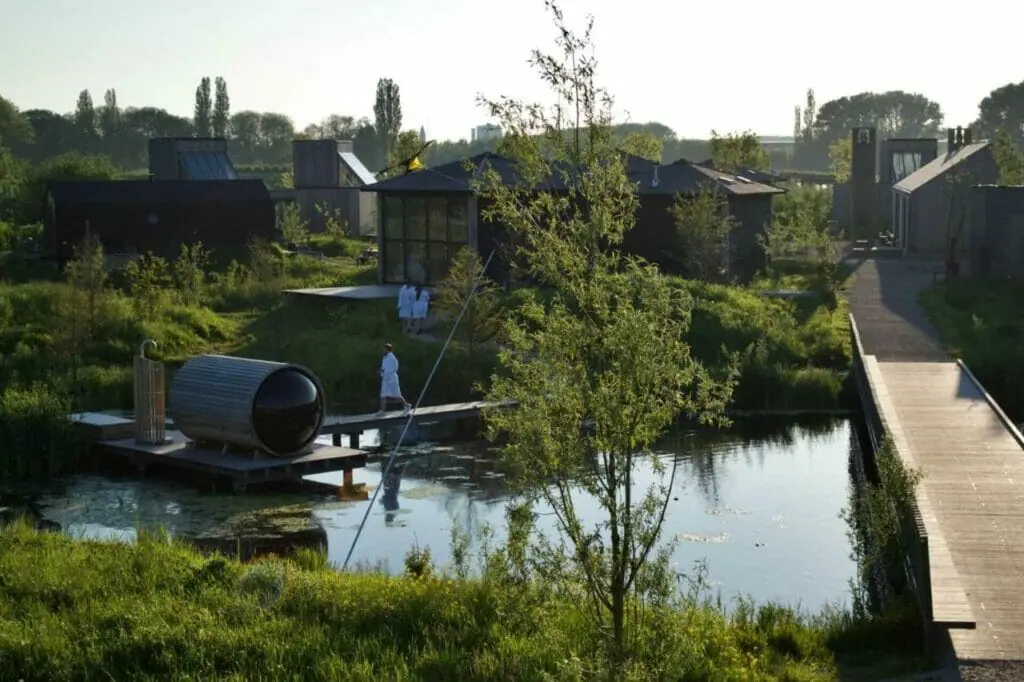 The Student Hotel Amsterdam City ☆☆☆☆
A newspaper office in another life, the building has been transformed into student accommodation, a very hip hotel, and studio apartments. The rooms are comfortable and relaxing, and excellent value for Amsterdam. The catch is they are slightly out of town, but that is just an excuse to use public transport or bike like a local.
A contemporary hotel set in the De Pijp neighborhood with unique touches such as fruit crate beds, hammocks, Japanese baths, and digital movie projectors in modern rooms. Surprisingly affordable given their location out of the center, there is a colorful rooftop club with panoramic views, a basement bar, sauna, yoga, and hot tub to make up for it!
A formerly men-only gay hotel that is now a living tradition in the middle of the Red light district, strategically located in the city center, on a canal just a few blocks away from the infamous Warmoesstraat bars.
Today ANCO is still exceptionally gay-friendly and within walking distance of all the gay nightlife, but this modern hotel in a 17th-century canal home is now open to everyone. We found a lot of love still, however, including the affordable prices, bright, colorful rooms, canal views, and complimentary breakfast.
Ibis Styles Amsterdam Amstel ☆☆☆
A budget hotel offering incredible value in the heart of the Amsterdam gay scene. You get a great big – and quiet – room, clean bathroom, simple breakfast, and free advice from the front desk…all with a very affordable price tag.
The prototypical Amsterdam gay hotel was run by a group of gay men who made the Amistad one of the core components of the city's gay scene. Sadly, however, in 2018, after a re-brand became significantly 'less gay.'
Previously known as the "Gay-Friendly Hotel," Amistad Hotel is still always delighted to welcome any guest, no matter if you're lesbian, gay, transgender, straight, or questioning.
Fully renovated and in one of the top locations in the city center of Amsterdam, this beautifully decorated and traditional 400-year-old Dutch townhouse / B&B offers a quiet and comfortable space with all the vibrant gay Amsterdam nightlife within easy reach – within 100 meters is the legendary cruise club Church for example.
Another once-celebrated Amsterdam gay hotel that has since changed hands and is now focused on backpackers and budget guests. The hotel's outrageous history and central location still make it a very gay-popular choice for its proximity to Amsterdam's nightlife, plus there is a complimentary continental breakfast. Still, the Golden Bear has defiantly had its Golden age.
On a budget, don't mind sharing a dorm or want to meet other travelers to party the night away with? Then the stunning ClinkNOORD is for you. They offer modern Dutch-style interiors and a friendly, laid-back atmosphere with dormitory accommodation, private rooms, and a great-value buffet breakfast.
The building was initially a beautiful 1920's laboratory, and many features have been retained, including an impressive stained glass window that runs right to the top floor.
The hostel also has some fantastic social spaces, including a library/workspace, a sunny and spacious atrium, a café, and an in-hostel bar, which is a great place to meet fellow travelers. Very gay-friendly, and you will not be lonely here for long.
Gay Nightlife in Amsterdam
We are not even sure where to start, as the gay nightlife in Amsterdam is amongst the best in the world.
If you are as overwhelmed as we are, the only thing you need to know is the Reguliersdwarsstraat / Amstel / Kerkstraat area and the Amsterdam historical city center around Dam Square are the hubs of LGBT nightlife in Amsterdam…But by no means the only place to spend the night with your global queer family.
Gay club parties in Amsterdam are all the range with different locations across the city every evening. Still, we have only listed the most popular and fabulous, as there are almost too many to count!
Use our Gay Amsterdam Map at the end if you're lost, but there is plenty of bars, cocktail lounges, bearded glitter queens, and bear dens littered across Amsterdam to satisfy even the most discerning of gay travelers.
We have only focussed on explicitly gay venues here in Amsterdam, but the city and country are so liberal that it doesn't feel like you can't make out with your partner in most bars or clubs here!
Refreshing and freeing, the gay nightlife in Amsterdam has something for everyone!
Reguliersdwarsstraat Street / Kerkstraat / Amstel Gay Bars
A charming and vibrant club / English-style gay pub that also attracts a lot of curious straight girls. There's always something going on that draws in the international party animal crowds. Passionate and friendly staff serving strong drinks to keep the booze-fuelled dance fun going, with a more chilled terrace to cool off on.
The friendliest and most attitude-free gay bar in Amsterdam, not that we found much attitude here compared to places like Las Vegas, Paris, Toyko, and Rome. Faithfully serving the Amsterdam gay community since 1978, this hassle-free bar is frequented by a mix of residents and tourists with alternative music, a pinball, a pool table, a fireplace, and two TVs showing cartoons and gay action movies.
They have a legendary bingo night on Sundays and a small dark room upstairs for those who might feel the urge.
The best place in Amsterdam to do for absolutely extraordinary, a thigh-smacking drag show with an entertaining and vibrant atmosphere. This is a small venue, but as we gay men know – it's not about size but how you use it, and Lellebel sure knows how to deliver!
During the weekdays, it's relaxed and cozy, so you get a chance to know everyone inside, and on the weekends, Lellebel gets packed out quickly with a lively crowd who come for the karaoke performances and talented queens who know how to make everyone feel welcome. Very trans-friendly and popular.
A cozy gay bar centrally located on the main Amsterdam gay street. Sociable bartenders, enjoyable crowds, and an extensive selection of drinks! They now also have the Taboo Kantine/ Lounge next door to the original Taboo bar for even more fun.
The outdoor terrace is perfect for chilling on those rare sunny days in Amsterdam, or the small interior space makes it easy to rub shoulders with the elites of the gay world at night, Drag Queens! Every Wednesday, there is also a fabulously queer cabaret cocktail night with shows, games, and cheap cocktails!
Fame
(Temporarily or permanently closed. If you know something, please suggest an edit.)
The newest gay bar in Amsterdam! Everyone here is very friendly, the drinking games allow you to socialize easily, and the drink prices are reasonable. A fun start to any night with a busy Happy Hour and karaoke plus sexy go-go dancers and drag shows most weekends.
One of the most popular bars in Gay Amsterdam that gets absolutely packed on weekends – not that we are complaining about rubbing shoulders with all those cute Dutch boys. Drinks are reasonably priced, and while the kitschy music ranges from Dutch pop to throwback hits, there is no room to dance in this bizarre little bar.
There is a daily Happy hour from 2 till 8 pm, which draws in lots of locals, and if you can time your visit for the 2nd Friday of the month, there is a 'Goed Draag' Day. We are giant Drag Race fans and have all the merch, and we love to support drag queens around the world.
Exit Bar, Soho, and Taboo are all close to each other, so you can easily see quickly, which is more your scene. This small and always crowded gay bar plays house music all day, every day, to the young and beautiful crowd.
If you are the type to not start your night till after midnight, you will enjoy their daily happy hour between 1 and 2 am. Like most LGBT spaces, there is always something unexpected and exciting happening here.
One of the oldest and most trusted establishments in the Amsterdam gay scene, open to the public since 1964 and is popular with both locals and international tourists. Good-looking and hospitable staff, laid-back atmosphere, and excellent drag shows are the main reason to go, but beware of the time warp if you have other plans later on as the atmosphere here draws you in, and it is hard to leave.
The newest addition to the Amsterdam gay scene, run by the same owners, is Club YOLO. Located in "The Gay Street" of Amsterdam, the famous Reguliersdwarsstraat, check out their Facebook page for the full schedule of events, including Sunday Night Drag Shows and Bingo on Monday.
There is a happy hour from 7-8 pm and 12-1 am, as well as live DJs on Friday and Saturday nights.
Caribbean hospitality right in the center of Amsterdam – Yes, there is no need to go all the way to Cancun, Santo Domingo or Punta Cana! Reality is geared towards black and men of color, and women but is proud of the unique mix of people of all ages, colors, races, and gender who flock here.
One of the few bars in town where black and white gay guys regularly meet and mingle, and you can guarantee their daily 2-4-1 Happy Hour, which runs from 8.30 pm to 10 pm on Sunday to Thursday, will draw in large crowds.
Shake that body 'till you can't move no more with relaxed and laid Caribbean music that transitions later in the night as the DJ lets ferociously uptempo Latin music pump from the speakers!
Queers Café
(Temporarily or permanently closed. If you know something, please suggest an edit.)
The name says it all, right? The place in Amsterdam where everyone is welcome and where us fabulous gays can just be! Full of atmospheric ambiance, glitter, and glamor, enjoy cheap drinks with pop classics baring under the bling of faux chandeliers.
Some of the best drag shows in Amsterdam take place here, but even early in the night, this is one of the most glamorous bars in the Gay Amstel area to stop off at.
Whether you want to have a coffee with your rainbow family or to start early on a night out that is sure to go until the wee hours, this is the place for you!
Central Amsterdam Gay Bars
One of the world's oldest gay bars was opened in 1927 by lesbian Bet van Beeren. It closed in 1982 and was preserved intact and reopened in 2008. Originally more of a tolerant place where prostitutes, pimps, seamen, and lesbians could hang out, Café 't Mandje is still an important piece of LGBT history, and there is even a replica in the Amsterdam Museum.
The walls are covered in quirky mementos and old photos, and there are lots of nooks to have conversations in and to soak in the history and buzzing energy. If you are lucky, the current owner (niece of the original owner, Bet) will tell you all about it, with salacious gossip and juice anecdotes – yes, lesbians are just as wild as gay boys! A highlight of Gay Amsterdam and not to be missed!
One of the only old-fashioned gay brown café / traditional Dutch pubs in Amsterdam, this fun bar has a keen following and draws in locals of all ages. The perfect place to relax on a lazy afternoon or start your Big Gay Night when an eclectic range of tunes stars is being pumped out.
A chilled space for late-night food and great cocktails offering an attitude-free zone, for gays, lesbians, bi, queers, and straights. The sort of place you could visit once or three times a week wearing full leather, dress up, dress down, or bring your mom; no wonder Ghetto is one of Amsterdam's top "unknown" Hotspots.
One of Amsterdam's best down-to-earth gay hotspots for nearly two decades, the Queen's Head bar still attracts a very diverse clientele with local regulars and plenty of lured in by the stunning view over the canals.
A welcoming gay bar that embraces diversity and guests of every gender, race, sexuality, and age. Drag Queen is owned by funky DJs on the busier weekends and popular bingo night on Tuesdays.
Come during the week for quiet conversations over drinks or the weekend for a wild time. Every 2nd and 4th Sunday, you can also attend the Netherbears meeting here – a gathering of bears, bearded men, and their chasers.
Hotspot Bar
(Temporarily or permanently closed. If you know something, please suggest an edit.)
A no-nonsense gay bar for enjoying drinks, snacks, and queer company with campy music videos and friendly staff who always make you feel welcome. Frequently crowded, which works in your favor if you want to meet a gay local in Amsterdam, and the perfect spot to duck into after a long day of sightseeing.
Nothing fancy, but the only real lesbian bar in Amsterdam, and sometimes all you want is an old-fashioned watering hole to relax over pool or darts. You can meet friendly locals here who also want to chat; there are unisex toilets, and Café Saarein is outside typical touristic areas, so it is a great go-to place to experience the real LGBT+ community of Amsterdam.
A flamboyant pink bar to experience lovely liquids, sexy snacks, and twisted tunes! Nice and friendly staff with reasonably priced cocktails and drinks, plus a DJ night on Saturdays. The crowd is often between 35 to 60yrs, but with 'gays and their friends' vibes to start your night off.
Gay Nightclubs In Amsterdam
A trendy club with know's how to harness the element of surprise and make every night out fun! Housed in a four-story building, they have created a colorful world of wonders, one to fall in love with and get lost in.
Nyx is a space created for anyone who wants to have fun, and who loves what a great nightlife experience is all about: drinking, dancing, and laughing.
Each floor offers a distinctive music style, but wheater it's the music, the entertainment, the decor, the staff or the crowd, this club always focuses on being a bright, easy-going and unpretentious space for open-minded individuals – gay, straight or unicorn!
A non-commercial Sunday's only underground disco for dike, trans, queer, or anything in between founded in the early eighties. According to the statutes of De Trut, any profit must be solely used for the benefit of small-scale dike, trans and gay activities, so why not take the opportunity to party for a good cause with a vibrant atmosphere, fun music, low prices, and safe environment?
All the employees of De Trut work voluntarily, the costs are relatively low, and a nice profit can be made. De Trut has a small capacity of around 200 hundred people, so arrive early if you want to get in!
A new gay/open-minded Club for all the happy party people of Amsterdam! Expect house and eclectic sounds, with a different DJ every, friendly staff, East-meets-West glamour decor, and one of the best parties in town!
Gay Parties In Amsterdam
Amsterdam's most talked about gay dance party series draws in substantial international crowds. Rapido is held several times a year at various big club venues in Amsterdam though expanding into the international gay circuit scene and hosting gay, queer, and open-minded parties across Europe.
Brilliant DJs, superb production values, and erotic dancers make all of their events sell out in advance, so if you are planning a gay trip to Amsterdam around this – which you should – book your tickets early.
From the same team as Rapido, so expect more uplifting beats and music, surprising entertainment, mindblowing special effects, and a different theme every night.
A gay techno party that strives to bring high-quality techno into an open and playful atmosphere. Techno is the soundtrack to all the adventurous evenings here, and these guys take music their music seriously.
Sorry, no Katy Perry or Gaga requests No matter how old you are, where you come from or whatever you prefer, Spielraum offers you a place to move freely, discover who you are…and play!
Kalinichta is a new straight-friendly LGBT dance party, honoring the beats from Slovenia to Greek and Lebanon. Think upbeat tunes, crowded dance floors, and the hottest guys (and girls!). Usually held at Noorderlicht Café every few months but check their Facebook page for the latest details.
Billed as more than just another evening, this spectacular party is a show, a production, an evening of dancing, and non-stop entertainment … and one of the most popular tea dances for LGBT+ and friends being held every few months in new and novel venues around Amsterdam.
A women-only dance night takes place 3-4 times a year that usually takes over Club Panama and fills it with everything to make a unique 'girls' night out.'
The infamous Club Church (discussed under cruise bars) holds a weekly gay dance party on Thursday nights known for its utterly-disgraceful and intoxicating atmosphere, camp shows, and eccentric misfits. Cheap drinks, hot guys, and inhibition-free fun!
Amsterdam's longest-running men-only dance & cruise party for bears and their friends. Come and dance to fun music and cruise in a sexy atmosphere with butch, big, small, hairy, smooth, tall or short men, bears, cubs, chubs, chasers, and everything in between. Darkrooms + dance floor + drinks, with men only and no dress code!
A monthly pop party for young and trendy gays that moves between venues frequently. Run by Ultasexi, a local queer cooperative that uses parties as a medium to shed light on their aims of living a more creative and free-spirited life. Either way, their parties are always f*cking fun!
A queer underground dance party focussed on the house, techno, electro, disco and wave music
Danserette @ Paradiso Amsterdam
Gay dance parties are full of hits that you know or recognize. Created in 2006 due to a lack of a dance floor in gay Amsterdam where pink hits were played. We are talking bubblegum pop and dance songs from the '90s, 00's, and 10's – Think Madonna, Gaga, and Kylie. Held every 1-2 months, check their Facebook for one-off events held in unique locations like the Amsterdam Museum.
Look for the bare necessities, the simple bare necessities … Just us? Well, that is probably good as this attitude-free party where real men meet to socialize, and dance is a little more X- rated than the classic Disney film.
Drawing in all the bears, wolves, otters, cubs, and more with high-quality music by local and international DJs, this event straddles the line of circuit and underground gay scene.
The sounds are progressive and sophisticated, with an emphasis on quality tracks rather than gay anthems. BEAR-Necessity has become one of the biggest party events in Gay Amsterdam and usually takes place months at Panama Amsterdam, a huge club with a capacity of 1150 people, but other venues are often announced.
Launched in 2008, BEAR-Necessity has now expanded into regular parties in London and Antwerp, as well as holding one-off events in Cologne, Barcelona, Madrid, Paris, Alpe d'Huez and Tel Aviv.
Gay Saunas In Amsterdam
Had enough of gay cruising in Amsterdam – either in the bars or elsewhere?
For those who want a bit more guaranteed action, there is only one gay sauna in Amsterdam, but luckily it is pretty good and should not disappoint you (unlike all those faceless accounts on Grindr or the other hookup apps…).
If you want to explore your kinky side without a steamy sauna, there is also the gay Amsterdam cruise club scene, which is as sensually self-indulgent as you will find anywhere on Earth.
Foreigners are happily welcome in all gay sex clubs and saunas in Amsterdam, and most will speak English, but you'll still need to be good at reading non-verbal cues. Luckily we have our gay sauna guide to help you out!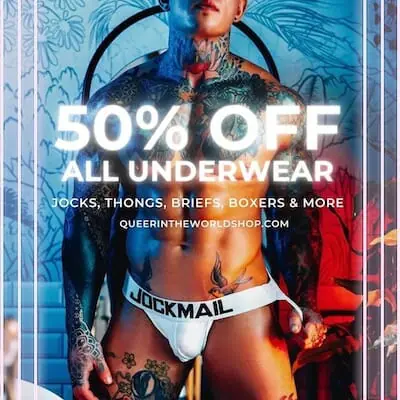 A fabulously modern and cruisy fun gay sauna in Amsterdam, conveniently located just minutes from the central station.
Open 365 days per year – and only closed for a few hours every morning, Sauna Nieuwezijds boats a fully licensed bar with a relaxing lounge, cozy 8-man whirlpool, Turkish bath, Finnish sauna, private cabins, light meals, male masseurs, a smoker's lounge and abundant cruising space.
Sauna Nieuwezijds is run by the same team as the fabulous naughty Club Church in Amsterdam, so you just know things here are going to be anything but boring. Busy almost every day, but with a popular No Towel Tuesday night and Twinkie Wednesday, and on the weekend, you should be prepared to queue.
What else would you expect when Sauna Nieuwezijds is easily one of the best saunas in the world? Guests to Sauna NZ are obligated to show their ID or passport at the entrance, and the sauna is open exclusively to men and transmen.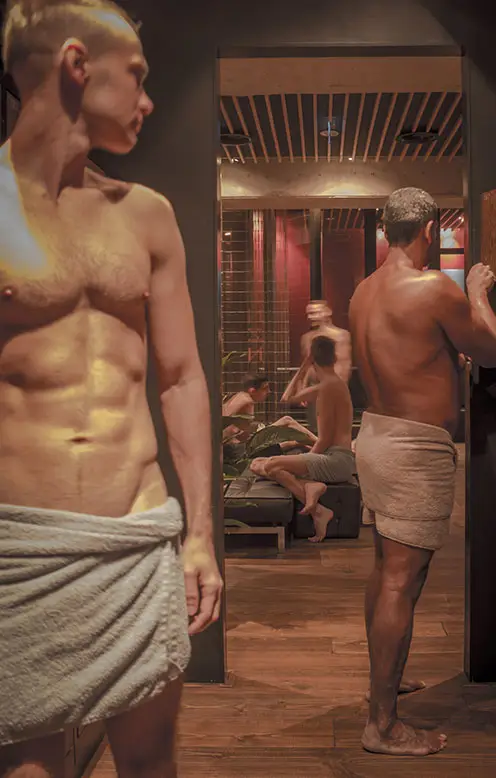 Gay Cruising and Fetish Clubs in Amsterdam
If the bars or gay parties in Amsterdam are too vanilla for you, perhaps these fetish clubs and cruise lounges are a better fit.
We have to warn you; however, Amsterdam has one of the most intense fetish scenes we have ever come across – up there with Rome, Paris, Munich, Vienna, and Prague, and it is definitely not for everyone. We have tried to identify places for the more 'initiated,' but there is nothing vanilla here.
Most of these ultra-hardcore cruising venues / gay sex clubs in Amsterdam are centrally located and easy to find, but you can use our Gay Amsterdam map at the end to find the closest to you.
Get down on your knees, but don't expect to be praying. Yes, Church Club is the stuff of legends! An absolutely wild gay sex club in Amsterdam known around the world as an uninhibited place where all fetishes and fantasies unite. There is a large bar, dance floor with DJ, private cabins, kinky dark rooms, and showers – plus free & secure coat check and condoms everywhere.
Church Club is not for the faint of heart, but the perfect place for exploring your long-held fantasies in a non-judgemental environment. Check their website for the weekly agenda and upcoming parties to find your kink.
There is underwear, sportswear, bear parties and naked nights, of course, and every Tuesday is fetish lounge with Andrew's cross ready for use, Freddy the fuck machine is on standby, and six slings are at your service – as well as all the whips, paddles and restraints you can handle.
There is also a frequent Oil Party where two hundred sexy guys and a pool filled with warm oil get together on an excellent rub-down or grease-up is a slippery spectacle or the extra-depraved Slave Auction where slaves are stripped, bound and inspected by masters and sold to the highest bidder. There is much, much more going on at the Church Club, so take a look and plan your trip accordingly.
A famous leather & jeans cruise club in Amsterdam, inspired by Tom of Finland. Burly, masculine men head here after work for the social – but very cruisy – bar downstairs, then head upstairs to the big dark room with a dark cruising area, slings cabins.
An integral part of the Amsterdam gay scene, this unashamedly sleazy was established in 1974, making it one of the oldest Gay Fetish bars in Amsterdam. Dirty Dicks is a fetish bar, and in general, it has an expectation of a particular type of atmosphere and behavior. Most people go to a fetish bar looking for certain types of men, but no strict dress code is enforced here.
Suggestions to come in are leather, rubber, latex, uniforms, army, gas masks, and boots. You get the idea. Dark, dirty, and deprived – the two floors here have a bar, a large dark room, cubicles, play zones, and more. The parties here (listed on their website) are legendary for the extremes they go to, and the kinks they cater to – and are not at all for the faint-of-heart or initiated. You have been warned.
Eagle is the oldest and most famous dance club, very cruisy and strictly men only. The Eagle attracts all types of gays, and men love to come to this place because of the array of options it provides. There is no dress code on regular nights, but during their epic Sunday parties (on the 1st and 3rd of every month), there are naked or underwear dress codes.
The location consists of three floors: the bar and dance floor is on the ground floor, and on the second floor, there is a communal cruising area with a picnic table to try out all your sex position.
Darkrooms in the basement allow you to have paramount enjoyment with showers, slings, glory holes, beds, bondage hooks, and more. The main dance floor is always pumping with hardcore house music, alongside amazing laser lights for the circuit boys.
There is a lounge as well as a smoking lounge where one can sit and have a chat. The club opens daily at 10 pm and closes at 04 am from Sunday to Thursday, but on weekends (Fridays & Saturdays), the club closes at 05 am. Gets crowded during weekdays and extremely crowded during the weekends; expect to queue on those days.
A gay sex club in Amsterdam that started life in 1984 as a leather bar and now has quite a mixed patronage, from local regulars to tourists, from young to old, and from various ethnic origins, albeit still very fetish oriented.
Technically the Cuckoo's Nest is just a regular café that happens to have a darkroom out back, so there's no entrance fee, but you are expected to buy one drink every time you visit.
Don't be fooled, though; every visiting the Cuckoo's Nest has one thing in mind – why else would you come to one of Europe's largest playrooms? There is a sizeable seedy maze, private rooms, and almost no light.
Condoms and lubricants are available for free from the coat check, which we always recommend using to avoid pickpockets anywhere in Gay Amsterdam (there is no better time to strike than when you are distracted with your pants down..)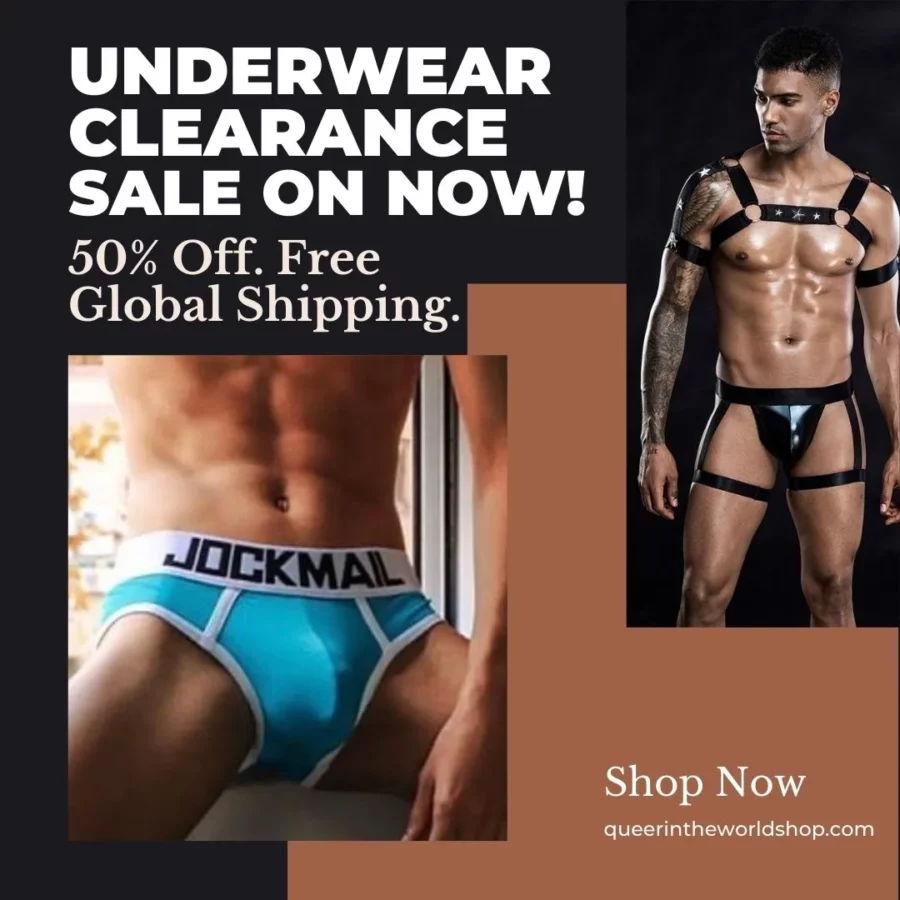 Gay Map Of Amsterdam
Finding it hard to envisage where everything is Gay Amsterdam? Hopefully, this queer-centric map helps where we have marked all the bars, clubs, parties, hotels, saunas, massages and more will help you stay in the spot best suited to you!