With the sun shining down and cobblestoned streets winding all around, you can almost feel a taste of Southern Europe in Cologne. This charming German city is a gaycation destination that's sure to tantalize even the most seasoned traveler!
Part post-war vintage charm, part trendy artisan vibes, this easygoing place has it all – so why not indulge? Let your queer flag fly high in Cologne and experience something truly special.
Cologne is the fourth-largest city in Germany and has a rich and storied history as a hub of queer culture and activism. The city's queer scene dates back to the 19th century, with the establishment of the world's first gay rights organization, the Scientific-Humanitarian Committee, in 1897.
Throughout the 20th century, Cologne remained a vital center for LGBTQ+ activism and culture, and in the 1980s and 90s, it played a key role in the fight against HIV/AIDS. Today, the city continues to be a beacon of LGBTQ+ visibility and inclusivity, hosting one of the largest annual pride festivals in Europe, the Cologne Pride.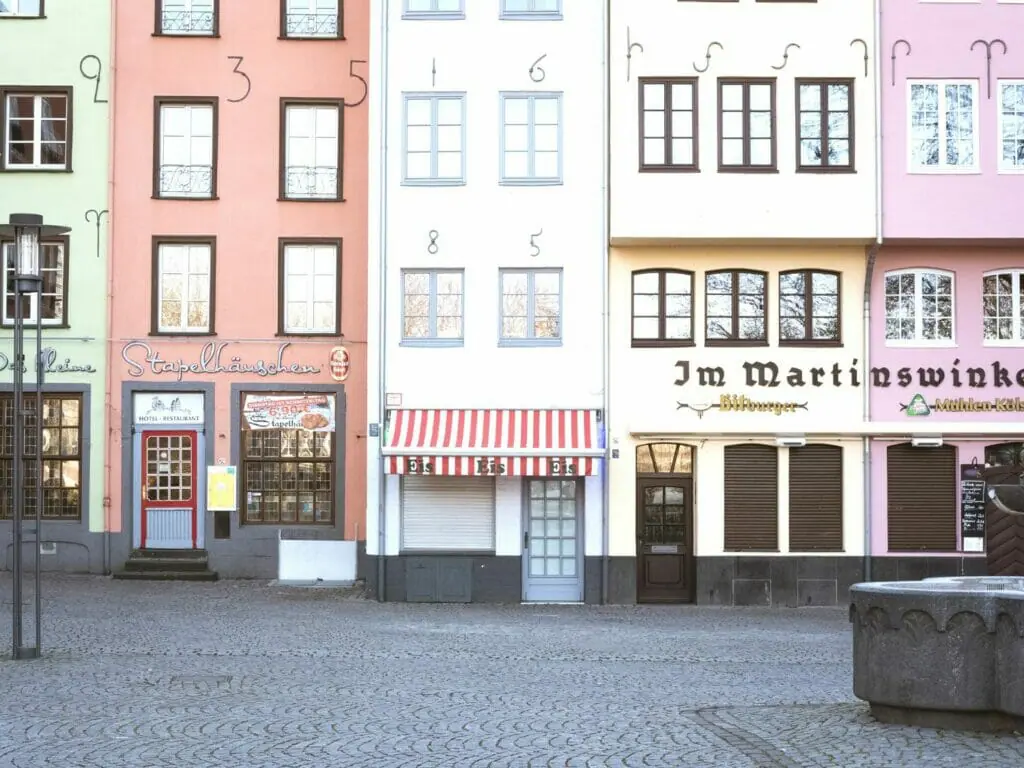 Being gay in Cologne today is a truly remarkable experience. The city's LGBTQ+ community is well-established and thriving, with a wide range of bars, clubs, and events catering to queer people of all ages and backgrounds. The famous "Bermuda Triangle" in the city's Old Town is home to a number of popular gay bars, and the annual Cologne Carnival sees the entire city come together in a massive celebration of diversity and inclusion.
Whether you're a local or a visitor, Cologne is a welcoming and vibrant destination for anyone looking to explore the best of queer culture and history in Germany.
On top of that, Cologne has a rich food world and several historic dishes. This, with its rich museum quarter and historic buildings, makes it a perfect spot to explore and learn. There is so much to do in this space as a member of the gay community for families, solo travelers, and couples!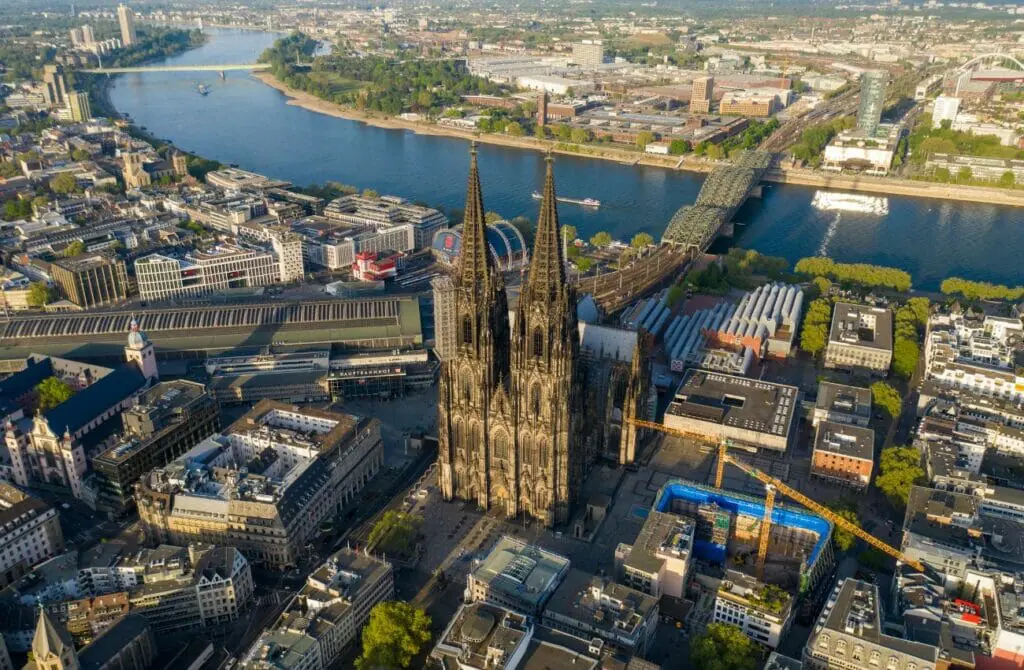 Top Attractions In Gay Cologne
Welcome to Gay Cologne! This city is a hub of diverse and vibrant LGBTQ+ culture that offers so much more than just the typical tourist sights.
In addition to exploring the stunning gothic architecture of the Cologne Cathedral, be sure to check out the iconic Hohenzollern Bridge with its stunning views of the Rhine River. For a unique cultural experience, visit the quirky and colorful neighborhood of Ehrenfeld, which is full of street art and independent boutiques.
Cologne also has a thriving nightlife scene, with countless queer bars and clubs to choose from. Don't miss the chance to experience the lively atmosphere at Iron, a popular bar with a cozy patio, or the sleek and chic Shepheard Bar, known for its creative cocktails.
And of course, no visit to Cologne would be complete without attending one of the city's many LGBTQ+ events and festivals, such as the Cologne Gay Pride parade or the Queer Film Festival. So come and explore everything Gay Cologne has to offer!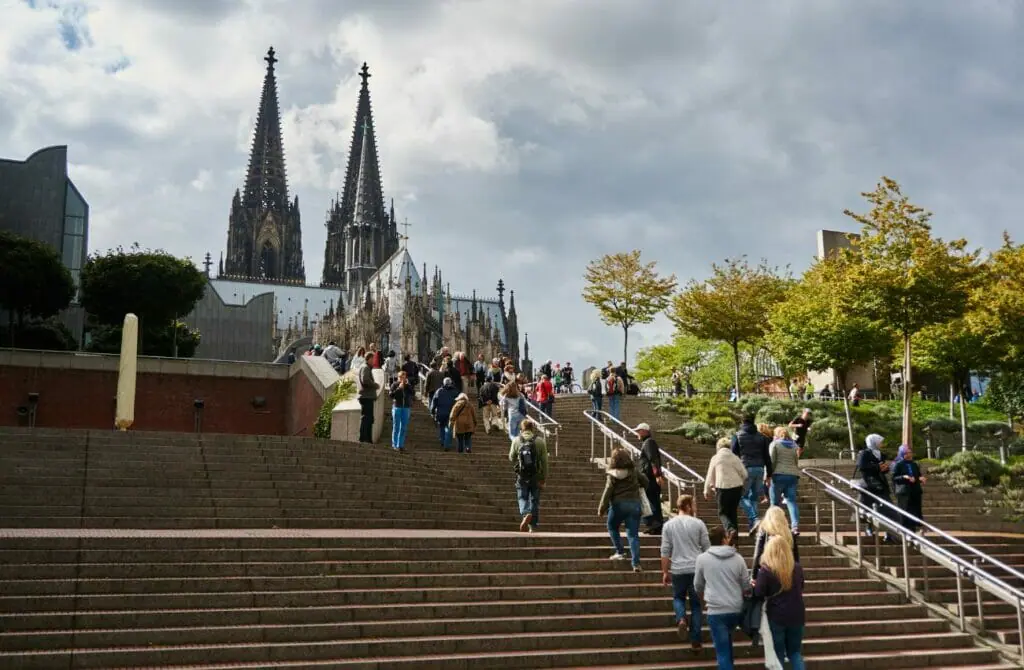 Museums and Culture In Cologne
Come one, come all to one of the most delicious attractions in Cologne! This museum is the perfect spot to take any chocolate lover since it covers the history of chocolate from pre-history to the modern era. You can even make a custom chocolate bar! Tickets are staggered with adult entry starting at 13.50 Euros and decreasing for special discounts.
If classics are more your speed, then you need to check out this museum. Exploring the Roman history of Cologne from the city's founding to the end of the empire, you'll see all kinds of local artifacts and learn about Germany before Germany. This museum protects a Roman villa with an intact mosaic, a Roman road, and artifacts from all over the city.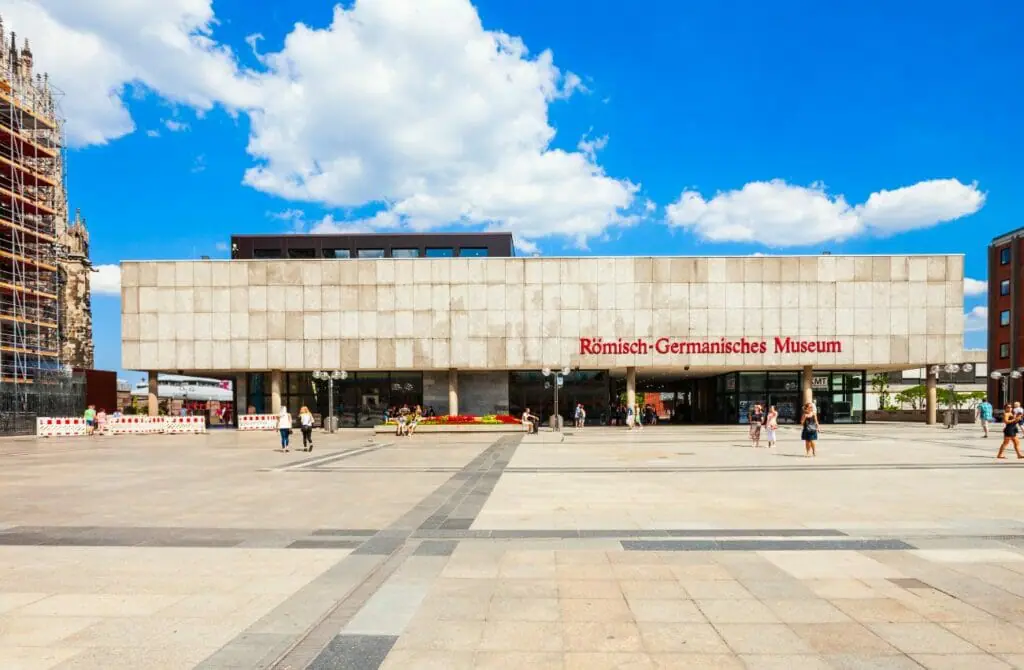 This modern art museum boasts a large collection of 20th-century and contemporary art and is located near the river. They have a significant amount of Andy Warhol's works and the largest Picasso collection in Europe. It costs 11 Euros for adults and free admission for anyone under 18.
Last, but certainly not least, is the Cologne Cathedral. This massive and ancient work of Gothic architecture is a work of art and a must-see if you are coming to the city. You can see it from all over the city, but getting up close and personal is memorable.
Most notably, this cathedral holds a shrine to the Three Wise Men who attended Jesus's birth and a small museum on the side featuring other medieval artifacts.
Some to note is that the cathedral is an active seat for the Catholic church and there are certain clothing rules for entering the cathedral. In general, avoid anything that goes above the knee or particularly low-cut necklines, no hats, and be prepared to go through a security screening.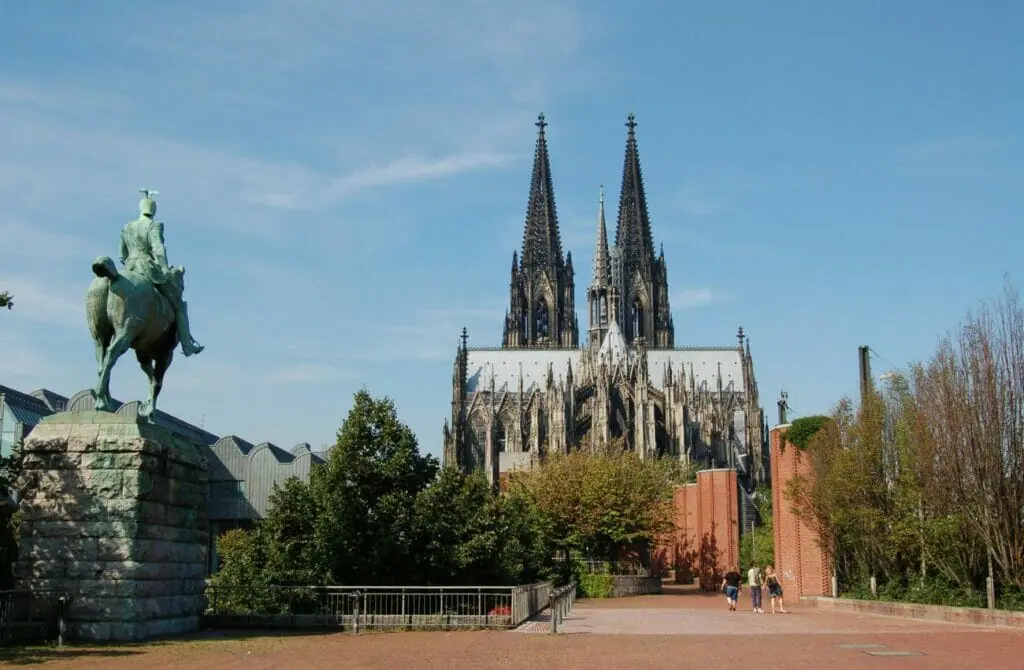 Restaurants and Food Tours In Cologne
Similarly, Germany is also known for its wine. However, without a local guide, it can be hard to know what is local, what is imported, and what should never be missed. A winery tour immediately answers that question by getting you up close and personal with the people making some truly incredible wine.
One note is that this option is a bit pricier than most, but it is worth every penny for such a personal experience.
Outside of alcohol tours, there are plenty of food tours out there to choose from. However, this tour of the Severin district is great for those who are on a time crunch. This tour covers popular food items like schnitzel, kölsch, and doner kebabs. You can't get a better experience than this!
One of the oldest restaurants in Cologne, Bei Oma Kleinmann was opened in 1949 and remains a figurehead in the student district. A vision into Old Cologne, you can't find better food, energy, and company elsewhere in the city.
There are so many brewery tours in Cologne to peruse, especially those that produce kölsch, a Cologne specialty since the 1600s. This type of beer is one of the few to have a regional appellation, like how true champagne only comes from Champagne, France.
There are only six breweries from the original Kölsch Konvention that set down the rules and requirements for what qualifies as kölsch.
In addition, a brewery tour will tell you all about Cologne brewery etiquette, a key skill to keep drinking your way around. These experts are invaluable for the tourist who wants to then strike out on their own later, maybe at some of the local gay pubs.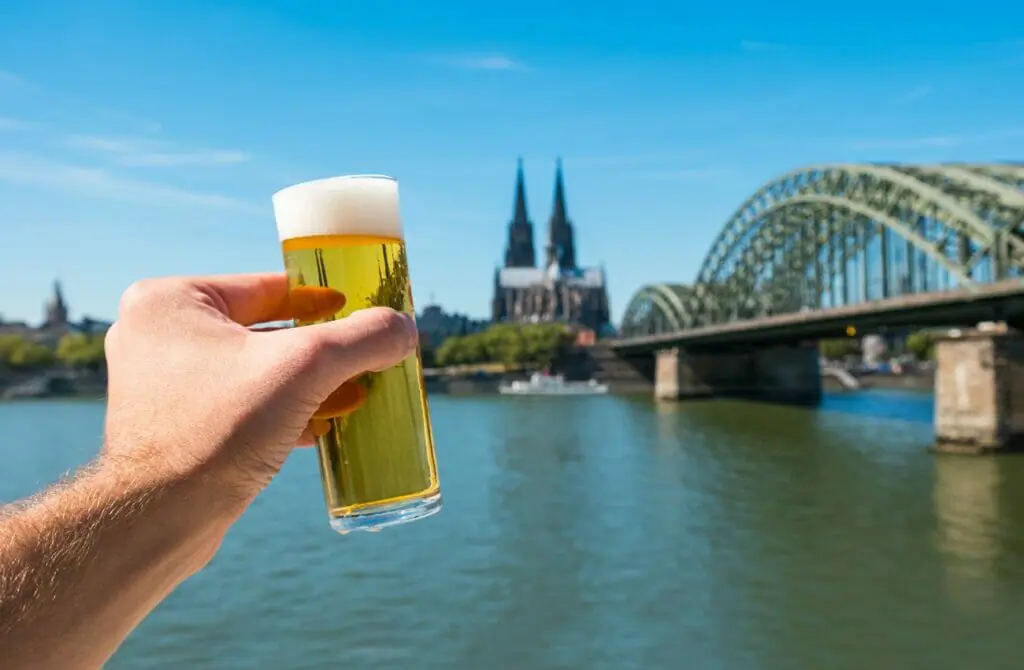 Shows In Cologne
Cologne is a major stop for many artists as they go around the world. There is no shortage of concert venues, big or small. This site is a great spot to catch the latest tours from artists all over the world.
If traditional theatrical shows are more your speed, you should check out the centrally located Theater Am Dom. Featuring performers from all around Cologne and the world, this spot is a lovely theater to watch concerts and comedy shows.
This is another moderately-sized venue that specializes in indie rock, pop, and punk bands, along with other events. This event space is almost exclusively designed for concerts, but they have an affiliated nightclub named Yard Club attached to the building.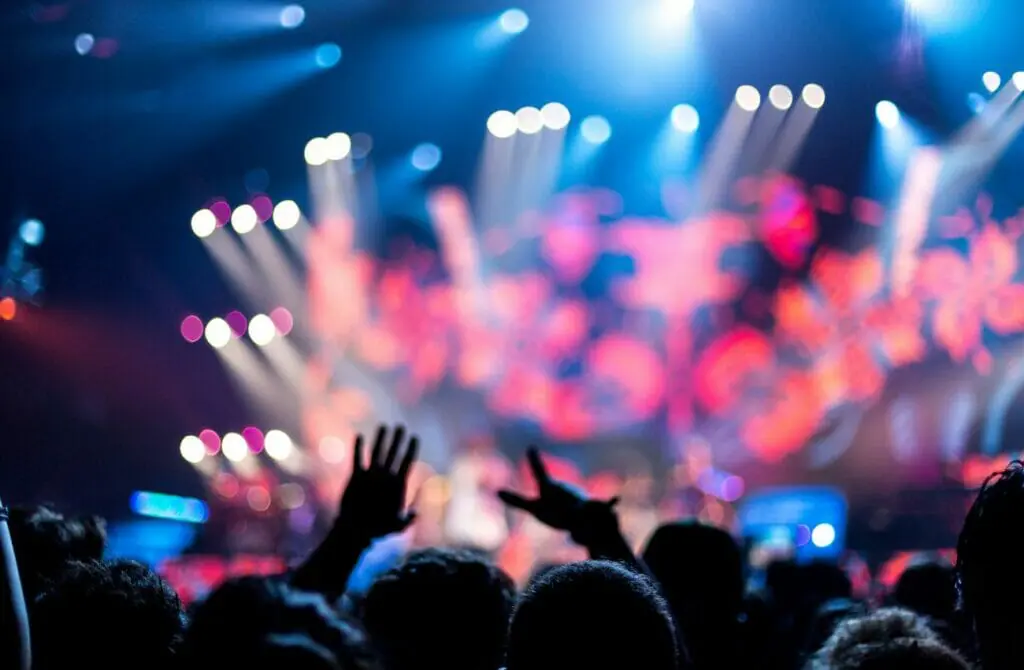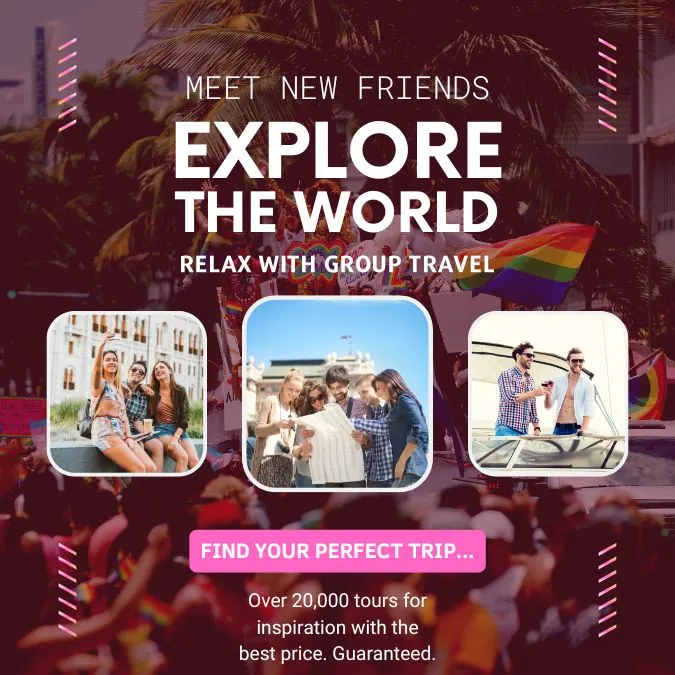 Pride Events In Cologne
Christopher Street Day/Cologne Pride
If you're looking for a vibrant and inclusive celebration of LGBTQ+ culture, then Cologne Pride, also known as Christopher Street Day (CSD), is the event for you. Taking place every July in the heart of the city, CSD is a week-long festival that culminates in a colorful parade that draws tens of thousands of people from all over the world.
The first CSD took place in 1979 and has since grown to become one of the largest Pride celebrations in Europe. The festival includes a diverse range of events, including parties, cultural performances, and political demonstrations. With so much to see and do, Cologne Pride offers a unique and exciting experience that celebrates the LGBTQ+ community in all its diversity. So, whether you're a local or a traveler, attending CSD is a must-do for anyone who wants to be a part of this unforgettable celebration.
This is exactly what it sounds like. This is the largest fetish event in Germany. Many nightclubs will also have a partnership with the festival and offer special deals for fetish enthusiasts.
This Christmas market is incredible and specifically designed as an inclusive, safe space for visitors. If you've ever wanted to explore the world of German handicrafts or just need to pick up a last-minute gift idea, this is your stop. Featuring performers and artisans from all over Cologne, you can find something for everyone here.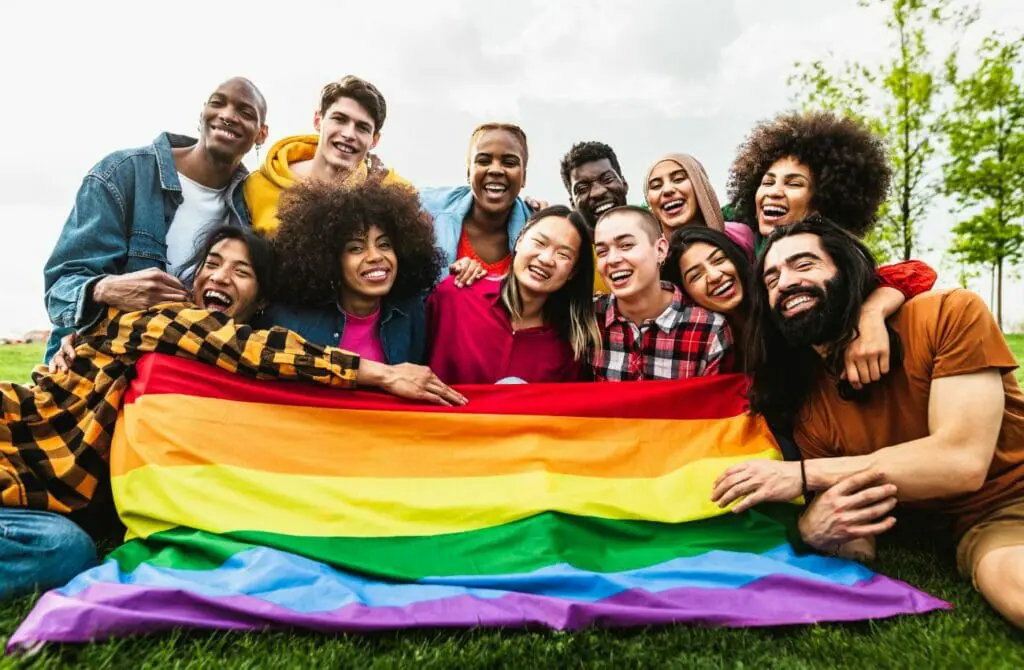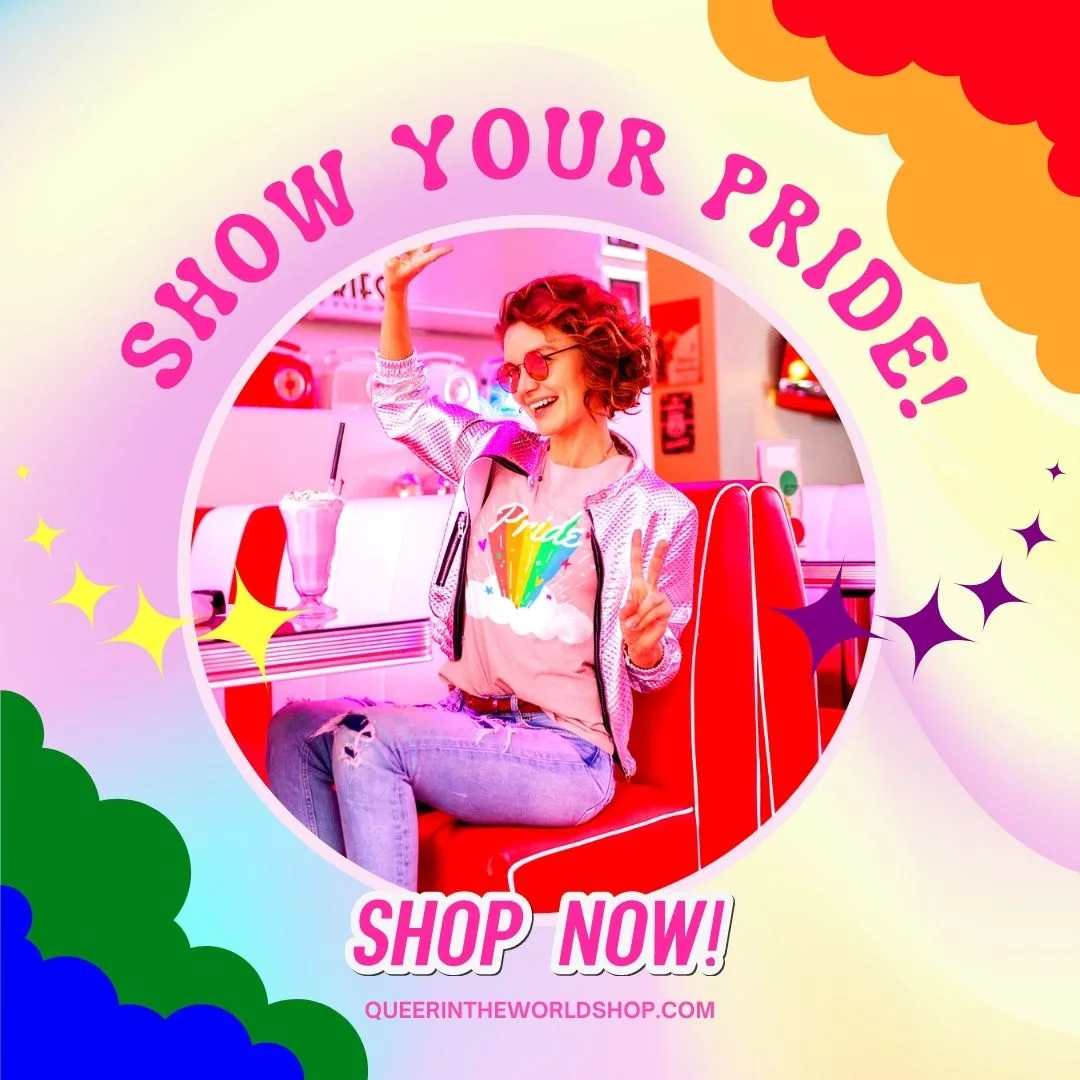 Gay-Friendly And Gay Hotels in Cologne
Looking for a gay ol' place to say in Cologne? Well, you're in luck! This city is bursting with diverse and welcoming neighborhoods where you can let your rainbow flag fly high and plenty of gay-friendly hotels.
First up is the "Bermuda Triangle" in the city center. This area is famous for its lively atmosphere, with plenty of bars and clubs catering to the LGBTQ+ crowd. From drag shows to leather parties, the Triangle has something for everyone. Plus, with its central location, you'll be right in the heart of the action.
If you're looking for something a bit more low-key, head to the hip and artsy Belgian Quarter. This area is home to plenty of boutique shops, trendy cafes, and independent galleries. Plus, you'll find some of the most inclusive and welcoming bars in the city. The vibe here is young, fresh, and open-minded – perfect for the modern queer traveler.
Both of these zones are also where the vast majority of the gay-friendly and gay-owned hotels are. You can find everything from top-of-the-line five-star hotels to completely affordable budget options.
Needless to say, there are also hundreds more hotel and hostel options in Cologne if none of these suit your desired budget, facilities or area – but these are the best hotels according to other gay travelers and us. Whatever your needs are, Cologne has you covered.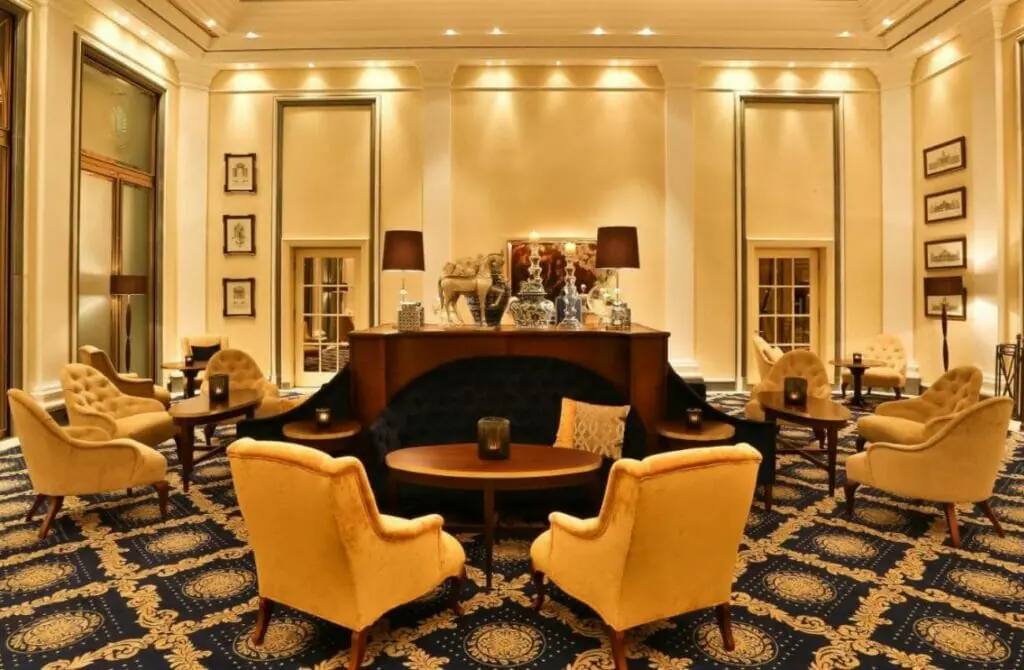 Experience all that Cologne has to offer from the lavish and luxurious Excelsior Hotel Ernst am Dom, just steps away from the iconic Cathedral!
Take time for yourself in their spacious rooms filled with classic furniture; treat your taste buds at their award-winning restaurant boasting a Michelin star; break a sweat in the gym or relax & rejuvenate free of charge in the sauna.
Don't miss out on any attractions during your stay: Museum of Applied Art is around the corner while gay bars and clubs are within walking distance – Zum Pitter is only minutes away! Get ready for an unforgettable experience near Friesenplatz or Heumarkt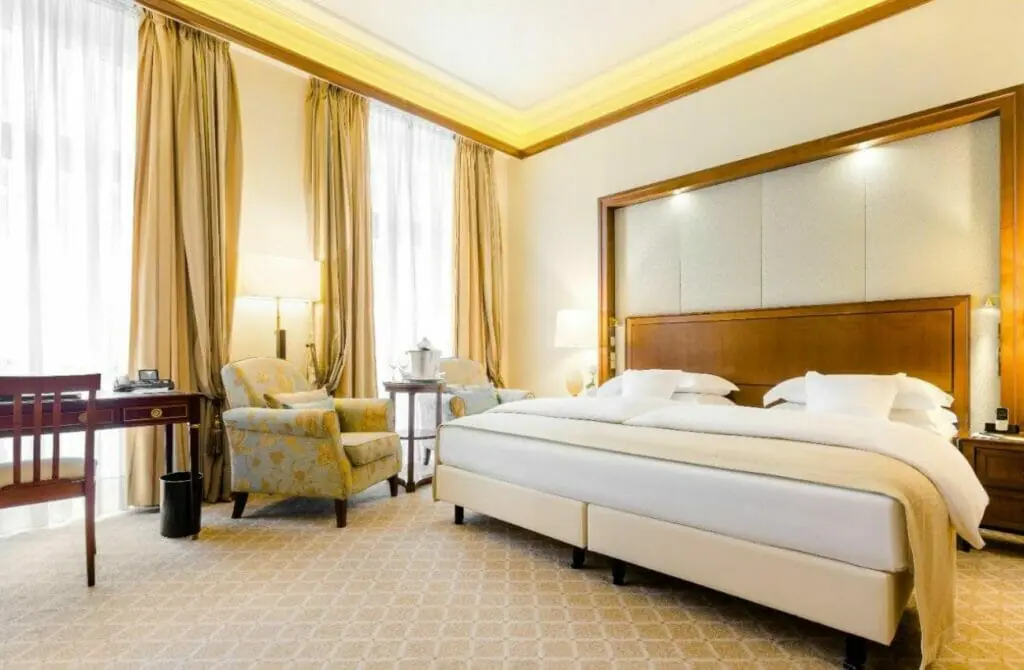 The Dorint Hotel, located right in the center of Cologne is close to all of the major attractions in the city and a great five-star choice for the choosy traveler. This hotel is top of the list because of its proximity, amenities, and overall guest satisfaction rating.
The Dorint is an LGBT+-friendly resort with a massive indoor pool, river views, and a polished interior. It has a sleek, modern feel while also feeling inviting for the local traveler. The marble bathrooms are a noteworthy touch.
A member of the Steigenberger chain, the Köln branch is a perfect, reliable place to stay. This massive hotel is perfect for larger groups with options for packages and a wide variety of rooms to choose from. They are modern and plush and come with the standards only a big hotel chain can offer.
There is a restaurant (Sands) in the hotel, a pool, a fitness center, and close access to all of the major attractions. This includes the cathedral, the gayborhoods, and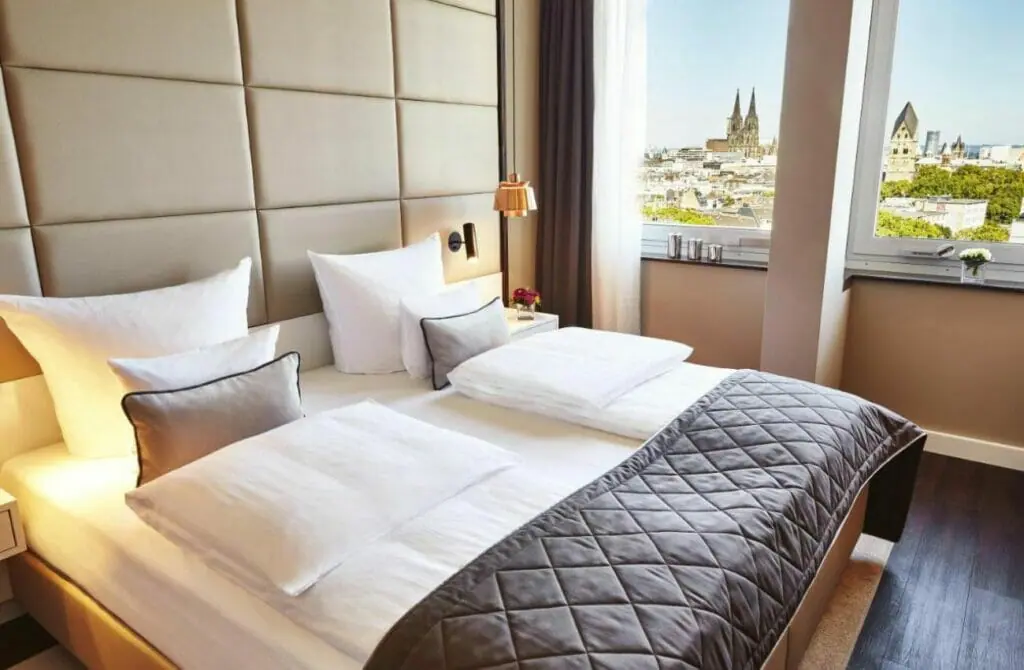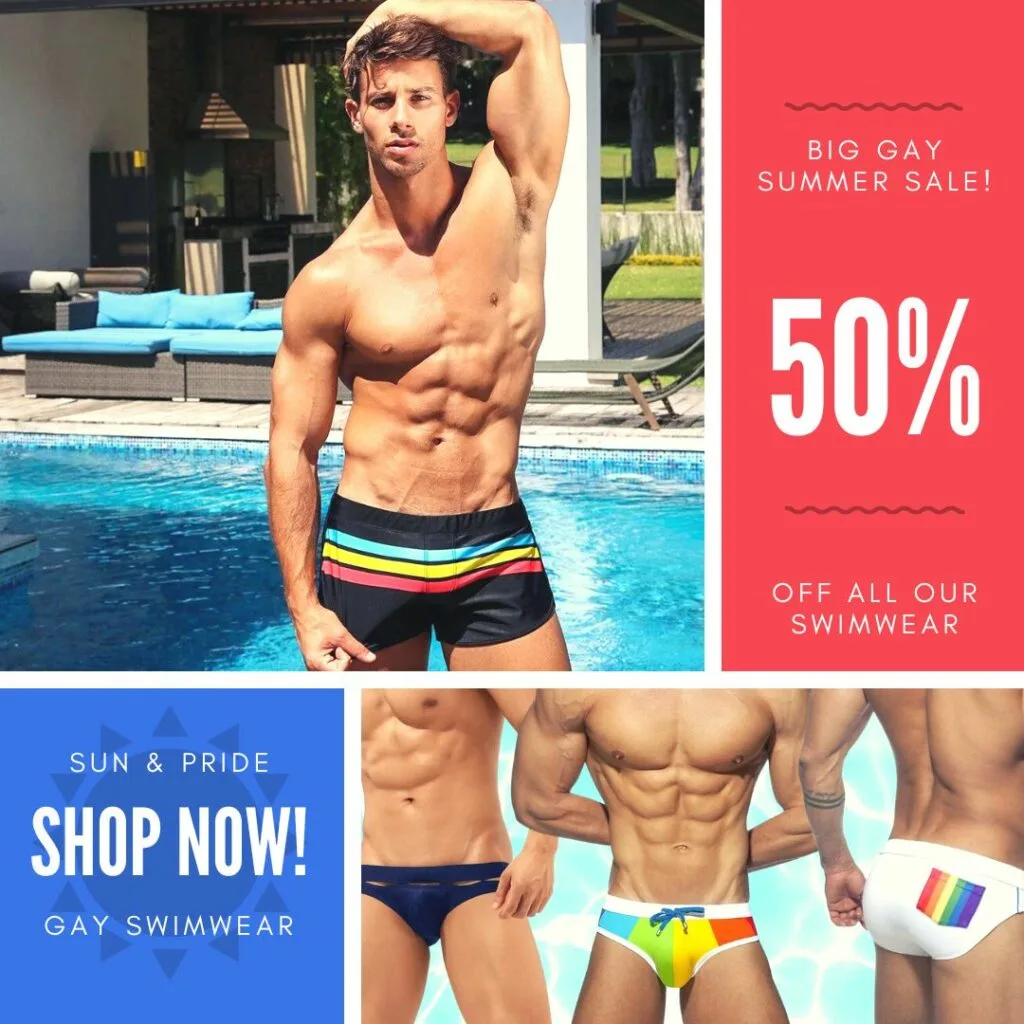 One of the best-reviewed hotels in the city, Maison Marsil is a perfect choice to get a good bang for your buck. While it isn't the most expensive, it is one of the best options at the price point. It is a small boutique hotel with a lovely, bright vibe.
Their warm and inviting rooms are modern and fashionable, offering comfort and good times. They have a great selection of rooms that all feature a pop of color with a bunch of different textures. Top that all off with being close to the Rudolfplatz gayborhood, and you have the perfect small business to stay with.
The Palast is a great-rated hotel with a warm and cozy, but modern energy that will not disappoint. They offer rooms for all kinds of party sizes, including double-bed rooms for solo travelers. Not only that, but they have free self-parking, full minibars, and complete office set-ups in each of their rooms.
It is a bit more relaxed than some of the other options here with a focus on comfort over style or excess amenities. While all of this sounds like a great time, it is a bit further outside the city limits than you may like. If you are willing to take a train or taxi to all of the attractions in Cologne, then this is a great option for you.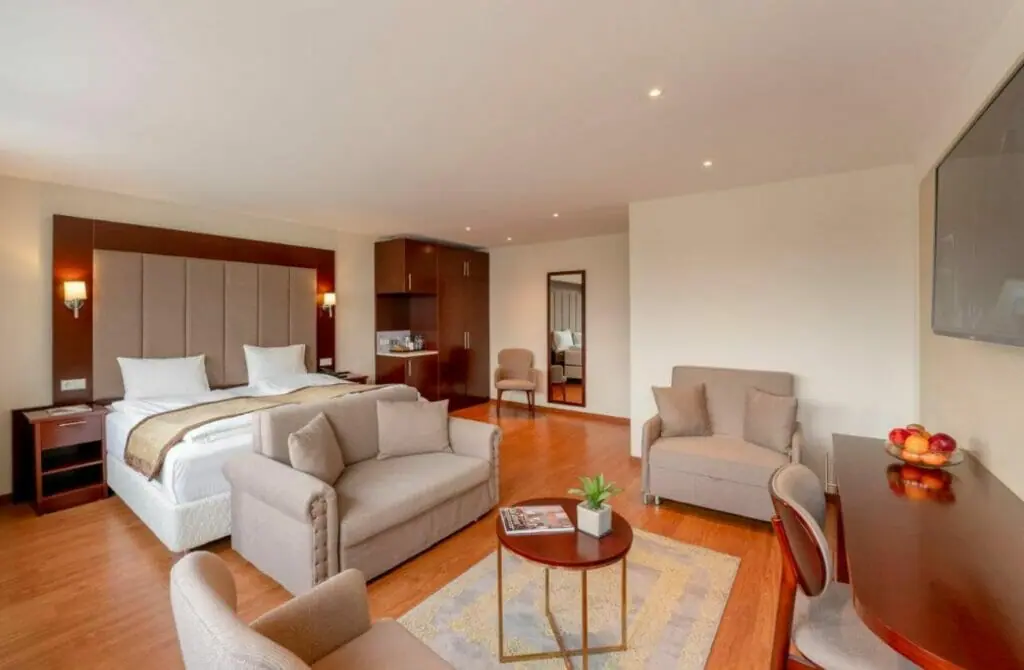 For people who are staying longer than a few days, the Adina Apartments are a great hotel choice. This 171-room hotel is designed like an apartment building and every room has a kitchen, office space, and separate dining areas.
The rooms are all studio or one-bedroom apartments that can sleep either two or three guests. While an apartment sounds like a great pick for a larger group, unfortunately, these rooms are not large enough to hold a big amount of guests.
Rounding out our list of accommodations is the Koncept Hostel Hotel. Part hostel, part hotel, you get a combination of the best parts of hotels with the flexibility of a hostel. It is truly the best of all worlds. There are vivid color touches all throughout the hotel, making it a vibrant place to stay.
This hostel is no frills and is basic for the average traveler's needs. There is no included breakfast and they offer self-check-in. A word of caution: the Koncept does have some rapidly evolving policies about check-in and check-out that can leave travelers in the lurch. Check the website before you get to the city so you don't get left without a place to stay for the night.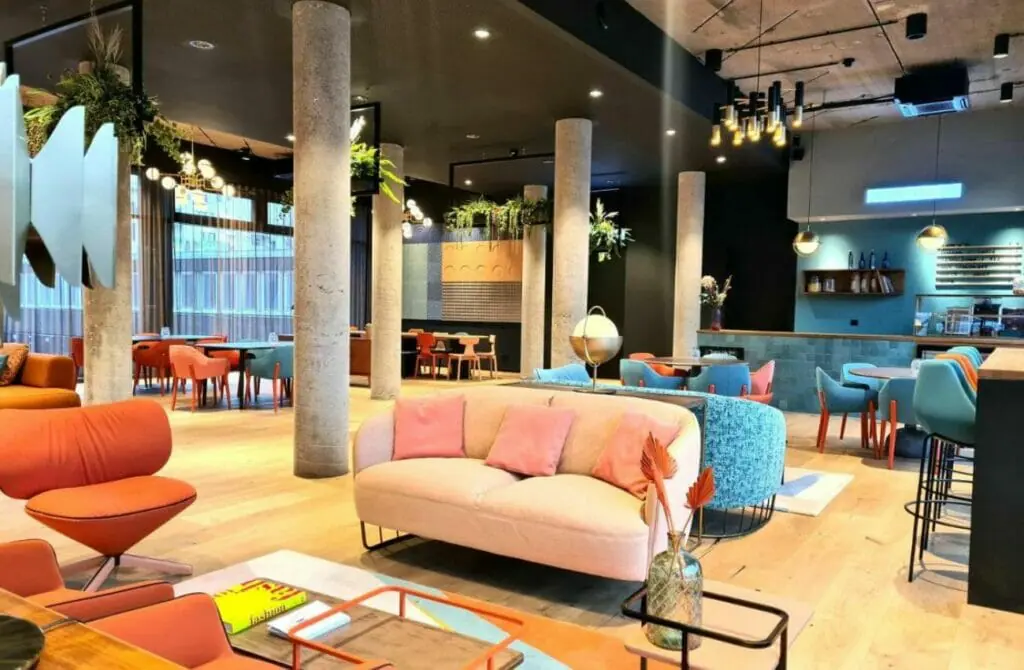 Gay Nightlight in Cologne
Get ready to sashay your way into the vibrant queer nightlife scene of Gay Cologne! This city is bursting with colorful bars, clubs, and events that will leave you feeling energized and exhilarated. You'll have the chance to dance the night away with new friends, experience local drag performances, and let loose in a supportive and inclusive community.
Exploring the queer nightlife in Cologne is also a fantastic way to immerse yourself in the local LGBTQ+ culture. Whether you're looking for a lively club atmosphere or a more laid-back bar setting, you'll find plenty of options to suit your taste. From hip and trendy venues to cozy and intimate spaces, Cologne's gay scene has something for everyone. So why not take a leap out of your comfort zone and discover the electrifying queer nightlife in Cologne? You're sure to have an unforgettable time!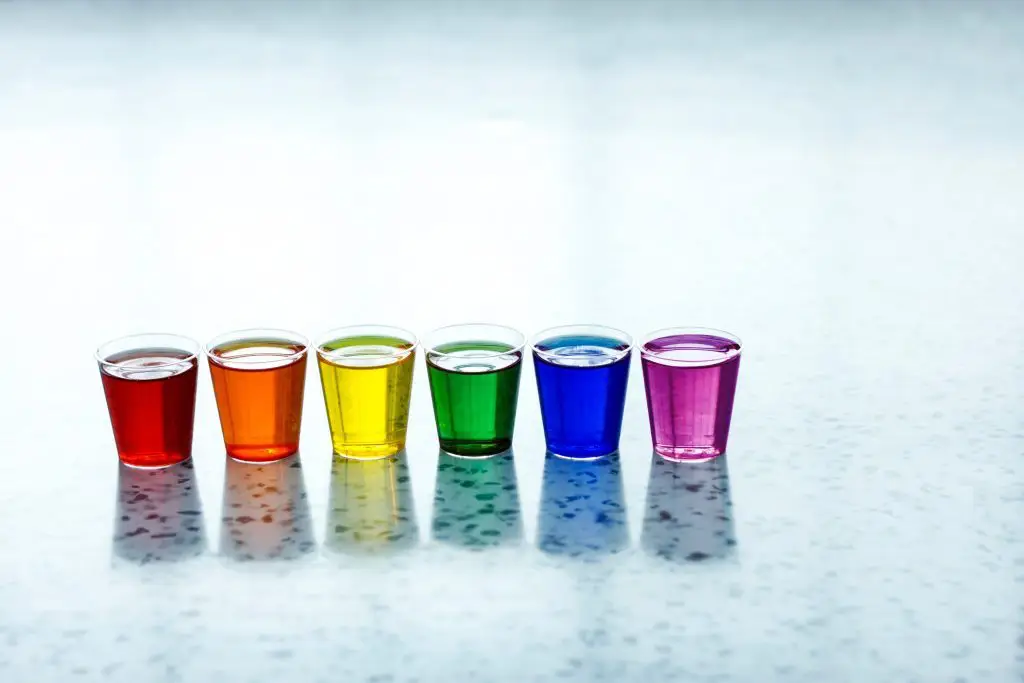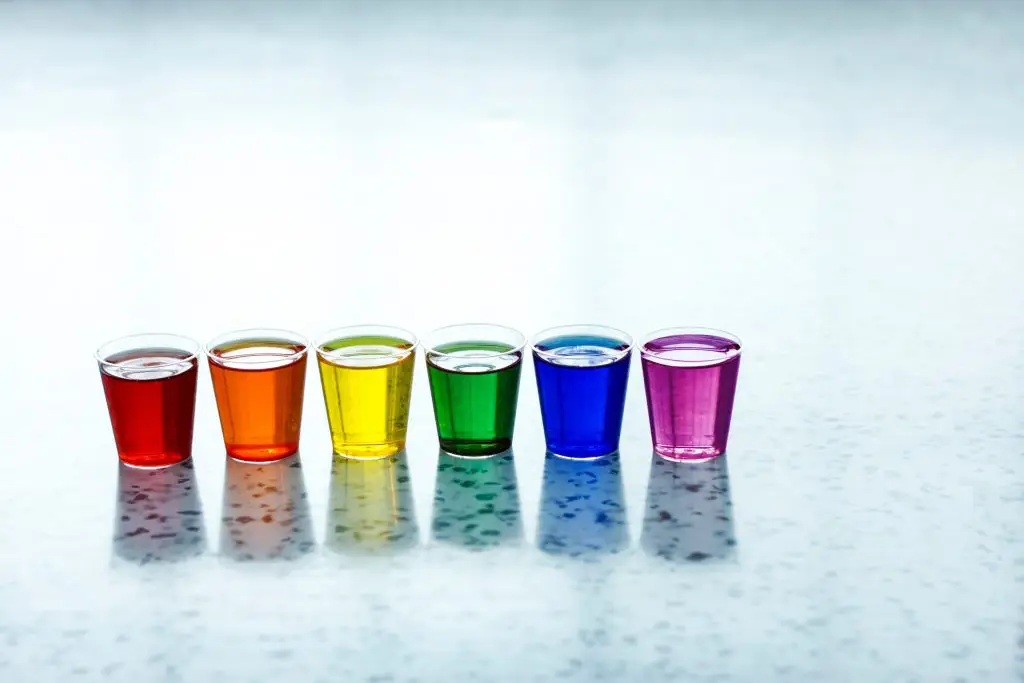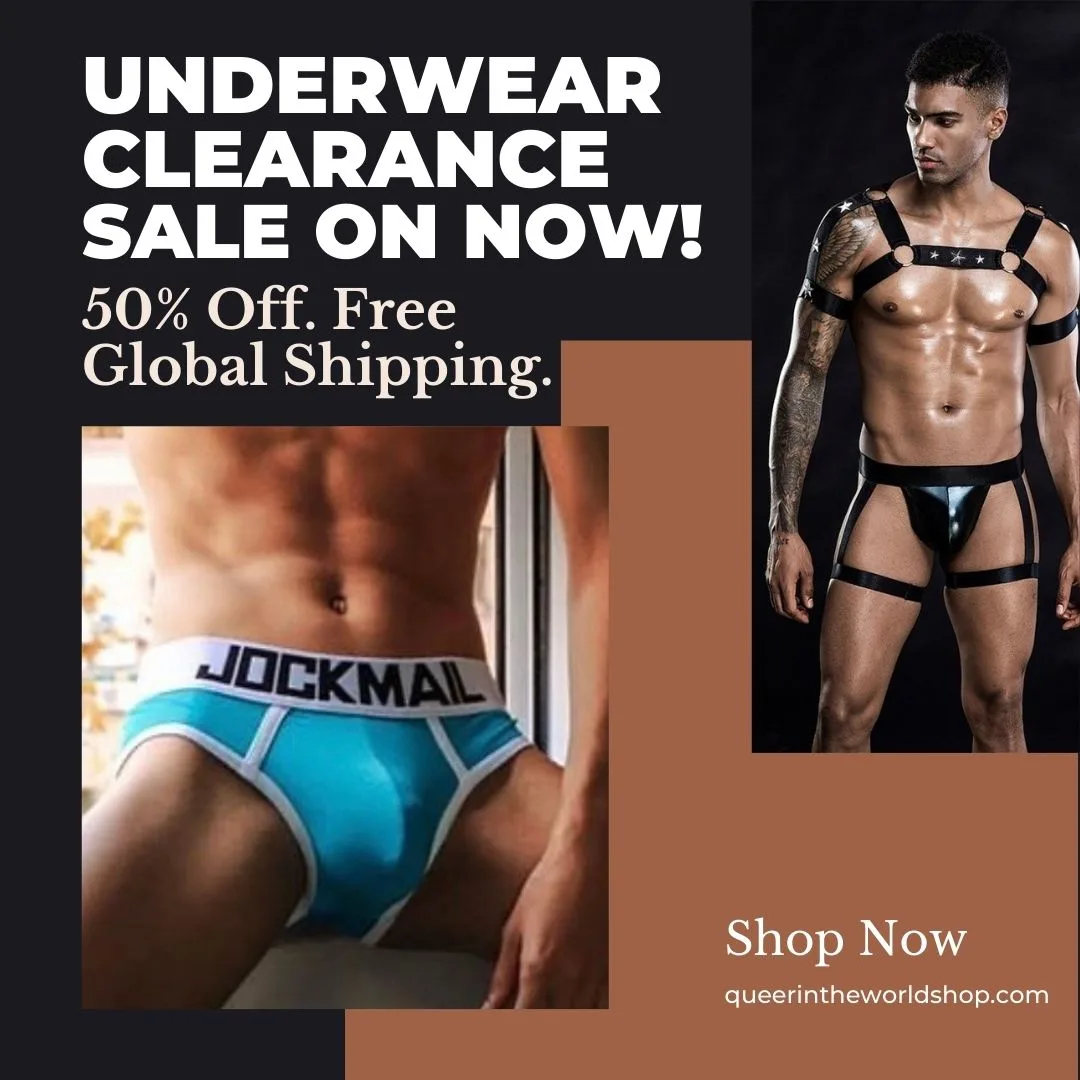 Also in Old Town, Zum Pitter is a traditional bar affectionately called the 'living room' by visitors and staff. This bar features drag performances for special occasions and many specialty parties for their guests. It is warm, friendly, and inviting, making it the perfect spot to try local beers.
They have a terrace outside and the bar is dog-friendly, so if you're traveling with Fido, you can have a fun time out. However, some reviews note that the bartenders are less than attentive, so stay proactive to keep the drinks flowing.
Established in 2011, this gay bar is a staple of the Old Town community in Cologne and is one of the best-rated beer gardens in the city. While it isn't as much a nightclub as some of the other options on this list, you can see go and enjoy a lovely night out.
There is no better place for kölsch or cocktails in the Cologne gay scene. They host the Cologne Bears group meetings and this modern bar has complimentary WiFi for guests.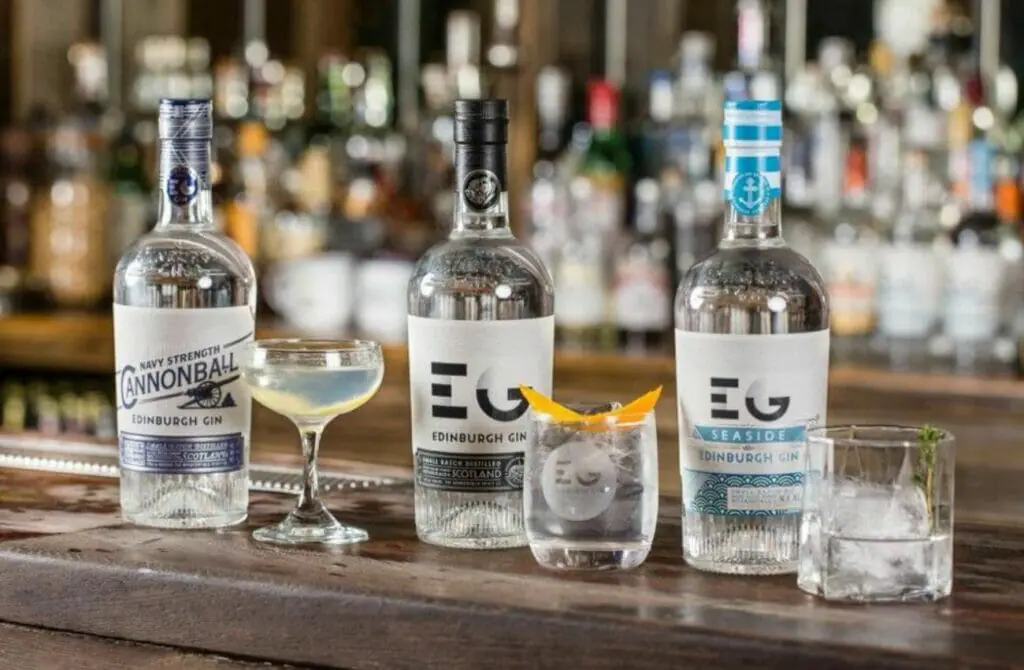 This gay bar in the heart of the Old Town, Amadeus is a great spot to start your time out in the city. It is close to the riverfront and has a great selection of events catered to its gay clientele along with incredibly friendly bar staff. It is more of a cafe-bar combo than a strict nightclub, but that makes it a great spot to escape the chaos of the city and enjoy some lovely desserts.
One downside is that this bar does not have complimentary WiFi, so you'll have to have a data card or some other solution to get online while here. That being said, there is so much to enjoy that you won't need to distract yourself with your phone.
One of the most active bars in Old Town, this place is frequented by locals and out-of-towners alike. More like a pub than a club, there is often an older clientele who call this spot the 'construction site' and attend their famed holiday parties. It is a common spot to stop when traveling around Old Town and has been open since 2012.
However, this bar has recently made new policies that ban women from coming to this bar, even if they are members of the LGBT+ community and locals. Many recent Google reviews mention the odd and inconsistent policies for women entering the bar space, including women being thrown out after they have already been in the bar for a while. Proceed with caution.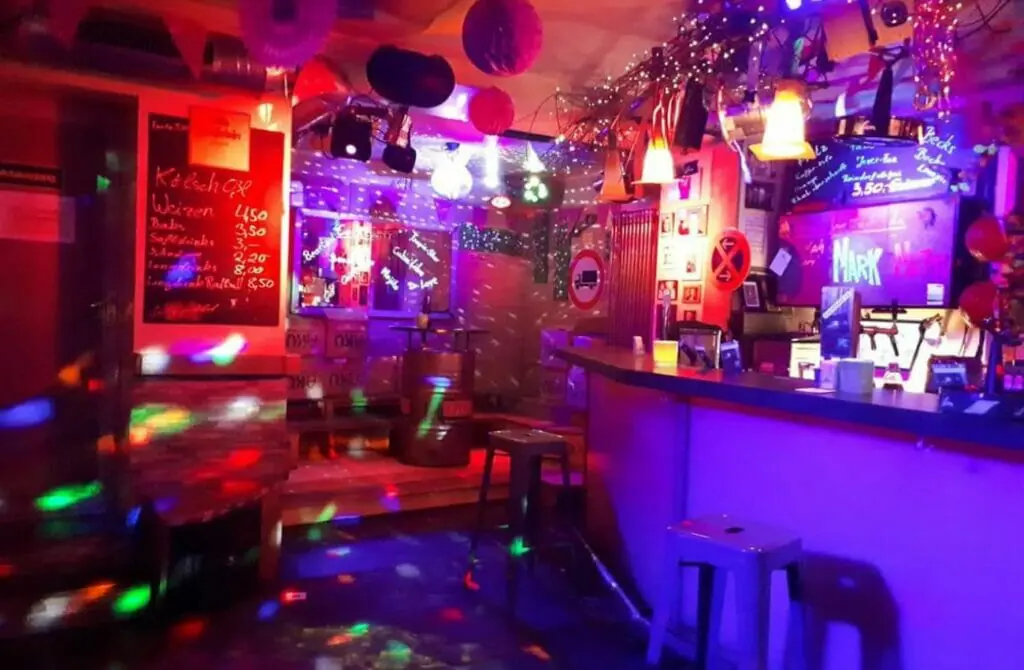 ExCorner is a hopping bar in the Bermuda Triangle known for its fast service, good music, and great atmosphere. Often partnering with the carnivals and winter fairs, you can get great deals on cover fees or even get them waived for the night.
One note of caution: there are many pickpockets in this area. Locals and tourists alike report things going missing from their bags as the bar fills up. Keep a close eye on your belongings while you are out and about and follow basic anti-pickpocket safety tips.
Finally, rounding out the list is BOIze.Bar is one of the few lesbian bars in Cologne. Most of the gay scene is geared toward gay men, but this bar is for lesbians. This sleek, modern bar is a great choice to sit back, relax, and enjoy the company of other gay people without the same level of nightclub chaos you might find at another establishment.
This bar can do both cocktails and beers, making it a good spot for any type of vibe. In addition, the owner has run other successful bars for gay women and is friends with the host of a popular German lesbian dating show. Contestants often come, so you might score with a German celebrity on your night out!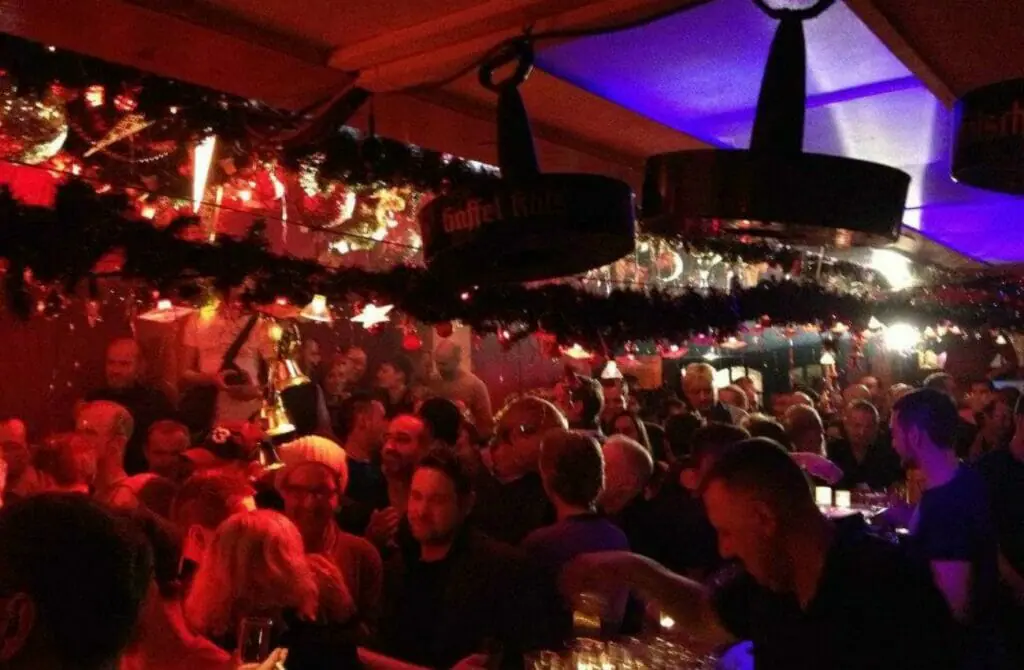 This decently large, but still intimate, venue is perfect to see bands with a moderate following. It also can function as a nightclub in the evenings when they do not have a band playing. The space itself looks a little wonky, but it is a simple, straightforward venue with good music.
There is a constantly changing roster so guests, so you can't go wrong. They feature both international and German artists, so you could see everyone from Mother Mother to Mutter Mutter. This venue is outside of the main gay neighborhoods, but it is a short drive and an even shorter train ride from the center city.
This bar is specifically for fetish enthusiasts and is a newer addition to the Alstadt gayborhood (Old Town). It is a man-only bar, and everyone from the bartenders to the newly arrived guests will have some form of fetish gear on if you pop in. There is a lot of leather at this nightclub!
Kinkz holds many events for the local fetish community and is a prominent participant in Cologne Fetish Day. It is one of the only fetish-specific bars open in Cologne and has such a fun vibe, for solo travelers and couples, but not families. It is a bit smaller than the other bars in the same district and does not feature a cruising space.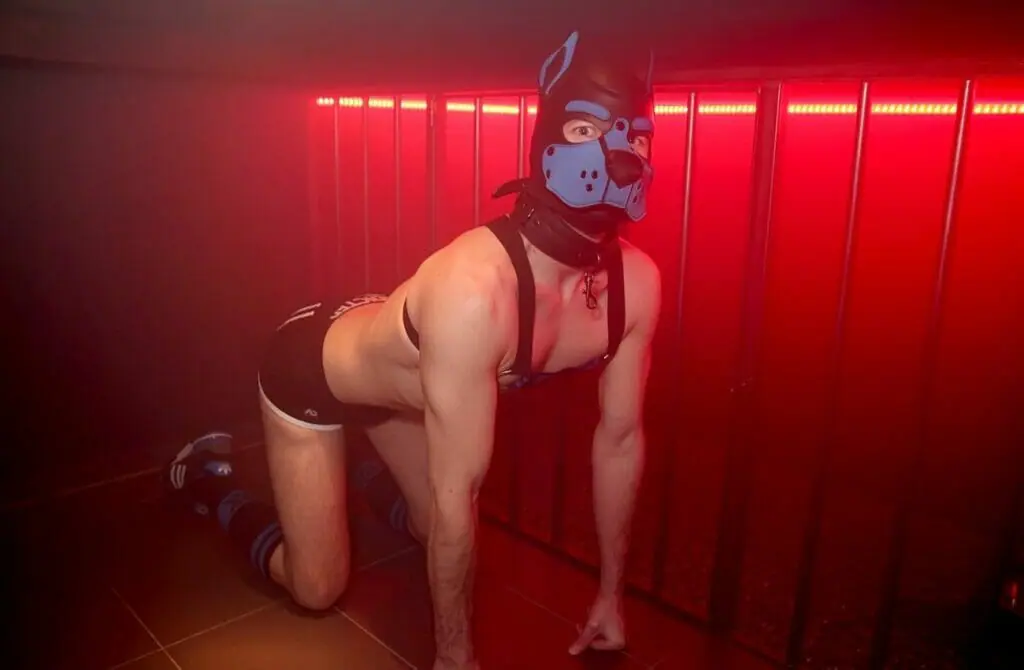 Gay Cruising in Cologne
When traveling to a new city, it can be exciting to head out for more than just a stiff drink. One aspect of the Gay Cologne scene that many queer men enjoy is visiting gay saunas and cruising clubs.
Sure, the sauna culture in Cologne is not as hedonistic as in Amsterdam, Barcelona or Berlin, but these venues still offer a chance to meet new people, socialize, and engage in sexual activity – without resorting to gay hookup apps.
However, it's important to keep in mind that these venues can vary greatly in terms of atmosphere, clientele, and rules, so it's a good idea to prepare yourself before visiting. If you are apprehensive, we advise studying our guide to visiting a gay bathhouse for the first time, which should help set your mind at ease.
Additionally, it's important to be aware of and respect local laws and customs regarding gay venues and sexual activity. With a little bit of planning and an open mind, visiting gay saunas and cruising clubs can be a fun and exciting part of your gay Cologne travel itinerary.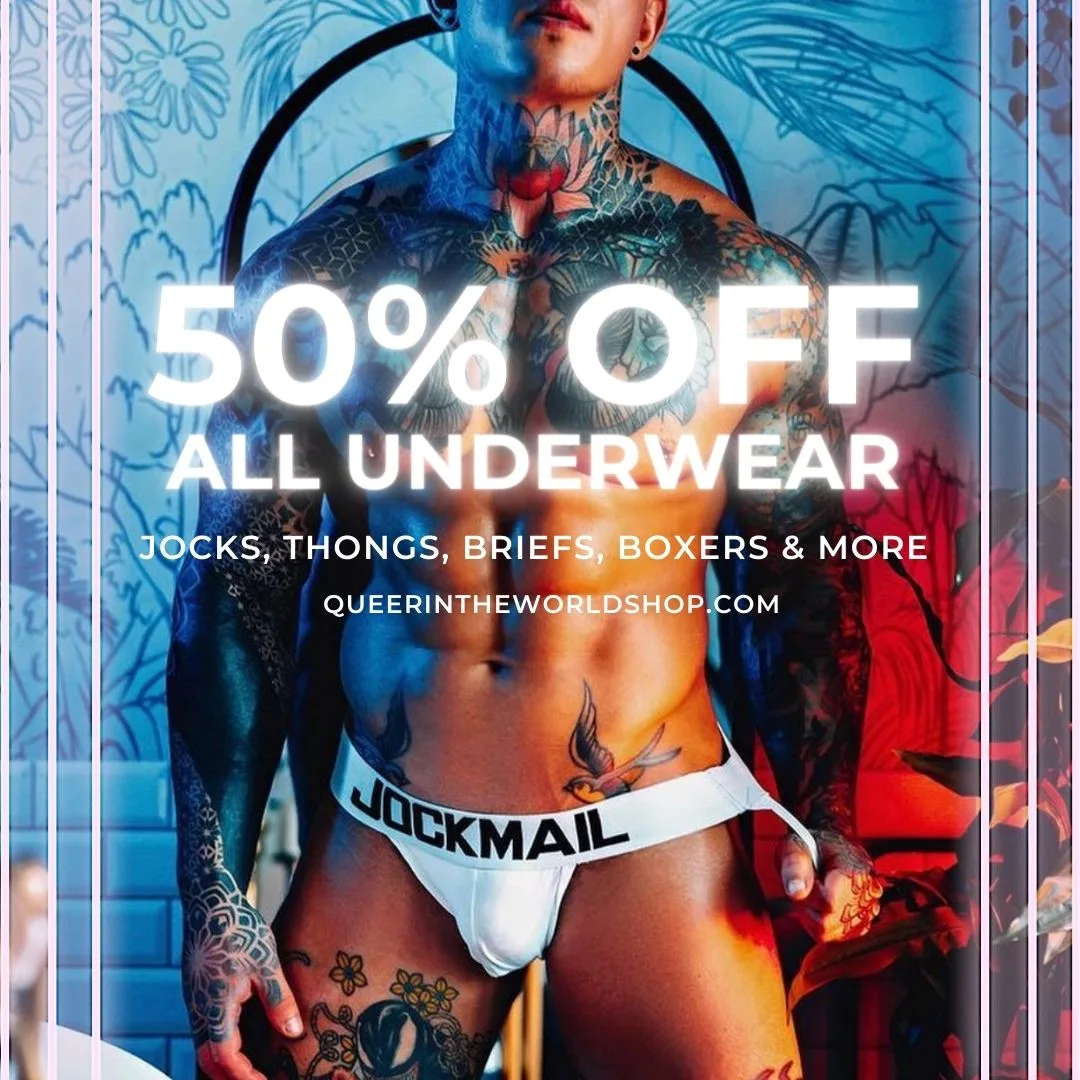 Gay Saunas In Cologne
Looking for the ultimate indulgence and relaxation? Look no further than Babylon Sauna in Cologne! This gay sauna is a luxurious escape from the hustle and bustle of the city, where you can unwind and pamper yourself in style.
Located in the heart of Cologne's vibrant LGBTQ+ district, Babylon Sauna offers a wide range of facilities for your pleasure. From steam rooms and dry saunas to a rooftop terrace with breathtaking views, you'll have everything you need to rejuvenate and recharge. But that's not all – Babylon also has a darkroom, private cabins, and a cruising area, perfect for exploring your deepest desires and fantasies.
Whether you're a local or a traveler looking for a memorable experience, Babylon Sauna is the place to be. So come and let your inhibitions run wild as you enjoy the best of what Cologne's gay scene has to offer!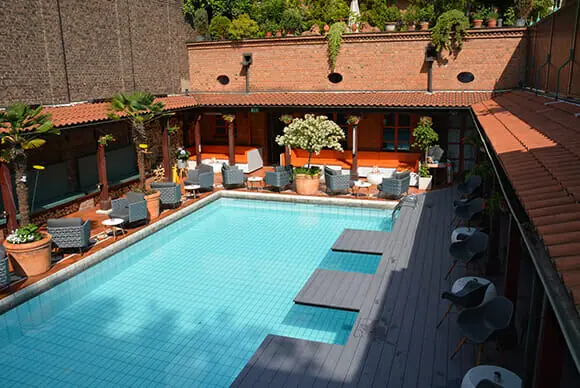 Vulcanus GmbH is located in the trendy Belgian Quarter and offers a variety of features such as a Finnish sauna, a steam bath, a whirlpool, and a relaxation area. With its modern and sleek decor, this sauna provides the perfect ambiance to unwind and meet new people.
The atmosphere is intimate and friendly, and the facilities are typically pretty clean. The bar area is a great place to grab a drink and mingle with other visitors, and the private cabins and dark rooms are perfect for those looking for a little more adventure.
Phoenix Sauna Köln, located in the heart of Cologne, is a must-visit for any gay traveler looking for hot action. The sauna features a Finnish sauna, a steam bath, a jacuzzi, and a bar area, as well as private cabins and dark rooms.
The facilities are spacious and well-maintained, and the atmosphere is lively and welcoming. With regular events such as fetish nights, karaoke parties, and theme nights, this sauna offers a unique and exciting experience for all types of visitors. Whether you're looking to relax and unwind or indulge in a little bit of fun, Phoenix Sauna Köln has got you covered.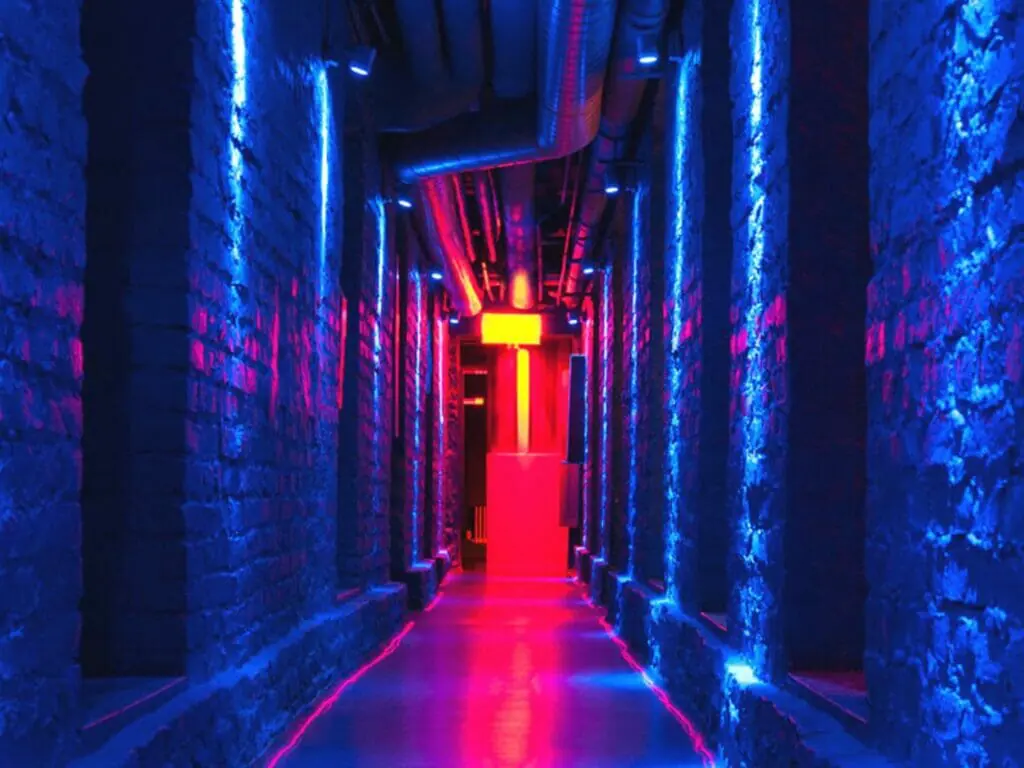 Gay Sex Shops In Cologne
There are several gay sex toy shops in Cologne that offer a wide range of products to suit any preference or kink. No matter what your tastes or interests, these gay sex toy shops in Cologne offer a safe and welcoming space to explore your desires and connect with like-minded individuals.
A gay store that has been serving the queer community since 1982. Located in the heart of the gay district, Bruno's offers everything from high-end leather gear and fetish wear to dildos, butt plugs, vibrators, and lubricants. The shop has a friendly and knowledgeable staff that can help you find exactly what you're looking for, whether you're a seasoned kinkster or a curious beginner.
A popular gay shop that specializes in BDSM gear like harnesses and whips, fetish underwear and equipment. The shop is run by a well-known local BDSM practitioner and offers a variety of products, including leather collars, restraints, impact toys, and electrostimulation devices. Butcherei Lindinger also offers workshops and events on topics such as rope bondage, flogging, and power exchange, making it a great place to connect with the local kink community.
Attention all gay travellers – if you're on the hunt for some exciting new sex toys or gear, you won't want to miss the Sex und Gay Center in Cologne. This shop has everything you need to add some sizzle to your sex life, including dildos, vibrators, bondage gear, and more. They offer a wide selection of high-quality products, and their knowledgeable staff can help you find the perfect item to suit your needs and desires.
In addition to their impressive selection of adult toys and gear, the Sex und Gay Center also has an extensive collection of adult films and literature. Whether you're looking for something to spice up your solo sessions or something to share with a partner, you're sure to find something that catches your eye at this store. So, if you're ready to take your sex life to the next level, be sure to check out the Sex und Gay Center in Cologne – you won't be disappointed!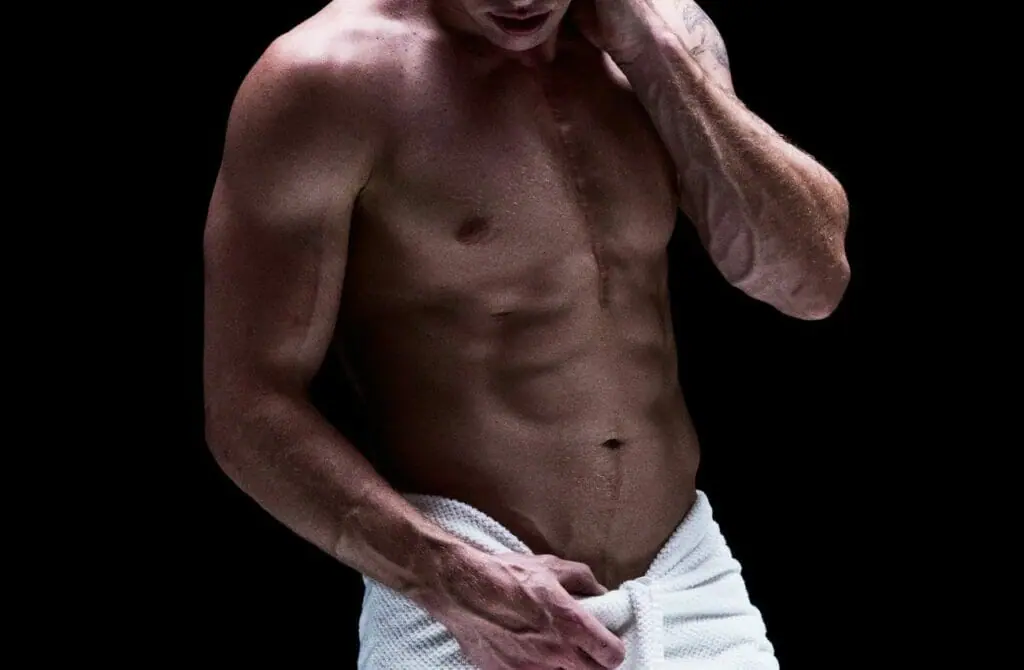 Gay Map Of Cologne
Finding it hard to envisage where everything is in Cologne? Hopefully, this queer-centric map helps where we have marked all the bars, clubs, parties, hotels, saunas, massages and more will help you stay in the spot best suited to you!