It's hard to believe that there was a time when gay men had to make do with little more than spit and a prayer. Some used oils for lube, but there wasn't really much to spice things up in the bedroom.
Thankfully those dark days are behind us, and there are now so many fun options for the best gay sex toys to help spice things up in the bedroom. Almost too many options. And with gay sex toys, the downside of buying the wrong one is that there's no return option. You can't simply stick it back in the box and send it back to where you got it from if it doesn't do the trick for you. At most, you can stick it under your bed and try to forget about it.
Alternatively, you can keep using it, relieving the disappointment and frustration over and over again. None of these options sound like fun, which is why you should probably go with option C: buying suitable gay adult toys to avoid regrets. And just in case you do not know which ones might be better for you, I've made a list of the best sex toys for gay men.
It's a comprehensive one, with everything from anal beads to nipple clamps and butt plugs, so you'll indeed find something to your taste. Choose the best gay sex toys that best suit you to spice things up in the bedroom, and your partner will indeed thank you for it.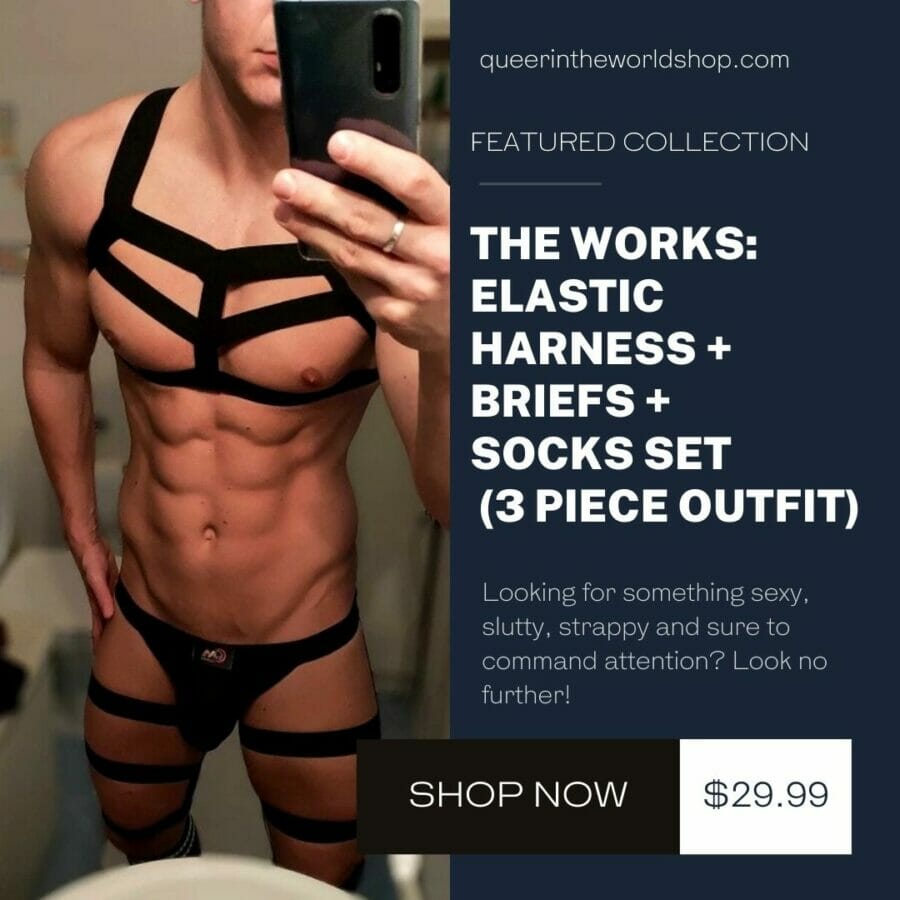 The power of an excellent gay nipple clamp is a joy to discover, especially when you are new to the joys of nipple play. Discover the joys of having your nipples pinched lightly – or tightly, depending on your preference.
Have you discovered that it turns you on when your partners bite your nipples during sex? Does that slight pinch of pain take you to places you didn't know you could go? Then you definitely need a good pair of nipple clamps, and these jewel clamps are perfect for both newbies and pros.
Featuring adjustable screws instead of clasps, the tightness level is much easier to control, and there's much less risk of it getting caught on your skin. Encrusted with cubic zirconia, it's got that special allure that means that it's not only practical, it's wickedly attractive to look at as well. This one comes in sets of two and has different color options available- including one rainbow-hued one that I think would be perfect for Pride matched with some rainbow underwear?
Give it as a gay gift to your partner or use it yourself. Or better still, why buy one when you can have two? Take turns adjusting the tightness on each other, and sew how far you're willing to go. With the power of imagination, this nipple clamp can deliver hours of endless pleasure.
Penis rings – or cock rings, as they are more colloquially called – are often looked at as things only used by the BDSM community – but to anyone brave enough to use them, they can unlock hours of endless pleasure. Not sure how? Think of the last time you felt a climax approaching, and you weren't ready for your pleasure to be over yet.
What did you do to stop it?
I imagine it involved forming a ring with your hand and squeezing. And if you've ever looked for a way to make your climax even more intense, you've probably discovered that delayed gratification does the trick. That's where the cock rings come in. The hand trick is inconvenient for certain positions, and it's just so amateurish.
Consider instead these gleaming, rainbow-hued – another win for Pride – set of chromatic cock rings, each one a little smaller than the other, so you can pick the size you want to start with and work your way down from there, depending on the size of your cock at full-mast and how much of a squeeze you want.
They are made of metal, so cleaning and storage are pretty straightforward. You can also experiment with temperature – cooling them in ice or heating them with the flame of a candle. Honestly, the options are endless.
Combination sex toys give me a delicious tingle. There's just something about the endless options offered. If one sex toy is great, two is a dream. This gay nipple clamp and cock ring combo offers boundless pleasures.
The clamps are joined to the ring by an imitation leather strap so that the slightest pull stimulates both your cock and your nipples together. The clamps are adjustable, and so is the strap that joins them to the cock ring. Shorten it for a stronger pull and lengthen it for a gentle tug. The rings are metal so that you can play with sensation, and the clamps are capped to prevent pinched skin and to soften the impact of the metal clamp against your skin.
If you're looking for a taste of the BDSM experience without going the whole sex dungeon in Sitges or Berlin route, look no further than this. The double sensations provided by stimulation to your nipples and your cock are almost overwhelming. Used right, this toy is guaranteed to turn you into a whimpering mess.
Whether it is a gentle pleasure you want, or you've come to prefer the heightened feeling pain brings, this sex toy for men has got you covered. The only danger is that you might get addicted to it, but fear not. This is one scenario where you can never have too much of a good thing.
The pleasures of a delayed climax cannot be denied, and for those of you all who find it difficult to hold back the peak of pleasure without help, these locking belt briefs are for you. These chastity belt briefs are best utilized for hours of fun with a partner. Chastity belts are perfect for the adventurous amateur or the experienced kinkster with a love of fetish underwear.
Equipped with secure locks, this chastity belt ensures that your pleasure is in the control of whoever holds the key, so prepare for minutes or even hours – of sweet, sweet frustration. It's made from PU leather, so you are assured of softness and comfort. The waistband is also adjustable, so you don't have to worry about it fitting. Not to mention the cage is well-ventilated, so sweaty balls and other, definitely-not-sexy issues do not arise.
The belt is also studded with metal studs to give it an edgy look. To dial the heat up even more, your cock should be almost completely hard before you put the chastity belt on. The challenge will now be to see how long you can last before you begin for release. Its discreet design means that you can wear it under your clothes to go out.
Push the boundaries of your sexual tastes with this chastity belt.
Anal play is standard with many partners these days, but it also runs the risk of getting boring. This is where toys come in. Everything from butt plugs to cucumbers or other household items (best covered in condoms and lube) can be useful for spicing things up during butt play, but anal beads are a personal favorite of mine, and this one is a must-have.
These fabulous gay anal beads made of silicone, so not only is it easy to clean, it's smooth and firm so that you can be assured of a pleasurable experience. As expected from a top-quality set of anal beads, it starts from a small, tapering sphere, both the beads betting larger and wider as you progress upwards. This ensures that you start with a size that you're comfortable with and progress upwards.
It's flexible, with a large ring at the end, preventing awkward accidents and hospital trips. It's long enough to reach even the deepest places, providing exquisite stimulation that you'll not be able to get enough of.
Not sure what size you can take? No worries, just start from the smallest size and work your way up slowly. It doesn't matter how long it takes; with enough practice – and a whole lot of lube – you'll be taking the biggest size like a pro.
If you like your gay sex toys in different colors, there are at least four for you to choose from.
I'm one of those people who believe in going the whole nine yards, especially in bed. Ball gags? Hell yeah. Floggers? Why the hell not. Full PVC bodysuits? Bring it on. This bondage hood might be looking intimidating at first sight, but take my word for it; it'll unlock a new level of pleasure.
The combination of restraint and stimulation is a tried and tested one. As intimidating as it looks, the design is simplified for best results. The hood is made from PU leather, so it's comfortable. The mouth also has holes that allow ventilation, and the nose is completely exposed, so there's no risk of choking – and I don't mean the fun kind.
The metal buckles are carefully placed, so you don't have to worry about them digging into your skin. They make the mask adjustable, so you can increase or reduce the size and tightness depending on how you want it. It's perfect for D/s – dom/sub – play.
The eye-pleasing makes it easy for the Dom to read the sub's expressions, making play all the more intense. It's also great for wearing to costume parties or pride parades, especially if you want to signal that you're down for some steamy business between the sheets afterward.
There's really no other way to put this – this is definitely a BDSM kit. But is that really such a bad thing? After all, a little bit of bondage play will give your sex life an instant revamp. It's got several components, but you don't have to use all of them simultaneously. The cuffs and eye mask, for instance, can be used safely by beginners, but ball gags and whips need some practice before they achieve desired results.
Regardless of where you want to start, this beginner's BDSM set is built to bring you the most pleasure. Each piece is adequate from quality vegan leather, nylon, and plush – all top-grade materials. It's a ten-piece set that's available in four colors. With all the items, there is no limit to what you can do. Use the wrist and ankle cuffs for some mild restraint play; break out the feather tickler if you have a partner that's very ticklish and you want to make things interesting.
The nipple clamps and whip will be great if either of you has a thing for pain, and the rope and cross buckles are for rigging – though I'd advise you to reach a certain level of experience before you use these. And for a night – or nights – of toe-curling, back-arching ecstasy, throw caution to the wind and break out the whole set. Your body will thank you…eventually.
This is for the size queens out there. Sure it's possible to buy a dildo in every size you can think of – and some you can't like a Dragon Tongue or Rainbow Tentacle Dildo – but it's a bit awkward using several toys in one session in a bid to get that exact fit that just hits the spot.
The solution to that problem is an inflatable dildo that can be inflated or lessened depending on how big you want it to be. As an added bonus, it can simulate that incredible pulsing feeling that most rigid dildos cannot give you.
Made from silicone, it's easy to clean, plus there's no chance of your getting carried away and causing it to explode from too much air. It's even got a maximum safety diameter. The pumping mechanism is simple: just turn the pressure valve clockwise or counterclockwise depending on if you want to release or inflate, squeeze the pumping ball and you will definitely see – or feel – an increase in size.
It's also got a long tube so that you can use it in solo play with a little maneuvering. Or you can have a partner control the size and test how much you take – 12 cm diameter is the limit, but it'll take quite a lot of practice to even get to this size. Trust me on that.
Time to take your orgasm denial play to new heights with this penis restraint play belt. I'm a huge fan of pretty and innovative designs in sex toys. When it comes to arousal, people are as visual as they are tactile – sometimes even more – so it's important to consider visuals when designing objects for sexual pleasure.
This penis restraint belt was certainly made to speed up the pulse at first sight. Made from imitation leather and metal buckles, it combines comfort and style while still managing to optimize functionality. The straps and buckles are adjustable, so you can wear them loose or just shy of too tight. The cock ring is one-size-fits-all, and it provides an almost unhindered view of the ass cheeks, along with easy access.
All your partner needs to dominate is shift the strap that runs over the ass crack to one side, and you are laid bare for the taking. With its streamlined fitting, it's easy to conceal under clothes, and you can wear it throughout the day, prolonging the agony and thus making the eventual release all the more pleasurable.
Make your bedroom sessions hotter with this restraint belt. You and your partner can even both have one on to make things more interesting.
BDSM and kink play encompasses many sexual fetishes, and puppy play is one of them. Although it is a niche kink, there are still several gay sex toys that cater to these tastes, and these tail-style butt plugs fall under that criteria.
Not interested in puppy play? No worries, this is still a kickass butt plug, plus the tailpiece provides an easy grip for removal and attachment. It is made from silicone, with a tapering end. It's fairly small, making it great for beginners, and it's sensually textured, so you feel every inch. Note that it's not compatible with silicone-based lube and should only be cleaned with warm water or mild soap.
Whether you're into puppy play or you just want a gay butt plug that hits the spot, you can't go wrong with this one. For those with a puppy play kink, you can wear it to parties or kink meets – just insert the plug and put on a pair of pants with an opening in the back for the tail so stick out off, and you've got a pretty great costume that also stimulates, providing hours of pleasure and sensation.
Choose from three marbled motif styles and have fun.
Playing with a partner or in a group is undeniably fun, but one of the best ways to spice up your sexual life is by exploring your body independently. That doesn't mean this vacuum blowjob pocket masturbator cannot be used with a partner- or partners – of course.
There a plenty of ways to bring it into play when you're having sex with other people and you want to spice things up a little, but give your hand a rest during some alone time and try this out. It's like a flashlight, but another more high-tech.
Try it with some lubricant for a mind-blowing experience. It's USB rechargeable, so you don't have to worry about awkwardly maneuvering around cords. It's also got about an hour of use time. It's quiet, so you can use it without waking the whole neighborhood, and the insides are lined with medical silicone.
A handy button controls vibration, and while assembling is dissenting, it is a bit complex. With frequent use, it is sure to become second nature. It comes in different textures so that you can experience different levels of pleasure.
Unlock a whole new solo experience with this vacuum blow job simulator that feels as good as if you had an actual mouth around your cock – some would say it feels even better.
Pride-themed gay toys are always welcome – think of all the use you get out of them when pride rolls around. And a pride-themed dildo? Sign me up, please. And this is no ordinary gay dildo. It's made of soft silicone – as opposed to the ones made of glass or even metal, which can lead to accidents if not handled with care.
This gay dildo has rainbow-colored layers and is realistically shaped, with a slight curve at the end for extra stimulation. The whole body is waterproof and easy to clean, and you can pair it with lube for more pleasure. It is flexible but sturdy. It can survive repeated use and is perfect for group orgies where a more delicate one might be dropped or damaged accidentally.
Alternatively, you can use it in a solo session or with a partner just in case you need some extra zest in your relationship.
A combination of this pride dildo and extra sensual stimulation is sure to make your toes curl and your eyes roll back inside your head. Once you use it once, you'll be dying to come back to it again and again. It'll make great pride gifts for your friends, which will surely come in handy if you guys decide to link up for some fun.
Group masturbation session, anyone?
Furry kinks and pet play are becoming more common as the world becomes more accepting and people realize others share their sexual tastes. In my opinion, as long as it's consensual and doesn't cause any damage or harm – physical or mental – it's fine by us. That's what queer liberation was all about, after all.
And speaking of queer liberation, this rainbow-colored tail plug sex toy might just be what you need to make your sexual adventures fun and playful. If tails are your poison of choice, then you're sure to love this one. Attached is a narrow, small-sized butt plug with a tapering end for easy insertion.
It's smooth, yet it has a pleasurable texture that's guaranteed to stimulate every nerve. The rainbow tail adds a playful twist to it and makes it perfect for kink pride parades. The furry tail is soft and fluffy, and the feel of it dragging against the skin adds extra sensory stimulation, heightening your pleasure.
Wear it as part of a costume for pet play or even furry cosplay, or just use it as a butt plug with extra frills. The Furry tail can be used as a handgrip and is also a good guard to prevent the butt plug from sliding in all the way.
10/10 absolutely recommend this gay tail plug.
Now, this is something special. It's like two worlds of pleasure combined into one, creating an incredible sensation that's very difficult to duplicate. The cock ring stimulates your cock while delaying your climax, while the butt plug rubs against your prostate, coursing waves of pleasure to course through your body.
The rapture cock ring with butt plug is made of high-grade silicone, so it's smooth and comfortable. It's also non-toxic, with an excellent texture for added enjoyment. The cock ring sits snuggly over the base of the penis while the butt plug tapers at the end, making it an easy fit. It's also small enough that even beginners can use it.
Buy two – or more, if you're into that – and wear it with your partner. It could transform a simple mutual masturbation session into something a lot more sensual and exciting. Try placing a bet to see which one of you breaks first; if you're going through a particularly mundane spell in the bedroom, this gay sex toy will definitely get you out of the rut.
It can also be used to strengthen weak erections and improve sexual performance. If the joined ring and plug isn't your cup of tea, it doesn't take much to separate them so that you can enjoy them both on their own.
Some people shy away from more modern, high-tech toys, preferring old-fashioned dildos, butt plugs, and nipple clamps. Once you get past the original reluctance, though, you'll realize that technology truly makes everything better, and sex toys are no exemption.
Within limits (because even the most experienced sexual enthusiasts would balk at a fully humanoid gay sexbot), technological improvements have generally brought positive developments in the sex toy industry. After all, where would the world be without vibrators and vacuum-equipped masturbators? Take, for instance, this three-in-one remote-controlled pleasure machine and the potential it holds.
Made from silicone, it comes equipped with a ball ring, a cock ring, and an anal dildo, all cleverly fitted with vibrating mechanisms that promise a night filled with endless, almost overwhelming sensations. The vibration has nine different levels so that you can go from a gentle buzz to teeth-gritting stimulation. The remote control for the vibration works from up to thirty feet away, so your partner can be in another room controlling your pleasure.
It's also USB rechargeable, and can even be charged in the car, so you never need to run out of juice. It's waterproof, so you can use it in the pool or slather it with water-based lube without causing damage. It's a good fit for solo play. For setting extra-special, the top can wear it while fucking the bottom. I warn you, though, you probably won't last long this way.
It's a hell of a way to go out, though!
This is a much more niche gay toy than the others, but what's life without a little bit of adventure? This half-face dog mask is suited to puppy play or fetish play enthusiasts, or even just amateurs or beginners who want to get a feel for the scene. It's a mask restraint that can also function as a gag.
Made of neoprene rubber with spandex and sponge, it's specially constructed to ensure maximum comfortability and safety – two important requirements in BDSM. Although it doesn't provide any stimulation on its own, it's sure to enhance foreplay and sex for those who like things a little differently. It has straps that tighten at the back of the head and are adjustable, making it easy to fit every size.
It also provides adequate breathability. If you're the type that finds collars and tails sexy, this is for you. And if you're not sure how you feel about it yet, give it a try. You might be surprised to learn a few new things about yourself.
Interesting little things, these nipple balls. They were originally designed to be used as nipple piercings or to simulate piercings, but they've evolved over time as sex toys, though they are not as popular as clamps. These two balls are extremely magnetic, so placing them at either side of the nipple exacts a pool that translates to a pleasurable pinching of the nipple. Fascinating right?
Nipple magnetic balls are typically used in pairs, but you can purchase several and try them out on other sensitive parts like the head of the cock, the balls, and even the lips. Let your imagination roam. They are silver-colored but made of magnetic metal, so they're fairly easy to clean. It's important to store them well, to avoid rust and scratches.
If you're feeling adventurous, you can use them as anal beads. The magnetic ability is strong enough to keep them together, so there's little chance of any getting lost in an embarrassing place. They're also convenient as gifts to friends with similar tastes.
If you've got a thing for exhibitionism, form a ring around your cockhead with them, get dressed and hit the streets. After a few hours of that, you should be as stiff as a rod. You're welcome.
Butt plugs are essential in every sex toy collection, and a pride-themed one is a fun little addition. This rainbow-colored butt plug is fun and playful for people who are into sex toys but are not quite ready to commit to cock cages yet. There are three sizes, so you can get the smallest one first and work your way up to the biggest.
It's long enough to hit your prostate at just the right spot, but it's also very narrow and tapering at the end, so all you need to do is slap on some lube, and it should slide it easily.
Are you planning a pride party? How about boxing up a few of these and passing them out as party favors. It cleans easily with soap and warm water, and the slick silicone material provides an unforgettable experience. It's a simple gay anal toy with so much potential.
Hoods and gags are for more experienced BDSM practitioners, but that doesn't mean beginners cannot give them a try. With enough care, you might find yourself beginning to enjoy the feel of a mask over your face and a gag in your mouth.
Some people get off on powerlessness, and you just might be one of them. And how do you find out if you don't try?
This soft, smooth gagged mask is made of PU leather, with adequate ventilation. The gag is made from plastic, so your jaw is not at risk in the event of an accident. It's also wide enough to sit securely in the mouth, providing total restriction. Soft straps across the head and jaw hold everything in place, and while the eye mask has complete coverage, the nose is exposed to eliminate any risk of accidental suffocation.
The metal buckles are well-placed, so there's no discomfort from them. If you're craving a break from the ordinary, this mask and ball gag combo might just be what you need. Having your mouth filled and a blindfold over your eyes just might become your ultimate fantasy.
This devil tail butt plug is more suited for Halloween than anything else, and it's not for the faint of heart. Everything about it screams hard-core, from the pointed tail made of high-quality imitation leather to the tapering stainless steel butt plug; it's the kinkster's dream. The question is, are you brave enough to use it?
With this toy, the devil's in the fascinating details. The imitation leather tail is braided for a better texture, and the butt plug is small for even beginners to use without comfort. The stainless steel plug is hard and can resist high or low temperatures, opening up a whole new world of experimentation. Clean and sterilize it with soap and warm water before and after use, and you're good to go.
As an extra feature, the tail is super-flexible, so you can even use it as a whip. It's great for wearing to a kinky costume or Halloween party.
Sex is always better with a little kink, and there's no funner way to inject some into your life than with this studded collar and lead. If you're a fan of choking with a submissive streak, this studded collar and lead is for you.
Wear it to a BDSM rave or even a normal sex party to spice things up a little. Not a fan of public displays? Fine, it's just as sexy with a partner in the bedroom.
The collar is adjustable. So you can make it looser or tighter, depending on what you prefer. It's made from PU leather and metal, so durability and comfort are assured.
Nothing screams best gay sex toy like a rainbow-colored dildo in the shape of a unicorn horn. Seriously, it's like the Holy Grail of gay sex toys, and it's just as potent.
Made from silicone, it's got a ridged texture that hits the right spots. It comes in different rainbow motifs for a life-fun twist. Although it's shaped like a horn, the end is blunted, so it's safe to use. It's also got a suction mechanism at its base so that it can be attached to any surface.
Enjoy it on your own or with friends, as it's wide enough to please, and yet small enough that most people can take it with a little bit of lube. It'll make a refreshing change from anatomically-correct dildos – and perfect for those days when you just hate that you love men!
There's always a strange and eclectic addition to every collection, and there are some pretty unique gay sex toys out there. Take this one, for instance.
Dildos shaped like produce seem to be making a comeback. This dildo is in the shape of a banana, but similar ones are shaped like corn and even zucchini. It's made from silicone that's not too soft and not too hard either, and it comes equipped with a suction cup at the base for attachment to a wall or floor, so you can use it hands-free.
Like most silicone toys, soap and warm water are all you need to clean them. The banana-shaped one is smooth, but the corn and cucumber shapes have textures that translate to heavenly sensations when you use them.
They might not look sexy, but they're guaranteed to keep you coming back. If you're going to share it with friends in one session, don't forget to use condoms and be safe.
Ever looked at the eggplant emoji and had a few guilty thoughts involving fresh produce and lube? Well, let us just say you wouldn't be the only one. Thus eggplant vibrator can make all your most secret thoughts a reality – some of them, anyway.
This is a bullet vibrator in the shape of an eggplant. It's one of a set of fun, vegetable-shaped toys that include ones shaped like corn, pepper, squash, etc. It's small and handy for stimulating parts that larger vibrators may not be handy for, like the taint. It's got ten vibration speeds and is powered by two AAA batteries.
It's made from medical-grade silicone, so it's handy and lasts longer. It's also effortless to carry around, tucked into a corner of a bag or box.
Talk about fun on the go.