Ah, Pride! Or as I like to call it, Gay Christmas – except that Christmas is just a few days, and pride lasts a whole month (or a week depending on which continent, country, or state you live in). And that's without even accounting for all the other various types of pride you might be celebrating.
Bisexual Pride. Leather Pride. Bear Pride. Pansexual Pride. The list goes on.
Not that I'm complaining about any of it, of course. I love an opportunity to get dressed up in my best gay pride underwear, hit the streets, march in a few parades, get ever-so-slightly-inebriated, and wake up the next morning with a strange man in my bed and my fabulous underwear hanging from a light bulb.
And speaking of gay pride underwear, it is literally the single most important item of clothing – or item of anything, really – to consider during Pride. From huge pride parades to circuit parties, queer resort pool parties to LGBT film festivals, and even some extra-circular bedroom activities, the underwear you chose to wear plays an important role in Pride, your confidence, and enjoyment. And there are so many to choose from. Jockstraps, thongs, mesh, lingerie, or fetish underwear – it can be a bit overwhelming if we are honest.

Sure, Pride is about being proud of your identity and empowering our community, but for us, it's also about connecting with our community. And that might be related to seeing how many men we can bring home. Yes, we are unashamedly Pro Hoe!
And I don't know about you guys, but if I were to bring a hot guy home and had to strip off in front of him, and I was wearing a pair of worn grey boxers with loose elastic and a hole in the crotch, I would literally die. Maybe you wouldn't, but we all have priorities, and one of mine happens to be not being seen wearing gross underwear.
So if you're like me, your best bet is to stock up on some great gay pride underwear and to help you decide what to buy, I've made a list of what you can buy for pride. You can treat it as gospel or use it as a rough guide. Your choice.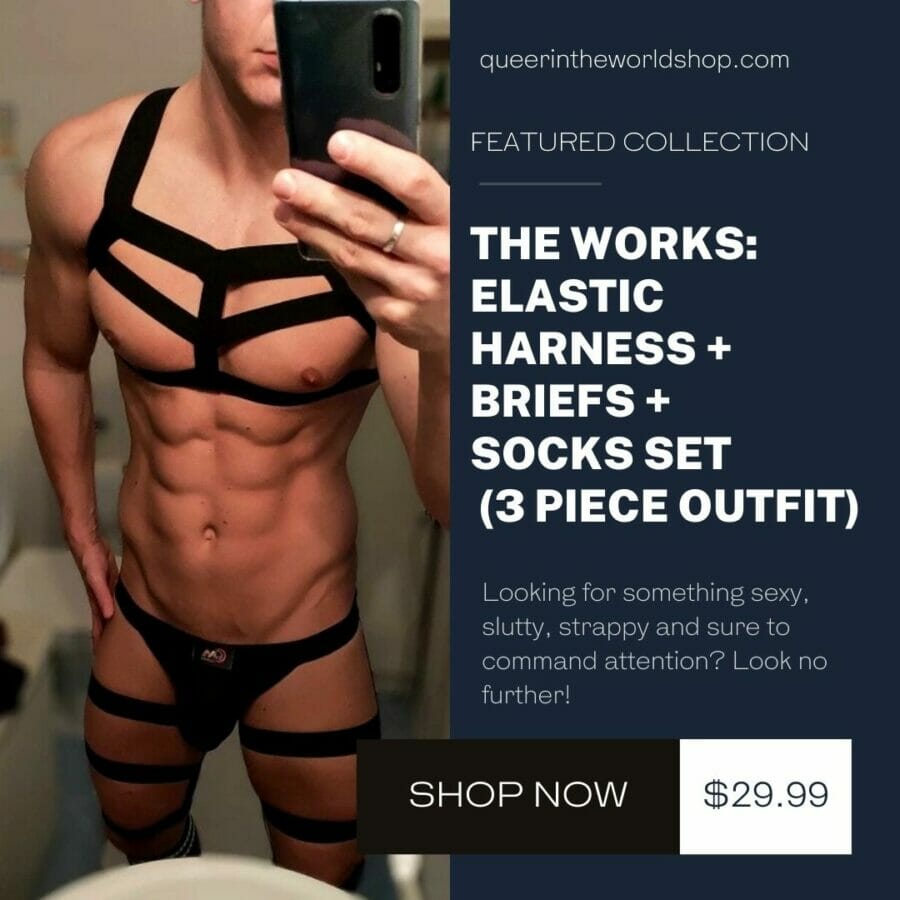 Mesh underwear is a must-have for every guy, and the reasons are not hard to see. It's comfortable, well-ventilated, and provides support, which is why this Pride Mesh Underwear from Jockmail is the perfect thing to add to your Pride shopping list.
It's got a rainbow-printed waistband with the Jockmail logo printed across it in black or white, depending on the color of the mesh. And the mesh itself is truly to die for. It's made from cotton and polyester for a lush feeling that still provides support, and it comes in two colors and two styles – briefs and boxers, so you don't have to compromise on your preferred style.
I recommend the boxers for going out to parades and parties and the briefs for more intimate affairs. With the way this gay pride underwear molds your ass and cups and defines your package, no man will be able to take his eyes – or hands – off you.
Thongs are a must-have for Pride. I mean, how else can you show off your muscular thighs and sculpted abs and substantial package without getting arrested for indecent exposure?
The perfect thong will provide adequate support and coverage while still leaving enough exposed to these temperatures, even in winter. The Pride Fest thong from Male Power brings all the festivity of Pride with a geometric rainbow design made with a motif of pride flags.
It's a low rise, so you look that much sexier, and coverage at the back is minimal, so your ass cheeks are displayed proudly for your admirers to see. Made from a blend of polyester and spandex, it is not only comfortable but also fitted and makes for a mouthwatering view.
The multi-color waistband on these gay pride briefs reflects the spirit of Pride, but even without it, these briefs are still one of a kind. The cotton blend fabric is exquisitely tailored, with seams inserted strategically for optimum support and comfort.
A seam runs down the center of the crotch, making it more fitted, contoured, and outlined. These gay pride men's underwear are also quick drying and comfortable so that you can wear them every day or to a party. With these low-rise briefs, you can rest assured that you'll cause a splash wherever you go, and you'll be sure to find someone eager to peel them off you.
I love these Andrew Christian Trophy Boy Pride Briefs because of the pouch. It's specially constructed to be anatomically correct, so you can be sure your package is going to be presented in the best possible light.
Another thing I love is the rainbow-colored leg trim. It's the same as the waistband, and the contrast highlights the thighs and the waist, creating a slimming effect as well as calling attention to them. If these are your finest assets, then you should definitely wear these to show them off.
The soft cotton blend is as soft and smooth as silk against the skin and hugs every contour of your ass, flattering your figure. It also provides enough coverage if you're not feeling in the noodles for an exposed ass while still remaining sexy and sleek.
As if thongs aren't sexy enough, this Pride Cutout Thong from Candyman puts a fresh new spin on things. At the front side of the briefs, just below the rainbow-colored waistband – because Pride – it's got a v-shaped cutout that's meant to tease and titillate.
It also got one at the back, although this one is much lower, cresting a naughty peekaboo effect.
This whole thong just screams sex, and although the ultra-soft microfiber fabric is great enough that you can wear it as underwear, but come on, these thongs are too good to waste. Save them for when things get hot and heavy, and you'll be glad you did.
Jockmail never disappoints, and this Pride Gay Underwear is a solid offering from their brand. I highly recommend making this a staple of your underwear draw, and it comes in black and white as well as in both brief and boxer styles, so you're at liberty to choose which suits you better.
It's made from a blend of cotton and spandex, so it promises comfort and style. It's got the obligatory rainbow waistband for pride and the contoured pouch and tailored backside to show off what really matters.
If you are looking for underwear that can handle regular use and is still sexy enough to have your partner itching to tear them off you with his bare hands, look no further.
The miser in me loves two- and three-pack deals. They always make me feel like I'm getting more for my money, and at the price of this Papi's men's 3-pack of jockstraps really reinforces that for me.
As always, I have a huge soft spot for the Papi logo, with all the innuendo it carries. The jockstrap itself is top-notch, with a rainbow waistband and at least three colors to choose from (I'd recommend the red, it's way sexier than the others). If these features aren't enough to convince you, let me introduce you to the main event, the exposed ass.
Yup, ever felt a tiny bit of regret before you rip off yet another pair of briefs in enthusiasm? Well, with this jockstrap, you have complete access, thanks to the fact that it's completely backless. Sold now?
Jockmail puts a new spin on the rainbow jockstrap by making the body rainbow-patterned instead of just the waistband. It's new and innovative, and it's sure to draw attention.
In addition, it's made from a blend of spandex and polyester so that you can expect comfort and style. It's also very breathable, so no matter how long you wear it, your package stays cool and dry. The waistband is wide, so there's no discomfort. The best part?
This rainbow pride jockstrap is almost – but not quite – completely backless, so you can wear it in company without feeling uncomfortable and still be ready for some beneath-the-sheets action when the occasion calls for it.
This Pride Jockstrap from ORLVS is one of my personal favorites. The structure is quite unique in the sense that it's got two straps that go around the top and bottom of the butt cheeks, framing and lifting them.
If you're looking for a jockstrap that puts your ass front and center – or back and center, in this case – this is as good as you're going to get. The straps are rainbow-patterned – naturally – and the crotch is one badass pouch that's sure to flatter your package and make you look sexy and feel confident.
Plus, this is one scenario where comfort isn't sacrificed from style because it is comfortable and completely breathable.
I'm always a little skeptical about designer brands, mainly because they tend to charge obscene amounts for stuff you can get at a much cheaper price. And sometimes, the quality doesn't even justify the price.
In this case, though, I have to give Armani a thumbs up because these gay pride trunks are fantastic. The price is surprisingly affordable, all things considered, and the quality is certainly excellent. The logo and the rainbow pattern are on the waistband, while the body is a soft cotton blend that checks all the boxes.
It also features a low-rise fit, a contoured pouch, and a tight stretch across the backside, resulting in a yummy ass that begs to be smacked, bared, and…well, you know the rest.
Calvin Klein is basically the original king of underwear, and with this five-pack of pride briefs, they prove again why they've earned their reputation. This five-pack changes things up. Instead of just the regular, rainbow-printed briefs, there's a brief for each color of the rainbow: red, orange, yellow, green, and blue.
Wearing each one separately won't exactly signify Pride, but if you wear each one consecutively and make sure each one gets seen, then you've got yourself a rainbow. But honestly, with all the other advantages these briefs have, you won't even get a chance to think about the rainbows – or lack thereof.
The cotton blend fabric, the seam details, and the mid-rise cut all combine to make this one quality pair of underwear.
If there's any underwear that was made to be worn to a rave or a gay festival like Milkshake or Mighty Hoopla, this one is. The Rainbow Shimmer Pouch Jockstrap is one sexy piece of equipment.
It's got a rainbow pattern over the pouch made out of glitter, which gives it a shimmery effect. It's not just pretty for nothing. The material, despite how it looks, is actually pretty comfortable. But if comfort isn't your primary concern, we've got sexy covered too.
The pouch is tailored to perfection, so all the glitter cannot distract from your package. And the straps at the back lift and frame your ass. Oh did we not mention? Yes, it's also backless, so you have no problems with access.
Instead of just individual rainbow-colored bands across the waistband and the straps, this Andrew Christian jockstrap combines the colors of the rainbow with black and white squares to form a checkered pattern on the body of the jockstrap that puts a fresh spin on the usual Pride motif.
The Pride Checker Jockstrap waistband and the straps still have the rainbow bands, so there's no missing that this is a pride-themed jockstrap. It's made from soft microfiber material and is a real pleasure to wear. As the name implies, it's completely backless save for the two straps at the back, and you know what that means.
And if you don't, well, I think you're reading the wrong article, sweetheart.
This soft and comfortable cotton jockstrap is the black version of Calvin Klein's Pride jockstraps. Instead of the usual pattern on the waistband, it's got the colors of the rainbow in blocks, with each color sort of blurring into the other, creating a cool effect.
It's got a front pocket that is preformed and lined for better support, and it is low-rise, making it simple, elegant, and sensual. It's a limited edition, so you'll be lucky if you can get one. Not feeling motivated enough?
Consider the fact that it's backless and all the deliciously sinful potential that holds. You're welcome.