Jockmail is an increasingly popular gay underwear label whose designs follow modern Eurasian fashion influences of colors and design.
Exciting a loyal global community of underwear fanatics, Jockmail is most well-known for their men's underwear but have not expanded into swimwear, gym wear/activewear and harness that are perfect for all year round use and everything from beach parties to circuit festivals.

Sure, you might have been burned before by other gay underwear brands. Maybe you bout a pair of gay thongs and discovered that one particularly annoying piece of string keeps getting caught in all the wrong places. Or you purchased a pair of jockstraps from a brand a friend of yours swore made the best underwear in the whole cosmos, only to discover that the waistband is uncomfortably tight and left you with bruises.
It's understandable that you might feel wary towards some underwear brand names, but if you're reading this, you are open to new ideas – and should trust me when I say that Jockmail delivers exactly what it promises.
Much like other newcomer brands like Seobean, Adannu, and ORLVS – they are offering designs for the gay market – but at a more affordable price point, than established brands like Aussiebum and Andrew Christian.
From an inclusive size range to breathable, comfortable fabric to lots of prints and designs for you to choose from, I guarantee you'll never be disappointed if you choose to invest in a few Jockmail products, especially now that summer is just around the corner.
Yes, that summer. The precious few weeks when the guys try to stuff as many social events into their calendar as possible in little time. Social events like beach parties, raves, and festivals, all things that require Underwear: things, briefs, and jockstraps galore. The best place for you to get all this gear is from Jockmail.
Best of all? The entire range of Jocmail underwear uses high-quality soft-combed cotton – with the combing procedure eliminating shorter fibers resulting in a finer, stronger, and longer-lasting end result. If you're spoiled for choice and wondering what to get, worry not. Here's a list of suggestions that can help you get started. With this list, your underwear closet will be ready for summer Jammin".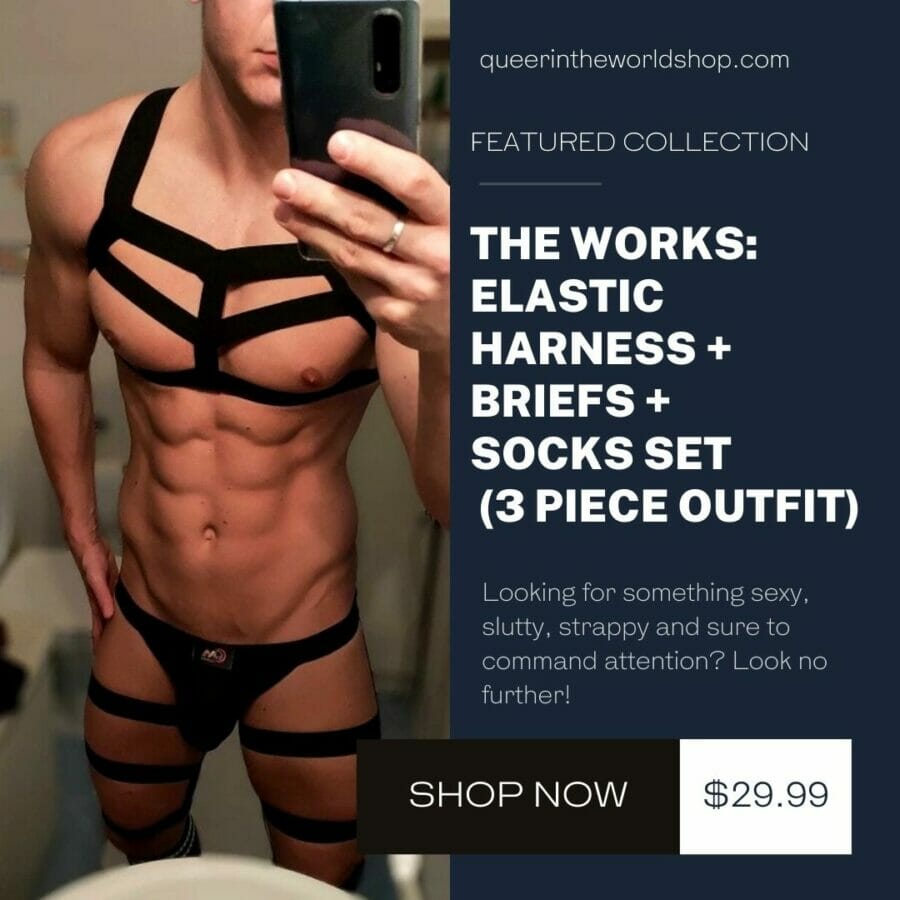 This is the ultimate Athletic Jockstrap. This Jockmail Athletic Jockstrap fulfills all your Jockstrap needs. Whether it's support, comfort, or style, it ticks all boxes. It's made from a polyester/spandex blend that promises the ultimate luxurious comfort. It's breathable and does not to constrict your privates at all.
The pouch is constructed specially to boost the natural form and contour of your crotch and to make you feel sexy and comfortable. The waistband is extra-wide to avoid tightness and constriction, and it comes in about a dozen colors and styles, including a pride-themed one.
The Jockmail tag on the waistband adds an extra dose of style to the outfit. The sizes go up to XXL, so you can choose one that fits you exactly.
The Minimalist Jockstrap from Jockmail is anything from basic. The 'Jockmail' logo is written boldly across the waistband in bold, white block letters. The Jockstrap is made of cotton and spandex that offers comfort as well as style. The cotton ensures that the Jockstrap is well-aerated, while the spandex makes it able to stretch and expand.
It's a simple design that also manages to be classy and stylish at the same time. It's got ingenious straps that go around the back that frames and supports the ass, making it look tempting and attractive. The seamed crotch presents your package in the best light possible so that you can walk around with pride.
Like with many Jockmail Products there are several styles and sizes, so you should have no problem choosing one that suits you.
It is a fact that every gay needs a rainbow-themed jockstrap, and Jockmail has got you covered in that department with their iconic rainbow pride jockstrap. The fabric of this beauty is a substantial yet light polyester and spandex mix, with the polyester providing support and the spandex making it stretch and breathable.
The construction of the pouch is exquisite and tailored to present a sleek, fitting form with no bunching and bagging, making your crotch look flattering. The Rainbow pattern on the Jockstrap is attractive and sure to draw looks whenever you wear it out, but it is also comfortable enough to wear as your everyday underwear.
It's a great way to express yourself without having to compromise on your comfort or style – and pairs perfectly with other rainbow pride clothing. The sizing chart also makes it easy to find your size.
Thermal Underwear might not be the first thing to come to mind when you think of summer underwear, but a summer in Palm Springs is not a summer in Edinburgh or Glasgow. Besides, Thermal Underwear has a number of uses.
You can wear it to a festival or party that's late in the night, for example, and avoid the chill that the night air brings. As is typical of long john's, this pair is made almost exclusively for comfort. However, it comes in several patterns, including striped and polka-dotted. There is also plain white and fabulously gay rainbow-striped, so you have a variety of choices.
These Jockmail thermal underwear feel smooth and silky to their touch and their light as air, so the fact that they're long is barely felt. Despite their lightness, they are also surprisingly warm. The soft fabric molds the contours of your ass and makes it look good enough to eat. Important on those cold night sleepovers!
Jockmail's Neoprene Harness is a funky little piece that's made solely for fun. This hot spandex harness is a cheaper and more sustainable alternative to a leather harness while still achieving the same effect: looking sexy and feeling powerful and confident.
This gay harness is made of a comfortable material that feels so great against the skin that you forget you're wearing it. Chaffing is non-existent as is overheating, while excessive sweating is prevented.
Choose one of the many colors to find one that empowers you like few items of clothing will, and wear it to that party that you're so sure your crush is going to be at. His eyes will surely be drawn to your shoulders, arms, and torso, and who knows, the two of you just might leave the party early.
Backless Briefs will never go out of style, and why should they? What's not to love about a pair of briefs that has the necessary comfort and support at the front and nothing at the back. Well, nothing except for your meaty – or not so meaty (small booties pride is a thing y'all)- ass that all eyes will naturally be drawn to.
These Backless Briefs are made from a cotton blend that guarantees comfort and longevity – important when these briefs are guaranteed to become your new favorite item of lingerie for years to come. Stitching around the leg holes accentuate the thigh, while a seam in the crotch supports the package.
These briefs will certainly raise the temperature in any close encounter of the bedroom kind you wear them to.
Whether it is Sitges or Puerto Vallarta the key to having fun and confidence at any beach trip is to buy the best possible pair of swim trunks, and these bold low waisted swimmers fit the bill to a T.
Their color and design range is stylish and diverse, as is typical of Jockmail products, and yet they are as cool to wear as they are to look at. Despite its low waist style, it's still got enough room for your junk to be comfortably nestled.
Like all the best gay swimwear, the crotch is padded, which prevents it from getting wet while giving it a silhouette the will have mouths watering when you walk by. Choose the color combination that makes you feel the sexiest, so you can walk by and shake that ass knowing all eyes are on you.
These Jockmail packing underwear are the perfect first item to buy if you want to create a natural-looking bulge – ideal for (but by no means exclusively used by) trans guys. Alternatively, even if you are not FTM you can just purchase them as a fun new addition to that special pile of underwear you reserve for when you and your man want to get down and dirty.
Their most mouthwatering feature is the fact that they come with a pouch and an insertable padded cup. What sets the mood faster than packing a whole armory down there? And the briefs are comfortable to boot.
The cotton-spandex blend gives you freedom, and the wide waistband prevents any pinching. Slip this on – especially the black or the red pair – when you have a hot date and prepare for an unforgettable experience.
These Rainbow Board Shorts are not exactly lingerie material like the rest of the titillating offers on this list, but you'll be glad you bought them when summer rolls around. Not every occasion calls for an ass-hugging, crotch-contouring pair of briefs, and for such occasions, you can slip on these stylish, comfortable shorts.
Each one is printed with hundreds of rainbows, so you can announce to the world that you are proud of who you are. And it's not just useful for anesthetics. These shorts are also comfortable and are equipped with drawstrings so that you can adjust each one until it fits just right.
Good Pride Underwear will always be in season, and this mesh underwear really heats things up – much like summer. The mesh, which is the star of the show, leaves very little to the imagination as it shows off acres of skin (alright, I'm exaggerating, but only slightly.)
The contrast of the black – or white – mesh against the skin has a very sensual effect, and as an added bonus, ventilation is more than adequate. This helps to prevent any sweating that can have unpleasant consequences. The pouch, despite being made of mesh, provides adequate support, and the rainbow waistband brings a touch of pride.
The logo printed across the waistband also makes it extra-stylish.
Camo has been sexy since forever. It must be the thought of all those muscled, sweaty men and the smell of musk from all those hard, virile bodies enclosed in a tiny space, and…you get the point. Everyone gets hot for a good camo piece, and gay guys are no exception.
That's why Jockmail has a range of sexy camo briefs that include the conventional green and brown and black and white and more interesting color mixes like red and blue. The mere idea of wearing camo probably gets you excited, and by the time you've slipped on a pair of these unbelievably comfortable bad boys, you'll be ready to conquer the world – or at least conquer any willing booth presented your way.
And with the coziness of the cotton-spandex blend and the contouring of your crotch by the briefs, you'll look and feel your best doing it.
Stripes may seem a little juvenile, but these striped briefs from Jockmail are anything but that. Coming in a creative and mature range of colors, including a rainbow-themed one, these Striped Briefs are sure to be a hit with whoever wears them.
The blend of cotton and spandex it's made from.. means that it can hug your ass like a long-lost friend and still feel so good to wear it that it's like a second skin. The soft and yet supporting material holds up your privates and your ass pretty well, and you'll surely feel great in them.
Never thought about needing a cockstrap; well, you can get down on your knees and thank the deities of the guys for leading you to this blog at this moment in time. A cockstrap is more for sexual play than for the use of underwear, but if you've got a restriction kink, you can wear it under your clothes to a party, and no one will be wiser.
Just be sure not to wear it for too long, or you may have a problem with your hands.
This elastic cockstrap from Jockmail is built for safe and consensual kink play and is the perfect addition to any fetish underwear collection. The material does not chaff, and it's restricting without being too tight, so long as you use it correctly, so you can enjoy yourself with an enthusiastic partner safely.
Sometimes old-school is cool, like with this vintage Jockstrap from Jockmail that puts a modern spin on retro style. The colors may be old-school, but the design makes use of the latest in compound fabric technology to put together a cotton and spandex blend that's strong as well as breathable.
The pouch has a knitted design for adequate ventilation and improves the silhouette of your package. Strip down to your vintage Jockstrap during sexy times, and I can guarantee your partner will be so turned in that the underwear might not even survive what comes next.
Talk about a sacrifice for the greater good.
We've all had that perfect outfit that we couldn't wear because of the way our underwear looks or feels in it. Well, with this Jockmail thong, you can say goodbye to the days of underwear sabotage. This ultra-thin thong can also double as swimwear if you're feeling particularly brave – and naughty.
The fabric is so thin that your package will probably be at least partly visible, raising the temperature wherever you wear it to.
With over six colors to choose from, you can find one that suits you exactly, and wear it when you want your head to turn in your direction.
Just be ready for the attention because you're sure going to get it.