The world of male underwear is not as vast or popular as its female counterparts, but that doesn't mean there aren't some seriously impressive brands out there.
And I'm not talking about the designer mainstays like Armani and Hugo Boss. Because while those are great to fantasize about, in reality, we can't all stock our underwear drawers full of expensive designer brands. But that doesn't mean we all have to live with itchy, uncomfortable underwear.
On the contrary, shifting our focus away from expensive designer brands will lead us to discover unknown or less popular brands that are just as good.
Take ADANNU underwear, for instance, this upstart brand isn't very well-known, especially outside of Asia, and yet they already pack a hefty punch in terms of quality. They are nothing to sniff at in the style department, with a range of underwear styles in sleek, modern colors. Much like other newcomer brands like Seobean, ORLVS, and Jockmail – they are offering designs for the gay market – but at a more affordable price point, than established brands like Aussiebum and Andrew Christian.
Their size range goes up to XXL, so you don't have to worry about not finding your size. Their products may not be as varied as some other more popular gay underwear brands, but whichever ones they do have are carefully crafted to ensure that they meet the mark in terms of style, quality, and appeal.
And speaking of appeal, the mature classiness of ADANNU underwear is sure to attract even the most discerning of observers. Neon colors and futuristic styles have their own place and are good in their own way, but you cannot discount the allure of a solid pair of briefs made from the finest cotton fabric and with the utmost care. Luckily ADANNU underwear produces both.
At this point, I'm sure your fingers are itching to get online and start shopping, and just in case you need a guide on the right ADANNU men's underwear to buy, here's a list of the best styles to make you look and feel sexy AF this summer.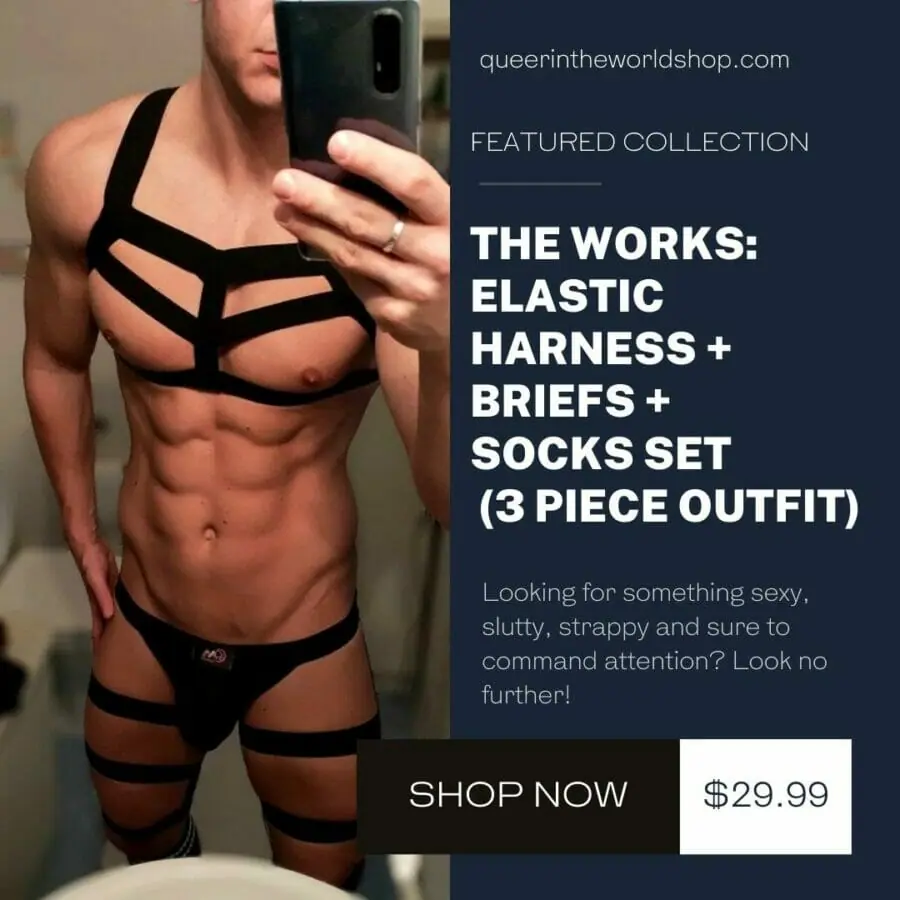 You can't go wrong with a classic pair of cotton briefs. In fact, these should actually be a staple in your underwear drawer for days when you just want to throw on anything and head out. Of course, simple doesn't necessarily mean boring because these briefs are anything but.
Featuring tiny peekaboo slots in the front and back that show off some skin, these skimpy little numbers are sure to get the job done – if the job in question is to have you fighting off propositions at the club or party or wherever you wear it to.
It is snug but also very comfortable, so much so that you'll probably forget that you have it on.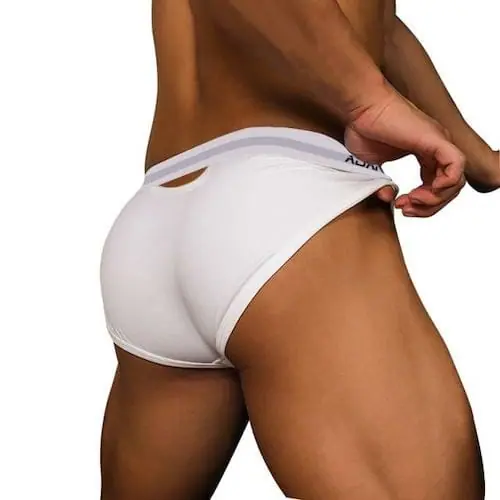 This is another set of Classic Briefs from ADANNU. As we can see, their motto is probably understated elegance because these briefs deliver that in spades. They feature an extra-wide waistband – with the brand logo printed across it for a touch of modernity – which ensures that the briefs sit comfortably on your hips without pinching.
The crotch is also tailored and seamed to provide support and definition, making these briefs ideal to wear if seduction is on your mind. They're made from cotton and so are incredibly light and aerated. They're durable too, so they won't need replacing anytime soon.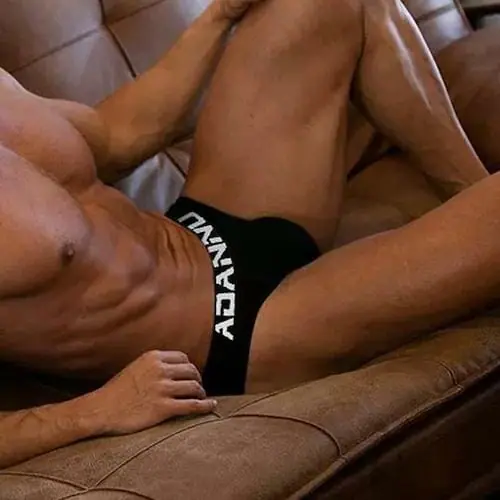 Boxer's aren't generally known to be sexy, but I can assure you, these Male Boxers ain't your grandad's underpants. They are extremely short, barely going past crotch level, so you don't have to worry about looking frumpy and out of style.
The fabric, as chic as it is, is also quite ventilated and cozy. The neutral colors – brown, grey, and white – emphasize elegance, while the blue logo adds a playful touch. It's low-waisted and perfect to wear as everyday underwear or on its own for more mature occasions.
Made from cotton and spandex, it clings to every inch of skin like an intimate lover, giving you the silhouette of your dreams. The seamed crotch also delivers that extra confidence that may be just what you need.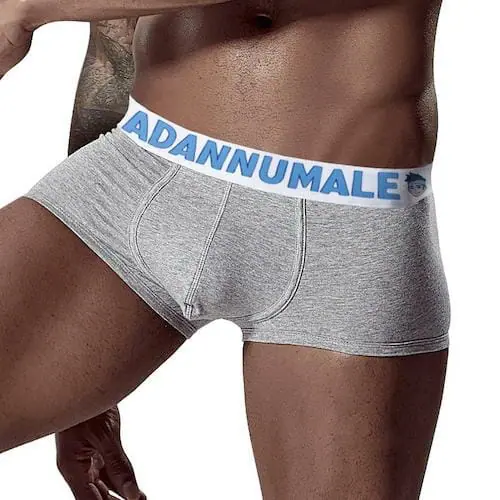 This Camo Mesh Thong from ADANNU again deviates from its signature brand characteristics, but we're not complaining. Change is good, especially when that change comes in the form of a tailored Mesh piece that was made to show off your ASSets in the best light possible.
Coverage is relatively significant at the back, and although your butt gets a chance to shine, the main focus is in the front, where the crotch had been shaped and designed to perfection, making your package the star of the show.
This thong epitomizes sexy and is one of our favorite items of gay lingerie. It's perfect for festivals like Mighty Hoopla or Milkshake or really any sexy gay parties where you'll get a chance to show it off properly – and hopefully take it off for a deserving partner.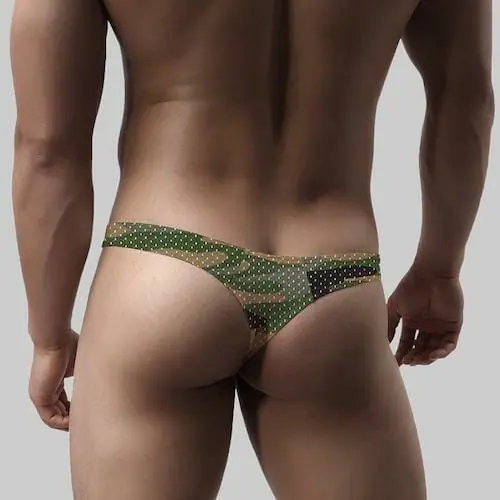 This Hue jockstrap deviates a little from the classic simplicity of ADANNU, but it still maintains enough minimalism to do justice to the brand. The cotton and spandex blend it's made of is fabricated to have just a slight extra sheen on the waistband and straps, creating a lengthening and slimming effect where it is necessary and highlighting your thighs and butt.
The crotch, on the other hand, is matte to place the focus where it should be – on the impressive bulge of your crotch, which is improved by the seams sewn into the pouch. The whole jockstrap is a marvel of design, especially as there are six colors to choose from.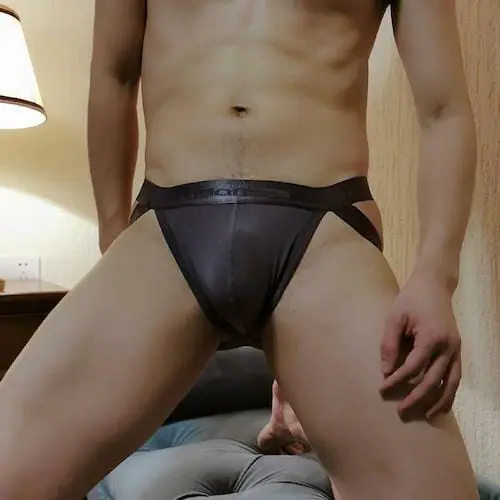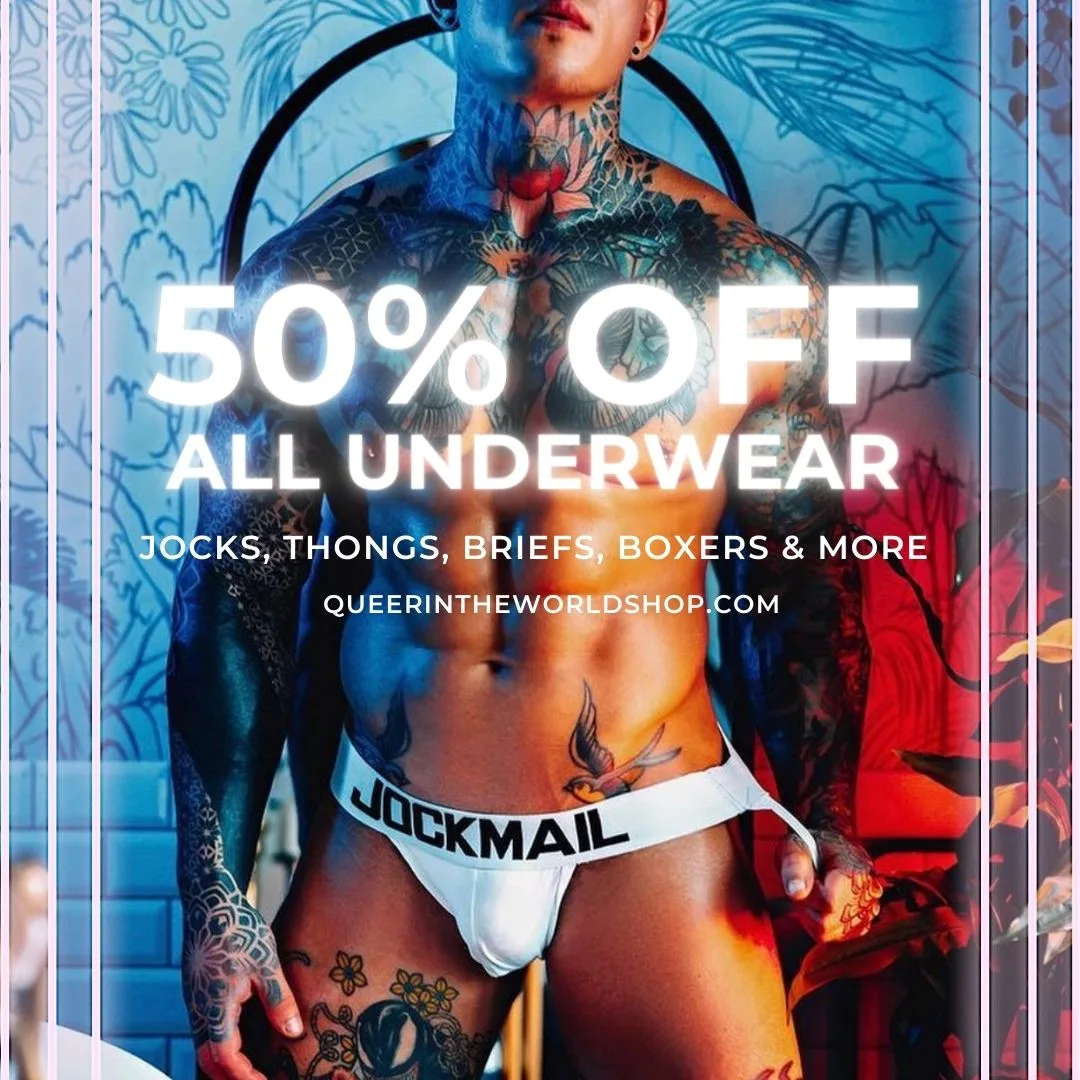 Here we see a return to the simplicity ADANNU is known for, with their Classic Boxers in six solid colors. Elegant and practical, these boxers are sure to earn you looks of admiration and desire.
Feeling like just wearing them as underwear? No problem they are made with a cotton blend that is wonderfully ventilated and quick to dry, preventing a damp and sweaty crotch that could be uncomfortable.
These boxers are slightly longer than what is conventionally sexy, but the secret lies in the way they outline every bulge, curve, and contour. The fact that they are low-waisted is also an added advantage.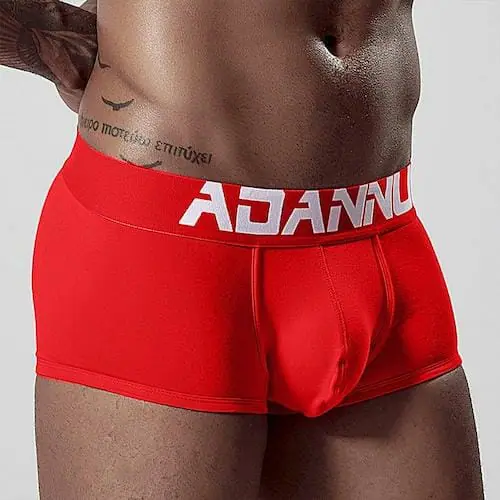 Things are something you can never have enough of, especially if you are a guy with lofty dreams of world domination (or at the very least plans to dominate or be dominated by men of the world).
This classic thong are sexy and alluring without all the ropes and straps jockstraps are known for. They've also got minimal coverage at the back if you've not worked up to jockstrap levels of exposure yet. This sleek gay thong isn't for prudes, though. It's thoroughly modern, almost sporty, like something you could wear to a gym – if gyms doubled as nightclubs and gay sauna, that is.
You can also wear it to work out with your partner, and it's practically guaranteed that the session will end with a very different type of exertion.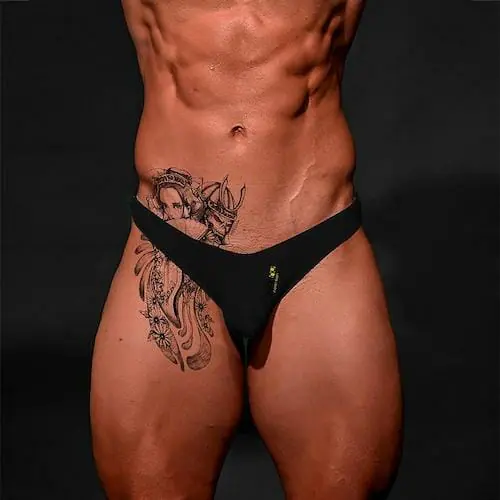 It looks like ADANNU has found a niche in camouflage and is building a solid base in that area because every one of their camo designs is exquisite. These mesh briefs are made of nylon and polyester and combine comfort with style and that edge that camo lends clothing.
A once-over reveals that the ADANNU quality is not compromised. The mesh underwear shows a little hint of skin and yet is durable and well-ventilated. This camo mesh brief comes in a range of colors, an impressive feat for camo-style underwear. The sizes are also truly inclusive. It hugs your ass like their long-lost friends and cradles your goods gently, giving you a sexy look as well as feel.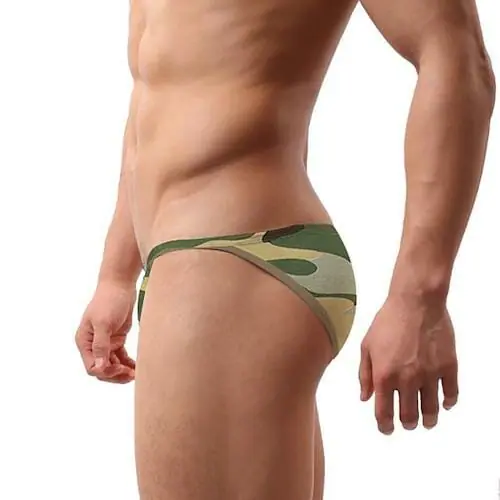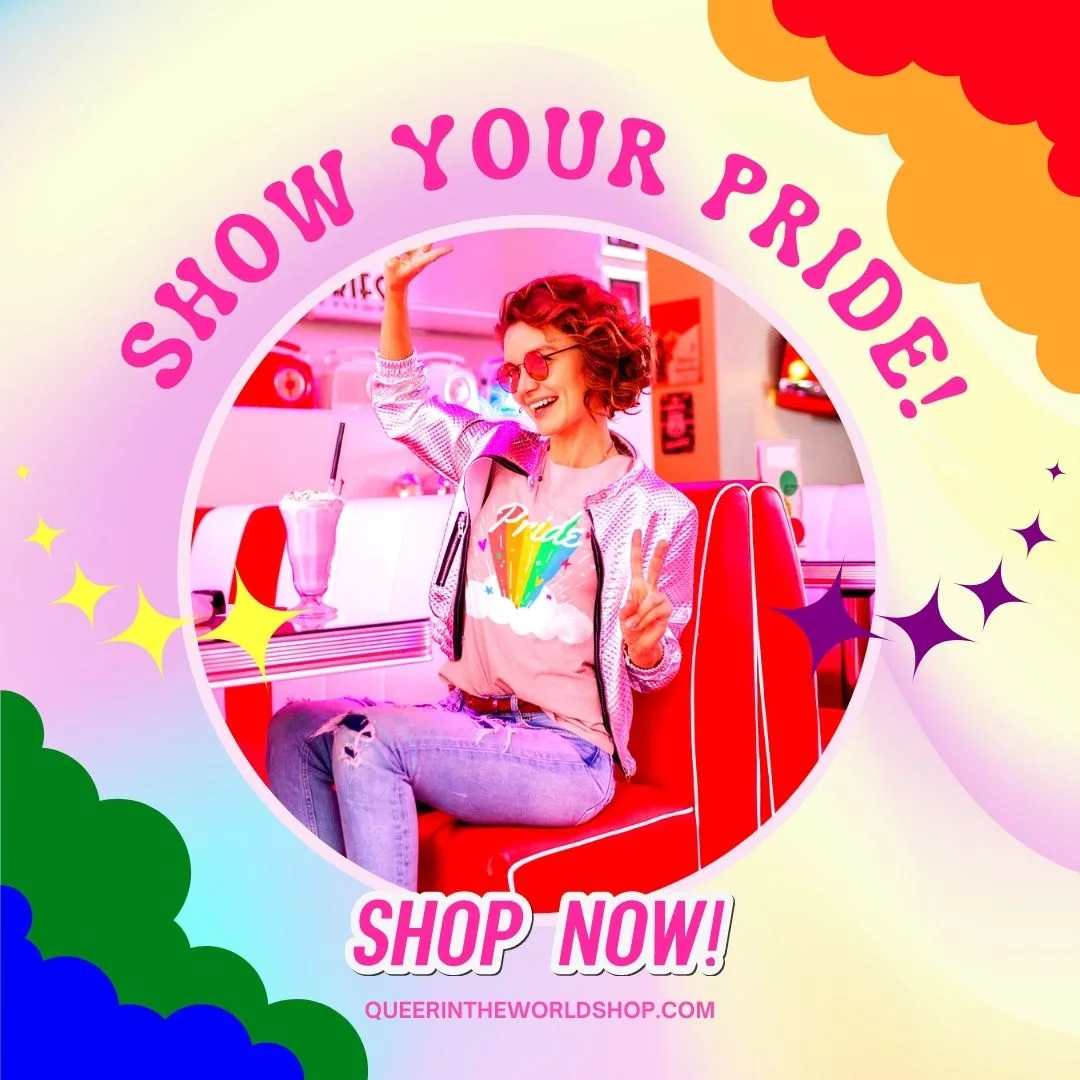 These Male briefs in solid colors see a return to the trademark ADANNU style with one minor exception – the addition of a bright yellow that is not a frequent feature in their color range.
Still, it is a welcome inclusion, adding a pop of life to the range. Care had to be taken, though, to avoid colors that are too distracting. Though there is hardly a risk of that, the briefs are too well made, with an obvious emphasis on where the gaze is meant to be drawn to.
A set of seams at the crotch area achieves this effect. Package aside, the upwards curves of the leg holes do wonders for the thighs, and if those are your strongest features, these briefs are best for showing them off. Because as we all know: thick thighs save lives!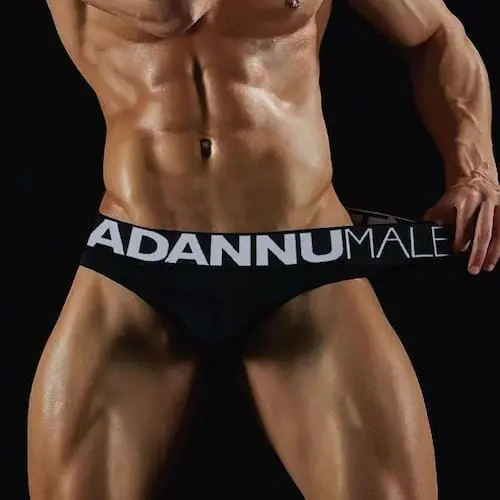 I'll admit that sometimes I take the jockstrap for granted; lay your hands on a couple, and you start to think that maybe it's time to get some thongs or even briefs.
But the truth is that quality gay jockstraps can be hard to make by, especially those that offer the right amount of sexy without venturing into the sleazy territory and still manage to maintain comfort.
This classic cotton jockstrap from ADANNU does well on all fronts. It is made from cotton, so quality is assured. The tailoring, too, is top-notch and ensures that the pouch does its job in supporting and flattering.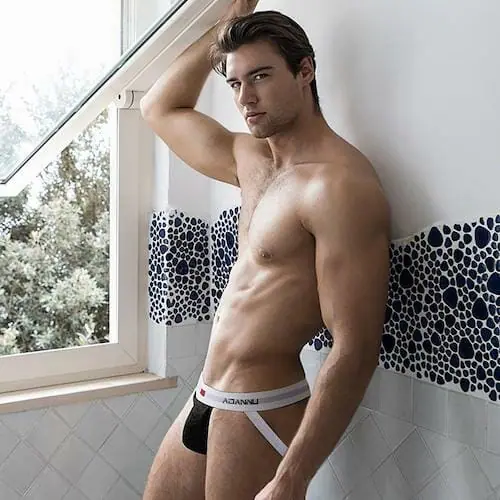 One can never have too many briefs, especially when they are all from a quality brand such as ADANNU. Technically an economy pack, this six-pack of briefs looks anything but cheap.
With five solid colors and breathable cotton material, you'll likely find yourself returning to buy this classic briefs 6 pack over and over again. They do justice to every physique and flatter every body shape, and the range goes up to XXL, proving that sexy is not size-dependent.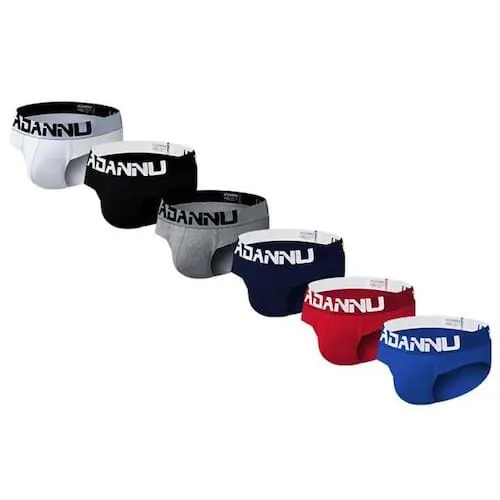 This six-pack of classic boxers exemplifies practicality while still maintaining that seductive and fashionable quality that is desirable. This six-pack of boxers offers the best of a number of worlds.
Each product is of a different color, so you get some variation, yet they all provide the same quality in terms of comfort and style. Look no further than here for your underwear drawer staple, especially if you have no plans on compromising on your hotness factor, even when it comes to the basics.
These ADANNU boxers have got you covered on all fronts.