ORLVS is one of those hidden brands that are lowkey amazing. It's certainly not as popular as some others like Jockmail or even Calvin Klein, but that doesn't change the fact that it's a great brand that caters to a wide range of needs.
Whether you're looking for a sexy thong for date night or sturdy, comfy jockstrap for everyday use, or even quality gay pride underwear that has multiple uses, ORLVS underwear has got you covered. And the fact that it's not wildly popular means that the products are quite affordable, so you don't have to turn your pockets inside out to buy them.
And you won't turn up to your gay resort holiday in Palm Springs or the next circuit party in Barcelona wearing the same underwear as everyone else there.
ORLVS may not offer such an extensive range of pattern choices like some of the other gay underwear brands, but what it lacks in patterns, ORLVS more than makes up for by providing quality products. This is not to say that ORLVS products are boring. On the contrary, they eschew conventional printed patterns in favor of geometric color blocks and bands, giving their brand a unique appeal and aesthetic.
Much like other newcomer brands like Seobean, Adannu, and Jockmail – they also offer specific designs for the gay market – but at a more affordable price point, than established brands like Aussiebum and Andrew Christian.
Color-wise, this brand is more conservative than others (so you won't find many hot pinks or neon greens), but ORLVS men's underwear is one of the best ever when it comes to design. They are known for their comfortable and pleasant designs and never compromising on quality.
This brand is for the classy who favor understated elegance. If you've not had any experience with ORLVS products, there is no time like the present to give them a try.
To help you get a move on, I've made a list of ORLVS underwear that makes you look and feel sexy as f*ck. Take my word for it; the products on this list offer both style and affordability so you can have the best of both worlds. You'll not only feel fantastic wearing them; you'll look like a million bucks as well. There's a range of items on the list, so you can choose the ones that best suit you.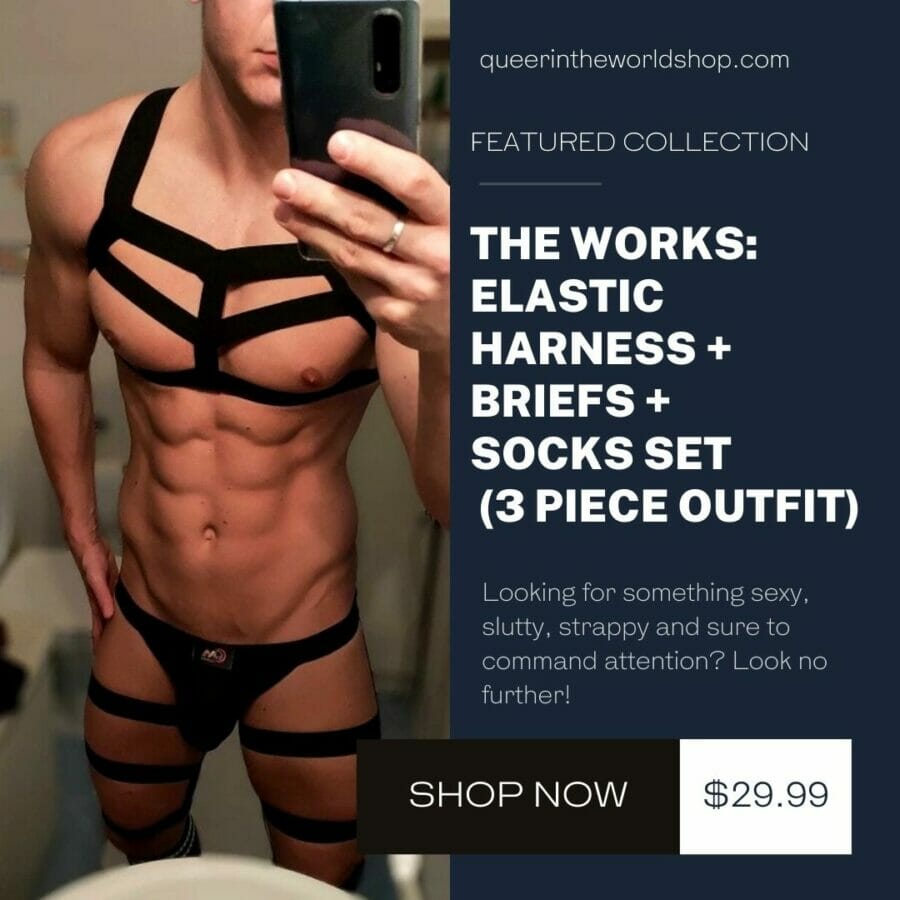 Int trademark ORLVS underwear style, this minimalist jockstrap is simple in style but still a gem. As expected, it comes in about half a dozen solid colors, each with the brand name written across the waistband in white – except for the white one; which had the brand name in black – and two thin lines running the length of the waistband directly under the name.
Still, in spite of the simple design, this ORLVS jockstrap has everything going for it. The jock itself is held up by two bands, which wrap around each thigh, cresting long, clean lines that make you look sexier than ever. The backside is exposed, so your ass is proudly showcased, and the crotch is a work of art.
Sculpted for a perfect fit, it supports and lifts your crotch in such a way that it'll be difficult for any hot-blooded gay to ever take their eyes off you.
This ORLVS jockstrap brightens things up a little with a yellow block and white blocks of color strategically placed in the jockstrap. The multiple colors make it suitable for a day festival or parade, but be sure there are no children in attendance because the main color is down the middle, directly over the crotch, drawing attention to your package.
The crotch of this one is not structured, but the blend of cotton and spandex ensures that it clings to your goods regardless.
The straps on this one frame the ass instead of the thighs and give it a lift, which boosts confidence. The waistband is wide, so comfort is assured as is sexiness and sensuality.
With these cross-strap jockstraps, ORLVS manages to make solid, neutral colors daring and sexy. The first thing to note is that it's a three-pack, so you honestly feel like you're getting more value for your money. It also comes in three colors, black, grey, and white, and all three are included in each pack. How handy.
The logo has also received an upgrade and is repeated over and over across the length of the waistbands and straps. The cross straps really steal the show in this case. Instead of a horizontal or vertical strap as is typical for jocks, it's got cross straps that criss-cross over the ass. Chances are it is like nothing you have ever seen.
The ass is not exposed in this case, but these straps over the ass are sensual in their own way. They provide a sort of modern-day burlesque tease that draws in the attention. The pouch is seamed, so you don't have to worry about not having enough support or not looking your best. Because with this jockstrap, it is literally impossible not to.
Sometimes we just want underwear that is guaranteed to be comfortable and supportive. Other times, we want something a little fancier, something that'll bring a little spark into the eyes of our partners when we wear it. And once in a while, we want to go all out and reveal our wildest, sluttiest selves.
This mode jockstrap is for option C and will draw attention no matter if you are going wild in Sitges or Singapore. It's low rise – naturally – and comes in three solid colors. I'd recommend the flesh-colored brown. It gives the impression of nudity, and what could be sexier than that?
The straps are thin enough that they look streamlined, and yet they don't fold or pinch. The nylon/spandex blend fulfills its promise of comfort and style, and the fact that it's completely backless makes it all the more tantalizing.
Use this when you've got a couple of fantasies you want to bring to life – or a particular made you want to snare. Another idea would be to combine with a harness and voilà … you have an instant gay Halloween outfit or club night look.
The gays love Pride because it's a chance to let loose, to celebrate all the hard-worn battles, and to be hopeful about the future. It's also a time to buy new clothes, specifically underwear. Thongs, jockstraps, briefs, gay lingerie you name it. If it exists, there's surely a Pride celebration you can wear it to.
And this Pride Jockstrap from ORLVS is practically multipurpose. I mean, you can't wear it by itself to Pride family picnic festivities, but outside that, the options are endless. The straps are rainbow-themed, and the pouch – which comes in three colours, as is classic ORLVS – has all the support and protection you need.
It has much more than that, too, presenting your junk in a way that's sure to draw whistles and second looks. Your Pride is guaranteed to be a hot, wild ride with pride outfit. And you can save a bit of that spirit and feel it again whenever you wear them throughout the year.
Camo plus mesh equals instant thirst trap. It's science. We also know that briefs are generally more sensual, but there's just something about the way a good pair of boxers sculpts a man's thighs and hugs his butt that makes you take a second look. Especially when the boxers are as thoughtfully made like this.
These camo mesh boxers have a variety of camo styles and sizes to choose from, and all of them are guaranteed to make you look your hottest. And who doesn't love mesh underwear? The breathable cotton blend ensures that you can wear it for a while without discomfort, which is ideal because once you put it on, you'll never want to take it off – except for some between-the-sheets action, that is.
If you're looking for classic briefs that you can wear every day and yet don't want to look plain and boring, try this offering from ORLVS underwear.
It comes in their signature colors with a new and updated logo style that's sleeker and more mature. And the briefs themselves are nothing to sniff at. Made from a cotton blend that offers an unbelievable experience in terms of comfort and style, these briefs are a steal at their price.
The ORLVS Classic Briefs sits low on the hips, flattering your sexy physique, and has a pouch that's specially tailored to keep you looking magazine-shoot ready at all times—looking to turn some heads or just feel sensual and confident in your own skin? These briefs have got you covered.
I'll admit there are a lot of ORLVS jockstraps on this list but I'm not going to apologize. I love a good jock and hate, hate, hate boring underwear.
Jockstraps are eye-catching and comfortable at the front without sacrificing any accessibility at the back. With these classic ORVLS jockstraps, its colors galore, with a range of solid colors and color mixes to choose from. The pouch seam is clearly visible, drawing attention to where it is most needed, and the straps do their job flattering and supporting your butt.
The waistband is flattering for the figure and wide enough to be comfortable. It's style, class, and sexiness in one neat package. What's not to love?
Fans of retro styling, this one is for you. It is what we would imagine everyone wore in Palm Springs or Miami back in the day. Unlike most retro products, these retro briefs offerings from ORLVS do not have any patterns on them. They're solid tri-color briefs, but the colors used are obviously carefully chosen to be reminiscent of the old days and they work.
Some principal could include an army green, bright yellow, and solid black, all of which bring the good old days to mind. Coloring aside, these briefs are top quality, with breathable fabric that clings to the skin, comfortable waistbands, and tailored pouches.
For those looking for something a little lighter, these briefs also come in mesh, which also has an added allure. 10/10 absolutely recommend it.
This camo jockstrap is literally the holy trinity of appealing: different patterns of camo in a nylon/polyester mesh made into a jockstrap? You couldn't get sexier if you tried.
This Jockstrap has all the marks of quality of a standard ORLVS offering, so if you're looking to dazzle and excite, it's an excellent choice. The mesh provides an extra glimpse of skin, and what isn't on display is as good as, with the fabric molding to every curve and contour and giving you a sultry look.
The ass is exposed, so be prepared for raciness, but if sex appeal is your end game, you'll have it in spades.
Pride, in my opinion, calls for jockstraps and jockstraps, but if you have to wear briefs, you can't go wrong with these ORLVS Pride briefs.
Their cozy and veritable, and yet they manage to retain that allure that underwear needs to give you a confidence boost. There's black and white for a classic choice and a bright neon pink if you're looking for something spicier.
Whatever color you choose, the cotton blend is sure to provide the comfort and durability you desire while putting all your curves and contours on display for discerning eyes. Say goodbye to boring pride parties with these.
Looking to smuggle a cigarette, a couple of bills, or some other fun stuff without discovery? The pockets on these mesh boxers have you covered.
Confident that you'll never need pockets in your underwear? Never fear; you can still buy these for the comfort and style they offer. That way, you'll always have the pockets if you ever need them.
The combination of colors is quite modern, and the mesh adds an edge to what would otherwise be a pretty boring pair of underwear. Not that boring is bad, but sometimes we all want a little extra zing.
I'm not entirely sure what the 'STAR' in the name of this product is supposed to stand for, but what I do know is that it'll make you look like one.
Bright, bold colors that signal that you're ready for a good time? Check. A light, mesh fabric that feels and looks good? Check. Streamlining straps and waistband to get the most out of your physique? Check.
It's a two-pack, in case you're looking for a clincher, but the fact that this jockstrap 2 pack will make you look drool-worthy should be convincing enough.
The emphasis of this pouch jockstrap is all on the front, and that's perfectly fine. After all, what better way to show off what you're working with than with a pouch that's made to do just that?
With nothing except a waistband and a structured mesh band for holding your package, it takes a lot of balls – literally and figuratively – to wear this. You have to be going for smoldering heat, or else try something tamer.
If you're brave enough, though, you're sure to feature in a few fantasies with these.
There are a few camo offerings on this list, but can you blame me? Camo has an edgy sort of appeal to it. And for those of you all who aren't quite ready to step out in a jockstrap or cockstrap yet, these backless briefs straddle the line between classic and dangerous.
Its premium design and fabric ensure that you'll be comfortable in style, leaving you worry-free so you can focus on making those mouths drop open.
The focus color of these backless briefs is the green, which is then combined in different proportions with black, white, and yellow. It's a new concept, but it works, especially with the yellow.
It's a more fun offering than some of the other products on this list, but the fact that it's backless helps temper the bright colors and simplistic design. If your aim is to show off your best ASSet and ensure everyone is either frothing at the mouth or green with envy, try this one.