Different occasions call for different underwear styles. For example, you wouldn't wear the same style of underwear to a casual day on the beaches of Sitges that you would wear to a kink party in Berlin. Technically, you could, but honestly? It would be a terrible idea.
That aside, some days you crave the comfort of a roomy pair of boxers, and other days you want to feel sexy as hell, so you choose your tightest, most revealing pair of briefs, or even a jockstrap. Or if you're really bold and daring like yours truly, you may decide that what you really feel like slipping on is a pair of Gay Mesh Underwear.
And why not? Mesh = Hot!
Gay mesh underwear has got several pros and very few cons. In fact, the only risk you're taking is that you may look too sexy, and that's a risk you should be willing to take.
Mesh briefs and boxers offer ventilation and circulation of air, so a hot, sweaty crotch becomes a thing of the past. Because the material is light, constriction is also eliminated. And finally – and this might be the most important point – they make your lower regions look fantastic.
Seriously, an ass in mesh underwear should be one of the wonders of the modern world, and you can rest assured that your package will always be displayed in all its glory. Because imagination is over-rated.
If this is your first foray into the world of shopping for gay mesh underwear, I've got you covered with this list.
And if you're an old hand at this game and you're just looking for suggestions for your next purchase, this post should also serve as a guide for you. Either way, you know what you came here for, so without further ado, let's get into some sexy gay mesh underwear.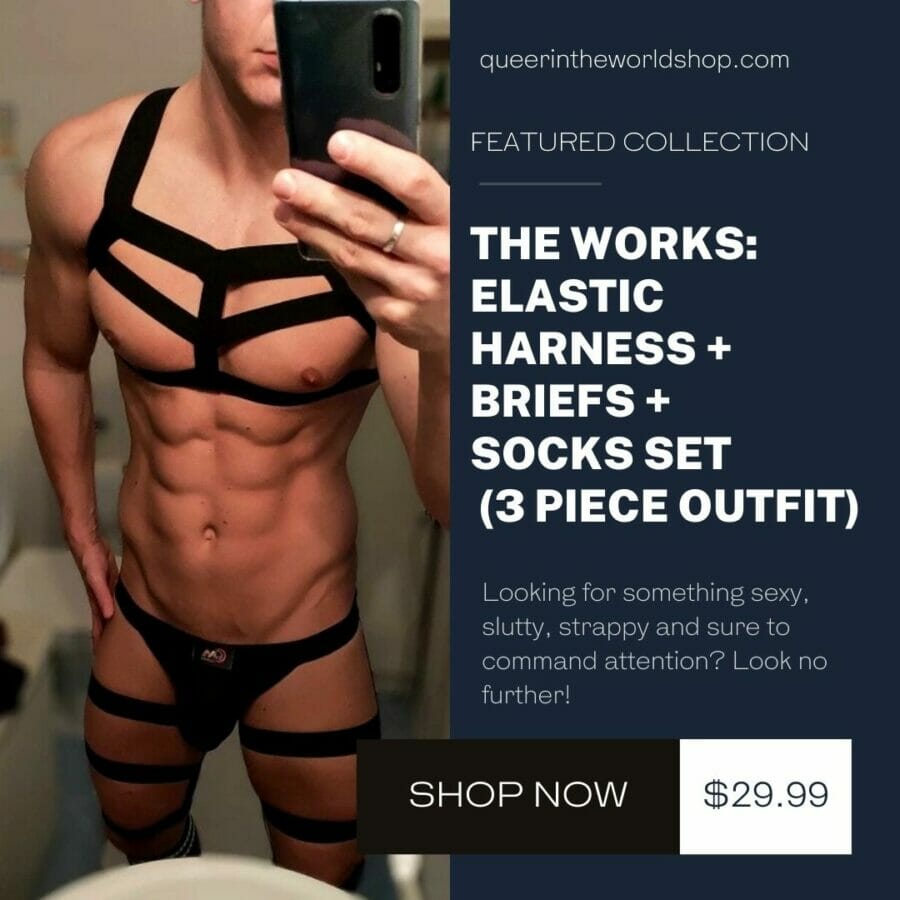 Jockmail is fast becoming my favorite go-to for all things underwear. They have an incredibly wide range and cater to everything you can think of, from jockstraps to cockstraps to elastic mesh harnesses.
Their Pride Mesh Underwear is a solid ten for comfort, style, and sizing. The waistband is printed with the Pride rainbow, along with a Jockmail logo in either black or white. Likewise, the Mesh for the underwear comes in black and white. Despite being light, the Mesh is strong enough to provide adequate support and survive enthusiastic wearing and removal because there's nothing sexy about mesh underwear with holes in them.
They come in either a brief or boxer option, both of which are great for a sexy little tease and will pretty much guarantee that the guy you're interested in will find it impossible to take his eyes off you.
The Andrew Christian Access Mesh Jock Thong is a breathtaking example of stylish and functional design. Whoever thought this up really went all out. From the color contrast to the liberal use of gold glitter, no effort was spared in making this.
The Mesh lines are much thicker than the average, giving it a checked effect and providing better contrast against the skin. The brand logo is printed in gold across the waistband, and the seam giving structure to the pouch is outlined in gold glitter. Together, all these features are a recipe for smoldering sexiness.
This thong should be reserved for a special occasion, such as when you and your partner plan a hot date that's going to lead to some bedroom action. Or going to events like Mightly Hoopla or Milkshake Festival because the structure of the mesh fabric means that you'll be comfortable in it – perfect for all-day wear before you can get the chance to take it off.
Either way, we guarantee an unforgettable journey with this.
These Jockmail Mesh Briefs are sleek and sporty and an absolute must-have for the modern, forward-thinking man. They are comfortable, being made with a nylon and spandex blend that does not disappoint in any way.
The range of color choices and composition is unmatched. Even better the pouch area is made of solid fabric as opposed to a mesh, providing structure and support where you need it – and a seamed pouch should you not be comfortable with transparency.
Your ass will look delectable in this, and your partner will find it hard to not smack – or at least tap – it when you pass them wearing it. In fact, this is a great way to test whether your partner is even into you. Wear this and do a little sashay. If they don't immediately try to get some, I've got bad news for you honey…
This Pride Net Mesh Jock from Andrew Christian makes me love Pride eventually more- a feat I never thought was possible. It's just so stylish and sexy.
Like all offerings from this fabulously gay underwear brand, you can tell a lot of thought went into designing it. The black version has black lettering on the rainbow-printed waistband, while the blue version has white lettering, and of course – they both make you look fabulous.
The crotch is all mesh, which I love because it brings the heat. But my favorite feature is the ass. It is completely exposed, albeit supported and framed by two straps. Imagine the potential that holds. Think about the ease of access; there's no irritating fabric to wrestle off when things are about to get hot and heavy.
The options are endless.
I'll be honest here and say that boxers are not my go-to for sexy fetish underwear, but these transparent mesh boxers turned my expectations upside down. The mesh is an incredibly unique mix of nylon and spandex that somehow manages to have the sheer, sleek look of satin while still feeling as light and breathable as cotton.
The material fits so well that it looks like a second skin, and it feels just as good. The tailoring of the shorts accentuates your thighs and makes them look even attractive (thick thighs save lives, right!), and the mesh does wonders for your ass.
The pouch is structured to cradle your junk and present it in the best light but be warned: the see-through mesh will cause even the most casual observer to be filled with dirty thoughts. As long as you anticipate that effect when you wear it, however, then there is nothing to worry about.
The bold ADDICTED printed across the waistband in black, just above the pouch, adds a whole new level of innuendo to this super mesh underwear. Not to mention there is also a removable cock ring.
The stretch mesh fabric feels great and looks even better, giving your ass a great lift and look. The pride of these gay mesh briefs, however, is the crotch, which is specially made to entice with that pouch can even be pushed up for a better appearance and contributes to a fuller erection. Yes, that is the joy of Addicted's Ring Up technology.
The whole setup is geared towards making romps beneath the sheets (or anywhere really) longer-lasting and more pleasurable. I also love the bright neon colors that attract me like a moth to a gay flame and the fact that there is a wide range of colors to choose from…because honestly, I want one in every variety.
The color scheme of these jockstraps is quite intriguing, but I have a clear favorite: the black and white, which screams danger, and y'all know how I love danger. The colors are in the waistband and straps, while the pouch itself is solid and polka-dotted.
The smart design of this ORLVS STAR Mesh Jockstrap (2 Pack) gives the hips and lower abdomen a streamlined look. It also shapes and enhances your butt, making you look even sexier than you already received. Plus, the exposed backside opens a world of sensual possibilities that I'd advise you to try.
Because every time a jockstrap gets worn without being used to the fullest, a unicorn cries in heaven. Don't make the unicorns cry.
PUMP! is another brand whose name is pretty much a sexual innuendo, so it's convenient that they make underwear and sexy AF underwear at that. Their sugar rush jock is low-rise, so it has that sensual, below the waist look that us gay guys know and love.
If you've got killer hip bones, now is the time to show them off.
As it's a jockstrap, the ass is also exposed, and it comes with extra support for your rear in the form of flexible straps. The mesh pouch is contoured for extra crotch support and a better look while also being airy and breathable with adequate ventilation.
It's made from a blend of nylon, cotton, and spandex, so style and comfort a guaranteed. Altogether it's a sexy little number that's sure to please both you and your man.
Camouflage. Mesh. Jockstrap. Three of the sexist words in the entire universe, and they are all combined into this one offering from ORLVS (which comes in a three-pack, so you'll get the times as much value for your money.
Naturally, it's low-rise since there's nothing sexier, and although the waistband fits snugly, it's broad, so there is no uncomfortable rolling and pinching. The straps at the back make your ass look tasty as hell, and the pouch provides enough support, so you can wear this jockstrap to a party without worrying about any 'accidents' that may occur.
You can also wear it on a hot date as a prelude to other events that may occur later on.
Andrew Christian does it again with these one-of-a-kind mesh briefs. As the name suggests, they've got a unique design of multi-colored palm trees against a blue background. Don't they just have you dreaming of the dreaming of a holiday in Gay Palm Springs.
Asides from the attractive pattern, these Palm Springs Mesh Briefs are also very comfortable, with a pouch that has been made to fit your privates and a signature slimming waistband that's also made to prevent any tightness. The material is very sheer, so it's perfect for teasing and playful suggestiveness.
It's also got reasonable coverage, just in case you don't fancy feeling your ass of in a party or social event. Enjoy the streamlining effect of the low waist design. And it's a limited edition, so get it as fast as you can.
As if jockstraps are not racy enough already, this erotic mesh jockstrap invents a whole new brand of sexiness. With a broad range of colors and several sizes, it's one everybody should have – everybody with good taste, anyway.
It's got straps for rear support and a seamed mesh pouch that's much stronger than it looks and does a great job of accommodating your junk. The rear is completely exposed, creating an ease of access that's better experienced than imagined.
Plus, it's low-rise, and therefore extremely flattering to your figure. What more can a guy ask for?
Animal print is hot, so animal printed underwear? Whew, turn the AC up because I'm burning up in here, honey. Thus this tiger mesh thong from COCKSOX doesn't just look sleek and alluring; it feels wonderful when you actually wear it.
The pouch is made to be anatomically correct, so your goods are nestled safely, with the extra support of a seam down the middle. Like all the best gay thongs, the rear is almost completely exposed, so you can shake that fine-ass booty as you walk by if you want all eyes to be on you.
It's cozy enough to wear as everyday underwear and on a hot date? Supernova baby. But don't take my word for it; try it out yourself.
It's the comfort of this Camo Mesh Thong that does it for me. The design is superior too, and the complementary colors that are used to form the camo motif are entirely unique, but there's something about the way the pouch holds the package comfortable, and the waistband fits snugly without being too tight that makes this a personal favorite.
Maybe it's the expert tailoring or the nylon/spandex blend it's made from. Either way, it's a winner in my books. And it's got just enough coverage that you can wear it out to a party or parade or festival. Or combine with a harness and call it a sexy gay Halloween costume.
Trust me, with this – you'll be looking for anything excuse to wear it out.
This is another cute gay lingerie offering from Andrew Christian. The pattern is kind of elaborate, and I appreciate the effort that went into designing something like that, especially for gay mesh underwear that might not even be worn out.
The Sunset Stripe design is basically pride-themed, so it would do in a pinch for a less-is-more pride outfit. That aside, it's got all the qualities of an Andrew Christian item, including the slimming waistband, the contouring pouch, and the low-rise cut, a combo that makes for a powerfully sexy pair of pants.
Your man is sure to drool when he sees you wearing this, and with an exposed rear, he'll have no difficulties bringing his fantasies to life.