It's a beautiful thing when we can incorporate an extra little touch of gay pride into our everyday lives. Whether it's through things like enamel pins, stickers, hoodies, jockstraps, shoes, and other pieces of LGBT+ memorabilia, spicing up your life with items that showcase your pride is a great way to support the LGBT+ community.
One item we particularly appreciate that falls into this category is gay mugs! If you're a 6-cups-a-day coffee addict or a fan of an afternoon "cuppa" tea, mugs are an awesome way of promoting LGBT+ pride in your day-to-day.
Honestly, even if you are not you can also fill them full of wine and sip with pride well into the night – we would never judge!
The best part about gay mugs is how versatile they are! You can use them to enjoy drinks at home or bring them into the office to spread the queer love around. They also make great gifts for any member or ally of the LGBT+ movement who enjoys drinks as well. And much like gay socks, you can never have too many mugs.
We think every member of our diverse rainbow community could use at least one great LGBT mug. But which mug should you buy? We've decided to create a list of the best LGBT+ mugs so you won't have to do any legwork in searching for a great gay mug.
Get ready to give your roasted nectar the home it deserves, and live your best-caffeinated life.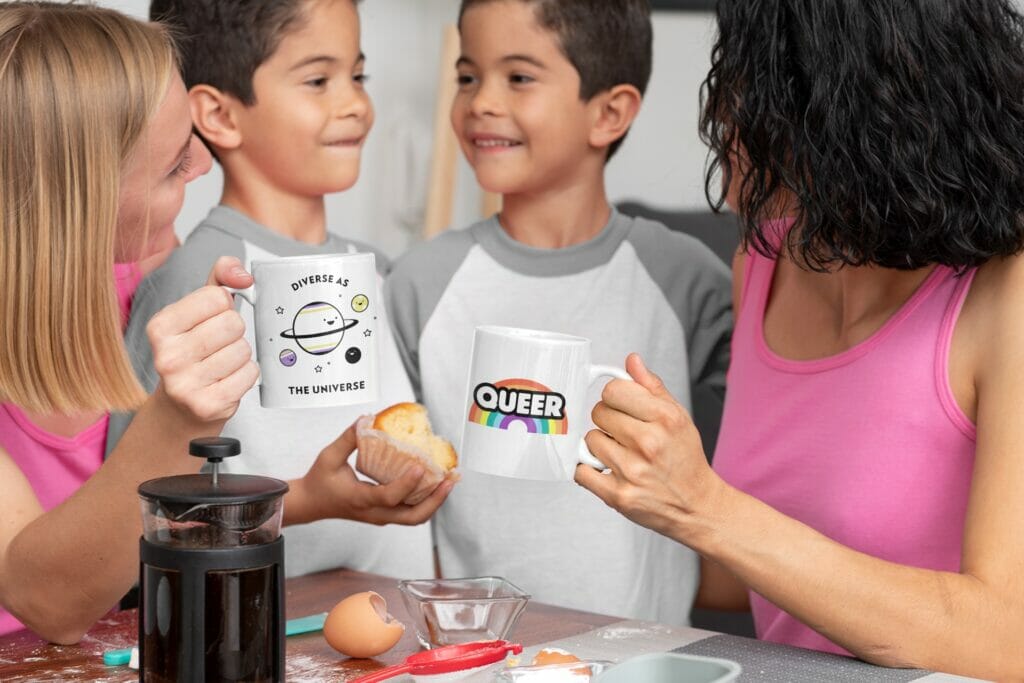 Nothing says "I'm gay and need my first cup of the day" like this chuckle-worthy ceramic mug. Featuring a solid white mug with a gray background, white text, and pink detailing this Gay And Tired mug is a colorful way to start your day off right.
We especially enjoy the illustration of the cranky creature depicted on the backside of this mug. In the early hours of the morning when we haven't had our cup of coffee yet, we'd like to think we resemble that animal most of the time.
What do cute angry animals + gay messaging equal? An epic gay mug that we think you need in your collection.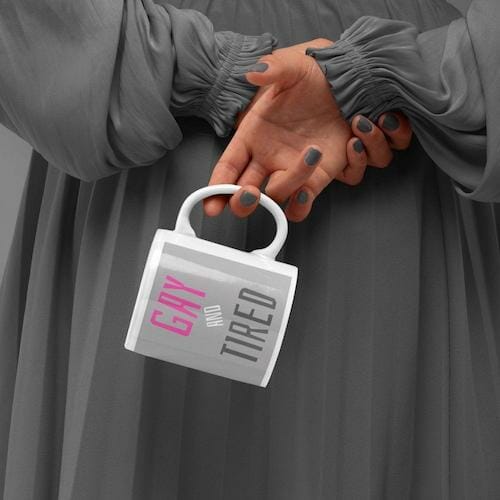 Ah, the lovable doughnut. The cornerstone of any scrumptious and indulgent breakfast, there is perhaps no better way to start the day on this planet than a tasty doughnut and a hot cup of coffee.
With that in mind, we think this ceramic LGBT+ mug is awesome! How could you not love the perfect pairing of doughnuts, coffee, and gay pride? With an adorable image of a doughnut complete with a small dimple and a smiley face, this mug says "Doughnuts are just gay bagels".
Doughnuts are certainly more colorful and fun than bagels, which are attributes we'd also prescribe to the LGBT+ community as a whole.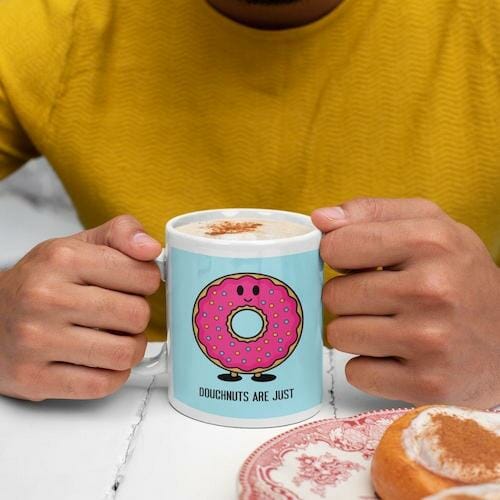 Self-love is as necessary as coffee in the morning. With this perfect mug, you can add a little bit of both to your typical morning ritual.
This mug features a neat and colorful design, which includes the rainbow colors of the LGBT+ flag, as designed by artist Gilbert Baker in 1978. This design is coupled with the simple phrase "Love Yourself", which is especially important in regards to the LGBT+ movement.
This mug features a metal rim and is made of enamel, so it's particularly lovely and special! And impossible to break – like our queer spirit!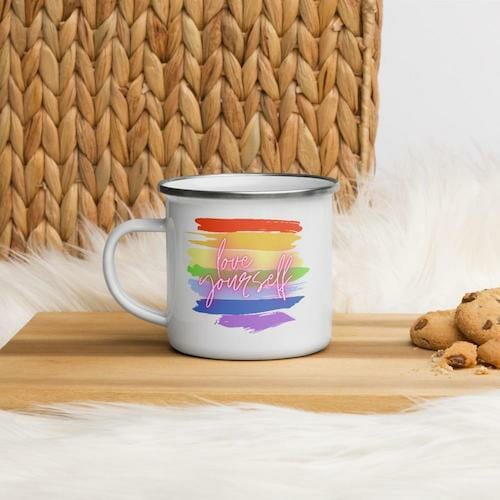 One of the iconic phrases uttered by drag queen and superstar RuPaul, "Don't Fuck It Up" is a motto that all of us can apply to our lives. This ceramic mug celebrates LGBT+ and drag pride with this phrase, which is complemented by an illustration of a bold kiss mark in bright red lipstick.
We love to watch RuPaul's Drag Race, as it helps to uplift and provide space for marginalized members of the drag queen community. We think LGBT+ supporters and RuPaul fans will love this mug, and the message it promotes.
When it comes to the questions of how much Drag Race Merch is too much…" the limit does not exist!"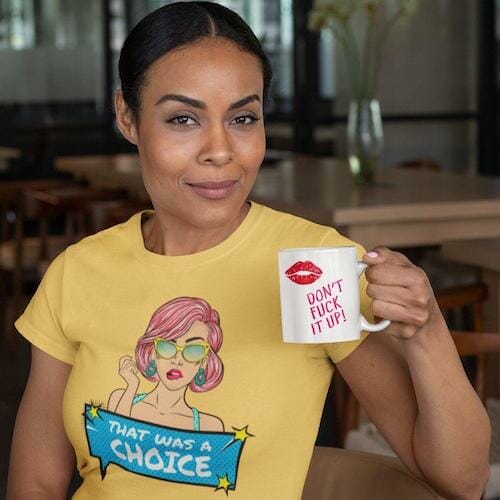 We all know that members of the LGBT+ community cannot and should not change who they are. This mug illuminates that fact with a humorous message – "Woke up gay again…" we love how lighthearted and genuinely funny this mug is, and we think it would make for the perfect addition to any gay mug repertoire.
This mug is made of enamel and features a metal rim. We think that it's really fun and high-quality, perfect for giving as a gay gift or keeping for yourself.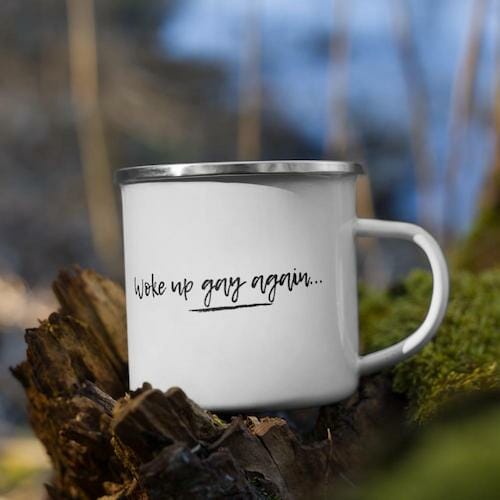 Sometimes the tea is so hot that you'll need a solid mug just to hold it all in. For those who don't know, "spilling the tea" is divulging some interesting drama or gossip. And honey, we love our tea piping hot!
It doesn't matter if you're a homebody or you're at the office, sometimes the tea will have to be spilled. Be ready for it with this "Spill The Tea" gay mug. It comes in two sizes and features a funny and on-point design that will surely gain a laugh from like-minded members of the LGBT+ community.
We know that you'll want to spill the tea at some point. Hopefully, you won't have spill any from this mug though!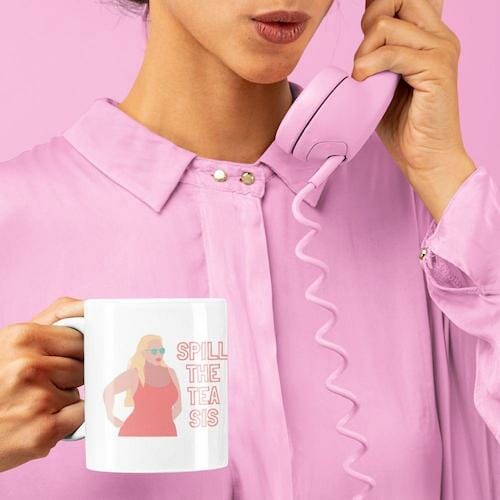 We all have people in our lives that we can accurately describe as a "hot mess", and honestly, sometimes it's a compliment. If you don't have that person, chances are it is you. And then you really have to have this gay mug. It really does take a certain someone to be able to uphold their high standards of hotness while simultaneously being in a state of acute disarray – so why not consider it a badge of pride.
This "Hot Mess" ceramic mug is perfect for those kinds of people. We love the in-your-face and vibrant design of the typography of this mug – it's definitely sure to be seen no matter where you decide to take it.
Own that hot mess. Be you and be proud of it.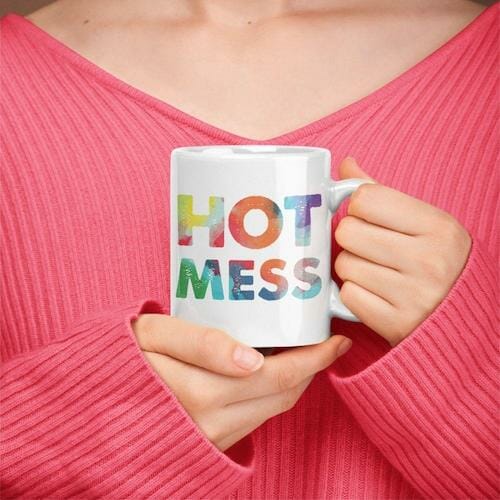 With this fun and cute "Cheers Queer!" mug, you'll be able to easily cheer on all of the queer individuals in your vicinity! We decided to add it to our list because we love the bright blue and pink colors and the cursive script design of this mug, as it brings out the colorful side of all of us.
Made completely from ceramic, this mug is sure to keep you cheering on your queer friends for many years to come.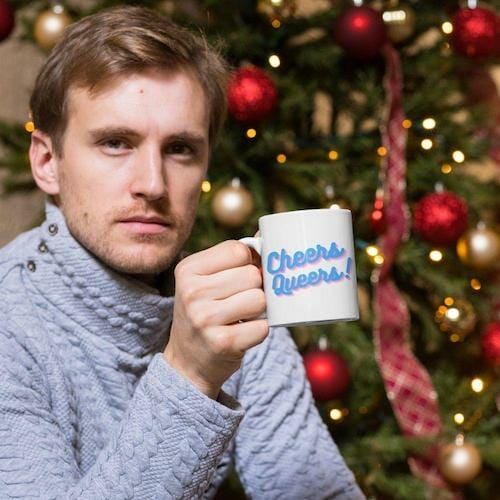 In the LGBT+ community, there are plenty of unique people. Like majestic unicorns, we all have our special traits that make us who we are, especially the fact that we're gay!
This mug really spells it out for anyone who may be curious about your sexuality. With a bright and rainbow-clad design, this mug boldly states: "Nobody Knows I'm Gay!", complete with a bright and rainbow-colored unicorn.
If they didn't know before, they will now with this awesome ceramic mug. Perfect for the office.
Even better? The flamboyant message only shows up when exposed to hot liquids. Talking about spilling the tea just by serving the tea.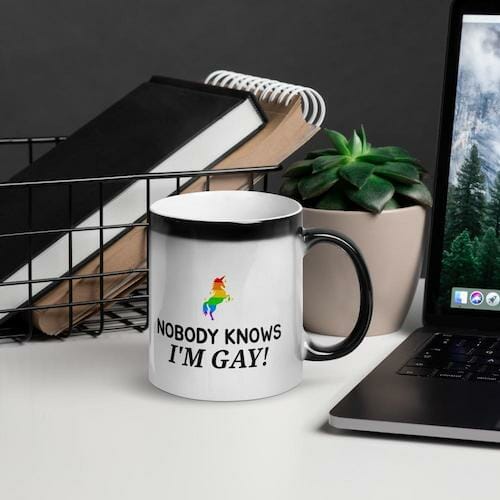 A hot drink like coffee or tea is the perfect accompaniment to a lovely brunch. If brunch also had a sexuality, we're sure it would be gay. Brunch is like the fabulous cousin of ordinary breakfast, complete with better taste and some extra pizzaz.
We picked this mug to add to our list because it sums ups our thoughts so perfectly: "Brunch Is Gay". Add in some lovely floral designs and you have a gay mug that is a winner in our books. It's a must-have for any LGBT+ brunch lover out there!
And who doesn't love brunch and the required day drinking?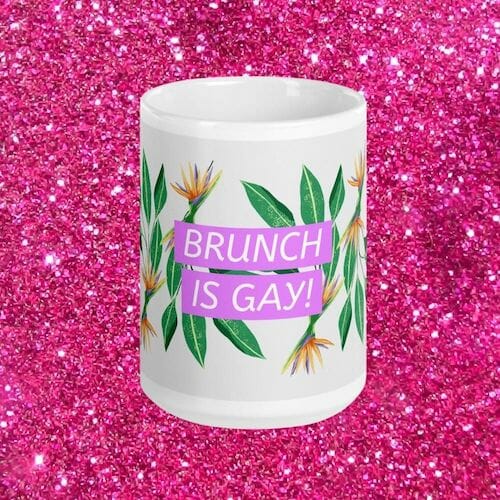 If there is one thing that we love to eat throughout the week, it's avocado. The superfood that has seemingly taken the world by storm in recent years, avocados are a great way to stay healthy and keep our queer family looking their most fabulous.
We really got a laugh out of this adorable mug, which features a cute avocado complete with a smiley face and a butt dimple! The messaging couldn't be clearer: "I Love a Big Hass". Since Hass is a variety of avocado, this on-the-nose pun will definitely make your friends and coworkers giggle.
Perfect for all queer lovers of avocados and big booties!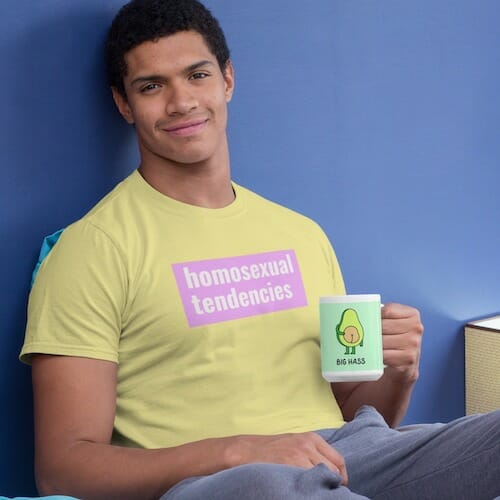 That completes our list of LGBT+ mugs that we think deserve a place in your mug collection. We think these gay mugs can definitely bring some much-needed sparkle and shine to your workday or weekend. If you don't think you need these mugs, at least gift some to your LGBT+ friends!
Spread the rainbow love and keep drinking coffee! Because the only thing better than being gay and proud is being gay and proud and caffeinated!