We personally love wearing bright and unique socks in our wardrobes. Like many things in life, if you stick to the status quo, it'll often end up being a tad boring. We definitely like to go against the grain in some respects, which is why we think having a pair of fun and exciting gay socks can be a great way to add some joy and color into your life.
Additionally, gay socks are also a fun way to add some gay pride to your wardrobe! Just like conventional colorful socks, gay socks can add a breath of fresh air into your sock repertoire, all while promoting queer pride.
We personally think that having items that showcase your queer pride is a great way to show your support for the movement overall – and adds a little something special to your outfit. An iconic LGBT t-shirt, a pride flag enamel pin, a stylish gay tote, or even a queer coffee mug.
We love owning all sorts of different pieces that really show the world that we are LGBT+ supporters, and it makes it easier than having that dreaded 'coming out' conversation over, and over, and over again.
These items are important because they do not only show the world that you're for the cause, but they also provide a sense of reassurance for other members of the LGBT+ movement that they are occupying a safe and supportive space. And what easier item is there to work into your outfit than a pair of gay socks.
In fact, we're so obsessed with fun socks that we've decided to round up a list of some of the best fun LGBT+ socks to get and wear! These socks are sure to be the life of the party.
Without further adieu, let's take a look at these awesome socks!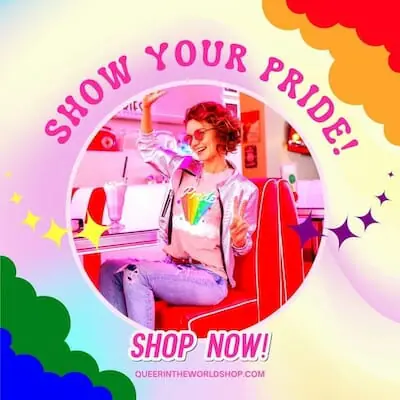 We absolutely love the subtle, simple design of these fabulous socks. Coming in both black and white colors, these socks feature an LGBT+ rainbow motif on the top of the socks, which is sure to garner attention and bring awareness to the queer cause.
Beyond all of that, however, these socks just look sweet! We think they're a must-purchase for any rainbow supporter. Just be aware – you are going to have to up your game with the rest of your pride outfit to stop them stealing the show…
Not a fan of subtle designs? Not a problem, neither are we. With these striped rainbow socks, your feet will certainly be the center of attention wherever you go.
We particularly appreciate how bold and vibrant the colors appear in these sensational socks. Best of all, they feature the rainbow colors of the LGBT+ flag so no one will be getting mixed messages.
You are here, you are queer, and honey, it's about damn time the world got used to it!
Talk about a throwback! We really admire the retro-inspired design of these three striped socks, and how they bring us back to the 70s with their vibrant colors. They are also perfect for circuit boy parties or for reliving your jock fantasies – all with these sensational socks.
We wholeheartedly believe that no look is cuter than rocking long LGBT+ socks with a skirt (no matter how you identify). These long socks feature a queer-inspired design, adorned with different color rainbows.
You can either go full rainbow, or just a rainbow design on the top. Either way, these socks are seriously sweet and pair perfectly with most gay shoes.
We all like to think we are unicorns in the LGBT+ community. Now you can flaunt that fact with these perfect purple unicorn socks!
We adore the bright purple colour of these socks, complete with the adorable little unicorn on them! Throw in some stars and clouds and you have a pair of socks we're proud to own.
If you are looking for a cheap but fun unicorn-themed gift idea for a truly fabulous friend, we can recommend these!
We think these socks are just peachy! Featuring an embroidered peach design on a peach-colored sock, these socks are simply sweet (no pun intended).
Wearing these socks will allow you to really show off your peach, but be careful, because your peach might get too much attention!
Perfect for reliving those jock fantasies, these striped white crew sports socks are a preferred choice for many queer men pair with a classic jockstrap or gay pride underwear.
We love the classic look that these socks have, and we think they are totally fabulous for that retro varsity look.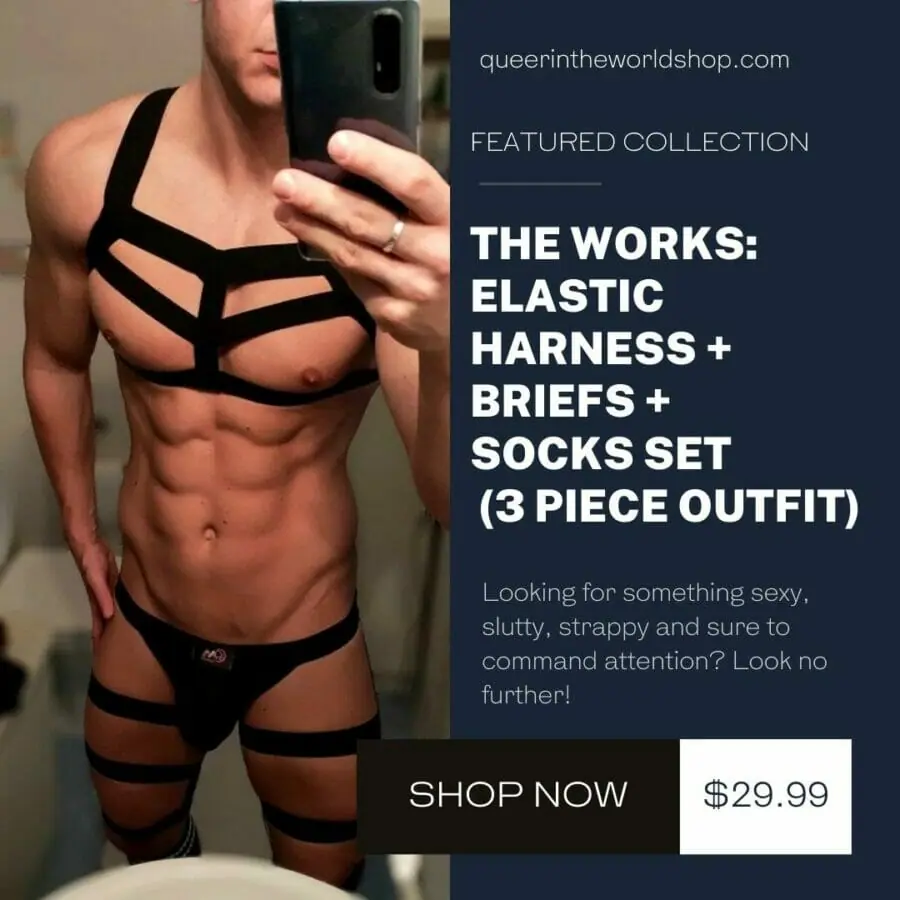 Sometimes, our feet can feel chilly in the fall and winter! With these thick gay pride socks, you can keep your toes toasty while also promoting your LGBT+ pride.
We love a great pair of warm socks, and these ones have the bonus of being rainbow-friendly. It's a win-win!
Narwhals are like unicorns of the sea! These spectacular creatures are simply beautiful, and we love how these gay socks feature a cute narwhal design complete with a starry blue sky.
In our opinion, these socks are perfect for unicorn lovers who also love the ocean.
Continuing with the animal theme, we think these pink dinosaur socks are so charming! These are super nostalgic for us, as dinosaurs were all the rage when we were growing up. As such, we particularly enjoy these super adorable socks and while they might not be typically gay socks, they are colorful and can be worn by anyone.
And who doesn't love to break gender norms with each and every step!
As you could probably tell, we simply cannot get enough rainbows in our life! We will assume you are the same since you are a fan of LGBT socks.
We love how these socks combine rainbows and adorable poop cartoons into one pair of lovable socks. They even feature unicorn poops. It truly doesn't get much better than that.
Let's be honest, flamingos are some of the most fabulous animals on the planet. They are tall, they are beautiful, and they are PINK. What's not to love?
These gay socks are covered with flamingos, so obviously we think they are fabulous too. If you think flamingos are fabulous too, these socks are a must-own item.
Nothing really gets us more hot and bothered than a sexy pair of fishing net socks. Popularized in the 19th century, fishnets became all the rage when women (and we're sure some men) were liberated and allowed to show off more leg.
Nowadays, fishnets are perfect for people who identify with any gender to sex it up a bit. Nothing is sexier than fishing net socks, that's for sure. Unless you are combining with a gay thong or mesh underwear then … well, let's keep with PG13 shall we!
We love a good banana. These socks really show off your banana with their bright yellow colour and banana-centric design. If your are as big a fan of bananas as we are, it's probably a good idea to get yourself a pair of these funky socks.
Be careful though, because your banana might draw too much attention! You have to protect your precious fruit.
We're finishing this list off with one of the most beautiful pairs of lgbt socks we've ever seen. It seriously cannot get more majestic than this. Unicorns. Rainbows. Purple. Do we really need to say anymore?
If any of those things tick your boxes, get these socks. Just do it.
That completes our list of super fun socks! If you're a fan of funky socks or a member of the LGBT+ community, we surely think you'll be able to find a pair of socks that you love on this list. Grab a pair of fun gay socks and let the good times roll.