We think when it comes to ways to show off your rainbow pride, there is perhaps no better way than wearing a fabulous LGBT pin.
They're colorful, yet subtle enough so you can still feel safe in unfamiliar environments. Best of all, wearing LGBTQ+ enamel pins is also a great way to get noticed and meet new like-minded queer friends and allies!
Because there is nothing like spotting a rainbow lapel pin when out and about to know someone is a friend of Dorothy…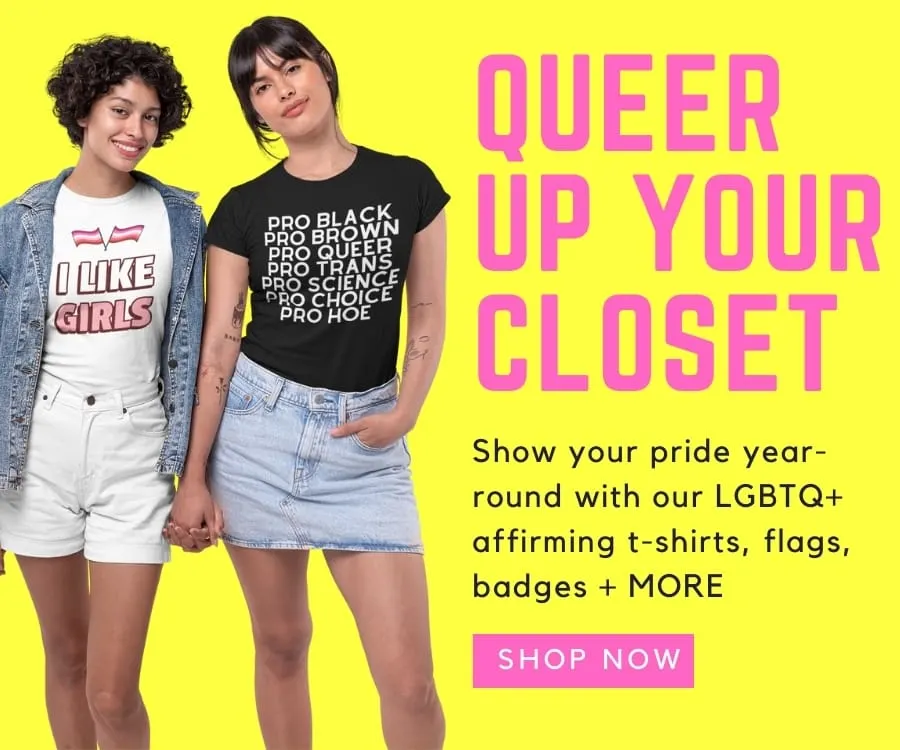 If you're an ally yourself, LGBT enamel pins are also a unique way to let members of the rainbow community know that you can help provide a safe space for them to be themselves.
If that wasn't enough, they are also just a fun way to personalize your clothing, accessories, or anything else you'd want to stick them on. No matter how you slice it, LGBT pins are just the bee's knees (or is that the unicorn's tail?).
Now that you want an LGBTQ+ enamel pin, how can you settle on which design you'll go with? Don't worry, we've got you covered with our comprehensive LGBTQ+ enamel pin guide.
Let's dive in!
Featuring the Progress Pride Flag, this progress pride flag pin is a classic example of an LGBTQ+ enamel pin. The Progress Pride flag was designed in 2018 by graphic designer Daniel Quasar, who added five arrow-shaped sections to the traditional six-colored rainbow flag.
The black and brown arrows represent the marginalized LGBTQ+ communities, while the white, light blue, and pink are colors borrowed from the transgender pride flag.
All in all, this pride flag pin design makes for a great way to support *all* members of the LGBTQ+ community….because inclusion is sexy!
Peace and love, baby. The V sign has been a universal sign of peace since the 1970s, and we love how it continues to represent the acceptance of LGBTQ+ love worldwide.
This pride pin pairs the V sign with the traditional six-colors of the rainbow flag, which was designed as a symbol for LGBT pride by artist Gilber Baker in 1978.
We love the marriage of the two symbols in this LGBT V Sign enamel pin, and what they stand for! Plus ya'll – it is just so freakening cute. I cannot!
Love is love. While the words may seem simple, in the context of the LGBTQ+ movement, they represent decades of fighting for acceptance from mainstream societies worldwide. We love how this pin pairs the words "Love is Love" with the symbol of a heart, which universally represents pure love.
It also features the colors of the rainbow flag, making it a cute and colorful way to celebrate LGBTQ+ love – and a great LGBT ally pin. Trust us, anyone that sees this Love Is Love Pride Heart Pin in public will know they are in a safe space and are free to be their most authentic self.
The subject of pronouns and how they relate to trans individual's experiences has been prominent recently, and for good reason. Whether you're an ally or a trans individual yourself, we think normalizing the clarification of your preferred pronouns is a great way to further the acceptance of our trans family as a whole.
This She/Her/Hers pin is a great way to clarify your preferred pronouns in a fun, colorful way. We love the beautiful lilac color of this enamel pin, and what it represents!
There is also have a range of other pronoun enamel pins like They/Them and He/Him so there is no excuse not to normalize pronoun use.
If Instagram can do it, so can we!
In popular culture, the symbol of the "black sheep" is usually used to symbolize someone who does not fit into a group – particularly a family. This queer pin takes that symbol and flips it around by making the sheep rainbow colored! For LGBTQ+ peoples, our uniqueness is not something to be ashamed of, but rather to be celebrated – so what better way could there be to do it.
We love how this cute Rainbow Sheep enamel pin changes the narrative of the "black sheep" symbol, all within a simple and lovable design.
We should all try to lead with kindness. This enamel pin takes that concept and promotes in through the words "be kind", in the traditional rainbow colors of the LGBT pride flag.
We think everyone should be kind to one another, regardless of personal identities or sexual orientations. We can't change who we are, so why should we treat anybody differently because of that? The simple message of this pretty pin is perfect.
Wear this Be Kind Enamel Pin to instantly transform even the drabbest ensemble into an outfit worthy of a pride parade!
Reaching meteoric levels of fame with his Ziggy Stardust album in 1972, David Bowie helped to popularize the image of an androgynous, bisexual rock star, with a lightning bolt emblazoned on to his face.
His gender-bending performances and cultural fluidity inspired a generation of queer folk – and we are still looking to Bowie today, not least for non-binary makeup artistry.
This David Bowie enamel pin takes that lightning bolt symbol and turns it into a fun pin you can stick to anything! Whether you're a member of the LGBTQ+ community or a Bowie fan, this pin is a must-have.
The heart wants what the heart wants. We think it's cool that this LGBT pin showcases a more realistic depiction of a human heart, complete with the colors of our fabulous queer pride rainbow.
This LGBT Heart Enamel Pin is a super sweet way to showcase your love for the community!
The symbol of the raised fist has been a popular symbol of solidarity for oppressed peoples since the 1960s. This enamel pin takes that popular symbol and pairs it with the colors of pink and blue, which are the colors that represent the bisexual community.
This combo in enamel pin form is a great way to show support and solidarity for members of the bisexual community. Because bisexual erasure is very much still a threat and sadly, the existence and legitimacy of bisexuality are still frequently questioned to this day – both in the queer community and the wider world. We won't fix it with one bi pin, but it might help. Even just a little.
Stand Up. Be Proud. Be Seen.
This Bisexual Power Enamel Pin is perfect for stunning bisexual unicorns or anyone dating a bisexual that wants to show their support.
Who doesn't love Mickey Mouse? An enduring character for almost a century, the big mouse has been a comforting figure for people all around the world.
The design of this LGBT Mouse Pride Pin features the popular shape of Mickey's head paired with the colors of the LGBT rainbow flag. It really doesn't get cuter than that.
Wear it to Gay Days @ Disney or on a trip to Disney be it in Tokyo, LA, Paris, Hong Kong, Shanghai, or Orlando!
We appreciate the dual-flag design of this amazing-looking pin! This enamel pin takes the flags that represent both the LGBT (rainbow flag) and Trans (white, light blue, and pink flag) communities and places them alongside each other, symbolizing the mutual support for both communities.
The LGB communities have long-held bonds with those with transgender identities and without the courageous actions of strong trans women like Marsha P. Johnson, the rest of the LGB+ community would not be where it is today.
Not to mention many trans people are gay, lesbian, or bisexual, and conversely many gay, lesbian or bisexual people are trans. LGB communities have long-held ties with those with transgender identities.
If you're looking to show your support for both the LGBT and the Trans communities, this Trans + LGBT pride flag pin is a great choice.
We are stronger together.
The ultra-realistic design of this pin really sets it apart from the rest in a unique and refreshing way, we love it! This pin takes the heart + rainbow color symbolism that we discussed previously in this list, but switches it up with a more scientific portrayal of a heart.
For our LGBTQ+ science lovers out there, this Love Heart Enamel Pin takes the cake!
Perfect for the LGBTQ+ artists out there, this trio of gay enamel pins all feature art-related imagery incorporating the colors of the LGBTQ+ pride flag. An artists' palette, a paintbrush, and a tube of paint are included in this adorable set.
We know a lot of members of the LGBTQ+ community have the tendency to be creative individuals. That's why we love this set of art-related Rainbow Paint Brush Enamel Pins!
Now go and there and paint the world with allll the colors of the rainbow mama!
Combining NASA imagery with queer etymology, this enamel pin is the perfect gift for yourself or any fellow lover of space exploration. It's also the perfect way to recognize Sally Ride, the first lesbian to ever venture into outer space and towards the stars. Be sure to remember that when wearing this badge and to spread this little-known fact.
With these things in mind, we also particularly adore this small, colorful GAY NASA enamel pin for its cute and quirky vibes. Educational and adorable – I'll take five!
The image of the rainbow has always been the perfect symbol to embody the spirit of queer pride. Featuring a multitude of bright, vibrant colors under one cohesive symbol – the rainbow embodies the plethora of different individuals who fit under the LGBTQ+ banner.
These awesome Rainbow Pride Enamel Pins feature pretty colorways representing nearly all aspects of the LGBTQ+ community, including Pansexual, Asexual, Transgender, Non-Binary, Bisexual, Genderqueer, Aromantic, Genderfluid, Lesbian, and LGBT.
The perfect way to show the world how you identify – while being cute, fun, and PRIDEFUL!
You get it all in this fantastic five-piece pride starter pack full of LGBTQ pins! Two LGBT flags, the V-sign, a heart, and a heart + rainbow design, all in the beautiful colors of the LGBT pride flags.
We think this pride pack makes the perfect gift for that LGBTQ+ person in your life. Or you can buy it for yourself and spread the love! We love how this pride pack of pins comes with five different cute designs.
When it's all said and done, pride is about love. Love for yourself, love for your neighbor, and love for your community.
We really LOVE how this awesome LOVE Pride Enamel Pin encapsulates what it really means to have LGBTQ+ pride. Like The Beatles said, "love is all you need". Wise words.
We tend to class it up sometimes with a preppy bowtie. But how about a bowtie enamel pin? This enamel pin takes the preppy image of a bowtie and colors it in with the rainbow colors of the LGBT flag.
Yes, this Rainbow Bowtie Enamel Pin is perfect for our classy queer people out there who love to dress up!
Featuring the outline of the United States of America, this sweet enamel pin comes in four different colorways, representing the LGBT, Trans, Genderfluid, and Aromantic communities, respectively.
Many places in the United States of America could use some more acceptable for members of the LGBTQ+ community, so we appreciate what these Queer USA Enamel Pins represents.
Be like Jonathan & Karamo & Antoni & Bobby & Tan and help make America the land of the fiercely fabulous and wonderfully inclusive…
A ton of the different LGBT pins we've discussed in this list center on the theme of love. This LGBT Pride Heart Enamel Pin features a super simple design that sums it up nicely: a heart in the colors of the LGBT pride flag.
It doesn't get more perfect than that!
Enamel pins continue to be a great way to show the world that you're proud of who you are, or to show other LGBTQ+ individuals that you care about them. We think these twenty designs truly showcase multiple different important symbols related to the movement.
Stay fabulous with these enamel pins. We're rooting for you!