Forget Christmas, Halloween, or any other of your favorite holiday seasons – Pride season is the most wonderful time of the year for us! Rainbow colors, epic tunes, and dancing in the street; what's not to love?
Once you've figured out which Pride events you're going to – it can be one, several, or all – then there are a few other things to arrange. Excellent accommodation, if you're traveling somewhere. Your drink of choice to carry along the way. Shoes comfortable enough to throw shapes all day.
And, of course, a fabulous LGBT shirt that will make you stand out from the crowd.
Luckily, there are tons of fantastic items on offer in the world of gay fashion now, whether you want an understated slogan tee, a funky pattern, or loud and proud colors. We're here to help you narrow down your search with some awesome LGBT shirts that you absolutely need for Pride.
Now, go forth and conquer Pride!
A cool tee where the retro and fabulous collide, this classic 3/4 number is ideal for gays who want to stand out at Pride without going full rainbow. 100% cotton and available in four colors, this is a t-shirt that will last you for far longer than just one parade (provided you keep it on, that is!).
The white shirt with green contrast binding at the sleeves and neck gives you that 50s rocker look, while the red on red is perfect for anyone who likes color in their wardrobe.
You know we love a llama, and this satisfied rainbow one is just the cutest design to have on a t-shirt. Even better? That unabashedly proud slogan: Bitch, I'm Fabulous!
Wear this out and about, and no one will be in any doubt about that fact!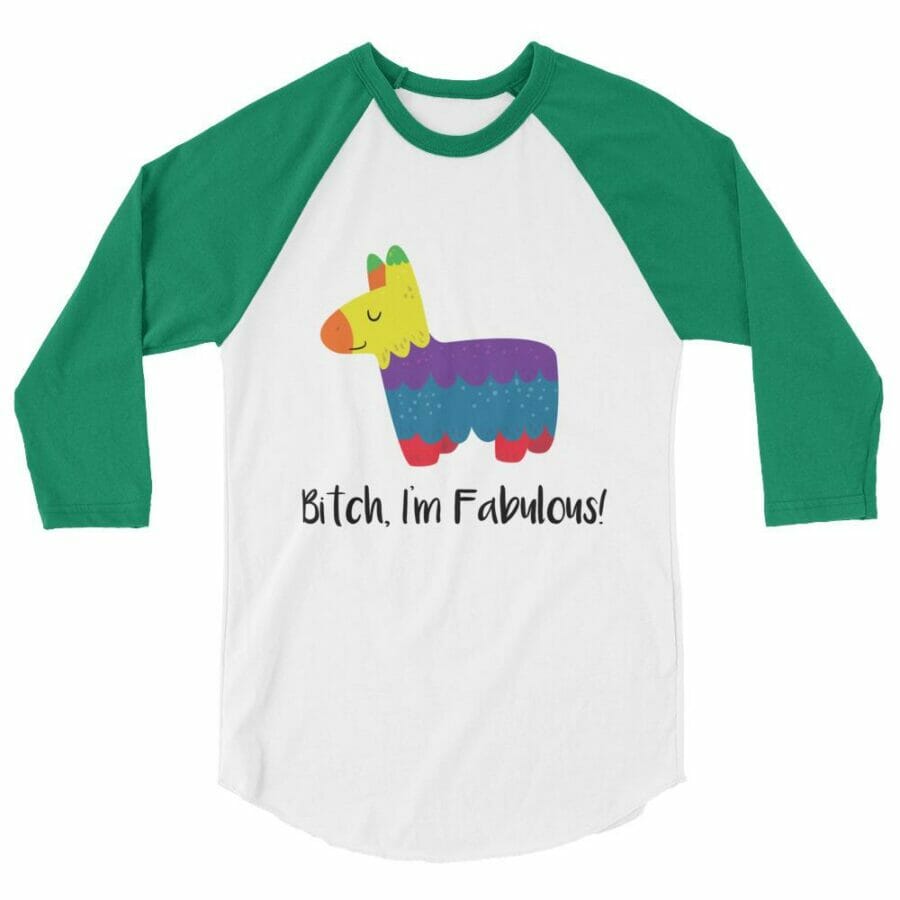 Folks with a hankering for a monochromatic wardrobe sometimes feel a little left out come Pride season, which is often all about the colors. Don't worry, there are LGBT shirts out there for you, too! Case in point, this understated but stylish classic t-shirt design in black or white. The thickness of the cotton makes it durable, but it's spun, so it's still comfortable enough to do all your best dance moves with no chafing – basically all you want from a tee.
So, what exactly makes it Pride-suitable? Well, that turquoise and hot pink tie-dye effect slogan telling all the world that you are a Hot Mess. Like they didn't already know, huh? Wear it for Pride, wear it on a date, wear it on holiday – it's that versatile. It's unisex, too, so everyone can get involved.
What's that, you say? You're looking for a simple, comfy t-shirt with a side order of sass? It's right here! In a whopping 10 choices of colour and suitable for men and women, to boot.
There's nothing more we could ask for. It's a tri-blend fabric (cotton, polyester, and rayon), which makes it not only lightweight but attractively fitted. You can also wash it a million times, and it'll still look great.
That simple but effective design of a perky palm tree and cheeky slogan shows off both your sense of humor and your style; everyone will want to talk with you. If you like bold colors, opt for the aqua, berry, or orange options; if you prefer a neutral shade, there's white, grey, and oatmeal.
Flirty types, listen up. This no-holds-barred shirt kills two birds with one stone: it proclaims your sexuality loud and proud, and it also tells everyone you meet how much you're brimming with self-confidence. We love the cheeky queer in a unicorn suit waving beside the I May Be Cute, But I'm Also Gay slogan.
Your color choices here are more sedate but extremely flattering – shades of blues, navies, greys, and blacks to offset your colorful personality and beautiful eyes. 100% cotton means you get a tee that's soft, light, and flattering. Another plus point is that you'll never get accidentally hit on by someone straight – farewell, awkward convos!
OK, seriously, how is such a minimal shirt so damn sexy? This is the LGBT shirt for people who usually avoid LGBT shirts. Its oh-so-vital but straightforward message packs quite a punch, primarily when written in simple block capitals across the middle of your chest.
The slogan might be a basic design, but you can spice it up by choosing a bright color.
The orange, gold, and raspberry options are gorgeous, as are the more subtle peach and dusty blue. Having said that, the black lettering on a white background almost makes more of an impact. It's another 100% cotton number unless you opt for a heather shade, in which case there's a little polyester in there too.
We love the cheeky juxtaposition of this classic wardrobe essential top with z in-your-face, powerful slogan repeated in all colors of the rainbow. Having Queer As Fu#k repeated six times is an excellent way to get your message across, after all. There's no messing around in this shirt, that's for sure.
Luckily, it's comfortable enough that you can go around being your badass self with ease. The longer sleeves are a great option if you're partying for Pride in chillier climates, and you can choose from a variety of color combos. It's not exactly suited as a relaxed business outfit – but we are obsessed with this unapologetically queer look none the less. White bodies come with red, black, grey, or blue sleeves and contrast piping at the neck; there's also an option for black sleeves with a heather black body, which really makes the rainbow letters pop.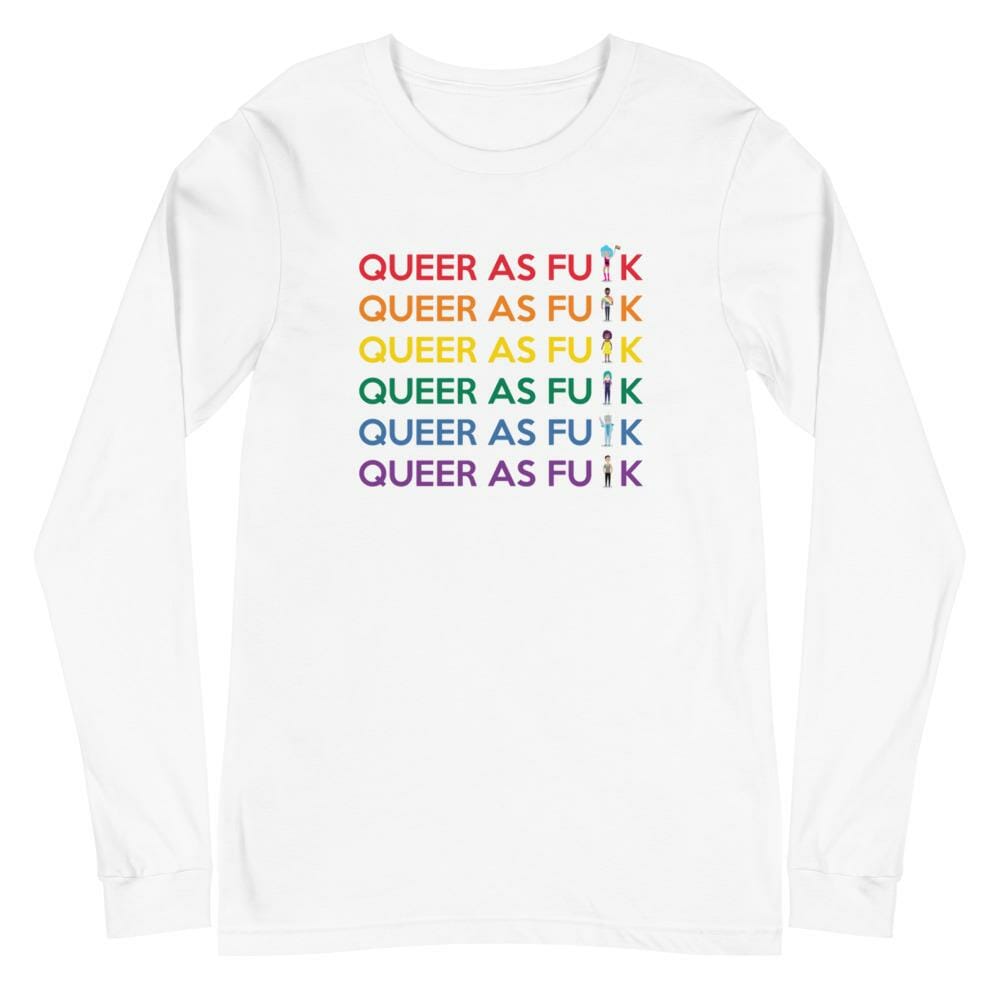 This cute lil shirt expresses love for two of our favourite things – travel and Pride. Three of our favourite things, if you count our preference for being footloose and fancy free as one of them! It's another option for the monochrome fashionistas among us, with two choices of black or white available. These simple colors mean that the rainbow colored lettering with the small but soaring airplane really stands out on the background.
It's 100% cotton, which means that the fabric is thick and durable. Because it's a bit heavier, the shirt hangs against the body in a flattering way, that works for both men and women. The soft material also makes movement so much easier. This is the ideal t-shirt for everyone else who loves combining epic trips with epic Pride events.
If you didn't already know that all you needed from life was a t-shirt with a dabbing unicorn with a rainbow mane on it, you have to know that now.
This tee is an absolute must in the wardrobe of any fun-loving queer out there. Honestly, merely looking at it makes us smile – so imagine how much attention you'll get wearing this at Pride (or anywhere!).
We think the bright colors of your unicorn's mane and the sparkles that surround it stand out best against the black t-shirt, but if you prefer a colorful option, then there are eight in total, from yellow to royal blue to peach.
Comfortable, quirky and fun – this is one of our favourite LGBT shirts yet.
We think that this proud queen from our graphics is the perfect design for a showcasing Pride on a Tee – how could you possibly disagree?
With her fishnets, leotard and rainbow flag held hi, she's the poster girl for embracing who you are, acceptance and sickening style. If you're not going to replicate the exact outfit (we get it, not everyone has fishnets), then wear it on your t-shirt and show the world how sickening you are!
With such a fabulous style, you don't want anything to compete with the design of this shirt, so we kept it simple with a white fabric. It's 100% cotton and double-stitched so that it will last for years. Now go out there and party – make the queen on your shirt proud!
Sometimes simple is the most effective, such as with this cool t-shirt. It combines a bold statement with a basic, colorful design that instantly won us over. Choose between four neutral colors – black, white, navy, and grey – to add this tee as a staple in your wardrobe. It's not dull, though.
A rainbow graphic highlights the slogan: I Look Too Good Not To Be Seen.
This is both a little bit cheeky, but also an important message to put out there – the LGBT community isn't going to be hidden away or overlooked. We're a vital part of society, and we're here to stay. Say it with your shirt (this one's comfortable, thick cotton) and say it with your Pride!