It happens sometimes: someone asks you what lesbian movies you'd recommend and suddenly you… draw a blank.
It's not that you aren't interested in lesbian films, or you don't want to reel off a list as long as your arm, it's just you can't think of anything at that moment.
The truth is, there are great lesbian movie titles out there – and luckily nowadays they don't all feature cliched man-haters or a woman deciding she's more into men after all – but maybe you just haven't come across enough of them.
So we're here to help, with a list of some of the best lesbian movies that you really should already have seen. So slip out of those sandals, log out of the dating apps, and get comfy with your favorite t-shirt on the couch… This is going to be good!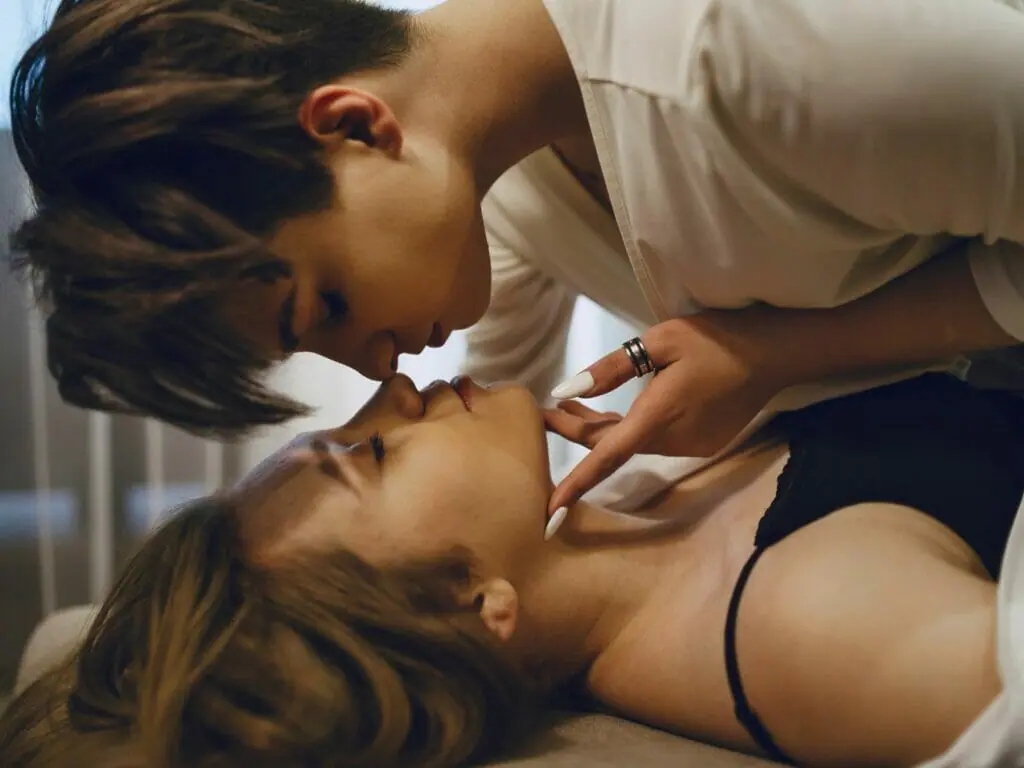 Wondering where to watch? It depends on where you live in the world and which streaming services you have. We link to the streaming service we watch on in each case - be it Netflix, Amazon Prime, Apply TV+, or elsewhere.
You can get one month free of Amazon Pride (or a 6-month trial for students) of Amazon Prime and also get immediate access to FREE Two Day shipping, Amazon Video, and Music. While you won't be charged for your free trial, you'll be upgraded to a paid membership plan automatically at the end of the trial period - though if you have already binged all these, you could just cancel before the trial ends.
Apple TV+ also has a one-week trial, and Hulu has a one-month trial (which can be bundled with Disney!). Another option might be using a VPN to access Netflix titles locked to other regions. Netflix is now available in more than 190 countries worldwide and each country has a different library and availability. US Netflix is (understandably) one of the best.
While we wish everything could just be in one place - for now, it seems these are the best streaming platforms to watch on.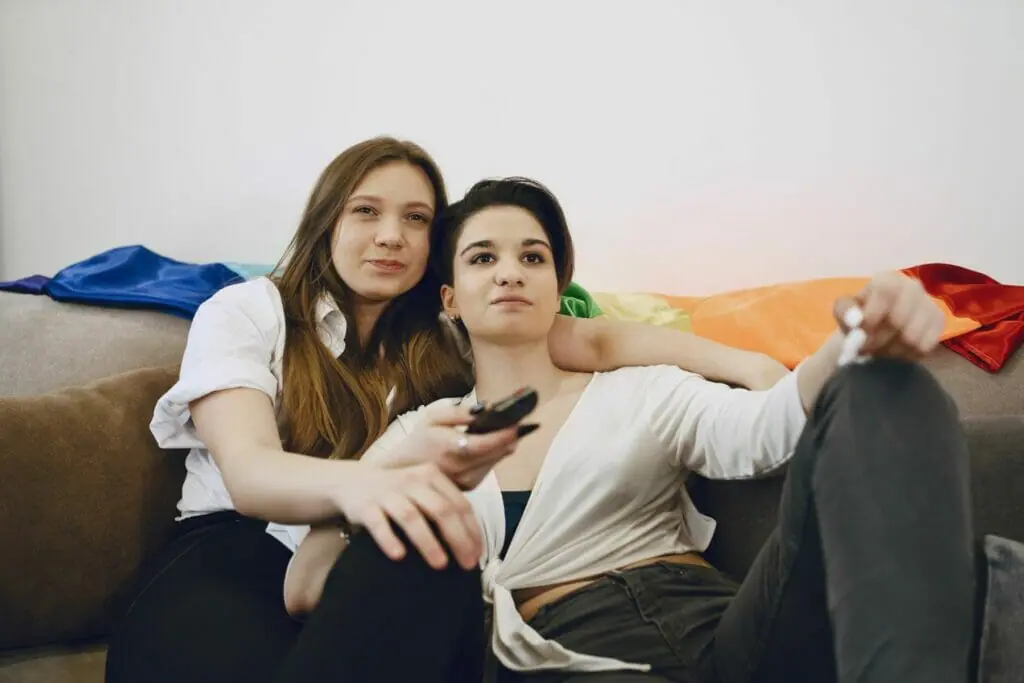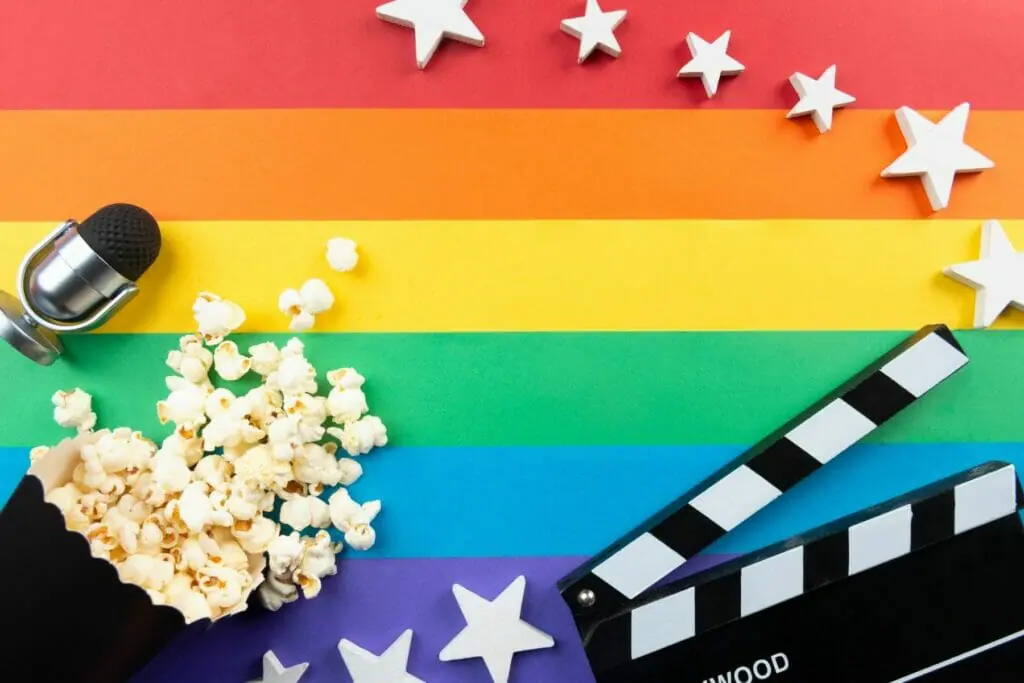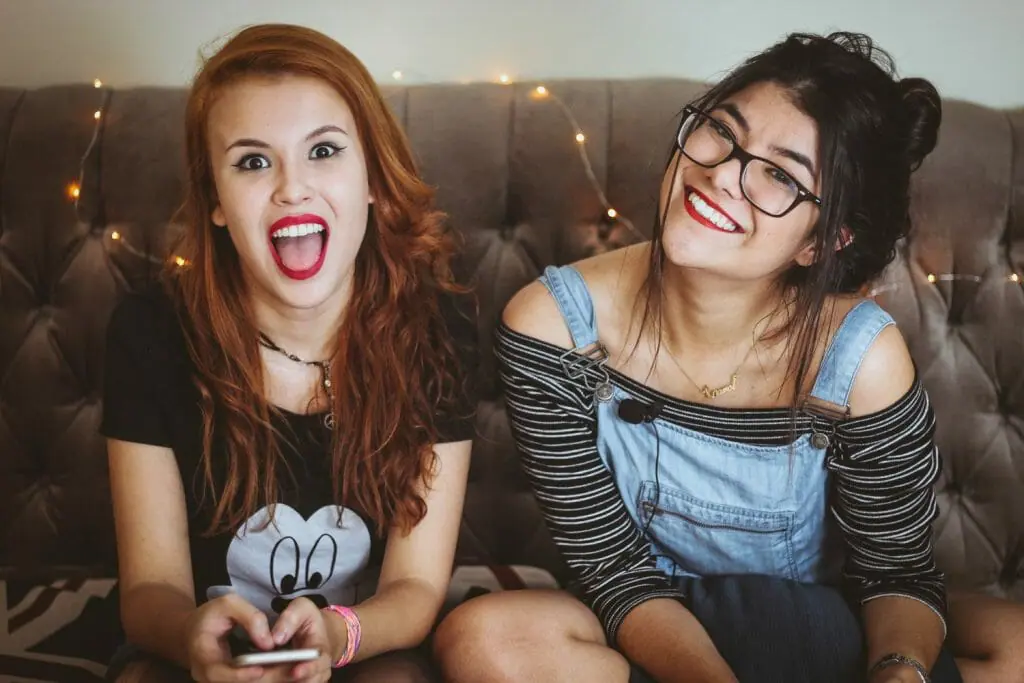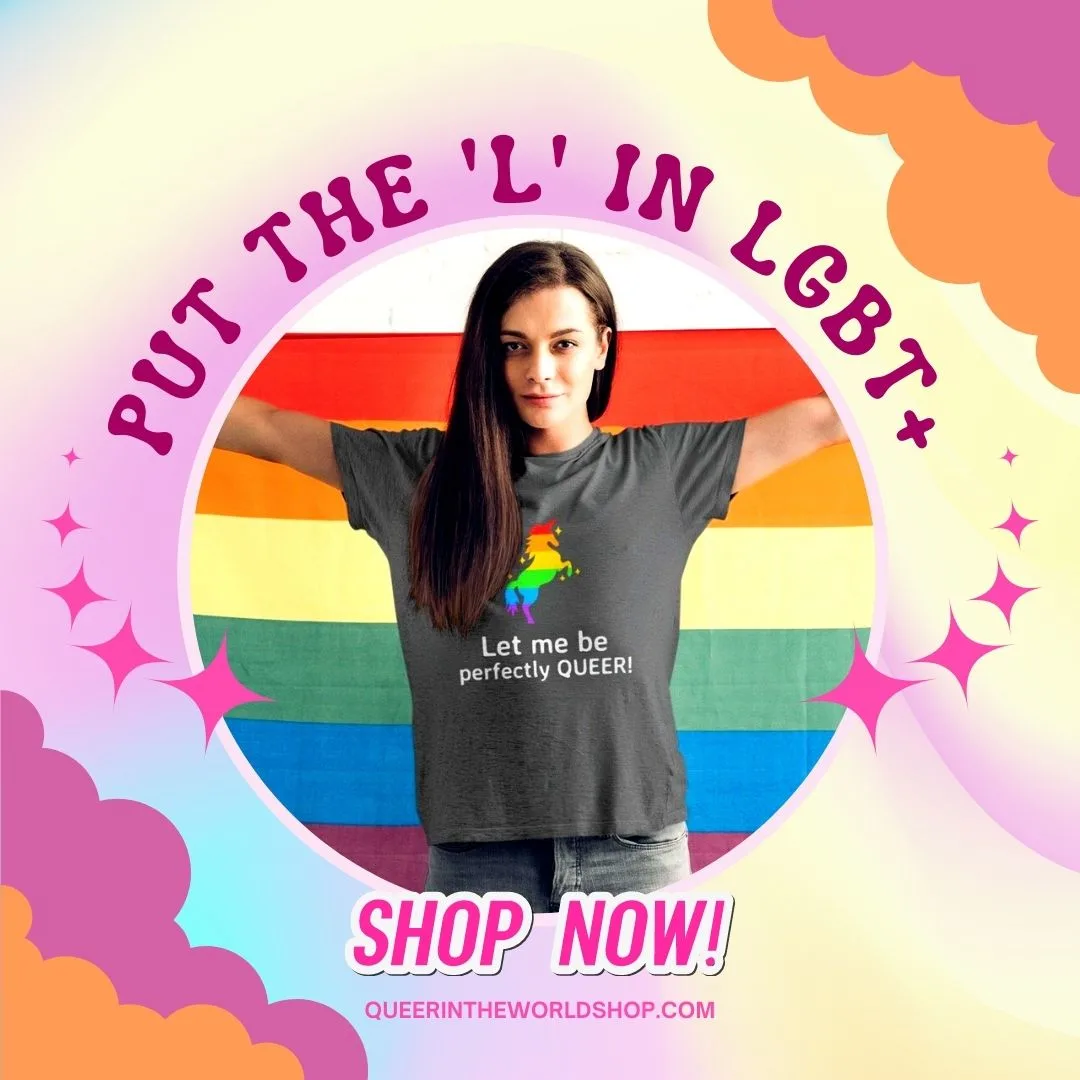 Come on, you must have seen this one. Desert Hearts is one of the most iconic lesbian movie titles because it was the first film about a female same-sex relationship that didn't involve a man or a tragic ending: utterly groundbreaking.
Set in Reno, Nevada, it follows the blossoming love between a reserved English professor and a young, impulsive sculptor. Vivian Bell divorces her husband and heads West, where she meets Cay Rivvers, whose energy and boldness start to draw her out of her shell. With stunning scenery and complex characterization, this is a classic for good reason.
It's surprising how much a little movie like Bliss can move you. A tale about two German strippers who fall in love, the film says so much about the scary things about falling in love. We see the characters face the same fears as we do each day: the fear of commitment, the struggles to accept yourself, and the vulnerability that intimacy entails. With only ninety minutes, Bliss tells a story that will feel close to home to many lesbian watchers.
After years of working in the club, Sascha has come to accept her life. She works with regular clients, gets along with the other women, and sometimes even takes time to visit her son. But when Maria, a young stripper with a bohemian way of life, arrives at the club, Sascha's life changes. As the two of them fall in love, we see the two of them dealing with their own emotions and baggage. Whether they can accept who they are or not will determine the future of their relationship.
This film perfectly captures the feeling of love: that bliss that you wish will never end. Yet the film also portrays that tragic end. It shows that every couple must take control of their lives in order to give themselves to others. Bliss is a lovely film that we wish more people had the chance to see.
A less well-known movie, perhaps, but still deservedly on this list, this low-budget comedy offers a quirky take on lesbian culture. Set in Chicago, a coffee shop acts as the starting point for relationships with plenty of twists and turns.
Go Fish is filmed in black and white, it's a fresh picture that addresses modern aspects of life within the lesbian community, like negotiating girl bars and maintaining friendships. The writers, Rose Troche and Guinevere Turner, were fed up with watching lesbian films that looked nothing like their actual lives and this was their response: a successful one, we're sure you'll agree.
What better addition to a list of lesbian love movies than one set in one of the most romantic cities in the world, Rome. Set over the course of one night in a hotel room in Rome, the film shows the development of a connection between Alba and Natasha. It's intimate, it's passionate and it's also pretty darn erotic.
Room In Rome is a powerful and intense portrayal of how love can surprise us at the unlikeliest of times and in the most unexpected of places. The journey through the night brings them a sense of freedom within their secret tryst. Expect to still be thinking about it long afterward.
No list of lesbian movie titles would be complete without this cult classic -which also makes our list of the best gay comedy films. Megan is a cheerleader whose family decides she's gay and sends her to 'True Directions', a conversion camp, to get it coached out of her. Unsurprisingly it backfires when she meets the outsider Graham and a whole cast of camp characters.
But I'm A Cheerleader is unapologetically quirky and fun, taking the quintessential American background and having fun with it with a candy-colored retro aesthetic and off-the-wall scenarios. At the heart of the satire is a sweet love story!
OK, strictly speaking, this film is not about the lesbian love story as much as the relationship between a 16-year-old girl and her independent aunt in Chicago, but we thought it was worth including on the list just to give you a cool, alternative suggestion for movie night. Something that no one's heard of but everyone will like.
Plus, amidst the rich and well-developed characters, there is a hint of a coming-of-age love story between Cyd and cute Katie, whose sexual relationship is treated in a refreshingly understated and matter-of-fact way. The female characters in Princess Cyd are strong and realistic, leading to empathetic depictions of the relationships between women, sexual or not.
Perhaps one of the best things about David Lynch's psychological thriller is that what got people talking was not necessarily that racy lesbian scene between Laura Harring's amnesiac femme fatale and Naomi Watt's bright-eyed Betty.
What is so great about Mulholland Drive is that it features two women in a nuanced and complex relationship but doesn't act like it deserves a gold star for this. It acknowledges their connection as valid while concentrating on exploring numerous themes (not to mention completely baffling the viewer – in a good way!).
This is one of those rarest of unicorns, a light-hearted lesbian rom-com. Sweet, kind, and completely free of bad intentions, it's the perfect feel-good movie for a cozy film night. Rachel locks eyes with Luce as she walks down the aisle on her wedding day, but as the two keep getting thrown together they can't deny their attraction.
Imagine Me & You has got every rom-com trope in the book but, quite frankly, we love that. Why should heterosexual couples be the only ones who get to almost kiss in the rain? There's a great cast as well, and plenty of fun!
This is a super-cute mid-90s film set in New York that has all of the best teen movie features – an uncool kid who's actually fun and alternative starting a romance with a popular, pretty kid – except this time with two girls falling in love. We love the bright, 90s color palette and aesthetics and the acting is authentic and honest.
The Incredibly True Adventures of Two Girls in Love is a great portrayal of first love and all the excitement and problems that come with it. Randy and Evie introduce each other to music and books, navigate each other's families and write about their first kiss in diaries. It's classic teenage stuff, but also highlights the importance of acceptance – of yourself and of those close to you.
A light-hearted New York rom-com kicking off with a single girl on the quest for love: so far, so mainstream. The twist is that here the title character answers a personal ad written by a woman and is surprised to find herself falling for her.
The way Kissing Jessica Stein captures the confusion and excitement of early romance keeps this film relatable, although some might wish for a slightly different ending (no spoilers, we promise!). Nevertheless, this is a charming addition to your list of lesbian movie titles to recommend.
This Swedish film manages to tell a love story without being corny. Sure, you might think you've heard the story before: engaged/married woman finds herself attracted to another woman, cue romance and chaos. But this offers a fresh take with excellent performances and gorgeous cinematography.
Mia and Frida are attracted at their parents' engagement party and when they find themselves together on the island of Fyn in Denmark their chemistry develops into something deeper. With sensual love scenes, authentic dialogue and a brilliant soundtrack, Kiss Me is one of the most romantic lesbian movies of recent years and one that you'll want to watch again and again.
This coming-of-age film caused a considerable stir when it was released, and went on to win a Palme d'Or, deservedly so. It is completely immersive and absolutely heartbreaking as it charts the relationship between Adèle and Emma from Adèle's high school years to her mid-twenties.
Adèle is an introverted teenager when she sees blue-haired Emma crossing the street in Lille and is instantly attracted. As their bond deepens and then fractures the film portrays love, lust, and betrayal with unflinching honesty. Yes, the sex scenes of Blue Is The Warmest Colour are graphic and intense, but this is not all there is to the film – the performances of the two main actresses beautifully convey their yearning.
Does anyone miss their teenage years? The mood swings, that constant awkwardness, the feeling that you don't belong anywhere. What a yucky time. Surprisingly, Sweetheart portrays all the unbearable aspects of adolescence while also making you feel nostalgic for that period in your life. It reminds you of those magic moments, although you can't really forget them, where you found love and discovered who you were.
This touching British romance is set on the campsite by the seaside. An awkward teenage girl, who goes by AJ (played by Nell Barlow), is dragged by her family to this remote place without TV or Wi-Fi. At first, it seems like she will die of boredom there. Then she meets Isla. Played by Ella-Rae Smith, this young lifeguard will drive AJ crazy. Their blossoming romance is filled with the discomfort and angst that are typical of this age. Yet when things work between the two of them, they work, and it's wonderful to see.
While this is the first feature-length film directed by Marley Morrison, she did an amazing job. It's also wonderfully written, capturing so many intricacies of adolescence. Sweetheart is a beautiful romance and a striking portrayal of one of the most vulnerable moments in our lives.
A sumptuous film that fully conveys the joy and pain of longing, Carol is an adaptation of Patricia Highsmith's The Price of Salt. Set in 1950s Manhattan, it tells the story of an unlikely romance between a timid shopgirl (played by Rooney Mara) and a wealthy and sophisticated married woman (Cate Blanchett).
Mara and Blanchett perfectly convey the emotions of the two women falling for each other but bound by the social conventions of the time and features tender and intimate lesbian scenes. Sarah Paulson also gives an energetic performance as a wise friend on hand to dish out advice.
As the critics pointed out, this shouldn't be described as one of the most romantic lesbian movies, but one of the most romantic movies made full stop.
Summertime, or La Belle Saison in the original French, can be your intellectual addition to your list of lesbian love movies. Not only does it tell you about the women's lib movement in 1970s France, it also tells a beautiful and tragic love story between two young women who have to overcome family and community prejudice.
The two actresses have a natural chemistry that carries the plot and makes you totally invested in their relationship as it struggles to survive outside pressures. When Delphine arrives in Paris from rural France she meets Carole and the two tentatively begin a relationship. Its sun-drenched romance and passion make it a secret gem in any film collection.
This film has more young girls falling in love in summer, although this time with some seriously dark undertones. Although it might not seem like the obvious choice for a romantic movie night, the tender and passionate love story between the two bored teenagers in a long, hot summer holiday.
In My Summer of Love, working-class Mona and middle-class Tamsin meet by chance near their homes in Yorkshire and spend more and more time together, eventually beginning a relationship that takes in eternal oaths at rivers and evokes the confusion of being a teenager. Although it might not be perfect, it perfectly conveys a mood and you can't help but be immersed in their story.
Perhaps you've read Sarah Waters' historical fiction novel Fingersmith, but did you know it had been adapted for the big screen?
Adapted, in fact, to almost be almost unrecognizable – the setting changed from Victorian England to Japanese-occupied Korea, the slight tawdriness replaced by cold beauty.
It's a mystery that manages to be both sinister and erotic, showing a demure Lady slowly falling for her lively handmaiden, who also happens to be part of a plot for tricking her out of her inheritance.
Passion, struggle, and some dark humor combine to make The Handmaiden a film you won't forget in a hurry.
Based on a 2006 novel of the same name by the wonderful Naomi Alderman (have you read The Power yet? You should!), this totally absorbing film depicts the blossoming relationship between two women in the London Orthodox Jewish community.
Coming home for her father's funeral, Ronit (played by Rachel Weisz) is reunited not only with the conservative community she fled from, but with a former love, Esti (played by Rachel McAdams), now married to Dovid. Disobedience sensitively explores issues of identity, sacrifice, and love.
It probably wouldn't be quite as moving without the incredibly powerful performances by McAdams and Weisz, showing their passion and their inner conflict as they reembark on their affair. It's thought-provoking, rich and sexy – a must for your next intellectual movie night.
Duck Butter is an intense movie and – we're not going to lie – it isn't for everyone. Why so intense? Well, it takes the audience with the two protagonists on their attempt to fast-track a new relationship by spending a solid 24 hours together.
The aim is to foster intimacy, but the results aren't exactly what they expect. It's an experimental film co-written by Alia Shawkat, who also stars (she's Mabel from Arrested Development all grown up), and the title seems designed to embarrass those who recommend it!
The two main actresses carry the film, conveying the depth of emotion they feel for each other and the ways they trip themselves up perfectly. If you ever had a doomed romance in your 20s, this film will speak to you. It was actually shot in 24 hours as well, so it feels really authentic, leaving you slightly light-headed by the end of it. When you need a lesbian love film with a difference, download this one – just maybe not with a brand-new partner!
Films like 2004's Saving Face don't come along often, which is a real shame. It manages to tackle serious issues – coming out within a more conventional Asian-American community, falling in love for the first time – but with a lightness of touch that results in a charming romantic comedy. A successful Chinese American surgeon, Wil, balances her life in New York between her mother, who keeps trying to set her up with men, and her blossoming romance with Vivian, a dancer.
The relationship between Vivian and Wil is really realistically portrayed (although this was 2004, so it feels a little underdeveloped) and the complicated mother-daughter interactions are also very well done. Most importantly, this film gave Asian-American lesbians a chance to see themselves in mainstream movies.
We think Passing deserves much more praise than it gets. Although it was very well-received by critics, not enough people are talking about how great this movie is. This black-and-white film has so much to say: its story addresses themes of racial identity and sexual desire while also telling so much through its filmmaking. As actress Rebecca Hall's first feature film, it is an incredible achievement.
Adapting Nella Larsen's 1929 novel of the same name, the film follows the relationship between reunited childhood friends Irene Redfield (Tessa Thompson) and Clare Bellew (Ruth Negga). The two of them are light-skinned Black women, but while Irena has married a Black man, Clare married a rich white one. Every day in her life, Clare pretends to be white; she is "passing". Of course, in 1920s New York, this brings many benefits for her.
However, she does want to connect more with her African-American roots and with her estranged childhood friend Irene. The two of them start seeing each other more and more, with Clare joining Irene and her husband every night. Her need to be close to Irene will start to chafe, and their relationship will degrade.
We love how subtle Passing is about its queerness. Remaining faithful to the novel, it shows Clare as someone who only has eyes for Irene, although she doesn´t say anything about it. It's a powerful depiction of lesbianism in the 1920s. Passing a fantastic piece of art and one of the best films to come out in recent years.
This German film is not one for a light-hearted movie night but is one of the most tragic lesbian love films you've ever seen. Based on a true story, Aimée & Jaguar is set in Berlin during World War 2 and depicts the love affair between a Nazi housewife, Lilly, and a Jewish woman undercover, Felice. As you can imagine, this is no rom-com. As their attachment deepens, their environment becomes even shakier and the script truly conveys the vulnerability of falling in love on a knife edge.
It's not only the script that does all of the hard work, however. The performances of the two lead actresses – Juliane Köhler and Maria Schrader – are exceptional, with their yearning, desire and tenderness emotionally conveyed. Bring tissues.
It would be totally basic to say this is the lesbian Call Me By Your Name, although this Lithuanian movie also captures the heady, sun-filled days of a summer of love. It's dreamy, tender, and, OK, a little bit corny – but we loved it anyway!
Auste, a local teen, meets 17-year-old visitor Sangaile when she sells her a raffle ticket at a stunt show. Bonding over their love of stunt airplanes, the two girls soon find themselves in the intoxicating midst of a summer romance.
The Summer of Sangaile is hugely heartfelt and deeply immersive. Anyone who's ever had a teenage passion (er, hello, all of us!) will recognize that sense of passion and nothing existing aside from the other person. What's more, the gorgeous camera work will have you booking a ticket to Lithuania (or nearby Riga + Tallinn…).
Watch it on a first date to show off your art-house movie credentials and boost the romantic atmosphere!
Starring the lesbian icon that is Kristen Stewart, Happy Season brings queerness to Christmas. Like most years, orphan Abby plans to spend Christmas alone with her cat. Her parents died a long time ago, so she's used to this. This time around, however, her girlfriend Harper (Mackenzie Davis) invites her to spend the season with her to take their relationship to the next step and meet her parents. There's one catch: they don't know that Harper is gay.
Introduced as Harper's orphaned friend, Abby will try to play the part. It's a difficult thing when your partner isn't out; we're sure many of you can relate, and this is not the exception. Living under the same roof as Harper's controlling mom (Mary Steenburgen) will prove harder than they first thought. Little by little, the secret will bring the couple apart.
Directed by Clea DuVall (who you may know for her role as Graham in But I'm a Cheerleader), Happiest Season it's actually based on Clea's own experiences as an extremely closeted lesbian during her twenties. She managed to take this topical premise and turn it into a hilarious and romantic comedy. If you're in the Christmas spirit, this is the movie for you.
Starring Canadian actor Elliot Page, this movie might slightly stretch the use of the term 'lesbian love film' but it's a Romeo and Juliet-esque story of love across the divide, with a big difference.
Page plays a young woman whose father is on death row, campaigning against the death penalty, while Kate Mara is Mercy, a lawyer, and pro-capital punishment protester. It might sound like an odd concept, but at least it's original!
My Days of Mercy is saved from any mawkishness by the performances of the two leads, who have incredible chemistry. Meeting at protests around the country, their attraction grows even as the stakes get higher. It's perfect for when you need a tear-jerking lesbian romance with a sense of humor that will get you thinking – we all have movie nights like that, right?
Mary (Kate Winslet) lives a quiet life in a coastal town in 1840s England. She works at a struggling shop where she sells the fossils she collects each morning.
Little mollusks are known as ammonites, mostly, although once she found something many strangers: the skull of an ichthyosaur. On a day just like any other, she's visited by an eminent geologist from London and his wife, Charlotte (Saoirse Ronan).
The geologist asks Mary to take him with her on her morning trips to the beach. He doesn't stay long since he's got things to do in London, but he does leave his wife behind. She has fallen ill, and Mary takes the job of caring for her. As they spend many days and nights together, tending to the shop and visiting the beach, the two women get closer and closer.
This is the quaint yet beautiful story of Ammonite. As you may tell, we love period dramas, and this is one of the best to come out in recent years. The love story of Mary and Charlotte is told with so much care and subtlety. Though when the action between the two gets going, it can get quite real. Want to know something else? It's actually based on a true story.
You probably haven't heard about All About E, an LGBT Austrian road movie about a Lebanese lesbian DJ on the run with her husband of convenience. Now you've heard that description, we're betting you won't rest until you've seen it – good choice. E is a top DJ who takes off with a bag of cash she finds at her apartment, although this could just be an excuse to escape from her life.
In the closet to her parents, it turns out this self-censorship is what broke her and the lovely Trish up. When she decides to hide out at Trish's, avoiding the club owner who wants that bag of cashback, it seems that their love has not simply gone away. Sensual love scenes and complex decisions follow.
Like all good road movies, this one has a stellar ending – but we're not going to give it away!
Set in 1940, Summerland tells the story of Alice (played by Gemma Arterton), a lonely writer who lives in rural England. Even though the people from the town don't like her, she's happy there, alone with her books. Yet one day, her placid life is interrupted by the war: she's assigned to take care of a young named Frank. As she gets to know him, Alice starts to remember her time in London during the 1920s and the woman she loved.
You see, Alice was studying at the university when she met Vera (Gugu Mbatha-Raw), a young Black woman who wanted to be a novelist. The two of them were deeply in love, and Alice recalls those days as the best she had ever lived. Yet they all came to an end. There was something that Vera wanted, but Alice couldn't give her: a child. And so, Vera left.
This is arguably the best lesbian film of the year. Deeply touching and beautiful to watch, Summerland captures something unique about the lesbian experience. The struggle between the couple, the life that they lead after they break up. It's genius. It was the first feature film by playwright Jessica Swale, and it left us wanting to see more of her incredible work.
If you're in the mood for a super-cheesy lesbian love film, look no further! Don't let that description put you off, though.
While it's a little corny at times, Tell It To The Bees is a lush period drama about two women falling in love in provincial, post-war Scotland. Holliday Grainger (who we would watch in basically anything, to be honest) plays Lydia, a young mother who forms a bond with the new doctor in town, Jean, played by Anna Paquin.
Jean is a beekeeper, and connects with Lydia's son Charlie through these buzzing messengers. The bees also act as symbols of the natural forces that hold Jean and Lydia in their sway. Naturally, the conservative town does not approve. The early parts of the film, as they flirt, gaze and fall in love, are particularly moving and sweet.
During their final year of secondary school, Amber asks Eddie to date her, and he says yes. Does he love her? No. Does she love him? No. Then why do they date? Because both of them are closeted homosexuals who want to make their life a little easier in their insular Irish hometown. Dating Amber tells a heartwarming story about the burgeoning friendship between these two. It is funny, it's real, and it's very queer.
While Eddie has a hard time admitting that he's gay, Amber has known her sexuality for a long time. Fearing having to live for the rest of her life in her backwardS community, she has been saving money to move to bohemian Dublin. We love her rebellious attitude: she's a tough-talking girl who wants to fight against the man and listens to lesbian punk. It's a picture-perfect depiction of a nineties teen.
The film sees them discovering their own selves as they take several trips to Dublin, where they discover gay culture. There Amber meets a sweet university student named Sarah. Dating Amber is a great film that shows first-hand the importance of queer friends and the loving care of a found family.
This is another on our list that isn't for everyone and devotees of Virginia Woolf might have a thing or two to say about it. From the moment Vita Sackville-West and Virginia Woolf meet at a party, they begin a tug-of-war romantic relationship. Gemma Arterton plays flirtatious Vita, courting Virginia through letters and determined to succeed in her campaign. Elizabeth Debicki plays Virginia Woolf herself, more reticent and stubborn.
It's got modern music, weird CGI sequences and a backdrop of the Bloomsbury set to keep things entertaining. While some think that it's a rather tame depiction of what could have been quite a passionate love affair, we love the understated connection between the two women, who want to have creative careers as much as they want to have an epic love story.
Give it a shot if you want something a bit unusual for your next film night – but maybe line up one of the others on this list in case Vita and Virginia doesn't hit the spot.
If you have a Netflix subscription, you may have seen a cool poster with an out-of-focus woman in the middle, a boy looking at her at the right, and a girl also looking at her at the left. This cool image perfectly represents The Half of It.
Two people crush over one girl. One has the valor to approach her; the other has the smarts to talk to her. Neither of them can do both. It's a tender story about teenage love, whether it is unrequited or not.
The story goes as follows: Ellie Chu, a lonely and shy girl who's at the top of her class, strikes a deal with Paul Munsky, a tongue-tied jock. He will pay her to write a love letter like Paul. The recipient? The most popular and beautiful girl in their high school, Aster Flores. The letter goes so well that Paul asks her to text Aster for him. Playing the part of Paul, Ellie herself will fall in love with Aster.
If you are in the mood for a compelling comedy-drama, this movie is for you. Be warned: it's not a romance. The Half of It is all about the teenage longing for someone else, a feeling that many queer people will relate to.
The Favourite is a dramatic comedy that is more lesbian adjacent than lesbian, but we are still here for it with compelling female characters asserting dominance and plenty of hilarious quips. Wigs and beauty spots abound as Queen Anne of England (Olivia Colman) falls ill while her close aide and the Duchess of Marlborough, Sarah (Rachel Weisz), continues to oversee on her behalf.
Things heat up when Sarah's cousin Abigail (Emma Stone) arrives and starts serving the queen. Covert passive‑aggressive tactics come up against overt control and aggression in a power game through which the women reveal their vulnerabilities without compromising their strength.
Released to critical acclaim in 2018, primarily for Olivia Colman, who won numerous awards for best actress thanks to her performance.
Now one for the fans of thrillers. Ride or Die is a Japanese film adaptation of a cult classic sapphic manga named Gunjou: it's the story of two women who drive off from their homes and into the Japanese countryside after they commit a serious crime.
The farther they get, the safer they will be. But the pair will find that no matter how fast you run, the past always catches up. This captivating film manages to make us root for its morally grey protagonists. It's a truly fascinating piece of media that poses the question: How far would you go for the one you love?
For Rei, the answer is clear. She´s a successful plastic surgeon living a placid life with her girlfriend. Yet nobody knows that she still is deeply in love with her high school love, Nanae. When Nanae calls her and asks to meet her for coffee, Rei doesn't hesitate. There she finds out what happened with Nanae: she got married and is living with her abusive husband. Jokingly, Nanae asks Rei if she would kill her husband so that her problems could end. So, Rei does it.
The pair run away from the city and try to enjoy their time together, thinking of their escape as a road trip. They rekindle their passionate love. But it isn't enough to leave what happened behind. Ride or Die's presents a sad lesbian romance, yet it does have its tender moments.
Another lesbian period drama, this fabulous French film offers award-winning cinematography and a singularly rich romance story the like of which lesbian dating apps today will never deliver.
Set in France in the late 18th century, this lesbian movie is a gothic tale of a forbidden affair between a painter and an aristocratic, reluctant bride-to-be.
The commission? To observe her by day, and pay for a wedding portrait in secret. Day by day, the two women become closer as the wedding day looms. The rest… well, you'll need to watch Portrait Of A Lady on Fire for yourself. Expect the thought-provoking narrative, entrancing acting, and existential narrative of the female psyche to take you on a journey you'll never forget.
Another great coming-of-age comedy, this one coming from America, Booksmart sees two high school seniors who have lived all their life by the rules and now are ready to break them. We got to say it: we loved Olivia Wilde's directorial debut. It's a hilarious movie from front to back. And that's thanks to its super talented leads: Kaitlyn Dever (seen in Justified and Last Man Standing) and Beanie Feldstein (Lady Bird) are great in their parts.
Let us give you a glimpse of the plot of Booksmart: Amy (Dever) and Molly (Feldstein) spent their high school years studying. They didn't party; they didn't go out; they just studied as hard as they could in order to get into good universities.
Yet at the end of their senior year, they find out that other students, ones who actually had social lives besides school, got into these universities too, and they get furious. With just a day before graduation, they will do everything they missed.
Like other coming-of-age movies in the list, Booksmart captures something unique about the teenage lesbian experience. In this case, the character of Amy has been an open lesbian for two years, but she's yet to kiss a girl. Perhaps this last night, something magical will happen.
Set over three days in Toronto, this erotic, inhibited, and bold example of lesbian cinema follows two polar opposite women who fall in love with each other.
Starring Natalie Krill as Jasmine, a successful fashion editor, and Erika Linder as Dallas, a roofer recently out of a relationship, Below Her Mouth wasn't exactly beloved by critics. Still, its popularity after its release on Netflix suggests many are willing to overlook the disappointing story for its explicit sex.
Yes, Below Her Mouth is a lesbian romance, but it's strictly for adults – and chances are you already have one friend who is a little too obsessed with Below Her Mouth. We might have watched it a few too many times ourselves… but to be clear: it is not for the narrative.
Coming from Kenya, this teen romance breaks the rules with its tender portrayal of women loving women. Rafiki (which actually means "friend" in Swahili) tells the story of two girls who spend time together in the streets of Nairobi: skater Kena and posh Ziki. However, their parents are political rivals facing off in the next election; the girls find a comfort in their relationship that they can't find anywhere else.
It's not every day that we get to see an African LGBTQ film. The continent has a long history of discrimination against queer folks; a tradition inherited from the European countries that colonized it. Sadly, Rafiki's popularity isn't only due to the quality of the movie: a controversy ensued after those who enjoyed the movie at Cannes became aware that it had been banned from its country of origin.
Light other countries in Africa, Kenya is of the few places where homosexuality remains a criminal offense. That's why we find it so important to celebrate this film. Besides it being a vibrant love letter to queerness, it's also a defiant stand against homophobia.
The chemistry between these two young women is unmatched. They play their blossoming relationship with such tenderness that it is hard not to be smiling the whole time. Please, do yourself a favor and watch this amazing film!
A lesbian love story based on a true story that took place in Galicia, Spain. In 1885, our heroines, Elisa and Marcela, meet and form a deep friendship, which inevitably blossoms into the love which dares not speak its name.
Later, in 1901, Elisa then adopts a male identity to trick a priest into marrying them – as you do. Again, this lesbian film is available on Netflix and has grown a cult following but was not exactly beloved by critics of its time.
Elisa And Marcela is a poignant reminder of how much life has changed for our community in recent years, even if the film perhaps misses the depth of complexity, tension, and conflict of Elisa and Marcela's real-life relationship.
Let's go with one last-period drama when considering the best lesbian movies. Wild Nights with Emily dives deep, and we mean deep, into the relationship between essential American poet Emily Dickinson and her sister-in-law, Susan Gilbert. Yes, you read that right: she "stole" her brother's wife! The story of Dickinson has some tragic turns, but she remains one of the most talented and inspiring lesbians in history.
The film begins when Dickinson meets Gilbert at the Shakespeare Society. Reciting together one of his plays, the two teenagers fall in love. The two of them spent lots of time together, and when life and job duties brought them apart, they wrote each other's countless letters, with many of them expressing their love through beautiful poetry.
Even when Susan married Emily's brother, they made sure to live next door to each other. During their lifetime, their relationship had to endure many ups and downs, yet they remained together until Emily's death.
What's not to love about Emily Dickinson? This larger-than-life reclusive poet who published less than one percent of the poems she wrote. To think that most of her poems could've been lost were they not discovered by her sister after that. If you aren't familiar with this awe-inspiring figure, this movie is for you.
I Can't Think Straight is a 2008 British romantic drama film based on a lesbian novel of the same name that falls into the category of you either love or hate.
You'll be able to call the ending long before the credit roll, but that doesn't mean you shouldn't still watch. The film a London-based Jordanian of Palestinian descent, Tala, who is preparing for her extravagant wedding when – you guessed it – she falls in love with another woman, Leyla, a British Indian.
It won the Best Feature Audience Award at both the Melbourne Queer Film Festival and the Miami Gay & Lesbian Film Festival, so again – while critics panned it, us girls had other ideas.
The director of 2014 Appropriate Behavior, Desiree Akhavan, returns to the big screen with a grueling drama about a young girl who is sent to a conversion therapy center. If you're not familiar, this kind of "therapy" involves several abusive procedures based on pseudoscience and has been proven again and again to do more harm than good. We were amazed by Chloë Grace Moretz's performance as Cameron Post, as well as by the other young actors in the film.
Even though it may be a hard time, we do find that this is an important movie to watch. People have to be aware of the danger that conversion therapy organizations pose to LGBTQ people. While several countries and states have banned them from operating in their land, many still allow it (i.e., only twenty of the United States have banned conversion therapy for minors)
That being said, the movie does have its moments of levity. Not being her first rodeo, Akhavan knows just when to use humor in order to let the viewer take a breath from the drama. It's no surprise that The Miseducation of Cameron Post received the Sundance Grand Jury Prize for Drama.
This biographical drama is your classic lesbian film if your classic lesbian film involves a spate of brute murders by a serial killer prostitute. Monster should come with a warning as it is super depressing – but half the movie of this list likely would need this warning too. But then again, this is a true story.
After moving to Daytona Beach, Florida, street prostitute Aileen Wuornos (Charlize Theron) connects with the young and shy Selby Wall (Christina Ricci) and an unlikely romance blossoms. After a client attempts to brutalize Aileen, she kills him and decides to give up prostitution. Supporting herself and her new girlfriend, however, is not easy, and Aileen returns to the streets. More clients die, and Selby's suspicions are raised.
An absolute must-watch, if for no other reason than to see Theron's acting, which has received critical acclaim. Film critic Roger Ebert even went so far as to describe Theron's role as "one of the greatest performances in the history of the cinema".
We couldn't bear to list just one best lesbian movies featuring Kristen Stewart. This lovely film adapts three short stories into three sections, each one about a different woman living in a small town who's having a bad time in life. Carefully crafted in her usual minimalist yet powerful style, this is Kelly Reichardt's most politically poignant and feminist-charged film.
As we said, there're three stories in Certain Women. First, there's Laura's (Laura Dern), a lawyer who (besides having an affair with a real estate agent named Ryan) can't get her client disgruntled client to listen to her. Then there's Gina (Michelle Williams), the wife of Ryan, who's trying to get her unloving husband's support over a construction project at their house.
The last story is centered around a Native American woman known as the Rancher (Lily Gladstone), who attends a legal class taught by Elizabeth (Kirsten Stewart) and falls in love with her.
Like other Reichardt films, Certain Woman is slow and meditative. It's an intimate movie that paints very striking images of these women's lives. We love the third story the most, although we will warn you that it's not as satisfactory as you may like. Few films dare to portray queerness like this one. If you're up for something new, give it a watch.