Cannes in the French Riviera is a coastal city surrounded by the beauty of nature on all ends, whether it be Les Alpes creating endless opportunities for hiking and skiing, or the Mediterranean to go swimming or on a cruise.
While she is known for hosting the annual Cannes Film Festival, she is also known for being a gay-friendly destination and, thus, a special place for a queer holiday. She is home to several pay establishments, including a gay sauna and many queer clubs open for all to join, even just one day!
Apart from being a creative hub surrounded by nature and a gay hotspot, Cannes is associated with luxury and celebrity culture, leading to incredible hotels, restaurants and high-end shops that all can enjoy. Plus, despite Cannes having a population of only 75,000 people, it has a rich history with an endless list of fantastic attractions, so a visit is always exciting.
You can admire the ruins left by over-thousand-year history, from the shadow left by the Roman settlement of Aegitna to the Medieval monks and castles of the 11th century.
Rest assured; you can be in Cannes to see some great films, see impressive mountain views from the nearby peaks, and stroll through the artsy streets; every moment will be brilliant. So Cannes is a must-see stop-by for any gay tourist exploring the French coastline.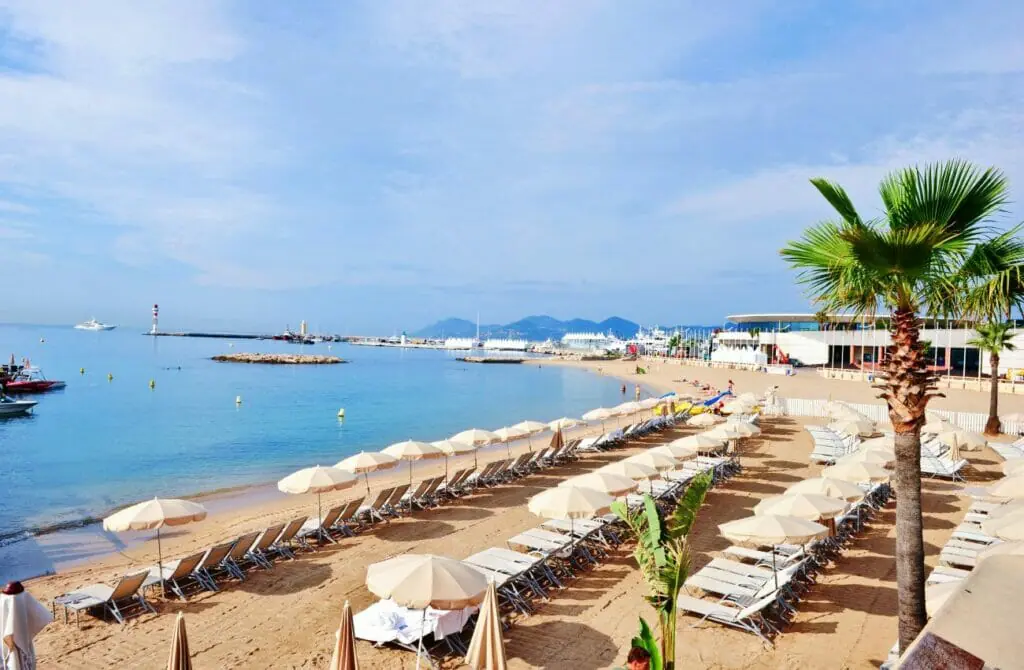 Attractions in Gay Cannes, France
As a new visitor to Gay Cannes, there are many things to see and do, regardless of your sexual orientation. One of the best ways to experience any new city is to visit some of its most iconic landmarks and attractions, including historical monuments, museums, and art galleries.
We also love gazing at architecture up close, exploring parks and gardens, sampling the local cuisine, visiting local markets, and attending cultural events such as festivals, concerts and shows.
Even as the out-and-proud queer we are, we still love to explore the city and its culture the same way as everyone else. Doing so allows us to learn more about the city and its people and better understand the local culture. As such, these are our favorite must-see attractions in Canes.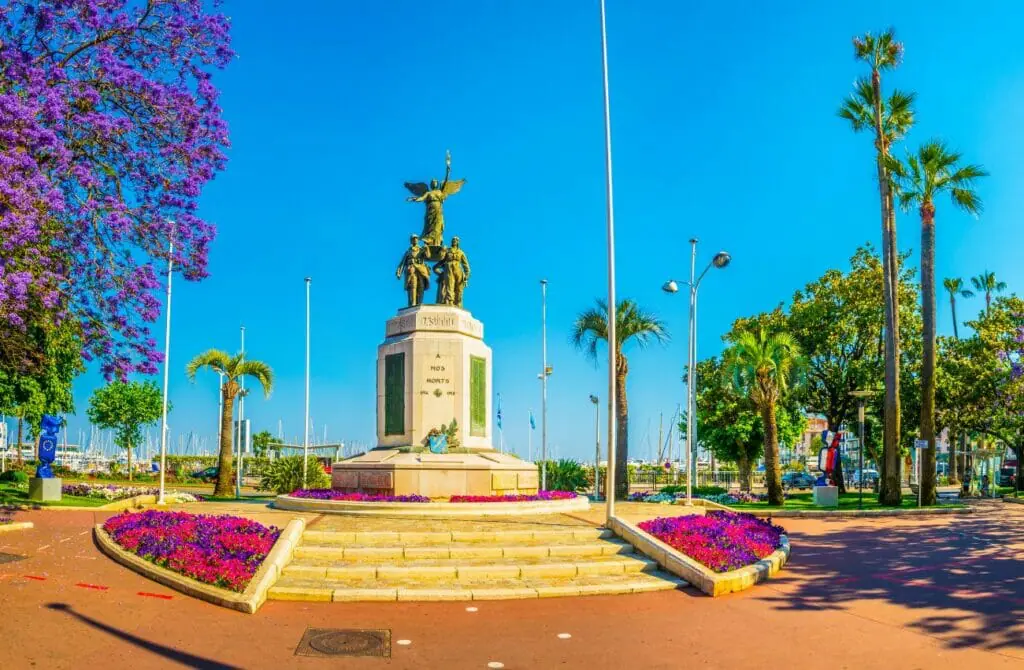 Cannes to St Tropez Round-Trip Ferry and Independent Tour
With Cannes being so close to the coast, it would be sacrilegious not to go on a little cruise when you spend some quality time in Cannes. Luckily for you, they have a round-trip ferry tour that can take you from Cannes to St Tropez, a small city just a short journey south along the coast from Cannes.
This one-and-a-half boat trip is relaxing and a great way to get a little taste of the Mediterranean, and on arrival, you have the whole day to explore on your own accord.
The Flavors of Cannes Food Tour
Another grand tour is the Flavors of Cannes Food Tour, taking you on a gastronomic adventure through Cannes' markets and restaurants. This will include visiting the Marché Forville running alongside the La Croisette boardwalk, where you have free reign to taste fresh fish, fruits, vegetables, herbs, and spices.
You'll also explore Rue Meynadier, the oldest street in Cannes, where little shops will happily greet you with their fine wares. This is a must if you want a slice of French food cake.
Parc Naturel Forestier de la Croix des Gardes
Those seeking an incredible hiking experience can't go wrong with a trip to the Parc Naturel Forestier de la Croix-des-Gardes in Alpes-Maritimes. This nature park has excellent views and endless hand-crafted hiking trails, allowing you to ultimately stretch your legs and see the wild of Southern France.
The famous La Croix des Gardes Loop is a great short walk that takes you through the forest, giving you fantastic views of Cannes and the Mediterranean Sea. Those seeking a more challenging hike can try out La Croix des Gardes – Belvédère du Maquis trail, with even higher elevation overseeing the cityscape. Both are worth a trek into the woods!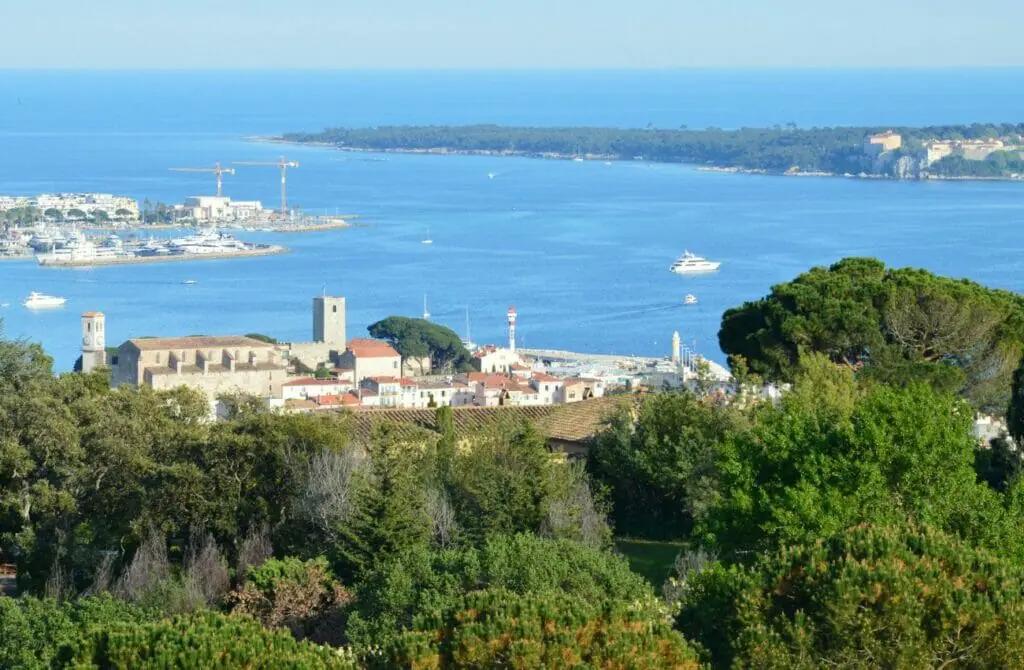 Palace of Festivals and Congresses of Cannes
Cannes is world famous worldwide for many things, but the Cannes Film Festival is the biggest. Every year they host many creative festivals celebrating the best in human film creations, so if you get the chance, stop and see where the momentous events take place at the Palace of Festivals and Congress of Cannes.
Vieux Port de Cannes
The Vieux-Port de Cannes is the historic port of Cannes, hosting various events like the Festival International de la Plaisance and the Régates Royales. The port's quay, Saint-Pierre, is on the historic side of town, where you can find some genuinely incredible portside views.
Whether you want to come and admire the boats bobbing about in the calm, pristine blue waters or try your luck at hiring a boat of your own, the port is an integral part of the city.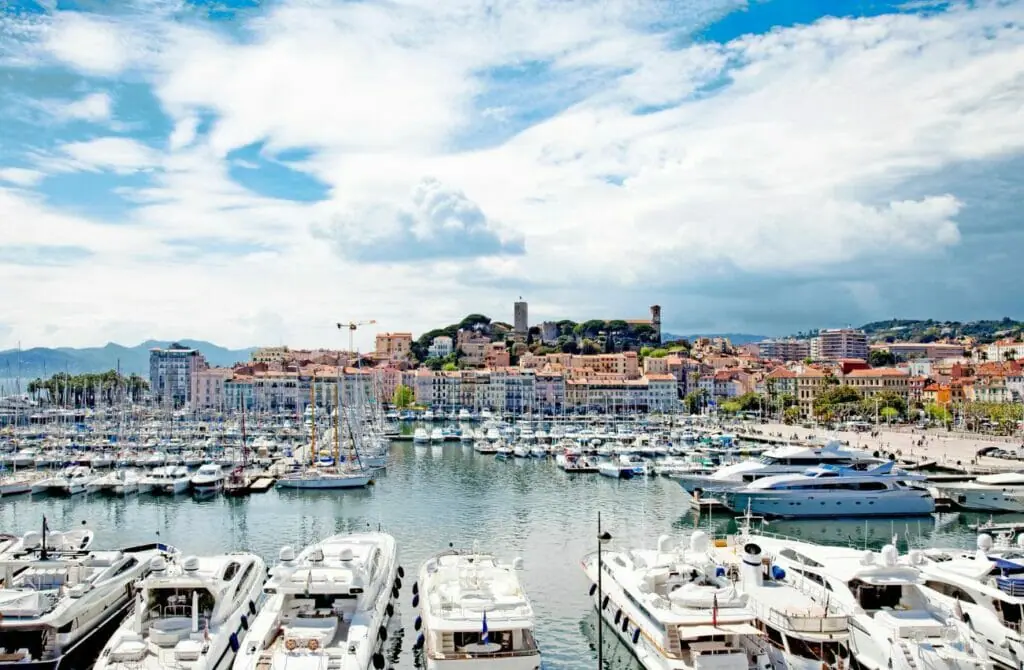 Musée des Explorations du Monde
Cannes has many incredible museums, yet the Musée des Explorations du Monde is one of the tops because they have a rich collection worldwide. You can explore exhibits from antiquities to modern art from their regular collections to visiting exhibitions from partner museums, so each visit isn't the same as the last.
One way to up the game of this museum visit is to hire a guide or attend one of their workshops.
The Notre-Dame-d'Espérance church was built over one hundred years in the 16th century in a neo-Roman style. It is situated in the middle of the city and has had several extensions over the years to become an iconic part of Cannes.
To begin with its more unique features, it stands on the top of a hill, towering over other surrounding structures with its clock tower. Then when you go inside, you will be blown away by the stained glass windows and momentous display of the internal chapel, which is stark to the plain rocky facade of its exterior.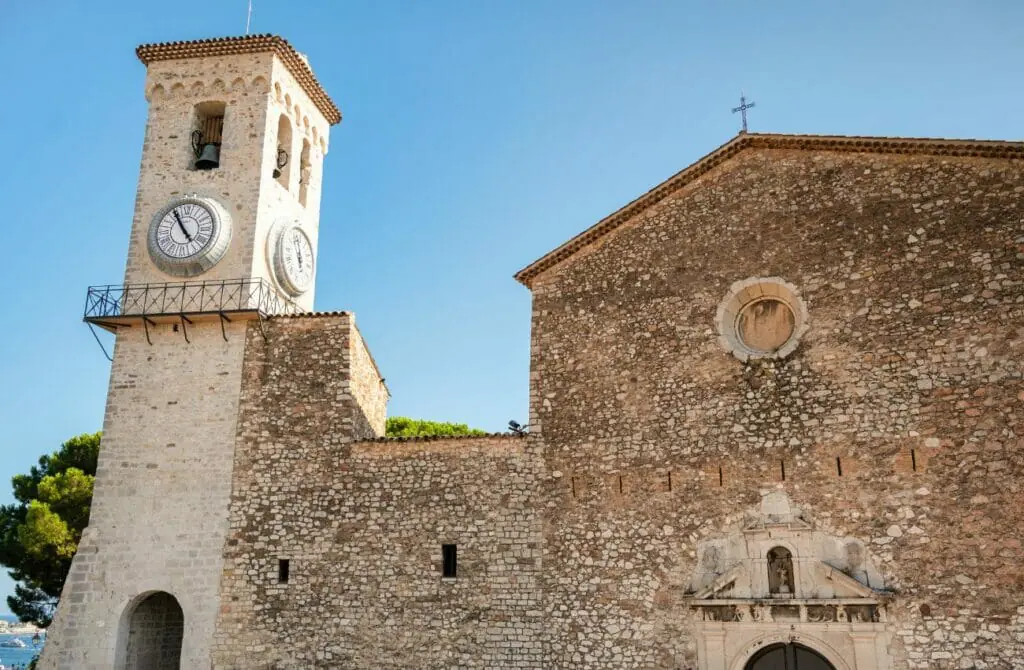 Île Sainte-Marguerite
The Île Sainte-Marguerite is the largest of the Lérins Islands and is approximately 3 kilometers long and 900 meters across. You will find the most famous of its attractions, the Fort Royal fortress prison, which held many famous prisoners until it closed at the turn of the 20th century.
It attracts the most visitors during Summer with water sports where participants can stay on the island at the local hostel and get other entertainment from the Museum of the Sea.
Boulevard de la Croisette
The Promenade de la Croisette is a major road that spans about 2 km along the Mediterranean Sea and Cannes. It is famous for its luxurious shops, hotels, restaurants, and the top hotels that stars and the elite pay top dollar to enjoy.
Along this road is the Palais des Festivals et des Congrès, and the famous promenade offers beautiful views of the sea and coastline, making it a popular destination for tourists and locals.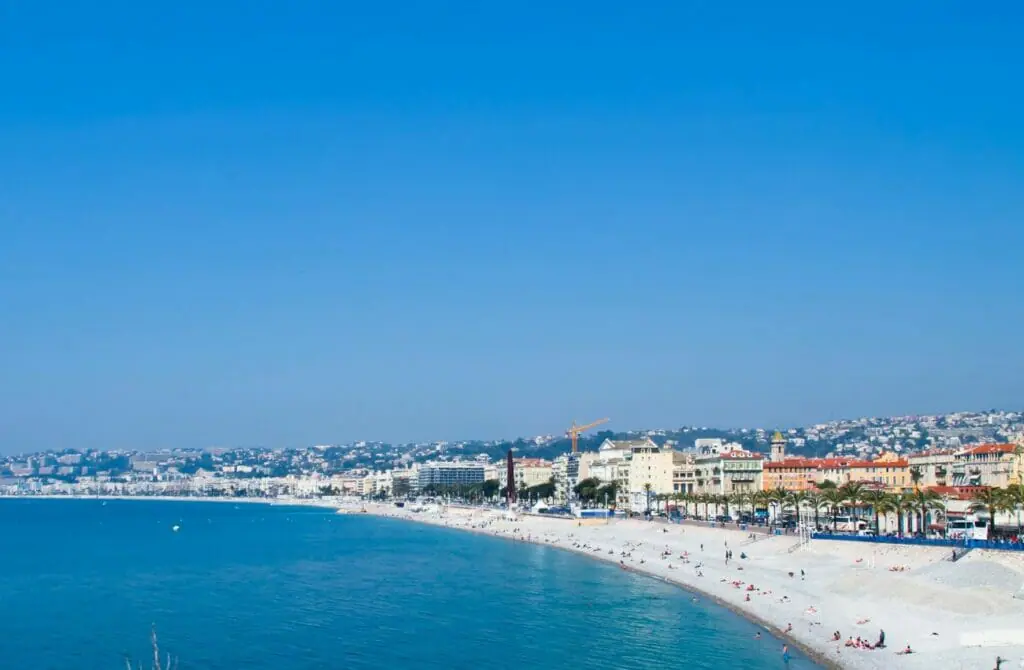 The Lérins Islands reside off the coast of Cannes and are a popular spot for a day trip across the sea. Made up of many islands ad inhabited since Roman times, you can find unique attractions like a monastery founded in 410 and a fortress where the man in the iron mask was held captive.
Apart from the history, you will have spectacular views along stretches of sandy ocean boarded by ancient walls of conflicts old.
Abbaye de Lérins
Saint-Honorat Island is home today to 21 Cistercian monks practicing the same traditions for centuries, cultivating and producing famous wines and liqueurs. In addition, the island houses heritage buildings from the Lérins Abbey and its Monastery Tower, which has been operating since the 14th century.
Despite its dedication to the holy life, travelers can still visit the island and admire its coves and olive tree-lined paths while discovering its unique history that is still alive.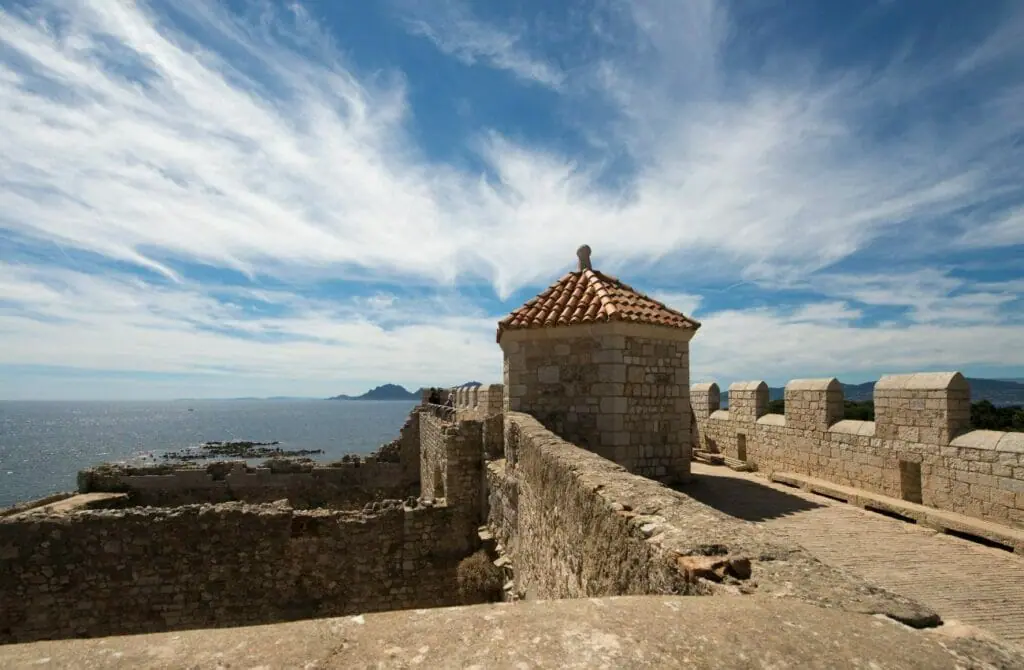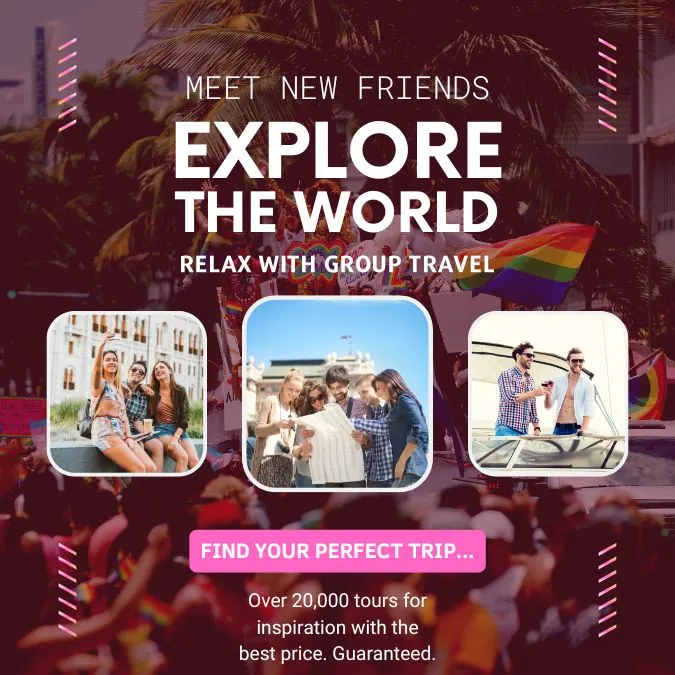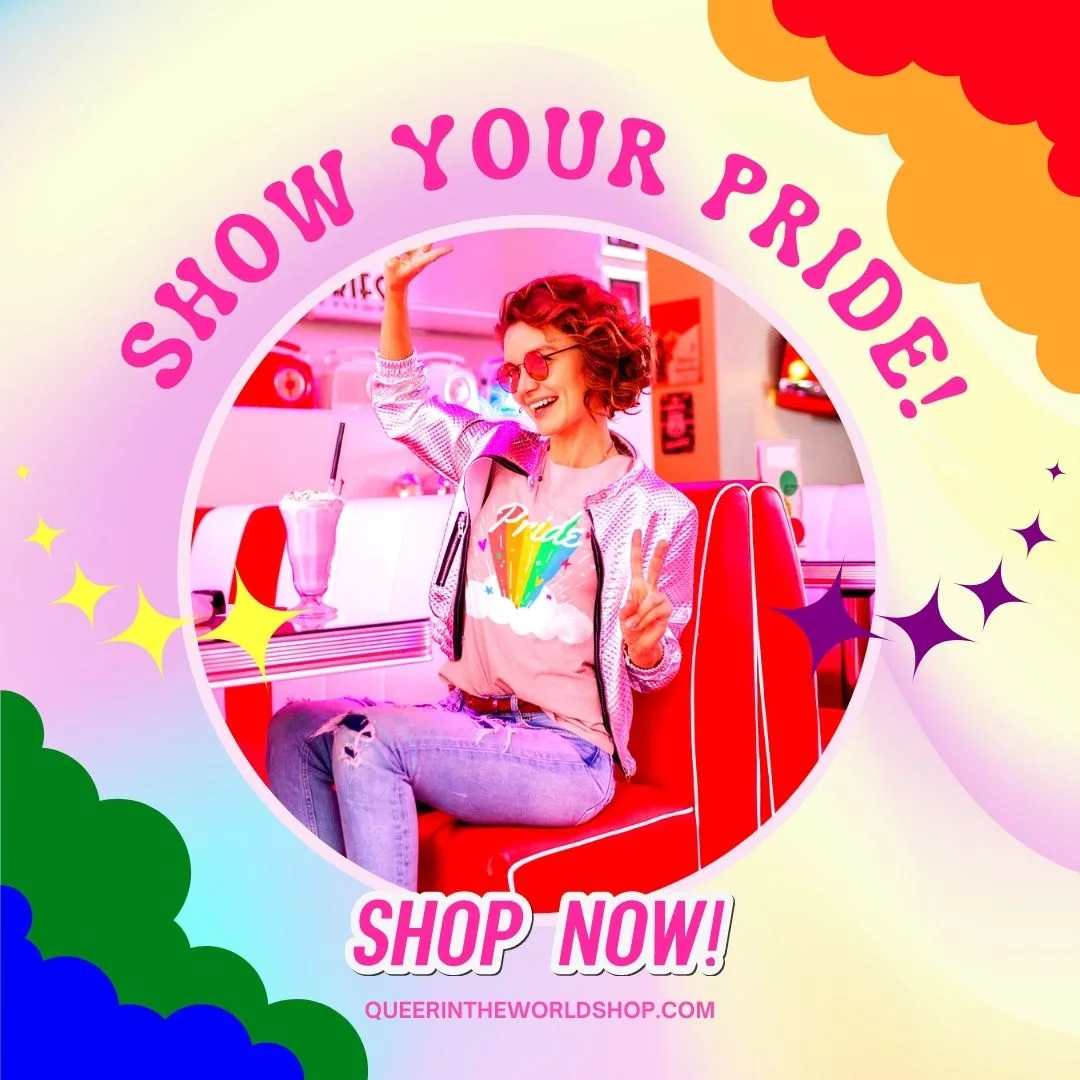 Gay-Friendly & Gay Hotels in Cannes, France
Being gay-friendly accommodation means that the establishment is welcoming and inclusive to guests who identify as LGBTQ+. This can include, but is not limited to, having policies and practices that demonstrate a commitment to creating a safe and inclusive environment for LGBTQ+ guests, such as non-discrimination policies, and providing support and resources for LGBTQ+ travelers.
Some gay-friendly accommodations may also provide amenities specifically catering to the LGBTQ+ community, such as rainbow flags or literature about local LGBTQ+ events or resources. Furthermore, gay-friendly accommodations may be located in an area known for being LGBTQ+ friendly.
While Cannes does not have any specifically gay hotels or resorts, these are Cannes' most fabulous and pro-actively gay-friendly hotels. Needless to say, there are also hundreds more hotel and hostel options in Cannes if none of these suit your desired budget, facilities or area – but these are the best hotels according to other gay travelers and us.
Whatever your needs are, Cannes has you covered.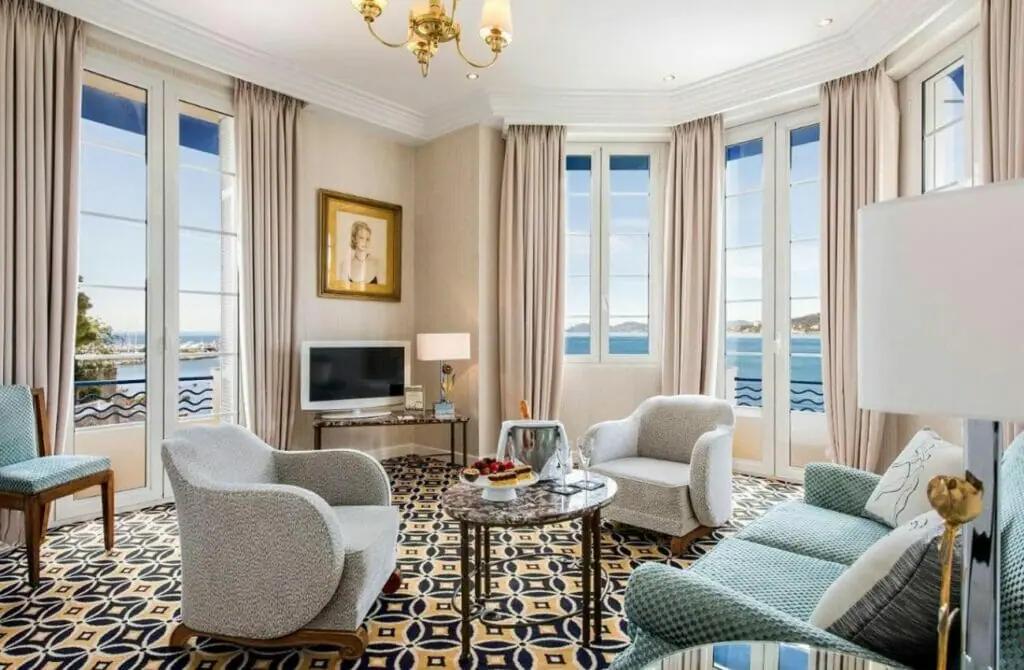 Experience the ultimate luxury and relaxation at the Hotel Belles Rives, a 5-star haven in the stunning Cap-d'Antibes. Don't worry that she is slightly out of the main Cannes city experience as she is just a short drive away. Here you can indulge in a little bit of everything the French Riviera offers, whether the hotel's hospitality or the fantastic ocean views at the beachfront setting.
From the moment you set inside, you'll be swept away by the hotel's elegant decor and welcoming atmosphere. You can stroll through the gardens or soak up the sun on the pirate beach, with sun loungers facing the fantastic views of the Mediterranean. Then with two on-site restaurants, you'll have plenty of opportunities to sample the hotel's Mediterranean cuisine!
However, this isn't the only pampering you'll get because the hotel offers a spa with massages and other services to keep you fresh. Finally, your private quarters are just as stunning with decor and services fit for a royal visit, with great views and a balcony, and a variety of room options to suit your needs for a lavish stay.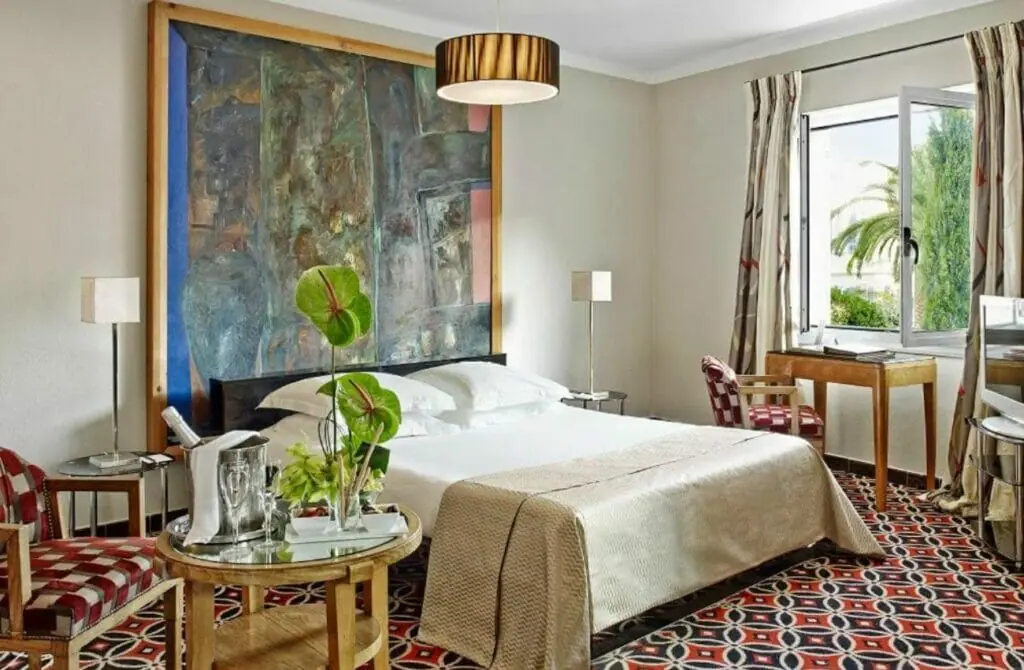 BW Premier Collection Mondial ☆☆☆☆
Those looking for a top four-star hotel experience in the city center of Cannes only look at BW Premier Collection Mondial. This gay-friendly accommodation is an excellent choice because it offers many top services without going crazy and provides more than what you likely will use.
For example, they offer all guests breakfast for a fee and have a great selection of rooms with various extras to ensure your needs are catered for.
So you can pick their luxury room if you want a romantic seaside view from your private balcony. Imagine your breakfast with a warm coffee as you recline in your chair, enjoying tranquillity! The location is brilliant when you decide to vacate your hotel because you don't have to travel far to be in the action.
So, whether on the hunt to find the best nightlife in Cannes or to admire a rustic historic building, these are all less than five minutes walk away!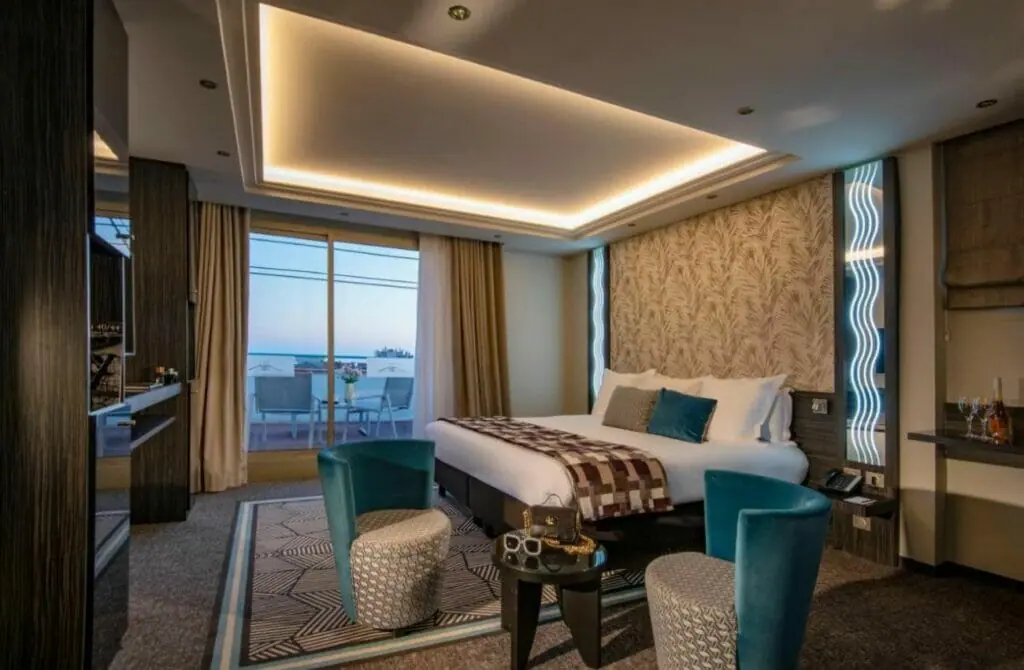 Hôtel Barrière Le Majestic Cannes ☆☆☆☆
This extraordinary four-star hotel in the heart of Cannes makes a pitch of incredible services that makes you wonder why it isn't a five-star.
Guests will be blown away by the range of facilities, including a private beach, a pool, a health club with classes, and even golf! But if those didn't sell this place, they also have a full-service spa with treatments on offer to make you feel like a new person, and then when you get hungry, they have several on-site restaurants.
You can pick from a range of French cuisines while enjoying great dining views and without lifting a finger in the cooking department, giving you more time to make the most of your holiday. But if you don't want to leave your room, you can choose from 349 spacious rooms catering to the height of comfort with premium bedding, free Wi-Fi and your on TV—a brilliant option for those that want a royal experience.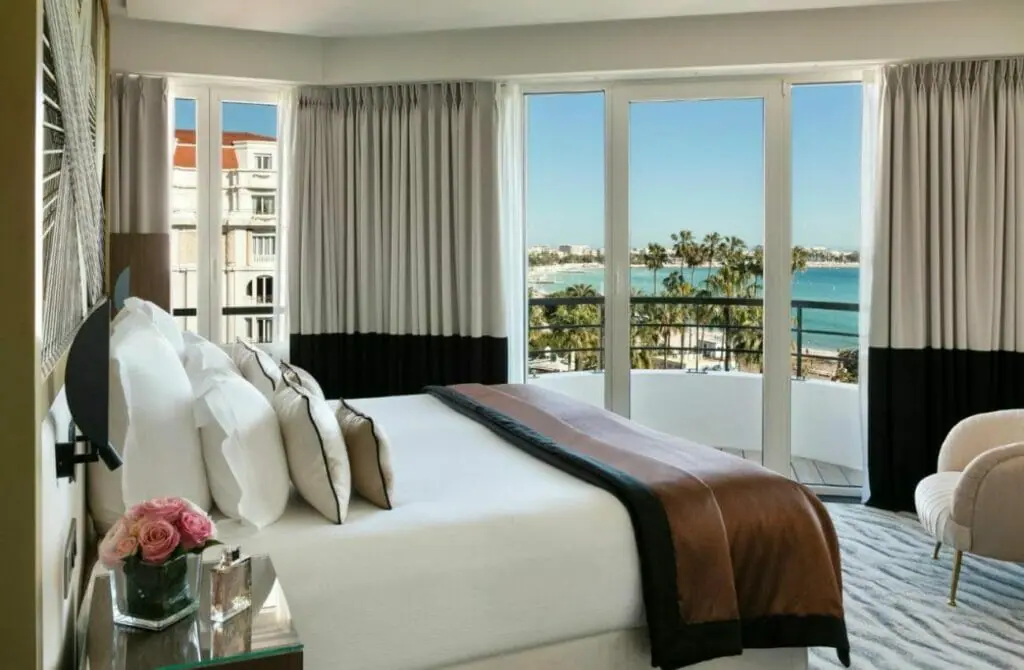 Adonis Cannes – Hôtel Thomas ☆☆☆
Get ready to experience the charm of Cannes at Adonis Cannes – Hôtel Thomas, a 3-star hotel in the city's heart. Firstly, this hotel is near the handy bus network that will take you to the city's nightlife hub or daytime attractions. However, guests here can also relax and unwind after exploring the city and seeing what shared services this hotel offers, such as the terrace, bar and seasonal outdoor pool.
After dinner, they can retire to your room and enjoy the free Wi-Fi, cozy bedding and brilliant spaces for a cheeky late-night work session. Once awake, they can treat themselves to breakfast for a fee to prepare them for the busy day ahead. You don't need much more in a hotel!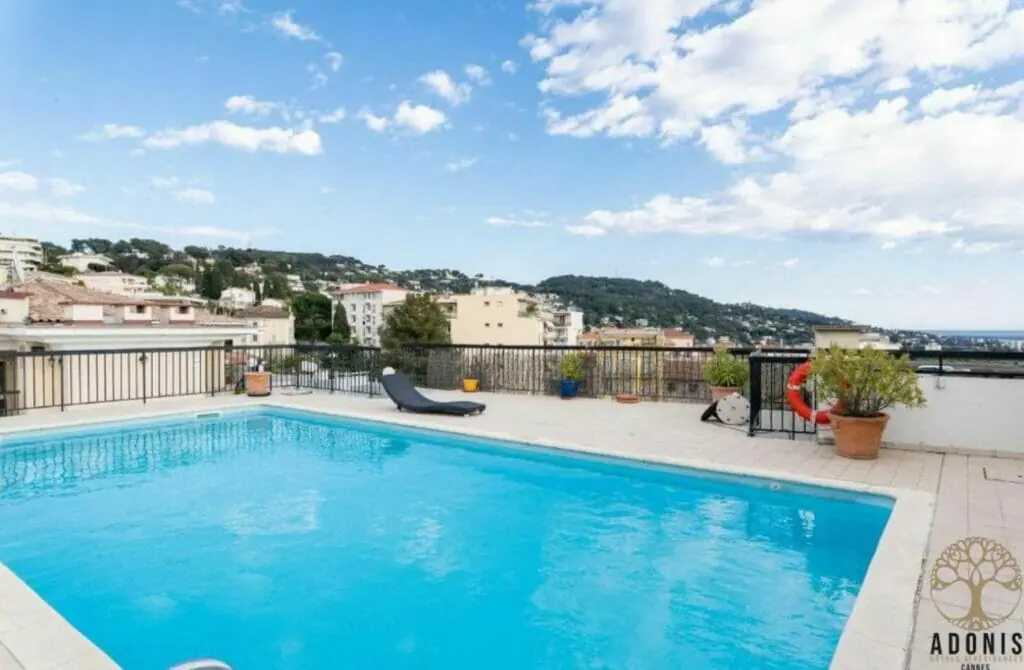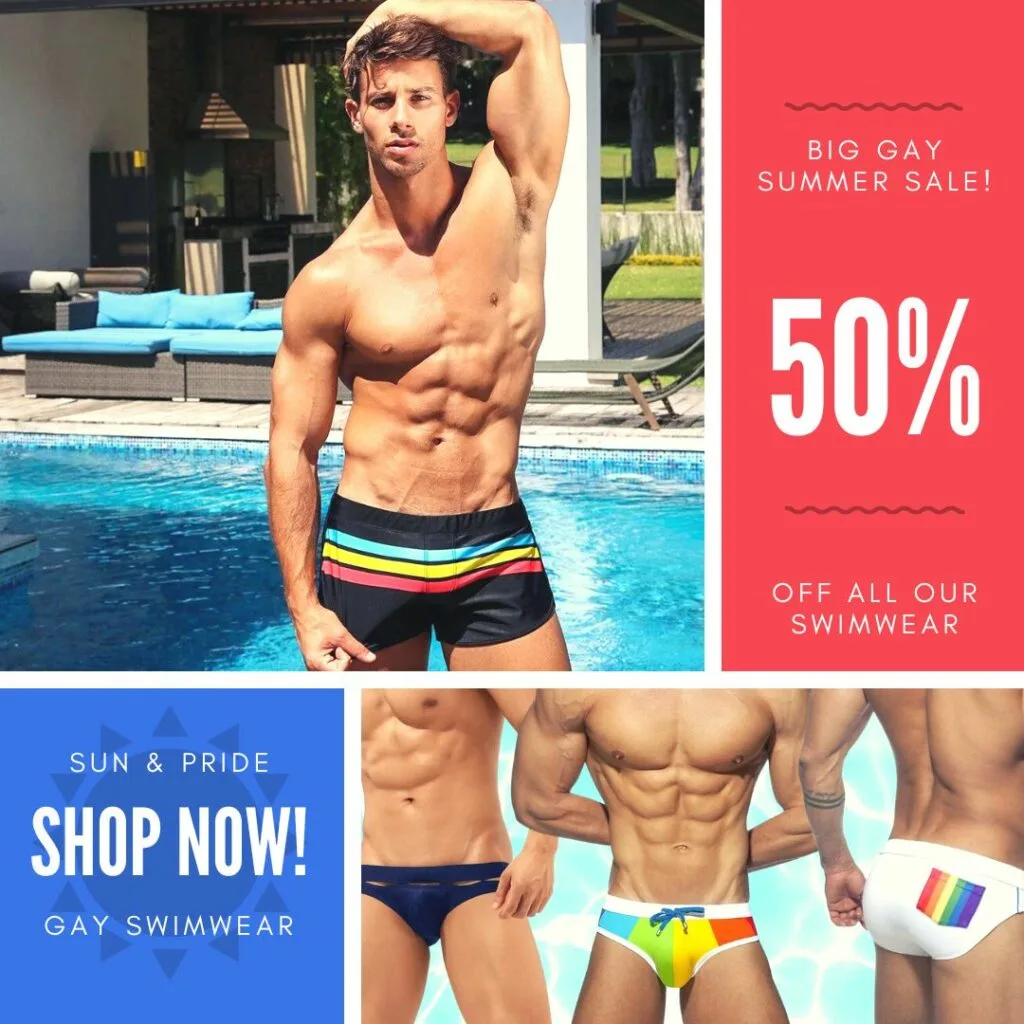 Gay Nightlife In Cannes, France
Exploring the gay and gay-friendly nightlife in a new city can be one of the most exciting and rewarding experiences while traveling – and Gay Cannes is no exception. Not only will you have the opportunity to meet new people and make friends, but you'll also get a taste of the local culture and learn more about the city's LGBTQ+ community.
Going out and experiencing the queer and queer-friendly nightlife in a new city can also be a great way to break out of your comfort zone and try new things. Whether dancing the night away at a gay club or mingling with locals at a gay-friendly bar, you'll have the chance to make memories and create lasting connections.
So, don't be afraid to leave your comfort zone and explore the gay and gay-friendly nightlife in Cannes. You'll be glad you did!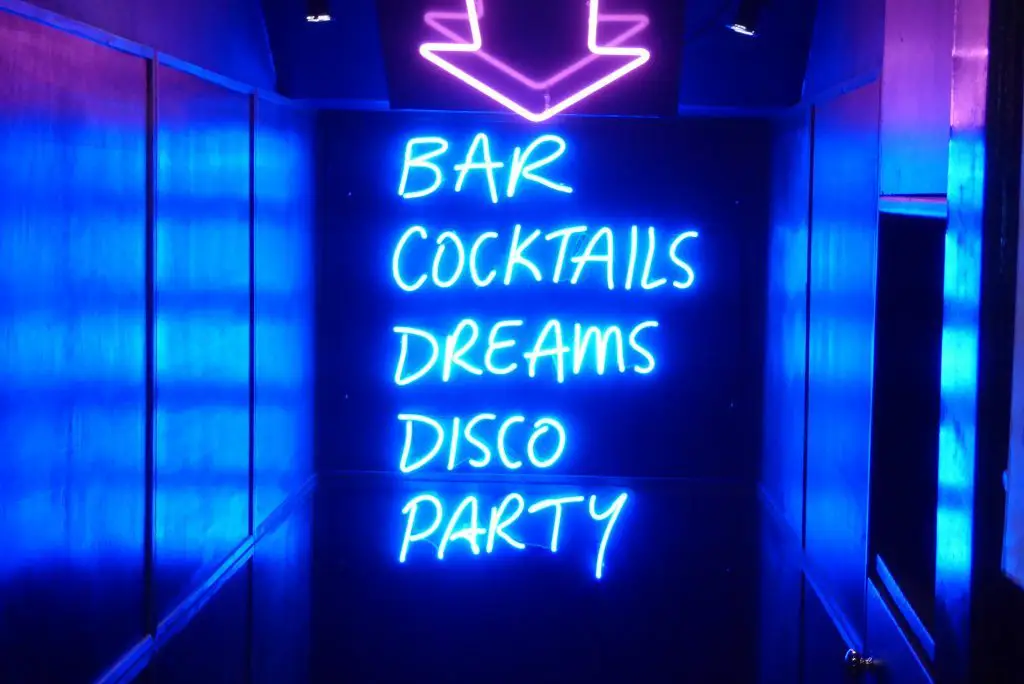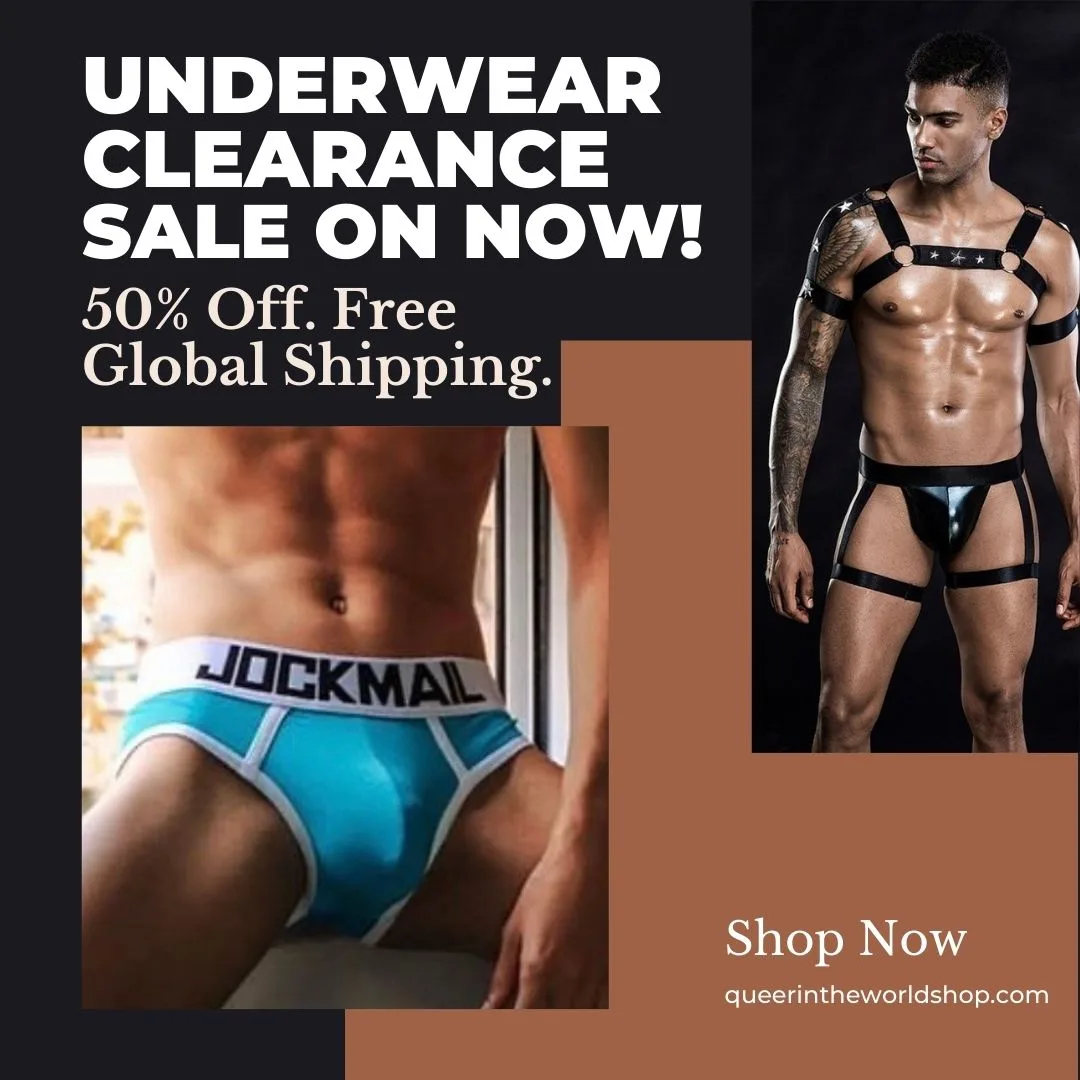 Gay Bars In Cannes, France
Begin your gay evening in Cannes at Club 7, a gay nightclub known for its live entertainment and great music and drinks. You can laugh yourself silly at their regular drag shows, dance all night long to the DJs, or have a quiet drink at the bar before you turn in for the evening.
Essentially it's a place for people to have a great time, who aren't afraid to experience loud music and equally loud patrons while also providing a safe place for gay people to socialize and enjoy a drink.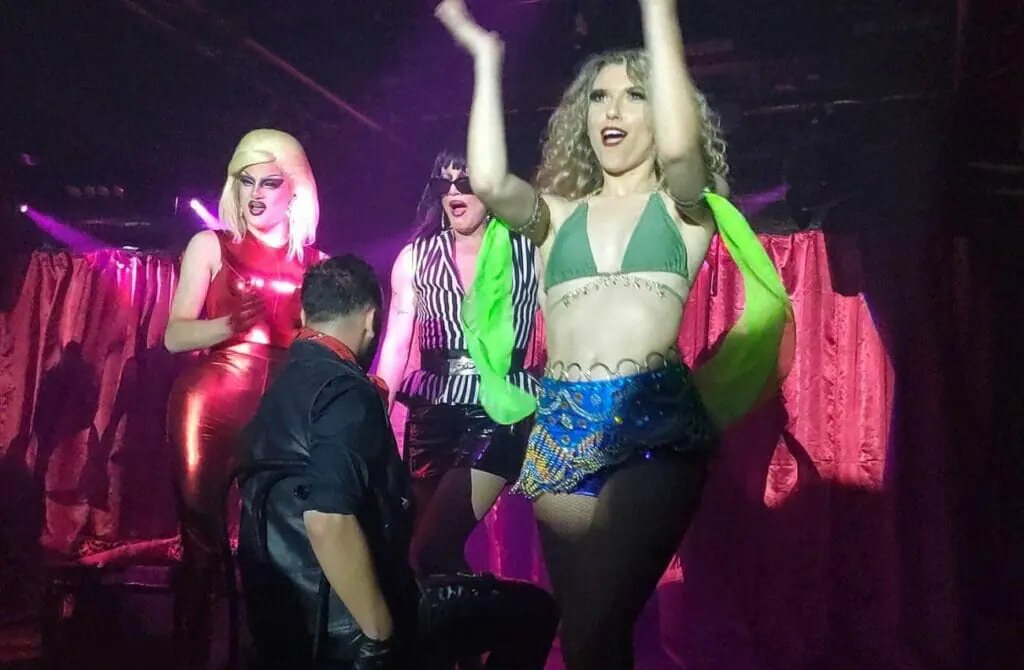 Gay-Friendly Nightlife In Cannes, France
Le Be First looks like something out of Star Wars with their circular bar centered in the middle of the bar that, and with tunes bursting out of their speakers at times, you may swear you hear cantina.
However, we are not in space but in a French coastal town at Le Be First, praised by patrons for its delectable cocktails and other drinks. Moreover, the music is perfect and never intrudes on a good conversation or a relaxing glass of ale. Plus, for those hungry types, they have tapas and other light food to keep you full.
Another great gay-friendly nightclub is Le Divan providing plenty of space to patrons that wish to enjoy a drink or a dance.
The lights are low, and the strobes blanket the place in a pink hue that adds to the tranquillity of the evening during a quiet sit down and then turns into an entertaining swirl as you hit the dance floor to dance to the DJs and music. They are even open to music requests, so you can be sure you can dance to your favorites.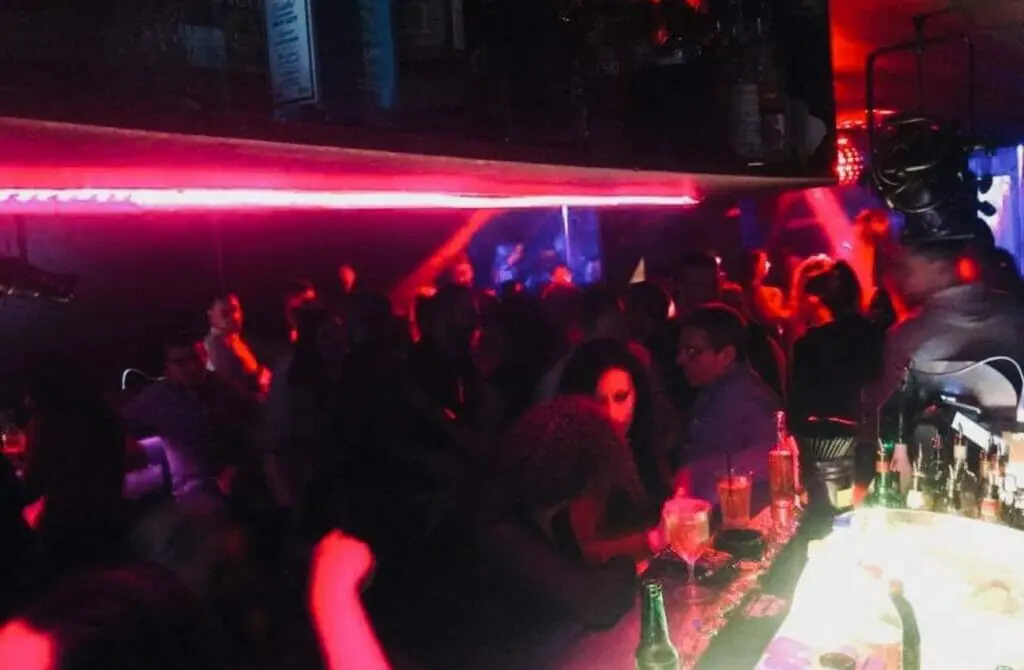 Those after a drinking lounge in Cannes need not fear, as Skyfall is here to save the day. This venue stuns with a mid-century flair with mirrors and art paintings covering the walls painted in patterned wallpaper, and the comfy velvet couches, marble tables, and rustic black wood bar further enhance this.
You can expect to find a terrific drinking experience that brings its audience back because of the quality of its service and taste rather than so much on the sound and entertainment. However, the best nightlife experiences sometimes come from the quiet and quaint drinking halls.
Yet another fantastic night lounge in Cannes is the Coco Lounge, known for its dimmed disco lights, great tunes and equally stellar drinks. Whatever you are here to sip, you can be sure they will have a great selection of alcohol (and non-alcohol). So you can spend more time enjoying the evening ahead and the vibes of this cozy space, you don't need to worry about not having a full glass.
Moreover, the venue's theme is fitting, making you feel like you are on an island beach ordering a coconut cocktail from a thatched-roofed bar. This is appropriate for a coastal tourist city like Cannes.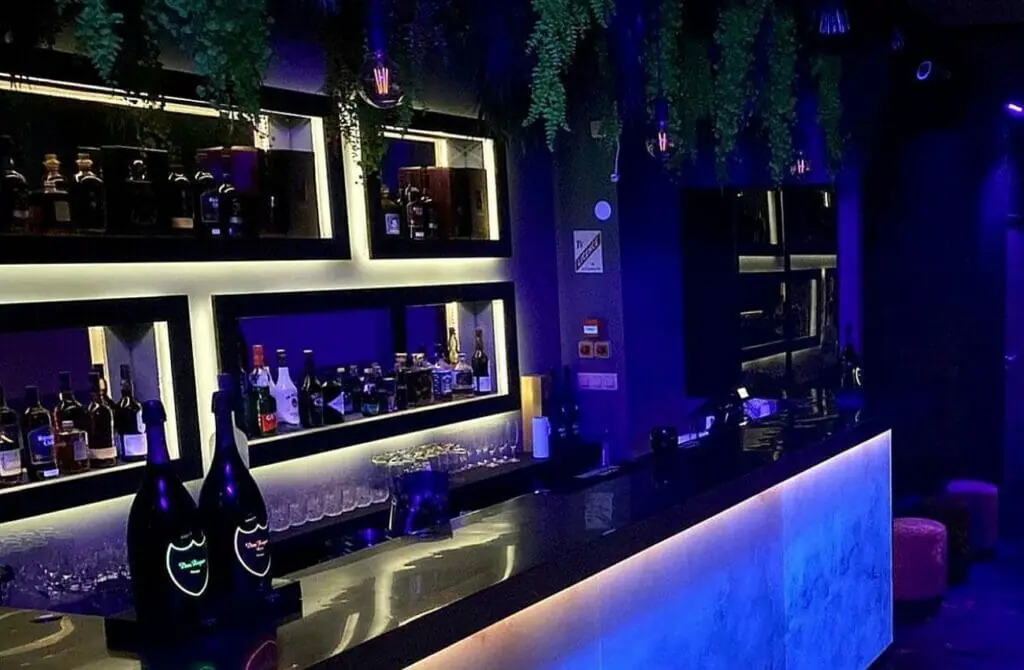 Charlys Wine Bar is famous amongst tourists and locals, serving great cocktails, drinks and tapas at reasonable prices. This makes it a great spot to start your evening with a light meal and drink surrounded by friendly staff and quirky patrons before you plan for the louder and wilder parts of Cannes' nightlife.
Le Speakeasy Restaurant & Piano Club
Le Speakeasy is a top nightlife attraction in Cannes because they are a piano bar and restaurant, making them an excellent option for early dining. You can enjoy a meal and wine set to the chorus of classic tunes, but don't expect it to be all piano music!
Instead, you can expect music ranging from jazz to soft grass instrument cords, and all are meant to enhance the experience as you focus on the food, drink and company.
This romantic venue offers indoor and outdoor seating, with shade for those who want to dine on the front terrace and people-watch on the street. In addition, the place's decor screams 1950s jazz club, with paintings of musicians and instruments completing the whole experience.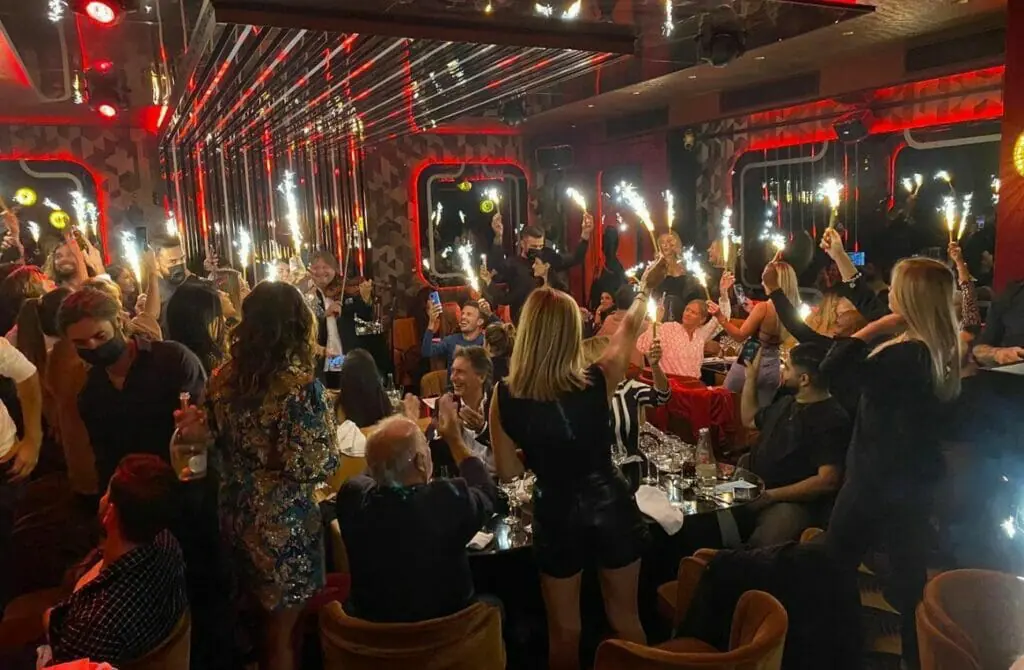 Cruising & Gay Saunas In Cannes, France
Despite first appearances, Cannes has an achieved gay community, evidenced by its gay nightclub. However, they also have a lovely gay cruising scene making it a great place for gay tourists that want to explore an actual gay French cruising scene.
When traveling to a new city, heading out for more than just a stiff drink can be exciting. One aspect of the Gay Cannes scene that many queer men enjoy is visiting gay saunas and cruising clubs.
Sure, the sauna culture in Cannes is not as hedonistic as in Amsterdam, Barcelona or Berlin, but these venues still offer a chance to meet new people, socialize, and engage in sexual activity – without resorting to gay hookup apps.
However, it's important to remember that these venues can vary greatly in terms of atmosphere, clientele, and rules, so it's a good idea to prepare yourself before visiting. If you are apprehensive, we advise studying our guide to visiting a gay bathhouse for the first time, which should help set your mind at ease and always practice safe sex.
Additionally, it's important to be aware of and respect local laws and customs regarding gay venues and sexual activity. With a little planning and an open mind, visiting gay saunas and cruising clubs can be a fun and exciting part of your gay Cannes travel itinerary.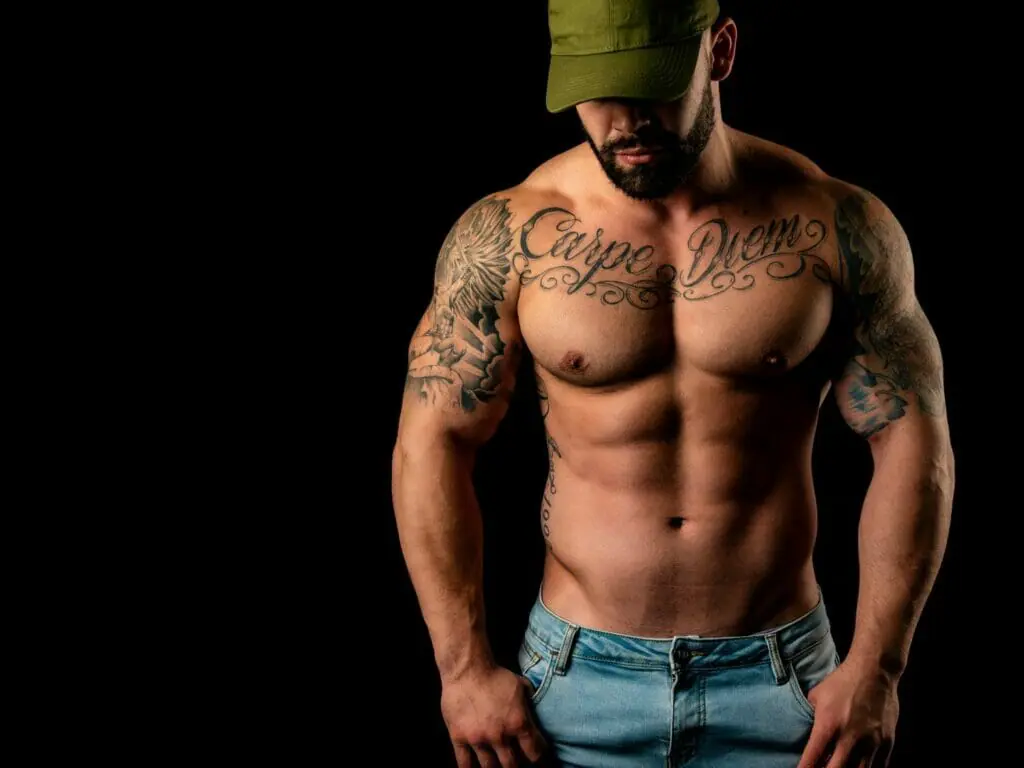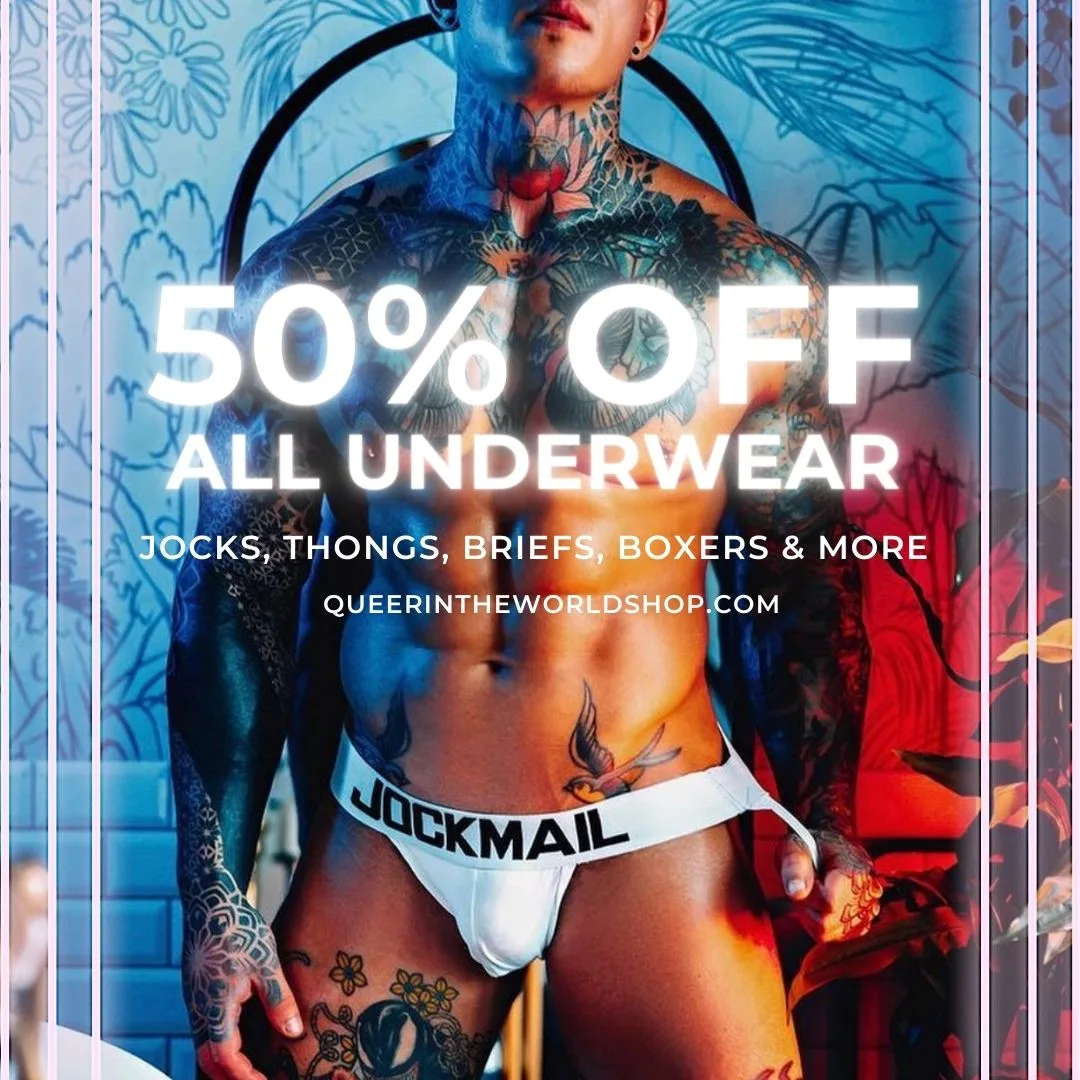 Gay Cruising Bars In Cannes, France
ParadX is a gay cruising club for men offering a host of fun activities for those that which to experience a taste of French cruising in southern France. You can get a drink, make acquaintances with fellow men, and then throw yourself in the backrooms to see why many keep returning to this place.
You can expect to encounter a cinema, slings, glory holes, dark rooms, fetish areas, and private cabins to make the most of your time with a partner in a safe space. They even have a sex shop, the only gay sex shop in Cannes.
Gay Saunas In Cannes, France
Le Neuf Sauna is a popular gay/mixed sauna just outside Cannes, featuring many fun cruising services and sauna facilities for men. You can relax in the steam bath, jacuzzi, dry sauna, or bar to socialize with other men.
Then if you want to get a bit frisky, you can head to the dark room, the sling, the movie theatre or one of the private cabins. Not only that, but they also have an outside sitting area with a terrace and smoking zone, a TV room, and they are open every Friday and Saturday until midnight. So to get the complete gay cruising experience for men, number nine can't be missed.
Gay Sex Shops In Cannes, France
ParadX plays host not just to a fun gay cruising scene but also to a shop that sells a range of sex toys, DVDs, lubricants, men's underwear and other fun accessories.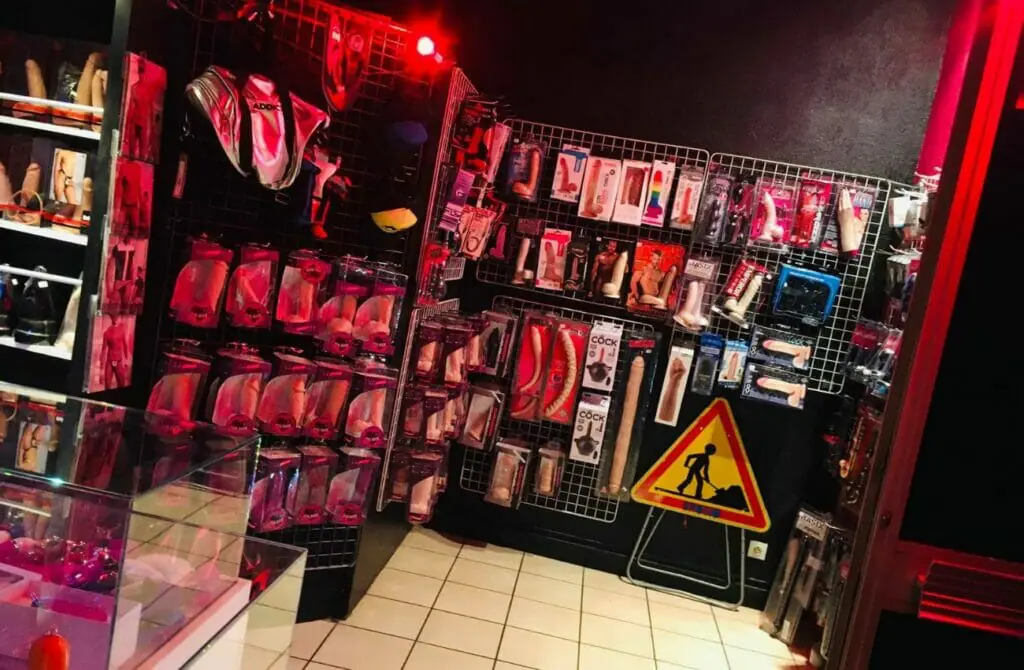 Gay Map Of Cannes
Finding it hard to envisage where everything is in Cannes? Hopefully, this queer-centric map helps where we have marked all the bars, clubs, parties, hotels, saunas, massages, and more will help you stay in the spot best suited to you!